Climbing Wall Open House | August 24, 10 am - 2 pm
Grab your FREE day pass and join us Saturday, August 24 to check out the wall! Rental equipment is buy one, get one free, we'll have Team Members available to belay if you don't have a partner, and a few of our coaches will be facilitating practices for the kids!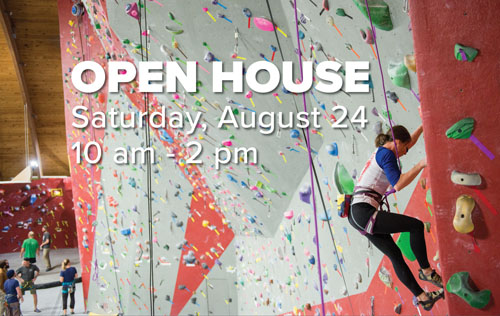 Personal Training Equipment Demo
Do you know how to use the ski ergometer? Do you even know what it is? Our Personal Training Assistant Manager at North, Marty, will give you the quick run down!
Featured Group Fitness Class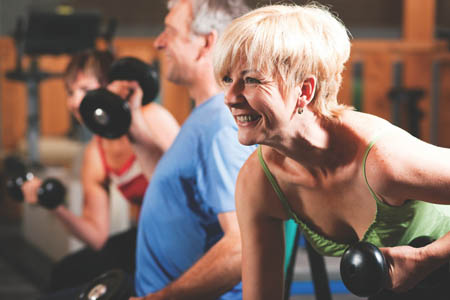 Forever Fit
Forever Fit is our freestyle senior class for the young at heart! Enhance your quality of life and maintain your strength, balance, joint flexibility, cardio endurance, and core strength!
Try a Forever Fit class today!
| | | |
| --- | --- | --- |
| South | Fort Collins Club | North |
| Tuesday | 7:00 am | Wednesday | 9:00 am | Wednesday | 8:05 am |
| Thursday | 7:00 am | | |
Check out full class schedules for South, North, Fort Collins Club
Finish Summer Strong and Health as a Family
As summer is wrapping up, it's a great idea to get outside and enjoy the beautiful state we live in. There's really nothing better than being in the sun together as a family having fun. Here are a few ideas of active ways to spend your time with your kids, and ways to ensure that they are being healthy while at home.
SNACK ATTACK
One of the simplest ways to make sure that your kids are healthy while they're at home is to make sure that your house is stocked with healthy foods. That way, when the kids are ravenous monsters, they have plenty of good options to choose from. Some of our favorite kid-friendly, parent, and nutritionist approved snacks are: baby carrots, snacking bell peppers, veggie straws, applesauce, cheese sticks, and fruit cups. Just be wary of some "healthy" snacks like some dried fruits, trail mixes, and juices can be extremely high in added sugar- an alternative is to make your own. Feeling ambitious? Try making home-made granola bars or frozen yogurt drops for cooling treats.
GET MOVING
Here are some ideas to get your family out and active, all while having fun together.
Soak up the sun at our outdoor pools at the Fort Collins Club or Miramont South.
Biking is an amazing family activity that keeps the body moving and allows you to see awesome sights. You could even load your bikes up on the car and take a trip to a trail outside of town. Make sure you and your bikes are ready for the adventure!
Plan a field day at home and set up various games and activities for your kids, such as cornhole, tag, jump rope, catch, etc.
BRAIN FOOD
Not only do kids need for their bodies to stay healthy, but they need their brains to stay in shape. Keep that cognitive power sharp by getting them a daily workbook that provides 15-20 minutes of appropriate level activities for them. An alternative is to provide them with flashcards to keep their memory up or give them an educational game to play. For a more fun option, critical thinking games are sure to keep your kids busy and thinking.
We've only included our favorite summertime ideas here, so get creative if these don't quite suit your fancy! Really, anything you can do to spend time as a family is great as the summer winds down, be sure to get outdoors and have some fun!
Community
Music and Martial Arts Camp
Parents, need a couple of hours to work out? Drop your kids off at Axon Academy's Midday Camp at Genesis Miramont Centerra. No screen time. Just fun and physical activities!
August 5 - 9, 12 - 16
1 - 3 pm
$55 / session or $100 for both sessions
Boyd Lake Bash | September 7
The 1st Annual Boyd Lake Bash is only a little over a month away!
Genesis and Breakaway Athletic Events are partnering to bring our community a morning mix of events and classes at Boyd Lake.
Bring your friends and family members to participate in FREE fitness and fun from Genesis including yoga, stretching areas for pre and post race, a bootcamp, giant inflatable kids obstacle course and more!
The Boyd Lake Bash Multisport Festival is a hidden gem of a venue, tucked quietly along the front range. Why add this newly announced event to your schedule? Beautiful mountain views, semi-closed bike course, ideal weather, and beginner friendly race options for the whole family! Did we mention waking up just 200ft from the transition area at one of the Boyd Lake Campsites? Yup! There's that too.
Sitting on the east side of Loveland, and southeast of Fort Collins, this close-to-home multisport race event will have a festival feel that's intimate, fun, and refreshing. The course layouts make race morning packed with spectator cheering and multiple athlete flybys. With ON-SITE camping options, make a weekend out of this event and plan some extra relaxation time. For this first season the entire event is limited to just 400 athletes, don't miss out on the most beginner friendly event to date!
Check out more details at https://breakawayathleticevents.com/boyd-lake-bash-multisport-festival/
Special Olympics Silent Auction
The Special Olympics of Colorado will be hosting a silent auction at Genesis Miramont North starting July 30 through September 10 in the front lobby. Members and guests will have the opportunity to bid on timeless autographed pictures and memorabilia. Come on down and support this great organization after you work out!
FORTitude Registration
Don't miss out on this sweet FORTitude hat you get when you register for the 10K at one of our Genesis locations.
Life Revolution Summit
Genesis is proud to be partnering with amazing leaders in our community and beyond to introduce you to a brand new event happening September 28 and 29 - The Life Revolution Summit!
The Summit is a combination of Health + Wellness + Leadership and the event staff are so excited to bring this to Fort Collins. They believe it starts with YOUR Health + YOUR Leadership to have the ultimate life you were meant for. There will be amazing and well-known speakers that will be joining us at this event to dive into topics including health, leadership, relationships, mindset, and legacy.
Check out the details at www.liferevolutionsummit.com and join us in attendance for this great new event!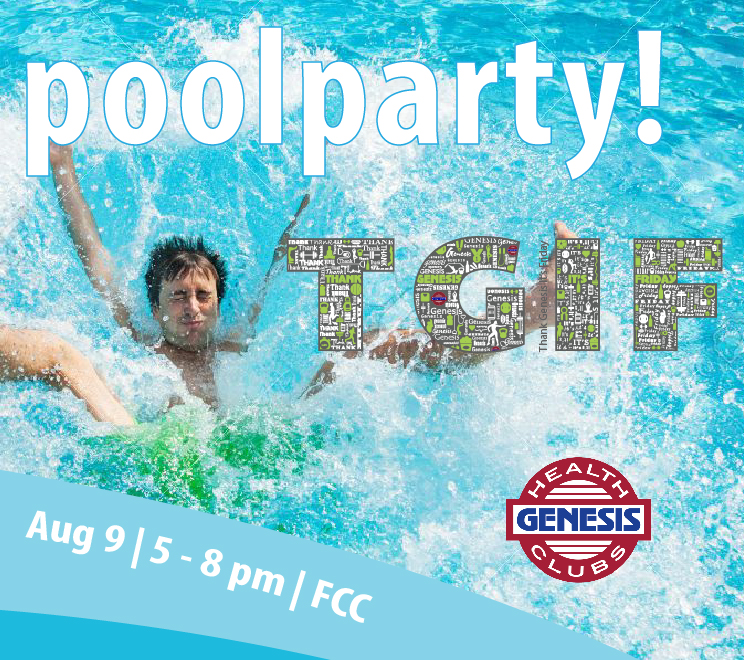 Events
FREE Ladies Climb | Sunday, August 4, 1:30 – 2:30 pm | North
FREE Climbing 101 | Thursday, August 8, 6 – 7 pm |North
FREE Pilates Equipment Class | Thursday, August 8, 6:30 pm | FCC
TGIF Pool Party | Friday, August 9, 5 – 9 pm | FCC
Parent's Night Out | Friday, August 9, 6 – 10 pm | South
Climbing 102 | Monday & Tuesday, August 12 & 13, 6:30 – 8:30 pm | North
FREE Climbing 101 | Thursday, August 15, 6 – 7 pm |North
Seafood Cajun Boil | Friday, August 16, 5 – 8 pm | FCC
Corn Hole Tournament | Friday, August 16, 5:30 pm | FCC
Parent's Night Out | Saturday, August 17, 5 – 9 pm | FCC
Brew-B-Que Tennis Social | Saturday, August 17, 5:30 – 7 pm | South
FREE Ladies Climb | Sunday, August 18, 1:30 – 2:30 pm | North
No School Day Camp | Monday, August 19, 7 am – 5:30 pm | North
FREE Climbing 101 | Thursday, August 22, 6 – 7 pm | North
Climbing Wall Open House | Saturday, August 24, 10 am – 2 pm | North
FREE Pilates Equipment Class | Wednesday, August 28, 4:30 pm | FCC
FREE Climbing 101 | Thursday, August 29, 6 – 7 pm |North
Final Friday Dance Party | Friday, August 30 | South
Parent's Night Out | Saturday, August 31, 4 – 8 pm | North