TGIF Pool Party
Join us for a TGIF pool party at South Friday, July 12 from 5 - 8 pm. Yes, we will have a cannonball contest at 6 pm and karaoke. Bring your best splash and singing voice!
Personal Training Equipment Demo
Do you know how to use our tire flip equipment at the South location? Personal Training Assistant Manager Rob demonstrates proper technique here!
Featured Group Fitness Class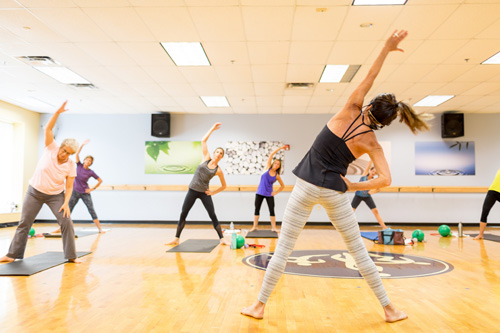 Barre Fitness
Barre Fitness utilizes small, isometric movements to quickly and effectively change the shape of your body. The classes are based on the popular barre technique that has evolved from the Lotte Berk Method, Callanetics, Yoga, and Pilates. The ballet barre is used for support and stability while muscles are pushed to exhaustion using light weights and balls for different challenges, followed by a series of stretches. No two classes are ever the same so you will be challenged every time. Poise, Balance, Strength!
Try a Barre Fitness class today!
| | |
| --- | --- |
| South | Fort Collins Club |
| Monday | 12:45 pm | Sunday | 11:30 am |
| Wednesday | 12:45 pm | Tuesday | 1:00 pm |
| Saturday | 8:05 am | Tuesday | 6:40 pm |
| | Thursday | 5:30 pm |
| | Saturday | 10:25 am |
Check out full class schedules for South, North, Fort Collins Club
Healthy Summer Habits
Healthy Living
New season, new opportunities for healthy living! Check out our favorite tips to make this your healthiest summer yet!
Move More - With warmer weather and longer days, we have more chances to get up, get out, and get moving!! Take more walks, go on a hiking adventure, take advantage of outdoor pools, play some outdoor sports!
Protect Your Largest Organ - How can you protect your largest organ this summer? With SPF! That's right, your skin is your largest organ and needs lots of TLC in the summer months. Be sure to apply your SPF if spending an extended amount of time outside and wear protective clothing such as hats, shawls, and sunglasses. Try to find an area with shade to avoid direct sunlight when necessary.
Drink More...H2O! - Higher temperatures make for sweatier days. We may be more parched during the summertime so be sure to stay hydrated. Keep a refillable water bottle with you throughout the day to avoid heatstroke, heat exhaustion, and dehydration.
Protect Against the Bites - It's mosquito season! To avoid West Nile, Zika, and itchy irritated skin make sure you have mosquito repellent handy. Citronella candles are also great resources to keep the bugs away.
Healthy Summer Eating
The summer months yield many opportunities for temptation to indulge in not-so-healthy meals. With family gatherings, holidays, cookouts and more, it can be challenging to stay on track with healthy eating. Check out our tried-and-true tips to stay motivated among the temptations this season.
Stock Up on In-Season Foods - July has a plethora of in-season options! Grab some apricots, blackberries, blueberries, cantaloupe, corn, cucumbers, green beans, kiwi, lettuce, mangoes, okra, peaches, peppers, plums, raspberries, strawberries, summer squash, swiss chard, tomatoes, watermelon, and zucchini this month at the grocery store and farmer's markets!
Cookout Hacks - Moderation is key at cookouts and BBQ's! Try to fill your plate with fruits, veggies, and grilled meats instead of the mayo-filled salads, sweets, fried foods, and chips. Eat a small snack at home before going to a cookout to avoid over-eating. Bring your own water bottle with you to avoid sodas and sugary juices. If you are hosting, encourage friends to bring Tupperware with them to get rid of the leftovers.
Stay Hydrated - Drink plenty of water this season! Try to drink a glass of water before each meal and throughout the day to help you feel fuller. Give a fruit-infused water combination a try such as cucumber and lemon, orange and strawberry, or blueberry and raspberry.
Community Crushin' It
CrossFit
Did you know CrossFit is an option at Genesis in Fort Collins? Check out what's happening at CrossFit Miramont:
We're going through a massive upgrade!
More equipment
More space
More class times
More specialty programs
More Open Gym opportunities
More fitness, friends and FUN!
Come by tomorrow, Saturday, June 29 to check it out! 8:30 am we'll introduce the team and our vision, 9:00 - 10:00 am is a beginner friendly workout, and at 10:00 am we'll tour the North facility and have a quick CrossFit membership Q & A.
Contact Nate with any questions.
Music and Martial Arts Classes
Centerra location only: Genesis Centerra is thrilled to announce a new program: music and martial arts classes offered by Axon Fitness and Arts Academy. Students get both fitness and music in one program with the added benefit of strengthening their mind-body connection. This trailblazing program is not available anywhere else. Wonder how it works? Call to set up your two free classes. There is no commitment. If you do enroll, special tuition rates are available for Genesis members. For more information, call Yat-Yee Chong at 970-310-5519 or visit www.AxonFitnessAndArts.com."
Class Times
Tuesdays
4 - 4:30 Ages 4-6
4:30 to 5:10 Ages 7-12
5:10 - 5:40 Leadership Life Training
5:40 - 6:20 Private lessons
6:20 - 7:10 Teens and Adults
7:10 - 7:50 Warriorheart Women 50+
Thursdays
4 - 4:30 Ages 4 - 6
4:30 - 5:10 Ages 7 - 12
6:40 - 7:20 Teens and Adults
7:20 - 8 Warriorheart Women 50+
Twin Silo Sprint 5k
Did you run in the Twin Silo Sprint 5k in April? The Fossil Ridge High School honors students who run the event wanted to thank all participants! They had 400 kids run in the UCHealth Healthy Kids one-mile race and 550 runners for the 5k. They raised $7500 which funds three local scholarships, including the Genesis Miramont Lifestyle Fitness Scholarship.
Events
July 4th | North, FCC, South close at 3 pm. Childcare closes at noon. Centerra is closed.
Climbing Academy, ages 6 – 12 | July 1 – 5, 9 am – 3 pm | North
TGIF Pool Party | Friday, July 12, 5 – 9 pm | South
Parent's Night Out | Friday, July 12, 6 – 10 pm | South
High School Triples Tennis Tournament | Friday, July 12, 5:30 – 7 pm | South
CrossFit Miramont Grand Re-opening | 9 – 10 am | North
Free Ladies Climb | Sunday, July 14, 1:30 – 2:30 pm | North
Climbing 102 | Monday, July 15 and Tuesday, July 16, 6:30 – 8:30 pm | North
Cajun Seafood Boil | Friday, July 19, 5 – 8 pm | FCC
Corn Hole Tournament | Friday, July 19, 5:30 pm | FCC
Parent/Child Doubles Tennis Tournament | Saturday, July 20, 5:30 – 7 pm | South
Free Pilates Equipment Class | Saturday, July 20, 10:30 am | FCC
Parent's Night Out | Saturday, July 20, 5 – 9 pm | FCC
Climbing Academy, ages 6 – 12 | July 22 – 26, 9 am – 3 pm | North
Final Friday Dance Party | Friday, July 26 | South
Parent's Night Out | Saturday, July 27, 4 – 8 pm | North
Hawaiian B-Que Tennis Social | Saturday, July 27, 5:30 – 7 pm | South
Climbing Academy, ages 6 – 12 | July 29 – August 2 | North