PERSONAL TRAINING DEMO
FEATURED GROUP FITNESS CLASS

R.I.P.P.E.D. combines resistance, intervals, power, plyometrics, endurance, and core in one fun class! It's designed to help everyone meet their ultimate fitness goals in a super fun, group exercise environment.
Try a R.I.P.P.E.D. class today!
| | |
| --- | --- |
| South | Centerra |
| Monday | 12:15 pm | Monday | 5:30 pm |
| Wednesday | 12:15 pm | Wednesday | 5:30 pm |
Check out full class schedules for South, North, Fort Collins Club, Centerra
WELLNESS
National Childhood Obesity Awareness Month
September is National Childhood Obesity Awareness month. As of September 2018, 19% of United States children were considered medically obese. As a national community, we dedicate the month of September to awareness for this in hopes that we may be able to lower this number and encourage healthier lifestyles. As a health club, this is what we are passionate about 12 months a year! We want to inspire creating healthier habits by eating healthier and shopping to getting more regular exercise and sleep.
FACTORS
Some factors that increase the risk of childhood obesity are logical, but others may surprise you. Here are some of the risks listed by the CDC as being highly influential:
inactivity
lack of sleep
lack of places to go in the community to get physical activity
easy access to inexpensive, high calorie foods and sugary beverages
lack of access to affordable, healthier foods
Additionally, eating habits, physical activity behaviors, genetics, metabolism, family environment, community factors, home environment, and social factors also play a role in determining risk for childhood obesity.
RISKS
The CDC describes childhood obesity as a "major public health problem". An obese child exponentially increases their risk of developing other health conditions such as asthma, type 2 diabetes, sleep apnea, and bone and joint problem. When compared to peers of normal weights, obese children are also predisposed to heart disease, due to higher blood pressure and cholesterol.
Unfortunately, we live in a society where obese children are often teased and bullied, which also can lead to low self-esteem, social isolation, and depression. These problems can also follow them into adulthood. Adulthood obesity is associated with a higher risk for many types of cancers.
PREVENTION
Eating healthier doesn't have to break the bank. Healthier foods can be bought for comparable prices to those that aren't as healthy. Providing lower calorie, nutritious fruits and vegetables in place of sugary snacks allows for children to be fueling their bodies with the proper foods. Another simple way to reduce fat and sugar intake is to always keep water available as a drink instead of other unhealthy beverages.
Exercise is a great weapon against obesity. One of the simplest (and cheapest) ways to get healthier is by getting outside and exercising. This can be done in a variety of ways, from joining a sports team to taking a family hike to setting up an obstacle course in the backyard. Coupled with good nutrition, exercise can drastically change weight and lifestyle, setting children up for an active, healthy life.
COMMUNITY
Boyd Lake Bash
Escape to the lake & Escape the Ordinary! The Boyd Lake Bash Multisport Festival will be an event you'll look forward to all season long. Why? Beautiful mountain views, ideal weather and 11 races all in the same morning…yes 11! Did we mention camping? Yup! There's that too. Sitting on the east side of Loveland and southeast of Fort Collins, this close-to-home multisport race event will have a festival feel that's intimate, fun and mildly challenging. The course layouts make race morning packed with spectator cheering and multiple athlete flybys. With ON-SITE camping options, make a weekend out of this event and plan some extra relaxation time.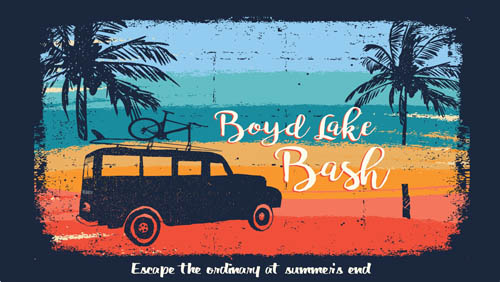 FCFF
Fort Collins Fitness Festival - September 21, 2019 | 7:30 am - 3:00 pm | Old Town Fort Collins
Here's all things Fort Collins Fitness Festival, so you know just what to expect.
Who? The best of the best when it comes to fitness instructors (think Insanity's Shaun T and former NFL player Keith Mitchell!) leading workouts from the stage for you! All fitness levels and ages are welcome! You can pick which activities to participate in. And we even have a Kids FitZONE, so there is something for everyone.
What? An all-day celebration of movement, community, and breaking free! The day begins with a 5K, followed by group workouts like yoga, boxing, HIIT, dance, and Pilates. Participate in the Festival Games testing endurance and strength hosted by Pursuit Fit. And break it down in a flash mob led by Impulse Dance. Aside from all this great fun, there will be fitness vendors from all over Northern Colorado, each offering experiences for attendees. The general admission area will also have plenty of other trusted wellness vendors. And we'll have lots of food vendors and a beer garden. The Kids FitZONE will have workouts just for children, plus an obstacle course, aerial silks and more!
Full Festival Schedule
FESTIVAL 5K WITH ORANGETHEORY FITNESS
7:30 am Check-in at Howes St/Maples St (for run ONLY)
8:00 am Race Start
*Friday, September 20th pre-race packet & bib pick-ups at Orangetheory Fitness Drake or Harmony studios @ 8:00-11:00 am & 3:00-6:00 pm.
MAIN STAGE SCHEDULE
9:00-9:05 am Festival 5K Awards Ceremony
9:15-10:00 am Yoga with Keith Mitchell
10:15-10:45 am HIGH Fitnesswith Lisa Danielson
10:50-10:55 am FESTIVAL WIDE Flash Mob Dance with Impulse Dance [Learn Dance Here]
11:00-11:45 am Pilates/Yoga Fusion with ACT Studio
12:00-12:45 pm HIIT with Shaun T Fitness
12:50-1:20 pm Q&A with Shaun T, Bruce Pitcher, and more!
1:30-2:00 pm MixxedFit®Dance with Gretel Balmer
2:15-2:45 pm Soul on Fire Exercisewith Sarah Korb
Where? This year the Fort Collins Fitness Festival is taking over Old Town Fort Collins. The Main Stage, Kids Zone, and race start are all in Washington Park. The workout zone stretches down Howes Street and the Festival Games plus other vendors will be at Civic Center Park. Check out the event map here.
Why? The vision behind this event is to bring together fitness lovers from all over the region, no matter how you practice. The "Break Free" theme for 2019 is all about leaving behind the excuses and the false things you believe about yourself. It's about finding freedom in movement, loving yourself, and taking care of yourself. We want to create a fitness event experience that celebrates all kinds of motion for all people—no matter their fitness ability, age, or place in their wellness journey.
INSPIRATION
By Yat-Yee Chong
If you could change one thing about your workout, what would it be?
Would you increase the number of times you work out? Amount of time spent each session? Would you find out about the pickleball craze? (Am I the only one who keeps imagining people waving their Vlasic pickles?)
Any change injects new energy into a routine. But can any one thing provide a lasting effect?
For many of us, working out is a "should" thing: we do it because it is good for our health. Exercising is as close to a magic elixir as we get and we'd better be active if we want to stave off diseases, manage stress, and live longer.
The problem is that this takes discipline. The tendency to choose comfort or pleasure NOW is strong and persistent. I want to read a book. No, I should work out. I want to sleep in. No, I should work out. I want to linger over a meal with friends. No, I should work out.
Now, if working out is the only thing that makes this demand, it'd be fine. Daily life, however, is filled with decisions that call upon our discipline. Our storage of discipline can deplete quickly.
So what then? Is there anything we can do besides gritting our teeth and giving ourselves stern lectures?
I believe so.
We need to change the way we view working out. We substitute "get to" for "should."
I don't go to Group Pump because it makes me stronger. I go because my muscles are strong. I don't do pushups because they are an excellent full-body workout but because until ten years ago, I couldn't do a single one. Now I can do many more.
I don't go to step class because it's a great cardio workout that requires mental focus. I do it because the torn ligaments in my ankles have healed and I can do lateral movements all day long my coordination hasn't deserted me during those complicated turns! Woohoo!
I do it because I can. Because I get to. Because I am thankful.
Try it. Change how you talk to yourself about exercising. Celebrate what you can do. That way you're going to a party!
That shouldn't require too much discipline.
- Yat-Yee teaches Martial Arts and Music Classes at Genesis Centerra.
EVENTS
Labor Day Hours | Monday, September 2 | South, North, FCC close at 3:00 pm; Childcare closes at 12:00 pm; Centerra closed
TGIF at North | Friday, September 6, 5 – 9 pm | North
Parent's Night Out | Saturday, September 7, 5 – 9 pm | FCC
Climbing 102 | Monday & Tuesday, September 9 & 10, 6:30 – 8:30 pm | North
Parent's Night Out | Friday, September 13, 5 – 9 pm | South
FREE Pilates Equipment Class | Saturday, September 14, 10:30 | FCC
FREE TRIBE Trial Week | Monday – Friday, September 16-20 | South
No School Day Camp | Friday, September 20, 7:30 am – 6 pm | South
Salsa Competition | Friday, September 20, 5:30 pm | FCC
Youth Hiking 101 | Saturday, September 21 | Meet at North
Parent's Night Out | Saturday, September 28, 4 – 8 pm | North
Final Friday Dance Party | Friday, September 30 | South