Greetings Emporia Members! Below is our November Group Fitness news.
Please make sure to follow our facebook page for ongoing updates too!
16 in 60 Congratulations
Congratulations to Kelsey Carr and Ryan LaSota for completing 16 group fitness classes in 60 days! They will receive a Genesis T-Shirt, 50 G-Perks and one free "Shake This Burner" shake. Best of all you are on your way to meeting your fitness goals! Studies show that people are more apt to continue a fitness program if they exercise with another person or in a group. It also takes about 60 days to "develop a habit." With our 16 in 60 Program, you get both!
Instructor of the Month
My name is Tia Grundleger and I joined Genesis Health Clubs as a member in 2010. My husband Adam and I were looking for somewhere that we could be motivated in our fitness journeys. Our youngest child had just turned 2 and I was still using her birth as an excuse for carrying around 70lbs of extra weight. I now have 3 children Jasmine 9, Lila 6, Iris 5 and I home school them in my spare time.
My first group fitness class scared me, challenged me and hooked me. The encouragement I felt from the instructor, the members and the staff made me feels like I was not alone on my journey to a healthier life.

It was a full year before I worked up the courage to take a spin class. I would peak in during those classes and came to the conclusion that these people, both instructor and students, were crazy! After my first G-cycle class I was addicted! I loved the energy, the sweat and the way I felt after, I loved everything about it (with the exception of "saddle pains" of course). The instructors pushed me, inspired me and helped me see that I could go even further.

Since then I have certified in Group Ride/R30 and Group Centergy, two classes that push and challenge me every time I teach them.

My journey is far from over but I intend to keep going. I hope to one day have the privilege to encourage, inspire and walk or ride alongside someone else on their journey to a healthier happier lifestyle just like my instructors did for me.

I invite you to come to Group Centergy this month and try it out. We will have a little something for you for attending if you have never done it before.
Party in Pink
Our party in Pink was a huge success! We raised $159.00 for Team Hope for Cancer.
Our Black Light Zumba party was also a Hit! We had a room full of fun going on!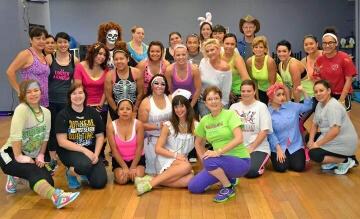 Please watch Facebook for class changes for the Holidays.

For any questions or concerns about our classes or schedule please don't hesitate to contact me!

Charlotte Pinick
Group Fitness Coordinator - Emporia
cpinick@genesishealthclubs.com