Group Fitness Class Benefits
Whether you've joined a health club for weight loss, sports training, or just improving your overall health, group fitness is a great way to start. Rather than trying to come up with your own exercise routine, you can choose the classes that fit your schedule, meet new friends with similar goals, learn good techniques, and get an effective workout.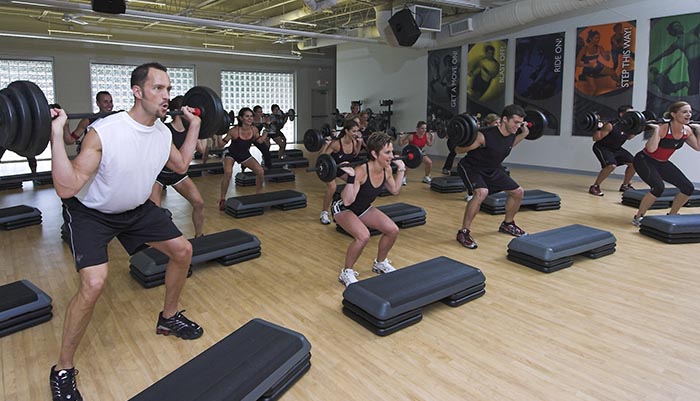 Here are a few more benefits:
Driven by Music
Every group fitness class incorporates upbeat music, because studies have shown that people work harder when exercising with music.
Stay Motivated
Exercising with a group can help you stay committed and meet your goals. Group fitness members are more successful, because they work out more times per week, on average, and stick with their routines longer.
Consistency
One of the best ways to meet your fitness goals is to make exercise a part of your regular routine. Group fitness classes are held at different times on different days, so you can choose the ones that fit your schedule. That way, working out becomes a positive, healthy habit.
Accountability
When life gets hectic, it can be tempting to skip a workout, but knowing your friends and instructor will notice you're gone can be the push you need to get out the door anyway. During class, knowing other people are there working hard with you makes it easier to push through tough workouts.
Structured Workouts
Whether you're new to working out, or want to take your fitness to the next level, there's no need to wander around the gym trying to decide what to do first. Group fitness instructors are trained to create effective workouts that will help you get the strengthening, toning, and stretching you need.
Learn Proper Form
Group fitness instructors are there to motivate you and encourage you, but they also help you develop the correct technique. Proper form can help you avoid injury and get the most benefit from your workout.
Challenge Yourself
There are a variety of fitness classes that make it easy to learn something new or push yourself to meet new goals. Whether you try boot camp, yoga, Pilates, cycle, water exercise, barre, or Zumba, mixing up your routine also boosts metabolism by creating muscle confusion. And, you'll never get bored.
Fun Atmosphere
Group fitness classes are a great way to get healthy and have fun doing it. The upbeat music helps make your workout seem easier, and you can get swept away by your instructor's enthusiasm and the flow of the class. You'll want to come back again and again!
Try a class today with a FREE Genesis day pass! You'll find the class schedule for your favorite Genesis club on the location page. We look forward to welcoming you to your next group fitness class here at Genesis Health Clubs.