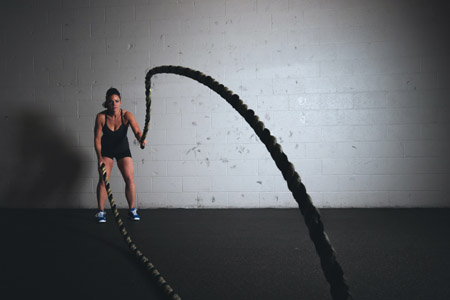 One of the biggest challenges to achieving your desired body and obtaining healthy habits begins with motivation. There are many things that impede us from getting into the gym. From injuries, to illnesses, to the everyday stresses of life in general. Here are five tips to help you stay motivated and maintain your health this holiday season!
Start Small
Sometimes it's hard to get a workout routine started because we often envision immediate results and set unrealistic goals. In reality, being healthy is a lifestyle, not a race, so remember to start small. Instead of setting an overly ambitious goal, such as running 5 miles on the first day, try a simpler approach: walk 1 mile every day for the first week. Everyone must start somewhere. Know that your body will have to adjust to your workout routine, but with time, baby steps will quickly transform into larger strides.

Set One Goal At A Time
Whether you are walking or sprinting through your fitness journey, it's important to set goals for yourself. Fitness can often be overwhelming if you try to take on too many things at once. Instead, work to complete one goal at a time. Set one simple, specific and measurable goal. This will allow you to feel accomplished. And remember, becoming healthy is not a race. Go at your own pace and focus on the goals that are important to you!
Document Your Success
You won't be able to fully see your progress in the gym if you don't document your fitness journey. Progress photos will allow you to see how far you have come and will give you that extra motivational push to finish strong! Try to keep a journal to document how you're feeling through the transformation process. Each entry will give you additional motivation to keep going!
Positive Affirmations
The mind directly affects the body. Using affirmations to start your day and during your exercise routine will prepare the mind for success, which in turn, prepares the body for change. Try an affirmation as simple as "I can do it. I will do it". Or "today is a great day. I will be great". Start your day with a positive affirmation and stick to it! Positive thoughts often result in positive outcomes. Be kind to yourself.

New Music
Need a little extra help getting off the couch and into the gym? Try listening to these secret stations on Pandora! Working out can be so much better with some good tunes.
80's Cardio - Madonna, Michael Jackson Alternative Endurance Training - Sublime, Dave Matthews Classic Rock Power Workout - ACDC, Jimi Hendrix Country Fitness - Miranda Lambert, Luke Bryan Dance Cardio - Jennifer Lopez, Tiesto Electronic Cardio - Skrillex, Dubstep Hard Rock Strength Training - Linkin Park, Avenged Sevenfold Pop & Hip Hop Power Workout - Usher, Neyo, Rhianna Pop Fitness - Lady Gaga, Justin Timberlake Rap Strength - Jay-Z, Lil Wyane Yoga - Deepak Chopra Yoga Workout - Low-key Dubstep, Relaxing Sounds