It doesn't have to be complicated: What your kids should be eating is very similar to what you should be consuming on a regular basis.
Kids should be consuming 5 servings of fruits and vegetables a day (that's compared to the 9 servings recommended for adults!) and balancing those veggies with a lean protein and whole grains at every meal. Strive to eat foods low in saturated fat, trans fat, salt, and added sugars.
Not sure how to fit in 5 servings of fruits and veggies? The easiest way to do that is by incorporating them into every meal: side of fruit with breakfast, raw veggies as snacks, steamed or roasted vegetables with dinner, etc.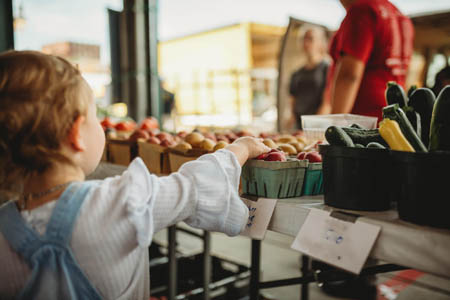 NUTRITION GUIDELINES FOR KIDS
The USDA launched nutrition guidelines called Choose My Plate. This quick visual representation echoes our advice. If you focus on having a protein, carb, and veggie/fruit at every meal, you'll be well on your way to meeting the nutritional needs of your kids!
FEEDING PICKY EATERS
What if you have a picky eater? We have advice on that as well:
As a parent, we're in charge of three things: what time dinner is, where it's going to be, and what is going to be served. Kids are in charge of how much they eat and if they are going to eat it at all. When parents and kids try to take on each other's responsibilities, that's when tensions happen.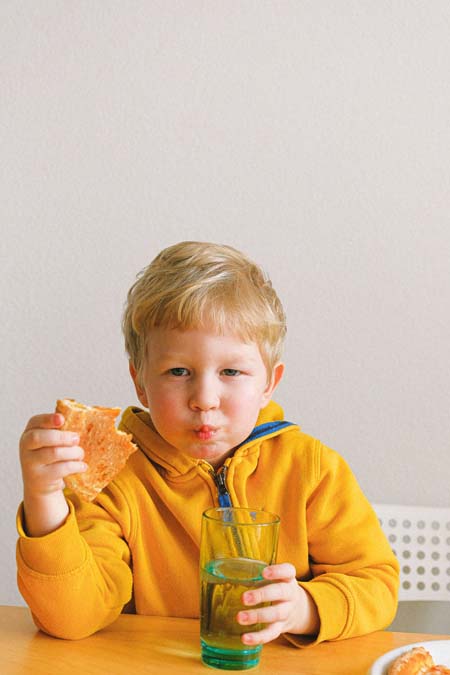 Scenario: Dinner is being served at 5 p.m. at the dining room table, and it will be spaghetti with salad and strawberries. Child #1 says that he doesn't want to eat spaghetti, so mom gets up to make him a different dinner because she is afraid that he won't eat dinner.
The solution is easier than you may think.
Keep your children's preferences in mind when planning meals for the week. Does your kid like spaghetti? Are there things you can do to avoid making multiple dinners every night? If your child doesn't like red sauce, keep the noodles and sauce separate and let your kid pick their plate. Maybe they don't like the dressing on the salad - give them an option to put something more kid-friendly like ranch on instead. It'll be the same dinner to help you keep your sanity and it will help the kid feel safe at the dinner table being able to pick foods that they like. Continue to offer new foods, but also give them options that they enjoy regularly.
Research shows that it can take 8 to 10 times of a new food being introduced for a picky eater to try and adopt the food into their diet. So have no fear, parents! Consistency will pay off eventually (plus aging will mature their palette!).
HEALTHY MEALS FOR YOUR FAMILY
We've come up with a four-day meal plan for you. We hope you enjoy!
| | | | | |
| --- | --- | --- | --- | --- |
| | Day 1 | Day 2 | Day 3 | Day 4 |
| Breakfast | Half a banana with cheerios and low-fat milk | Fruit parfait (strawberries with low-fat yogurt & grapenuts) | Scrambled eggs & whole grain toaster waffle with butter. Blueberries for eyes and smile on waffle. Scrambled eggs for hair. | Oatmeal with blueberries and almond meal (ground almonds). Drizzle with maple syrup. |
| Mid-Morning Snack | Cheese stick with whole grain crackers.Five baby tomatoes | Cucumber sticks | Unsweetened applesauce | Low-fat granola with low-fat milk |
| Lunch | Turkey and Cheddar Roll-up. Yogurt and mandarin orange | Cheese Quesadilla with Guacamole, Salsa and Tortilla Chips. Strawberries. | Deli meat and cheese kabobs with carrots and ranch dip. | Peanut Butter and Jelly (or an alternative nut butter). String Cheese, fruit cup and chips |
| After-School Snack | Toasted whole wheat pita triangles with light herbed cheese | Sliced apples with cubed cheddar cheese | Watermelon wedges dipped in low-fat vanilla yogurt | Whole wheat pretzel sticks dipped in nut butter |
| Dinner | Chicken parmesan meatballs. | Grilled Chicken with sweet potato fries | Chicken noodle soup | Chicken and "rice" casserole |