(HINT: DIETING ISN'T THE ANSWER)
How do you know if your child is at risk for obesity? It can be confusing to tell if your kid is packing on some extra pounds before a growth spurt or if they're truly at risk for becoming overweight or obese.
DON'T SELF-DIAGNOSE!
Your pediatrician should be your first point of contact. Because they are growing, children and adolescents should not be measured by adult BMI standards. Your child's doctor will be able to look at the children's recommendations for body weight and help you determine if your child is at a healthy weight or not.
WHATEVER THE VERDICT, KIDS SHOULD NEVER BE ON A DIET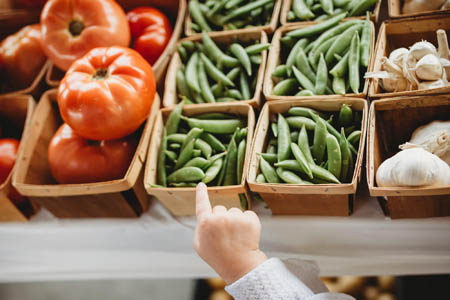 Children like adults, become overweight when they eat more and move less. When a child is struggling with their weight, it's important to encourage healthier food choices - not calorie restrictions. Children naturally have a better graspof their hunger cues. You can help your child hear those cues with encouragement and by demonstrating what a proper portion looks like. Children should never get the same amount of food as an adult. If your kid is still hungry after eating all of their food – vegetables, main course, a glass of milk, etc. – then it is okay for them to have a second helping. If your kid is only "hungry" for dessert when their plate is still full, don't worry about adding food to their plate.
DON'T SINGLE OUT THE CHILD WHO MAY BE STRUGGLING WITH WEIGHT
Think of your own healthy eating journey. It feels pretty rotten to be eating a salad when you see all your friends eating burgers and pizza!
Whatever healthy lifestyle changes are recommended by the pediatrician should be adopted by the whole family. Find ways to get the whole family to eat better and be more active. Make it part of your daily routine, or weekly routine, and go for a walk around the neighborhood after dinner.
TALK TO THEM ABOUT HEALTH AND WELLNESS
If you think your child is eating junk food at a friend's house or at school, we recommend reinforcing the discussion about a healthy body. Don't punish your children for eating unhealthy foods that their friends or schoolmates eat. Instead talk to them about the importance of fueling our bodies with healthy foods that keep us strong, smart, and healthy (less likely to get sick!). Kids won't be perfect, but if you consistently talk to them about how to develop a healthy body, your lessons will start to stick when they need to make choices when you aren't around to help them.
IF YOUR CHILD IS UNDERWEIGHT…
On the flip side, if you're worried about your child being underweight you should discuss it with your doctor. If your kid is needing to pack on extra weight, your pediatrician will be able to give you suggestions on how to add weight healthfully. Just because a child may need to gain weight, it doesn't mean they are able to eat more ice cream or cake - nutrition still matters. You may find that you'll be buying whole milk or cooking with more healthy oils to up the calorie count without compromising nutritional value.
Leading by example is a great way to teach your kids how to live a healthly lifestyle. Show them how to make the right decisions, make it a family effort! We can't wait to show you Part 3 next week!