April is MOSSA Spring Releases Launch Month!
At both clubs we have launches planned for all the new releases - see complete list of Launch Dates & Instructors below:

Group Power Saturday April 4:
North - 9AM with Sara, Marianne & Leah - only 8 spaces left!
South - 9AM with Cristal, Janae & Shane - Launch FULL - come to a class next week to check out the new release

Group Ride Tuesday April 14: (sign-up begins Monday April 6)
North - 6PM with Shane & Kamay
South - 5:30PM with Marianne & Tom

Group Kick Sunday April 19 - North only with our Daring Duo Melisa & Sarah (no sign up needed)

Group Centergy Sunday April 19: (no sign up needed)
North - 5:30PM with Ashley & Cristal
South - 11AM with Tami & Cristal

Group Blast Sunday April 26 - North 3:30PM with Sherre-Khan, Janae & Cristal (sign up begins Thursday April 23)

We take in-class reservations to guarantee your spots for Power, Ride & Blast so be sure to sign-up with your favorite Group instructors.
You may bring a friend for free to any launch so long as you sign them up ahead of time - when you reserve your spot, reserve theirs too!
Any questions on reservations & launch space availability, contact Group Fitness Coordinator Cristal Barnes: cbarnes@genesishealthclubs.com

Never taken a Group class? A launch is a perfect time to start - the programming is new to everyone!
This month - find out why GROUP Music Moves Ya! =0)

Lawrence North:
Good-Bye to Sara Powlus
Sadly, we are losing one of our favorite instructors - Sara Powlus is moving to Indiana with her hubby as he begins a position back at his alma mater - Notre Dame. Her last day teaching will be Saturday April 25. We are working on plans for a going away party - look for details to be shared in her classes in the next 2 weeks. The good news is we have a talented & friendly group of instructors ready to step in to continue her classes! The planned line-up is as follows:

Monday 9AM Group Ride - Joni
Monday 10:30AM Silver Sneakers - Sherre-Khan
Monday 4:30PM Group Power - Haley

Tuesday 9AM Cardio Intervals - becoming Group Blast - Cristal

Wednesday 9AM Group Power - Leah
Wednesday 9AM Silver Sneakers - Sherre-Khan / Leah

Thursday 9AM Cardio Intervals - Leah

Friday 9AM Group Ride - Joni
Friday 10:30AM Silver Sneakers - Sherre-Khan

Saturday 9AM Group Power - Janae

We wish Sara & her family well & hope they come back to visit!
Lawrence North Instructor of the Month: Shane Heiman
Shane came to us from Emporia at the start of the school year & has created quite a following with his fun & funny teaching style (ask him about how hard it is for a guy to maintain his hair style between workout. Shane became certified in Group Power back in October 2011 - he & GFC Cristal Barnes actually attended the exact same training - so they go way back! Shane is a fantastic instructor - if you haven't tried his classes yet, you are missing out!
You can catch Shane teaching the following days / times:
Tuesday 7PM Group Power
Wednesday 5:30AM Group Blast
Thursday 6PM Group Ride
Thursday 7PM Group Power
& starting in May he will alternate teaching Tuesday 5:30PM Group Ride at South!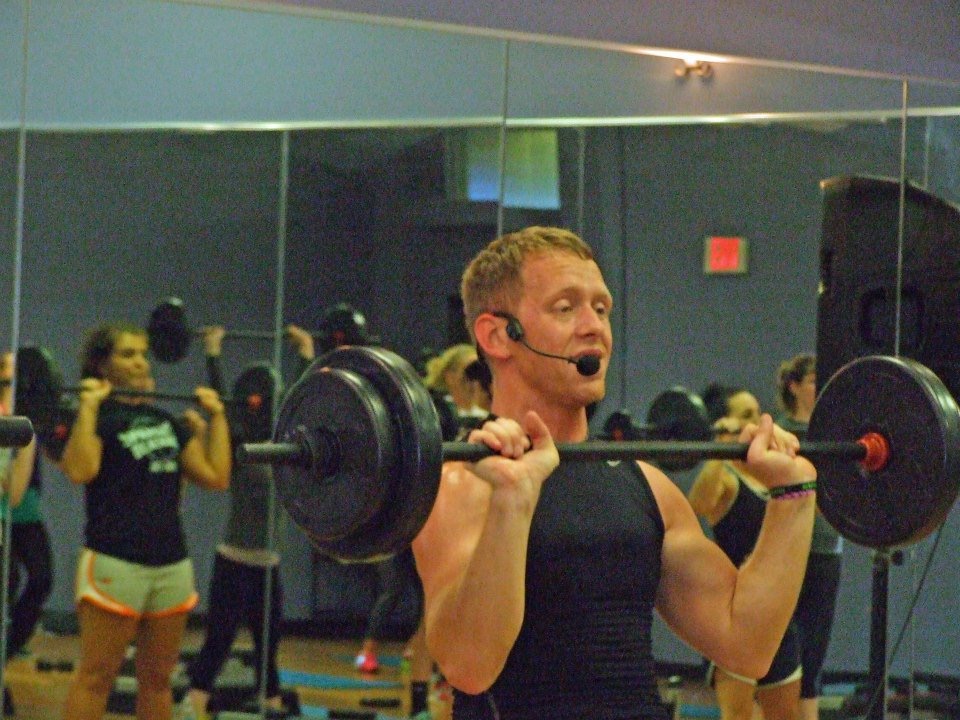 Lawrence South Instructor of the Month: Kamay Plunkett
Kamay is to love Kamay! She was a member for 2 years before she took her first instructor certification & has not looked back! She teaches Group Power, Group Ride, Aqua Zumba as a sub & is preparing to be a Barre instructor. She is always willing to help other instructors in need when her busy running schedule & wedding planning allows (our girl is off the market & getting hitched in October! =0
Q&A with Kamay:
Q - Why did you begin teaching group fitness?
A - I love a challenge and learning new things. There is nothing like seeing one of the members accomplish a goal, whether it's doing push-ups on their toes or adding weight to the bar. They are the reason I get out of bed at 5am for class.
Q - What changes have you seen in yourself & those hard-working 5AM members in the past 3 years?
A - Both my students & myself have seen big changes - physically & mentally. I can now run a 10K (something I could not do 3 years ago) & am running my first half-marathon in 2 weeks!
Q - What is your full-time job?
A - I'm the Roasterie Coffeehouse Coordinator for KU Dining Services. I am also a member of PEO & Beta Sigma Phi service sorority. I volunteer at Starlight Theater in KC & for fun I run any race that has cool T-shirts & medals!
Q - Have some funny tidbit from your past members you'd like to share?
A - I was a Girl Scout for 16 years & during my 4 years of High School I sold over 4,000 boxes of cookies!

If you'd like to catch up with our fun & funky Kamay, wake up early & take one of these classes:

Monday - SOUTH 5:30AM Group Power Express
Tuesday - NORTH 6:00PM Group Ride (so non-morning people can check her out… =0)
Wednesday - SOUTH 5:30AM Group Power Express
Friday - SOUTH 5:30AM Group Power Express