The importance of eating healthy goes beyond making sure that you have a balanced diet, are avoiding high caloric meals and drinking enough water. Every food you consume brings with it nutrients and vitamins that build muscle, improve the immune system, and protect the brain from the effects of aging.
The brain is made entirely of fatty tissue, 40 percent of which is DHA, the one of the fatty acids found in fish oil. By providing a combination of vitamins and antioxidants you are able to protect the nerve cells in the brain from damage resulting from age and free radicals.
Free radicals are the products created by the body when cells use fuel (glucose) to create energy. Too many free radicals can result in both a poor immune system and cell damage that may lead to illnesses like heart disease and cancer.
Providing your brain with a variety of vitamins, antioxidants, and glucose can help combat the effects of free radicals and maintain your brain function into your golden years. Some foods that provide these vitamins and nutrients are listed below.
Salmon or Albacore Tuna
Fish like salmon or tuna provide omega-3 fatty acids which reduces inflammation and helps create fluidity in the brain.
Leafy Greens (cabbage, kale, broccoli)
Your mom told you to eat your green vegetables, not just because she wanted you to your clean plate. Green vegetables contain antioxidants like Vitamin C, which provides both a boost to your immune system and also combats the effects of free radicals in the brain.
Whole Grains (oatmeal, brown rice, or oat bran)
Whole grains help stabilize blood glucose, the energy that is the bodies main source of fuel. When the body has too little glucose it can affect mental functioning leaving you irritable or tired.
Feed your mind and fuel your body with this tasty recipe that includes all of the brain foods above.
Teriyaki Salmon Receipe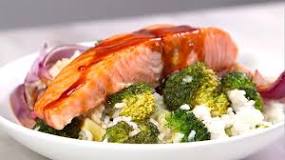 Ingredients
1/4 cup brown sugar
2 tablespoons low-sodium soy sauce
1 cup long-grain white rice
1 head broccoli, florets only, chopped (about 2 cups)
4 pieces skinless salmon fillet (1 1/4 pounds total)
1 large red onion, cut into 1/4-inch-thick wedges
1 tablespoon olive oil
kosher salt and black pepper

How to Make It


Step 1
Heat broiler. In a small bowl, combine the sugar and soy sauce. Set aside.
Step 2
Cook the rice according to the package directions, stirring in the broccoli during the last 3 minutes.
Step 3
Let the rice and broccoli stand off the heat until the broccoli is tender, about 5 minutes. Fluff with a fork.
Step 4
Meanwhile, place the salmon and onion on a rimmed baking sheet. Drizzle with the oil and season with ½ teaspoon salt and ¼ teaspoon pepper.
Step 5
Broil until the salmon is opaque throughout, 8 to 10 minutes, spooning half the soy sauce glaze over the fish during the last 2 minutes of cooking.
Step 6
Serve the salmon and onion with the rice and the remaining glaze.