Personal Trainer of the month: Heather Klaassen
Heather's goal is to help clients find their inner strength, teach them discipline, and help give them confidence. The result of this would not only transform their physical appearance, but also shine in her client's overall health.

TELL US ABOUT YOUR PERSONAL AND PROFESSIONAL BACKGROUND.

I was originally born in Providence, Rhode Island, but I'm home grown here in Wichita, Kansas. I have a degree in Communication Studies with a Dance Minor from the University of Kansas. I played Rugby for KU, while dancing with the University Dance Company. After college I was a Sales Manager for three years, until I found my true passion in the health and fitness industry. I went Pro in the Bikini division with WBFF in 2012, and have since relinquished my pro card to enjoy new experiences with other organizations. During my prep for my first show, I decided to work towards becoming a Certified Personal Trainer. I am now a bikini competitor, powerlifter, full time trainer of three and a half years, competition coach, as well as co-owner of Valhalla Barbell Club.
WHEN AND WHY DID YOU BECOME A TRAINER?
I became a trainer in 2013. I always knew I wanted to help, lead, and encourage people. Being active always interested me, but being a personal trainer seemed out of reach; almost like a job one would only see in California or New York training Hollywood actors. After graduation although I had a wonderful full time job, I still felt lost. In college, everything I did or liked (besides dancing and Rugby) I did because my friends enjoyed it; music, clothes, weekend activities, etc. I realized I did not know what I enjoyed, I had no hobbies of my own.
My husband started encouraging me to lift with him in the mornings before work, as he is an avid powerlifter. A few times in college I had told my roommate that I just really wanted to push my body to its limits and really see what it was capable of, but at the time I didn't know how, or in what way, and had little to no direction. This time was different. I had the support of my husband, who loved to do research and had been immersed in weightlifting for years. I began my own research and decided to prepare for my first show with the help of a coach.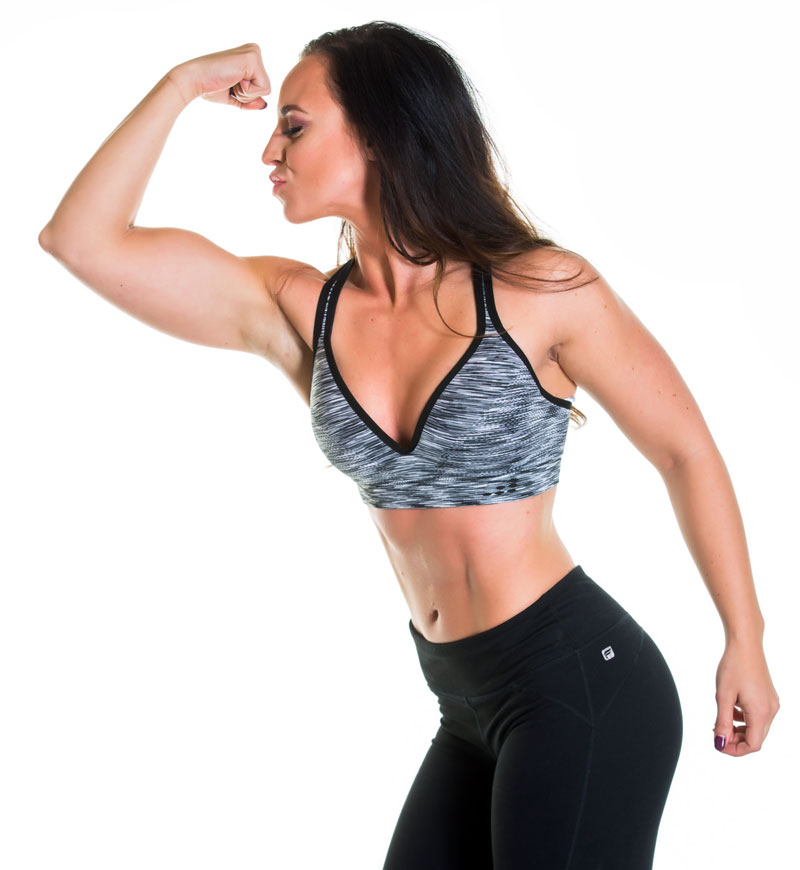 I wanted to discover who I was and lifting and working out seemed to make the most sense to me. It was the most basic form of working on myself; I was physically and actively changing myself, and it was trackable. Every set and rep, every bead of sweat, every tear of frustration taught me so much more about myself than I could ever fully put into words. I learned I was strong, tough minded, and I could withstand so much more than I knew. I became more disciplined, organized, and confident and it was life changing. It was then I realized I was meant to do this and to help others feel this way. I wanted to help them find their inner strength, discipline, and confidence and if done properly, it would show in their health and transformation of their physical outward appearance.

HOW DID YOU GET INTO SHOW COMPETITIONS?
When I began lifting weights with my husband Chad, I was enjoying it so much that I knew I needed a challenging goal that excited, yet terrified me. Something I never thought I could accomplish. I mulled over the option of prepping for a powerlifting meet, but did not want to feel as though I was "just doing it because Chad did it." I wanted a goal to call my own and landed on the decision to work towards a fitness competition. It sounded like a goal that would really challenge my character and discipline, and change me forever; continuing my theme of personal growth. My journey to the stage did not let me down. It influenced my decision to change careers, who I chose to spend my time with, how I structured my day. It began the snowball effect into becoming the person I am today and I would not trade that for the world; the good, the bad, and all in between.


YOU HAVE YOUR OWN COMPETITION TEAM, CAN YOU TELL US MORE ABOUT IT?
Klaassen's Iron Athletes would be my fitness competition team. When I began as a trainer, I knew I wanted to create a team to compete in bodybuilding shows but teach the athletes to work with their bodies and not against them. I wanted to teach them new methods of dieting with their long term goals in mind, not just "show day" goals.

Originally, the group began as a posing class and support system for those I was training, but after a
year we transformed into much more of an organized team. Now having been an organized team for almost 3 years, the selection process for the team has become highly competitive. The bonds made with these team members are for life. We look at our time in preparation for a show as a journey of self-discovery, with each show being a goal and stop along the road. We support each other through and through, and I would never change a minute of these trials and tribulations we have endured together.
WHAT ARE THE MOST COMMON MISTAKES A CLIENT MAKES?
Well, MY clients don't make mistakes, because they have me ;) (I kid, I kid), but some beginners may make the following mistakes: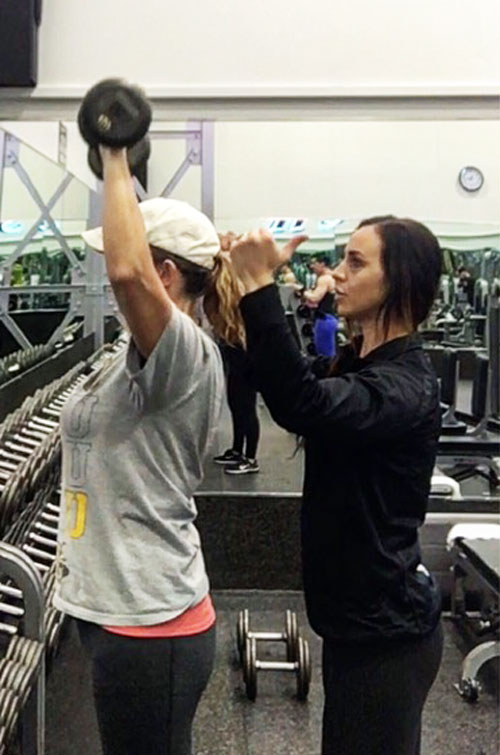 -Not having a progression plan that cohesively and expertly combines weightlifting, nutrition, and cardio in the appropriate amounts.
-Holding on to excuses.
-Rewarding yourself with a food "treat" because they did well that week.
-Drinking too much alcohol.
-Not getting enough sleep.
-Not listening to their body.
-Not balancing out their hormones through proper nutrition for THEIR body.
-Comparing themselves to others.
-Relying too heavily on the scale.
-Look, I could go on for days here...
HOW DO YOU KEEP YOUR CLIENTS MOTIVATED?
Tracking progress through physical and athletic goals in a cohesive progression plan- something they can actually see written out on a day to day basis.
"I sought out Heather to help me when I decided to get serious about health and fitness, and I never looked back. I made more progress with her in the first several weeks than I had in almost two years on my own. Following her programming in training and nutrition has allowed me to completely transform my body safely and naturally. Today, I am a nationally qualified bikini competitor; but more importantly, I am happier, healthier, and stronger than I have ever been. I would not be here without her knowledge, guidance, and encouragement."

– Lanae, 23yrs, (full transformation over a year)
DO YOU TRAIN MEN DIFFERENTLY THAN WOMEN?
Yes, and no. How I train people typically is not based on whether they are a man or woman. How I train people is based on the individuals short and long term goals. The two Key words being "individual" and "their" goals. Yes, consideration to an individual's gender is a necessity when programming at times to ensure efficiency in the specific training plan, but that is not the sole determinant of why or how I train someone. I would never take a man as a client and assume, "Oh, he's a man, he wants to be bigger and stronger. So we will only lift this one way" and I would never take a woman and say "Oh, she is a woman, she will want Pilates and cardio, so we will only stick to "womanly" exercises." It goes much deeper than that, and at times I have to find a compromise between what I feel is best versus what I know they will stick to because the best workout regimen, is the one that will keep you coming back for more!

DO YOU SOMETIMES FEEL LIKE A PSYCHOLOGIST AS WELL AS A TRAINER?
Sometimes I feel like A LOT of things outside of being a personal trainer but that's okay because that is what being a trainer is all about. It's about being a psychologist, mentor, friend, teacher, nutritionist, coach, encourager, motivator, etc.! You can't work with people and expect things to just be black and white. Humans, believe it or not, have feelings, emotions, worries, and triumphs and that affects their hormonal levels, their mindsets, and their overall performance. Learning to be what the client needs in that moment on training day, to still help them achieve their long term goal is all part of being a personal trainer; and I am happy to do it. It builds rapport and a bond that the client can trust, and its genuine and real; you're in the trenches with them. When you are working on yourself in the gym physically, you are working on yourself mentally and emotionally as well, it runs deeper than just how a person looks and the client needs to know you will be there to support them in all aspects of their journey.
WOW, YOU'RE A MODEL AS WELL! WHAT'S IT LIKE?
Modeling is my hobby/side job! It's fun to collaborate with a photographer on an artistic level. There are also opportunities that modeling provides as a platform to motivate and inspire others to live healthy lifestyles, and supporting different product brands, etc. It's really fun!

LASTLY, WHAT IS YOUR FAVORITE QUOTE(S)?
The last quote in green is especially personal to me, but the others are quotes I find to be highly motivating and quotes I catch myself repeating to clients regularly.
"Don't talk about it. Be about it."
"If it was easy, everyone would do it."
"Pain is weakness leaving the body."

"I went to Heather because I felt like training on my own had reached a plateau. Not only did Heather get me over the plateau but she helped me climb a mountain. I am in the best shape of my life at 43 years old and still improving every week. I have lost 11% body fat and gained 5lbs in the process. Bench was 205lbs, now its 265lbs. Squat was 225, now its 345lbs. Deadlift was 235lbs, now its 360lbs."

– Roddy, 43yrs (full transformation over a year)
3 WORKOUT VARIANCES BROUGHT TO YOU BY HEATHER


BEGINNER AT HOME OR GYM WORKOUT
DAY 1
(circuit, 3x through)
Step back lunges: 12
Mountain climbers AMAP (as many as possible): 40 sec
Jumping squats: 15
V sits: 12
Kneeling glute kick back: 15 each leg
Plank: 30 sec

~ 2min rest between each circuit ~
DAY 2
(circuit, 3x through)
Push-up: 12
Lateral raise with food cans: 15
Crab dips: 15
Front raises with water bottles or cans: 10-12.
Crab walk planks: 12 each direction
Vacuums: 8 with 2 count hold

~ 2min rest between each circuit ~

DAY 3
(circuit, 3x through)
Gallon jug front squats:10-12
Bear crawls amap leading with each side: 30 sec
Lying leg abductor: 15 each side
Lateral lunges: 12 each side
Tricep kickbacks with water bottles or cans: 15
Reverse crunch/flutter kicks 12/AMAP (as many as possible): 30 sec.
~ 2min rest between each circuit ~

DAY 4
Cardio: can be steady state outside | no more than 20-30min max
INTERMEDIATE WORKOUT
DAY 1

Glutes/Lower Back
Weighted 45 degree back extension -- 4 sets/8-each side
Single leg to banded bilateral hip thrusts -- 4 sets/8-failure
Dumbbell sumo DL/ partial squat banded abductors -- 3 sets/20 each
Reverse hyper with ankle band -- 4 sets/15
Planks/ lying leg raise with 5 ct neg -- 4 sets/ 40 sec/12
DAY 2

Shoulders/Bi/UpperBack
Seated hammerstrength military press -- 3 sets/12
Crucifix holds -- 2 sets/1-hold for 60 sec.
Single arm lat pull down/ chest supported reverse db fly -- 3 sets/ 8/15
Incline db hammer curls -- 4 sets/ 15
Seated back supported lateral raises -- 10 sets/10
Chest supported db rows -- 3 sets/6
Reverse crunch -- 4 sets/15
Cable crunch -- 4 sets/10
DAY 3
Legs
Squat wam up -- 3 sets/10
Squat -- 3 sets/12
Smith machine lunge to pulse -- 3 sets/ lunge 10/pulse 10
Cable hip extension to donkey kick -- 3 sets/ extension 10/ kick AMAP
Leg curl 2 up 1 down -- 3 sets/8
Sissy squats/single leg glute raise -- 4 sets/ 12/12 use bodyweight
Hanging leg raises -- 4 sets/10
DAY 4
Chest/Tri/Shoulder
Incline db bench press -- 2 sets/ RP
Pec fly -- 3 sets/ 10 w/ 5 count neg.
Push ups -- 10 set/10
Lying floor pause db tricep ext -- 3 sets/ 10 on each movement
Bentover cable lateral raises -- 4 sets/12
Alt. weighted v sits -- 4 sets/ 10
Decline ceiling touches -- 4 sets/10
DAY 5
Lower body CIRCUIT
Leg press -- 4 SETS/ 50,40,30,20
Russian squats -- 4 sets/10
Walking lunges -- 4 sets/ 20
Leg ext -- 4 sets/ 35,35,30,25
Oblique crunches -- 4 sets/12
Wood choppers -- 3 sets/12

ADVANCED WORKOUT
DAY 1
Bench Press -- 4 sets/8
Technogym single arm shoulder press/ technogym bilateral shoulder press drop set -- 4 sets/10 AMAP
Decline lateral raise -- 3 sets/20
Standing db lateral raise 3 ct negative --4 sets/ 12,12,11,9
Hammerstrength decline bench/face pulls -- 3 sets/ 10/15
Seated hammerstrength lateral raise -- 5 sets/15
Ropes/ bicycle (abs) -- 3/ 20 sec/30 sec*3=1 set
DAY 2
Leg press double/single/double -- 4 sets/ 12/10/failure
Walking lunges -- 3 sets/ 8 with weight- drop weight off shoulders and do BW for 22 each leg
Weighted pistol squats -- 4 sets/12
Standing straight leg calf raises -- 4 sets/15

Circuit 3x through
Keystone DL -- 12
Sissy squats -- 25
Sumo DL -- 12
Full range of motion squats -- 30
Weighted cable crunches/side planks -- 4 SETS/ 15/30 sec.
DAY 3
Deadlift/ tbar row -- 4 sets/ 8/12
Freemotion row with 4ct negative all reps and iso hold- last rep -- 3 sets/10
Seated single arm cable rear delt fly -- 5 sets/10
Single arm body paralell to floor db row ( place resting hand on something lower than your knee)- Touch the floor for a complete pause between reps -- 4 sets/8
Smith machine barbell row -- 4 sets/9
Planks -- 4 sets/ 1 min
CARDIO: Stairmaster intervals- 2min sprint (level 10+), 4min recovery pace (level 3-8)
DAY 4
Dumbbell bicep curl drop set (2 drops)/hammer curls -- 4/ AMAP/15
Overhead cable rope tricep extensions/narrow stance push ups 3ct up, 3ct down -- 4 sets/ 15/12
EZ curl bar preacher curls with band (thread EZ curl bar through handles of band. spread handles of Band apart to allow proper hand placement on ez bar. place one foot in center of band to create a light added resistence.) -- 4 sets/ 12-15
Single arm cable tricep kickbacks -- 4 sets/15
Incline db bicep curl/cable rope tricep push downs -- 4 sets/ 12-15
Band oblique twists -- 4 sets/12
DAY 5
Recovery cardio: 15-20min (any type of machine or outdoor jogging/walking will do, the key is to keep your heart rate in the recommended range, based on age and gender, for recovery)