PERSONAL TRAINER OF THE MONTH: ROB AUBUCHON
Rob says having enthusiasm is essential. "If I am excited and believe in what we are doing, that will help my client reach their goal. It makes them more willing to get fit with just as much enthusiasm."
Follow Rob on Instagram >> @aubuchon_robert
TELL US ABOUT YOUR PERSONAL AND PROFESSIONAL BACKGROUND.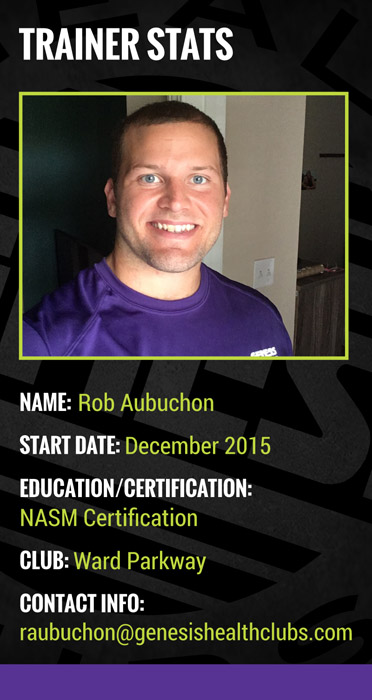 I was born and raised in St. Louis, Missouri. Sports were a staple in my life as I was growing up and most of my lifelong friends have come through playing sports. I had the honor of being named All-Conference in baseball and football twice in high school, which lead me to a decision to choose which sport I wanted to play in college. I attended Avila University and moved to Kansas City to play football. I spent the next four years studying Kinesiology as well as playing football. Time management was also a key for me as I maintained employment at Walgreens all through my high school and college years. Through this, a work ethic was installed and it lead me to the Ward Parkway gym.
WHEN AND WHY DID YOU BECOME A TRAINER?
Once I was finished playing football I decided that it was time to change the aim of my training and have a different purpose with my workouts. I was an offensive lineman at Avila, so I got up to as heavy as 265 pounds. Since I no longer needed the body mass to move a 300-pound person anymore, I lost 60 pounds and never felt better.

Although many attest self-improvement to be a driving force for training, that is not my sole drive for becoming a trainer. I am passionate about implementing healthy habits into my clients and avoiding health risks. My family has a serious history of diabetes, heart disease, and cancer.
One of the highlights of my career thus far is having met Susie Hill, who is featured in this post. The day I met Susie she was in tears because her doctor was going to yet again raise her blood pressure medication. With determination and some knowledge, Susie lost 52 pounds in six months! She has also lowered her blood pressure medication by half the dose. That is why I became a trainer, the smile I get to see on my clients faces whenever they begin to see and feel the differences make me happy.
WHAT IS YOUR TRAINING STYLE? WHAT METHODS DO YOU USE?
If I had to give my style a name I would call it functional strength. Being able to perform everyday tasks safely is important. It greatly varies from client to client. I have a client who runs his half marathon in October, I train three people over 65 who are more focused on balance and proprioception. I have weight loss clients; I have weight gain clients. Goals drive the direction of the training.
Simple everyday things are important. Having someone able to maintain posture after being seated for 8 hours and understanding how to correct it if it does fail is a major thing I come across. One thing I like to do is challenge my clients each month with goals. They can be nutrition or performance based, or even a goal for check ins.
Generally, we will start with some kind of activation exercise. It will always relate to whatever core lift we are doing that day. For example, a weight loss client and I are doing deadlifts, we would activate the glutes and get them firing. We would then bump up some intensity, I tend to use supersets and circuits. Then, we may finish with a short tabata.
Having a researched based program and educating clients is very important for our team here at Ward Parkway. We spend a great deal of time together learning from each other and understanding how and why something works. That is why we are successful, we draw from a wide variety of backgrounds and make our training all around as opposed to one dimensional.
DO YOU SET YOUR CLIENTS UP WITH A FULL DIET AND TRAINING PLAN FOR THEM TO FOLLOW BY THEMSELVES?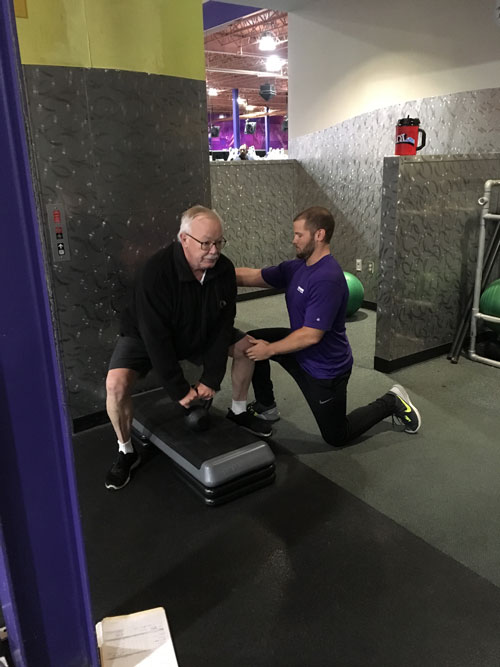 I use the MyFitnessPal app with majority of my clients. All of my clients trying to adjust weight, meet me at my desk when we begin our session and hand over their phone or journal, without proper nutrition there is limited progress. I do not expect an overnight change so I challenge them often with something simple. Eat vegetables at dinner, log every day, eat breakfast, or even eat 5 times a day. No matter what it is to set them up for long term success. Implementing good habits is the key.
Generally, the cardio falls onto the client. Depending on the goal, they may have cardio post workout or on a separate day. But I do check in and pull records to assure they are doing their part. If it is something that we both agree to, then it is the standard in which is set and we both commit to. We use interval based and steady state cardio. Always keeping them motivated to stay on top of it.
WHAT ARE THE MOST COMMON MISTAKES A CLIENT MAKES?
The ones that you let them make. Being too hard on themselves is a common one when they first come in. Being down because the scale does not move, even though body composition has. There are movement patterns that are very common that bring "mistakes," but as long as we know what is causing that mistake, we can correct it.
WHAT ARE THE MOST COMMON MISTAKES YOU BELIEVE A TRAINER MAKES?
Not following up with a client or even someone you have worked with at some point. Most people resist change, it is just how we are wired. So helping them past the point of a sale is important. I talk with many people I have met with in the past to do my best and offer any assistance I can to keep them coming into the gym. It's as simple as saying hey and remembering their name to as complex as offering assistance to teach them why an exercise may not be the best choice for them.
HOW DO YOU KEEP YOUR CLIENTS MOTIVATED?
Having enthusiasm is essential. If I can get excited for what we are doing and I thoroughly believe that what we are doing will help them reach their goal, then they will be more willing to get fit with just as much enthusiasm.
Also giving them the education behind what we are doing so they understand its purpose. If I can share the reasons behind why something works and have them understand that then the value they receive is much higher. Not only that, but when the training is finished they will come out with more than results.
DO YOU SOMETIMES FEEL LIKE A PSYCHOLOGIST AS WELL AS A TRAINER?
To some degree, I do. Listening and responding and helping with situations we all have to deal with and adjusting accordingly. Sometimes they may need an ear to listen. But once you don't think of them as a client, and more of someone you truly care about, you won't mind. You embrace the fact they are comfortable letting you into their lives.
WHAT IS YOUR FAVORITE QUOTE(S)?
"Shall we receive good from God and shall we not accept adversity?" Job 2:10
"Just a simple reminder that everything is not always going to go the way that you plan, but we have to understand that idea and keep moving forward."
CLIENT TESTIMONIALS
"There is not enough words to describe what Rob Aubuchon has brought to my life, but what comes to mind is Love.

Love is patient….
• What can I say, he shows it over and over and over again as he reviews my daily food log, he asks me if I come into the gym when we're not training and he deals with me complaining as we are going through different exercises of the workout.

Love is kind…
• I came to work out on my own and Rob saw me and of course, he spoke and shared his big smile and asks me what I'm working and jumps in to workout with me. That was the moment when I realized he cared and it was not about money with him. This was the beginning of me trusting him.

Love does not dishonor others, it is not self-seeking. It is not easily angered; it keeps no record of wrongs....
• When our journey first started he asked me if I was comfortable about him taking my measurements, I was like there is no need for that as long as I come and exercise, it is better than doing nothing at all. He suggested we measure by my clothes size. He didn't force the issue and we moved forward. After each month we'll sit down and go over goals. He has earned my trust and eventually giving him my measurements became easy, however, doing the four days a week was not. Rob also got me involved in Group X classes such as Yoga Wednesday's and cycling. He works very well with me with a positive attitude and we're always finding ways to move forward.

Love never fails…
• When I say "I can't" he says "you can." When it appears I cannot complete the lift, he is there to help me through it. He never backs down from the exercise at hand, he may modify it to get me stronger and re approach the original exercise when he thinks I'm strong enough to do it. Rob has a lot of love towards people and towards his craft. I am so thankful that my heavenly Father has allowed him to be the tool in my life in being released from the darkness of laziness, improper eating habits and not caring properly for myself. How do you tell or show someone the appreciation and gratitude that you have for someone who very well may have saved your life? Is it by doing three sets of 15 burpees and getting through the exercise given to me. Rob, to me you are the greatest trainer in the world not just for the month but for always." -Leigh Chatman
"As a retired emergency/trauma nurse, I spent many years caring for others during their times of need. While it was very rewarding, the stress, physical demands and emotional drain took a toll on me. In March 2016, I hit bottom and said, "ENOUGH OF THIS!" I was obese, hypertensive and depleted of the physical strength I needed to be active. So, I joined the club! During my new member interview, which resulted in a complete meltdown, it was suggested that I use a personal trainer. I decided this could be money well spent and so I was lead to Rob Aubuchon.

During our first appointment the dreaded weighing and measuring took place. As I fought back tears of complete humiliation and self loathing, Rob looked at me and with calm reassurance and said, "you are here now and WE will change the numbers." I knew at that moment he was in this with me, and so, the journey with Rob began.

His knowledge, patience, humor and cheer-leading skills have kept me challenged, motivated and excited through this journey of lifestyle changes. During our sessions he is at my side teaching, insisting on correct form and monitoring my safety. We work hard for sure, but we laugh as well! Rob has a keen perception of where to start, allowing me to experience repeated successes rather than feelings of failure.

I am so fortunate to have Rob as a trainer, teacher and supporter, along with the blessings of his friendship. I will always be indebted to him...he is my Hero for sure!" -Susie Hill