Personal Trainer of the Month: Alison Hager
Alison states that if there is one person that should always believe in their clients, that should be their personal trainer. A trainer should always see a clients potential no matter what and never give up on them!
Follow Alison on Instagram >> @fit_not_skinny

TELL US ABOUT YOUR PERSONAL AND PROFESSIONAL BACKGROUND.
I'm from Beloit, Kansas. After graduating high school, I went to college at Northwestern in Orange City, Iowa. I majored in Elementary Education with an emphasis in Special Education K-12 grade. My goal was to teach and eventually become and principal at an inner city school in St. Louis, Missouri. I had done several inner city internships through college and I fell in love with St. Louis. However, the year I graduated college was the same year the St. Louis School districts lost their accreditation and after applying to numerous schools, I moved to Salina. I worked full-time as a Sales Associate at The Buckle in the mall and part-time as a cycling and Zumba instructor at Genesis Health Clubs.
WHEN AND WHY DID YOU BECOME A TRAINER?
Prior moving to Salina, I had just finished my 2nd half marathon which put me at 90 pounds lost. I was in love with the gym and training. I had made major lifestyle changes and got certified in Zumba and then MOSSA Group Ride. After a year of instructing, Anna Simoneau approached me about becoming a personal trainer. We sat down and discussed how I could go about getting certified as a Genesis trainer, I started shortly after and haven't looked back. I wanted to help others make the positive changes that I did. I gained a whole new respect for myself and I desired to inspire, encourage, and empower others through training.
YOU HAVE GONE THROUGH YOUR OWN MAJOR FITNESS TRANSFORMATION; HOW DID YOU GET STARTED?
In my junior year of college, cheerleading was brought back to the school. They had gone many years without cheerleading due to funding and my friends and I all decided to try out for the team. I was the only one who didn't make the cut. It's not like I wanted to join the team, but I hated that I didn't fit in. Over that summer I worked my tail off losing weight. I changed my nutrition, I was diagnosed with a thyroid disorder that I was able to get medicine for, and I worked out every morning before going to work. I vowed to not to step on the scale, and solely focused on my actions to becoming a healthier individual instead of solely focusing on the scale. By the time I went back to school and bought new clothes, I was down 34 pounds. I decided I needed to continue what I was doing at school and not look back. The more weight I lost, the more I began to enjoy running. I previously had two hip surgeries that left me with a pin and a screw in both of my hips. I honestly never thought I would be able to run, but knowing I was doing something that I didn't think I would be able to do was empowering. I signed up for the Oklahoma Half Marathon and I continue to train and make positive choices for my personal health.

WHAT IS YOUR TRAINING STYLE? WHAT METHODS DO
YOU USE?
My training style changes the more I learn about fitness. When I first started, I only used the TRX bands. I had been to a TRX training and that was my training preference. I did a lot of body weight and dumbbell circuits because that's what I was familiar with. I used to do lots of cardio because I was running. However, the miles started to catch up to me and was playing havoc on my hips and back. I realized I needed to do more strength training and that's when I fell in love with body building. Due to my hip surgeries, I'm not able to do power lifting but I do lift heavier when I can. I incorporate that with many of my clients as well. To burn fat, you have to build muscle. I teach Group Centergy which is a Yoga and Pilates mix, I also teach Group Ride and R-30 (cycling classes) and I personally have a coach and I am working on prepping to compete in a figure competition. I'm always wanting to learn and that's why I chose to challenge myself and learn from others who train differently than I do. I could honestly say I've experienced a variety of training and that's why I have a variety of clients from older adults to young junior high and high school sports athletes. It's crazy the more you learn about your field of personal training, the more you realize you have so much more to learn. I view my job and my training style as a forever learning career.
YOU HAVE BEEN FEATURED IN MAGAZINES AND ARTICLES! TELL US ABOUT THEM.

The first opportunity I had I was featured by Nike Women. I wrote a brief article about my weight loss journey and they loved it! I worked with the editor and had to go through several phone interviews. My dad does photography so he was able to take pictures of me for this article. They featured my picture using my quote, "I'm making myself dynamic!" and used my story as a motivational piece to encourage others to get moving no matter where they're starting.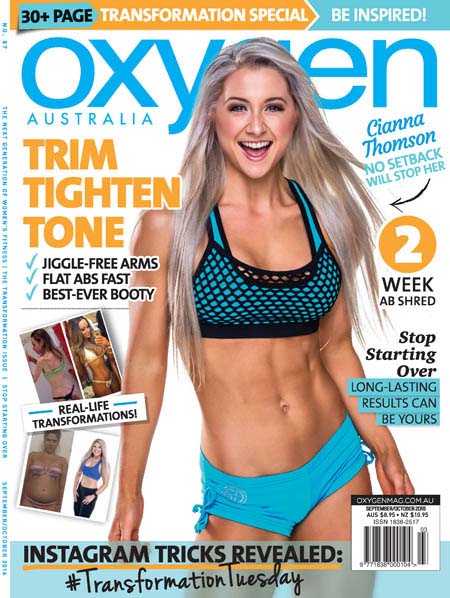 The Second opportunity I had was for Oxygen Magazine. Their magazine was my first fitness related read. It was like my fitness bible. After losing 90 pounds I wrote them my personal testimony and thanked them for their magazine that always provided me with encouragement and informative reads. The editor contacted me shortly after and asked if she could interview me to feature me as their magazines success story. We chatted several times on the phone, emailed, and sent photo materials. Months later, the article was published.
The third time was a one year follow up with Oxygen Magazine. The editor of Oxygen emailed me because they were wanting to do an article on thyroid disorders. Many women who have this disorder either have a hard time gaining weight or losing weight. In my case, I easily gain weight if I don't take my medication, not follow my good nutrition and exercise routine. They wanted to interview me on how I lost weight with my disorder, the struggles of the disorder, and how I manage my weight and remain healthy. I was able to share my story once again.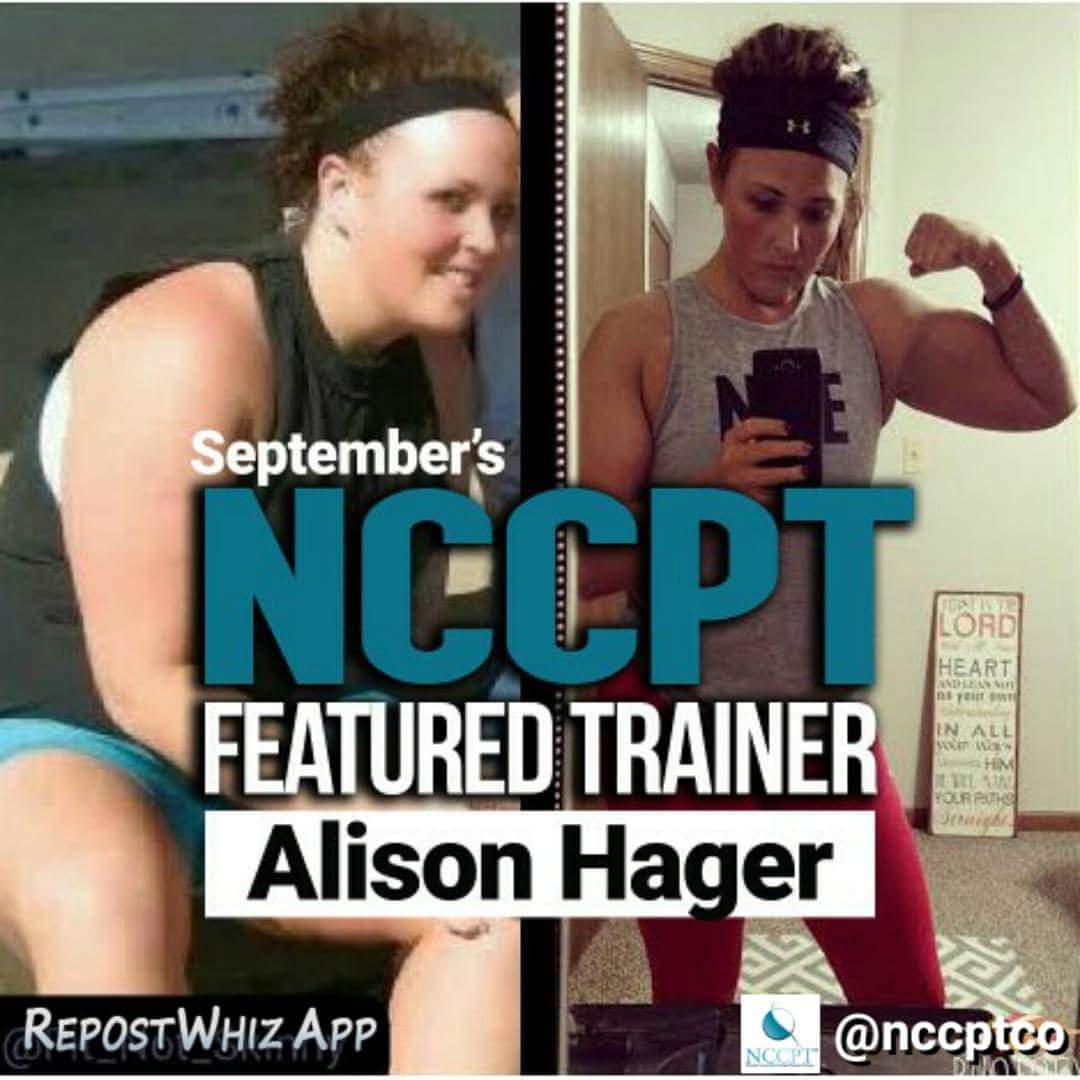 My Personal Training Certification is from NCCPT. They interviewed me about my fitness testimony and I was then featured on the NCCPT company website, blog, Instagram, and Twitter accounts.
This summer the editor of Women's Health Magazine reached out to me. She had come across my Instagram account and wondered if she could interview me. We spoke on the phone and emailed back and forth. I explained to her about how I had to find a balance between training and not over training. I had to learn how to eat well and not become obsessed with the scale. The article was published online and then it was features on MSN.com in the HEALTH section. They ran the story for several weeks because so many people were reading it. Women become very obsessed with the scale and I have always been someone to keep it honest and real. They found my realness very encouraging and continued to share my story online. Read my success story here!
Last but not least, my success story and pictures were recently featured in the Sept/Oct 2016 issue of Oxygen Magazine Australia (international magazine) in their transformation section!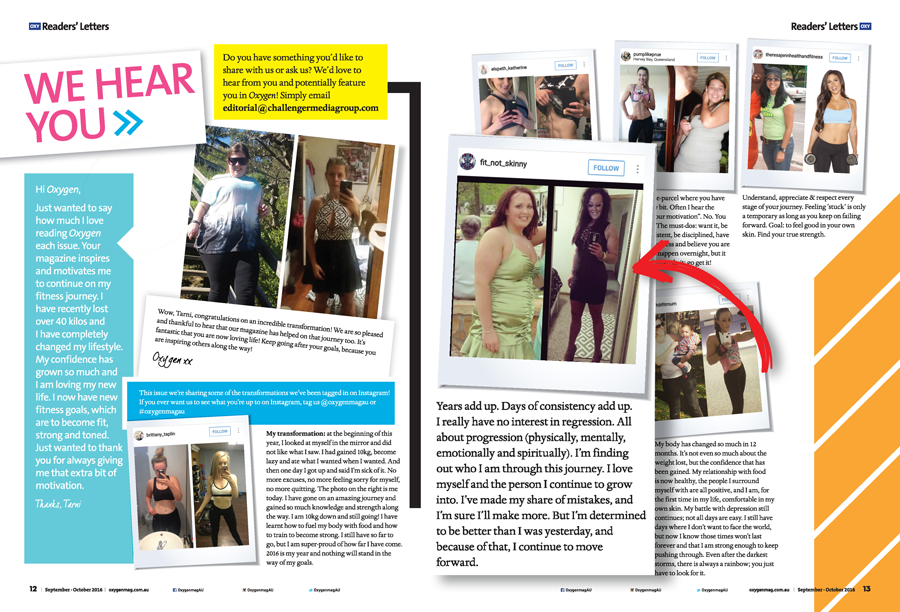 WHAT ARE THE MOST COMMON MISTAKES YOU BELIEVE A TRAINER MAKES?
Many times personal trainers overthink trainings and nutrition. They overlook the basics of starting with hip and shoulder mobility and try to dive too quickly into advanced exercises that many times clients aren't ready for. Either the average beginning clients are too sore and don't want to come back, or they end up hurting themselves. When I first start with my clients, my goal was to just get them moving and help them create better habits such as logging their food and coming into the club. I believe trainers need to take time to learn about nutrition and supplementation. They go hand in hand and you have to learn that you can't change everything at once. One must take it step by step. For example, start by getting your clients to eat breakfast. Help them drink one less soda, advise them to consume more water and add a protein shake to their diet. Whatever it is, you can't change everything at once. It's the baby steps in learning and educating your clients that helps build a relationship and keep them progressing in the right direction.
HOW DO YOU KEEP YOUR CLIENTS MOTIVATED?

I use social media to keep my clients motivated. People say I'm a social media fool, HOWEVER, my clients will send me Snapchats of their food, weight, and workouts. I also have a Fitbit and many of my clients have them as well so we always have Fitbit challenges going on. Nobody wants their trainer to beat them in a challenge. Nobody wins anything but bragging rights, but it's hilarious how everyone gets so into it. My clients post to Facebook, Twitter or Instagram. Many times I'll post my workouts online so my clients know they aren't the only ones working hard or meal prepping. My mantra for my clients is that I will never ask them to do something that I can't or won't do. I practice what I preach and I also have a so-called open door policy where they can text or call me at ANY TIME, DAY OR NIGHT. I make it very clear that if they need me for anything, I'm there all the time, not just an hour every day. If I give them 100%, they're more willing to give me their best effort in return.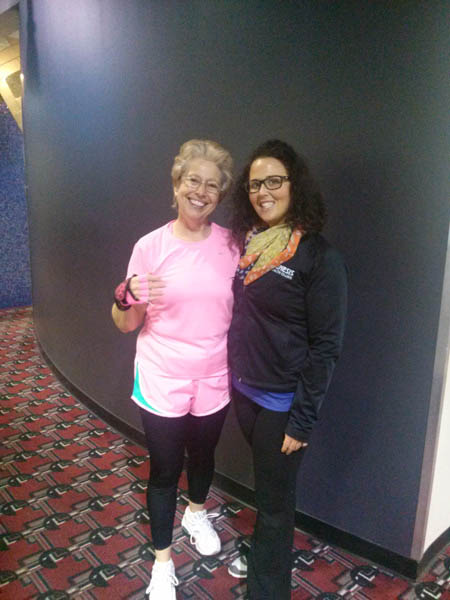 DO YOU SOMETIMES FEEL LIKE A PSYCHOLOGIST AS WELL AS A TRAINER?
Heck yes! But I wouldn't change it, I have clients who have faced big life trials. I've had clients call me and we've cried together. I spend hours upon hours with these people. They're more than just clients to me, they're family and when they hurt, I hurt. To me training goes deeper, sometimes you have to really get to the root of the problem before people can make positive changes. I believe that if there is one person that should always believe in you, that should be your personal trainer. A trainer should see your potential no matter what and never give up on you.
WHAT IS YOUR FAVORITE QUOTE?
"Care more that some think is wise. Risk more than some think is safe. Dream more than some think is practical. Expect more than some think is possible." -Unknown author
CLIENT TESTIMONIALS
"I have always struggled with my weight since I was a teenager however when I got married and had children, I became the heaviest I had ever been weighing in at 220 pounds. In June 2015, I made the decision to begin the process of undergoing weight loss surgery. Some people may think that I took the easy way out by having weight loss surgery, however I used this as a building block for my health. Suffering from severe depression and anxiety along with binge eating, it made it very difficult for me to ever feel completely satisfied when I ate. On November 9, 2015, I had the gastric sleeve. It was the scariest yet most exciting decision I've ever made in my life but I knew that I needed to find a gym and personal trainer as soon as the Doctor released me so I decided to join Genesis! In December 2015 and started training with Alison four weeks after surgery. We immediately clicked. She quickly became more like a friend to me than my trainer and I showed up every week ready for whatever weights she had set up for me. Since joining Genesis I have not only lost weight and inches, I've gained self confidence and was able to leave a toxic relationship knowing that my health and happiness was much more important. Since November 2015, I have lost 68 pounds and 43.75 total inches. Not only have I become happier and healthier, I've learned to love myself which in my opinion is one of the most important things that anyone can do for themselves. I wouldn't be where I am today without the love and energy that Alison has put into me and I am thankful everyday to have her in my life." -Stephanie Sweat
"In August of 2015 I made the decision to start my weight loss journey. My sister was getting married and I didn't want to be the person no one wanted to take a picture with. I joined Genesis and Alison Hager entered my life. Alison has helped me not only with my weight loss but with my self confidence, self esteem, getting out of my comfort zone, trying new things, motivation and my faith. Alison is also very encouraging, supporting, gives me all sorts of recipes, checks in on me and gives me advice. I have made many new friends joining Genesis and they have become family to me. Alison, you are a hero and inspiration to me. I thank you with all of my heart!" -Jenny Kemper
"I became a member of Genesis in January of 2011. My third back surgery had been in October and the surgery itself caused me to lose feeling and function in my right leg. I was scared and worried that if I didn't get in the best physical condition possible that I was going to be crippled and miserable. I began training with Amanda Poore and started to gain strength and flexibility. July came and I ruptured, again, discs L3/L4 and L4/L5. The fourth surgery required removing both discs and replacing them with bone grafts, sectioning away more bone to free up the nerve paths and putting it all back together with 2 rods and 6 screws. My leg was even worse than the last time and I was out of the gym for three months. After some specific back training sessions with Wendy Williamson at Genesis Rock Road, I began training with Amanda again. Not long after that, Amanda moved to Texas and I was introduced to Alison Hager, I was her very first client.

Anna Simoneau briefed Alison on my condition and the fact that I was kind of difficult to work with. In the beginning we worked on a lot of TRX, balance technique and functional movement. Alison researched back surgery rehabilitation and constantly had her eye on me while I lifted on my own (she still does.) She is always there to say "change your angle to this" or "don't tuck your chin." I am certain that she has saved me from injury many times. After about six months, I was strong and flexible enough to go to Yoga and that was a big deal for me. We continued to work and one day I decided I wanted to start running again. My foot and my right leg was still numb and my glute didn't fire and it soon became apparent that I was running everything on my hamstring. Alison came up with glute firing exercises and I was eventually able to run some 5K races. Running the 200M and 400M in Masters track and field was next and the sprinting caused me to develop compensation injuries in my good leg. Alison collaborated with Physical Therapist, Nathan Lee, on therapies and exercises to balance me out. Since then, I've incorporated snow skiing and Spartan races and Alison has been there for me through it all (because I get hurt ALL THE TIME!)

If this sounds like a commercial for a personal trainer who always goes beyond expectations and whose talent and skill are exceeded only by her passion to serve, it is. Alison Hager is a huge part of my fitness journey and I am grateful to her." -Charles Lonberger
WORKOUTS BY ALISON
Leg Day Exercise - Calf Raises
Alison's Favorite HIIT Workout - Calorie Blasting!
20 sec hand over hand
20 sec hand under hand
20 sec saw
No rest between
Rest 1-2 min after 3 exercises and then repeat
Back Day

Lateral Pull Downs
I'm a huge advocate for having a strong back. In this day in age where we spend many hours on computer's, iPads, phones, and at desks, building up your strength in your back is the best thing you can do for yourself. Form is greatly important so really focusing on the scapula depression & elevation is huge.
Rows
Not only do the scapulas move up and down (depression & elevation) but they move forwards back backwards (protraction & retraction). You can build a stronger back by working several different angles.
Straight Arm Pull Downs
Body Weight Training
I love to incorporate body weight when training. From simple push-ups to isolating your hamstrings and descending towards the floor, I believe having a strong body comes with challenging the body in various ways.
Adding Intensity

Threre are so many ways to add intensity to your workouts. Ropes are awesome, slam balls are too. I not only challenge personal workouts, but I use slam balls with my clients to raise the intensity. It's great to add in-between weight sets.