Article featured in Club Solutions Magazine December 2015 Issue.
To read the full issue please click here: http://clubsolutionsmagazine.com/2015/12/full-speed-ahead/
Full Speed Ahead
By: Rachel Zabonick
The fastest train in the world is China's CRH380A, which propels its passengers at a cruise speed of 217 miles per hour. While the train carries its 480 travelers, the countryside becomes a blur. Houses and fields are nondescript as town after town falls away into the distance.
Rodney Steven II, the owner of Genesis Health Clubs, can relate. Sometimes, he too feels as if he's charging full-speed ahead, making it difficult to focus on the here and now. "Time goes by so fast," he said. "I feel like my job right now is to do the best I can to slow down the years, slow down the months and slow down each day. It's been something I've been preaching to myself and my teams."
The Here and Now
Anyone may feel a need to focus on the here and now after doubling the size of their company in just a few short years. In 2011, Genesis Health Clubs boasted 10 locations within a 300-mile radius of Wichita, Kansas. Through a number of key acquisitions and build-outs, it has since grown to 18 clubs in Kansas and three in Missouri, bringing the total to 21 locations.
According to Steven, growth was planned, just not necessarily this fast. "There were a lot of builds that I had in the works that just kind of happened right in a row," he explained. "Sometimes you work in acquisition for years. There were two or three acquisitions I had been working on, and they all just came to a head at the same time. I think there was an eight-month period where we had eight new clubs. It all just happened pop, pop, pop."
Staying Focused
Growing at that rate, even the most level-headed of executives may feel as if their head was spinning. To keep focused when his business is so busy, Steven draws on lessons learned during his childhood.
"I feel like I'm really a product of my environment," explained Steven. "I feel very blessed to be raised by great parents. My dad worked extremely hard and took us to work, showing us what true work ethic really was, and my mother took the very best care of us. Between them, [it shows] that hard work and family values pay off."
For Steven, the pay-off has been leading the charge to bring health and fitness to his members, a cause he is also personally passionate about. "I workout every morning at 6 a.m. in one of the clubs," he said. "Going a day without exercise would really disturb me. We're trying to share that feeling among Americans and members of our communities every day."
Jose Riveros, the director of sales for Genesis Health Clubs, joined the company in 2013, and as a result has been witness to much of the company's fast growth. He believes Genesis Health Clubs couldn't ask for a better leader than Steven to guide it as it continues to charge full speed ahead.
"I've worked with great companies and had some great leaders," said Riveros. "But what Rodney brings to the company is that he sets the pace. He empowers his teams, yet he has a pulse on everything."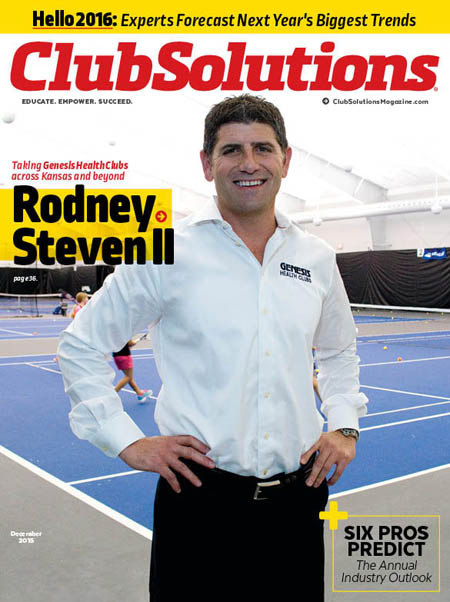 If you are ready to partner with Genesis Health Clubs, get a 7-day free pass today! With advanced equipment, knowledgable instructors, comprehensive group fitness classes, and experienced personal trainers, Genesis has everything you need to meet your fitness goals! Contact your local Genesis Health Clubs location to get started today!