Climbing Wall
INDOOR CLIMBING WALL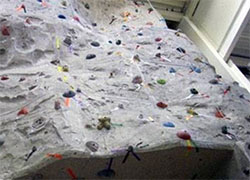 The indoor climbing wall at Genesis Fort Collins Club features self-belaying devices, pre-set color-coded routes that we change periodically to keep your climb challenging, and 35 feet of varied wall terrain. We provide harnesses, orientation for beginners, and supervised climb times. All first-time participants must go through orientation during supervised hours. Upon completion of orientation, new climbers will receive a certification card to use when checking out harnesses during open climb hours. All participants must be over 15 years of age to climb without adult supervision.
CLIMBING WALL RULES
No wall attendant is present outside supervised climb times - CLIMB AT YOUR OWN RISK
All climbers must sign a waiver at the front desk. If under, 18, a parent or guardian signature is required.
All climbers must be at least 6 years old.
Climbers between the ages of 6 and 13 must be under the direct supervision of a parent, guardian, or FCC team member.
Closed toe shoes must be worn on the wall.
Climber can use their own harnesses and rentals are available at the front desk.
Climbing off-route is prohibited, dangerous swings and injury can occur.
Dangerous or disruptive behavior may result in loss of climbing/club privileges.
Please report accidents, loose holds, damaged equipment, and safety concerns to an FCC Team member immediately.
Climb safely at all times and avoid contact with other climbers.
Climbing courses are available, enroll at the front desk.
Supervised climb times are subject to change, check with the front desk for more information.
SUPERVISED CLIMBING WALL SCHEDULE
Monday / Wednesday / Friday
9 am - 12 pm
Tuesday / Thursday
4 - 7 pm