Easter Hours
We will be CLOSED Sunday, April 1st for EASTER

The Club will resume normal hours on Monday, April 2nd

Play Tennis Fast - LEARN to Play
JUNE IS LEARN TENNIS MONTH



DATES:
May 31st - July 11th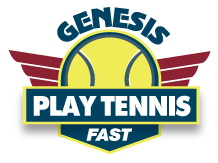 Learn the game of Tennis in just 5 weeks. You will learn how to serve, play, score, and of course have lots of fun.
For only $75 – you receive 5 – 1 hour lesson/practices and a "FREE" Tennis Racquet.
Sign up as a Pair – for only $120
We will try to accommodate make ups into another time / day slot if you miss- just let us know.
Invite your friends, spouse, coworker, member/nonmember, etc. Adults only.
What day and time you sign up for will be your class for the next 5 weeks. There will some dates off due to Holidays and court scheduling.

CLASS OFFERINGS

Sunday(June 5, 12, 19, 26, July 10) 4:00pm – 5:00pm | 5:00pm – 6:00pm

Monday,(June 6,13,20,17, July11) 9:00am – 10:00am | 12:00pm – 1:00pm | 7:00pm – 8:00pm

Tuesday(May 31, June 7,14,21,28) 9:00am – 10:00am

Wednesday(June1,8,15,22,29) 12:00pm – 1:00pm | 6:30pm – 7:30pm

Thursday (June 2,9,16,23,30) 9:00am – 10:00am | 7:00pm – 8:00pm

Friday (June 3,10,17,24,July 1) 10:00am – 11:00am

Saturday (June 4,11,18,25, July 2) 9:00am – 10:00am


RSVP your spot right now by calling David Cavalcanti at 316-204-4793 or email David at dcavalcanti@genesishealthclubs.com

For more information call the Desk at (785) 749-6762