CrossFit Team
Jorine Peterson
Head Coach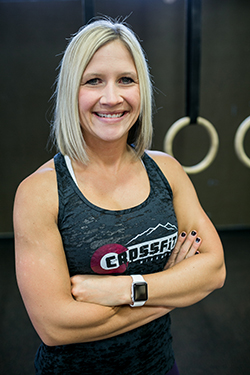 Degrees and Certifications
CrossFit Level 2 Trainer
CrossFit Endurance Trainer
CrossFit Kids Trainer
CrossFit Gymnastics Trainer
CrossFit Olympic Lifting Trainer
CrossFit Mobility Trainer
NASM Certified Personal Trainer
Favorite CrossFit WOD (Workout of the Day)
Hobbies and Interests
Spending time with my husband, family, and friends
Trail running and biking
Traveling
Enjoying Colorado sunny days
Snowboarding
What CrossFit means to me
I have been involved in CrossFit for over 3 years now. I decided to try it out because I was bored with my current workout routines. The first time I tried a CrossFit workout, I couldn't believe how challenging and intense it was. After the workout, I felt a sense of accomplishment and couldn't wait to challenge myself again! CrossFit has not only been a challenge physically but even more importantly, the workouts challenge my mind to push past my perceived boundaries allowing for results and breakthroughs to occur. I believe the most gratifying part of CrossFit is the community. We workout together, suffer together, and celebrate together. Here at CrossFit Miramont, I am thrilled about the opportunity to introduce CrossFit to our members and guests.
Jenny Gibb
Head Coach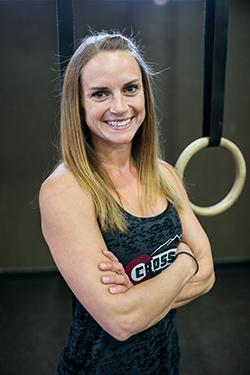 Degrees and Certifications
Certified CrossFit Trainer (CCFT)
CrossFit Kids Coach
CrossFit Gymnastics Trainer
CrossFit Judges Certificate
USAW Sports Performance Coach
NSCA Certified Personal Trainer
University of Wisconsin La Crosse, Exercise Sport Science
Strength and Conditioning Concentration & Nutrition Minor
200 HR RYT Yoga Instructor
Favorite CrossFit WOD (Workout of the Day)
Hobbies and Interests
Snowboarding, hiking, boating, biking
Spending time with friends, family & my dog
Traveling
Yoga
What CrossFit means to me
I started doing CrossFit at Miramont in August 2012. I remember doing my first WOD and it being something fun for me to try but I never realized how it would have such a big impact on my life. Six months later I got certified as a Coach so I could learn more and spread this incredible knowledge.
I love what CrossFit has done for me. It has given me noticeable strength gains, improved body composition and I feel up for any physical challenge that comes my way! One of my favorite aspects is how intense and quick the workouts are and how much they push me in ways I never thought possible. Also, the community is amazing and the friends I have made through CFM are fabulous! Working out is fun, never a chore and I get to do it with awesome people. Try it - you won't be sorry!