Holiday Hours for Memorial Day, May 31, 2021!
On Memorial Day, May 31, 2021, the club will be open from 7:00 AM - 7:00 PM. Kids Club will be open morning hours only on Memorial Day.

The club and its Kids Club will resume regular hours on Tuesday, June 1.
Raquetball & Squash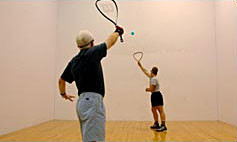 Genesis offers racquetball at the Wichita East Central, West 13th and Rock Road locations. Racquetball is also offered in Hutchinson, Salina and Lawrence North. The Rock Road location also offers squash.
Racquetball and squash courts may be booked up to 48 hours in advance without charge. Reserved courts will be held for 15 minutes, then will be available for others to use. Protective eyewear is suggested when playing racquetball and squash.
Racquets and balls for the courts are available to borrow at the front desk.