Extended! 6 months free with your membership!
Limited time only! Reserve this offer now!
You can achieve a lot in 6 months. With 6 months free, you could:
Burn 60,000 calories
Learn 63 new yoga poses
Go to 26 fun events and socials
Lose 16% body fat
Learn More! Offer extended for a short time!
Raquetball & Squash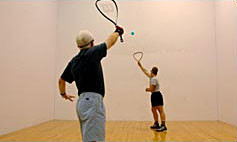 Genesis offers racquetball at the Wichita East Central, West 13th and Rock Road locations. Racquetball is also offered in Hutchinson, Salina and Lawrence North. The Rock Road location also offers squash.
Racquetball and squash courts may be booked up to 48 hours in advance without charge. Reserved courts will be held for 15 minutes, then will be available for others to use. Protective eyewear is suggested when playing racquetball and squash.
Racquets and balls for the courts are available to borrow at the front desk.