Birthday Parties at St. Joseph
To ensure the health and safety of our parties, we have decreased the sizes of parties we can serve, increased time in between and after our parties, and have expanded our cleaning and sanitation protocols.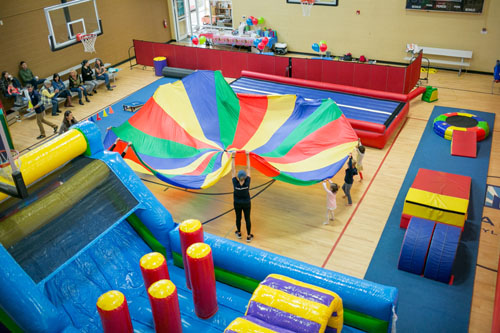 Inflatables Birthday Parties at Genesis St. Joseph
At your high-energy Inflatables party, you will enjoy an inflatable obstacle course, games, scooters, parachute activities, & FUN!
Party Includes
1 hour of activity | 30 minutes for cake and presents
Two party hosts to facilitate the party experience
Evite invitation, balloons, and table cloths.
Days/Times
Sundays 1:00pm/ 4:00pm
Ages: 3-12 years
Cost Member $180 Non-Member $200
*Price includes 15 party participants, including the birthday child. Additional participants are welcome at $10 per child.