Fort Collins Club Construction Update
Monday, October 7 2019 4:14 PM
Update 7/9/2020
Fort Collins Club reopened on 7/1/2020! If you haven't come in to check out your new gym home, now is the time! Completely redesigned with you, our members, in mind, we bring you the best fitness experience around. With state-of-the-art weight training equipment, new rows upon rows of cardio machines, a squeaky clean basketball court, brand new group fitness studios, a stellar turf area, new tracks, upgraded pools, and more, we know you'll be wowed with the new and improved Genesis Health Clubs Fort Collins Club location!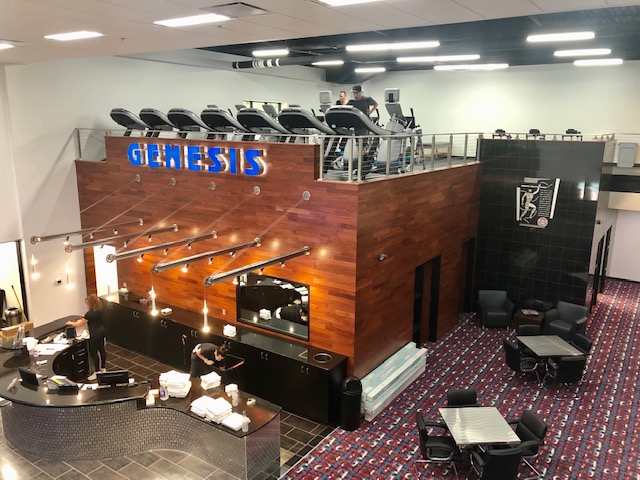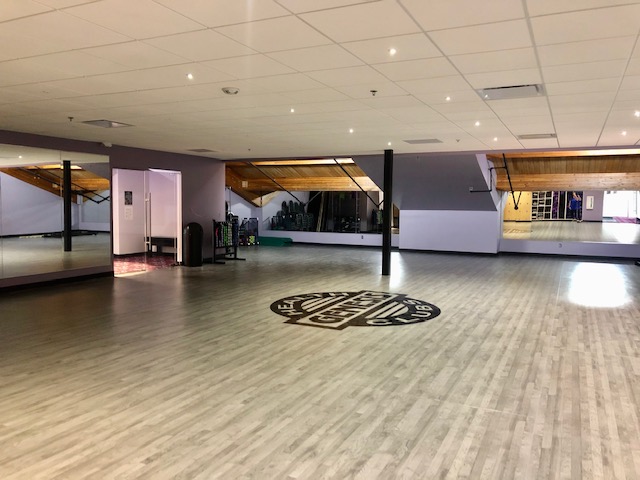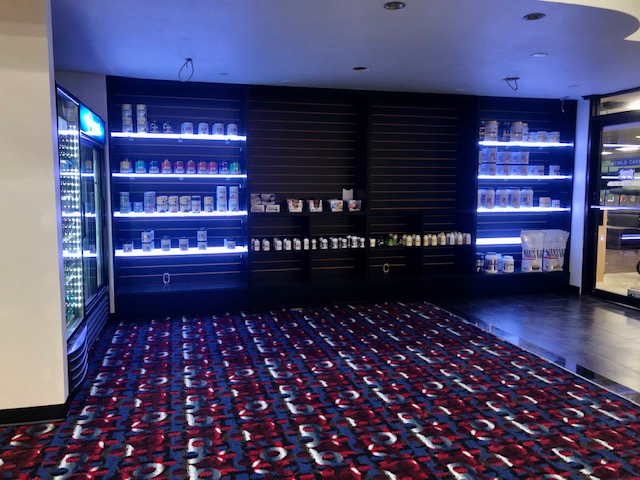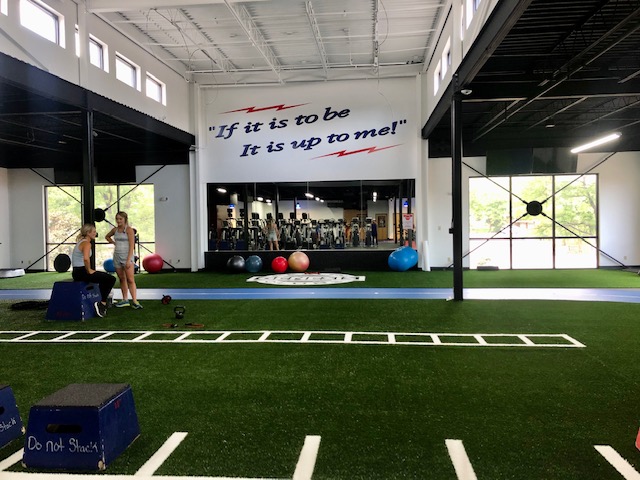 Update 6/29/2020
With great excitement we are thrilled to announce that Fort Collins Club is reopening Wednesday, July 1st, 2020 at 6:00 a.m.!
Your club, which has been a staple of the Fort Collins fitness community for decades, was in need of more than a facelift. We deliberated over decisions and details throughout the construction project, focused on the goal of making your club the best fitness facility in Northern Colorado. The process took much longer than anticipated, and we cannot thank you enough for your patience and understanding while we worked to get everything just right for your club - you deserve the best and we made every effort to deliver just that. The payoff for your patience is a club that is both gorgeous and functional, which will serve the needs of our community for many years to come.
From completely redesigned locker rooms to upgraded workout areas, to refinished wood floors throughout the club, the entire facility looks and feels brand new! We replaced the track upstairs with a new track, expanded and remodeled the yoga studio into an expansive and beautiful space, and added features throughout the building, including a cardio balcony that overlooks the club entrance, a giant turf area upstairs, a family access shower/locker/changing room by the indoor pool, and new equipment throughout the club. The familiar layout is mainly intact, and the finishes and additions throughout the entire facility have transformed your beloved club into a truly world-class health club - fitting for our wonderful member community. Whenever possible we opened up the look and feel of the club to enhance opportunities for our tight-knit community to connect in the club even more easily than before. We are proud to welcome you back and eager to enjoy the club with you - come see us this week!!
We have an inspection Thursday morning, so we will not be able to open that day until 8:00 a.m. After that, we will begin our temporary first phase of hours:
M-F 6a-8p
Sat 7a-6p
Sun 8a-6p
Please check the location page on our website or our club Facebook page to be updated in the coming days with frequently asked questions, including hours, class times, events, and the latest photographs of this beautiful club.
We have missed you these past few months and cannot wait to see your faces in the club again! We hope you have been staying healthy and safe through these unprecedented times, and we have prepared systems and processes to keep you safe in the clubs so you can get back into your health and fitness routines. Thank you for graciously and patiently waiting a little longer for our crews to get the club ready to open this past month - we hope you'll agree it is worth the wait.
Welcome back - see you in the club!!
Update 6/15/2020
We're excited to show off new progress in the Yoga and Pilates studio, plus a more open floorplan coming to the basketball court and gym!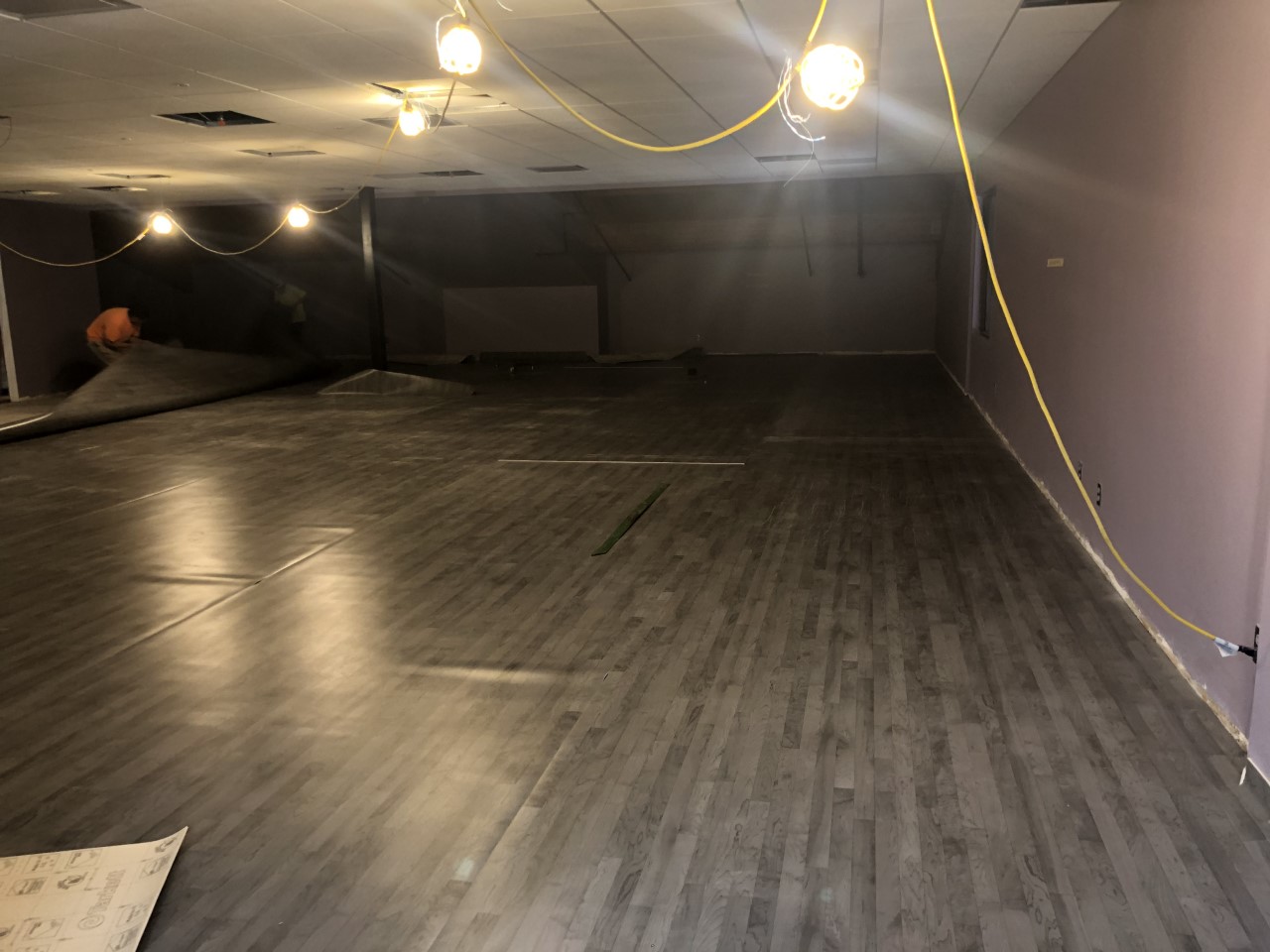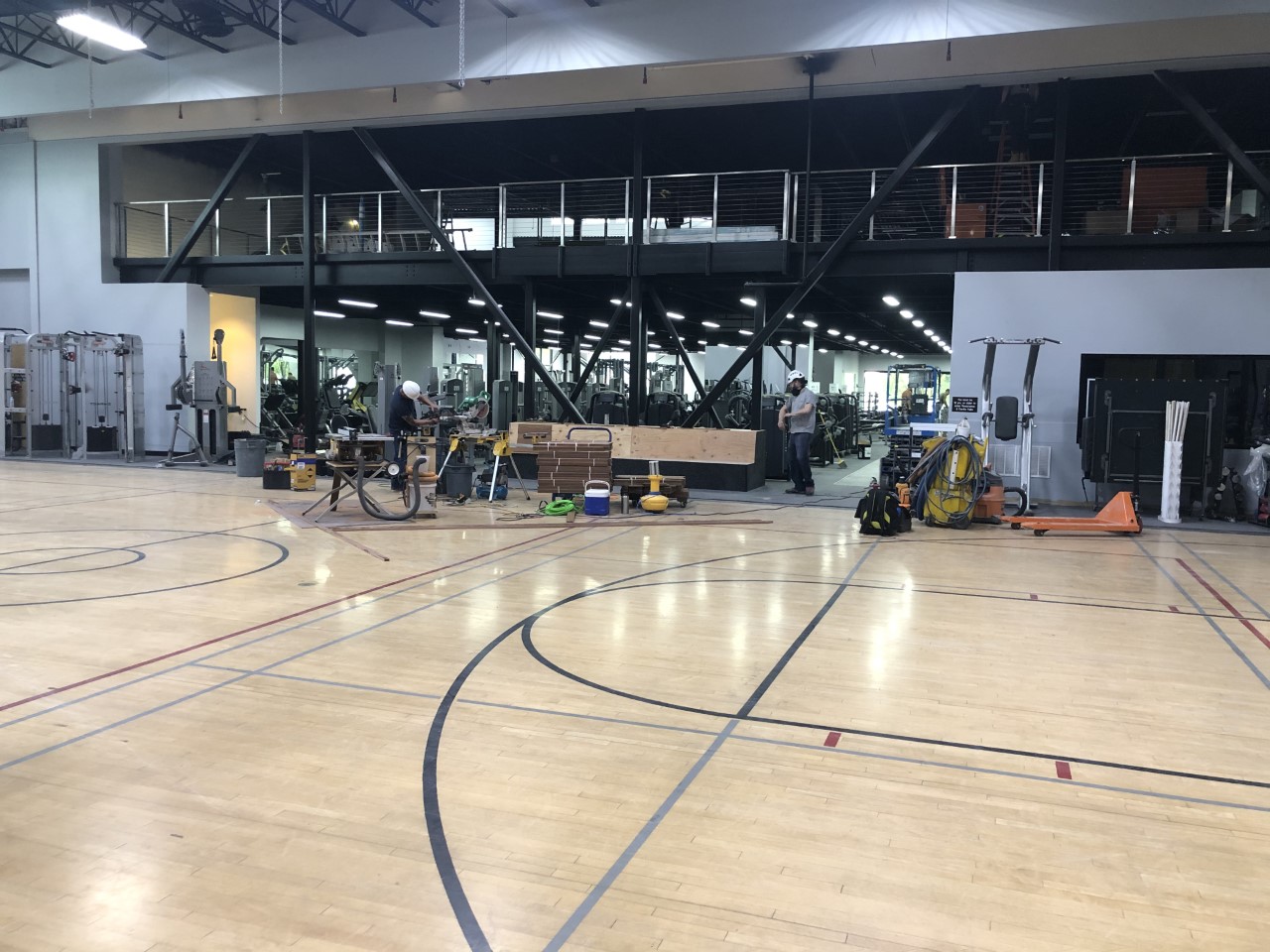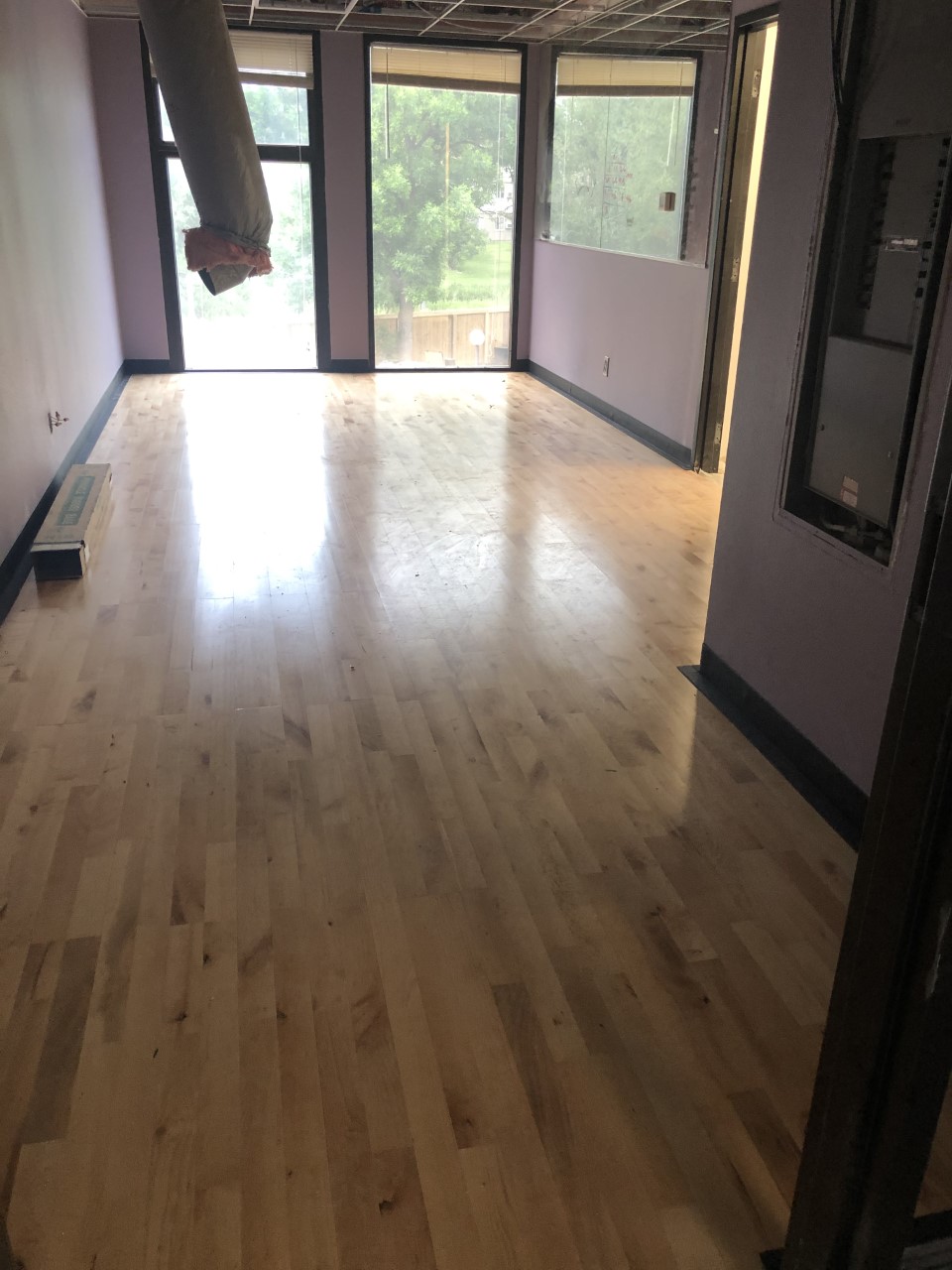 Update 5/7/2020
The front entry is starting to come together with demo of the bar under way! The rubber flooring crew started last week. They'll be back to start on the track & turf next! The luxurious locker rooms are looking good! Tile is installed, carpet has been laid, and lockers are set. The hot tub is really close to completion too. This is going to be a beautiful club! Can't wait to see the finished product!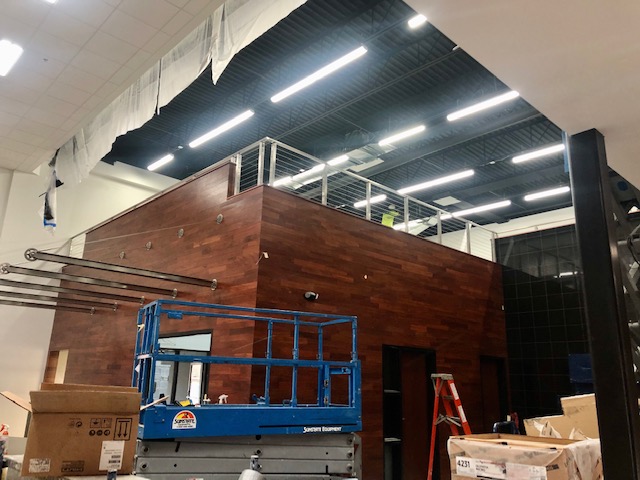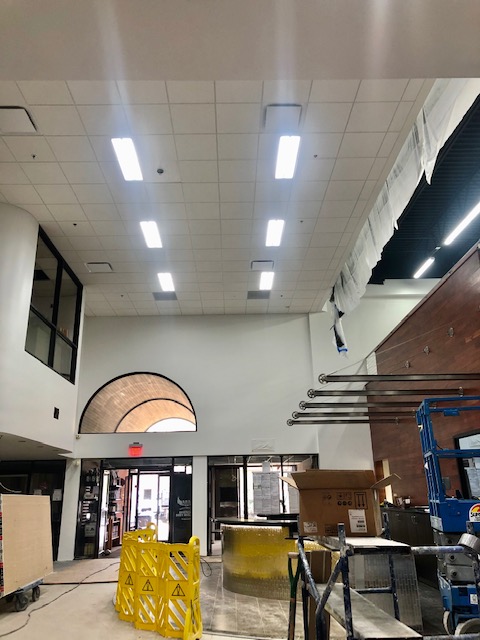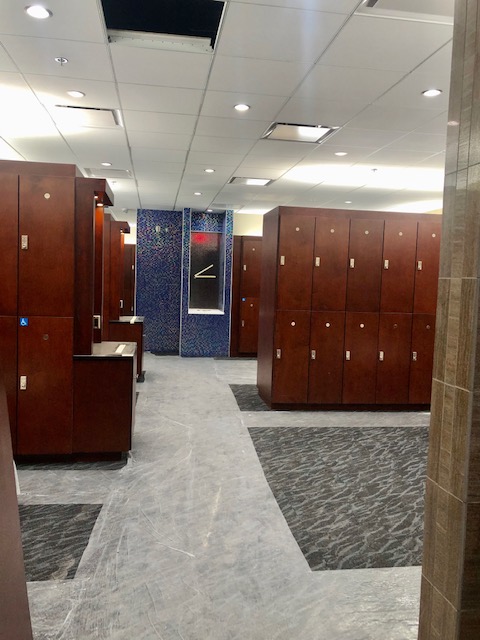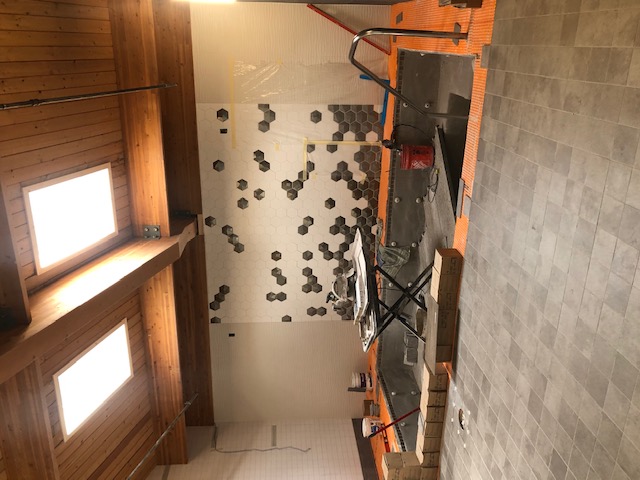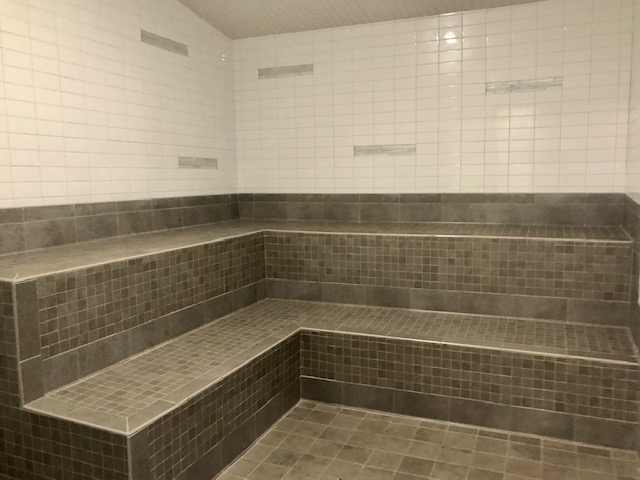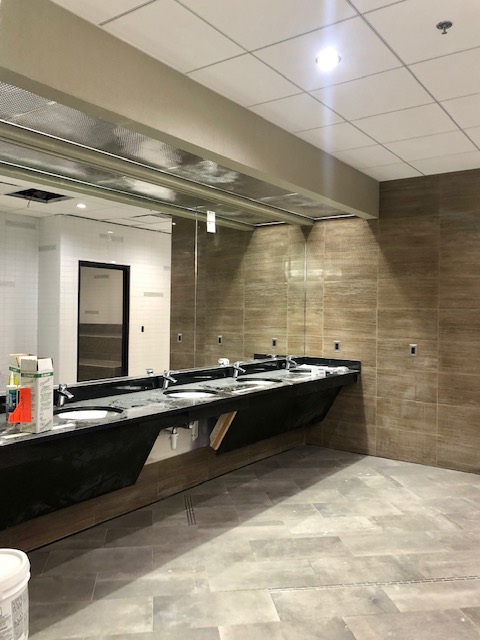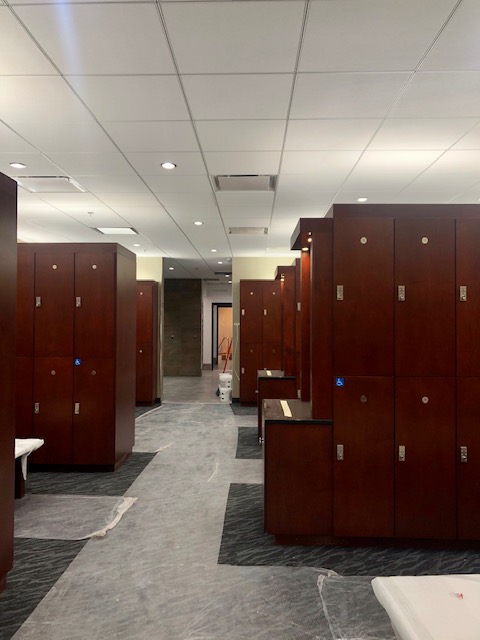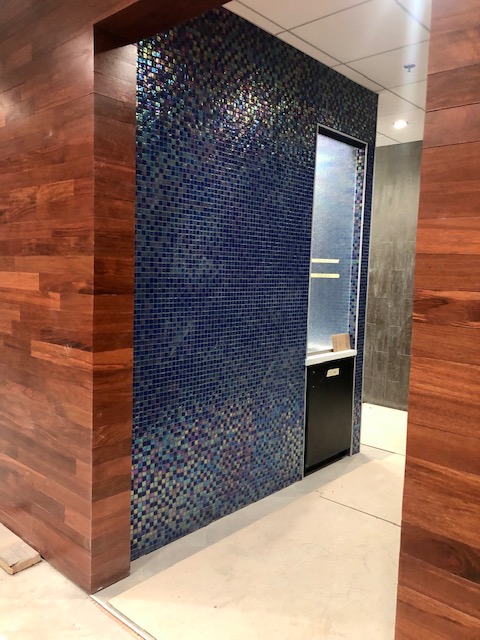 Update 3/27/2020
Even though the clubs are temporarily closed, construction is still going! The front desk is almost finished and looking really nice. Locker rooms are getting near completion as well. We're excited to see things are moving along at a quicker pace than normal. This club is going to be spectacular!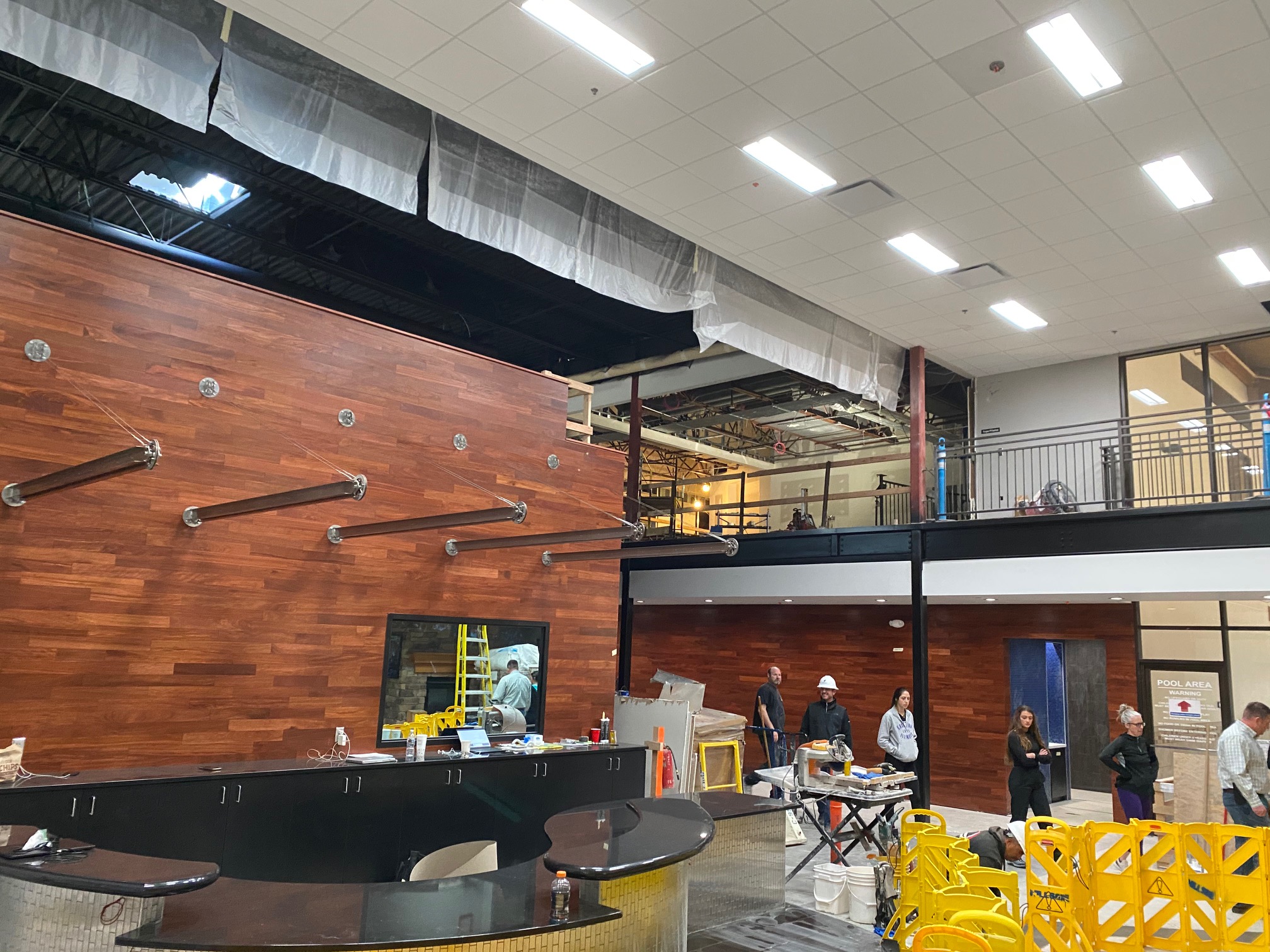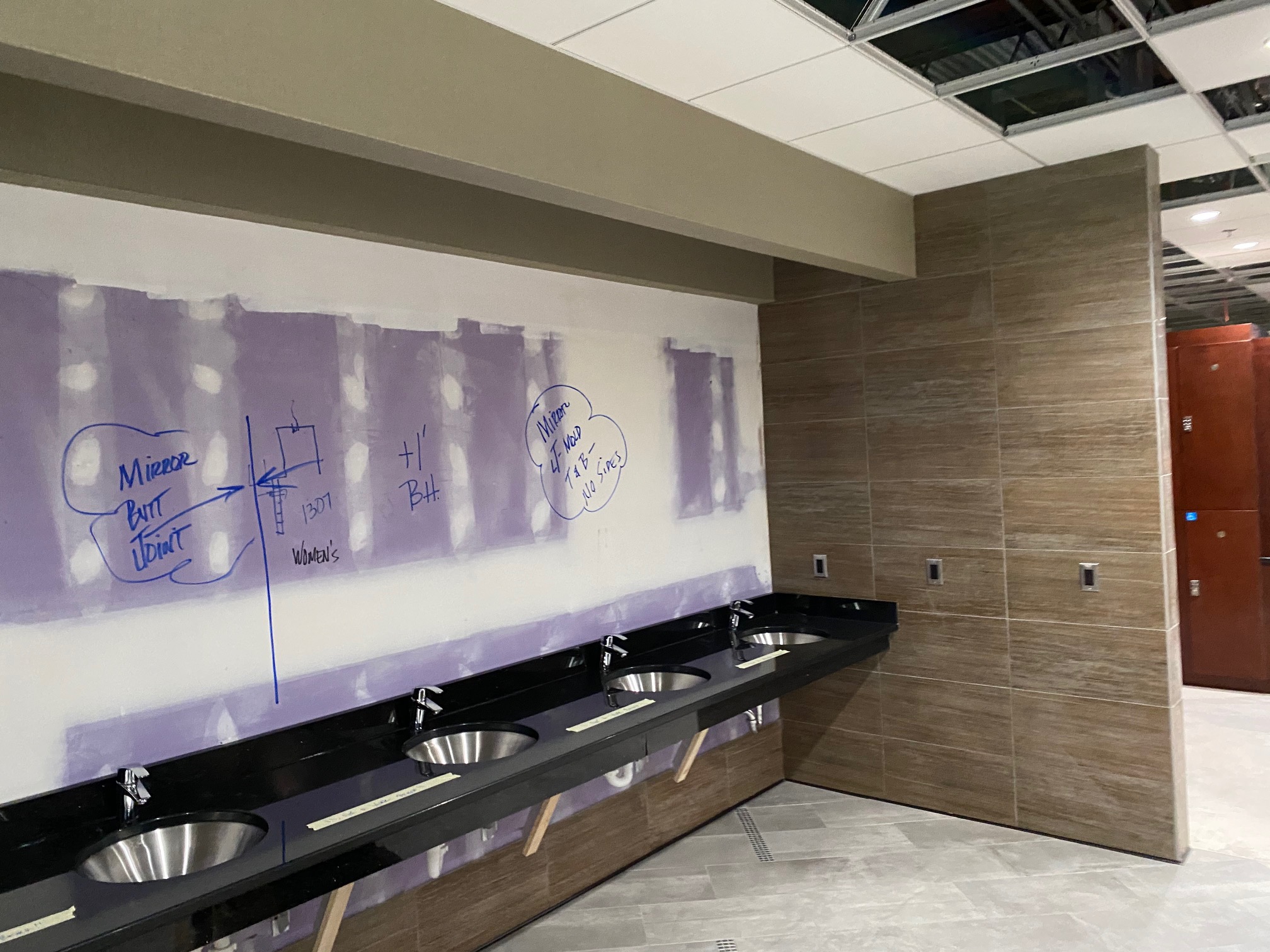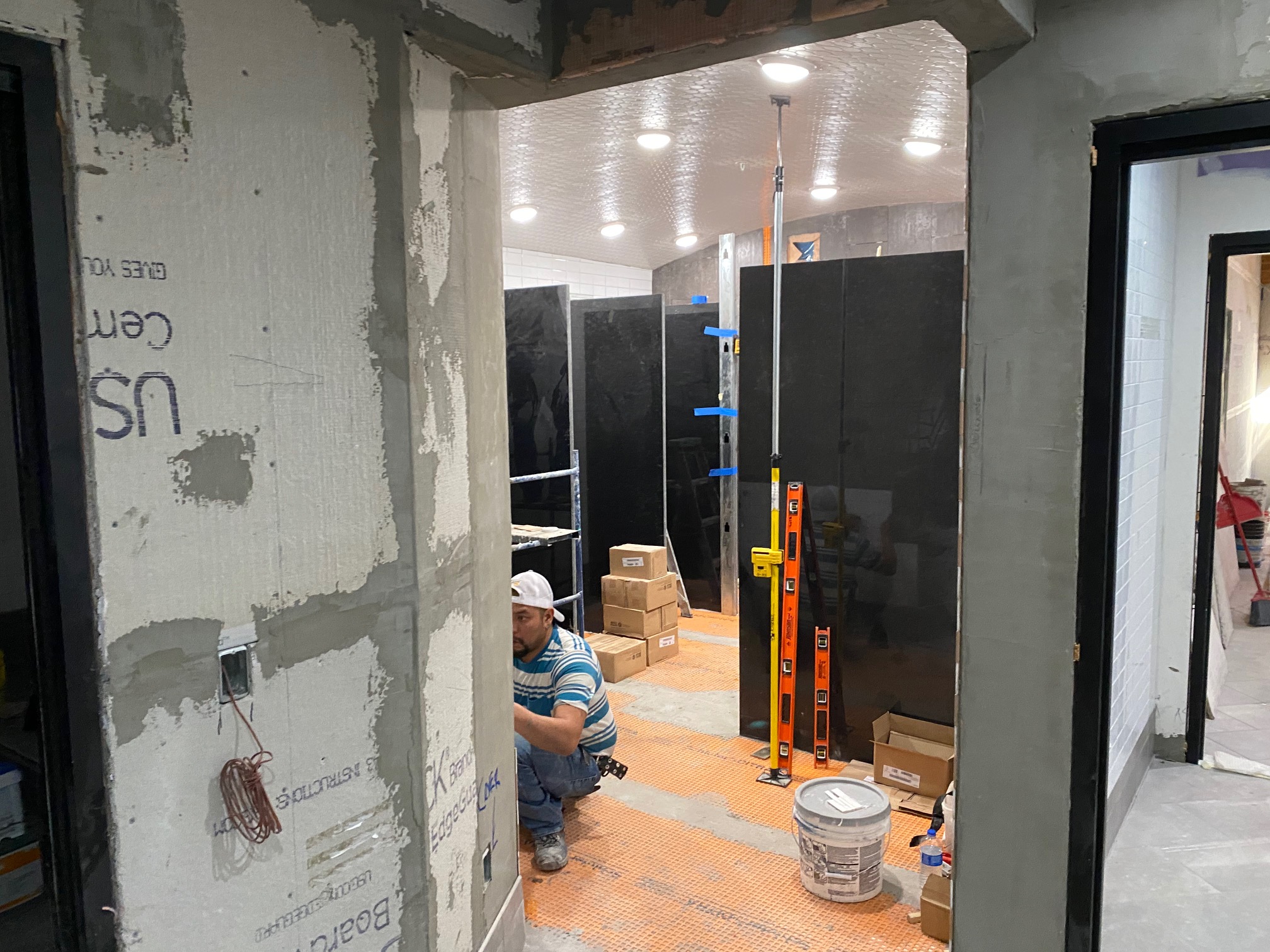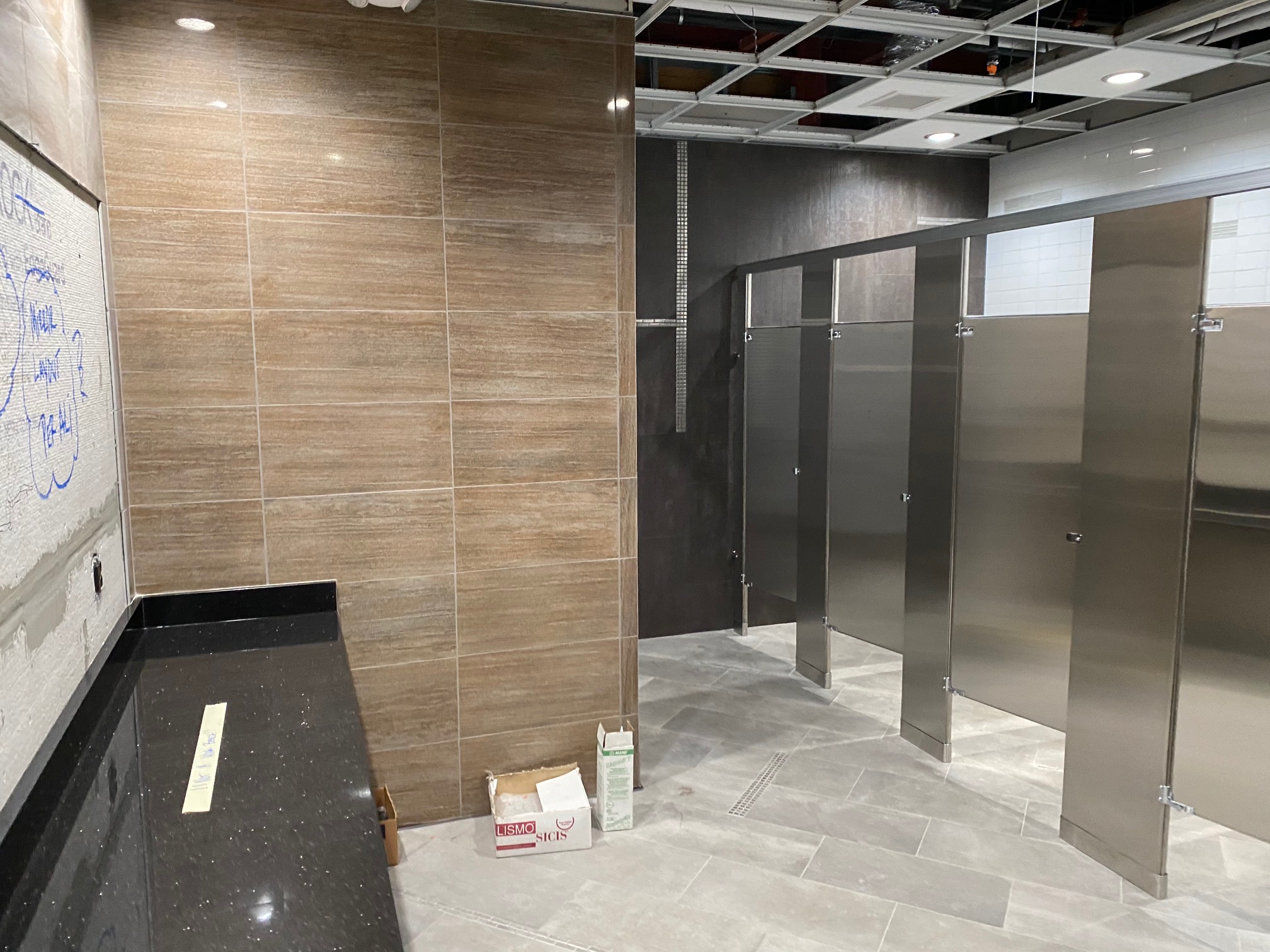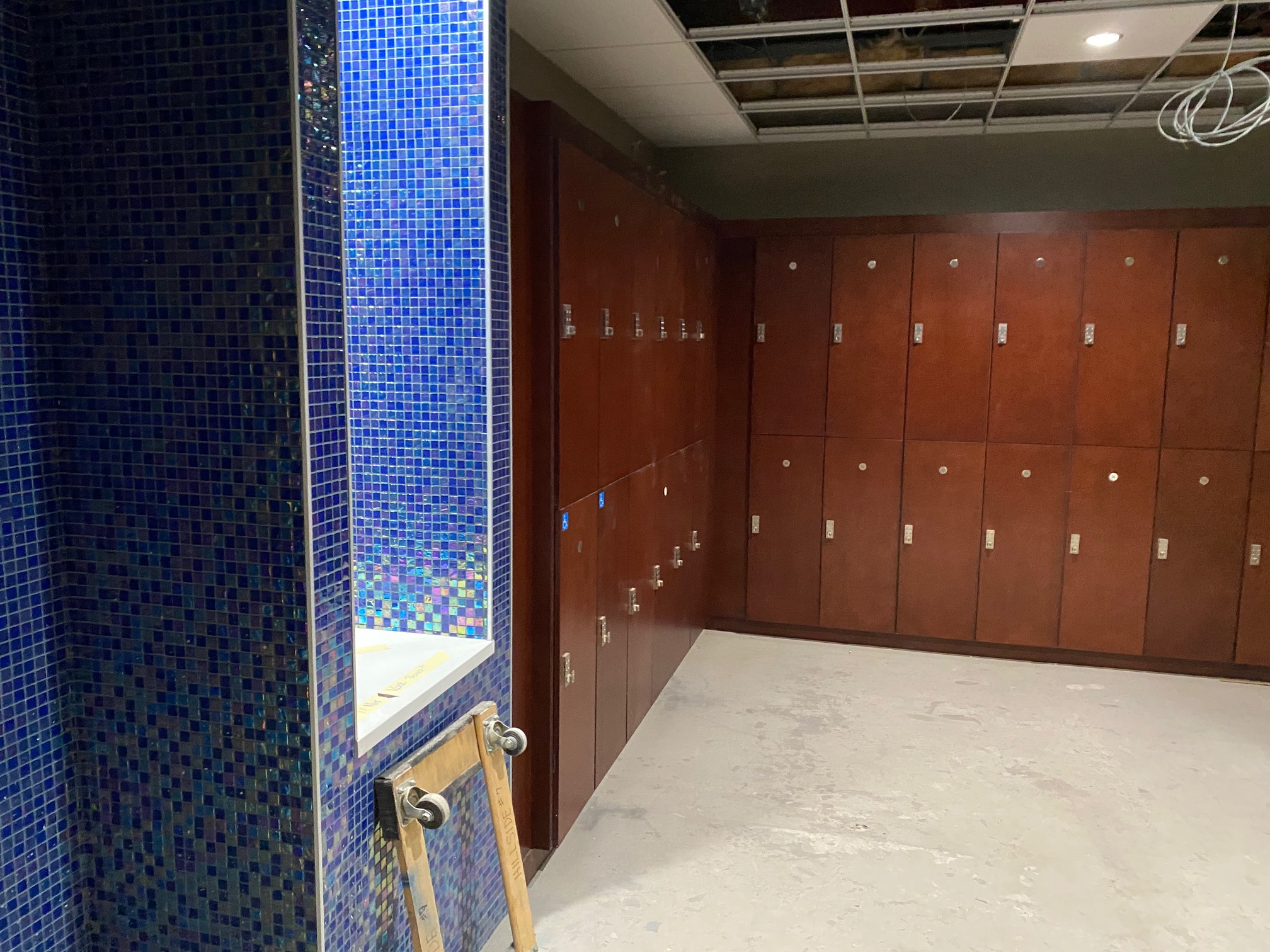 Update 2/6/2020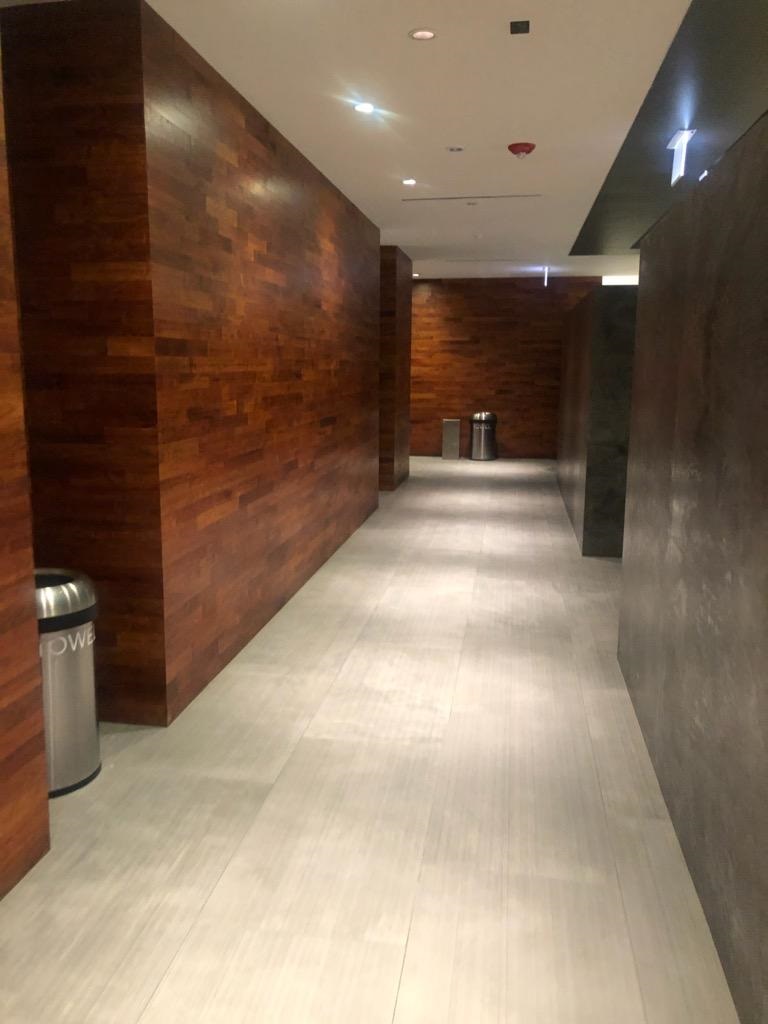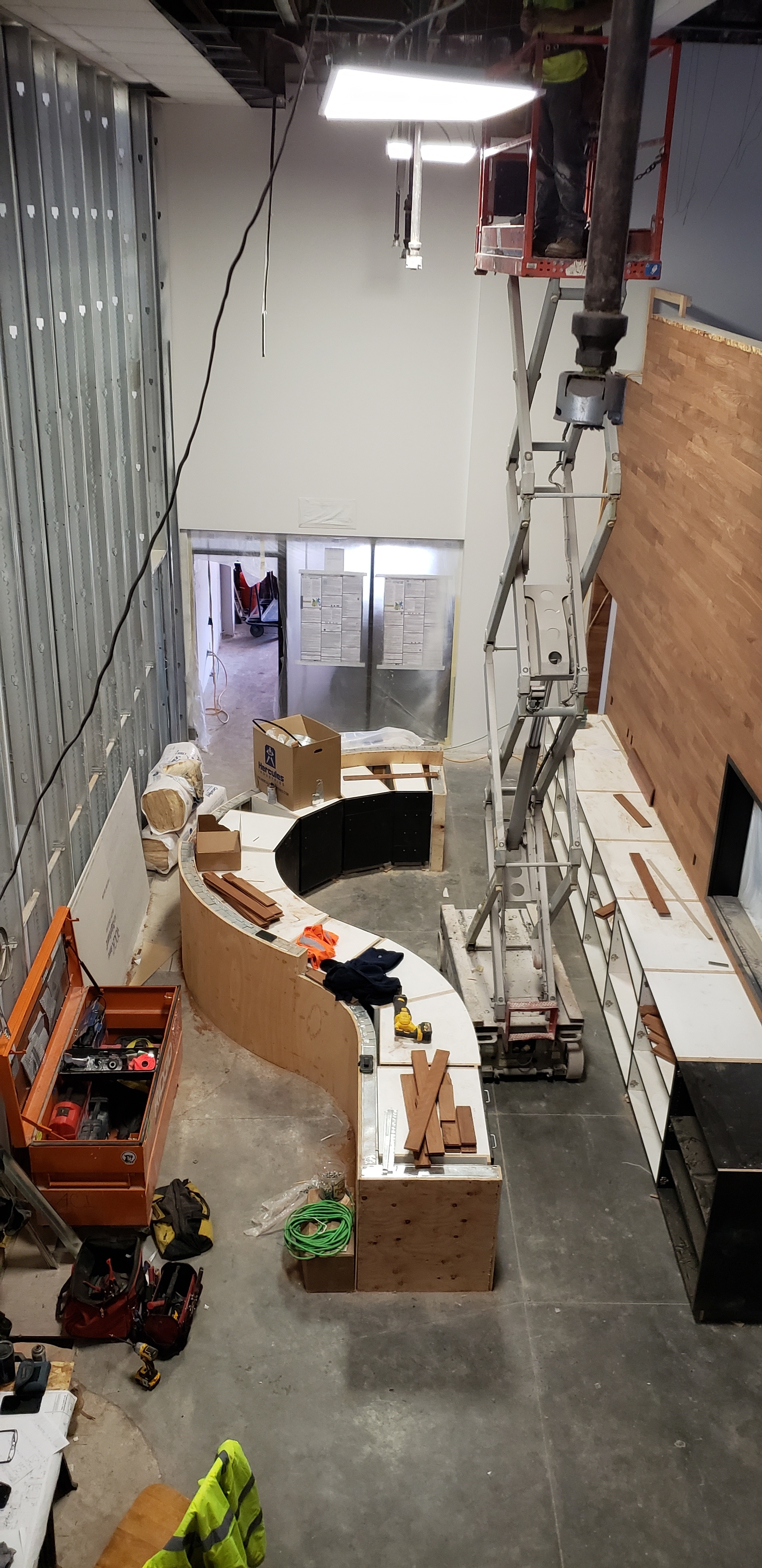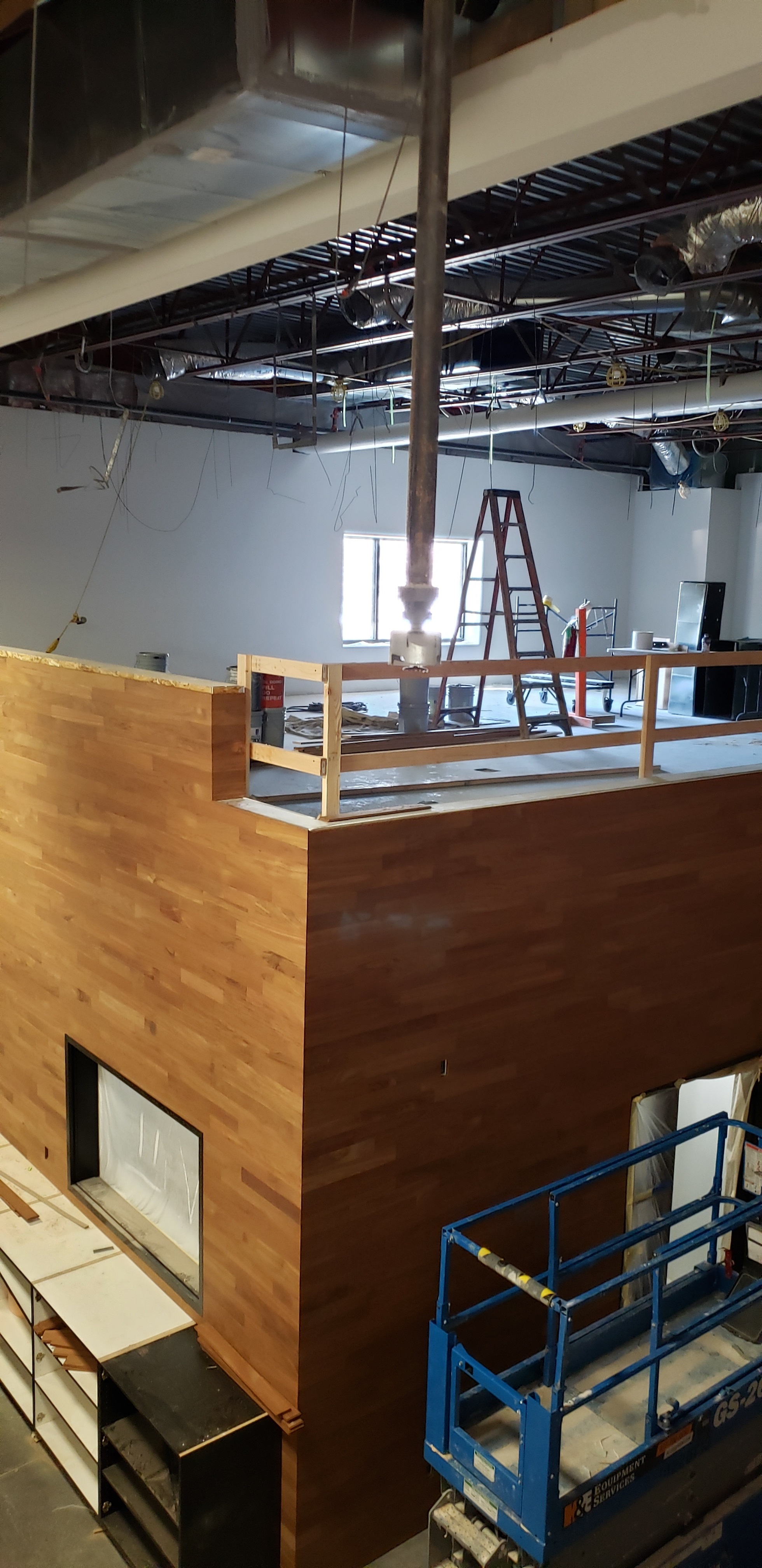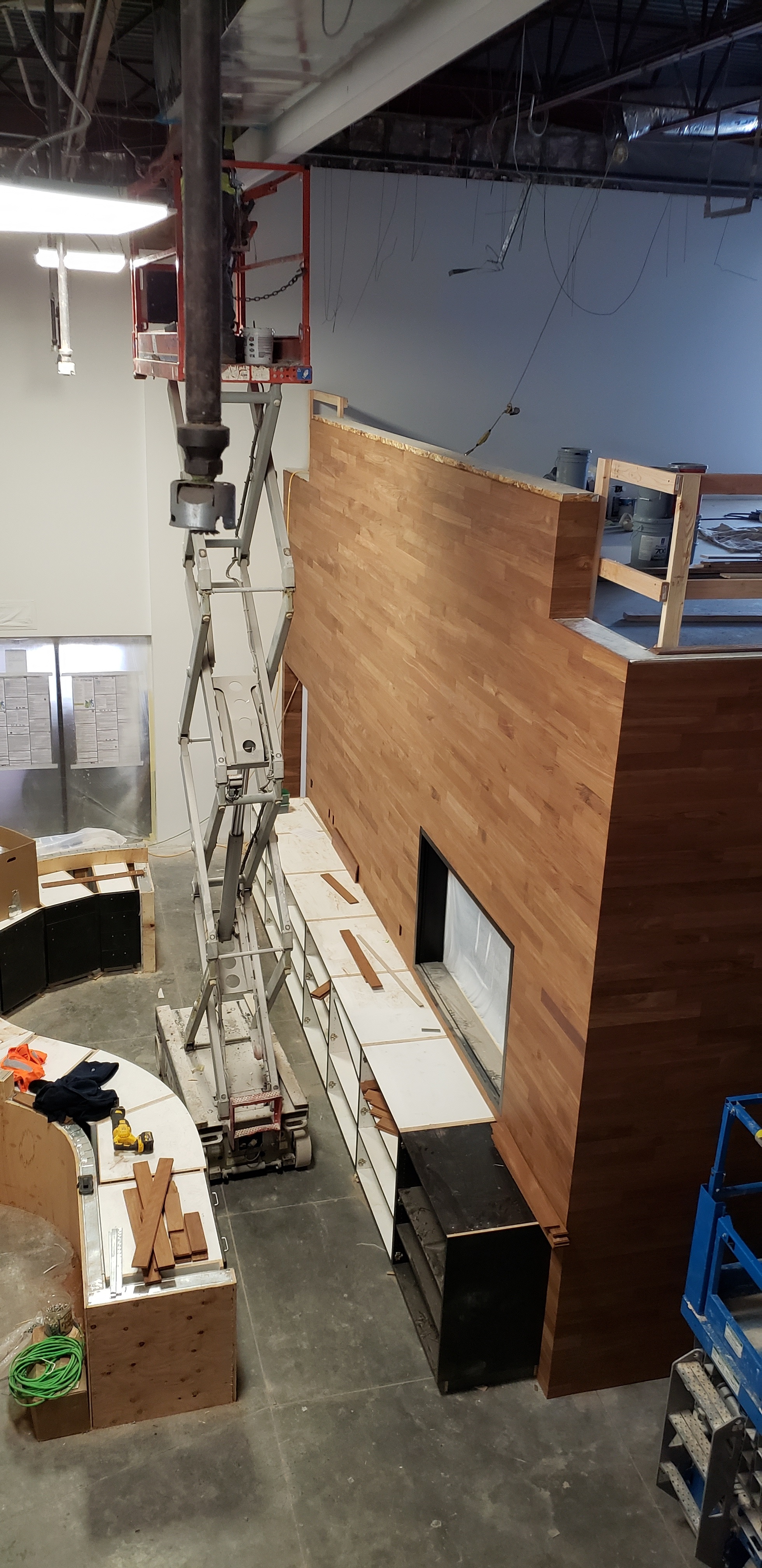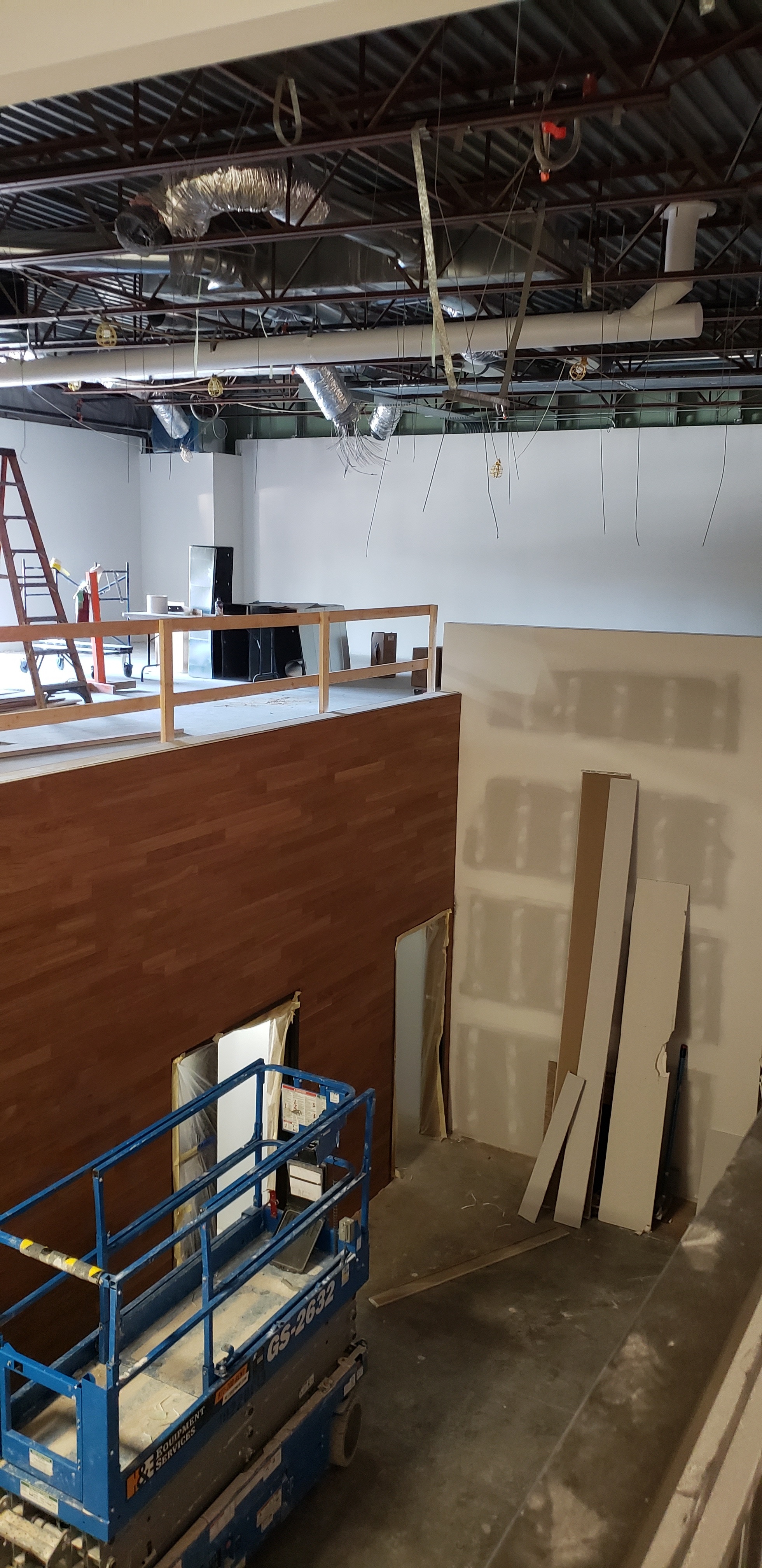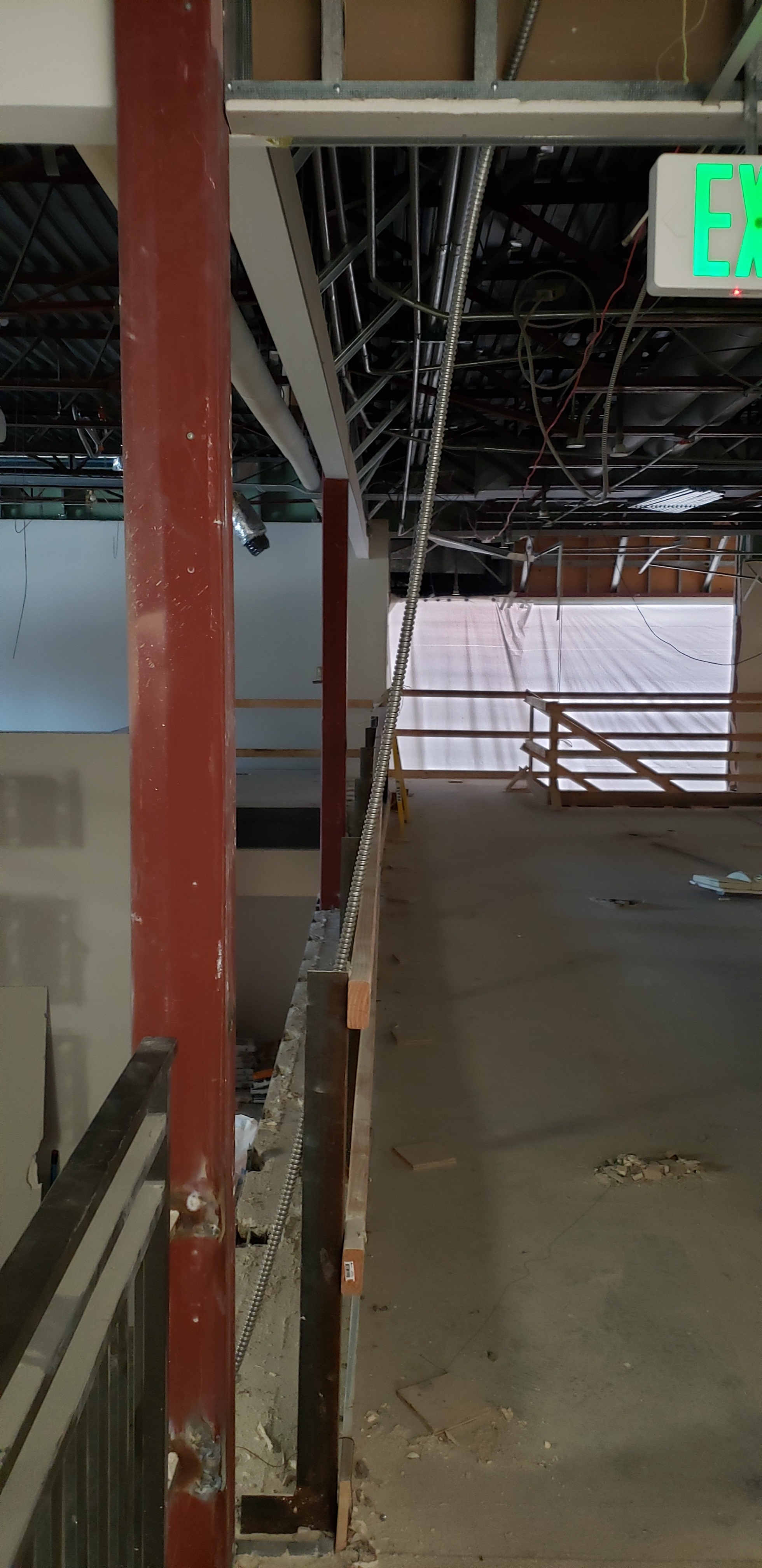 Update 1/6/2020
The cycle room is painted, lit, and ready for bikes and hundreds of spin parties in the new year! The front desk is under construction and almost ready for its countertop. Stay tuned for more updates, coming soon!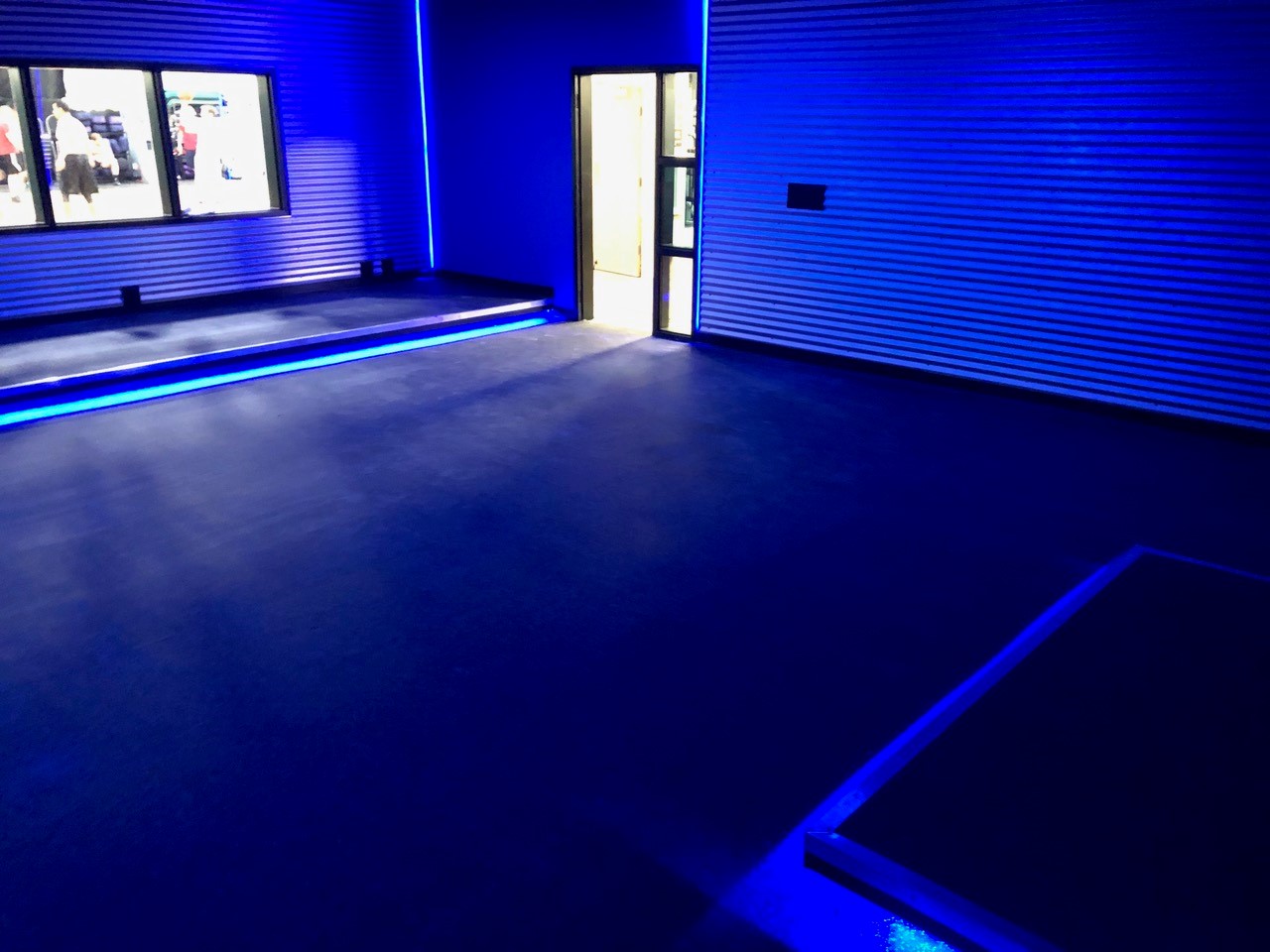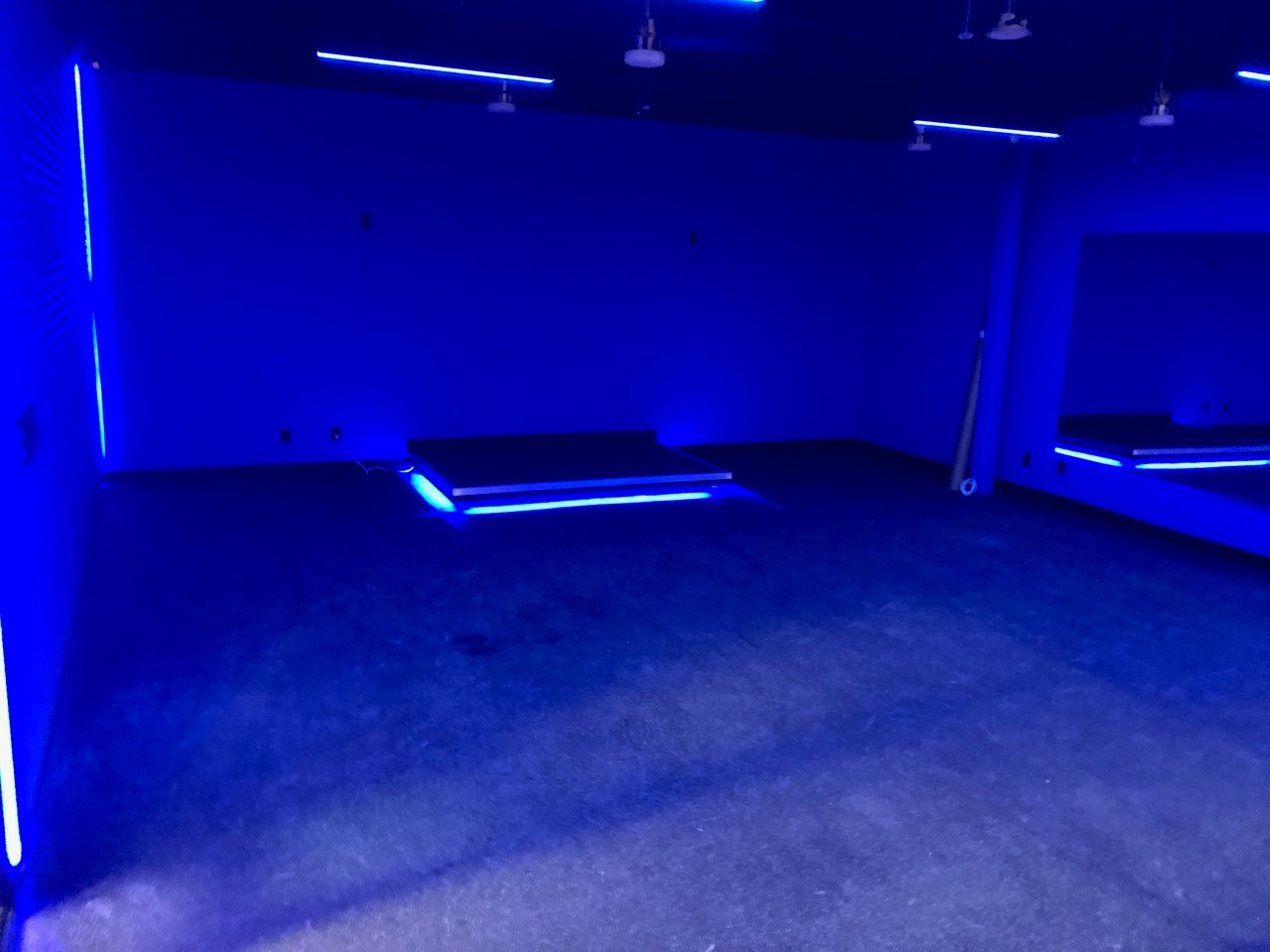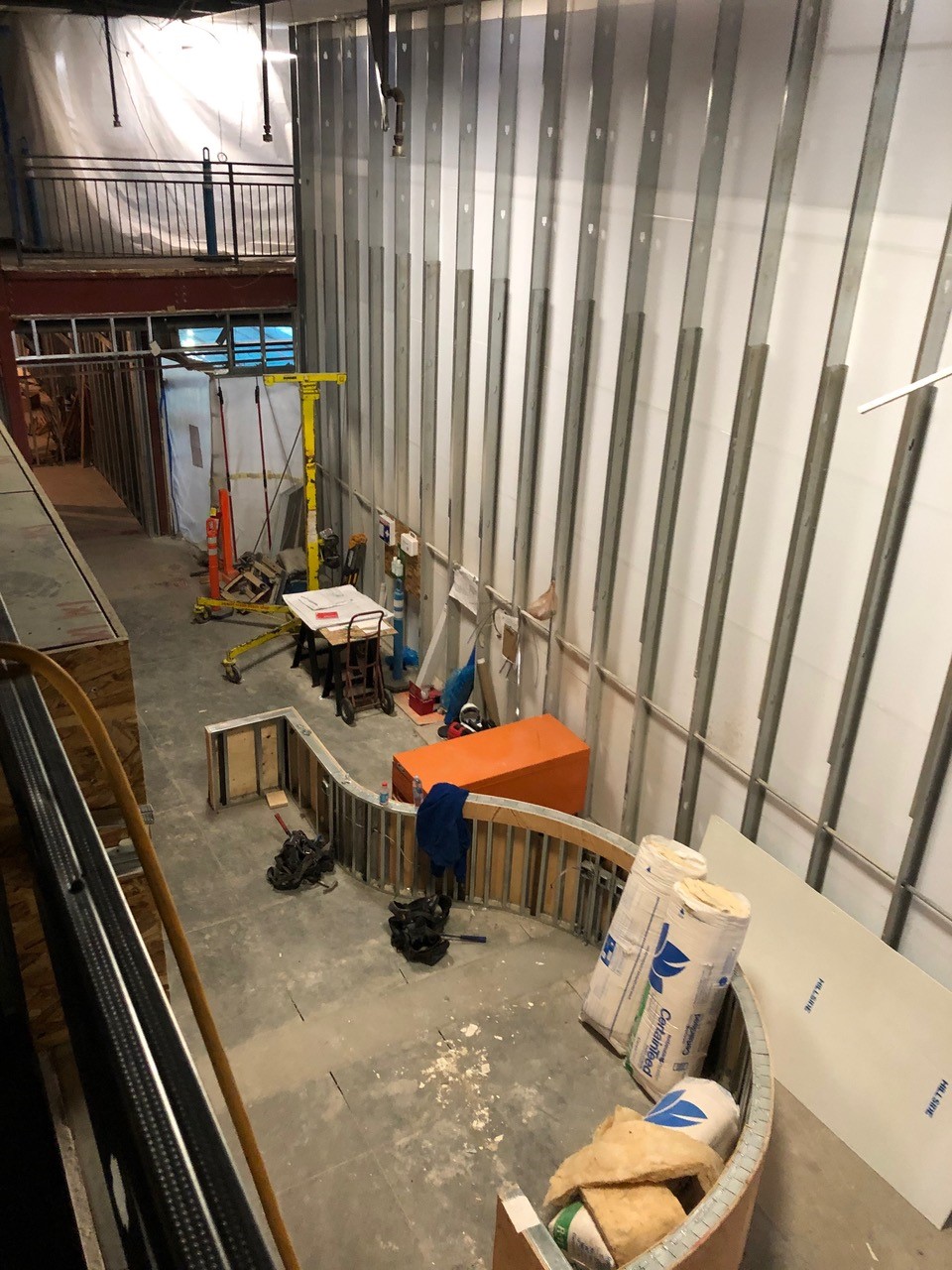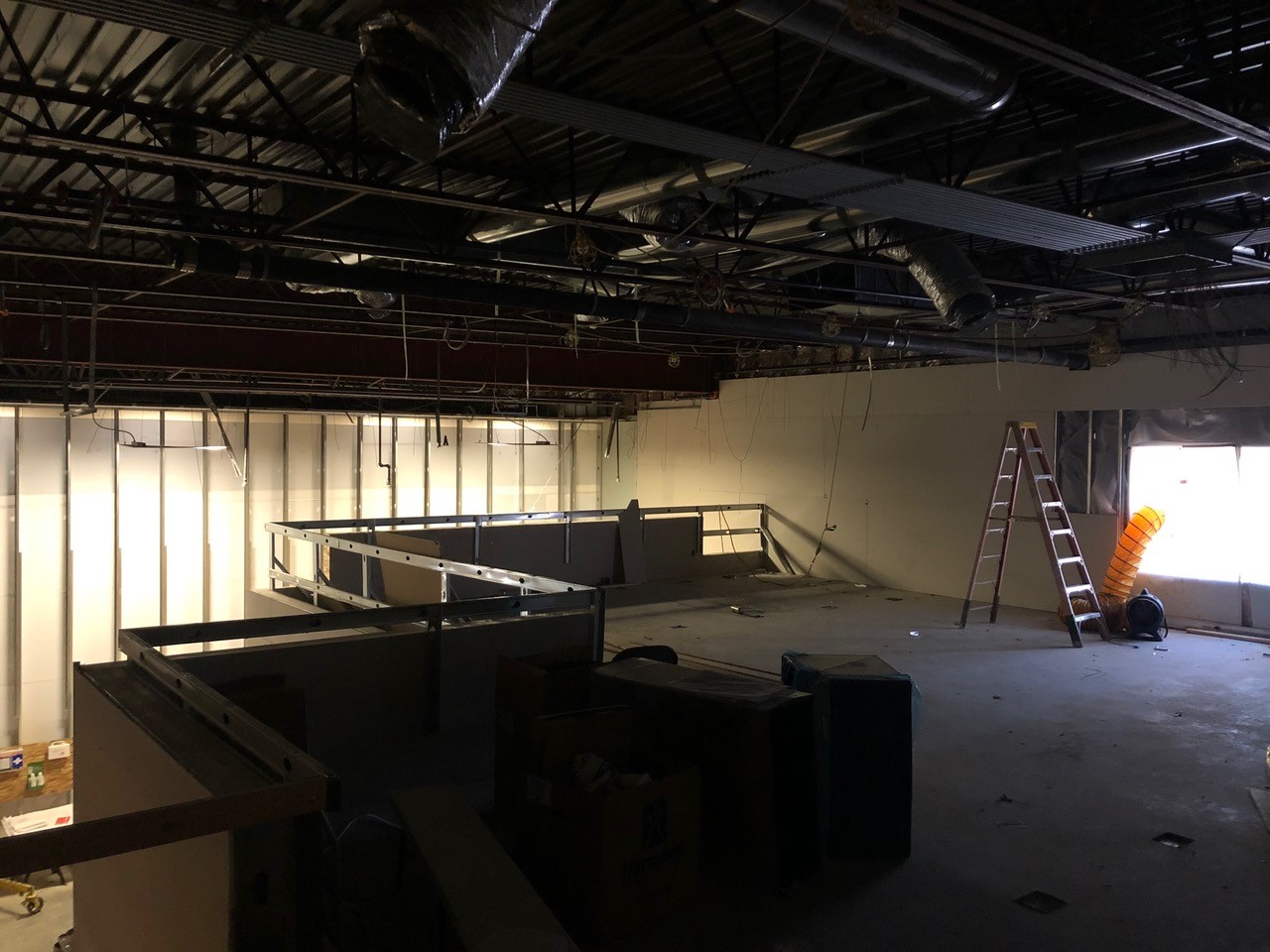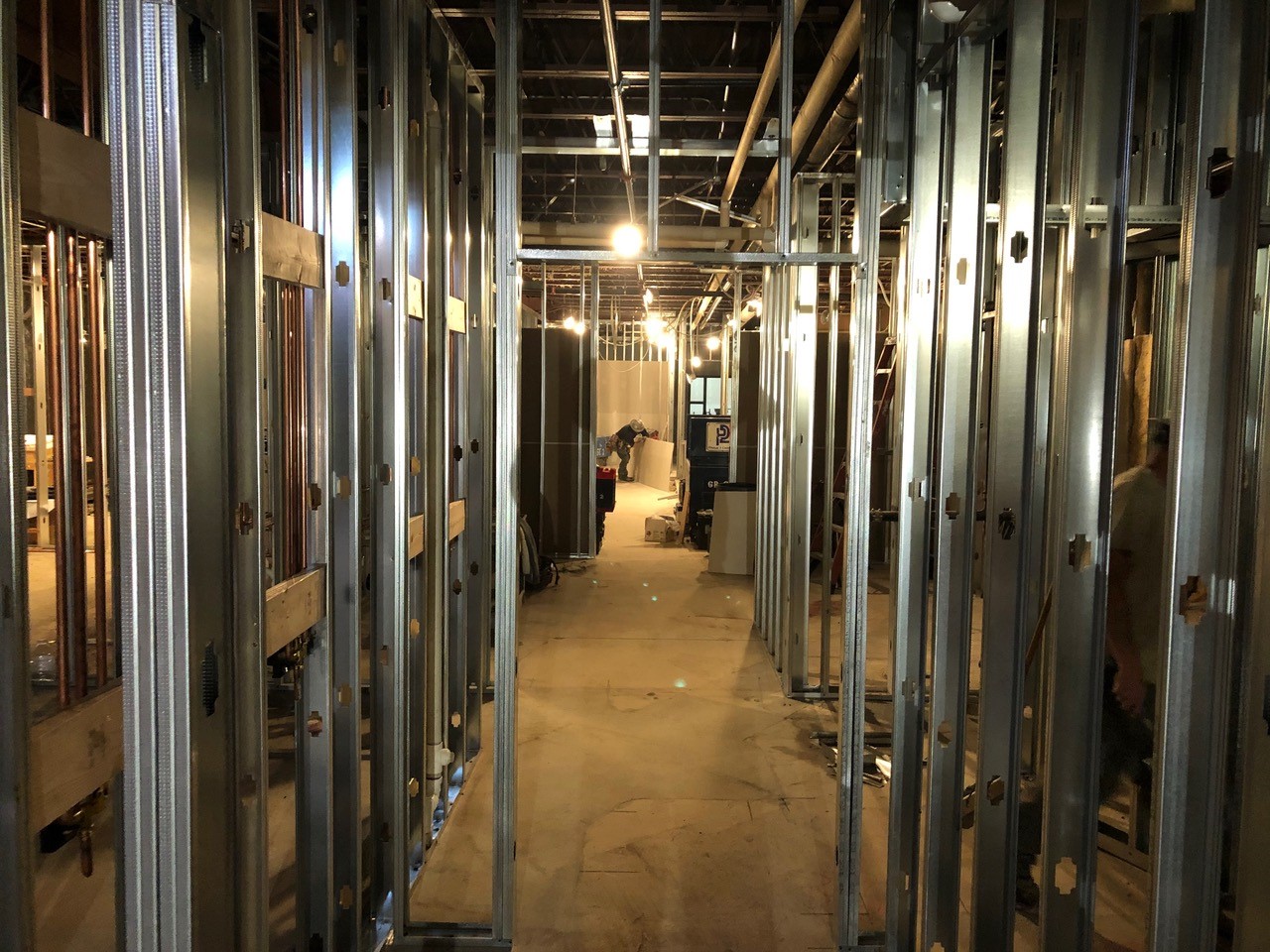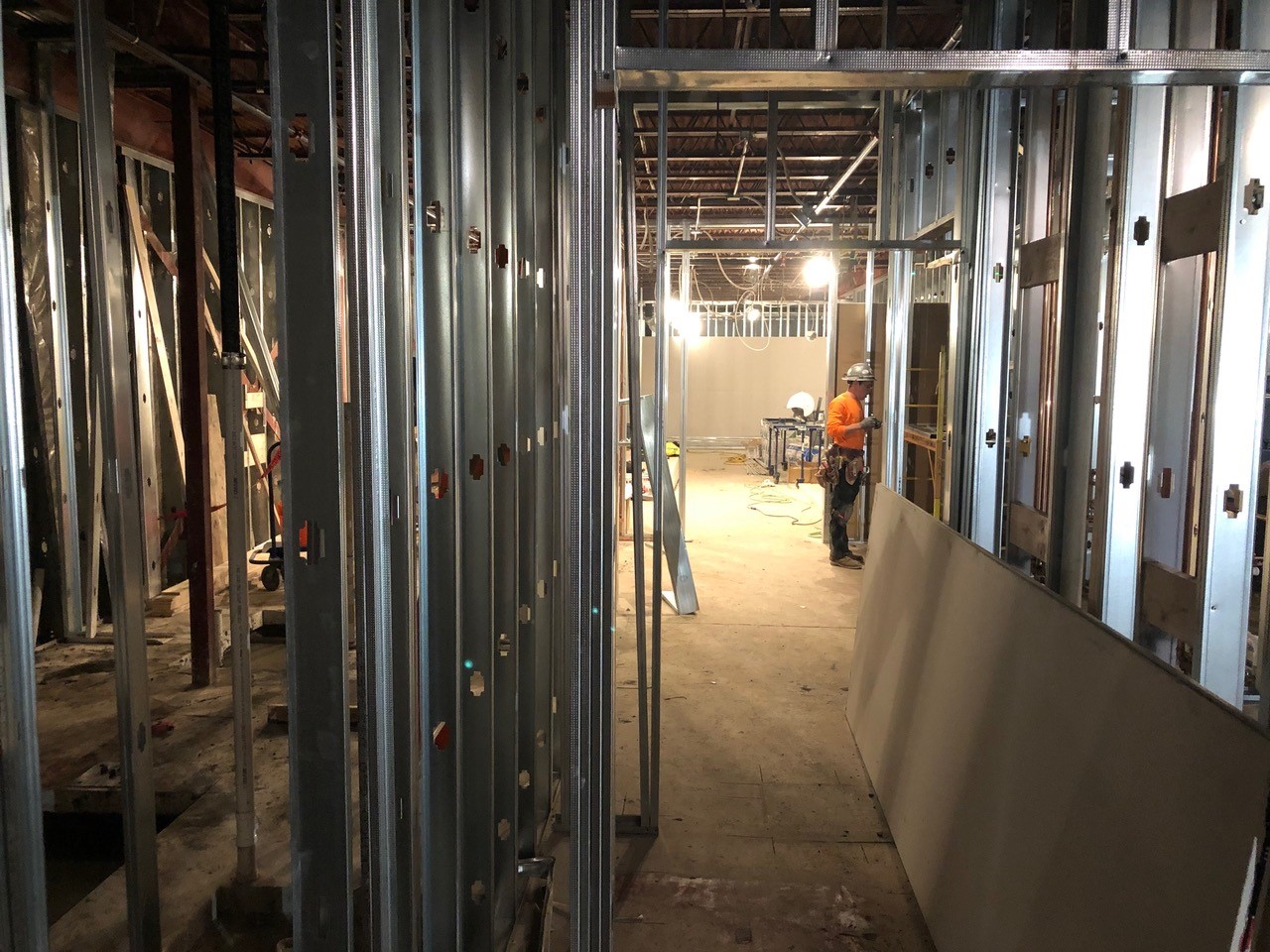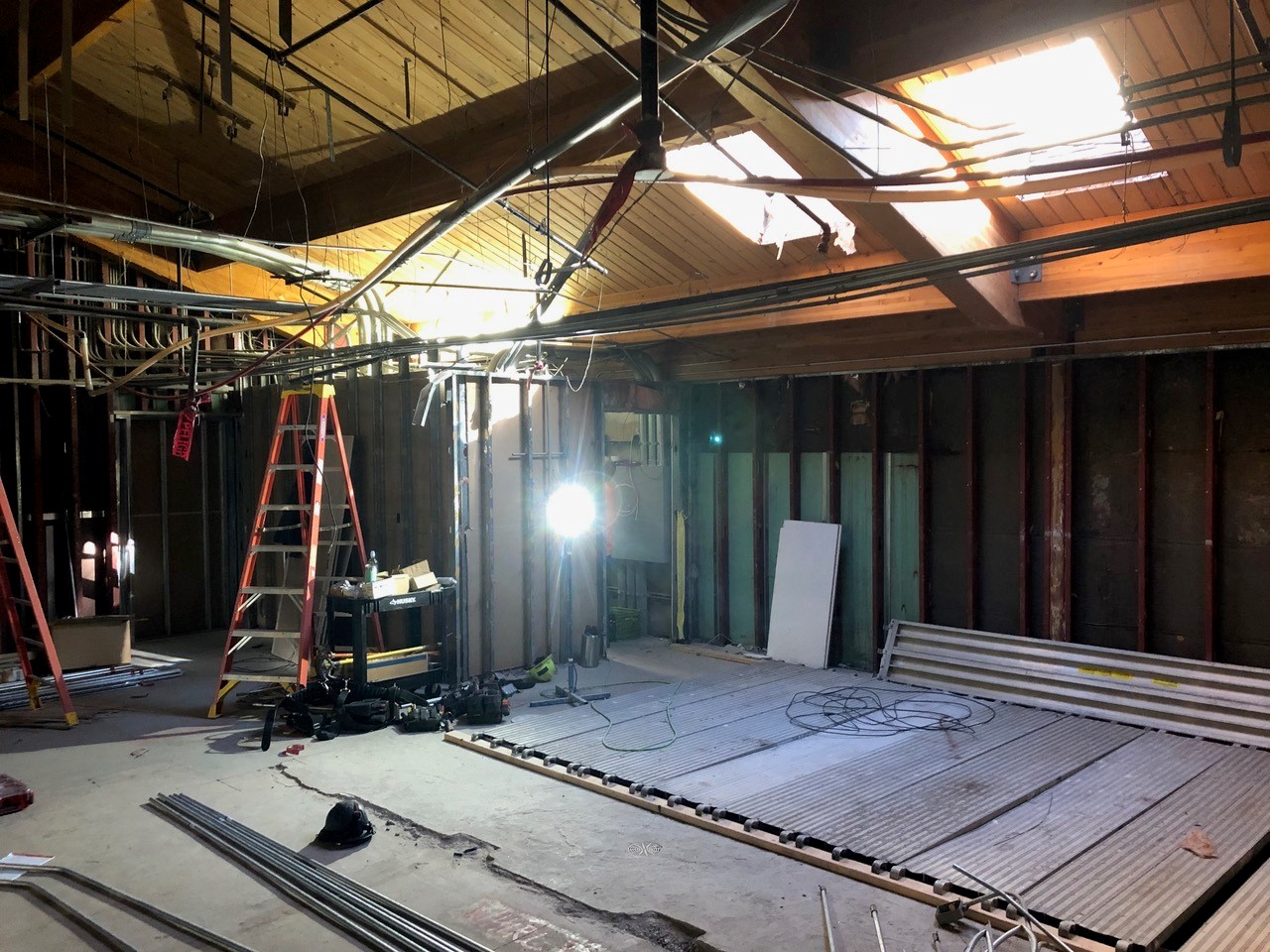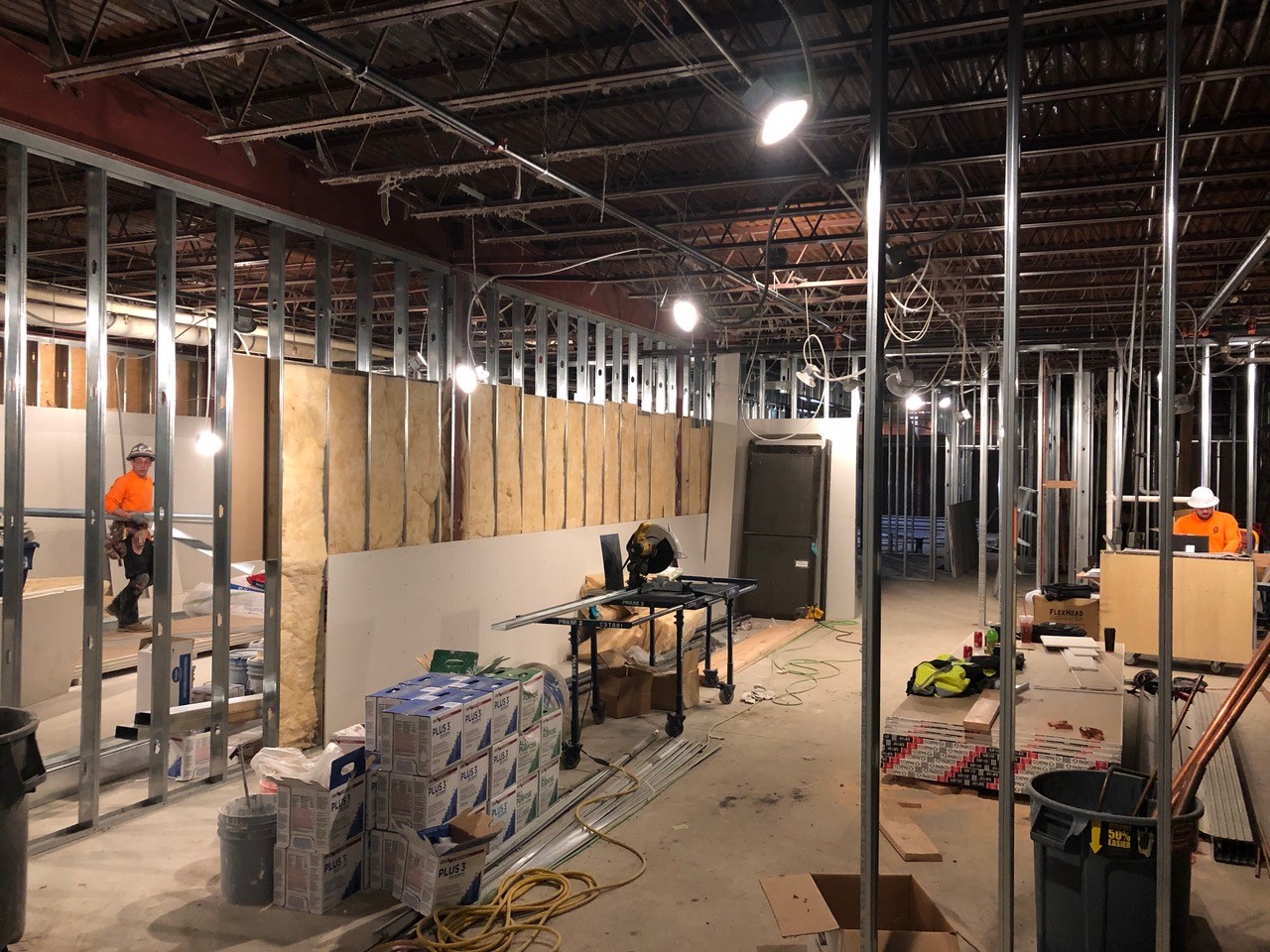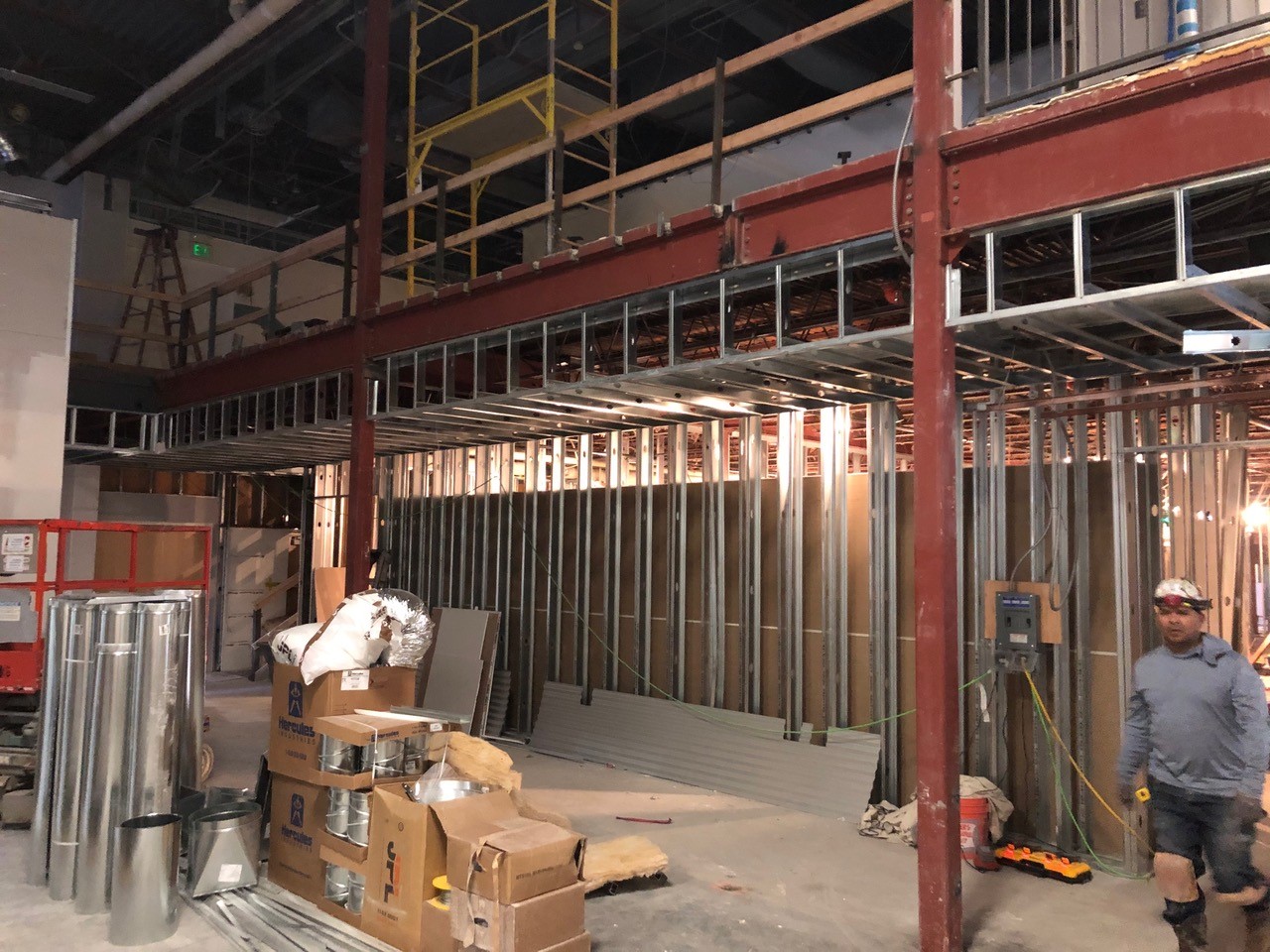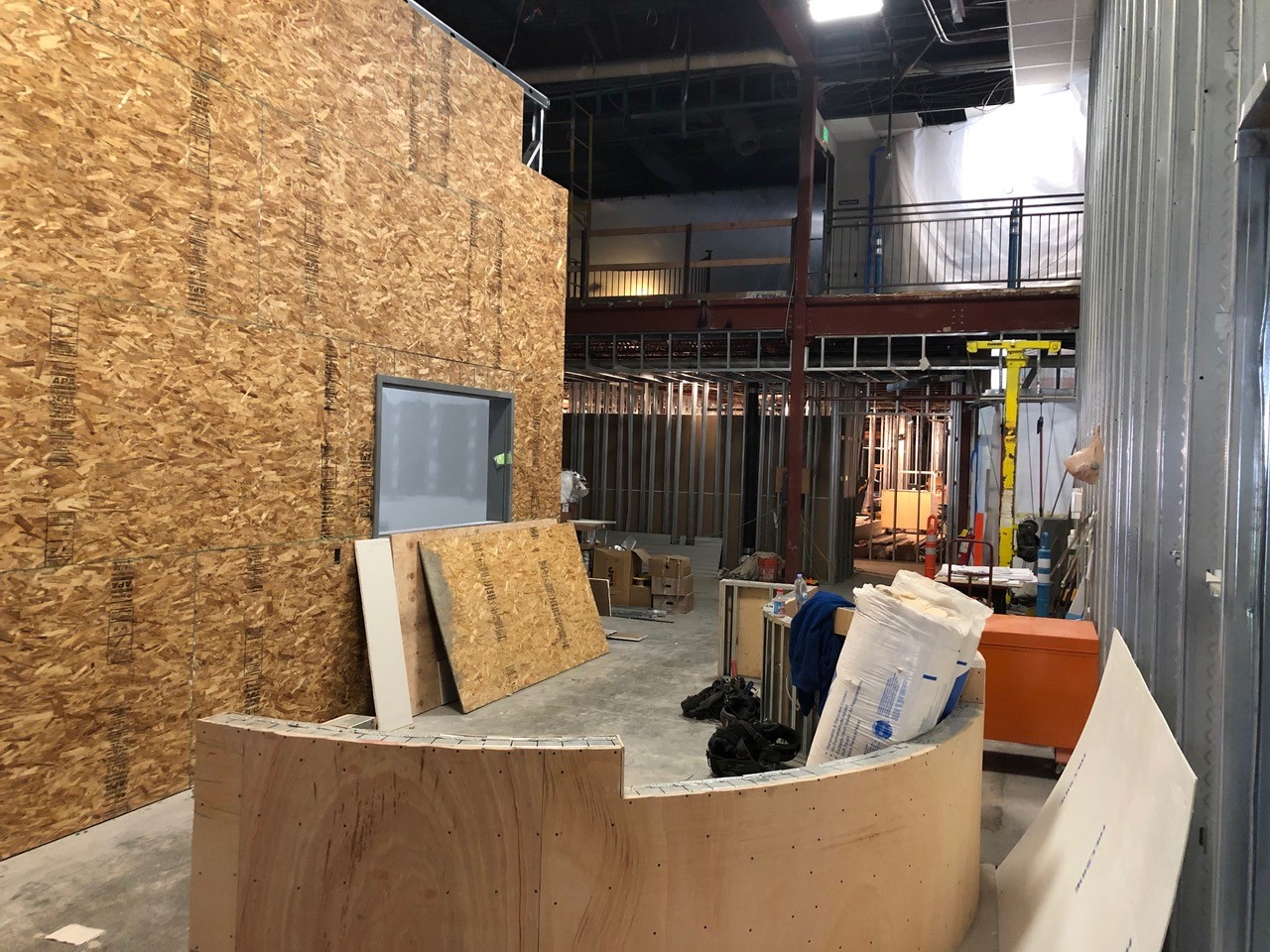 Update 11/20/2019
We're well underway on the cycle studio, pool/hot tub area, locker rooms, upstairs area, and front desk. The areas may look sparse right now, but they'll soon be shiny and new just for you. We've included examples of "after" photos from some of our other recent remodeling projects so you can see what's in store. Look for some dramatic transformation in the coming weeks and months. Stay tuned!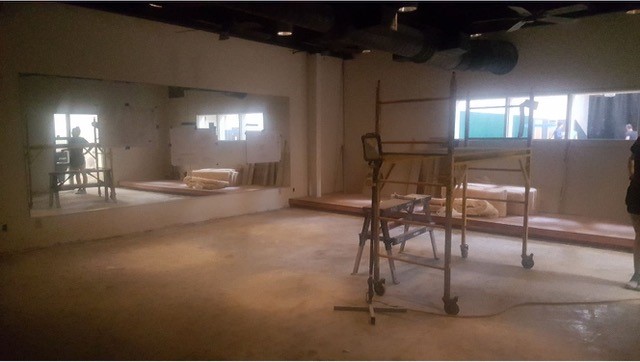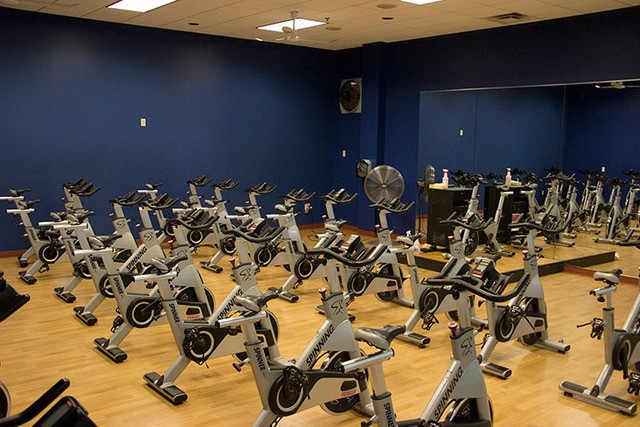 Construction progress on the new spin room with a look at what the finished product will look like.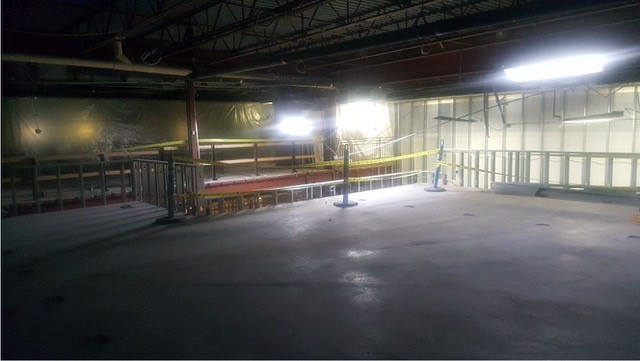 Upstairs progress with a look towards the future.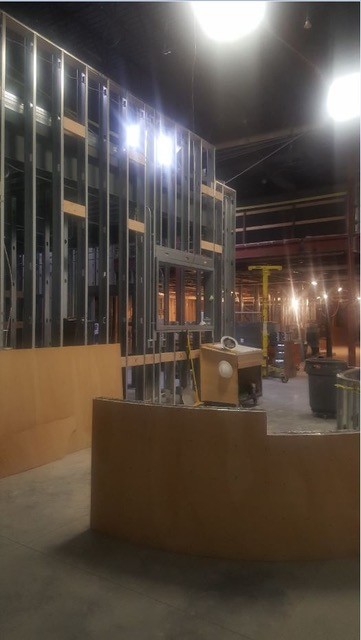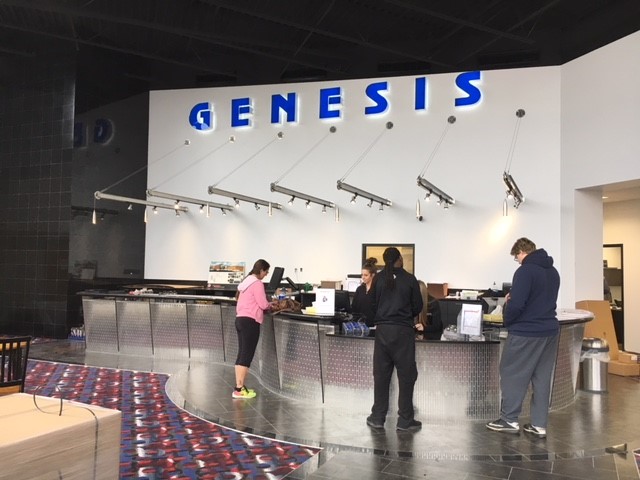 Front Desk Progress along with completed example at another club.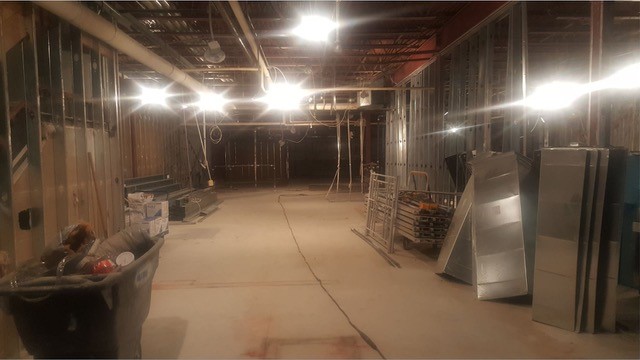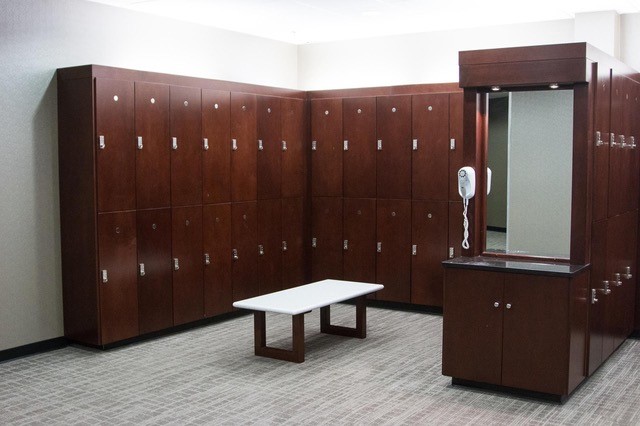 Locker room progress along with example of one of our luxury locker rooms from another recently completed remodel.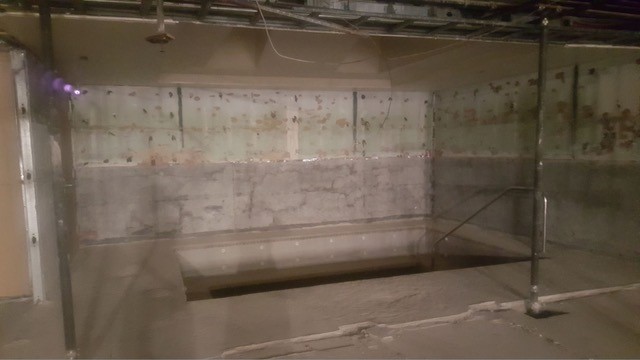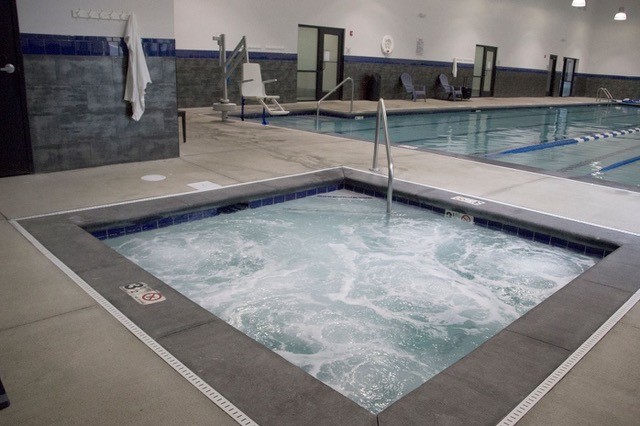 The hot tub is just a hole in the ground, but will soon be ready for your relaxation and rejuvenation after a hard workout.
Update 10/29/19
Yoga classes have been temporarily relocated to either Studio 2 and/or Racquetball Court 1 (formerly known as Racquetball Court 3). Please see the front desk for the correct location for each class.
Update 10/28/19
Happy Halloween Week! As we move further into construction, we have a few updates to make on various areas of the club that need to temporarily close or move. We will do everything we can to minimize the inconvenience and downtime so we can bring you a beautiful, fully remodeled club as quickly as possible. Updates:
Current Spinning Studio
Will be closed Tuesday, October 29th until approximately late November.
Spinning Classes (and bikes) will be moved upstairs to Studio 1 until the new spin studio is complete.
Day lockers will be properly allocated prior to demolishing anything. Lockers need to be cleared out immediately, and if not cleared out, items will be stored in lost and found for 2 weeks.
Personal Training offices will be vacated and will relocate upstairs until further notice.

Current Studio 1
Construction needs on the west end of the studio results in a reduction in size, as well as a more noisy environment.
No more yoga classes but we will have spinning classes.
Spin bikes have been moved to Studio 1.
Studio 1 will be shut down completely from approximately Friday, November 22nd until the end of the year (approximately).

Front Hallway from Lobby to Basketball Court
Hallway will reopen (in a limited, but functional capacity allowing members to walk through) on approximately Monday, November 18th.
This will remain open for members throughout the duration of construction, unless an unforeseen circumstance results in a temporary closure.
Catwalk (from offices to Studio 1) will get taken apart and down starting approximately Wednesday, October 30th to Friday, November 1st.
This will be done starting at 10:30pm, Wednesday, October 30th and potentially finish by 4am Friday, November 1st (if not earlier).
If this timeline changes we will post updates as we have them.

Current Staircase by the Pool
Staircase leading right to Studio 1 will be permanently closed & taken down as of Tuesday, October 29th, and will not be replaced.
Members will need to use one of the 2 staircases in the cardio area, or the elevator, to access the upstairs classrooms and spaces.
Thank you for your patience and look for more updates soon.
Update 10/14/2019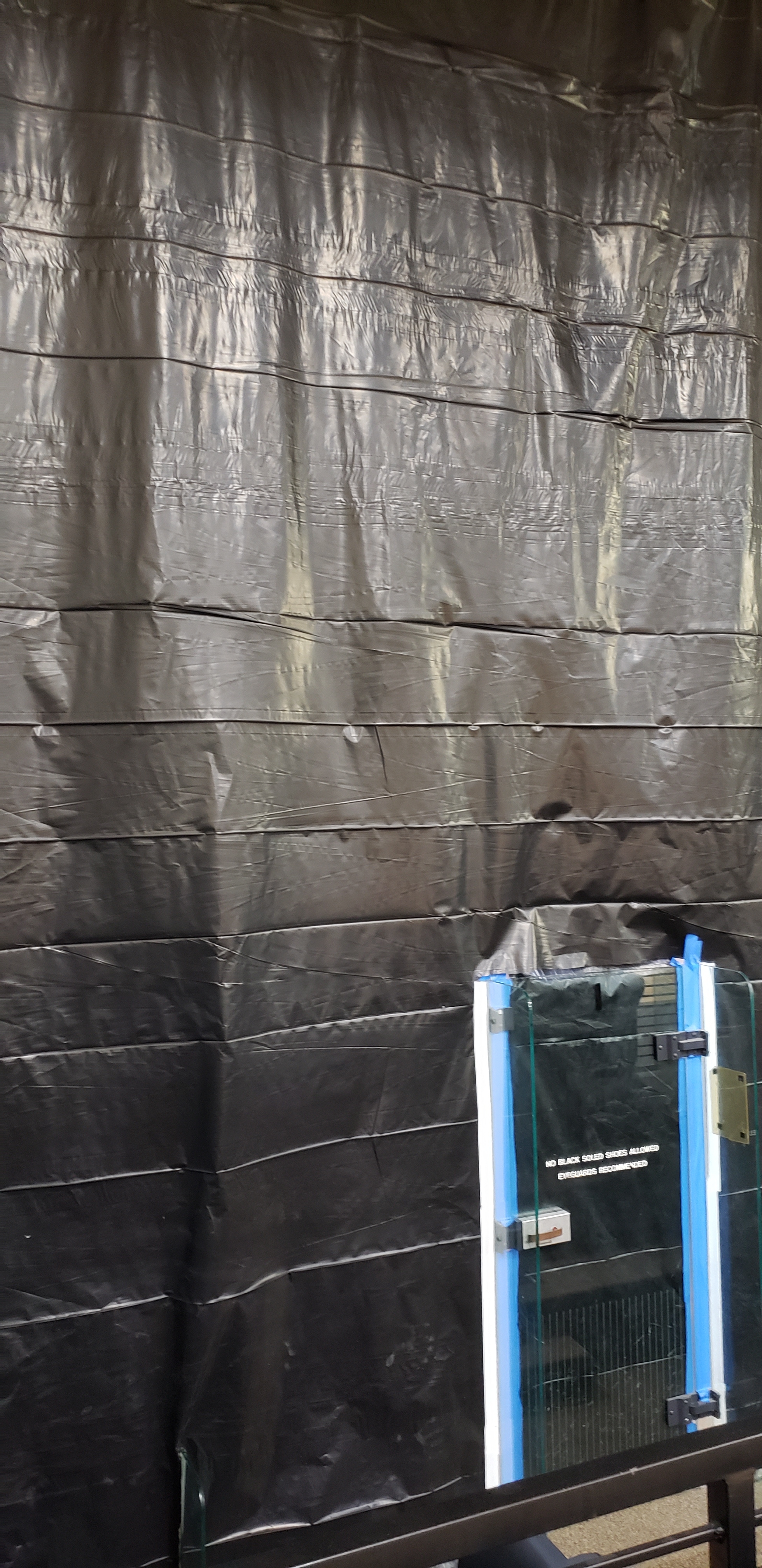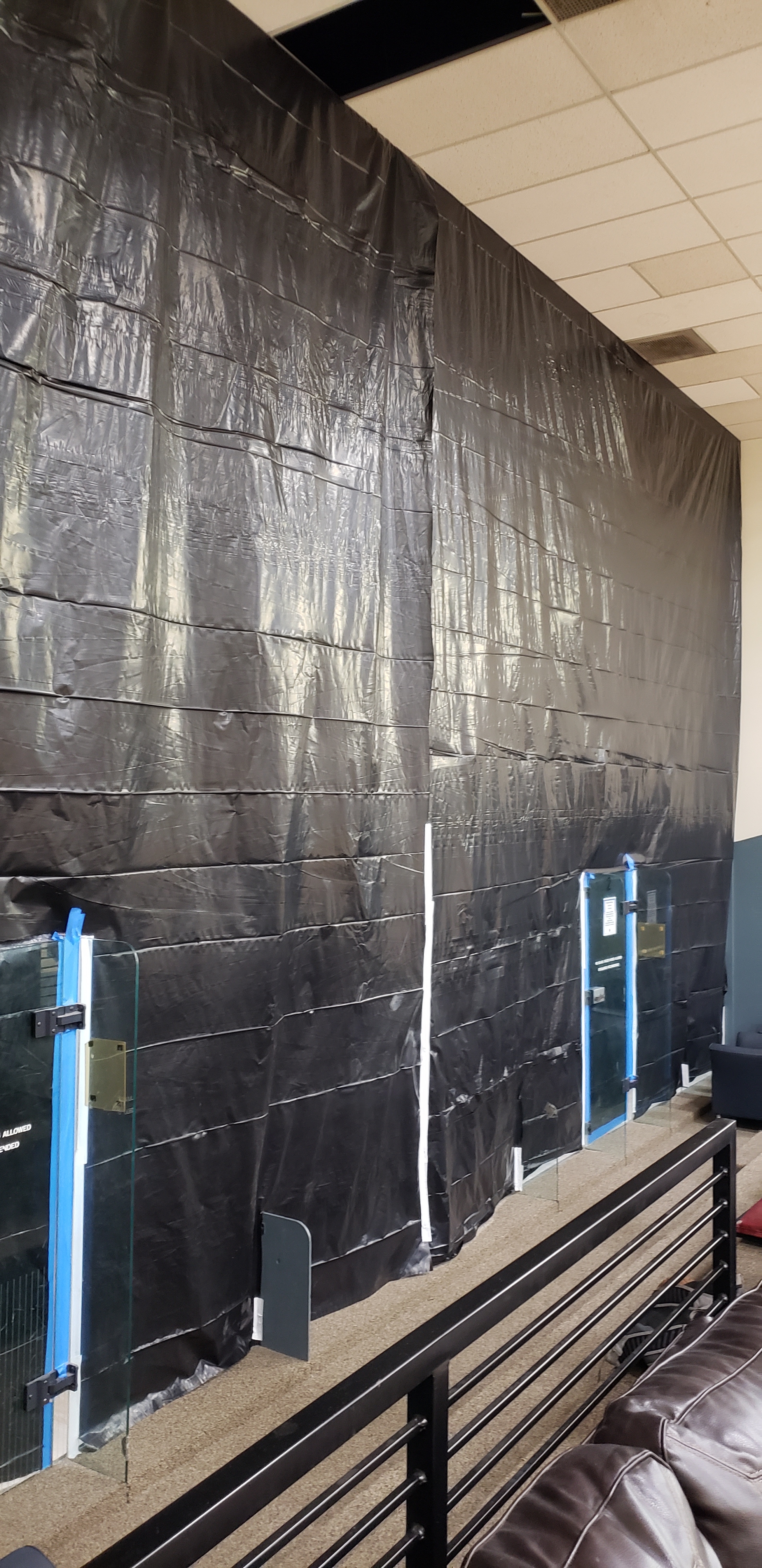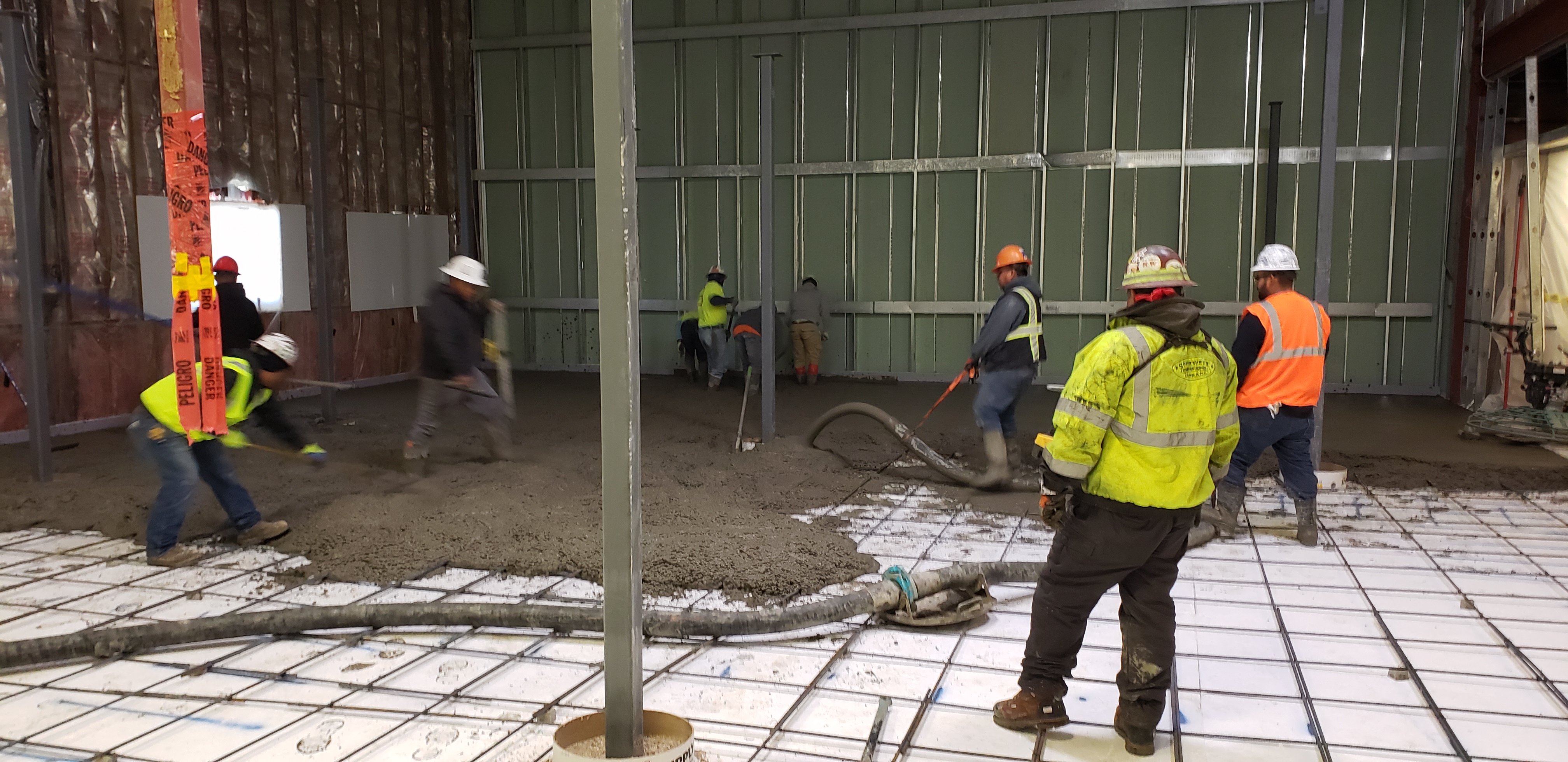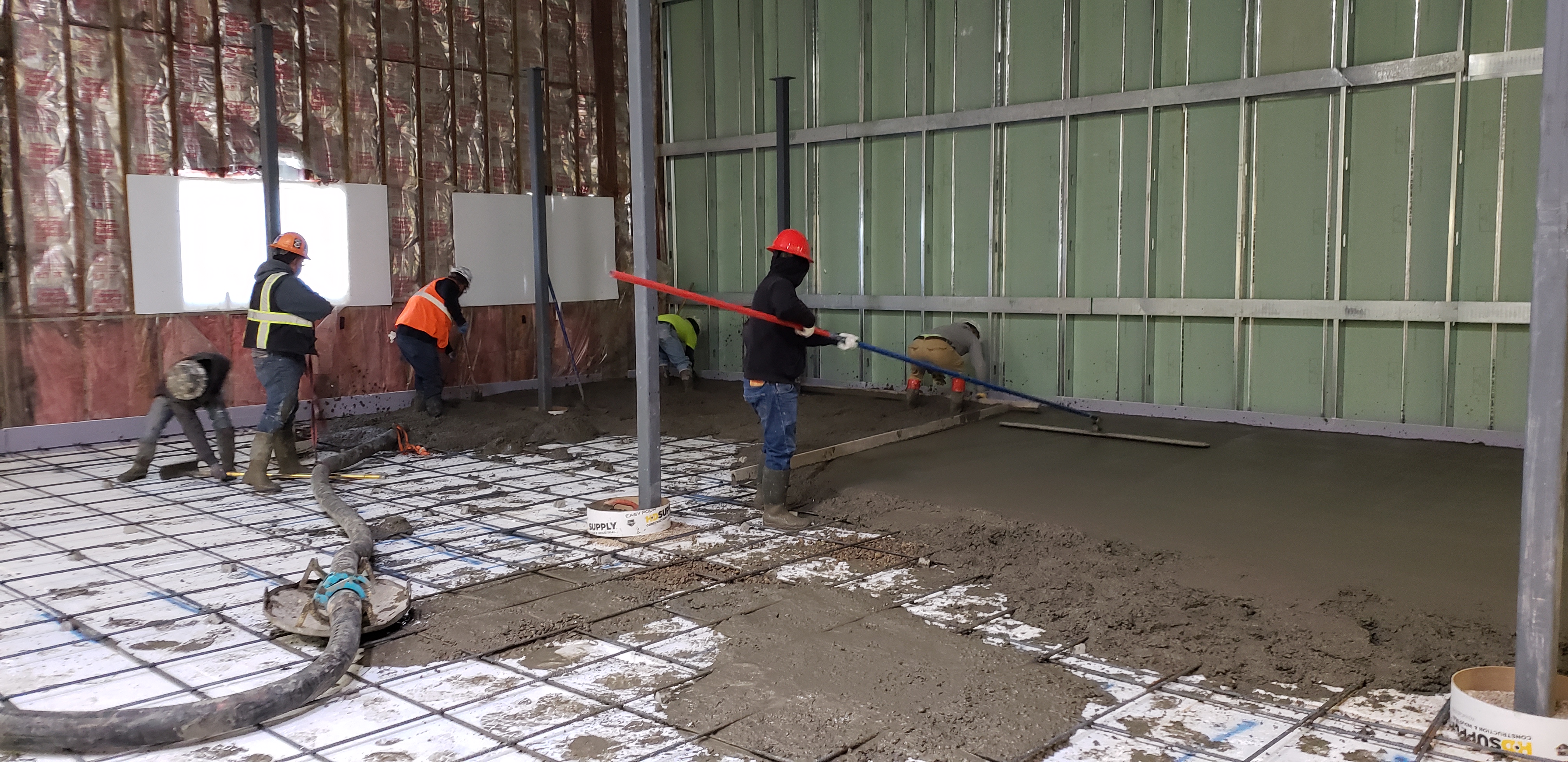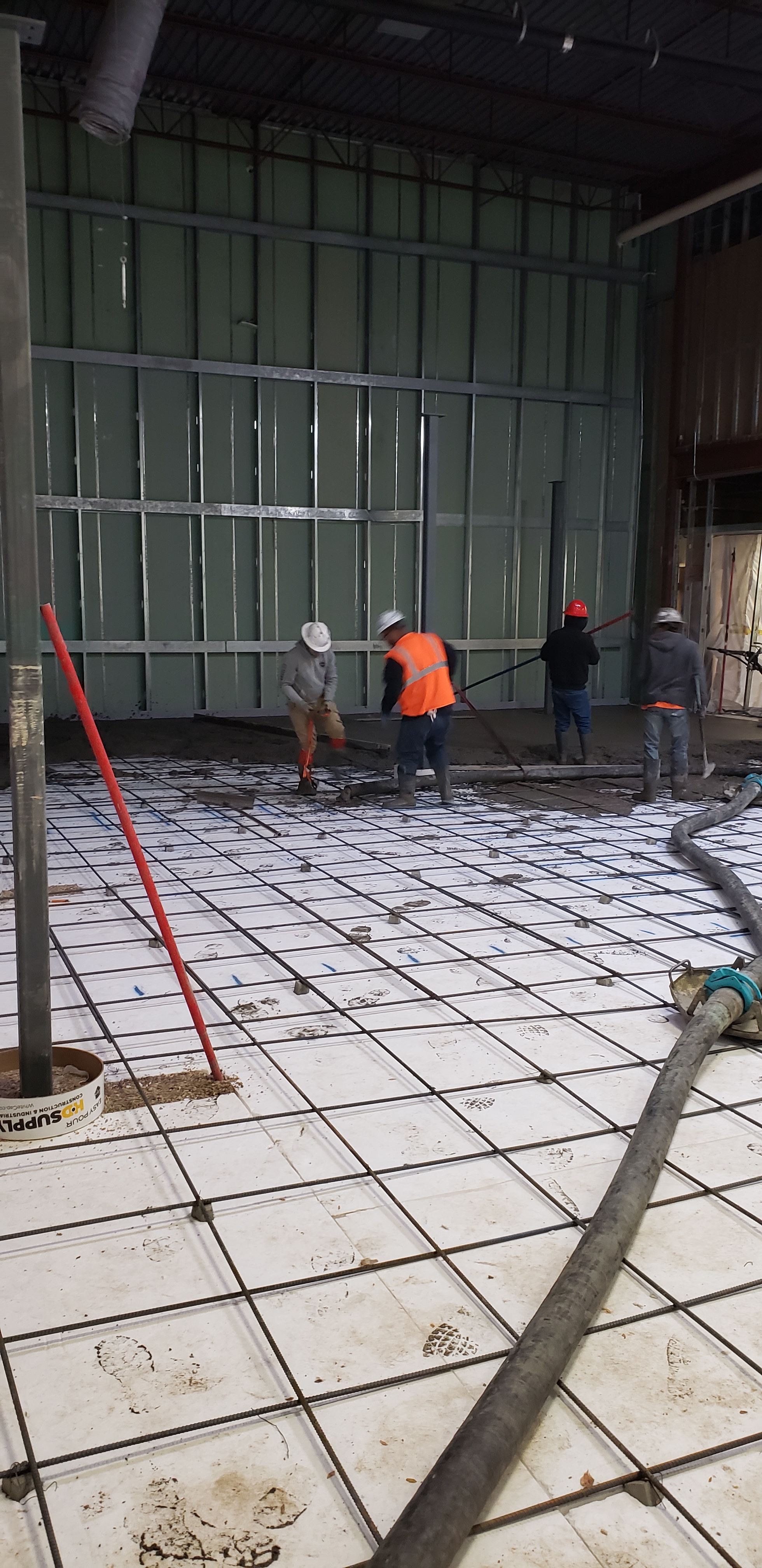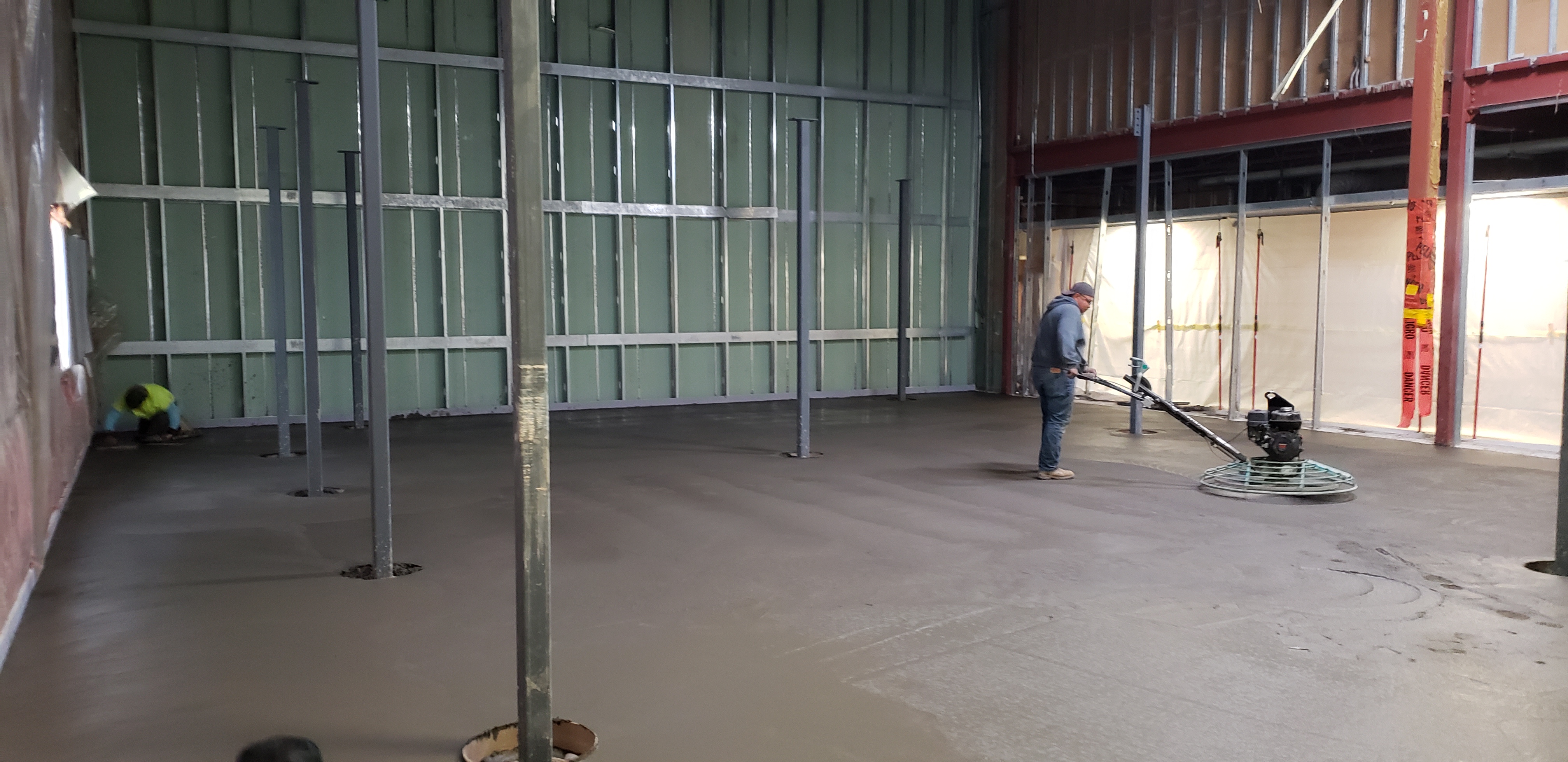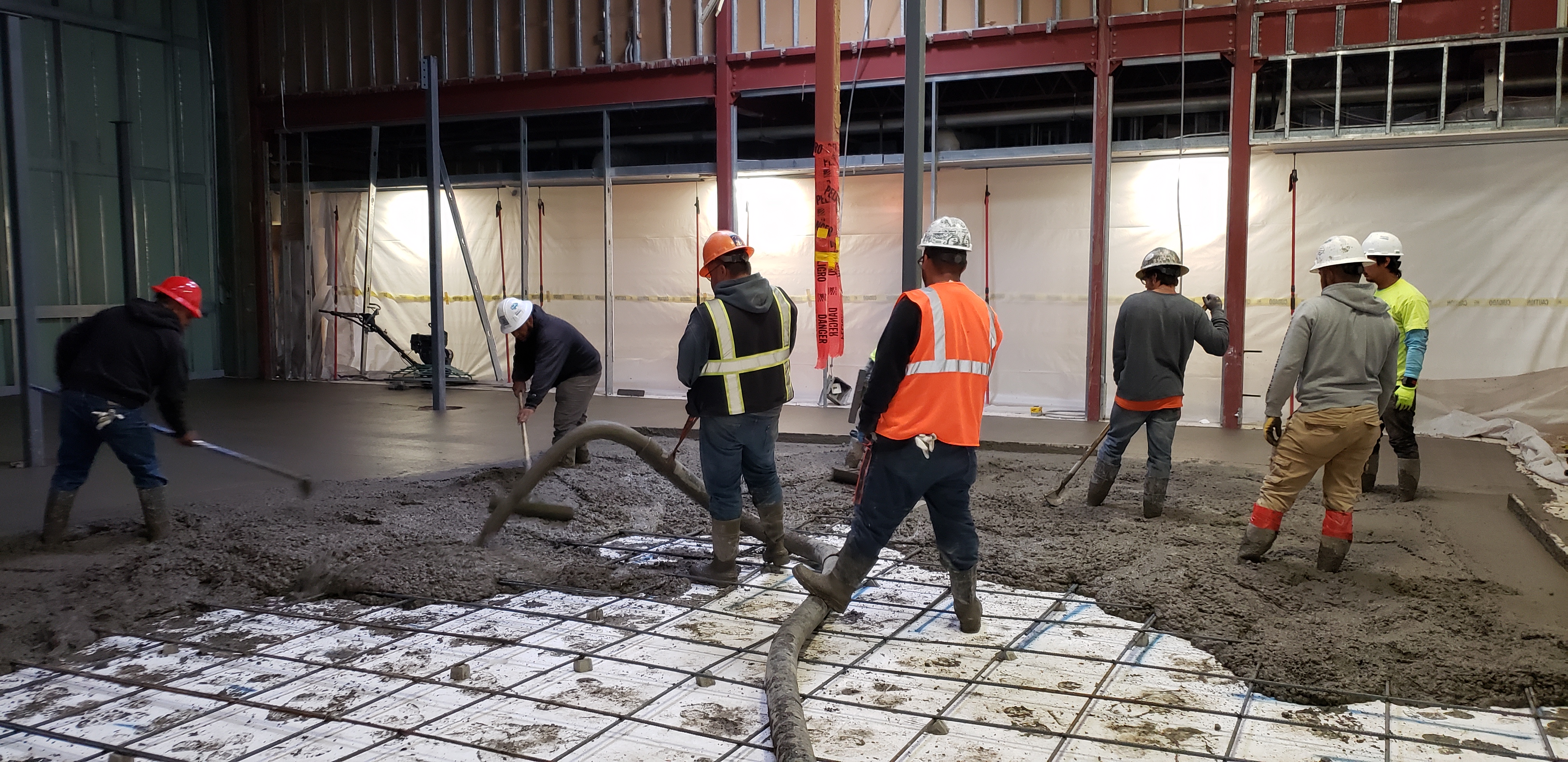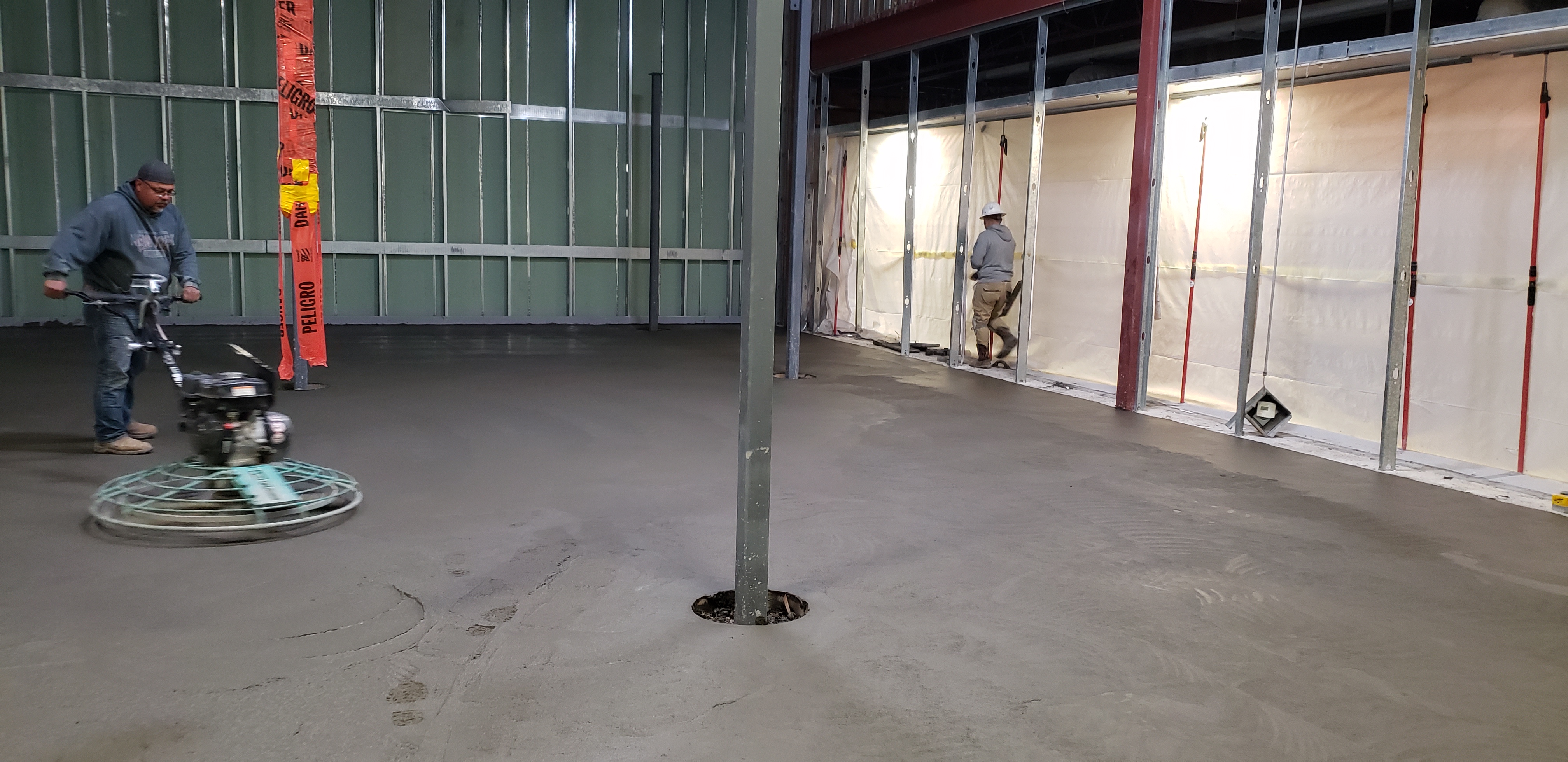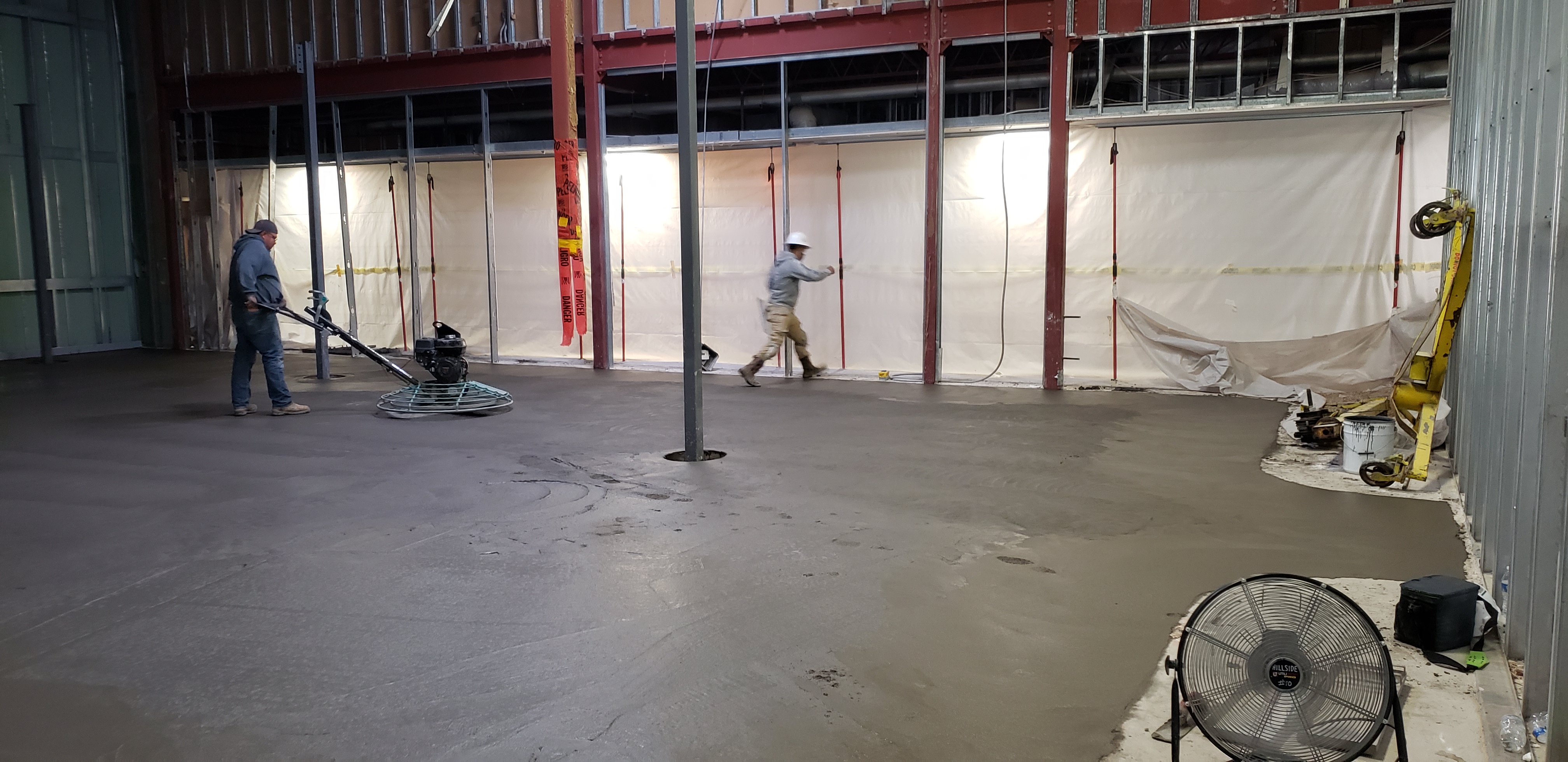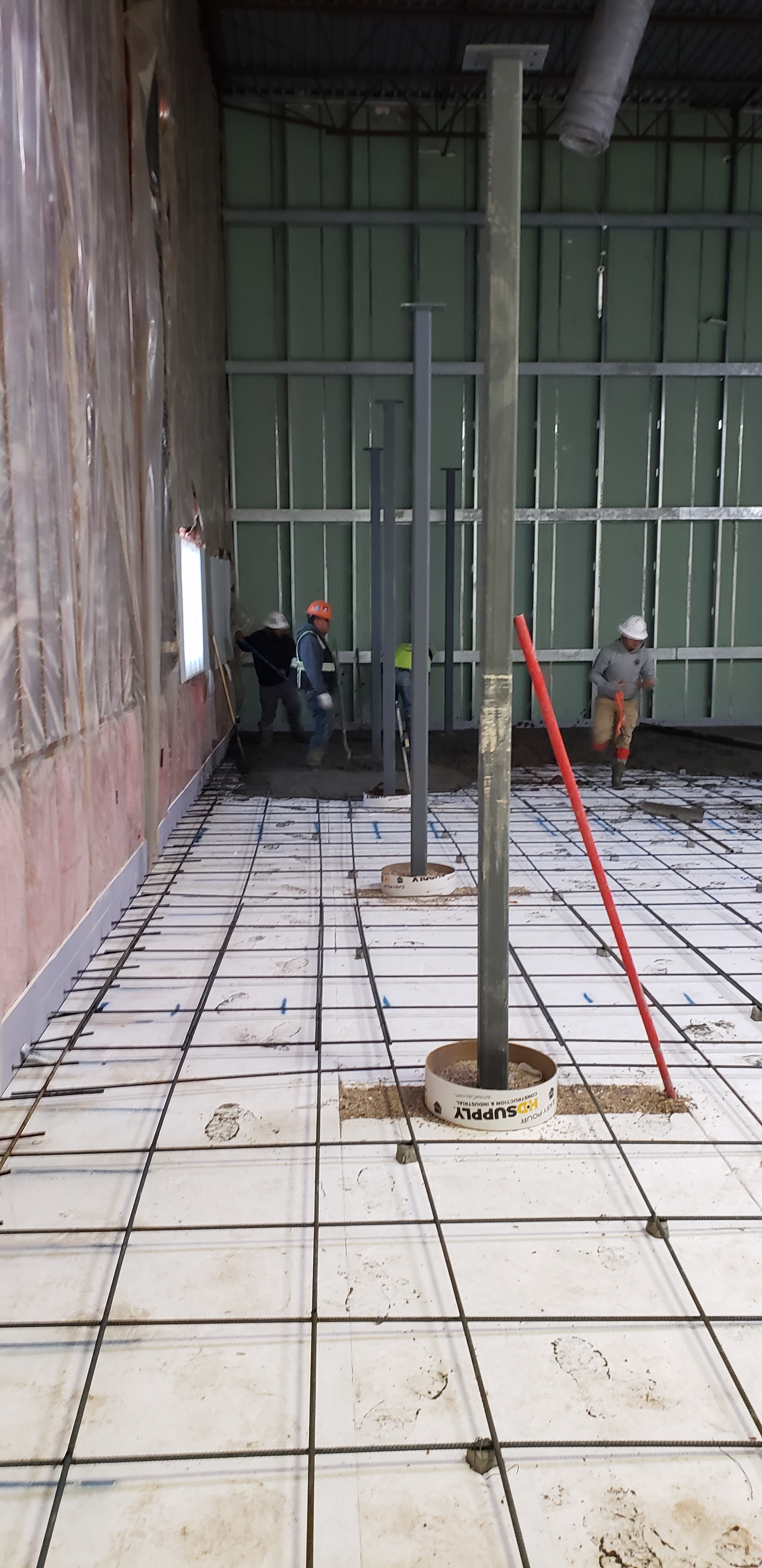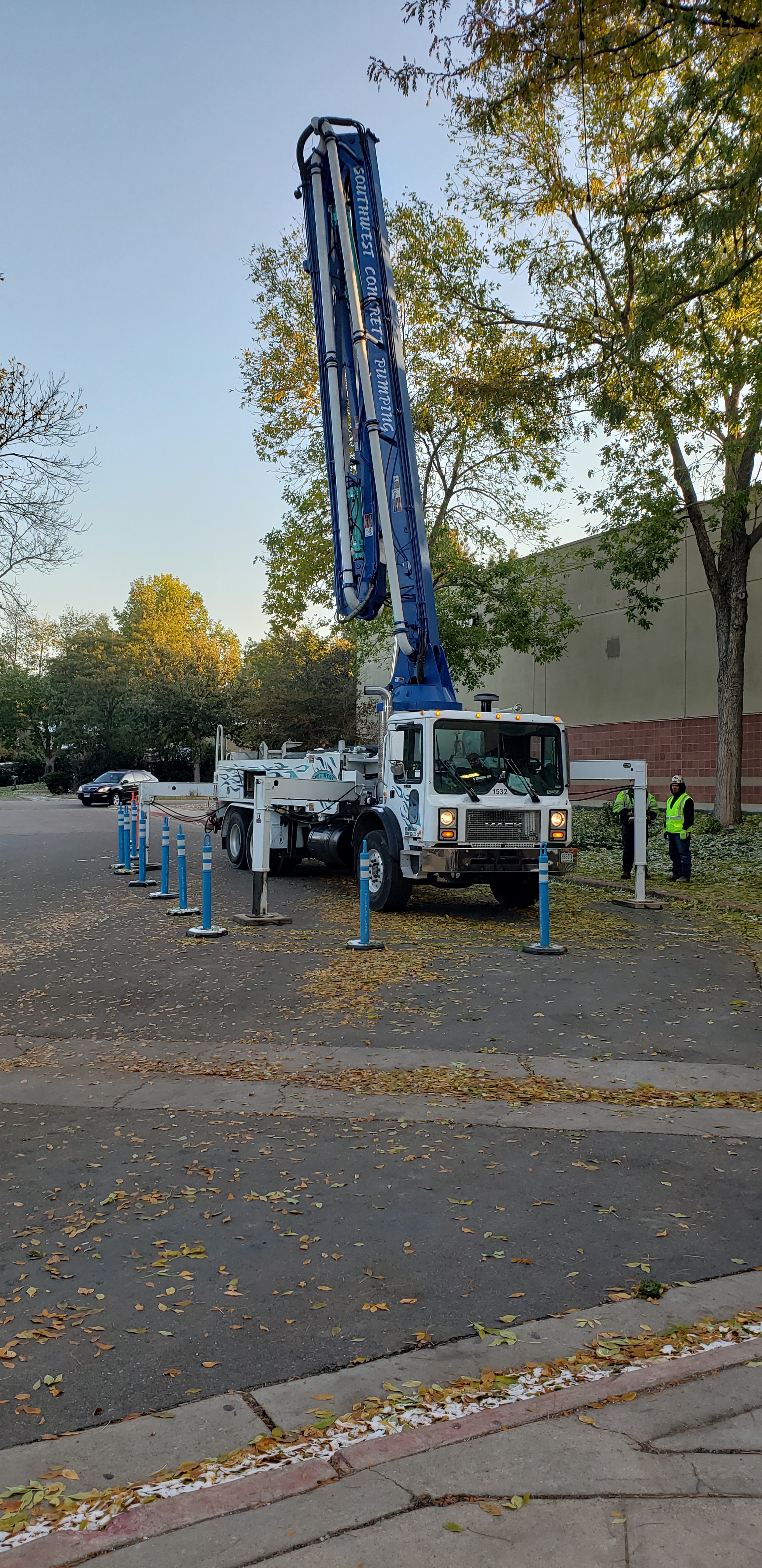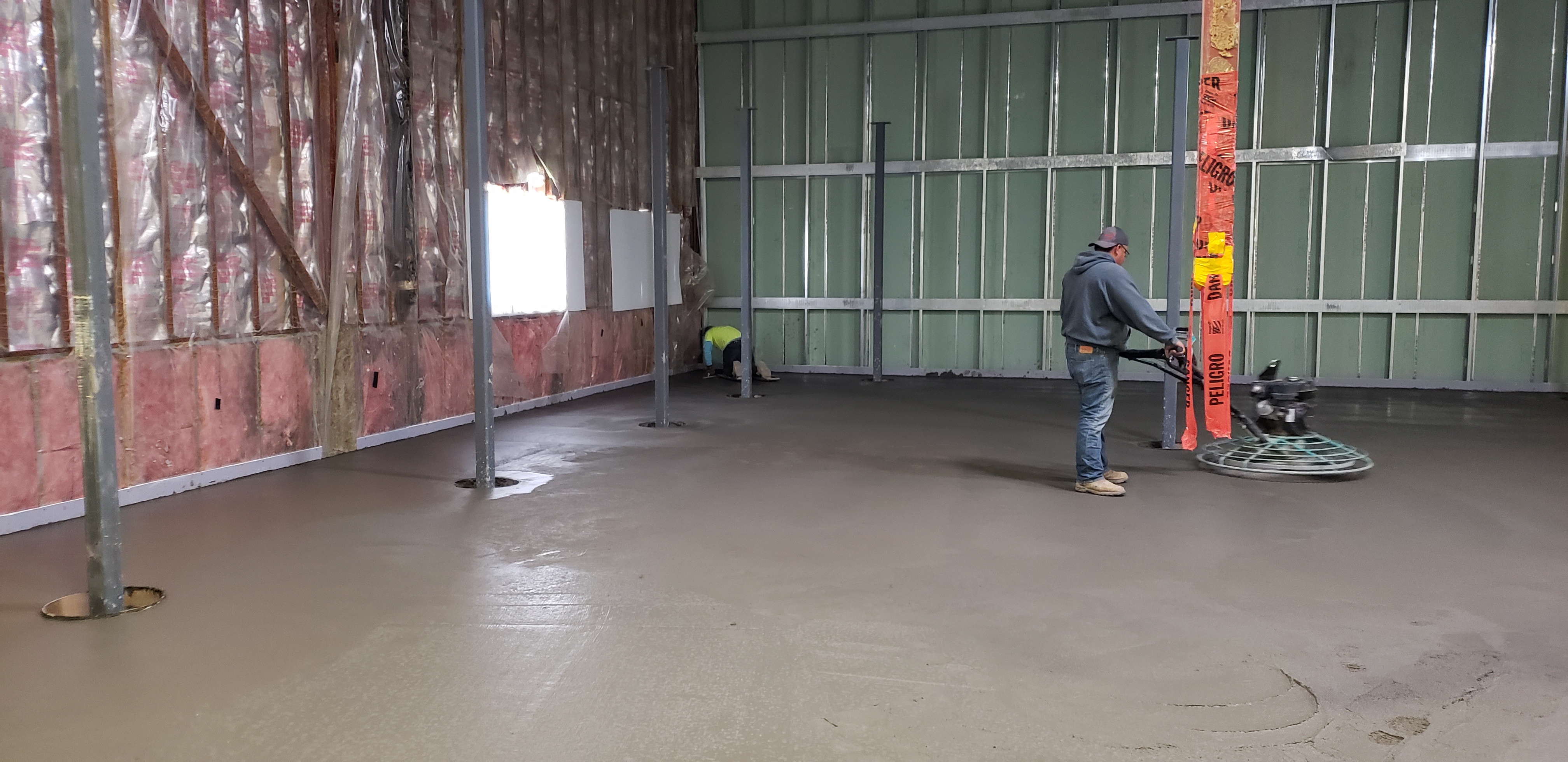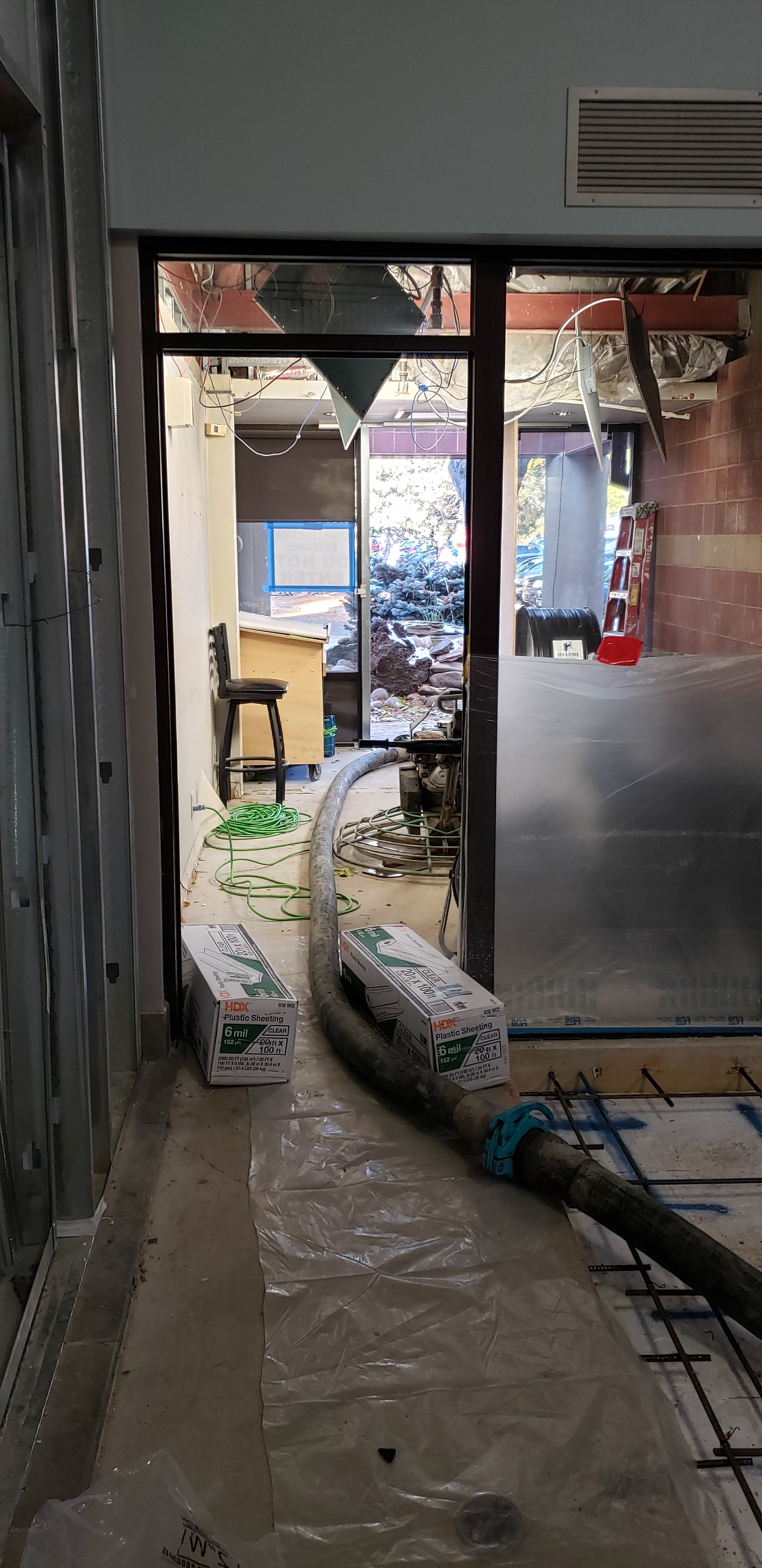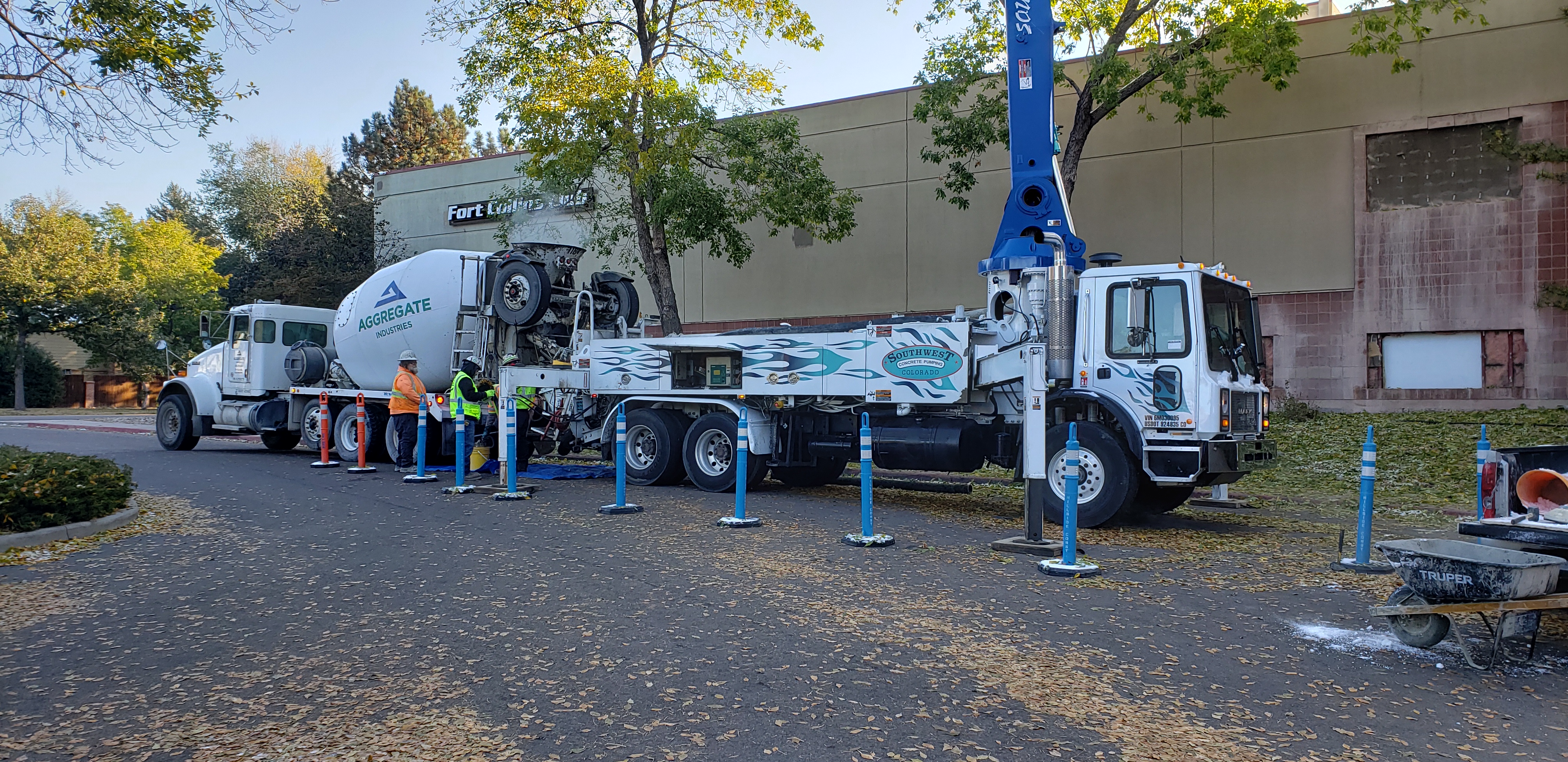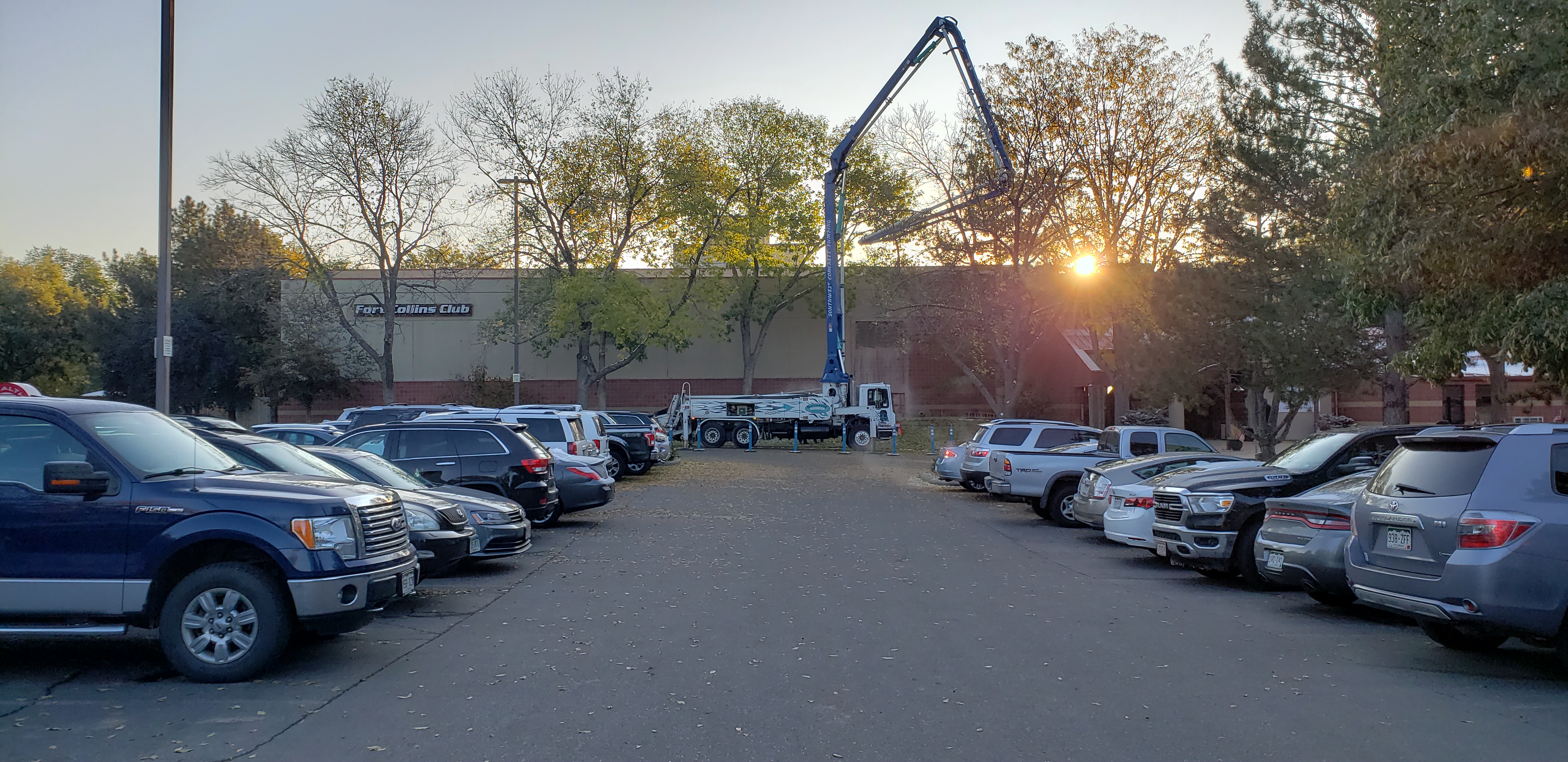 Update 10/11/2019
We are moving quickly! In addition to the construction update we sent out yesterday, starting on Tuesday, Oct 15th, the hallway that leads to the basketball court, squash and racquetball/handball courts will he closed for several weeks. During this time access to the locker rooms will not be permitted as the builders and demo crews will be working on them.
Members can still enter the weight floor, cardio floor and studios by going through the pool area, located directly across the front doors in the lobby. The door to access the upstairs and weight floor are on the pool deck, to your left if you're entering from the front lobby.
Studio 1 and the catwalk will be next up in the demolition. Prepare for the to happen in the next couple weeks. Classes may be altered to different rooms in the building, for example Studio 2 or the Racquetball Courts. We will communicate any changes with you as they come.
Update 10/8/2019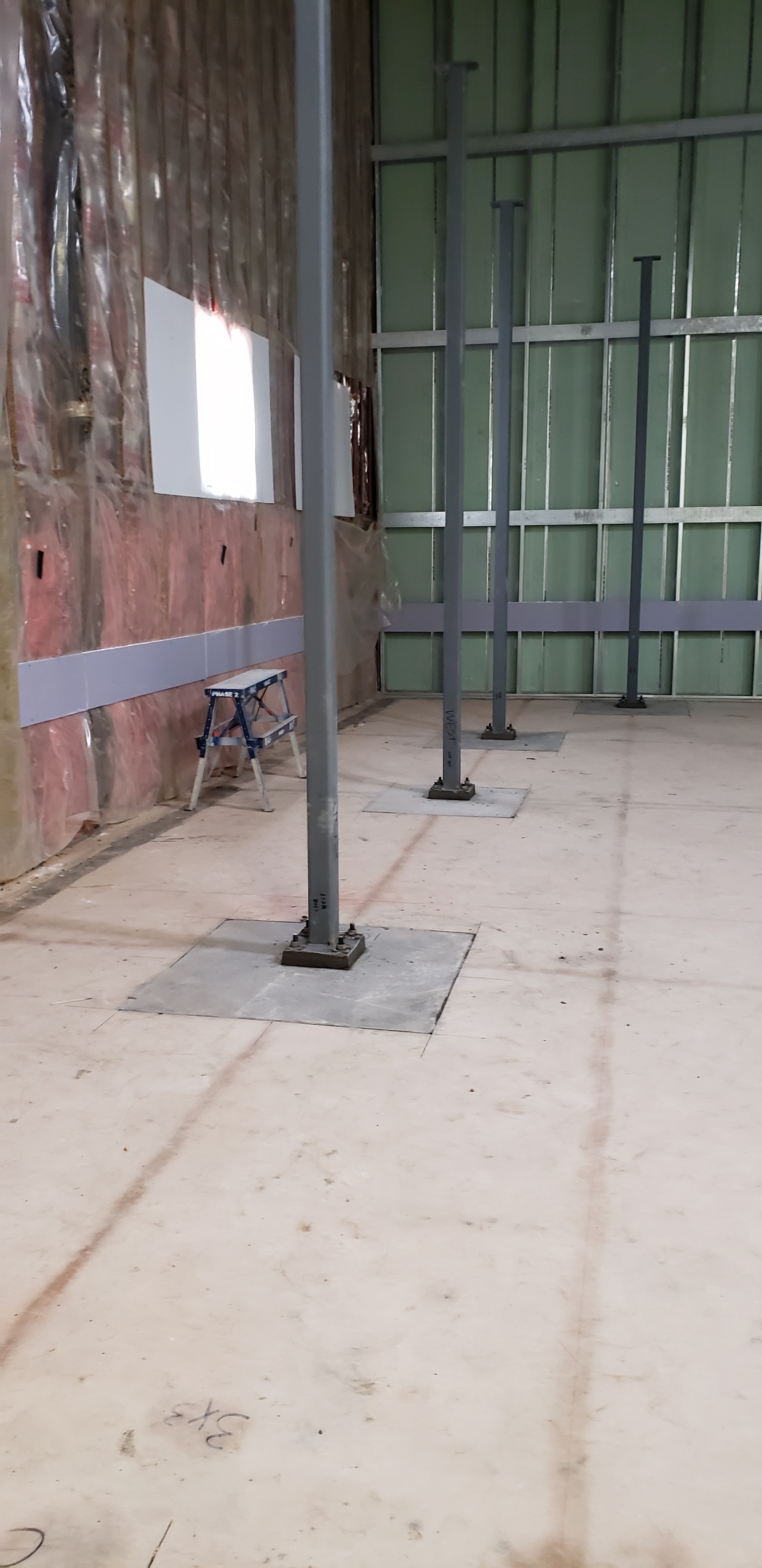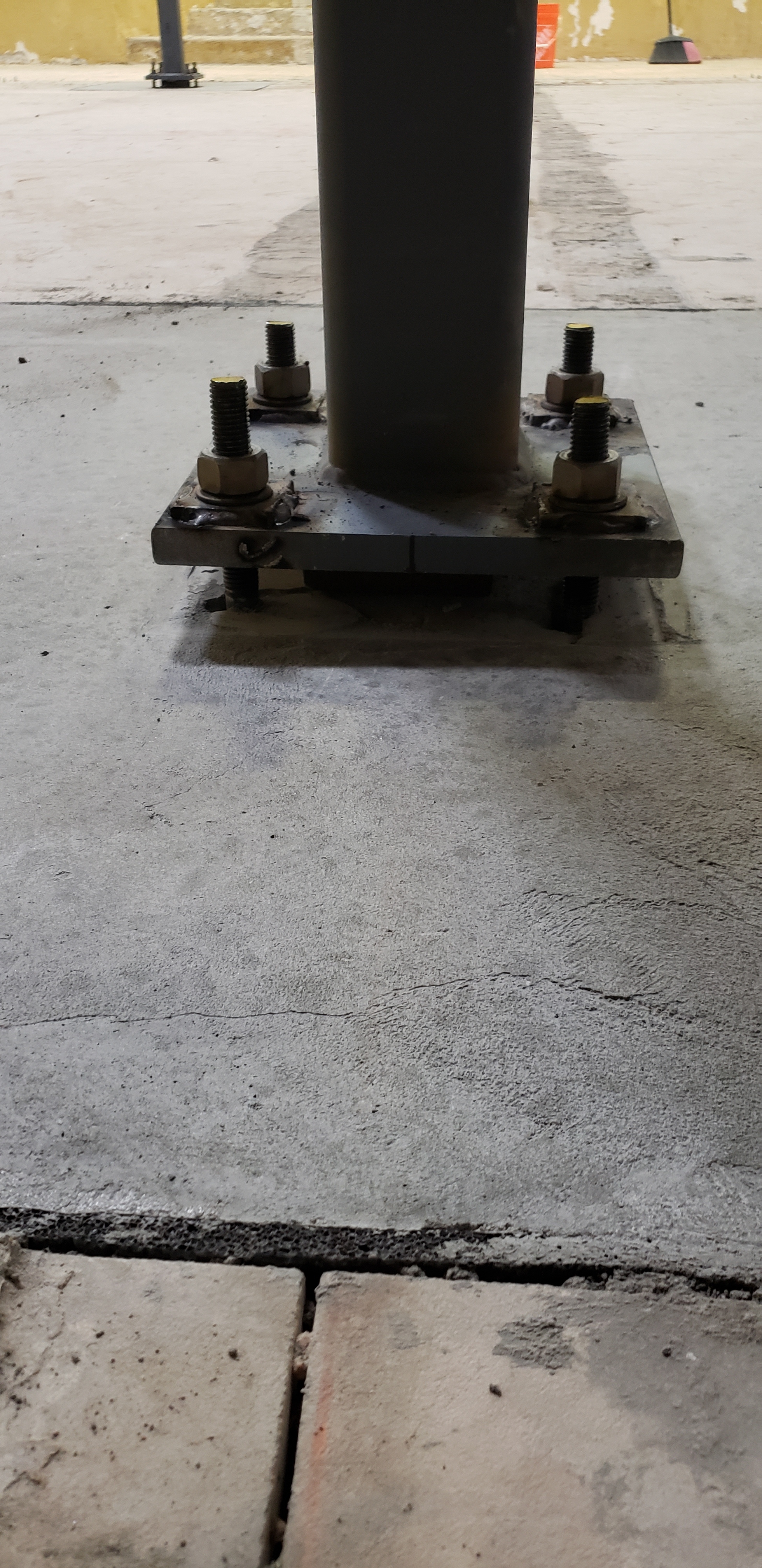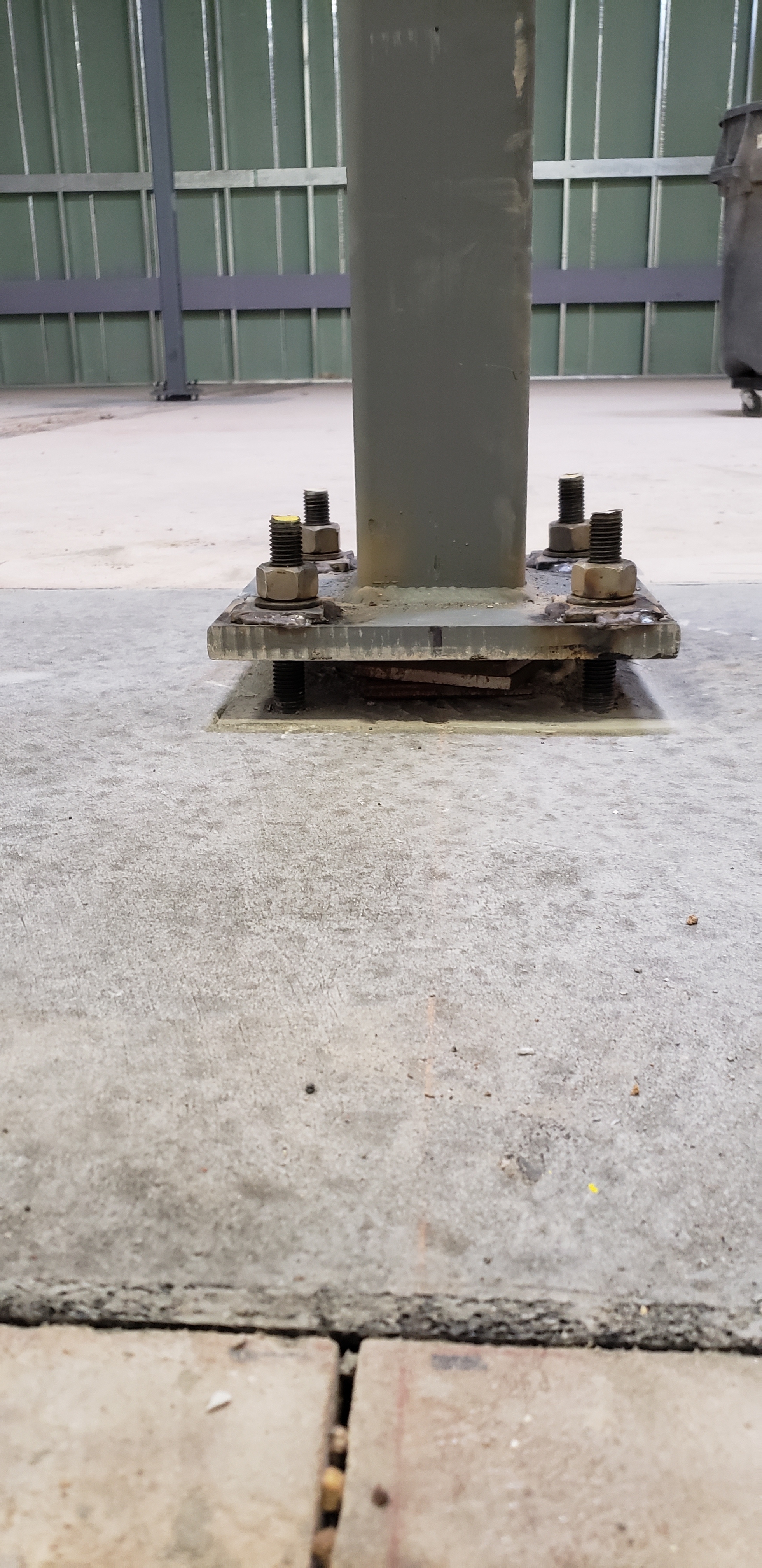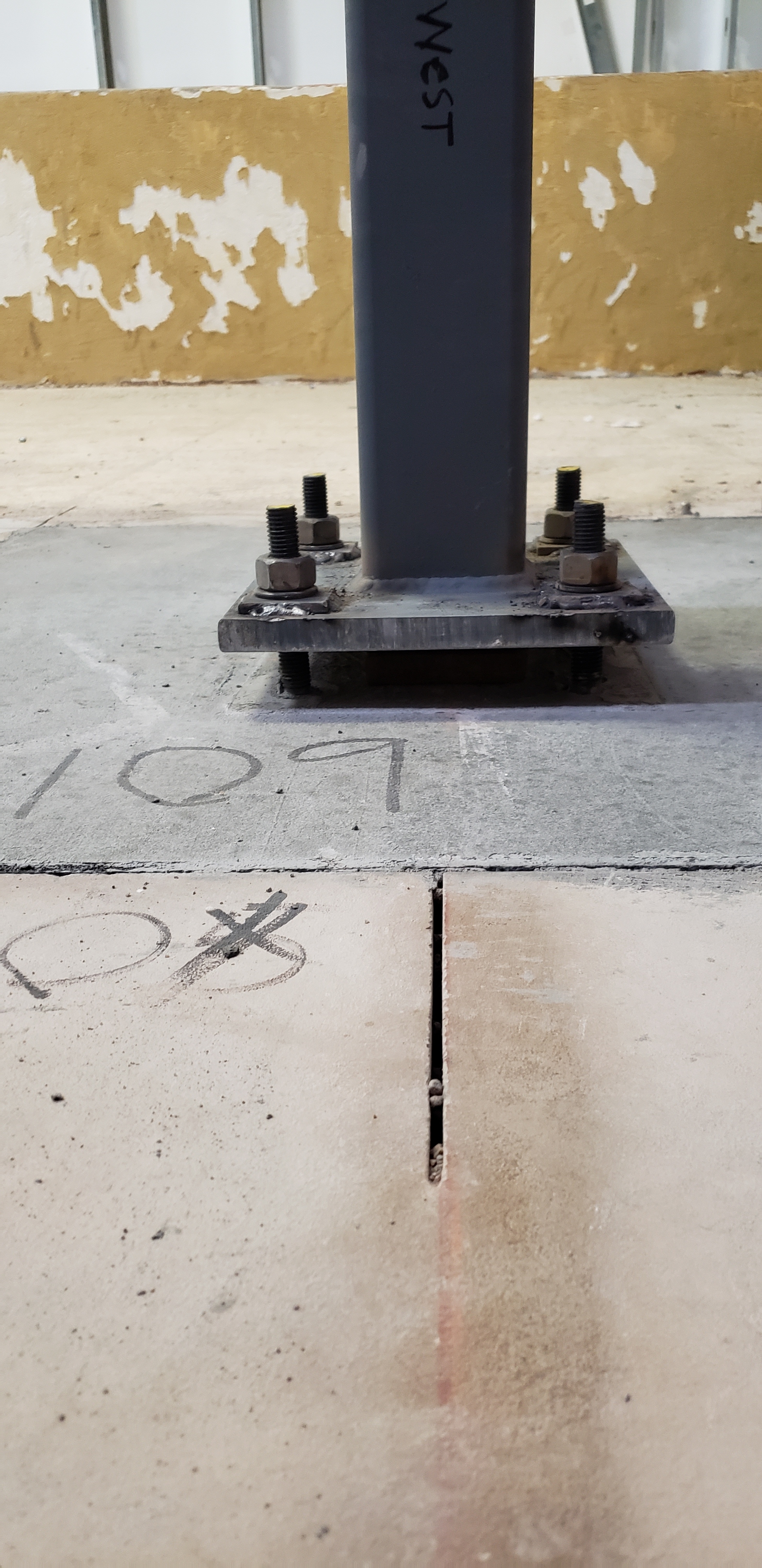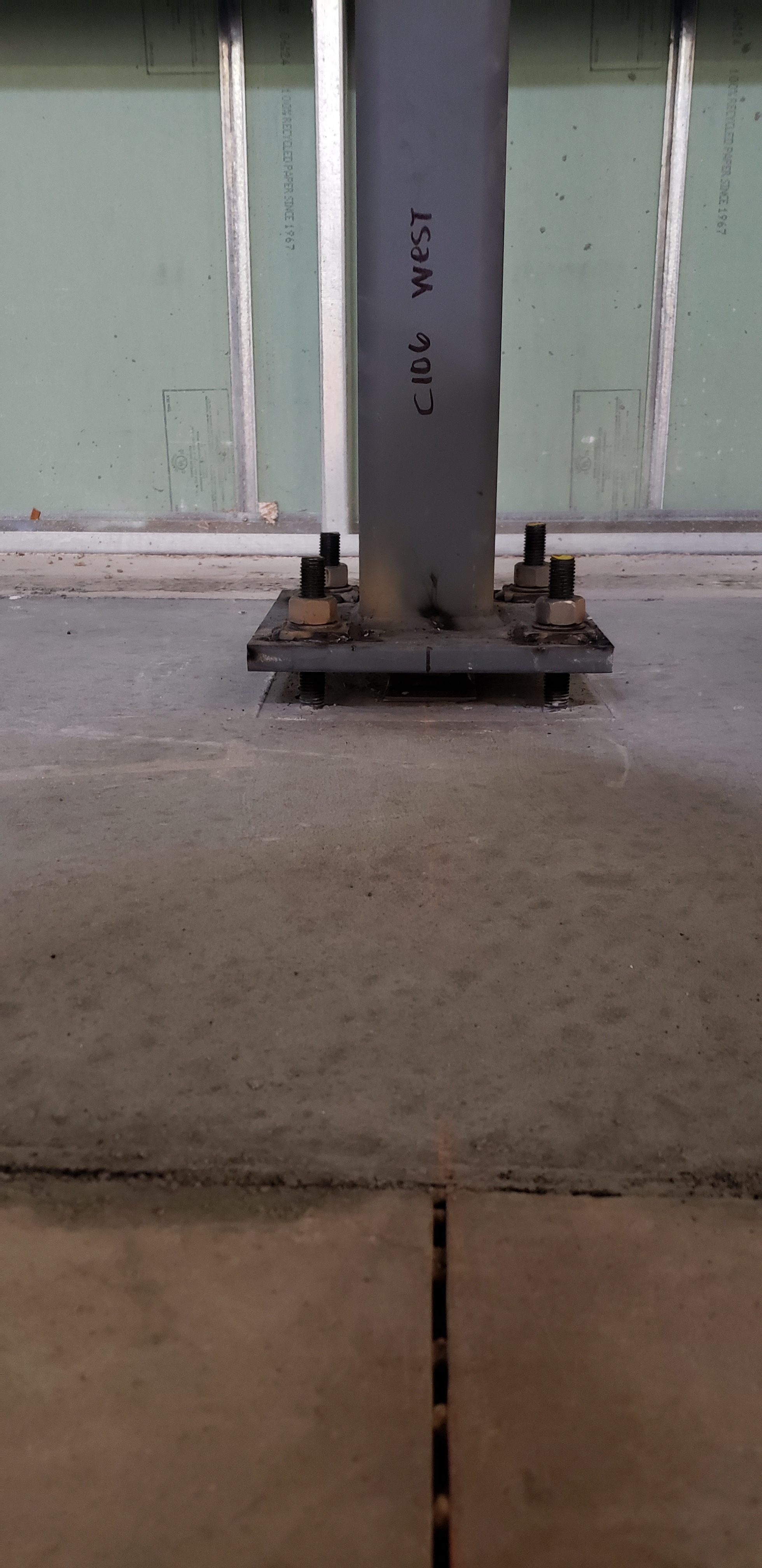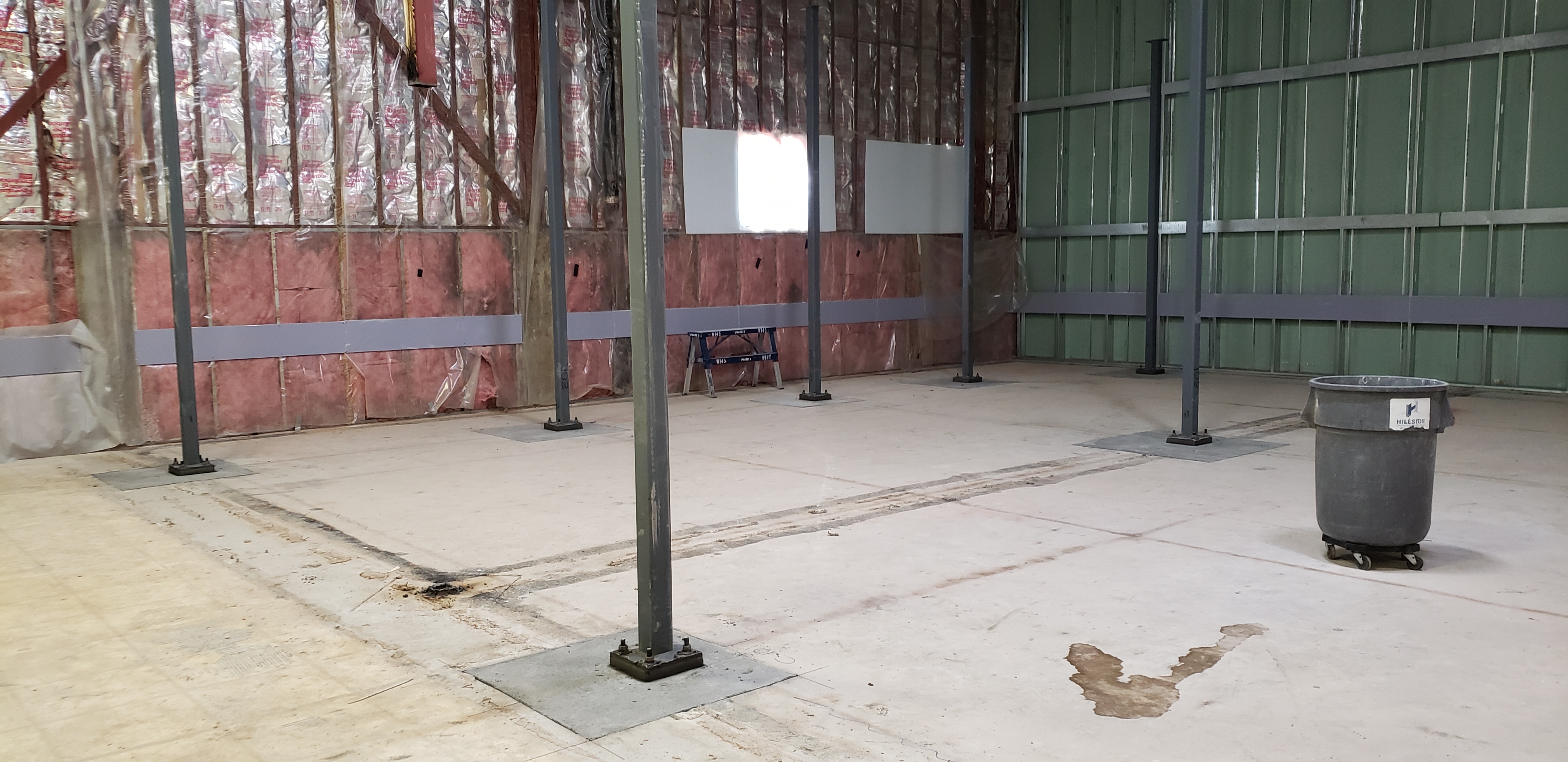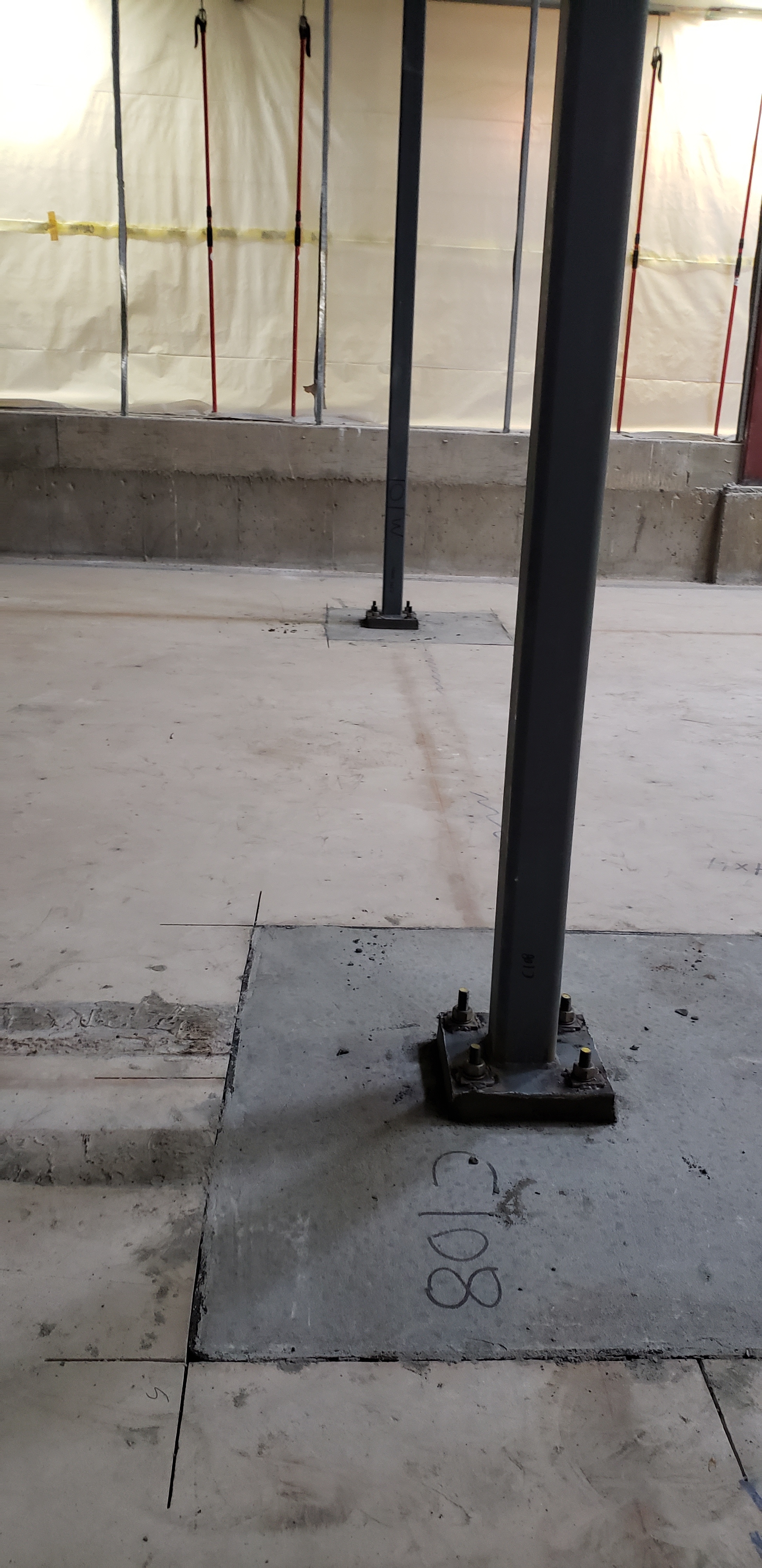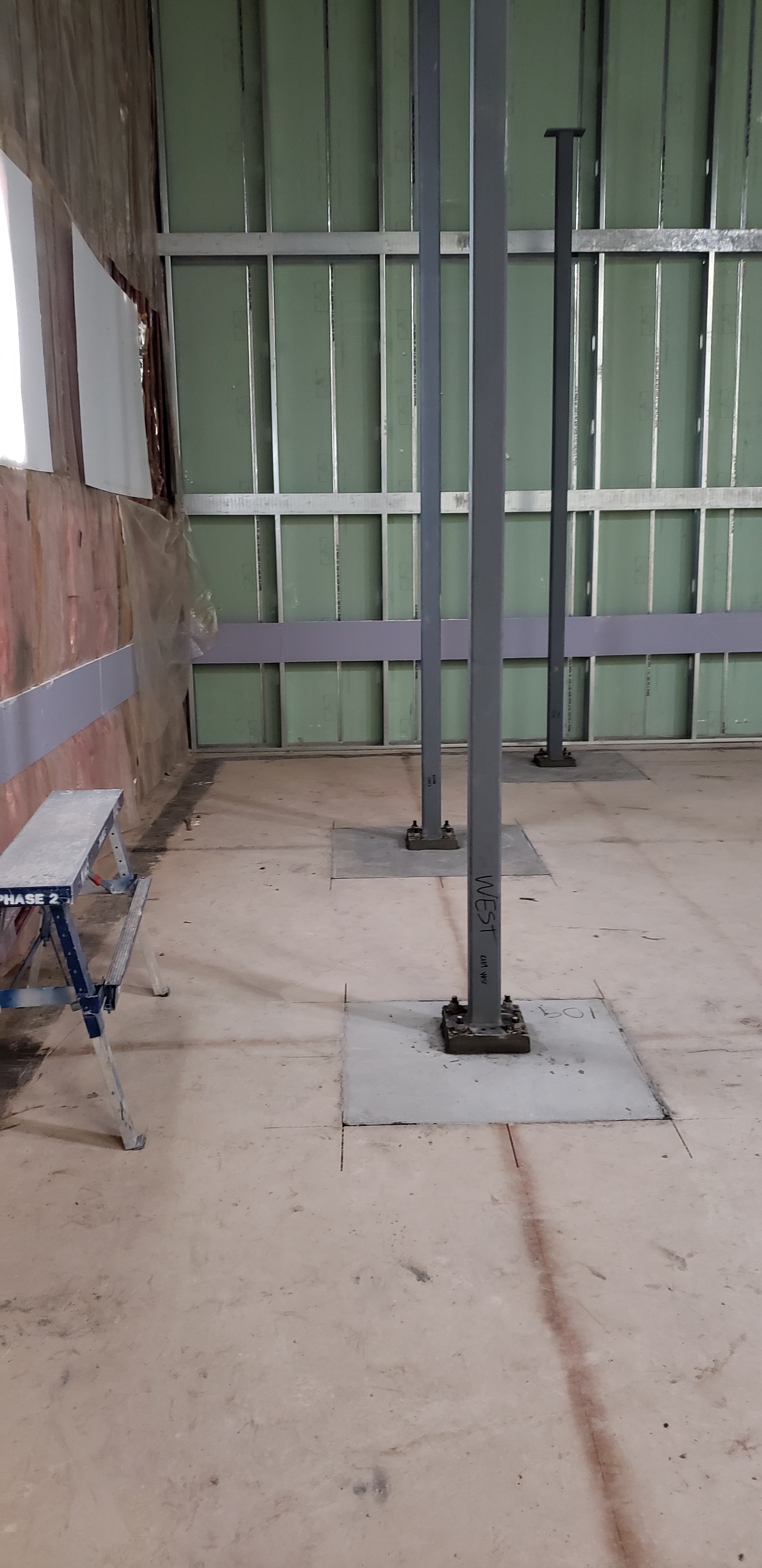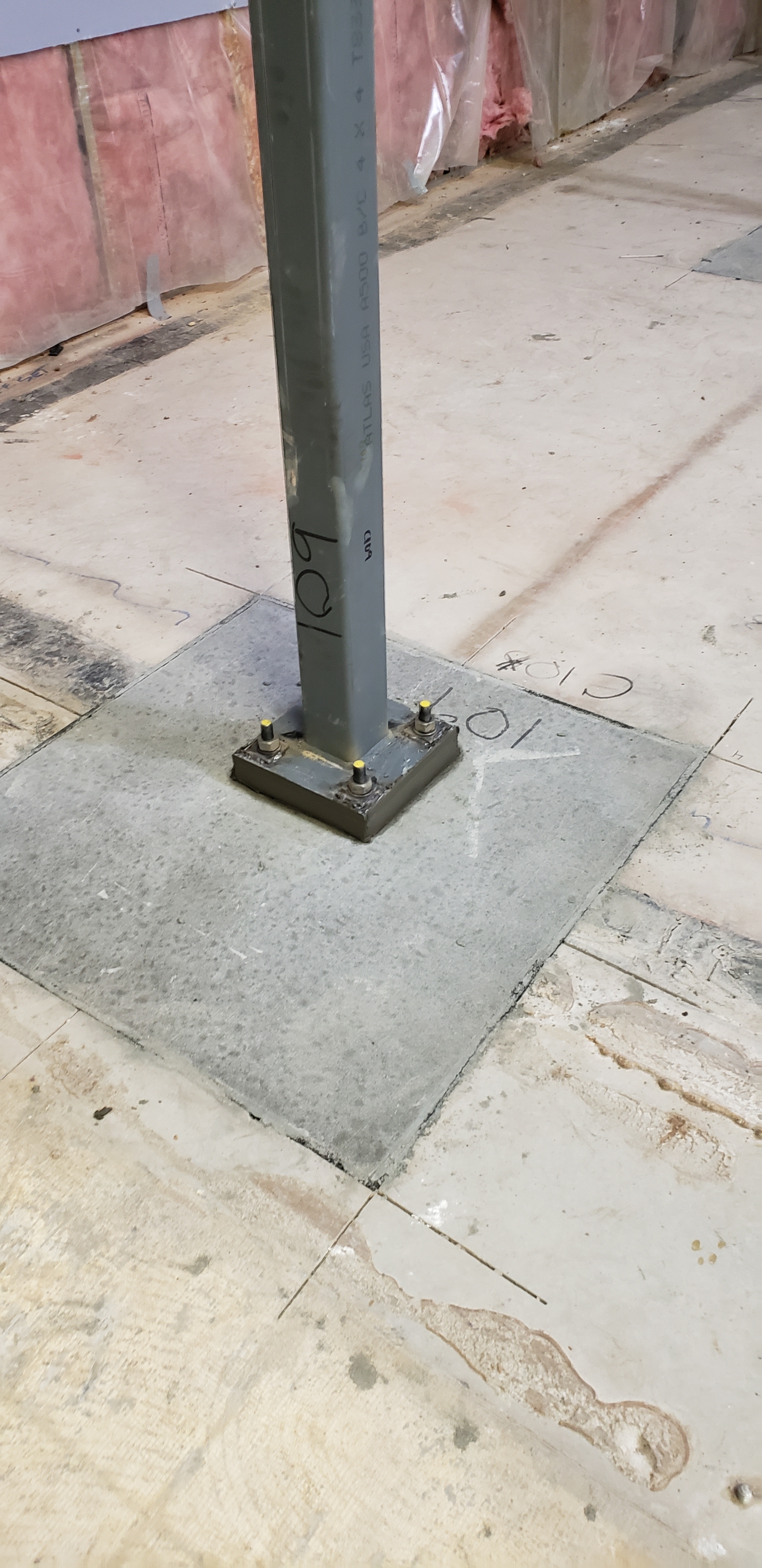 Update 10/7/2019
We are starting construction at Fort Collins Club this week! Read on for court closing and construction schedule:
October 11th – workers will hang plastic for temporary ceiling and in the temporary locker rooms. Courts will need to be accessible to workers and will be closed down that day.
October 14th & 15th – workers will remove existing lockers and place them in the two squash courts.
October 14th – electric, plumbing and HVAC demo will begin in both locker/bath areas
October 16th – ceiling and wall demo will begin
We apologize for the inconvenience this will cause. We are working diligently to get this project done for you to enjoy. Once we're finished, it will be worth the trouble!
Genesis Fort Collins Club Construction FAQ
What is the timeline for the remodel?
We began the first, and longest, project September 10th. The builder has committed to getting us a phasing timeline as soon as possible so we can see approximately when construction is planned for different areas of the club. There are material delivery considerations that have prevented the phasing plan from being completed for members before this point, and we are working with the builder to get this information finalized and posted in the club as soon as possible.
Will the timeline be accurate?
While the builders will do their absolute best to stick to the posted timeline, construction projects this large typically don't go exactly as planned. As we strive to improve the club hiccups along the way may change the timeline slightly or dramatically depending on the nature of the issues that arise. As we learn about changes, we will post revised timelines in the club and on the web page to keep members informed throughout the process.
Where can I get updates about the remodel project?
We will post pictures and content about the construction process on this page and we will also email our members periodically with new content. Emailed content will also be posted to the blog. Please check The Fort Collins Club Facebook page for any last-minute changes and adjustments.
How will the Handball, Racquetball, and Squash Courts be aff­ected?
Courts 1 and 2 are being removed permanently within the scope of the project. Courts 3 - 6 will remain after the project is complete.
During construction, courts 3-6 may be used for storage and/or programming during various phases of the project. We and the builders will do our best to keep as many courts as we can open, however there may be times where there are no courts available for racquet and handball sports due to other demands for that space. We apologize for the inconvenience and will do our best to minimize court down time to serve our members.
How will the Basketball Court activities be aff­ected?
The basketball court area will receive new lighting and paint, and to protect the floor during this phase there will be a temporary disruption to court time. At this point we are hoping for very minimal disruption to the basketball court activities, and we will post more details and timelines as soon as we have them.
How will Locker Rooms and wet areas be a­ffected?
The locker rooms may be under construction and unavailable as soon as October 14. We will know more details soon, we are waiting on the timeline to be completed and material delivery confirmed so we can minimize the amount of time our locker rooms are unavailable.
The changing area in the locker rooms will be one of the first areas completed, and during the construction in that zone we will provide temporary locker room changing areas in 2 of the back courts by the basketball court. As soon as the new locker room changing areas are finished, we plan to reopen the changing room areas to members.
The wet areas in the locker room, (the restrooms, showers, and sinks), as well as the wet areas behind the locker rooms, (the sauna, steam rooms and hot tub), will begin construction as soon as October 14 and will likely continue through the end of the year. The other restrooms throughout the building will remain available for member use, and there will be no place to shower while the locker rooms are under construction.
We apologize for this inconvenience and encourage members who need to shower in the club to talk with a membership advisor. As a FCC member you get complimentary access to Miramont North and Centerra, both of which have showers and classes.
How will Group Exercise and other programming be affected?
We will work with the builders to minimize disruption to any scheduled activities in the club. As studios are improved, we will move class locations as much as possible to allow members to continue to attend their normal classes. If disruptions to the class schedule are unavoidable during a certain phase of the project, we will provide as much notice as possible, in the classrooms, on Facebook, and on the construction web page. See membership with additional questions.
What options do I have if the construction project is preventing me from using the club for a period because the areas I use are under construction?
Please come talk to our membership team about your membership if there is a time you will not be able to use your membership during construction.
We will listen to your needs, and work with you every step of the way to support you and help you stay on track toward your goals despite challenging environment of construction. We are very excited for the finished product, and we are here to help find solutions for members throughout the remodel project.
How will the completed remodel aff­ect my membership dues?
As long as you don't make changes to your membership, your dues will not change as a result of the remodel. New member rates may increase, but current loyal members will be rewarded for sticking through the process by keeping your current membership rate even after the club has been completely remodeled!
Who is completing the remodel work at Fort Collins Club?
A local builder, Sean Rogers, and his crew at Hillside Construction will be heading up the project. Sean and his team will be coordinating with crews for different phases of the project and will help keep us informed and up to date as new information and timeline adjustments occur. We are very excited to work with Sean and his project manager for FCC, Maverick.
We appreciate your patience, understanding and grace as we work with you to navigate the challenges of construction, and look forward to enjoying a wonderful facility upon completion in early 2020!
Previous: Kansas City Racquet Club Construction Update
Next: Genesis Health Clubs Announces New Oak View Health Club Location in Omaha Nebraska