Manhattan Construction Update
Thursday, July 19 2018 11:15 AM
Update 2/5/2021
Here's a long laundry list of Manhattan construction updates for our members, with gorgeous eye-candy photos to boot!
Front desk wood installed and stained
Tennis courts are being poured
Granite wall and Genesis letters installed
Some of the NEW equipment has arrived and has been installed: New Matrix 12 stack and power racks!
Neon signage is on and burning
The pool is getting plastered this week. Water will start going in today, and by next week, the pool will be filled!
Ready to see it all in person? We get closer to reopening the new and improved Genesis Manhattan every day! Stay tuned for more details coming soon.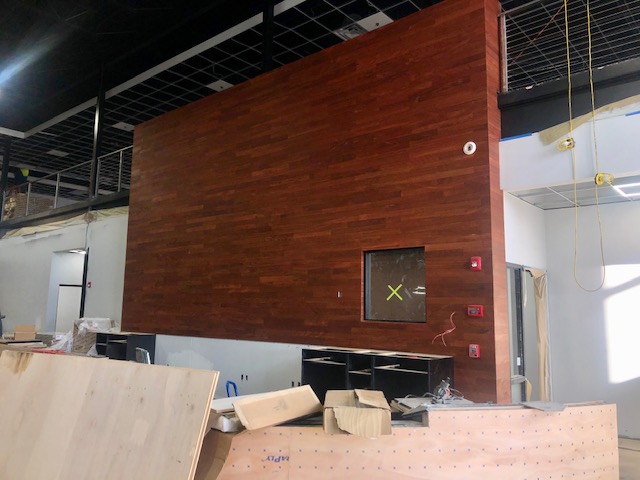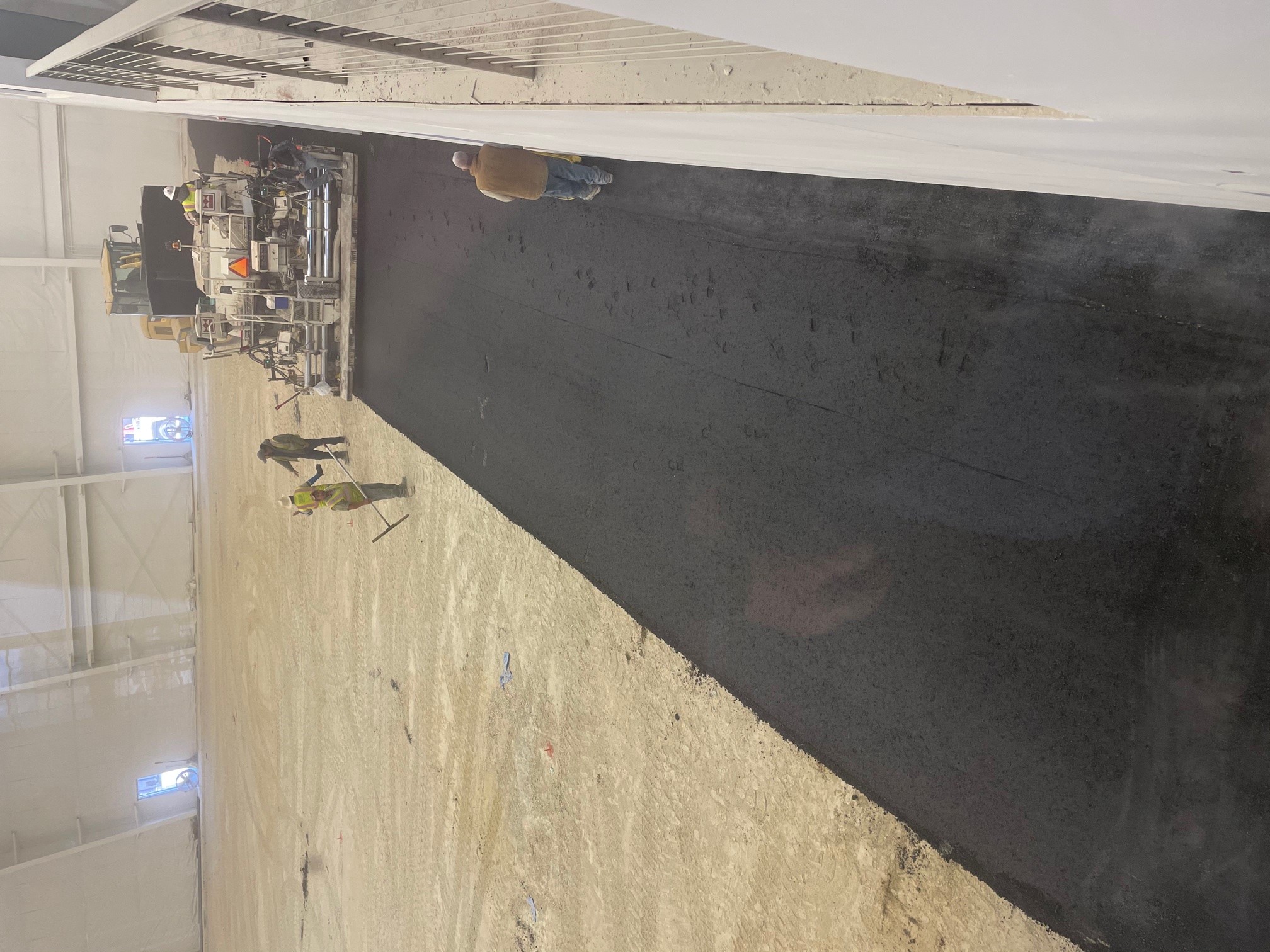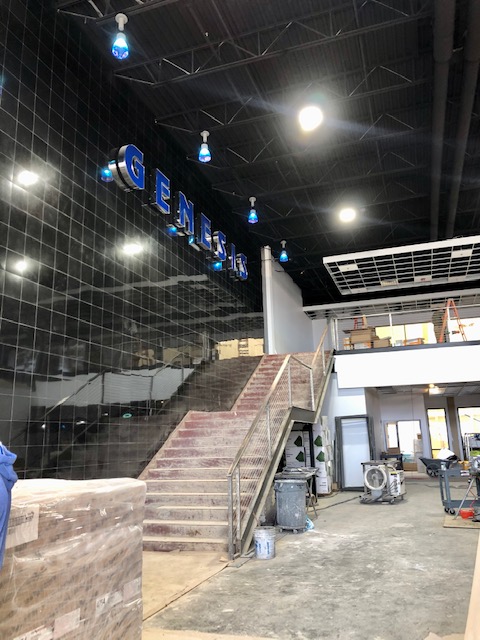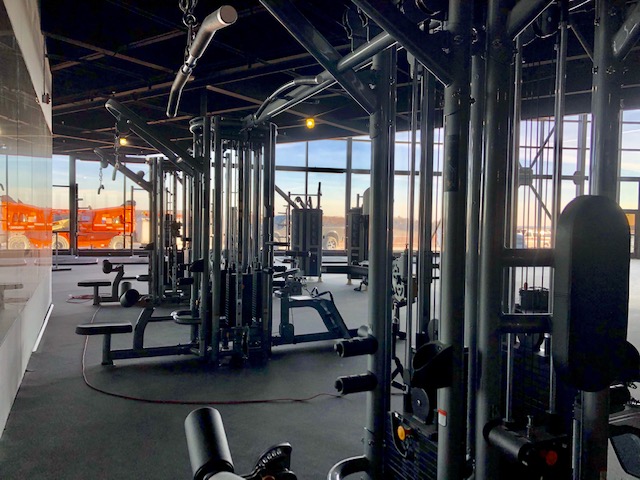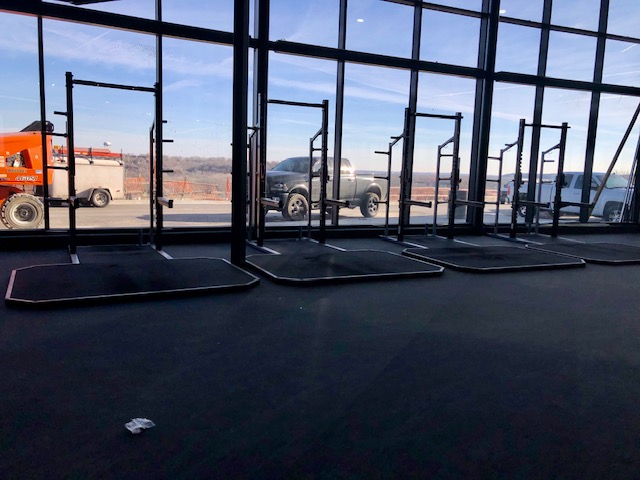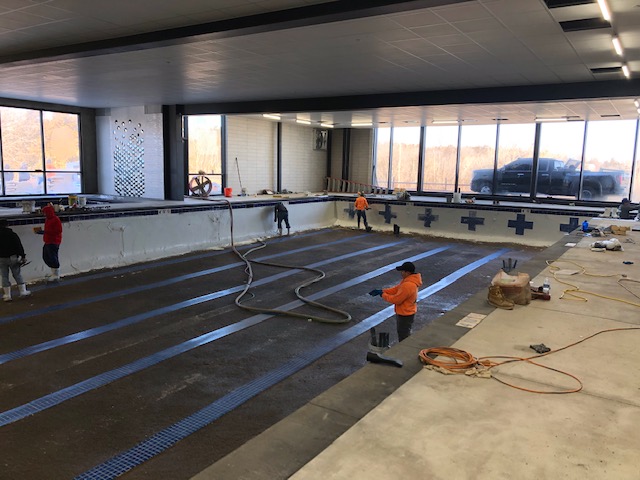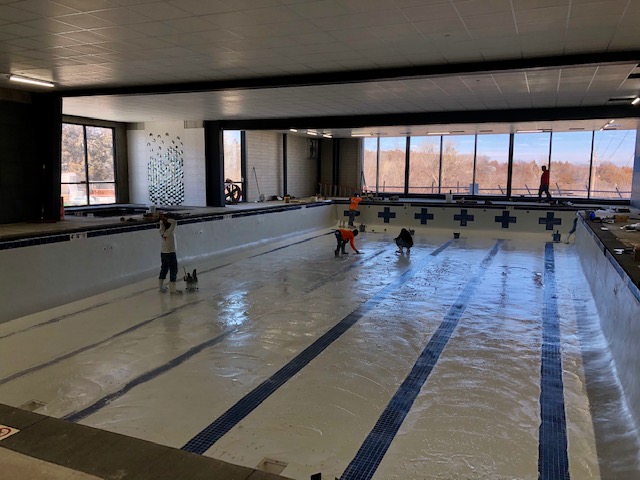 Update 2/4/2020
Ready for a swim?
Tomorrow, our Genesis Manhattan club will have water in the pool and hot tub!
Also on the construction agenda?
Our incredible Tennis courts will be poured!
Can't wait?
You're not alone! Check back tomorrow for more Manhattan construction updates.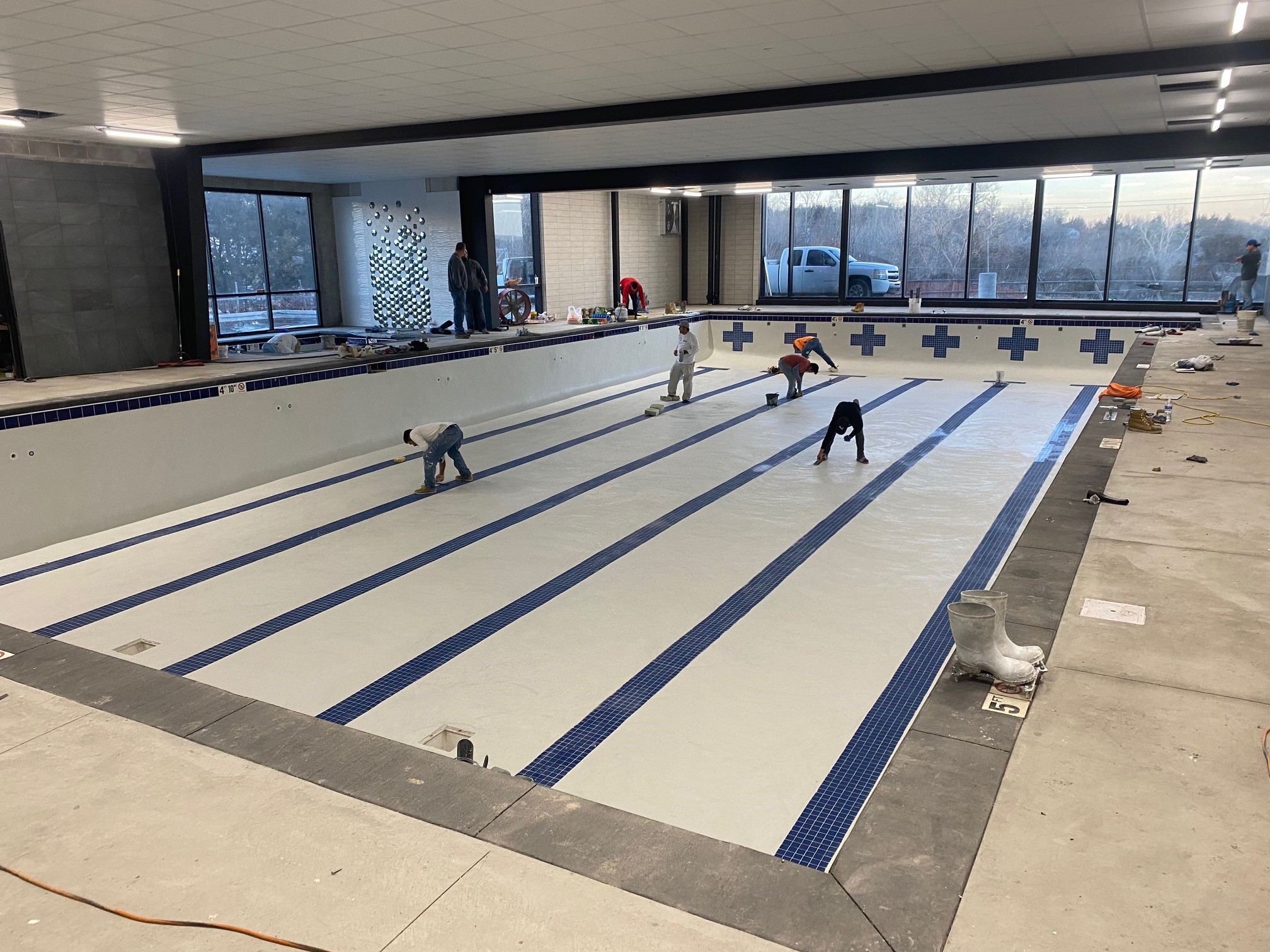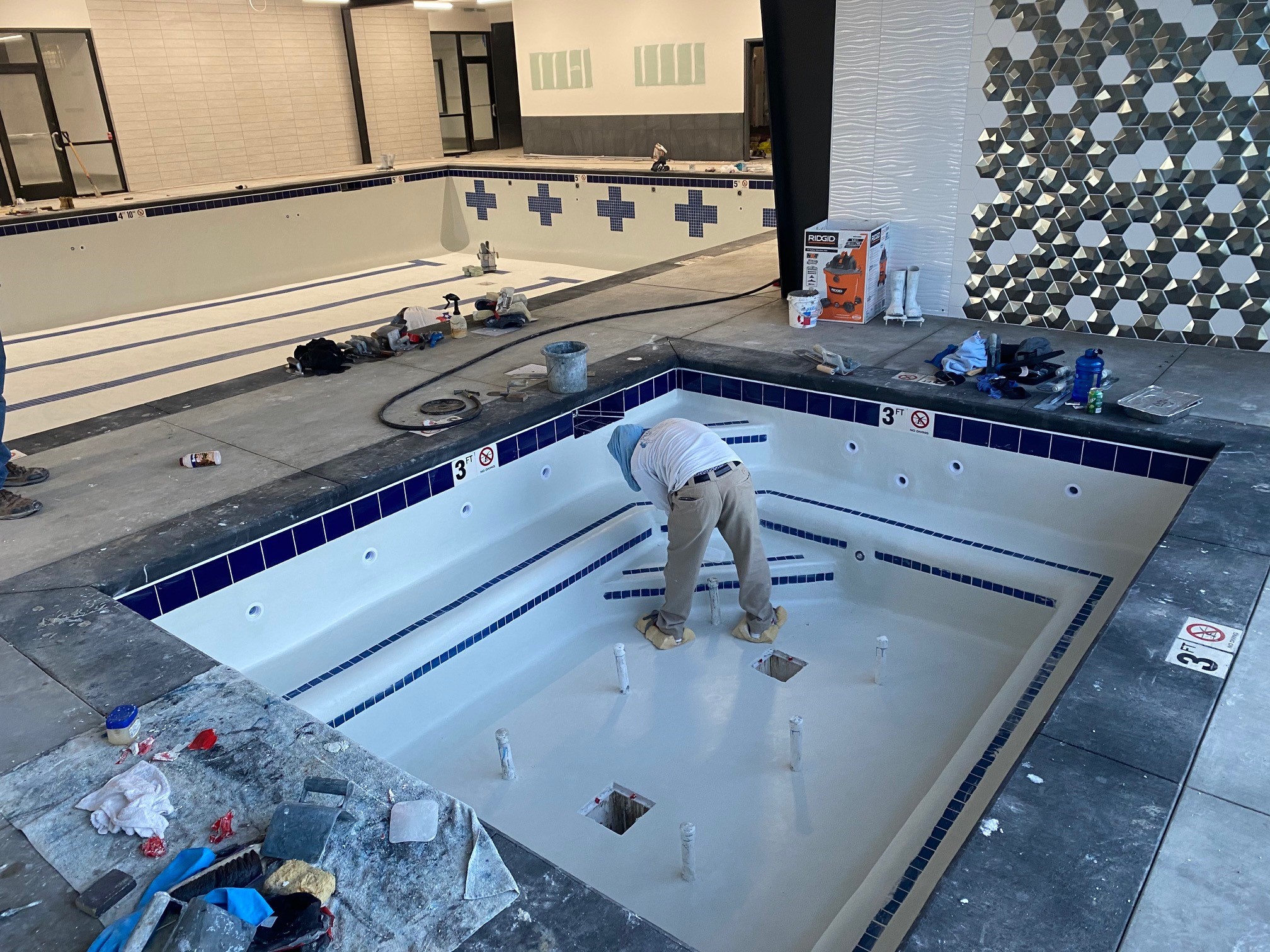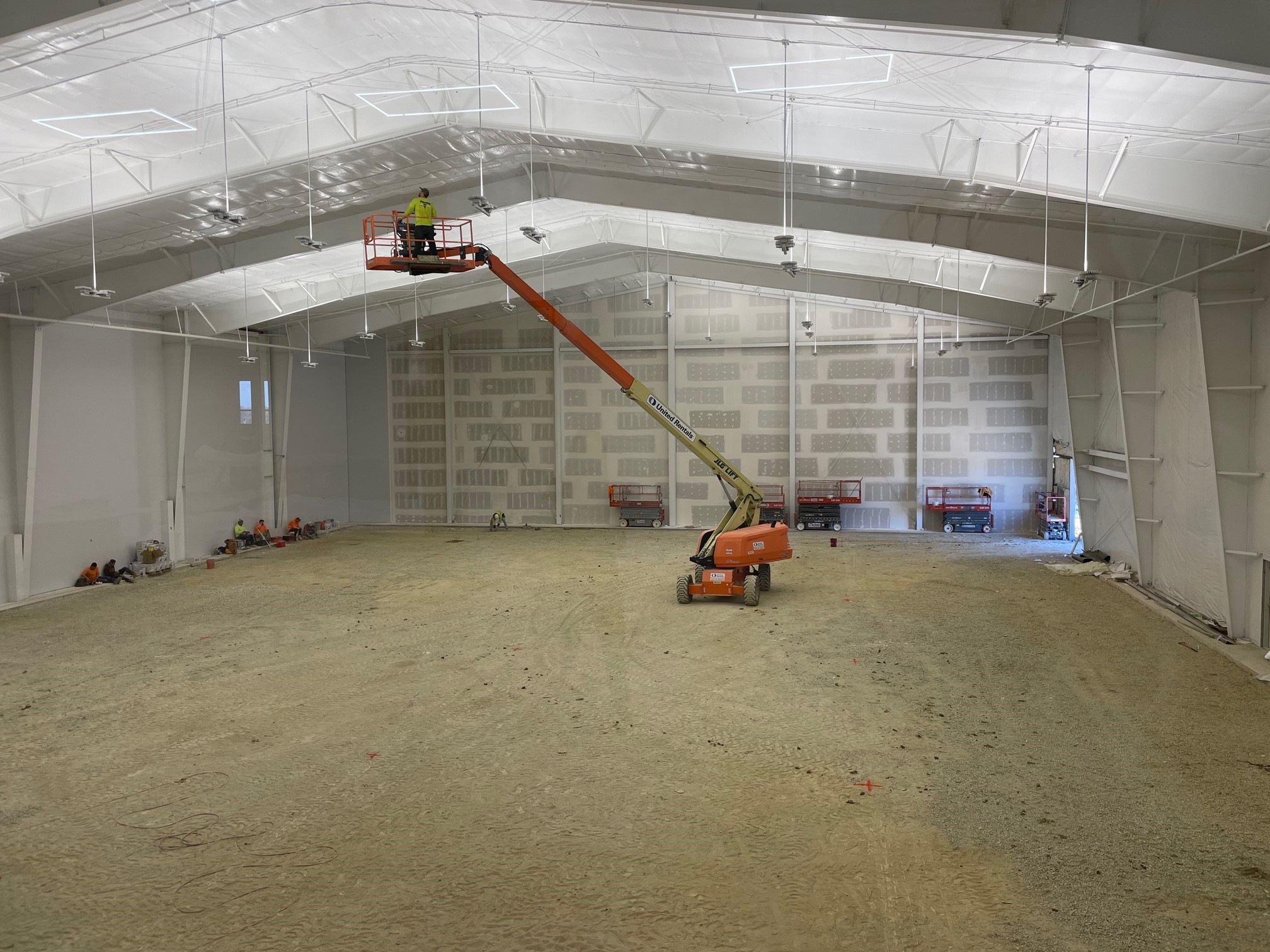 Update 11/19/2020
When it comes to construction progress on the new and improved Genesis Manhattan club, there's so much to talk about! The front desk is going in, the wood flooring in studio A and the basketball court is being installed! The framing and drywall on the first floor, the curb and gutters are almost complete! Ready to workout and find results in the most luxurious, spacious, and beautiful gym in all of Manhattan, Kansas? We certainly are! More exciting updates coming soon.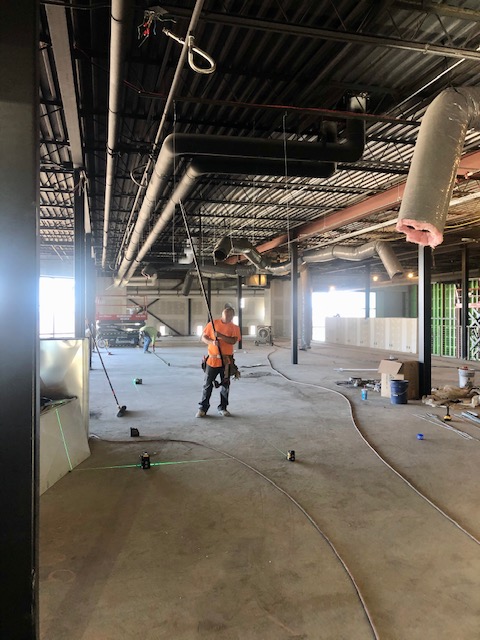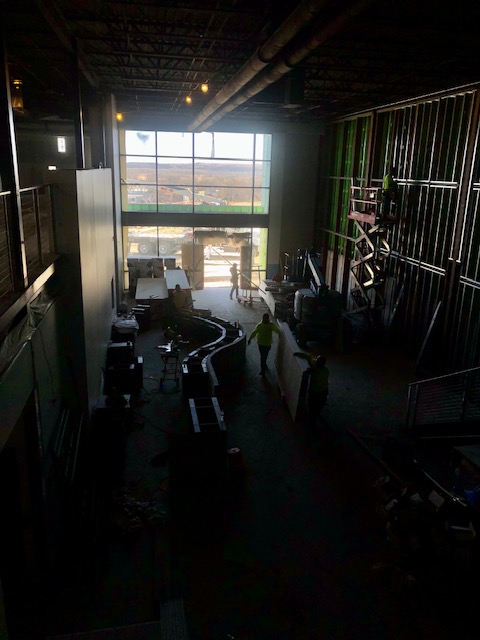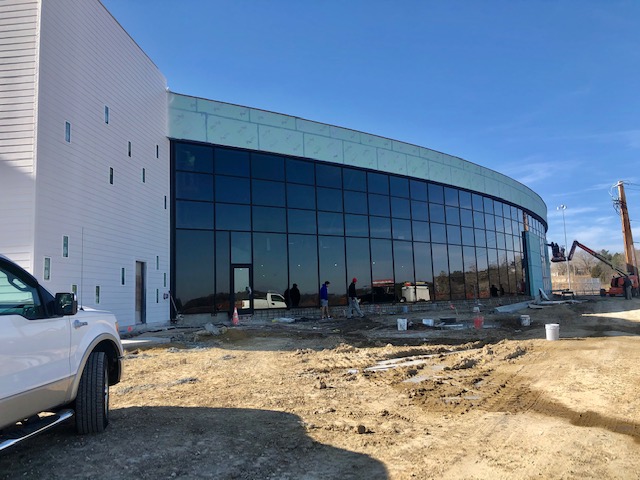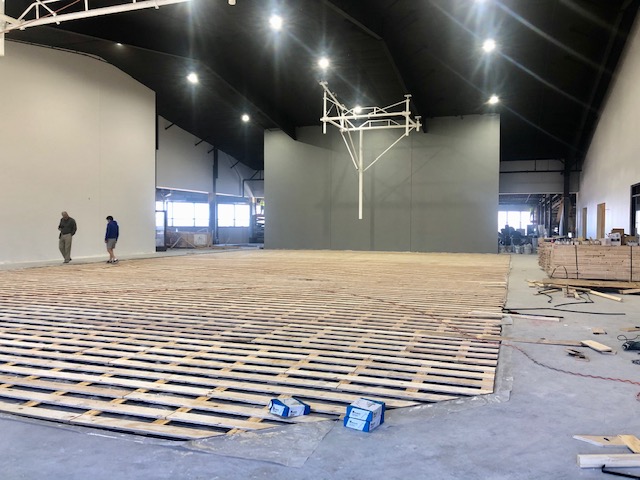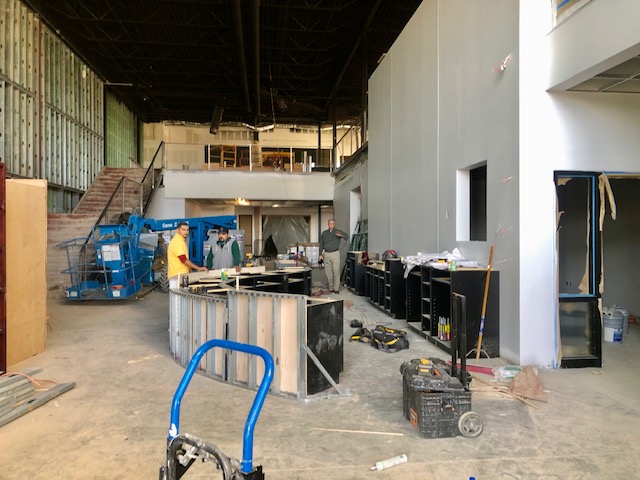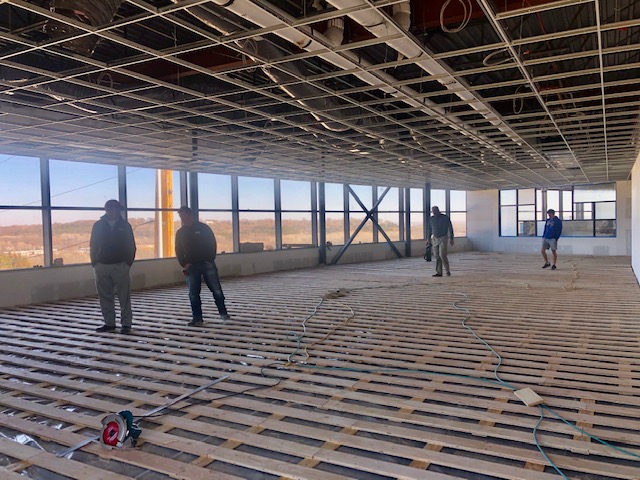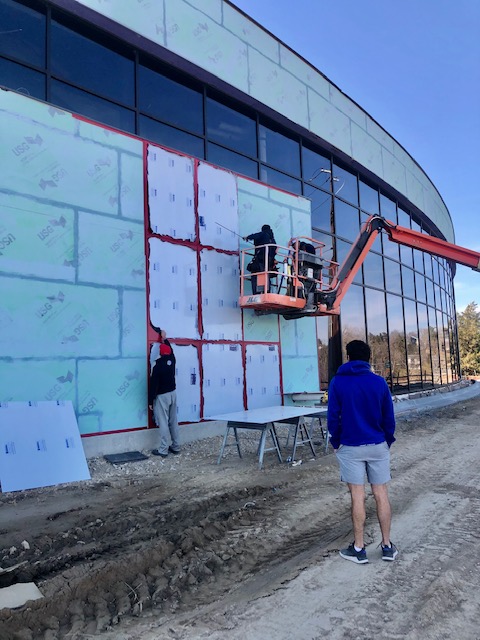 Update 10/22/2020
Ready for a dip in Manhattan's most luxurious and only indoor swimming pool? Soon enough, we will welcome our members back into the club, where they'll have access to so many ways to work out, including aquatics at the best and biggest health club in all of Manhattan, Kansas! Stay tuned; more updates on our new and improved Genesis Manhattan club, coming soon!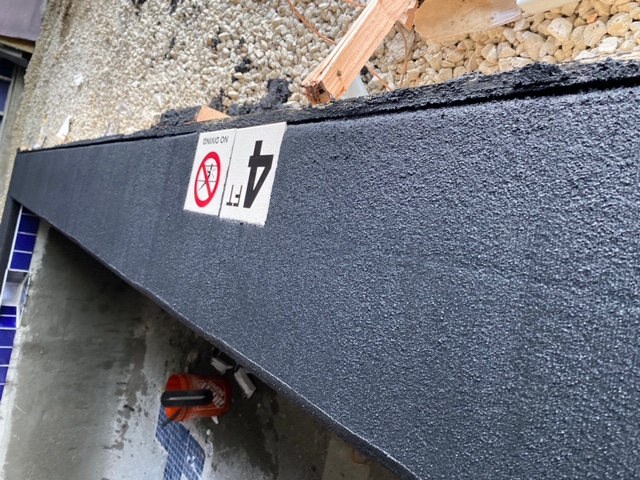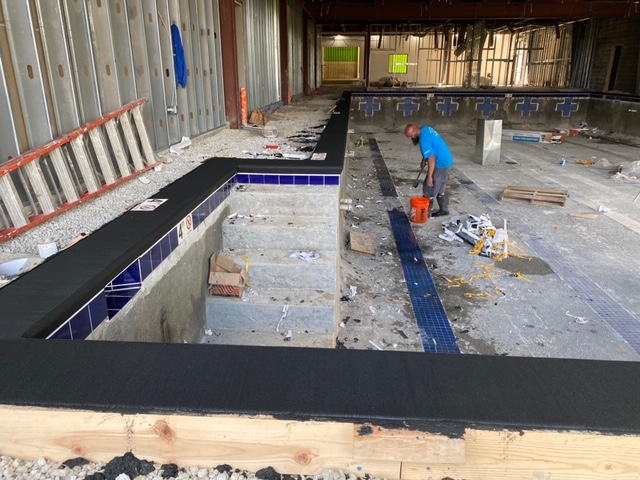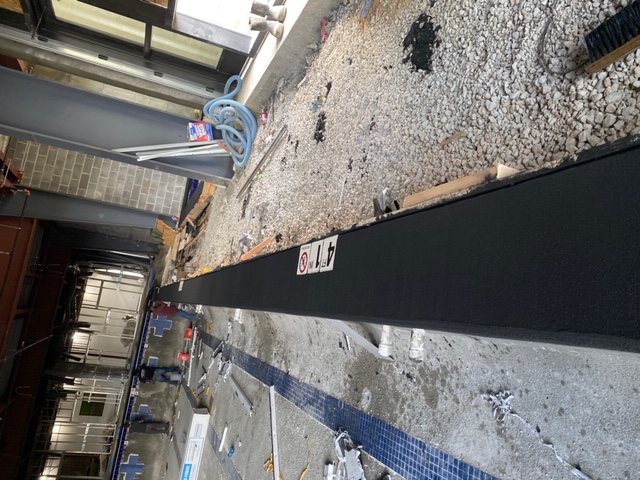 Update 9/29/2020
The new Genesis Health Clubs Hilltop location in Manhattan continues to grow! We can hardly wait for construction to be finished so that we can welcome our past and new members to their luxury fitness home! Want some coming-together, construction eye-candy? We got you! Here's a handful of pictures to get you excited as we get closer and closer to the grand opening of our Manhattan club. Get ready to swim in the only indoor pool in Manhattan, play some tennis, and get your sweat on in the sauna afterwards!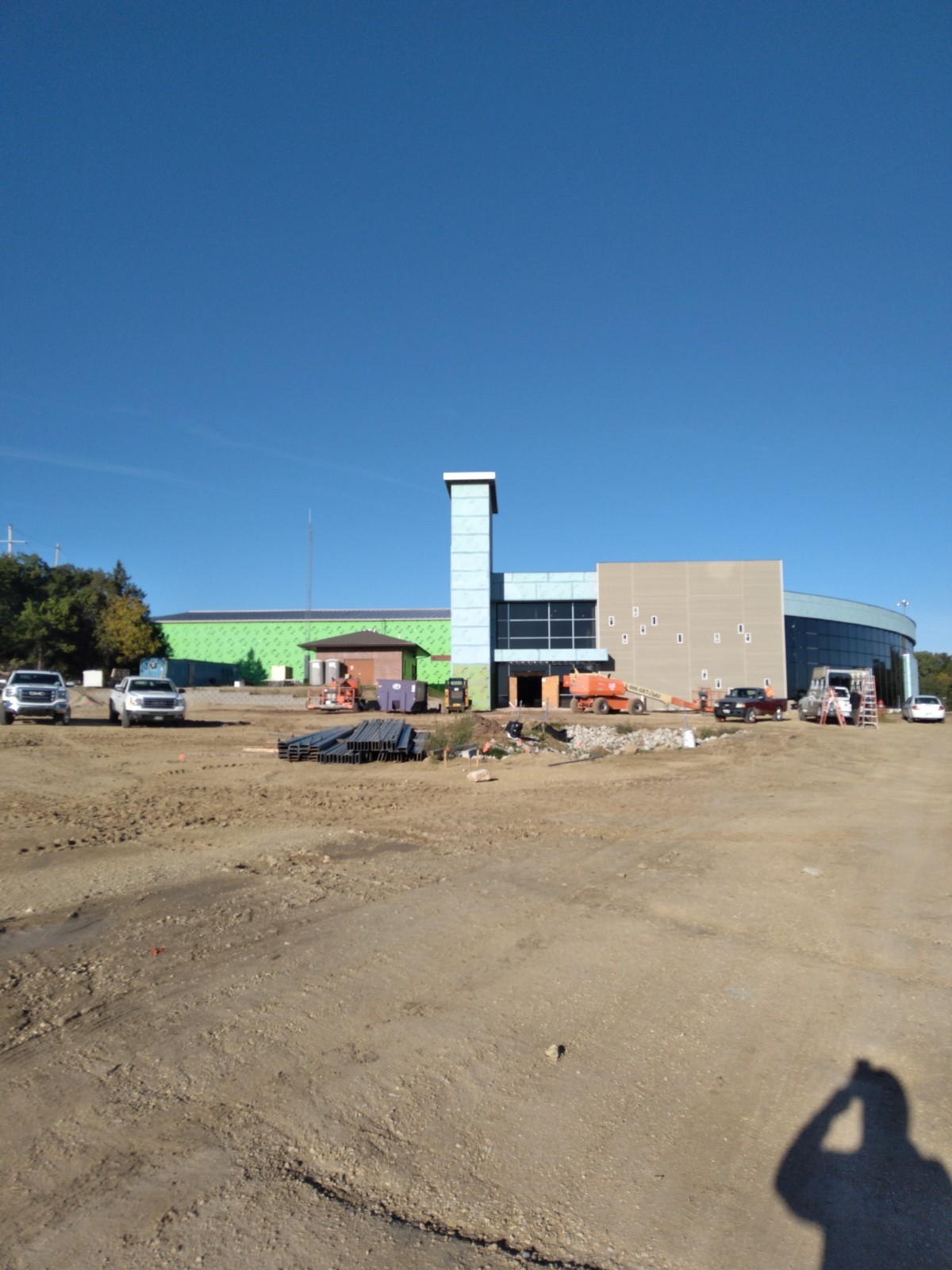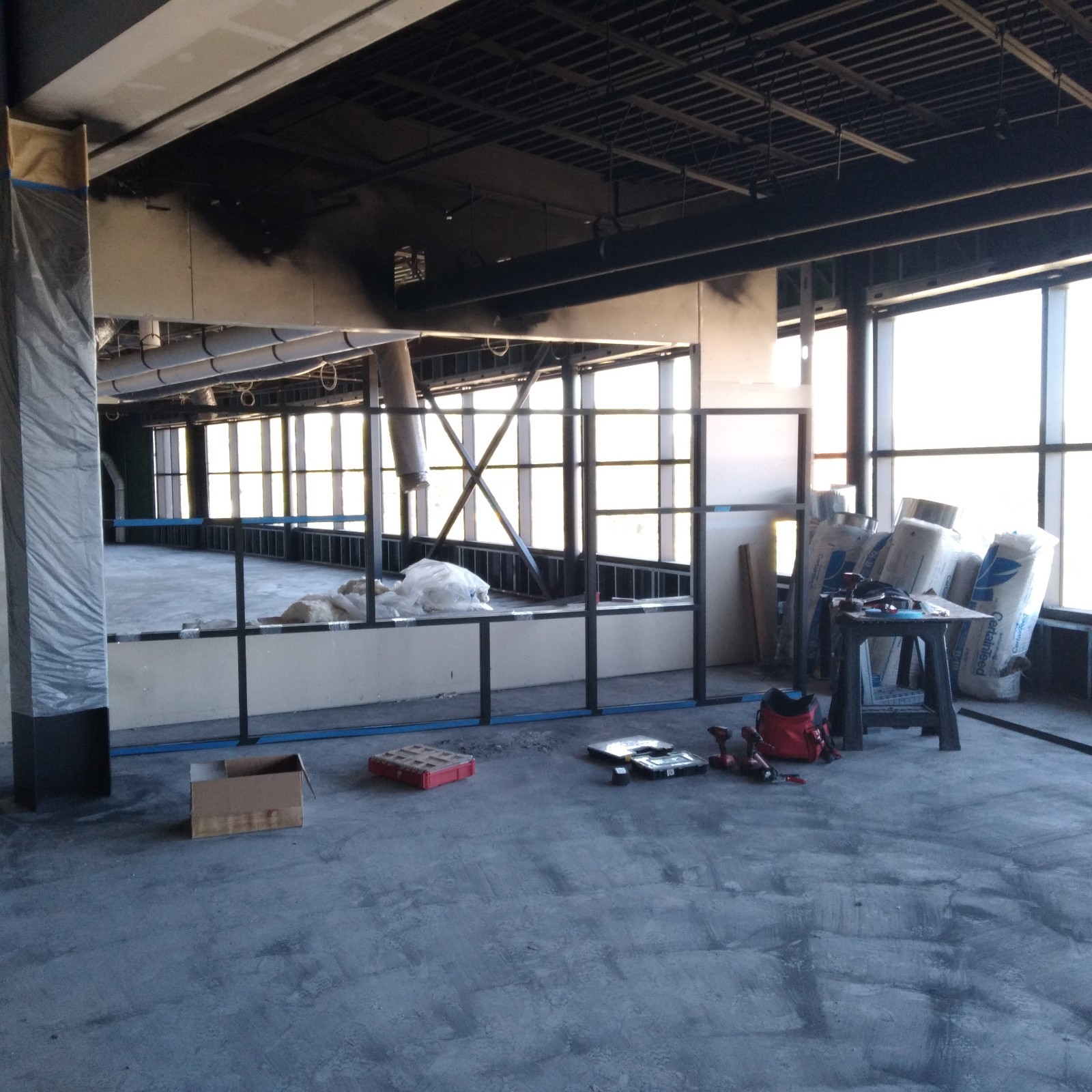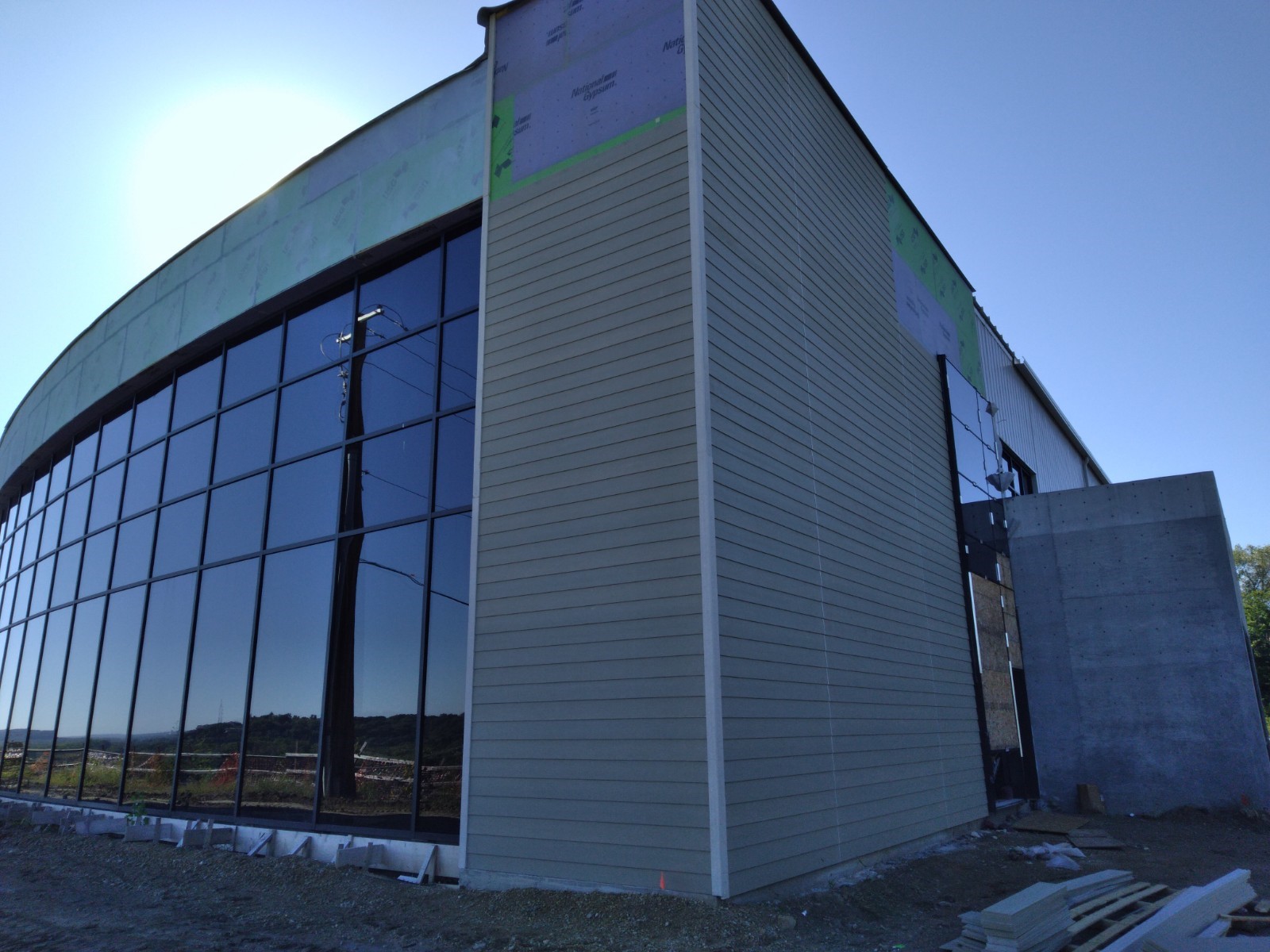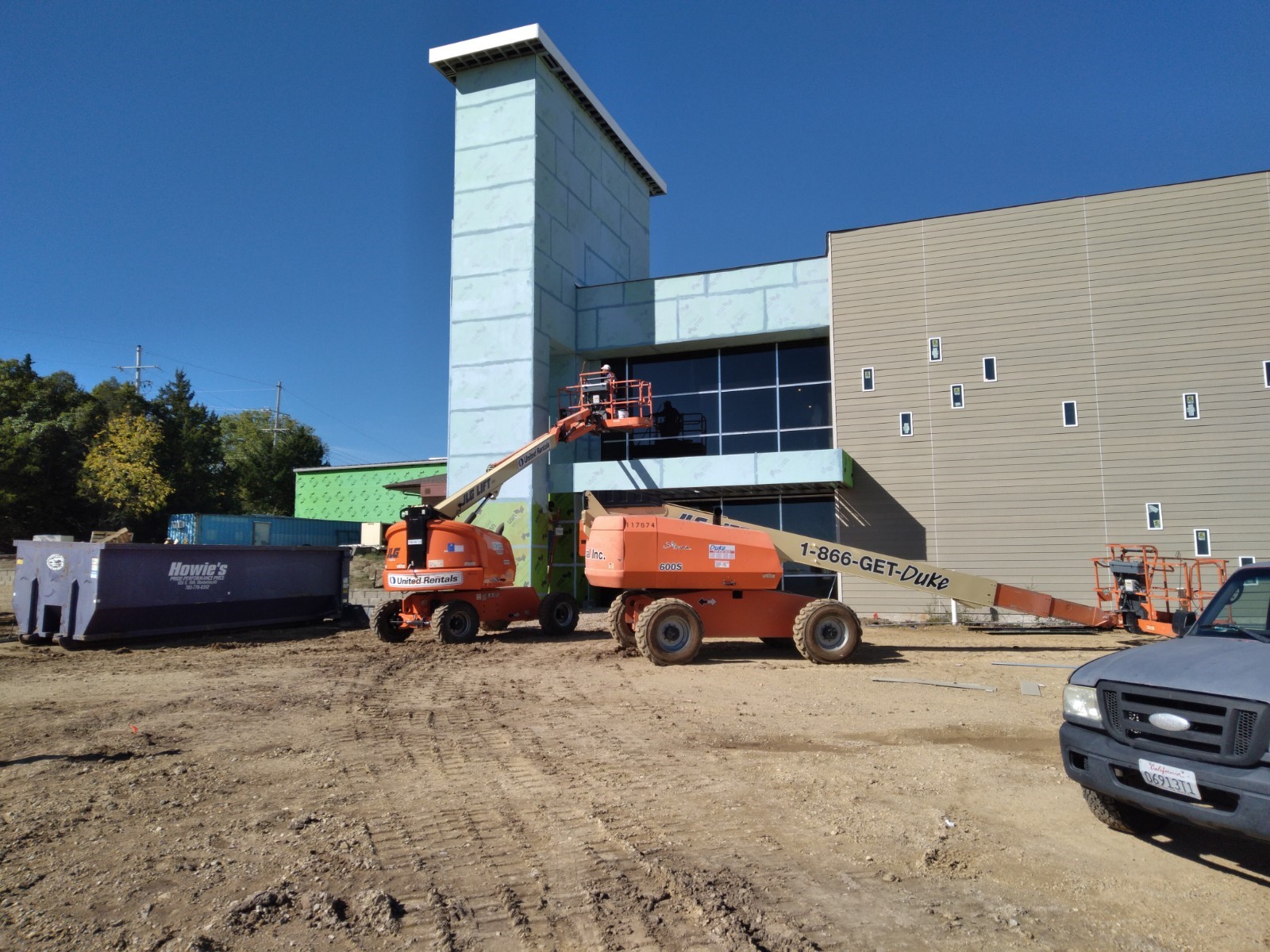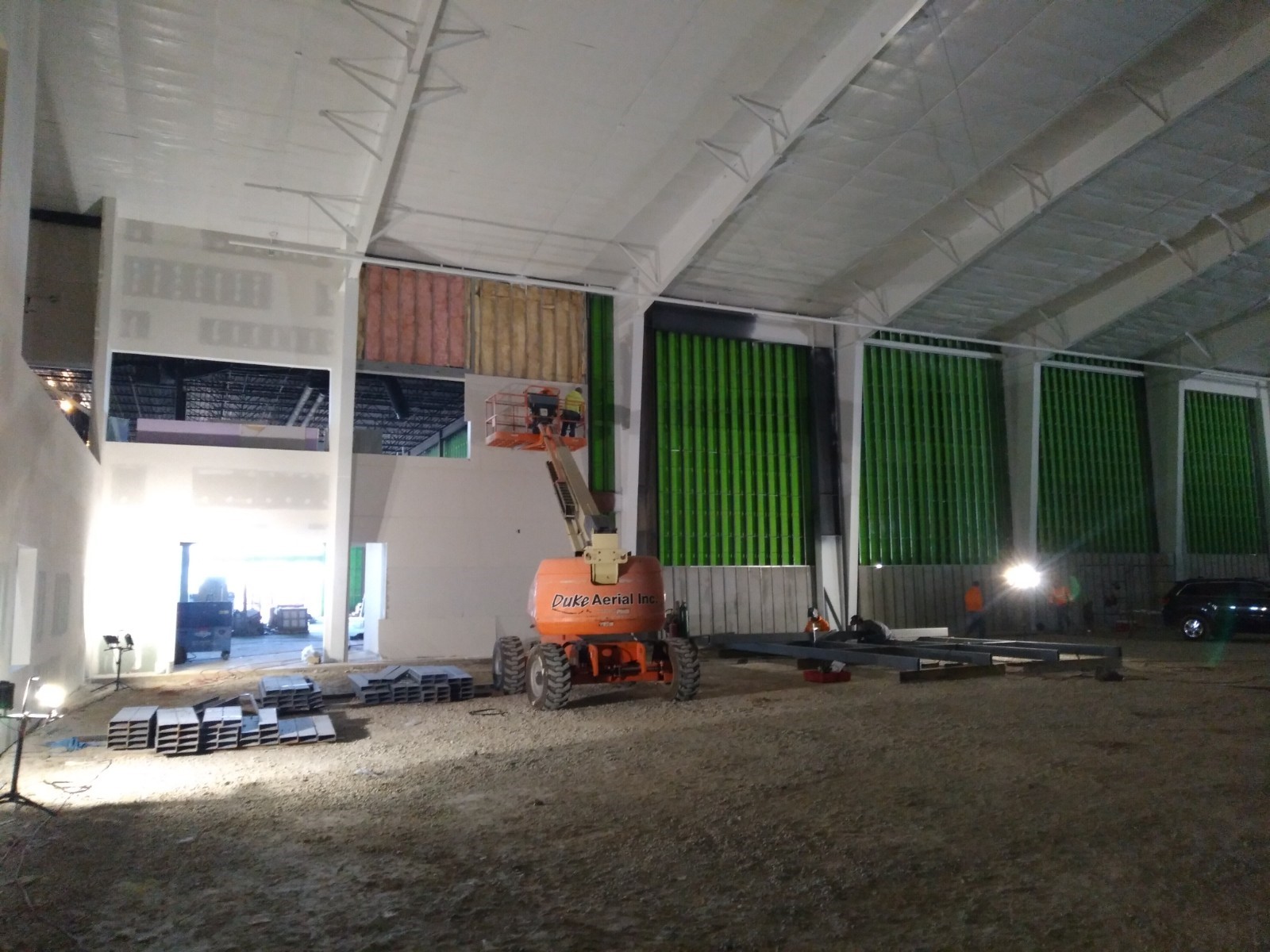 Update 9/11/2020
At our new and improved Genesis Health Clubs in Manhattan, workers are finishing the drywall and installing the ceiling grid! Painters are working tirelessly to finish all the walls and to lay down the tiling in the locker rooms. We're so excited about this multi-million dollar remodel. How about you?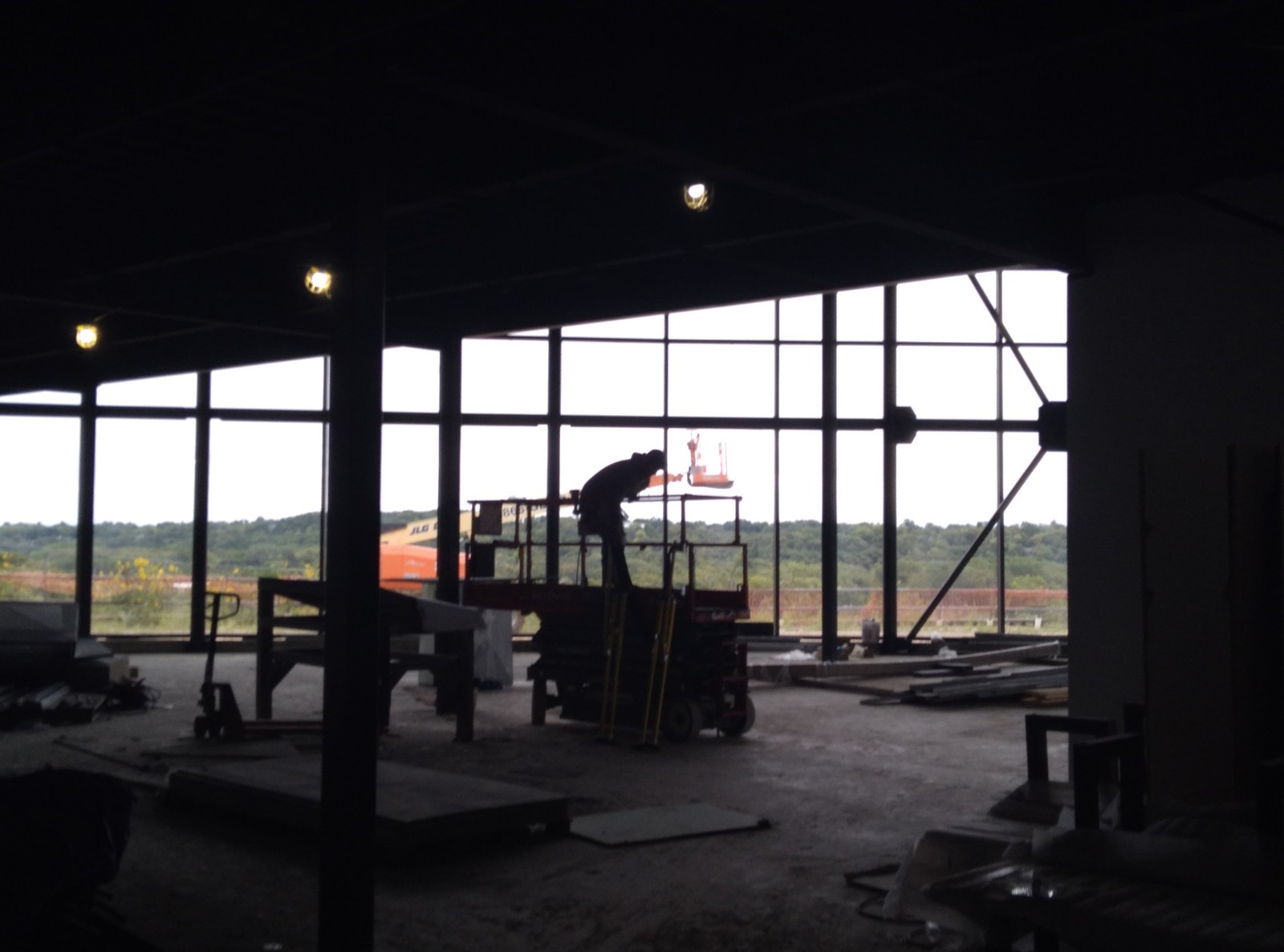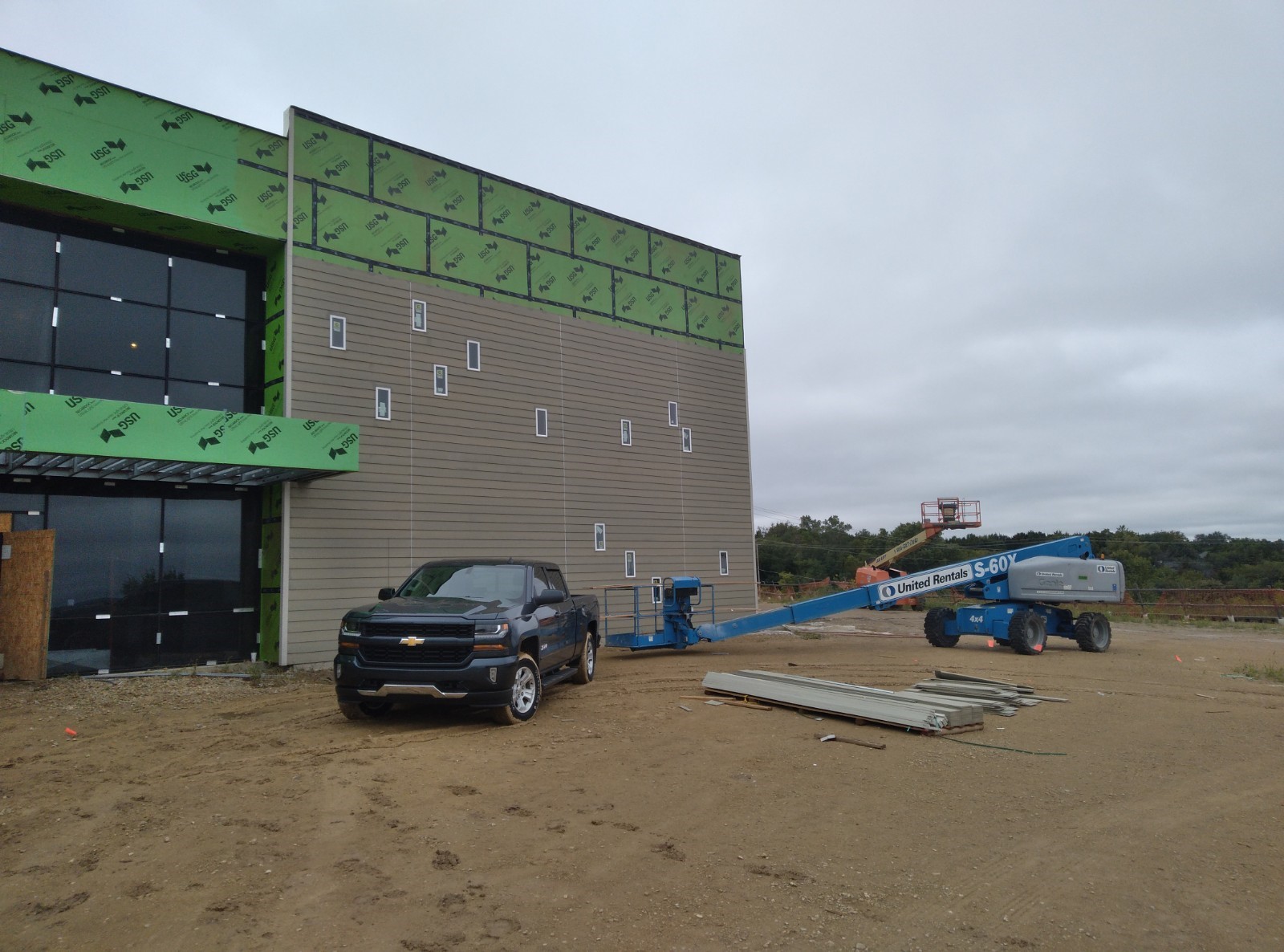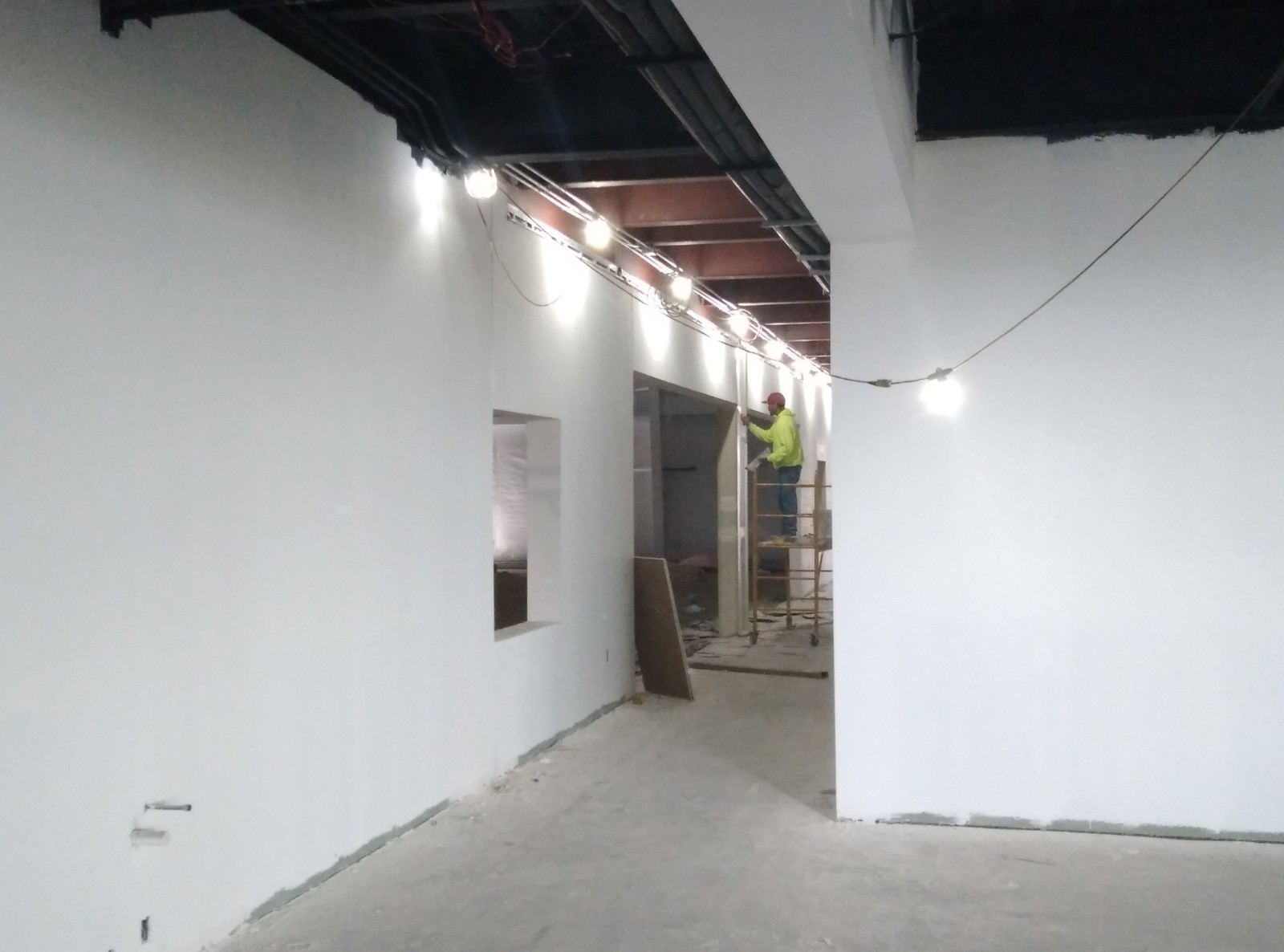 Update 8/15/2020
Past members and new members will enjoy a beautiful indoor pool! This brand new pool will be the ONLY indoor pool in all of Manhattan, Kansas. How cool is that? Just another way in which Genesis Health Clubs provides and delivers the best fitness experience in town and all around!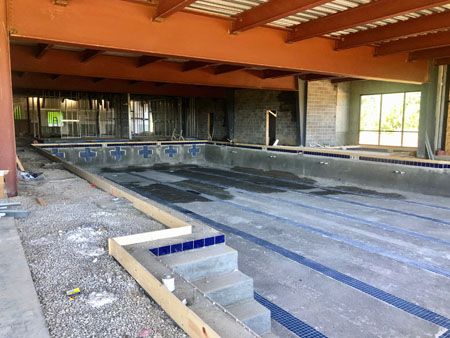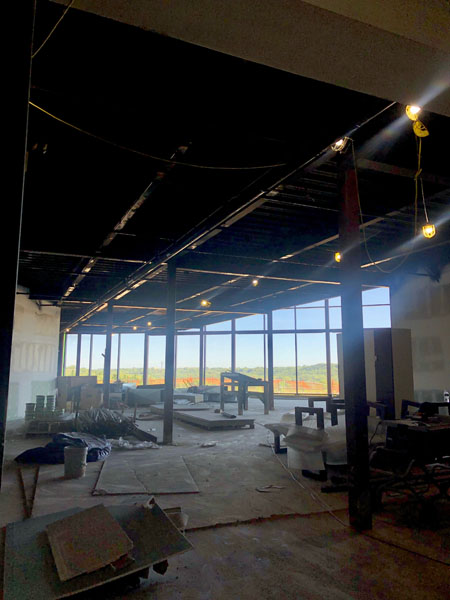 Update 5/7/2020
We're picking up the pace in Manhattan! The glass, roofing & siding crew are on-site working hard on getting the building completely closed in. Lockers and tile are being installed in the Locker rooms. Electricians & plumbers are onsite starting their rough-ins in the ceiling. Painters should have all exposed ceilings done by next week. The pool/wet area is taking shape. It's going to be a beautiful club with a great view! Can't wait!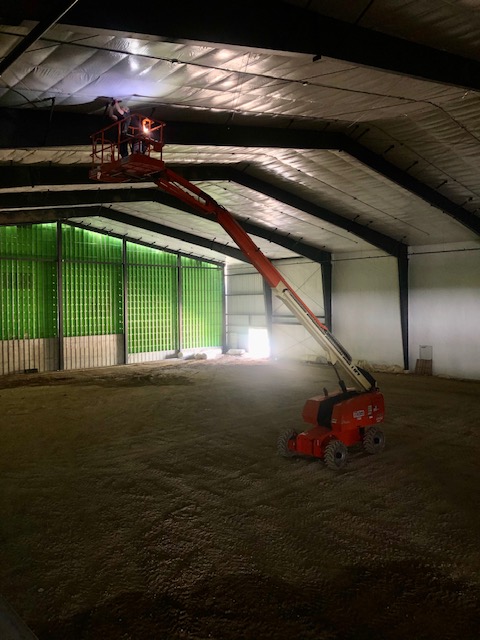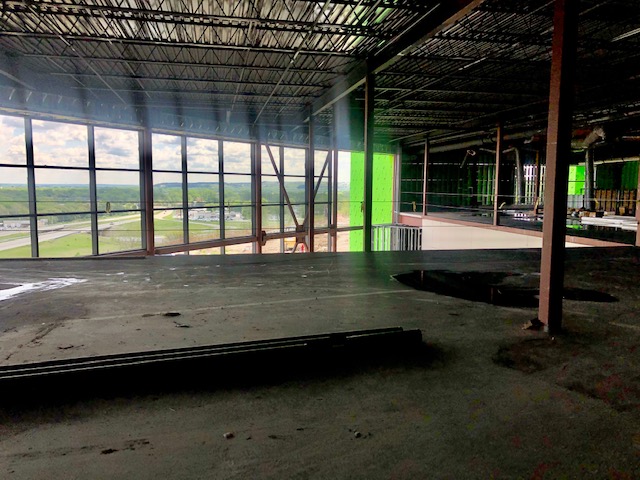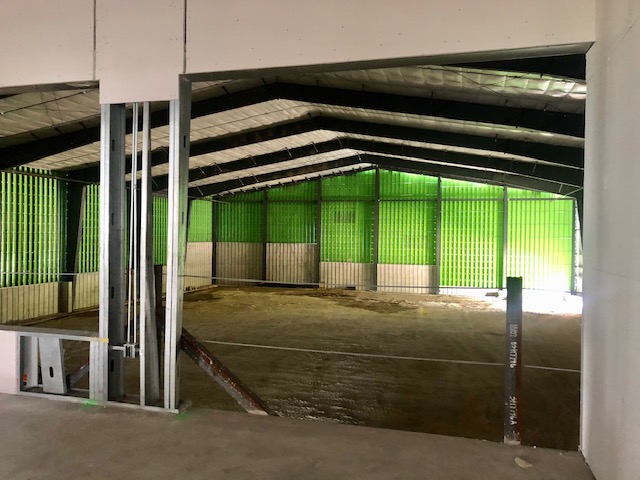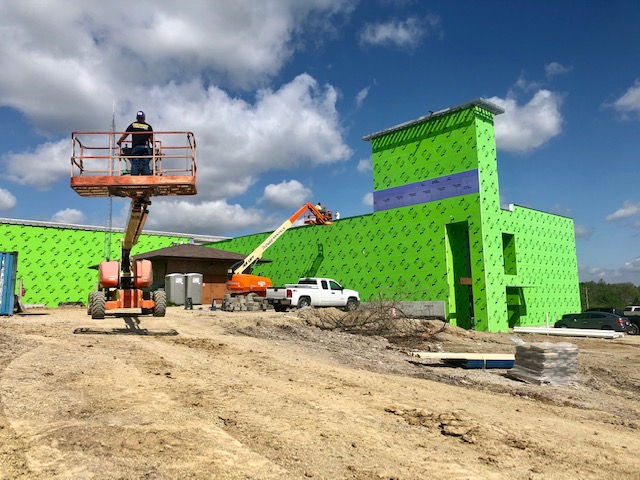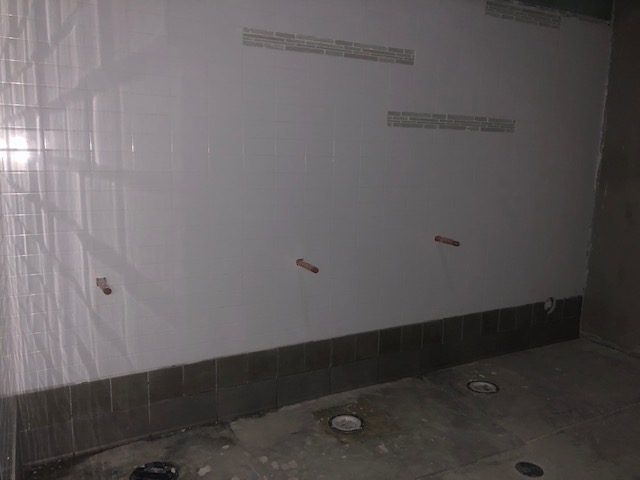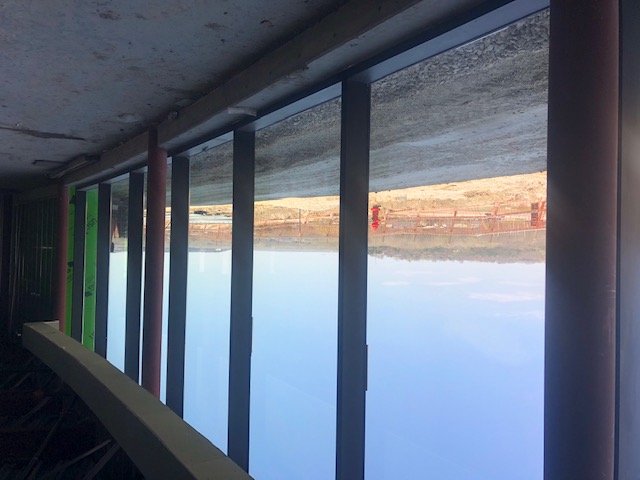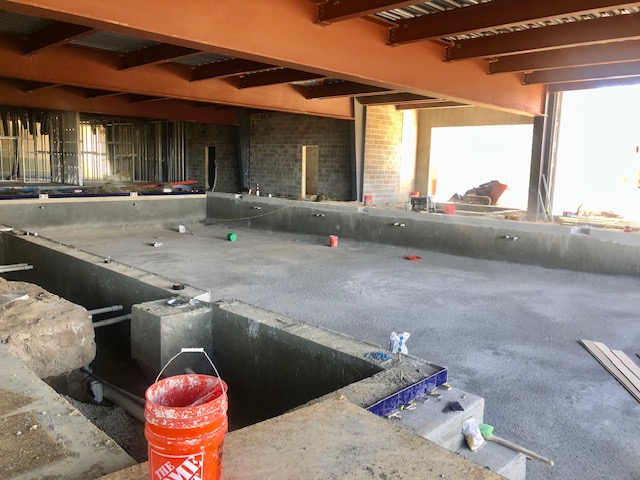 Update 4/14/2020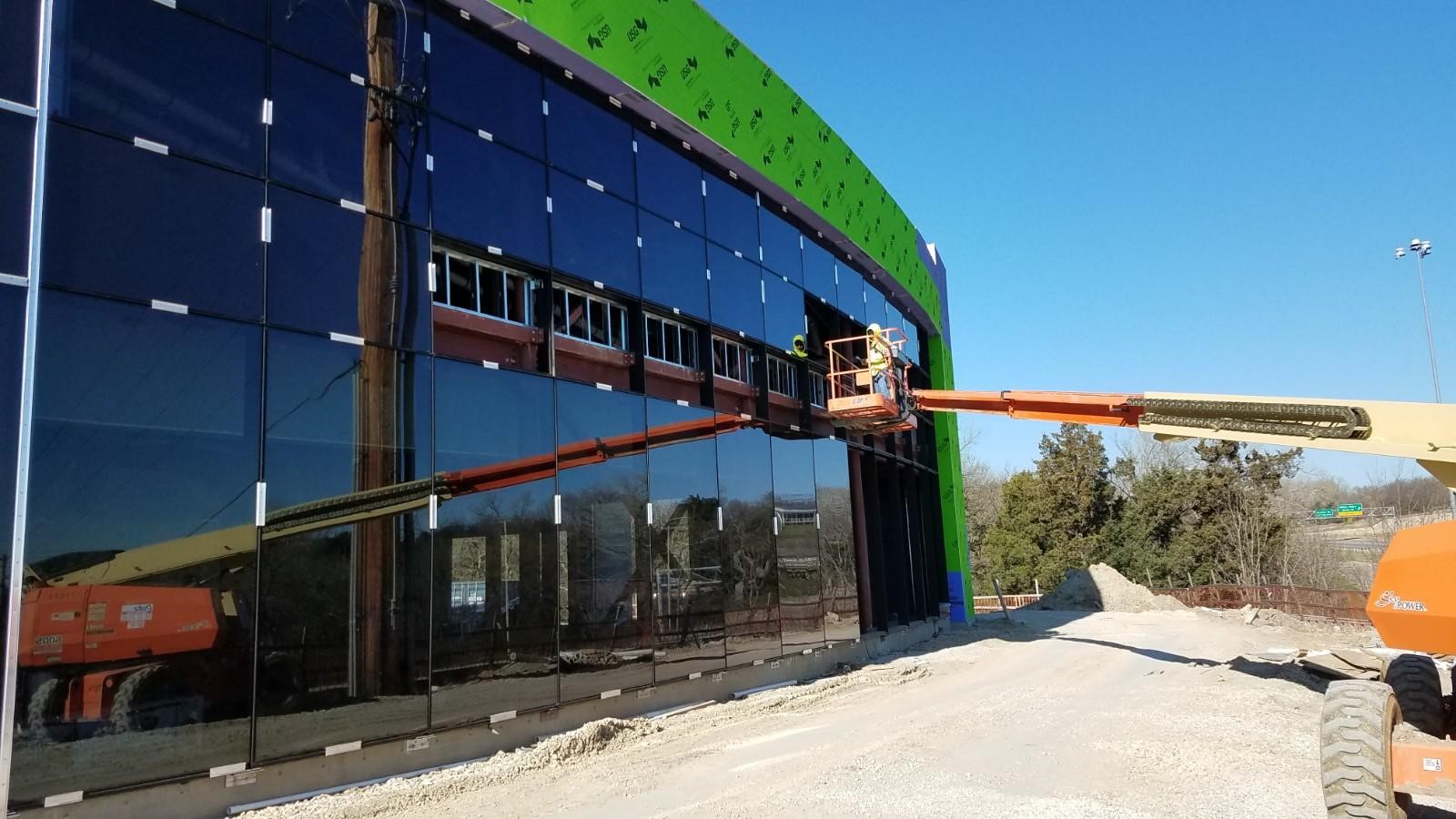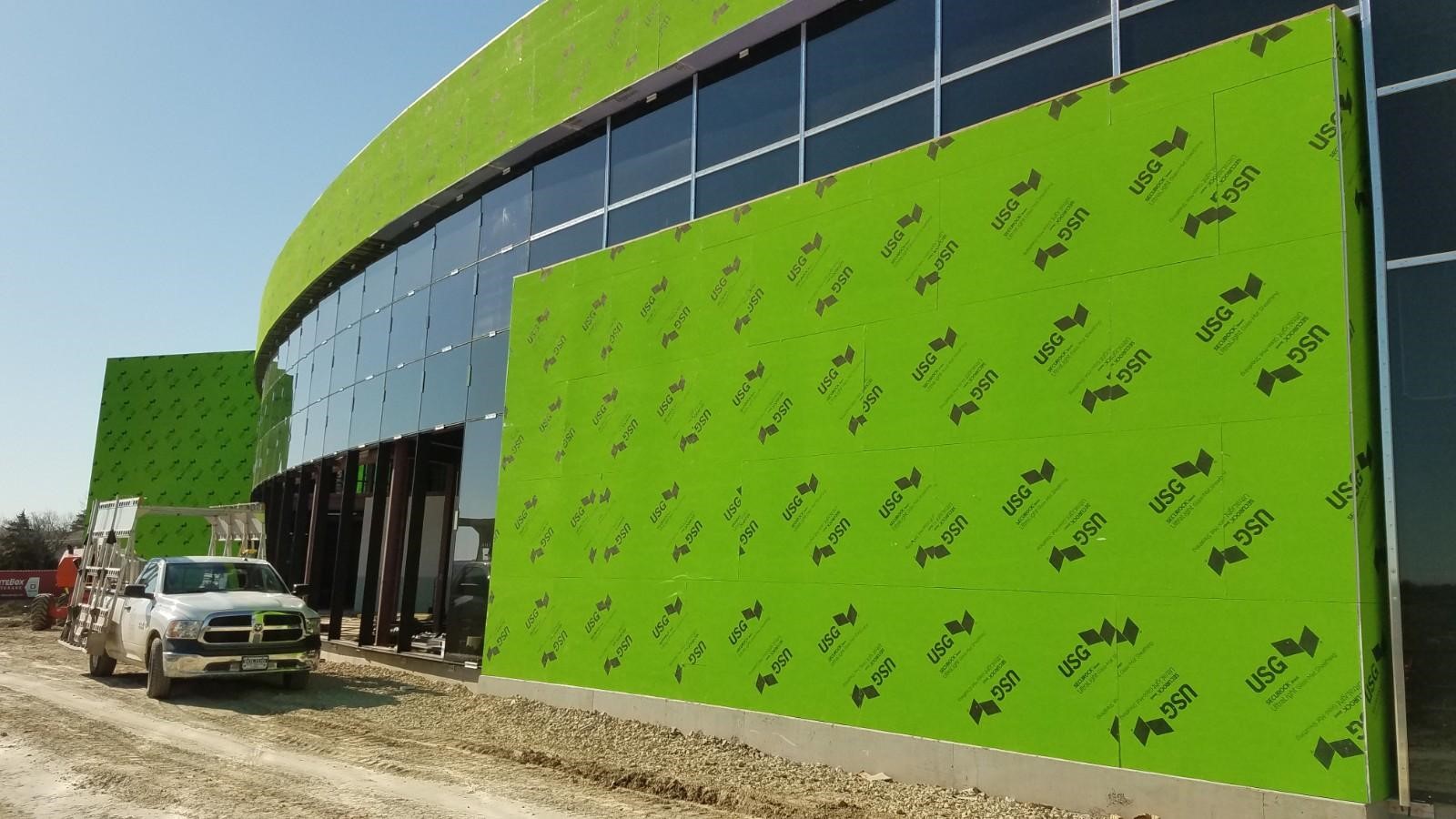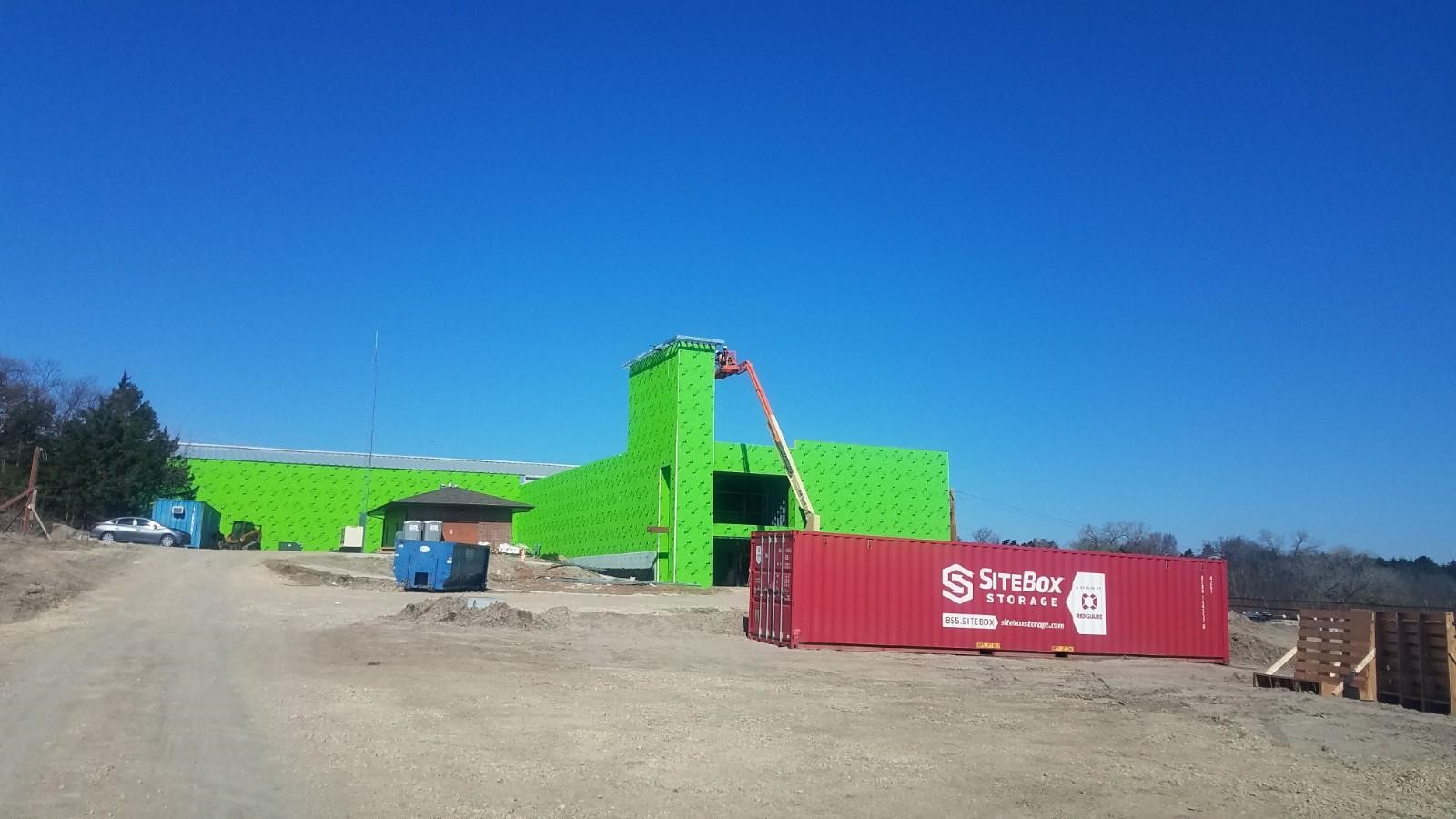 Update 3-26-2020
While the clubs are closed, construction continues to progress. Bathroom tiles have been put in, framework is being added to create walls and doors, and the HVAC system is being installed. More updates soon!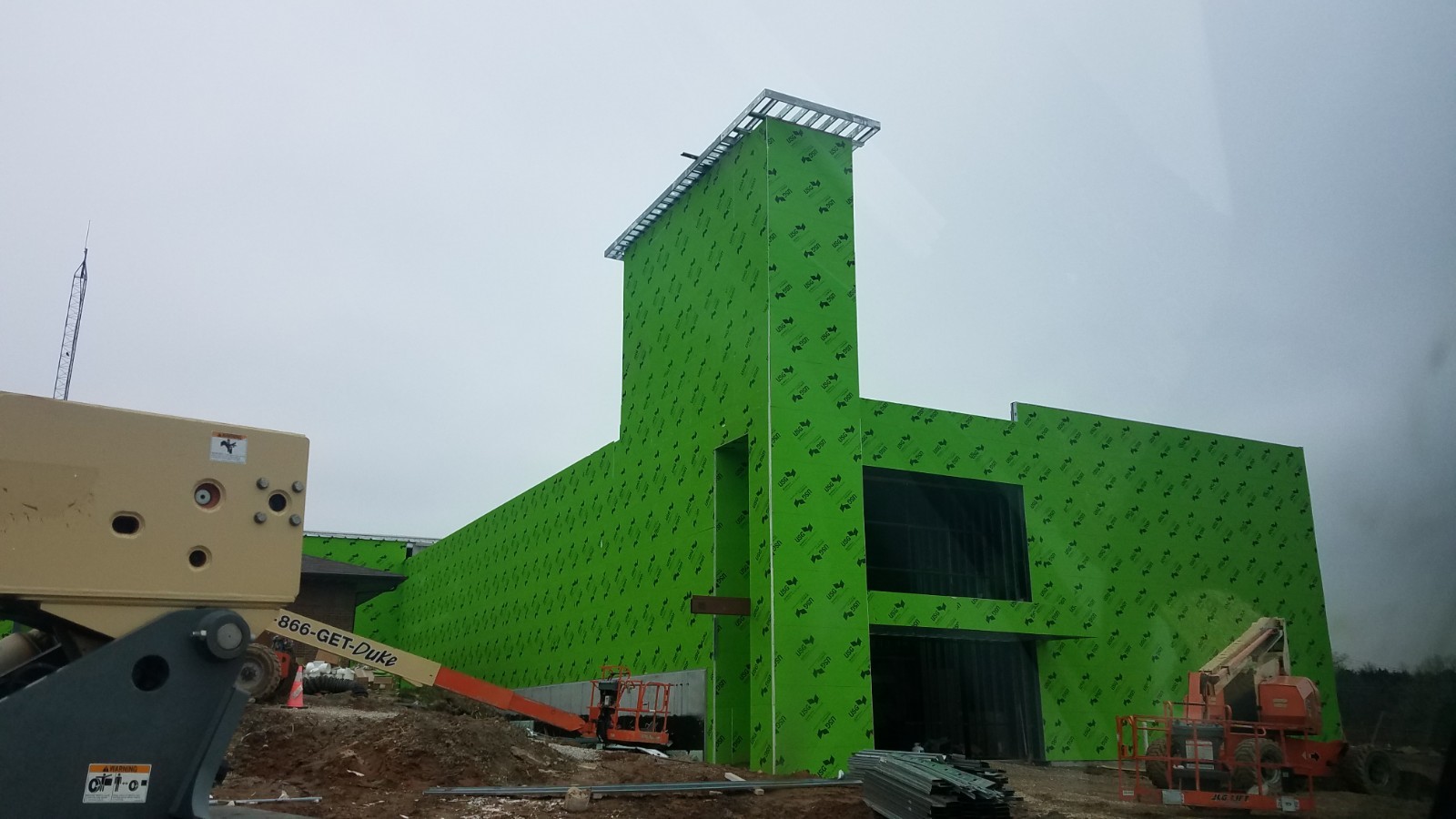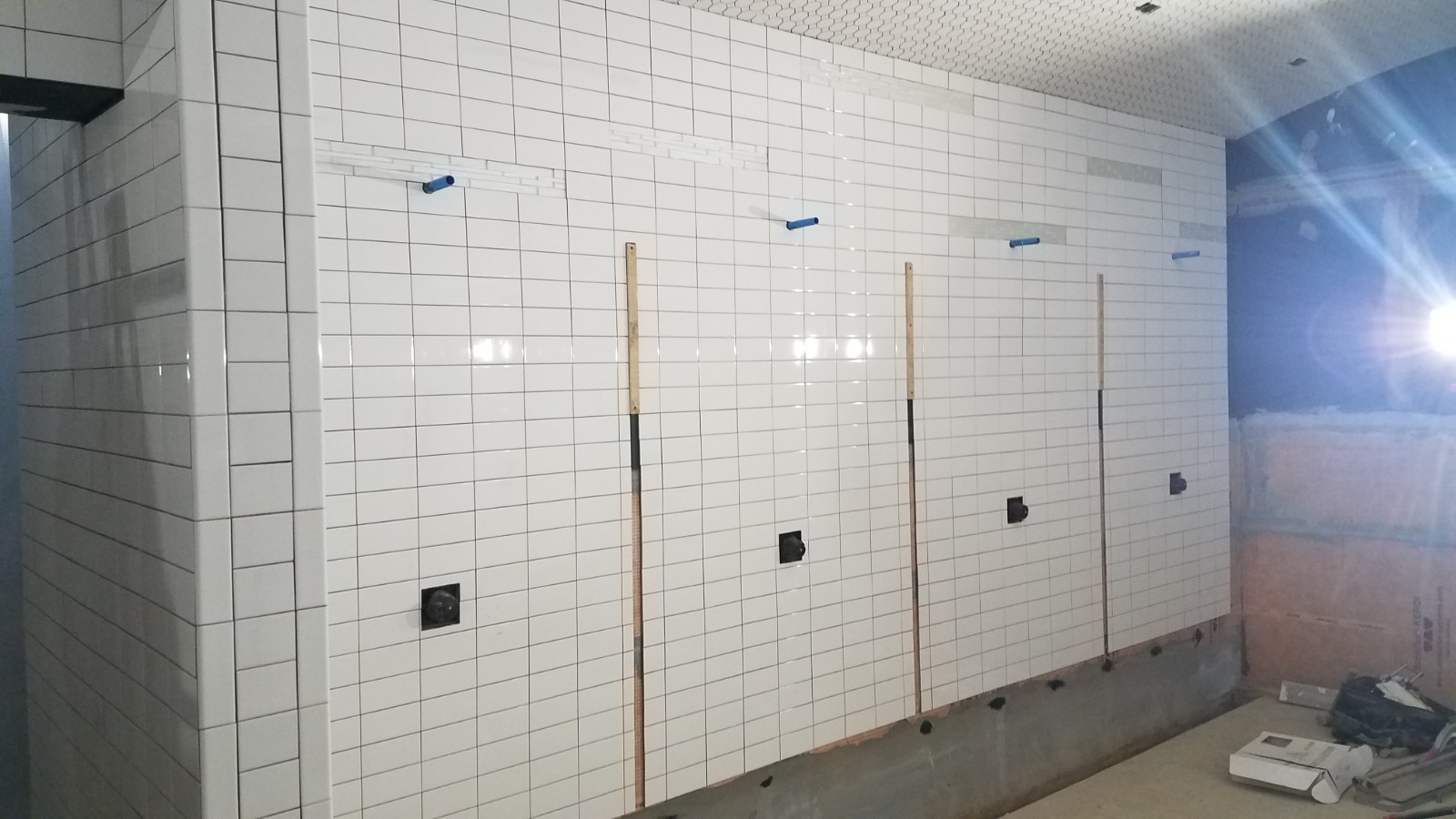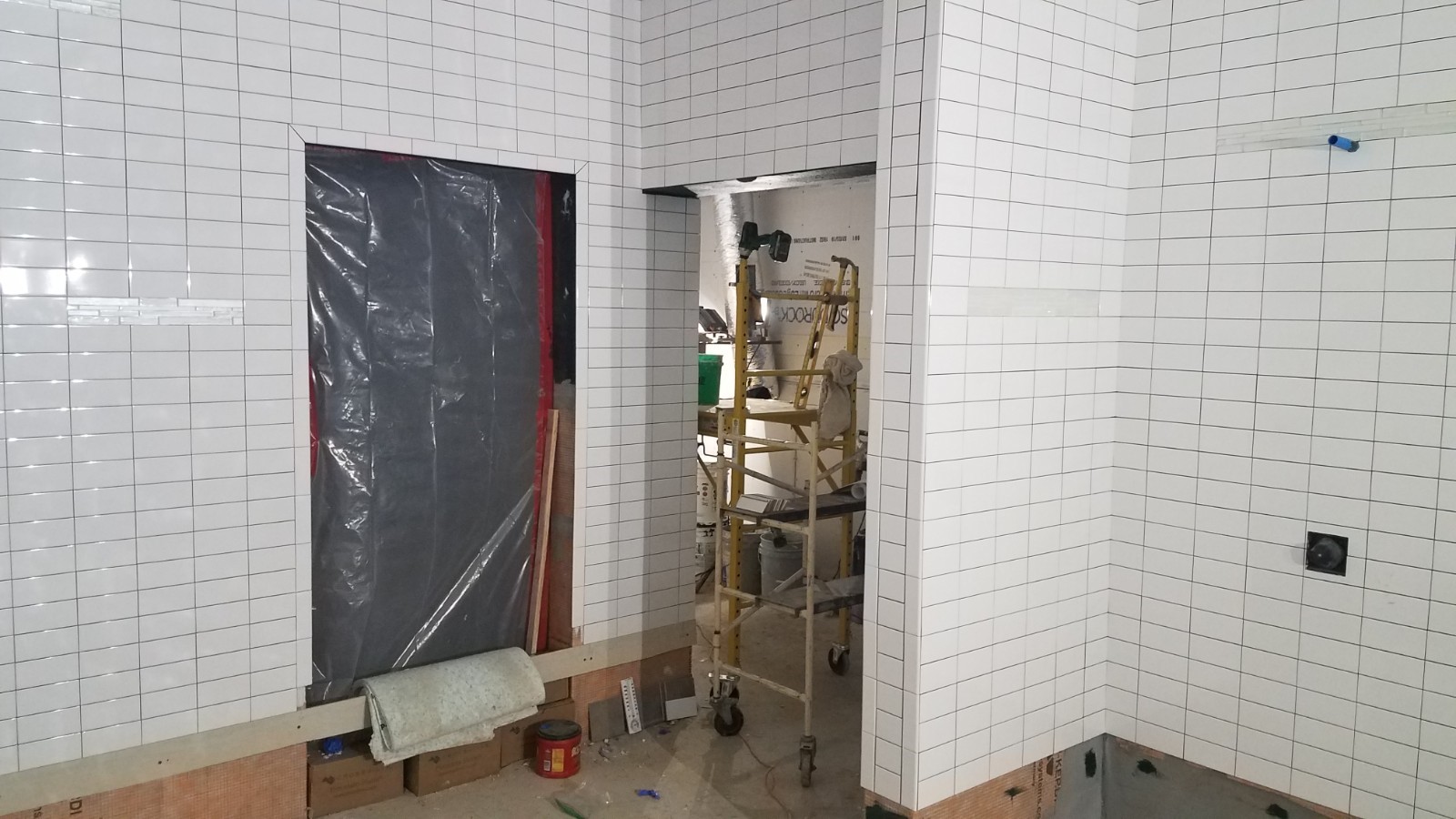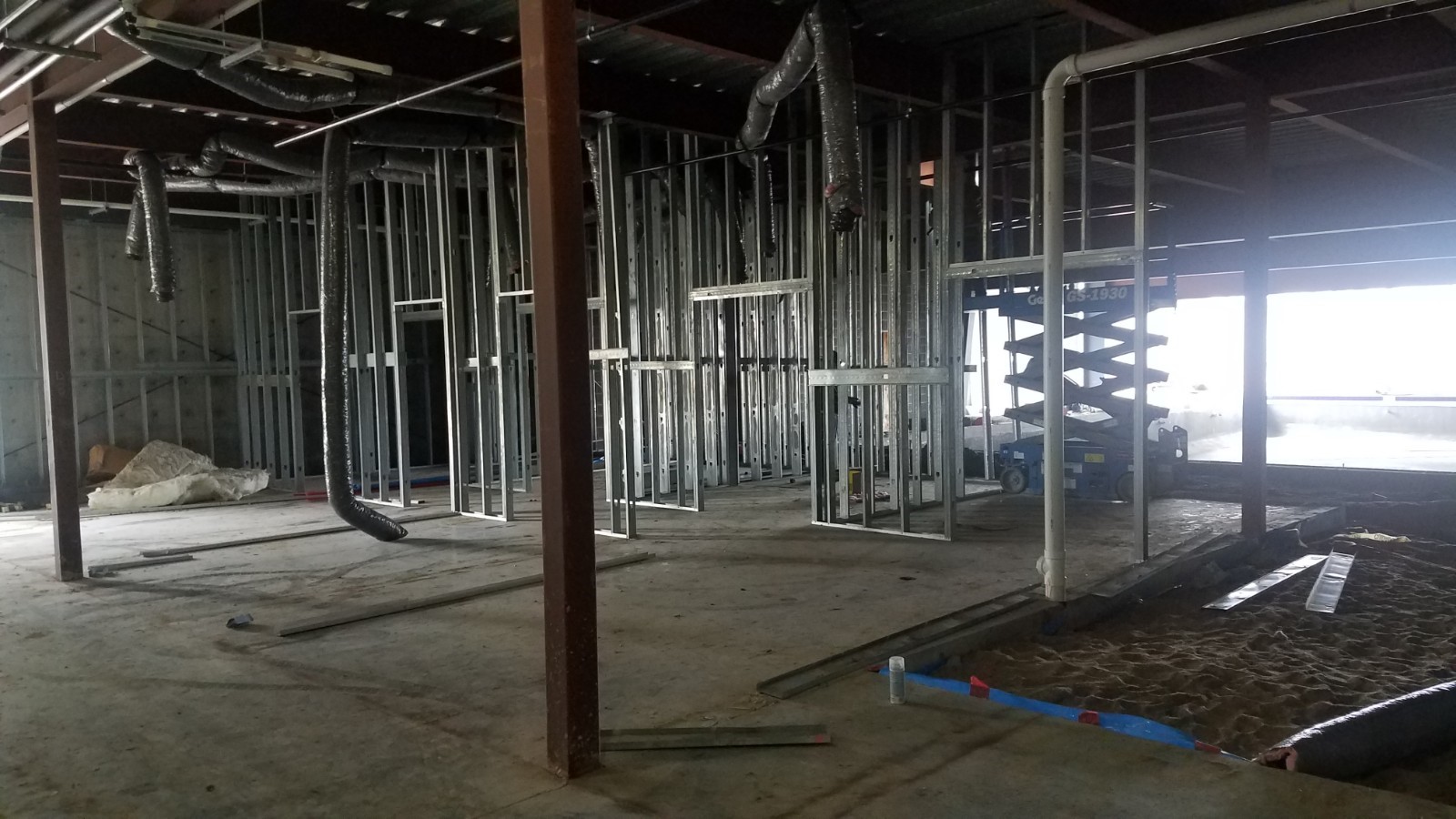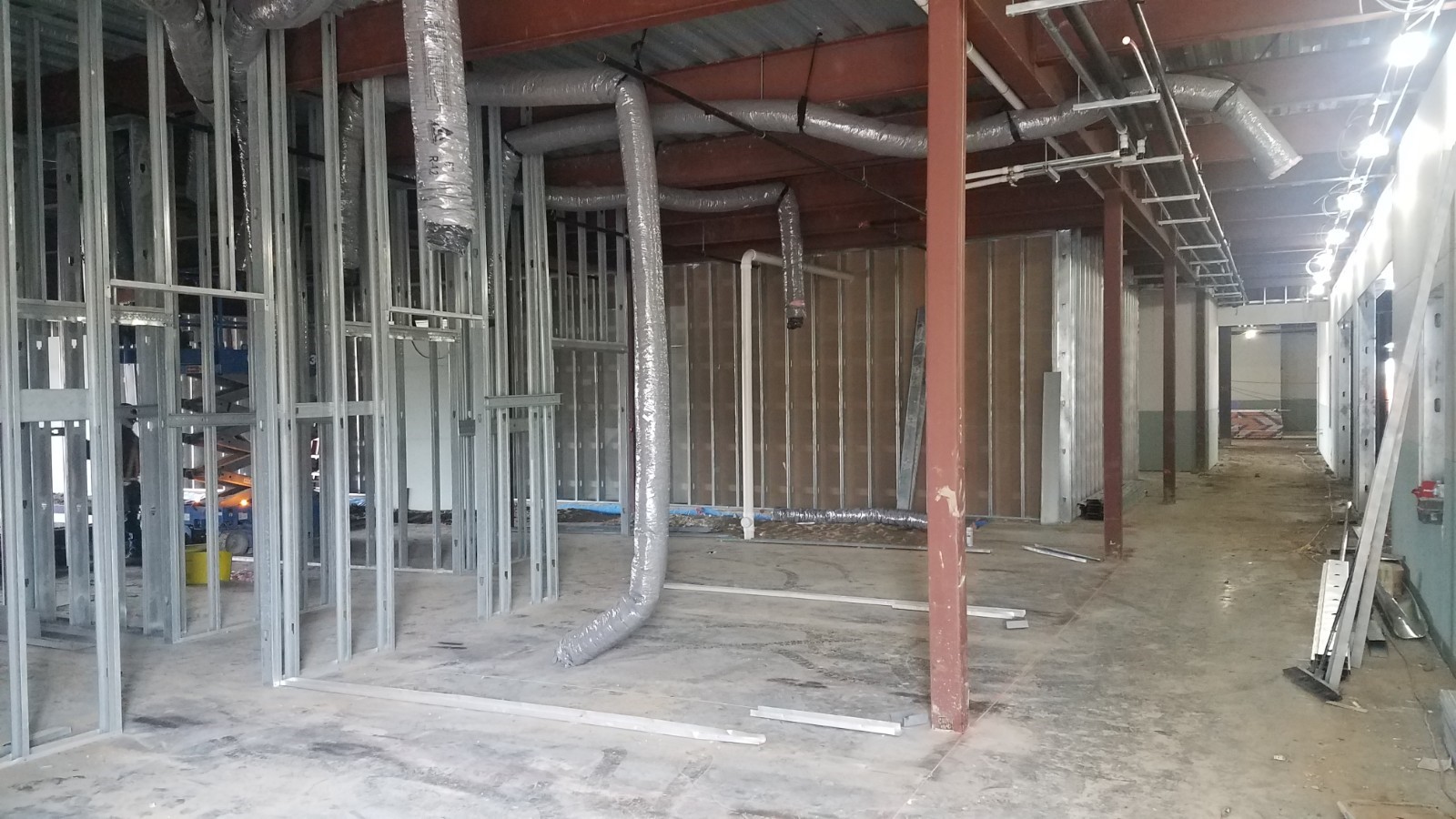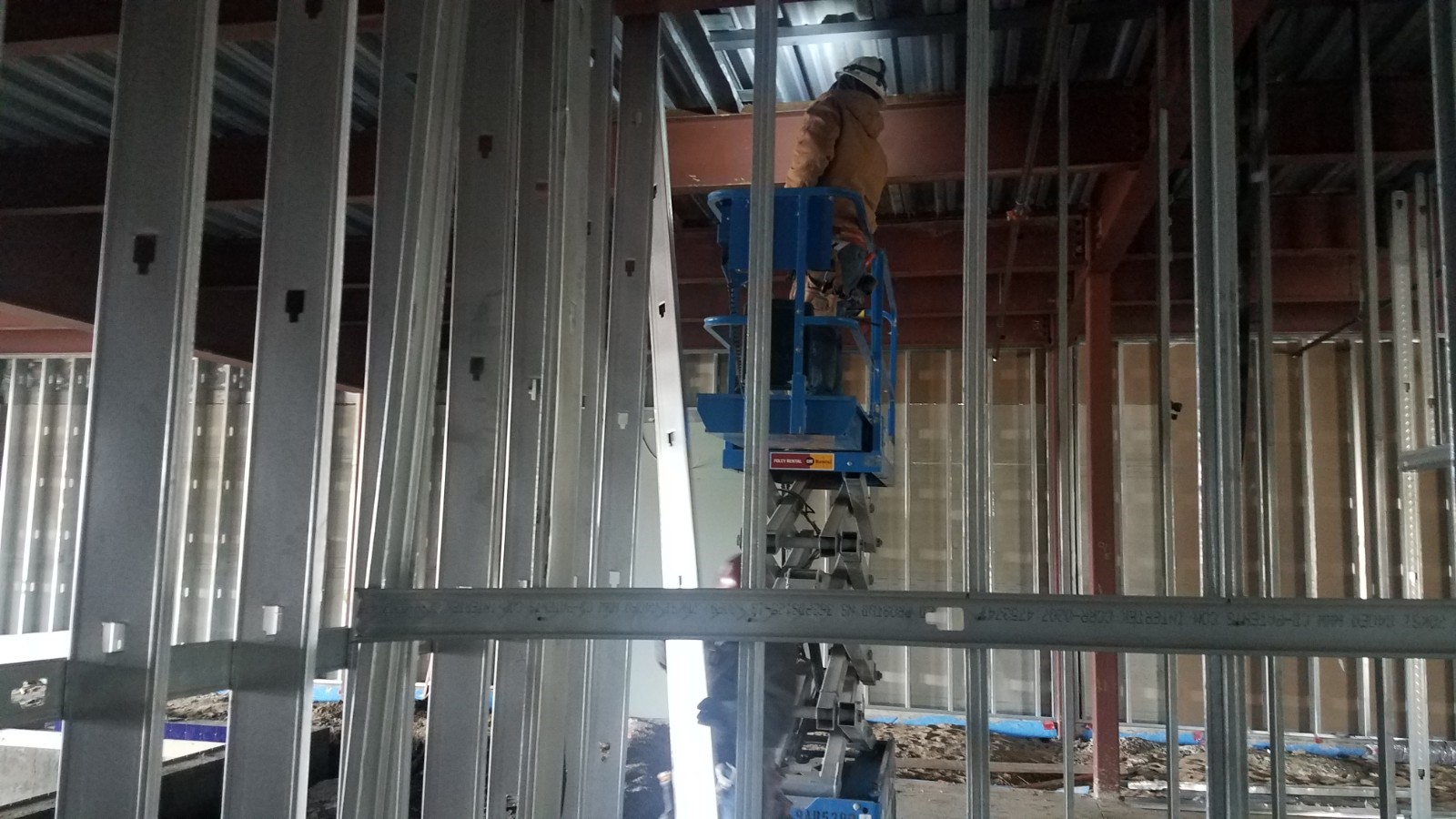 Update 3/5/2020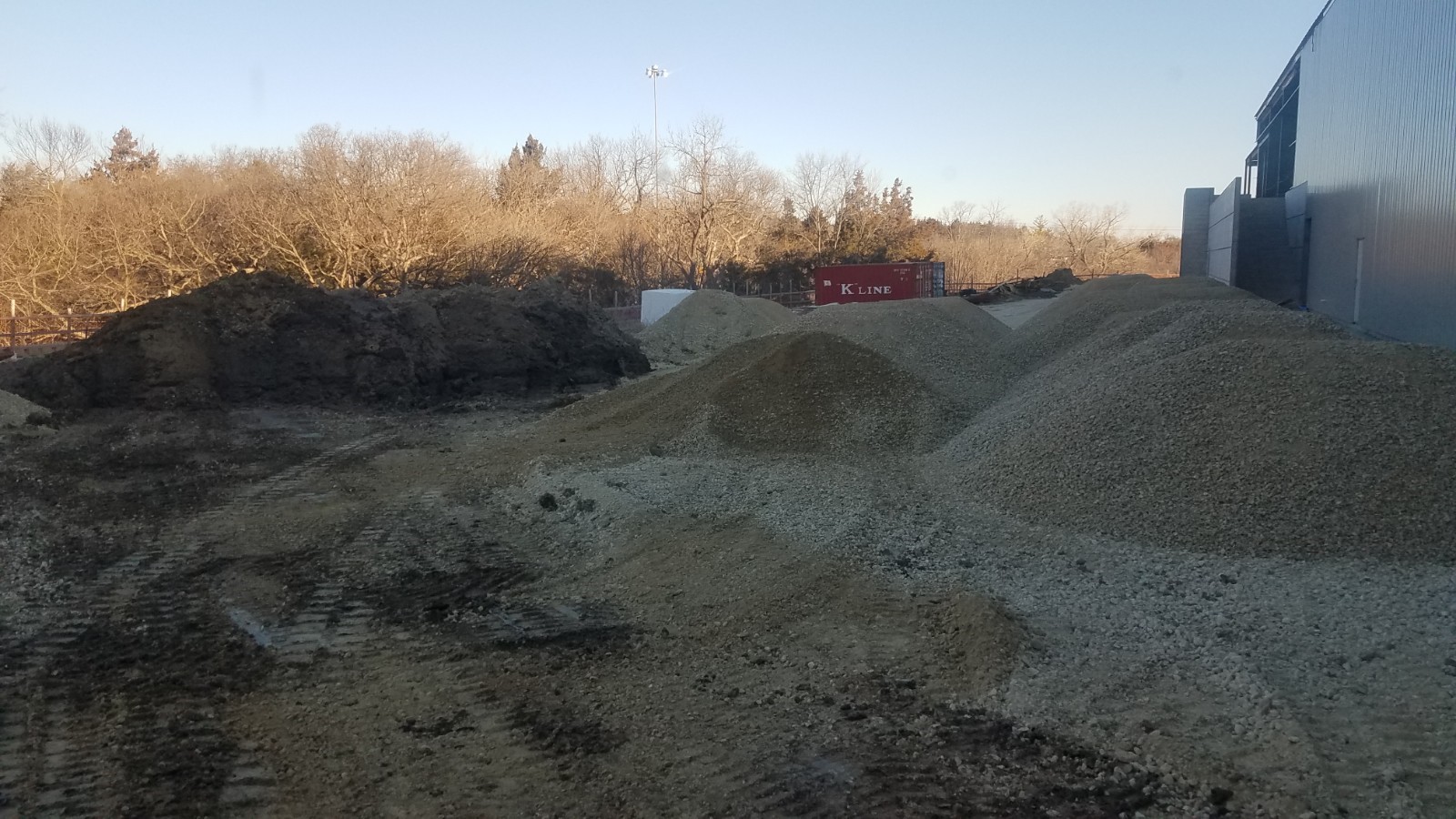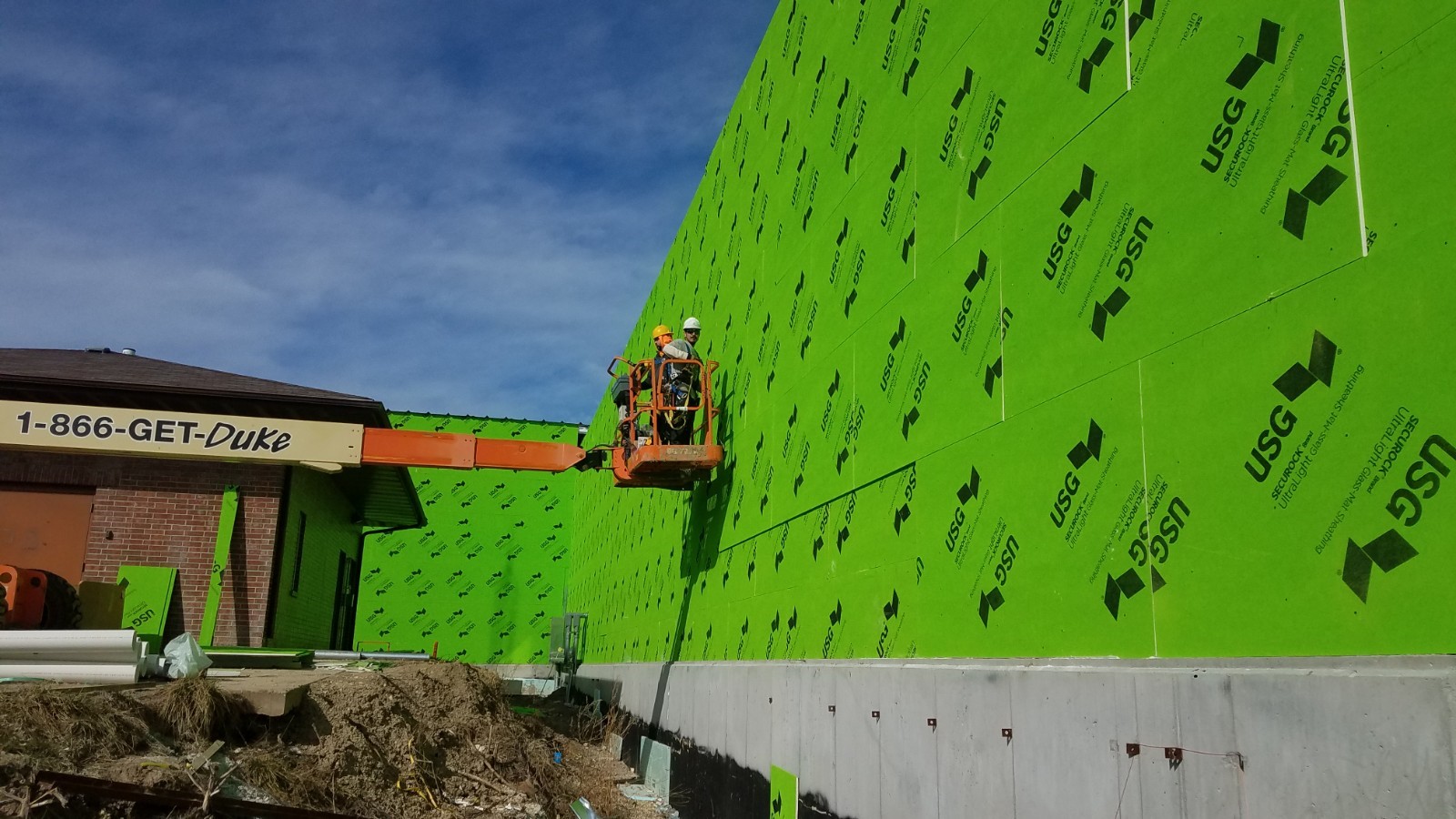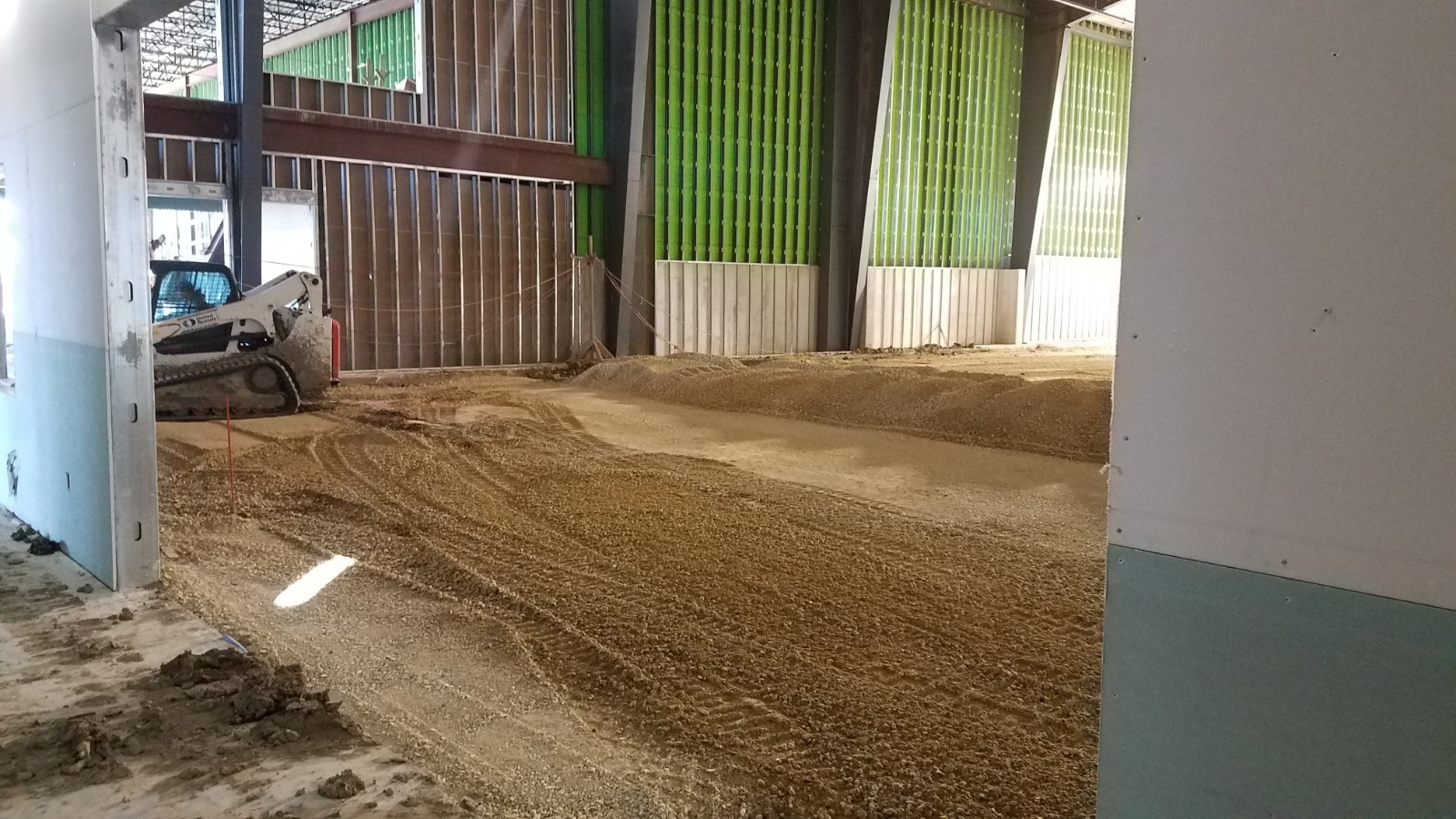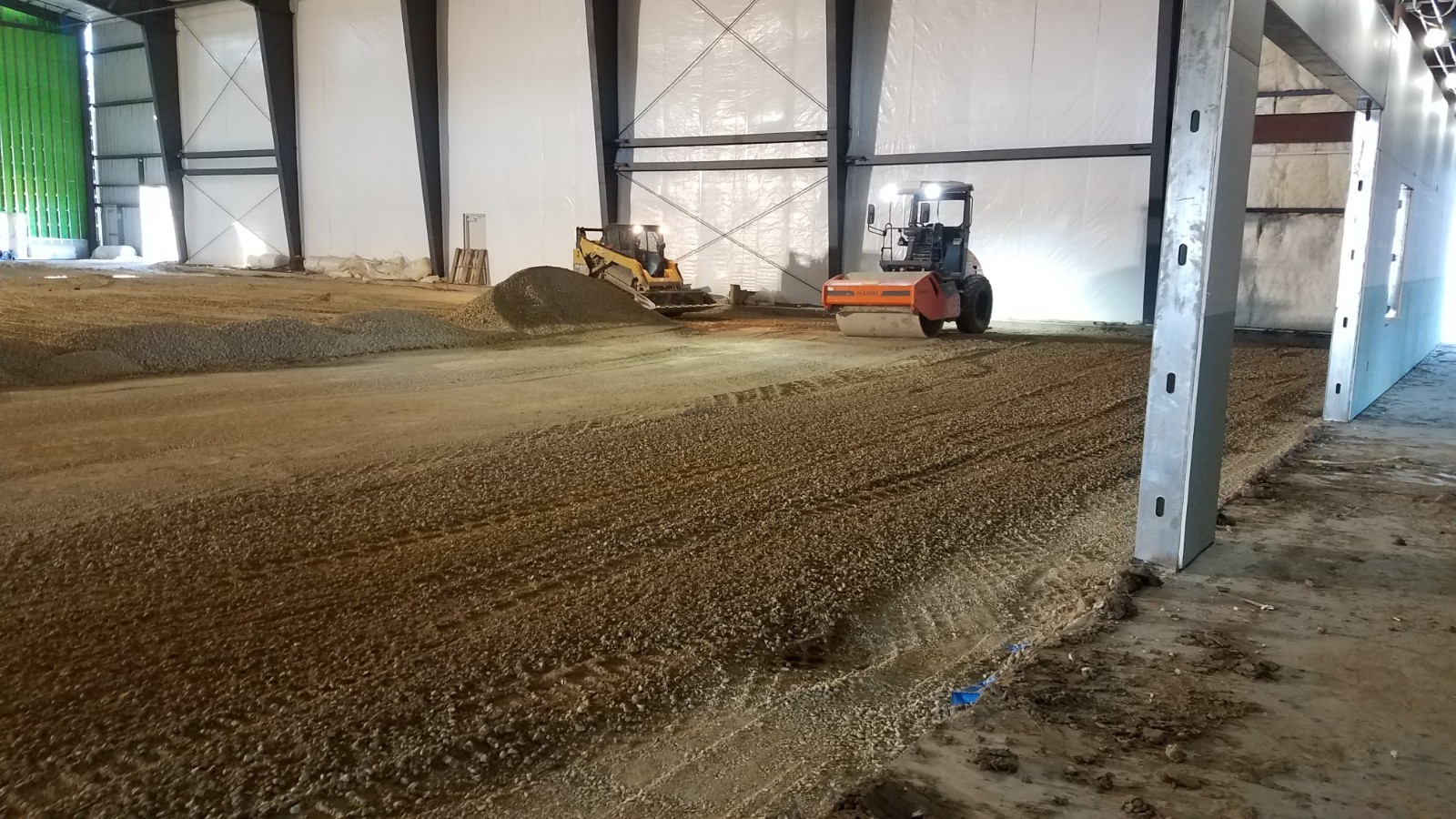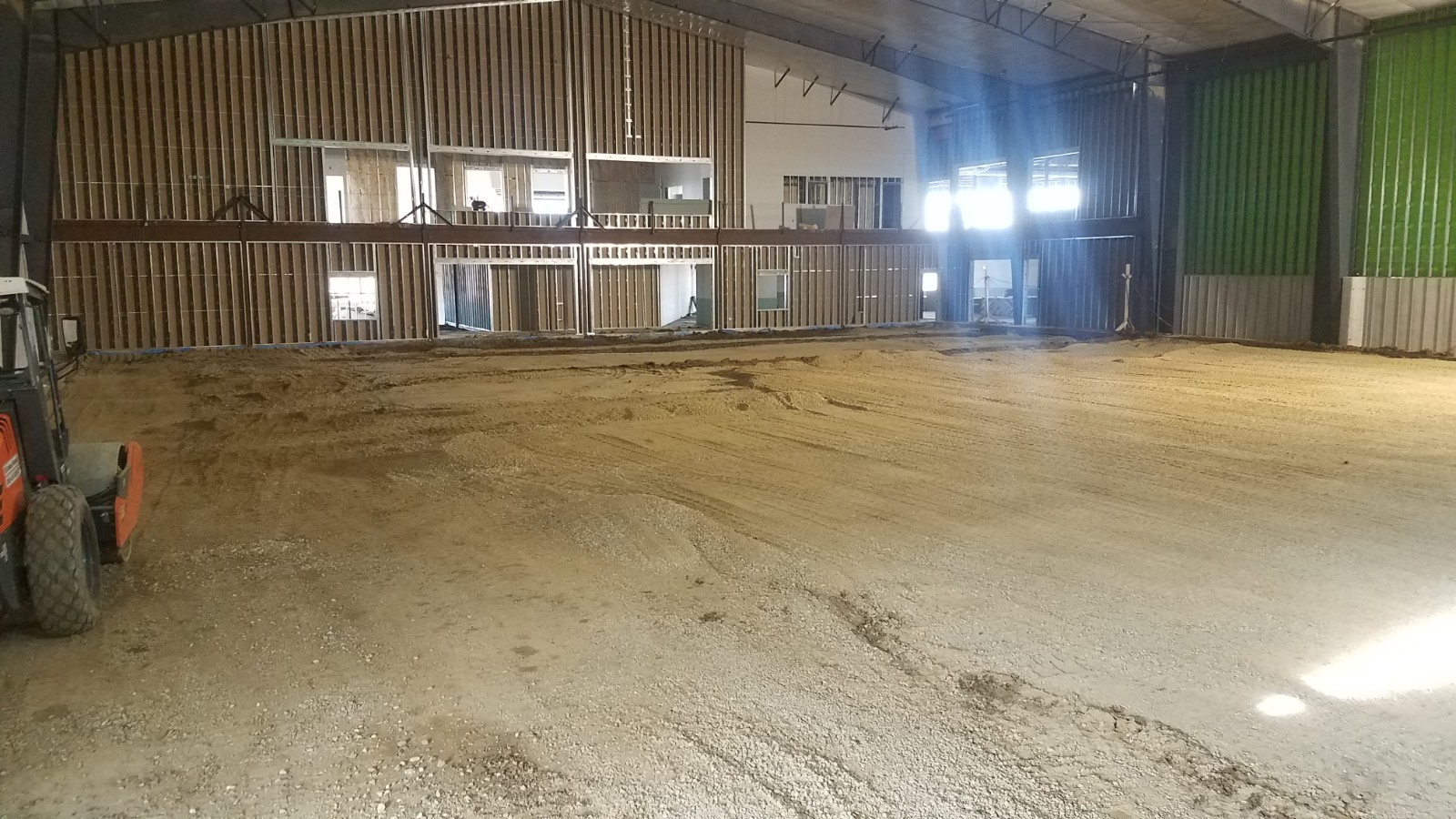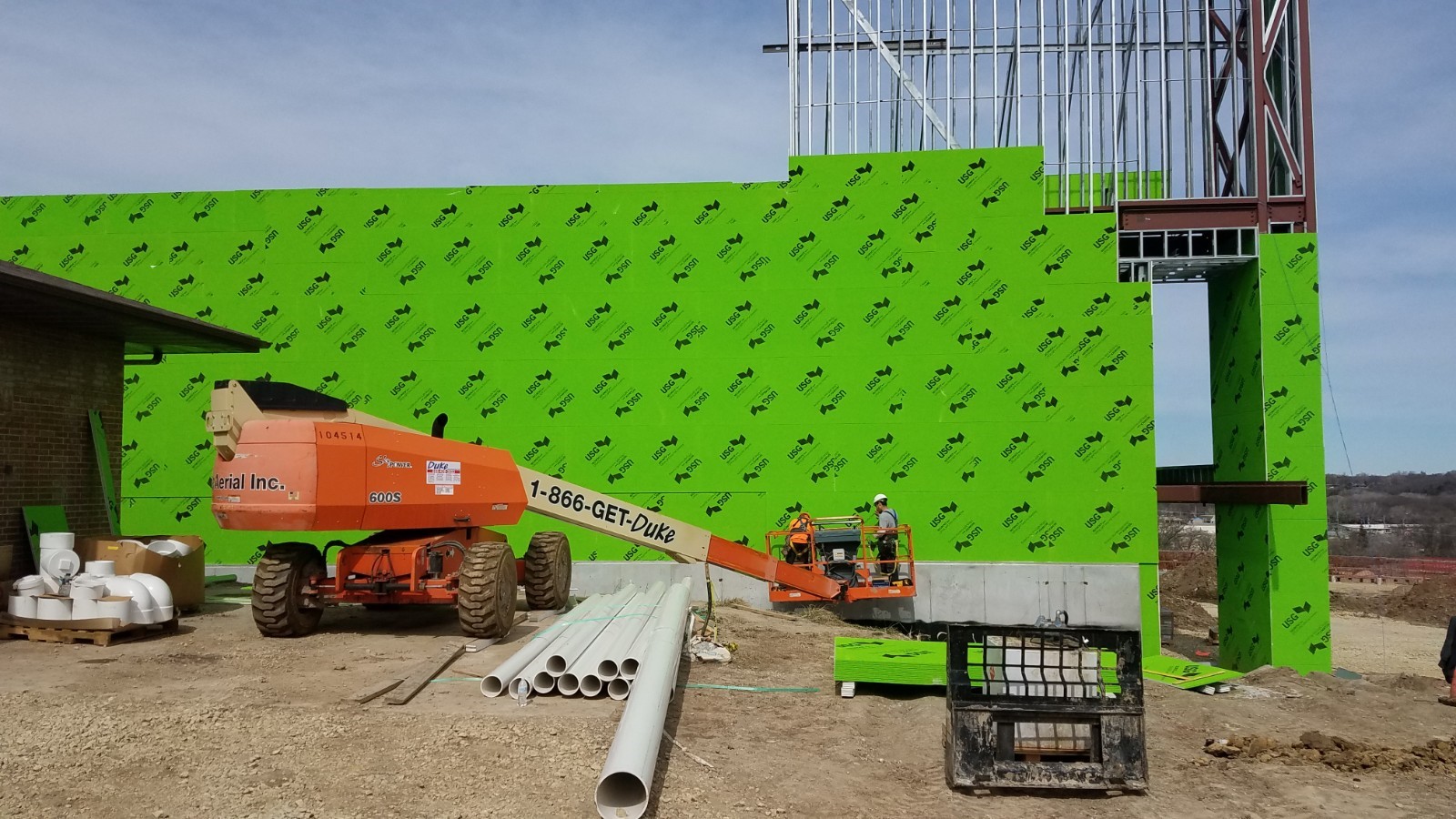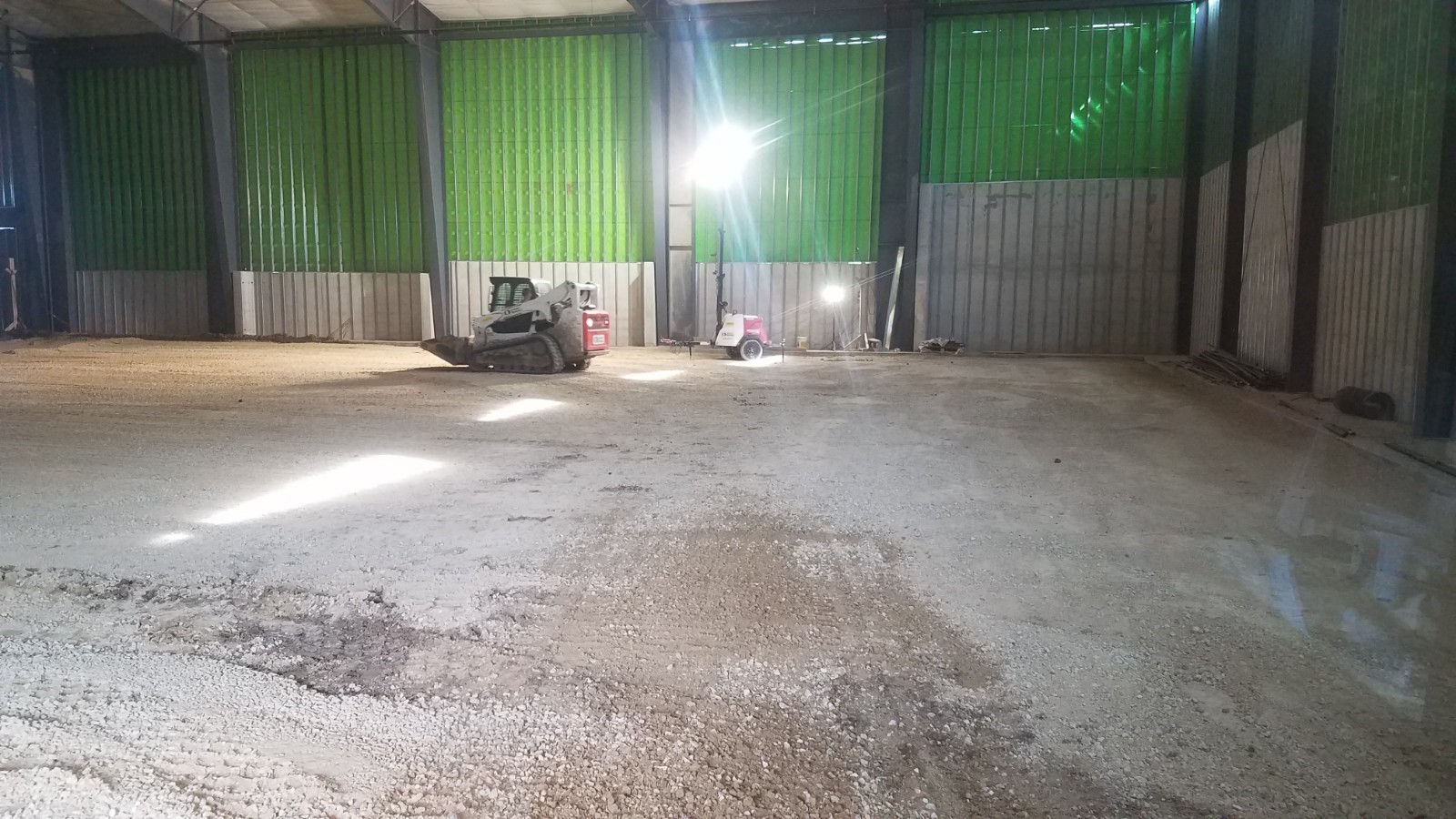 Updated 3/2/2020
When you drive by the site, you will now see a building with walls! All that's left is the interior work to create this beautiful health club. We got 45% of the tennis courts done today. Tile was delivered today and more rock will be delivered tomorrow. Check back in for more updates to come!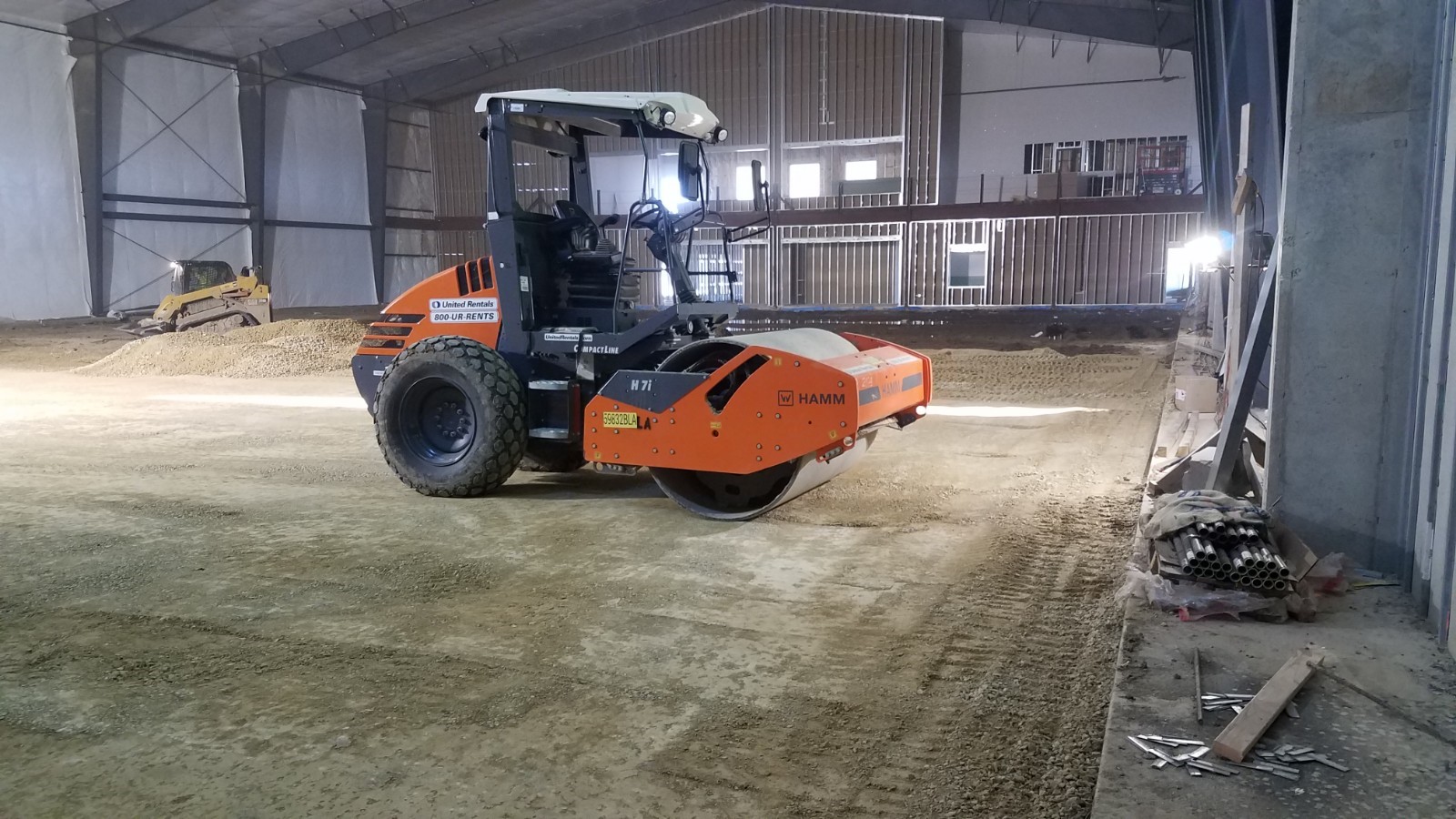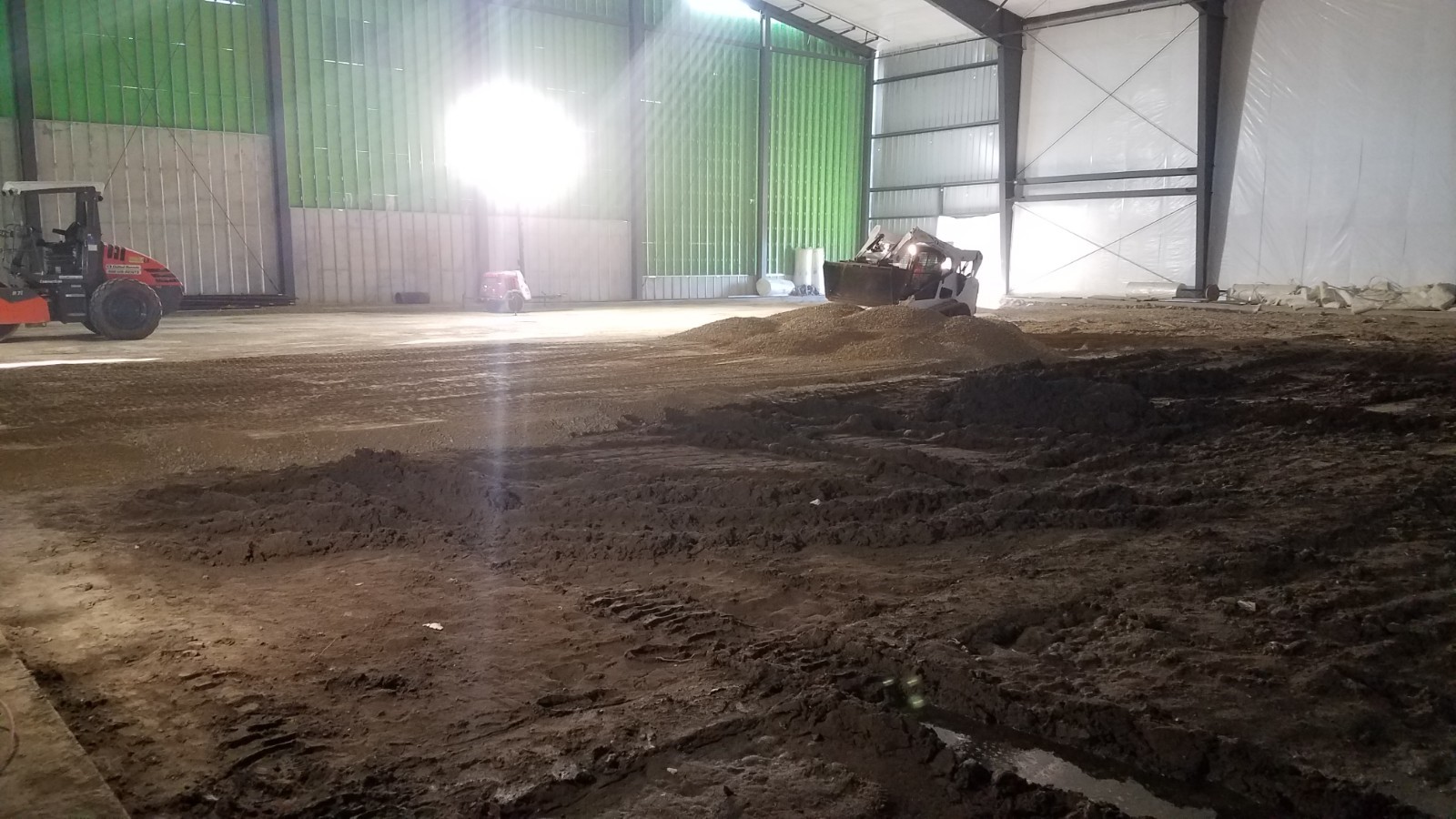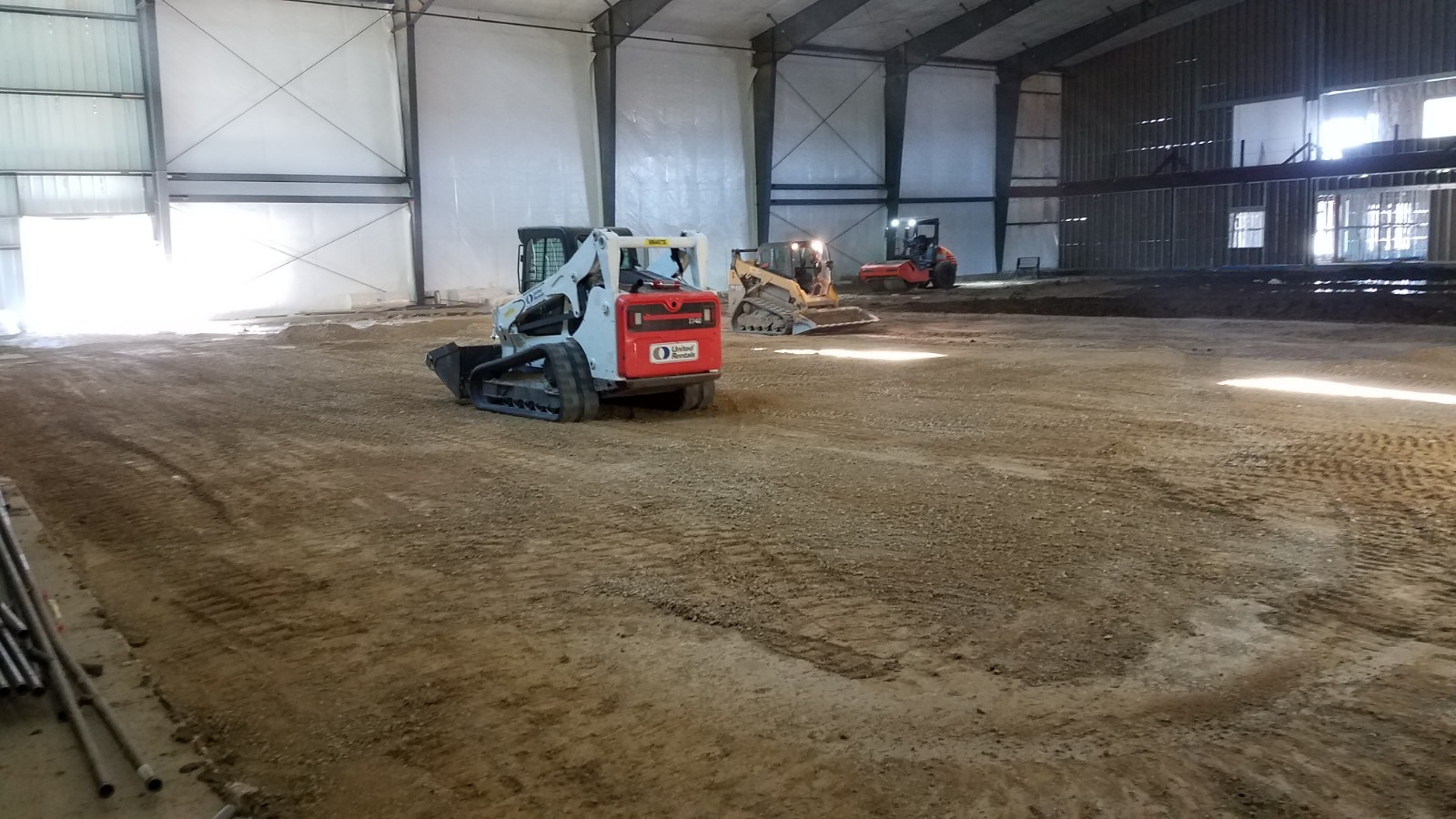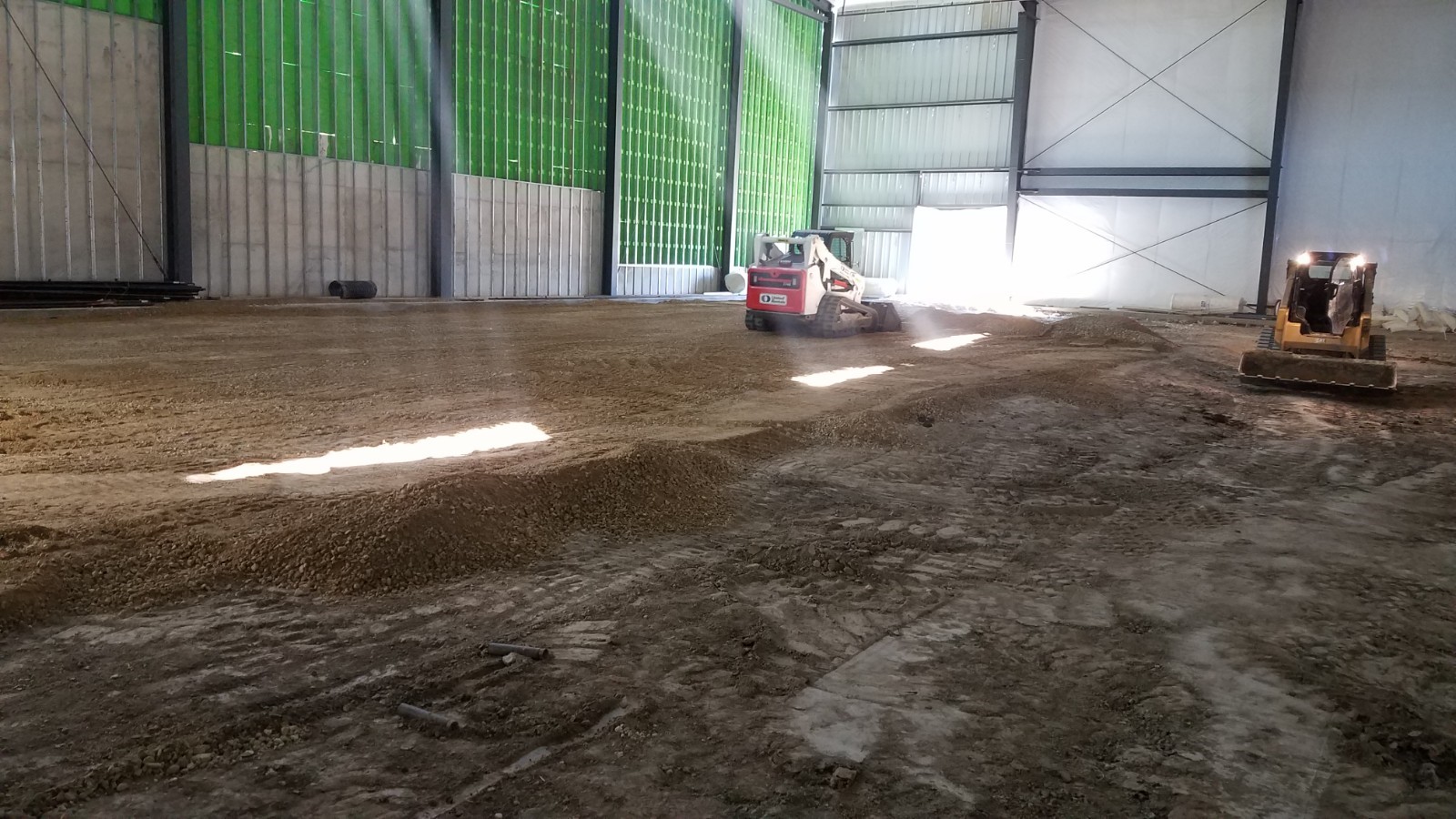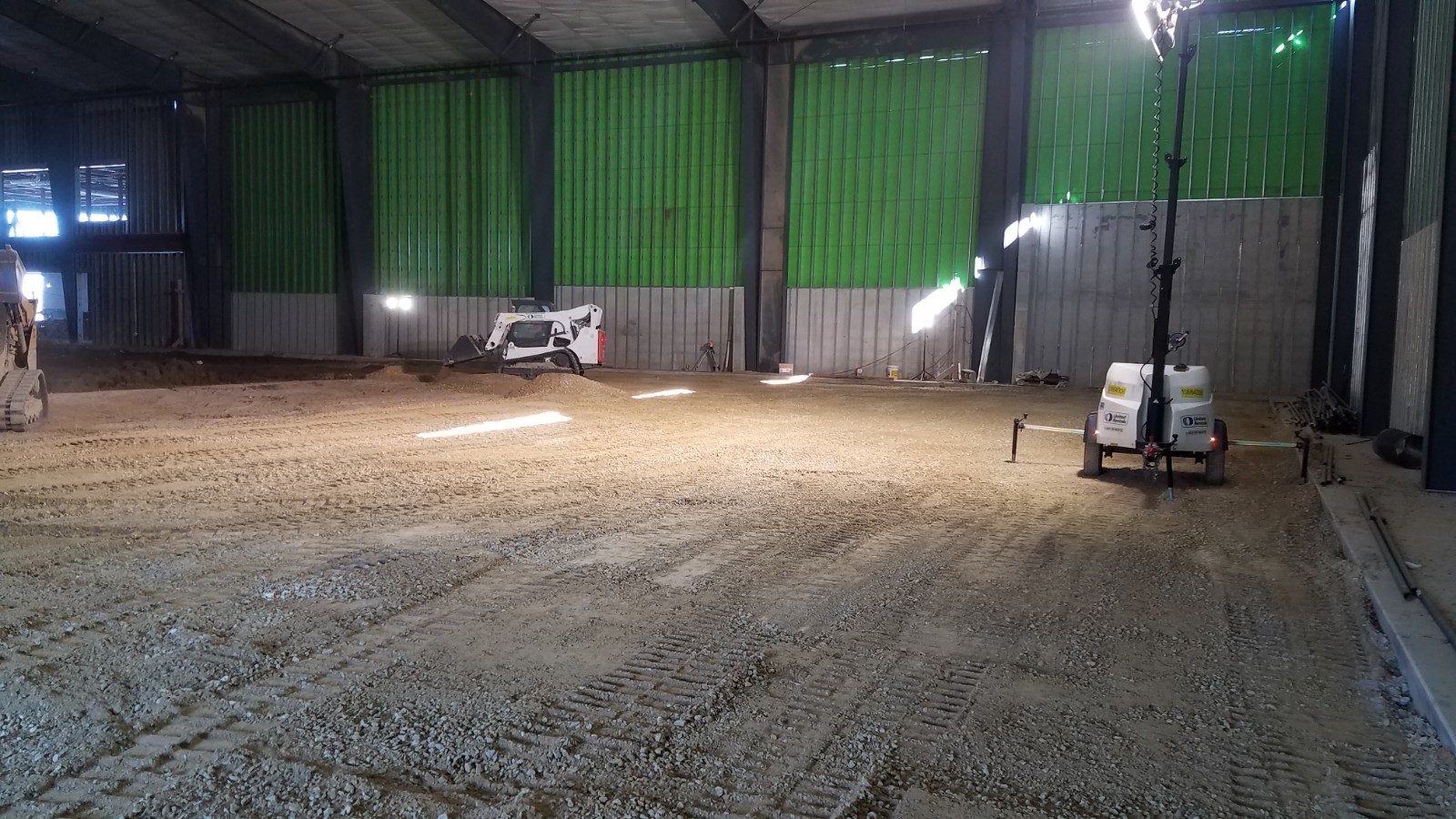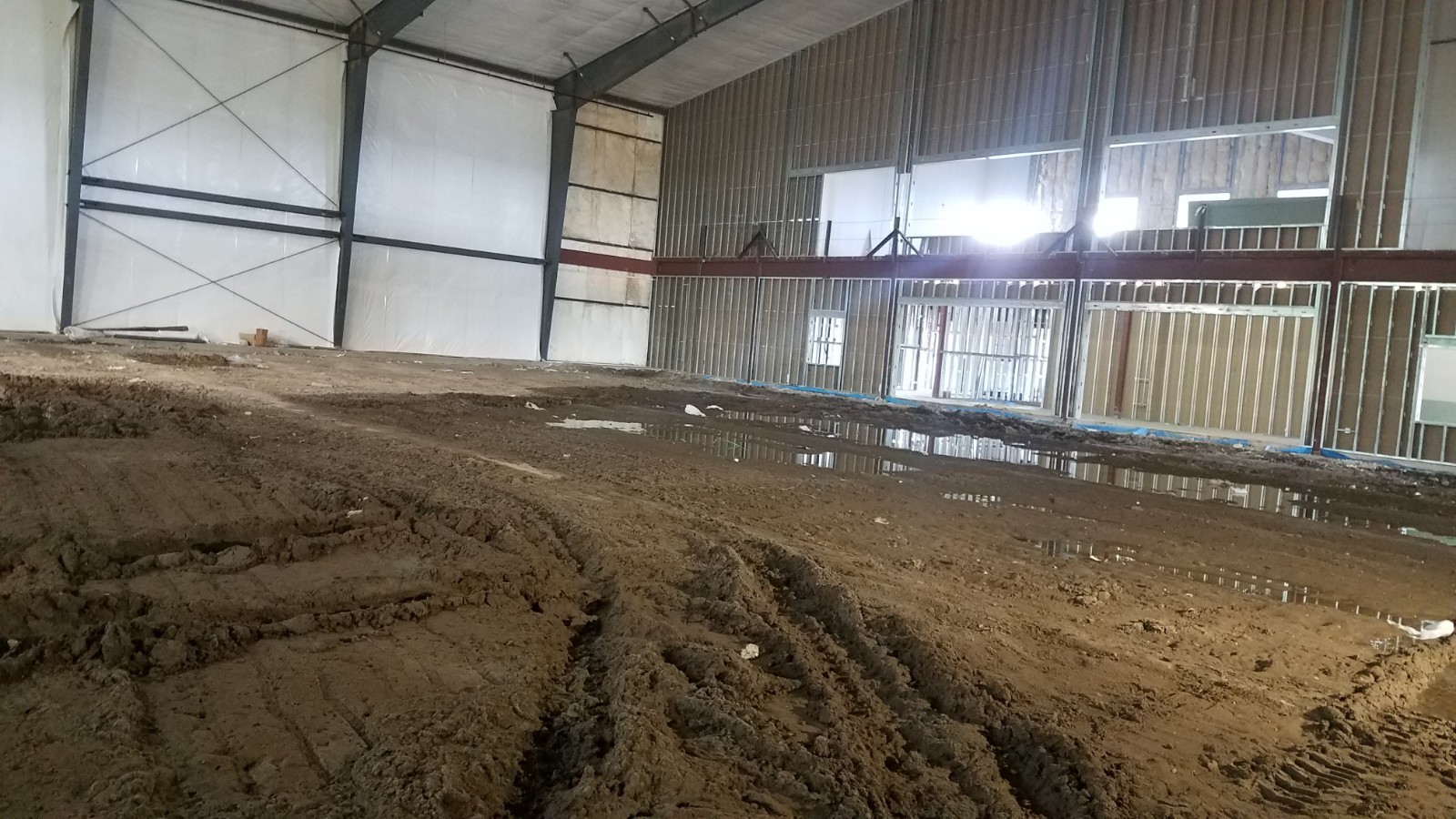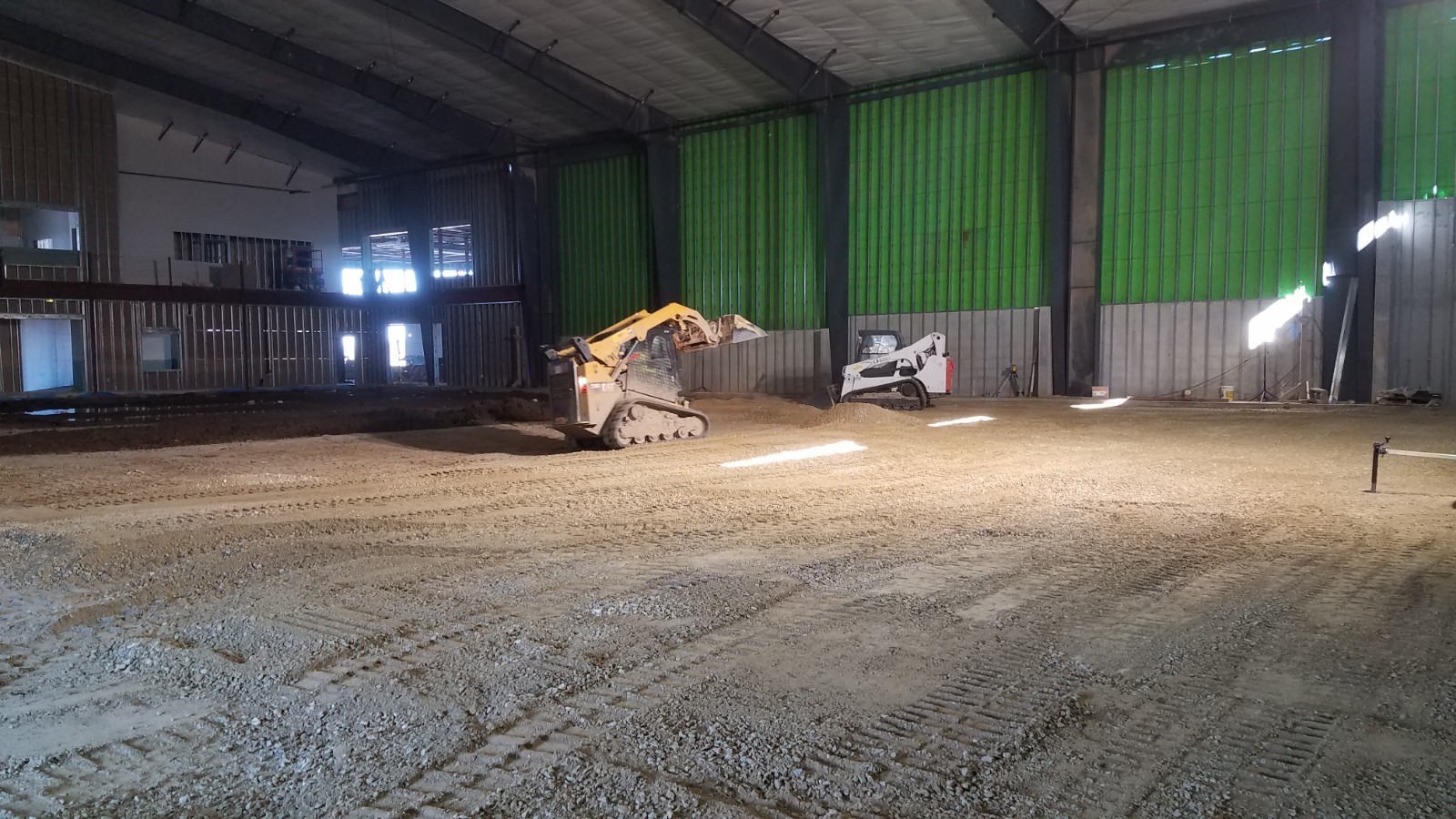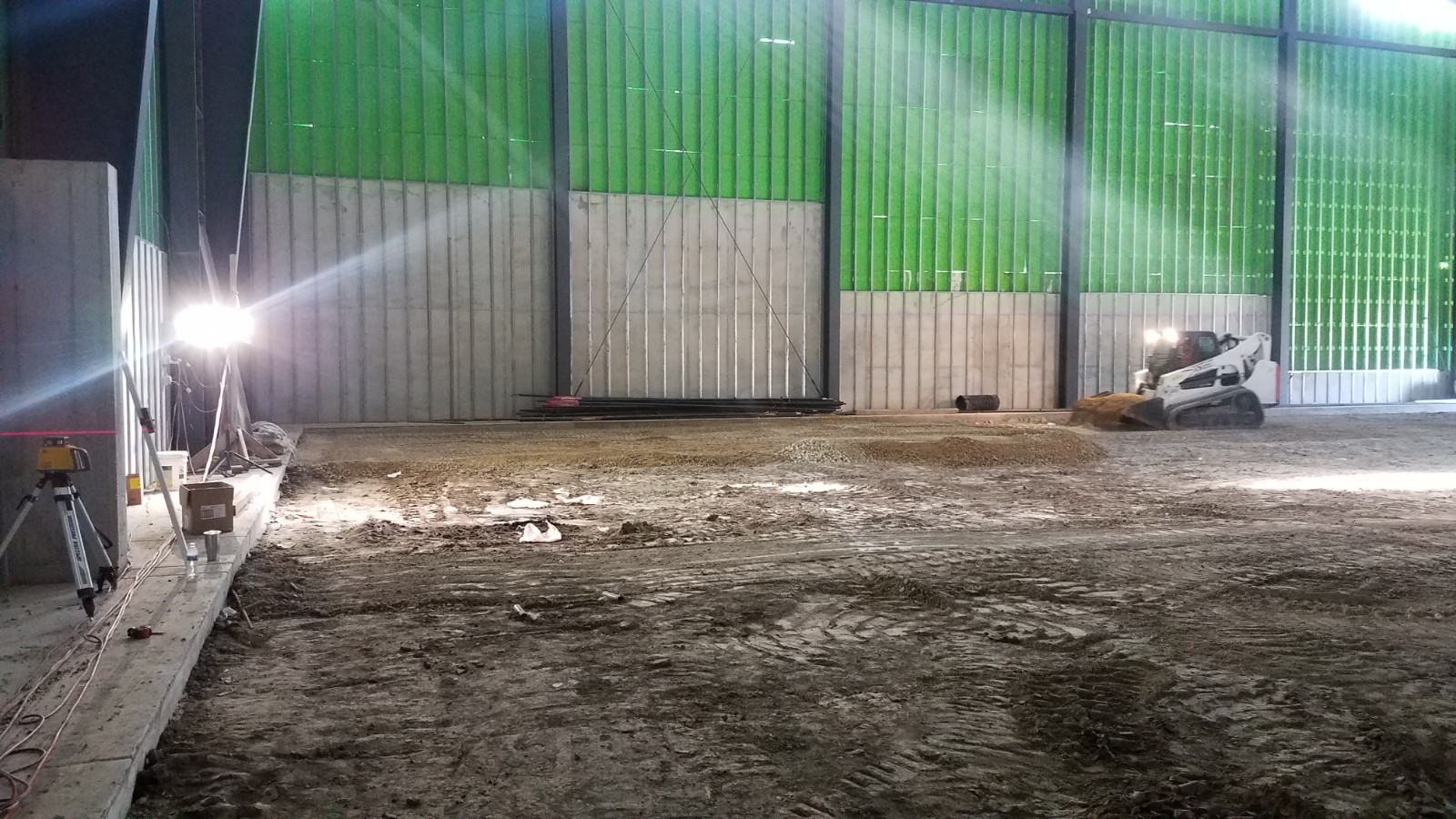 Updated 2/7/2020
Showers are waterproofed, the upstairs has drywall, and the front entry window frames are set. The building is taking shape and soon all that will be left will be interior work. Can't wait!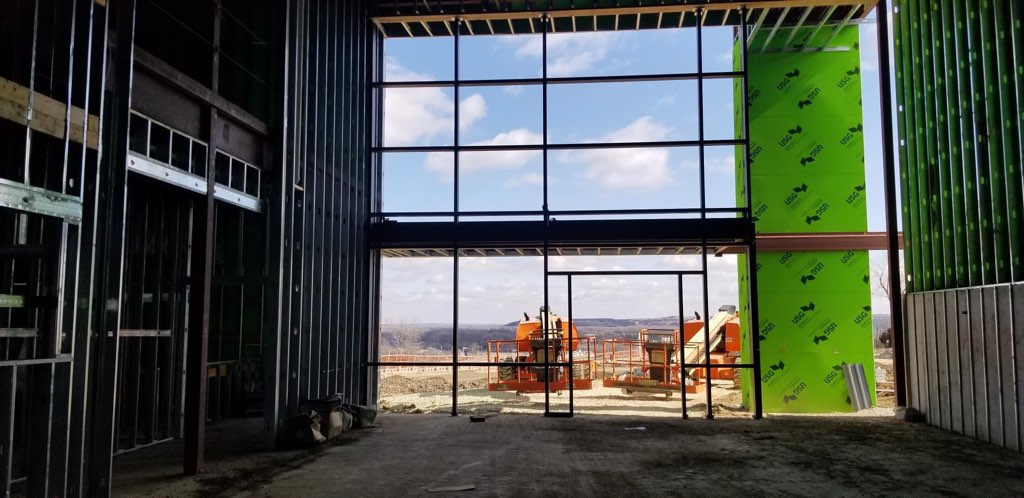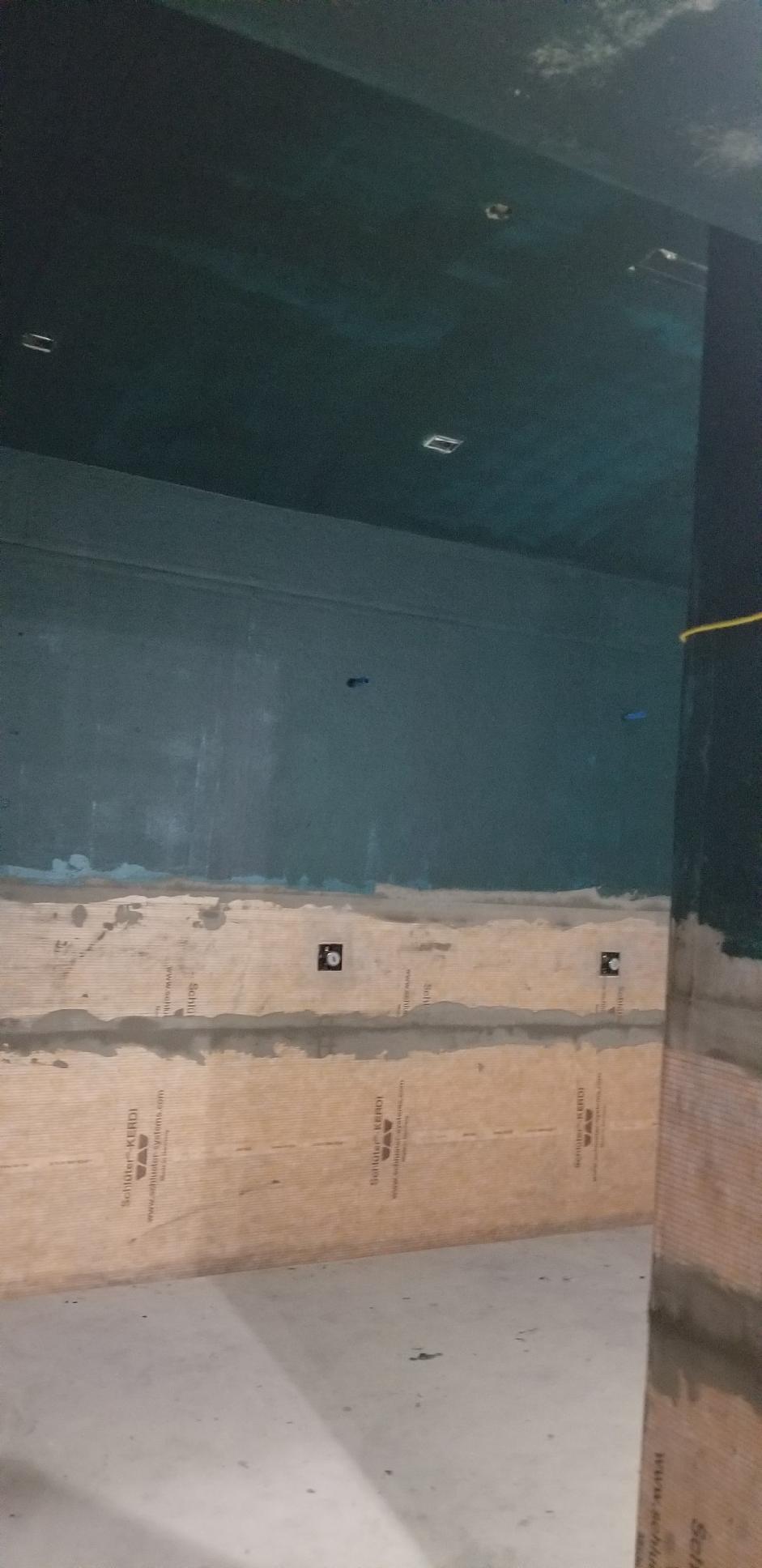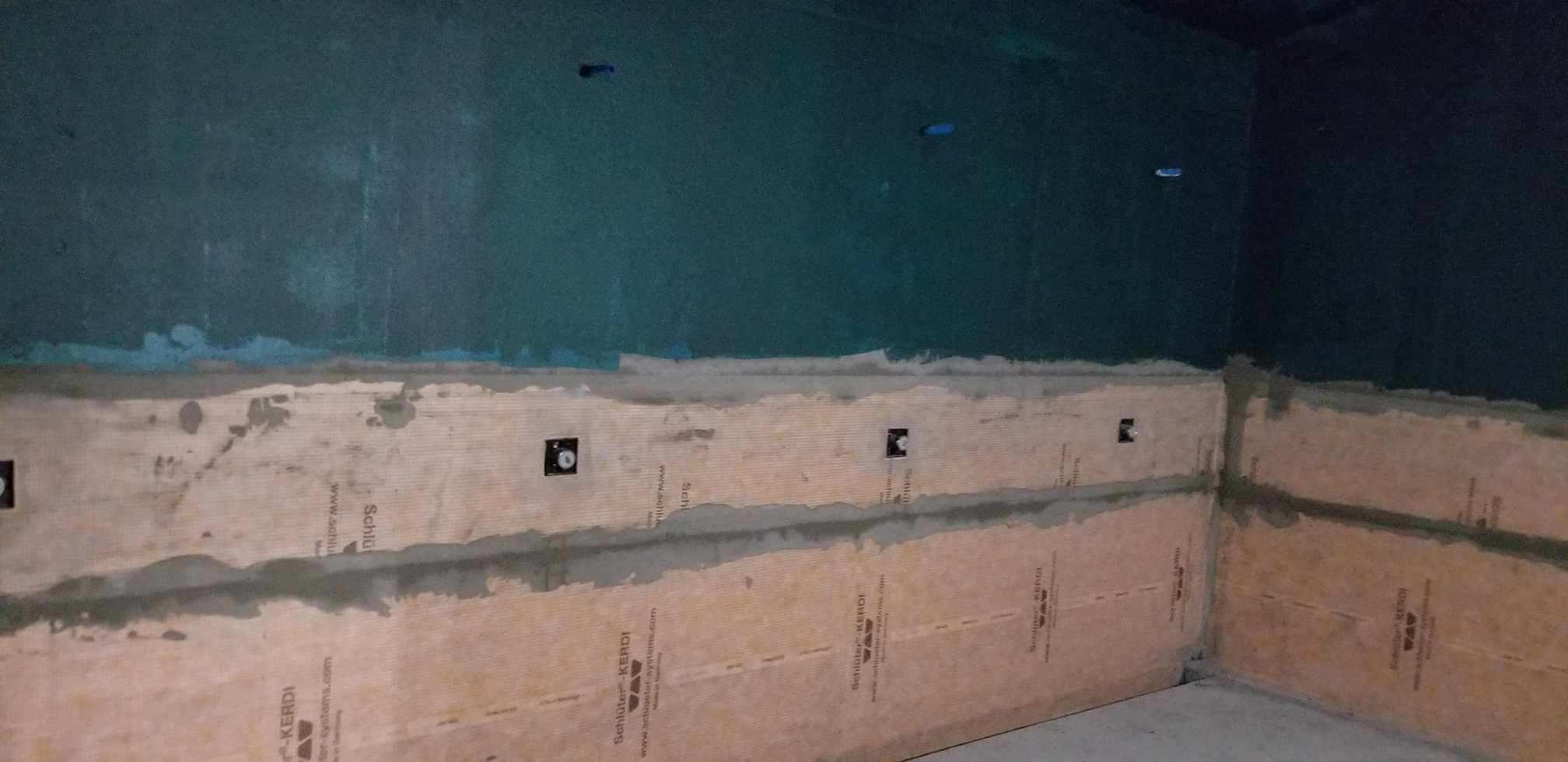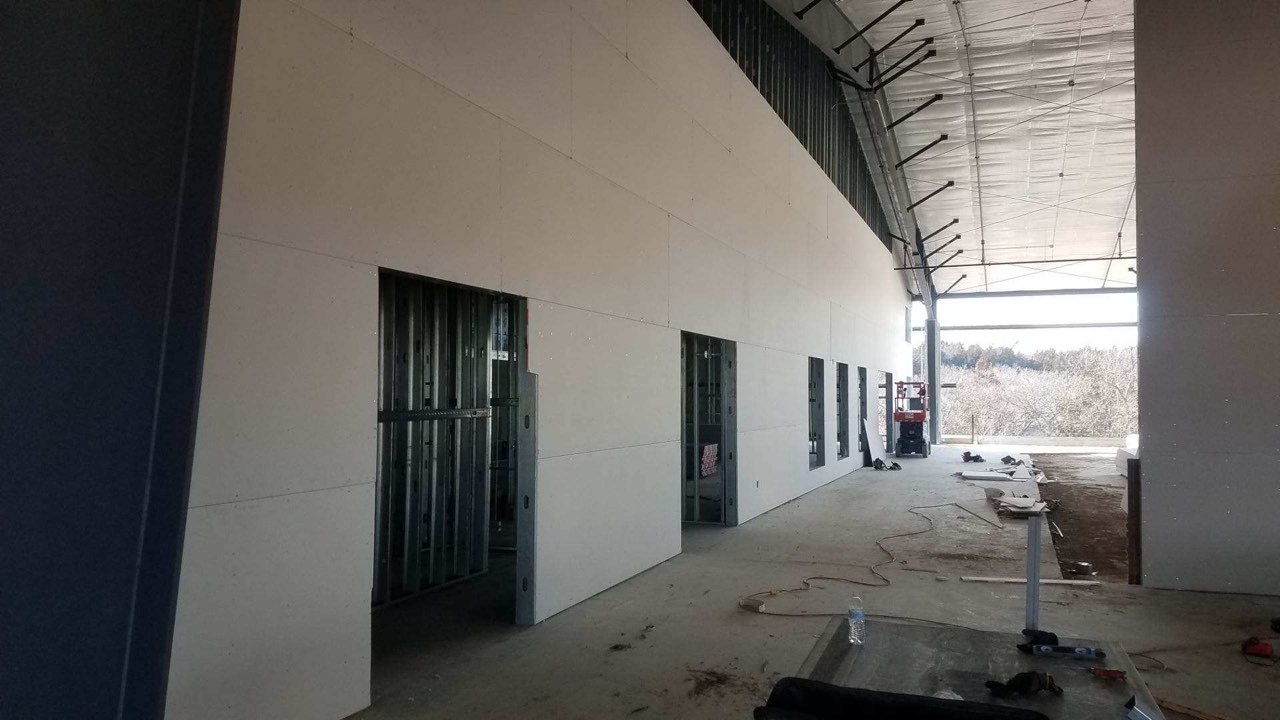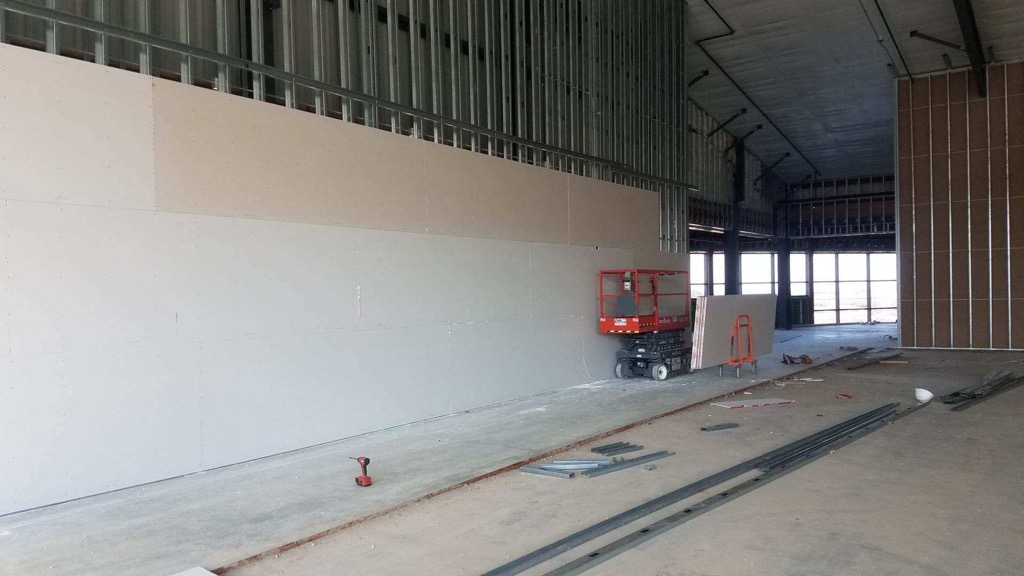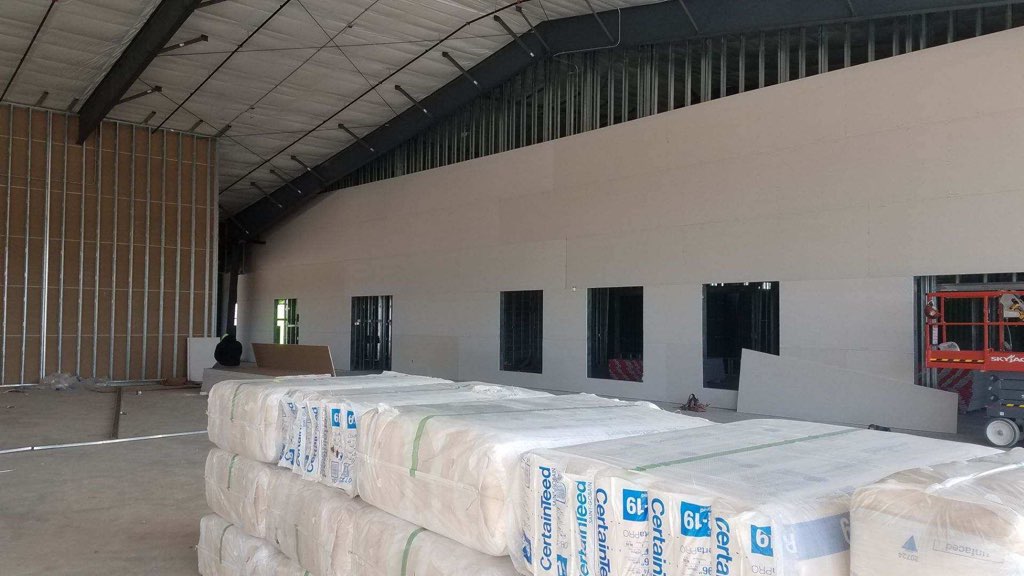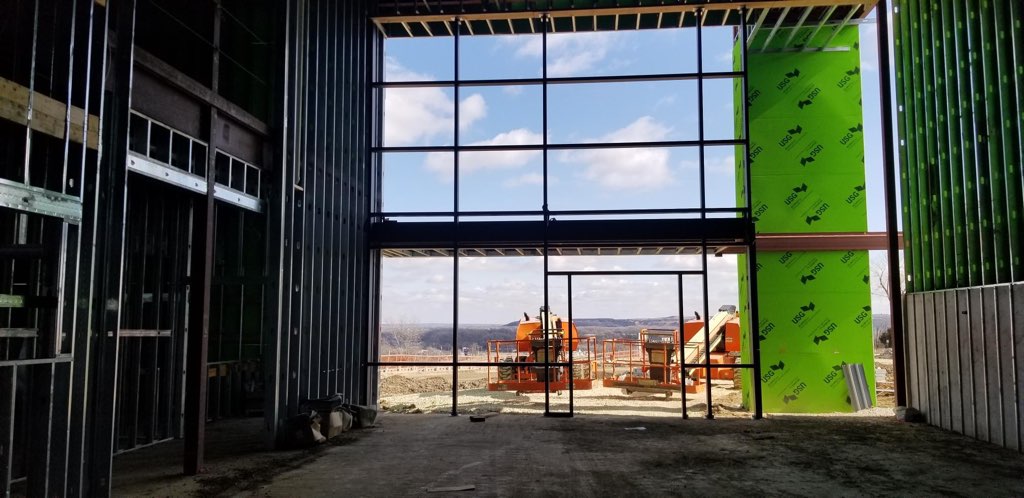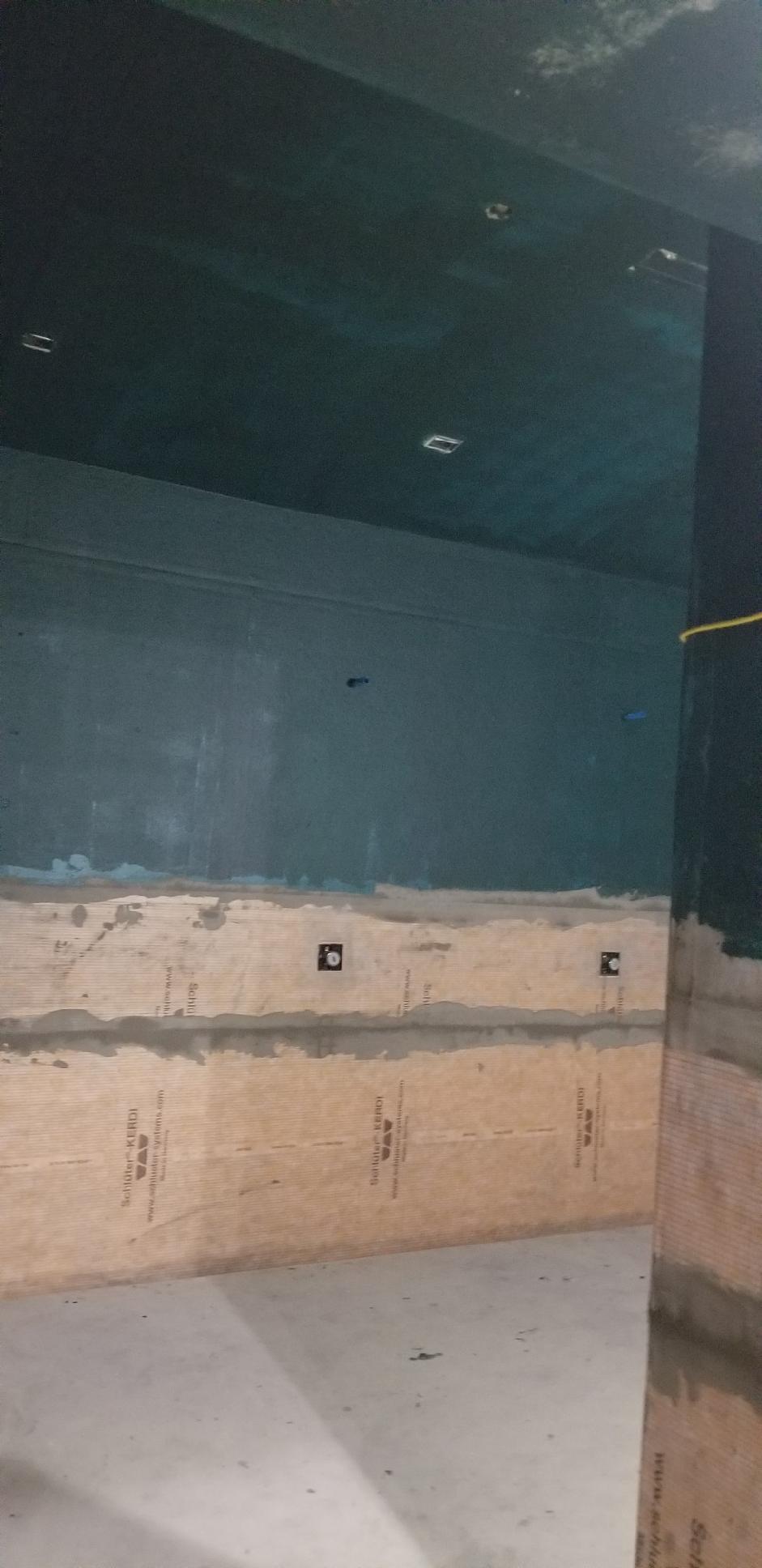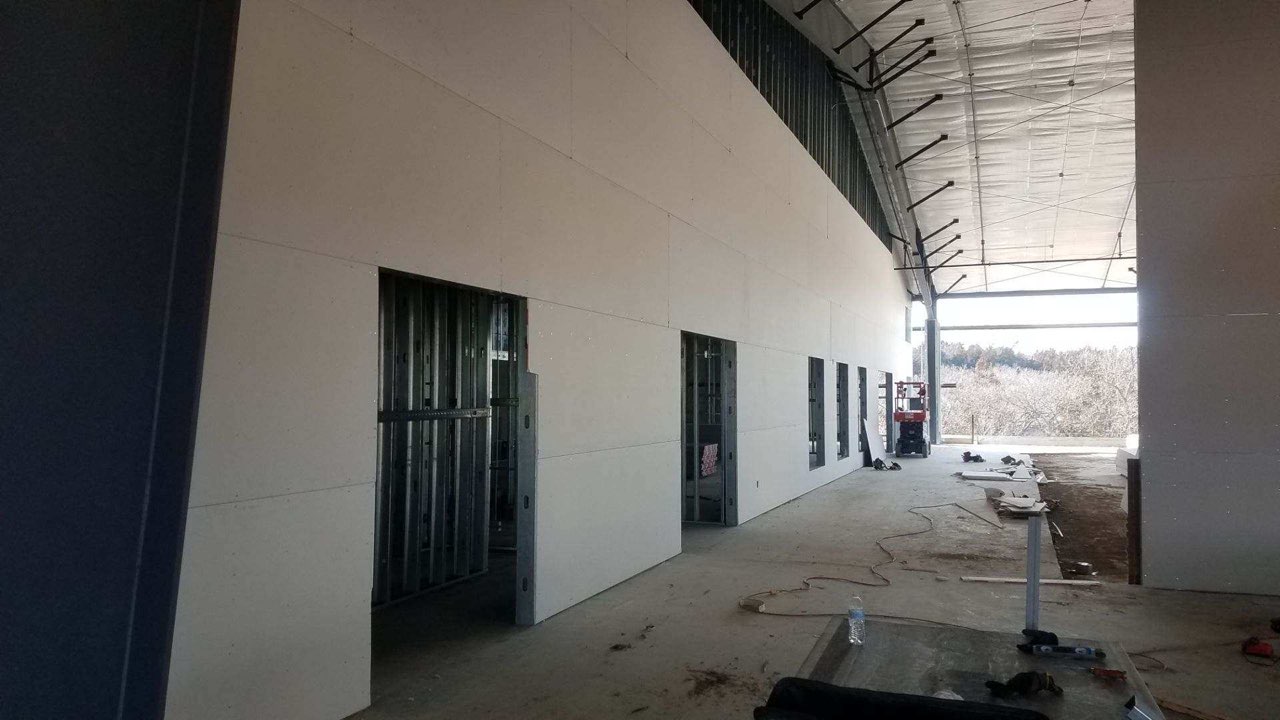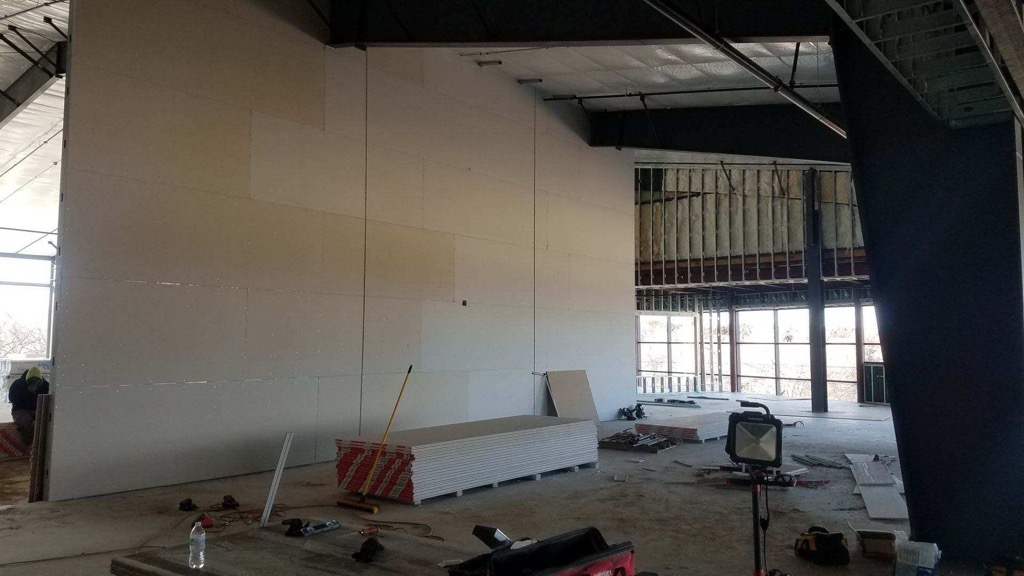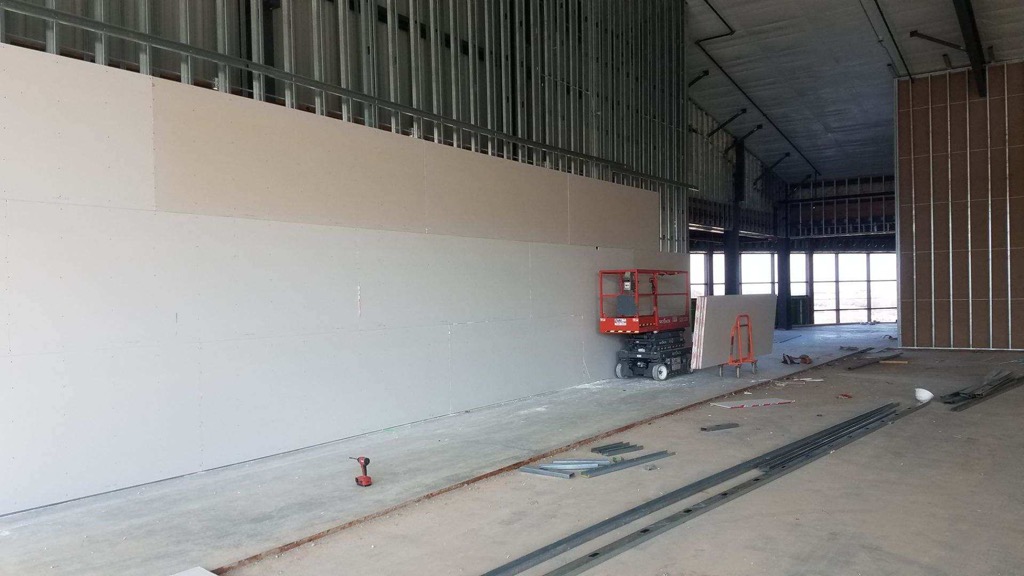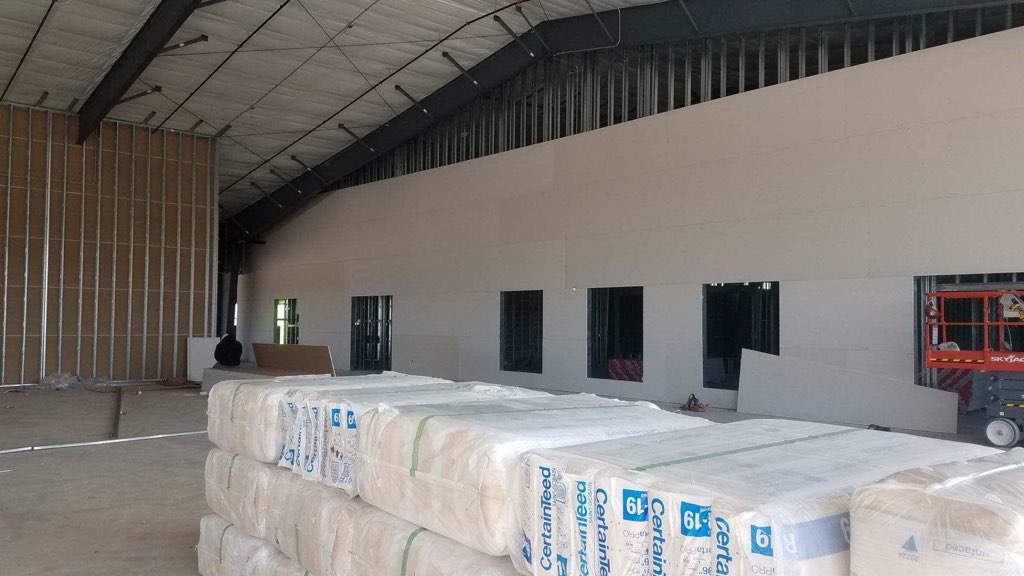 2/4/2020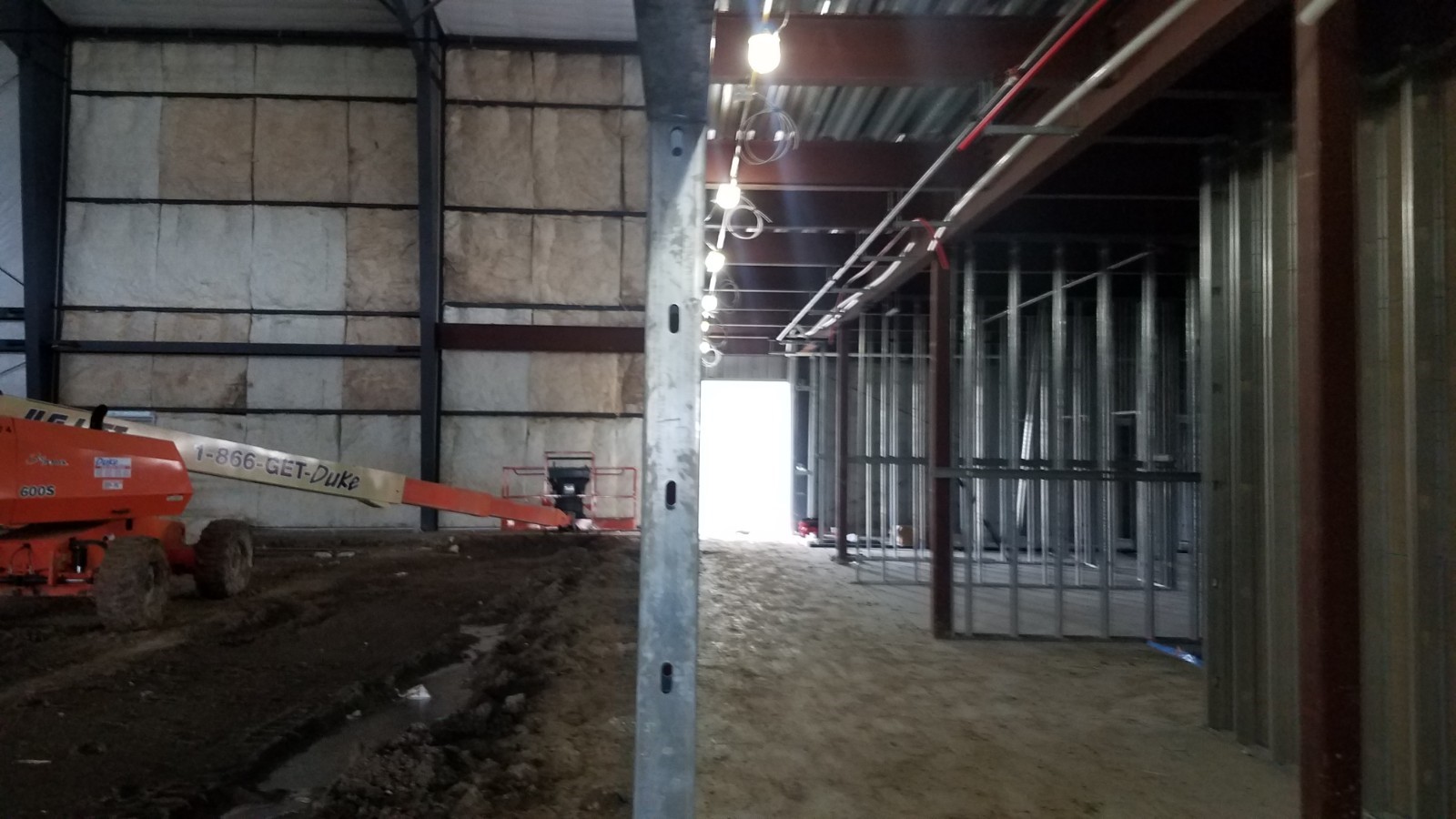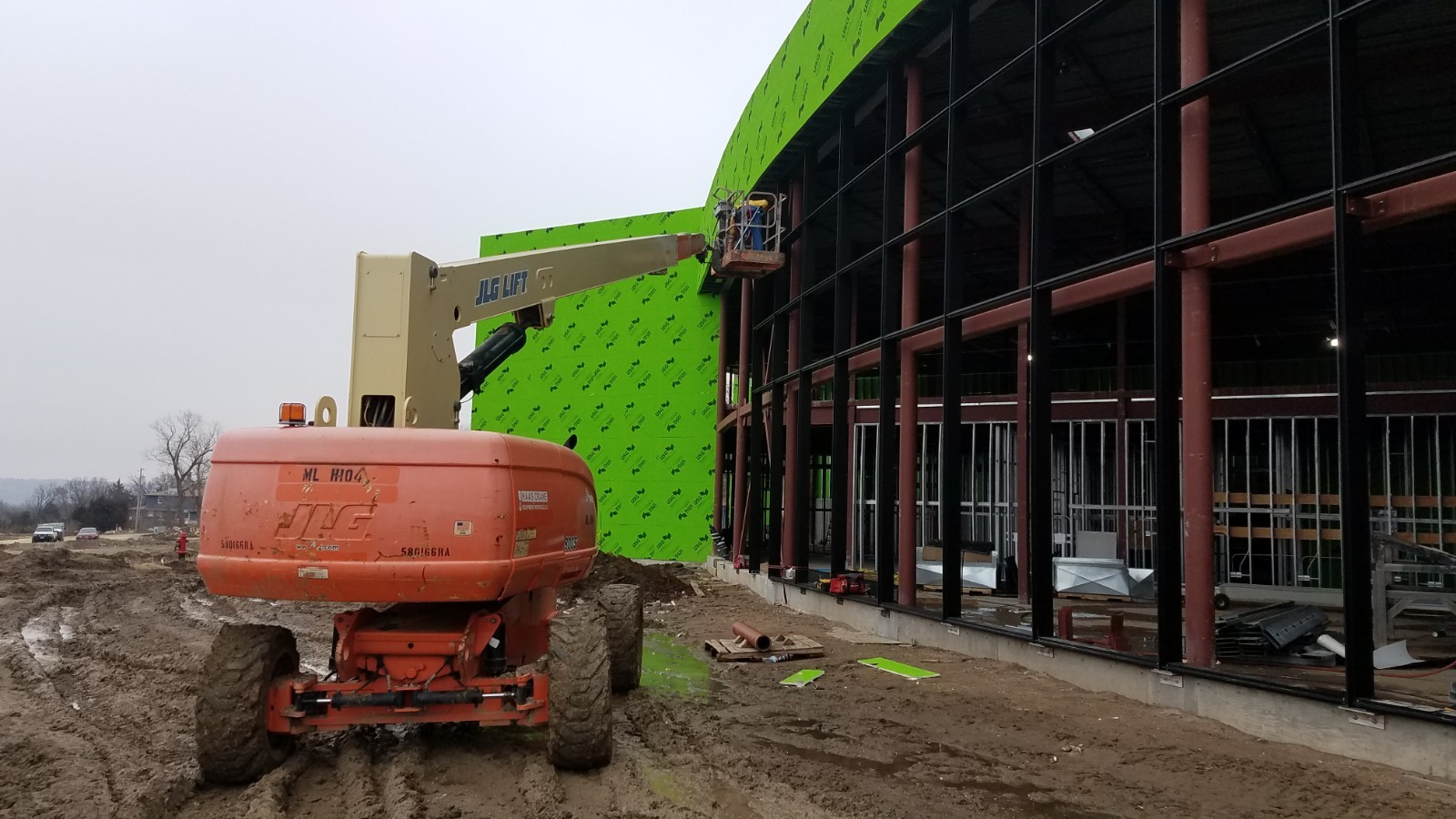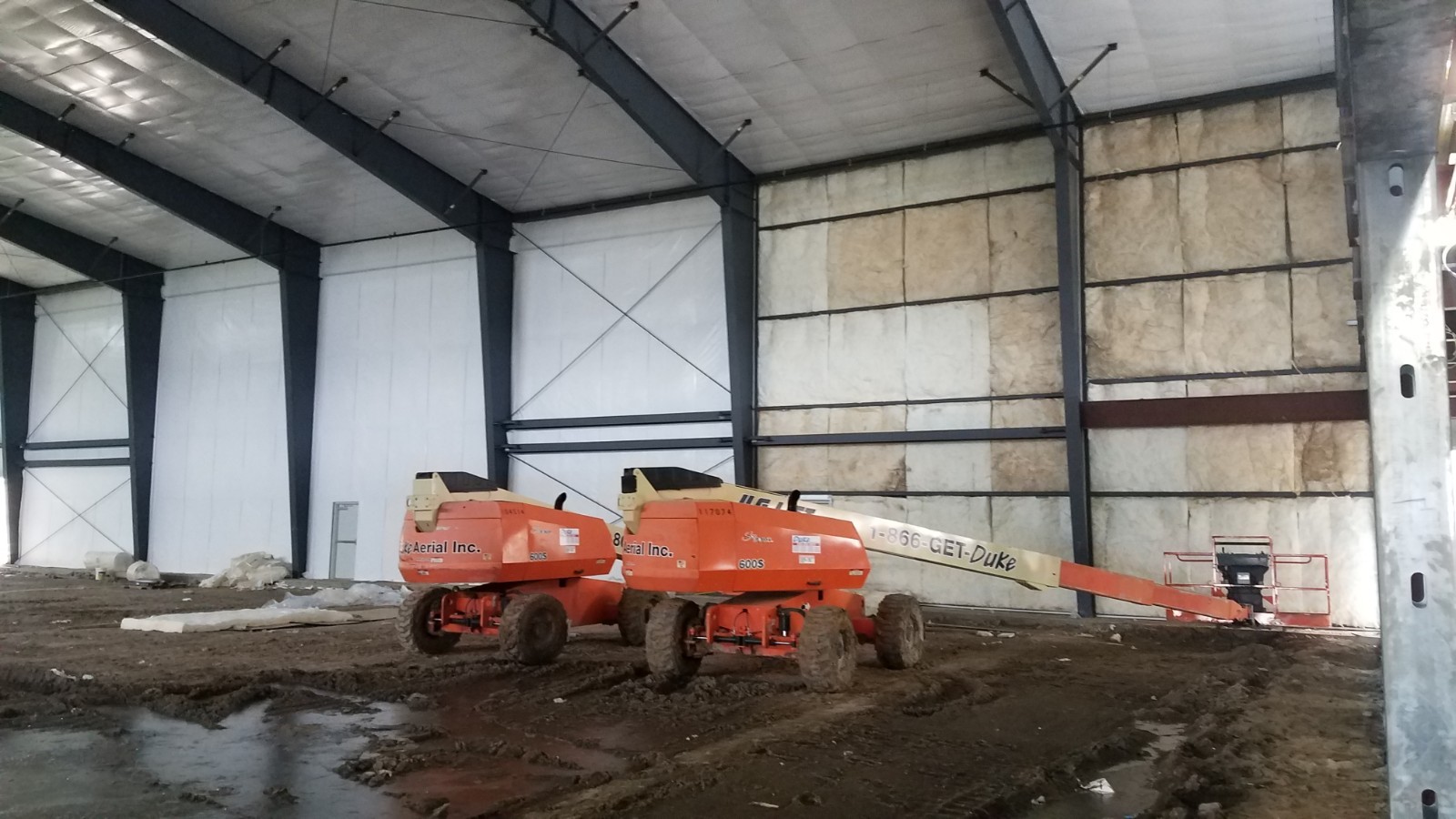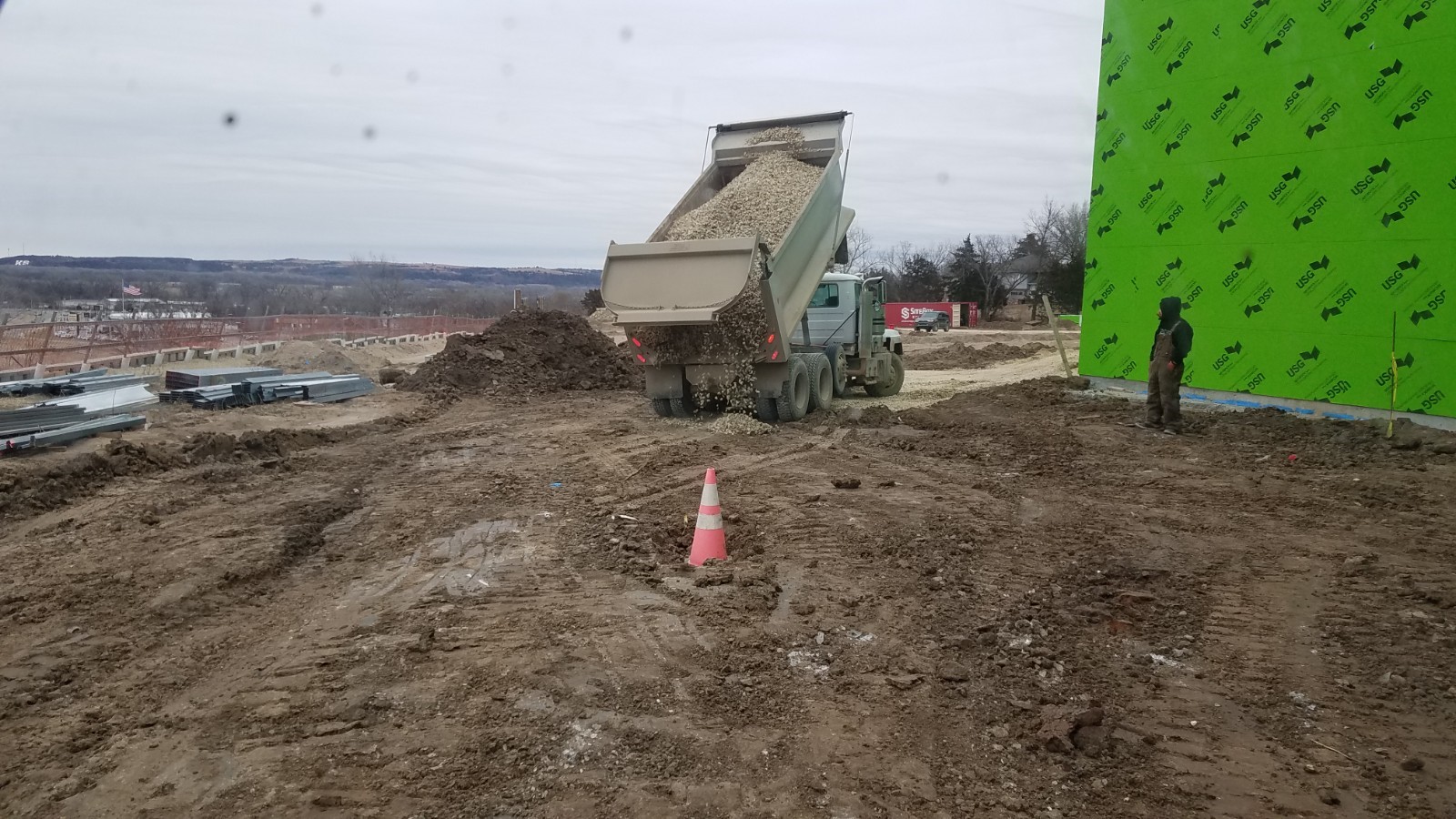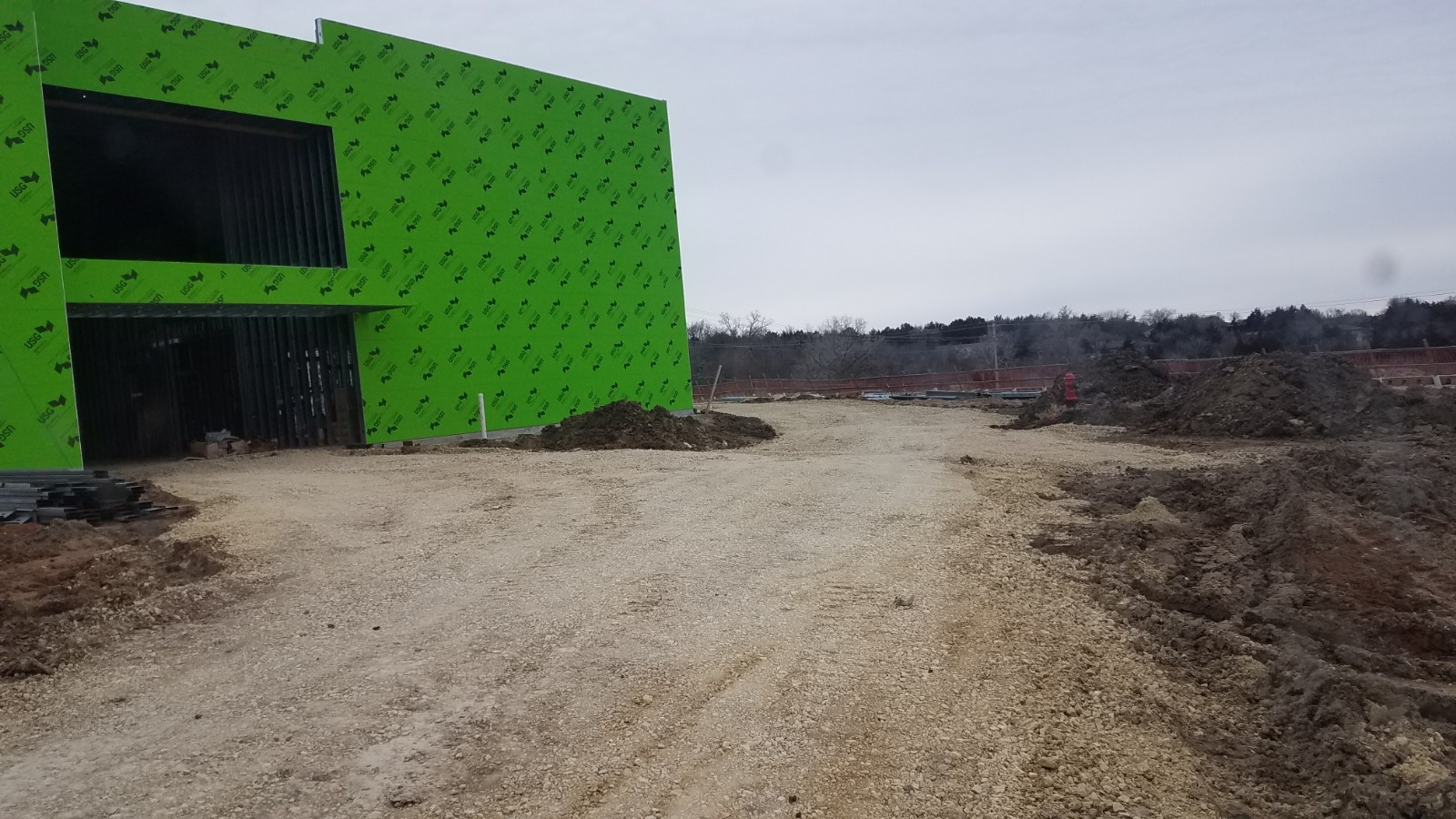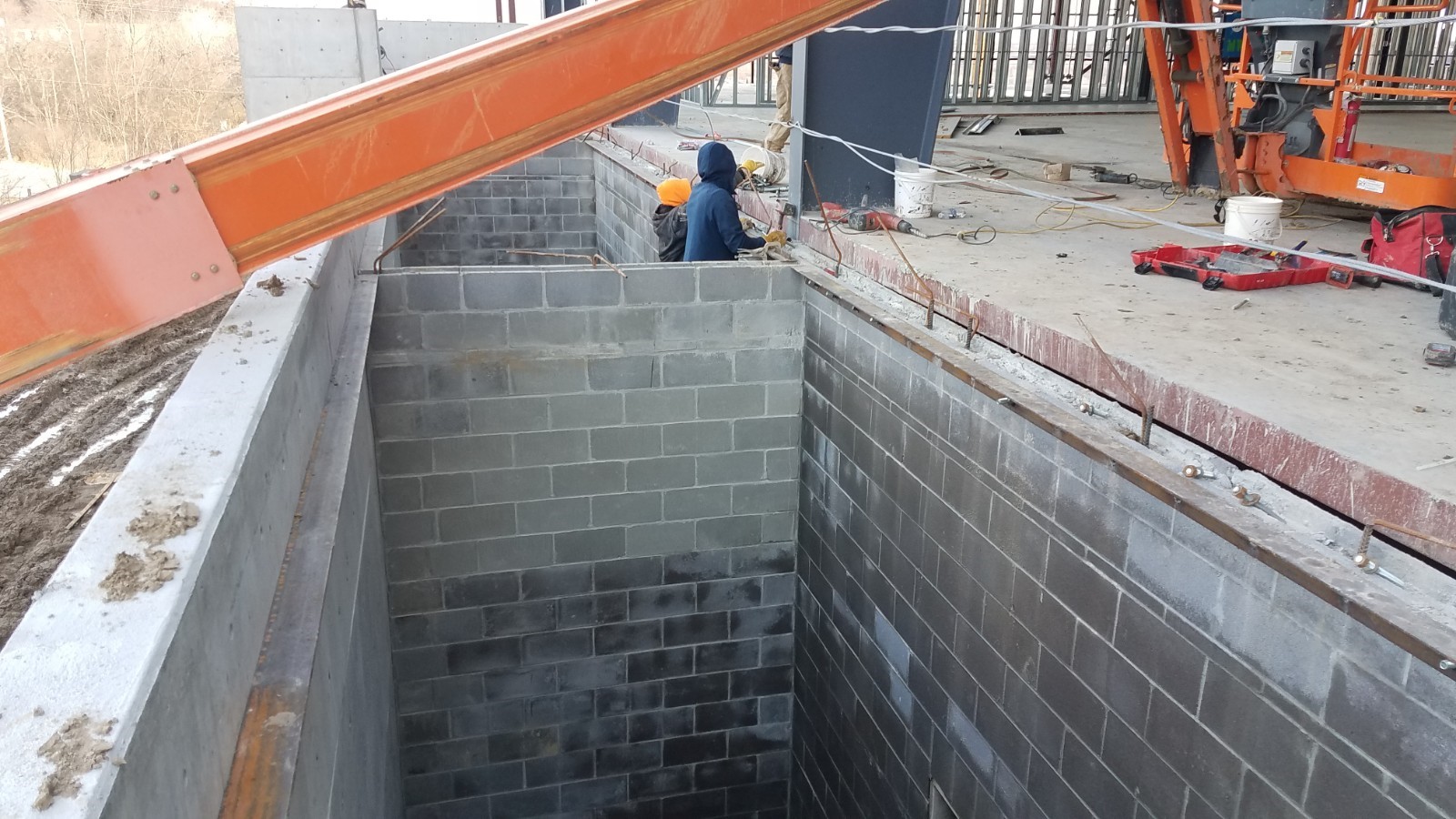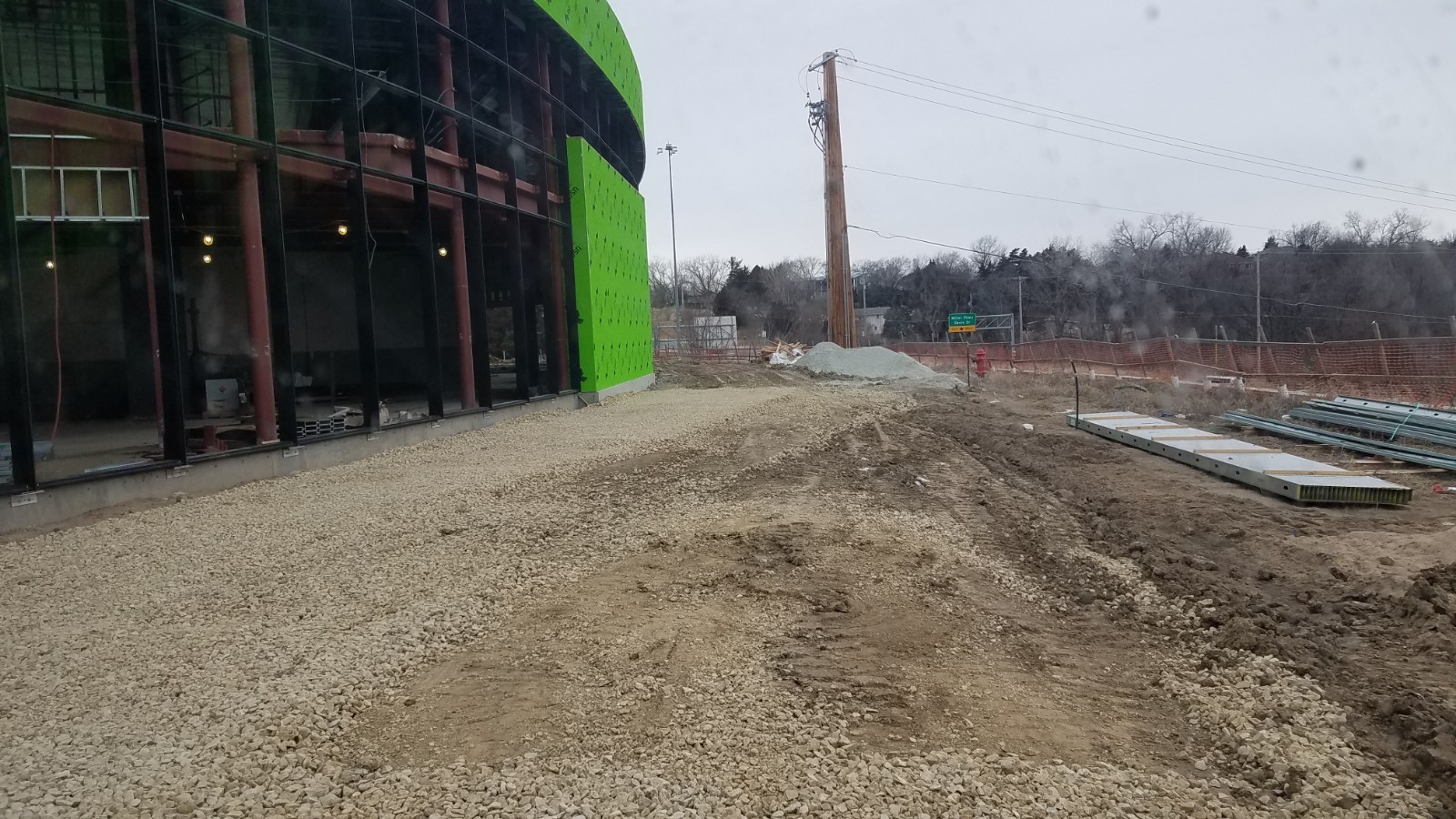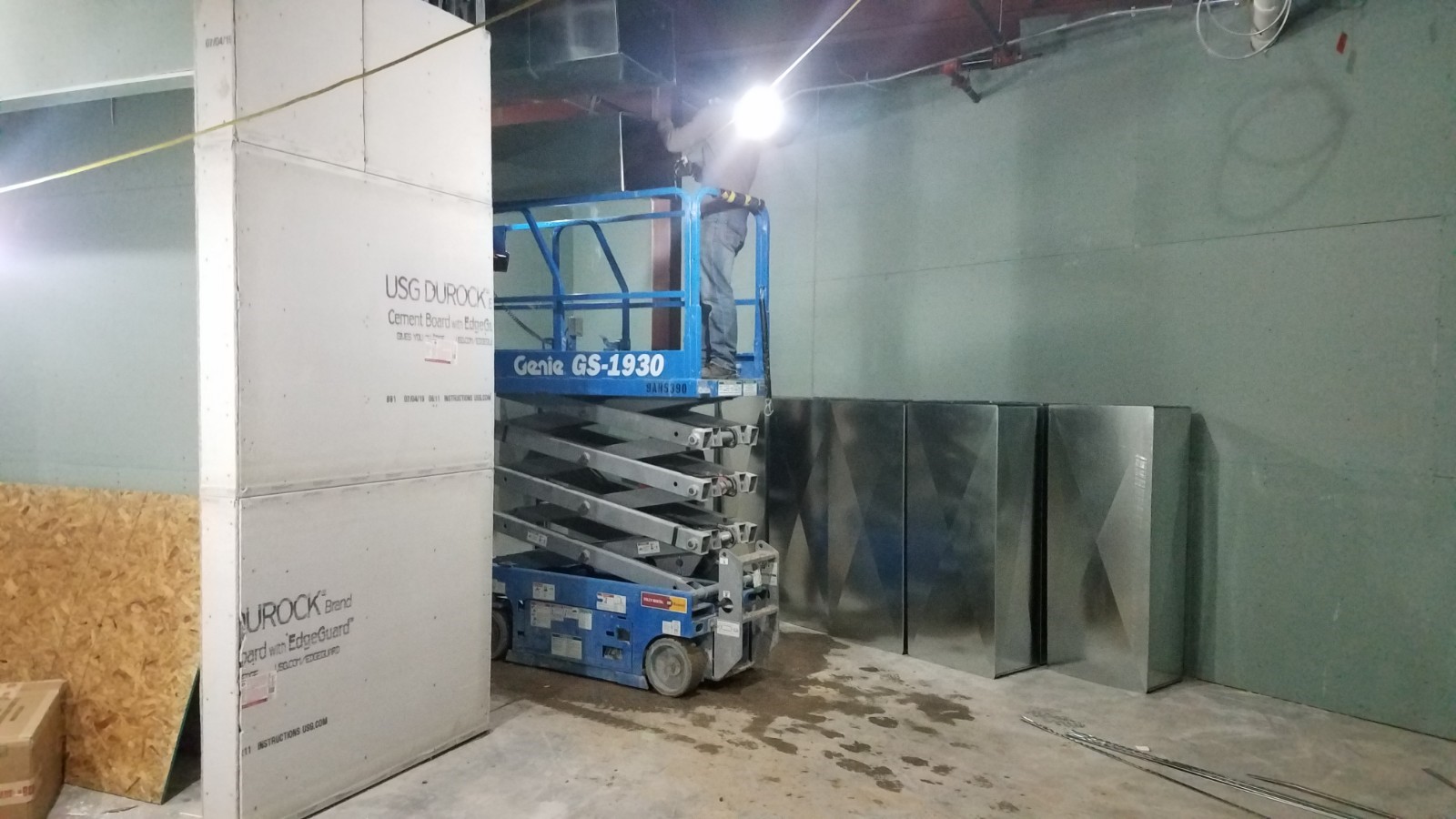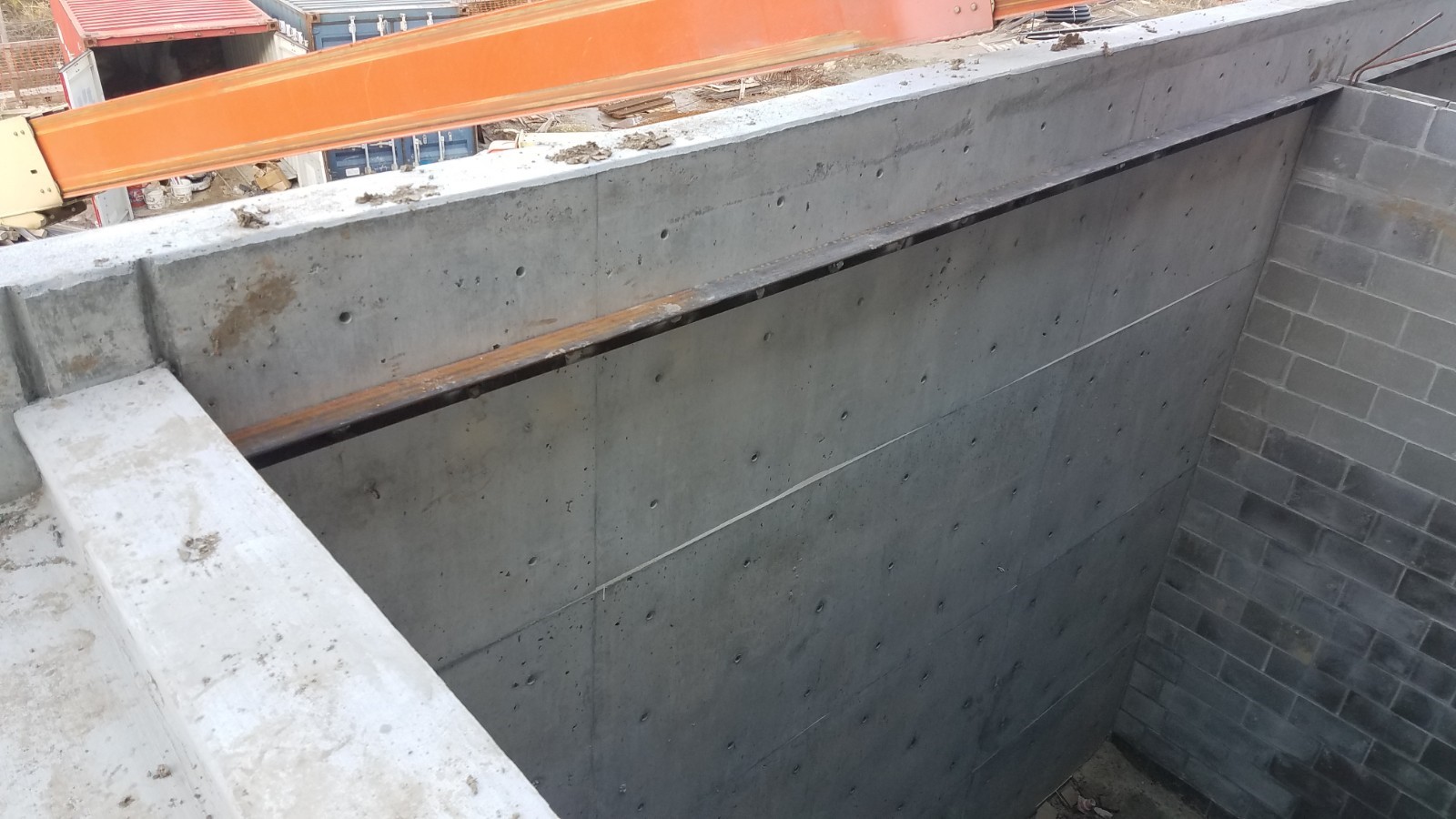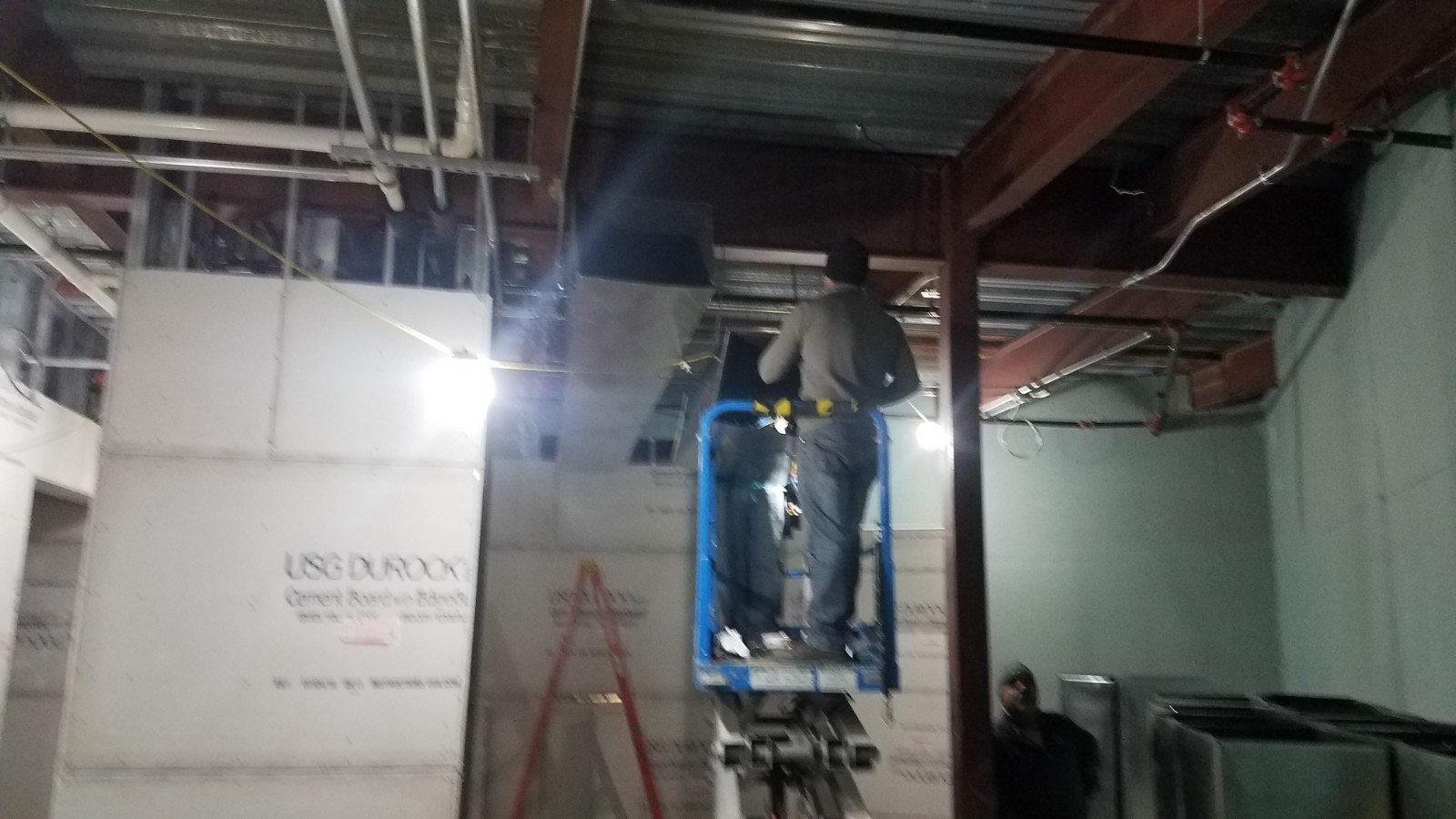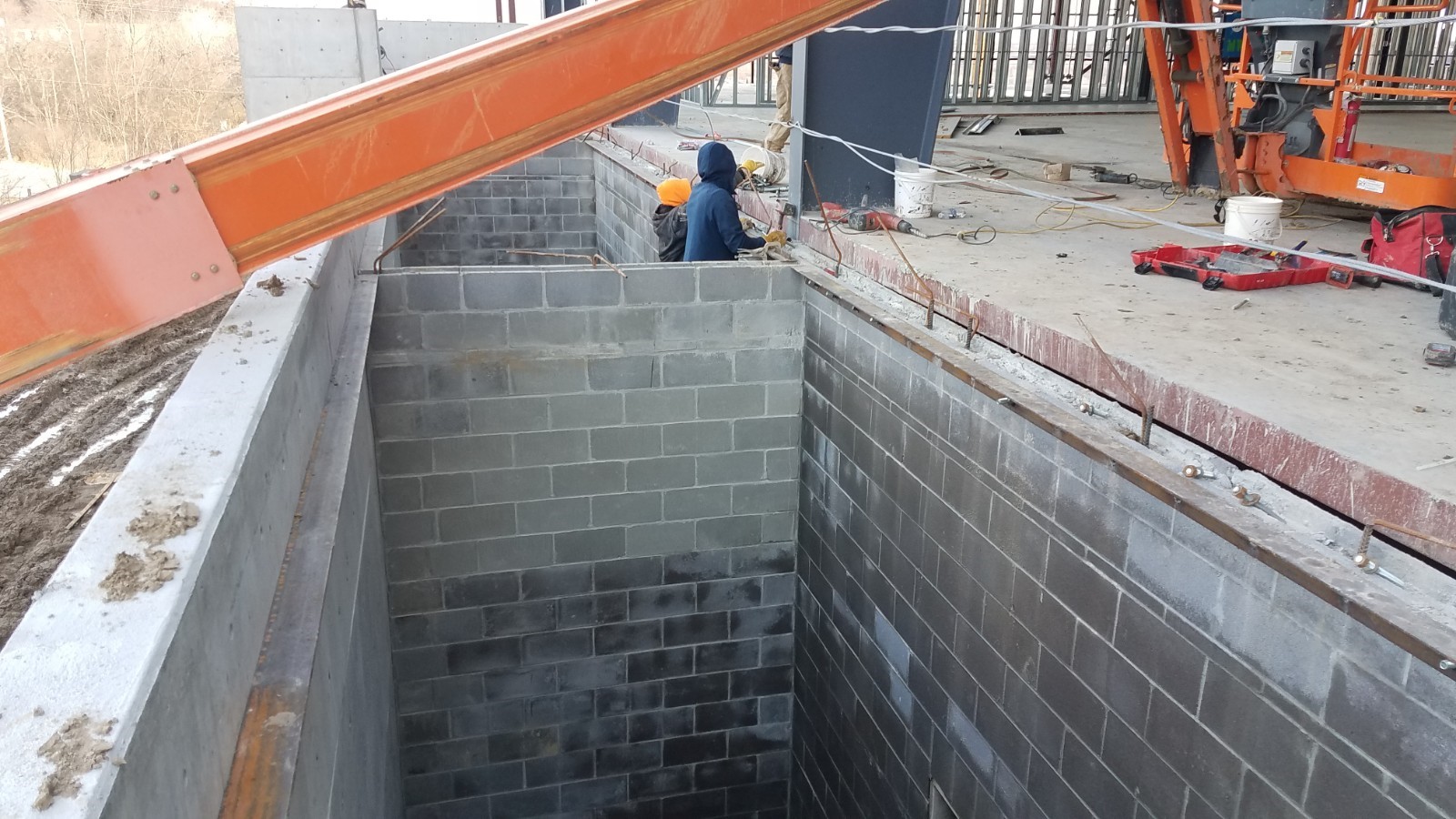 Update 1-29-2020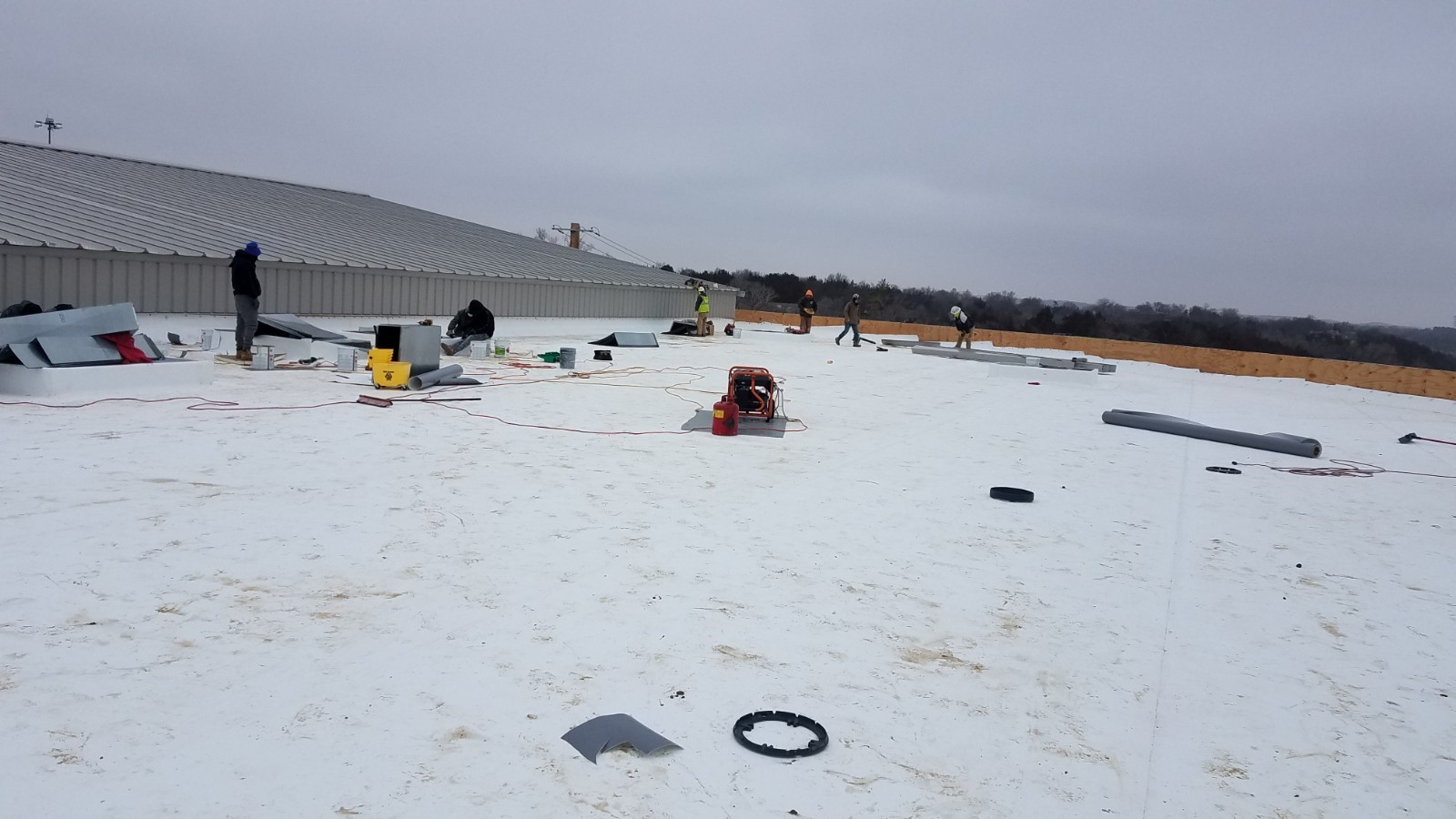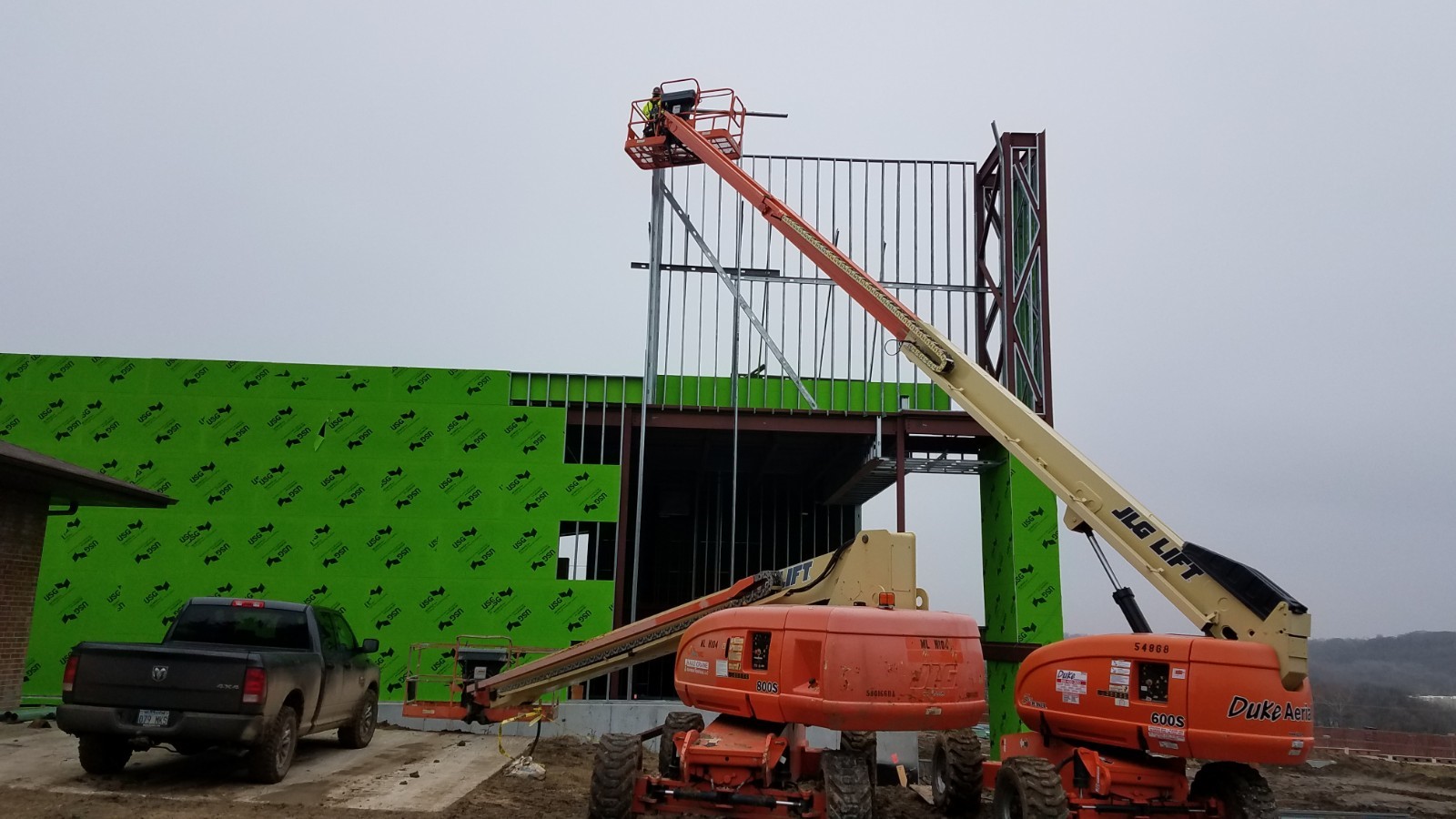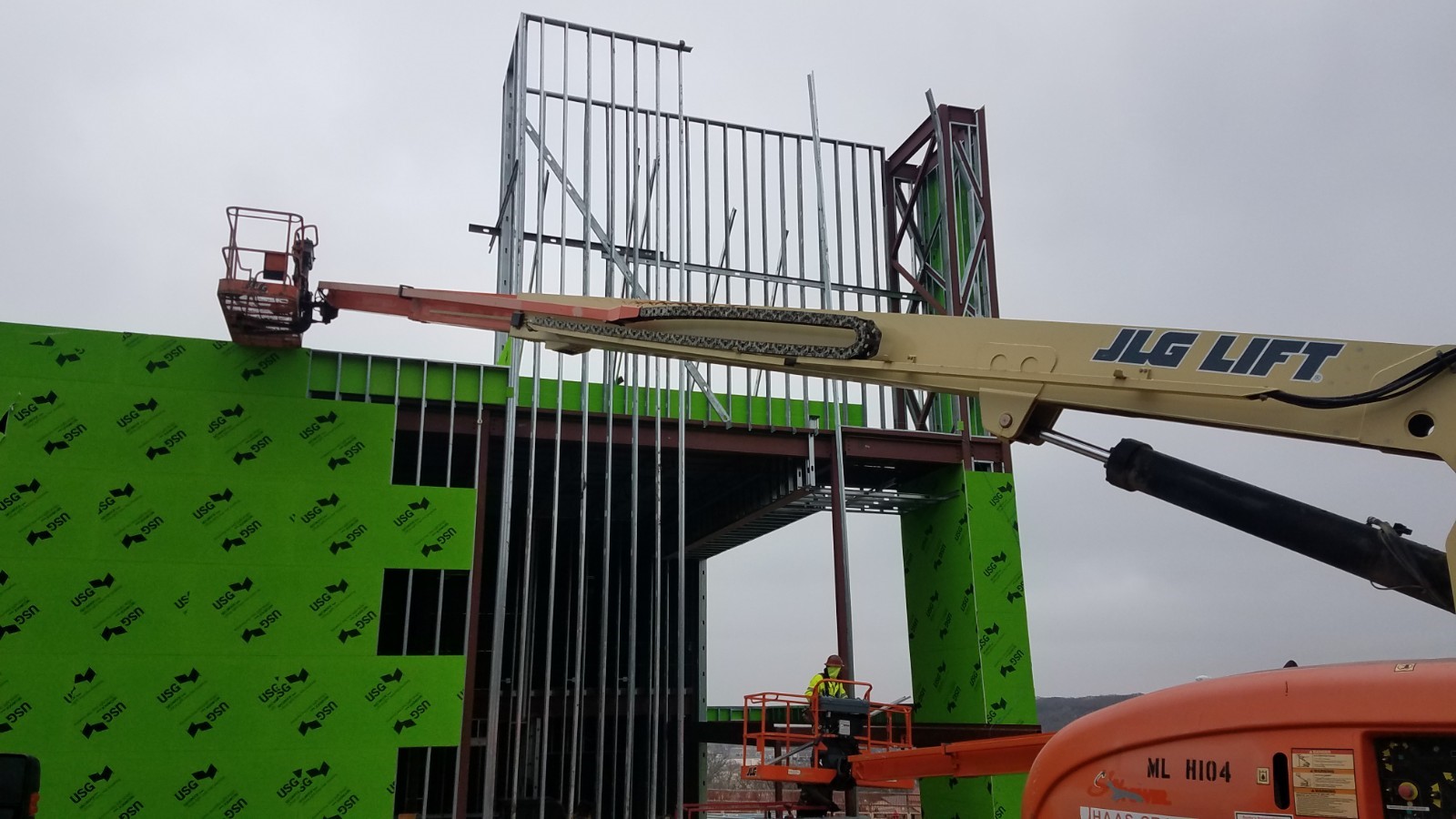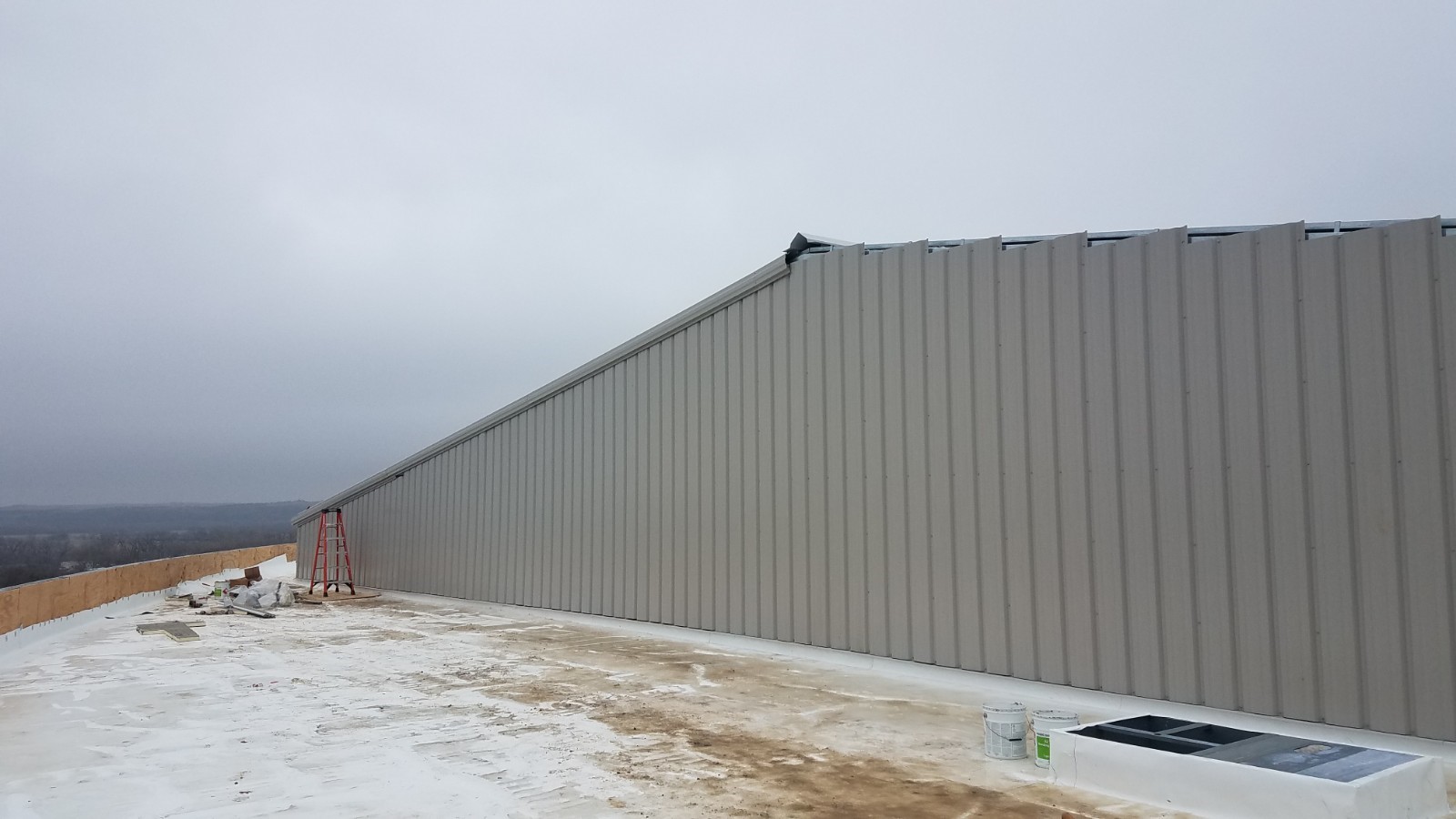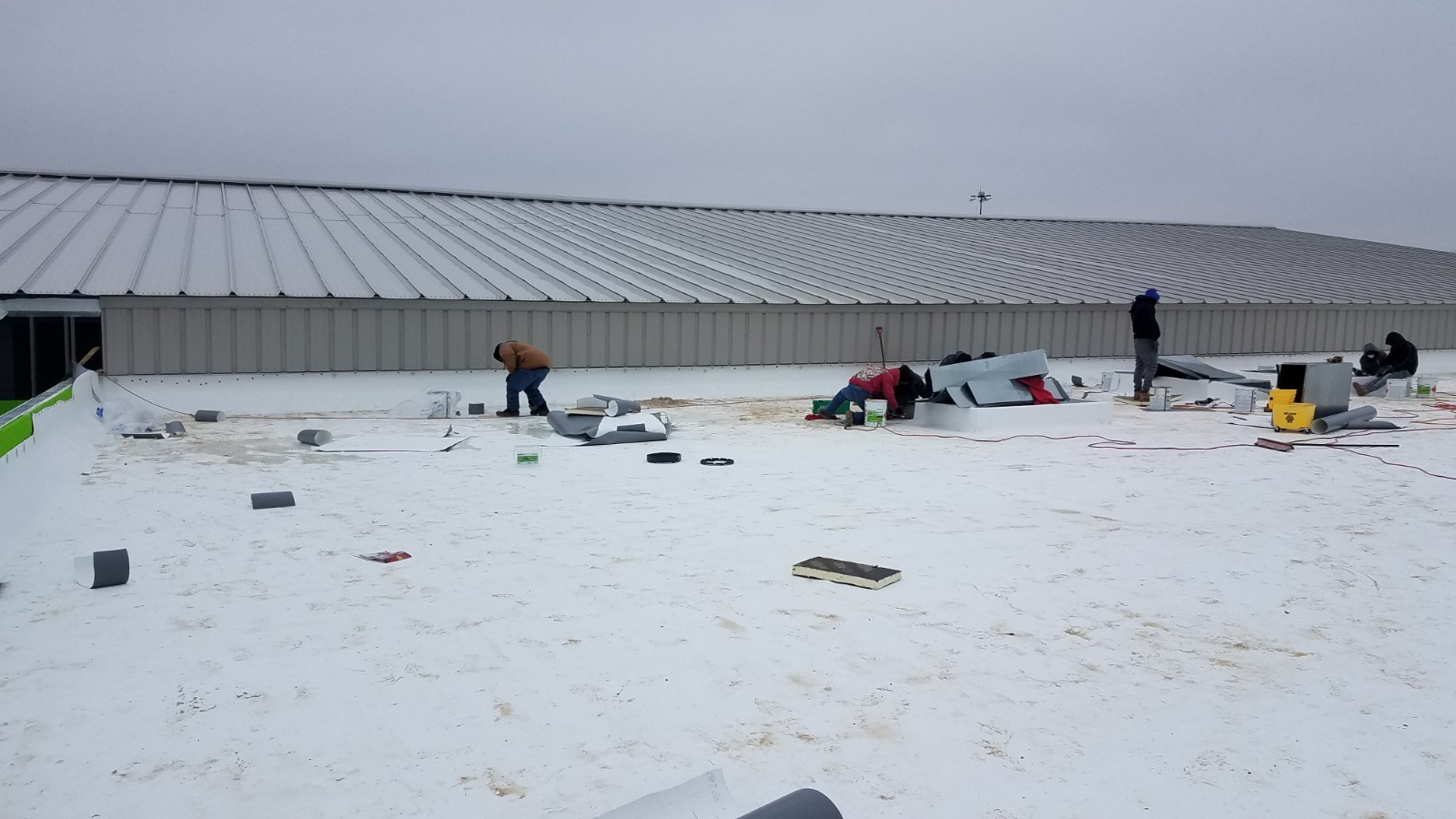 Update 12-27-19
Glass is being put in on the front of the building so that you can overlook the beautiful city of Manhattan while you get your fitness on! Keep an eye out for more updates coming your way!



Update 11-15-19
Walls are going in, the pool has been dug, and stairs are in. It's starting to look like a real health club and we can't wait for you to see it. Stay tuned for some big updates in the near future!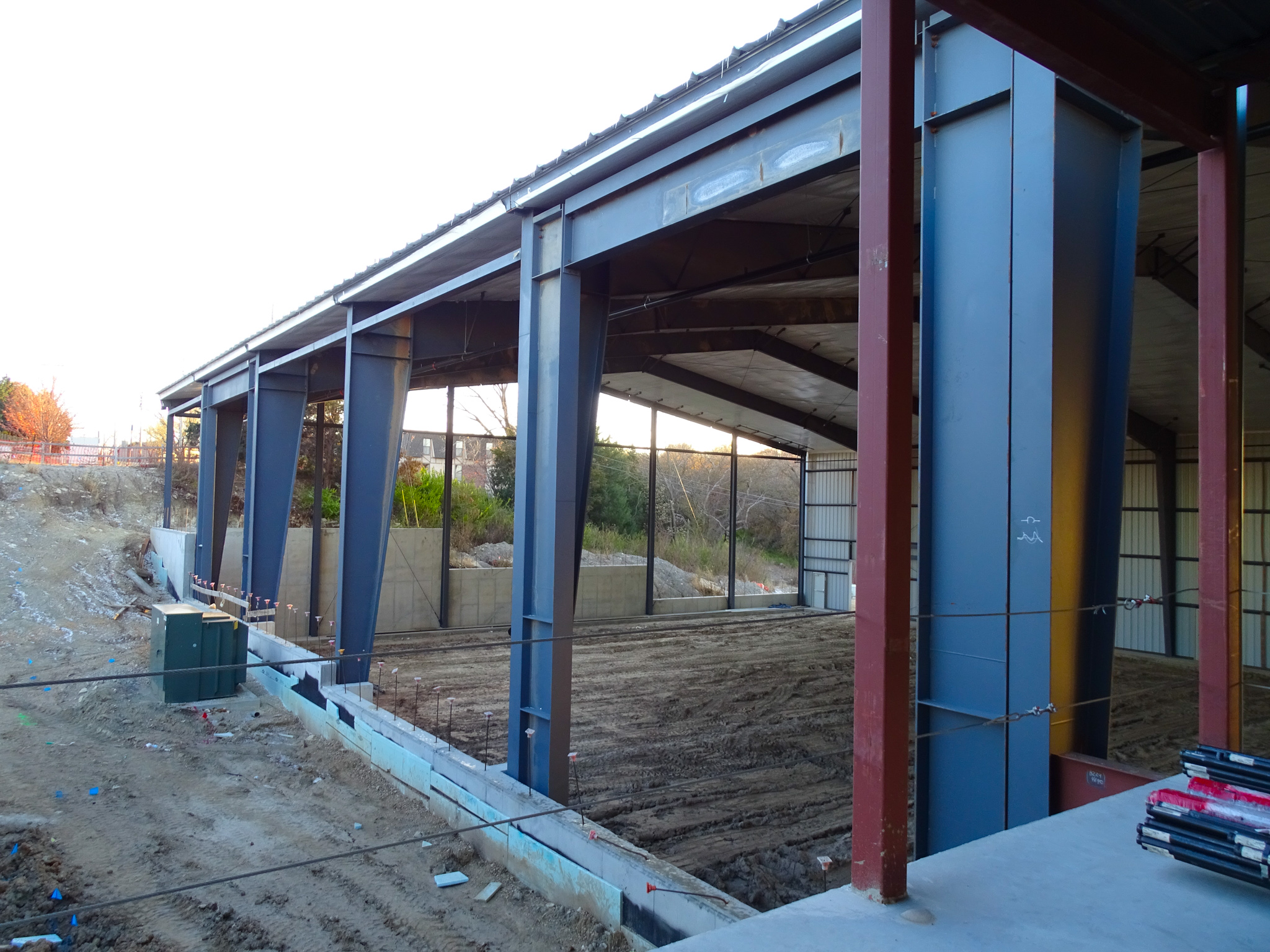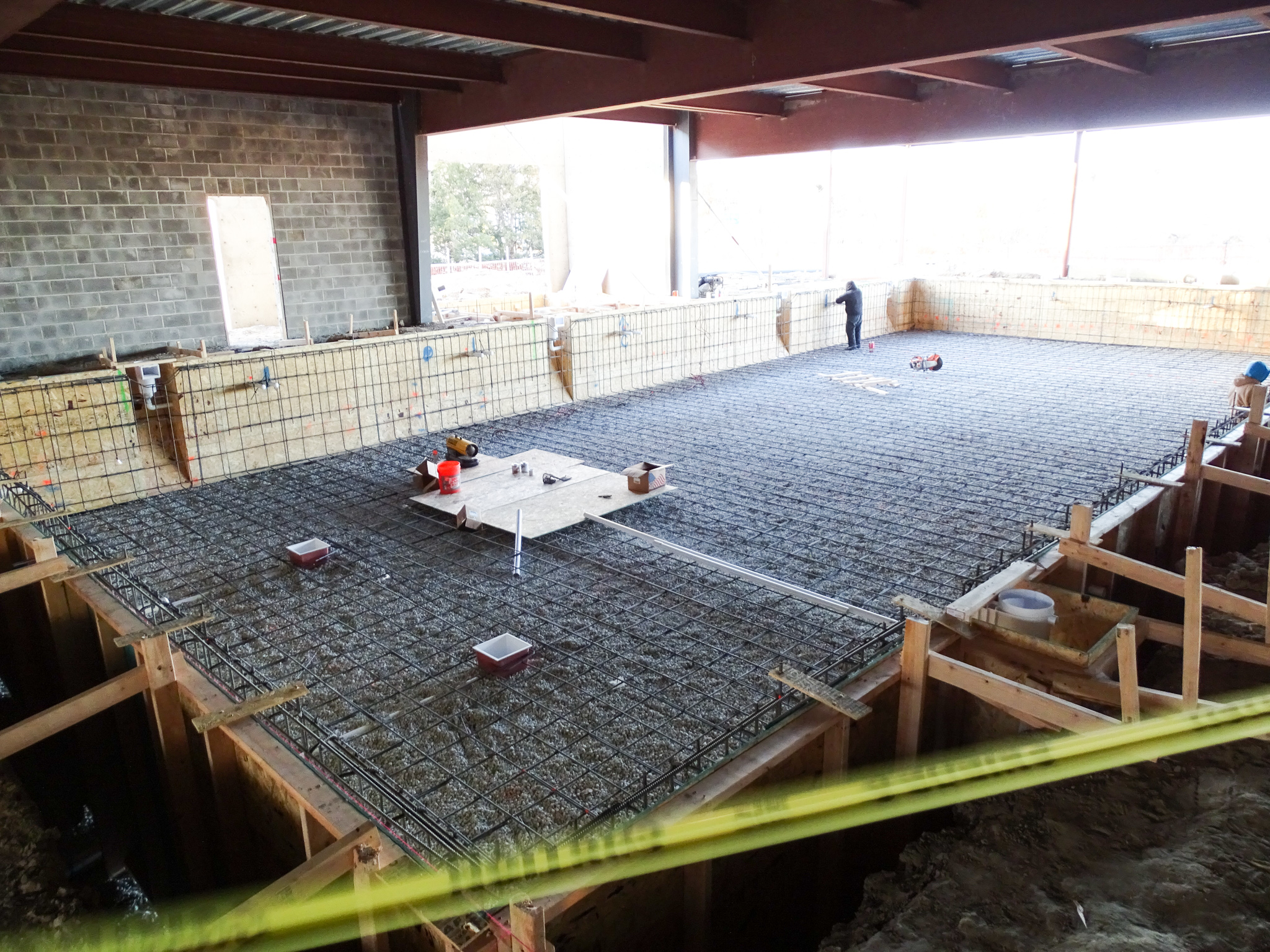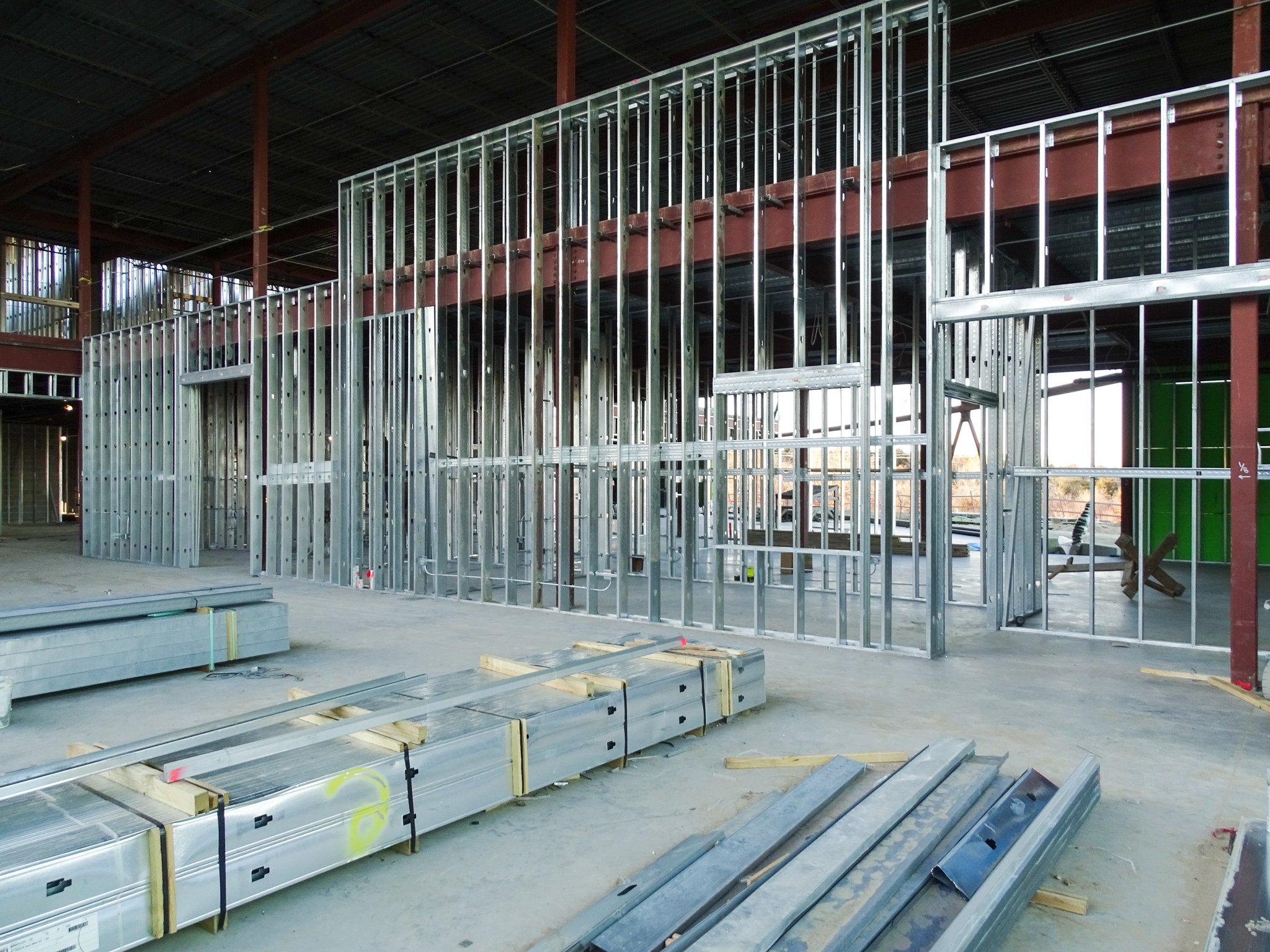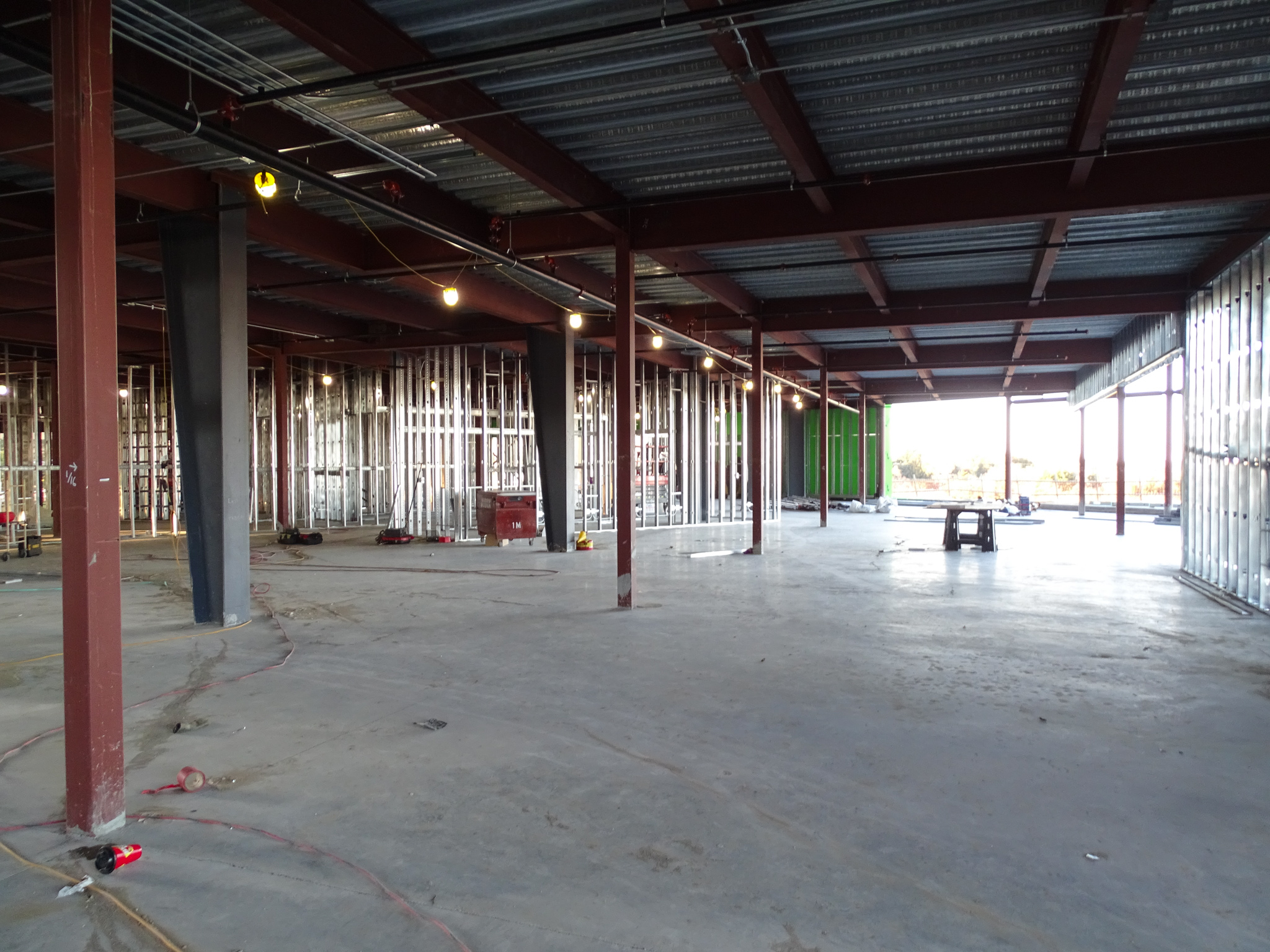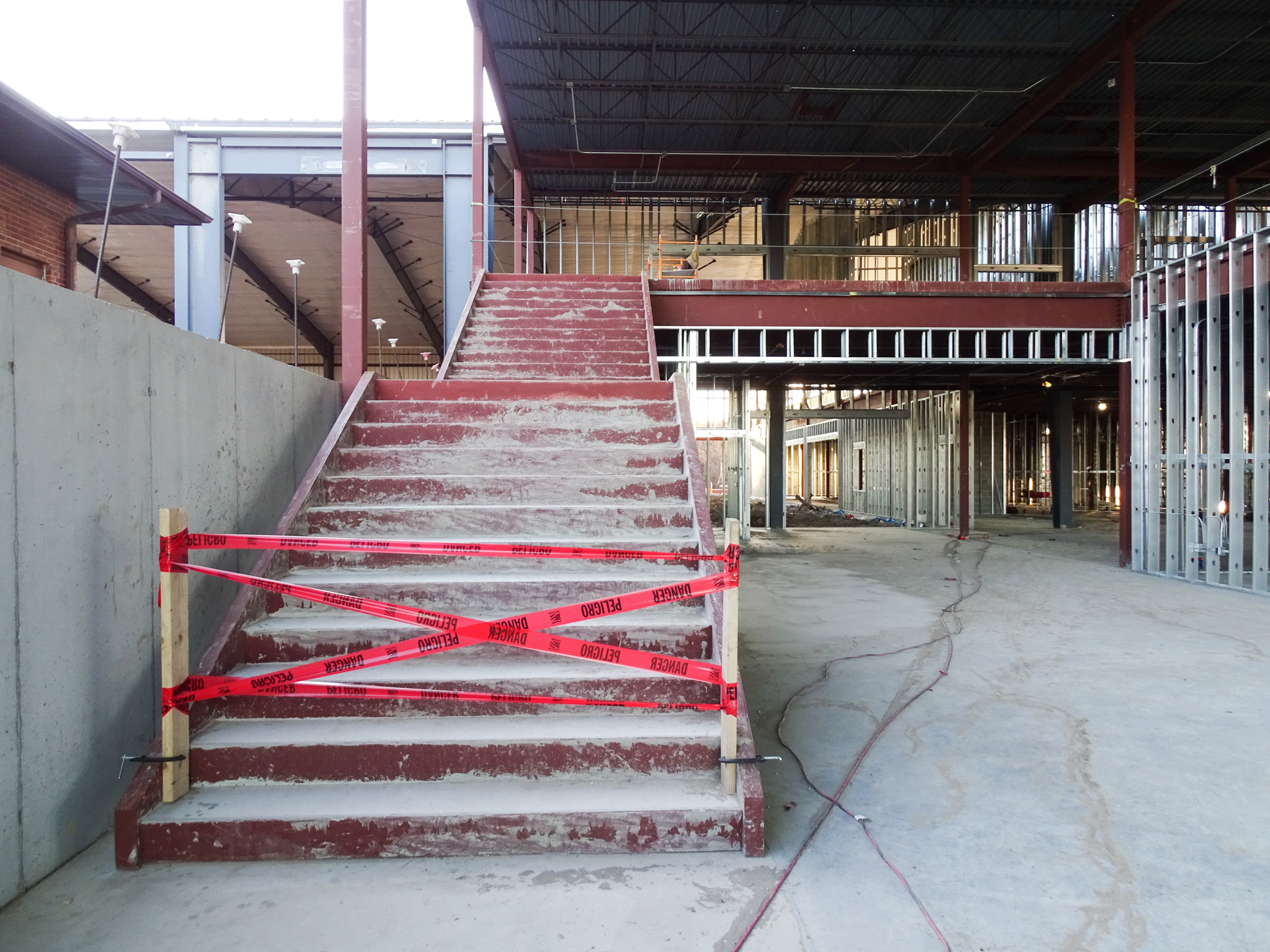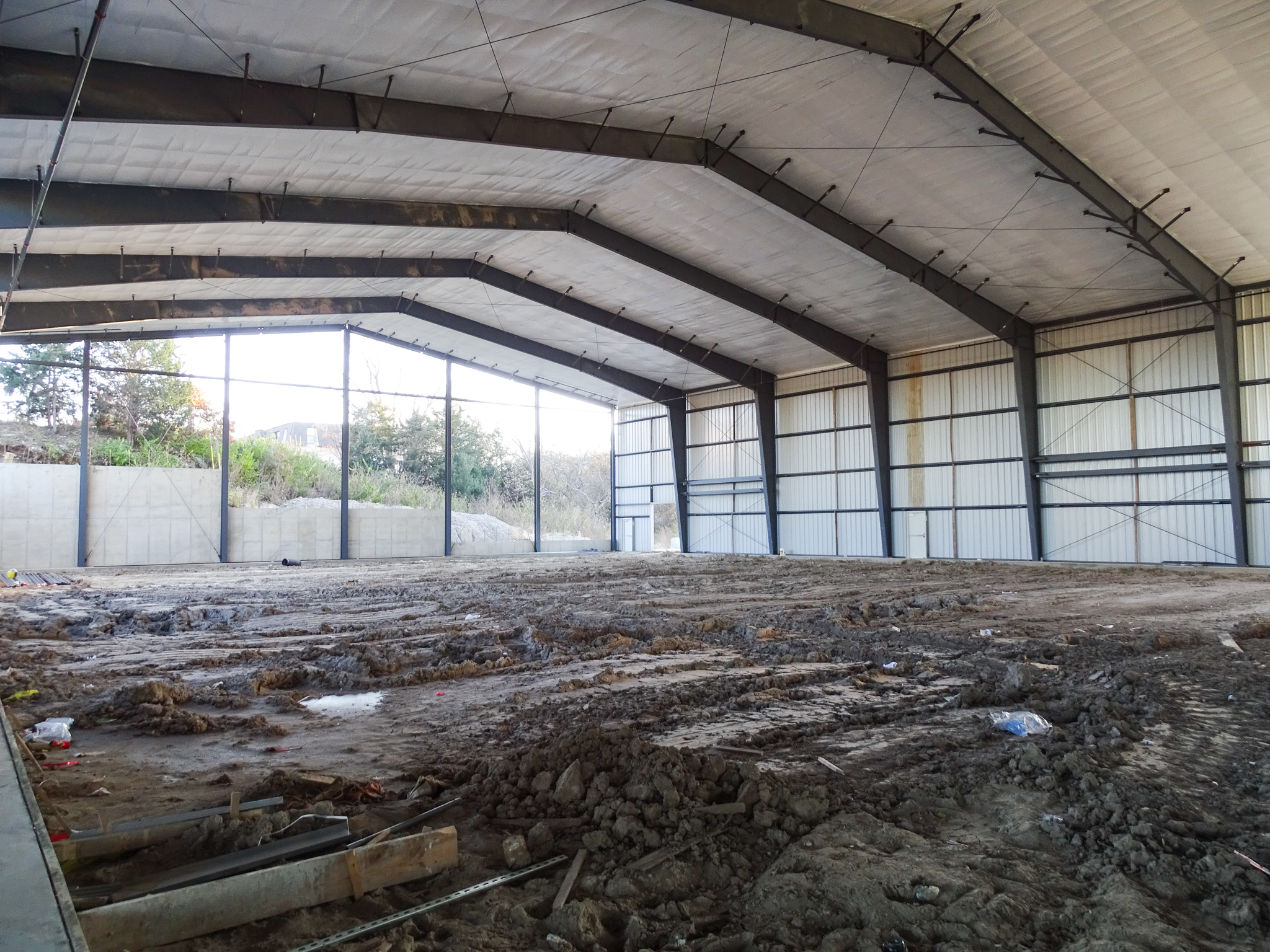 Update 9/15/19


Update 7/25/2019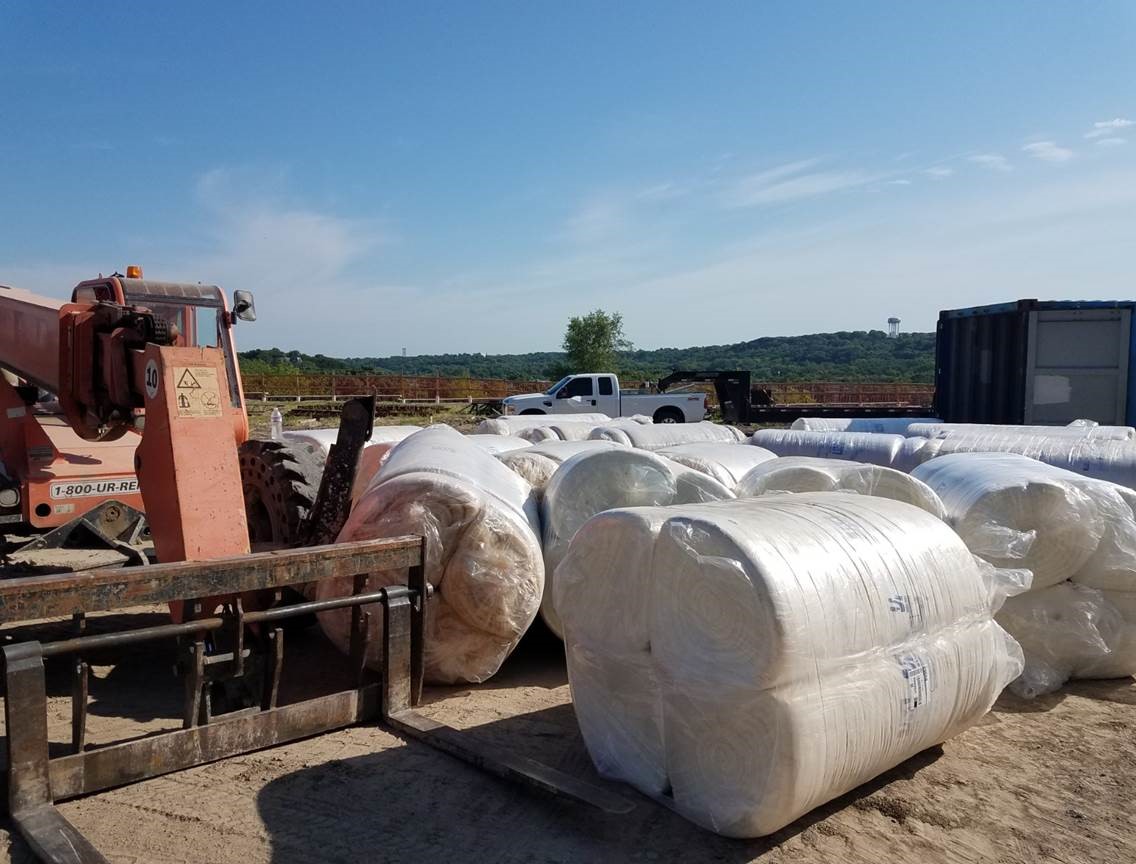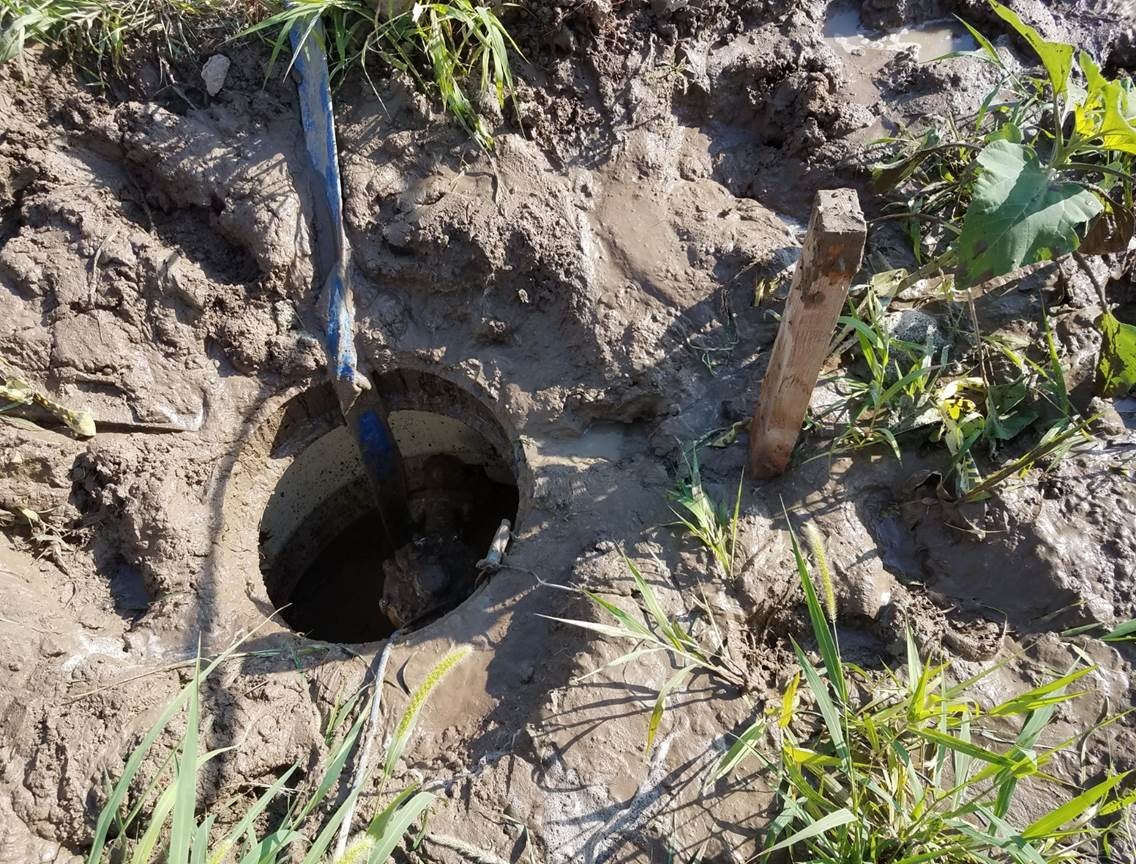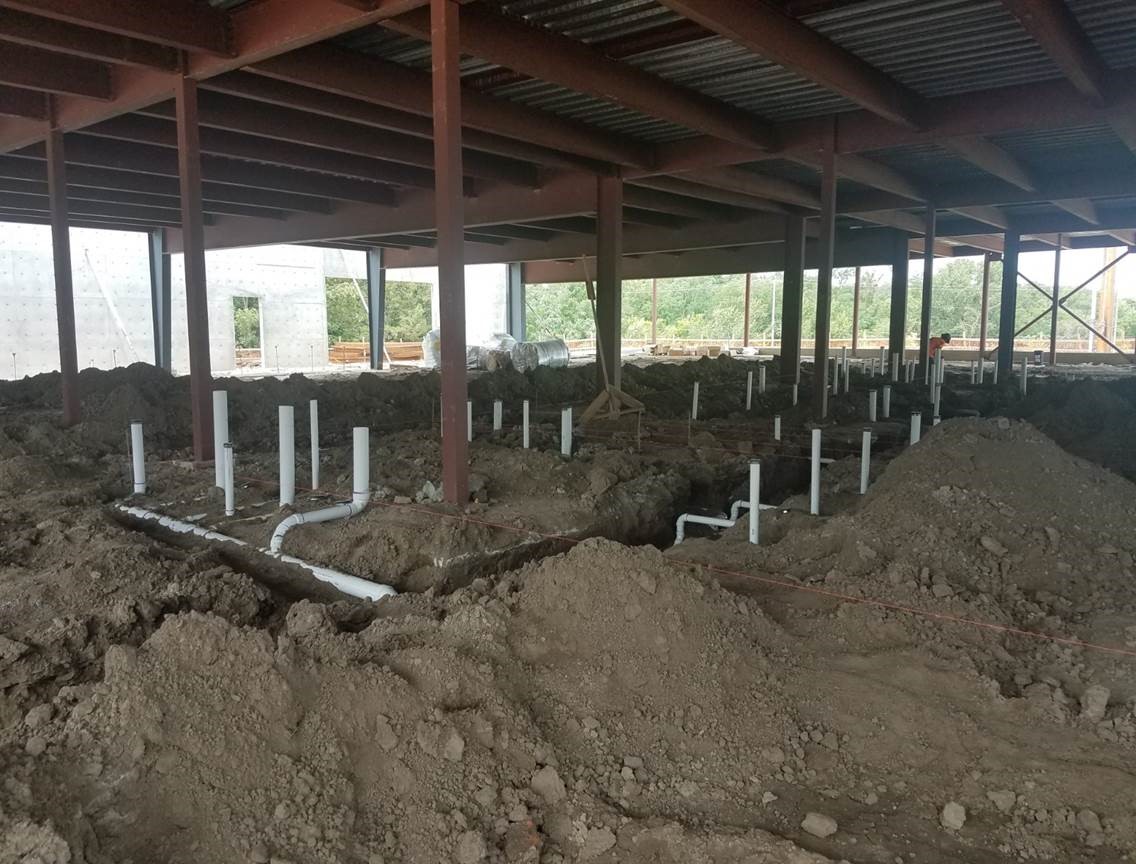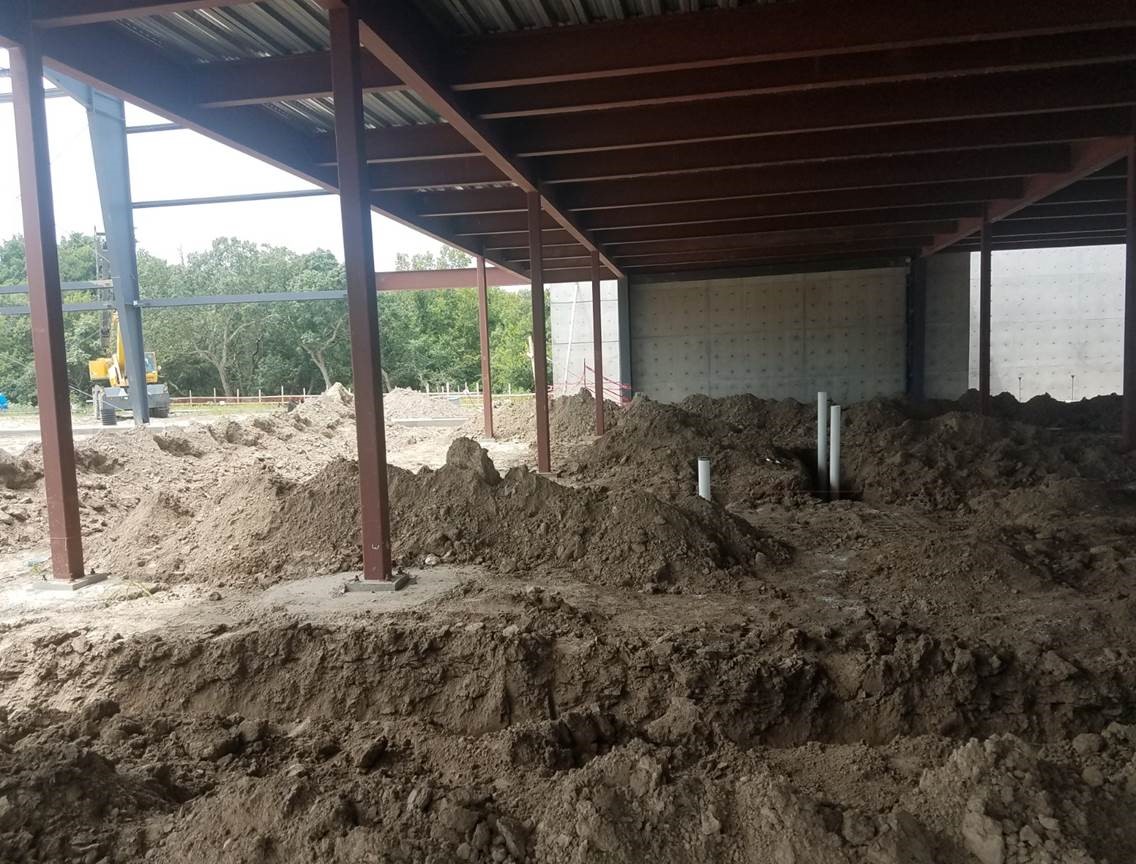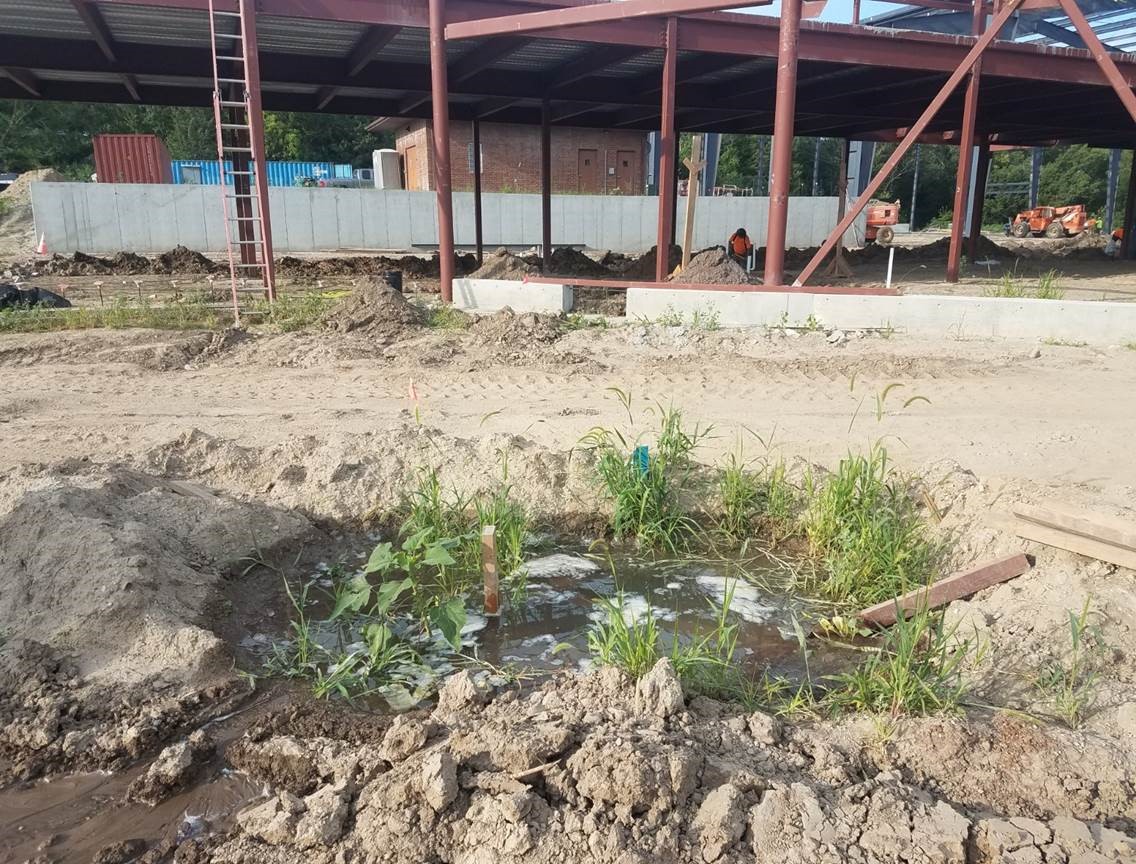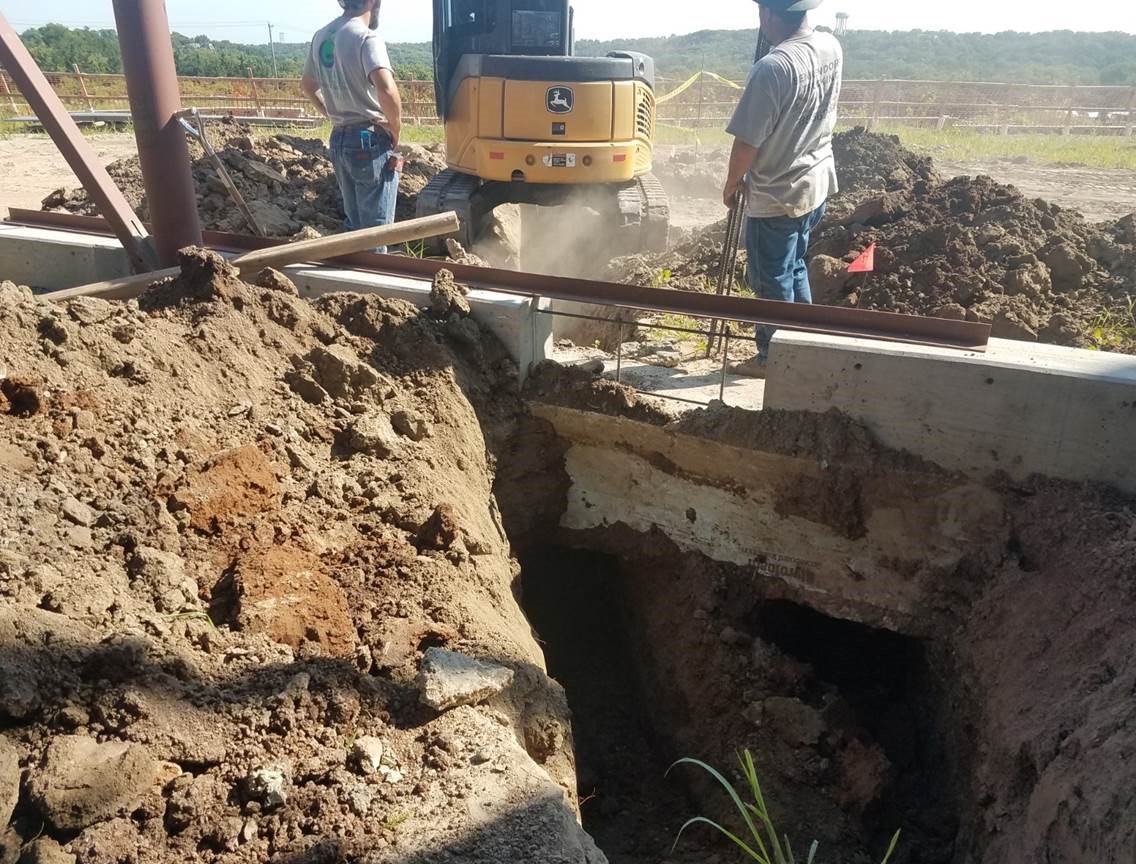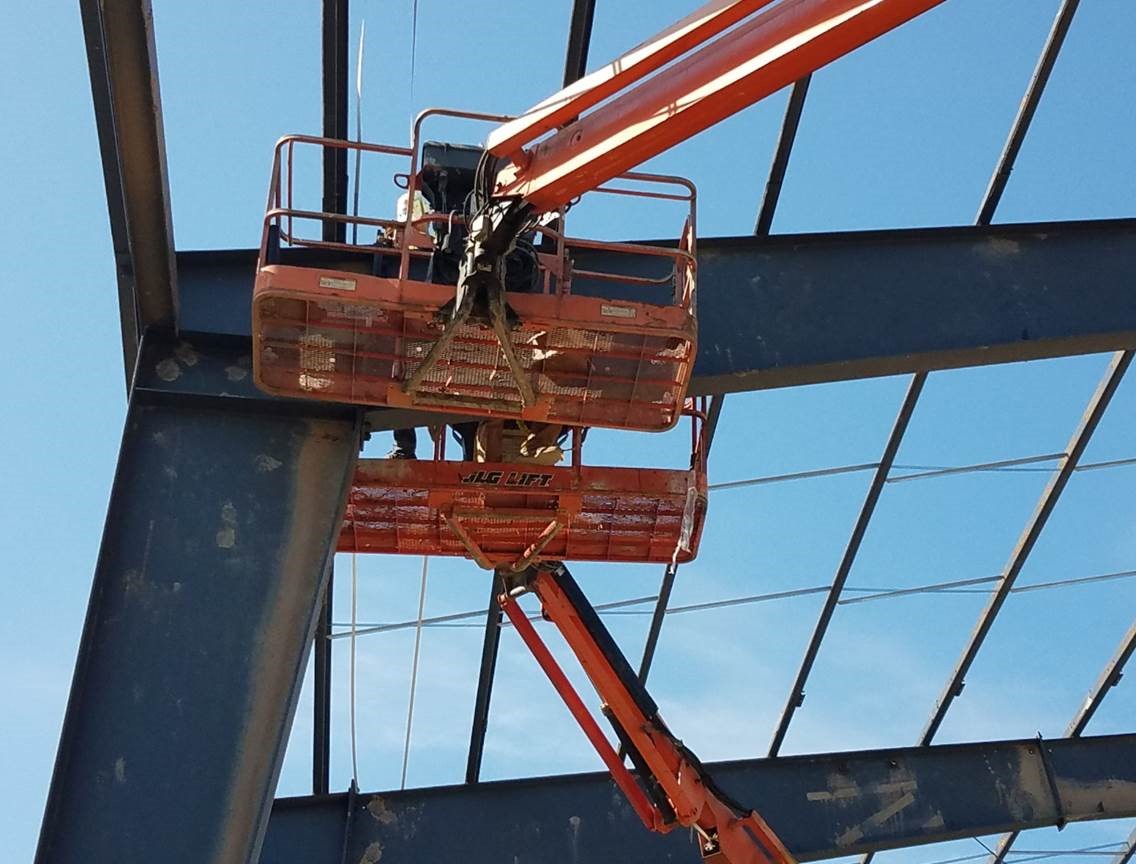 Update 7/19/2019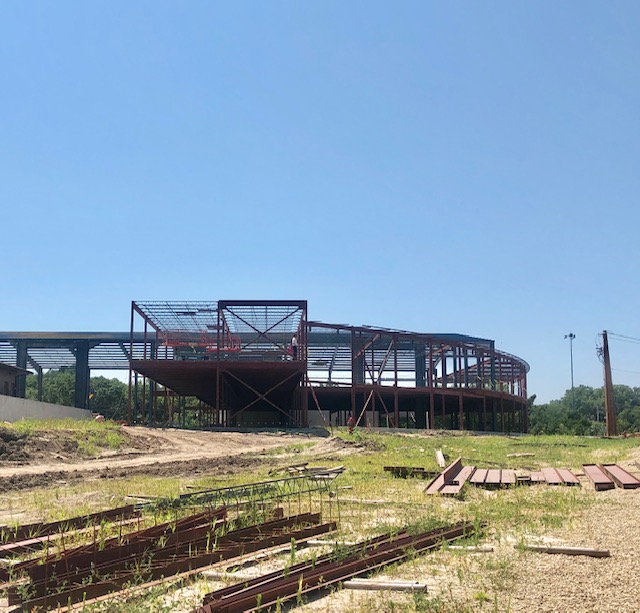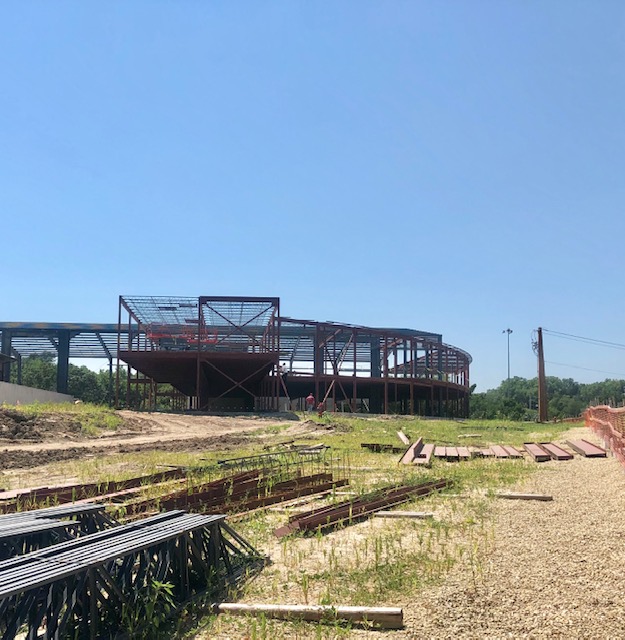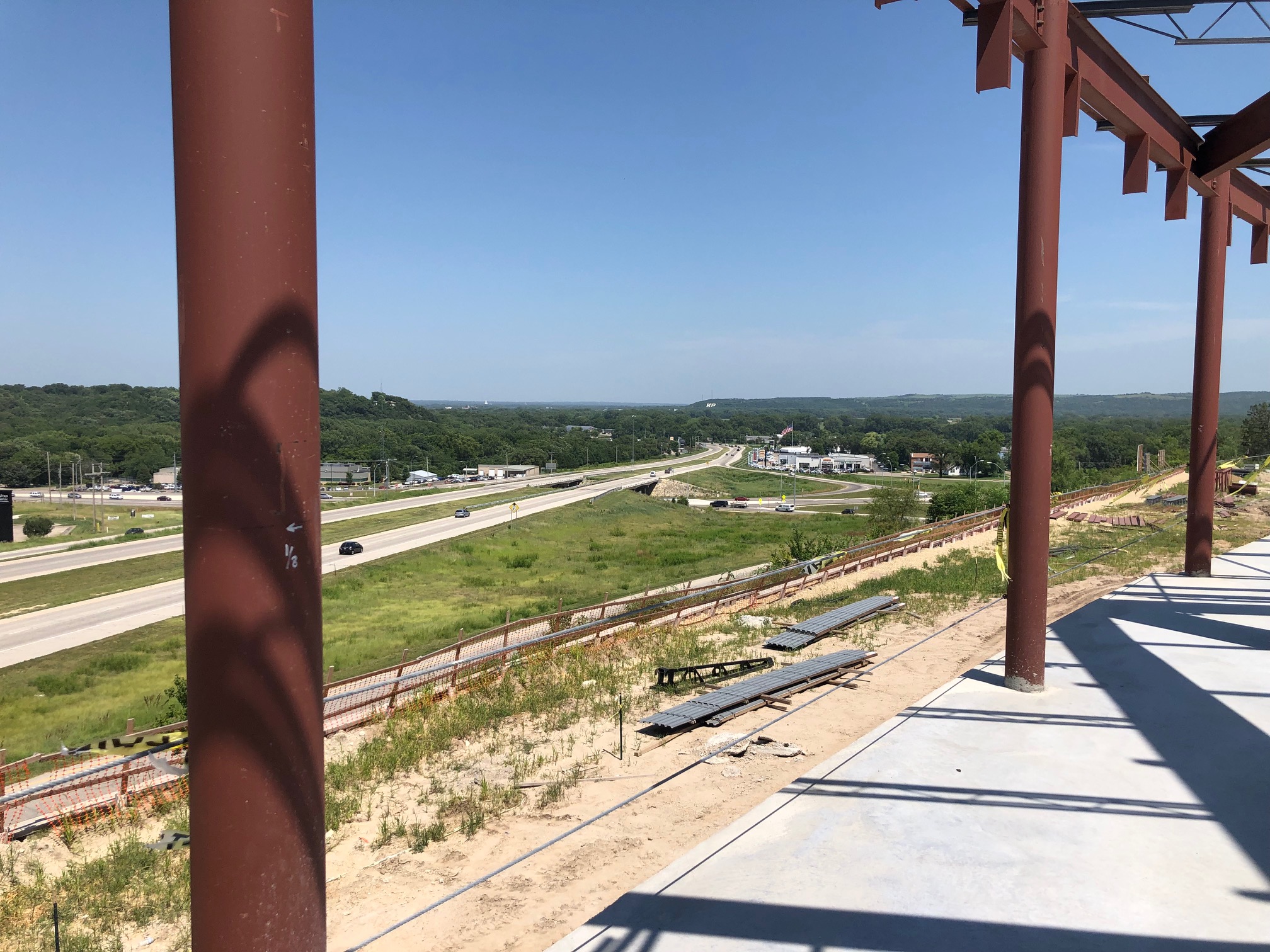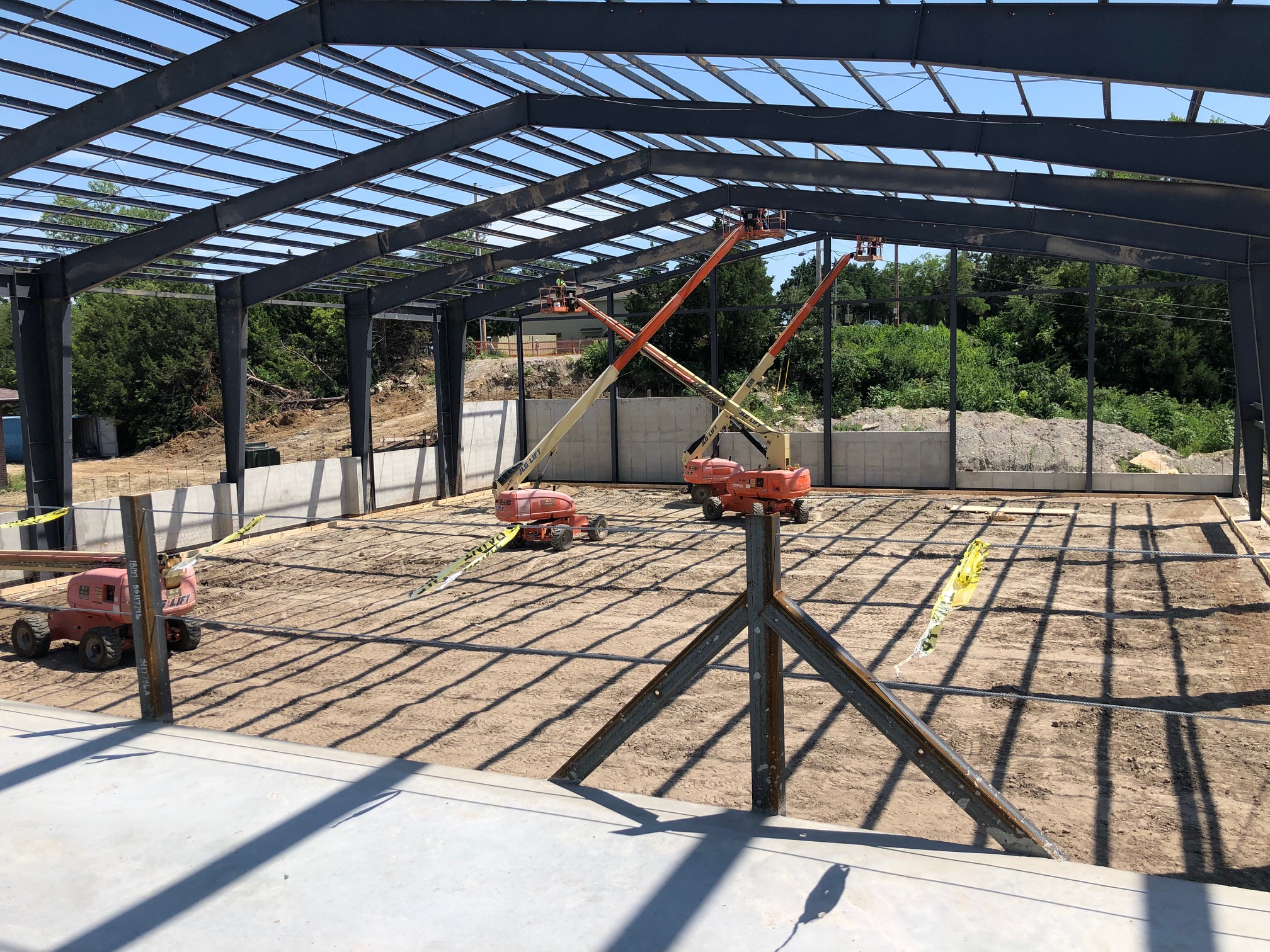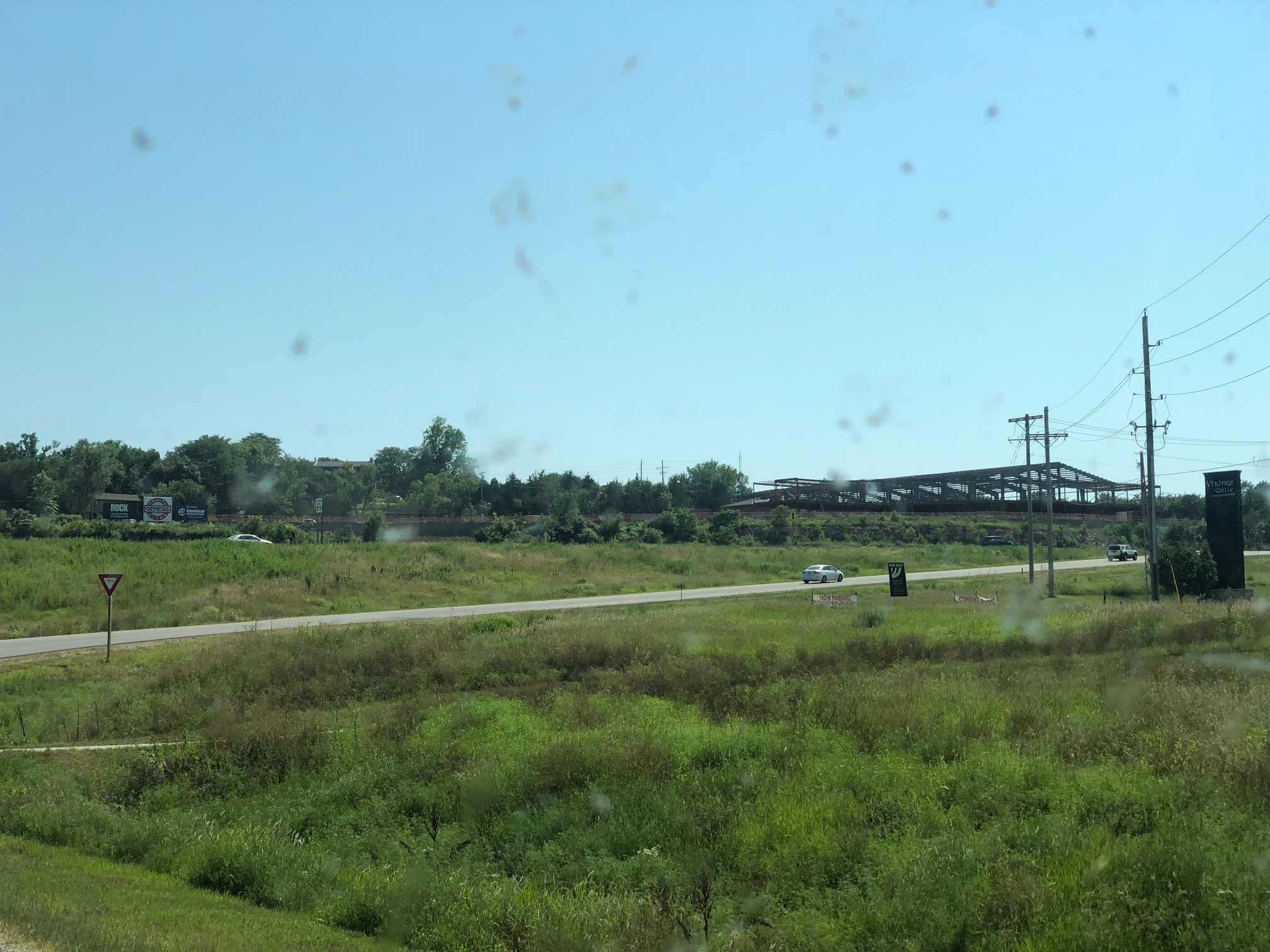 Update 7/12/2019
Almost all of the steel is up in the air. Once the framing is done, walls, roofs, windows, and floors go into high gear! Our pre-sale is just getting started and all current Genesis members will have their rates grandfathered for the life of their memberships once the new facility opens! Stay tuned for more updates!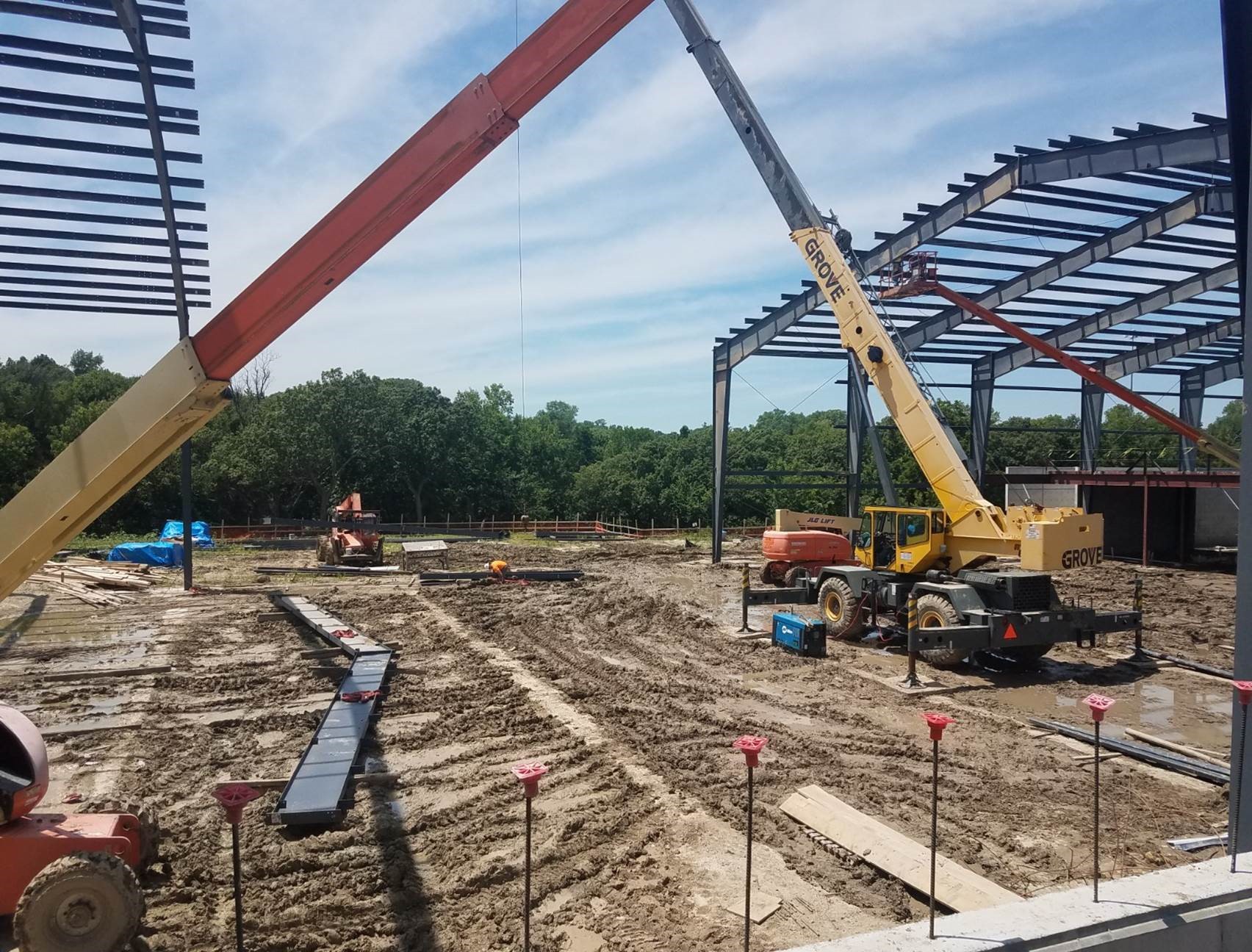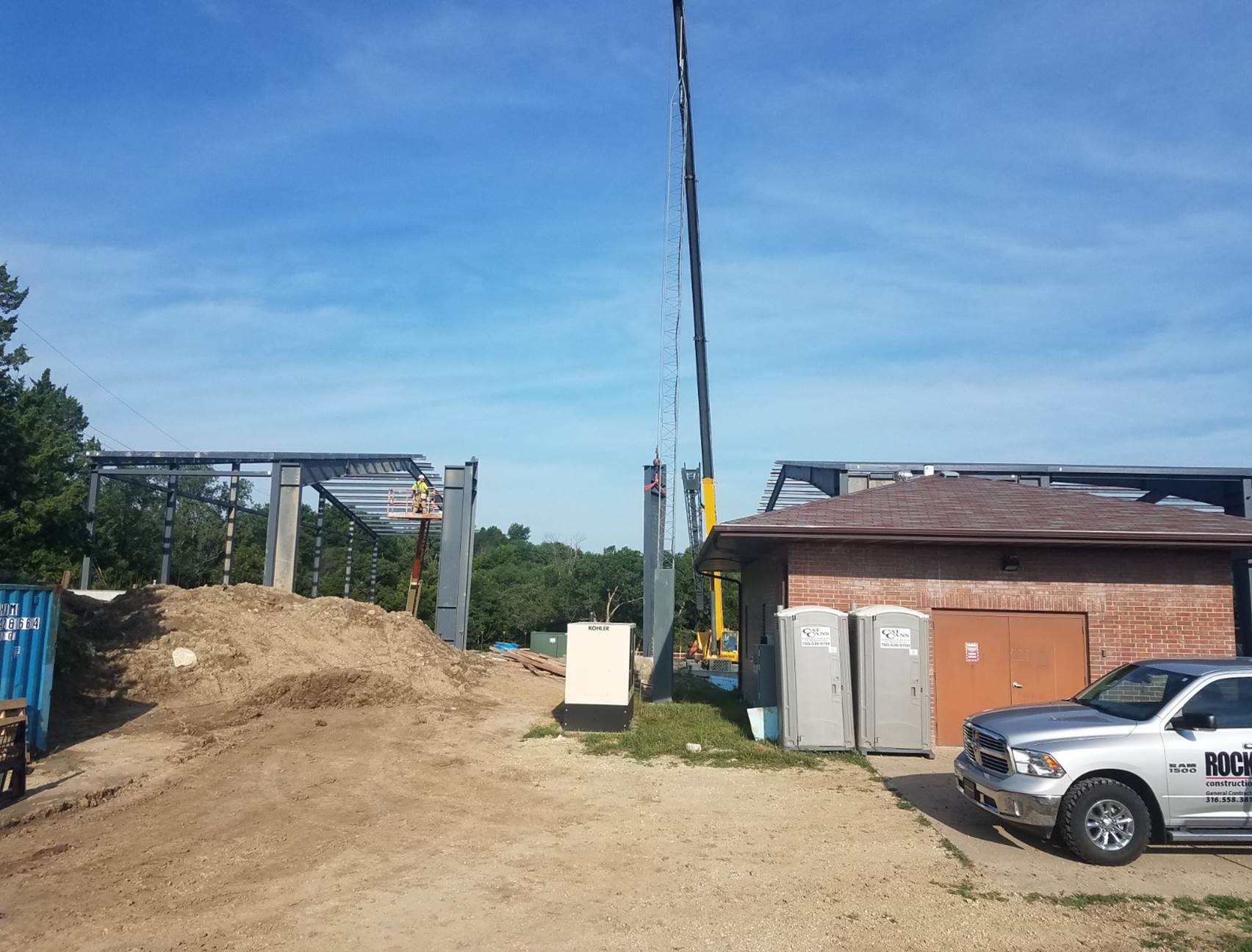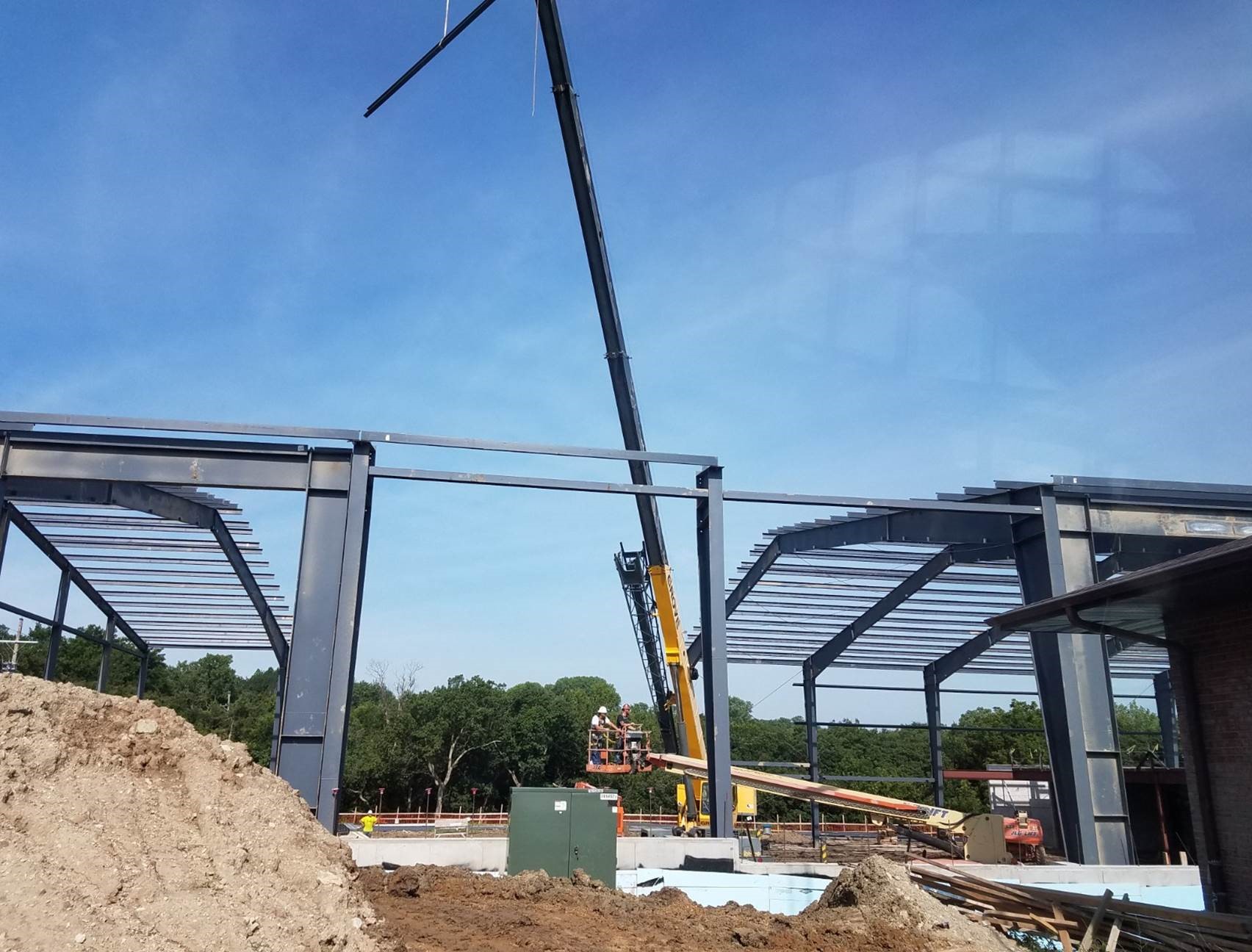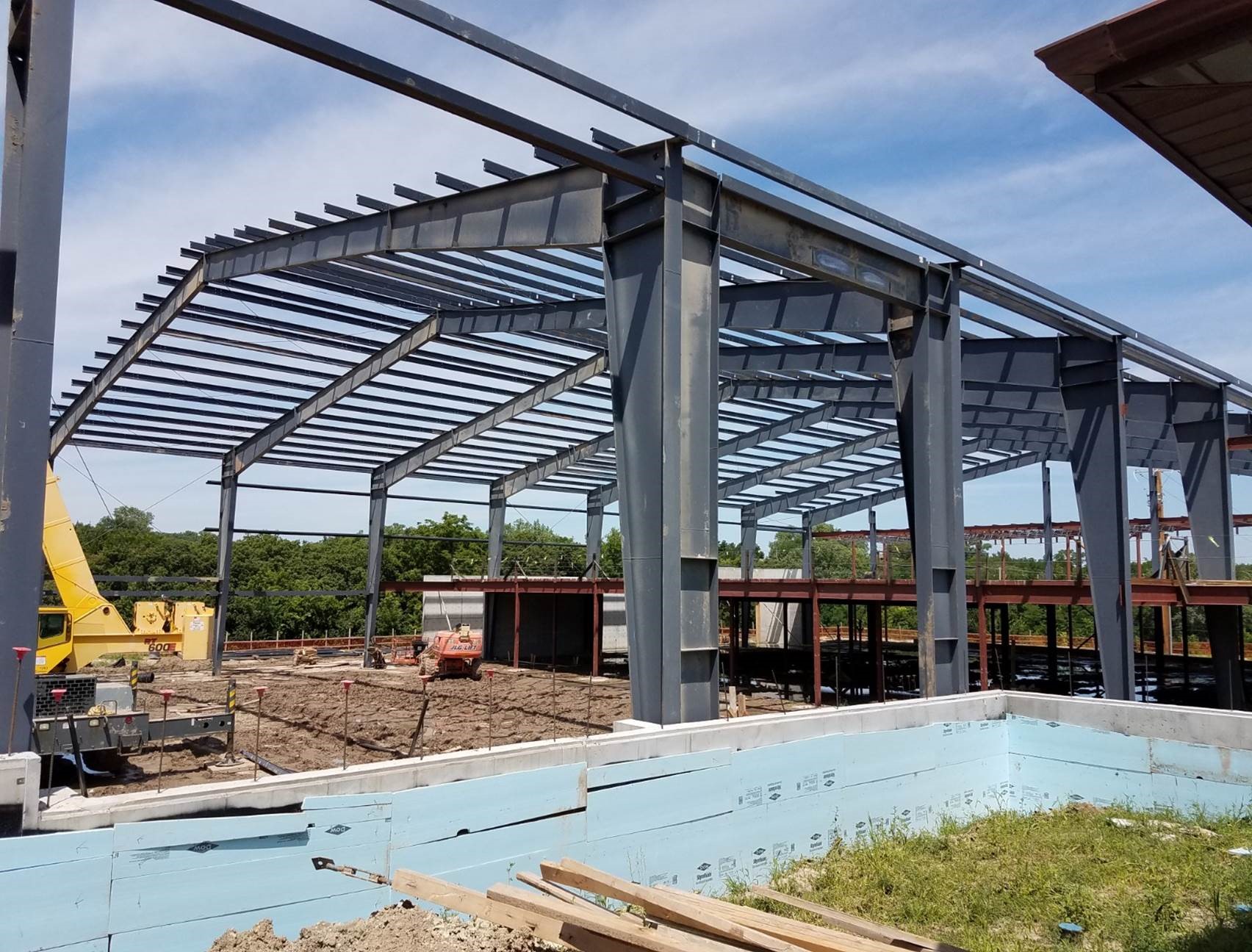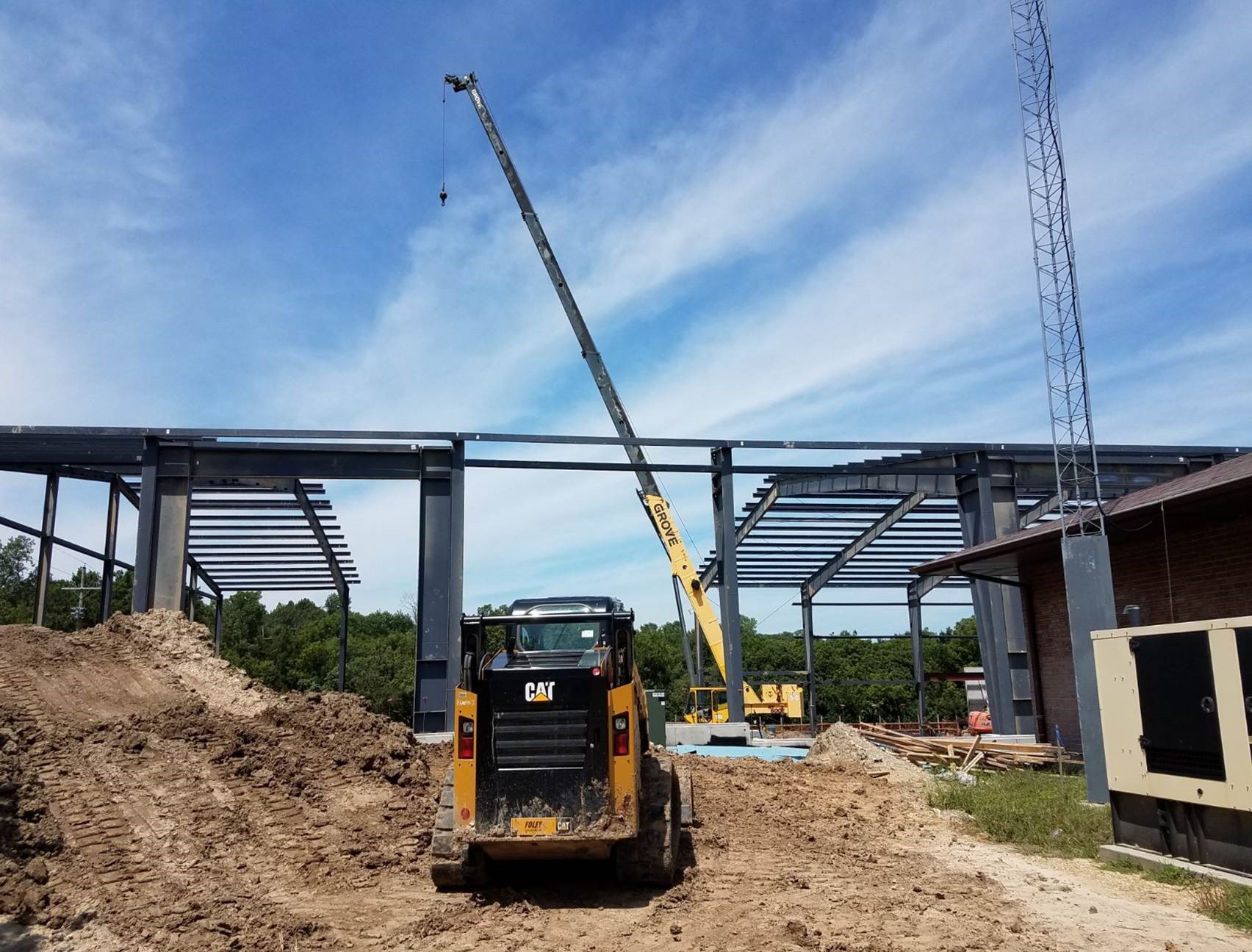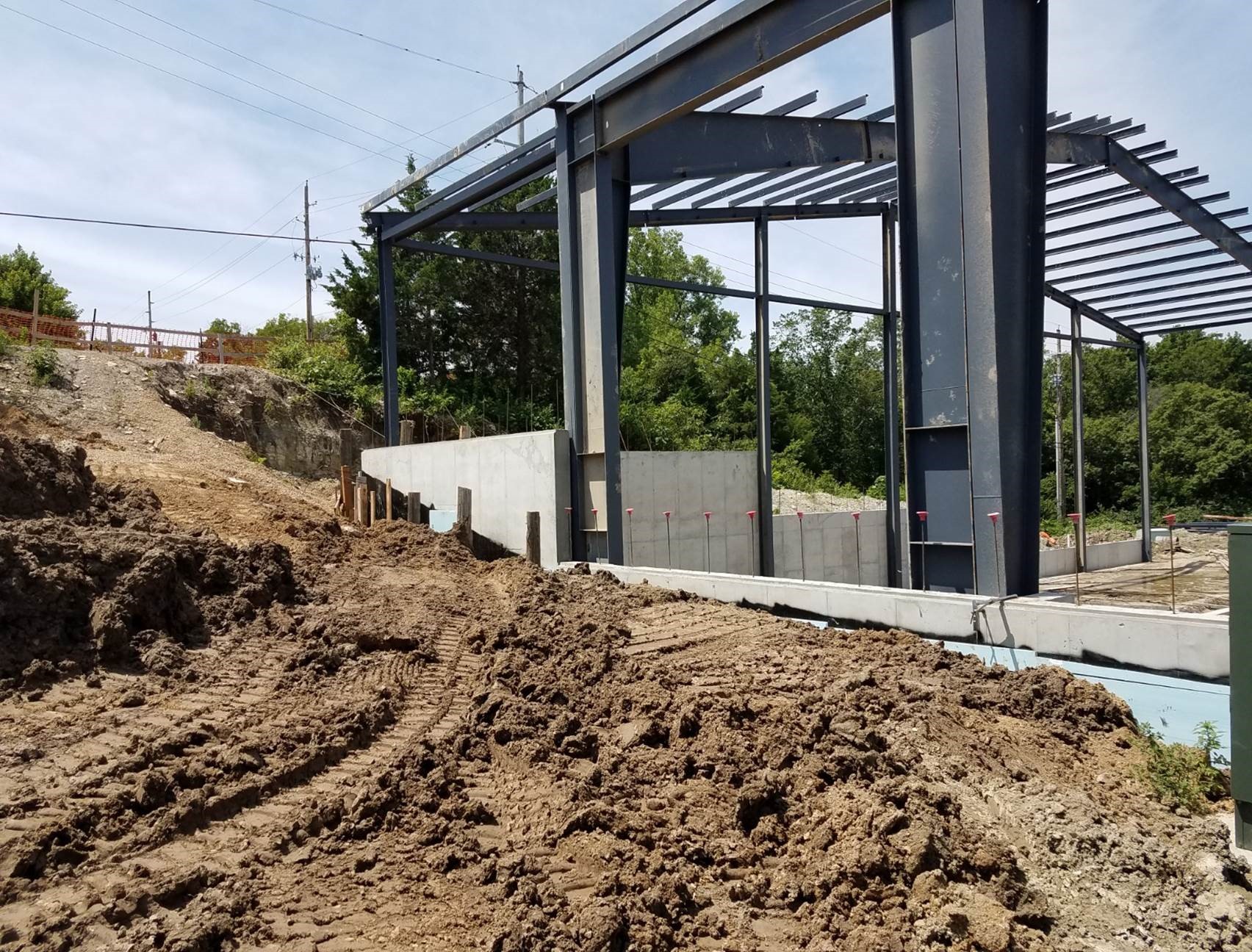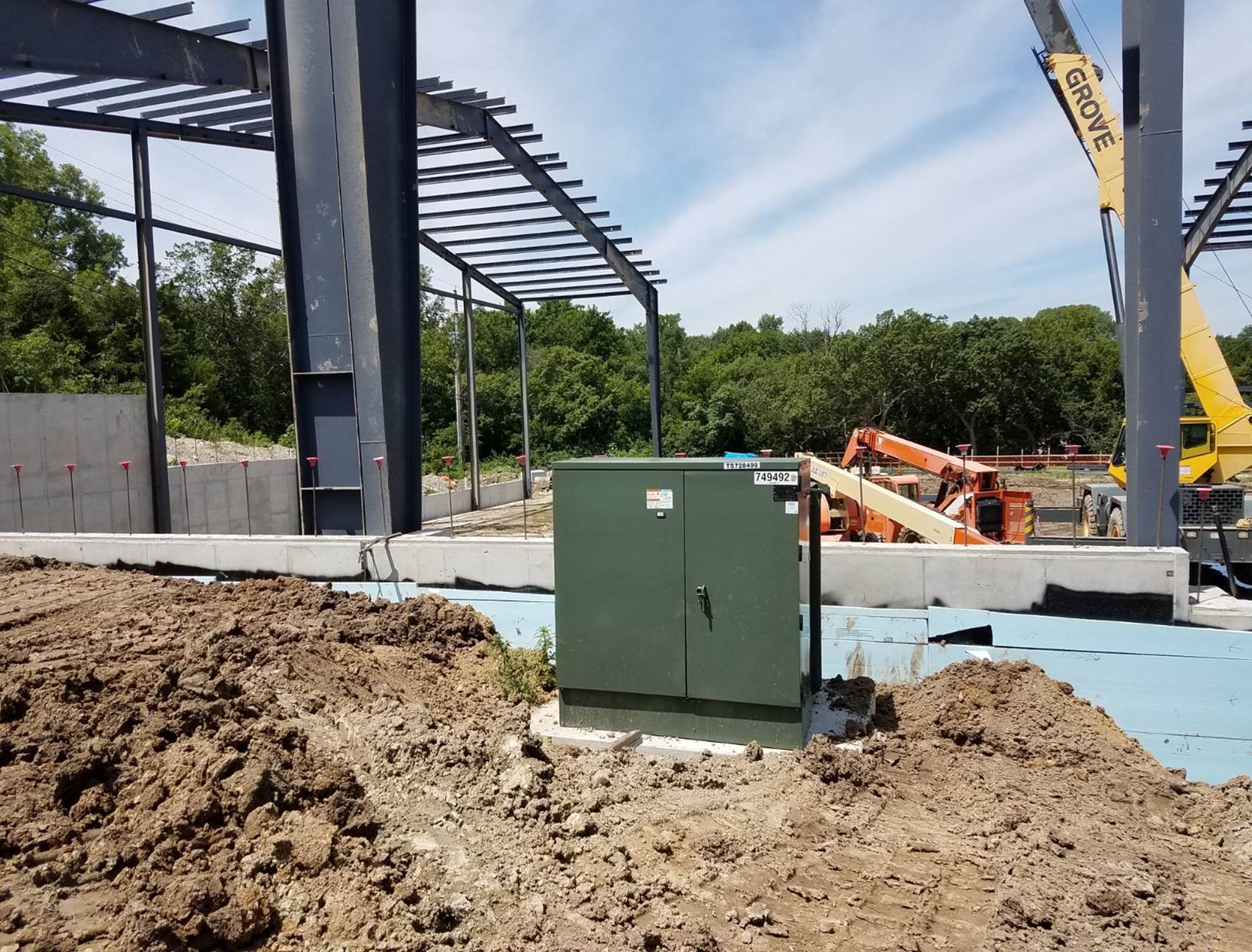 Update 7/2/2019
Working day and night to get this club completed for our members. The shape of the building can now be fully seen and floors are going in. Look for some dramatic transformation in the coming weeks and months. Stay tuned!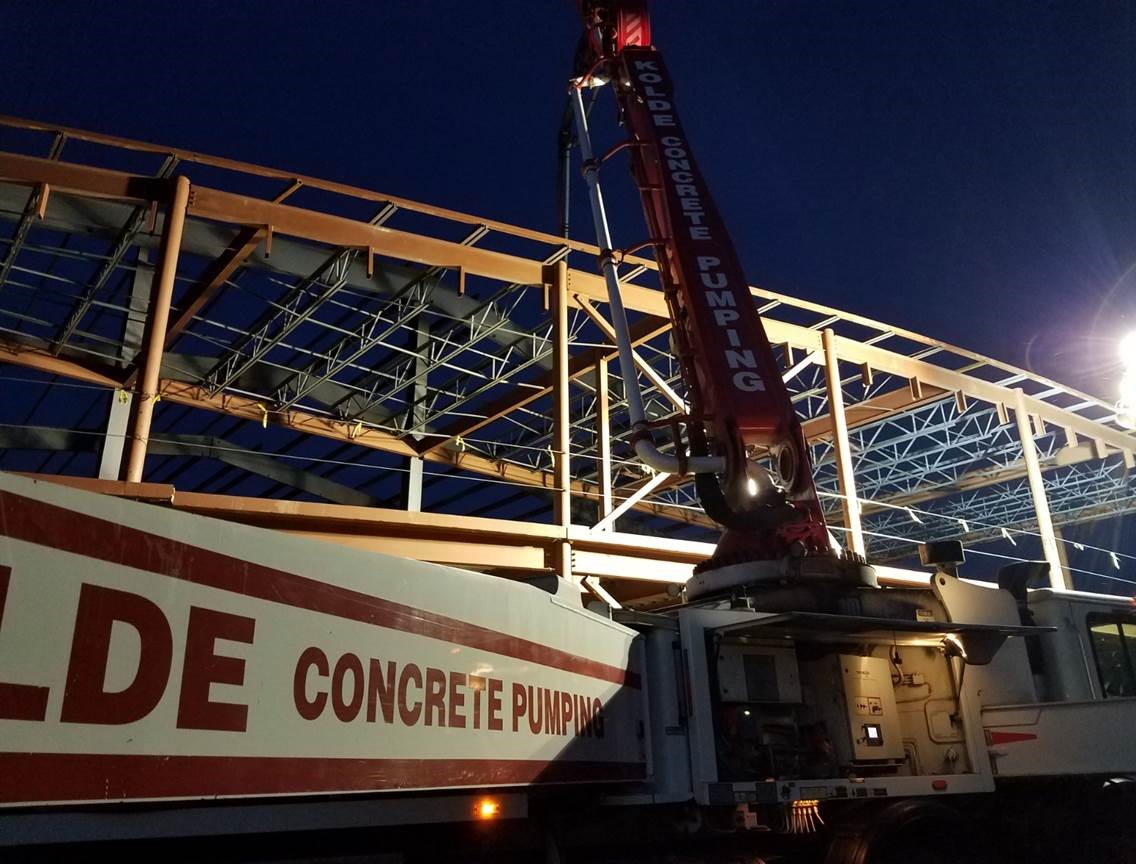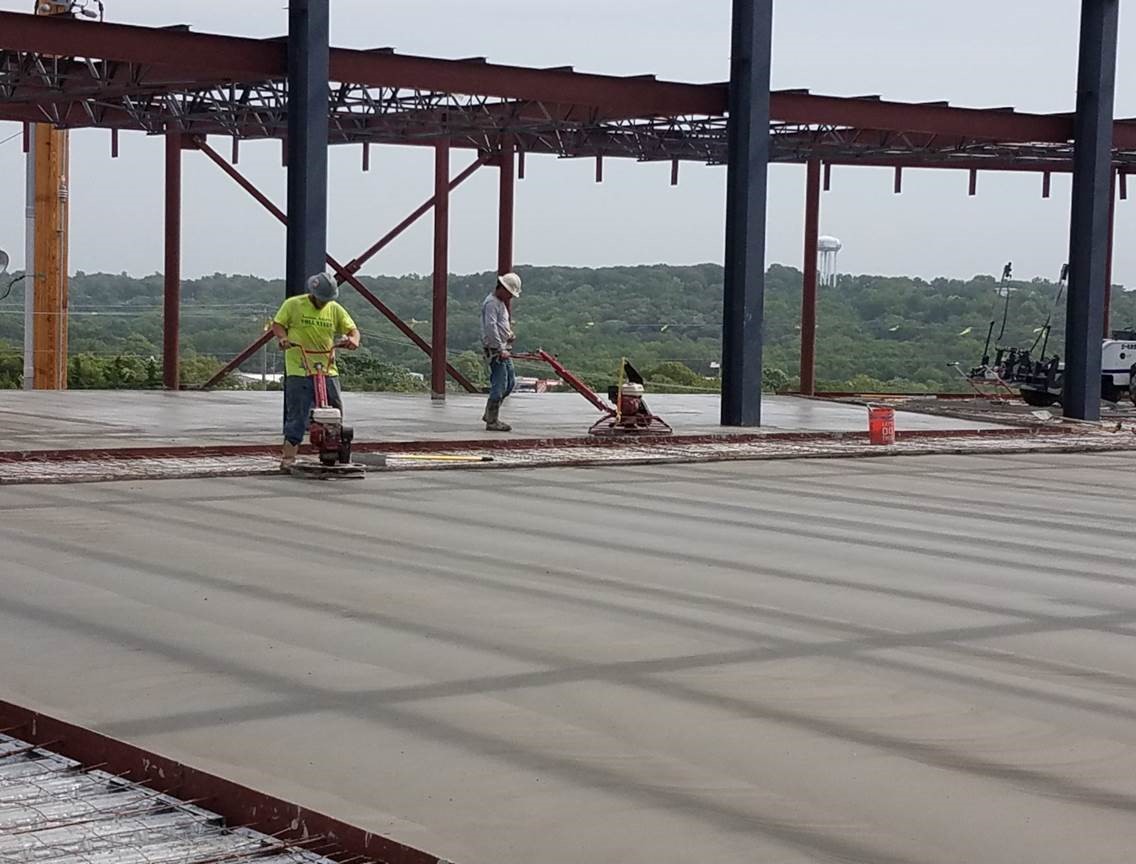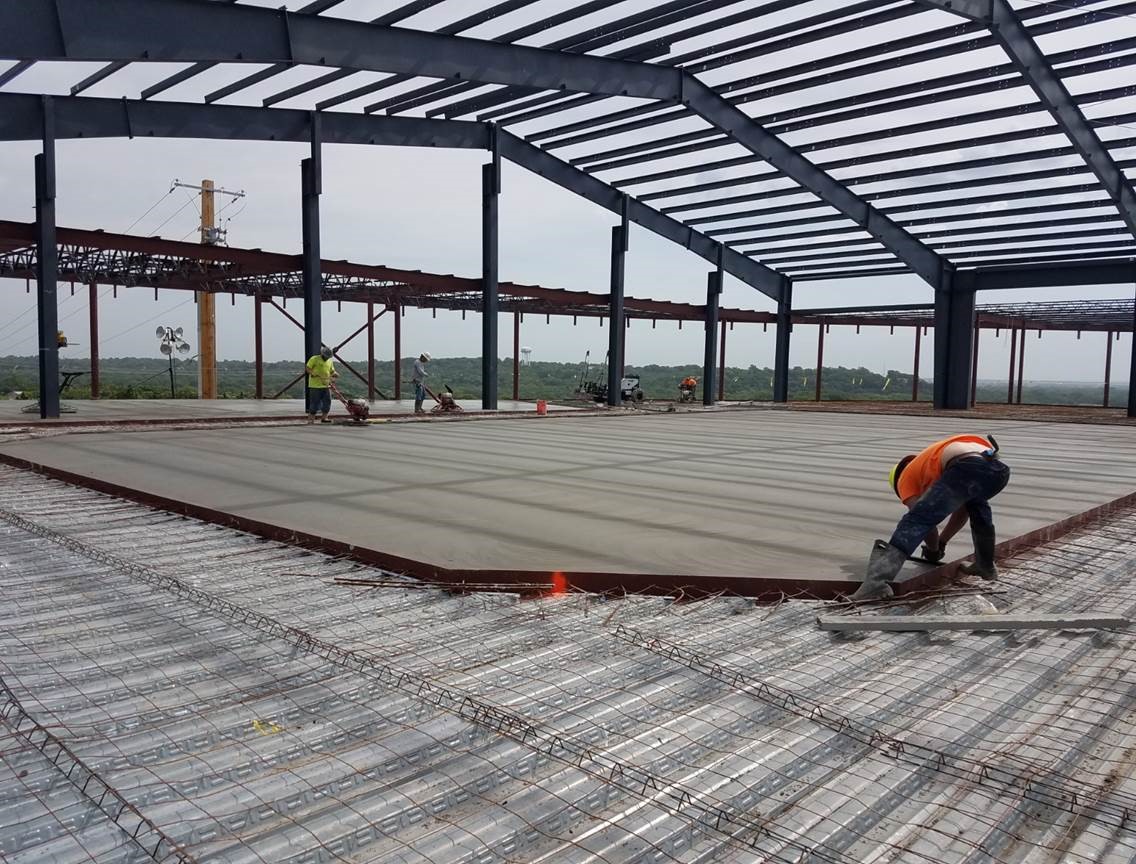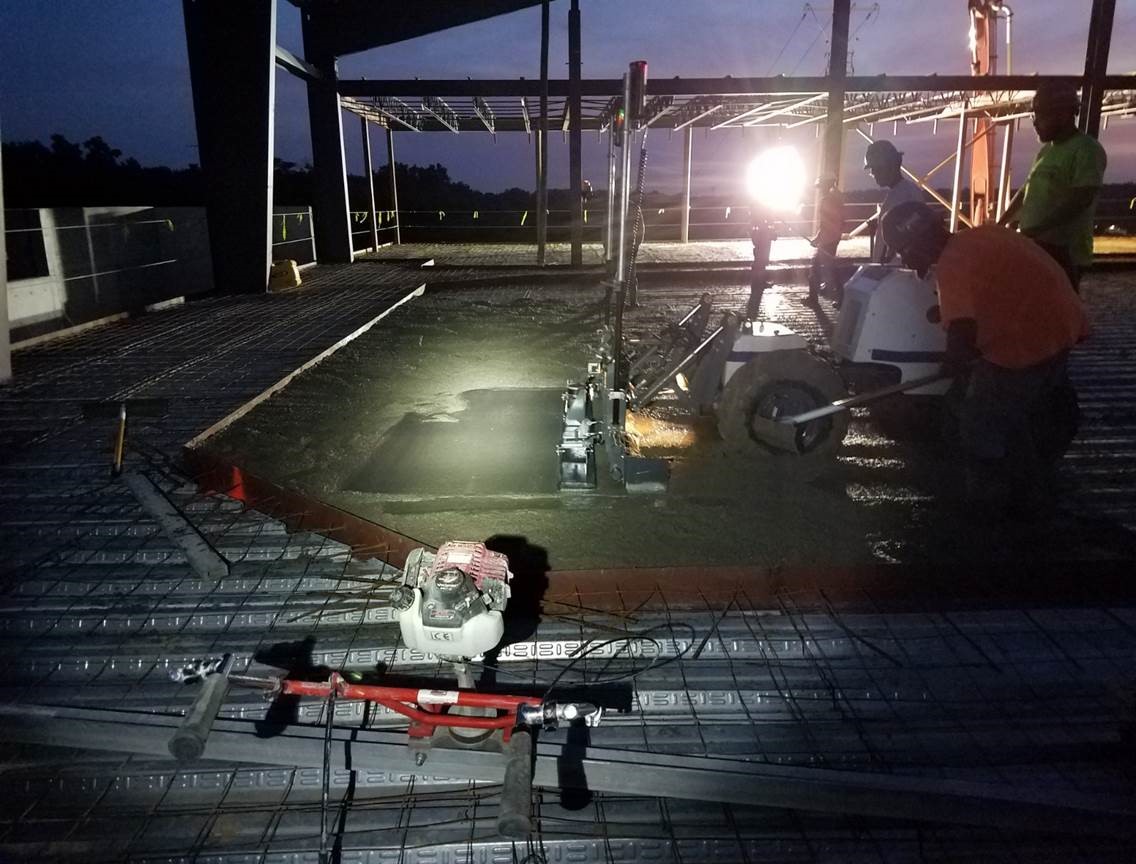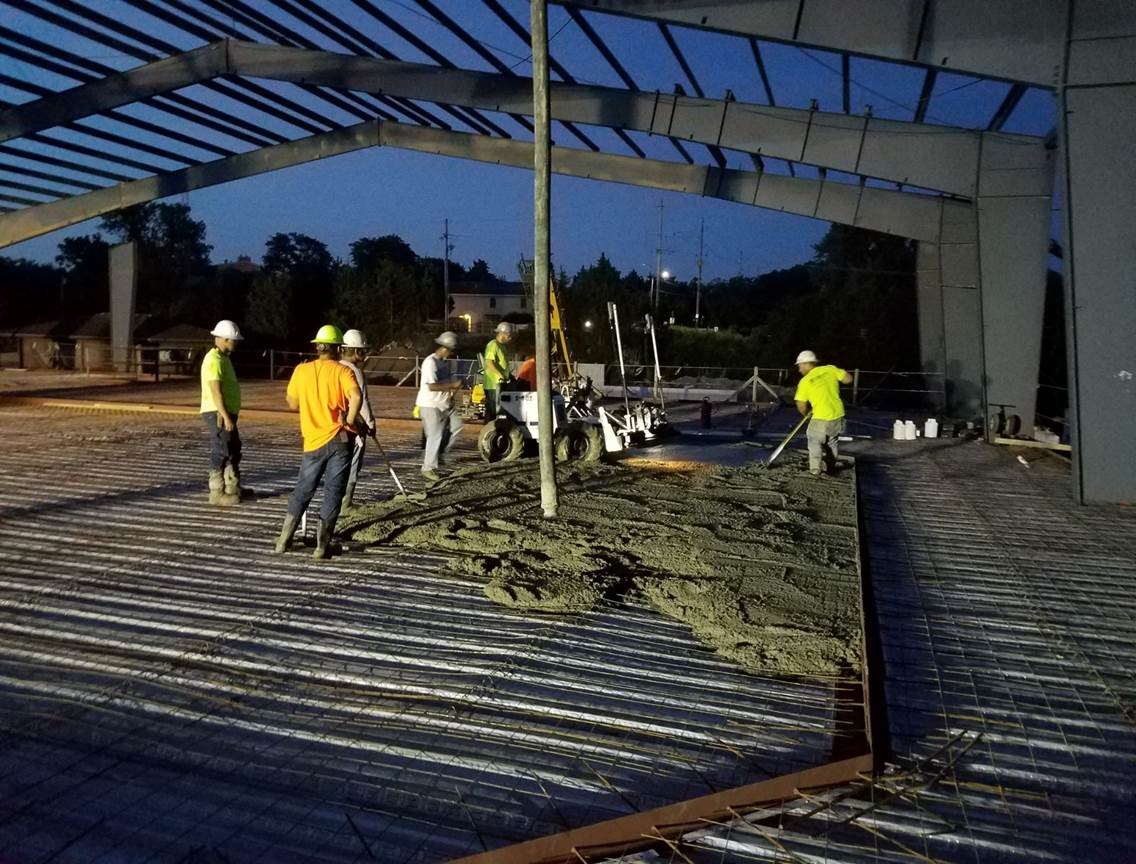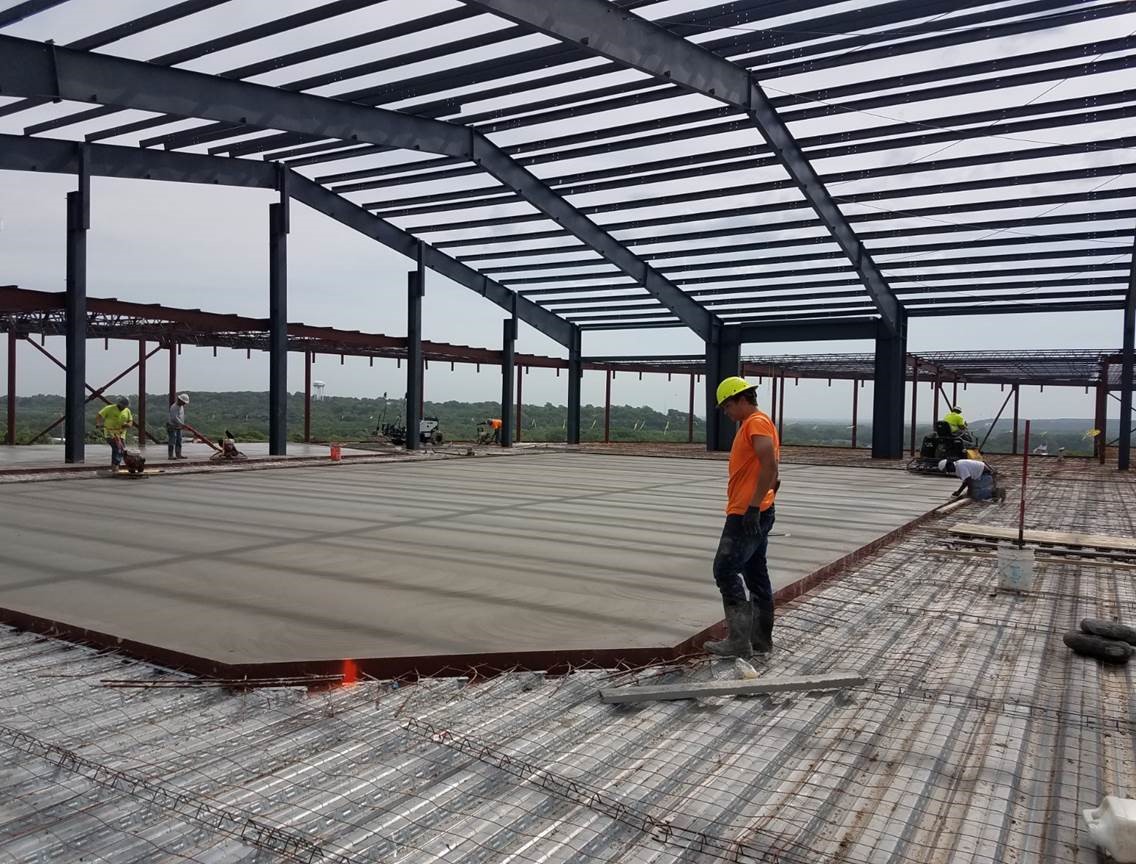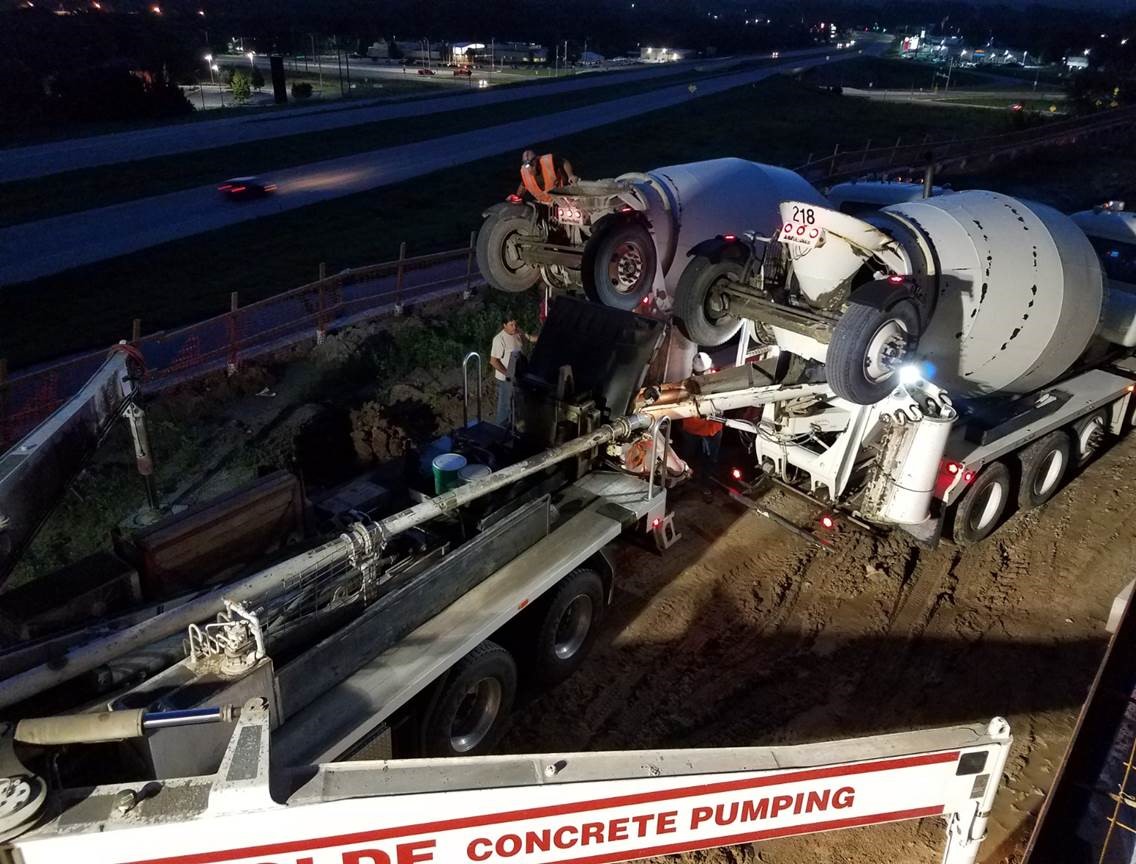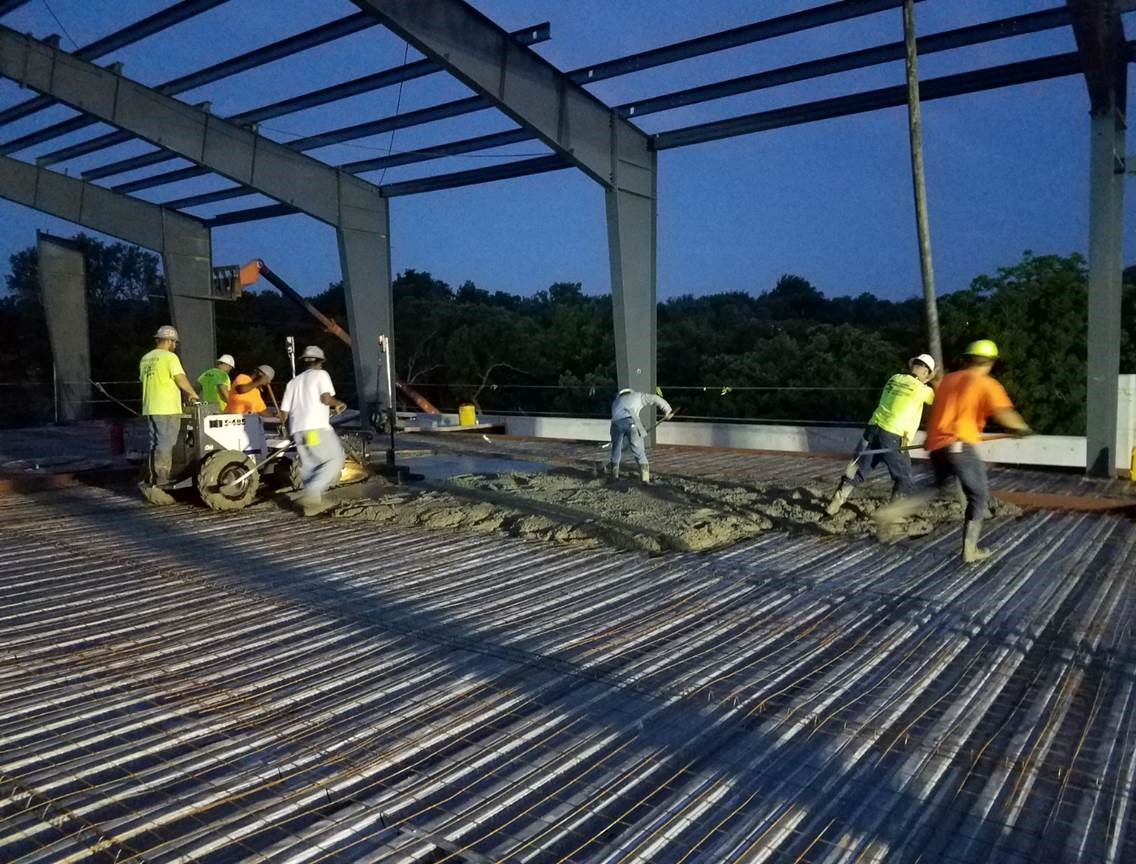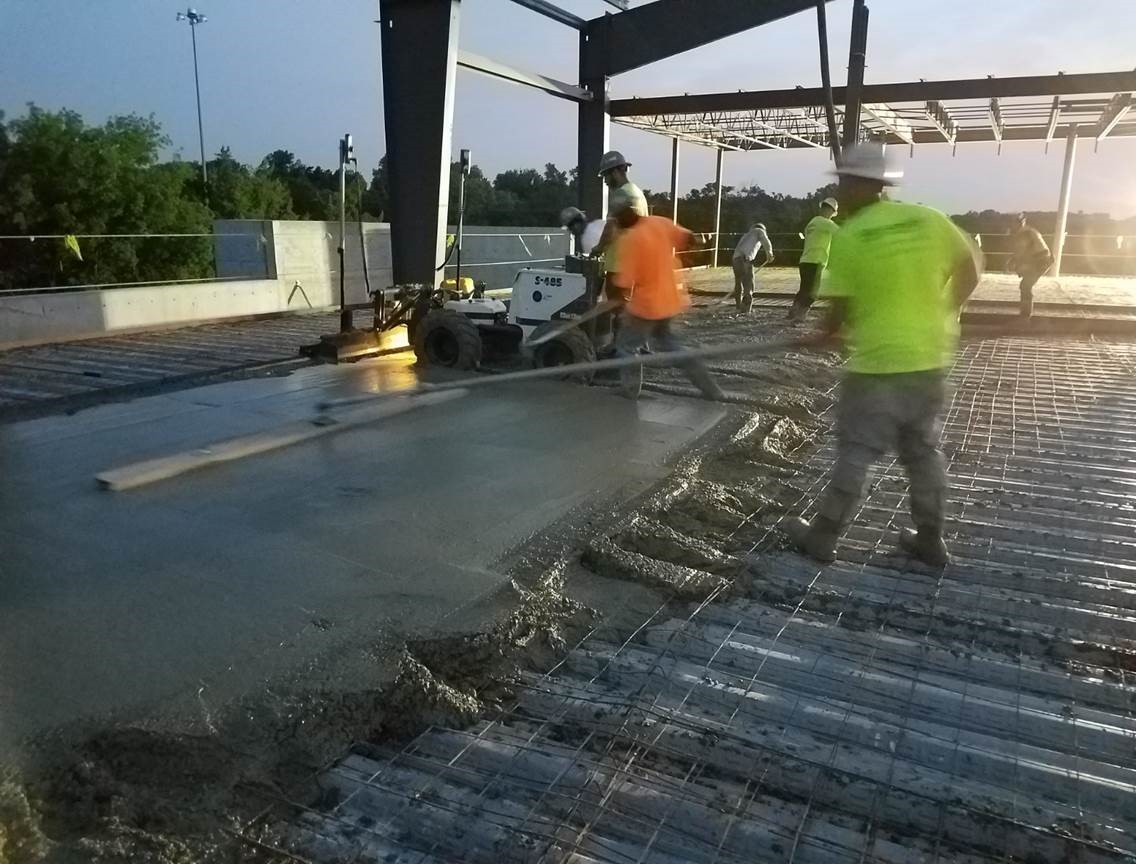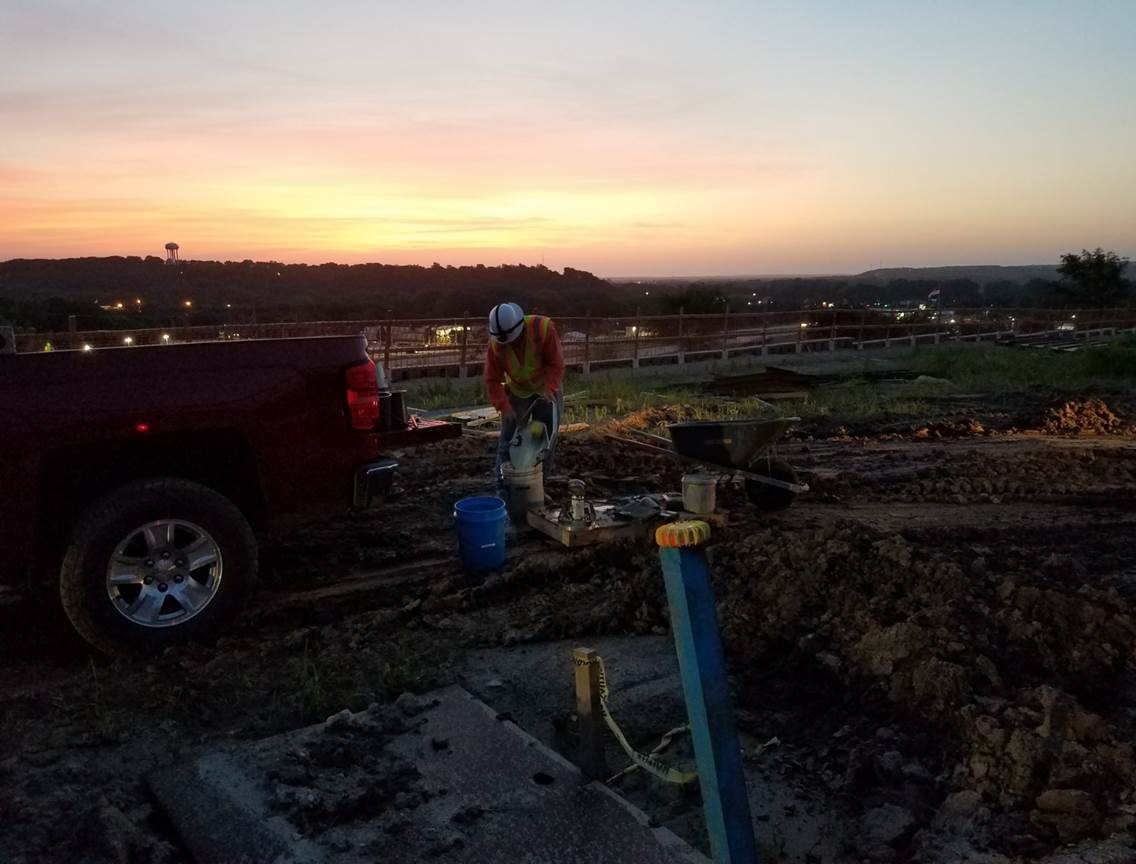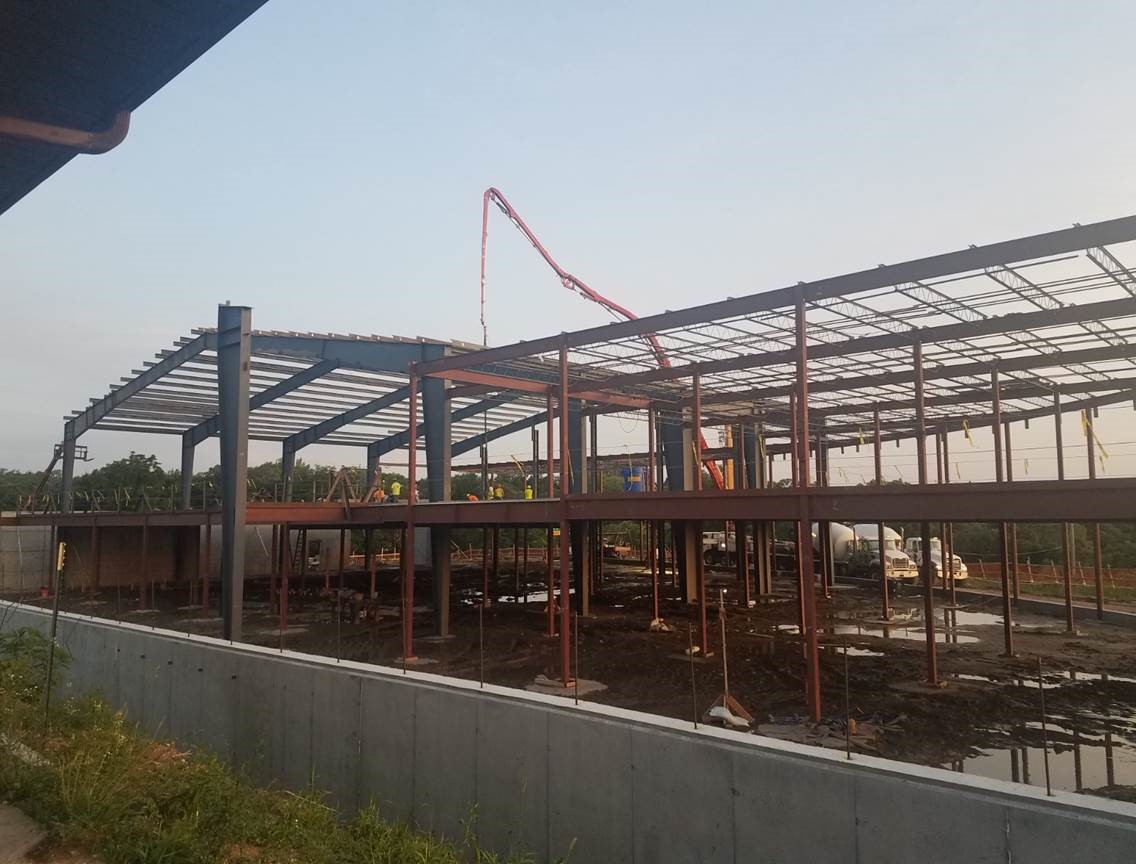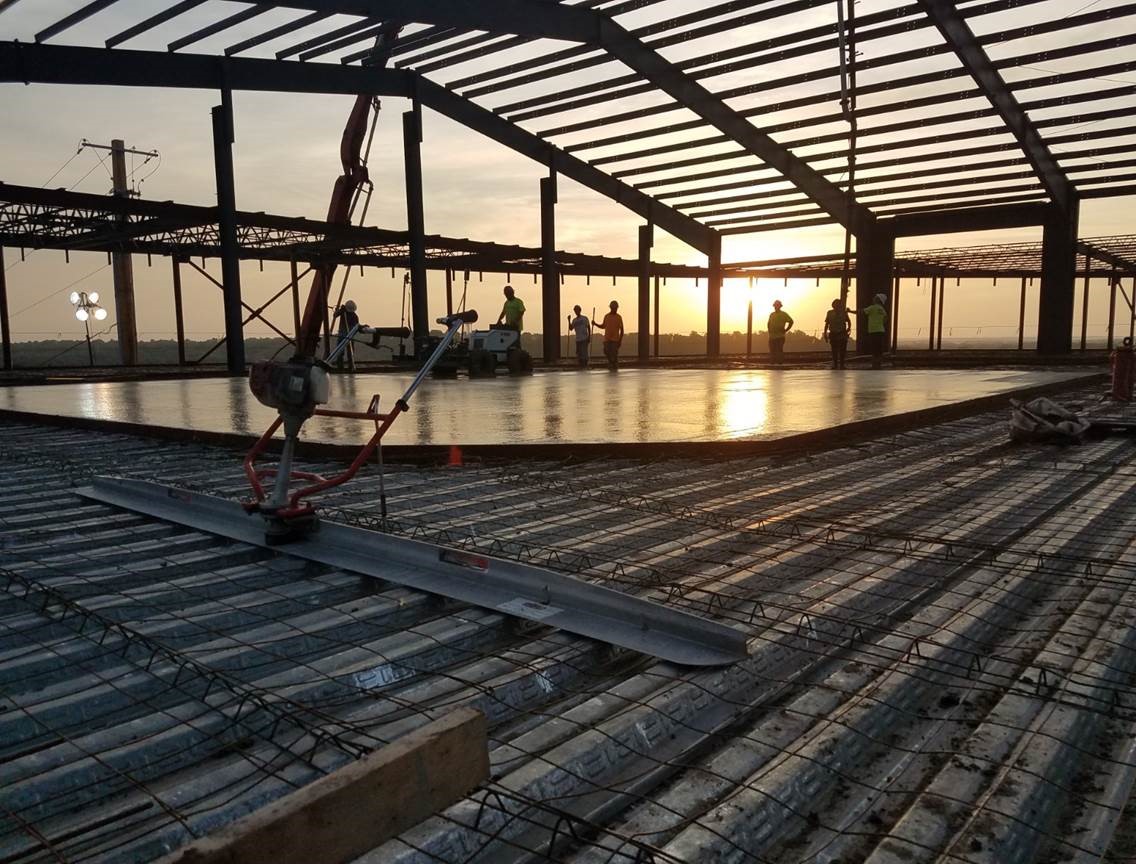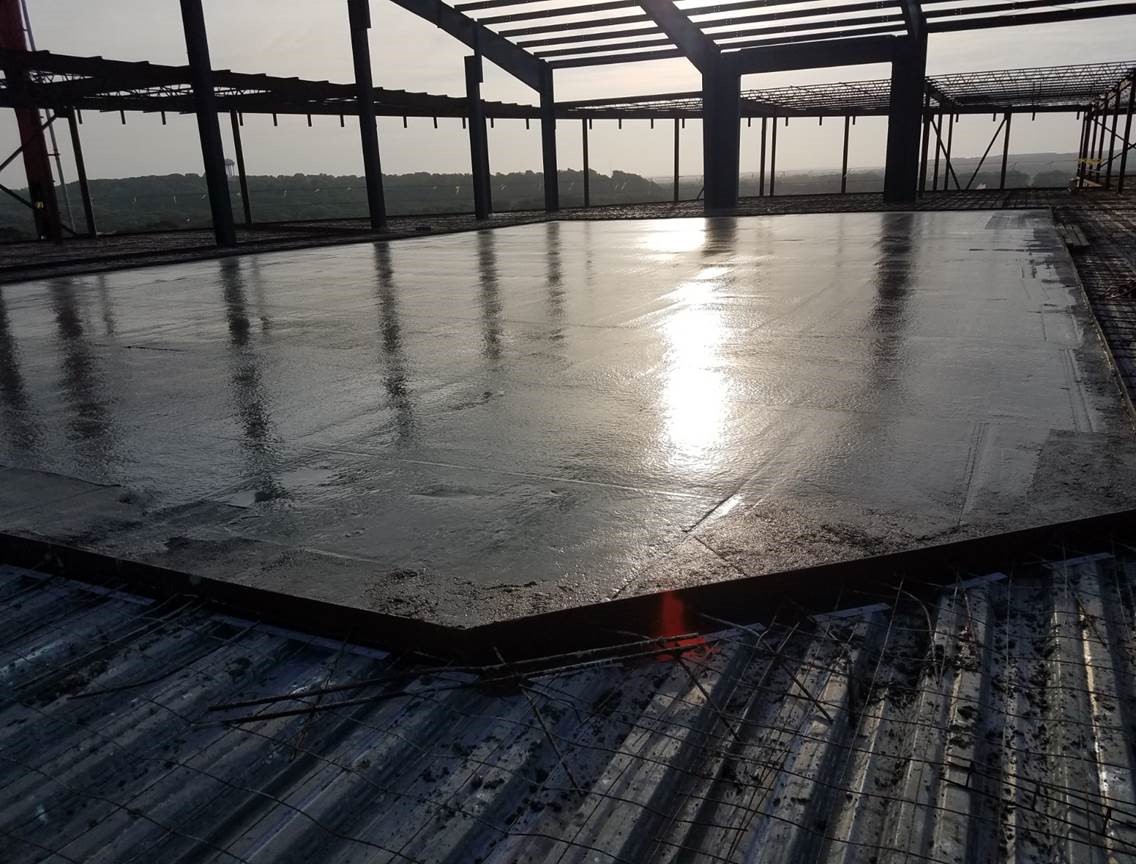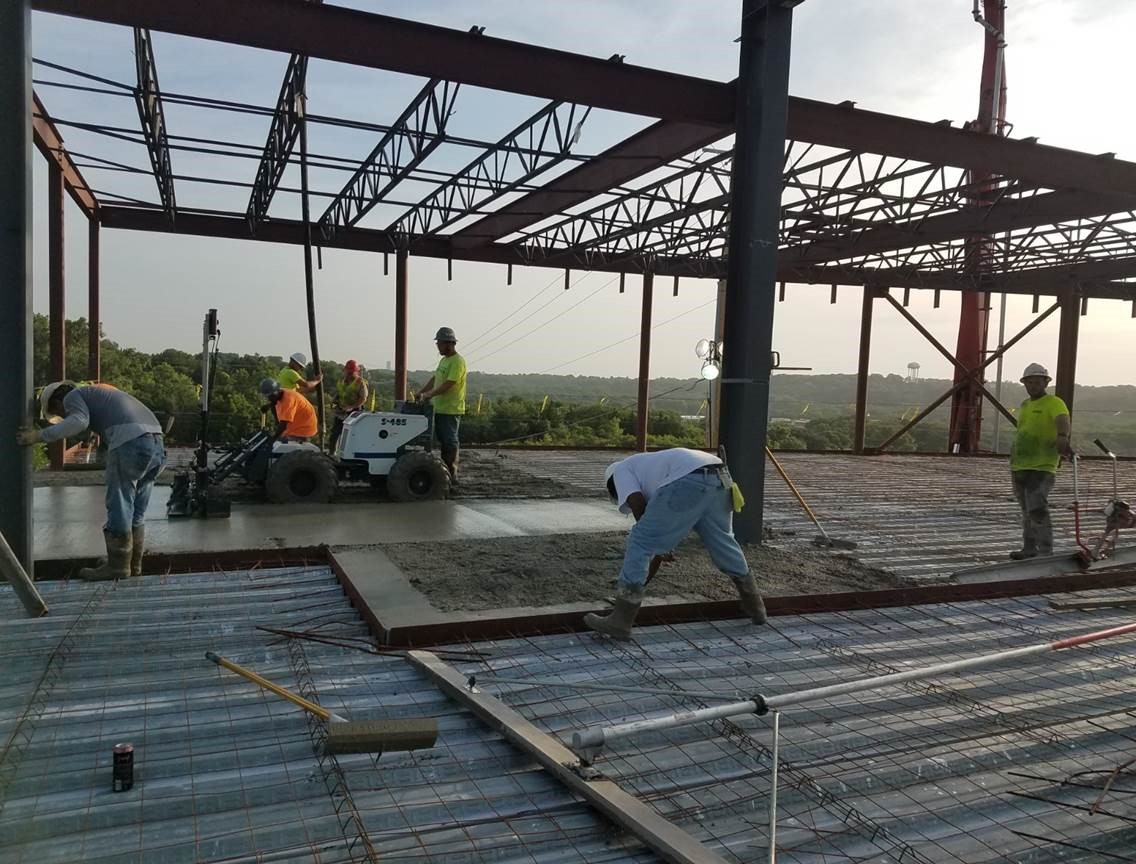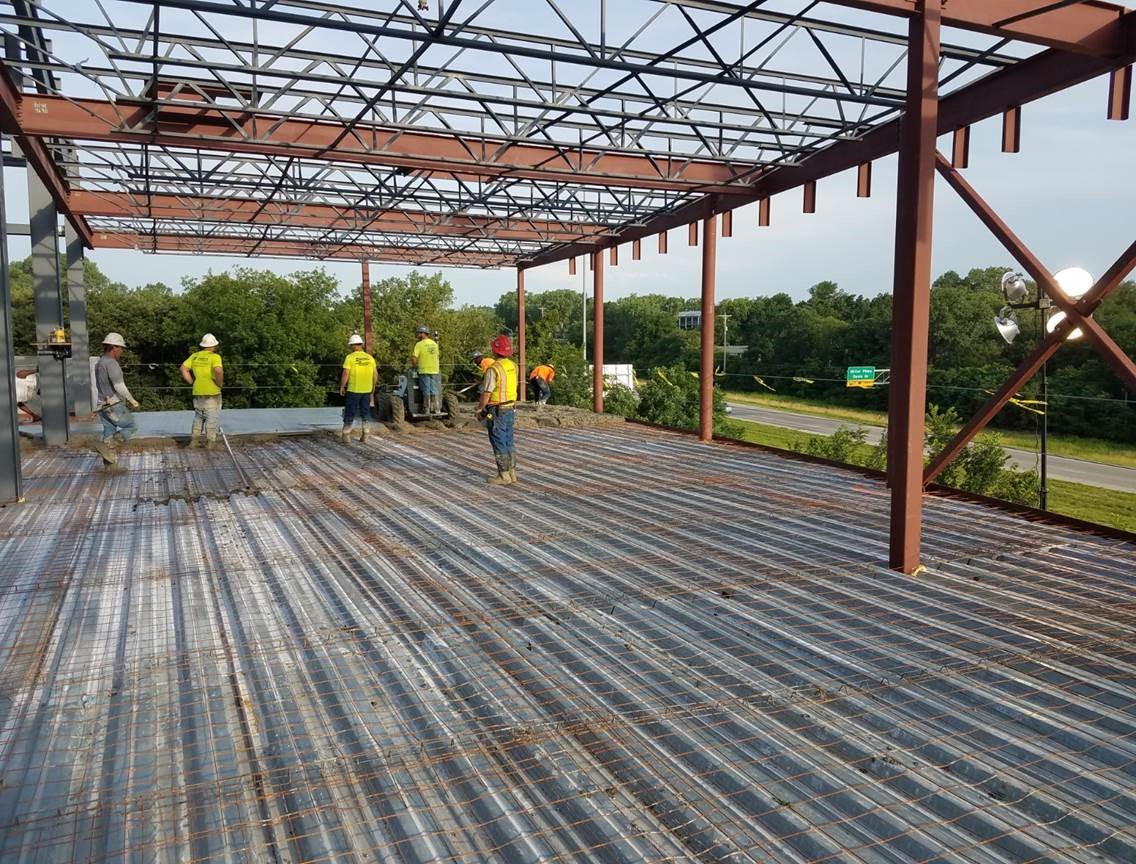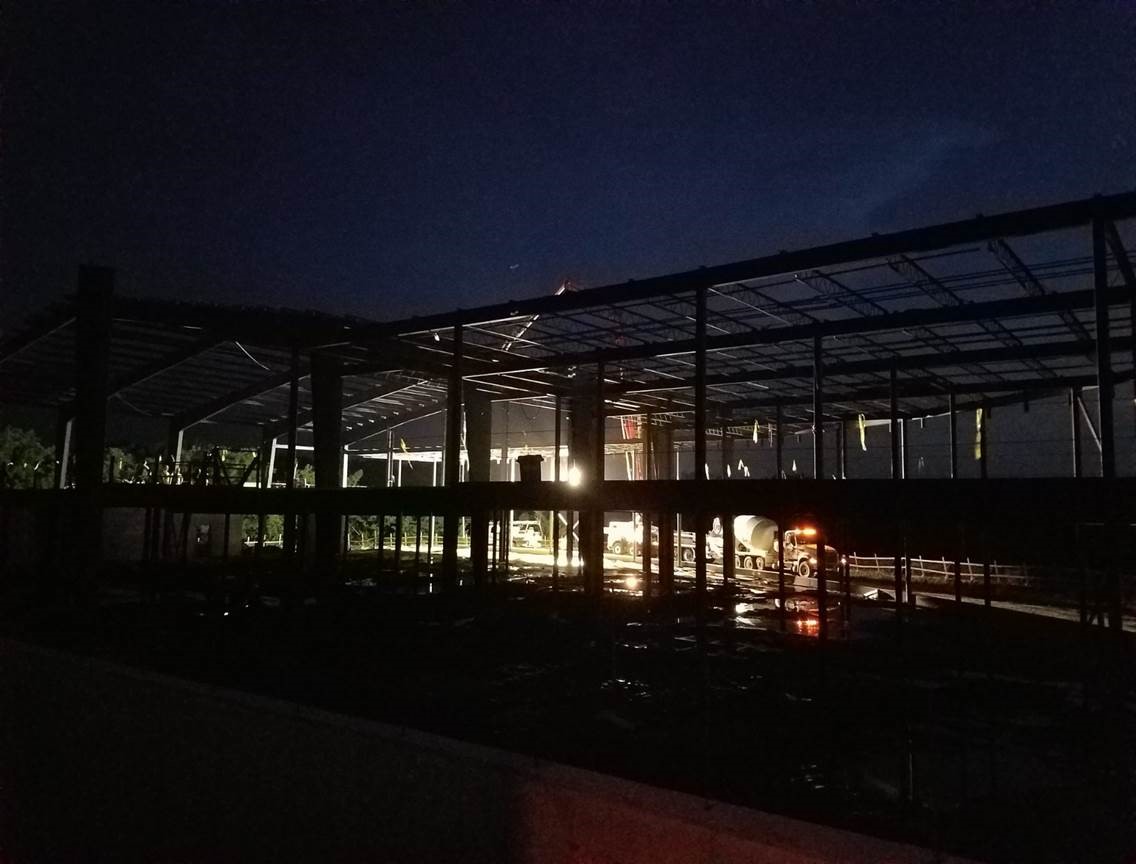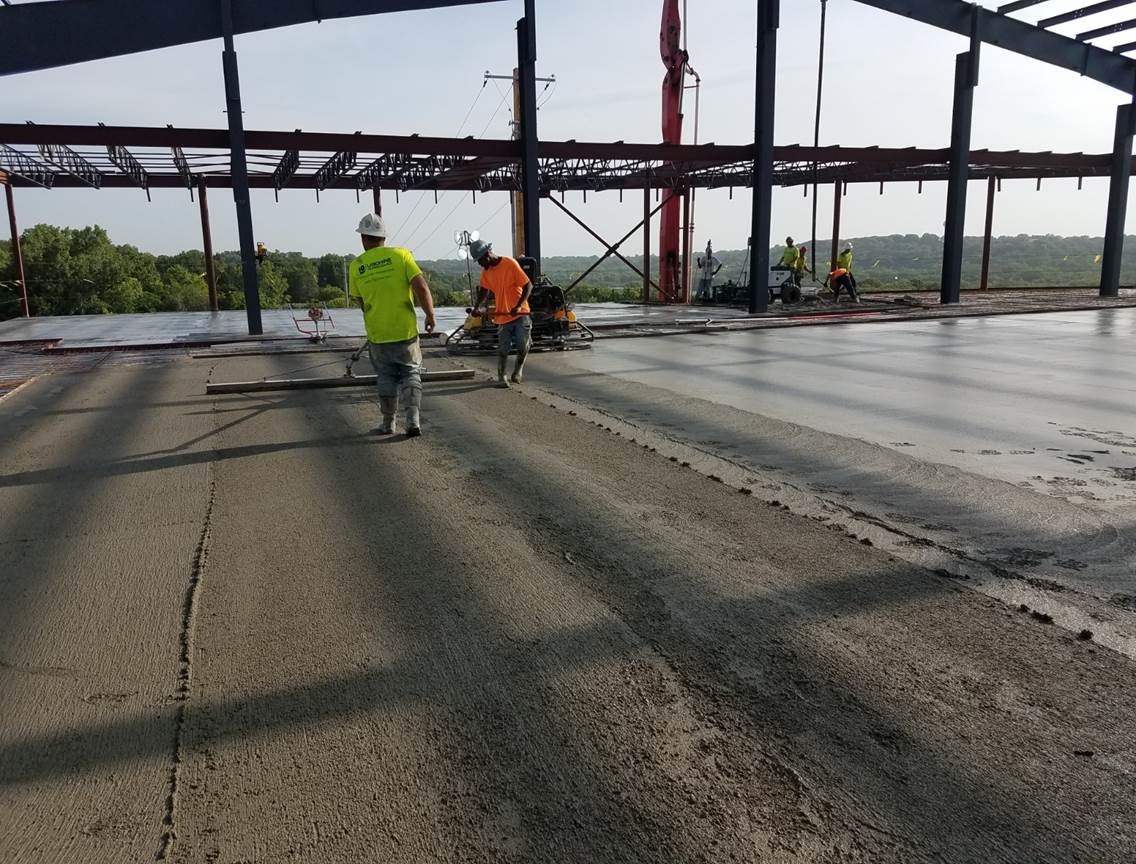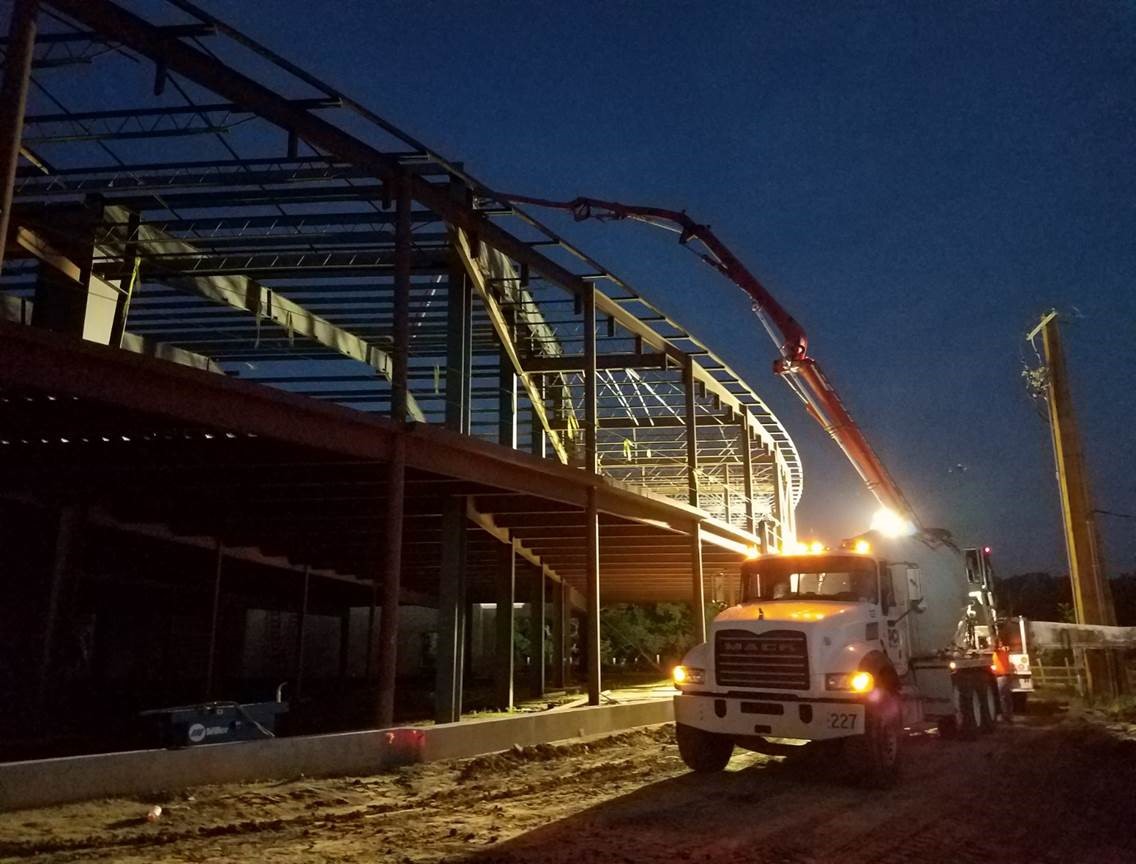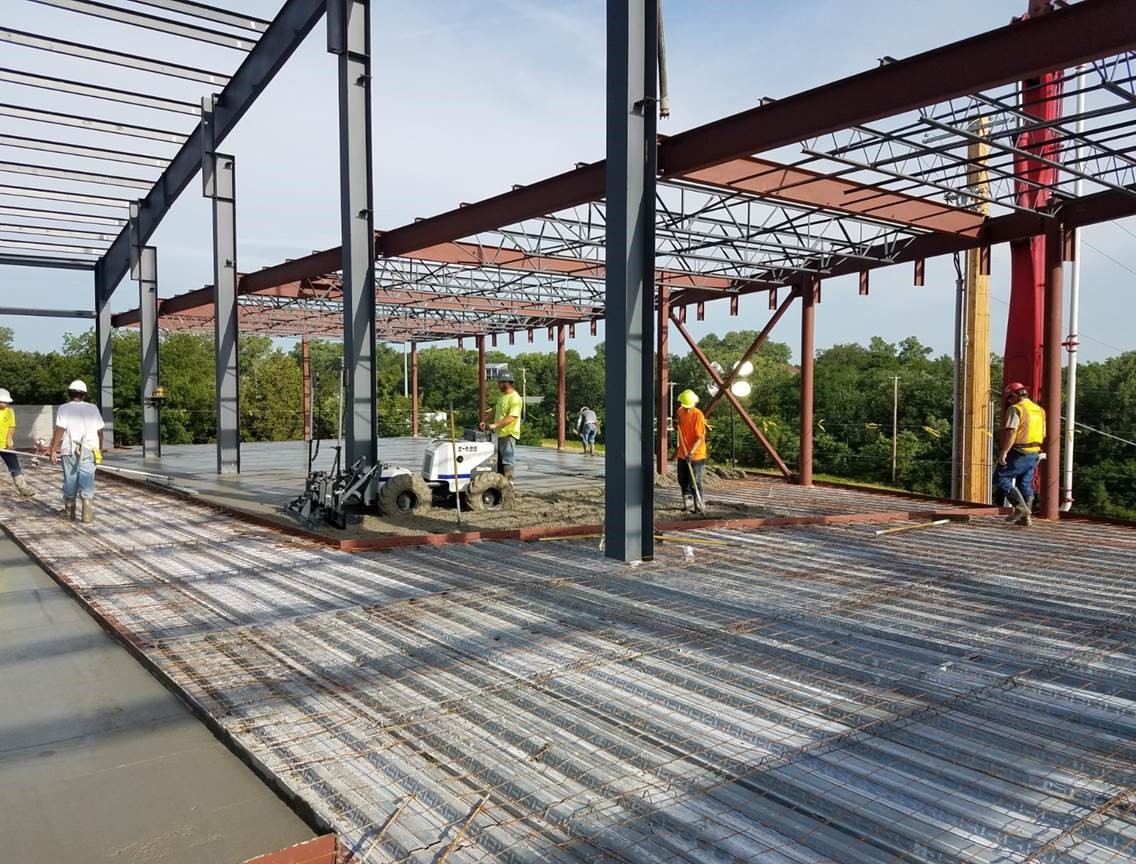 Update 6/18/2019
The site is finally dry and steel continues to rise into the air as the walls and floor take shape!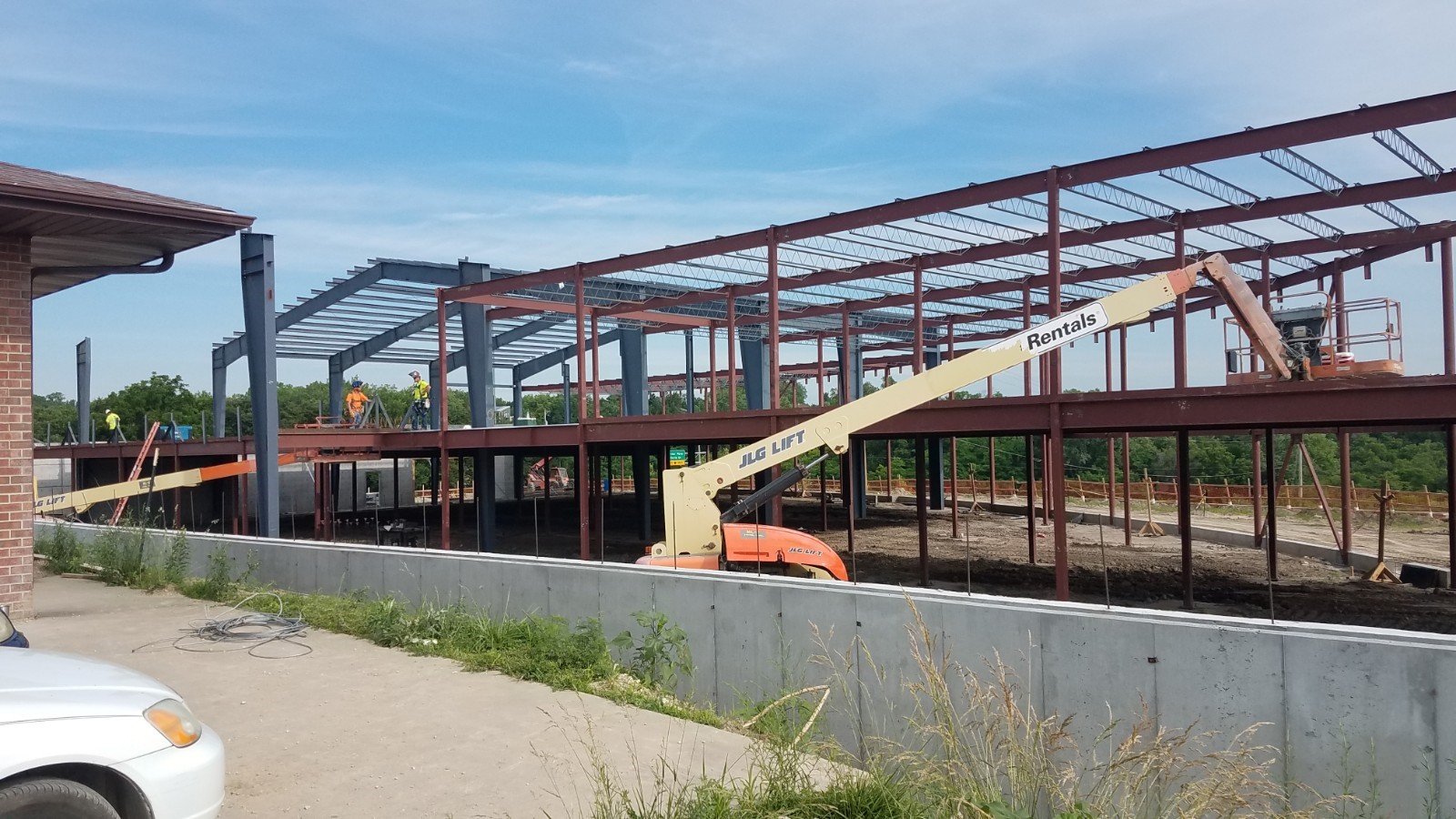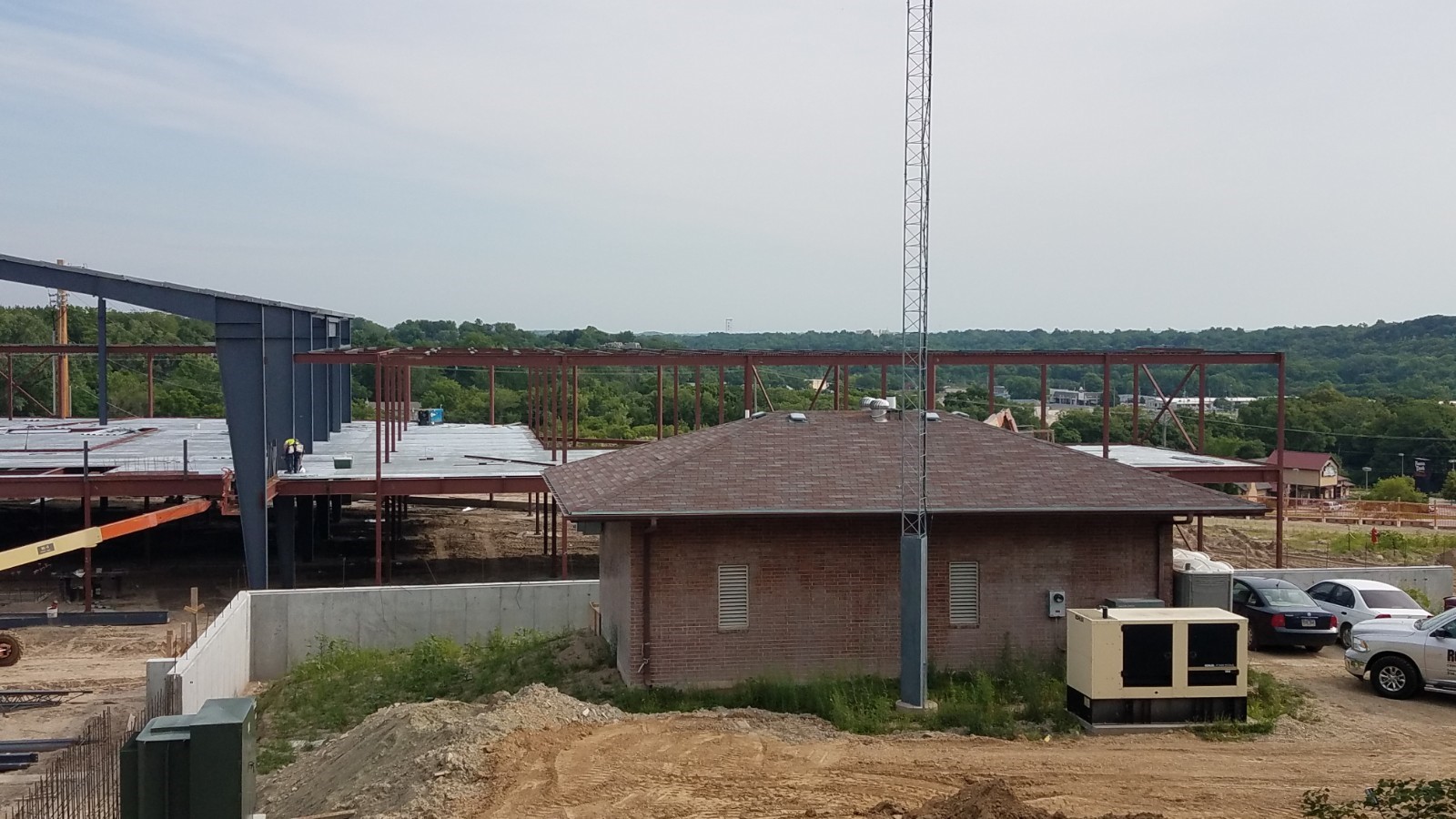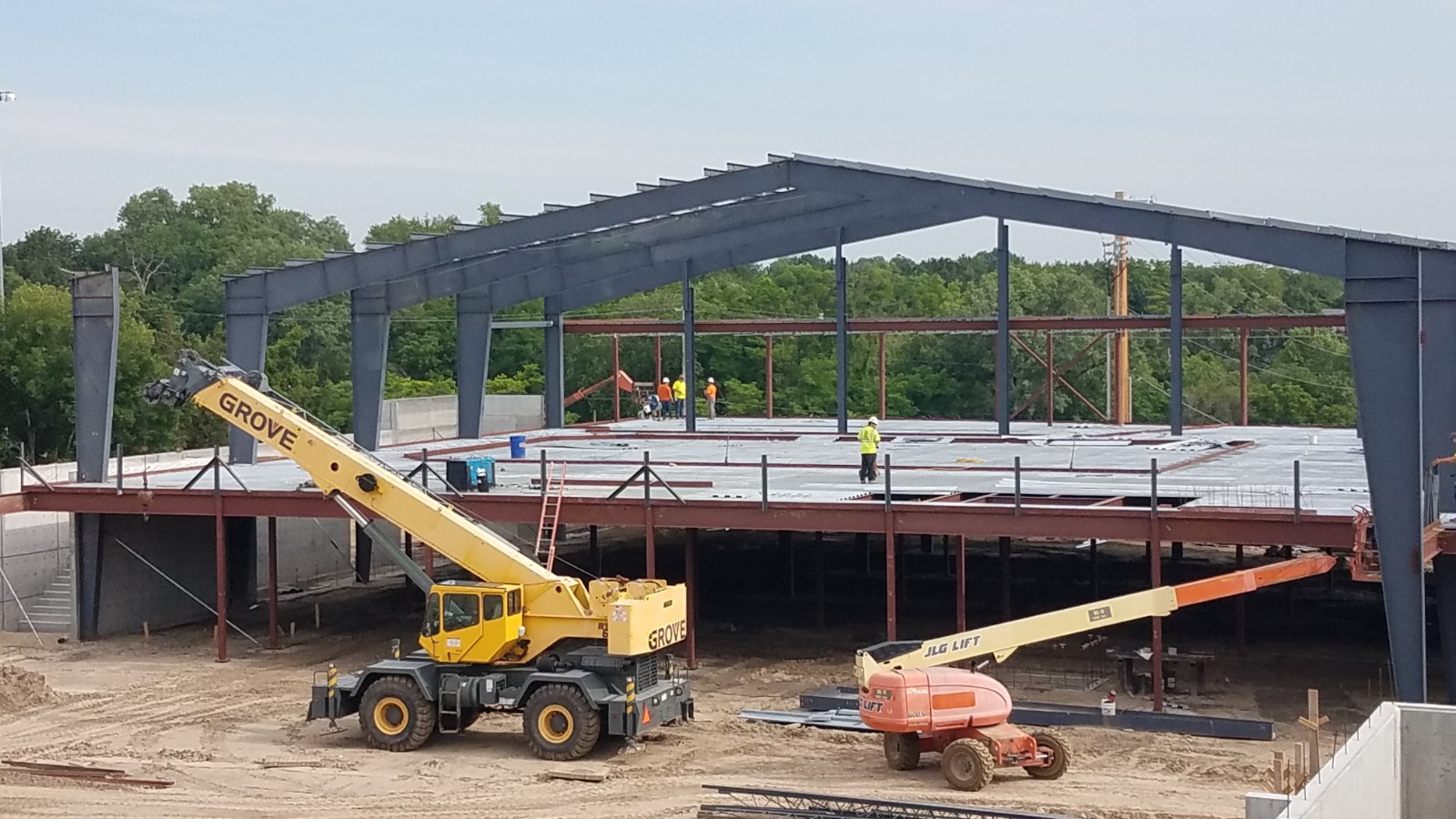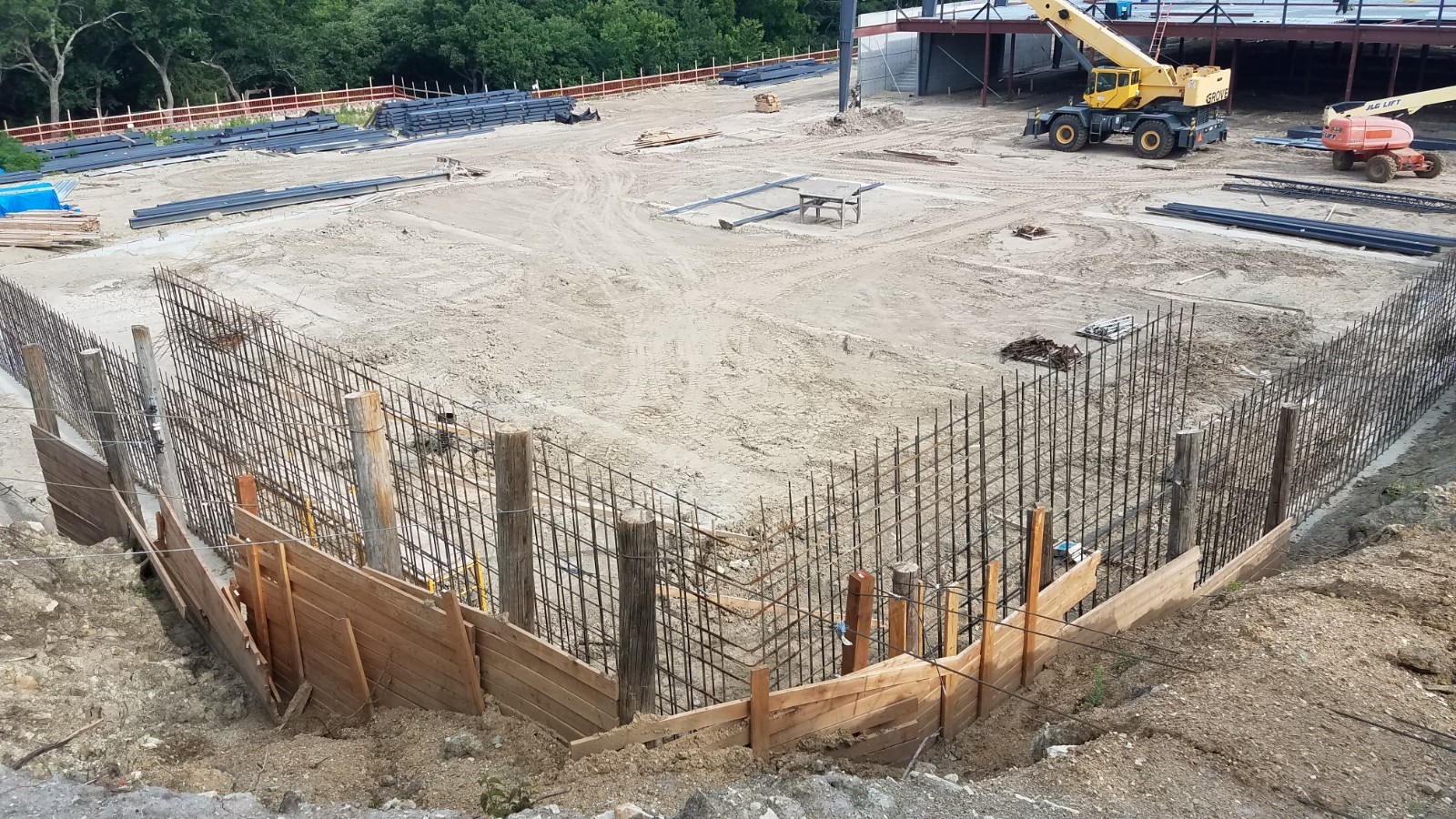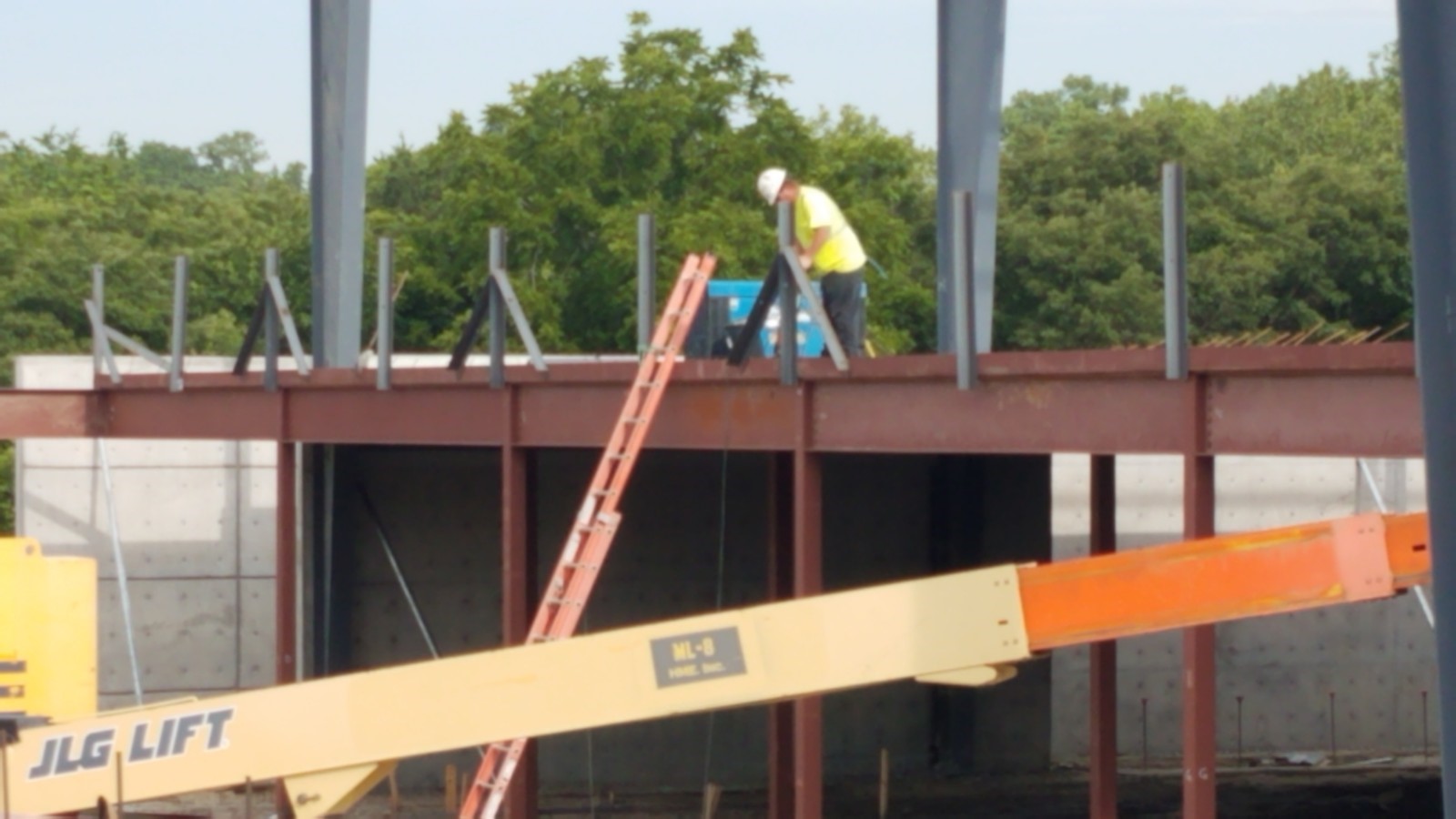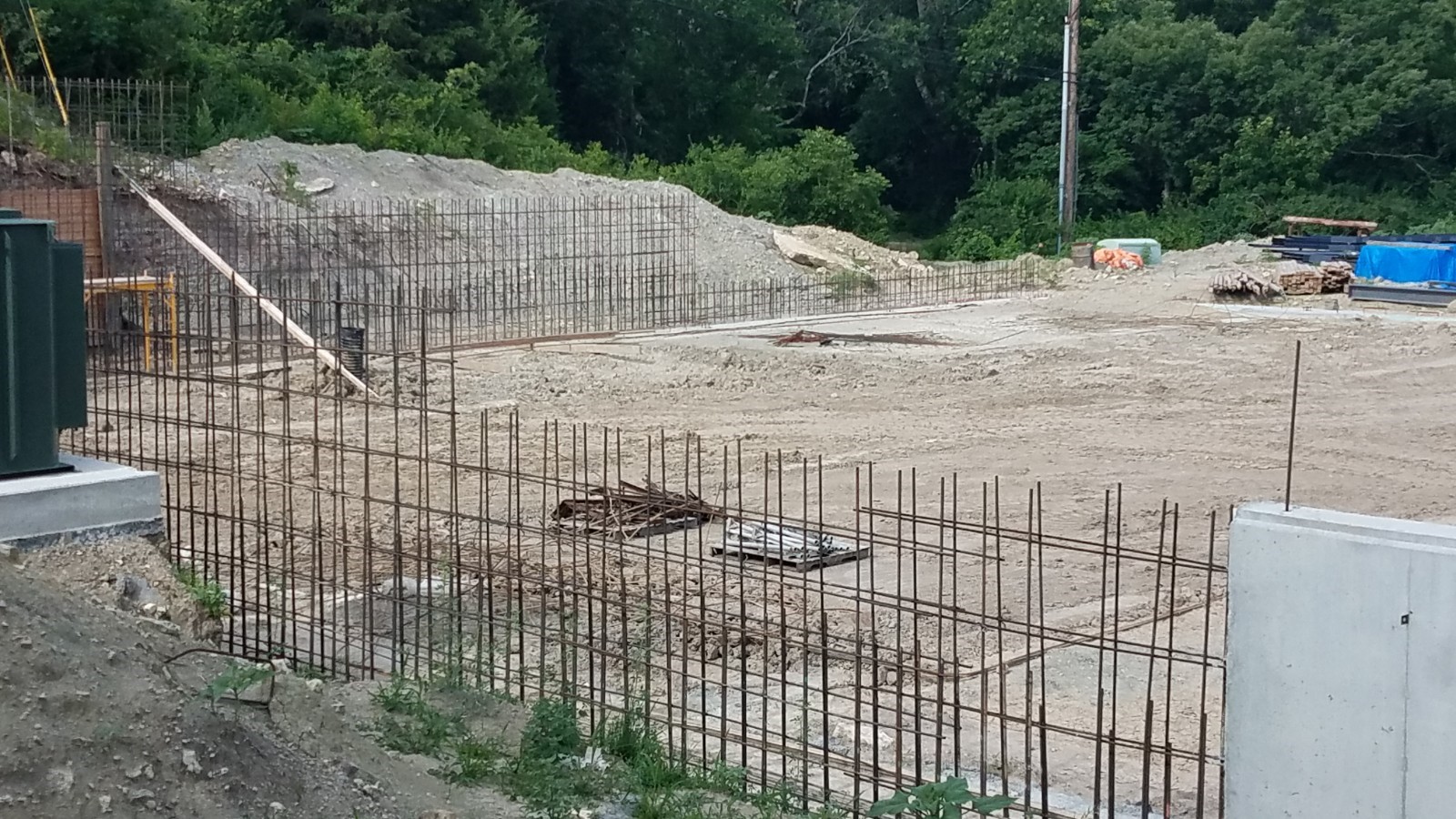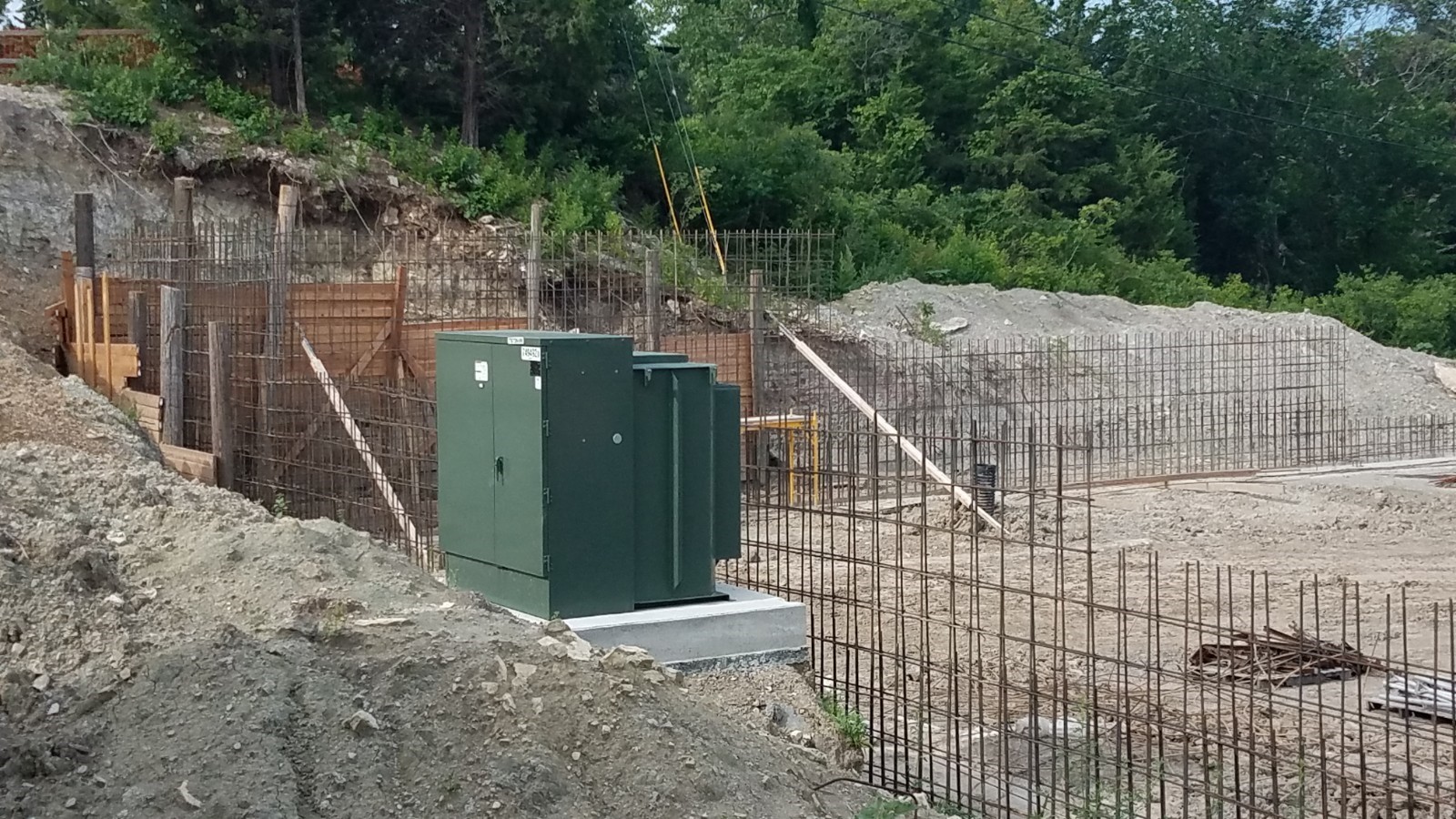 Update 5/30/2019
Did someone say rain? We're working as hard and fast as we can through the weather to get the new club-ready for you. The building continues to rise and take shape with the foundation visible, walls, roofing, and flooring going in, and much more. Stay tuned for more updates!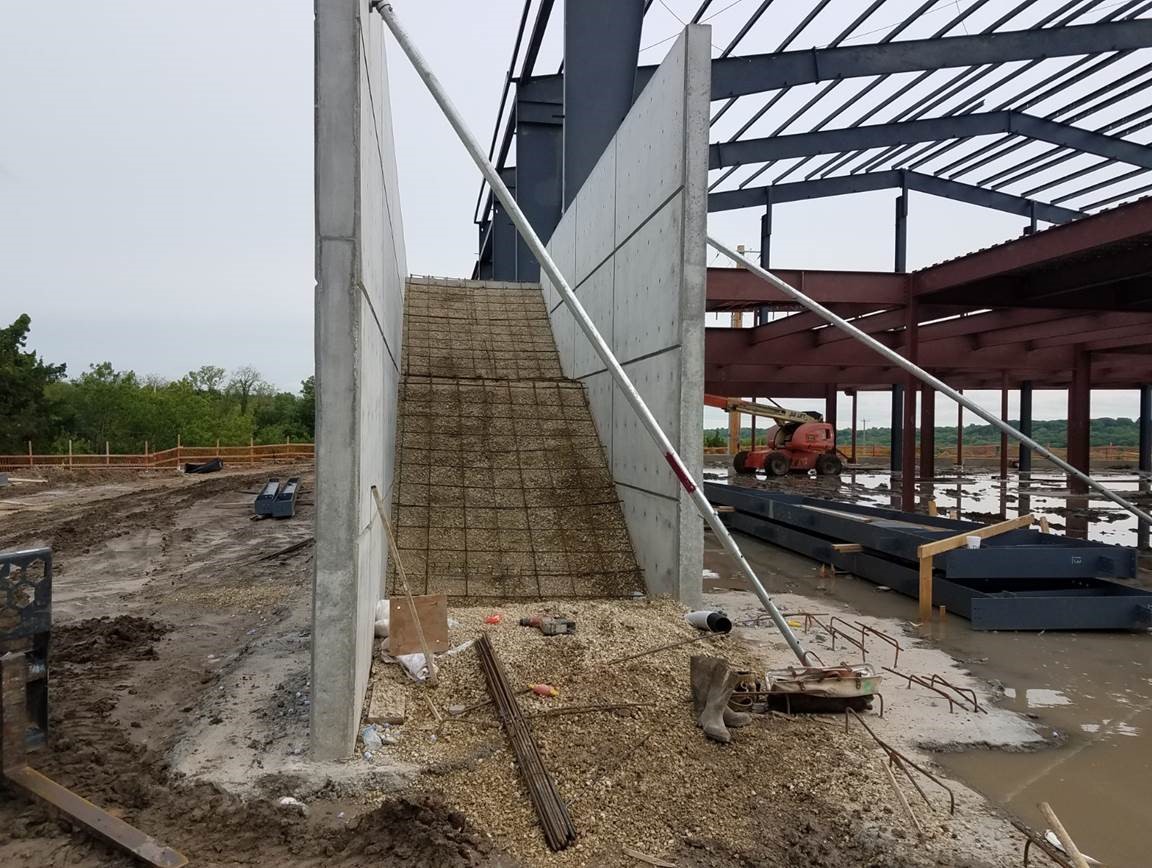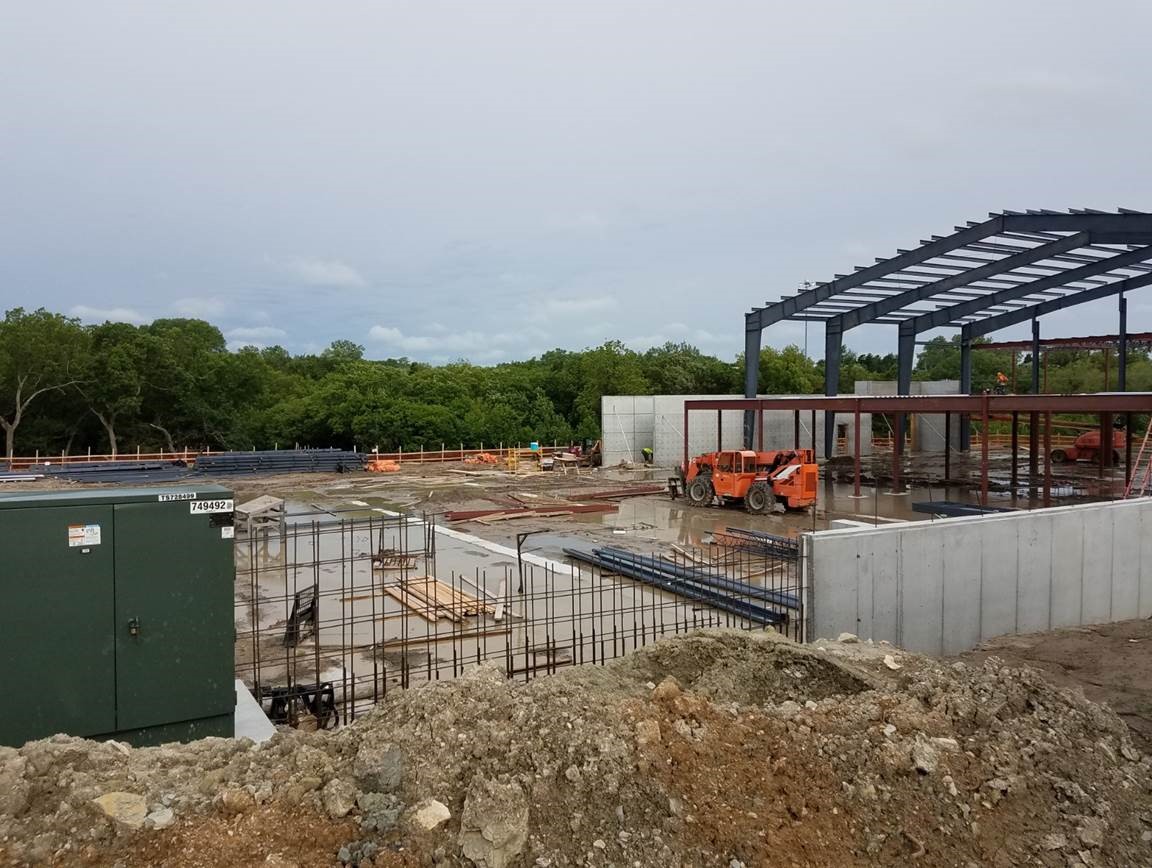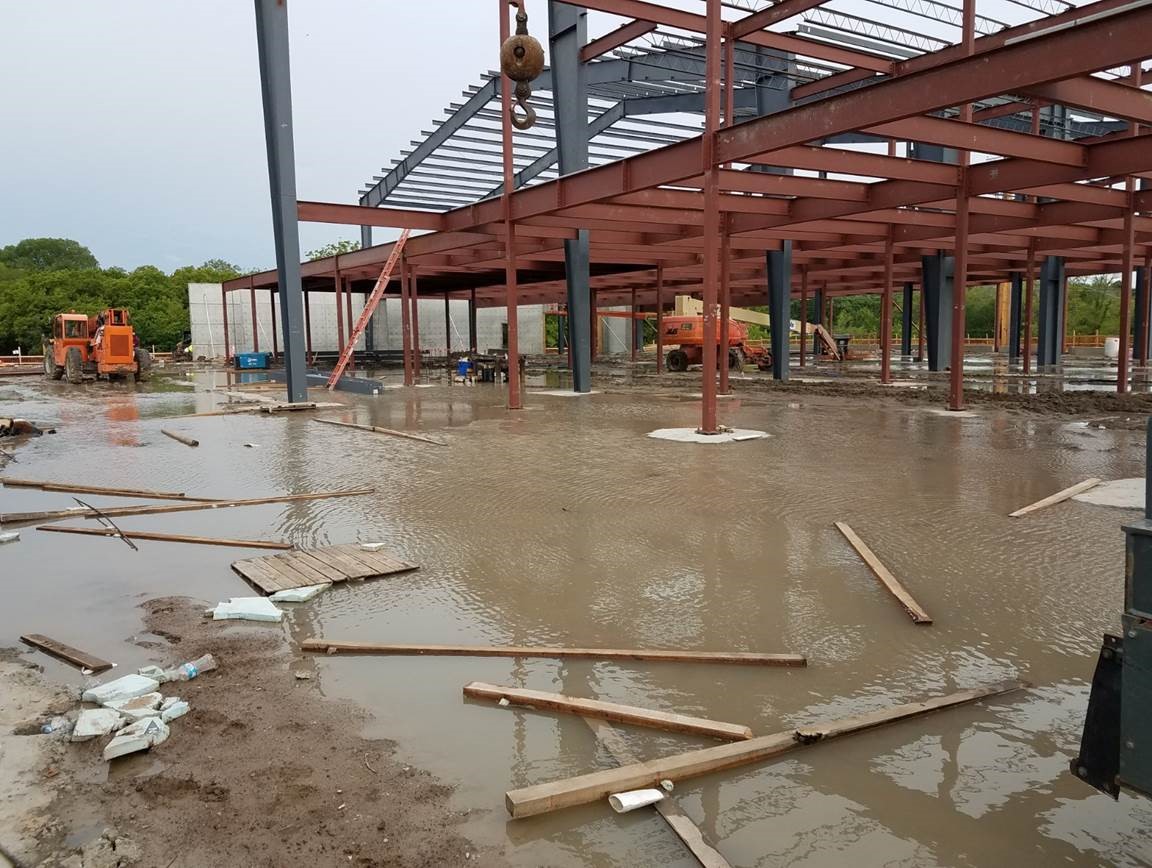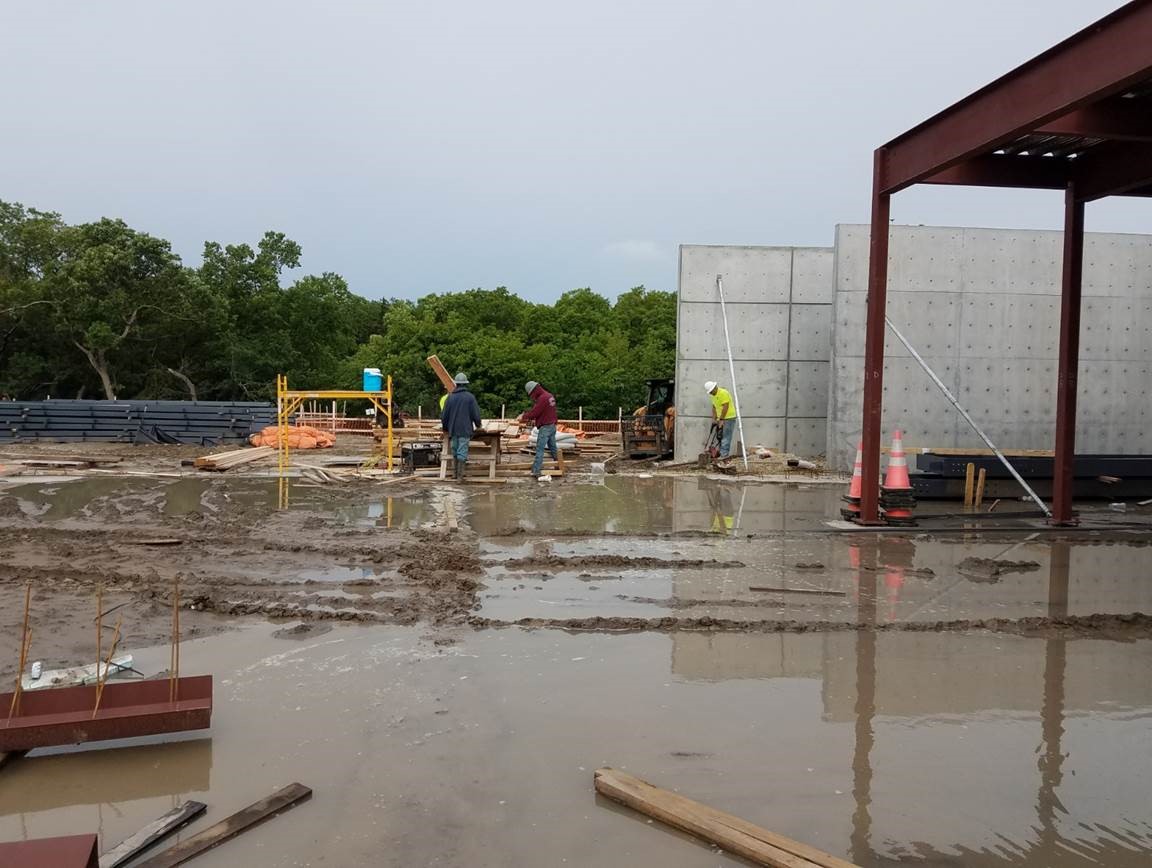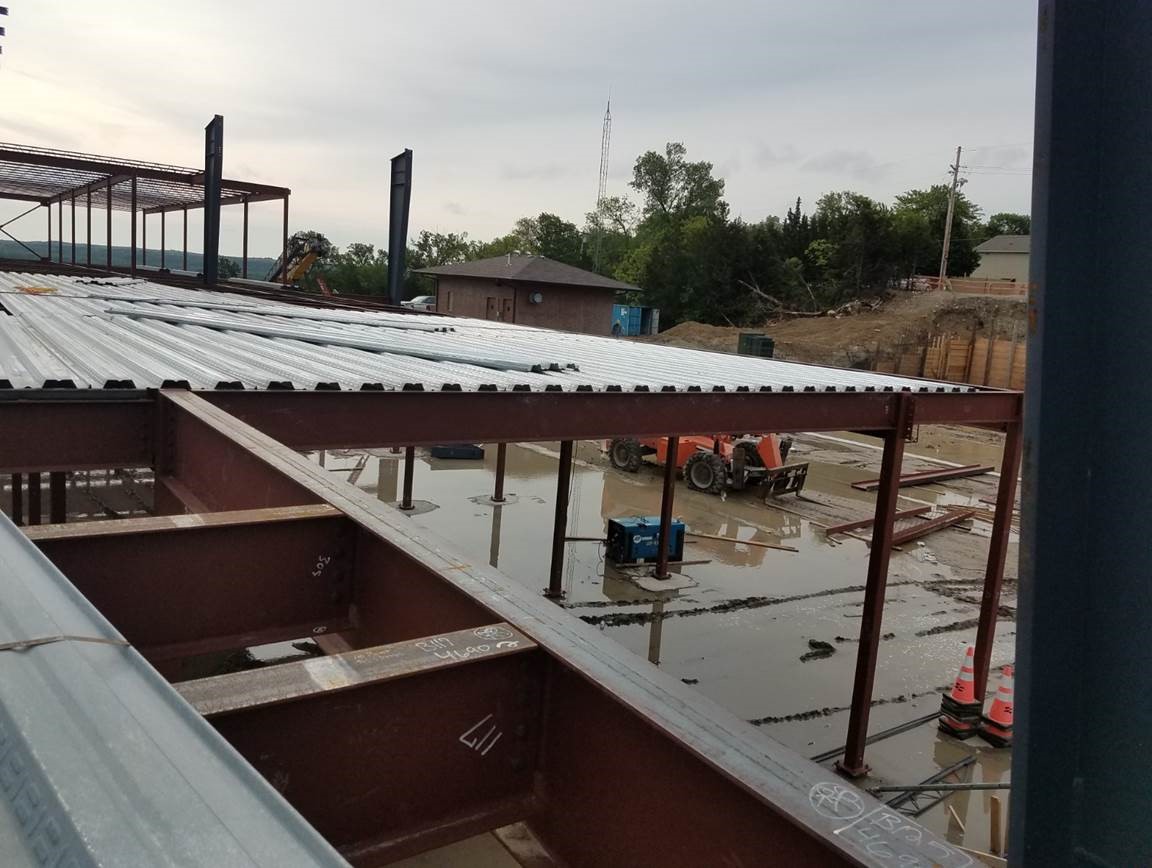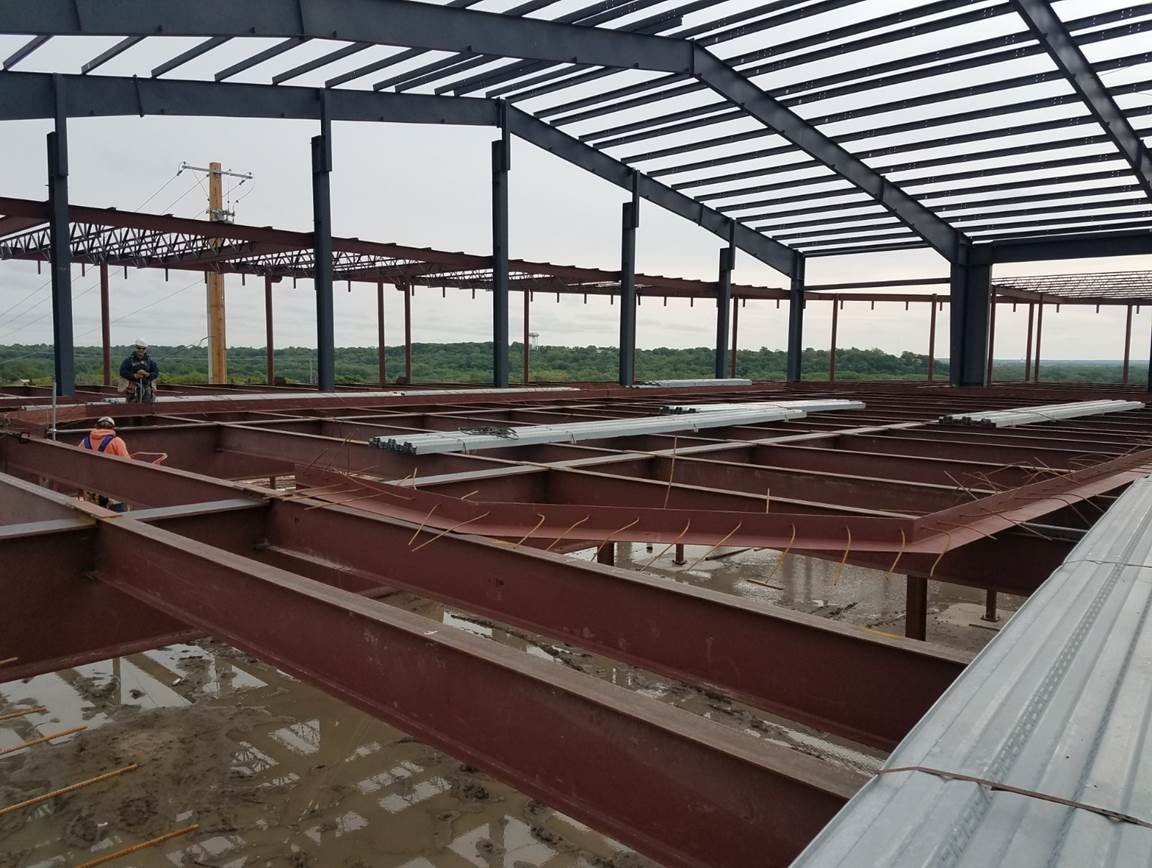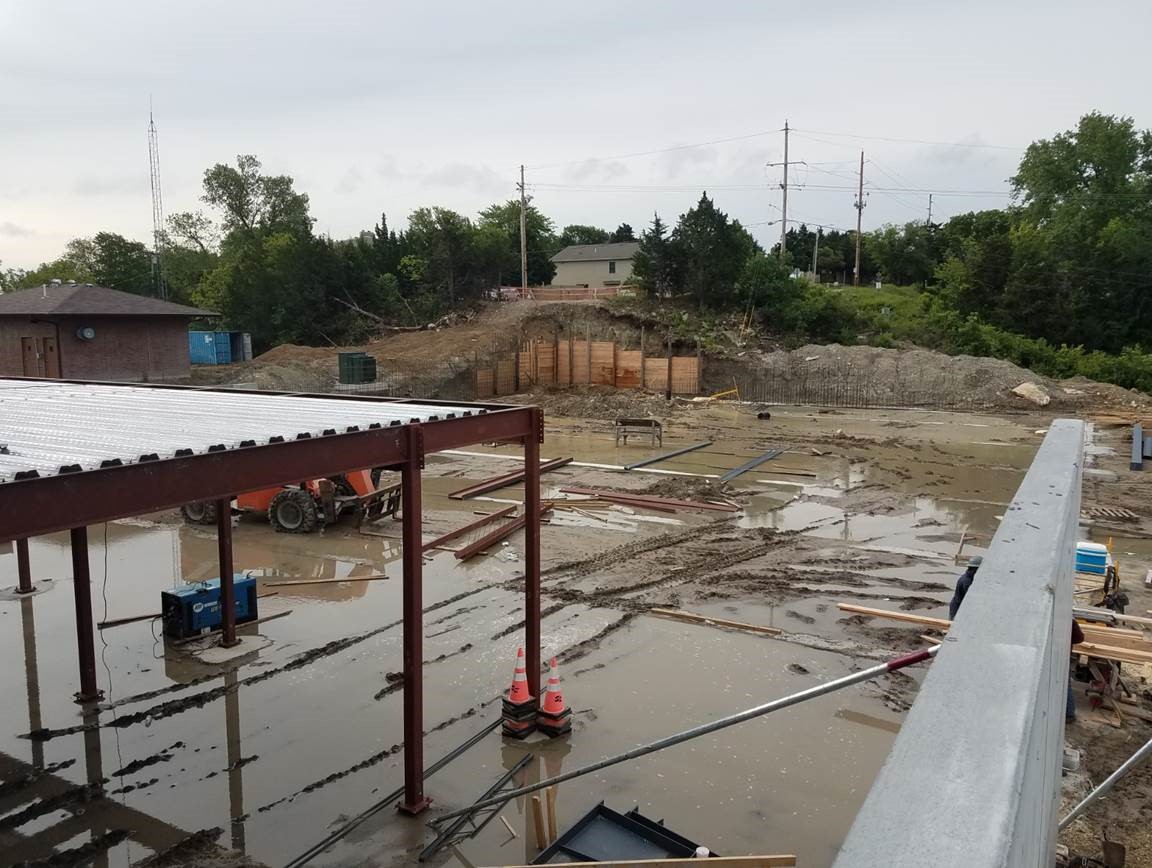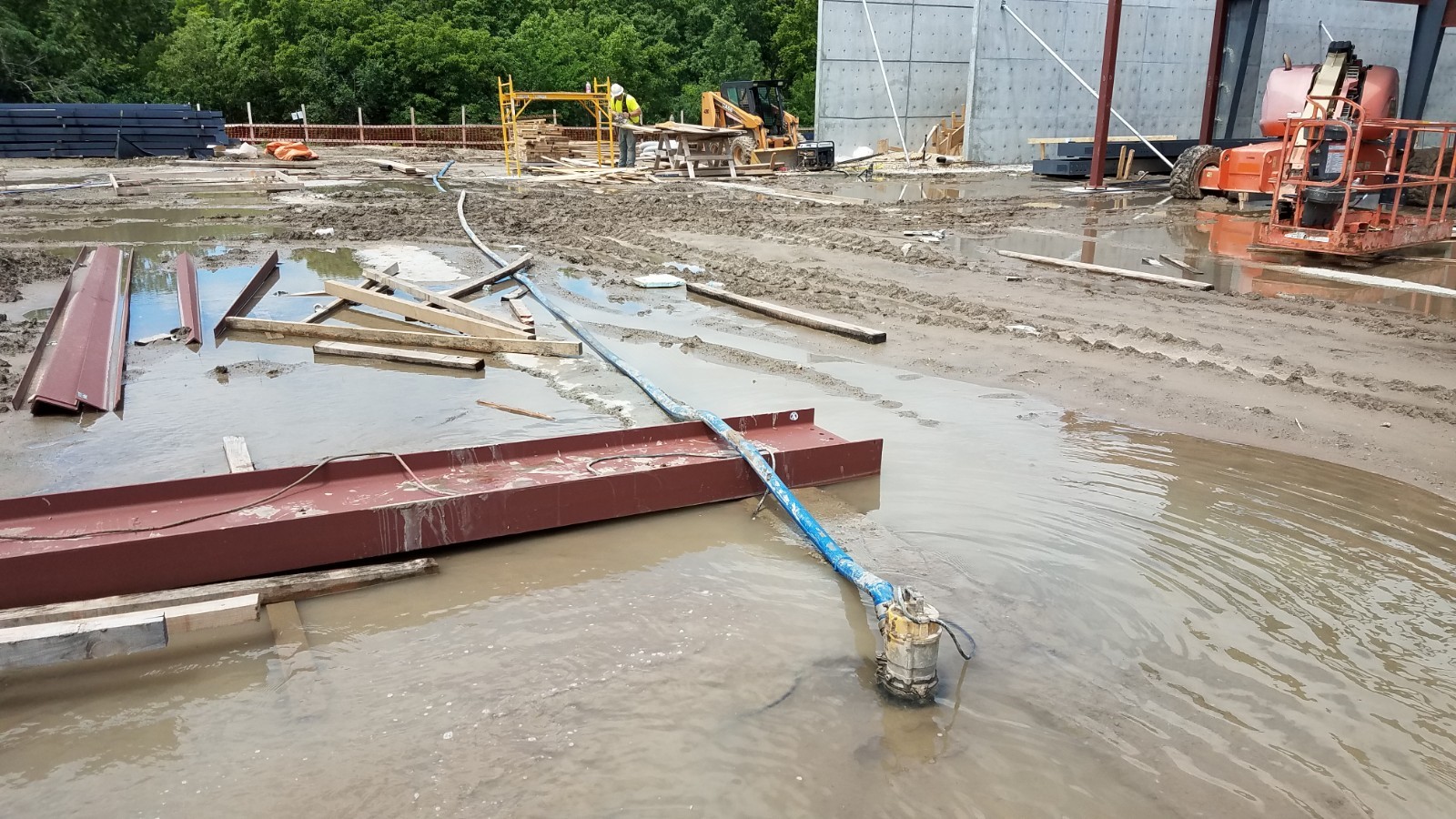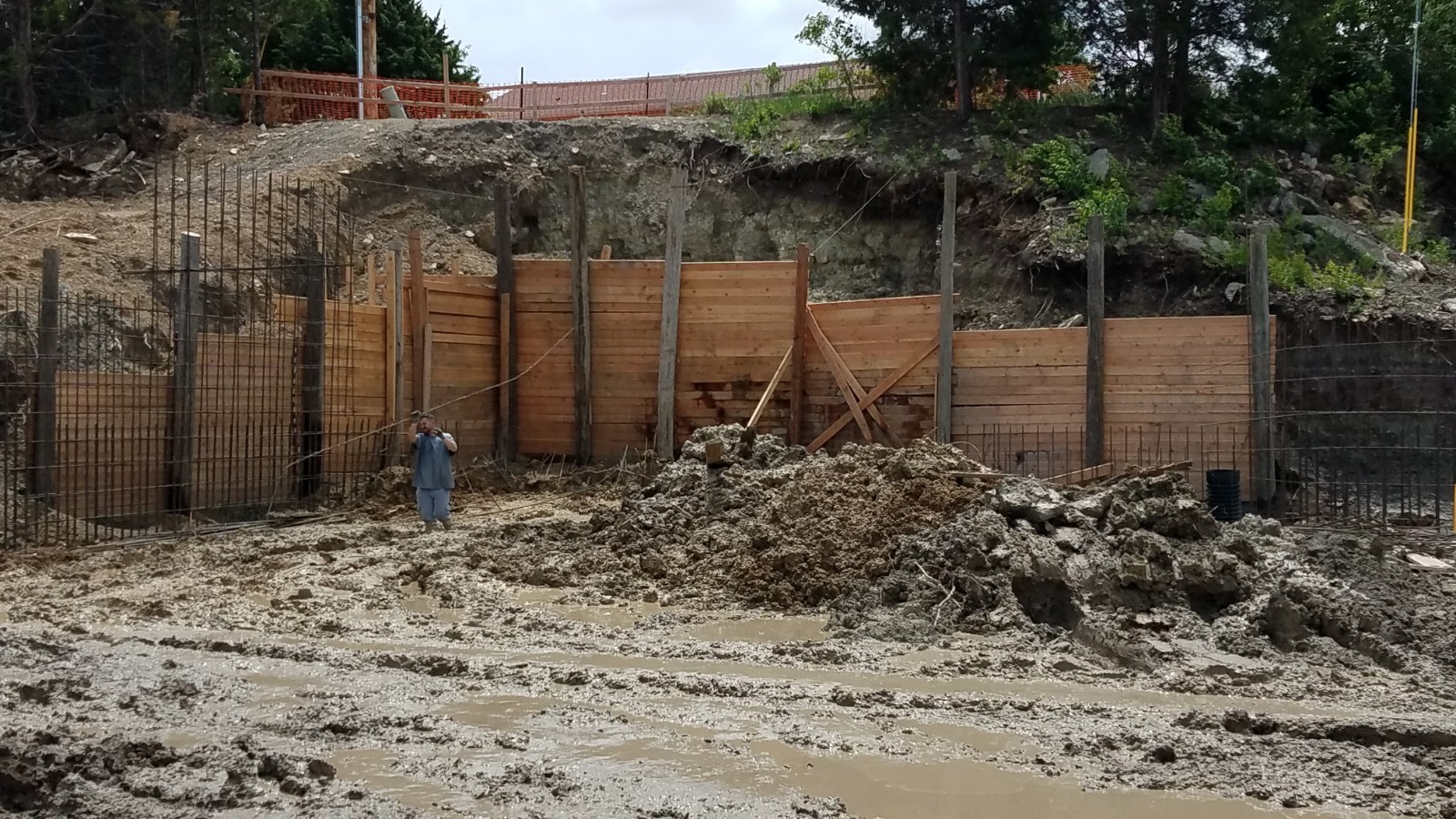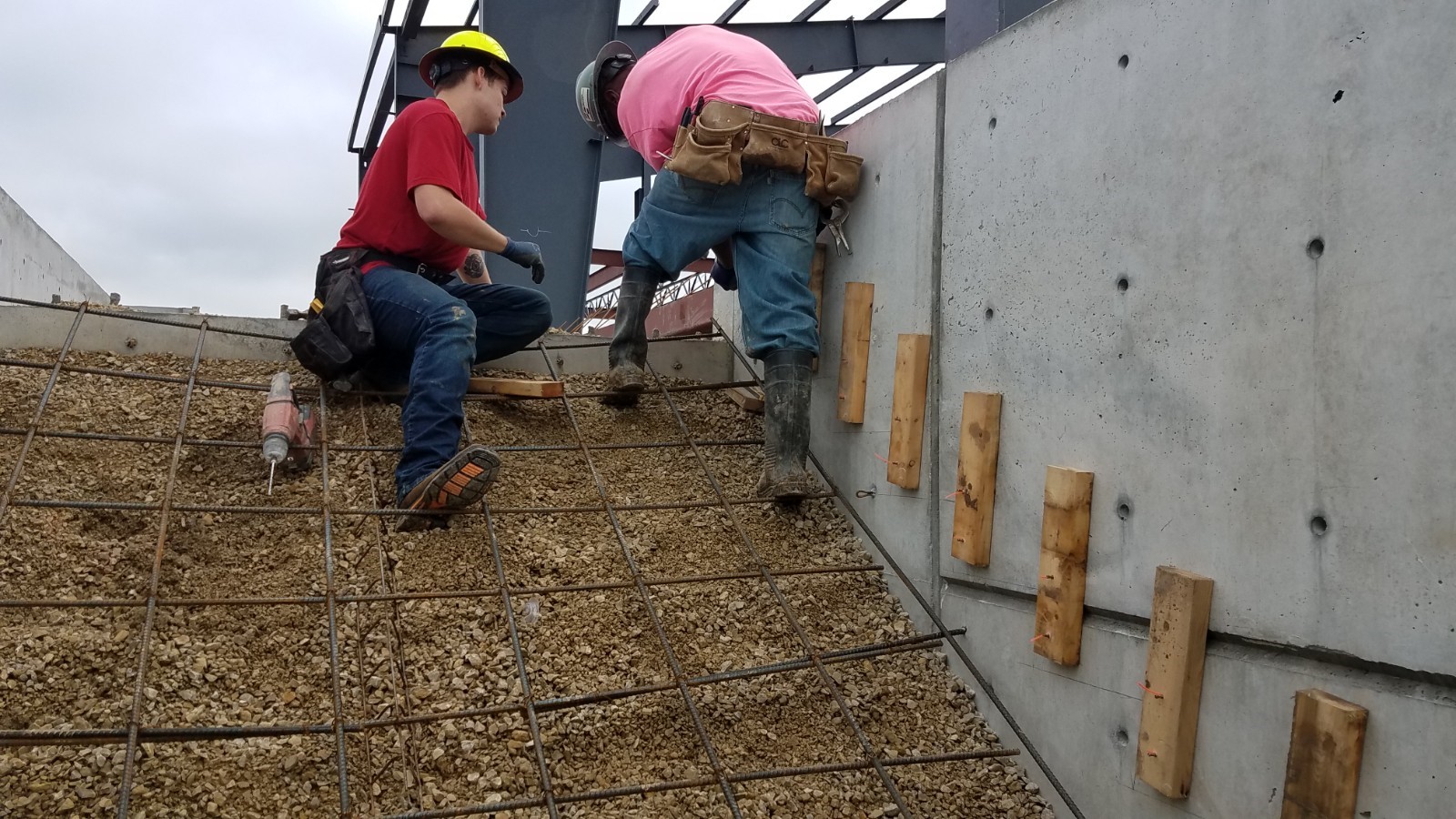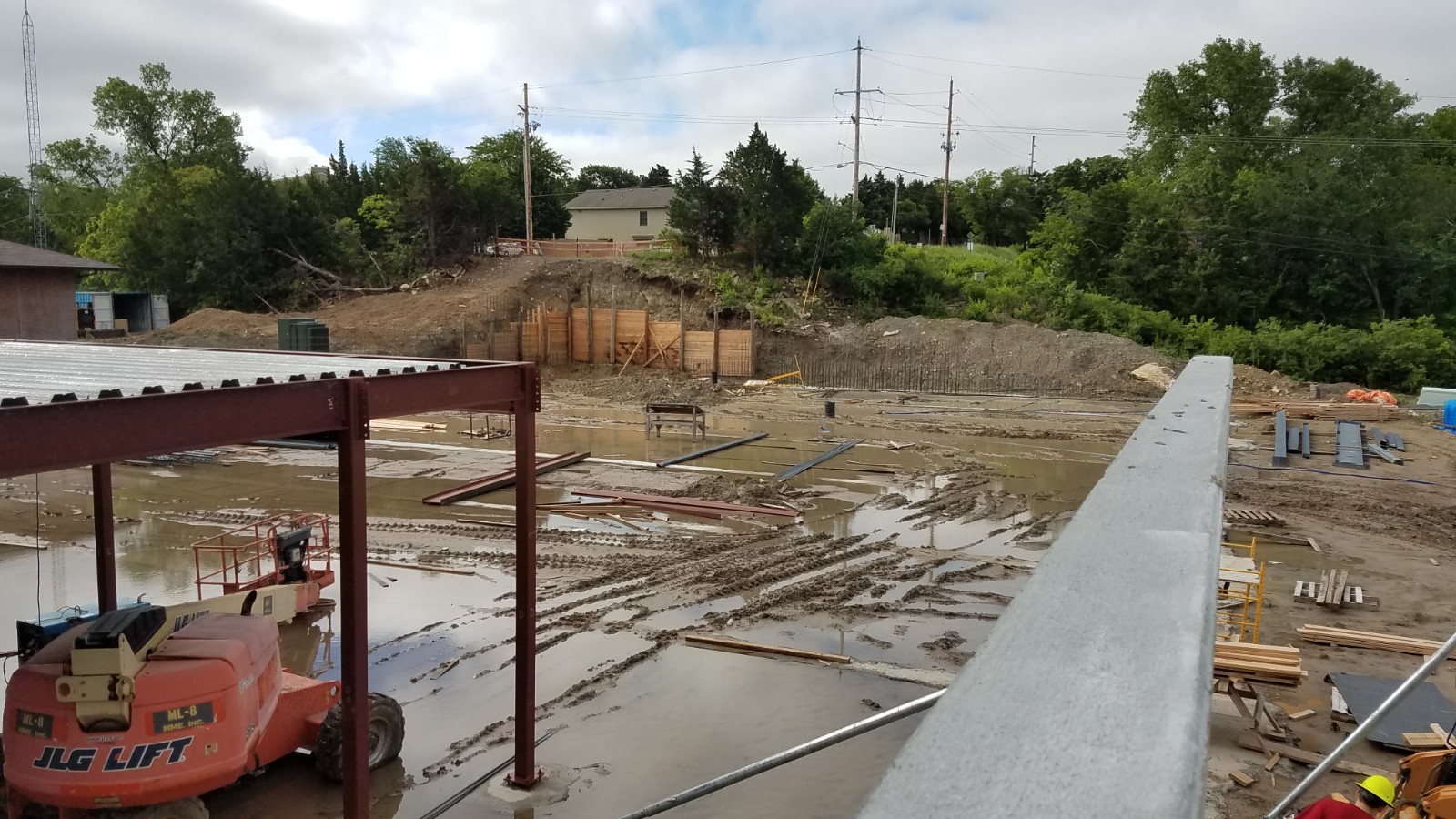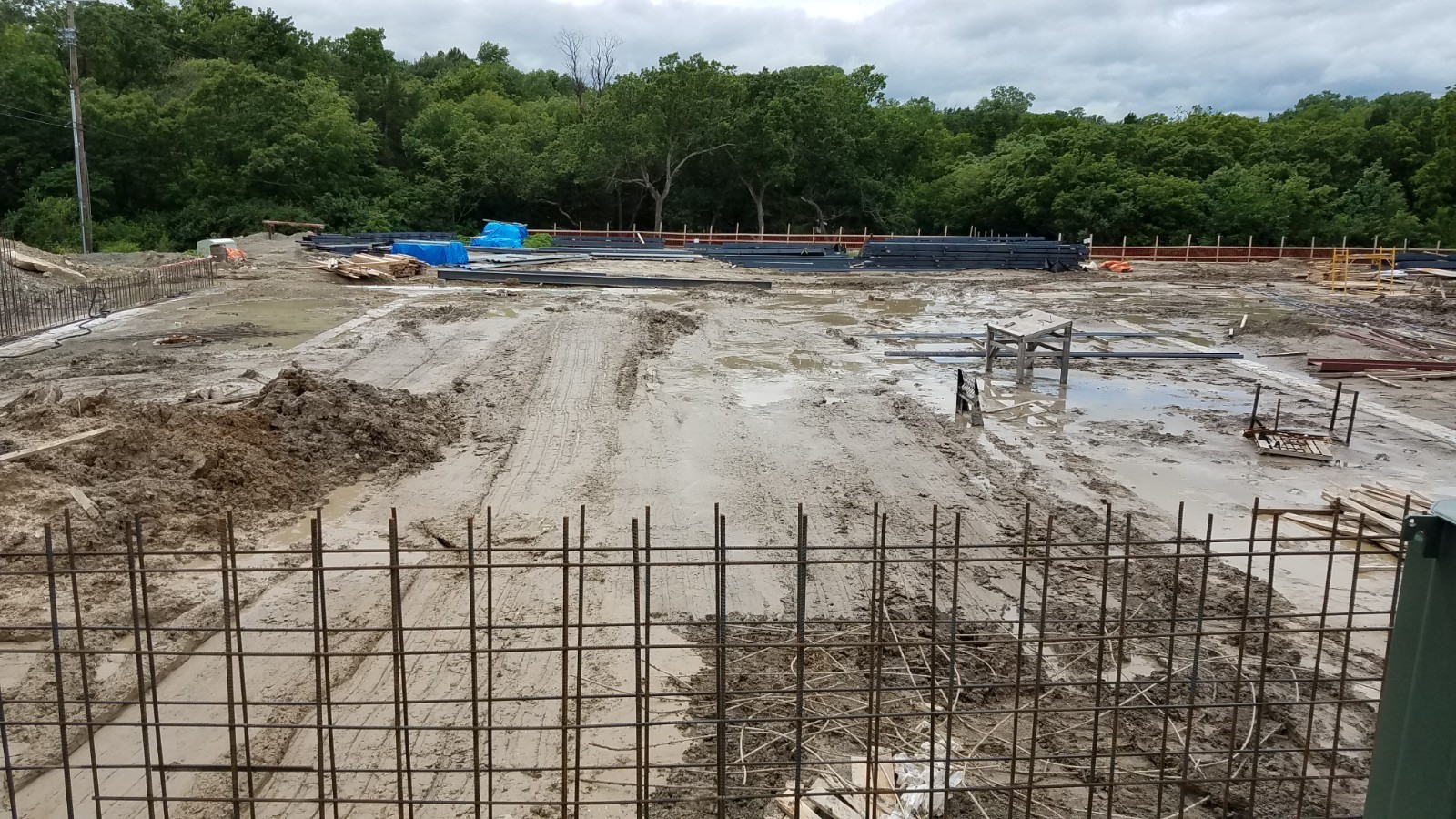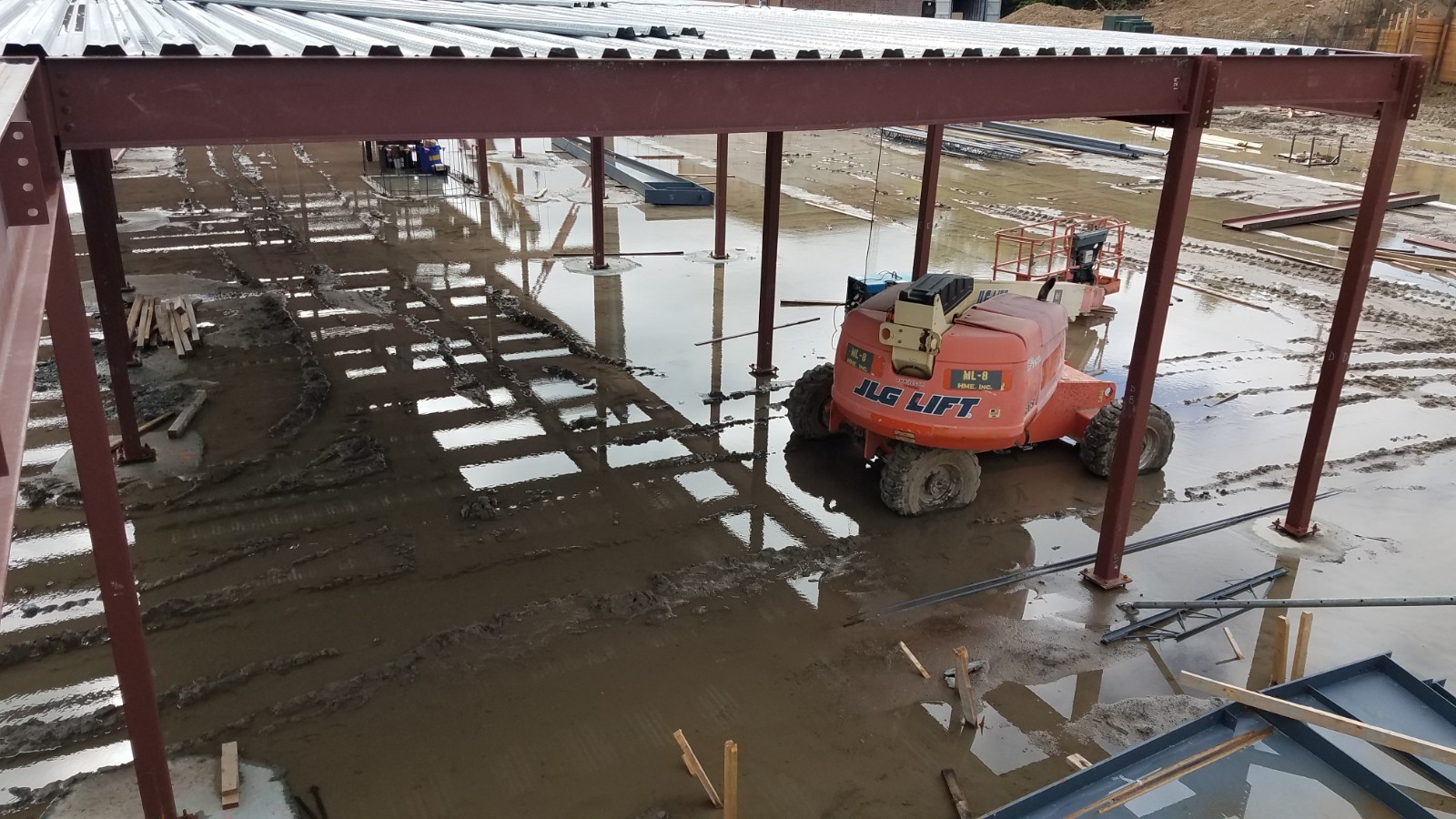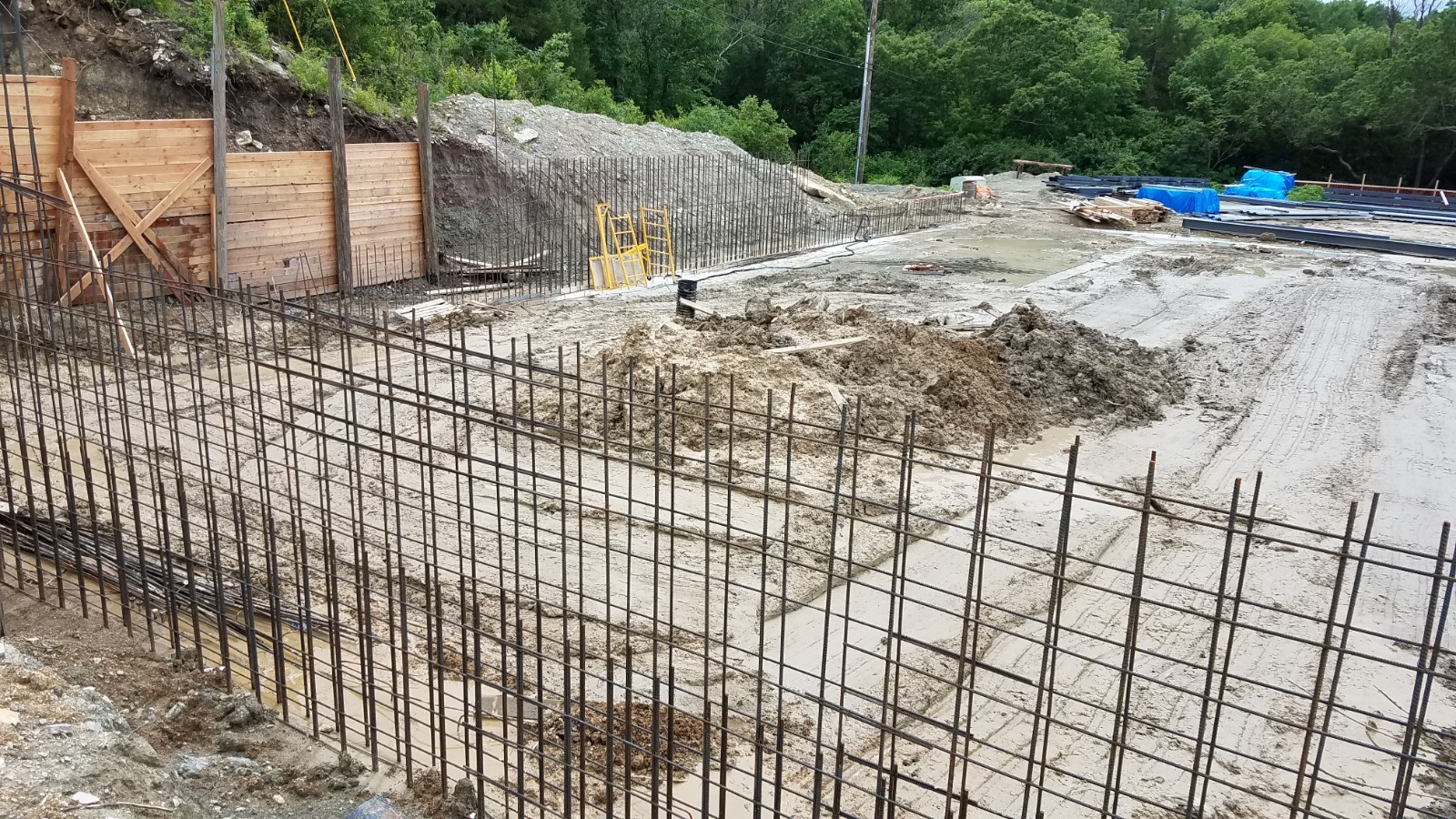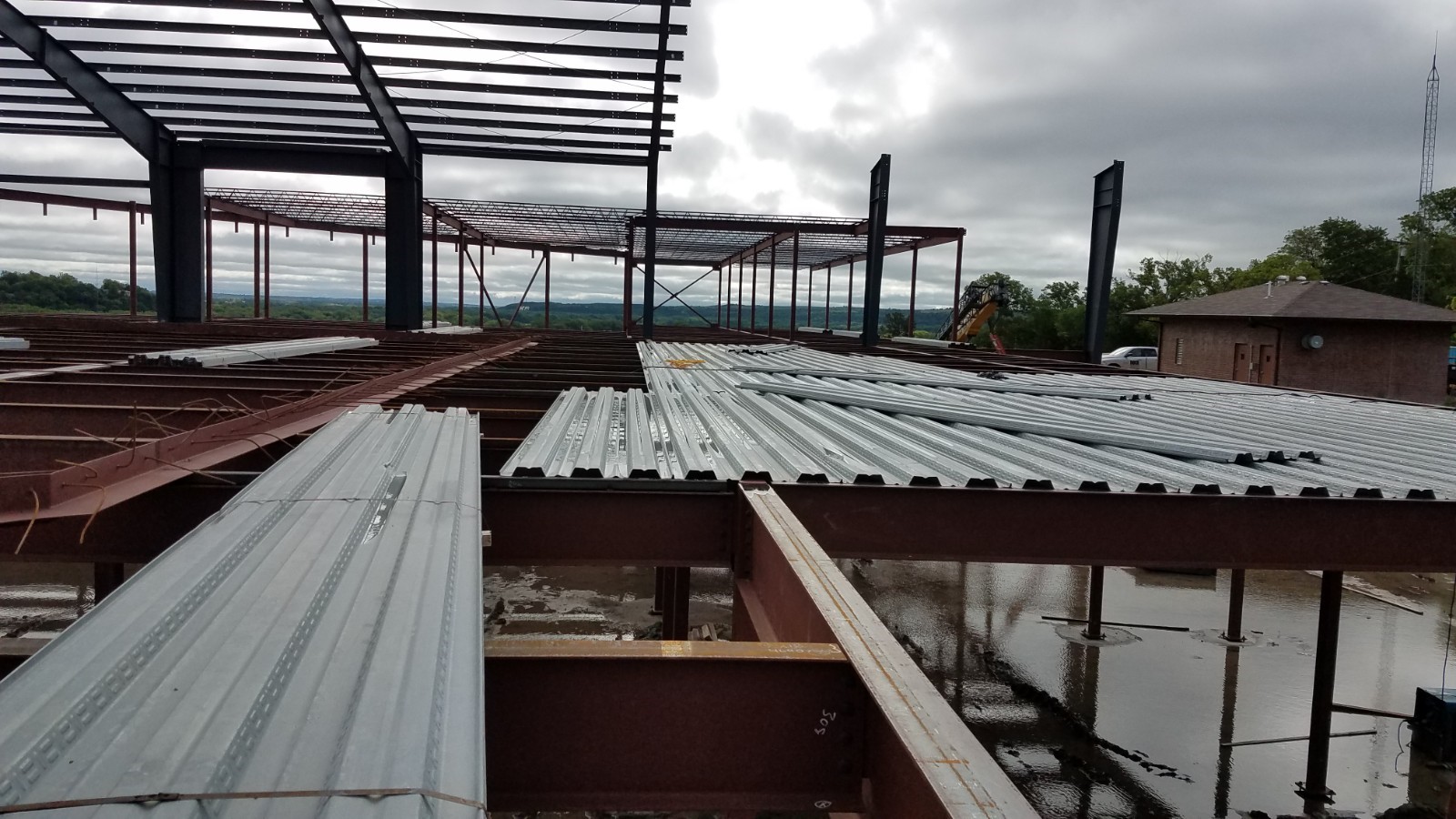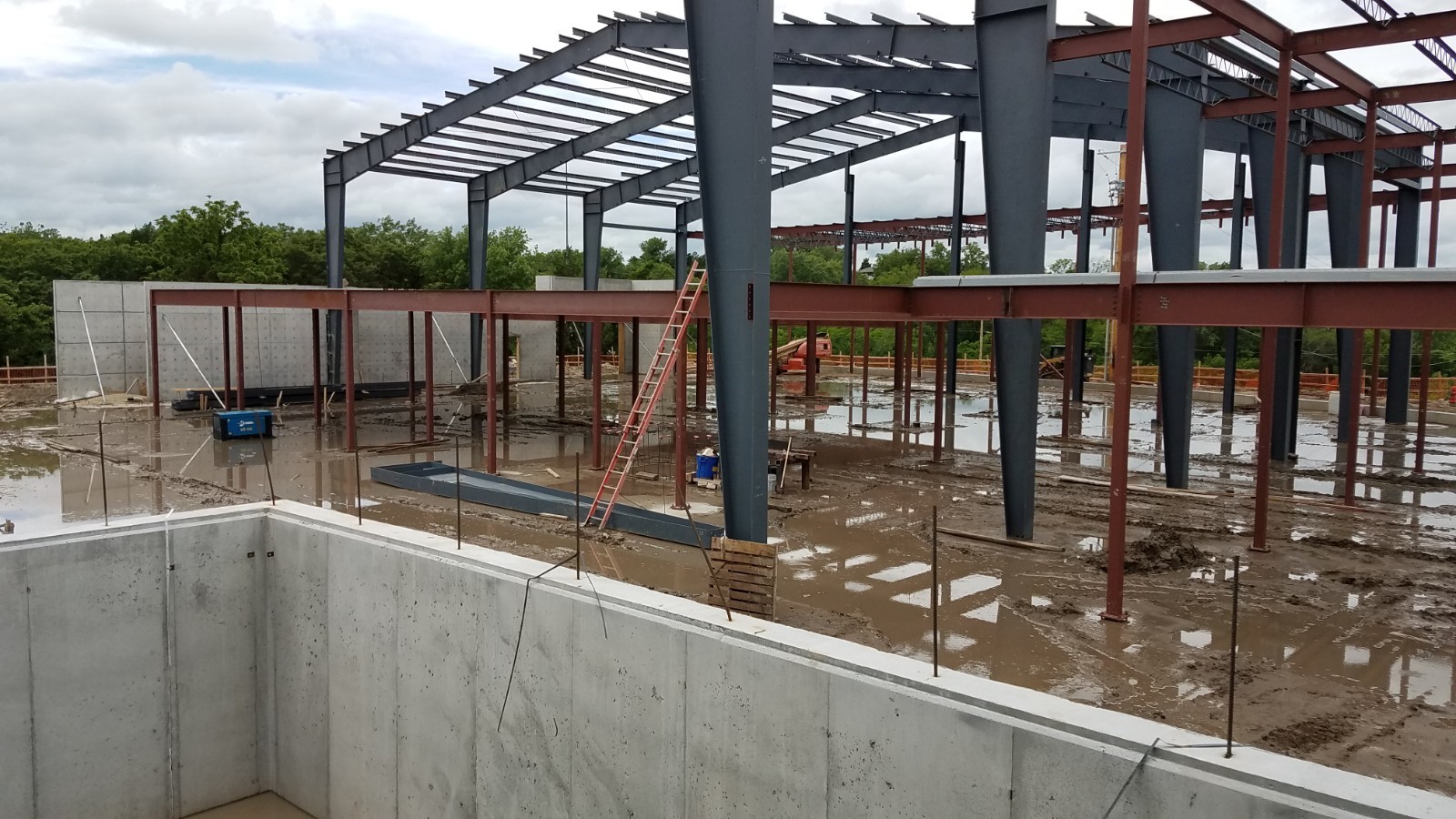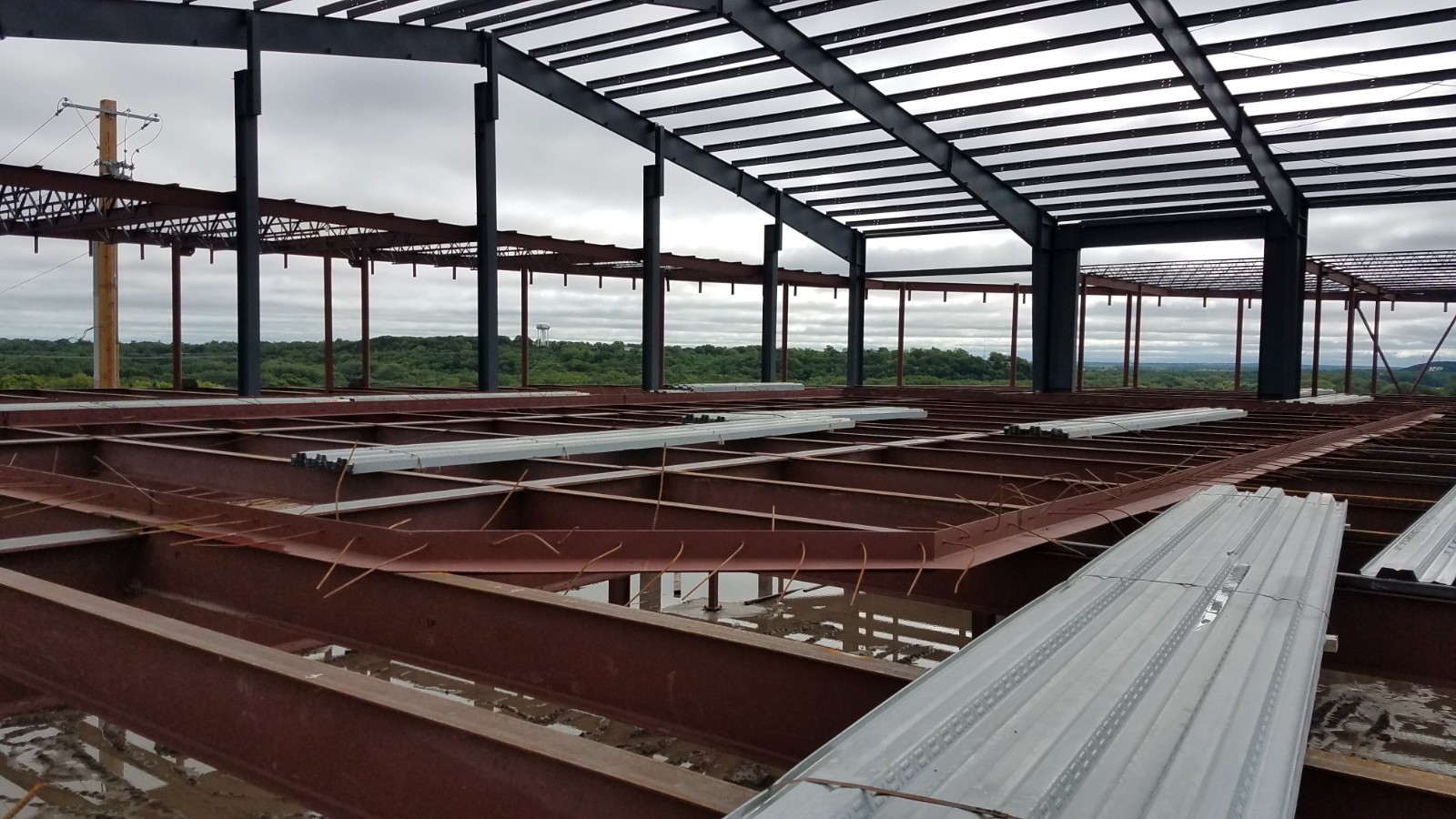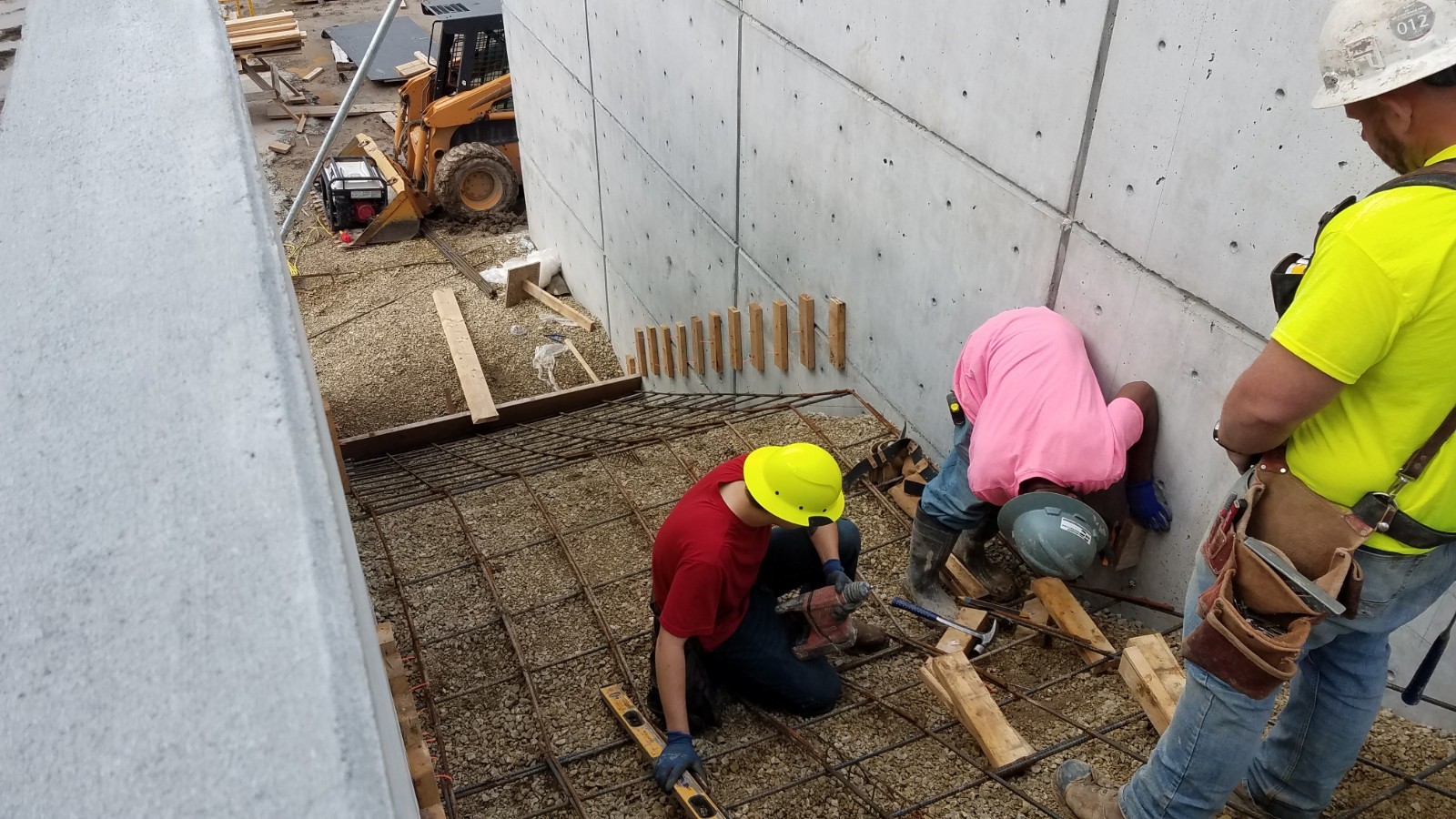 Update 4/30/2019
The building takes shape.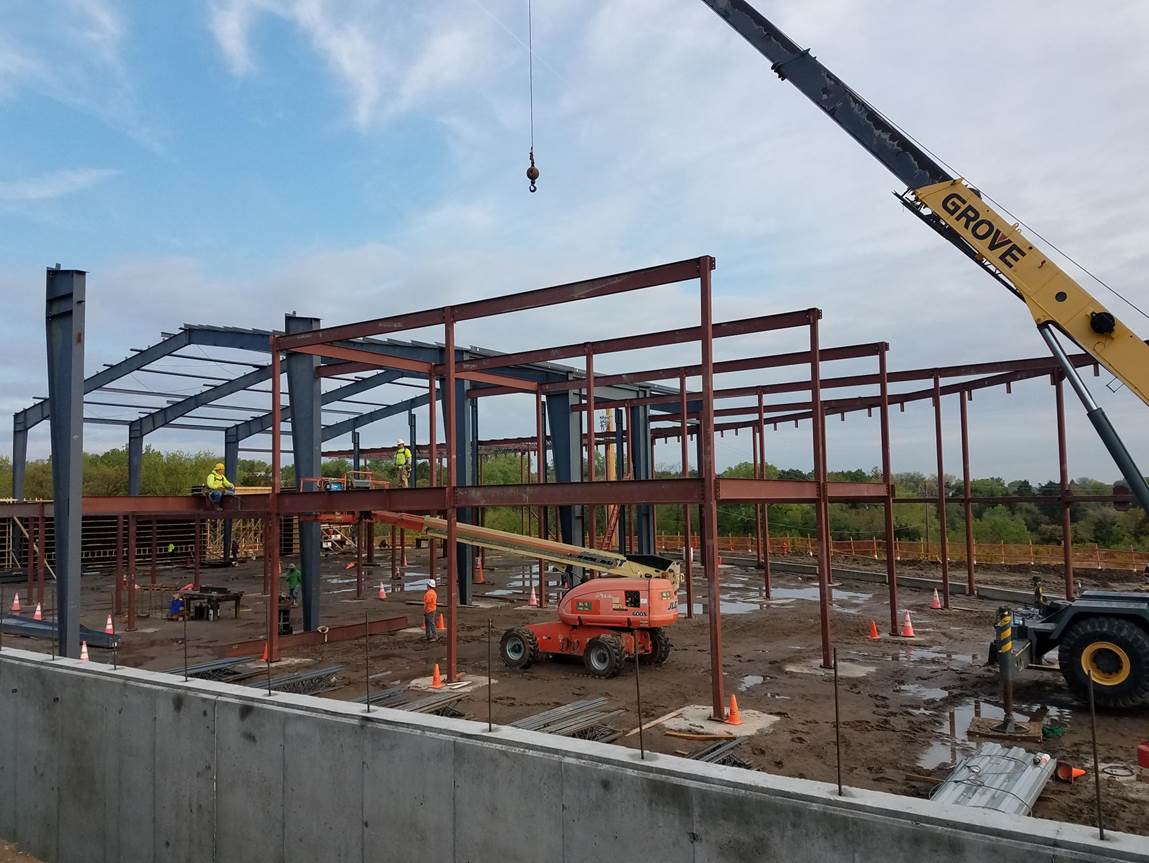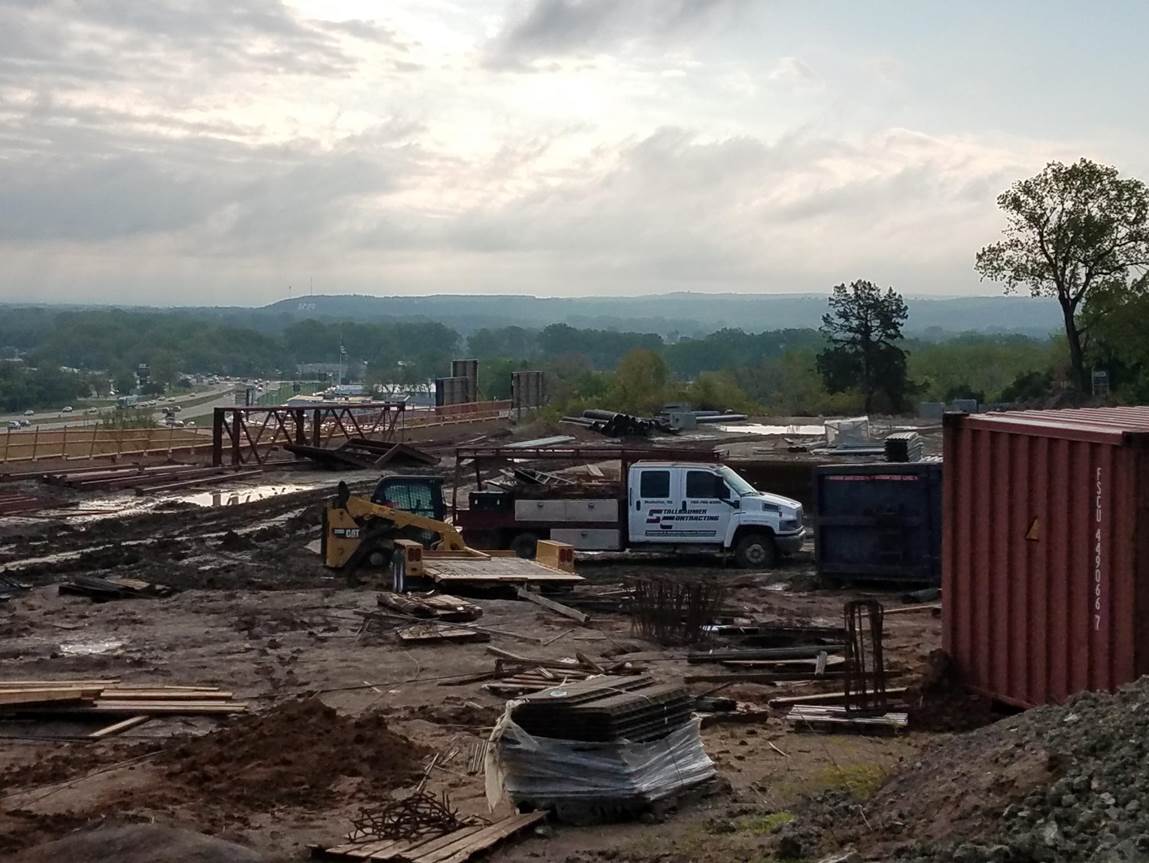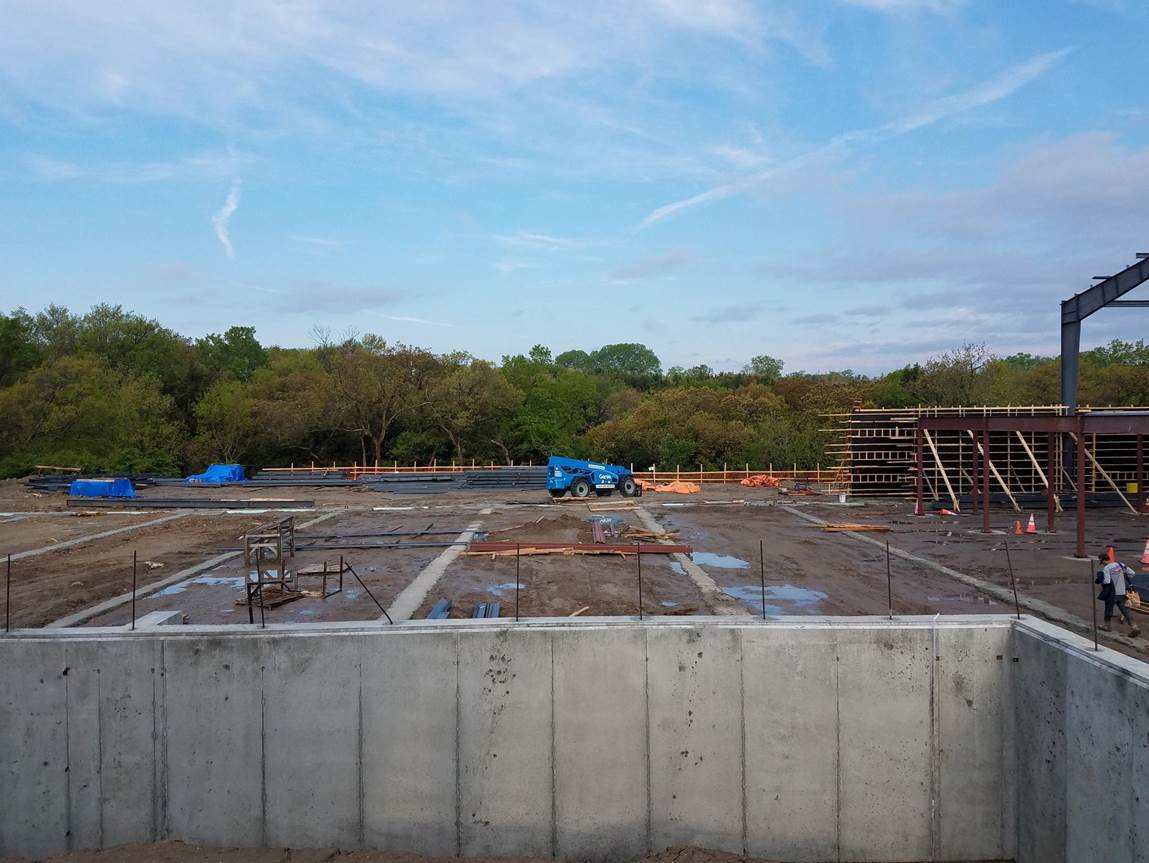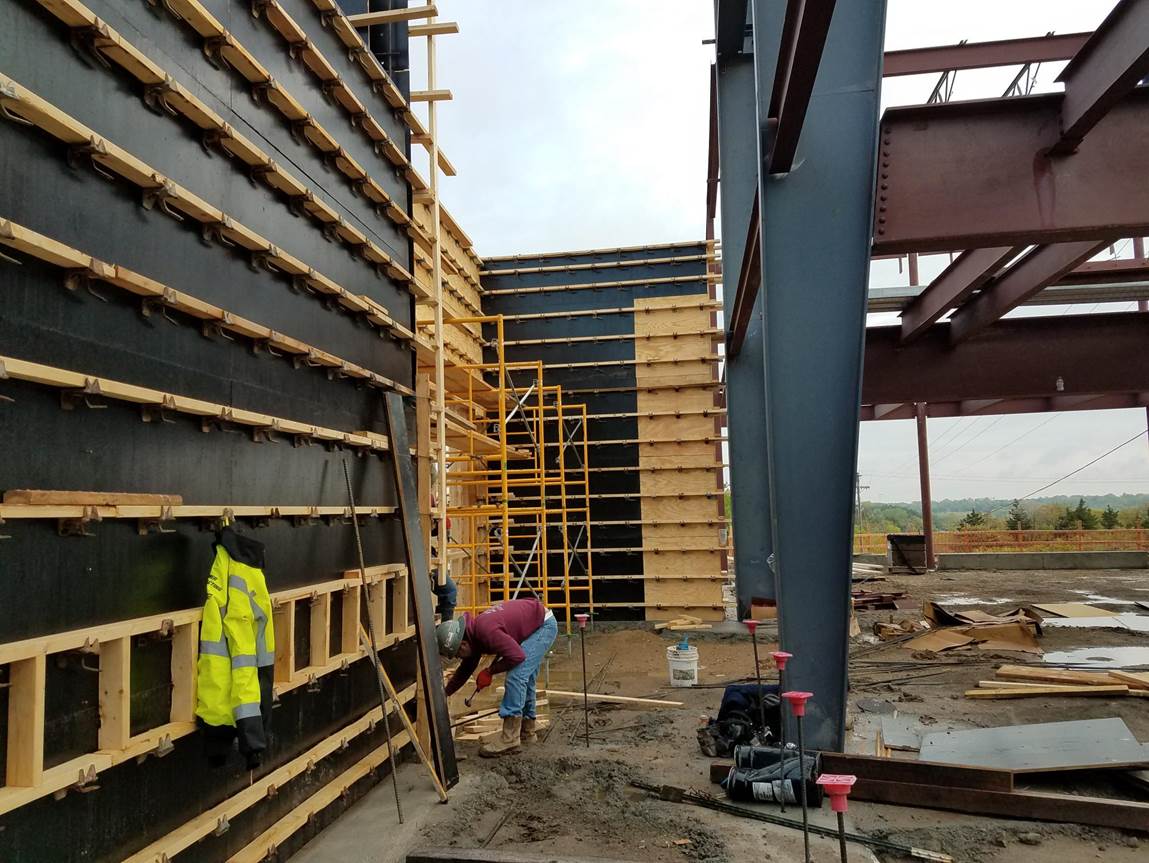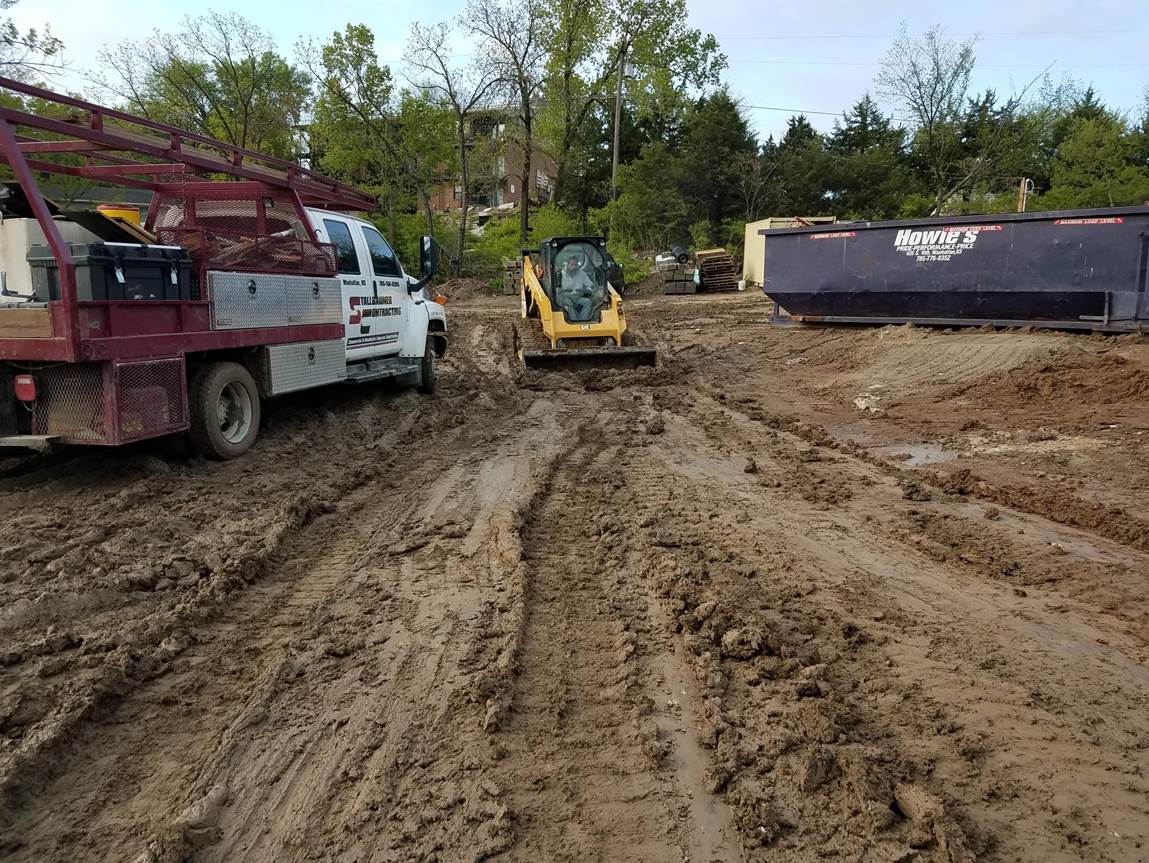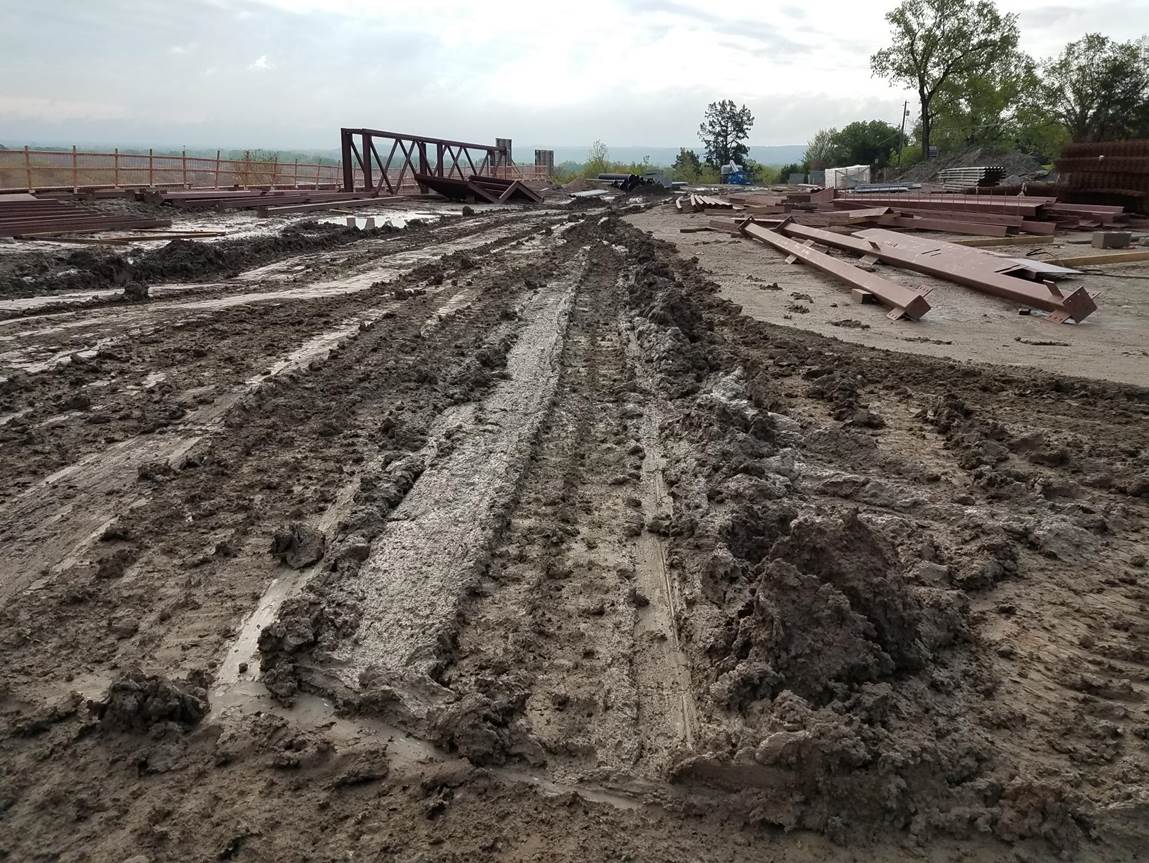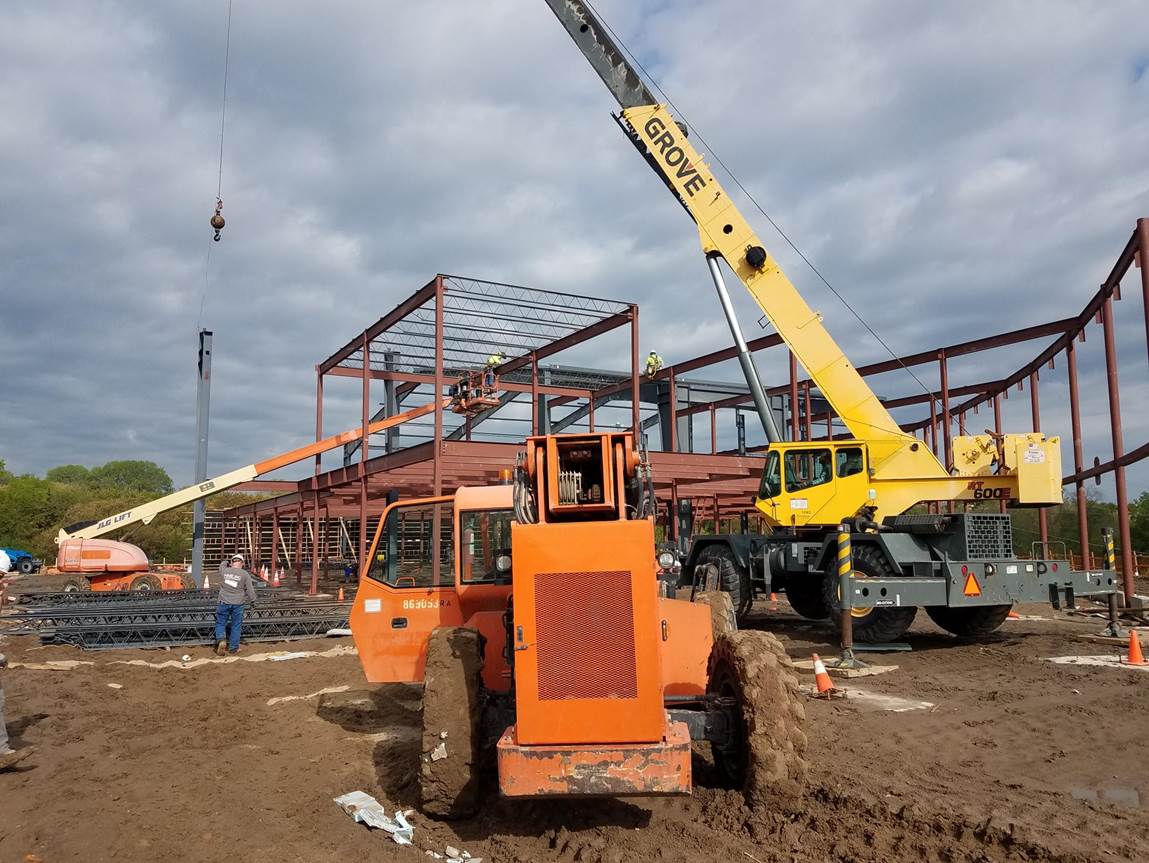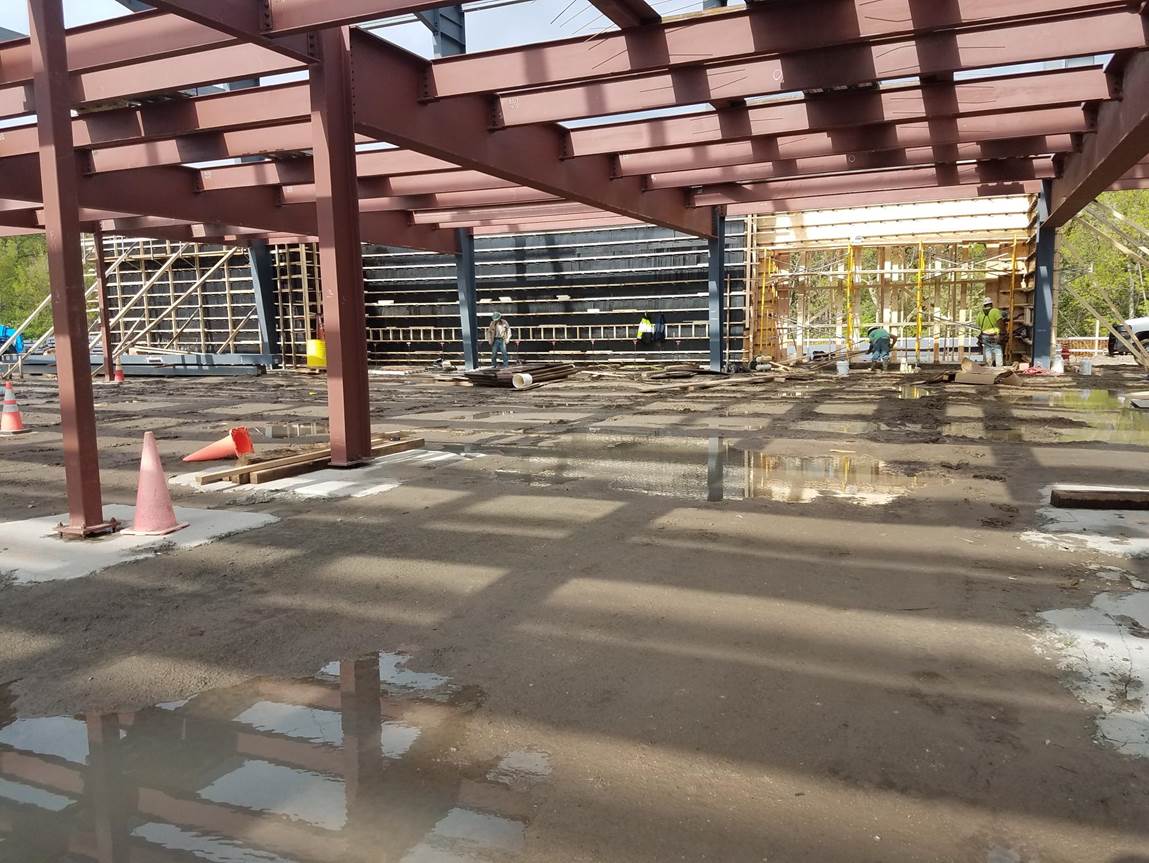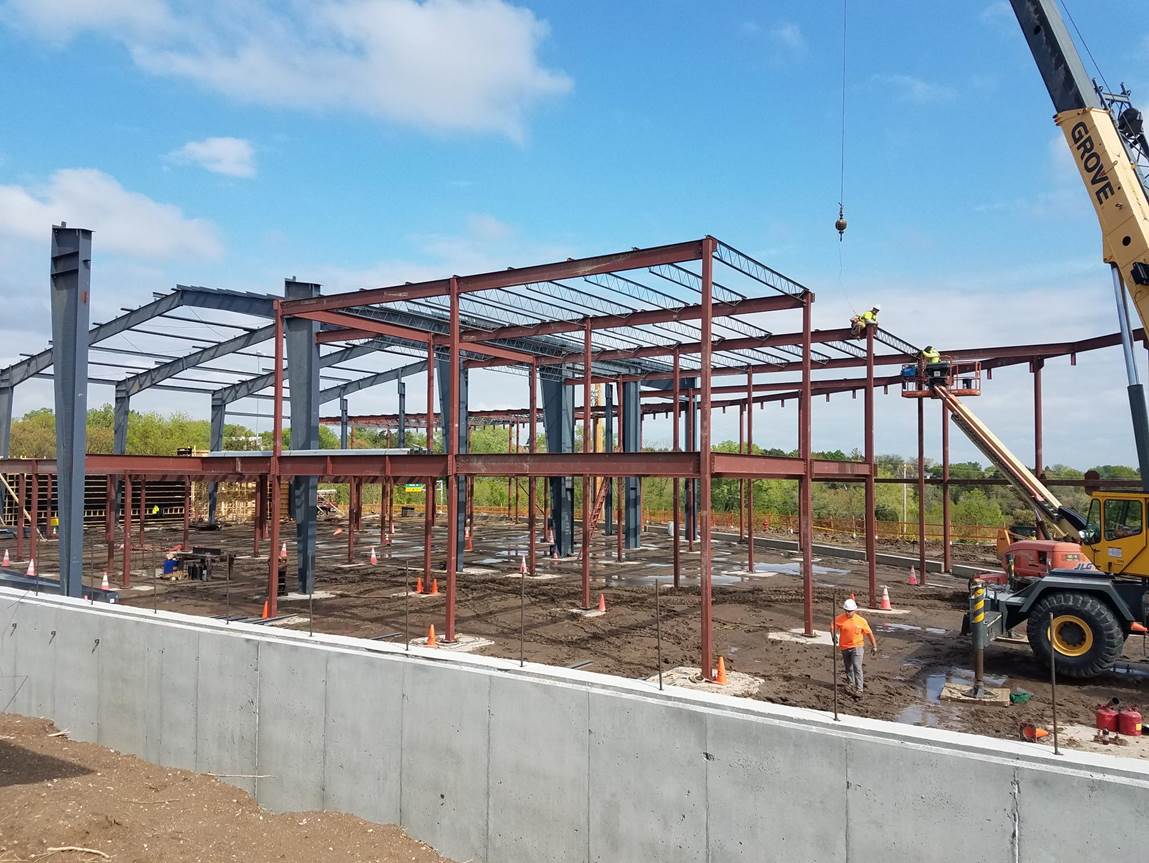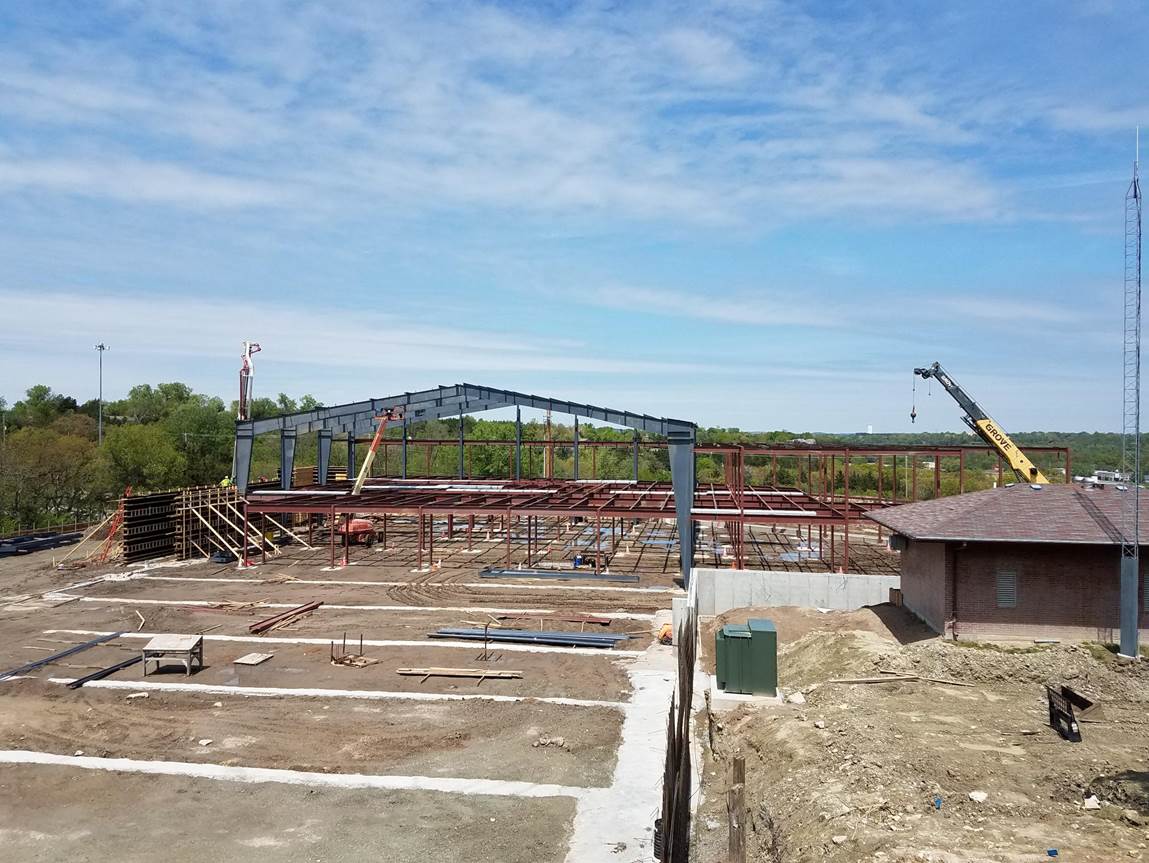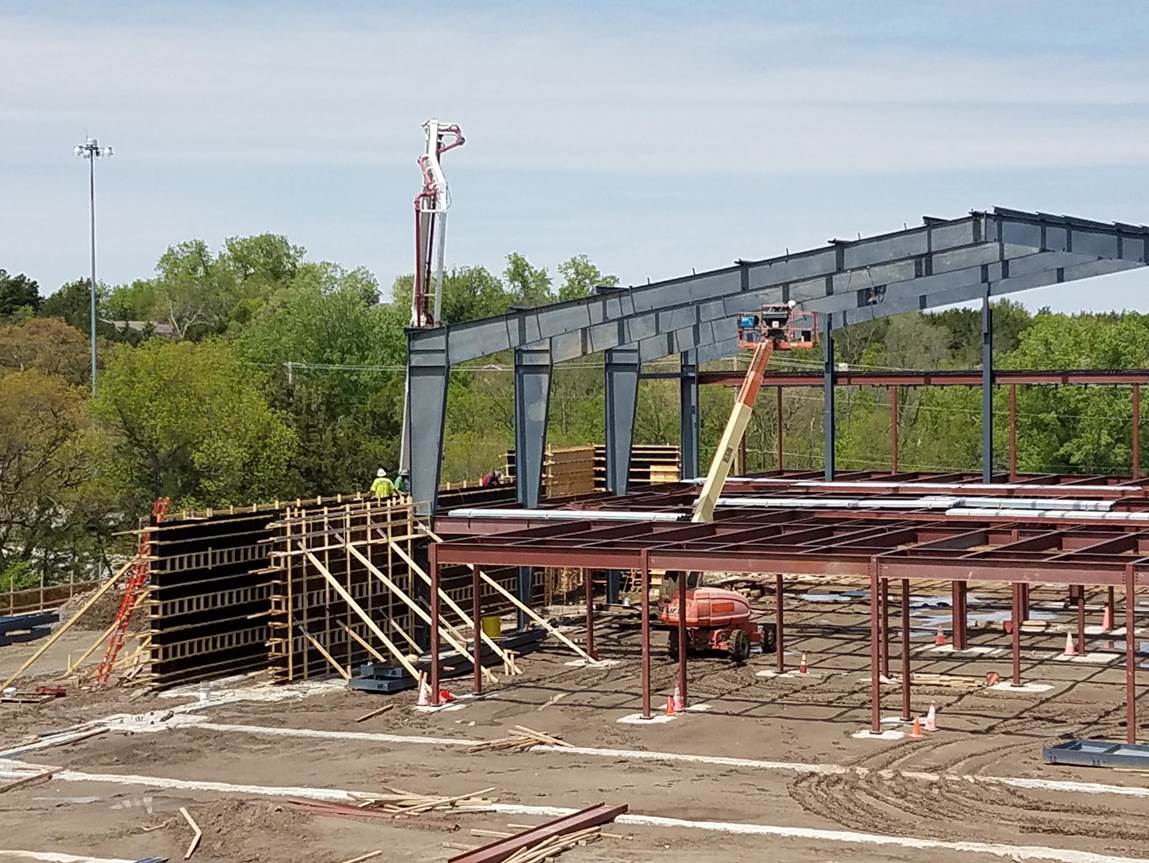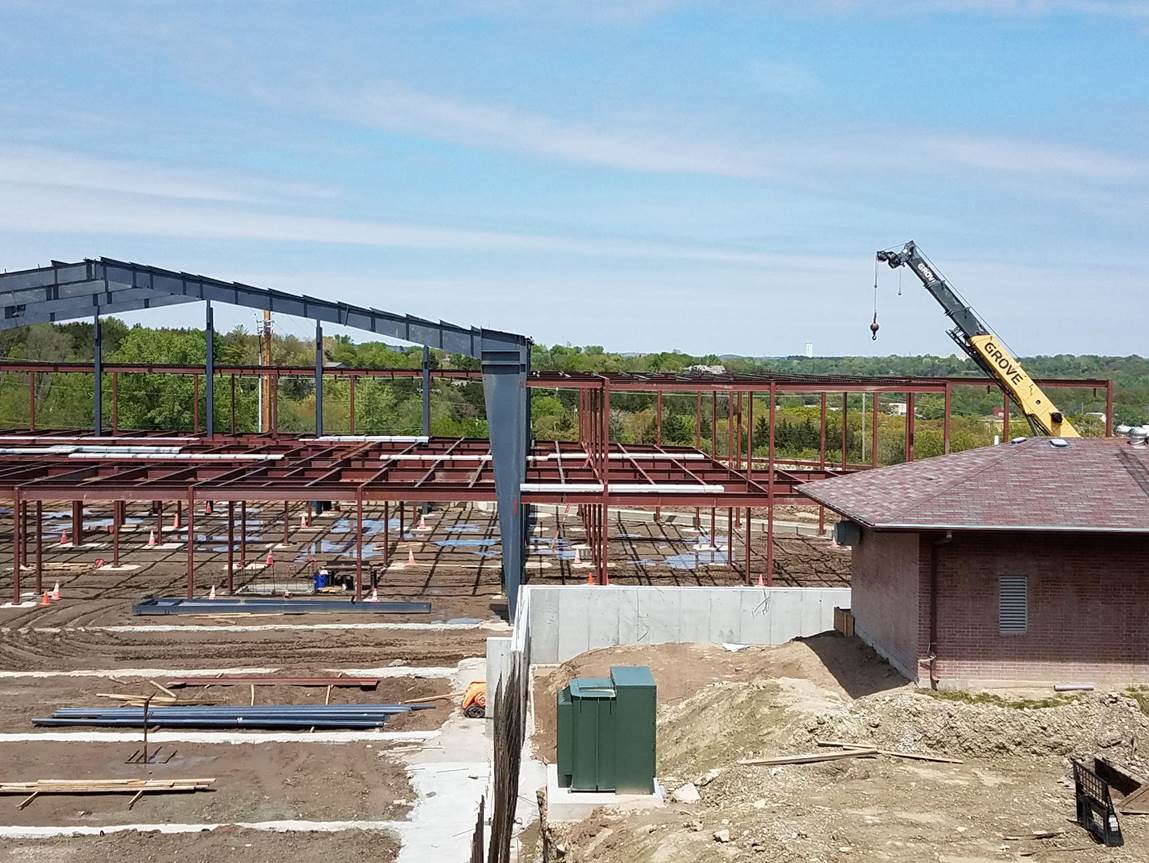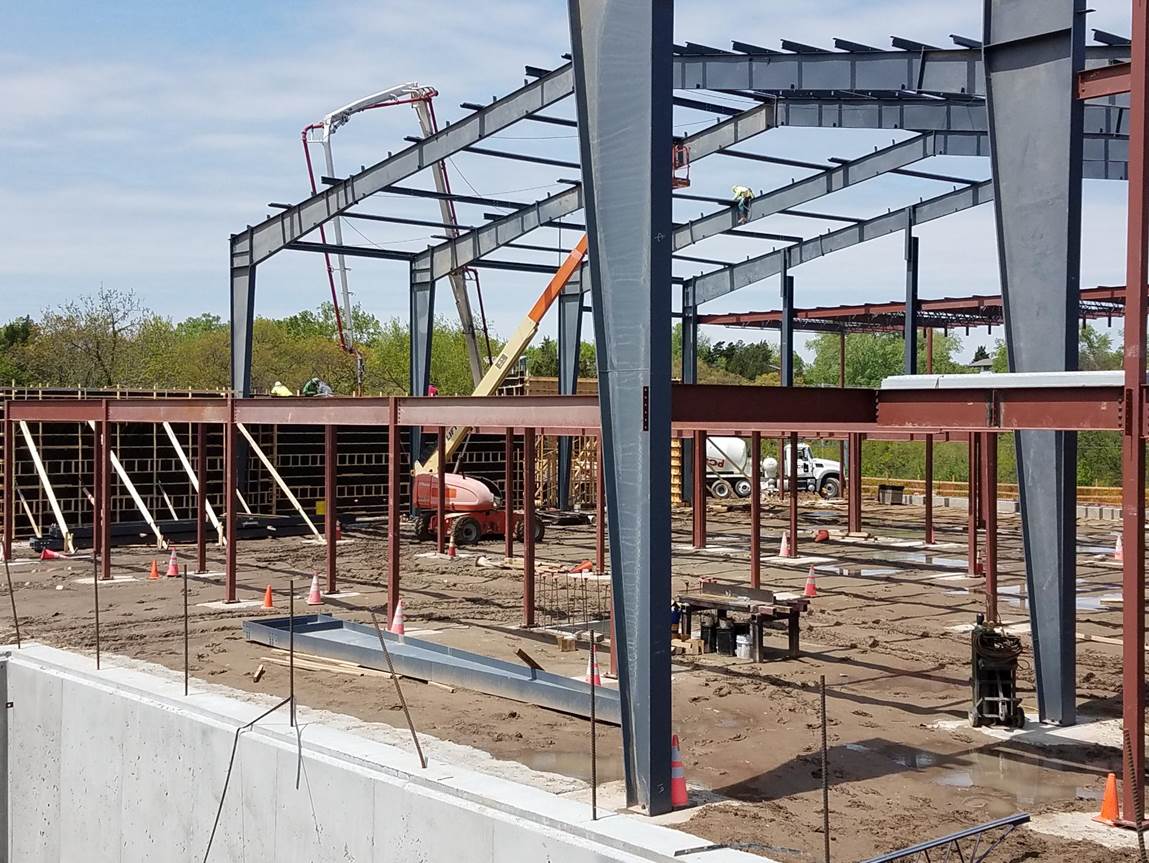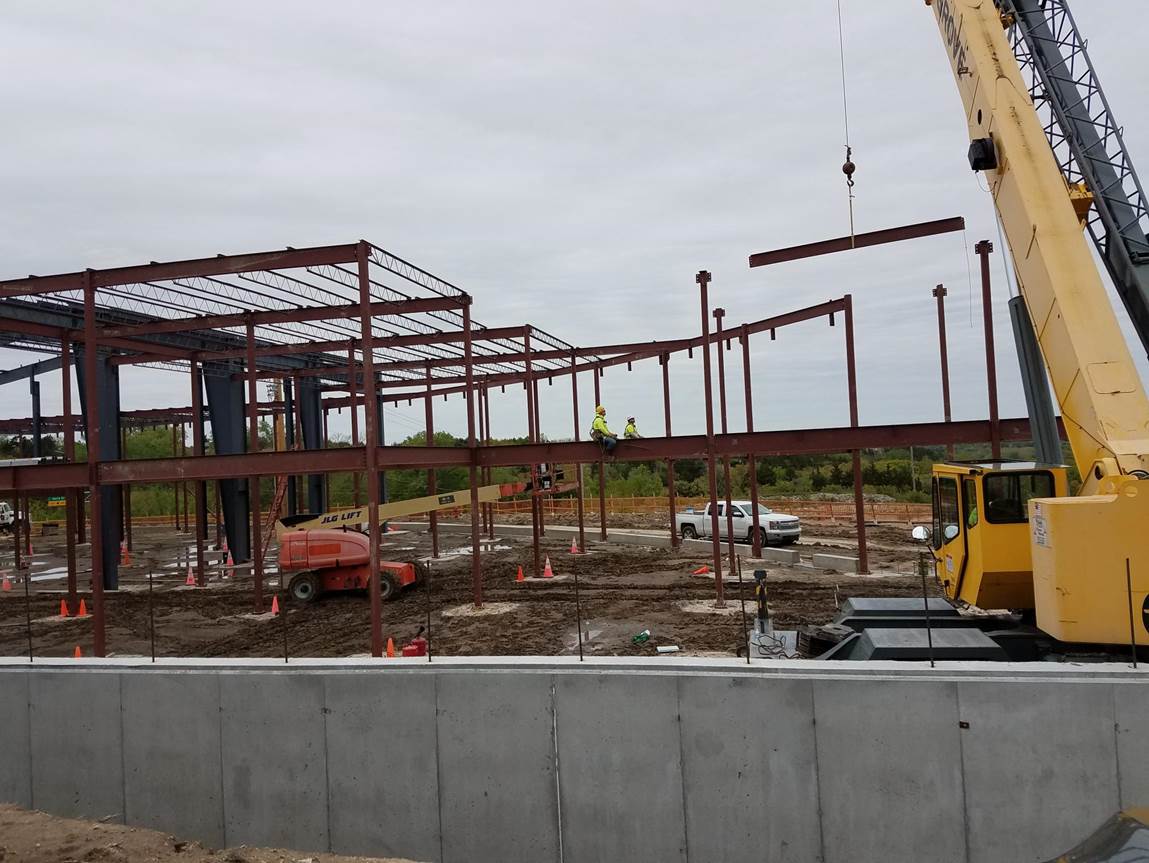 Update 4/18/2019
Things are moving fast! You can now see the beginnings of a roof and the building taking shape. There's a serious health club coming soon!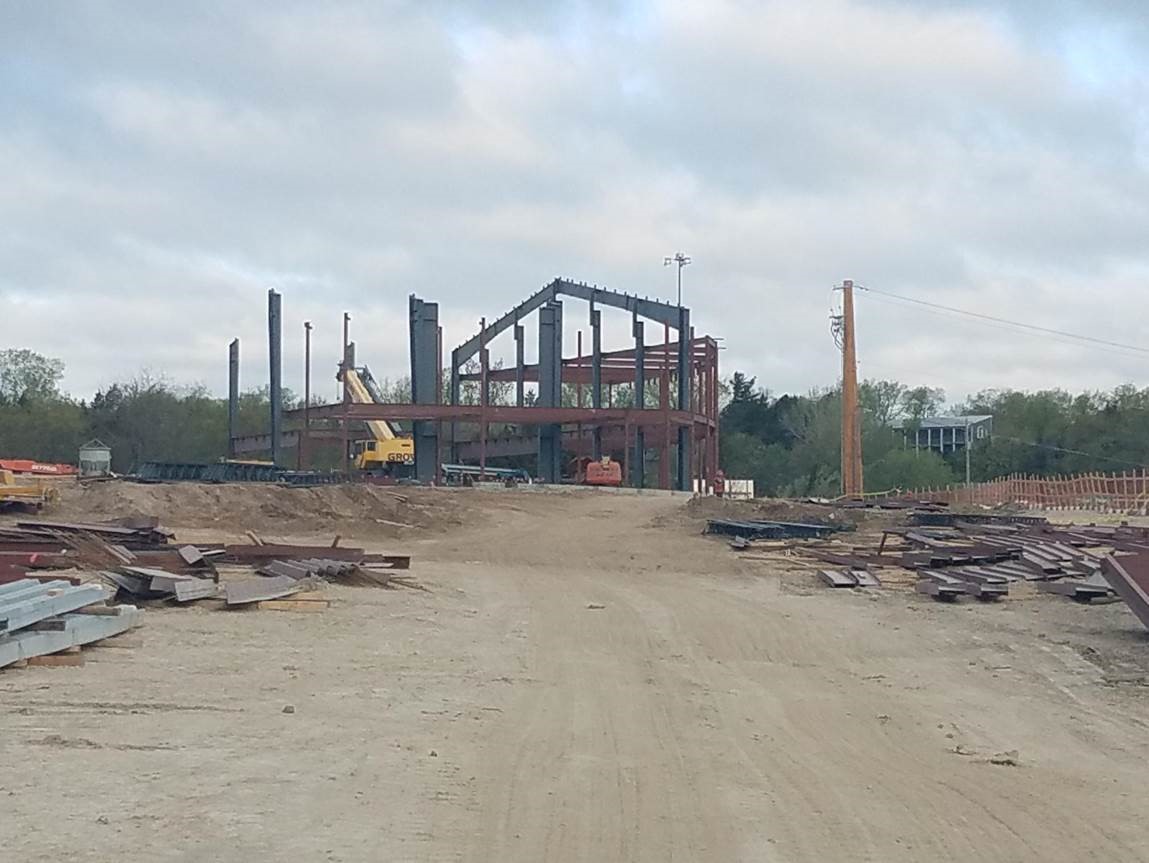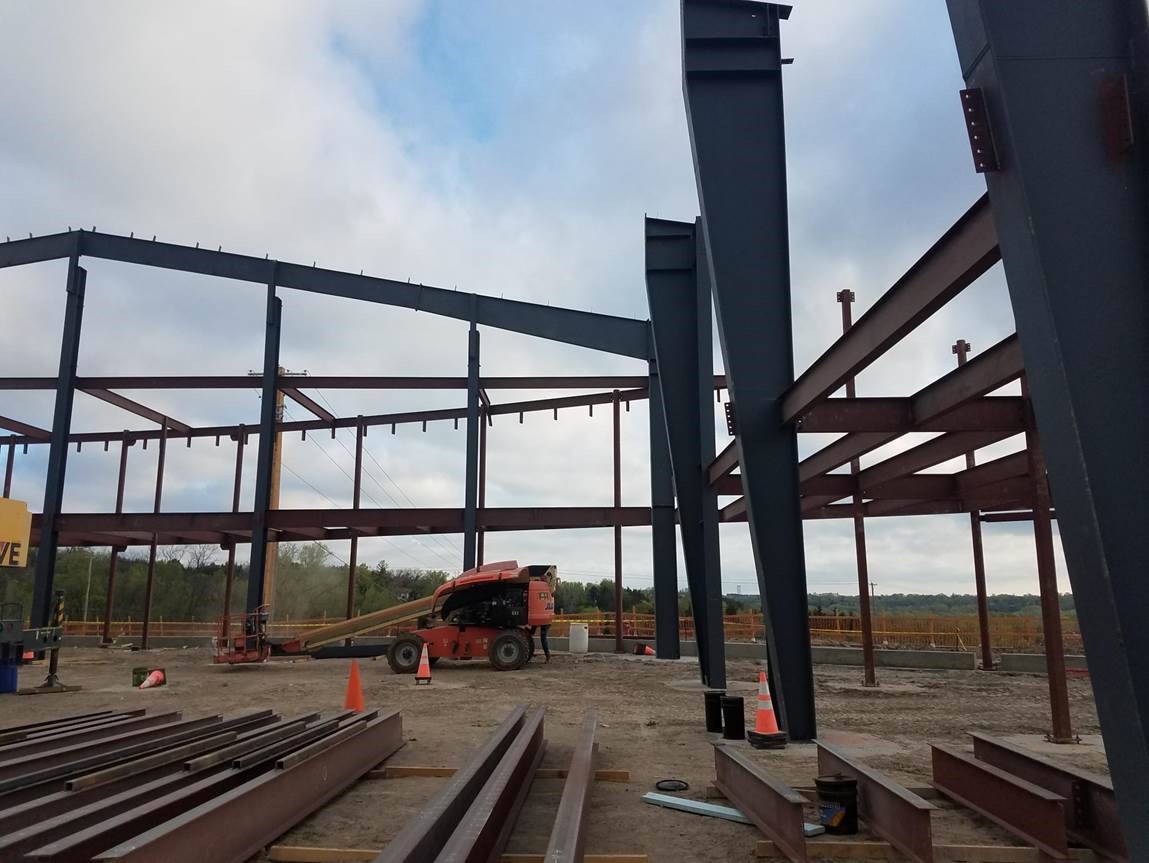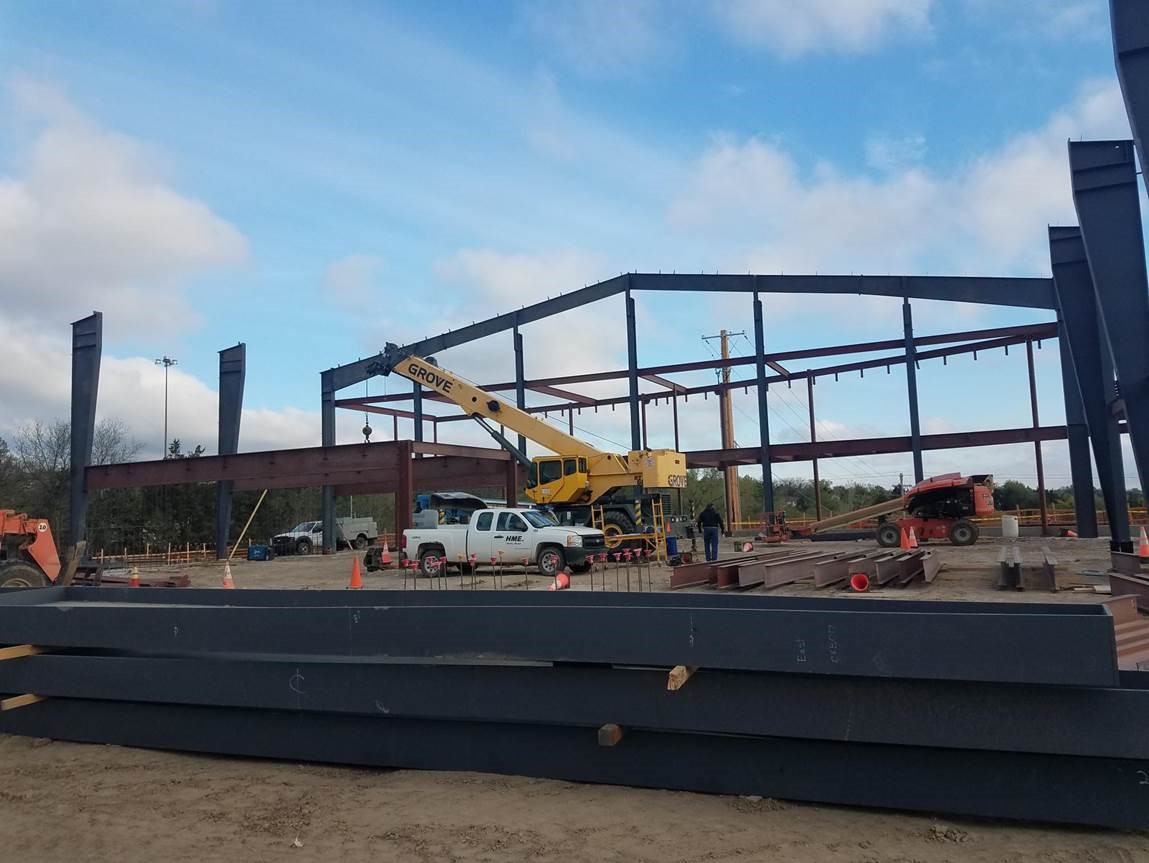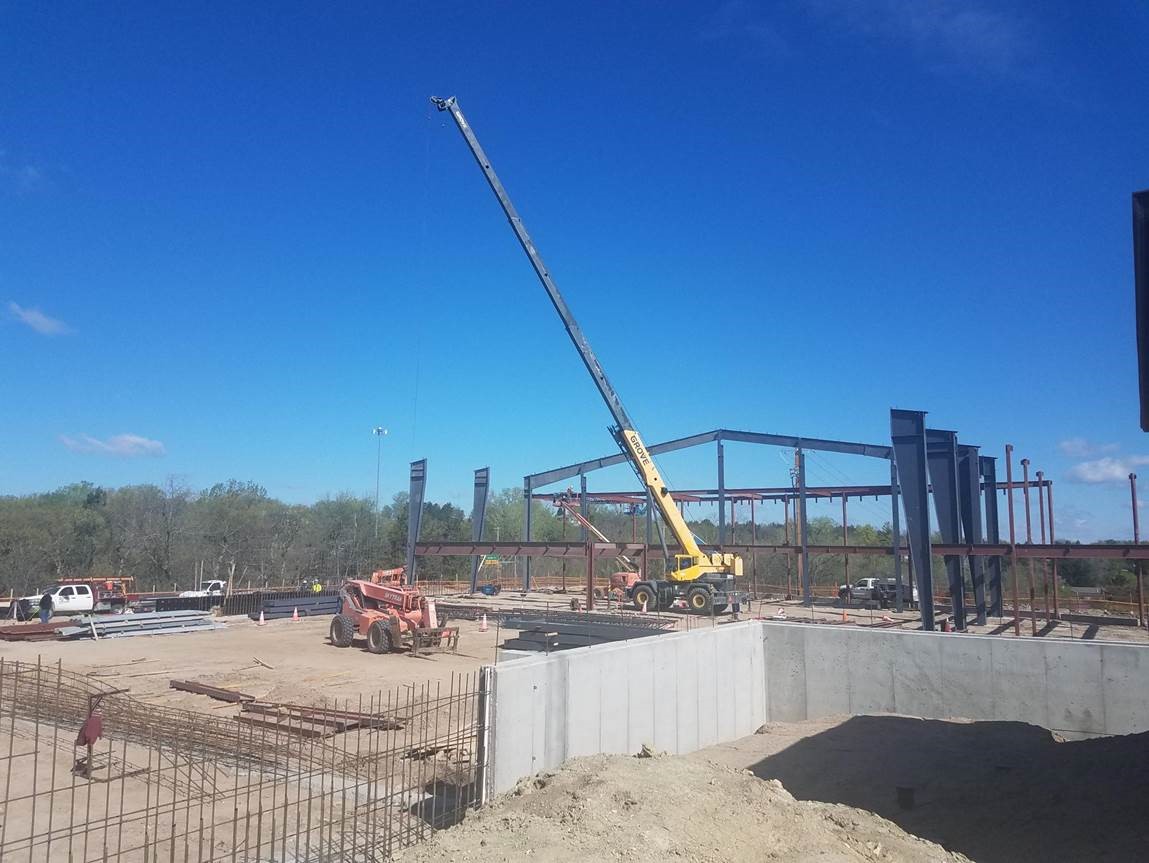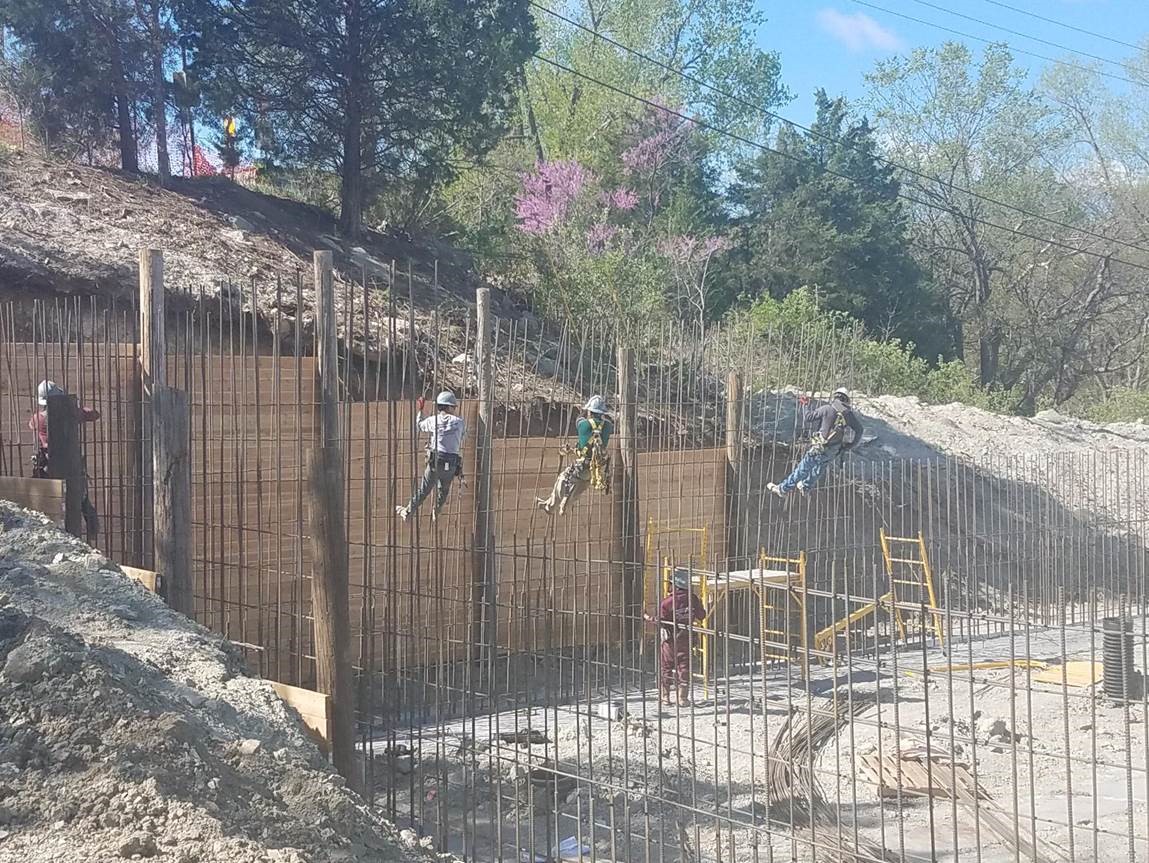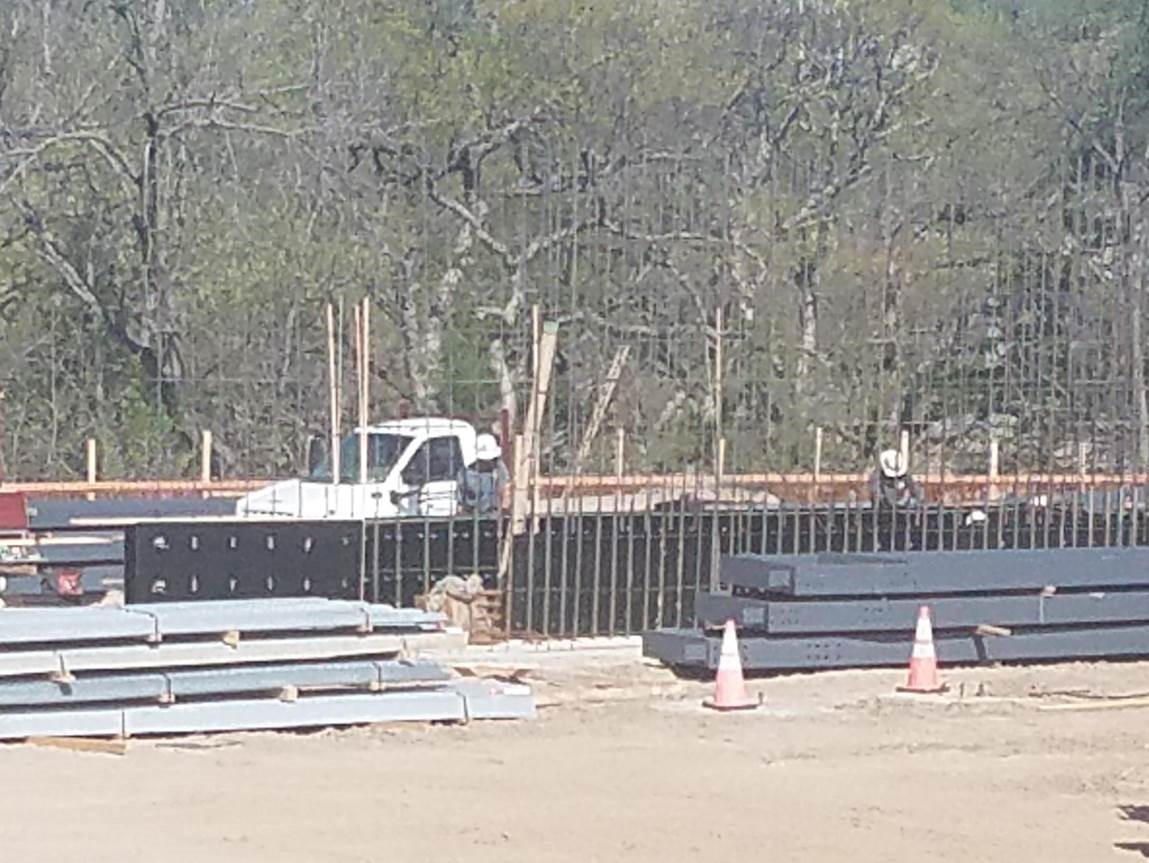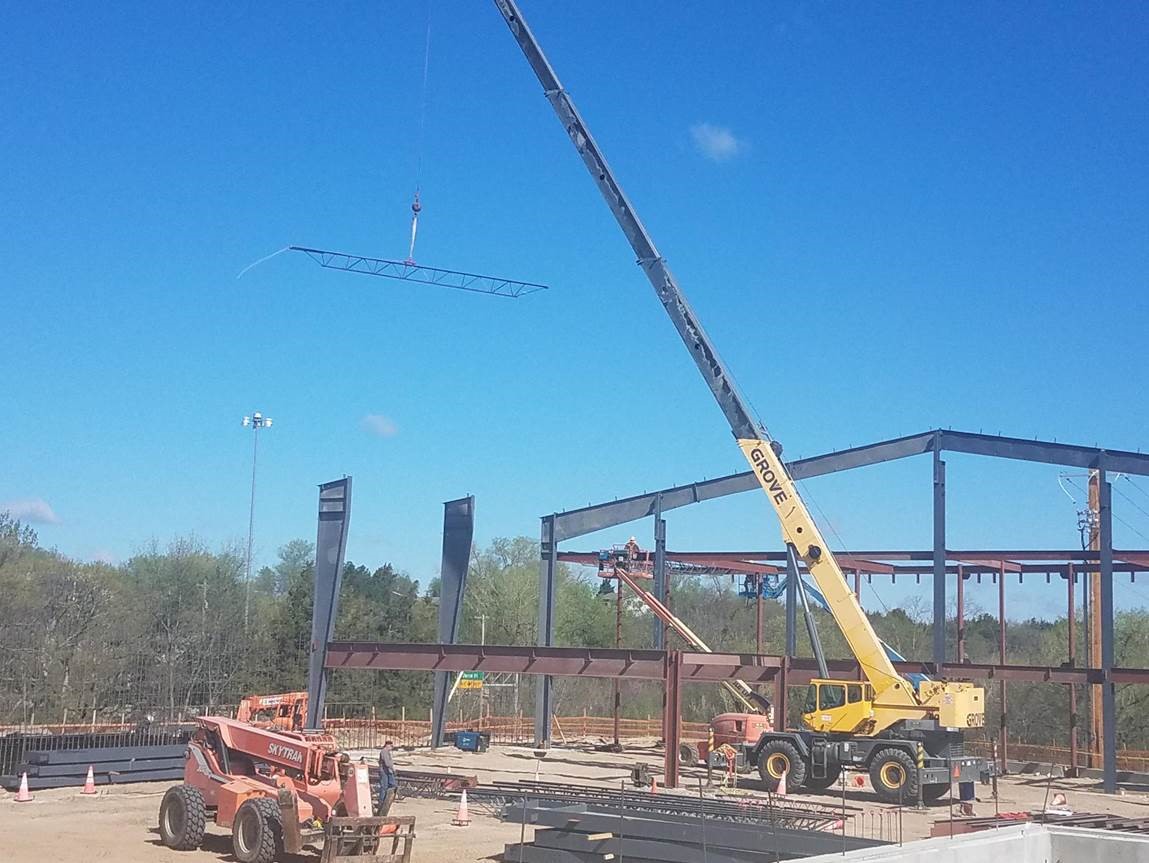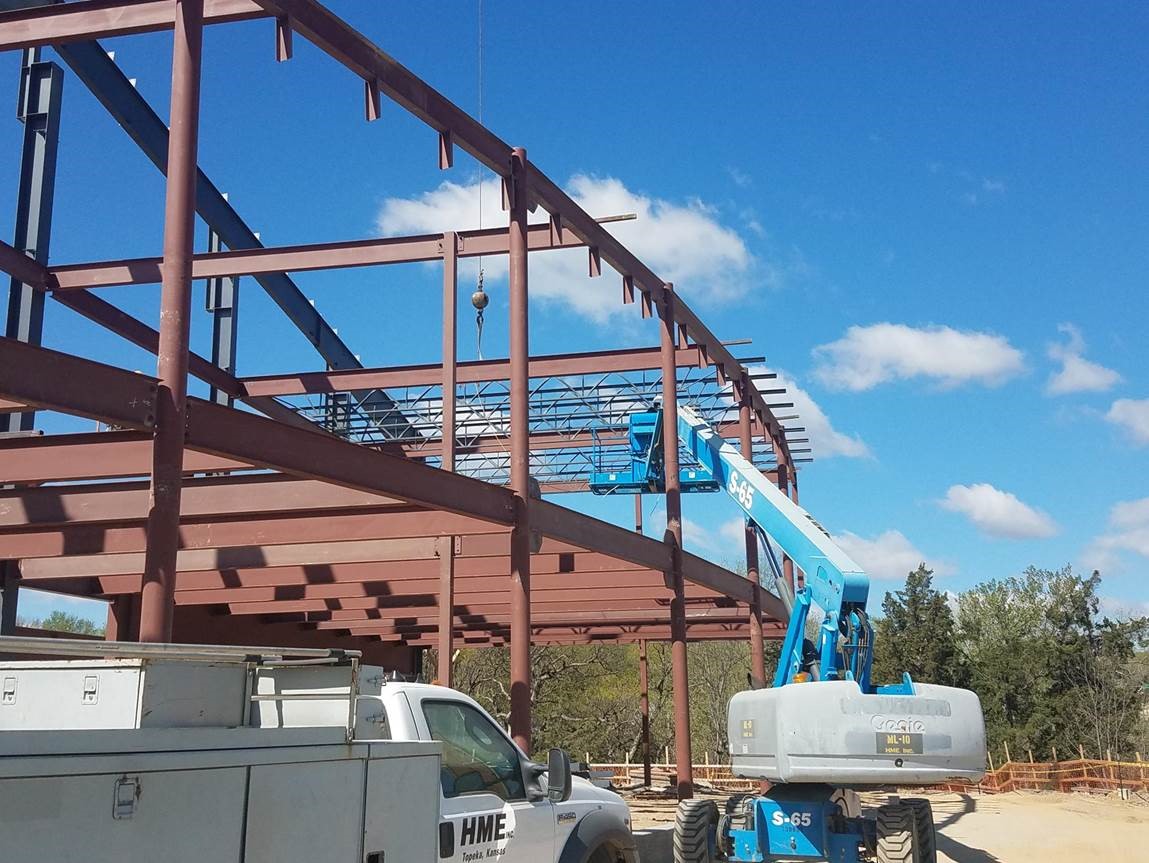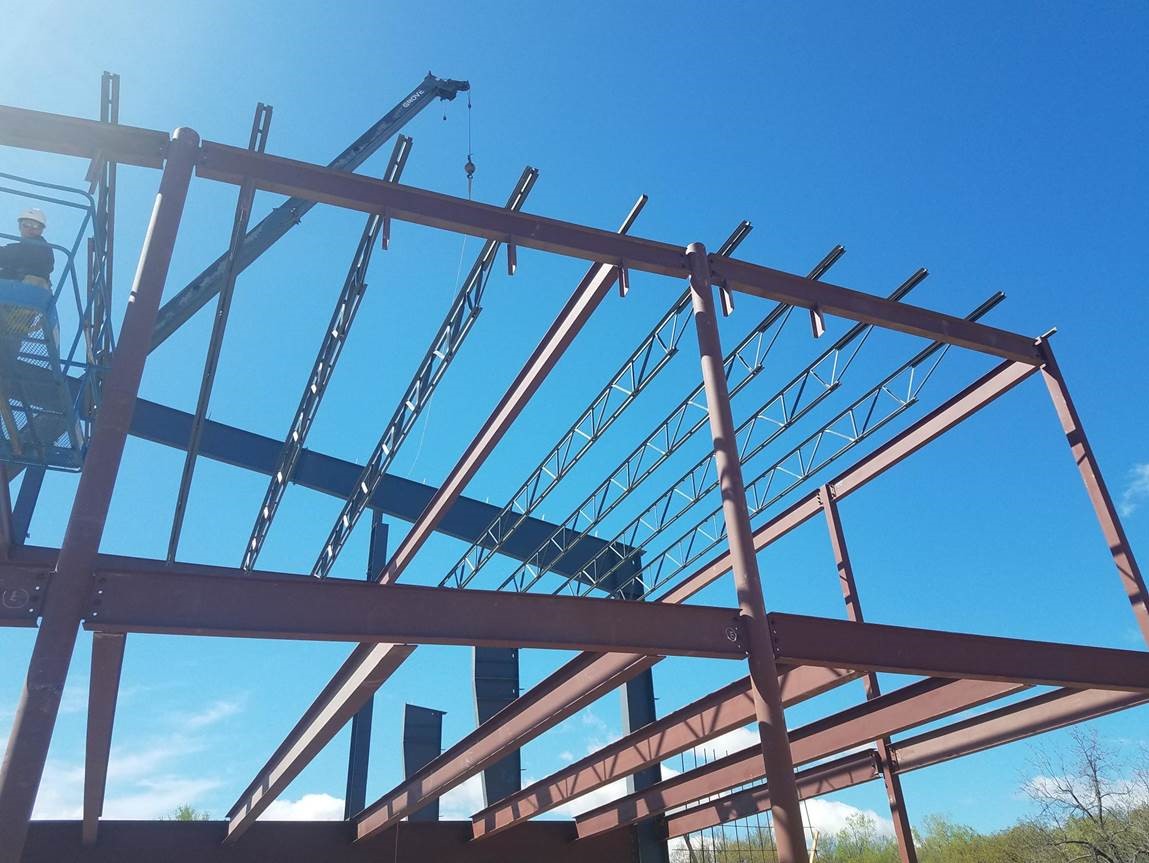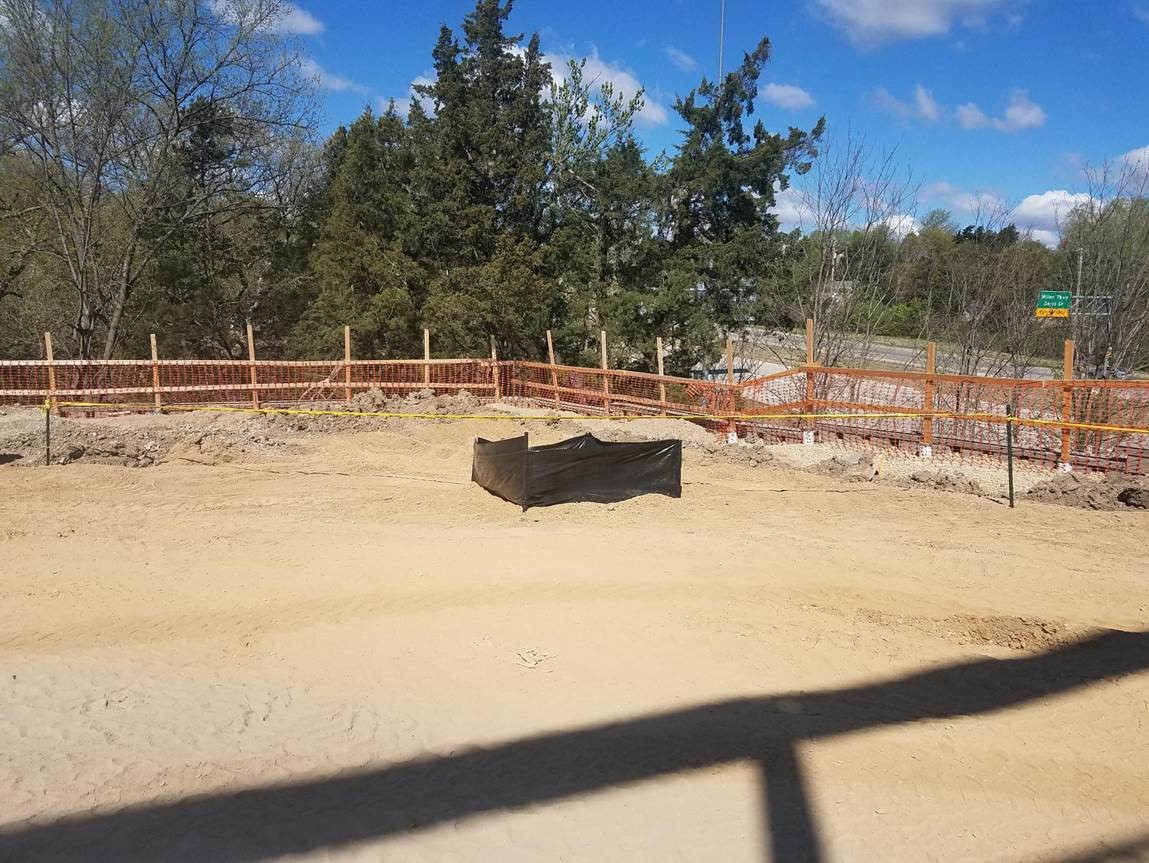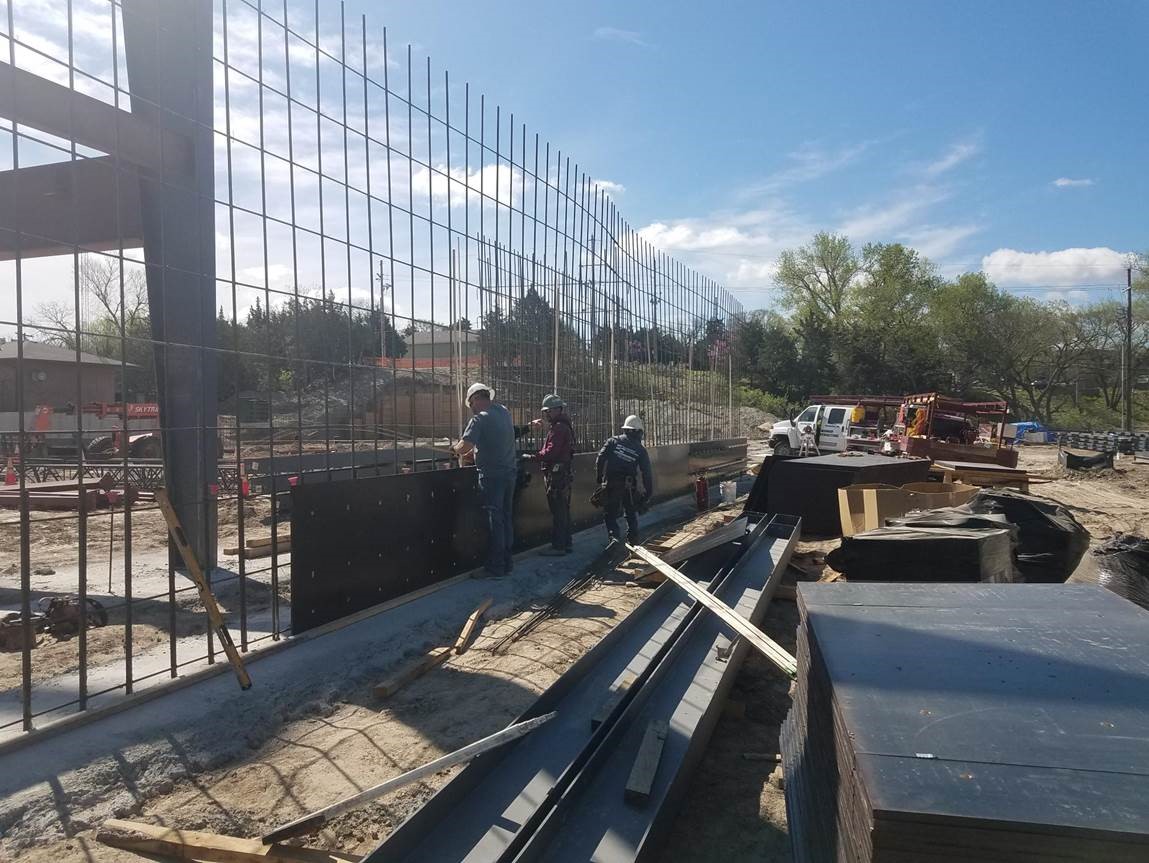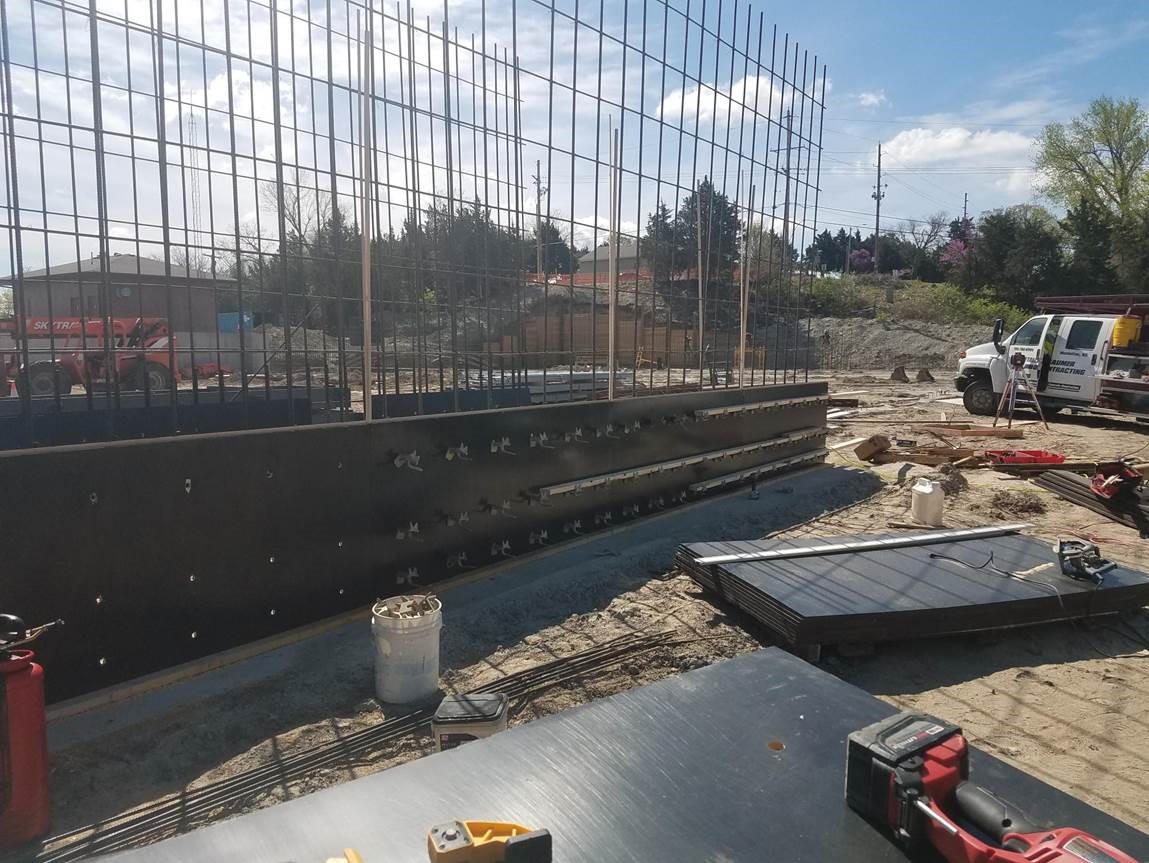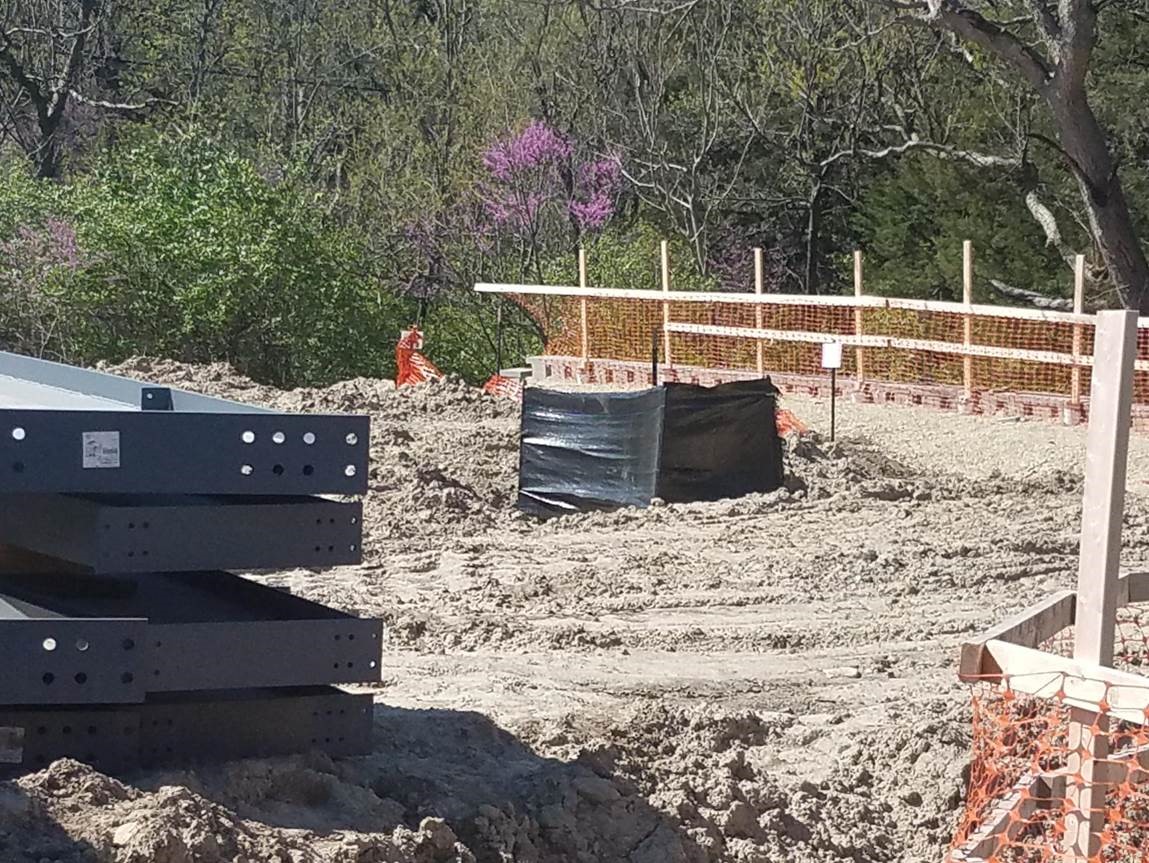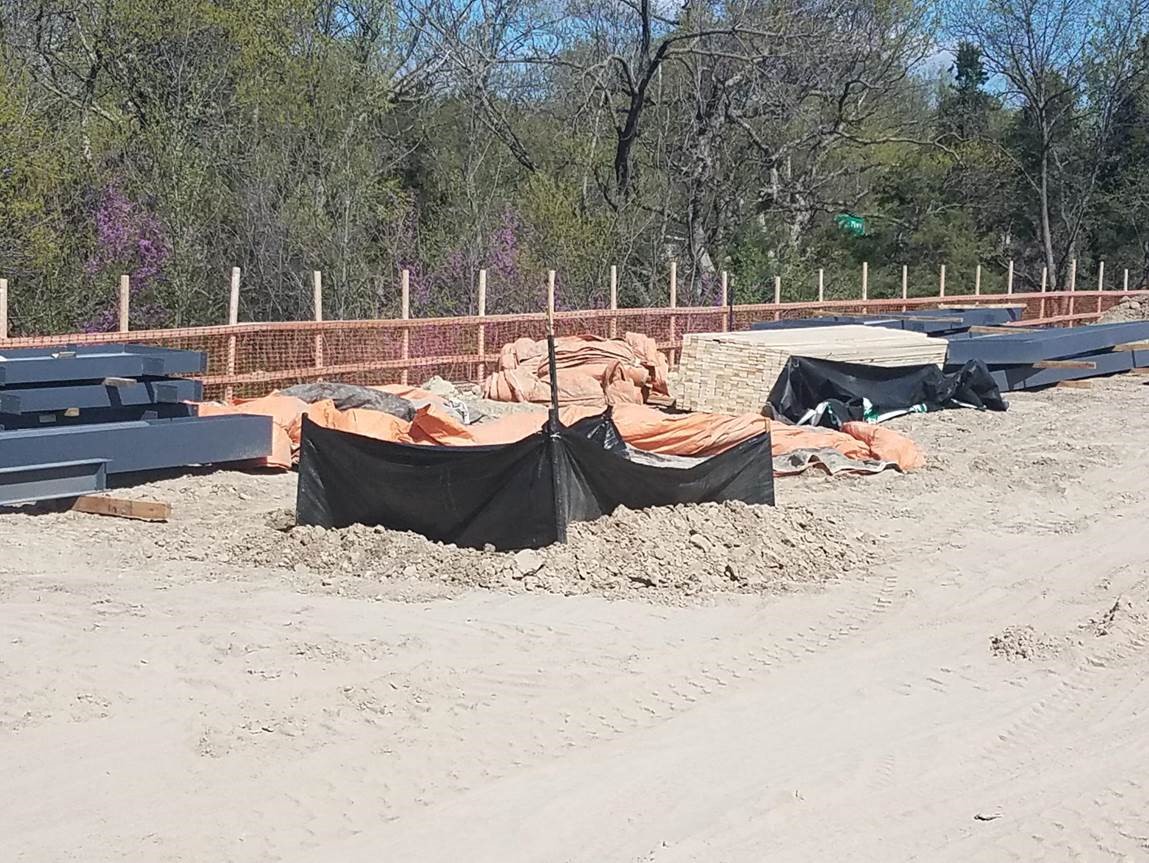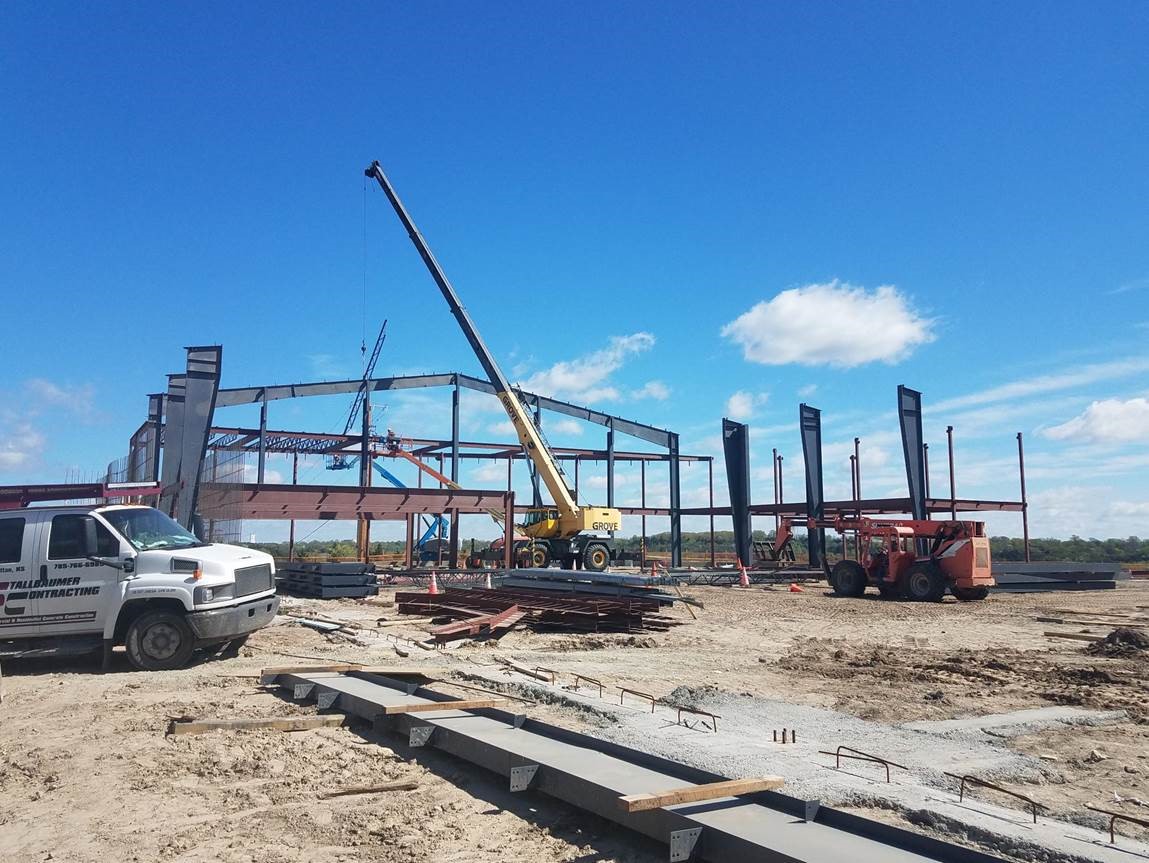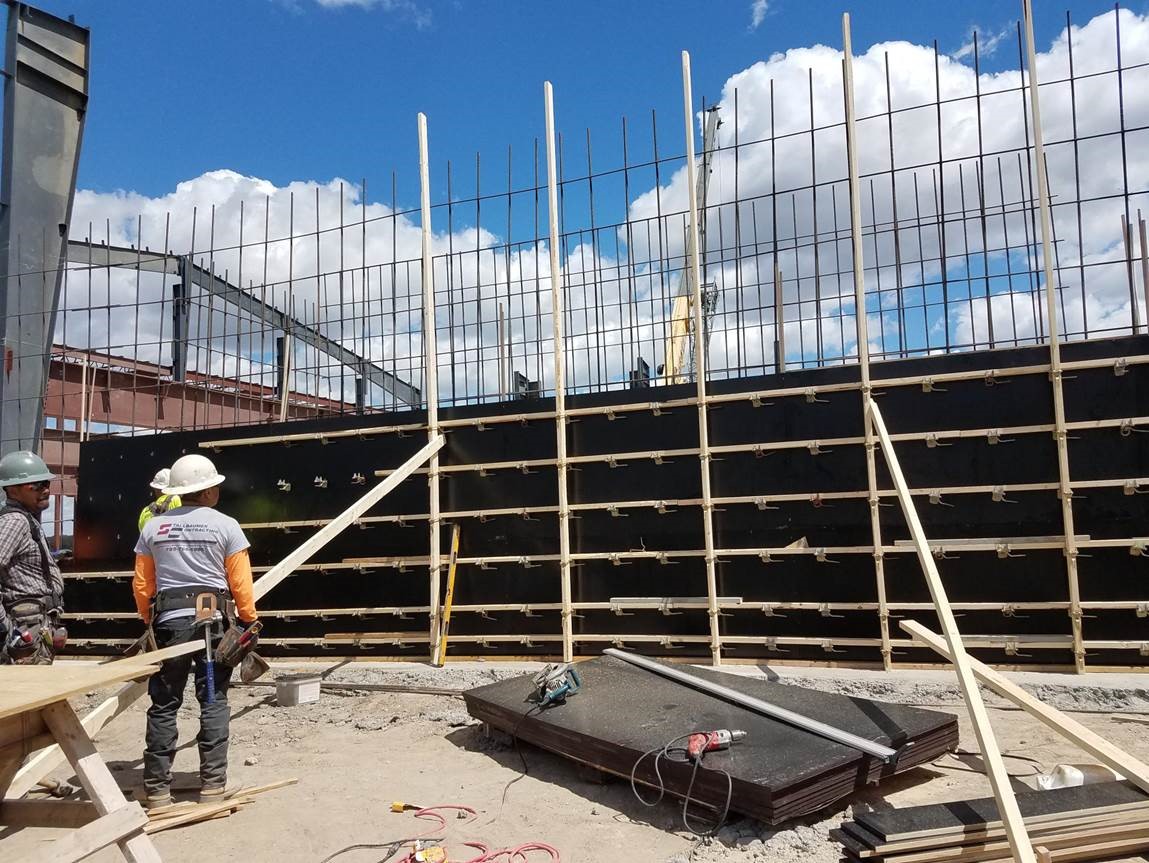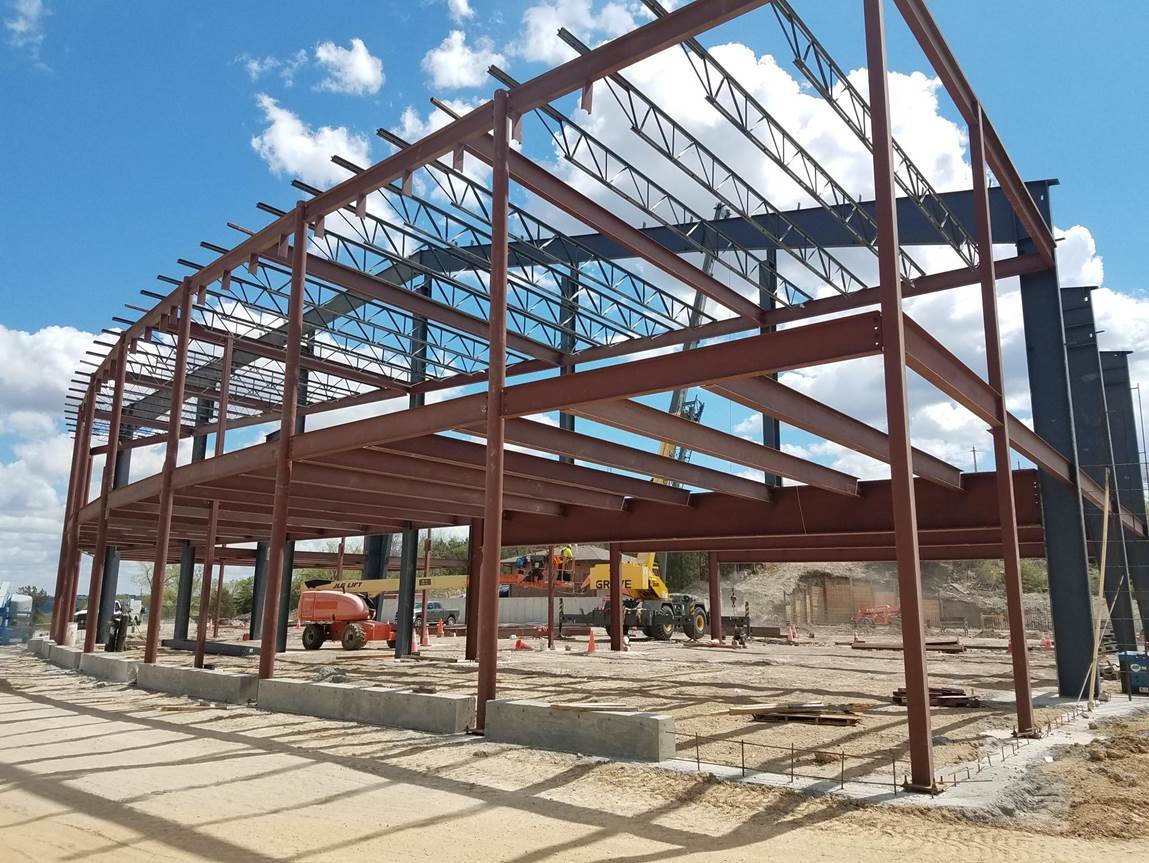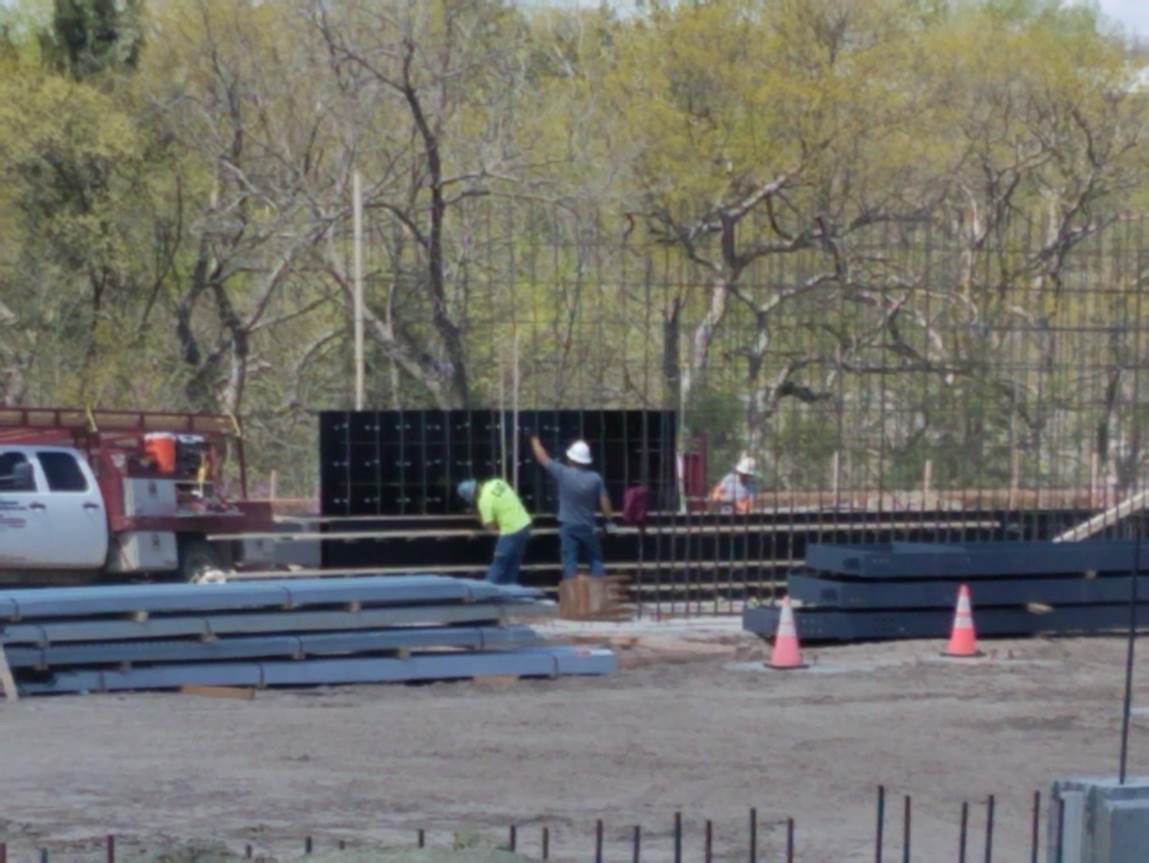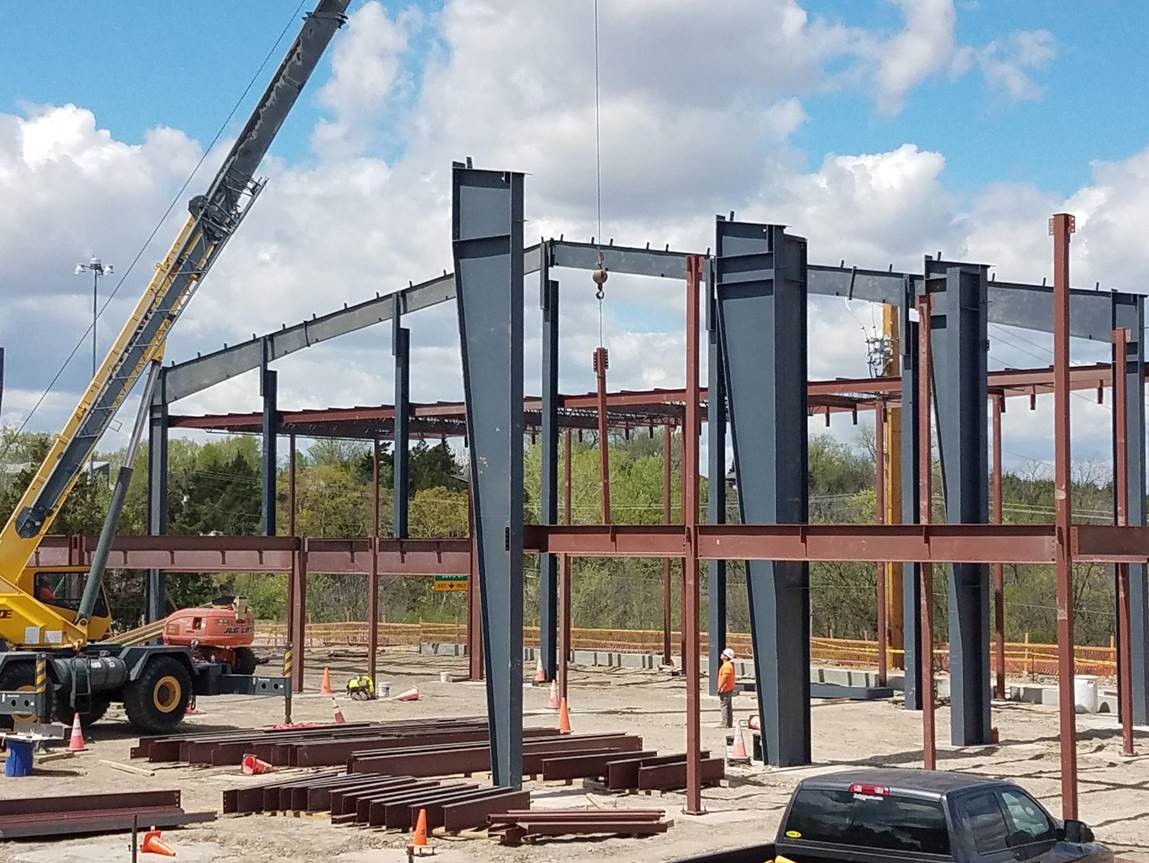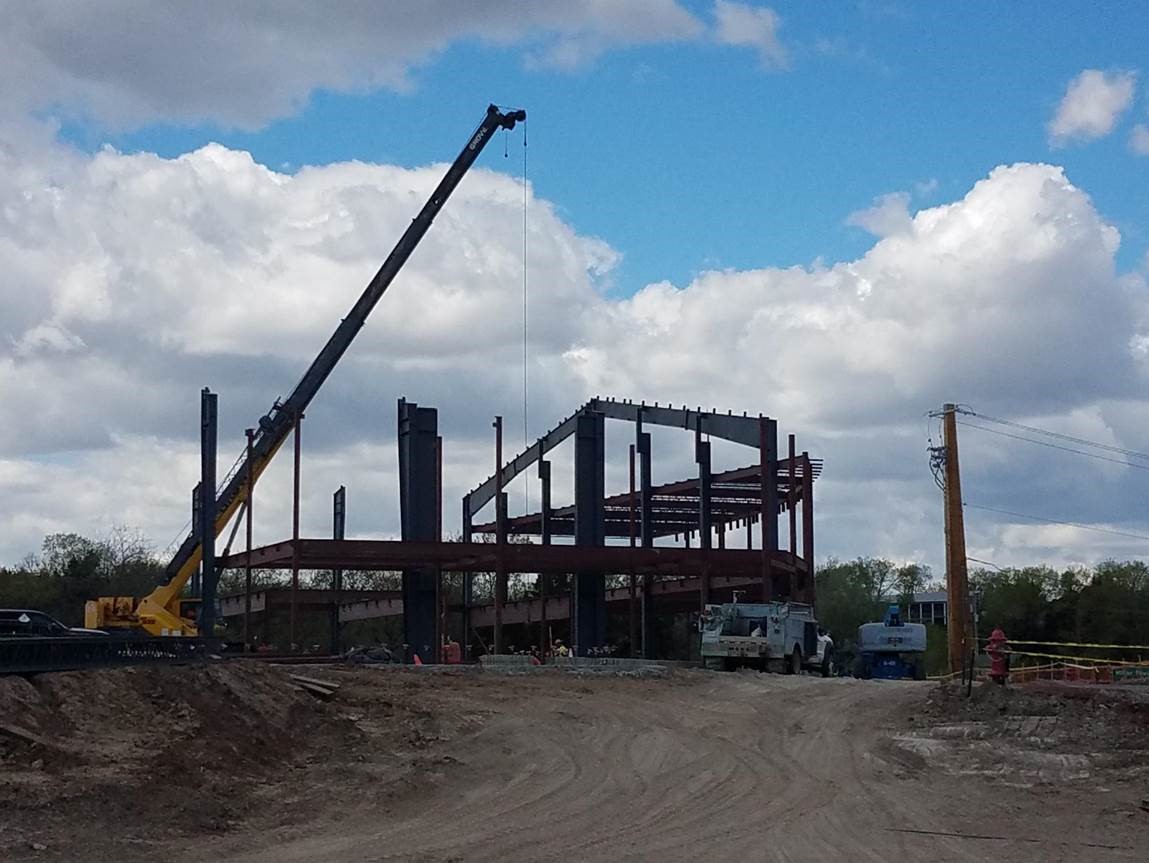 Update 4/16/2019
Big progress over the weekend. More steel in the air and the building is starting to take shape. Stay tuned for more updates!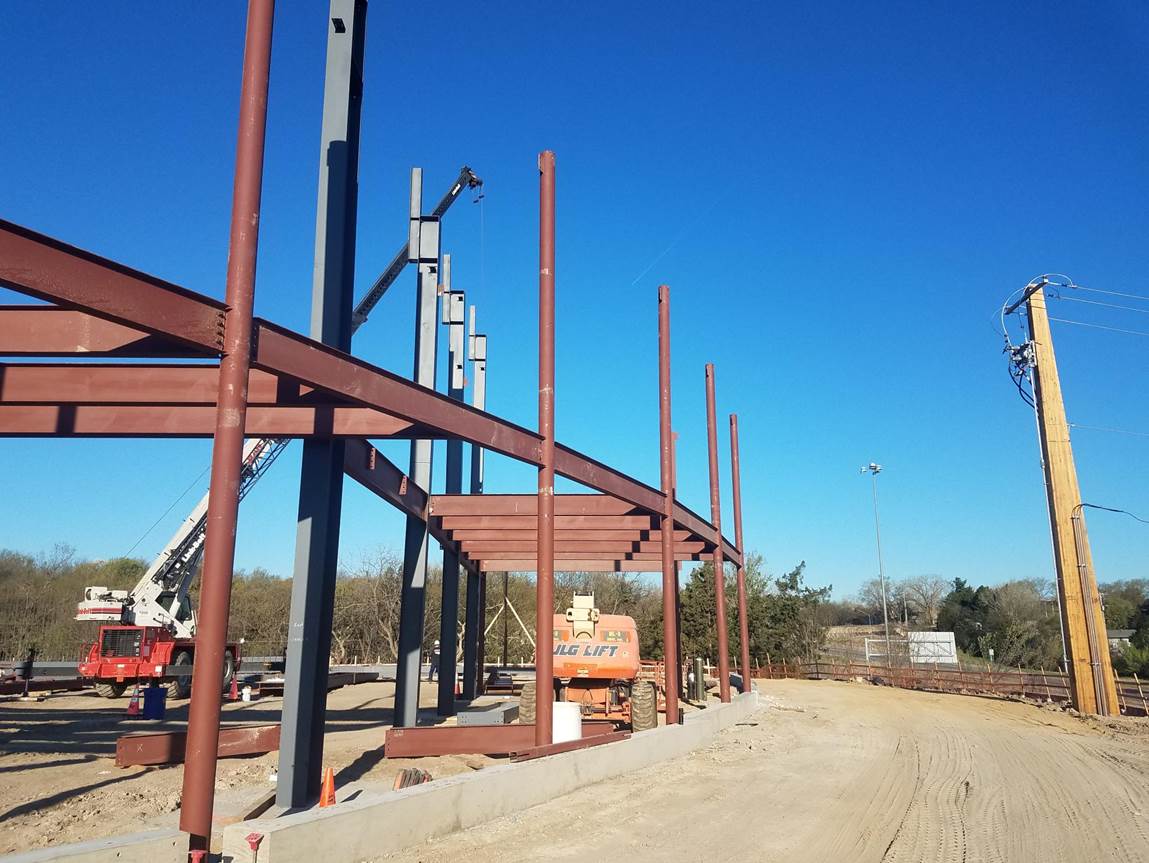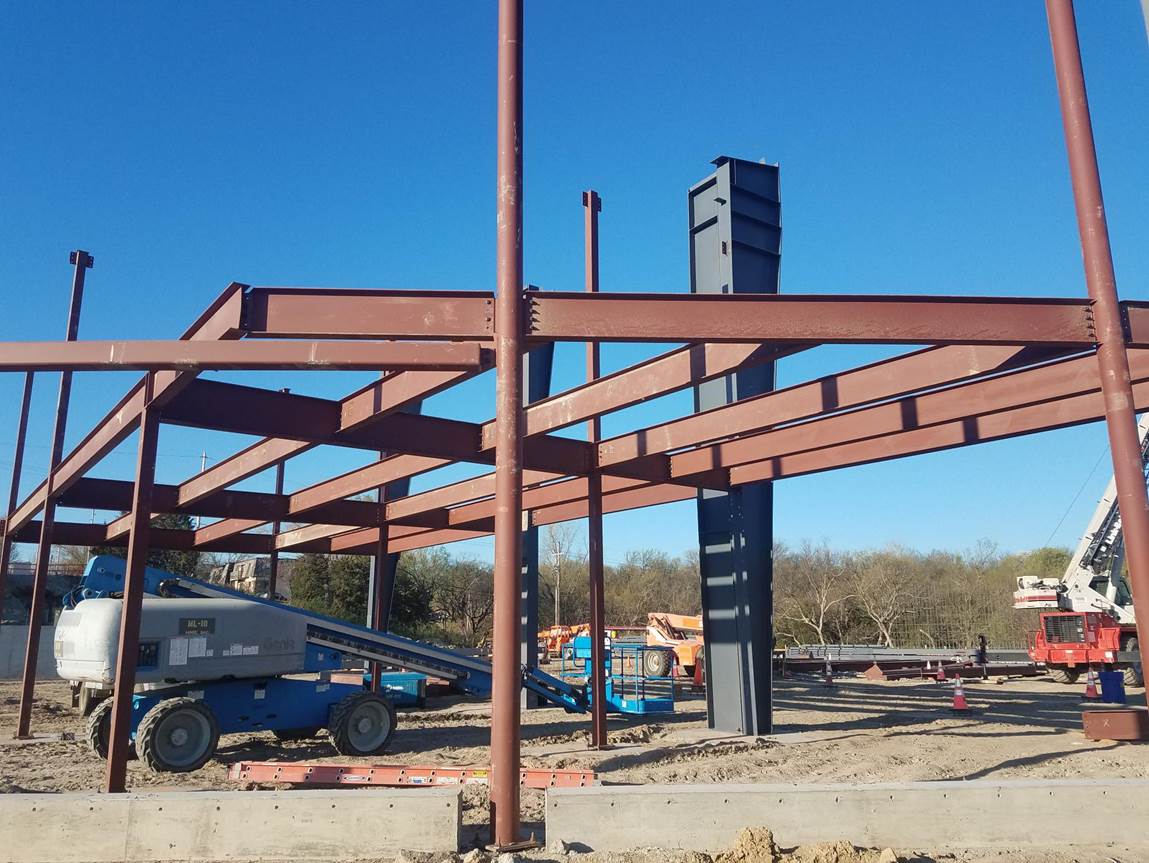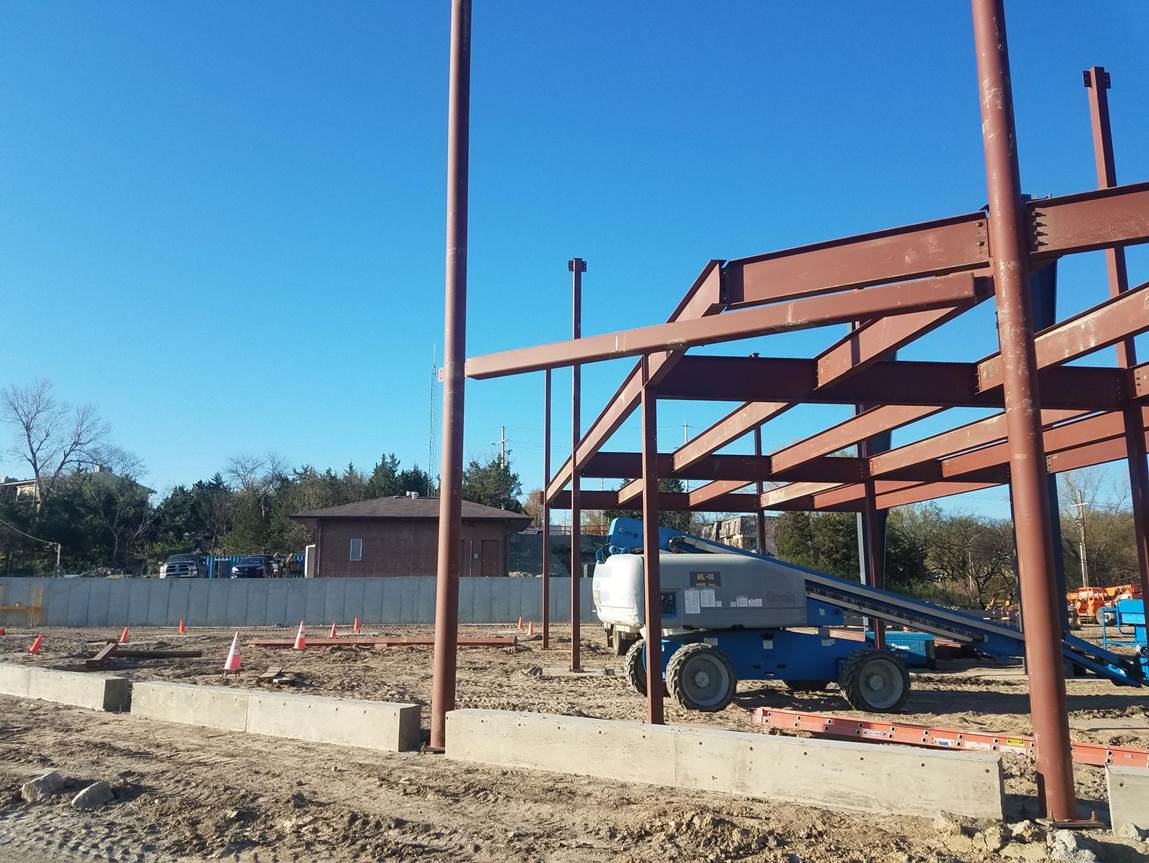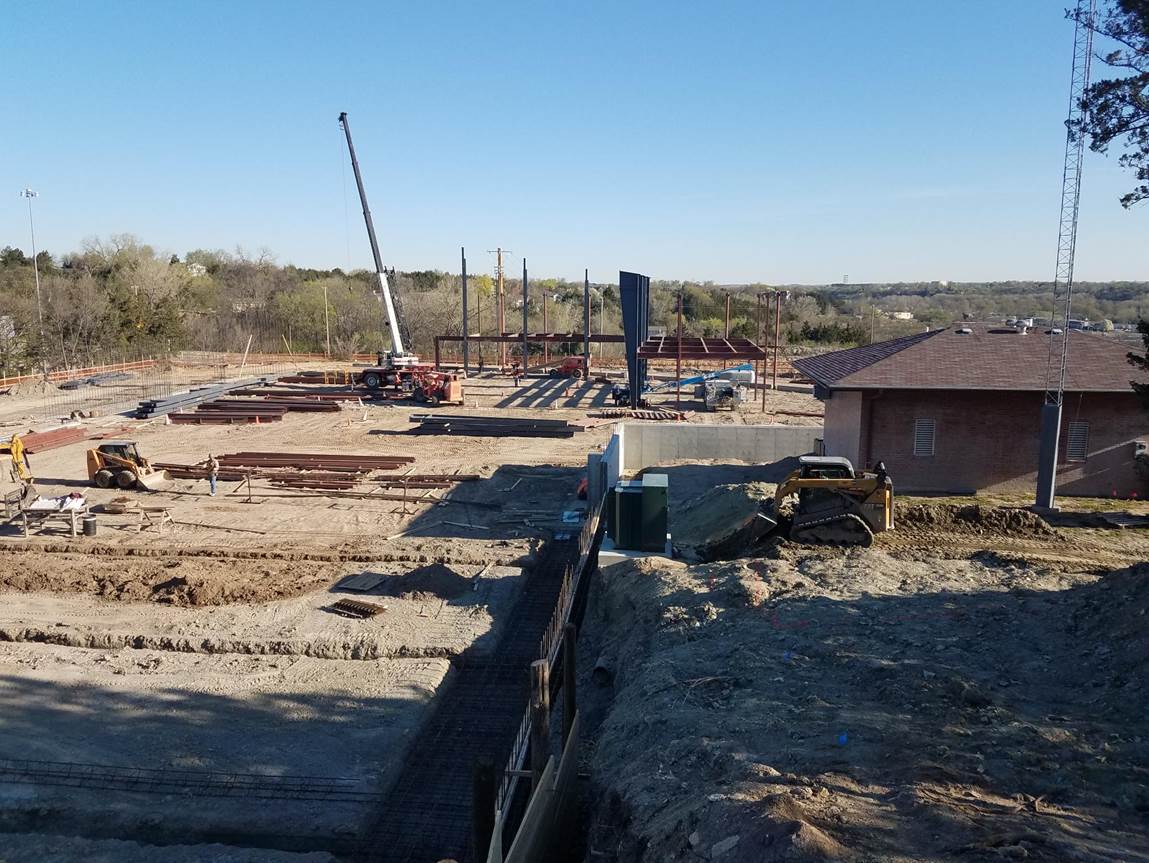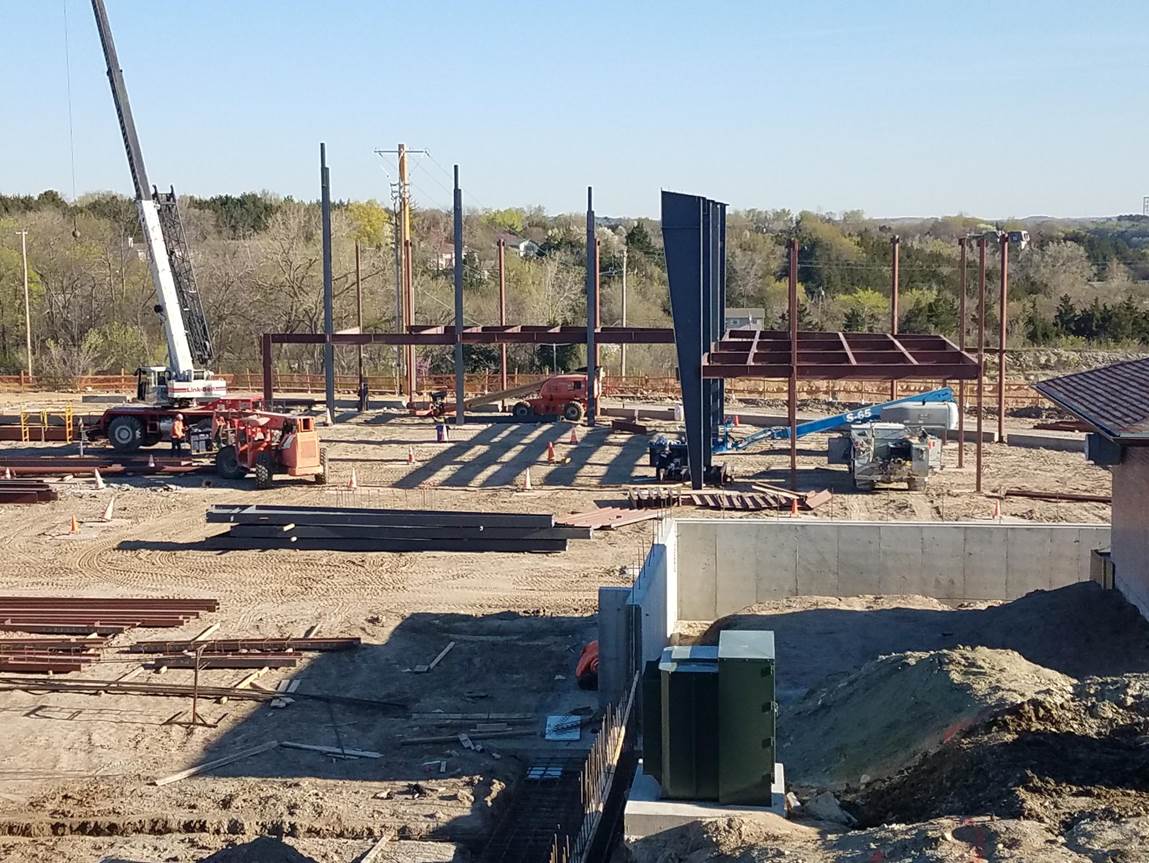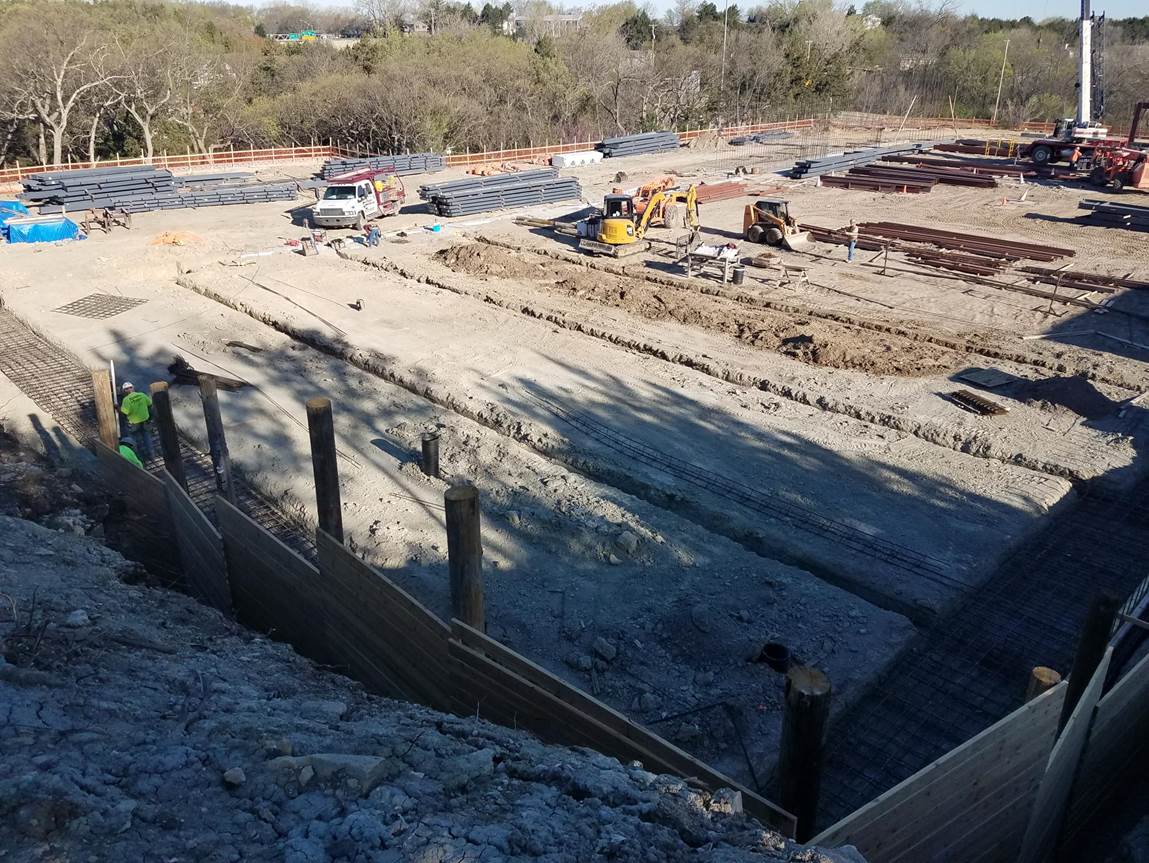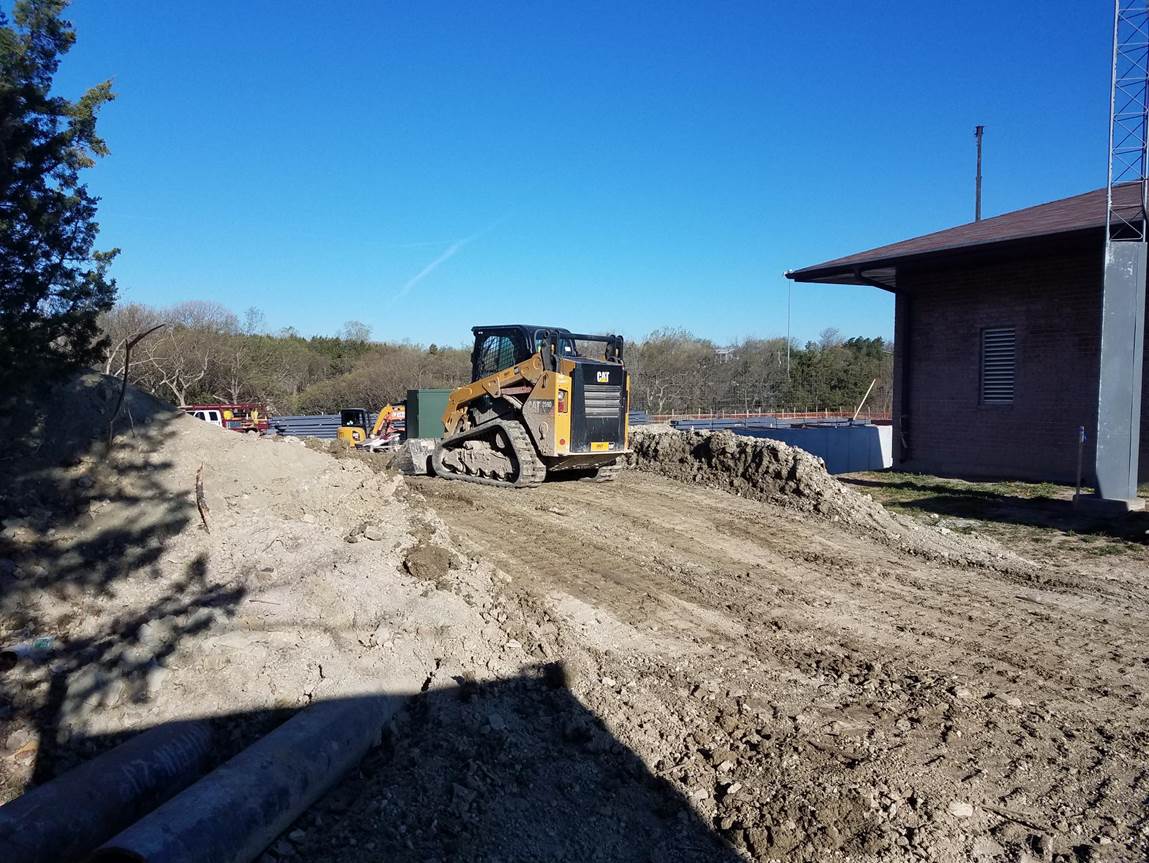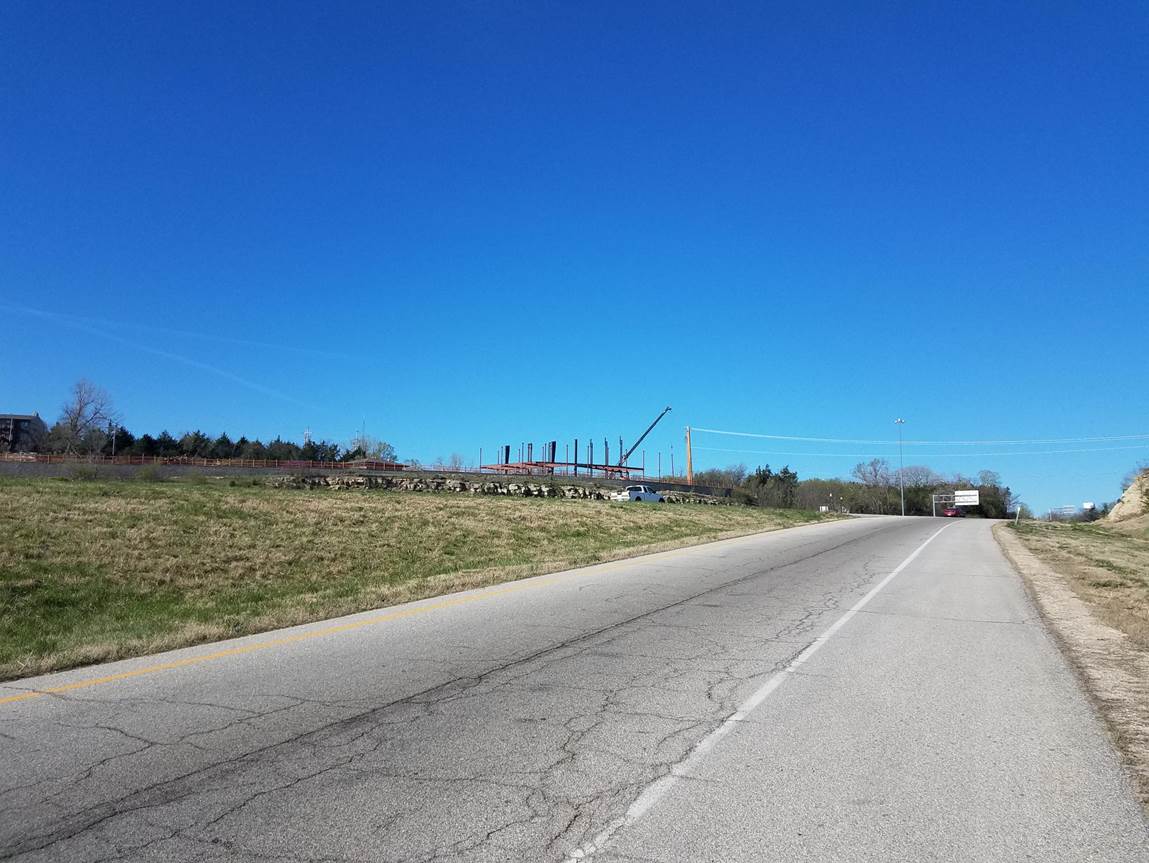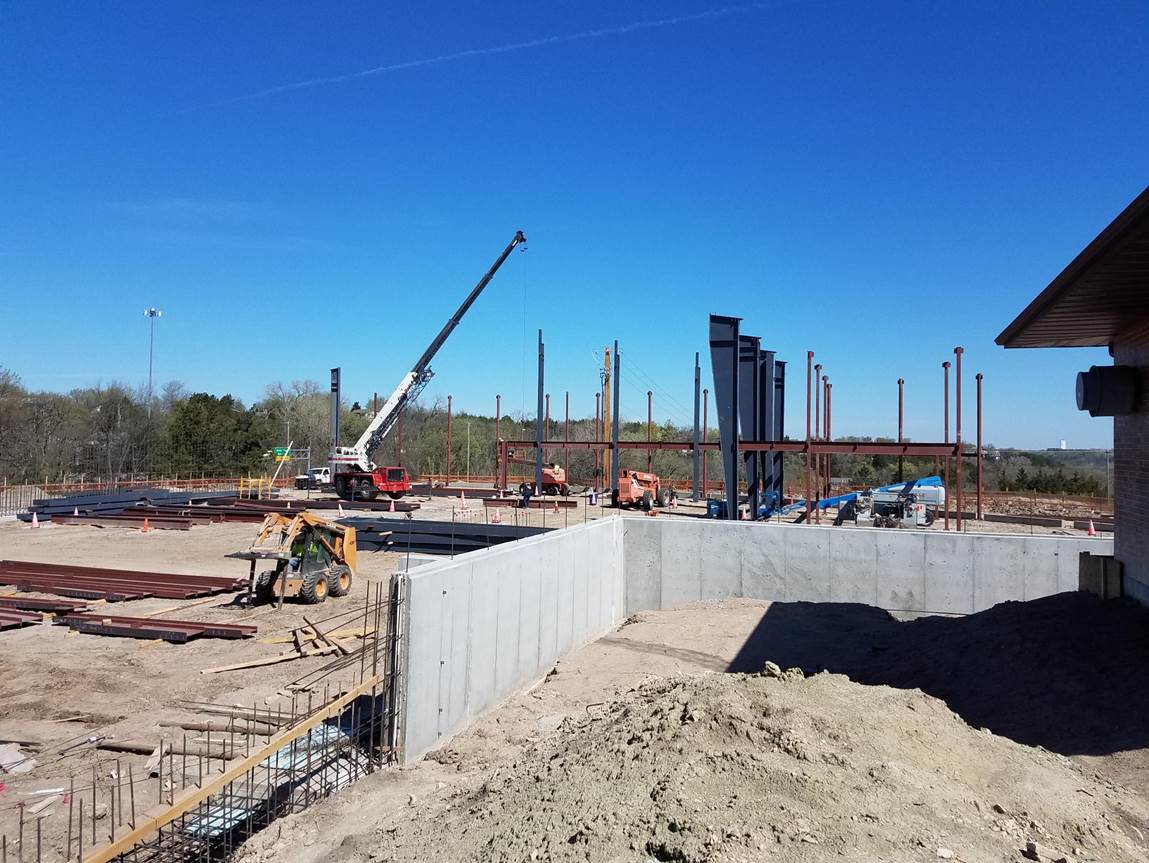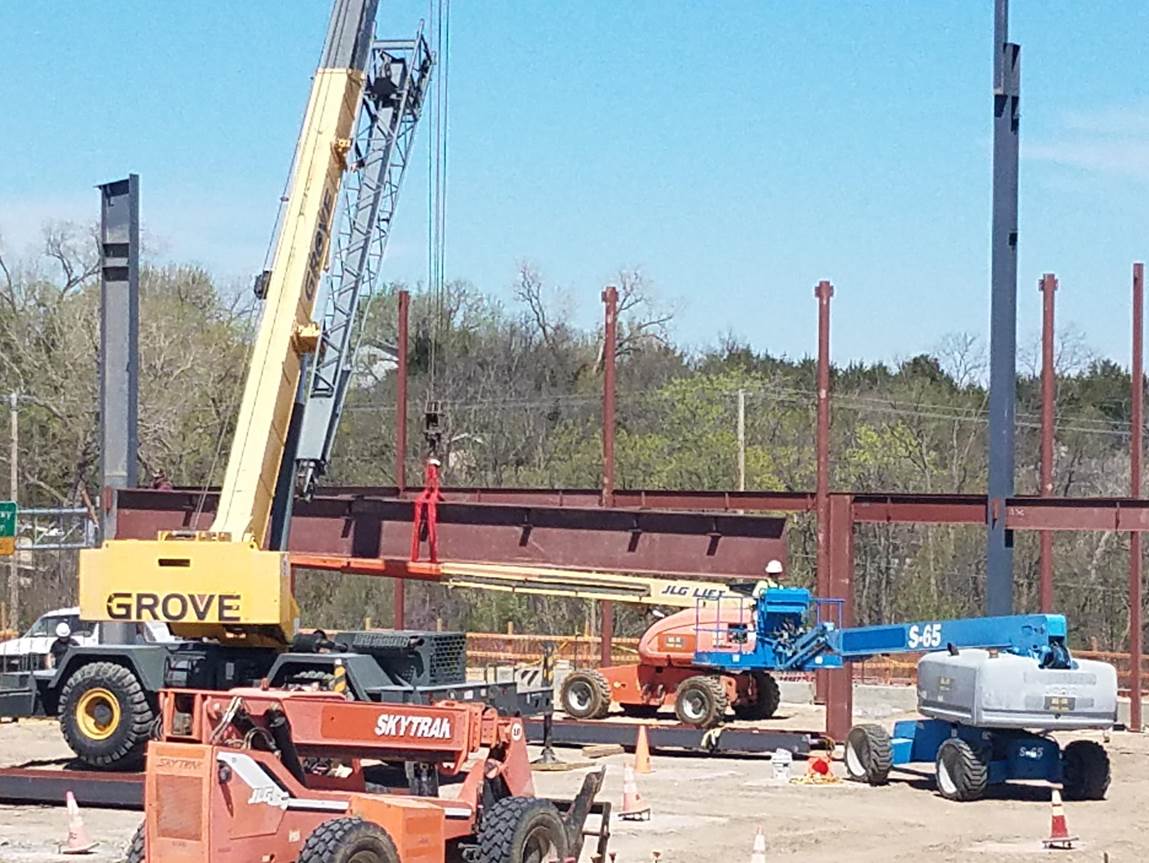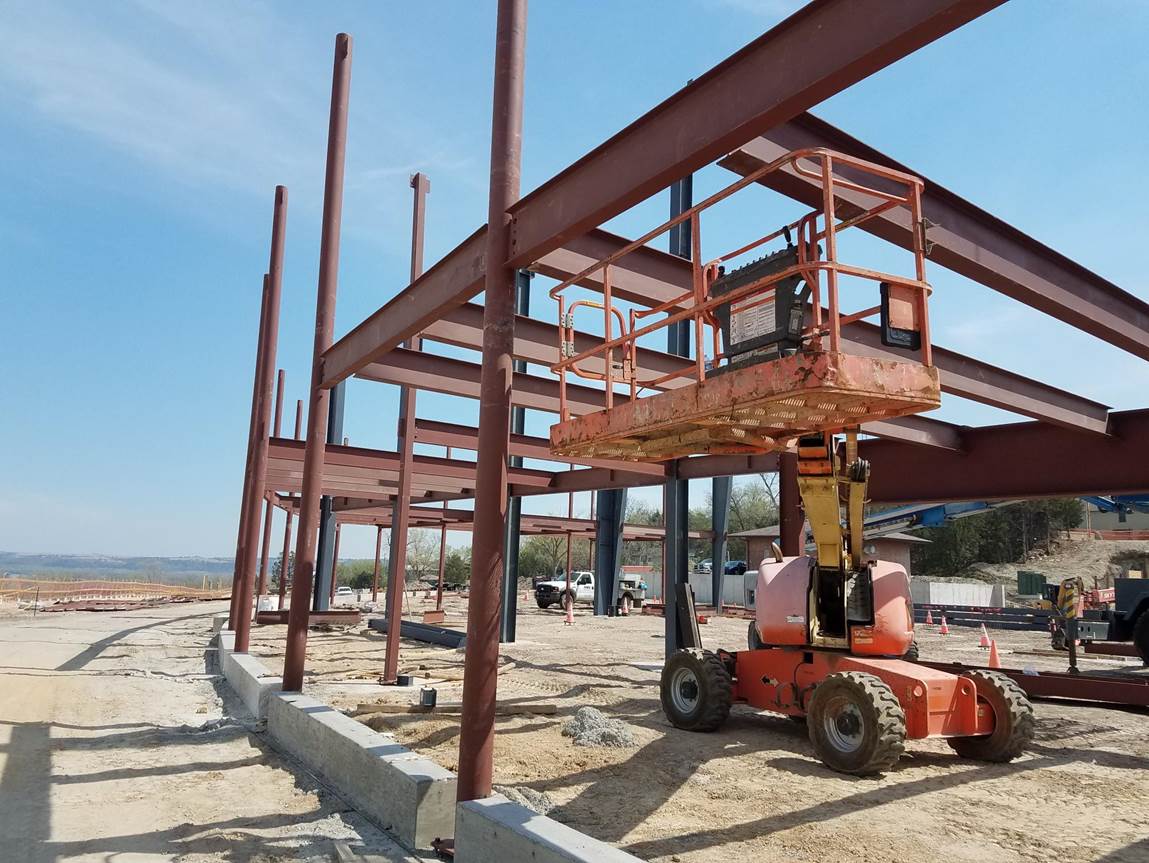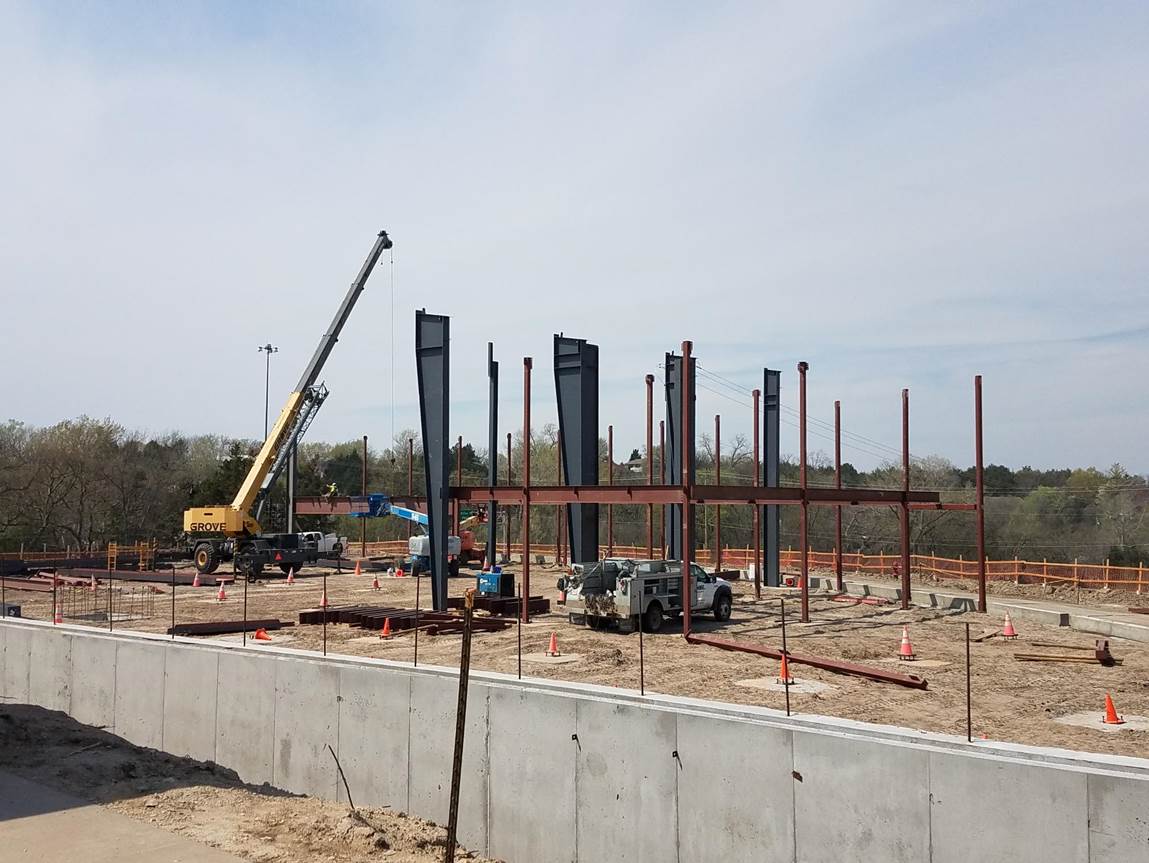 Update 4/10/2019
Steel is in the air. Get ready to see the new luxury health club take shape, right before your eyes!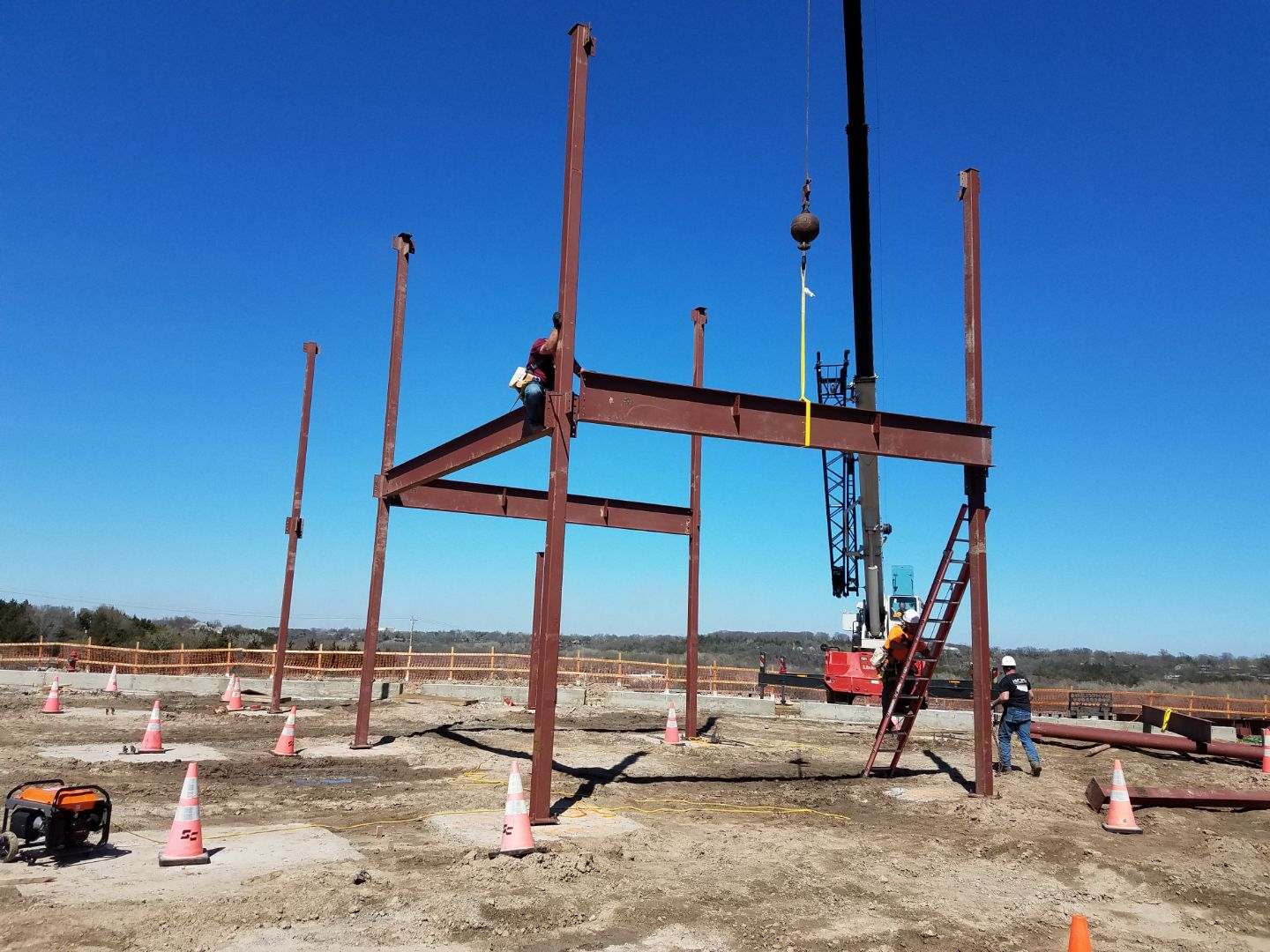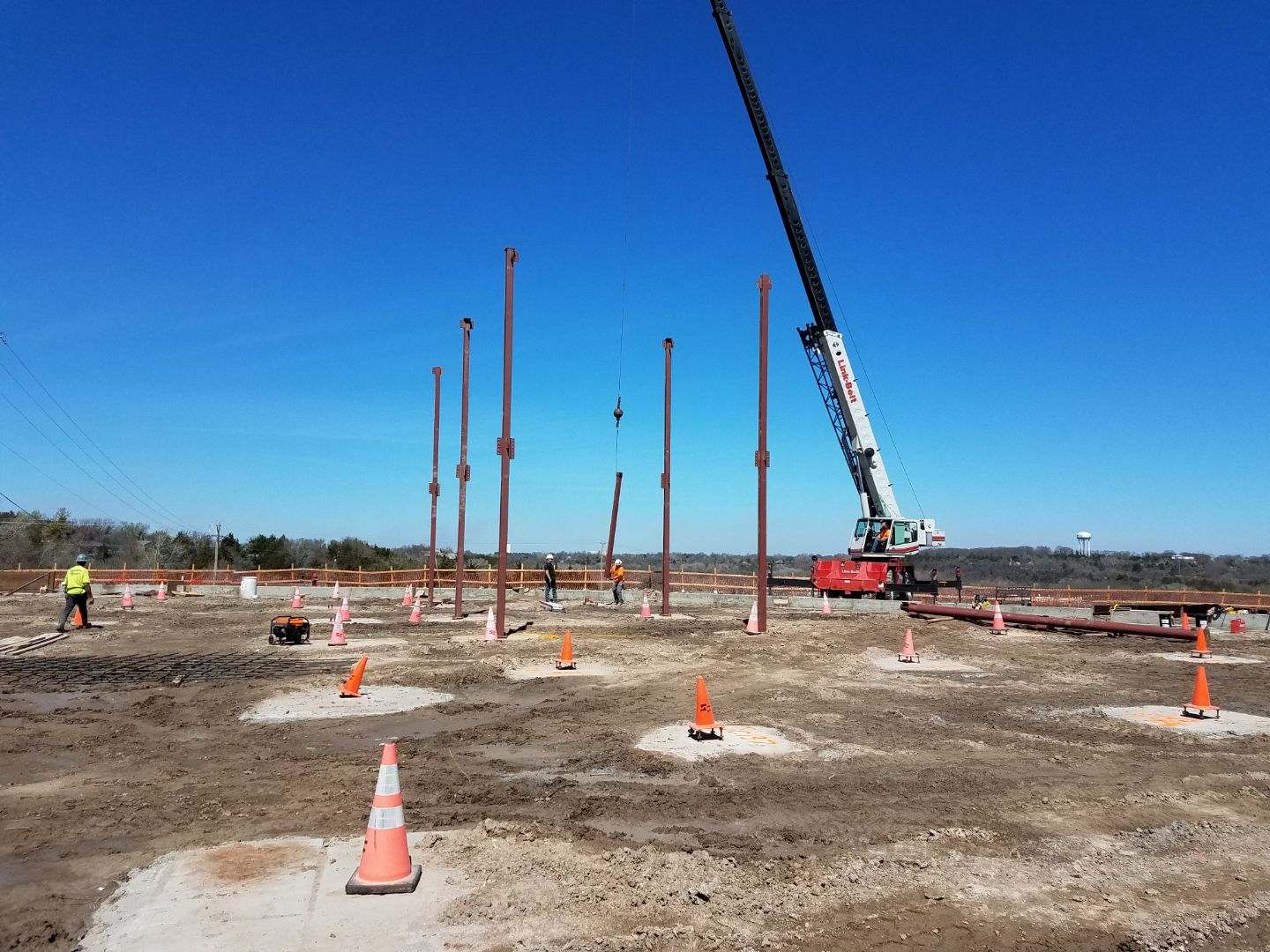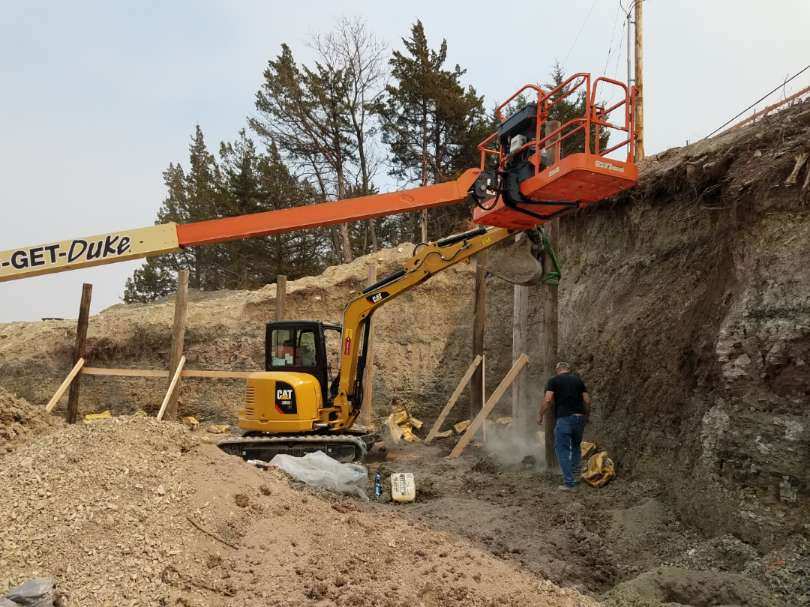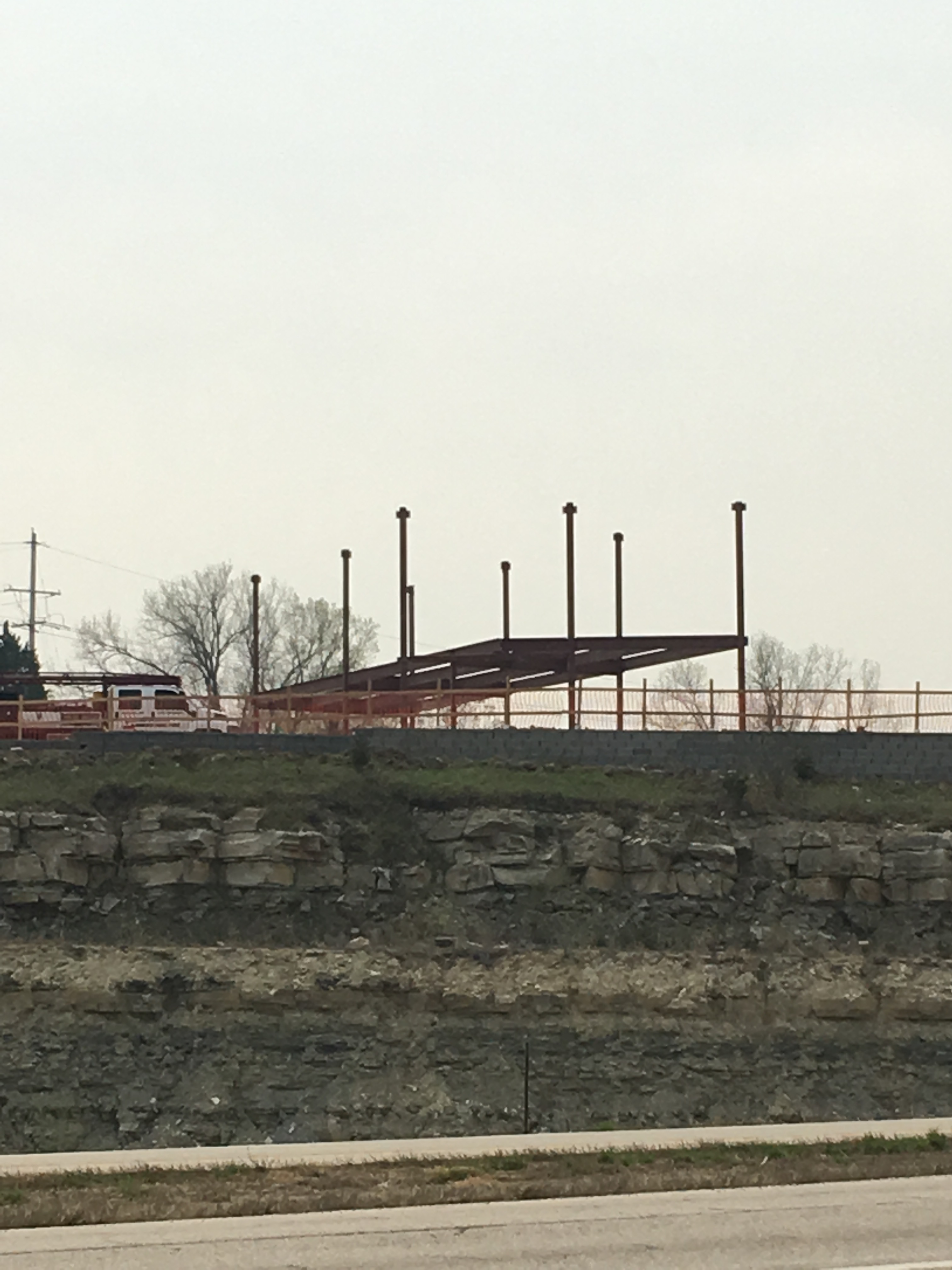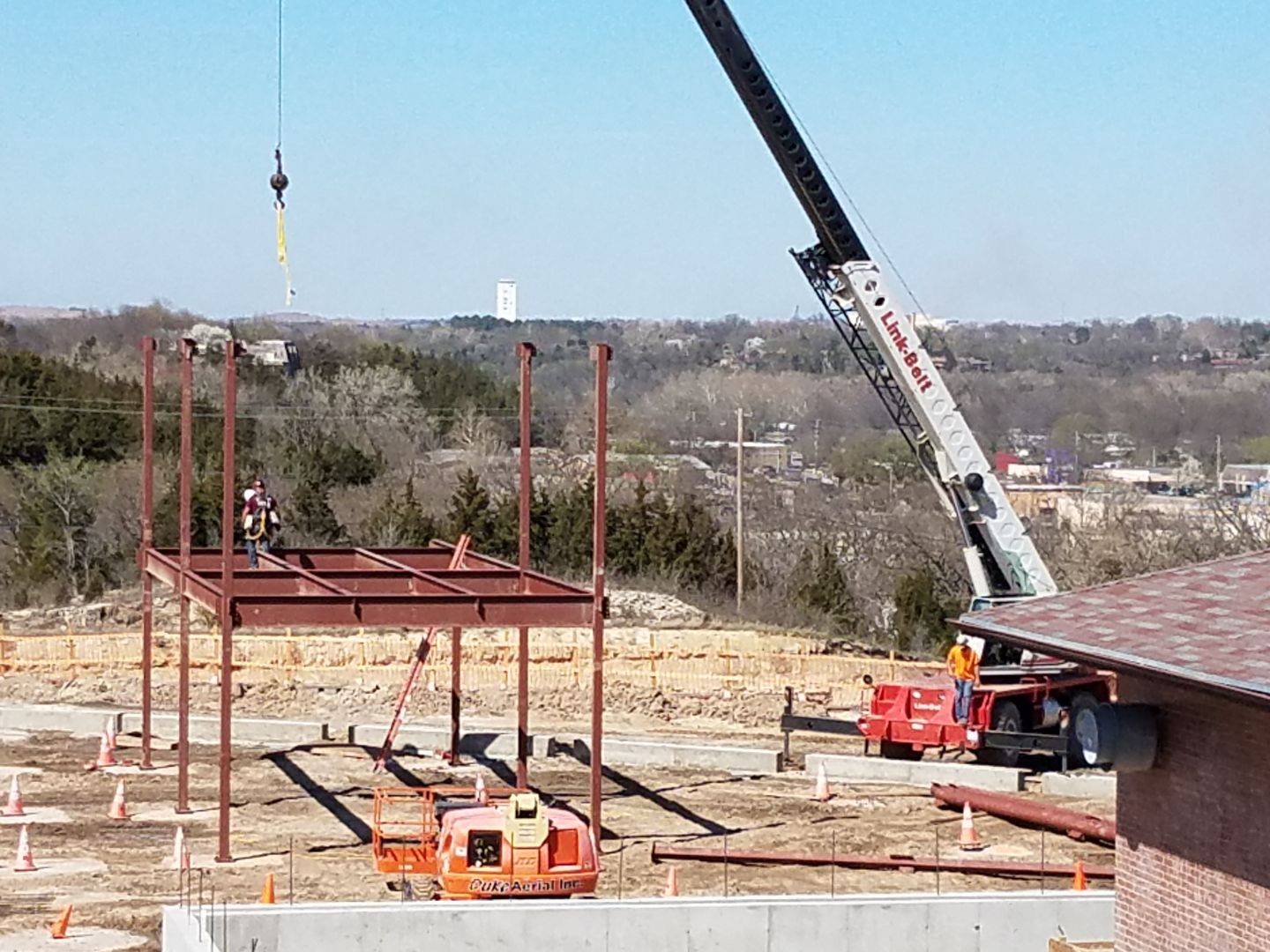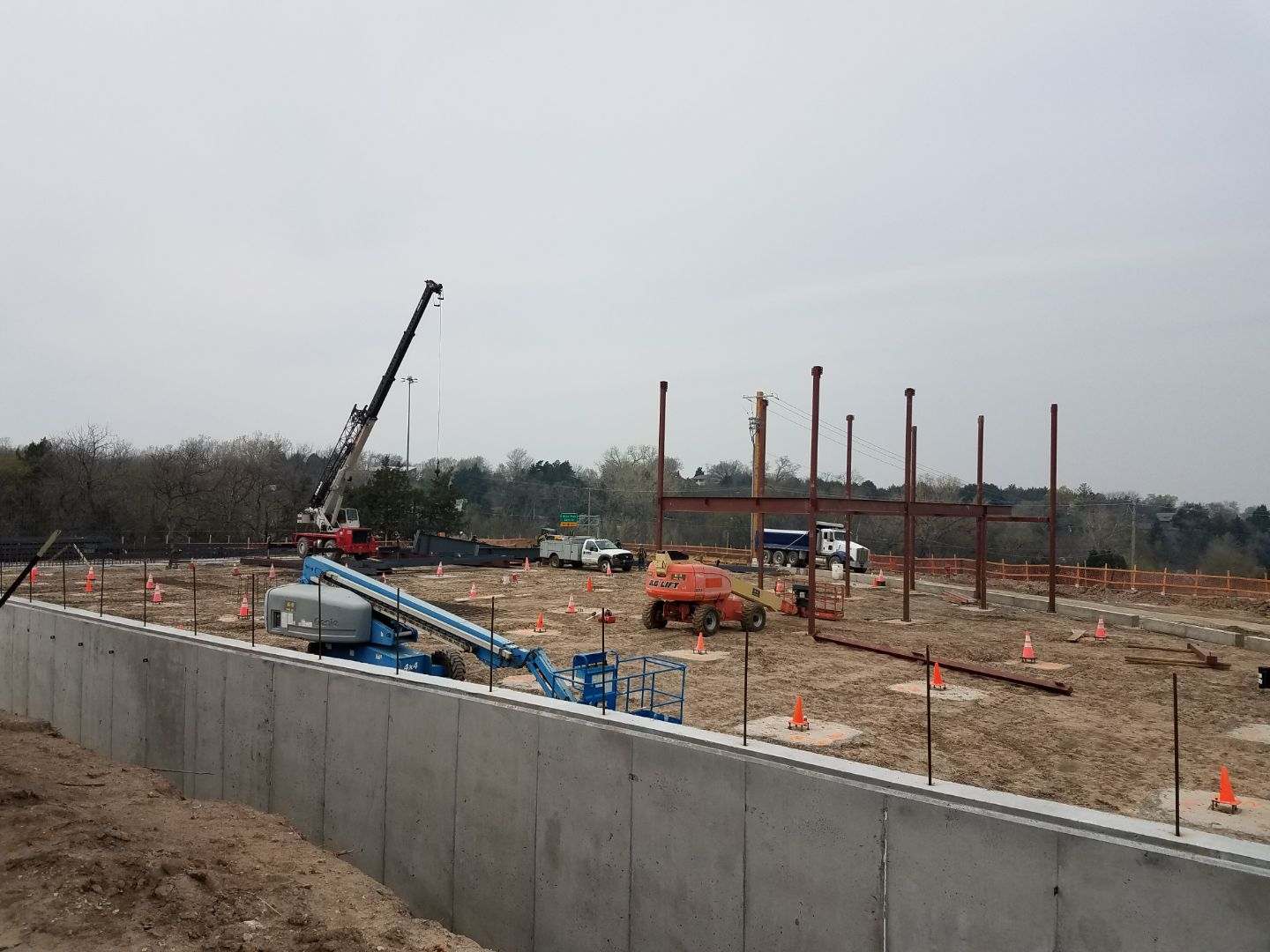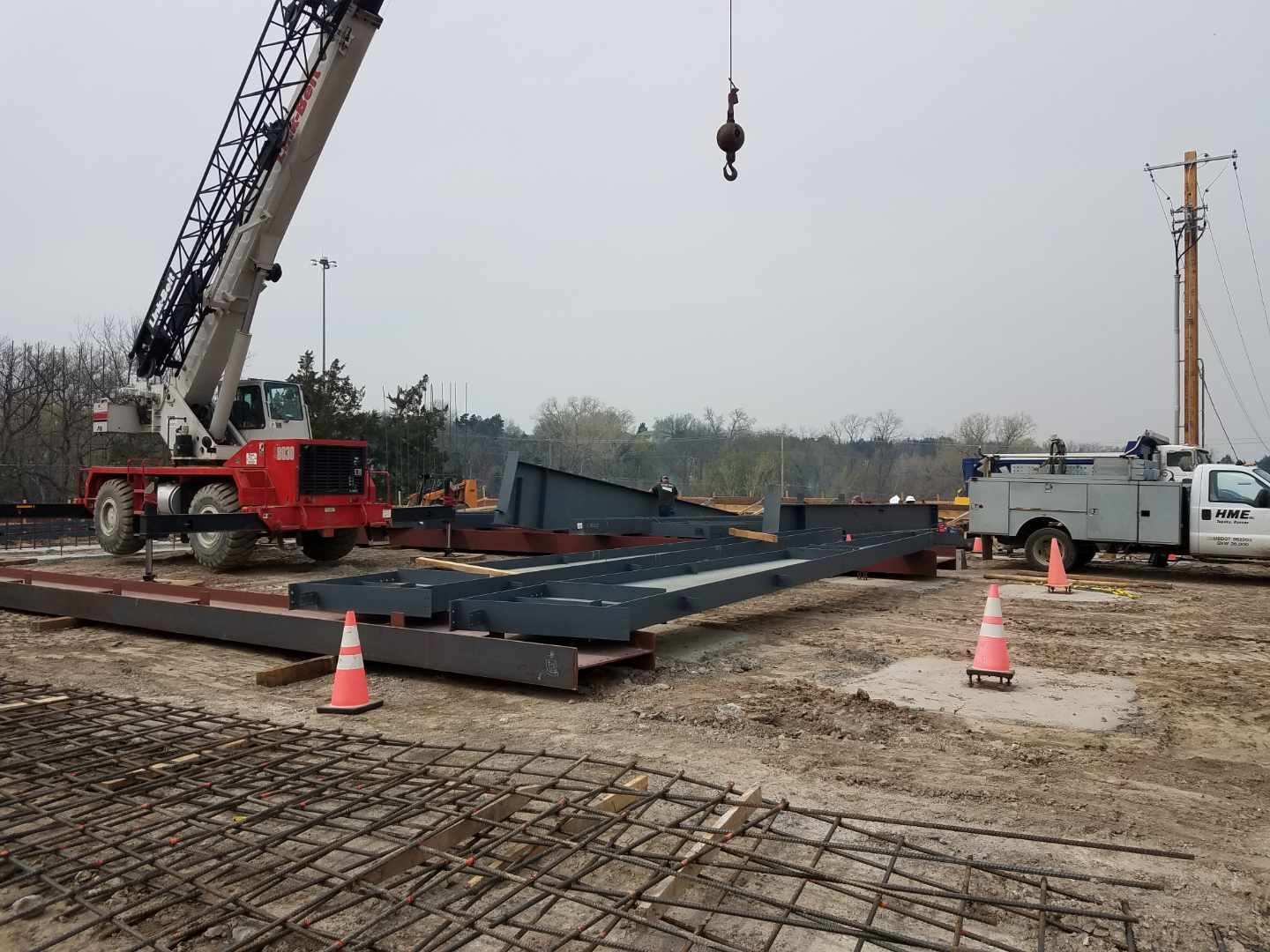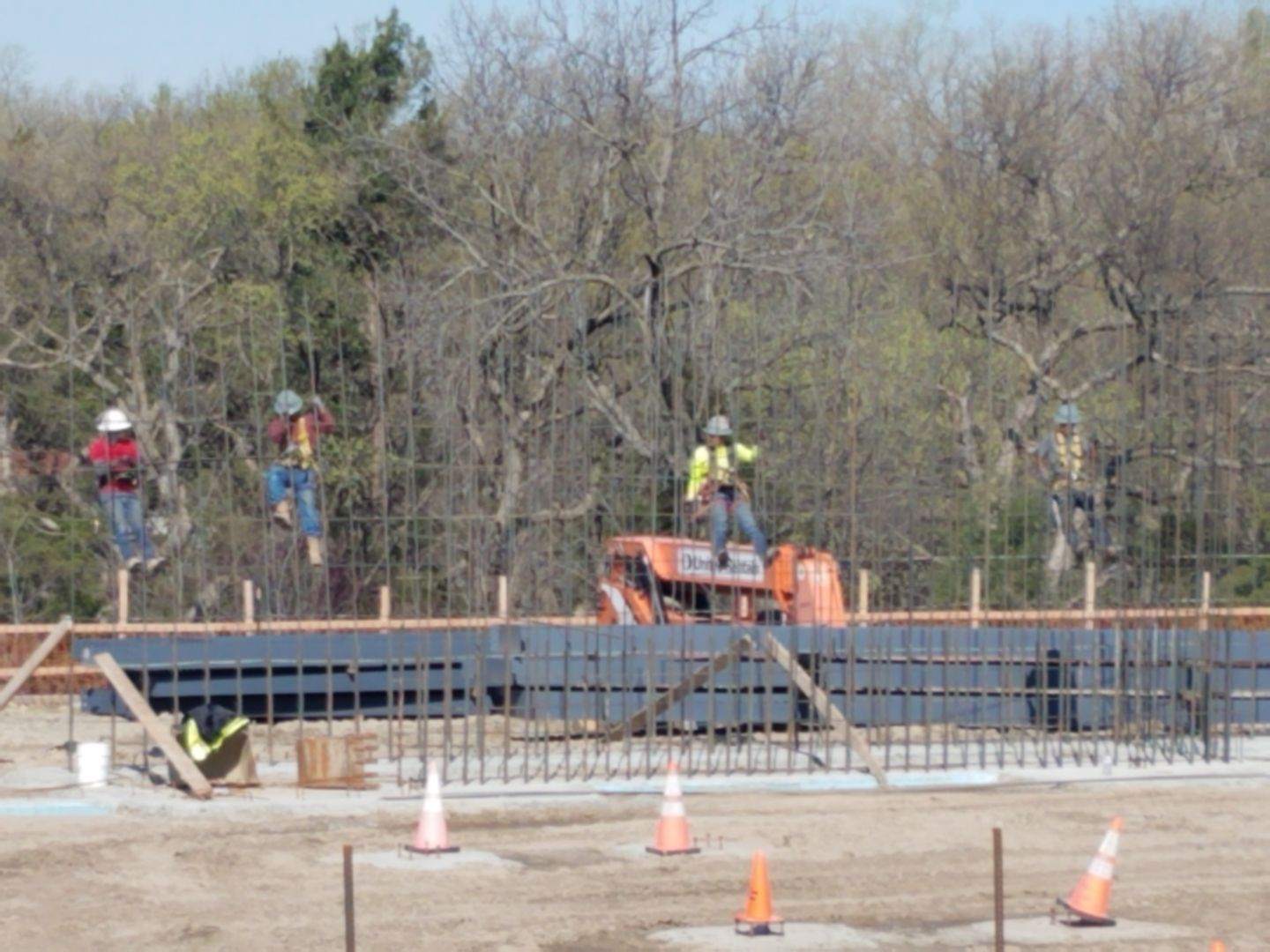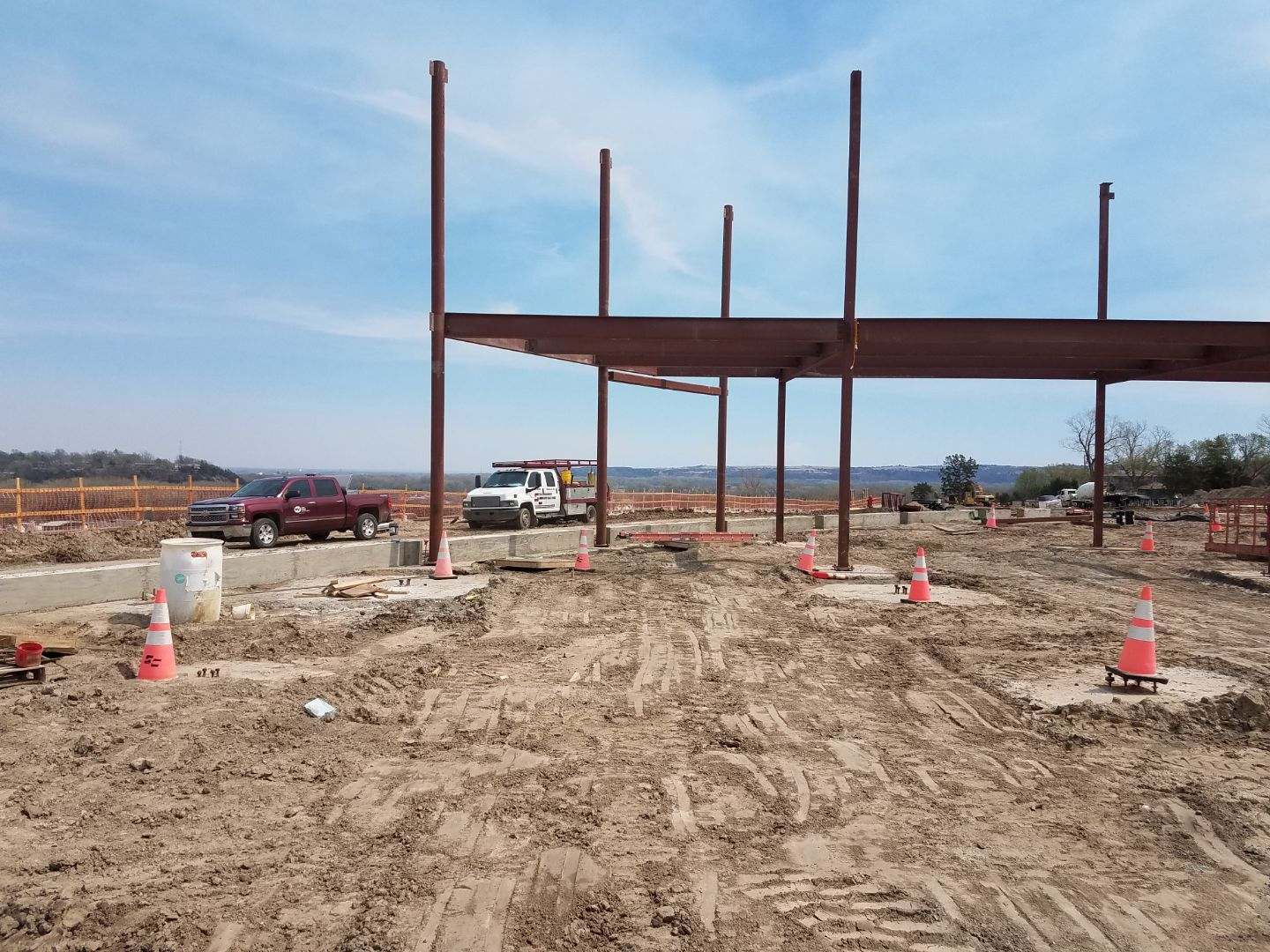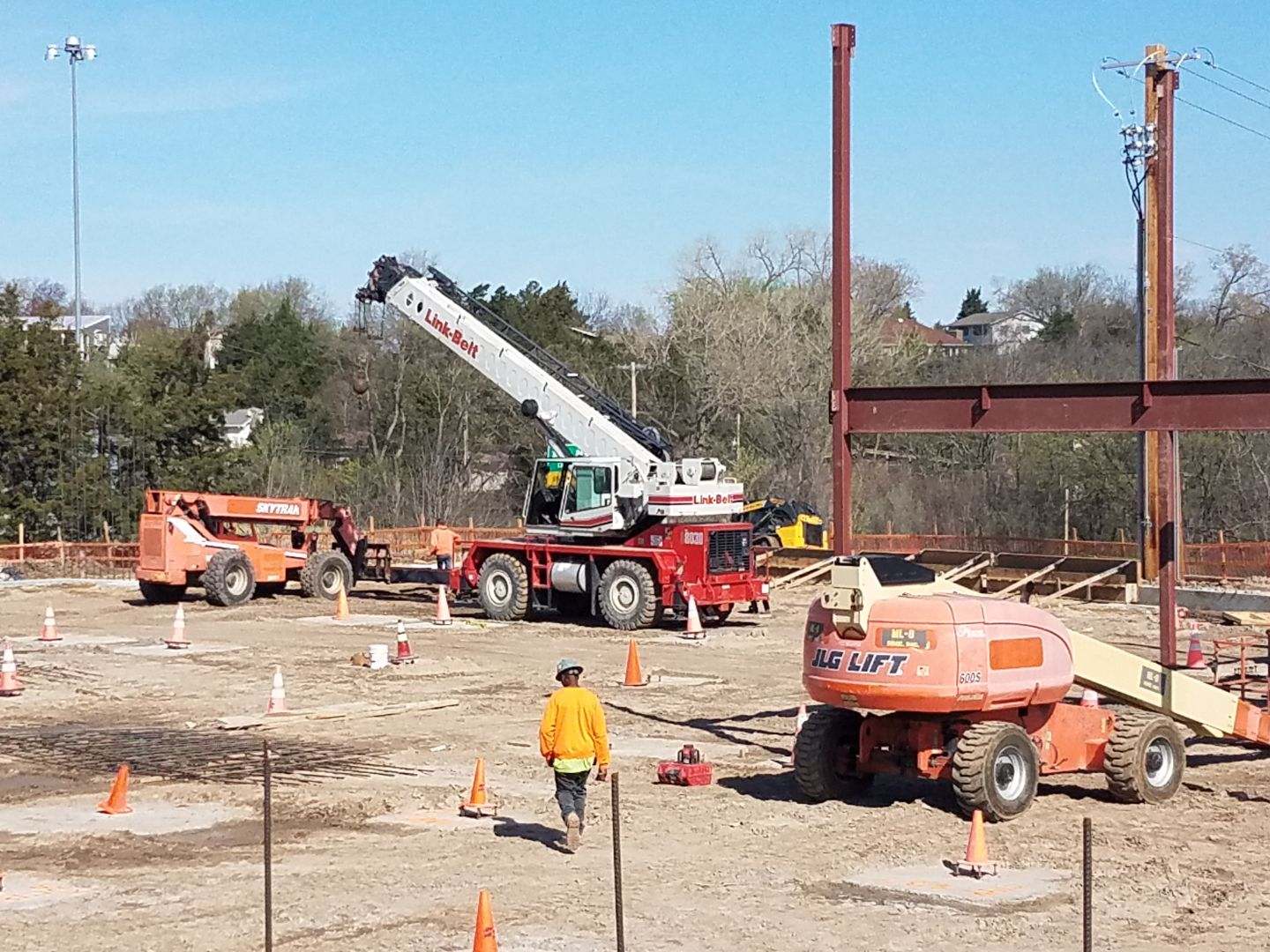 Update 3/12/2019
We're working through the weather and site work is speeding along. Steel should be going up in the air any day. Stay tuned for more updates!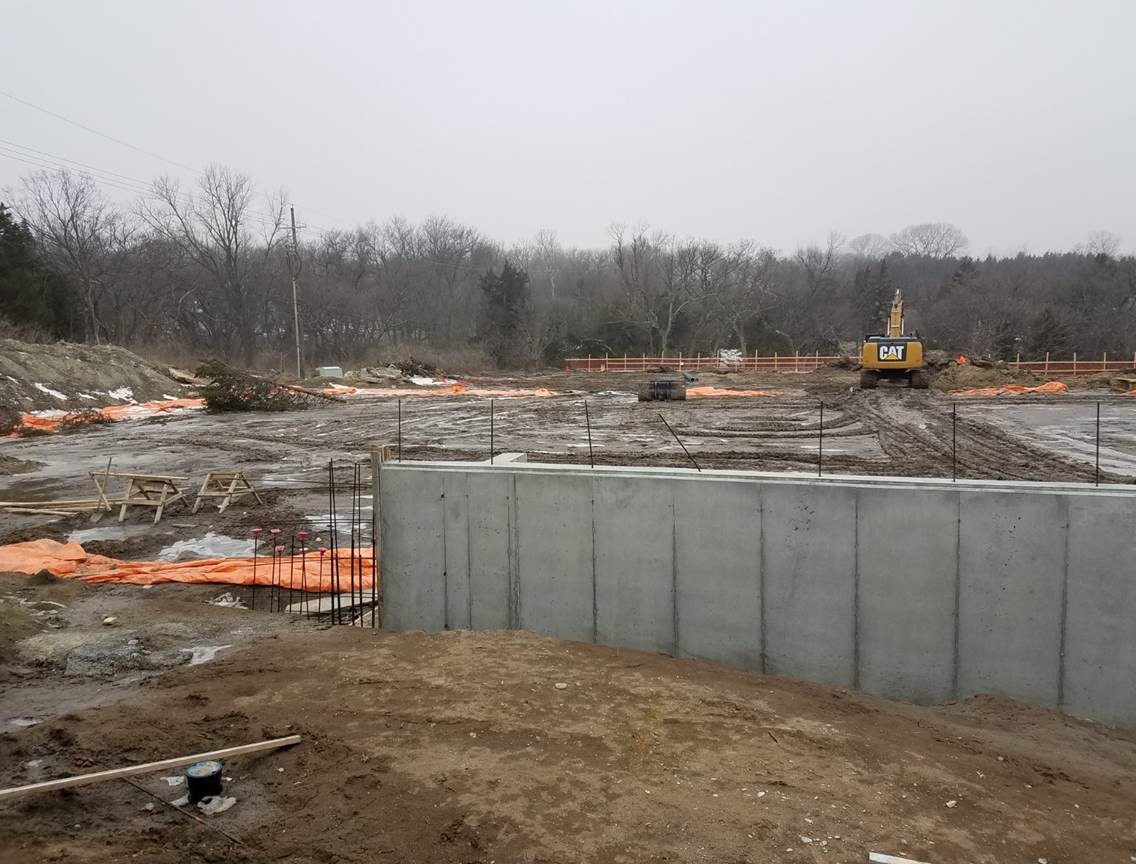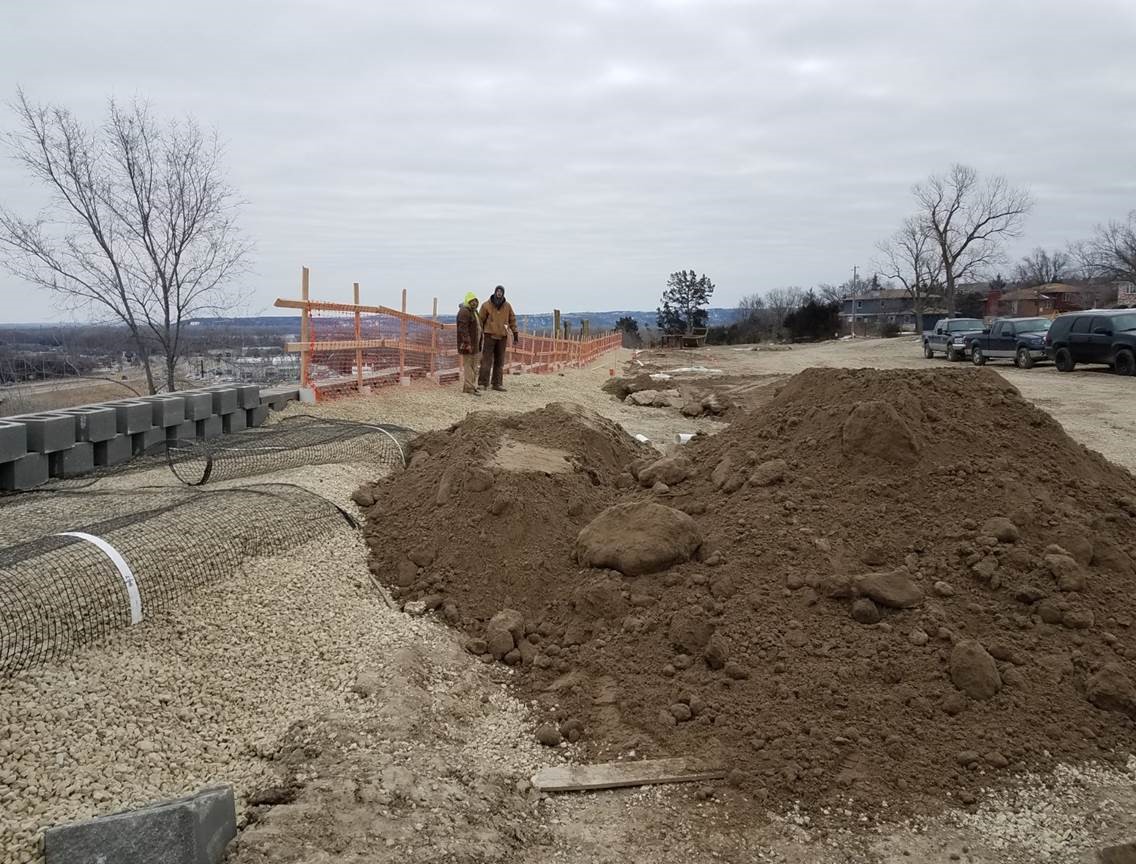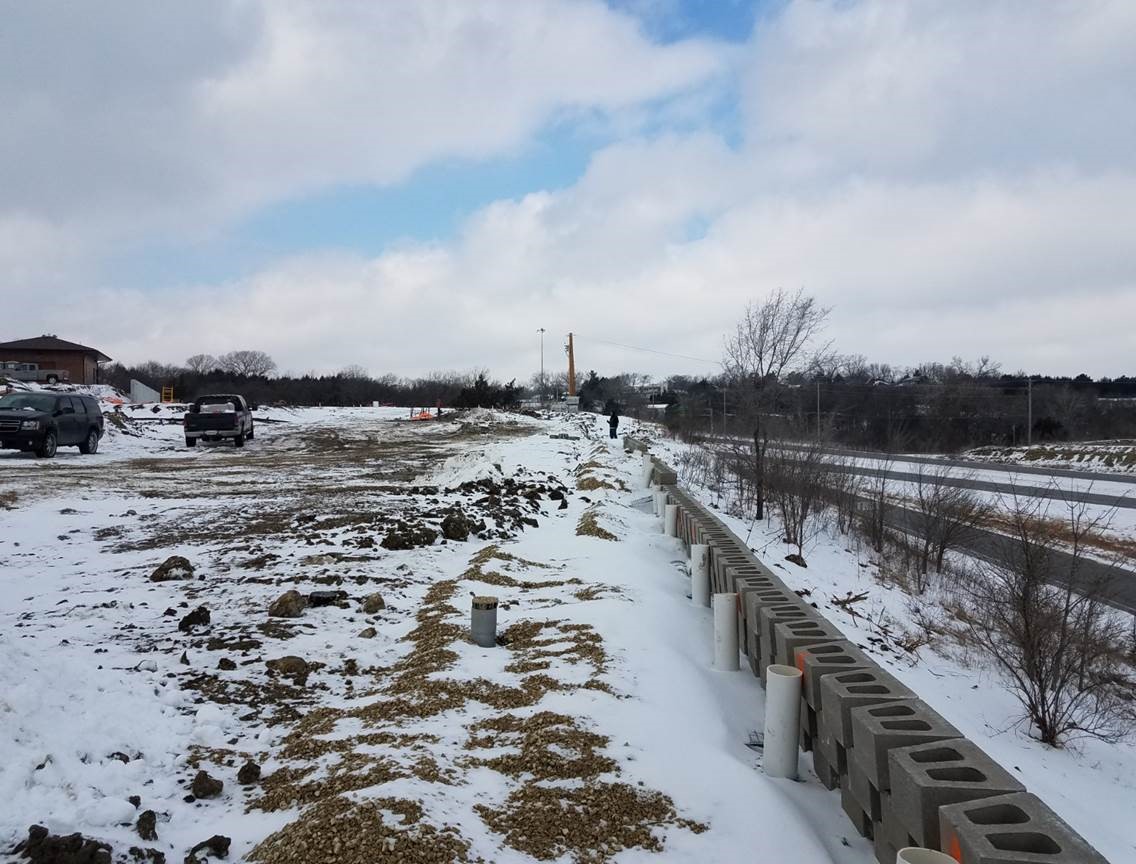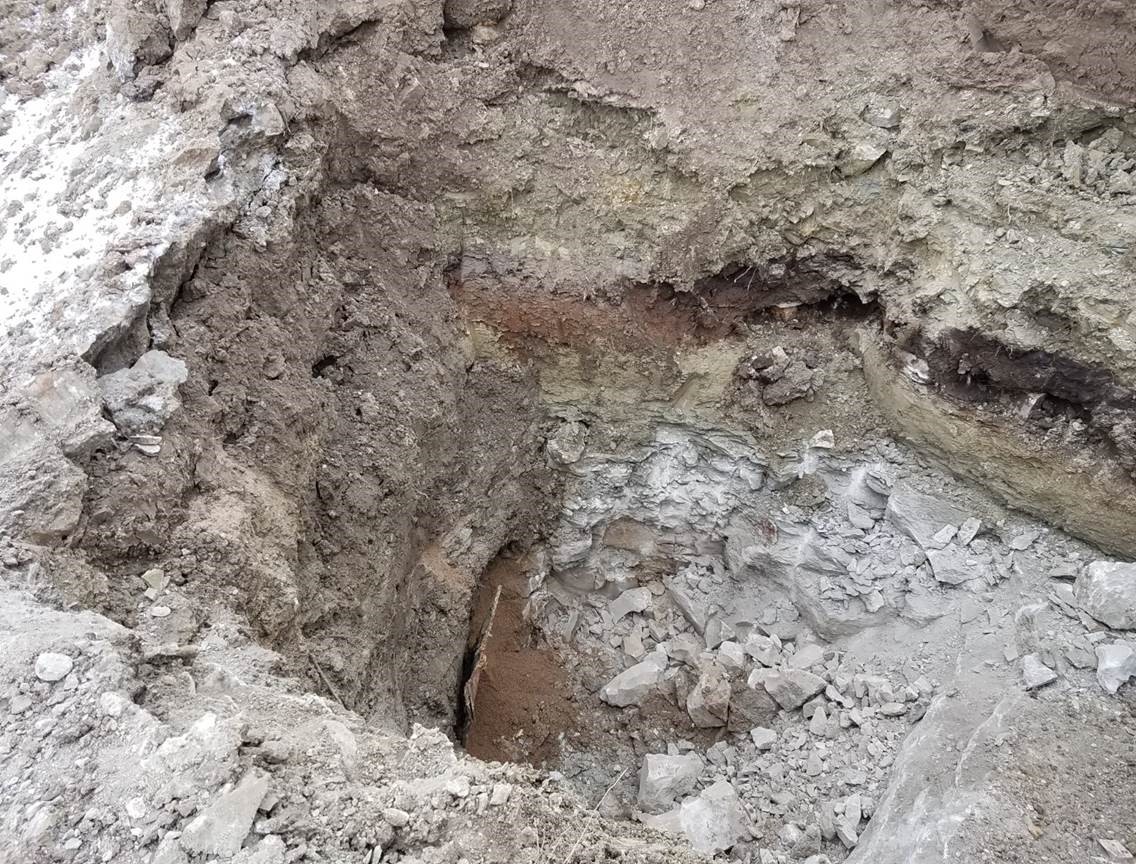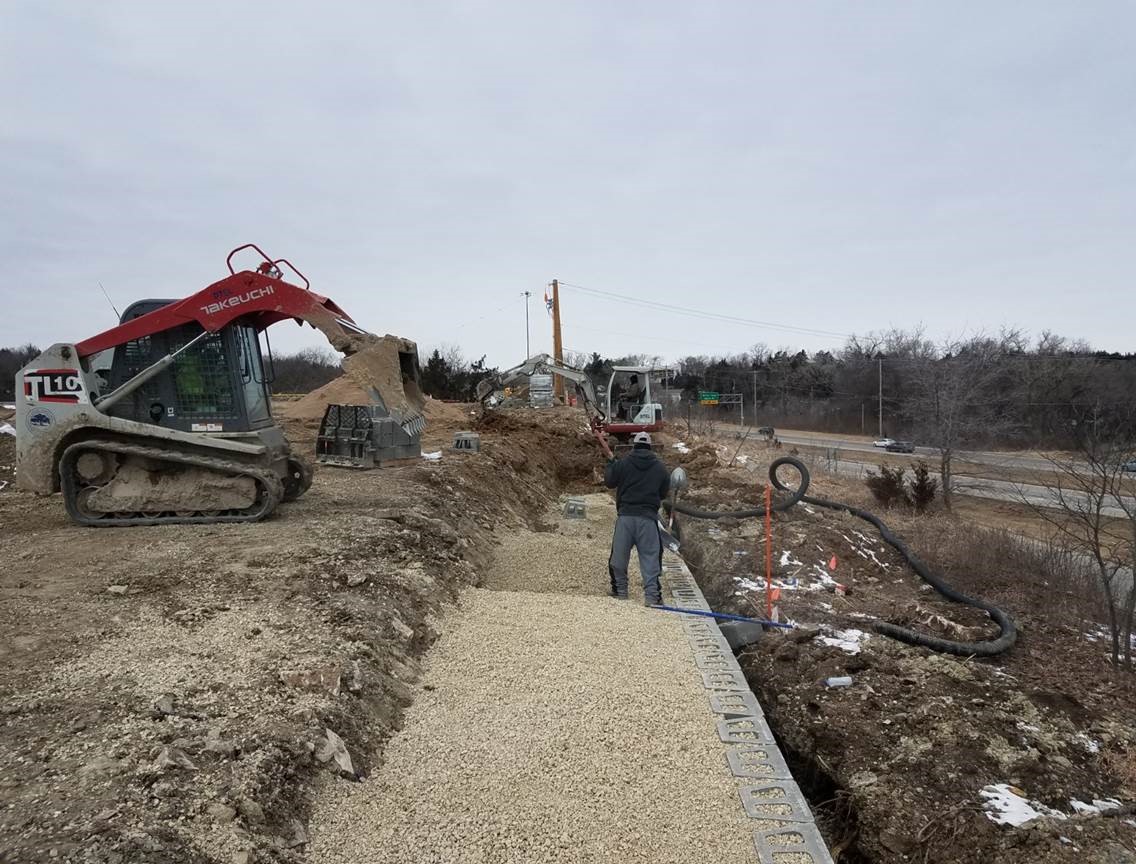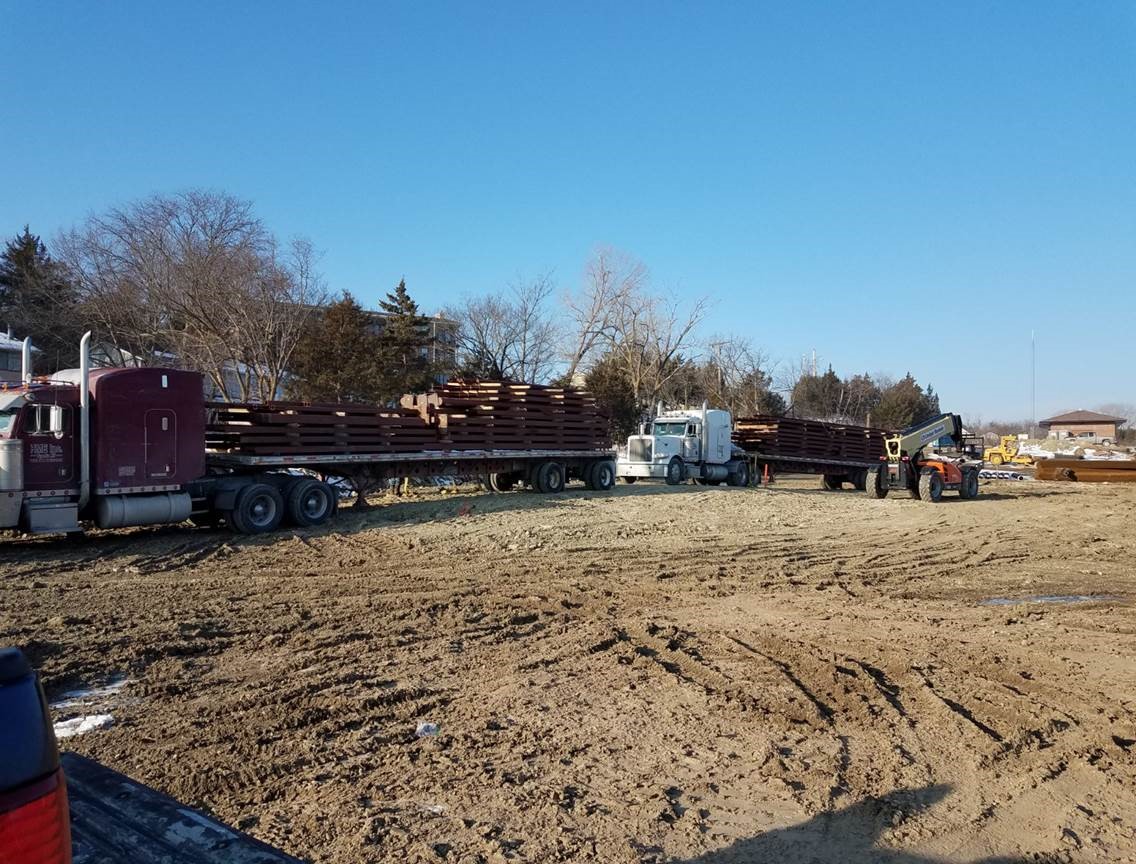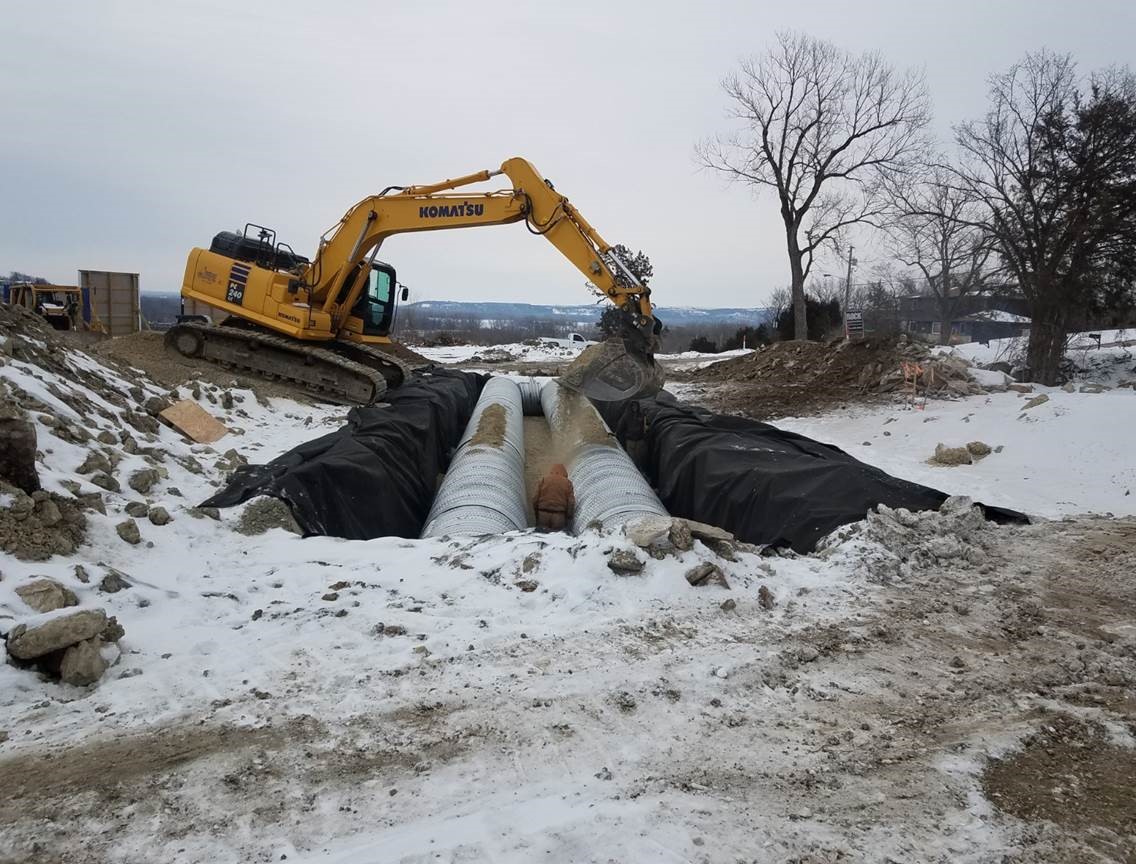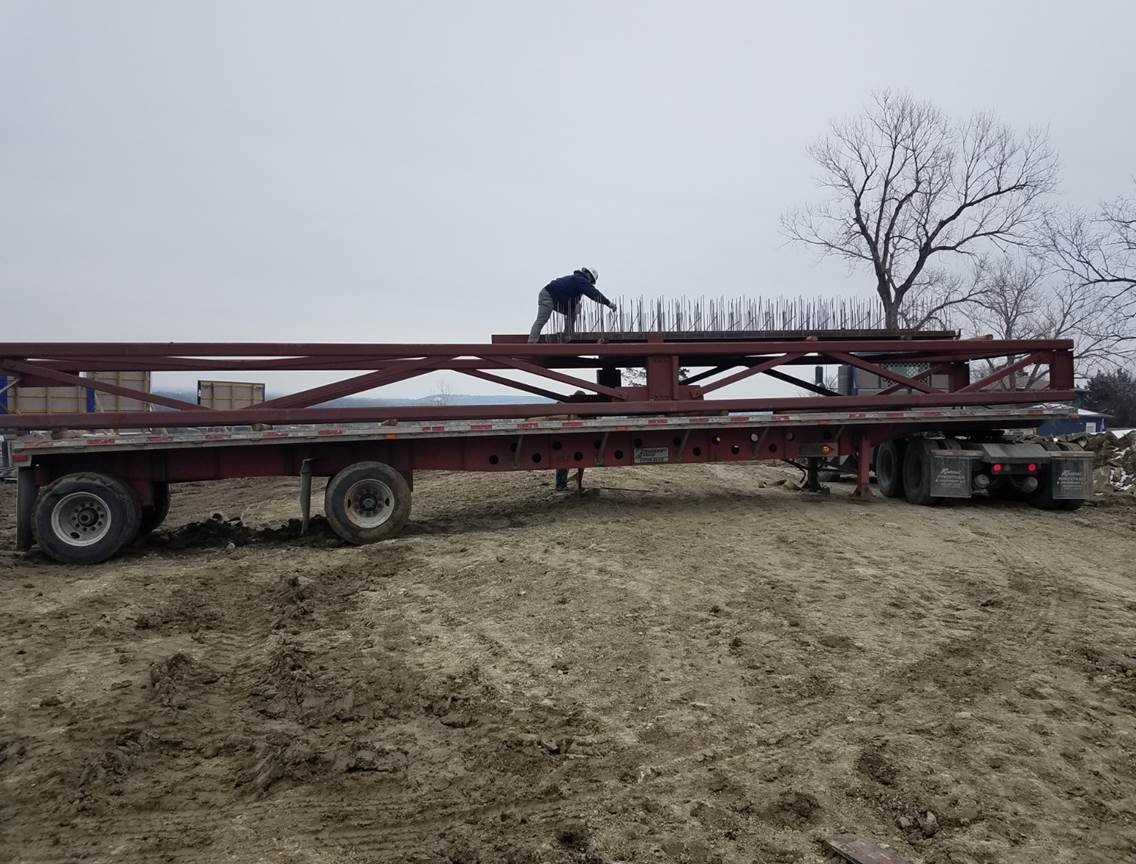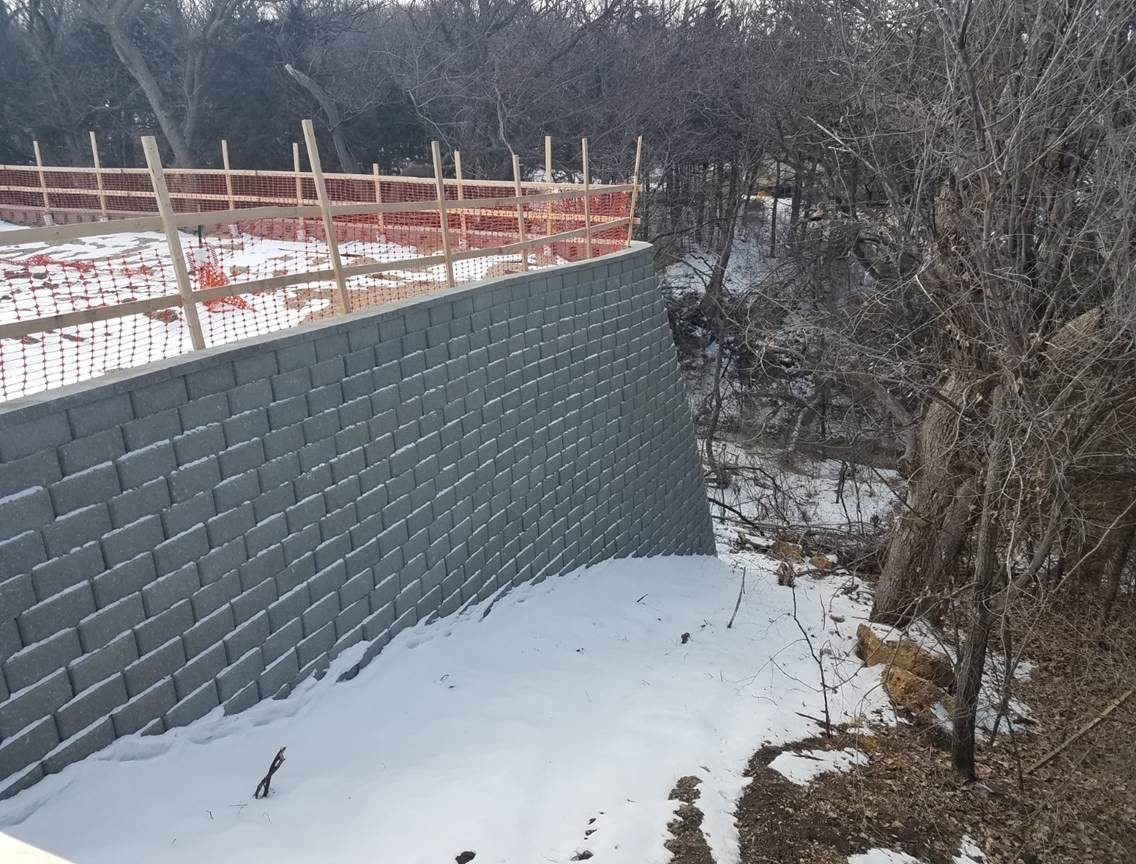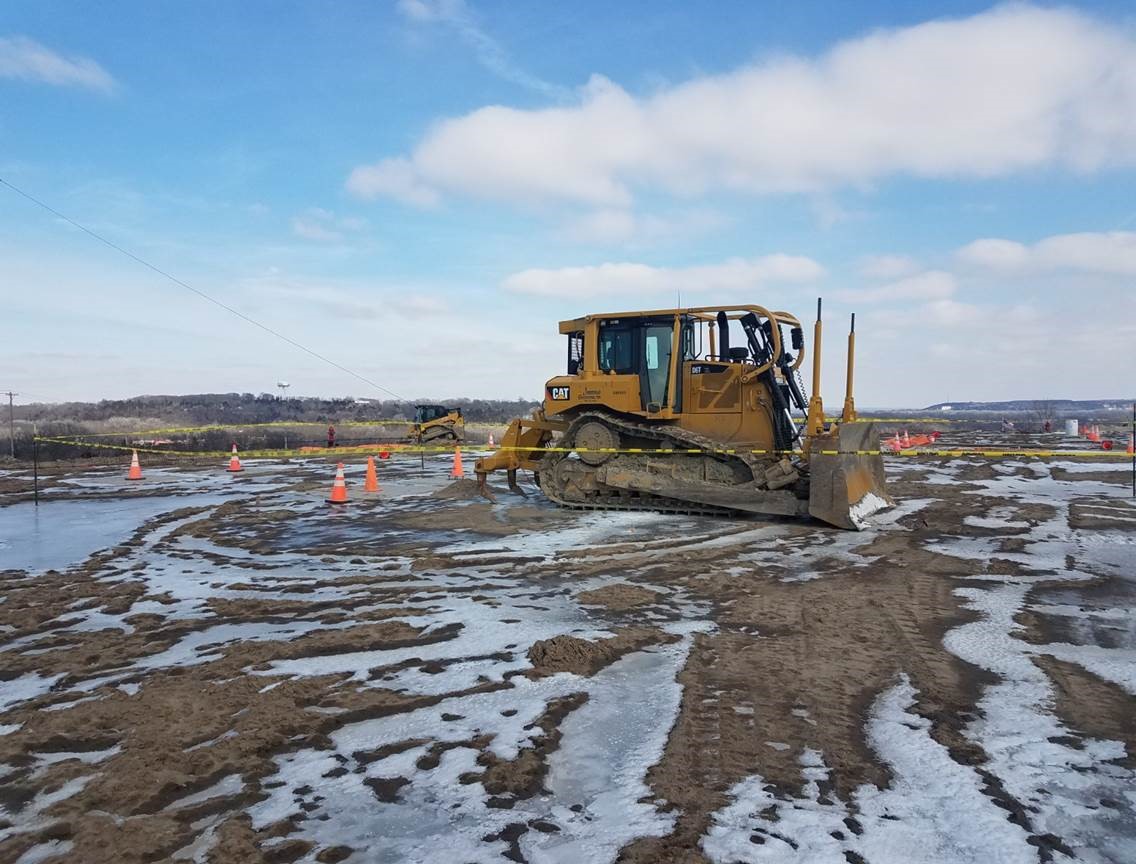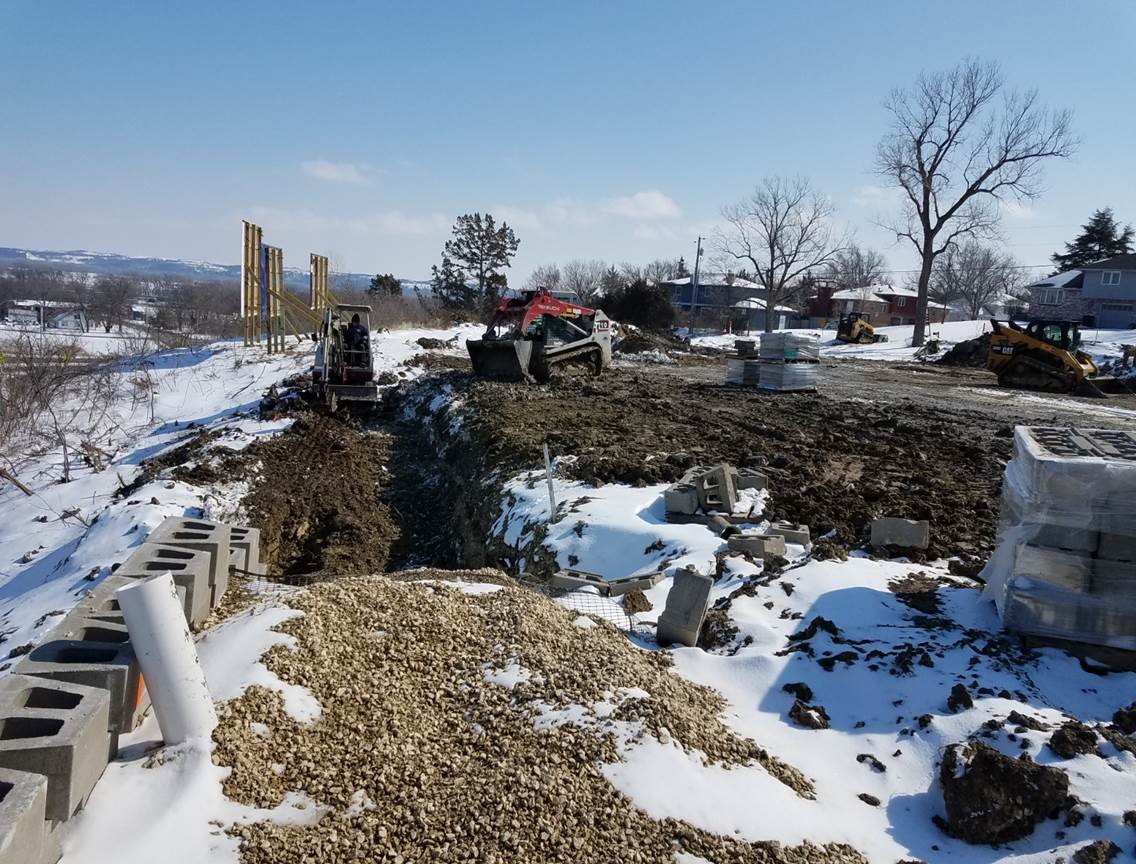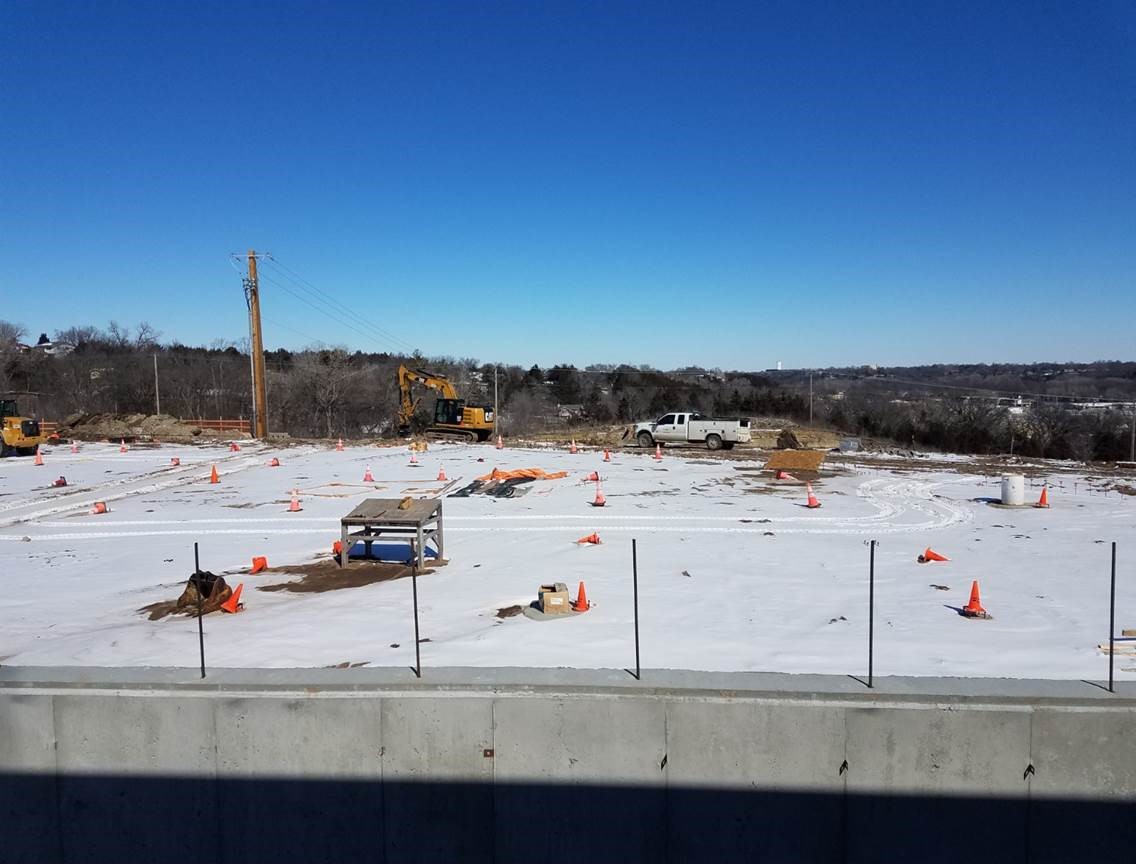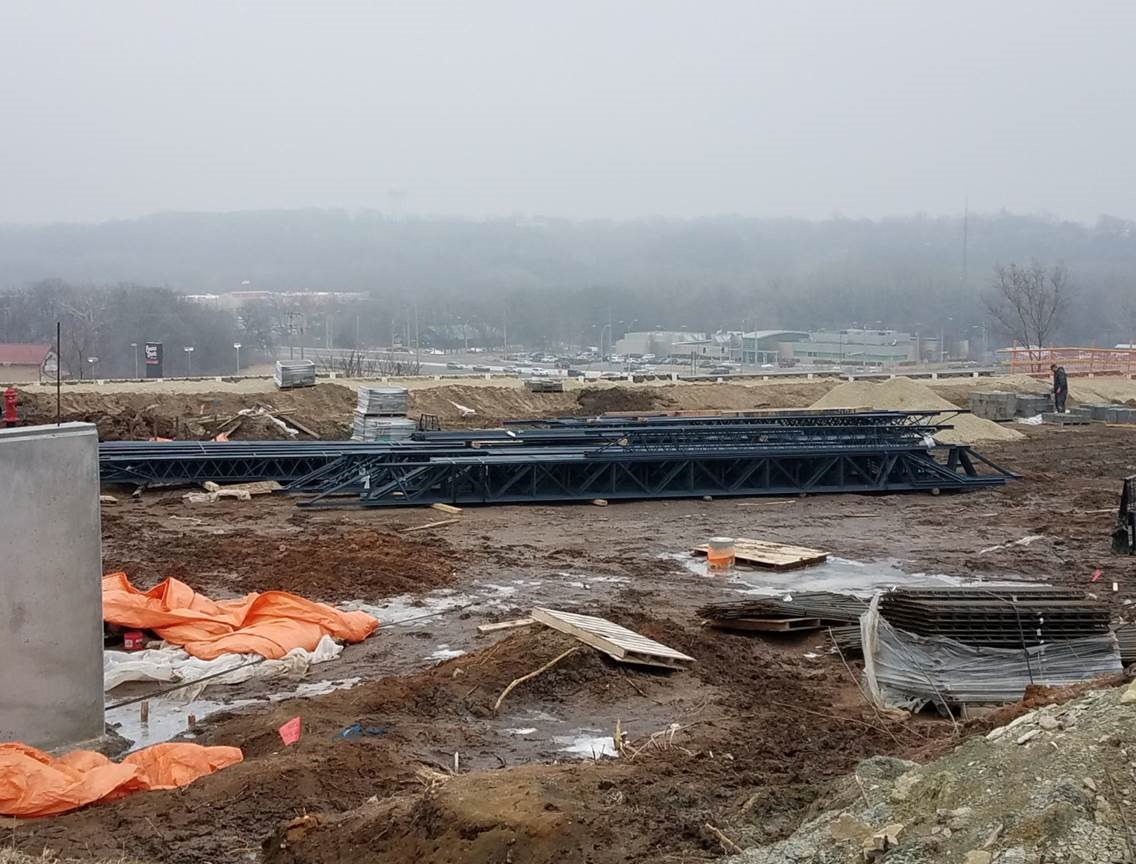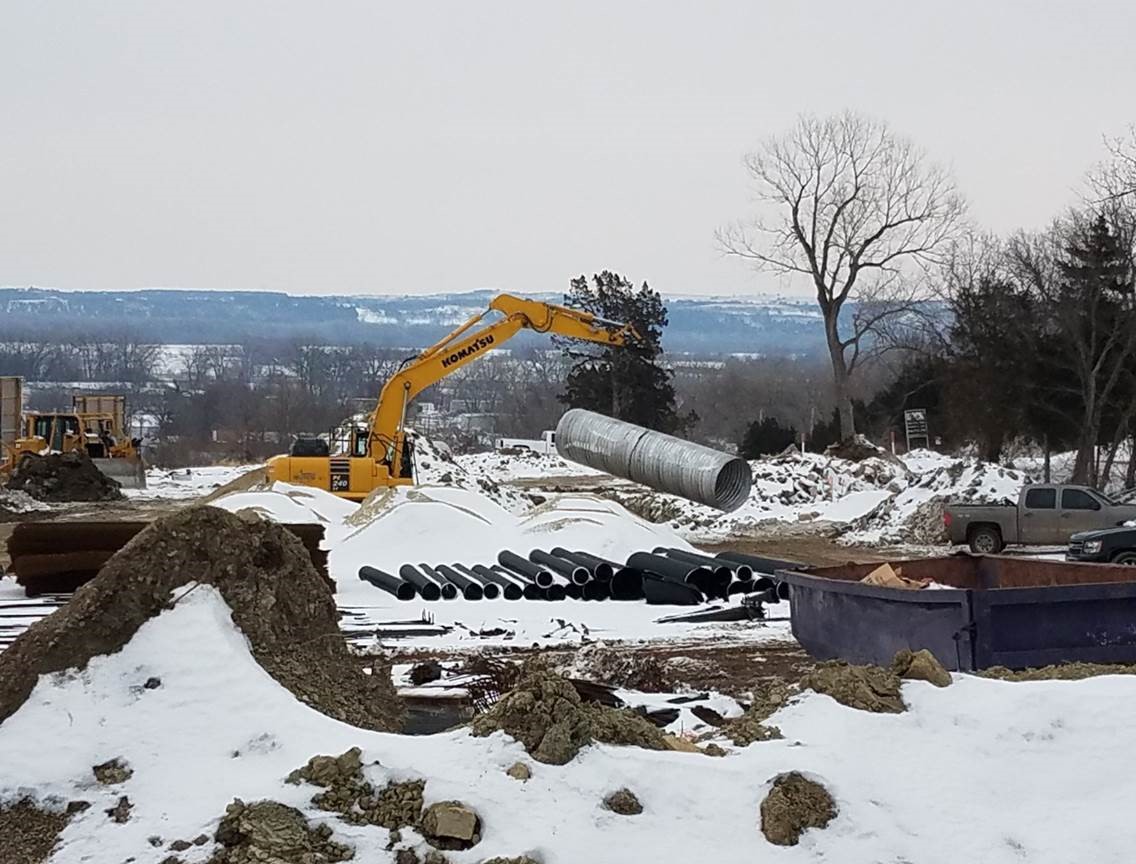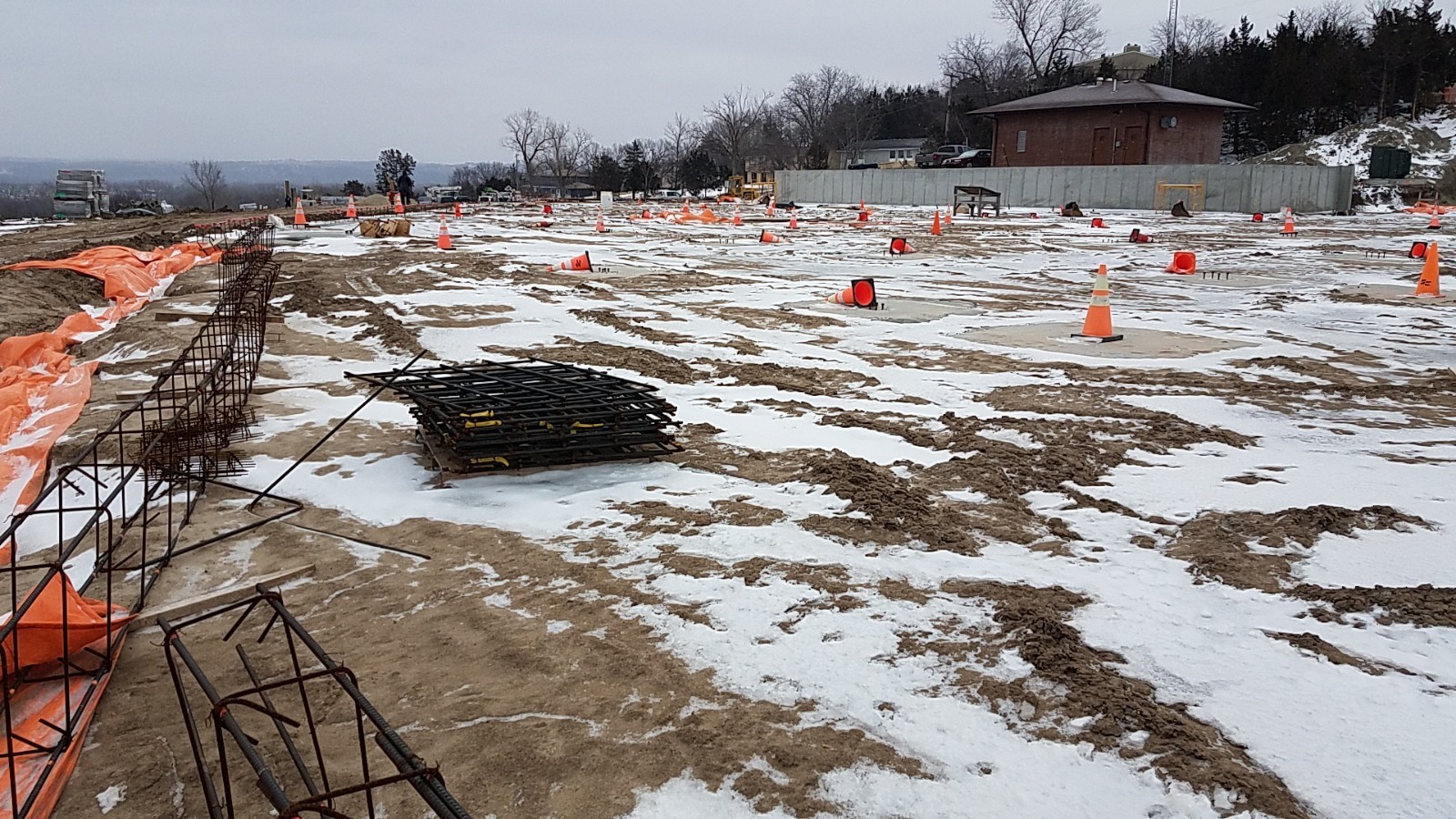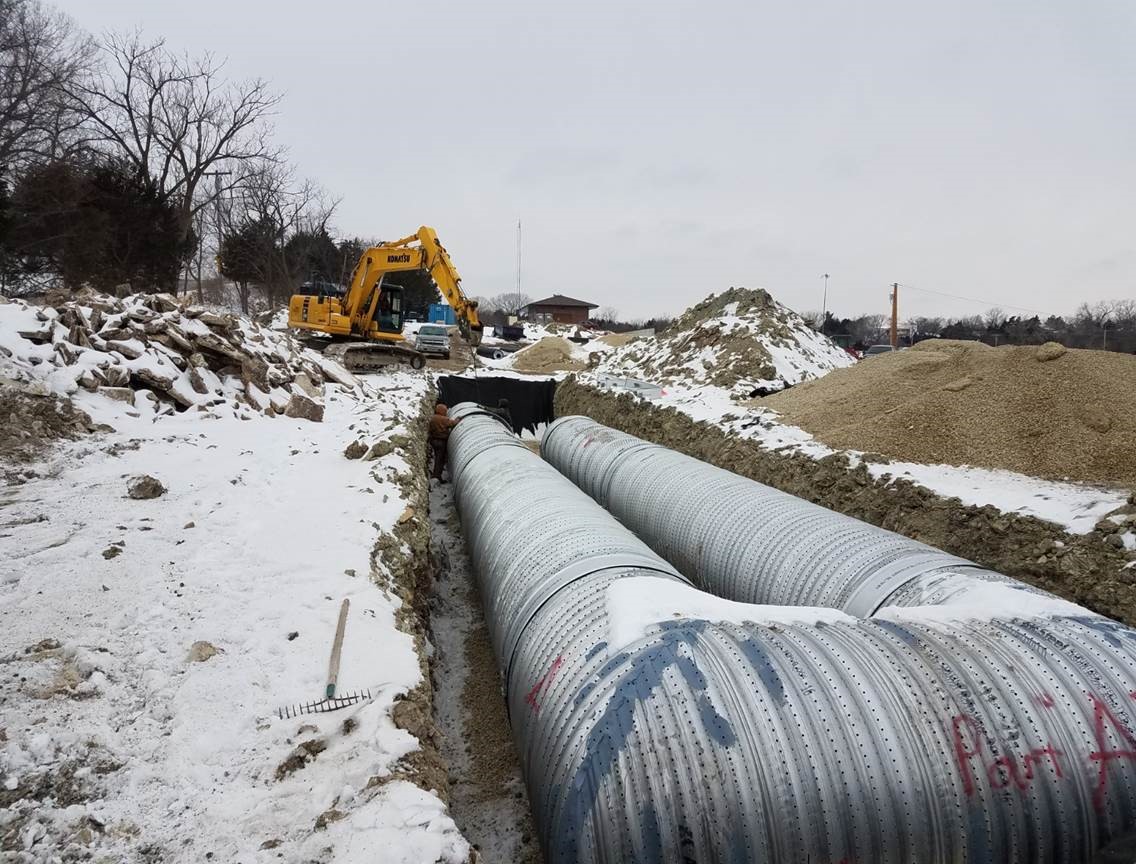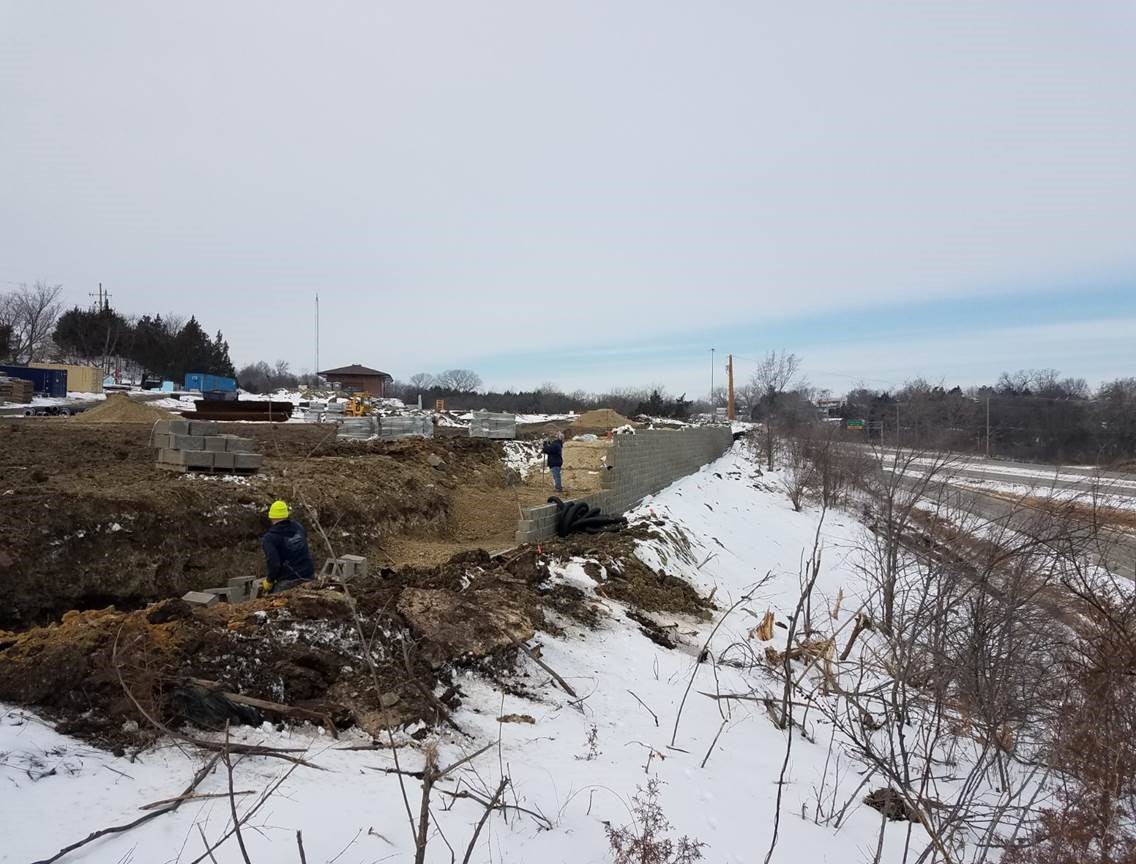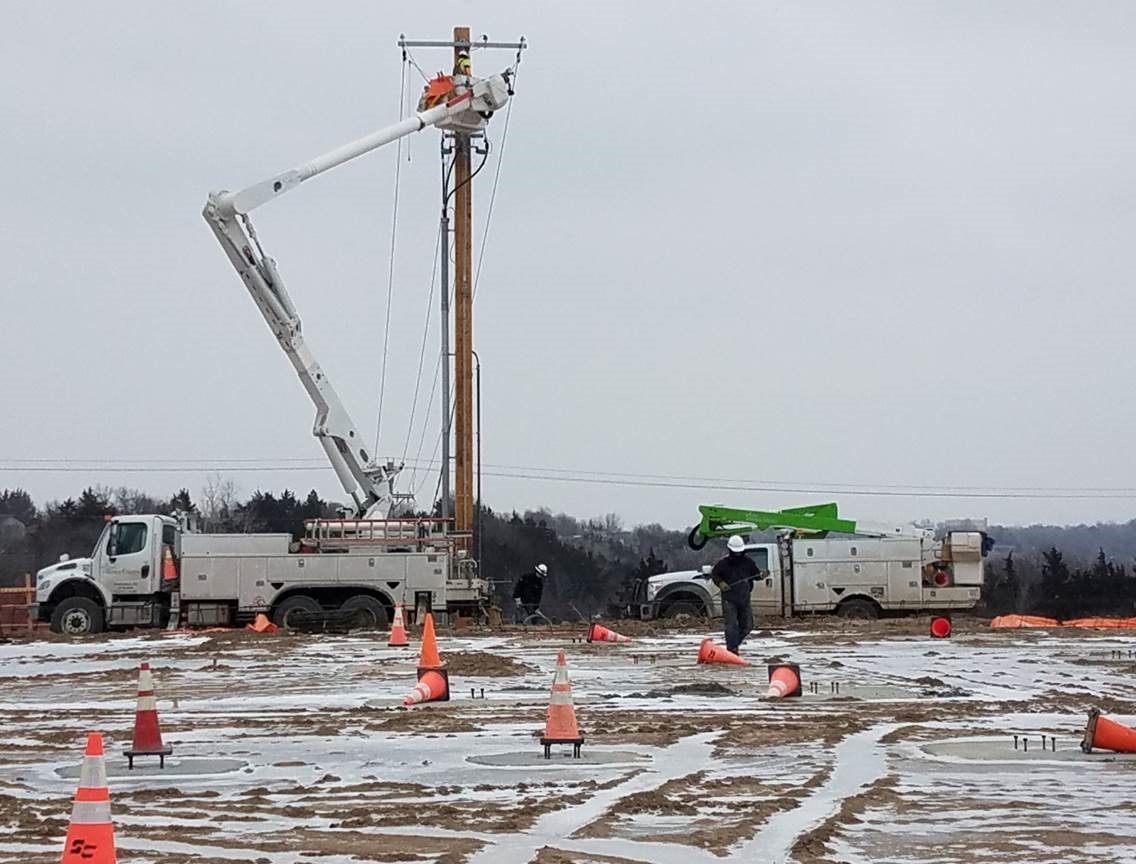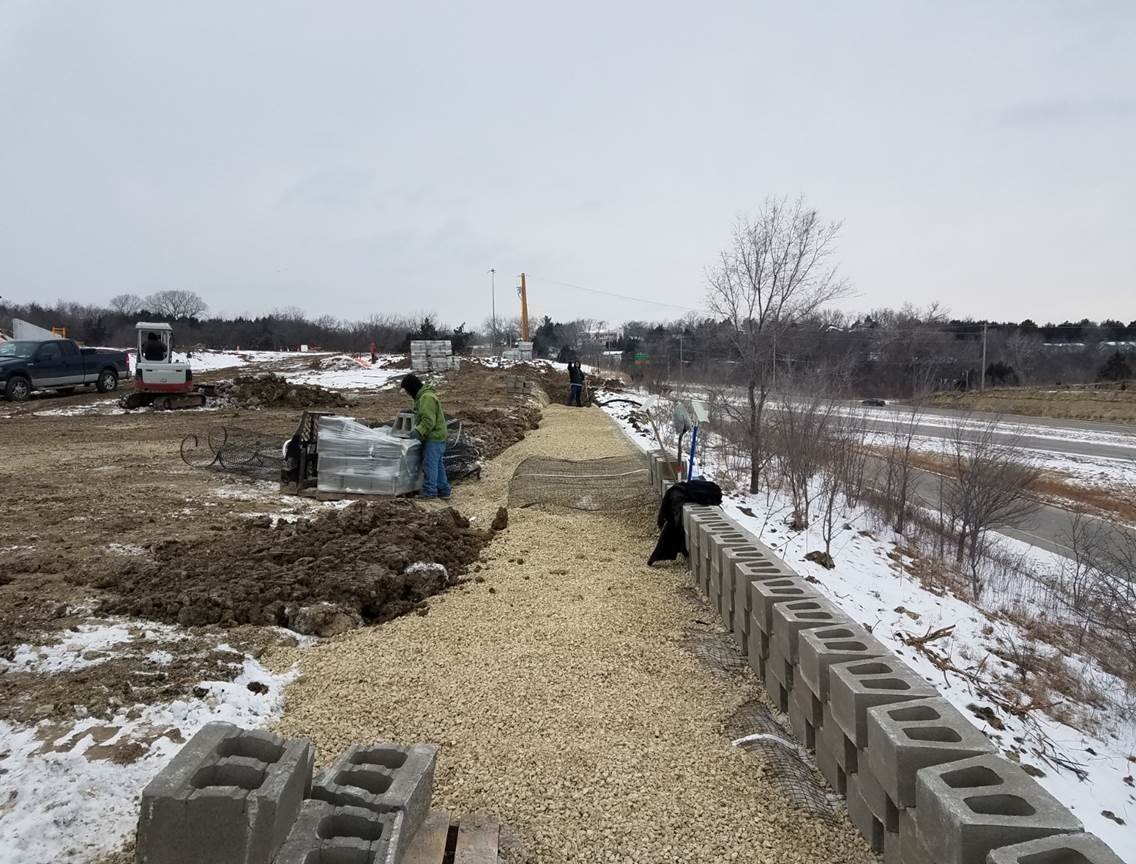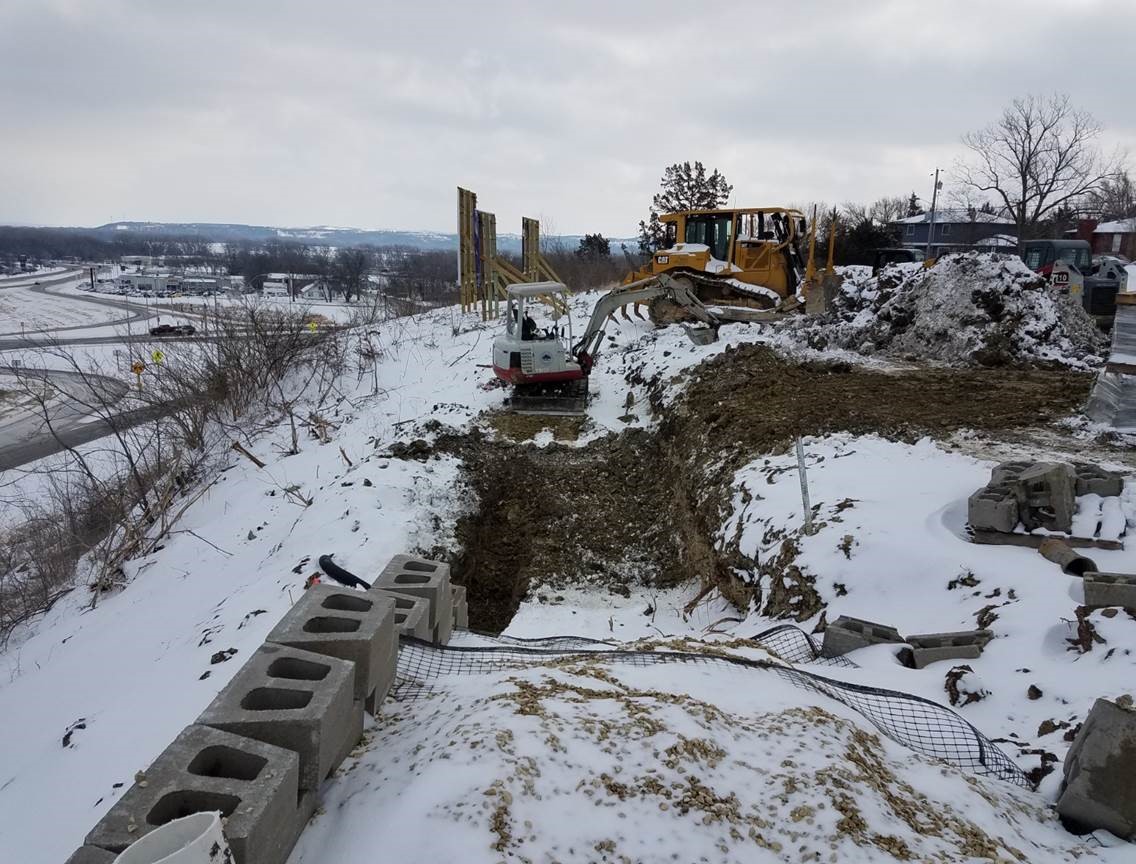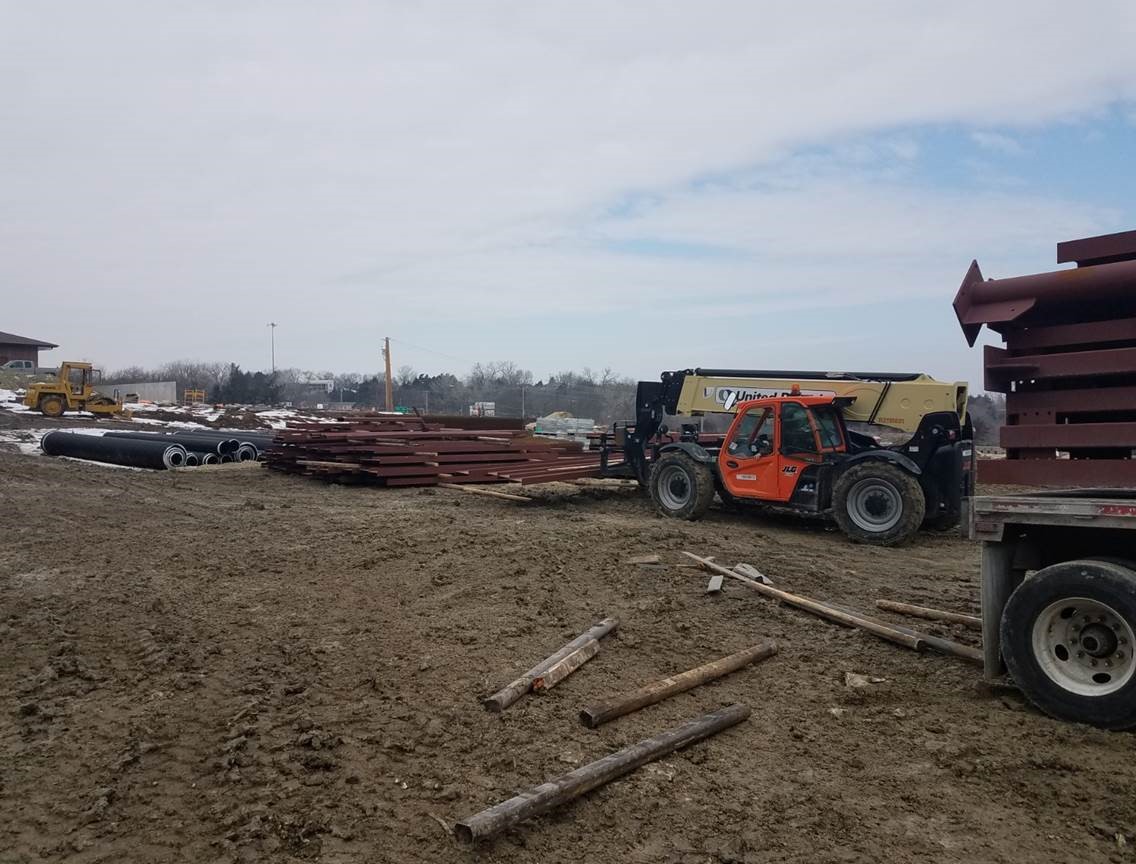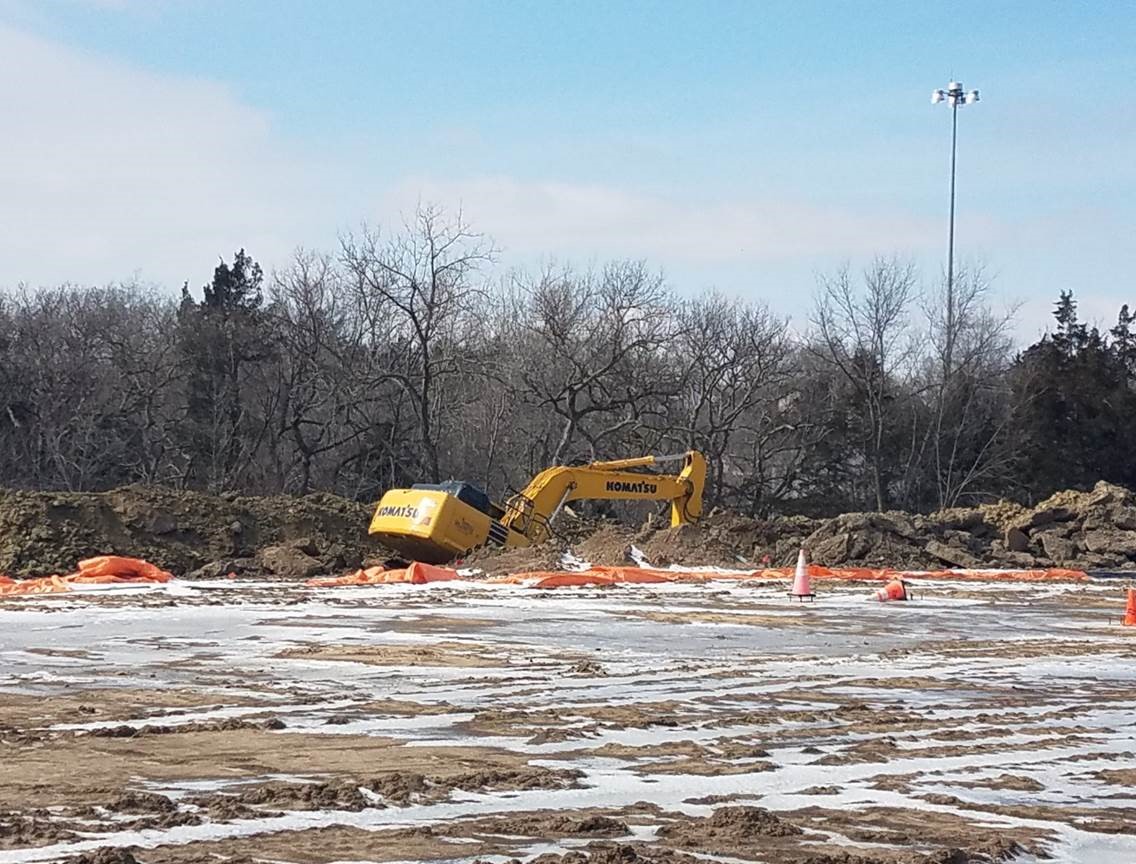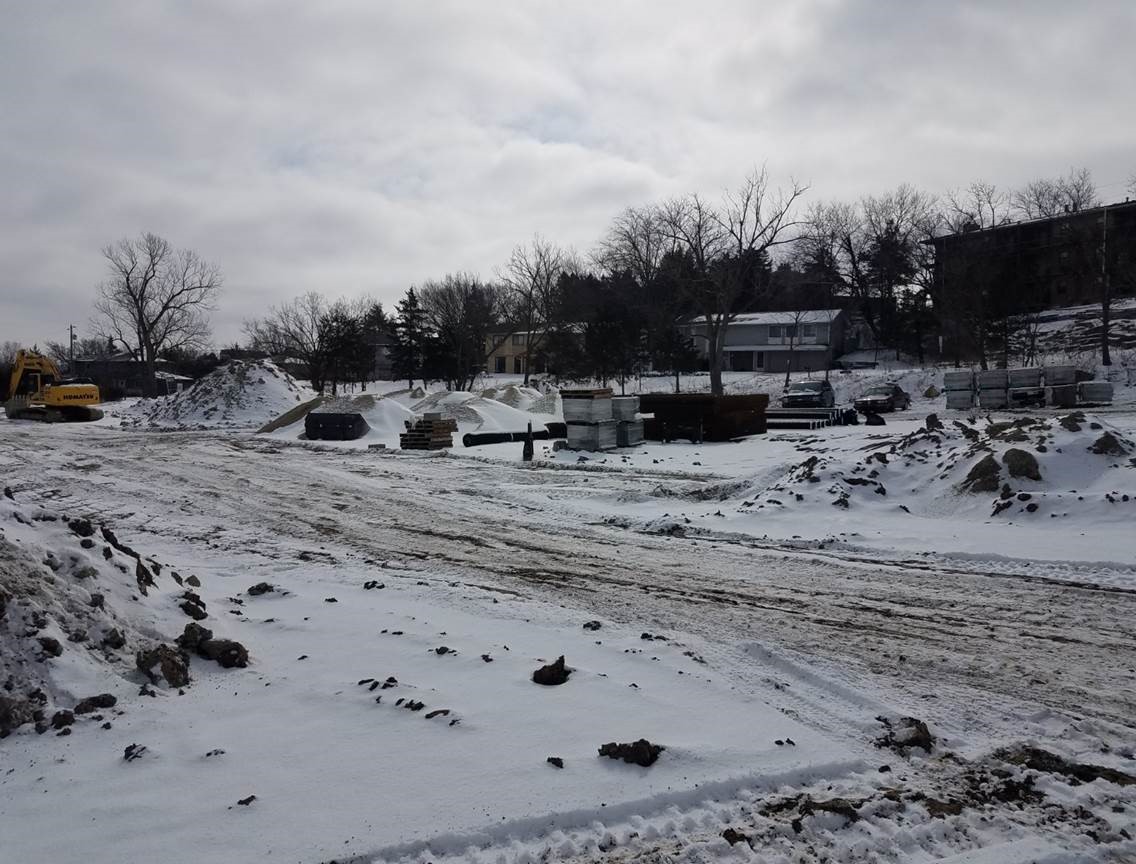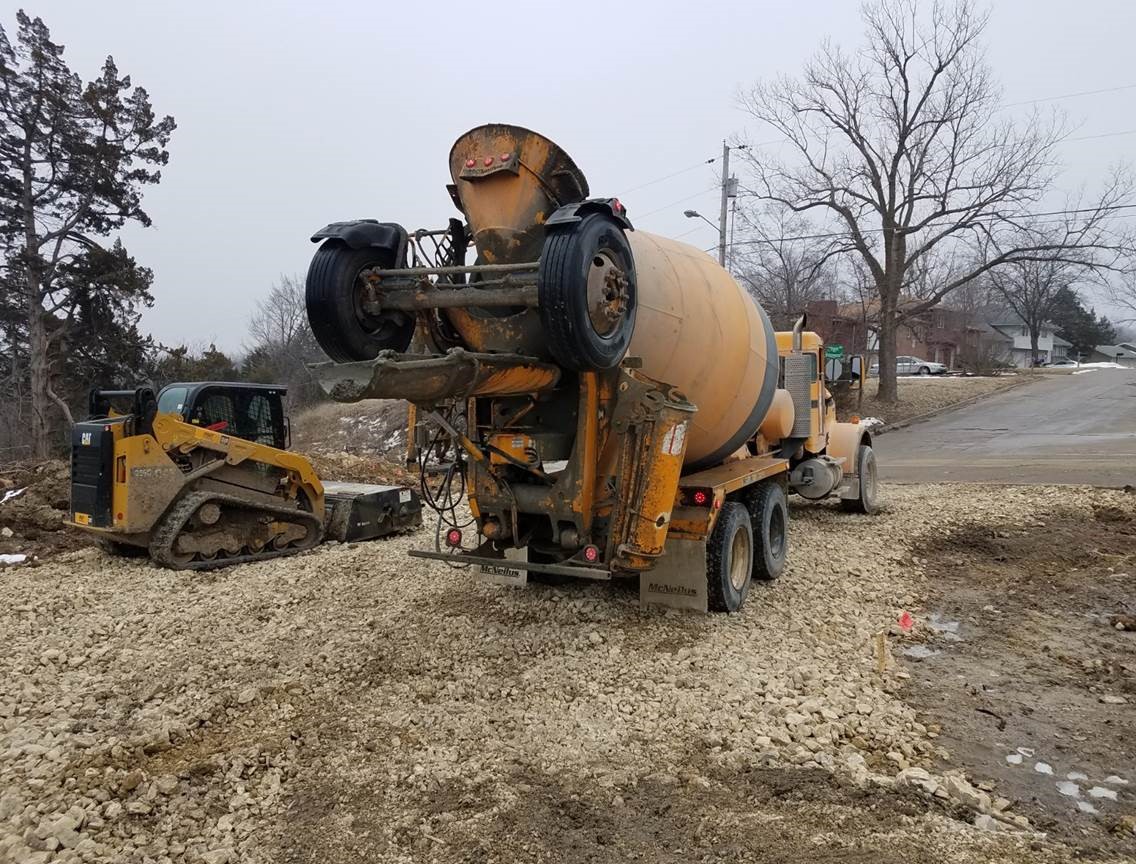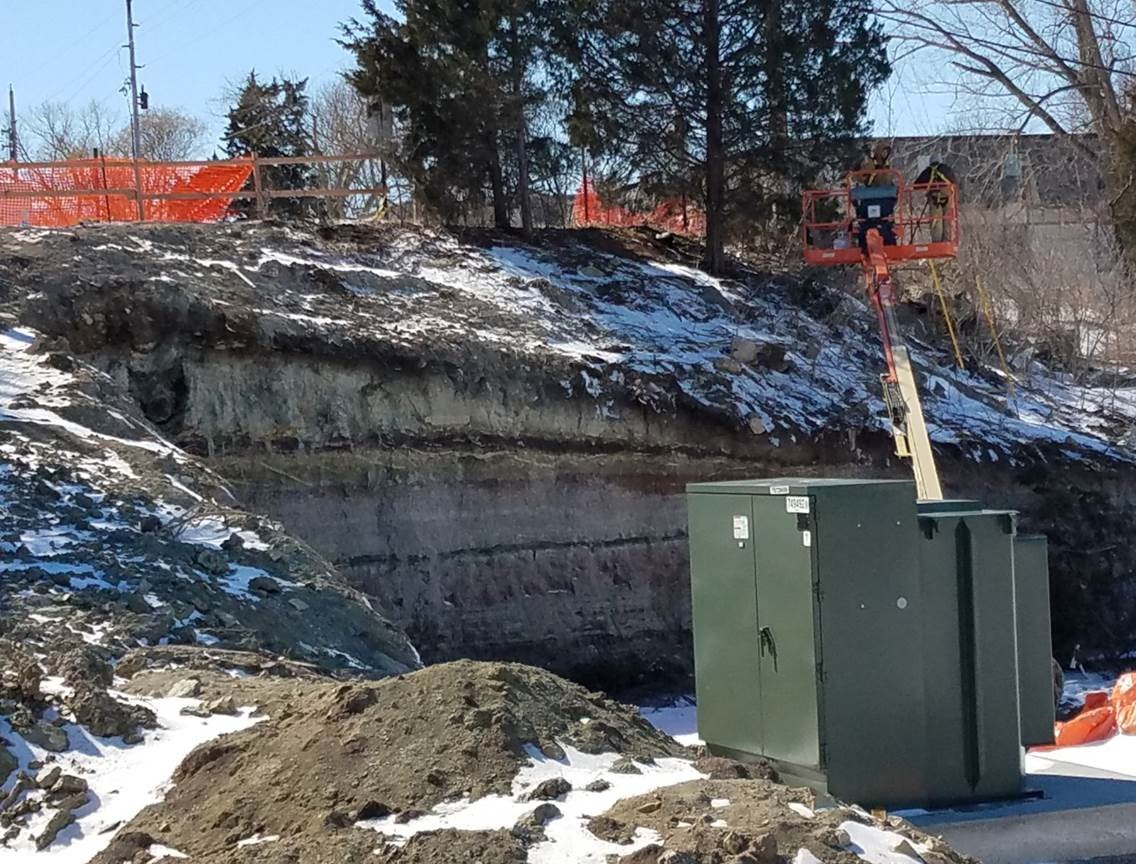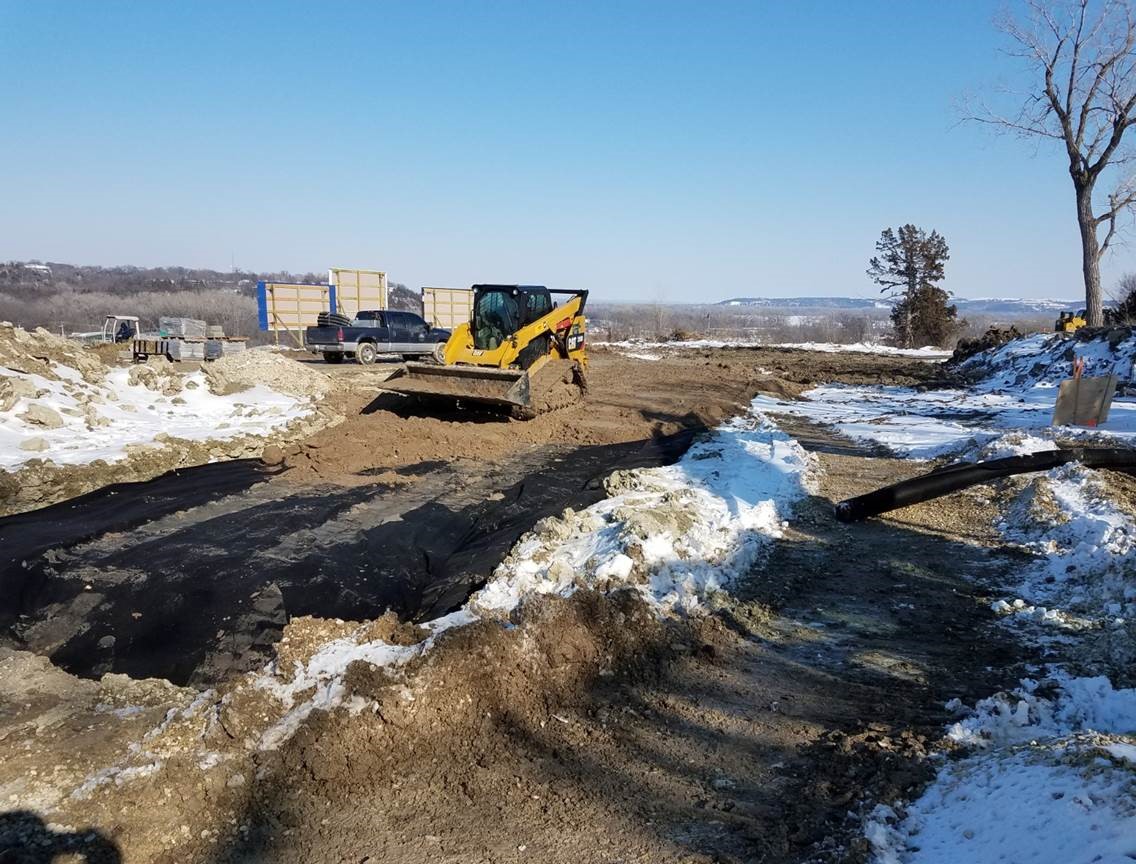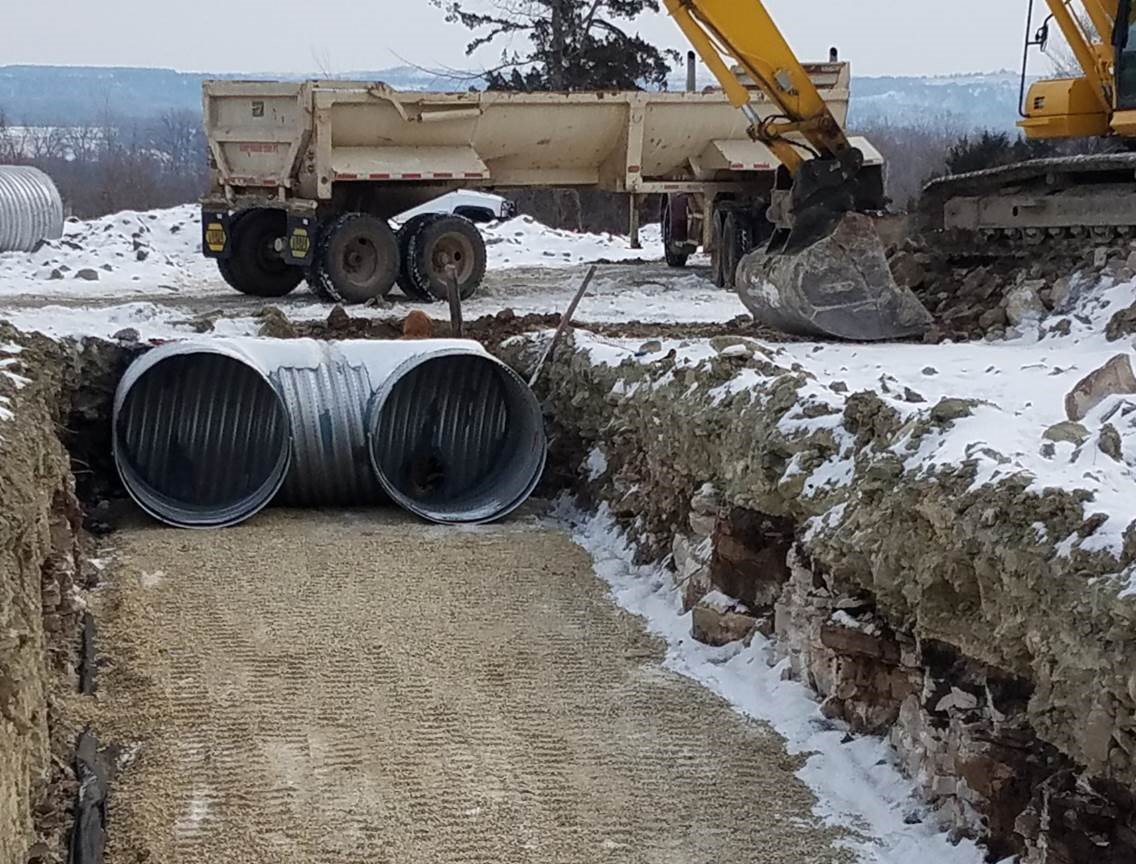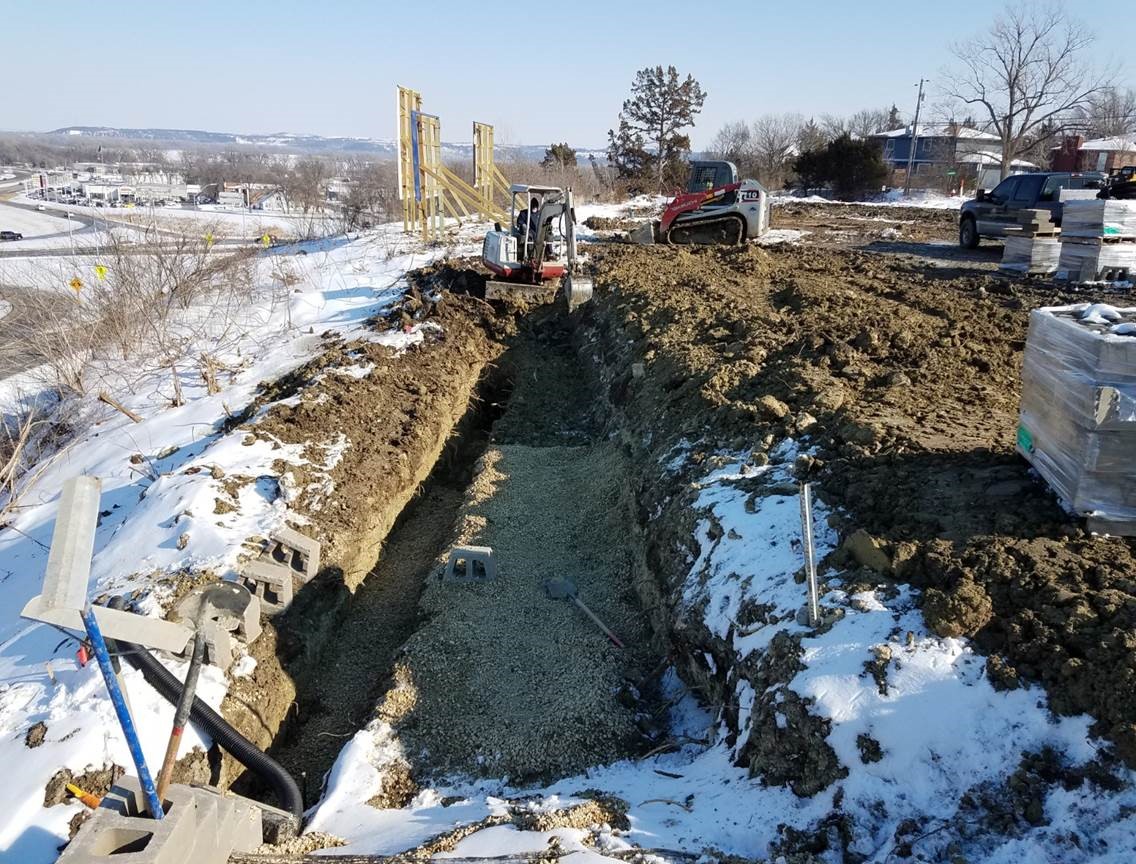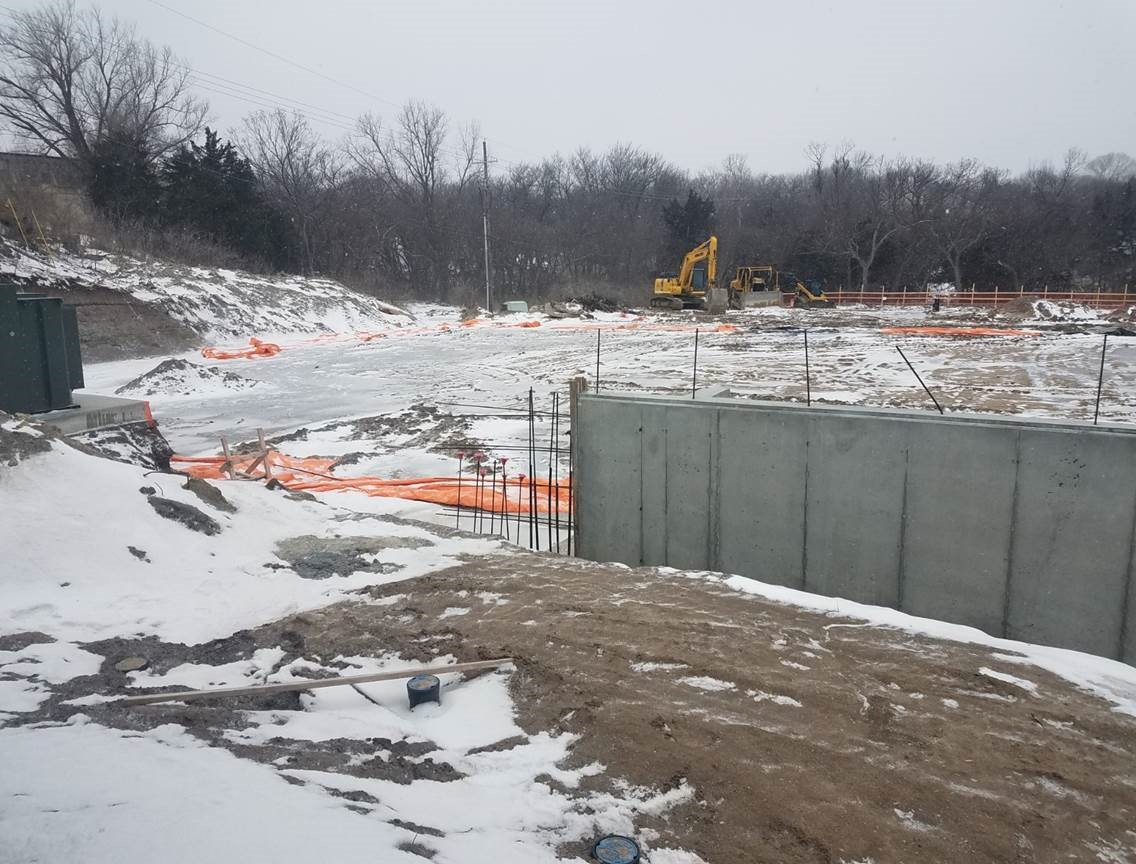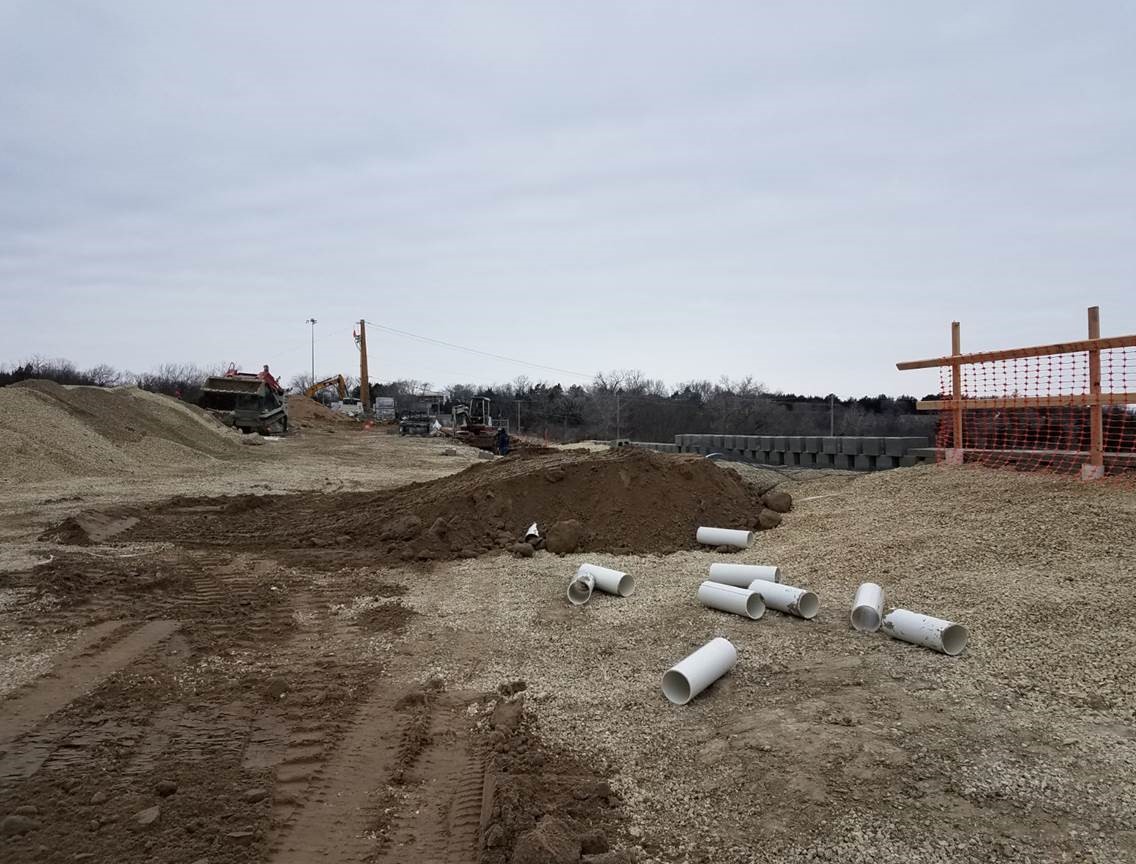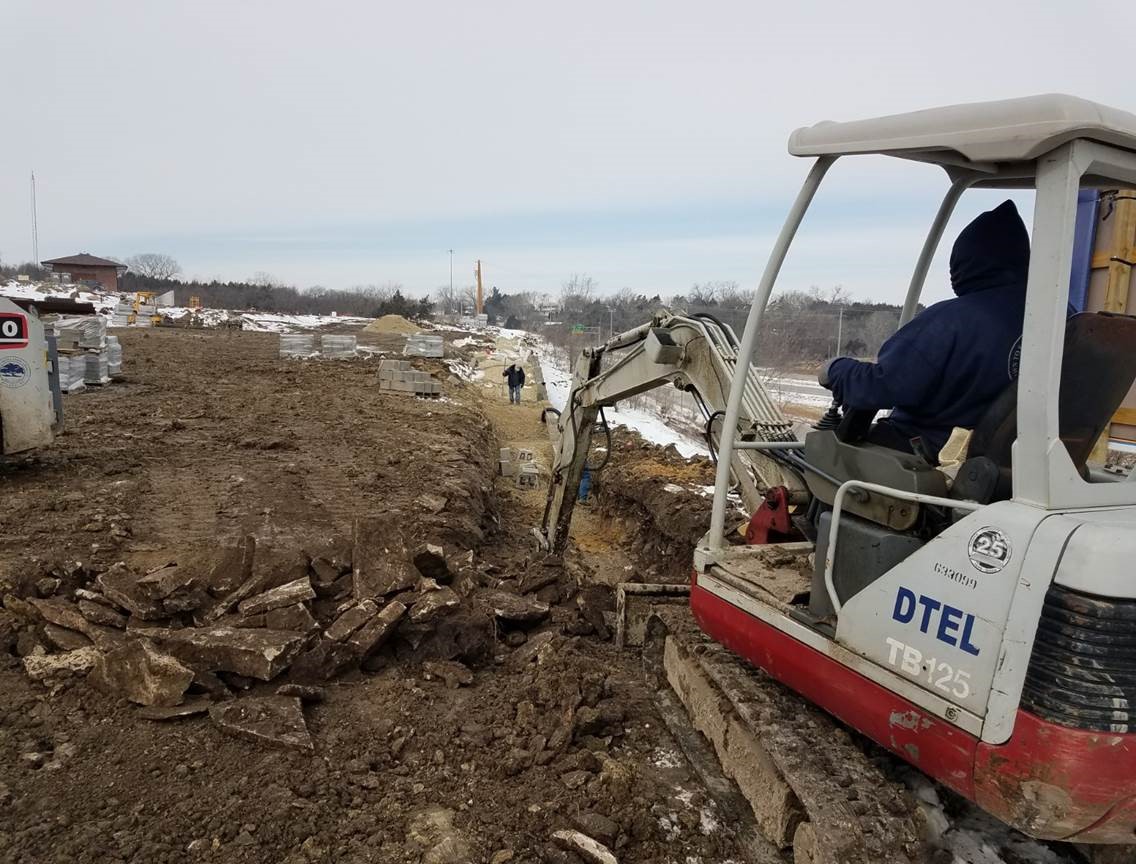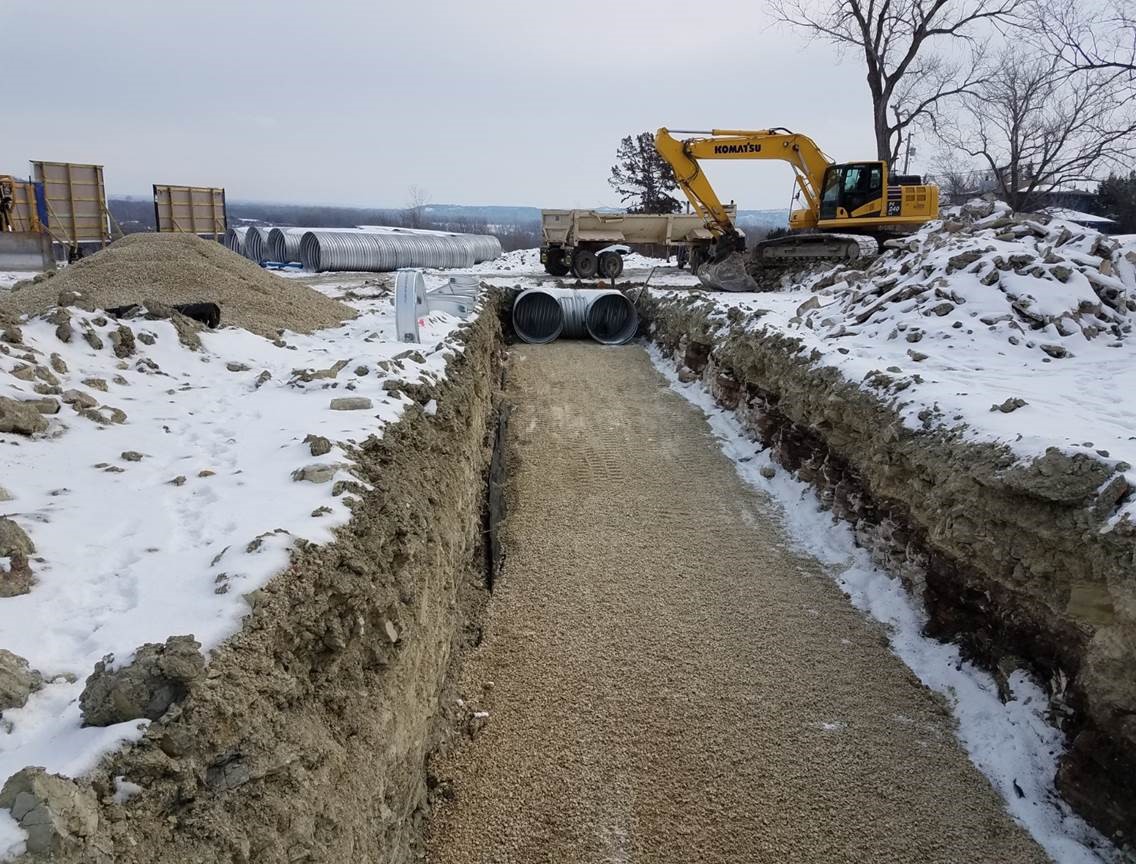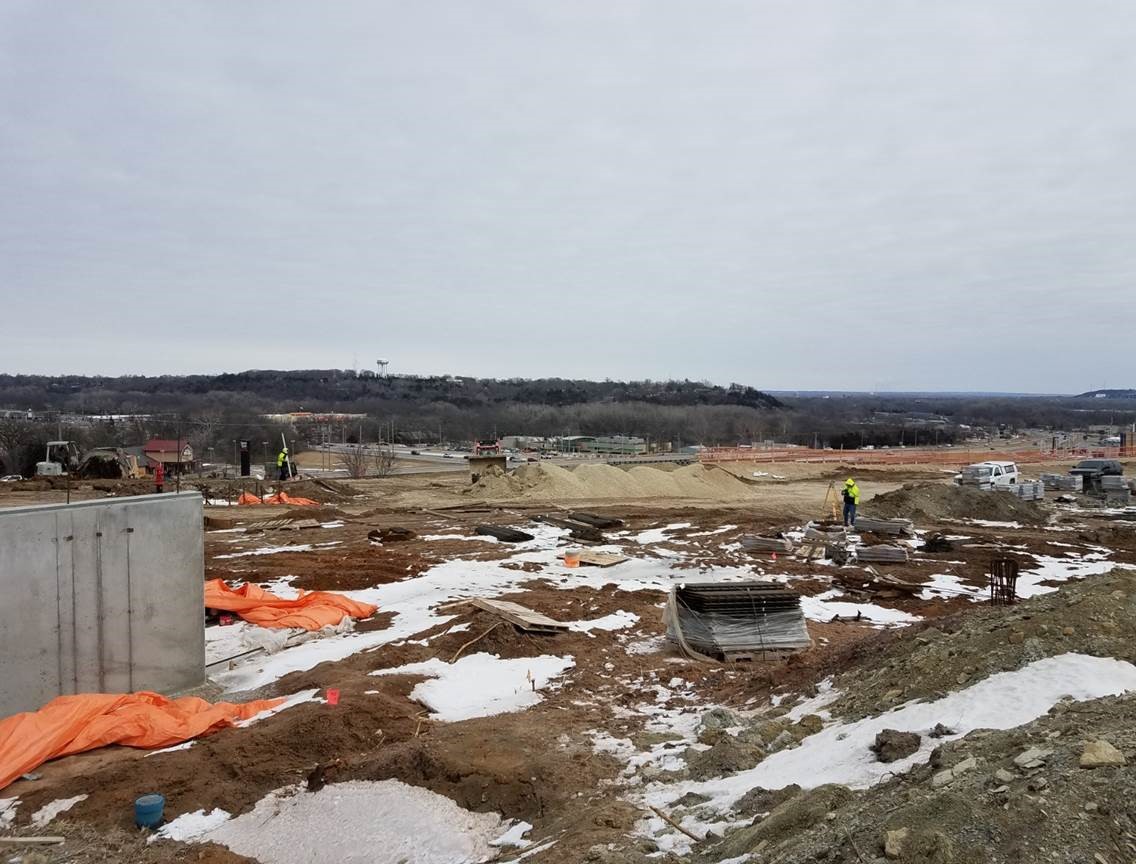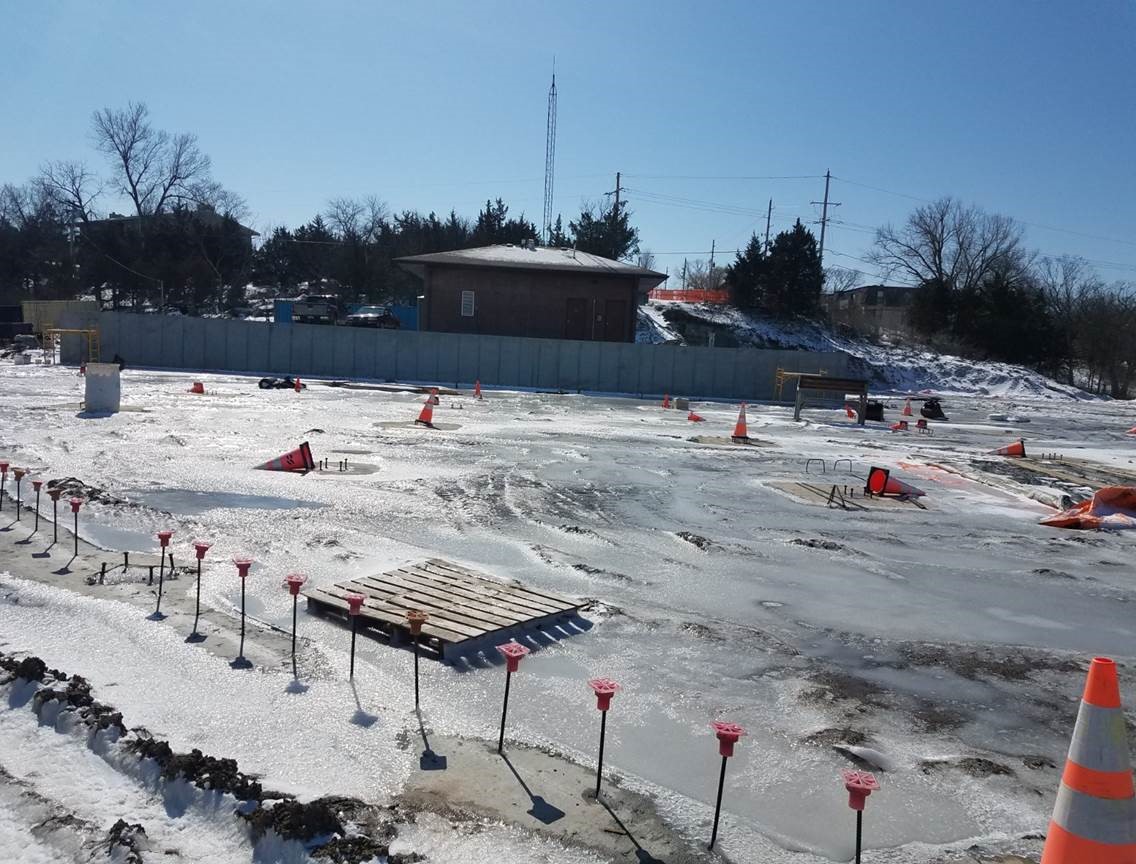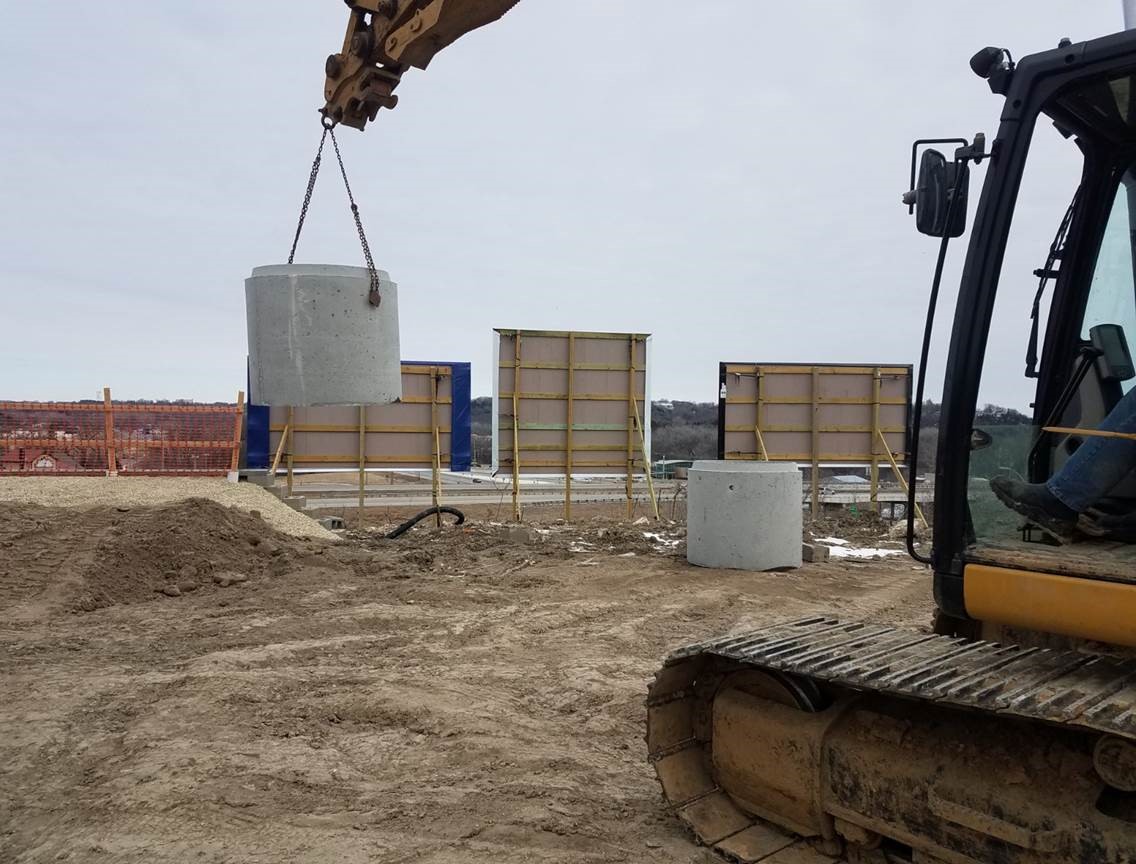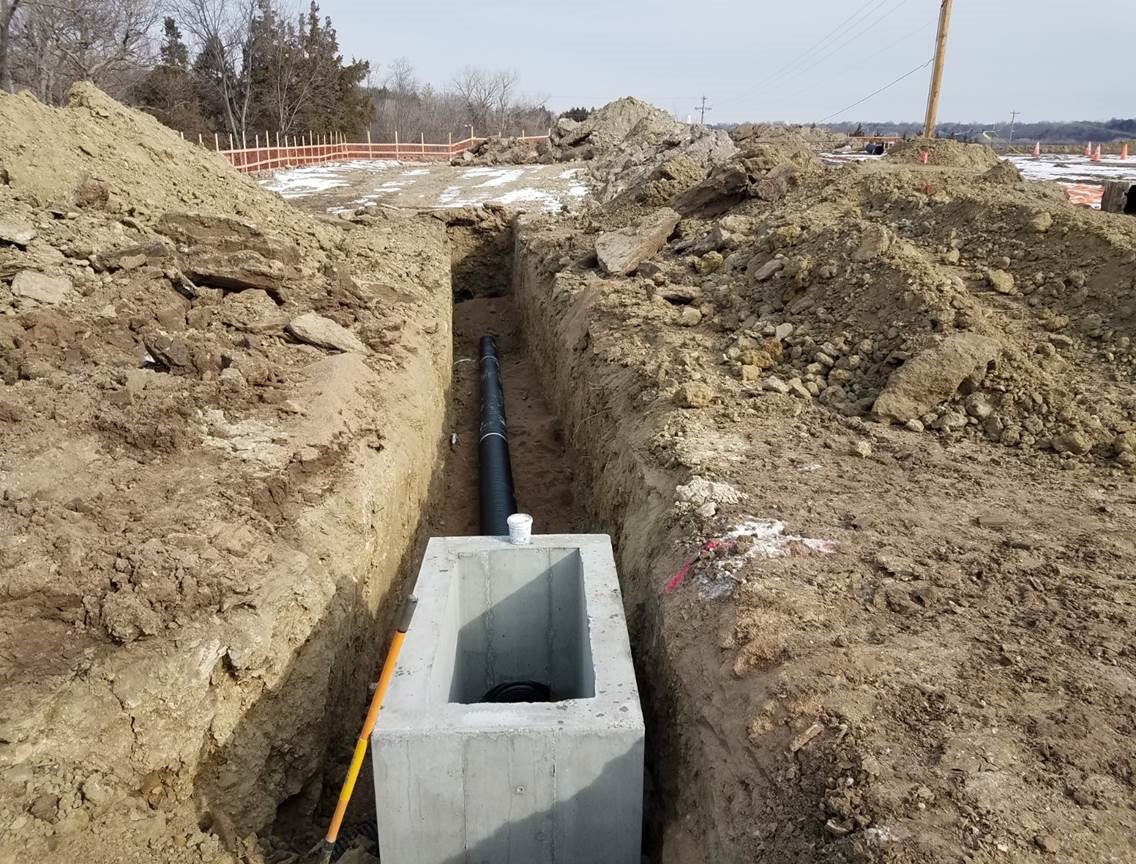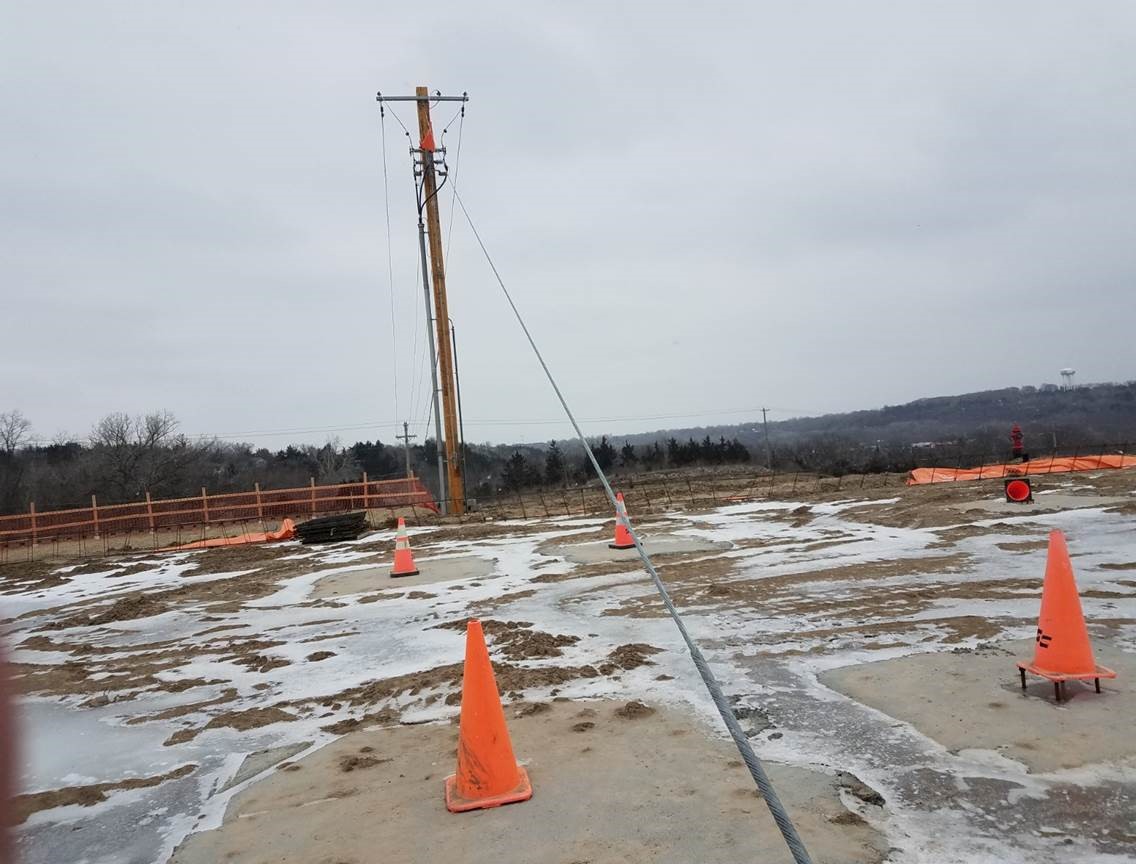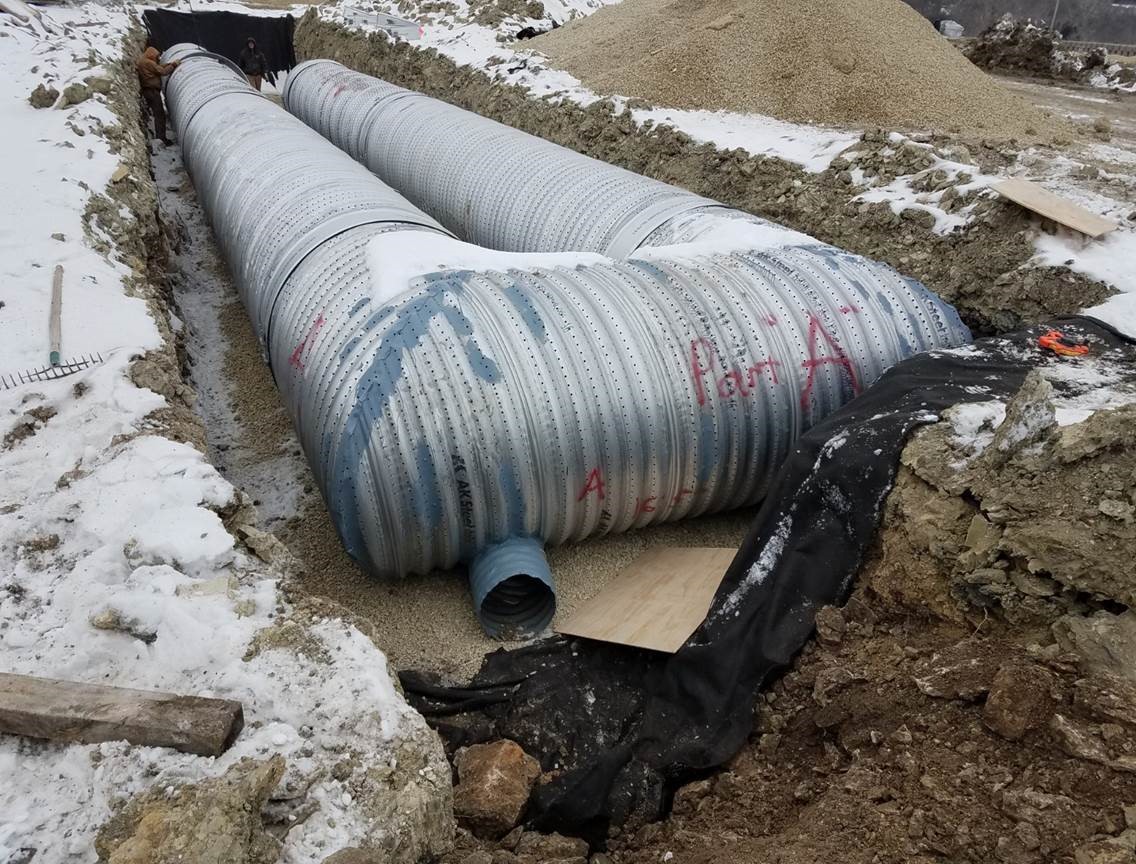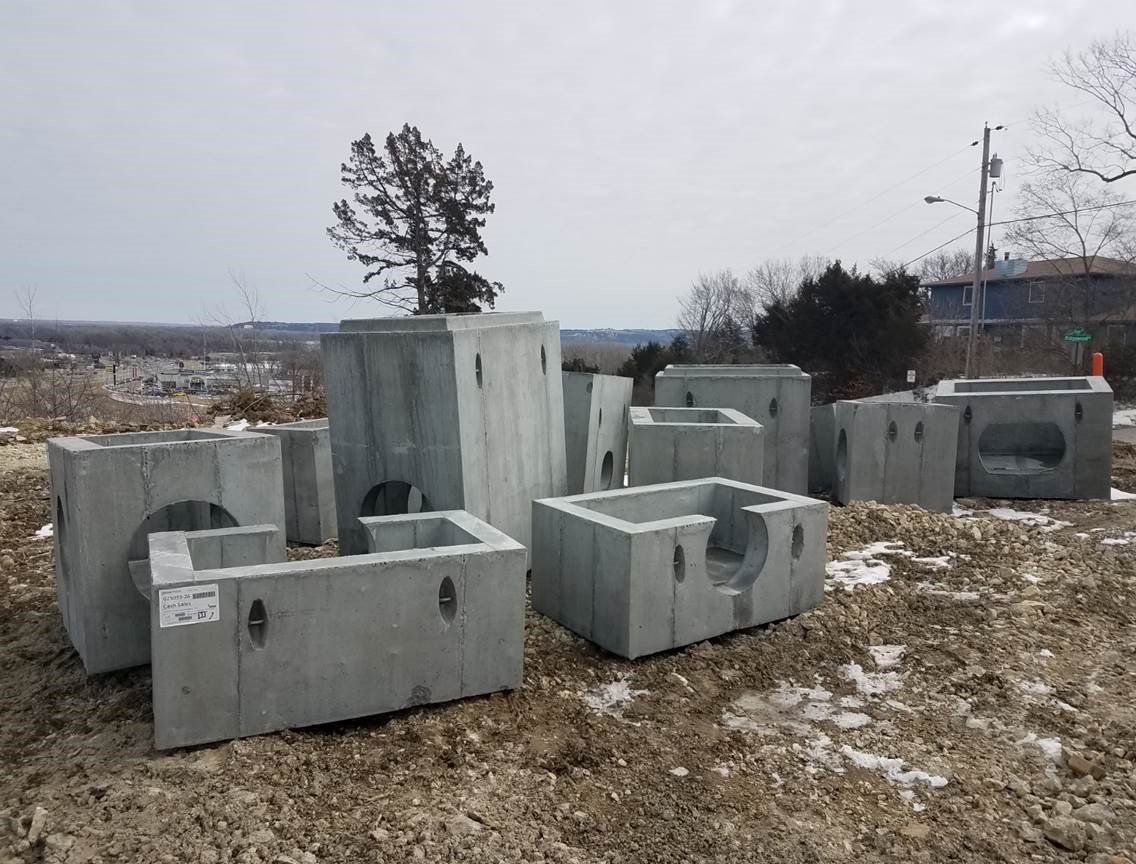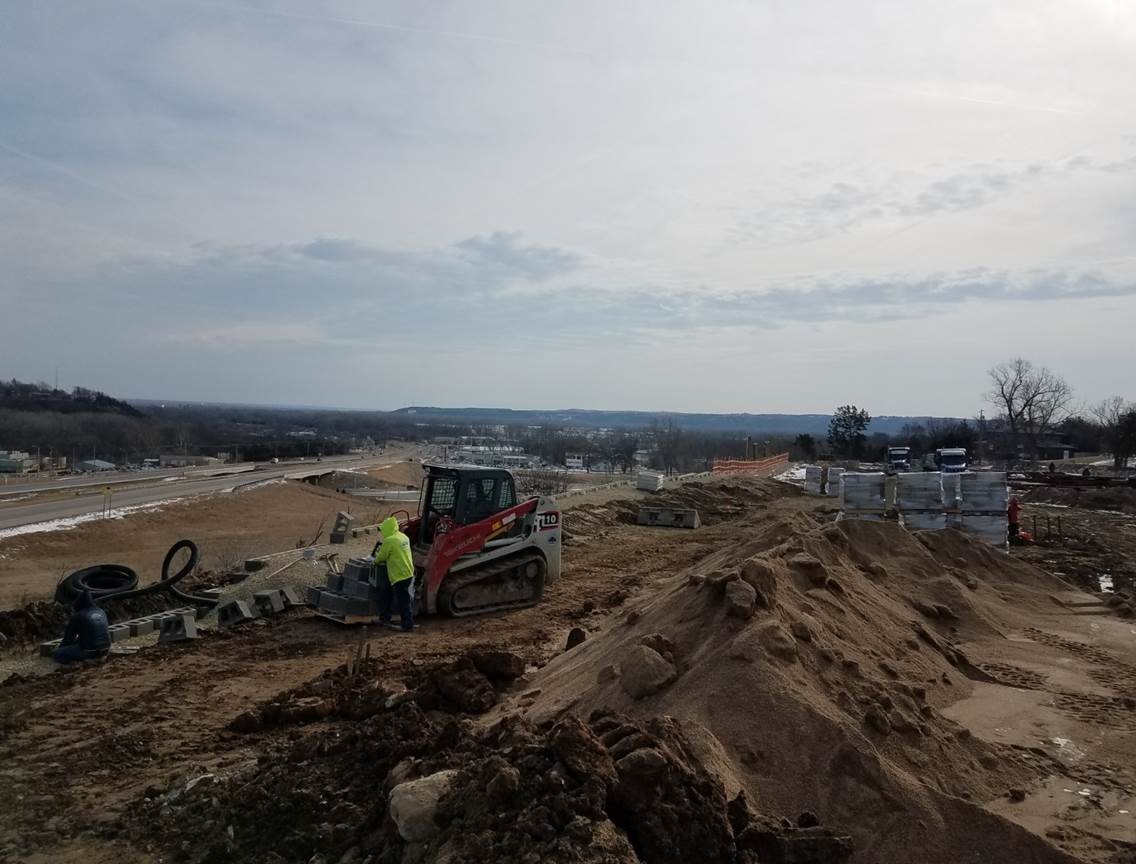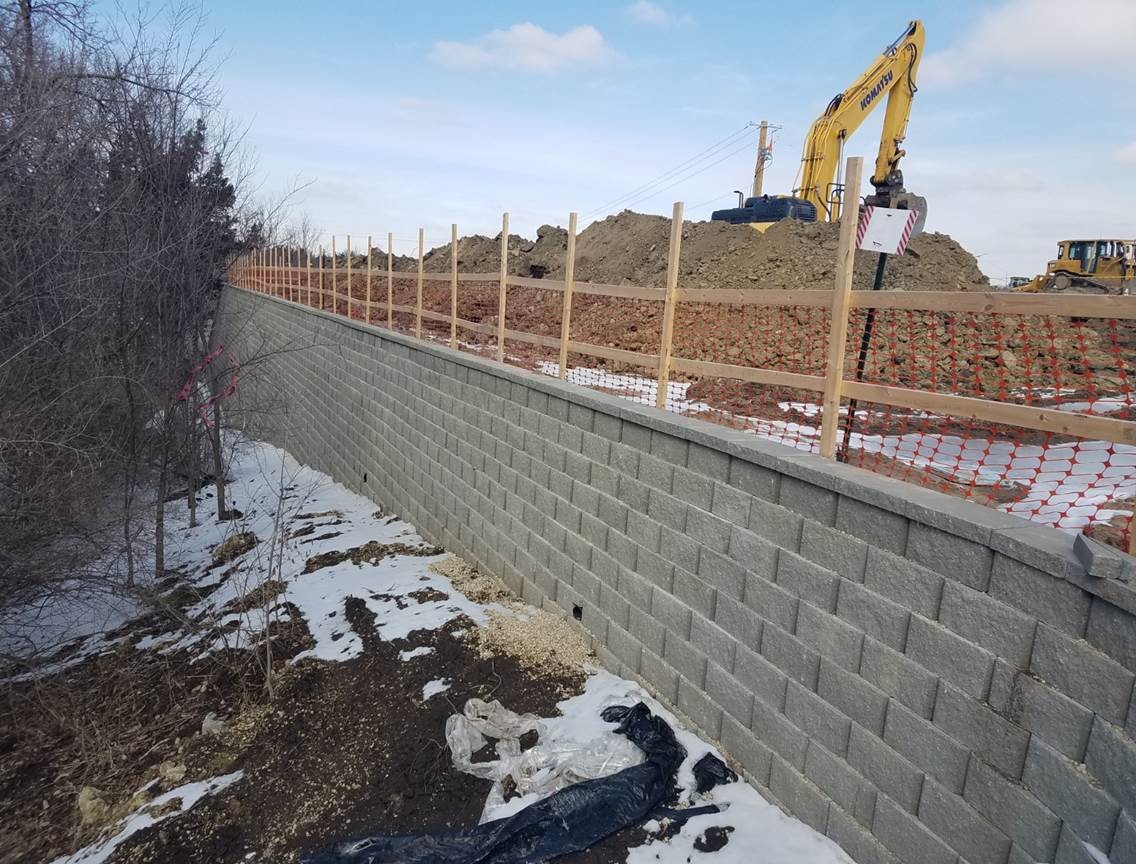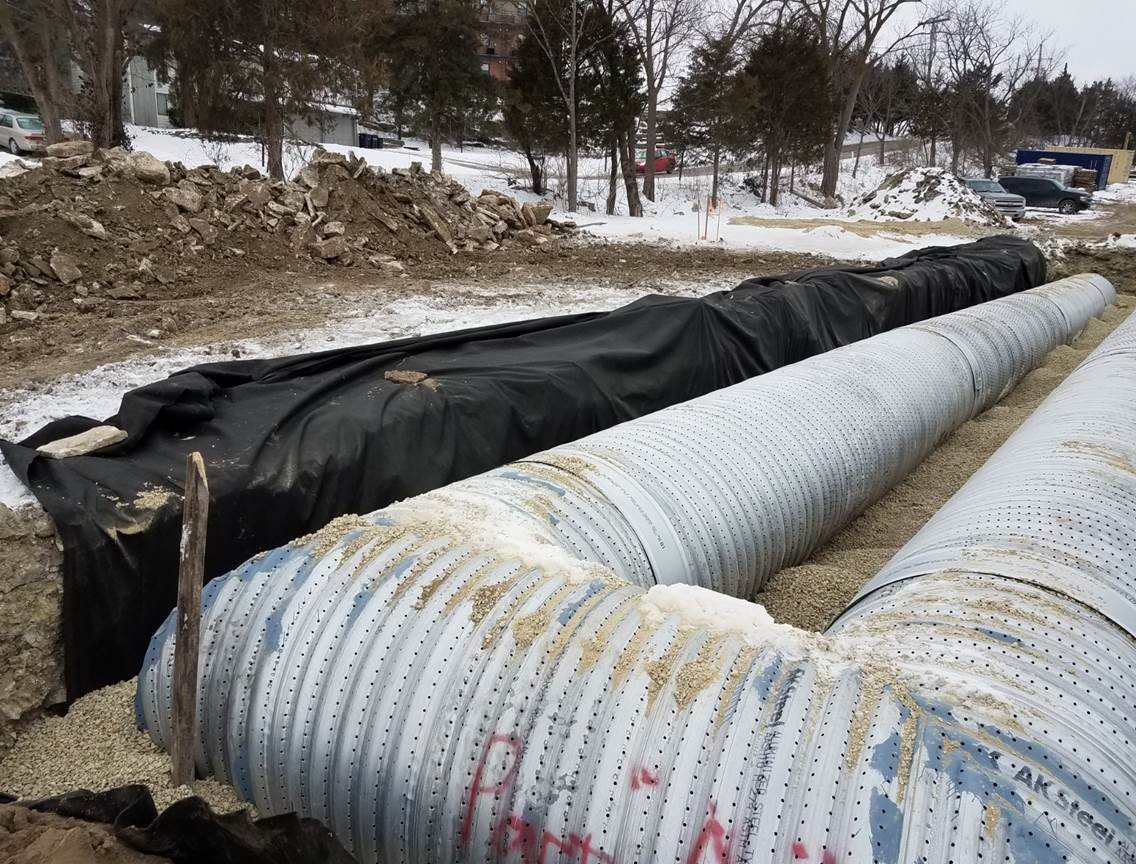 Update 2/8/2019
Things are getting serious up on the hilltop: heavy machinery is working away, and steel will be going up in the air soon. Stay tuned for more updates!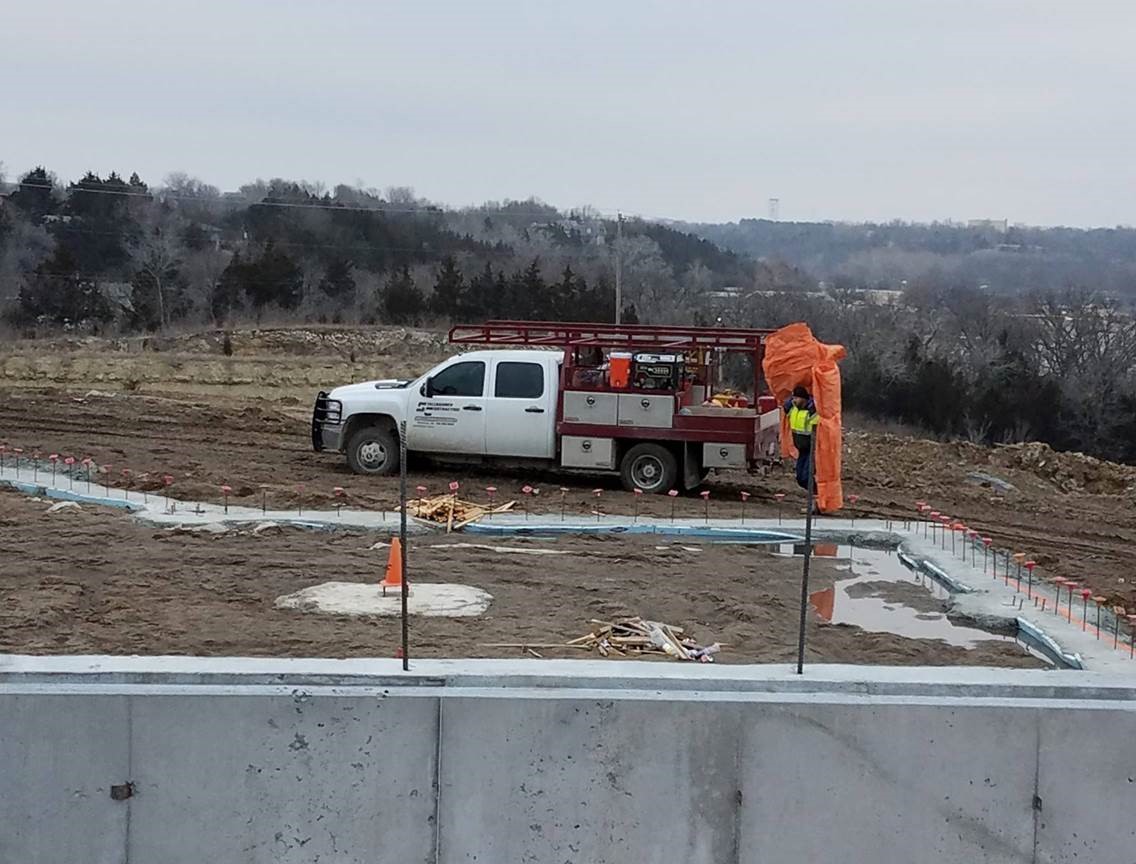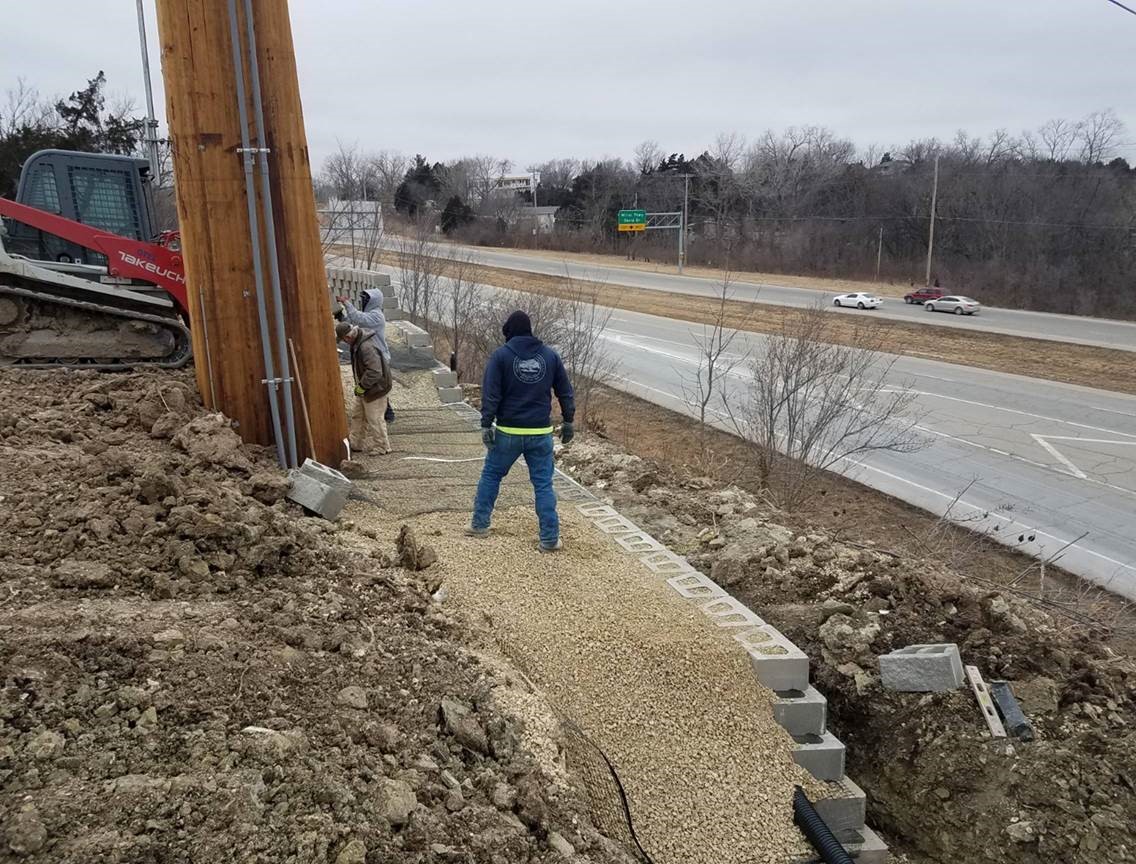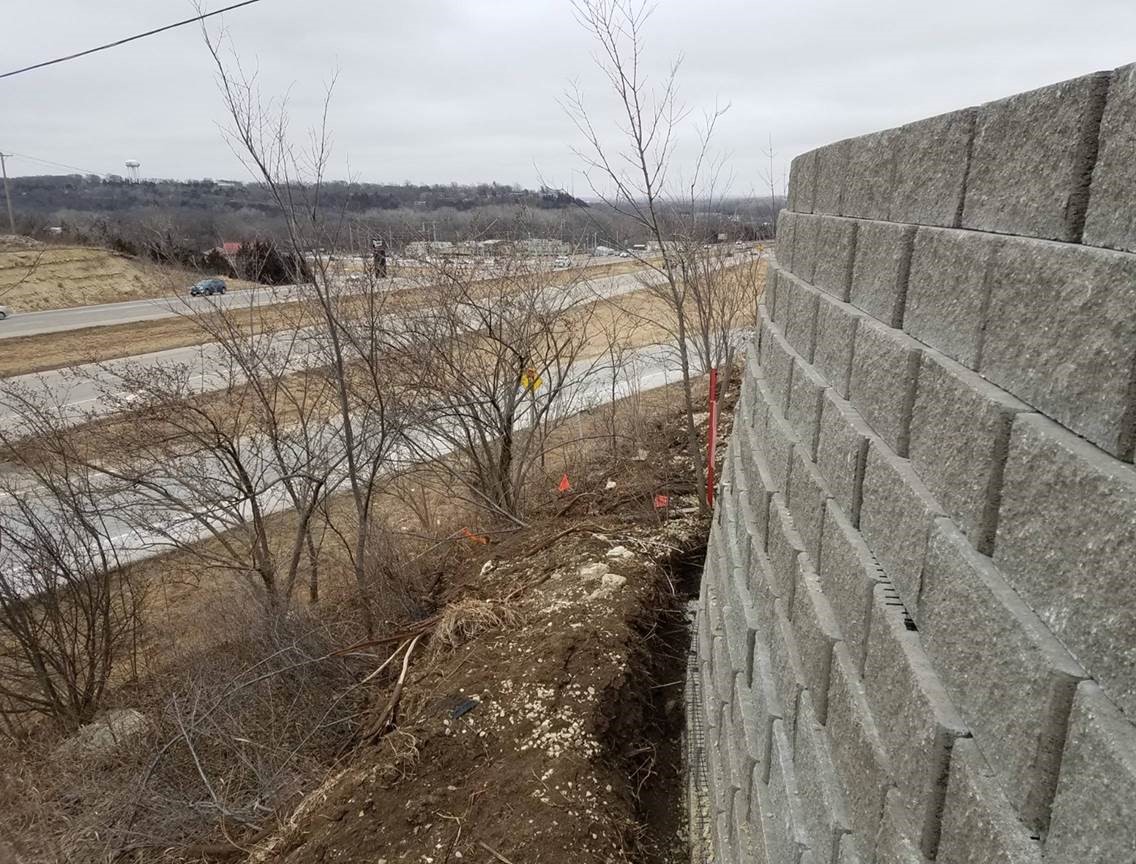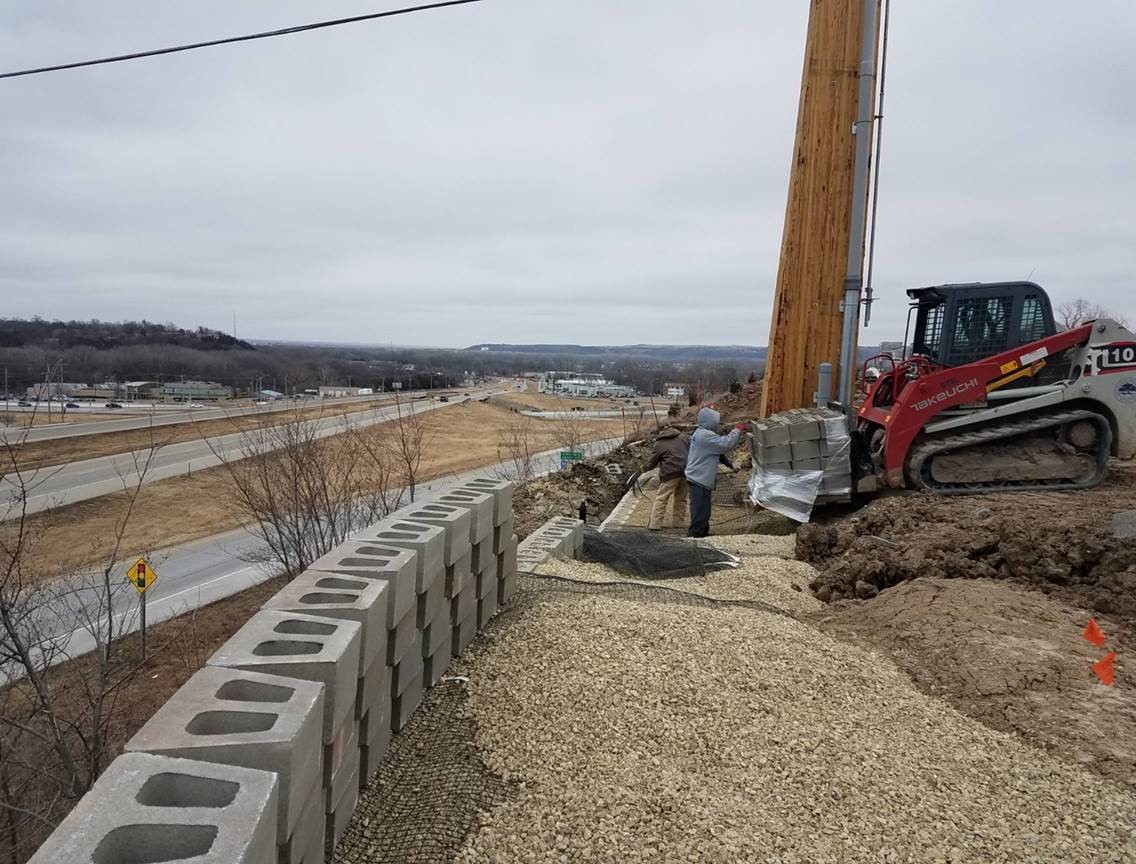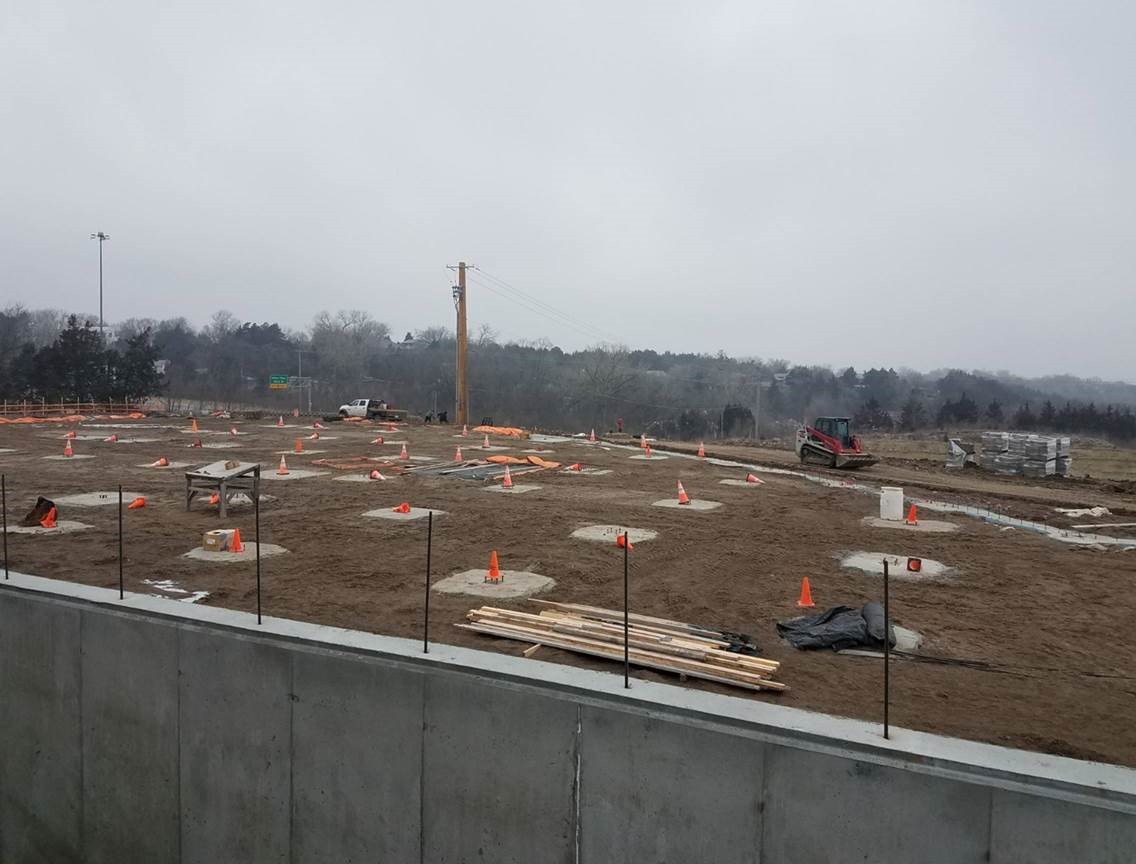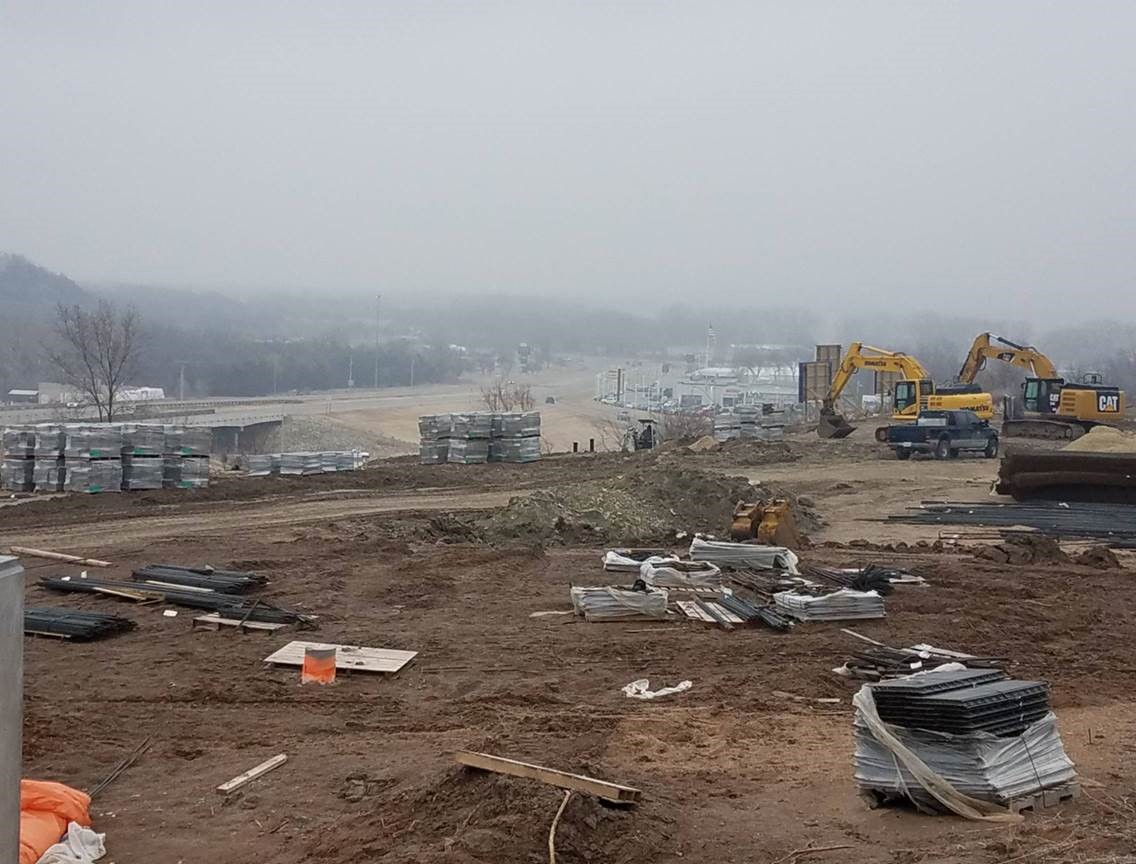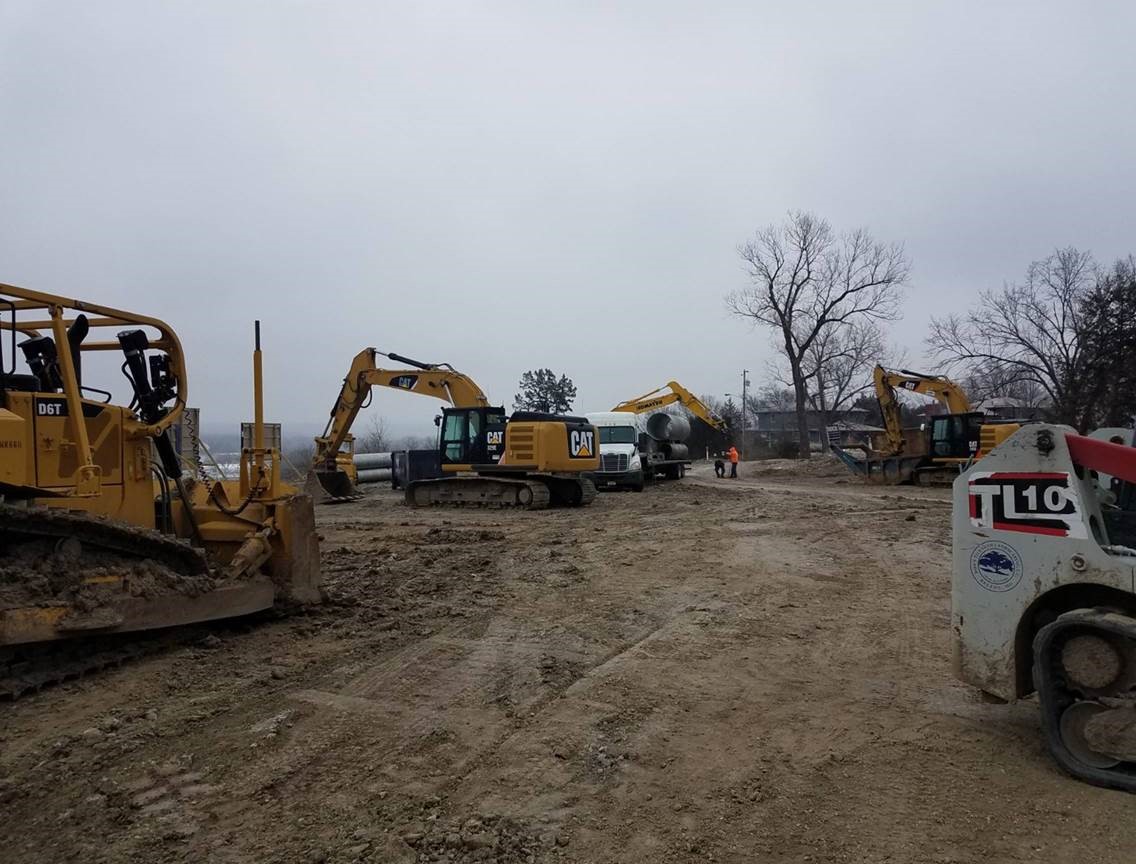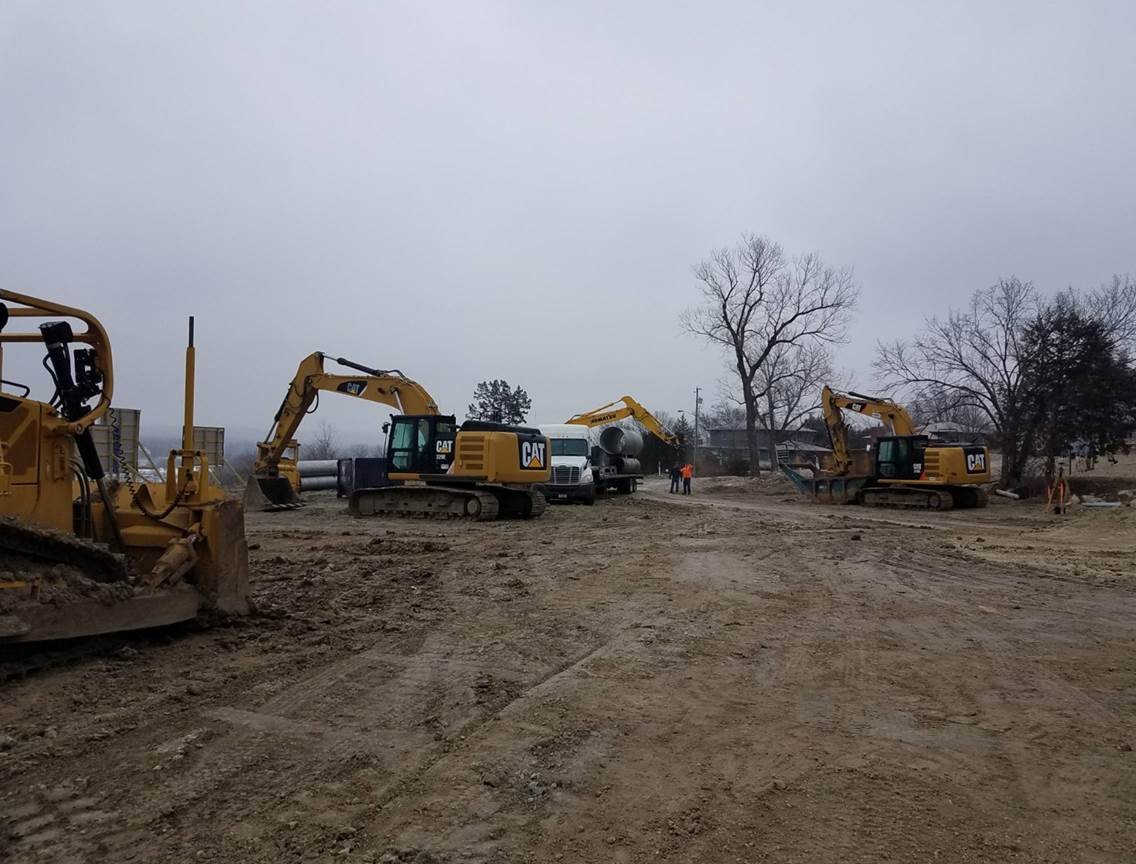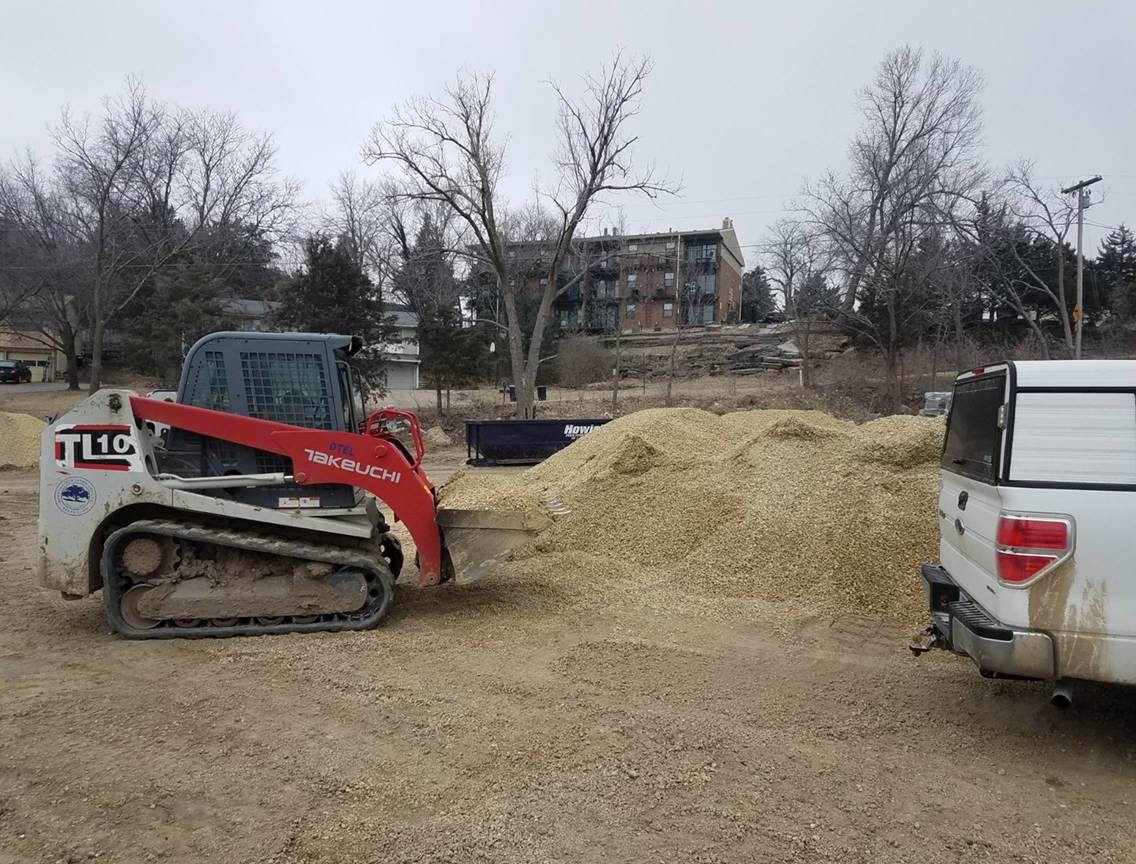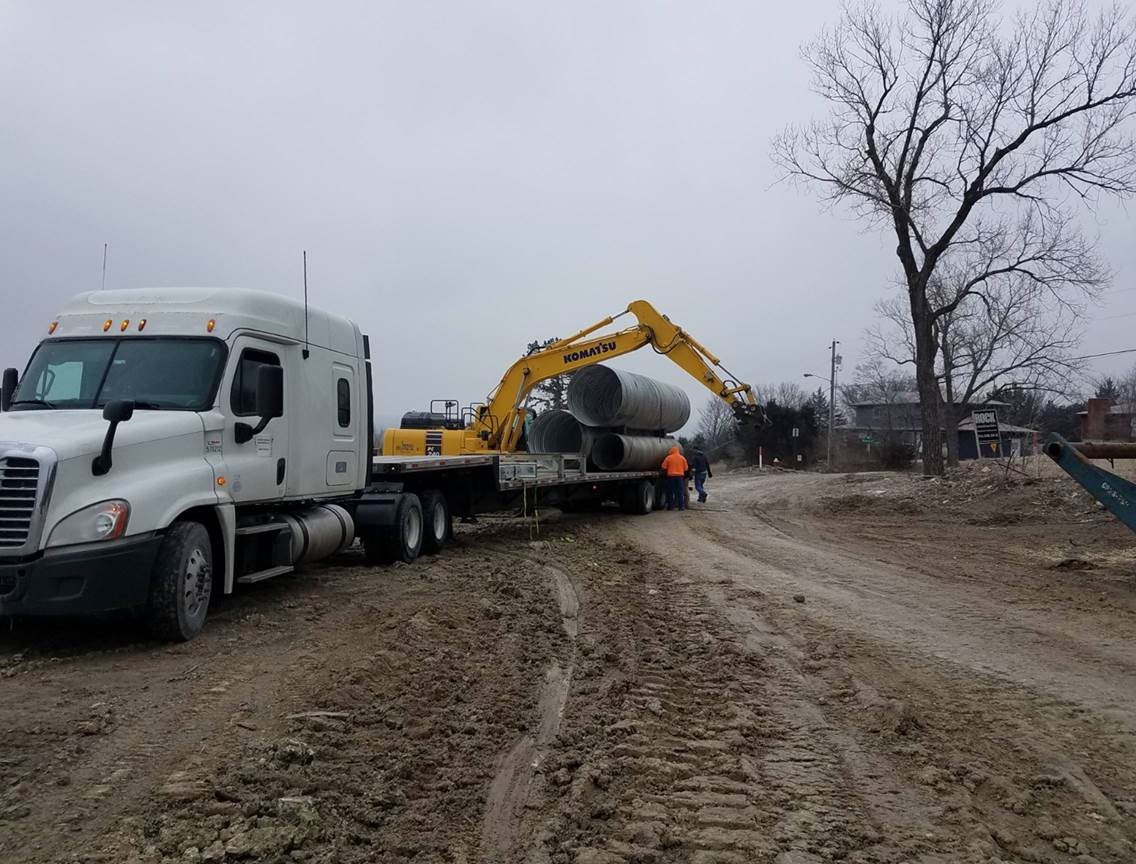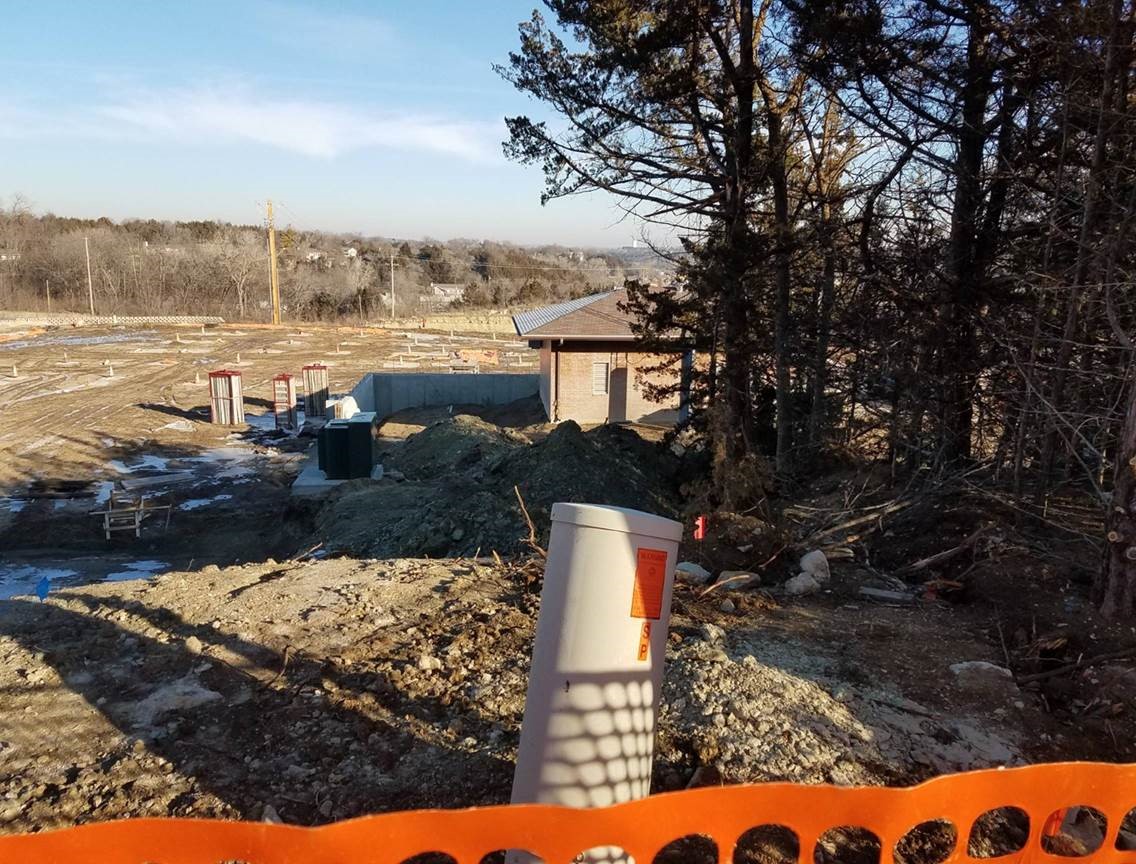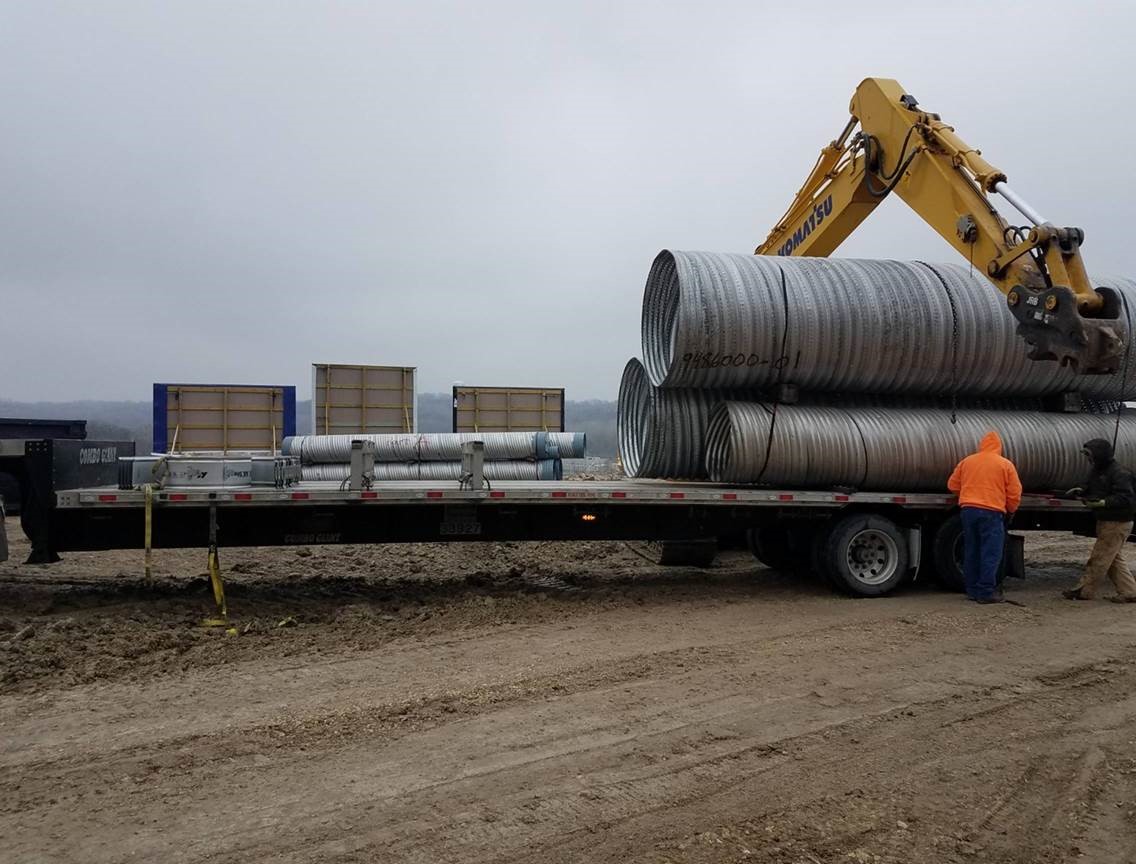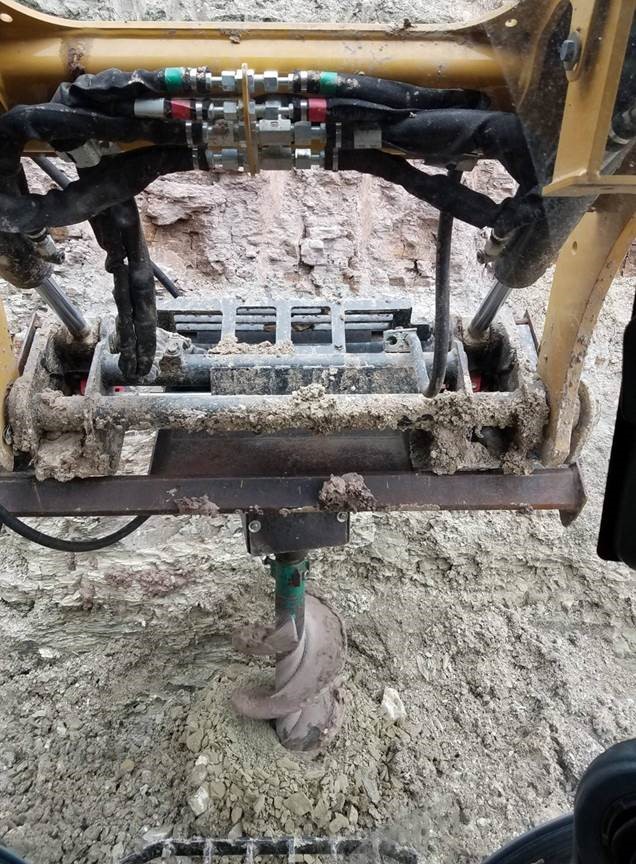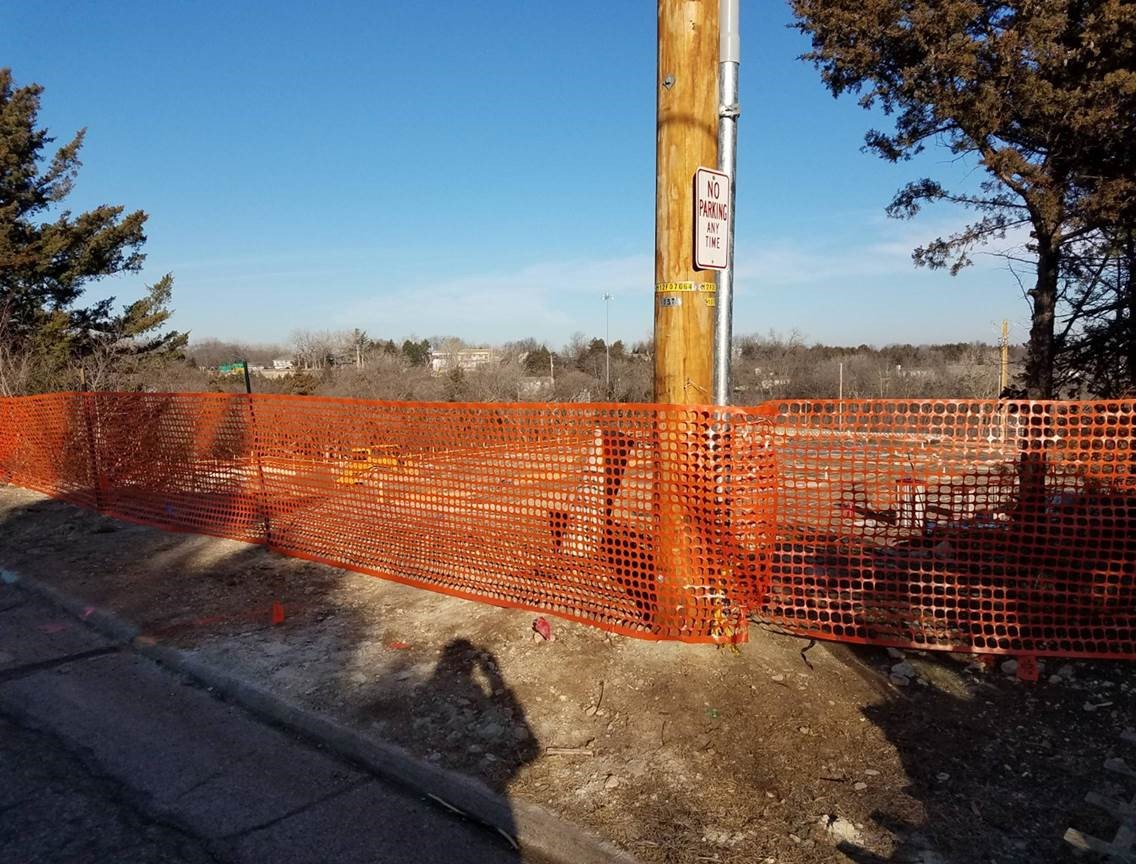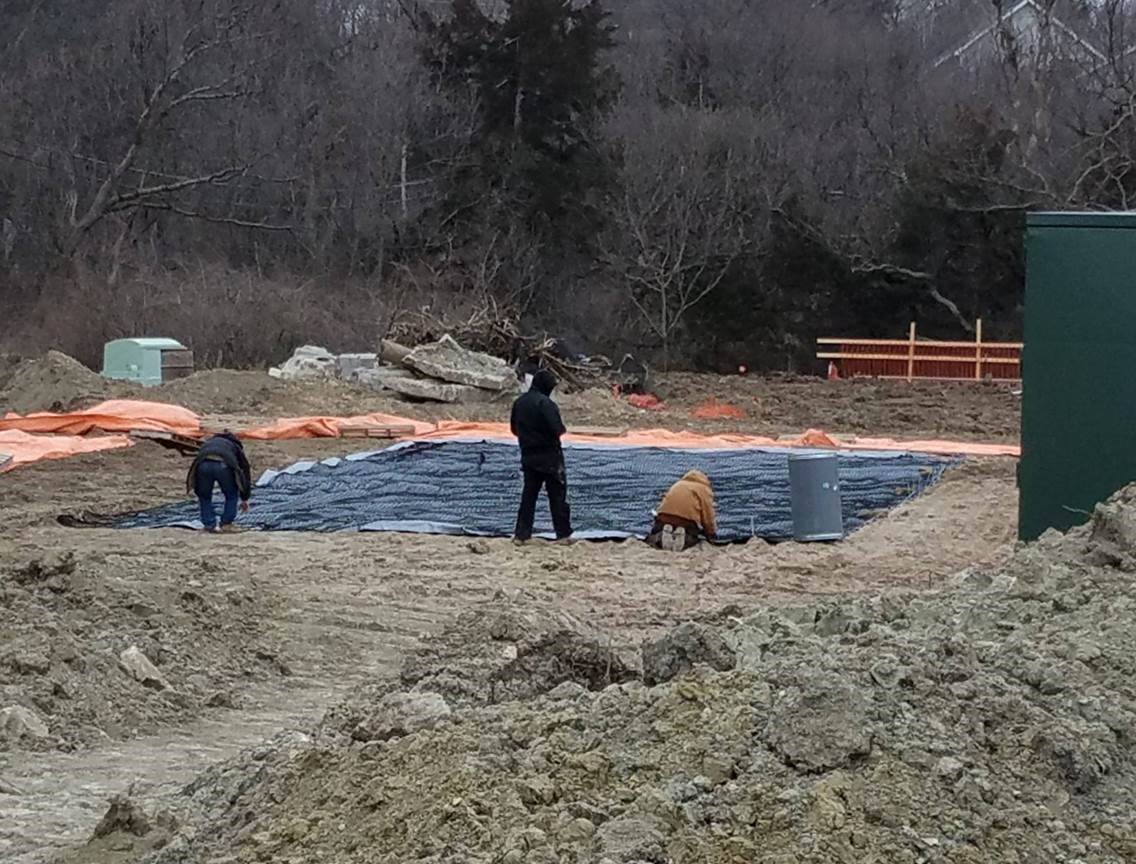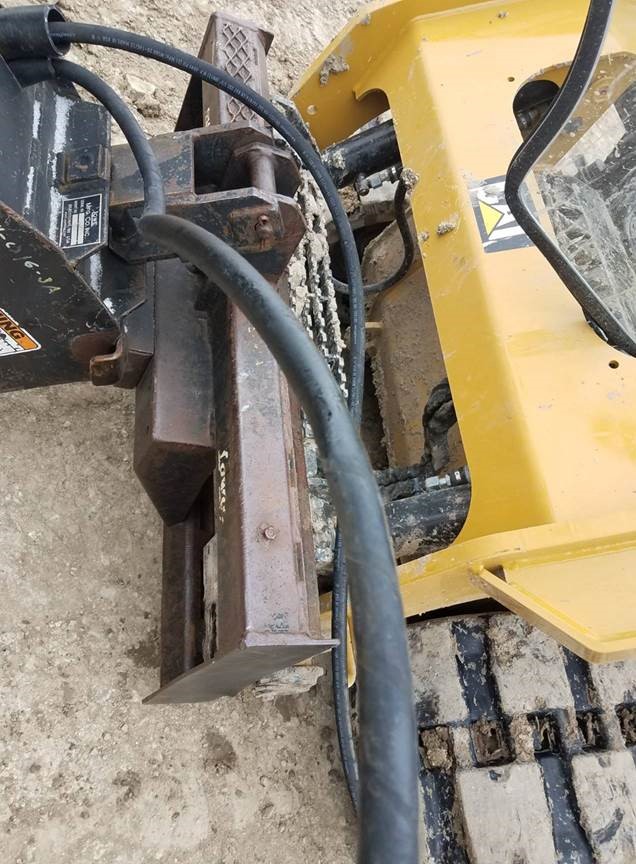 Update 1/7/19
Steel is going up! Piers and footings are complete and soon you will see the shape of the new Manhattan landmark rising from the hilltop!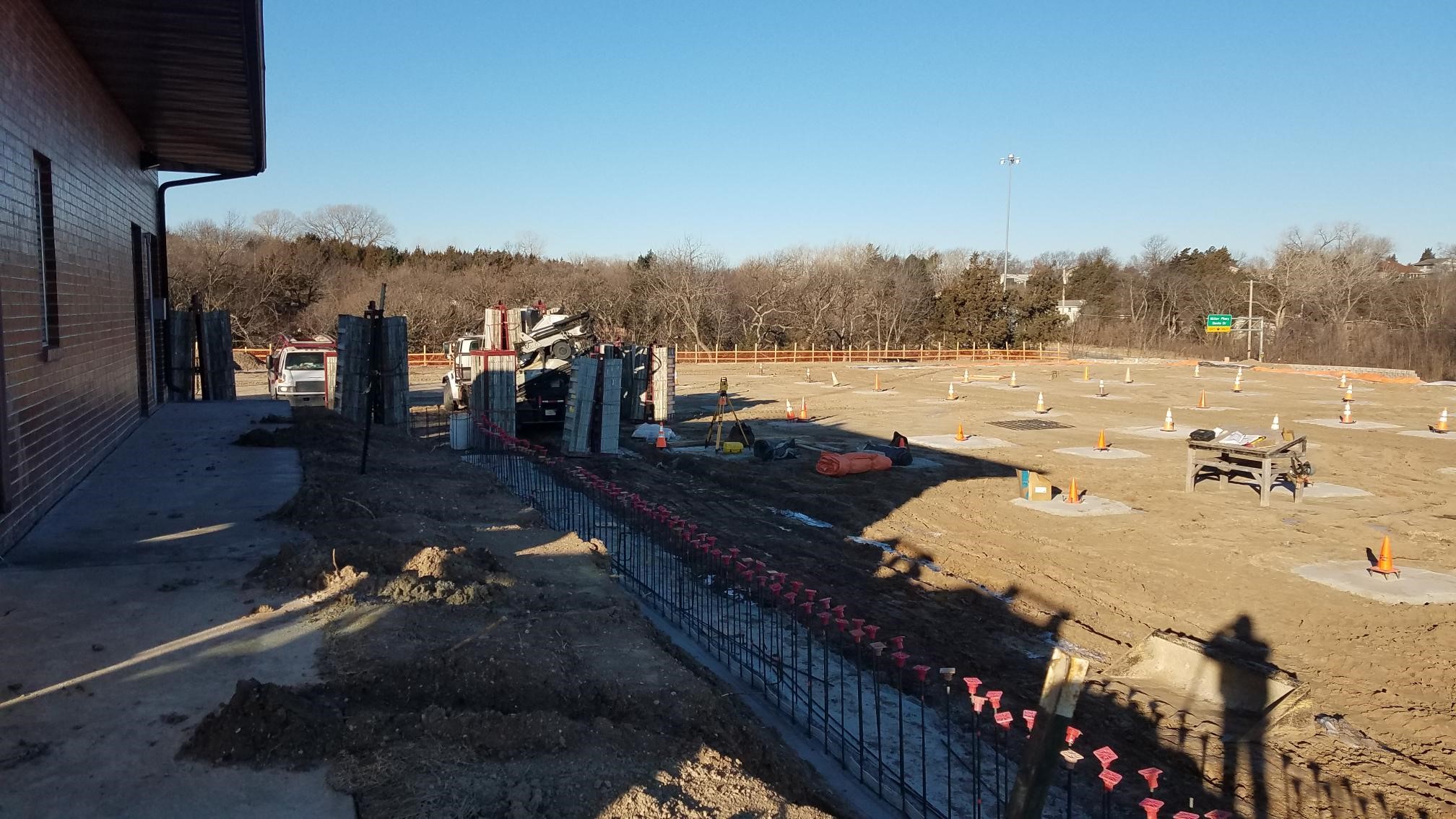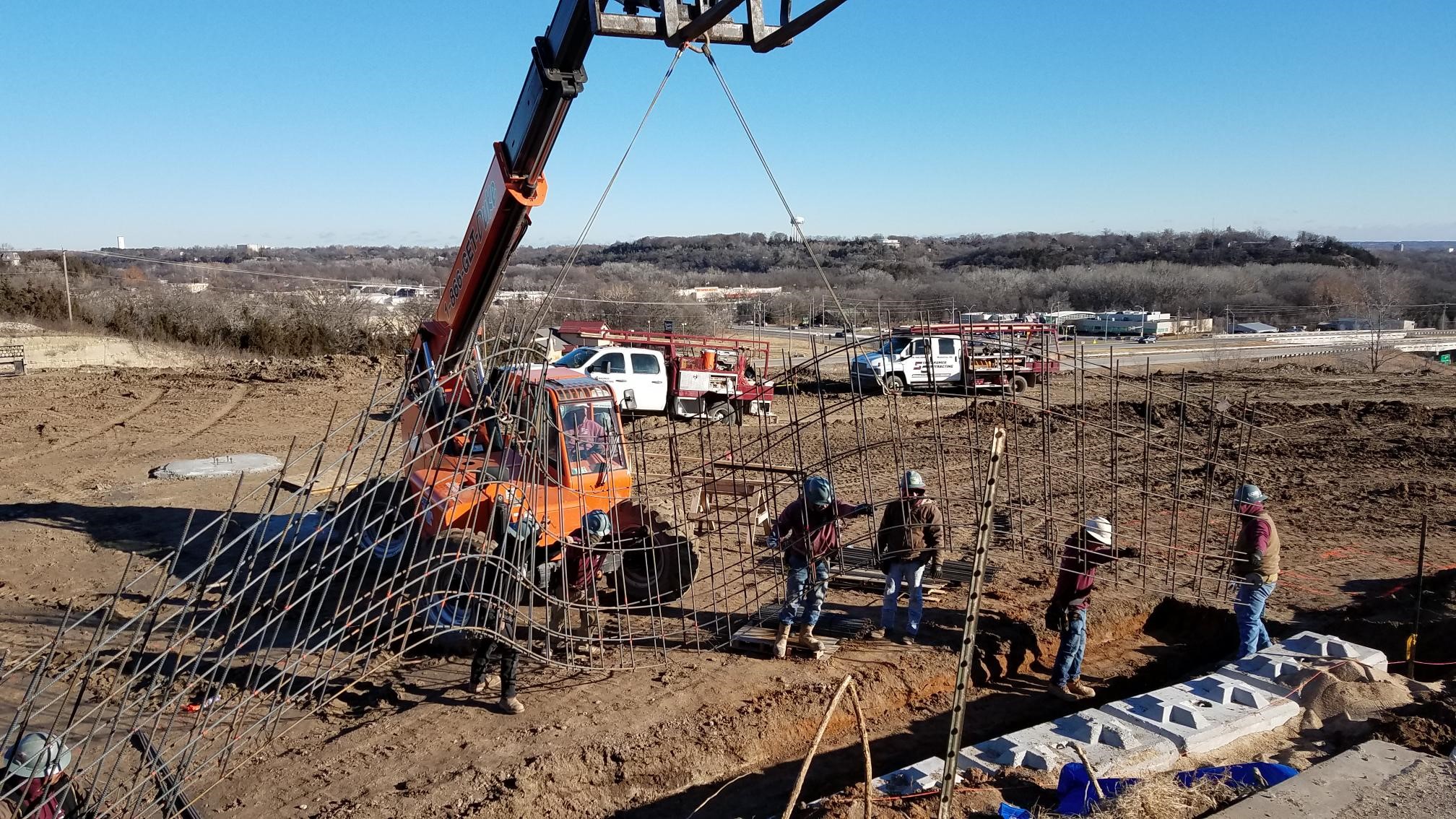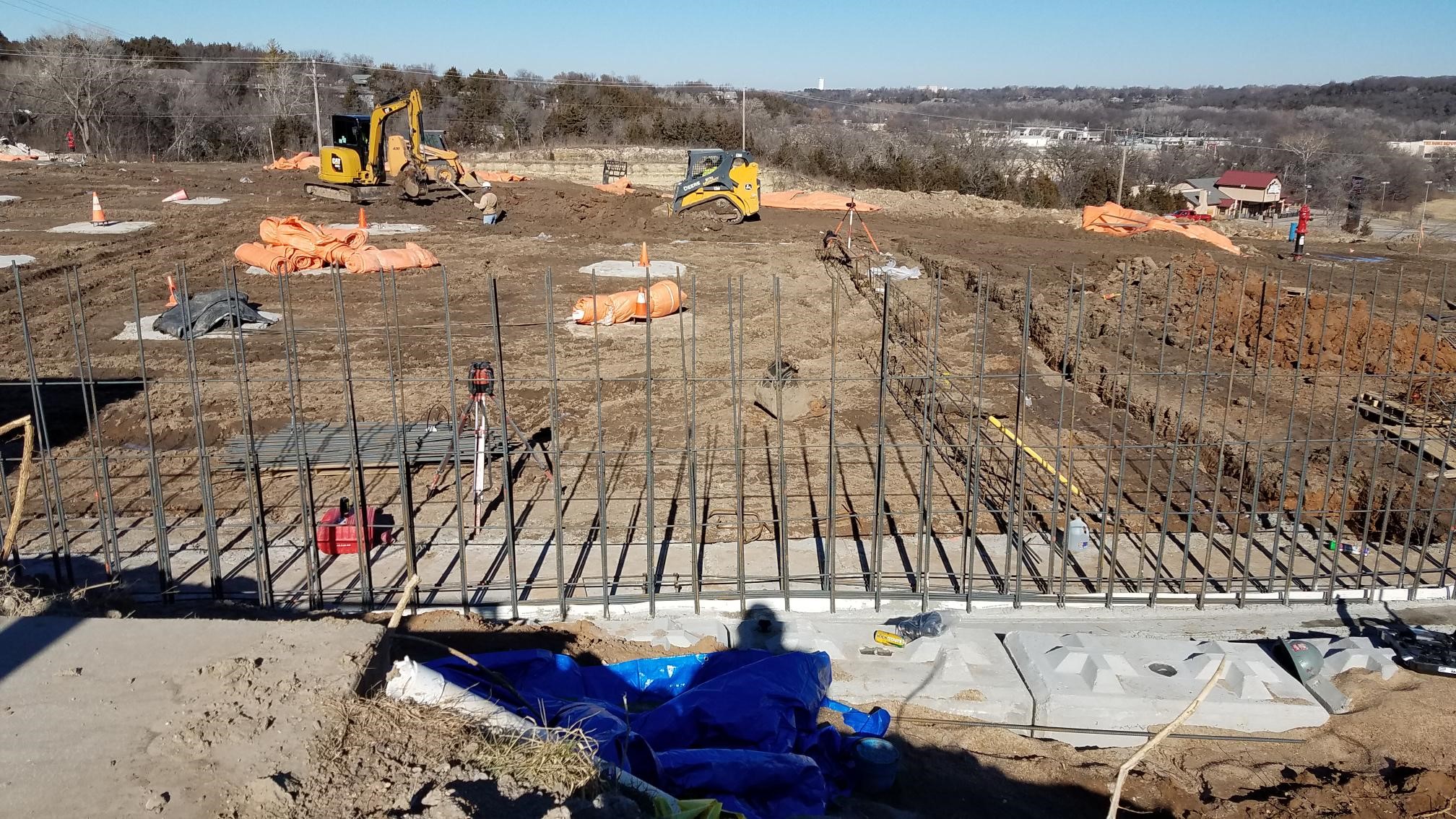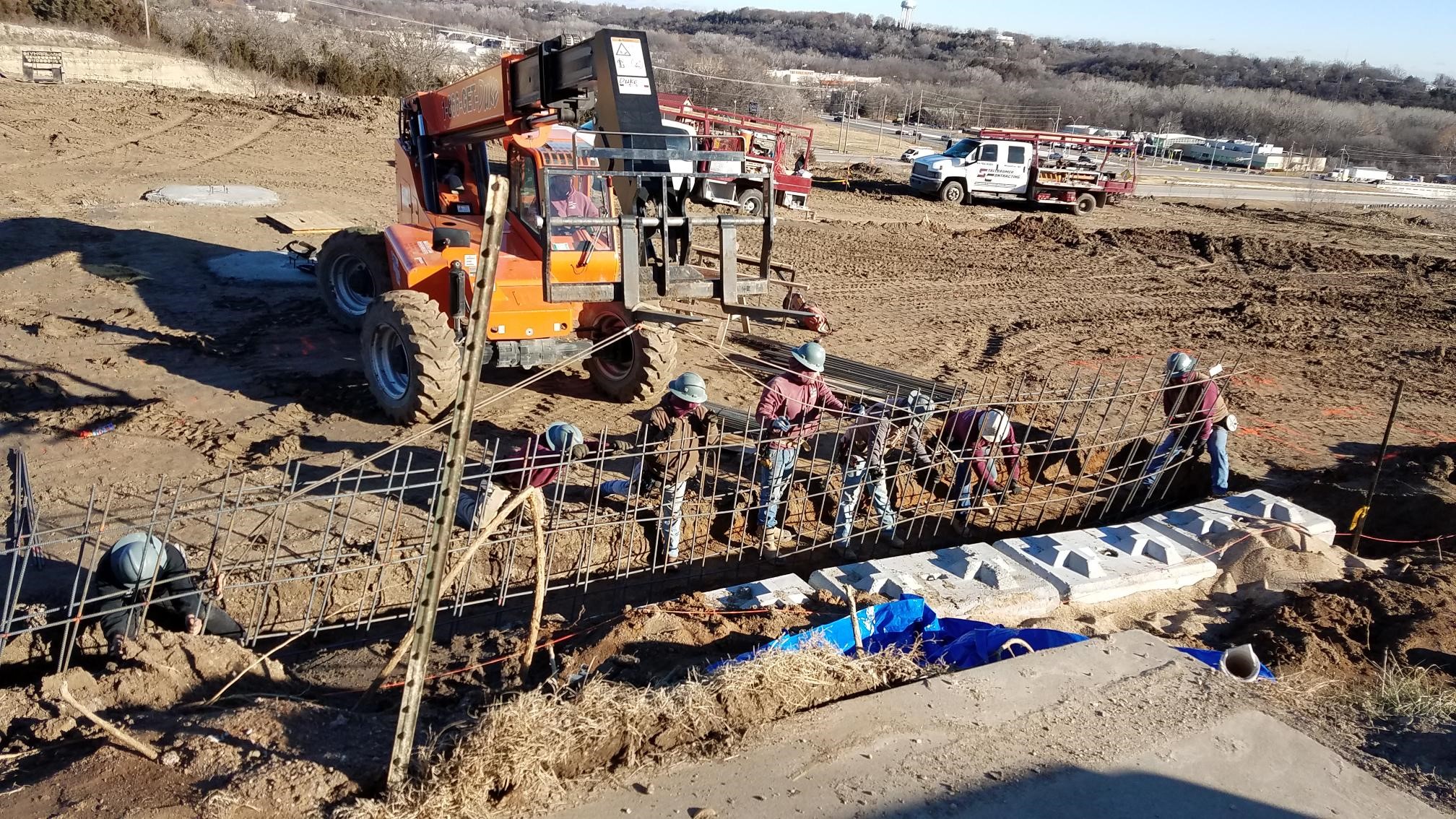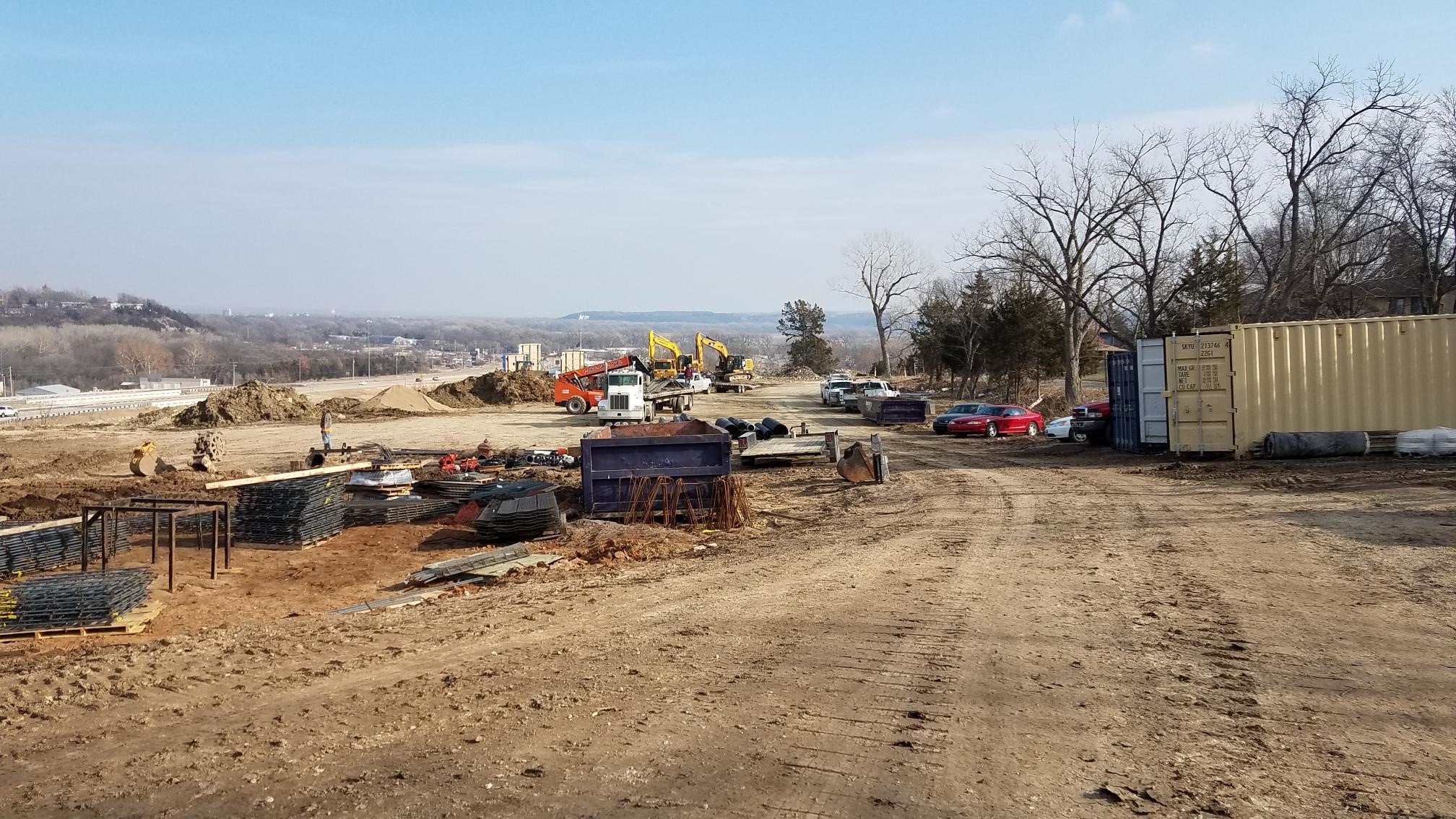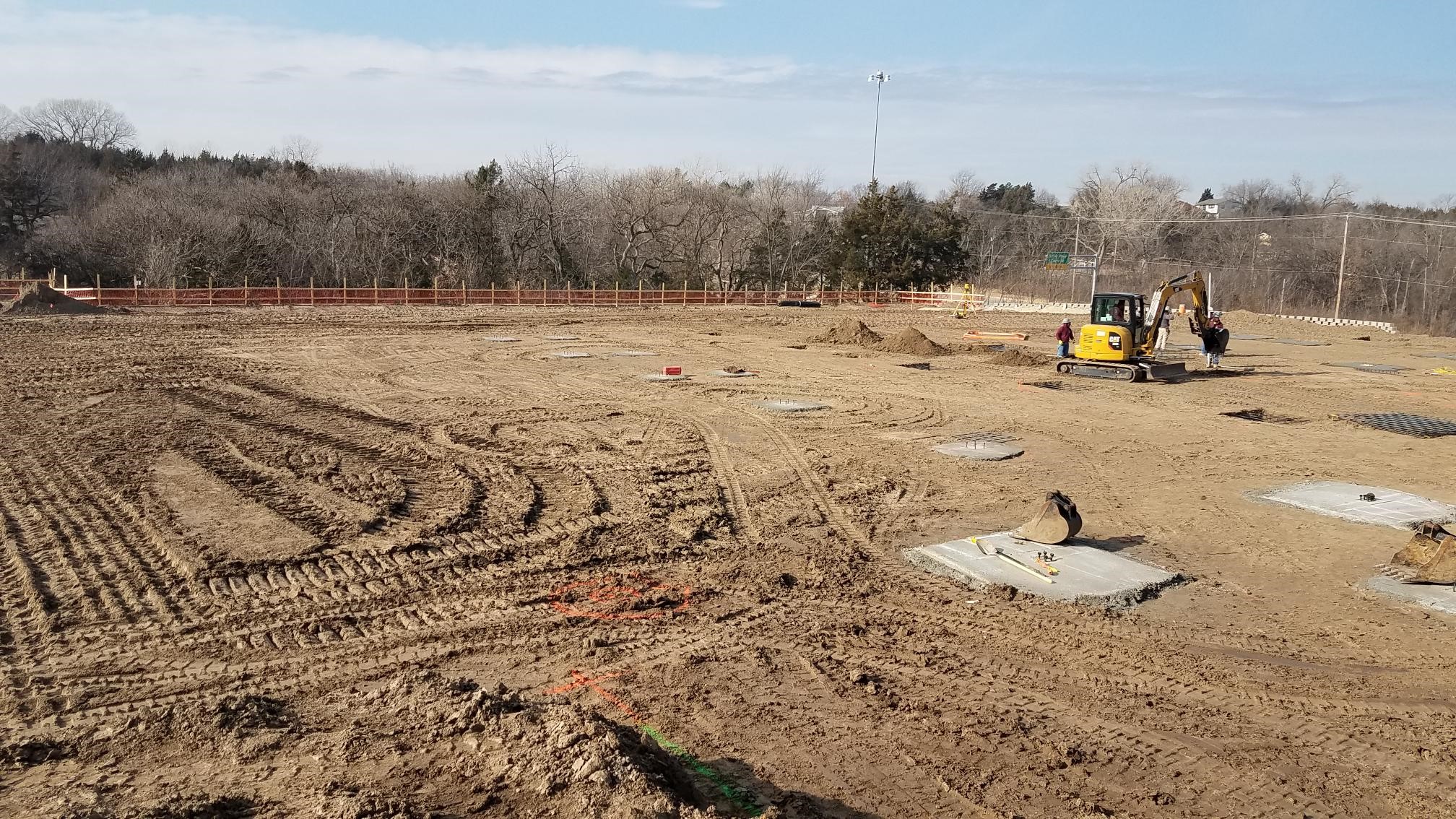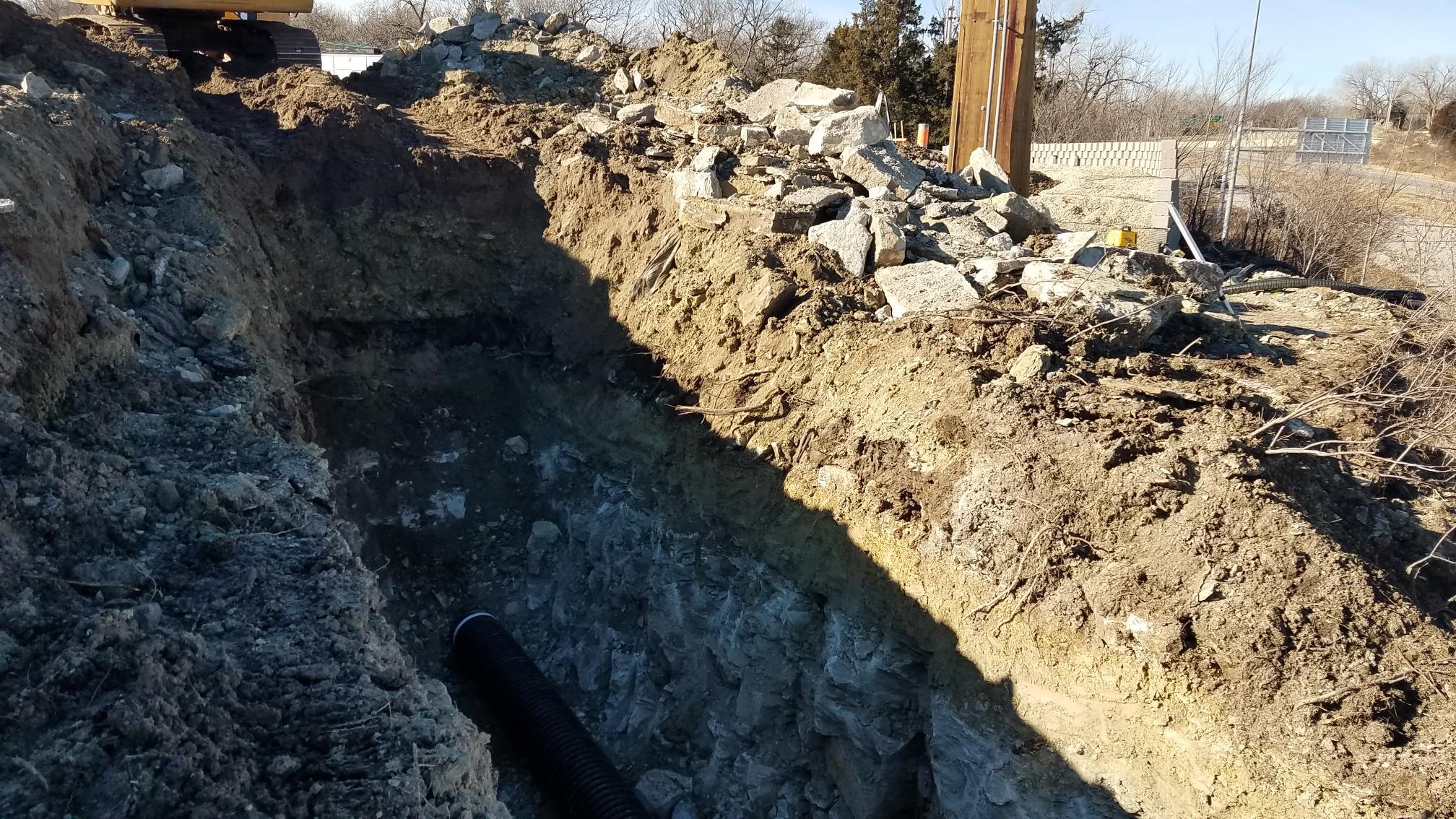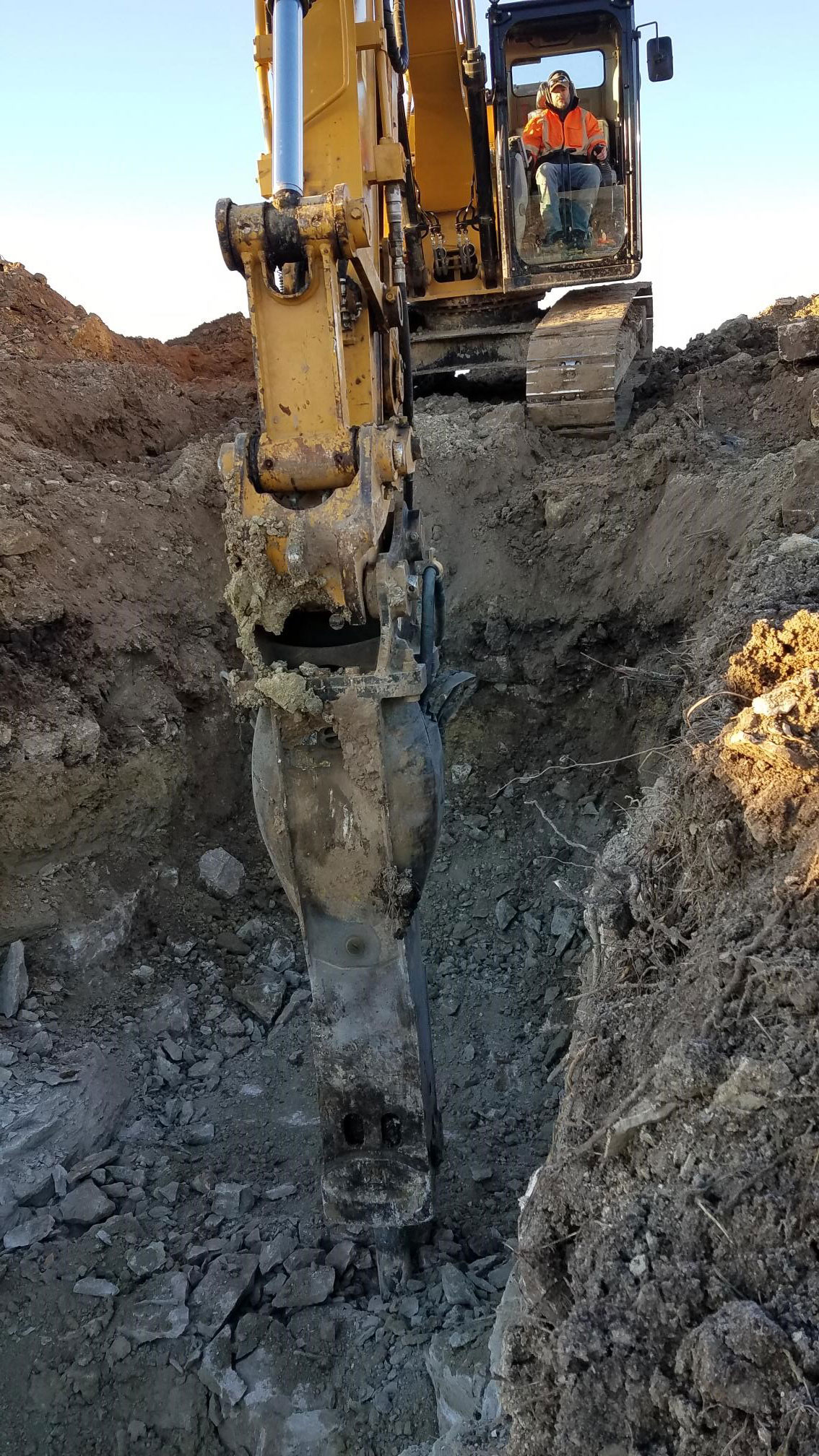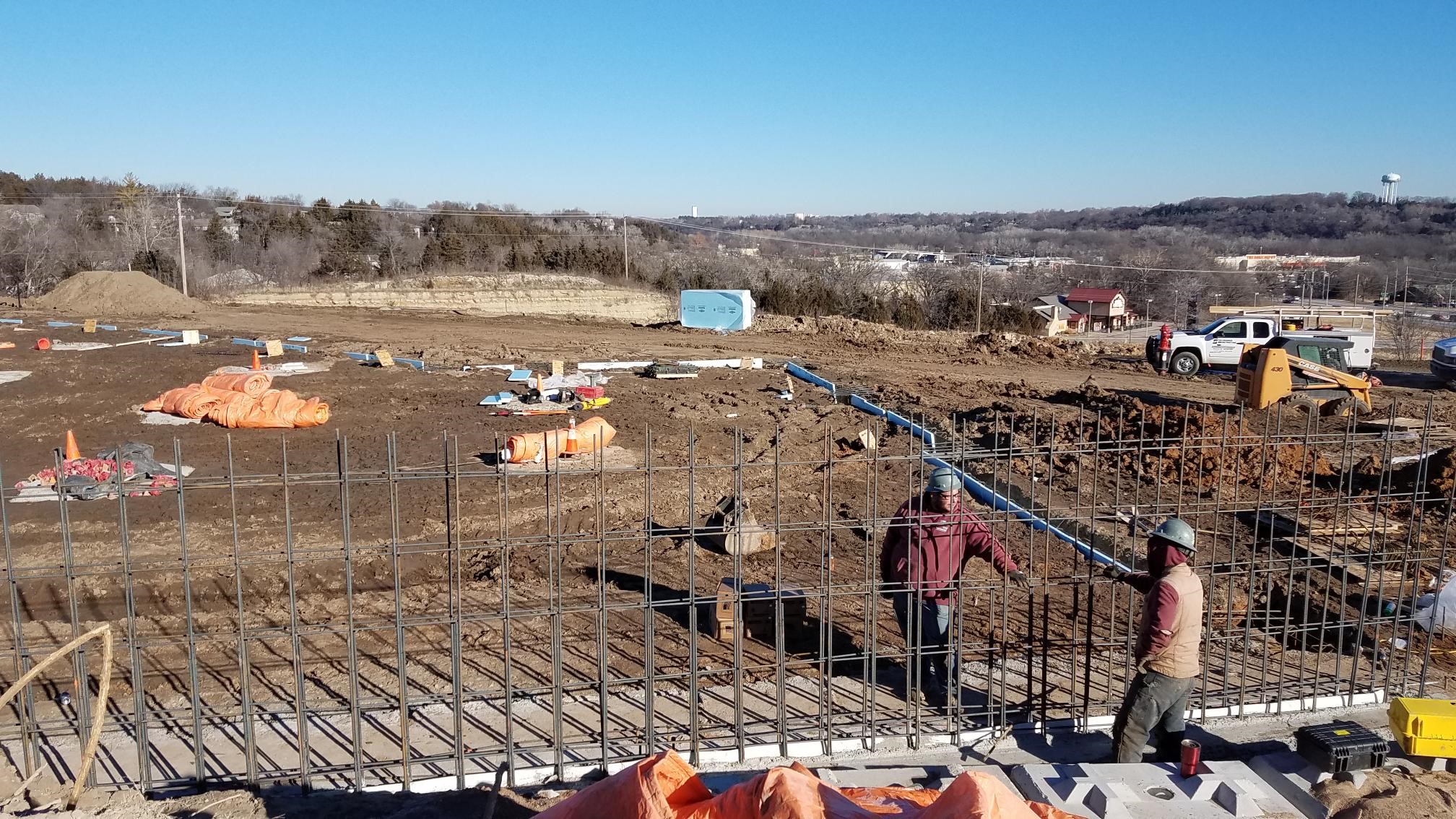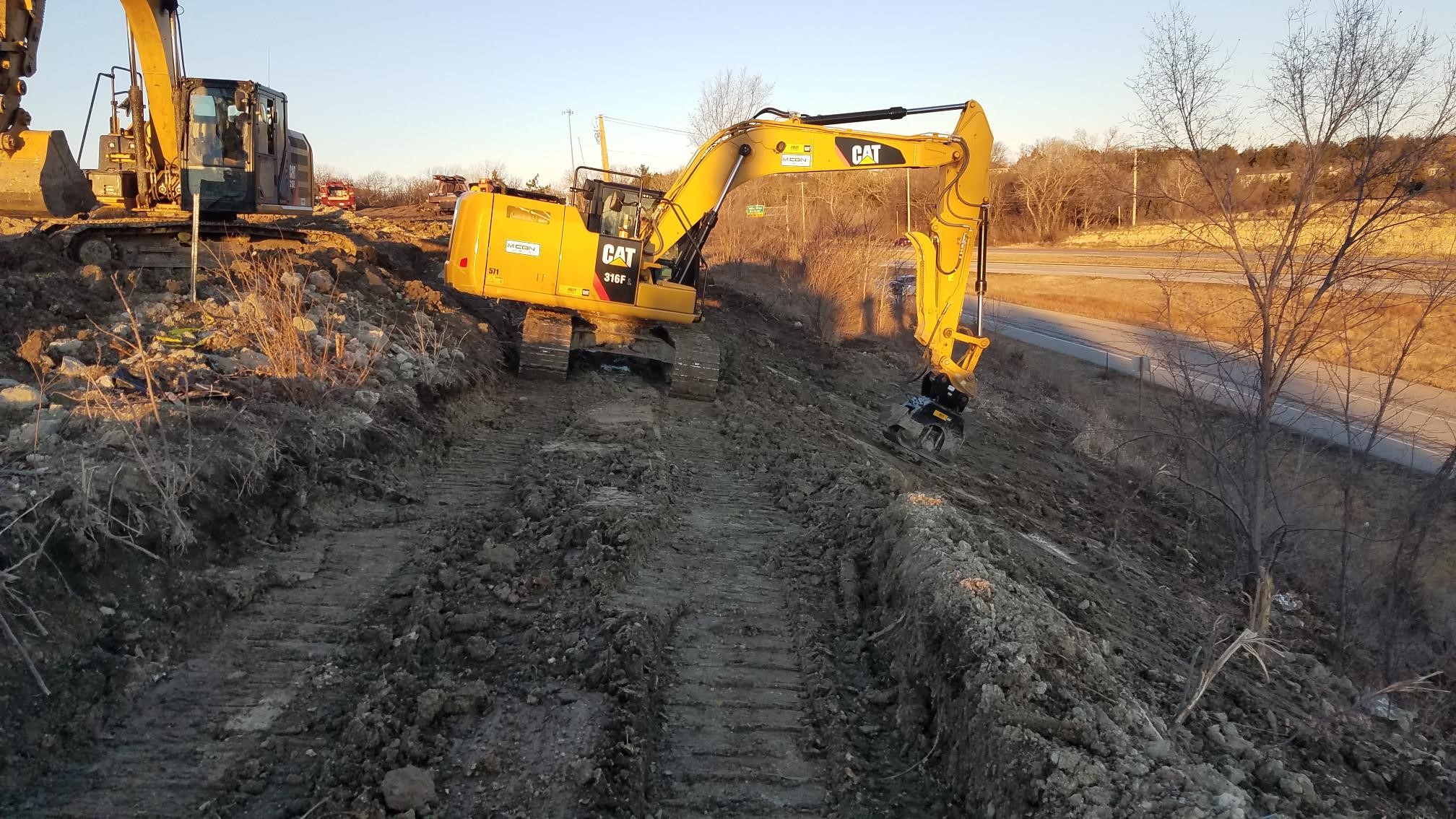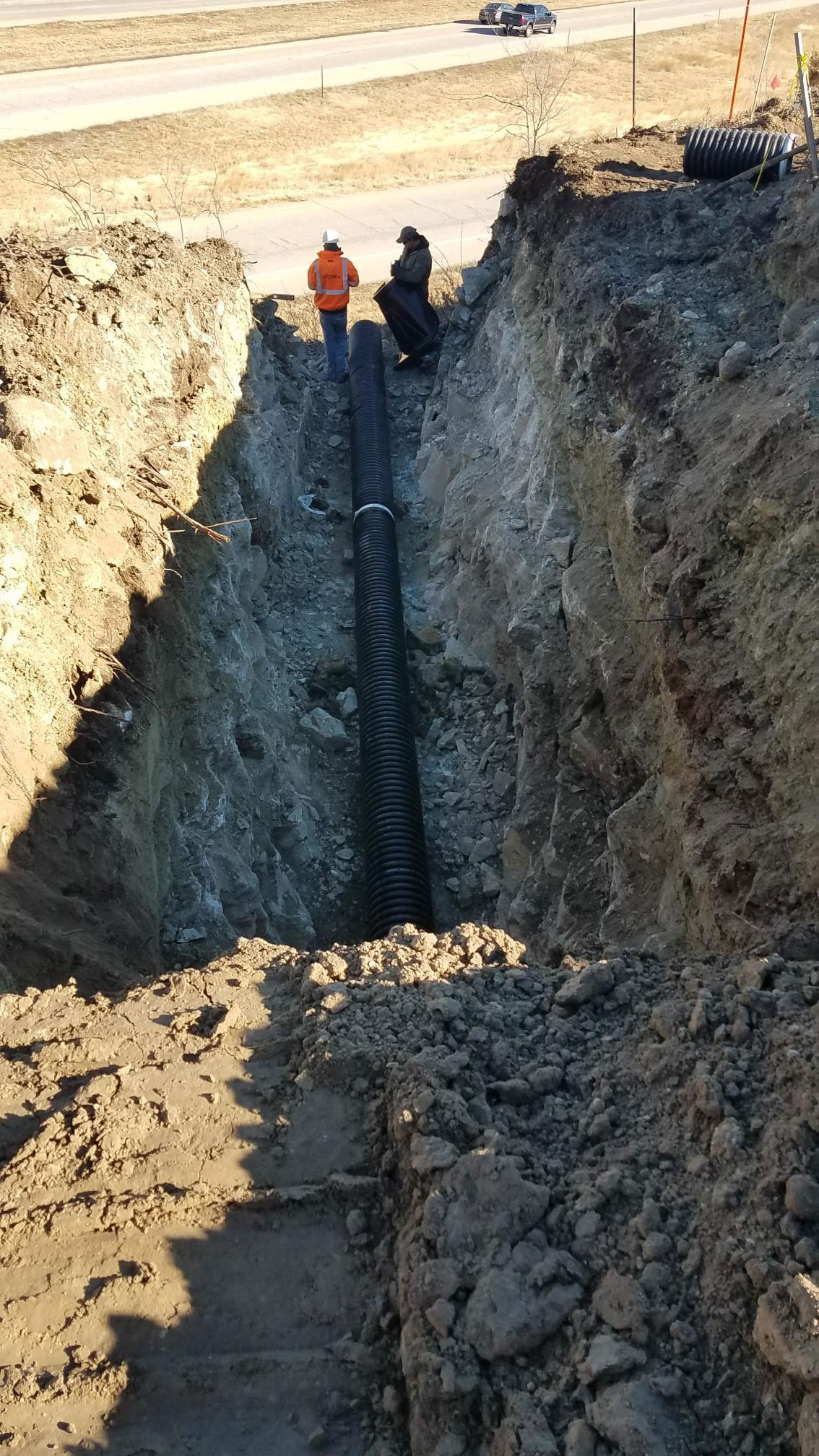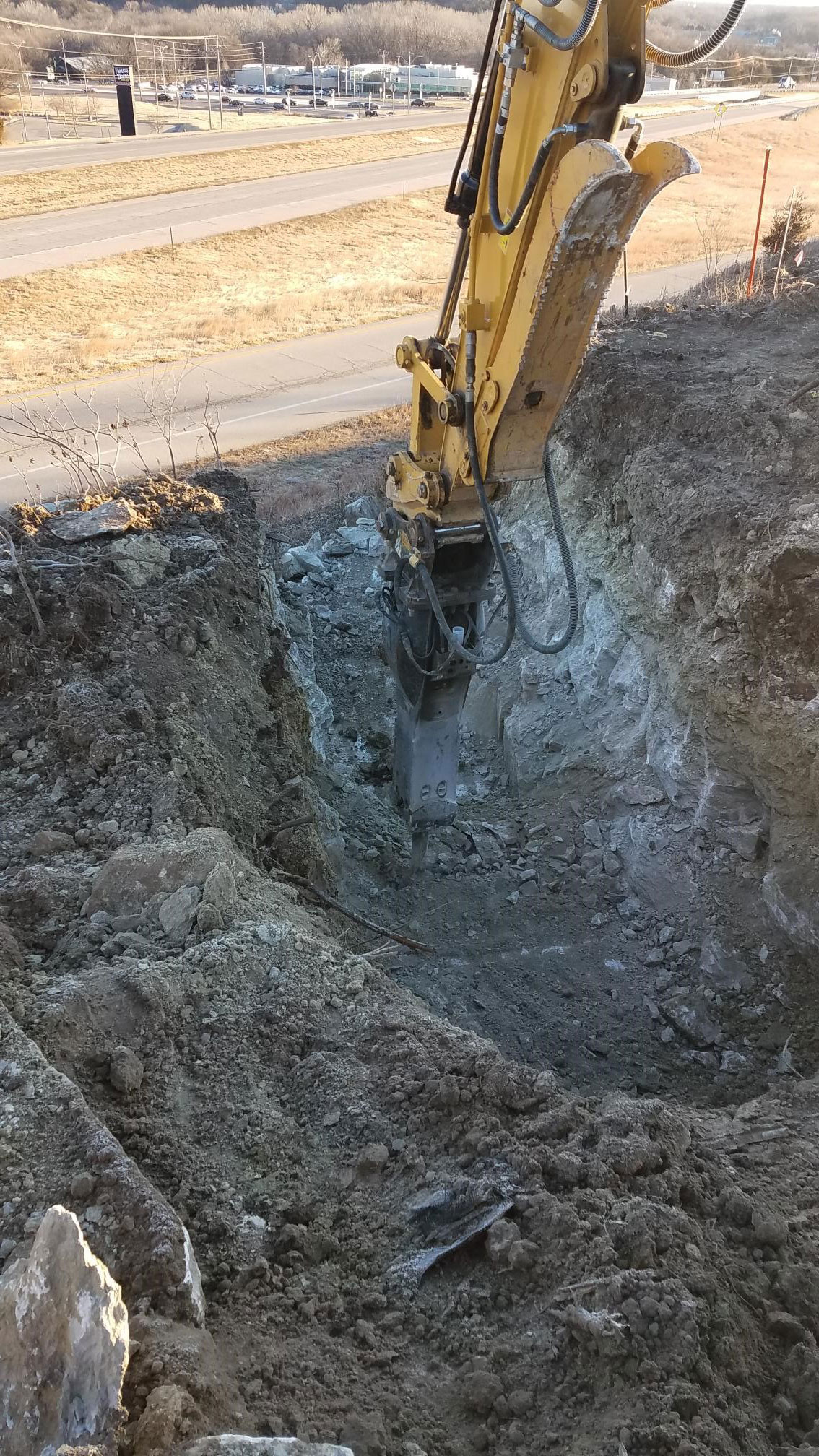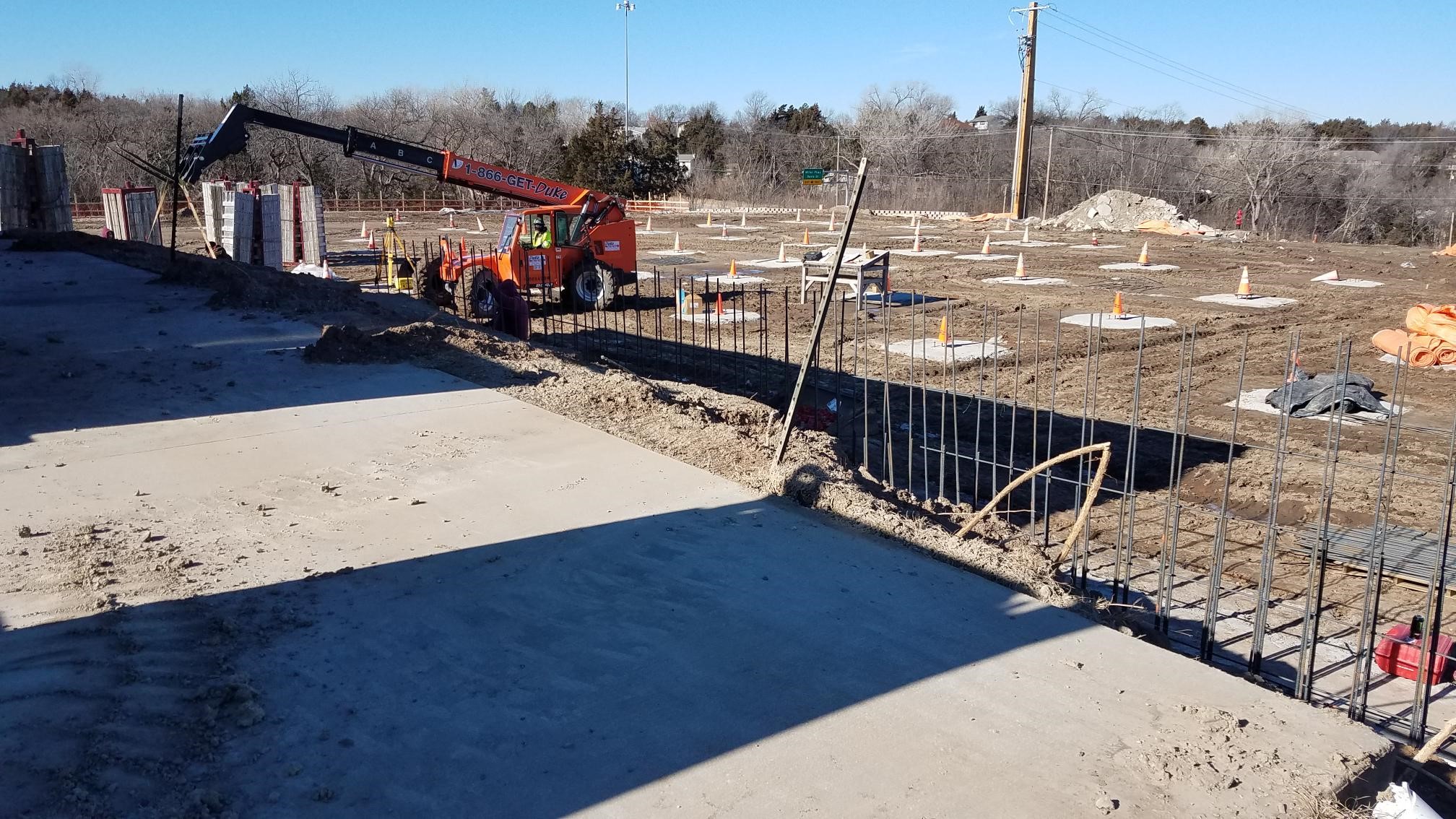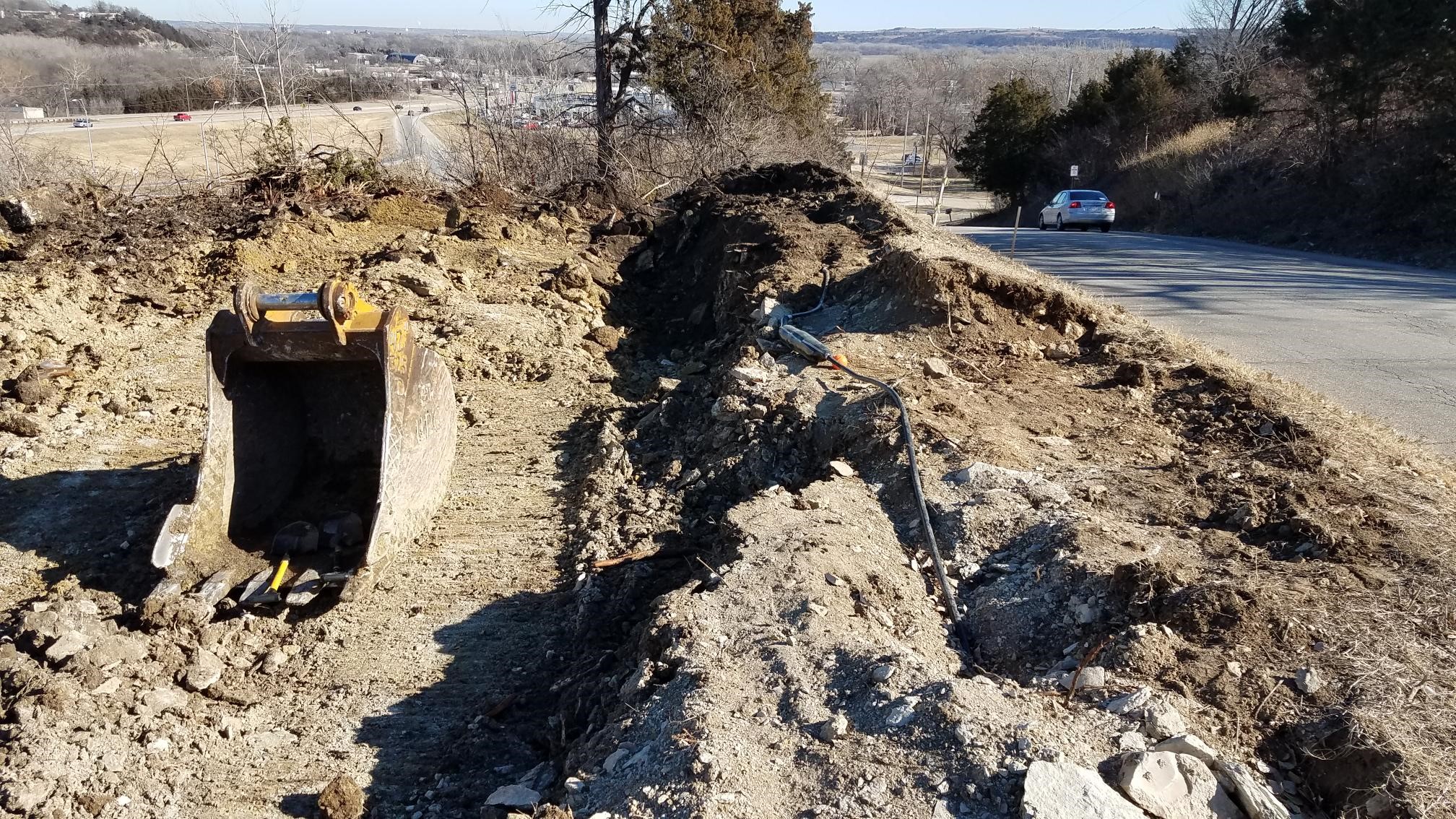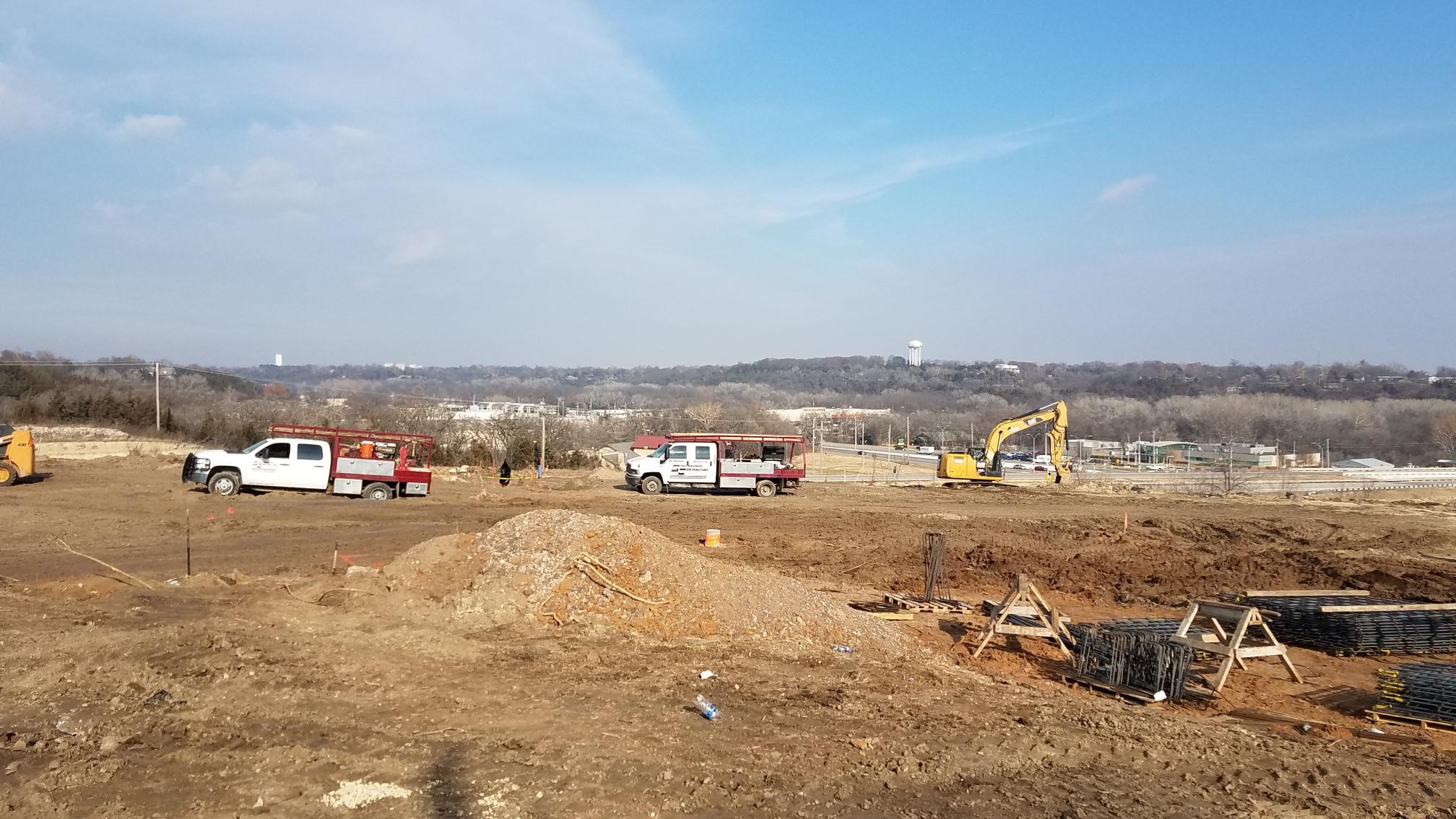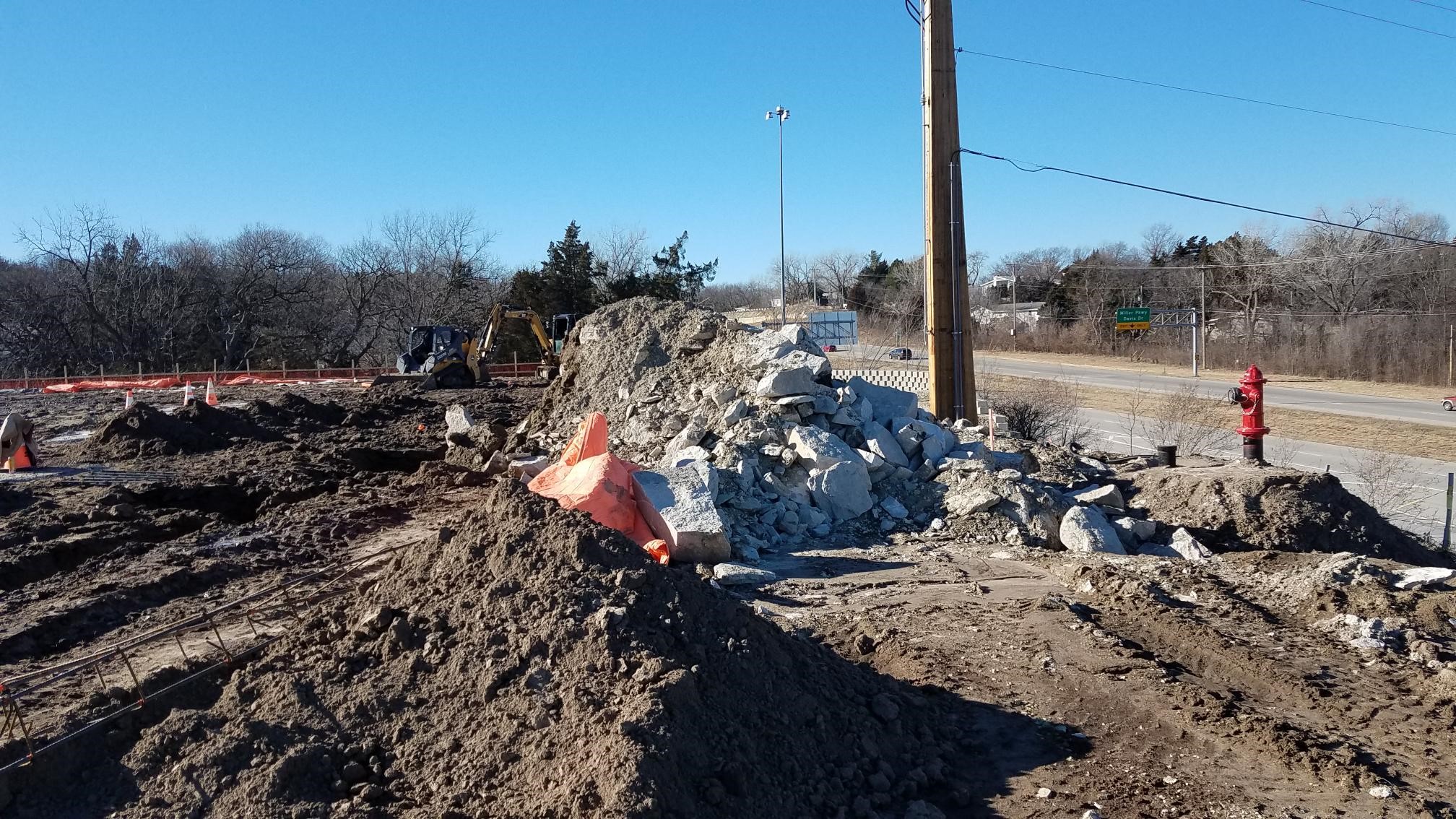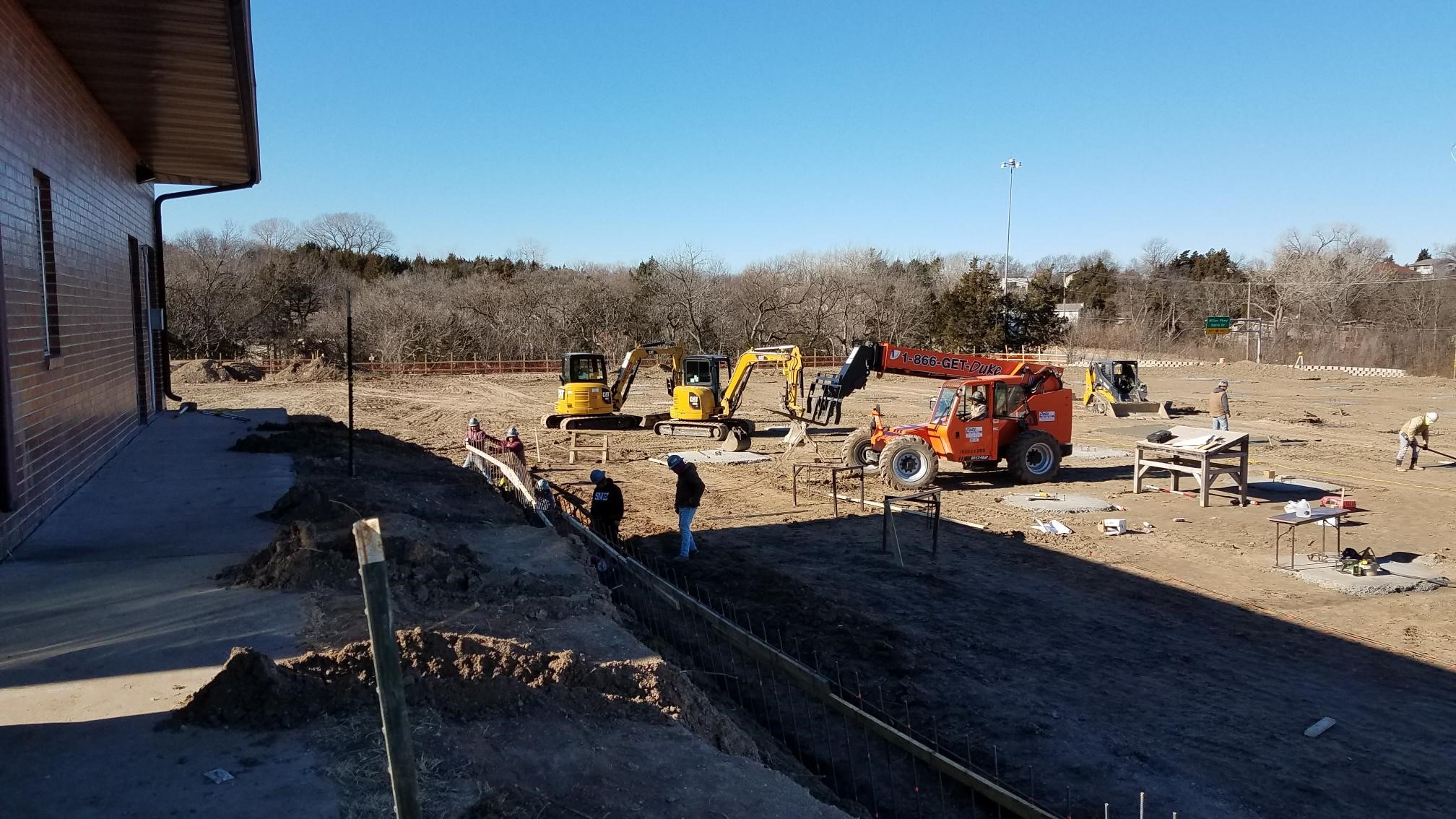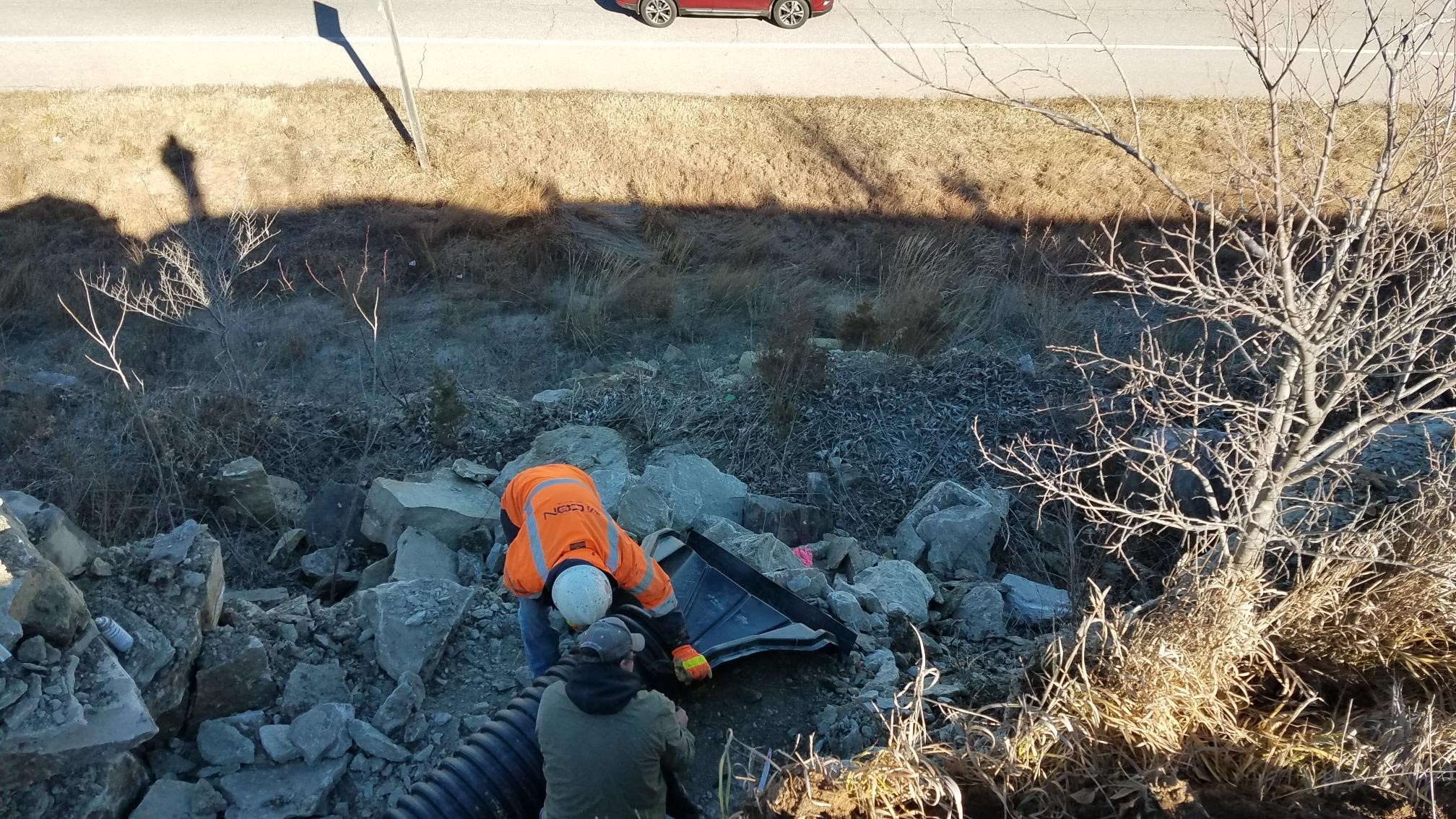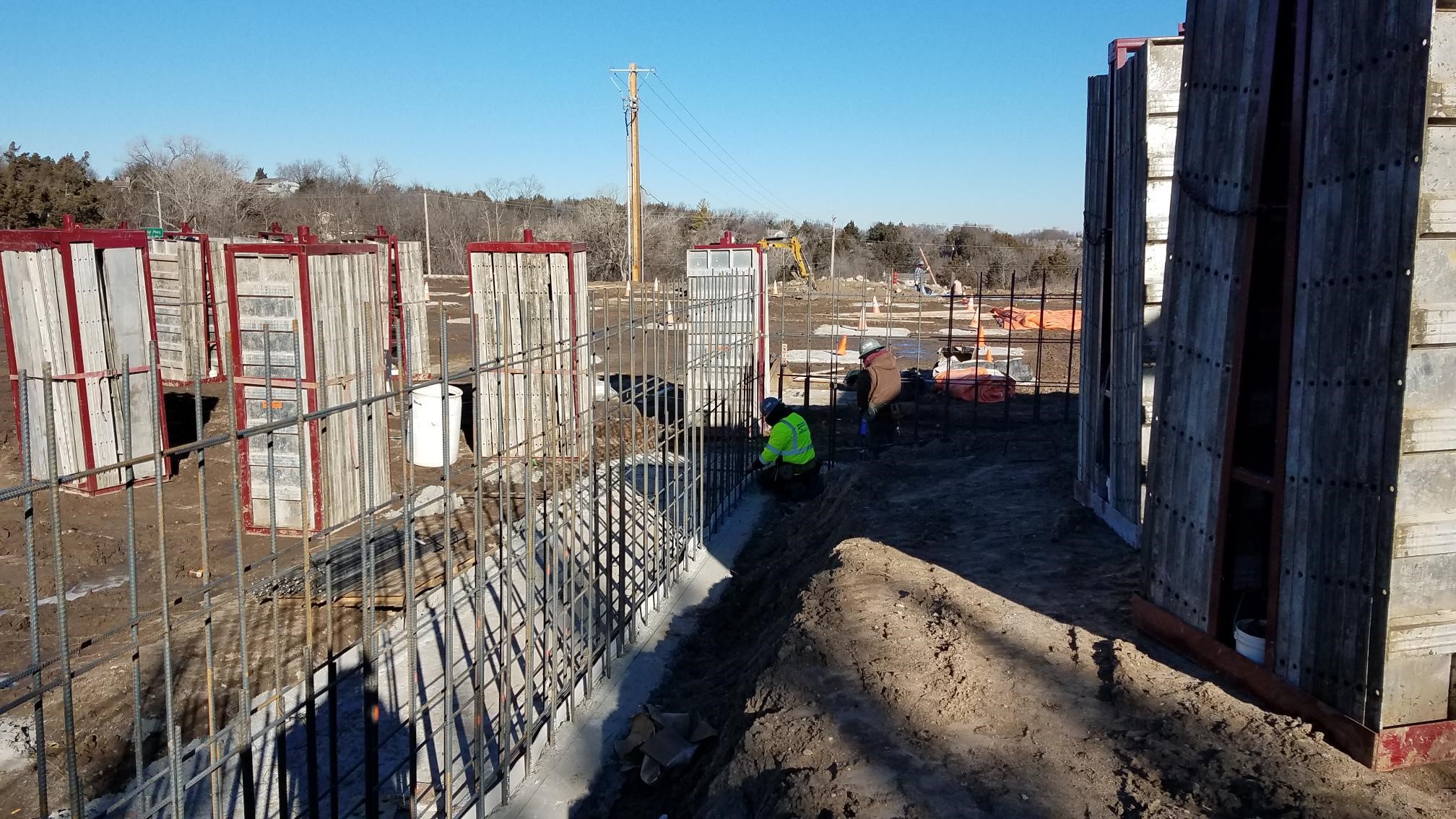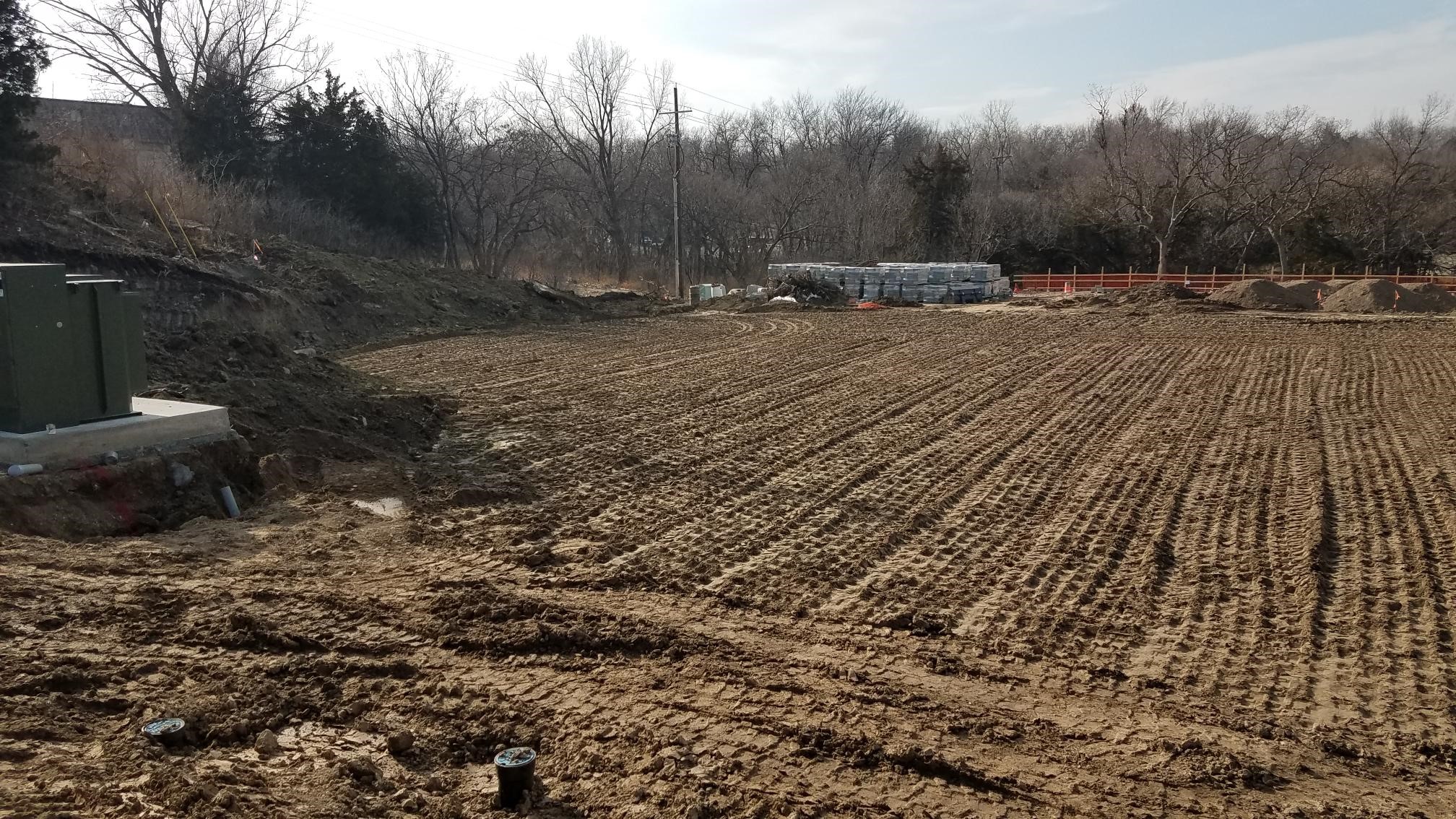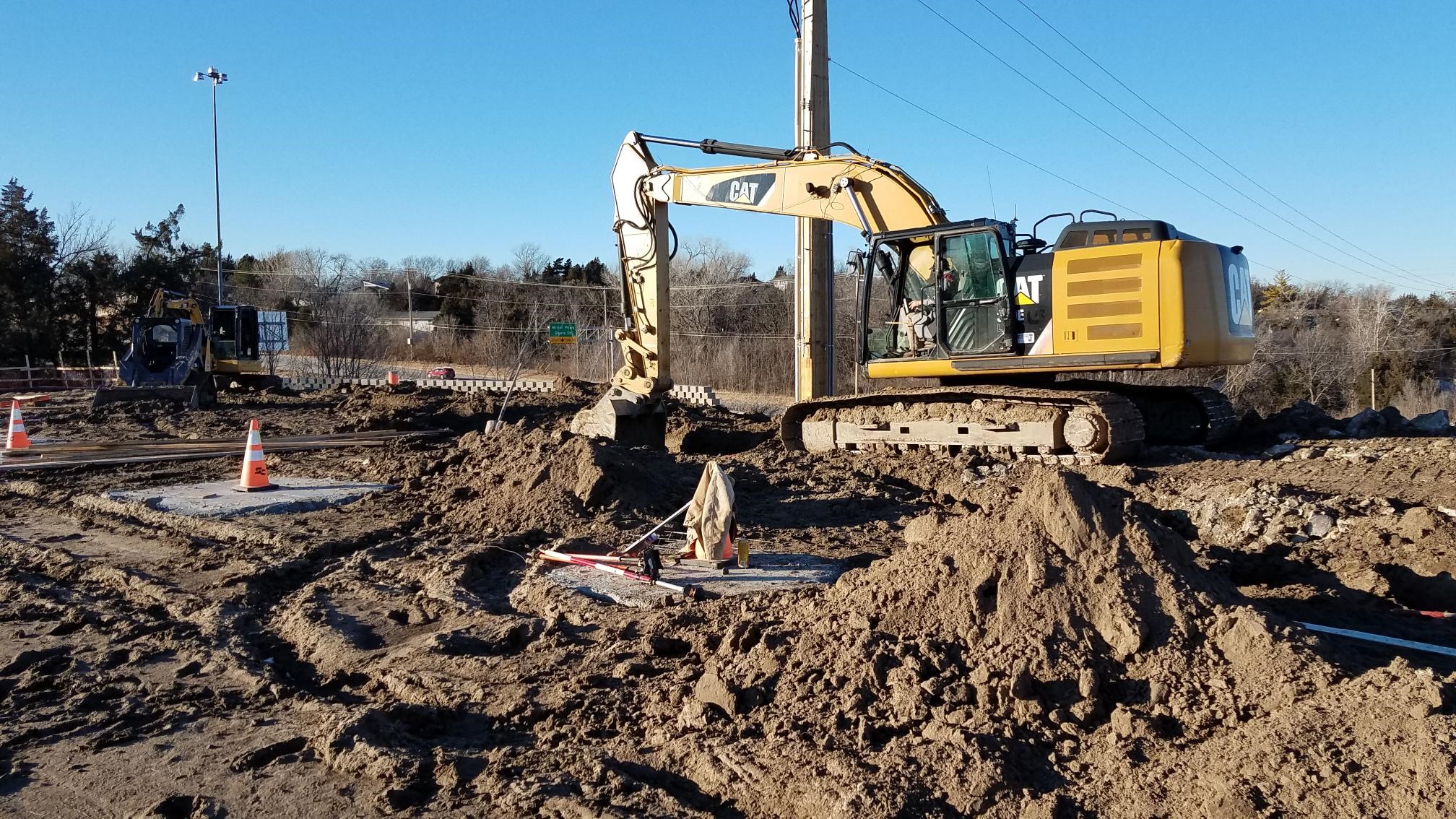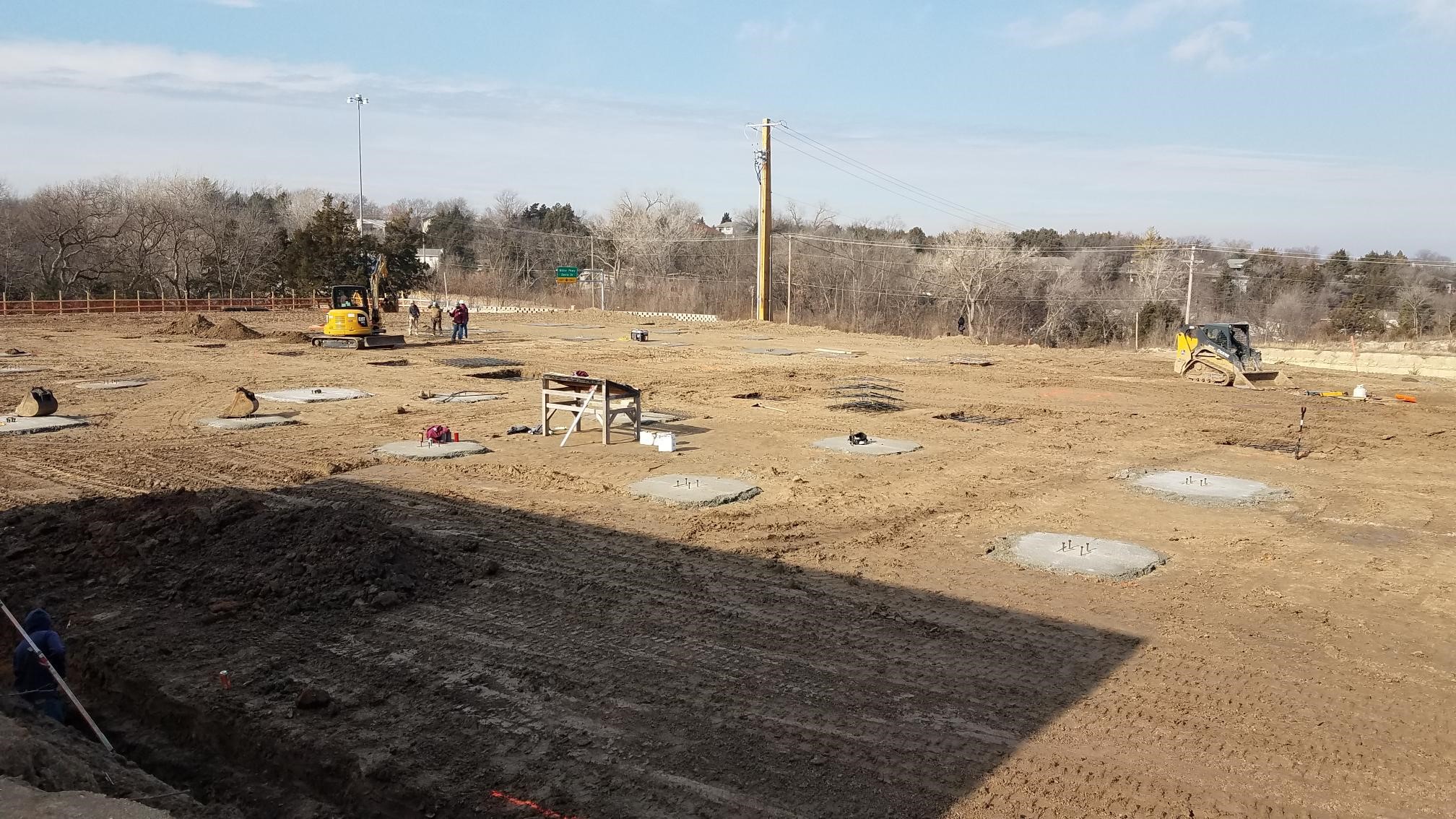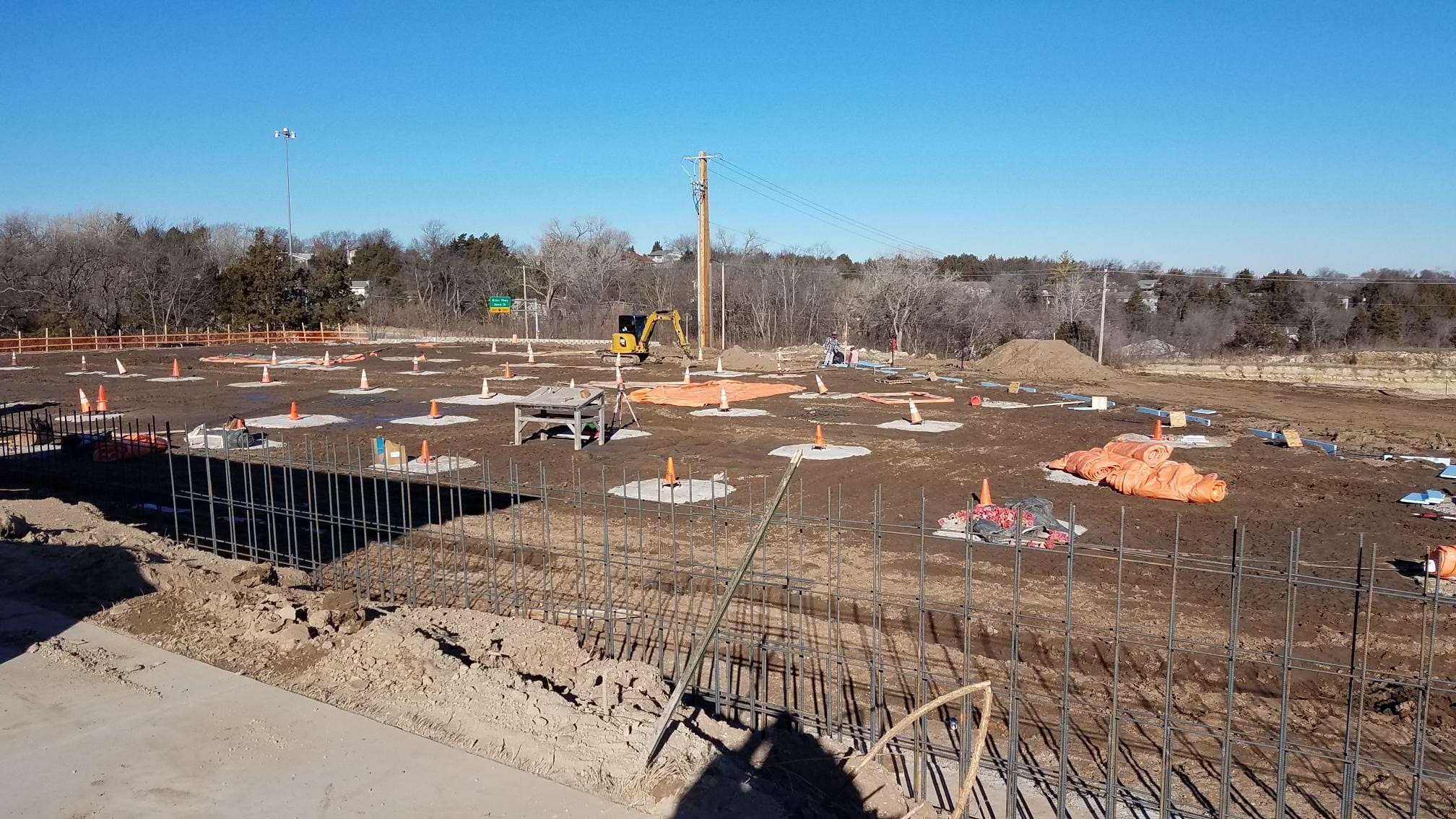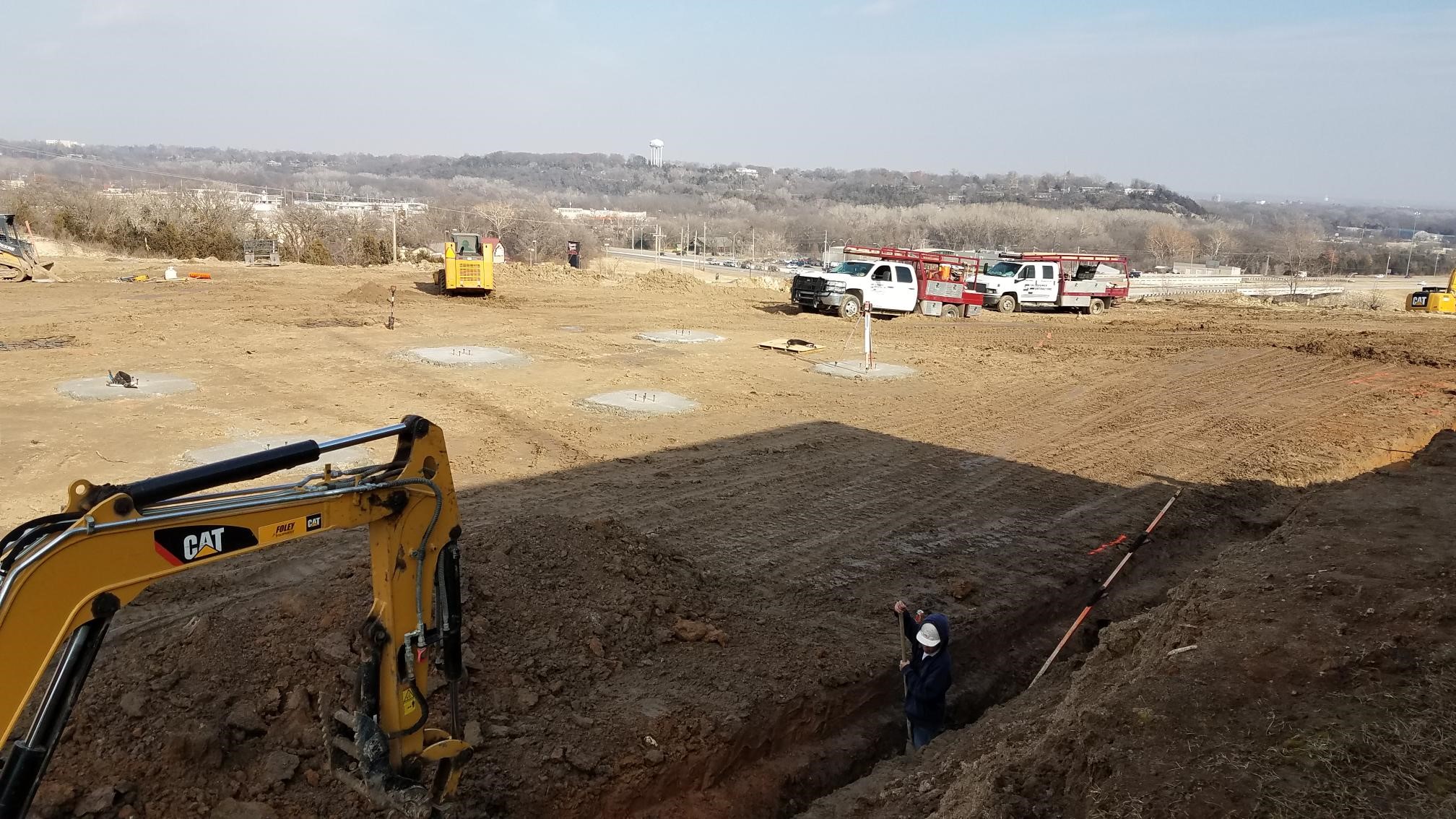 Update 12/27/18
Piers and footings are almost complete, and we're excited to see steel beams standing soon. Stay tuned as the new Genesis rises up on the hilltop!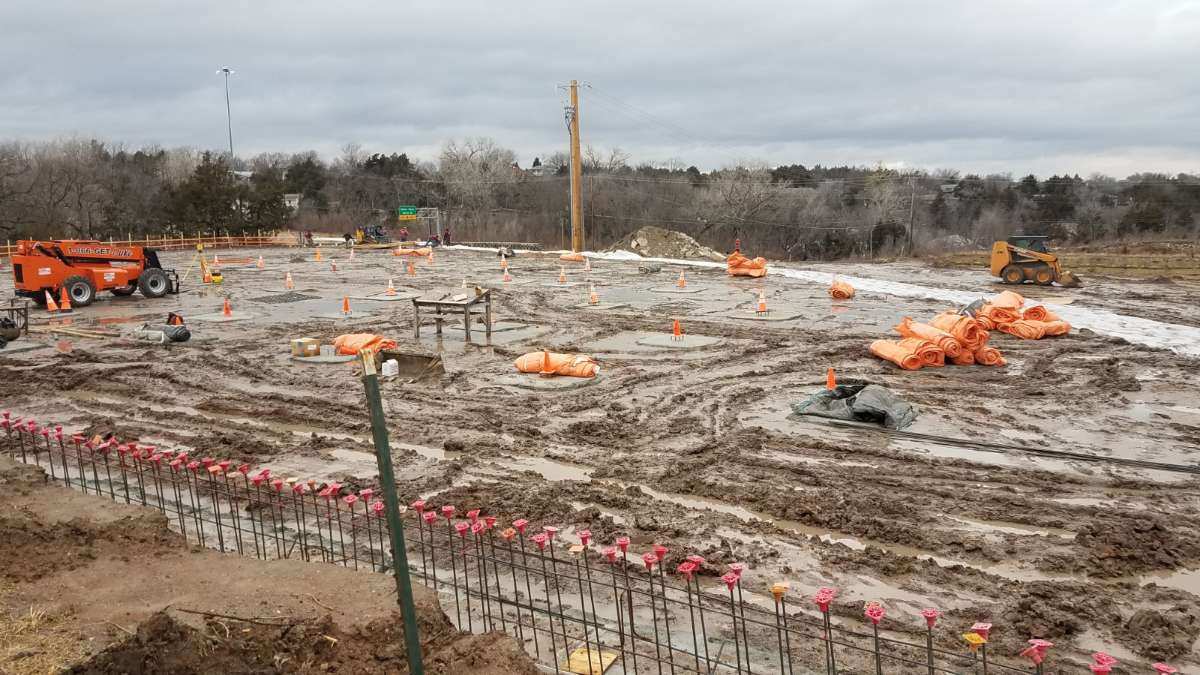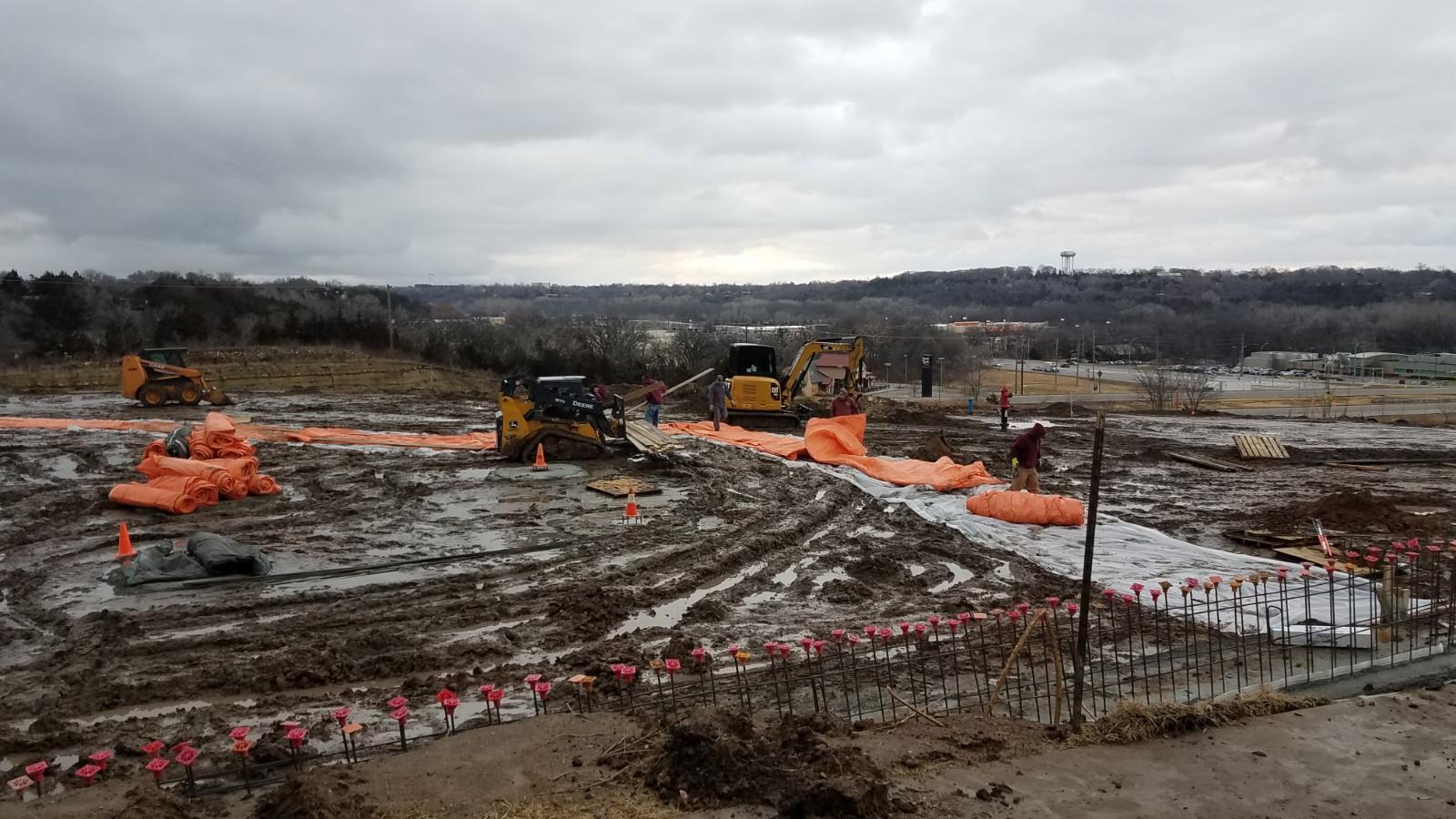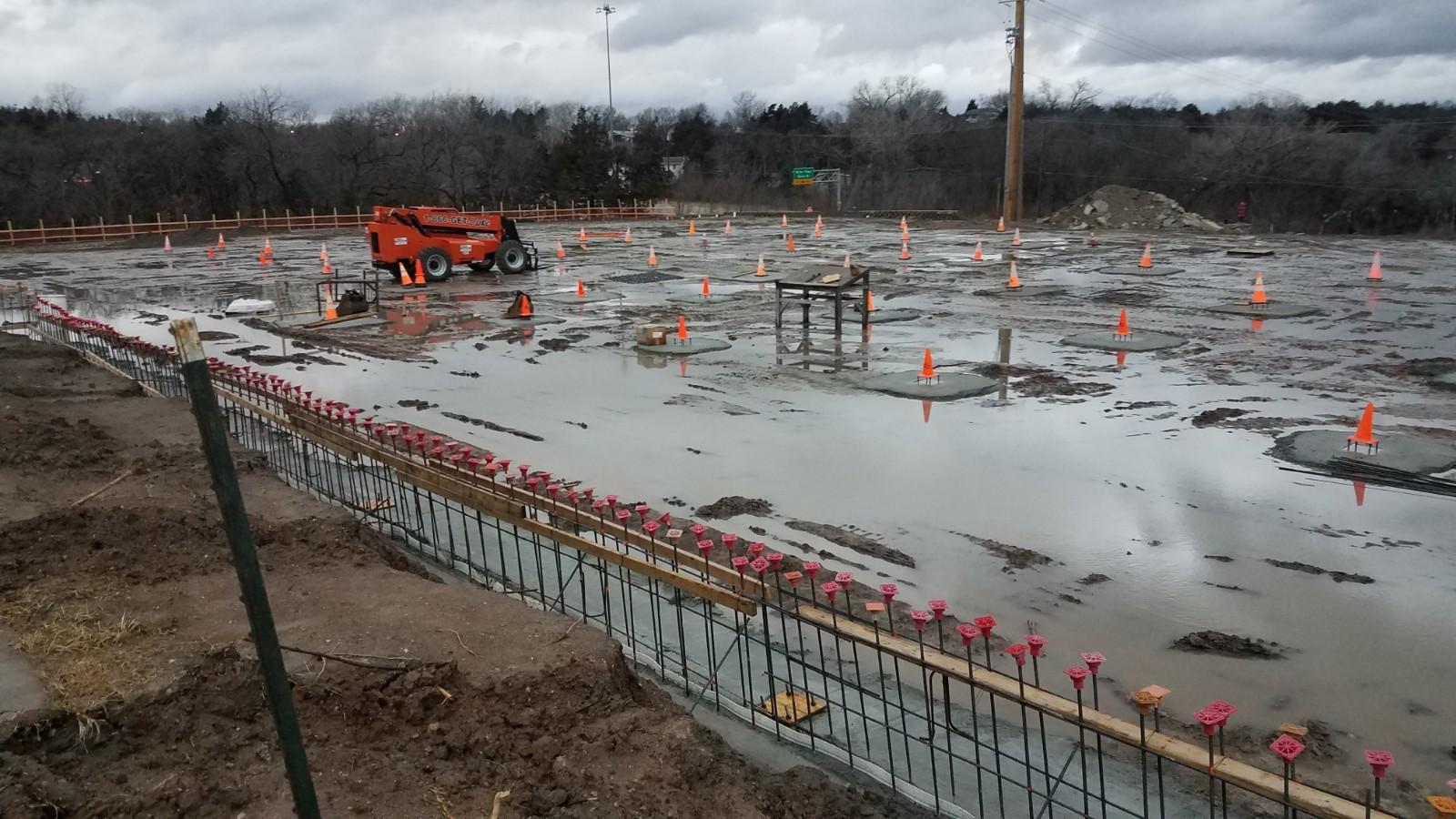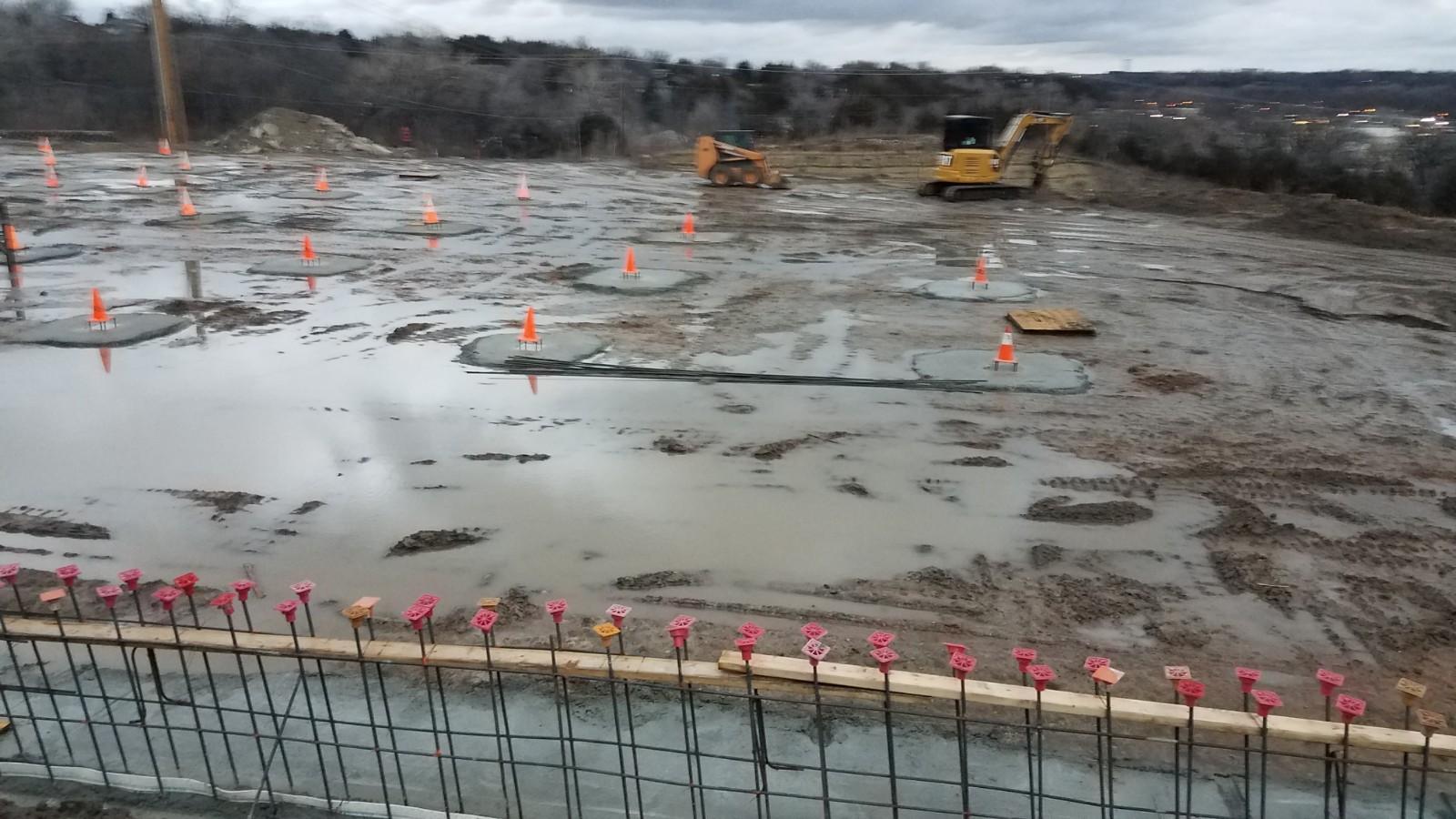 Update 11/15/18
Work on the retaining wall is progressing nicely & all conduits are laid and ready for permanent electrical power. Power and water should be finished shortly, and then we'll move on to other utilities. After that, we're ready to start digging footings and laying concrete. Check out the photos below and stay tuned for more updates!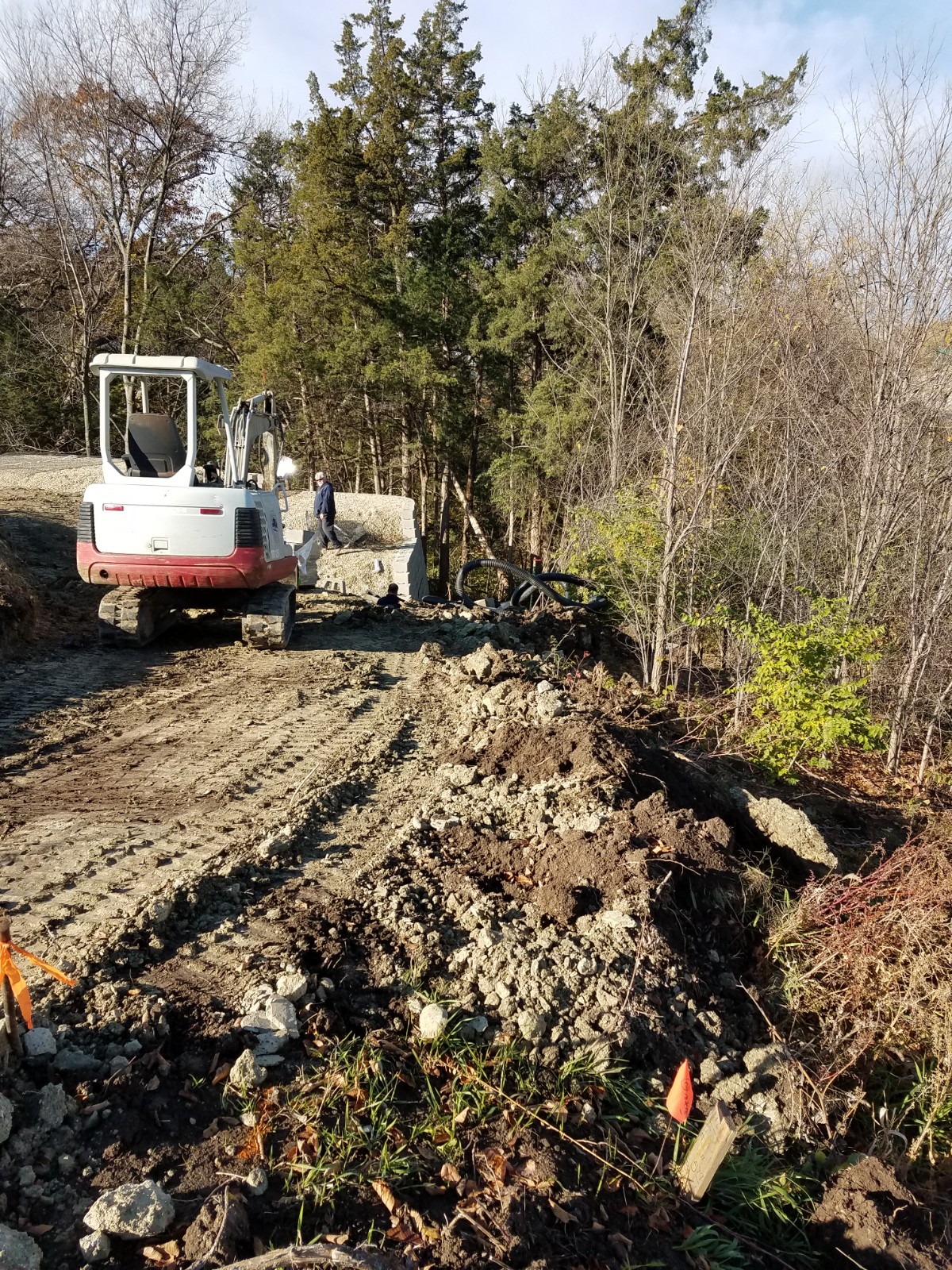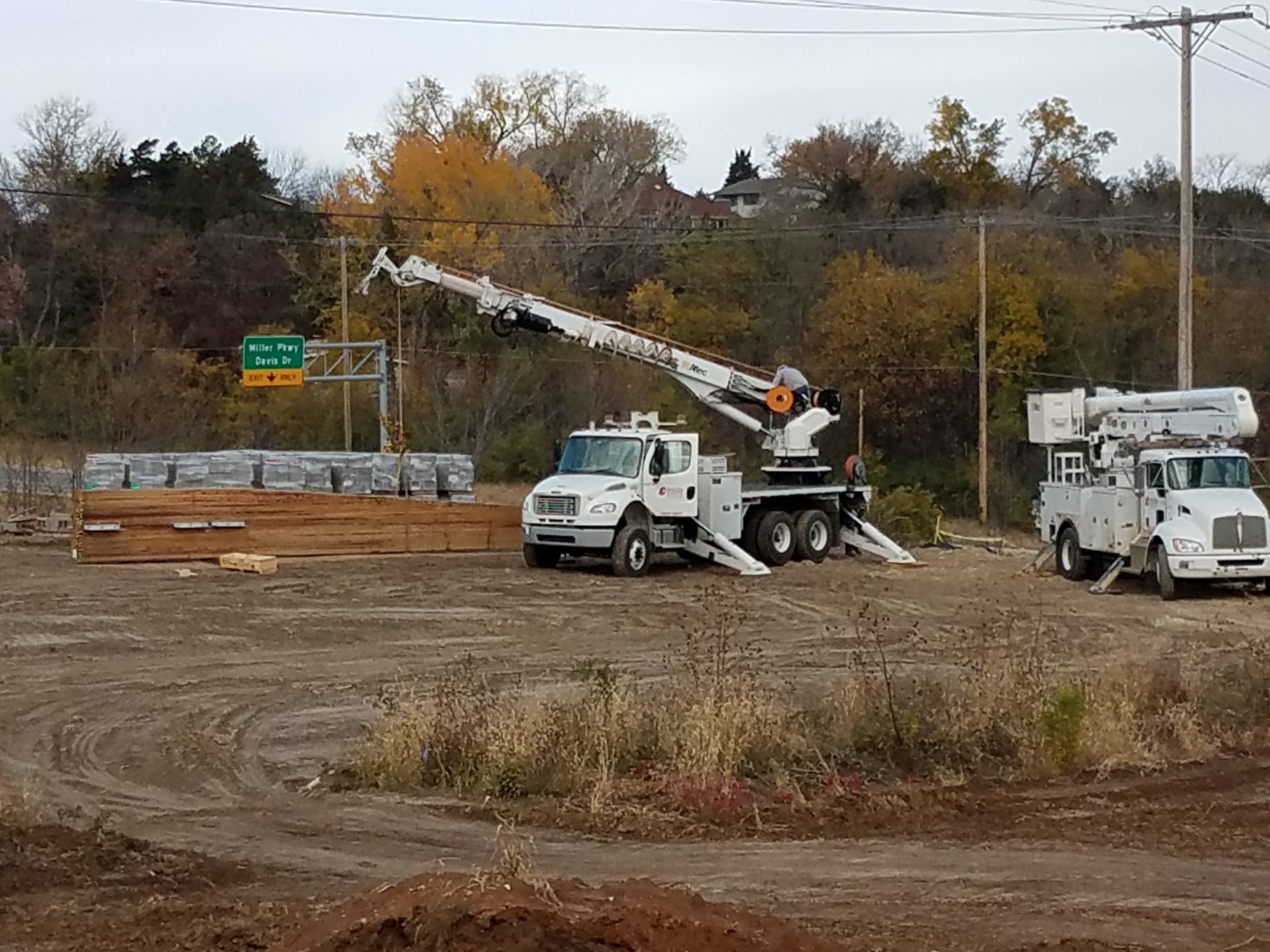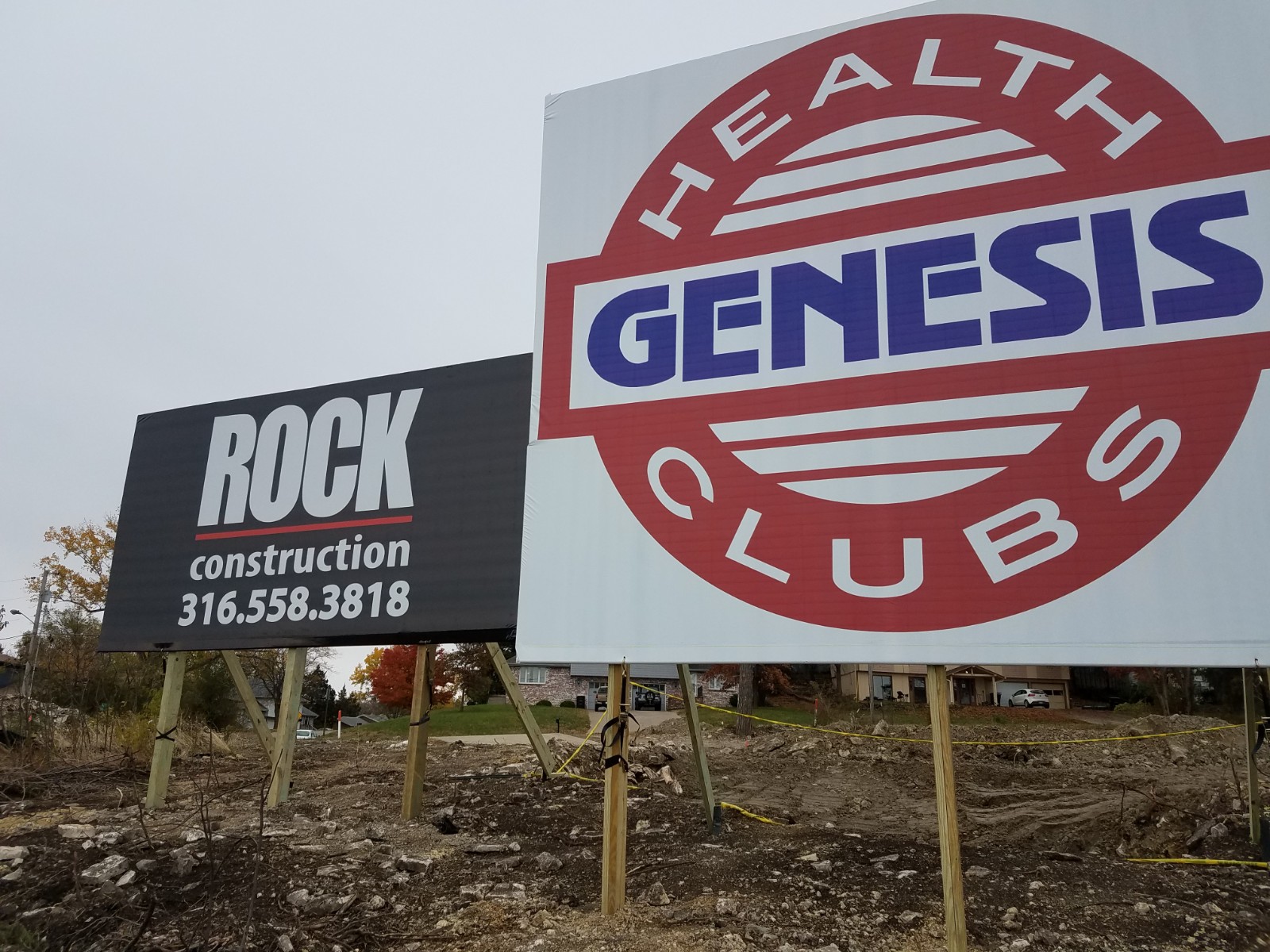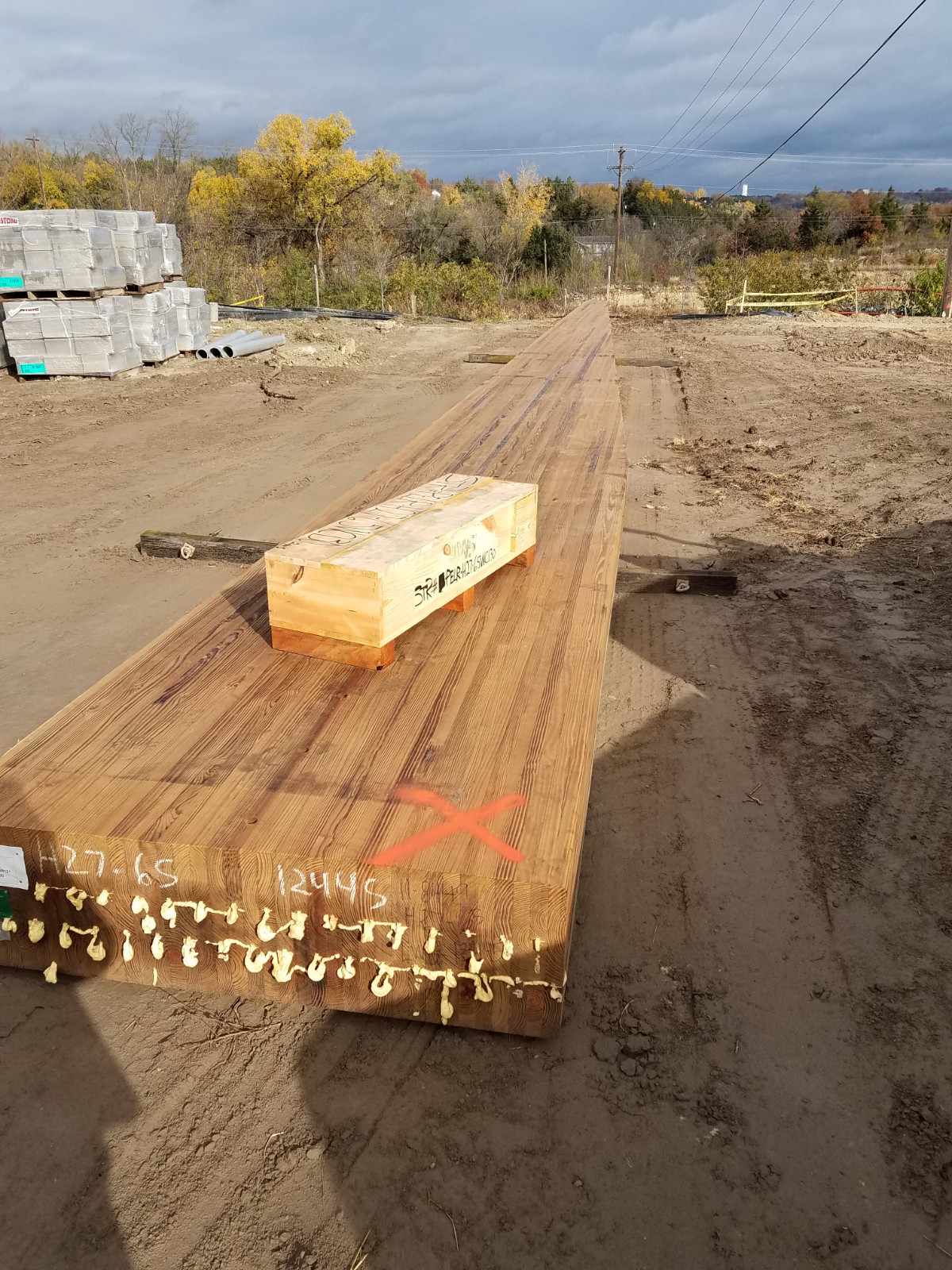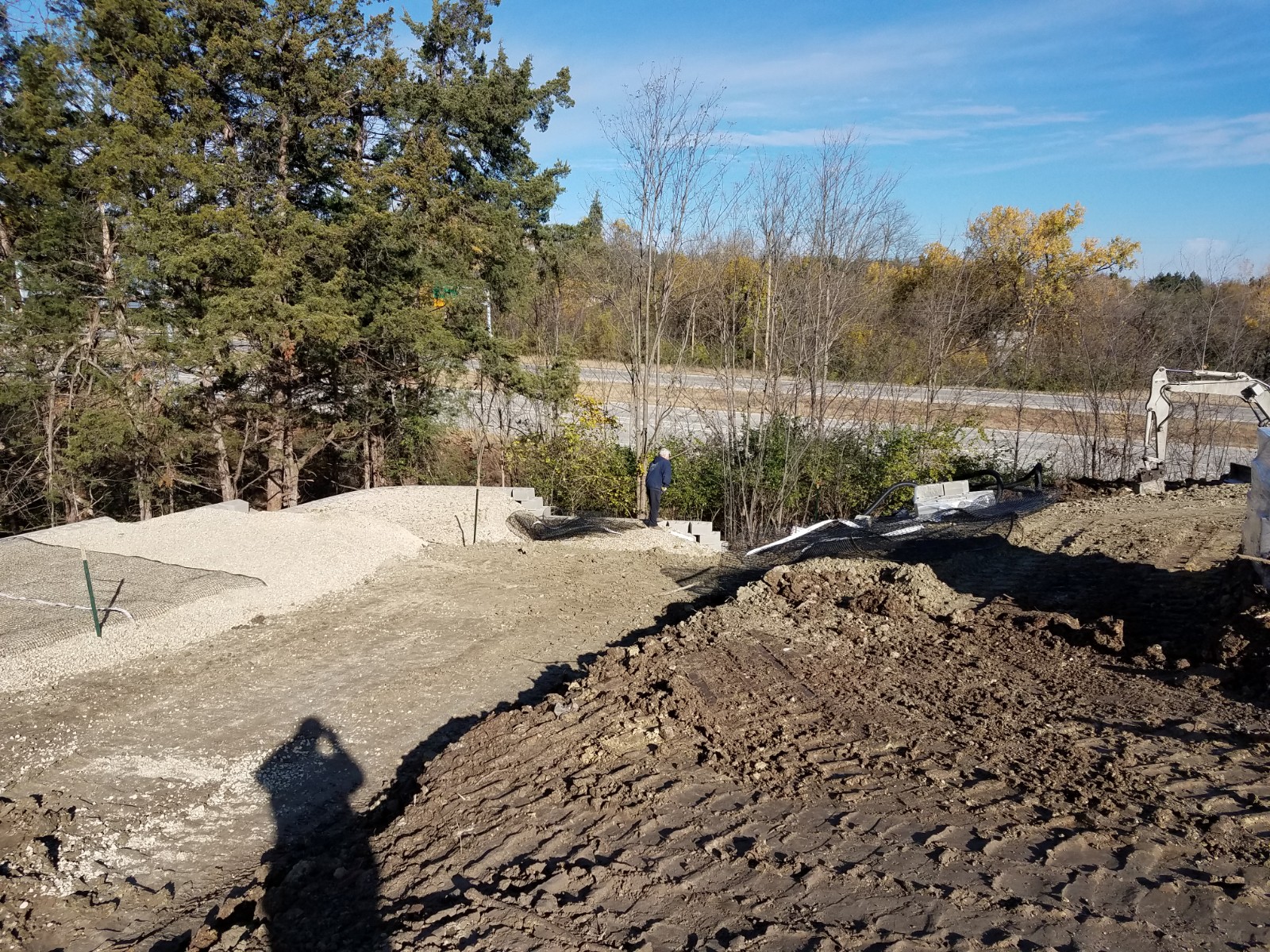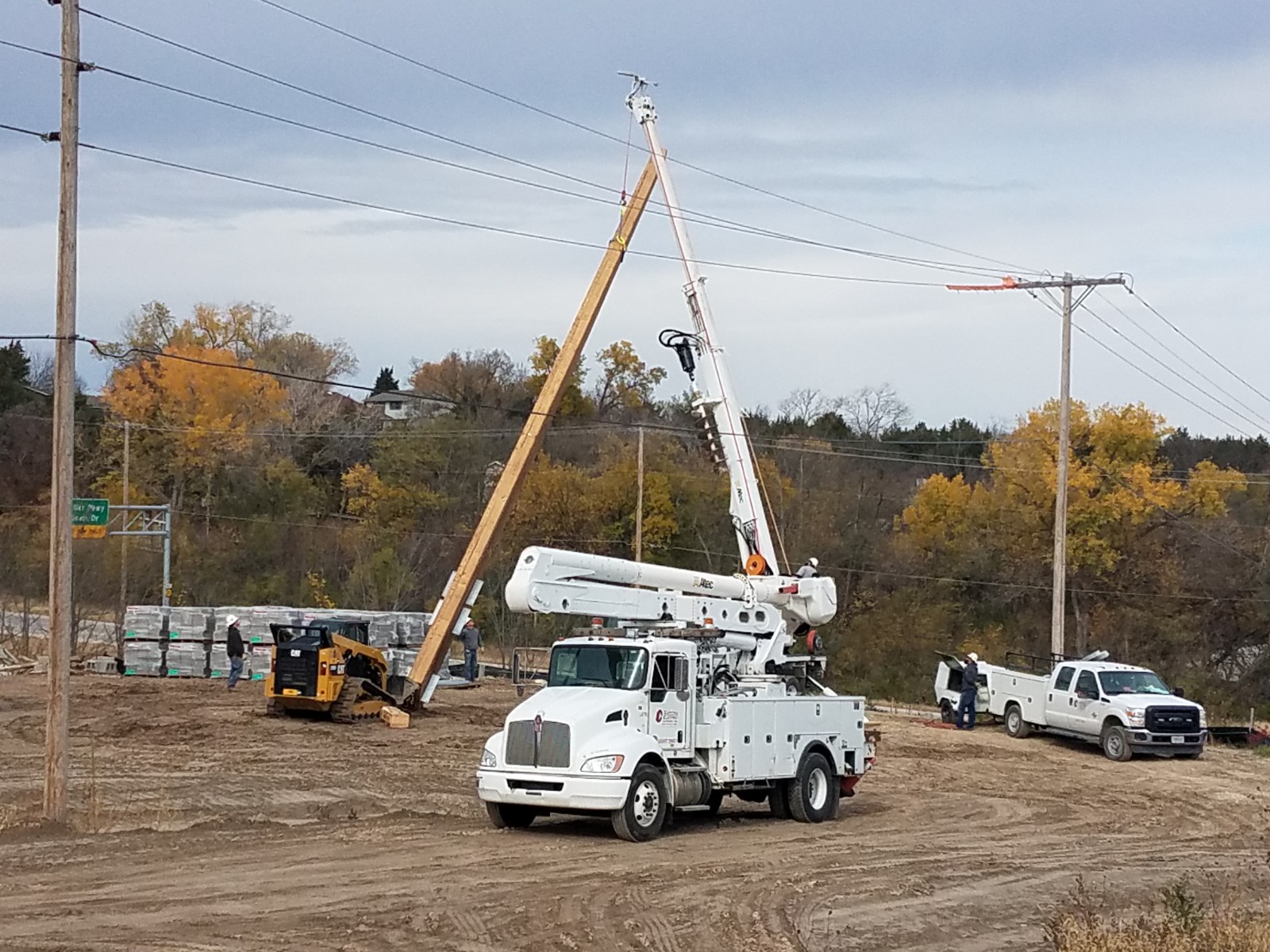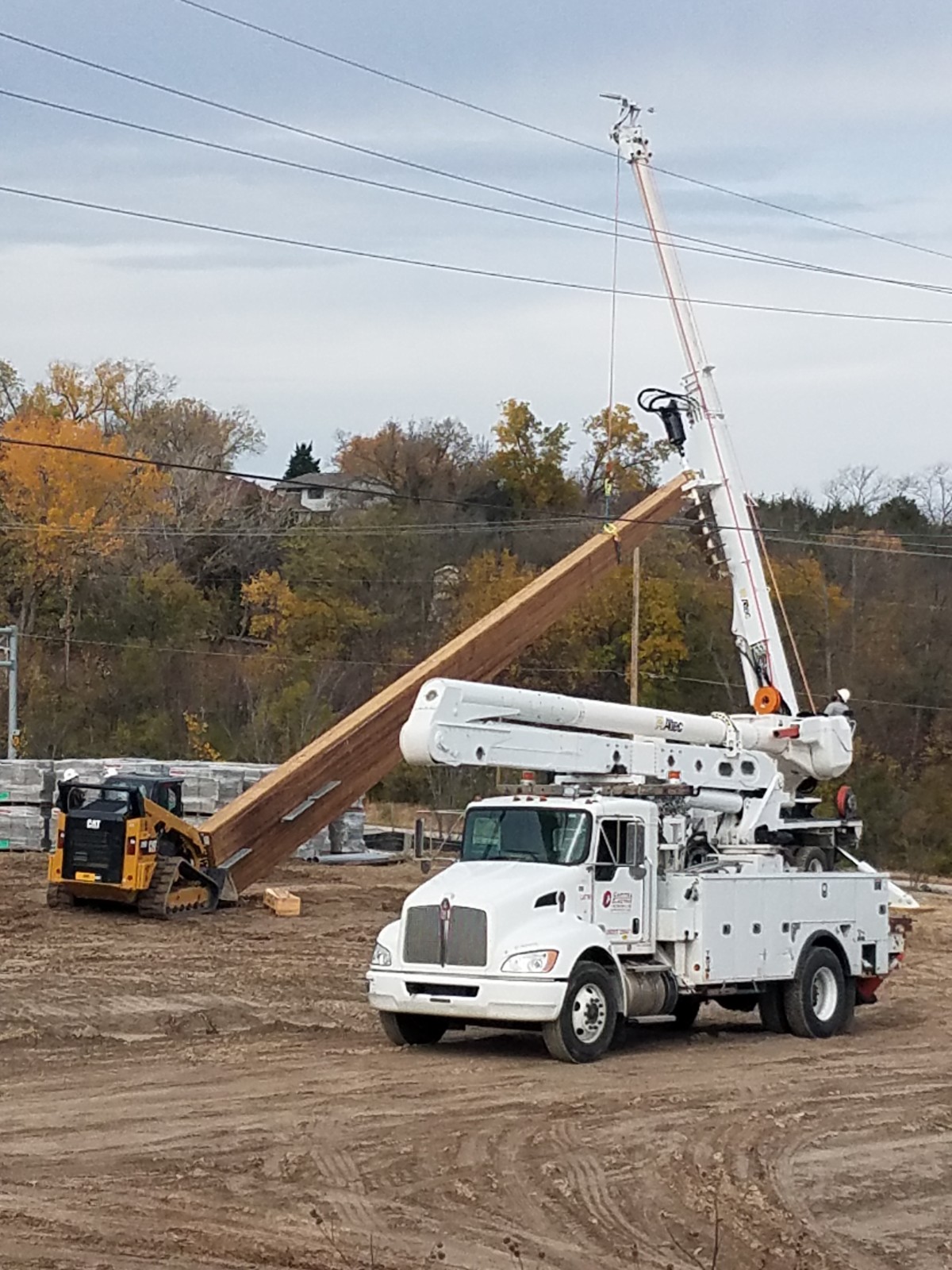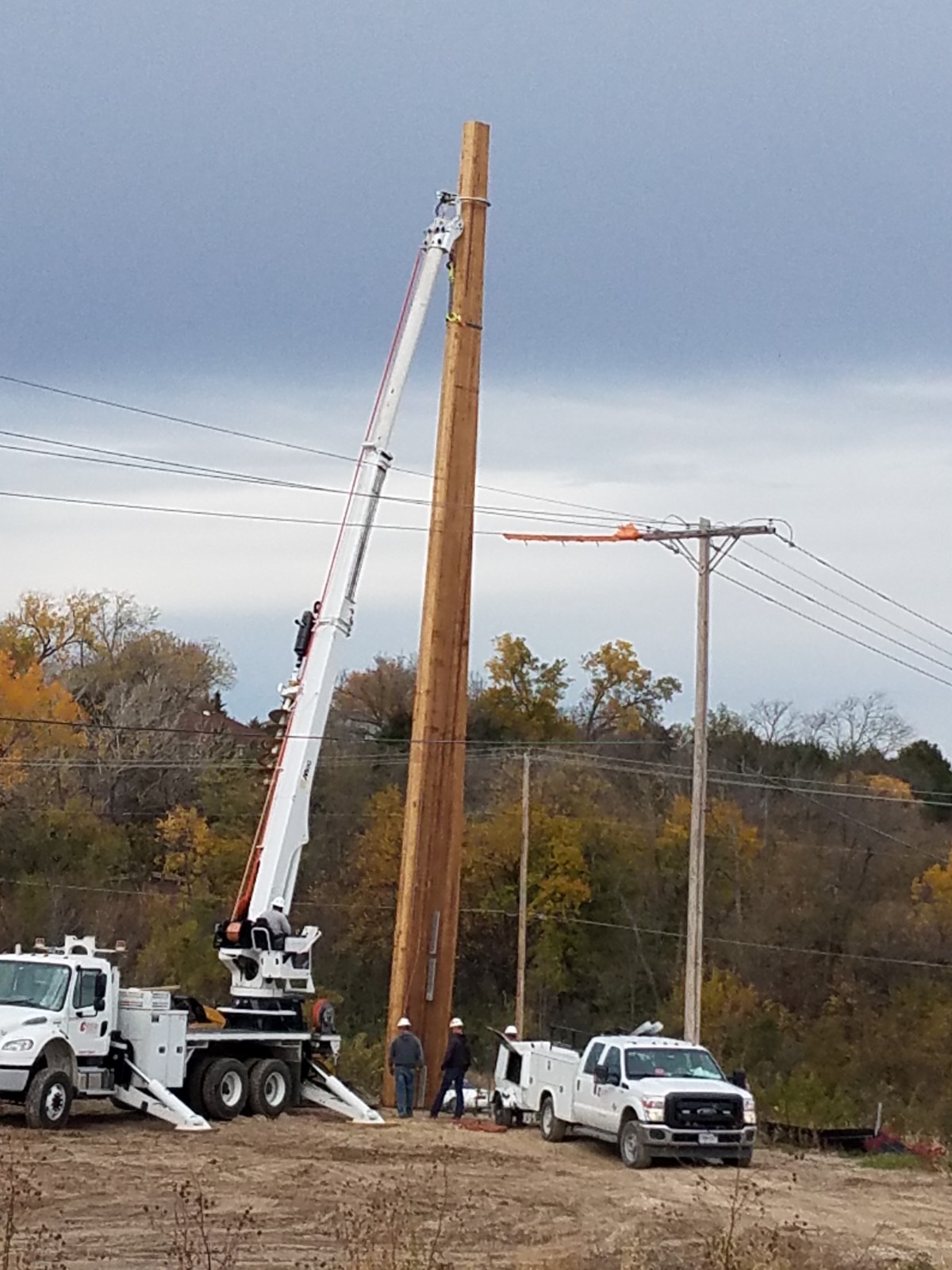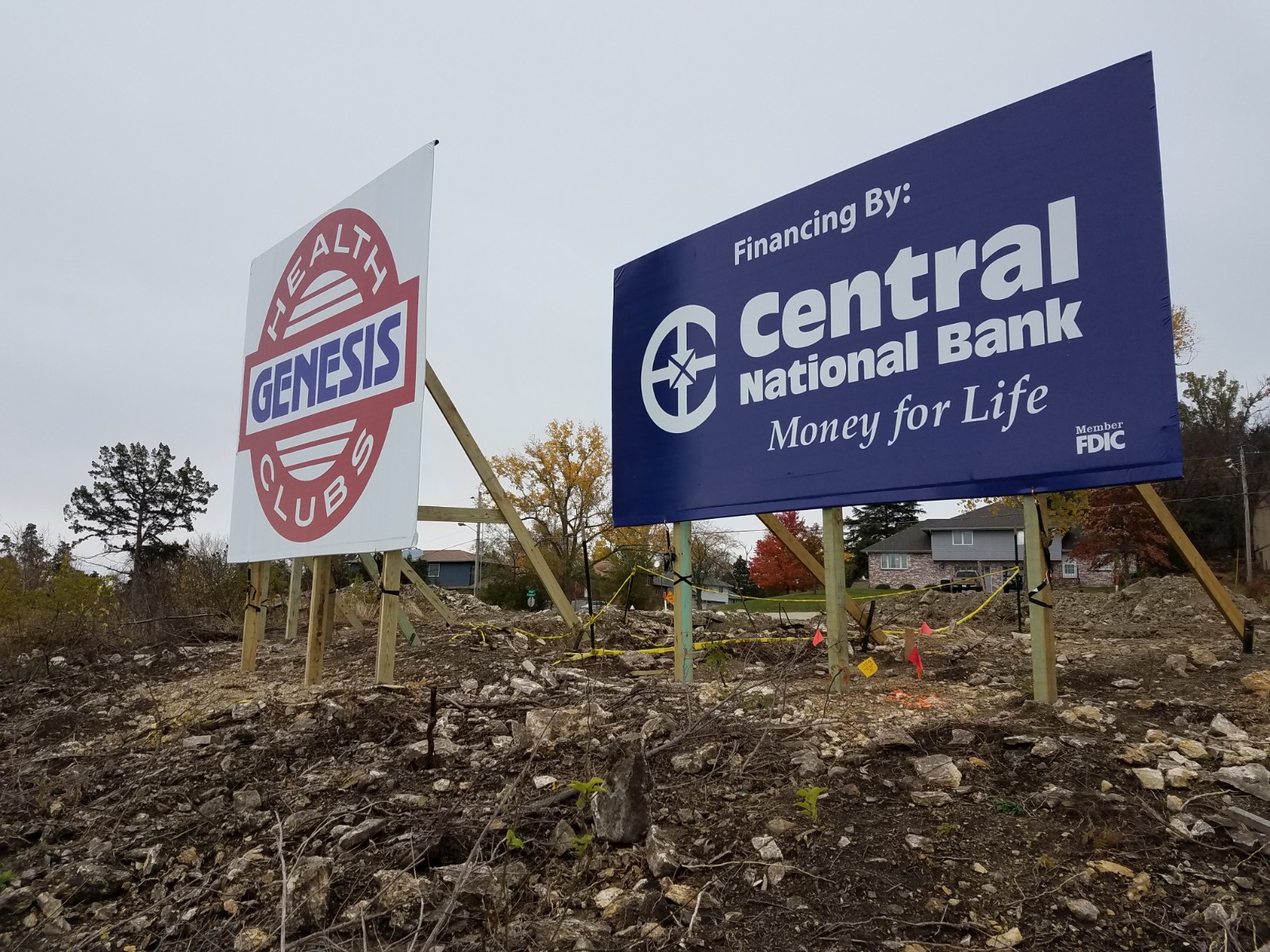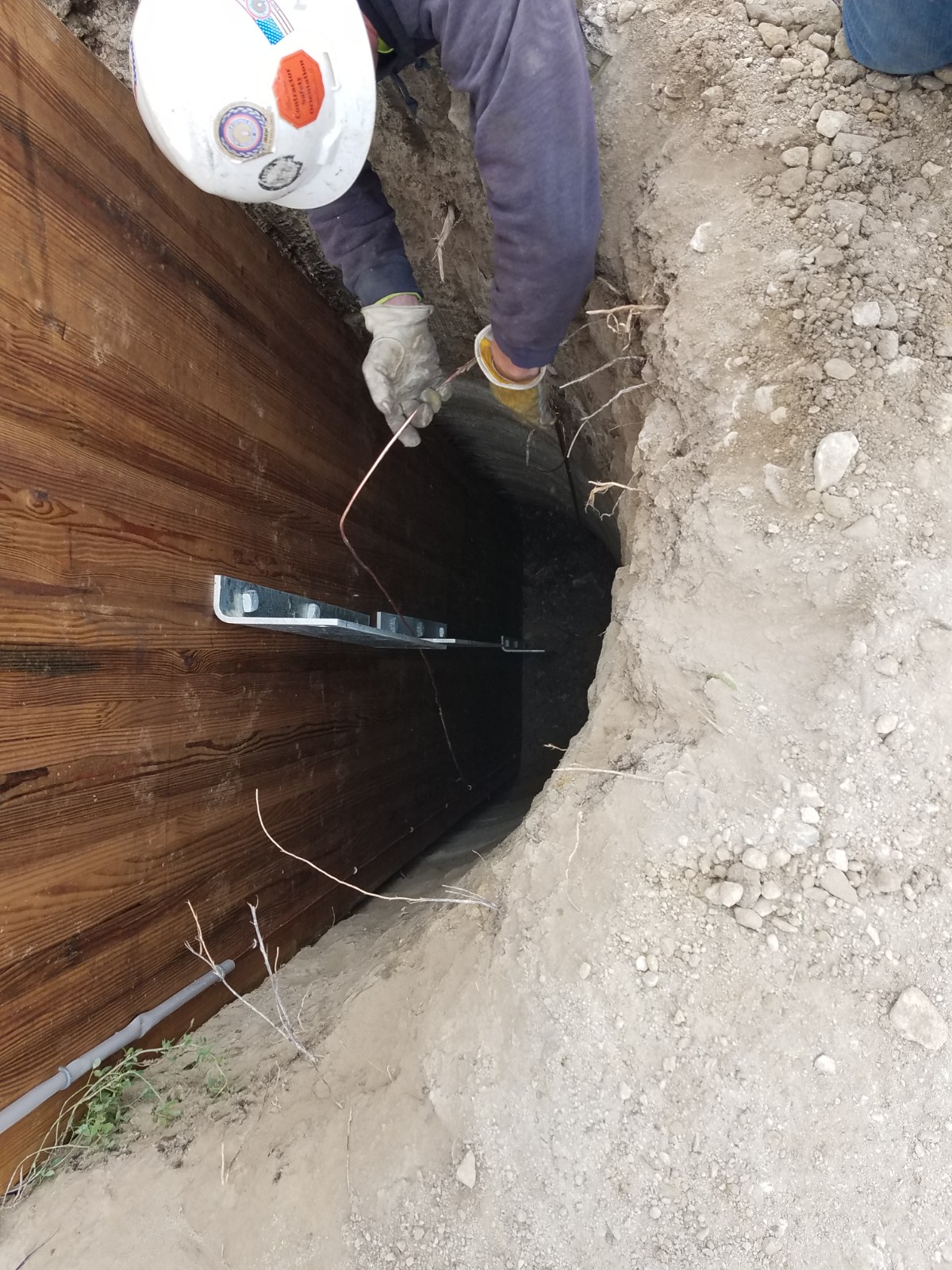 Update 11/7/2018
Construction on the hilltop is in full swing. We've added retaining walls, and we're busy building an underground detention structure to support drainage and prevent flooding. Check out the pictures below and stay tuned for more updates!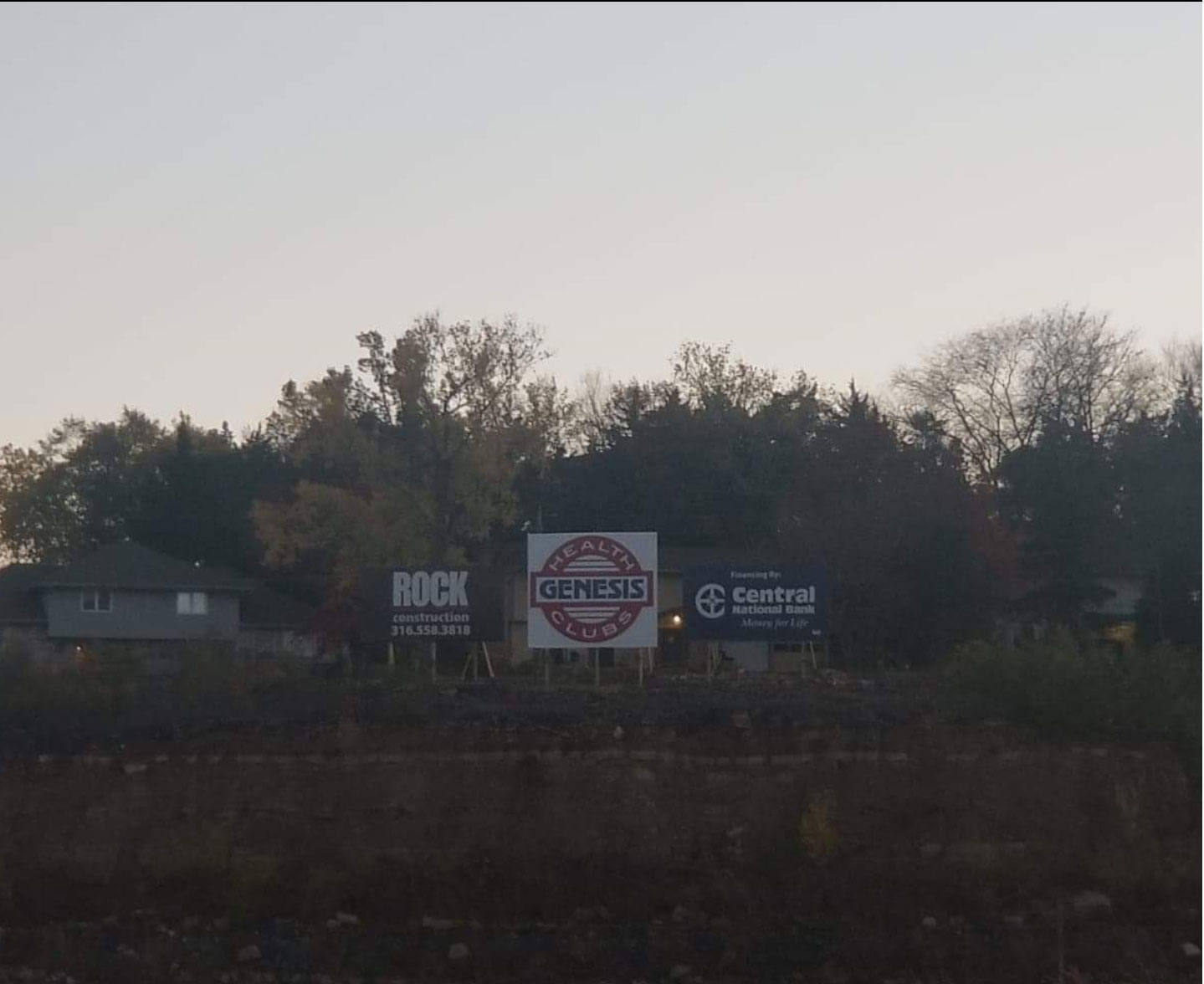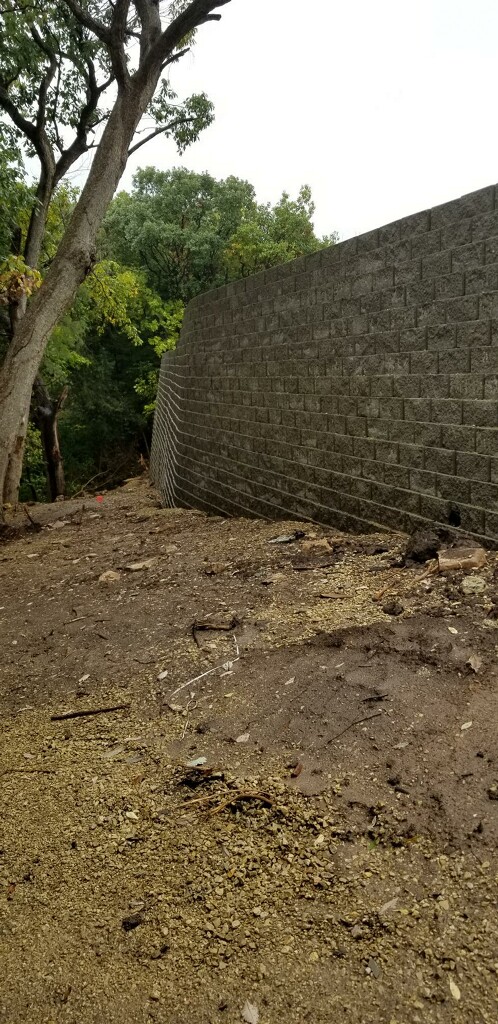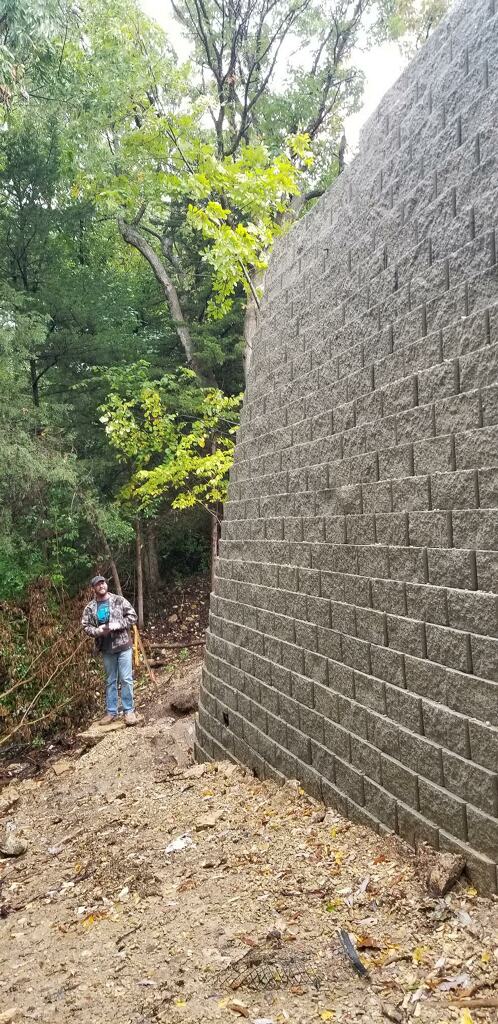 Update 9/20/18
Thank you for your patience during this unexpected time. We are happy to announce that Group Exercise classes are scheduled to resume normal times tomorrow, 9/21. Please check out the Group X schedule to find your favorite classes.
Update 9/14/18
Thank you for your patience as we have been working hard to restore the club to an even better condition than it was before the flood. It has been a major effort and there is still more to do, but we're beginning to see the light at the end of the tunnel.
All of our new cardio equipment is here for your enjoyment. Eight more Stepmills are coming Sunday morning, and everything else is running and being used now. Early next week, the machines will be networked and members will have access to Netflix, Hulu, and Spotify all at the touch of a button, with single log-in convenience.
Most drywall in the club has been removed. City inspections have been successfully completed and we've been given the all-clear to put the drywall back in. Most of the installation should be completed by the end of next week.
Group Exercise classes are scheduled to resume as soon as the drywall is reinstalled. Stay tuned for updates soon.
Many members are already back and working out and the club is an exciting place to be right now. What a great job to our staff and the community for reacting so quickly! Thank you again for your patience as we complete our restoration process, and thank you so much for all of the positive comments. We're committed to making sure the club is even better for our members than it was before and we won't stop until we're there
Update 9/11/18
Special Group Exercise Series at Cico Park!
Starting Wednesday, September 12th, Genesis is offering special Group Exercise classes at Cico park and Bootcamps and Spin classes in the Genesis parking lot! Check out the schedule below! We can't wait to see you there!
Wednesday
9 am - Tone Zone with Diana @ Tennis Court
9 am - Kidfit with Nicole @ Playground
Noon - Power Lunch with Diana @ Tennis Court
5:30 - Tabata with Jhoe @ Tennis Court
5:30 - Group Ride with Jason @ Genesis Parking
Thursday
8:00 am - Yoga with Lane @ 'Kiwanis Shelter' grass area
Noon - Power Lunch with Diana @ Tennis Court
4:45 pm - Boot Camp with Jason @ Genesis Parking
6:30 pm - Zumba with Tanya @ Tennis Court
Friday
6:00 am - Yoga with Lane @ 'Kiwanis Shelter' grass area
8:00 am - Tone Zone with Diana @ Tennis Court
10:00 am - Pilates with Lenay @ 'Kiwanis Shelter' grass area
10:00 am - Kidfit with Meredith @ Playground
4:30 pm - Group Ride with Jason @ Genesis Parking
Saturday
9:00am - Tabata with Jhoe @ Tennis Court
9:30 - Yoga with Joel @ 'Kiwanis Shelter' grass area
Sunday
3:00pm - Zumba with Grisel @ Tennis Court
5:30 pm - Yoga with Hannah @ 'Kiwanis Shelter' grass area
The Tennis courts & playground are located at Wreath Ave & Dickens Ave. Kiwanis Shelter is located at Avery Ave & Robinson Dr. Please call the front desk for details and/or questions.
Manhattan Club Status Update
A little more than a week ago, Manhattan was ravaged by a major flood. We immediately snapped into action, bringing in over sixty employees, volunteers, and disaster restoration specialists on a holiday to clean and dry the club as quickly as possible. Fortunately, this quick reaction and hard work will pay off in the long run but we still have a lot to get done.
The club is open and now clean, dry and getting better every day. Currently, the drywall that was affected by the flood is being removed, the walls being treated and then inspected. Once completely treated and inspected we will then cover the walls back up and paint. So please excuse the mess but we plan to have all affected drywall completed this week. We have suspended all Group Fitness classes this week with a goal of resuming them next Monday – we will know more on the progress in the next few days and will keep you updated.
Since the flood, new cardio equipment is arriving with another load coming in right now and will finish by Thursday. It is top-of-the-line cardio equipment, complete with Netflix, Hulu and Spotify access for our members to enjoy. In addition, we have replaced flooring in the Kid's Club and all new toys are coming for the Kid's Club. We started the drywall process in the Kids Club first today and hoping to get it 100% complete by Thursday of this week and will report back soon on when the kids club is 100%.
There are a few offices that need flooring work as well and we are well underway and plan to have this completed before Friday as well.
In the meantime, we will be hosting a series of special fitness classes in Cico park and bootcamps in the parking lot of the club, all free to the community. Stay tuned to this page for dates and times.
Finally, as we speak, construction is speeding along on our new premier hilltop club. The multi-million-dollar luxury facility will feature all the amenities our members love at the current club, plus tennis, an indoor swimming pool, premium locker room with built-in locks, granite countertops, and full towel service. In addition, an upscale spa will be included, featuring massage, facials, skin care, cold water bath, therapy pools, hot tubs, steam rooms and dry saunas.
The new facility will be the largest and most luxurious in Manhattan history and will be available for use at no additional charge to all current Genesis Health Clubs members.
From day one, we have been committed to recovering and making the facility even better for our members than if the flooding had never happened. Between the upgraded equipment, new toys and carpeting and special classes, we will emerge with a better product than before and with our same relentless focus on bringing results for life to our members.
Update 9/6/18
New Cardio Equipment Arriving Soon in Manhattan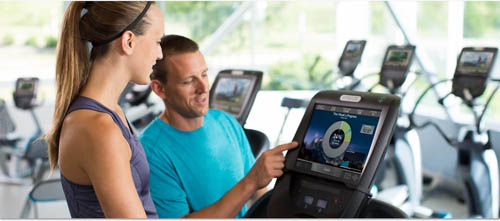 Exciting News! Over the next few days, we will be bringing in dozens of new top-of-the-line cardio machines for your enjoyment. The new treadmills, ellipticals, climbers and bikes will feature premium high-tech features including:
Wireless Bluetooth capabilities for easy sign-in and wire-free headphones
Netflix App Access
Spotify App Access
Hulu App Access
Video on Demand
Single Sign-in for all Apps After Account Setup
Most machines should arrive between Saturday and Monday. We'll be beefing up our wifi signal over the coming days to accommodate all the premium video content you'll have access to as the new equipment arrives.
Check out this video overview of all the new features!
In addition, cleanup of the facility is going extremely well. We have already replaced carpeting in the Kid's Club in preparation for its reopening on Monday, and we have fifteen dehumidifying units running 24/7 to make sure everything stays dry and clean. Please bear with us during this process and enjoy your new exclusive, cutting-edge equipment in the meantime!
Update 9/4/18
Genesis Health Clubs – Manhattan Reopening
Due to the hard work of a small army of employees, disaster restoration specialists and volunteers, we are extremely pleased to announce that we will reopen on Wednesday, September 5th at 8:00 a.m.!
The weight room will be fully operational and ready for your workouts at 8:00 a.m. Wednesday.
Much of the cardio equipment was damaged or destroyed during the flooding. We are bringing in dozens of new cardio machines on Friday and Saturday to replace what was lost. Please bear with us over the next few days as we prepare for this massive arrival of equipment.
In the meantime, we invite you to use this as a learning experience. Personal Trainers will be on hand to help our cardio friends learn the basics of strength training equipment before the new cardio arrives. This service will be available free of charge. Just find a team member in a purple shirt and they will be happy to help you.
Group Exercise will resume with a limited schedule beginning 5 p.m. on Wednesday. Full group schedules will resume on Monday, September 10th.
Kid's Club will reopen with normal hours on Monday, September 10th. We have decided to replace all carpet in the Kid's Club, and will be doing so over the next few days. Please bear with us as we make these repairs and restock the kid's club so that all children can have a safe, stimulating environment for play.
Thank you for your patience. This has been a difficult disaster for the entire community, but we are determined to bounce back twice as strong and give you the premium fitness experience in Manhattan.
Stay tuned for more updates coming soon on our new Hilltop location, currently under construction!
Update 8/29/2018
Retaining walls going up
Check out the latest updates on the new Manhattan club. Some serious dirt is being moved and retaining walls are being built. Stay tuned for more updates.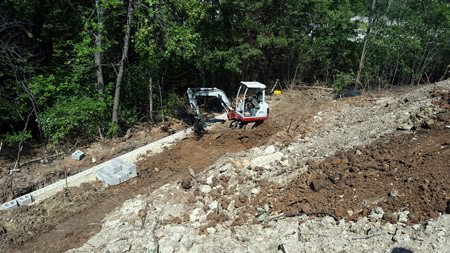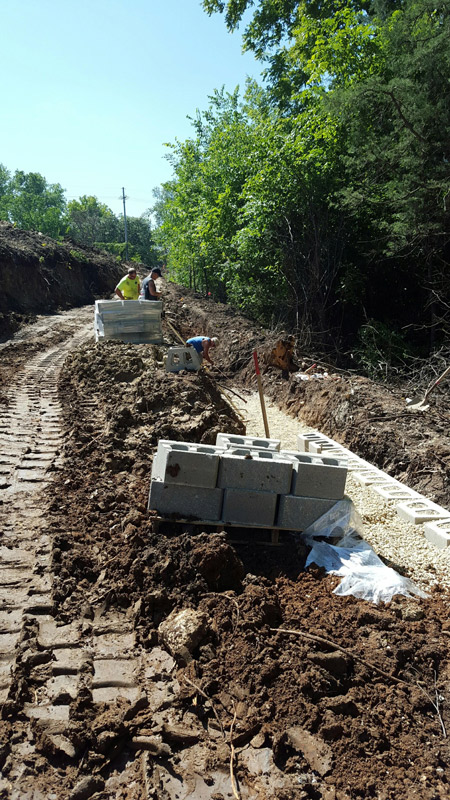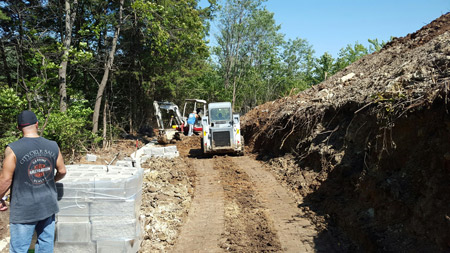 Manhattan Construction Underway
Construction is well underway for the new Manhattan Genesis Health Clubs location. the 70,000 square foot, multi-level health club will include swimming, an indoor running track, basketball court, exercise studios, luxury spa, indoor tennis courts, cardio, weights and personal training.
Q&A with Genesis Health Clubs Owner Rodney Steven II:
Q: When will construction start? When will it be finished?
A: Construction is already underway! Heavy equipment is busy stripping the site and balasting rock. Ultilities are next up and should start within the next few days. You'll see steel in the air before the end of the year as the building starts to take shape. It's a little early to give a grand opening date, but we're currently estimating the last half of 2019. Weather can always affect the timetable, but that should give you a rough idea.
Q: What can members expect from the new club?
A: Get ready Manhattan! Luxury locker rooms, swimming pools, tennis courts, granite counter tops, towel service, indoor running track, hot tubs, steam rooms, dry saunas… It's a whole other level.
Q: Why are you building this new facility?
A: There's such a need for a facility like this in Manhattan. There's a pent up demand, not only for health and fitness, but also the sense of community and the social aspects that come with an upscale tennis center and health club like this. I've seen it firsthand so many times; when done right, this will absolutely change a community for the better.
Site Photos: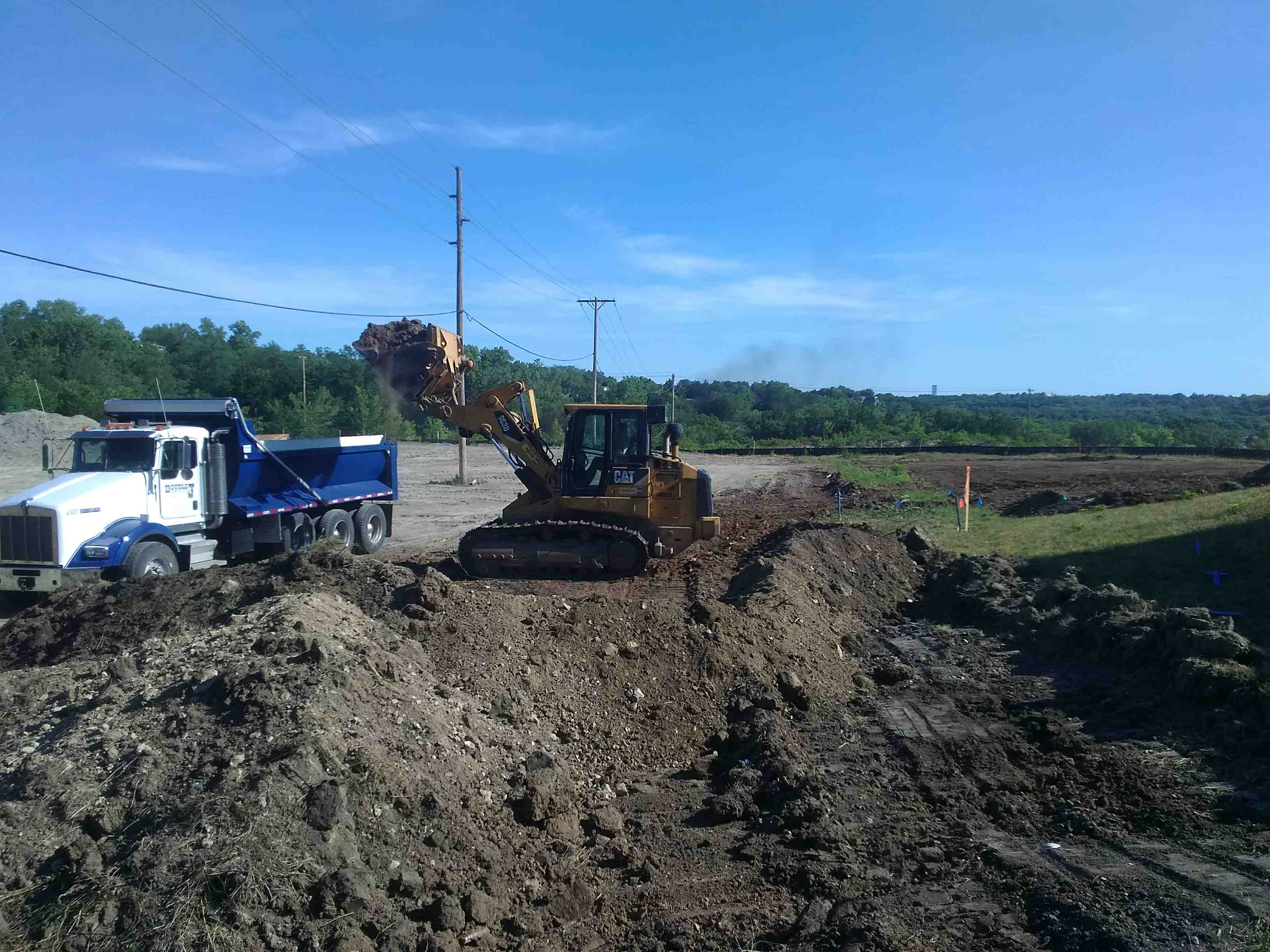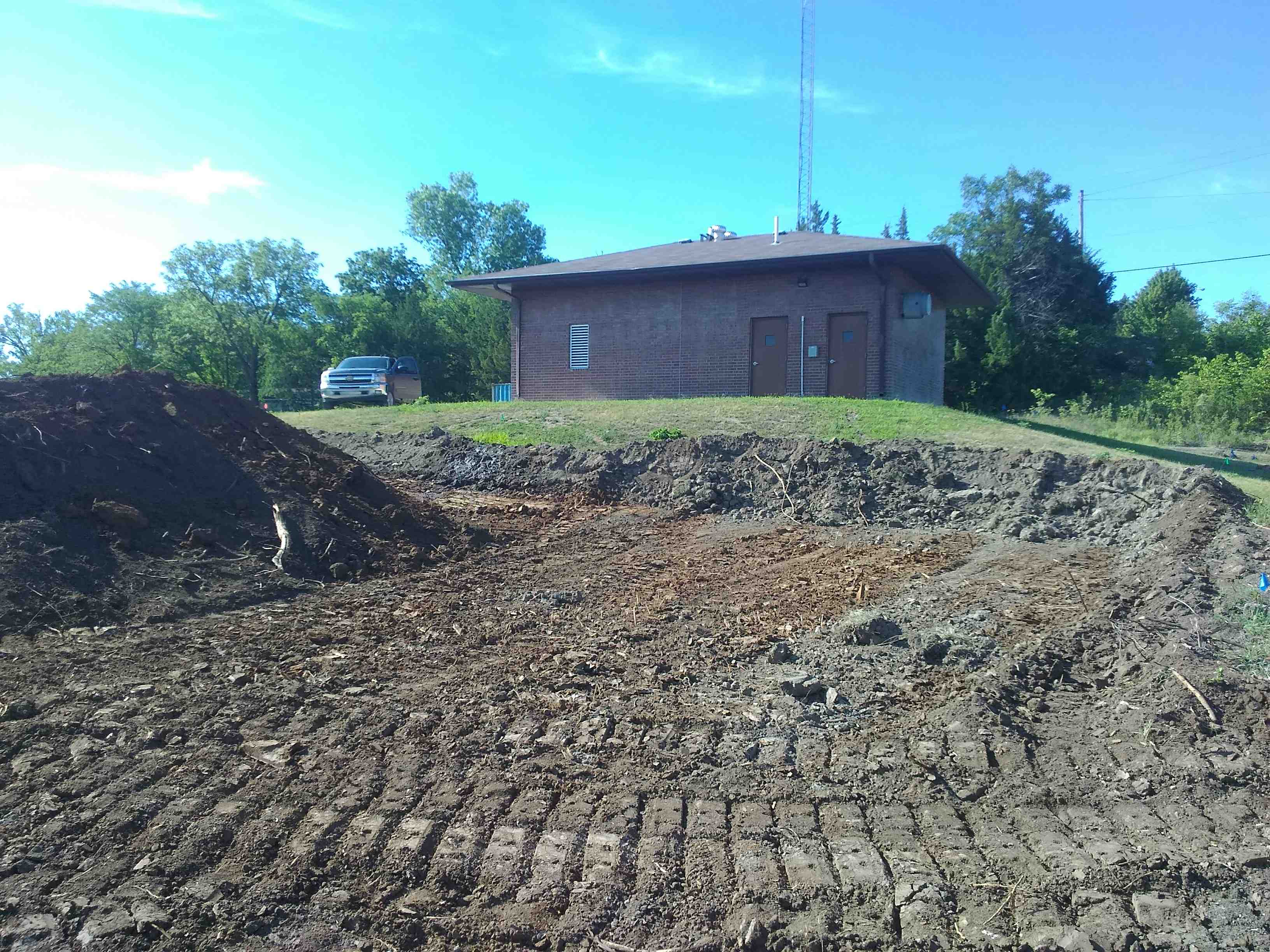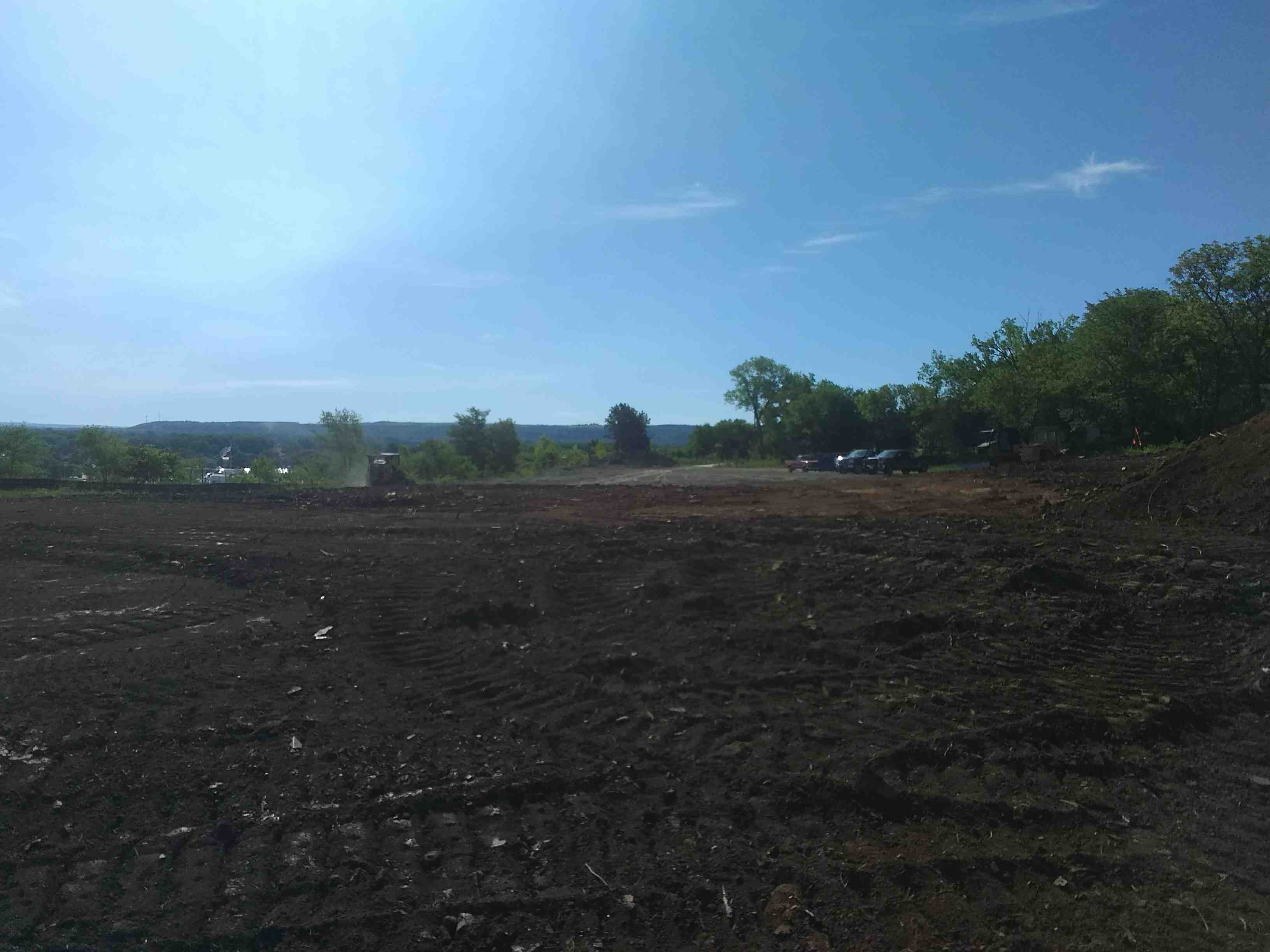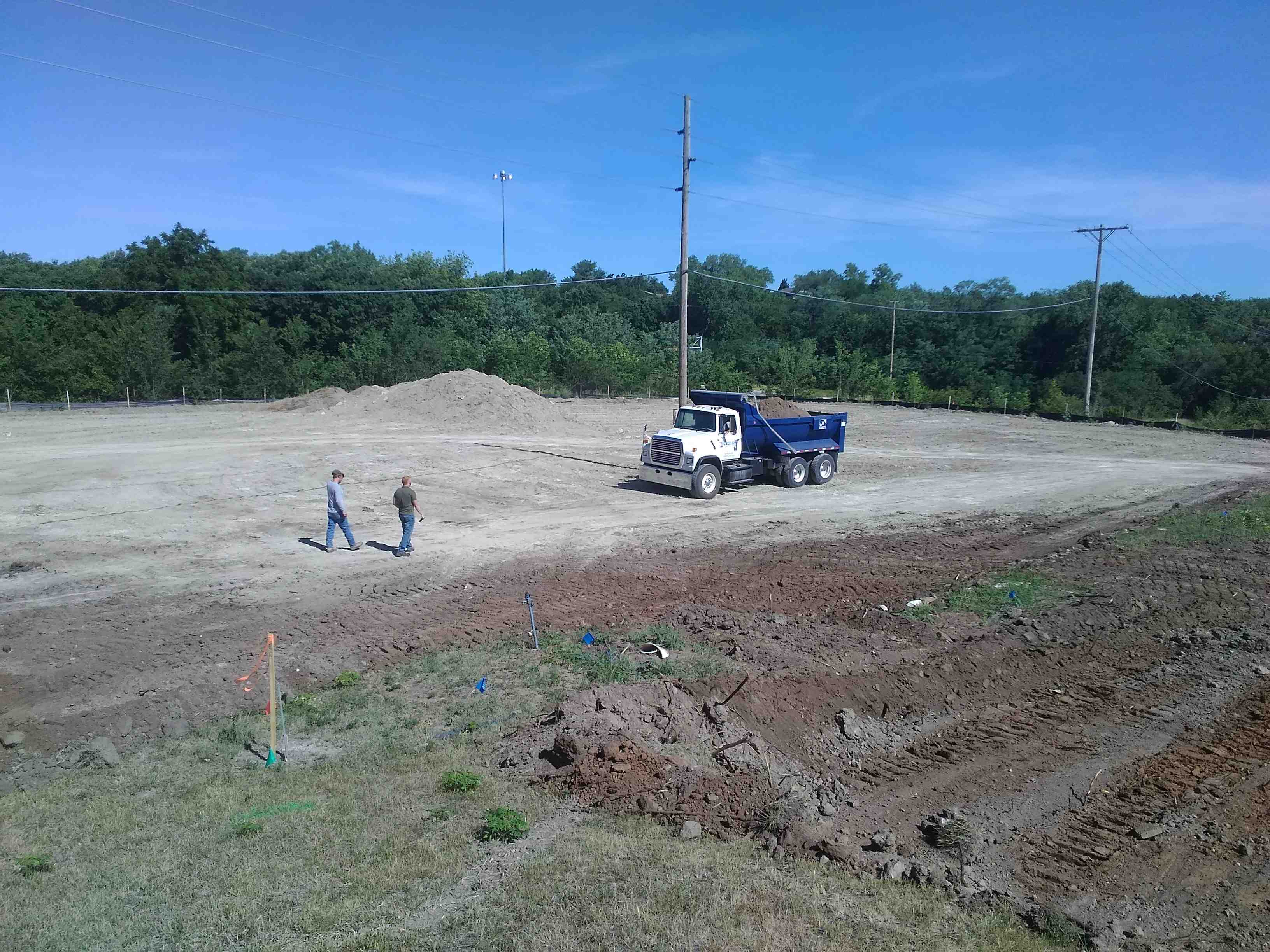 Previous: Genesis Health Clubs Acquires Fort Collins Club
Next: Overland Park Construction