Overland Park Construction
Thursday, August 2 2018 10:04 AM
Update 12/13/2019
We're approaching the end of the road and we couldn't be more excited! All lighting is complete in the pool area. Just a little bit of calking, cleaning, and grouting, and we'll fill it up so you can start swimming laps! The grand staircase is getting its stainless steel rails, logos and finishing touches have been added to the basketball courts, the strength area is painted and ready for neons, and the All American Training Room is almost ready! Get ready Overland Park; we're almost done!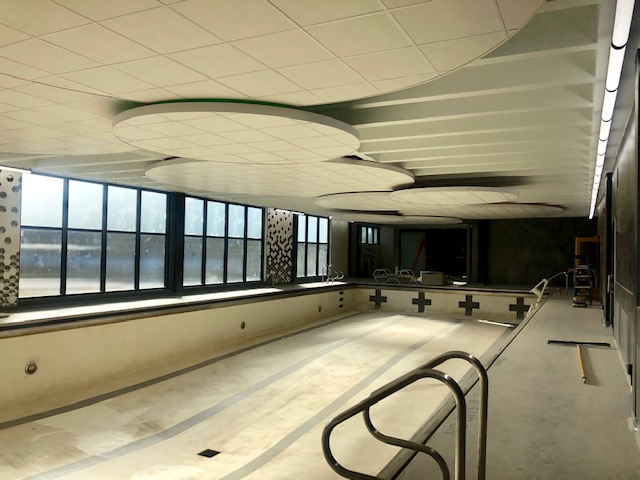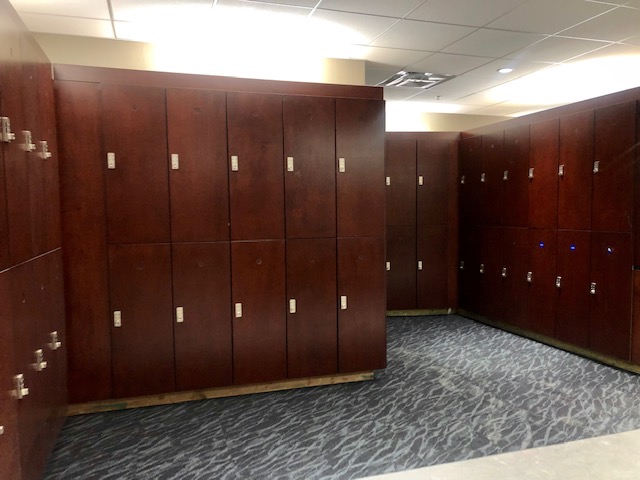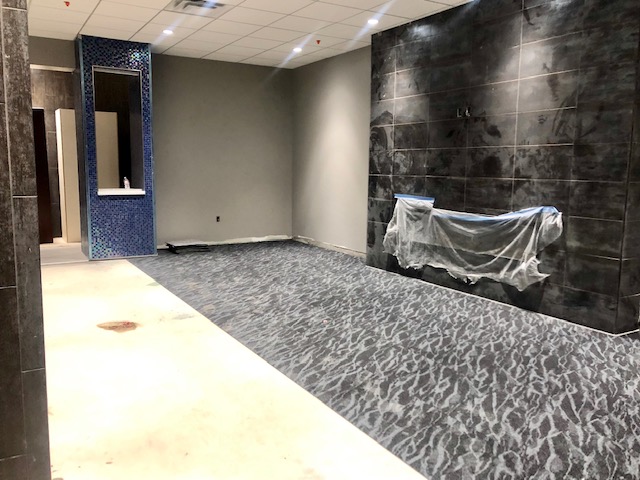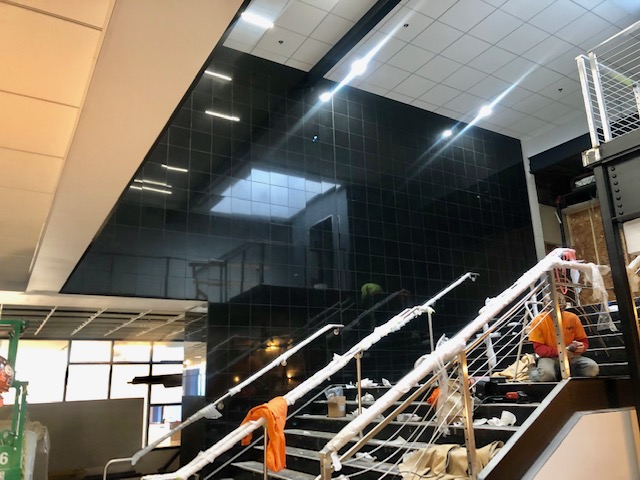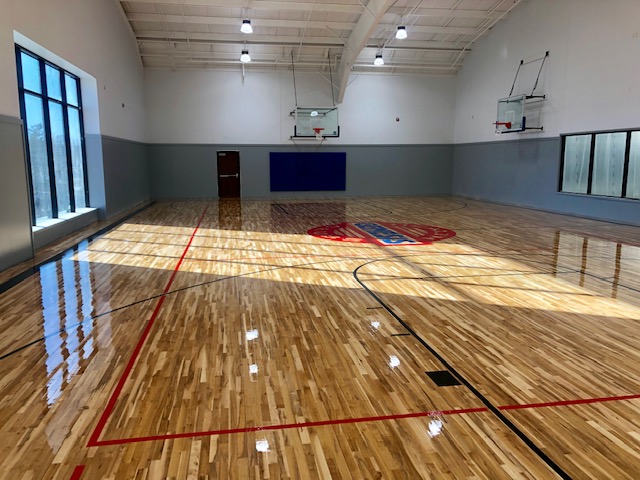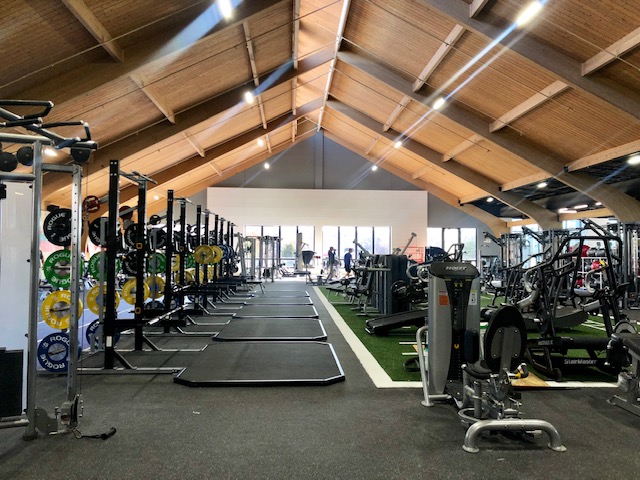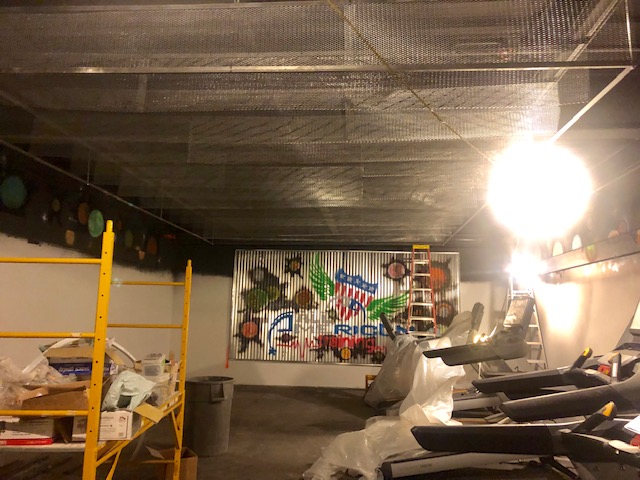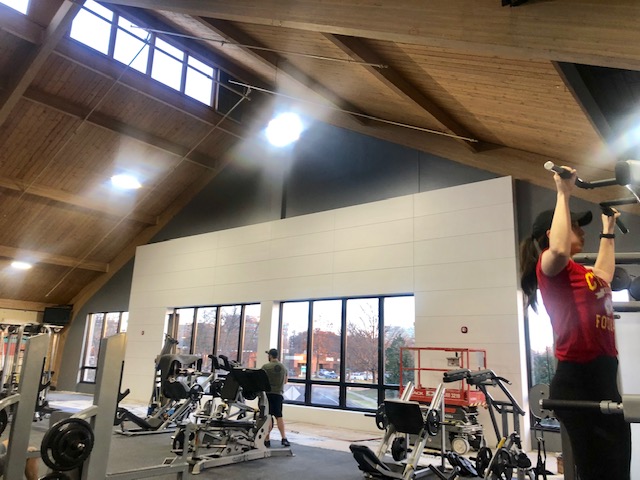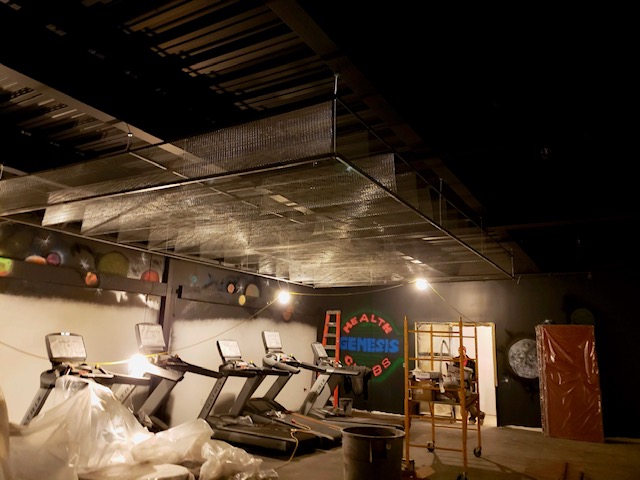 Update 12/3/2019
A lot has happened over the last few weeks! We have a lot of updates for you, so let's dig right in!

The fitness floor had a major transformation. Over the past few days, all cardio was delivered and installed and strength equipment was delivered last week. Rubber flooring and turf area are complete and ready for equipment. The track has been poured, painted and now striped with lanes.

The pool ceiling, walls, and floors are finished and looking gorgeous. Once the pool itself is finished and filled up, this will be the most visually interesting aquatics space in Overland Park! Lights are being installed now. The Spin room is getting finishing touches, and we're busy putting in a room for a very special new class we'll be announcing soon for all of you. Stay tuned for more updates and a big announcement!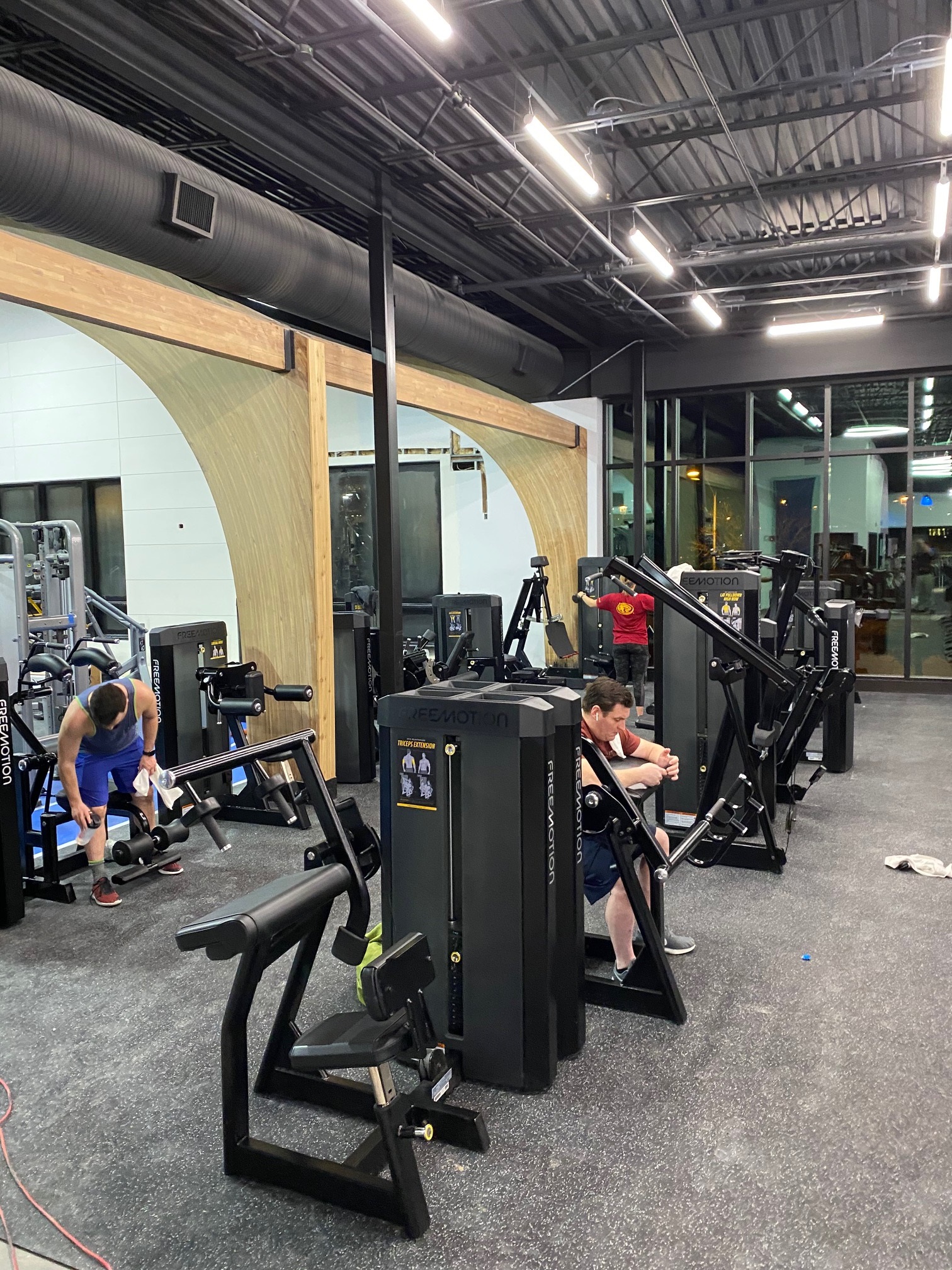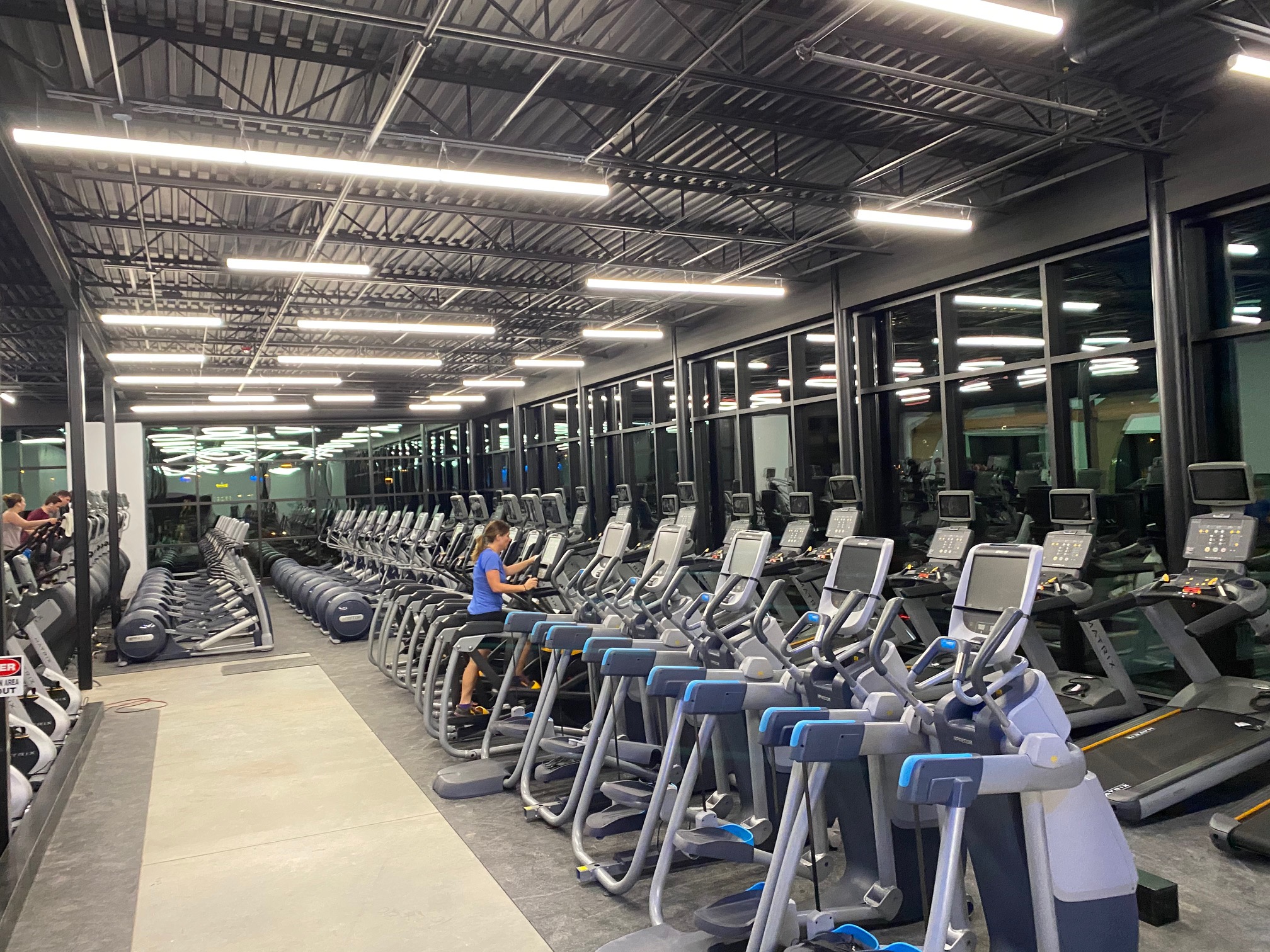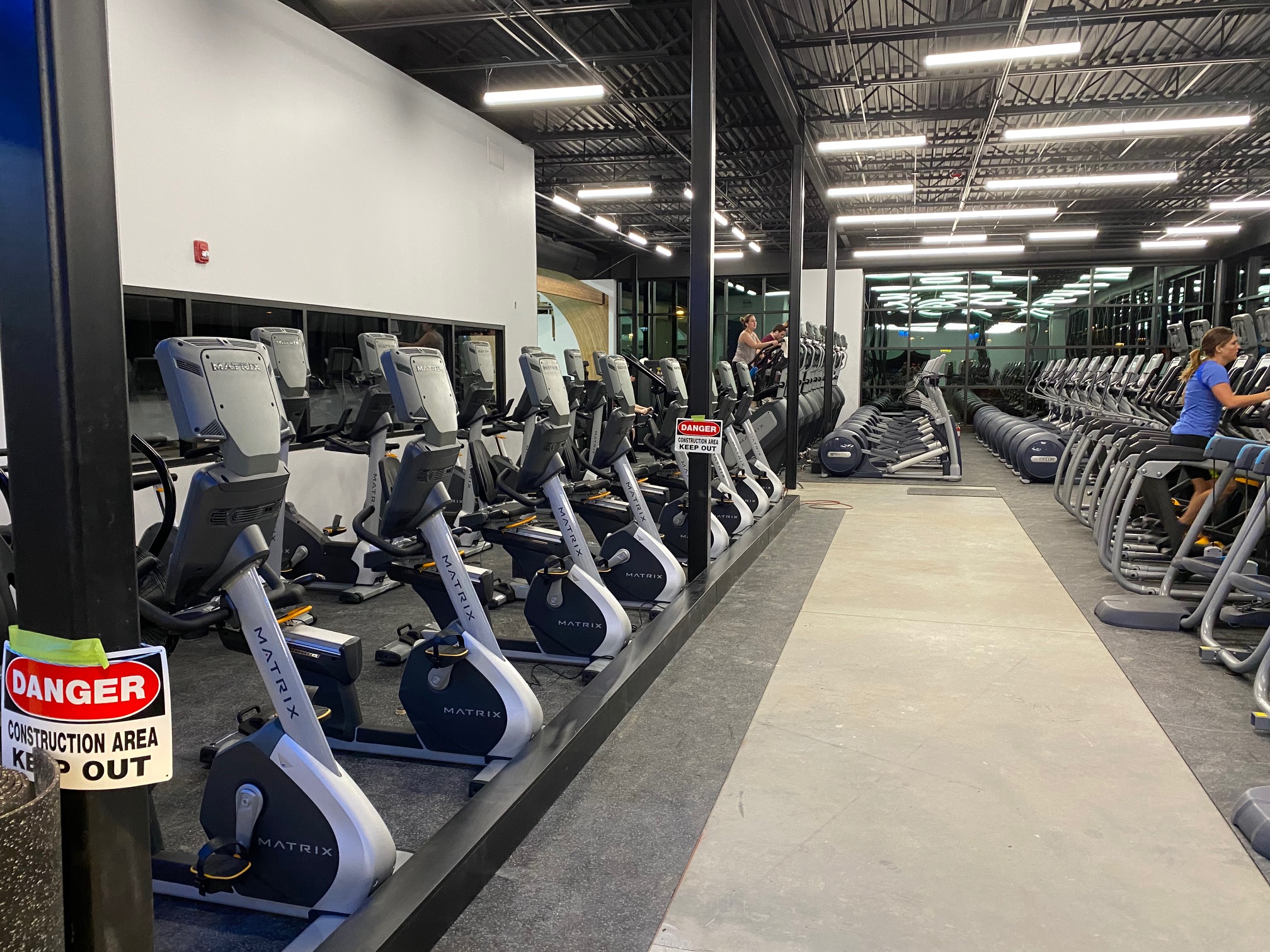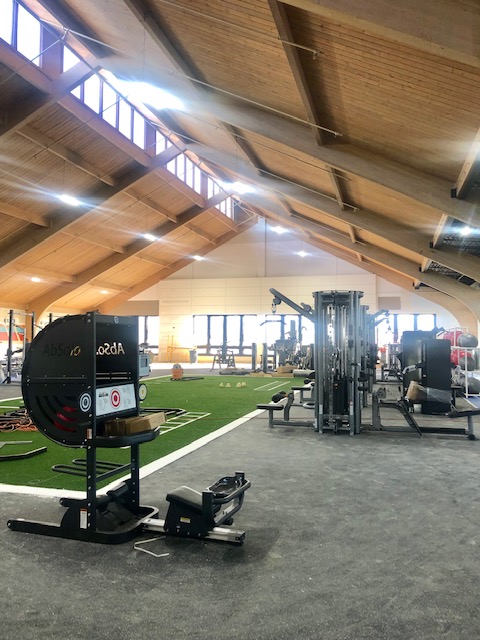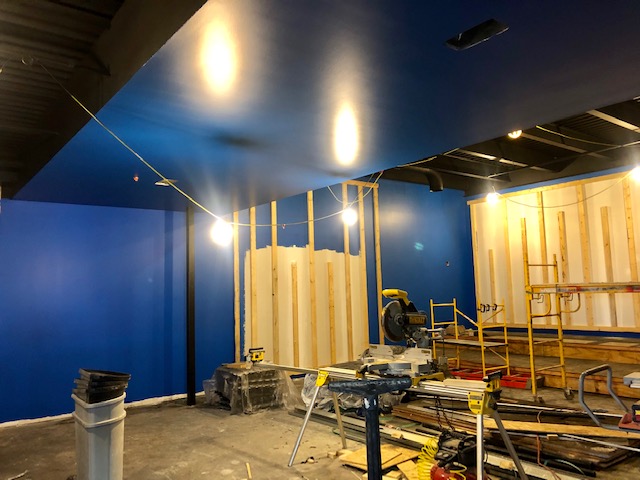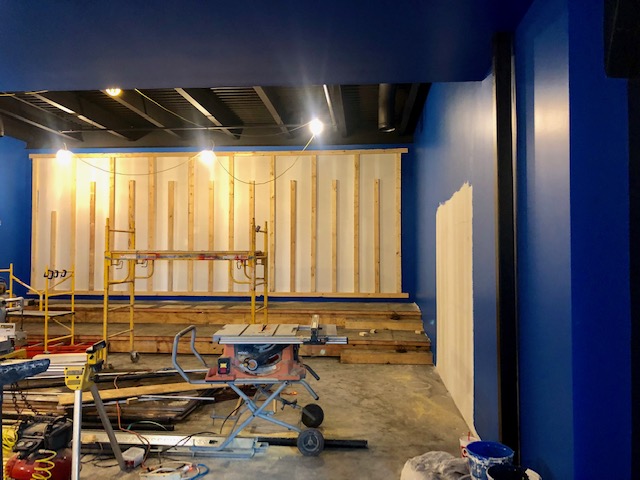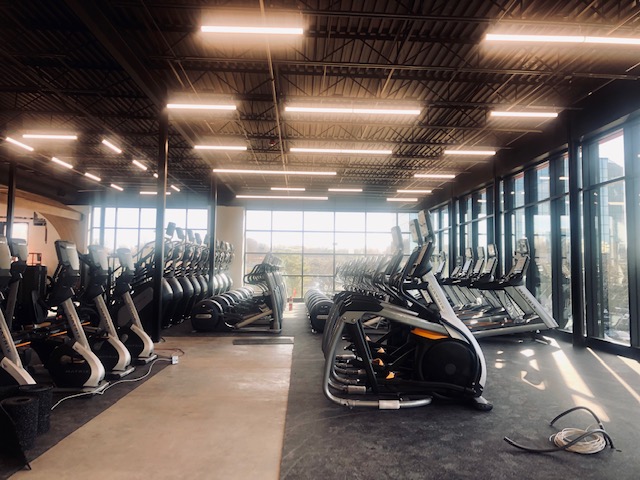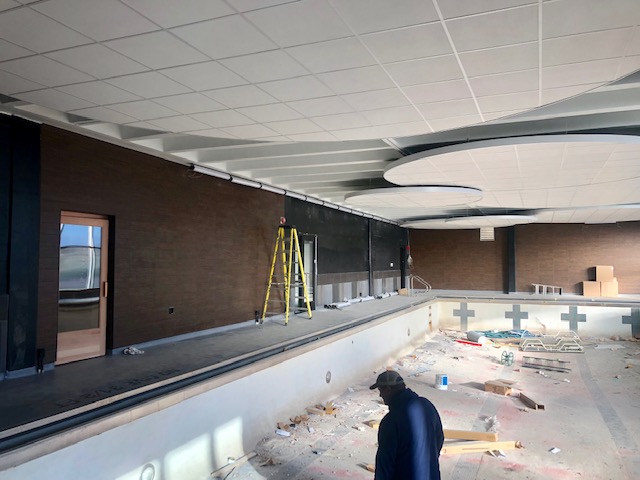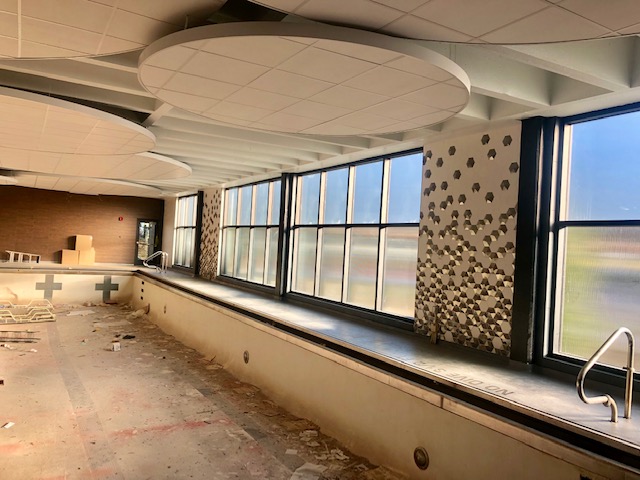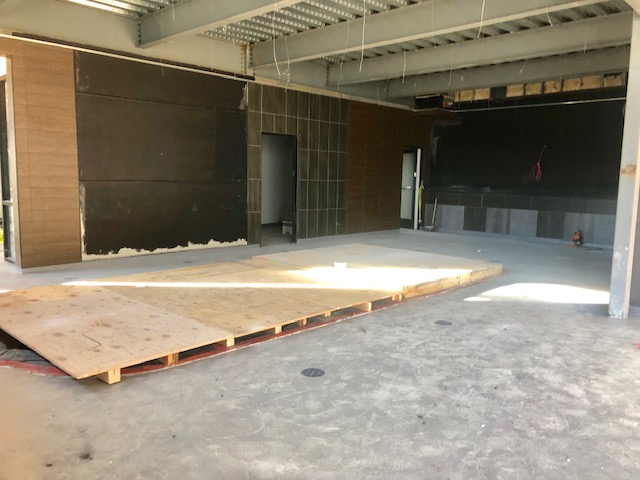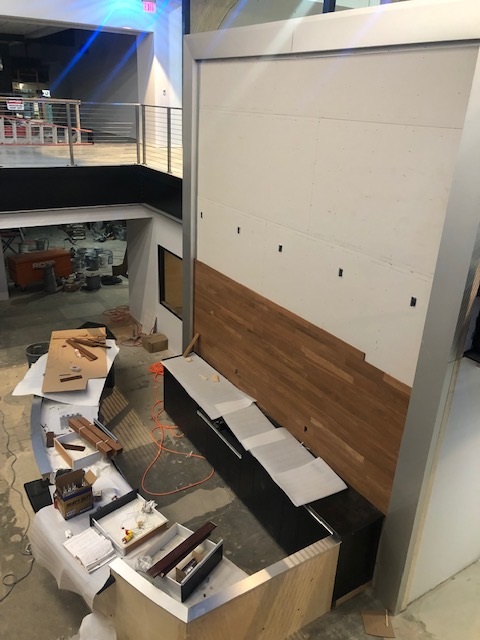 Update 9/16/2019
The exterior is starting to look like Genesis with our trademark red band added across the top of the building. The interior is speeding along with tile almost finished in both locker rooms. Studio A and basketball flooring are both well underway. Cabinets are going in for kids club, towel drop, the spa, the front desk, and trainer offices. It's starting to look like a health club in there!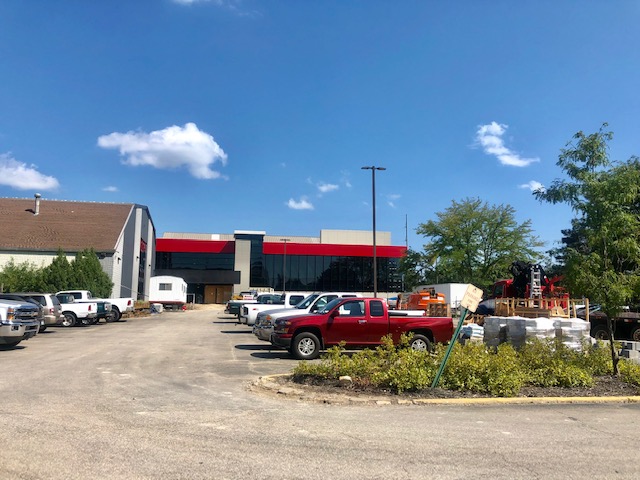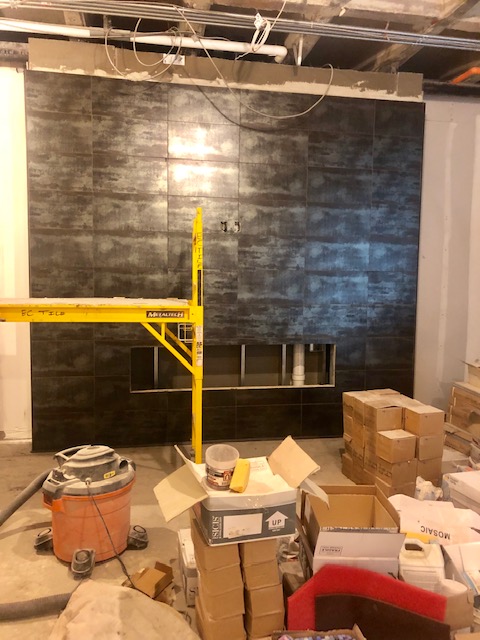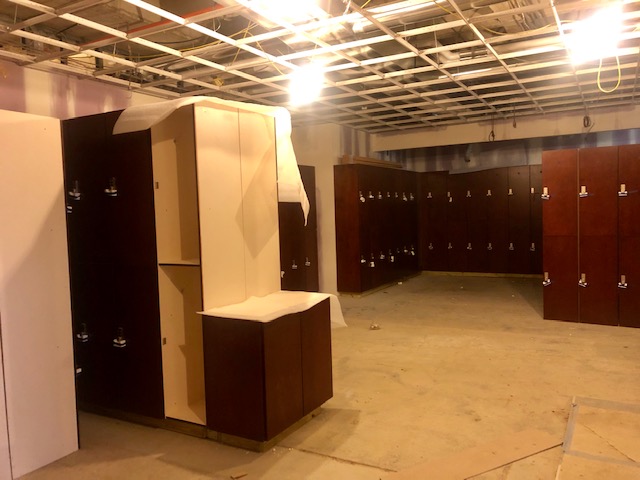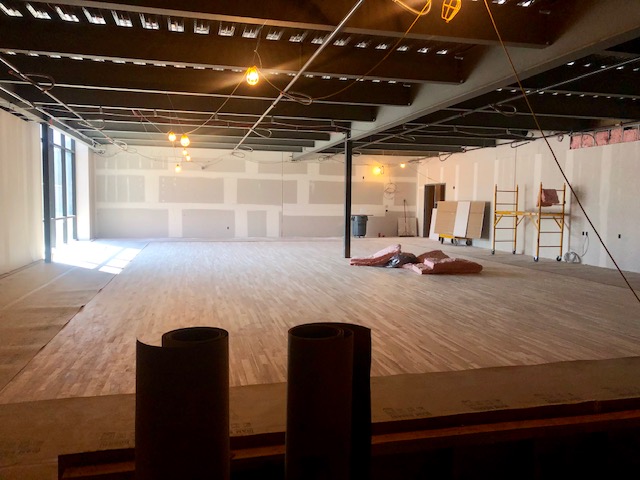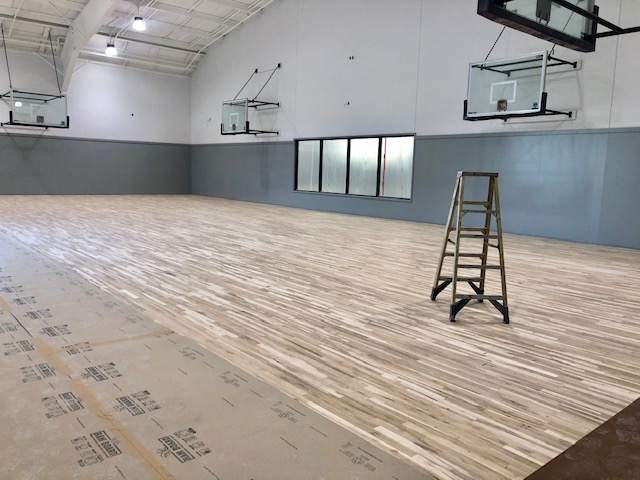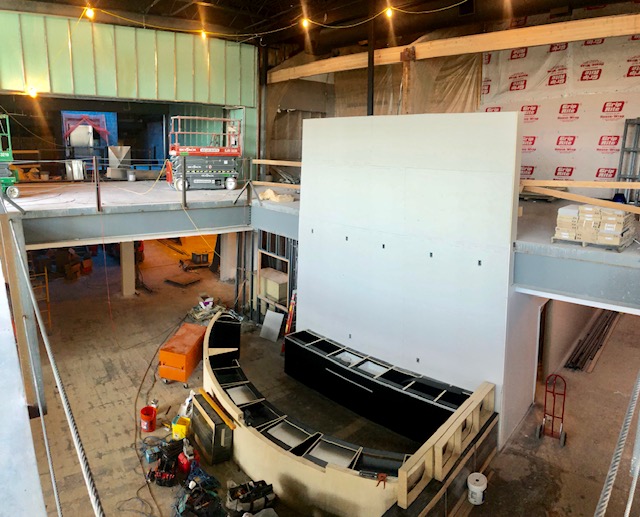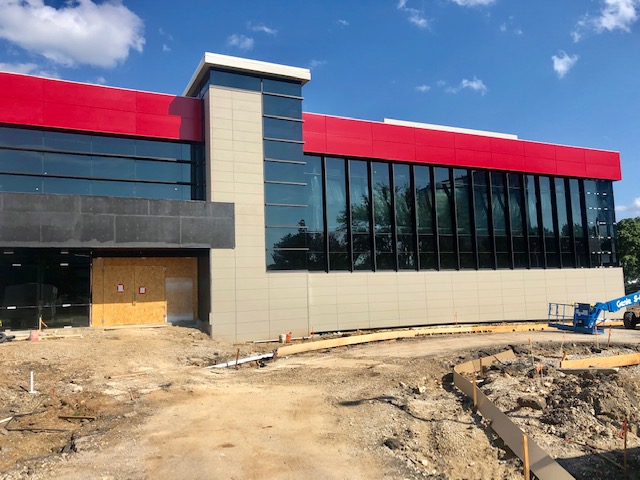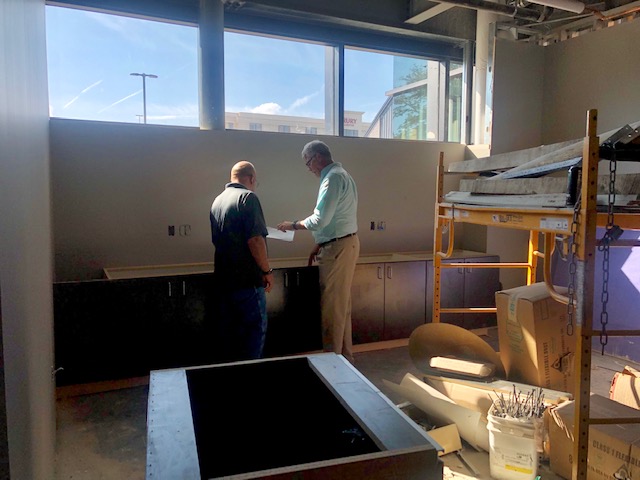 Updates 9/5/2019
A lot is happening this week! Elevator went in and the flooring for basketball is going in as we speak. Framing and drywall for trainers office is complete. The building is closed in & the ac is kickin'! Stay tuned for more progress coming up next week!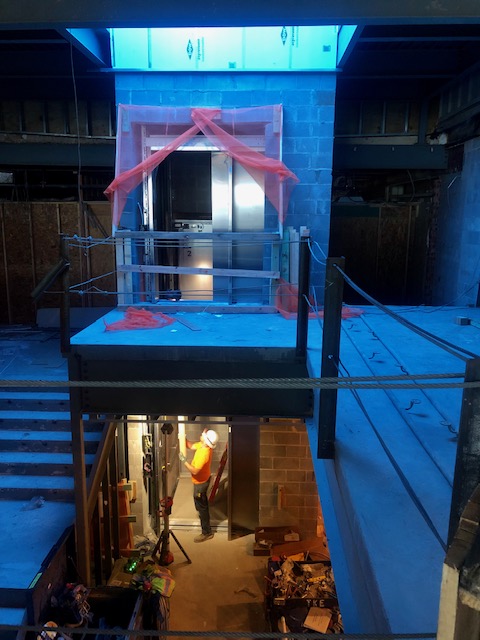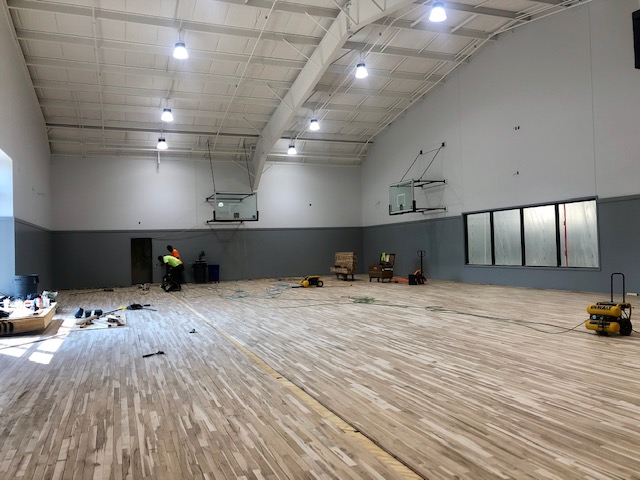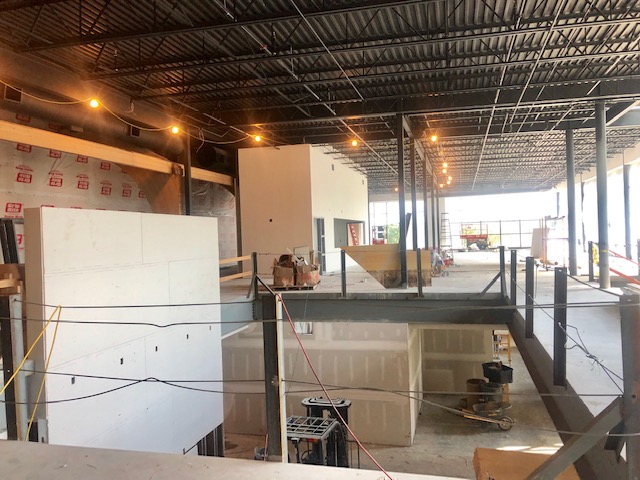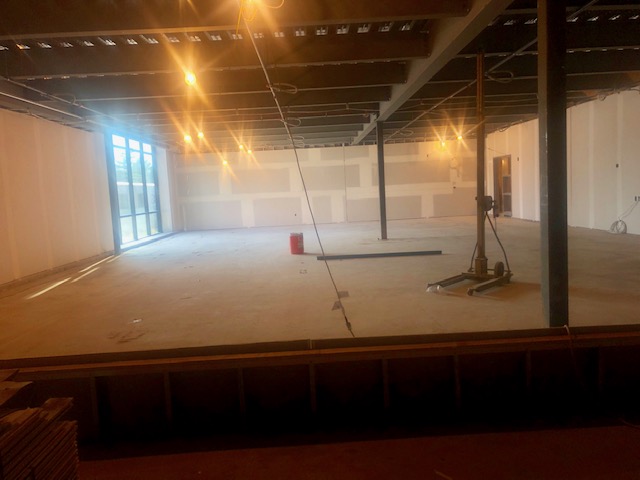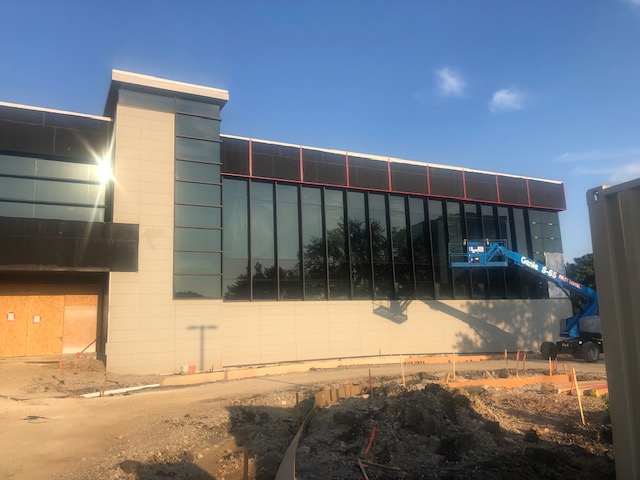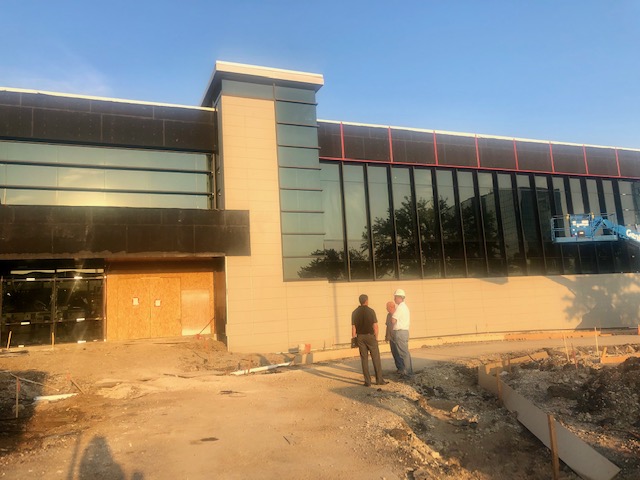 Update 8/29/2019
Are you ready for some basketball? Goals are in and flooring is installed soon. Get ready for some epic pick up games!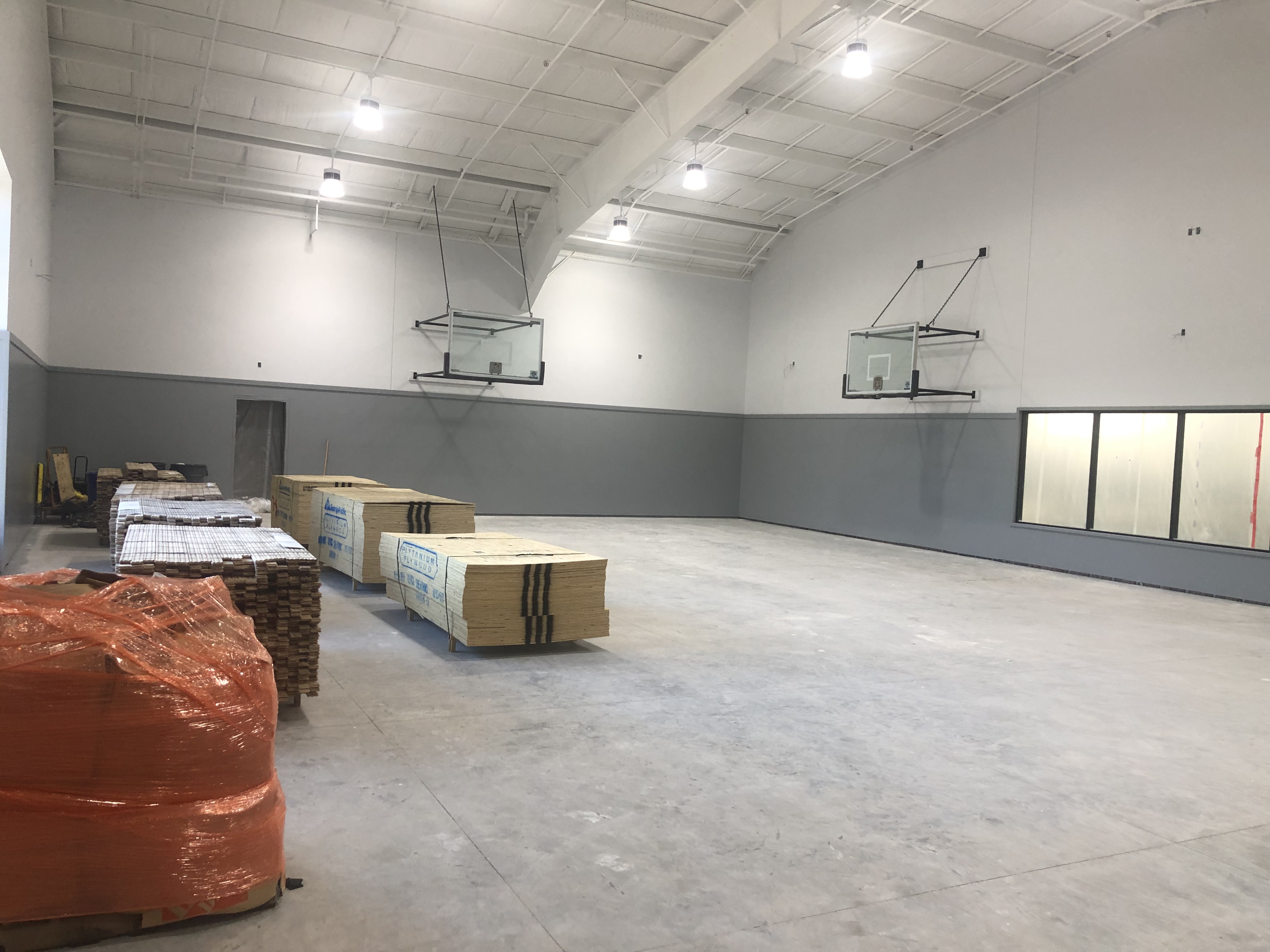 Update 6/18/2019
The form of the building has taken shape and soon we'll be installing windows and really getting started on the interior. Can't wait for you to see it and use it!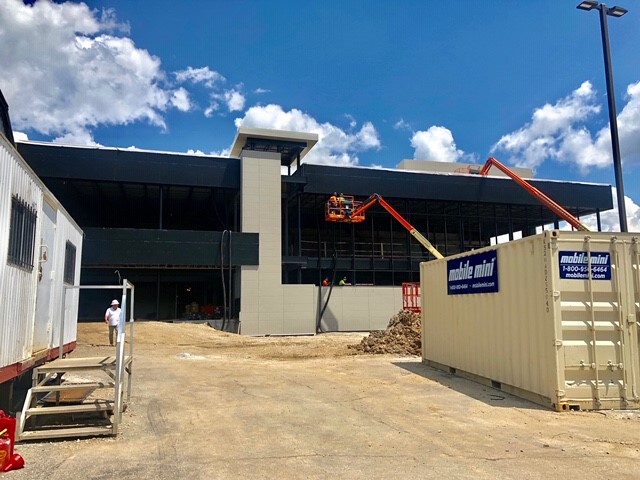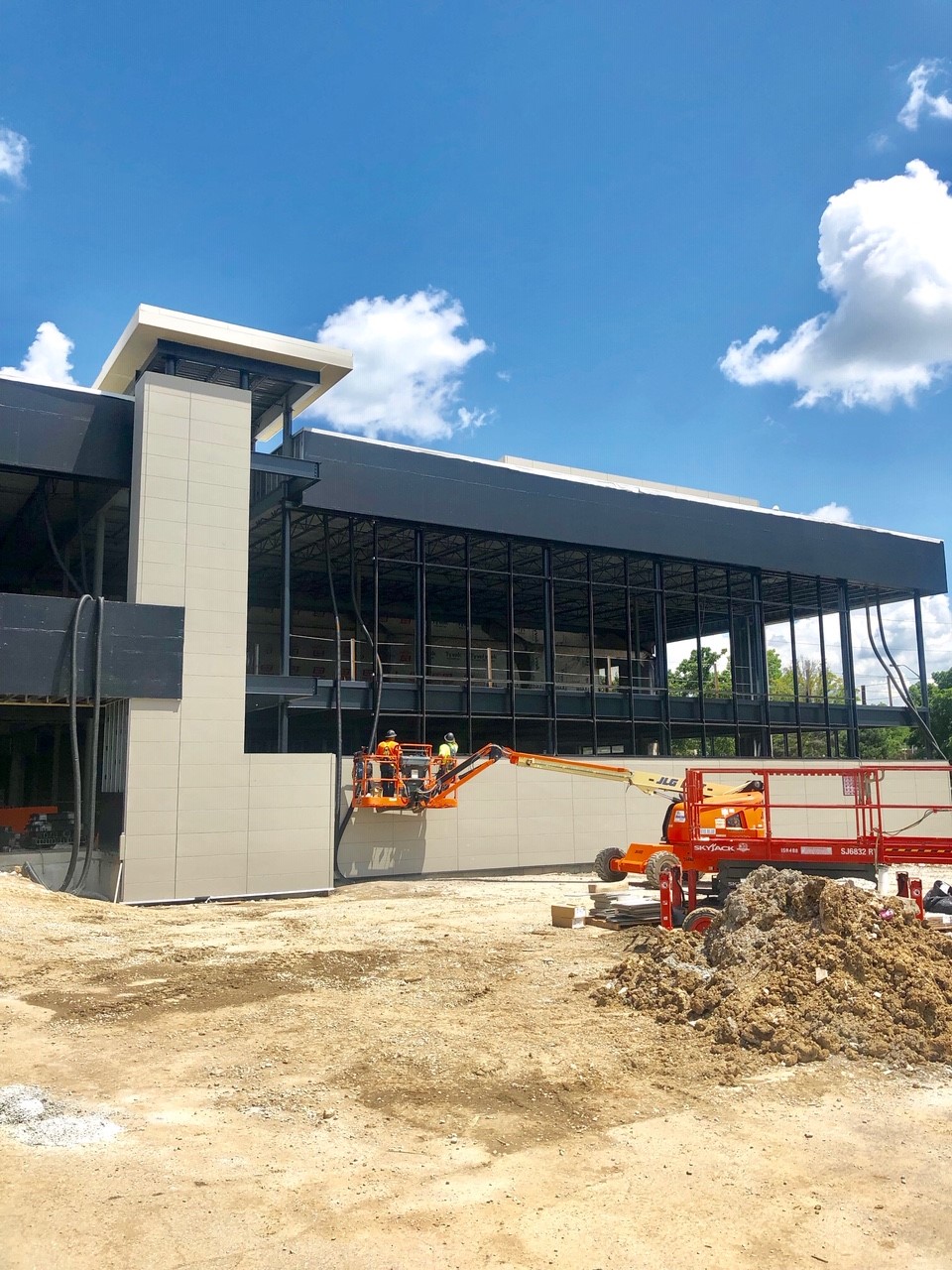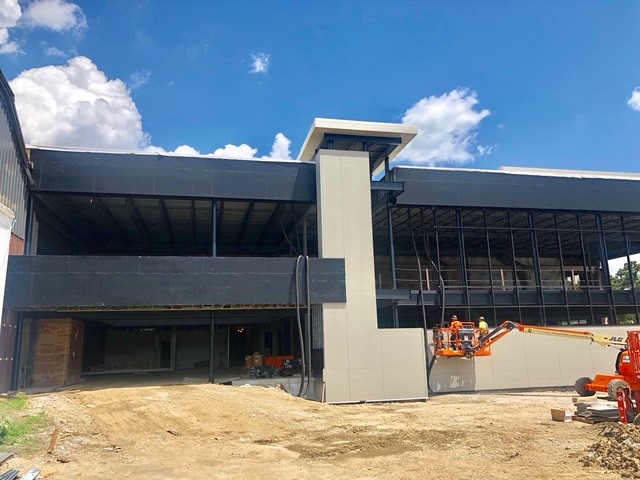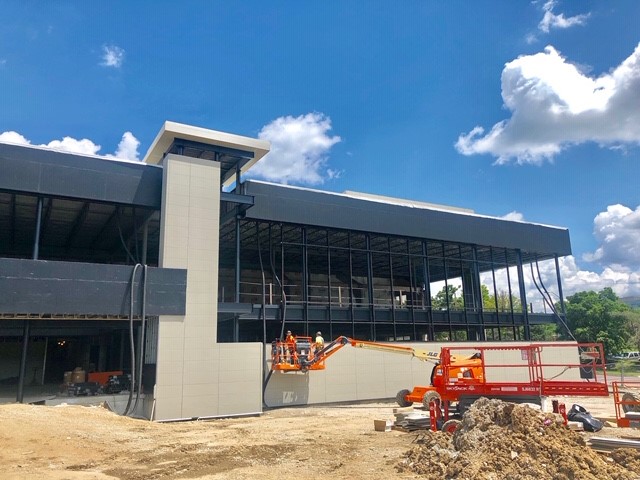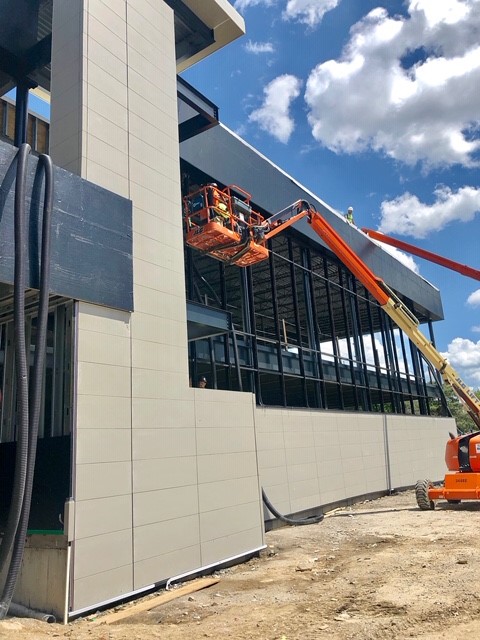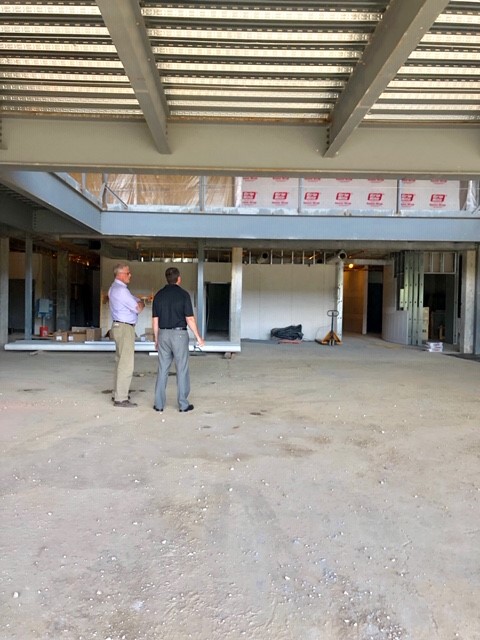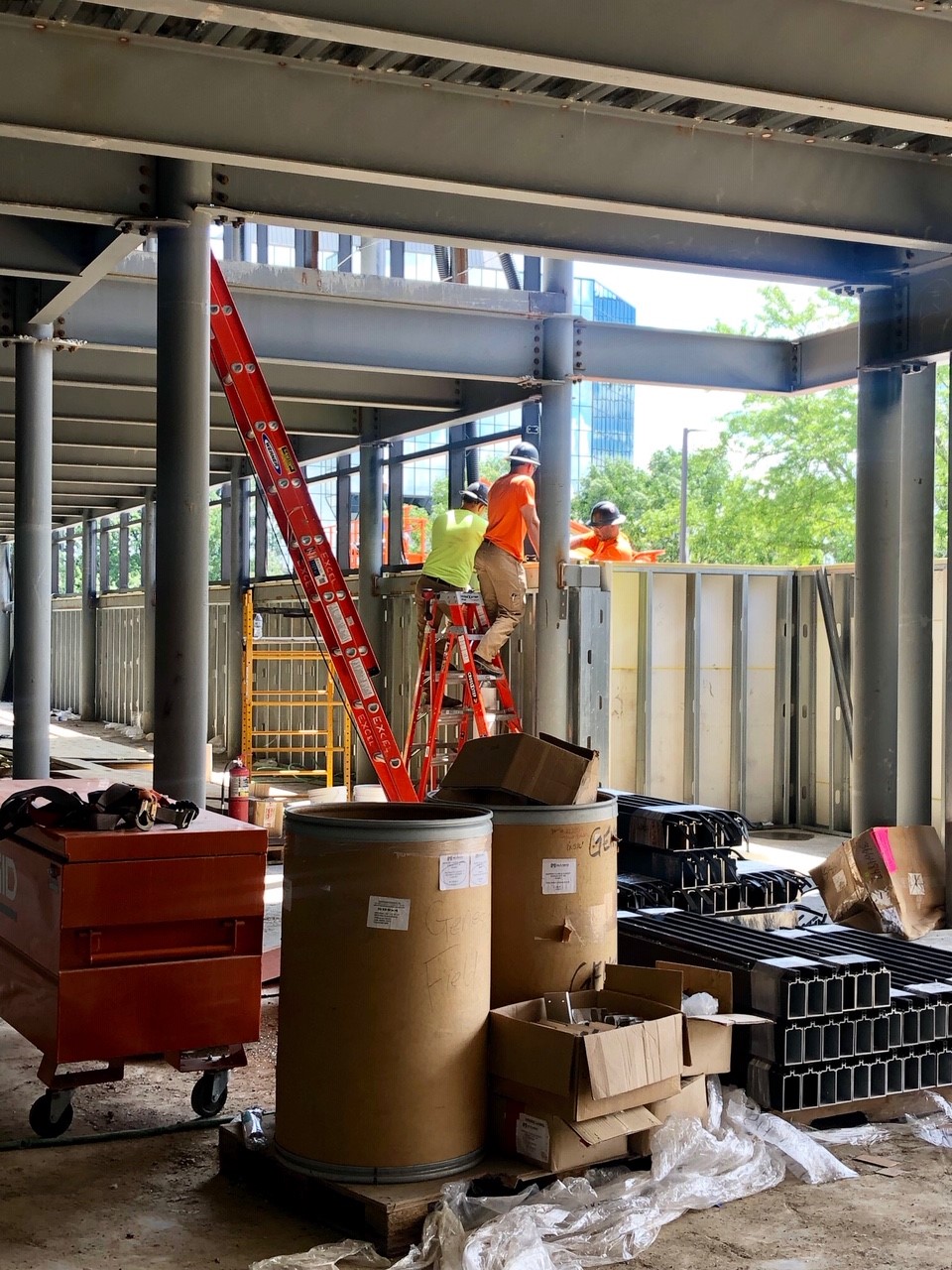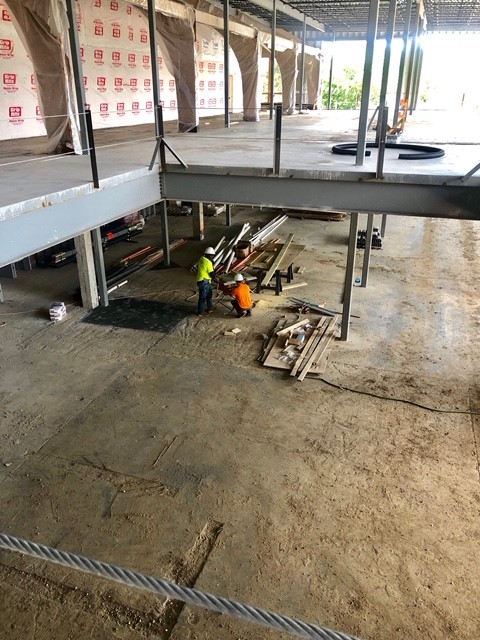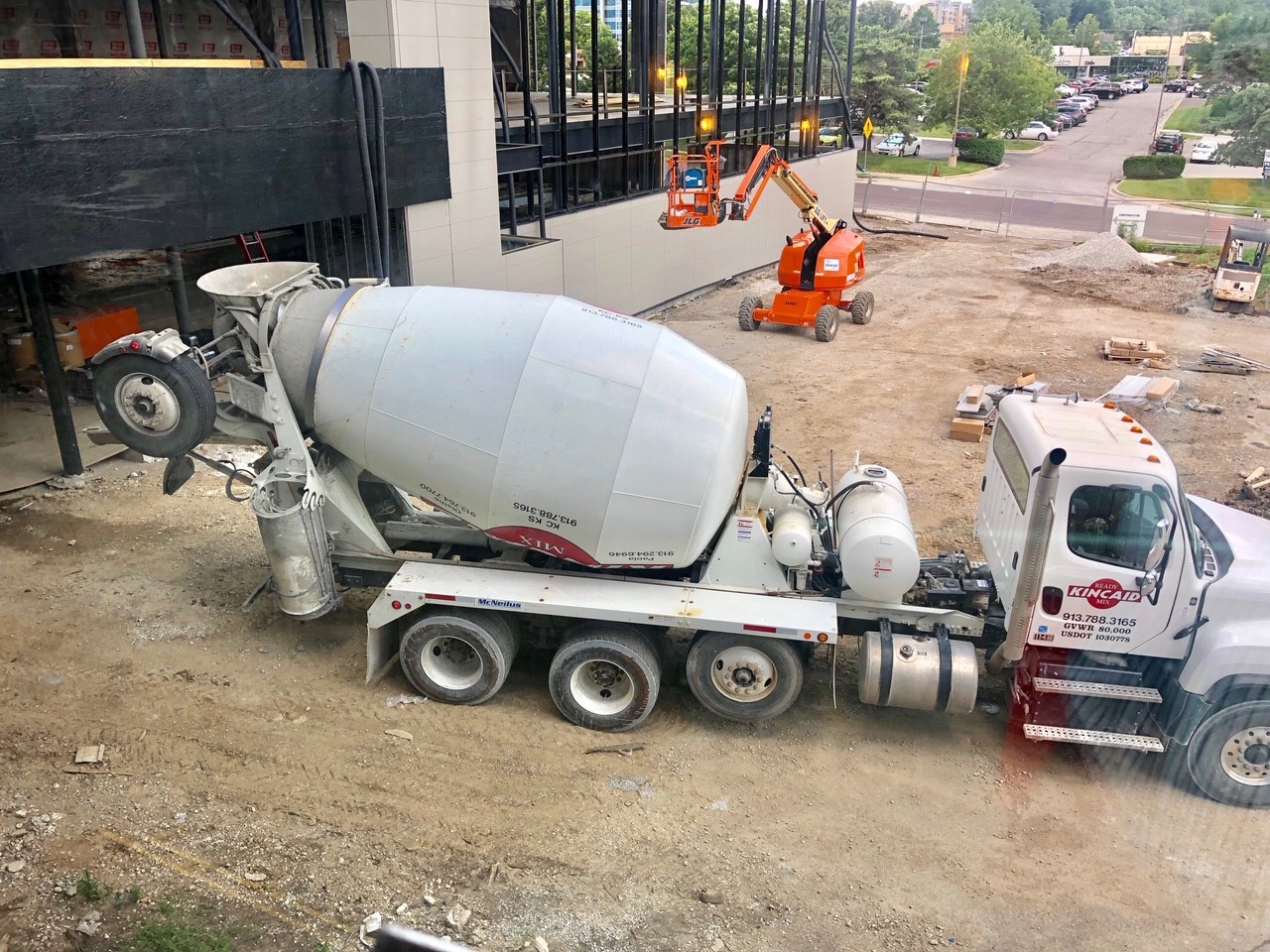 Update 6/6/2019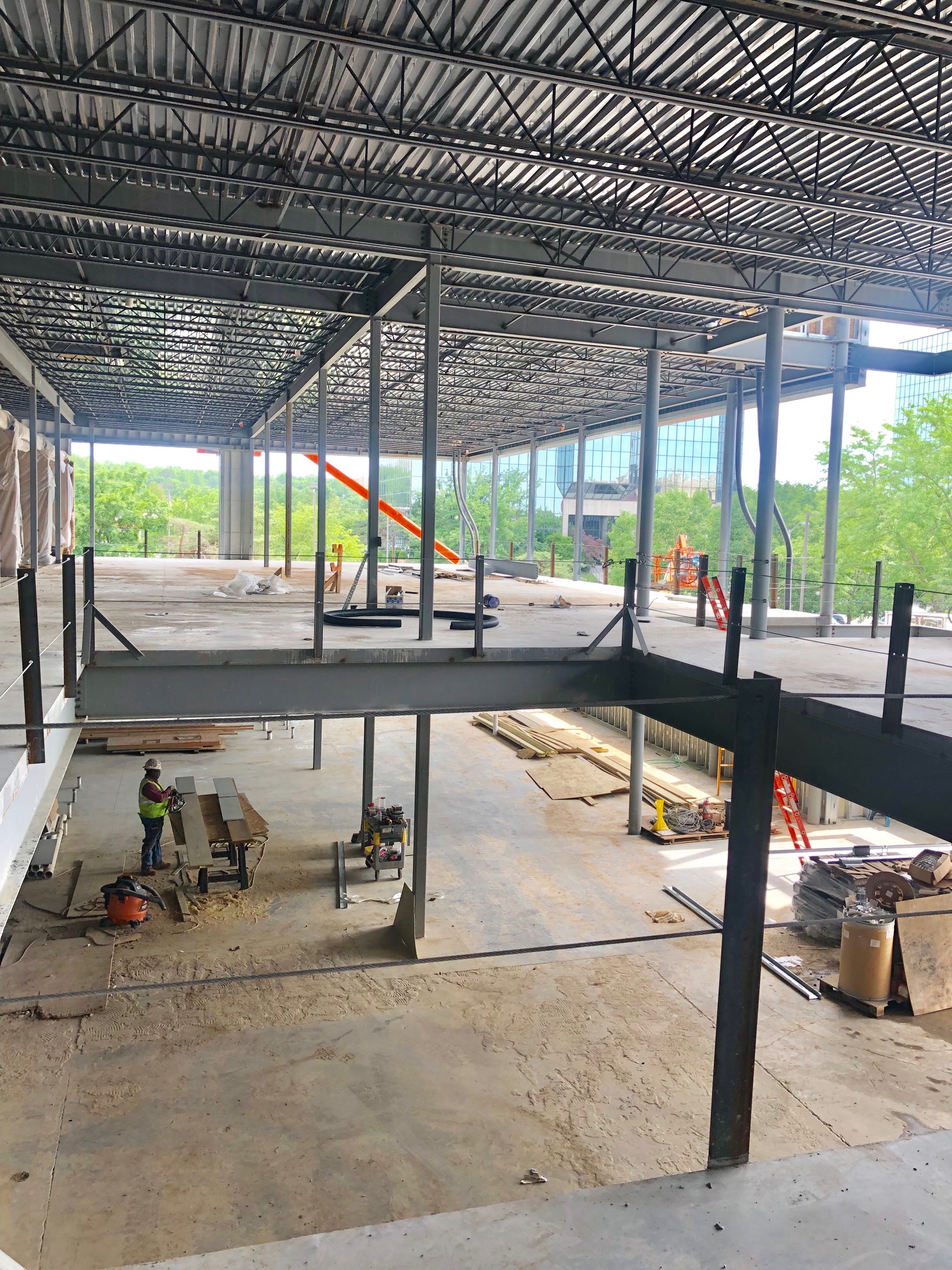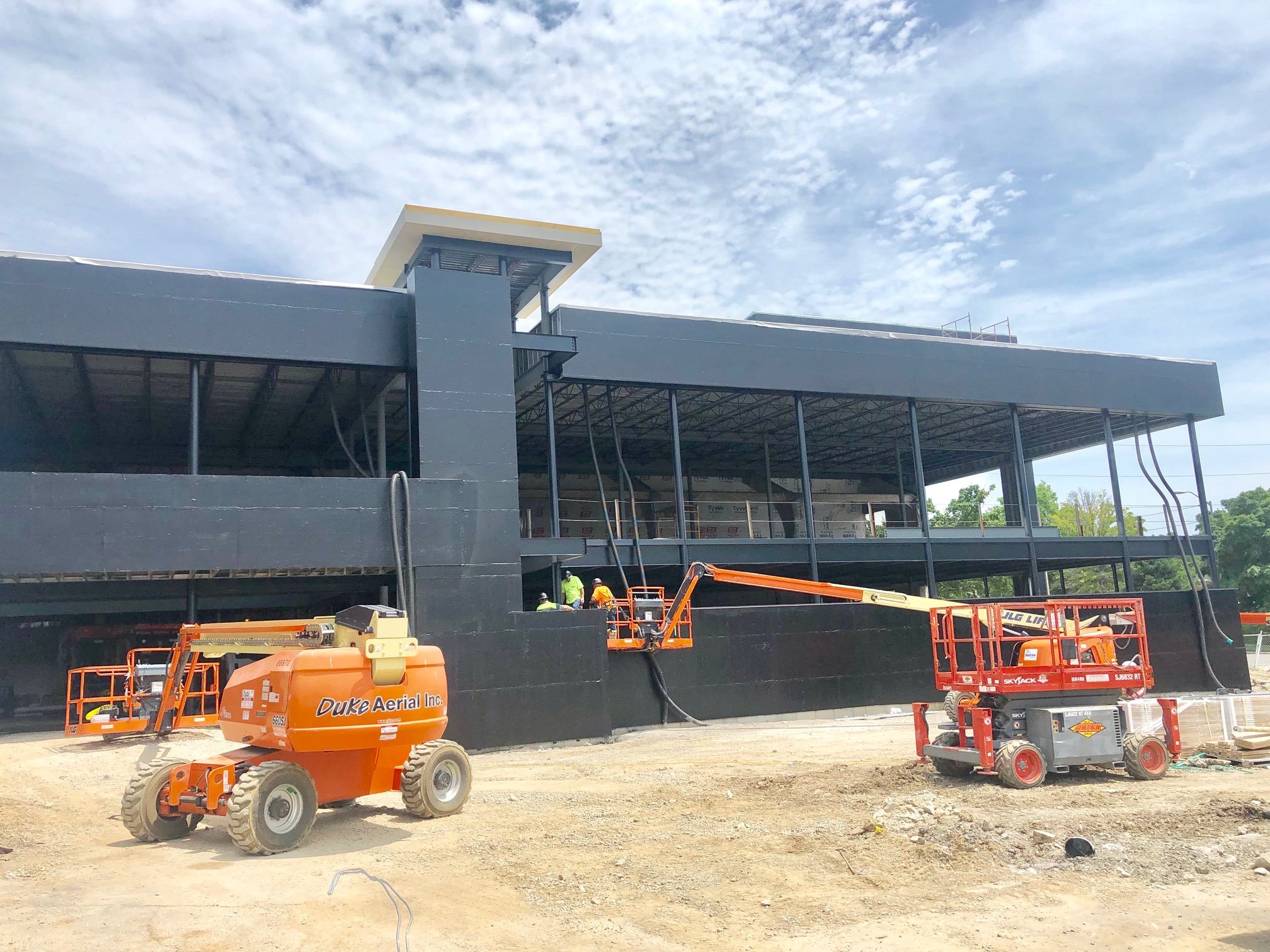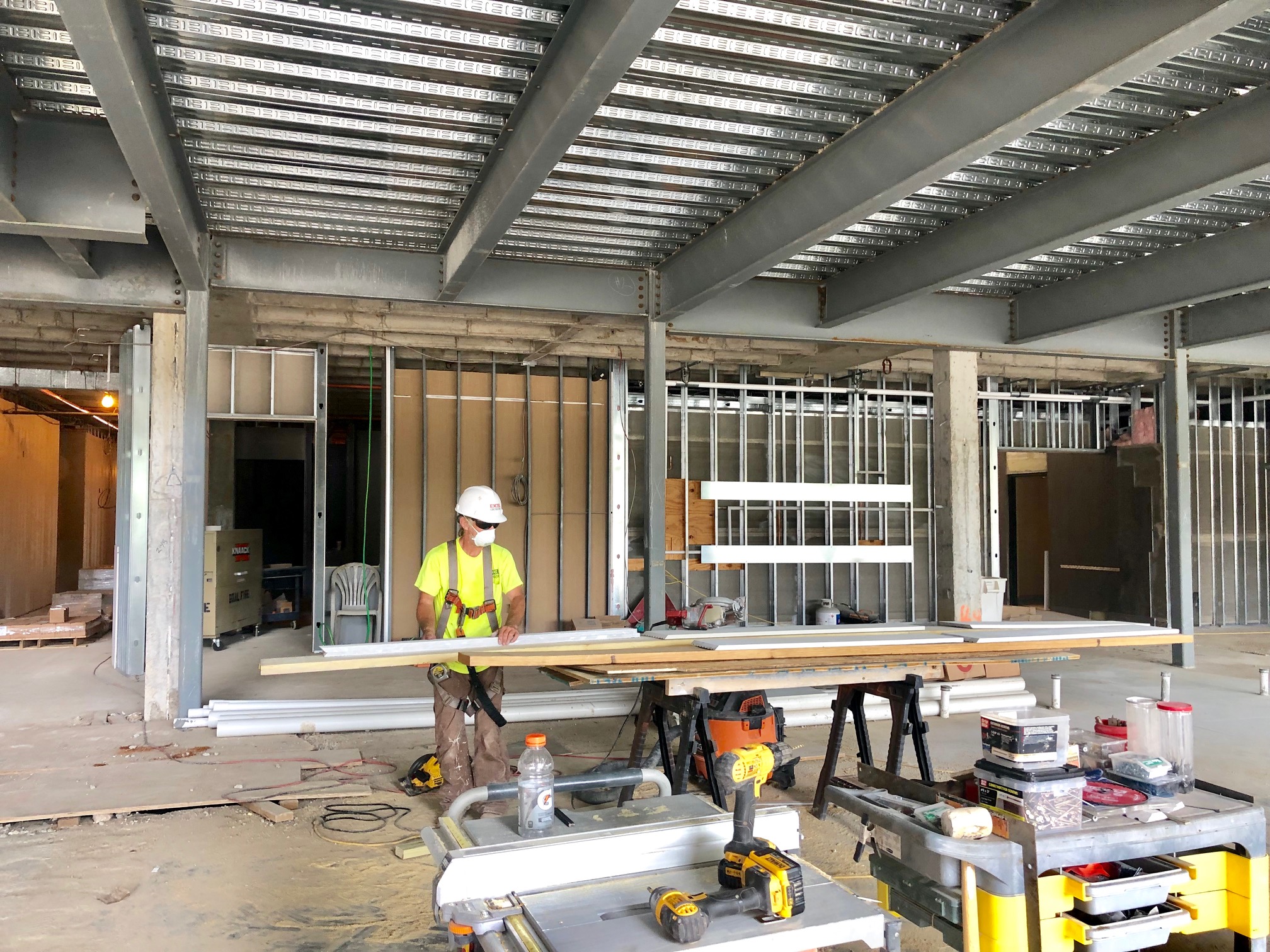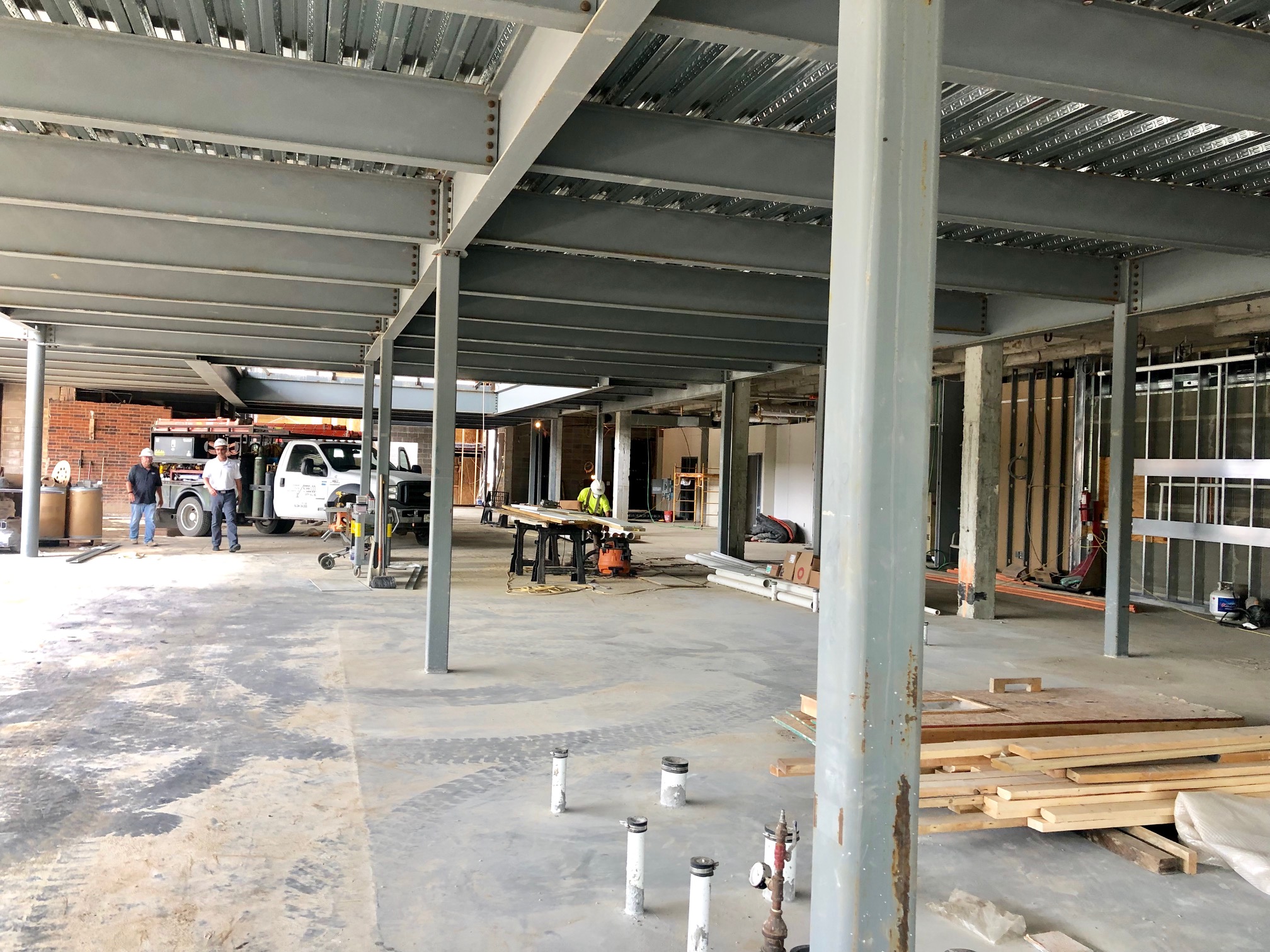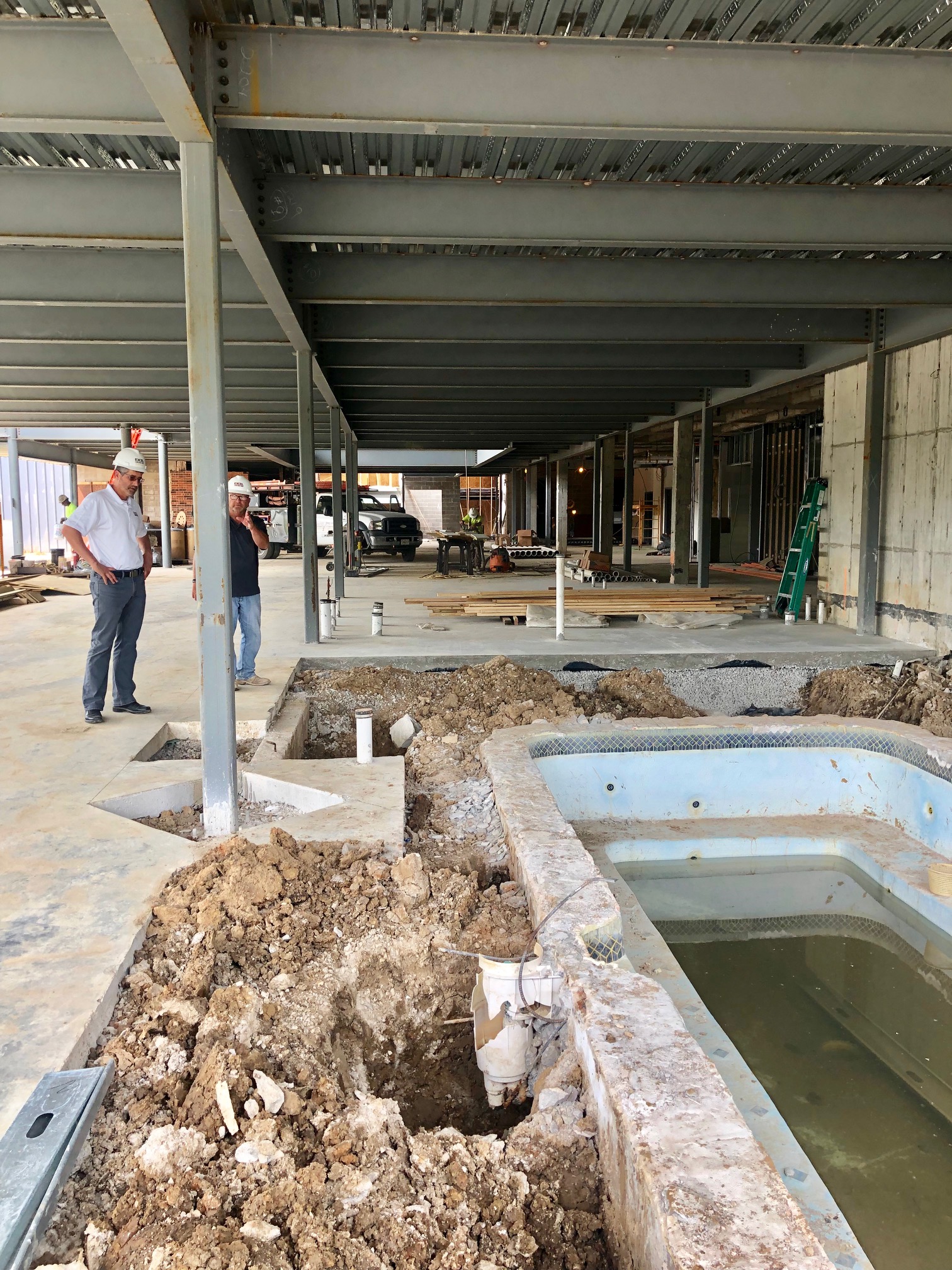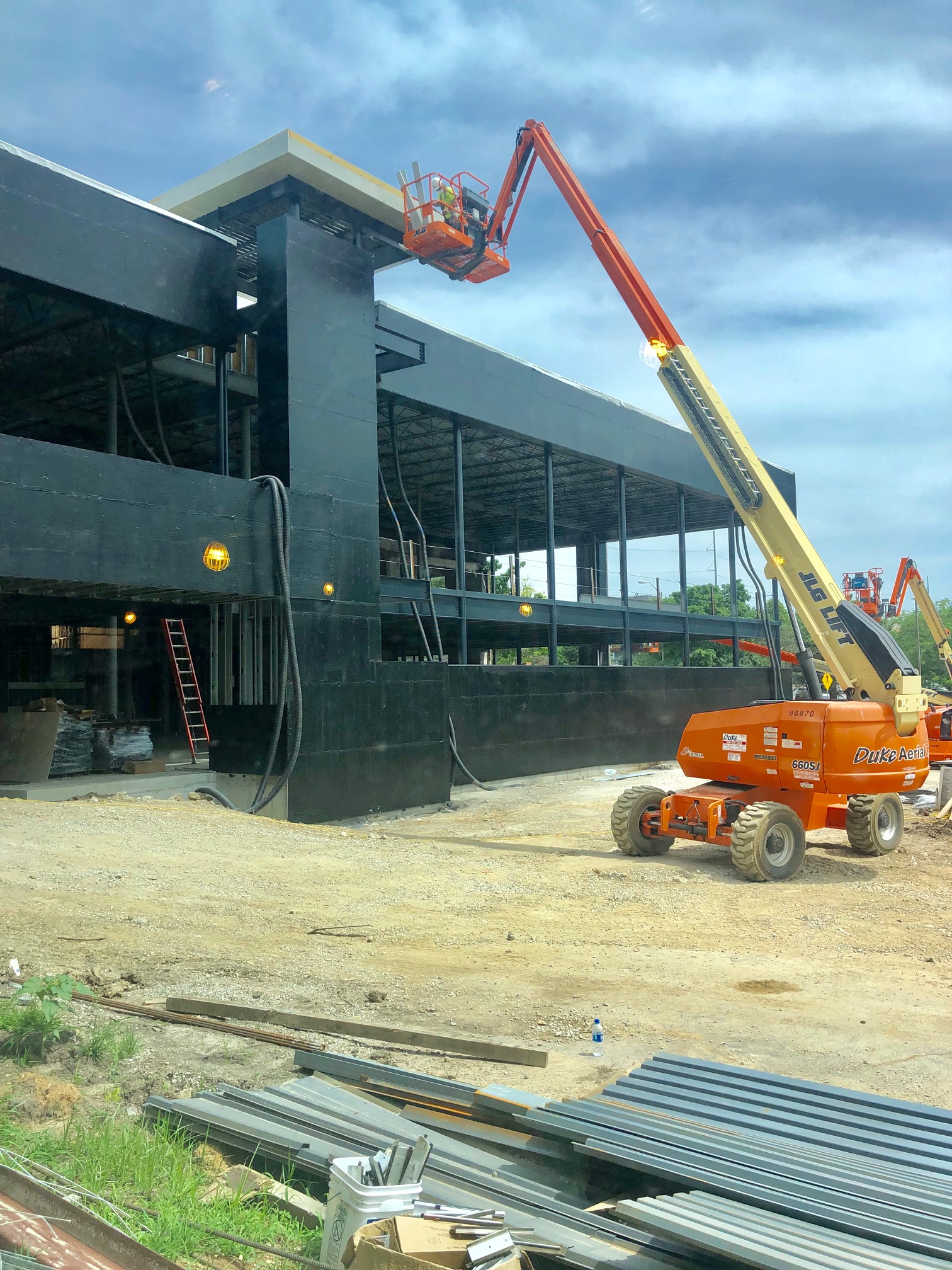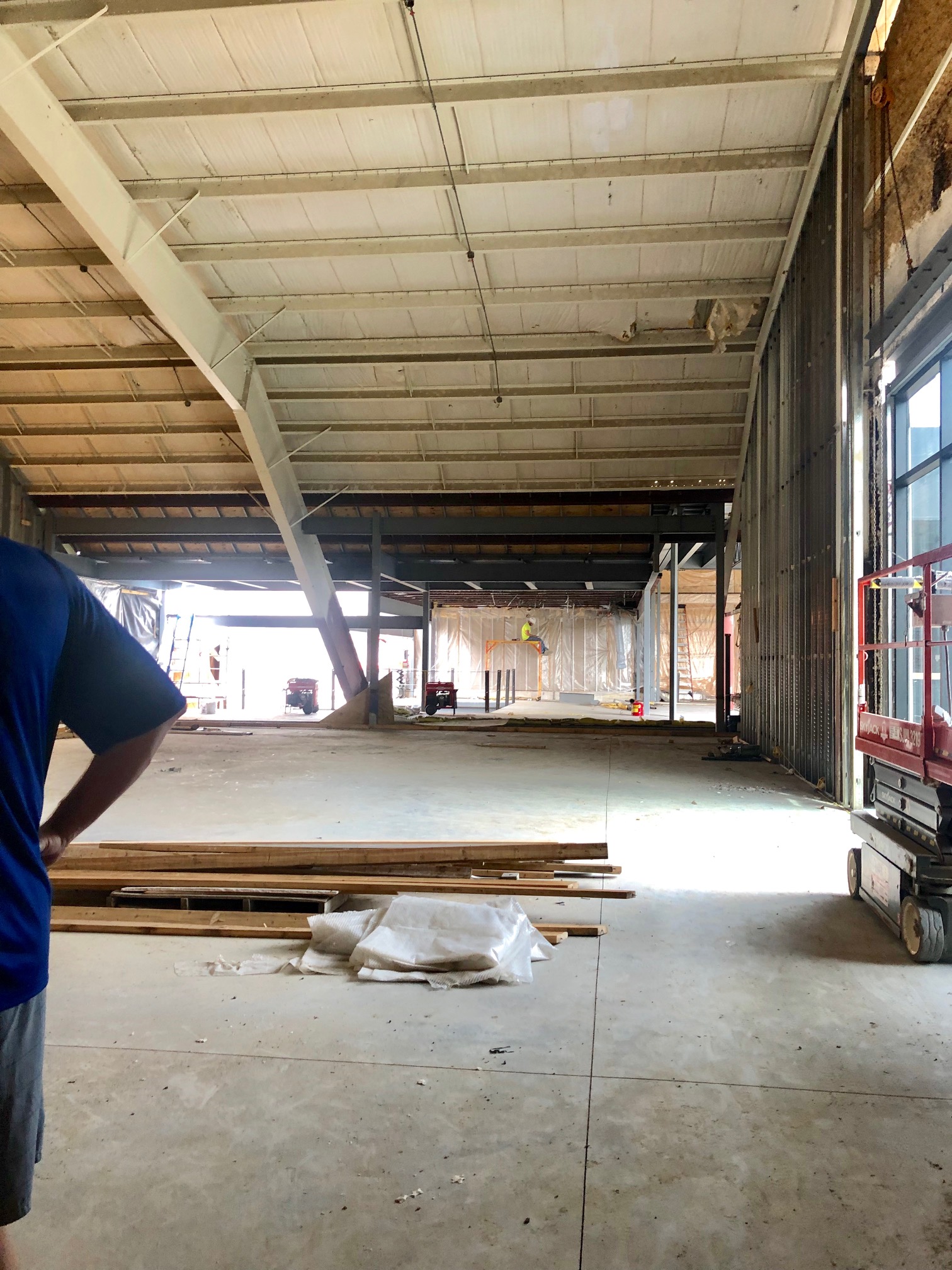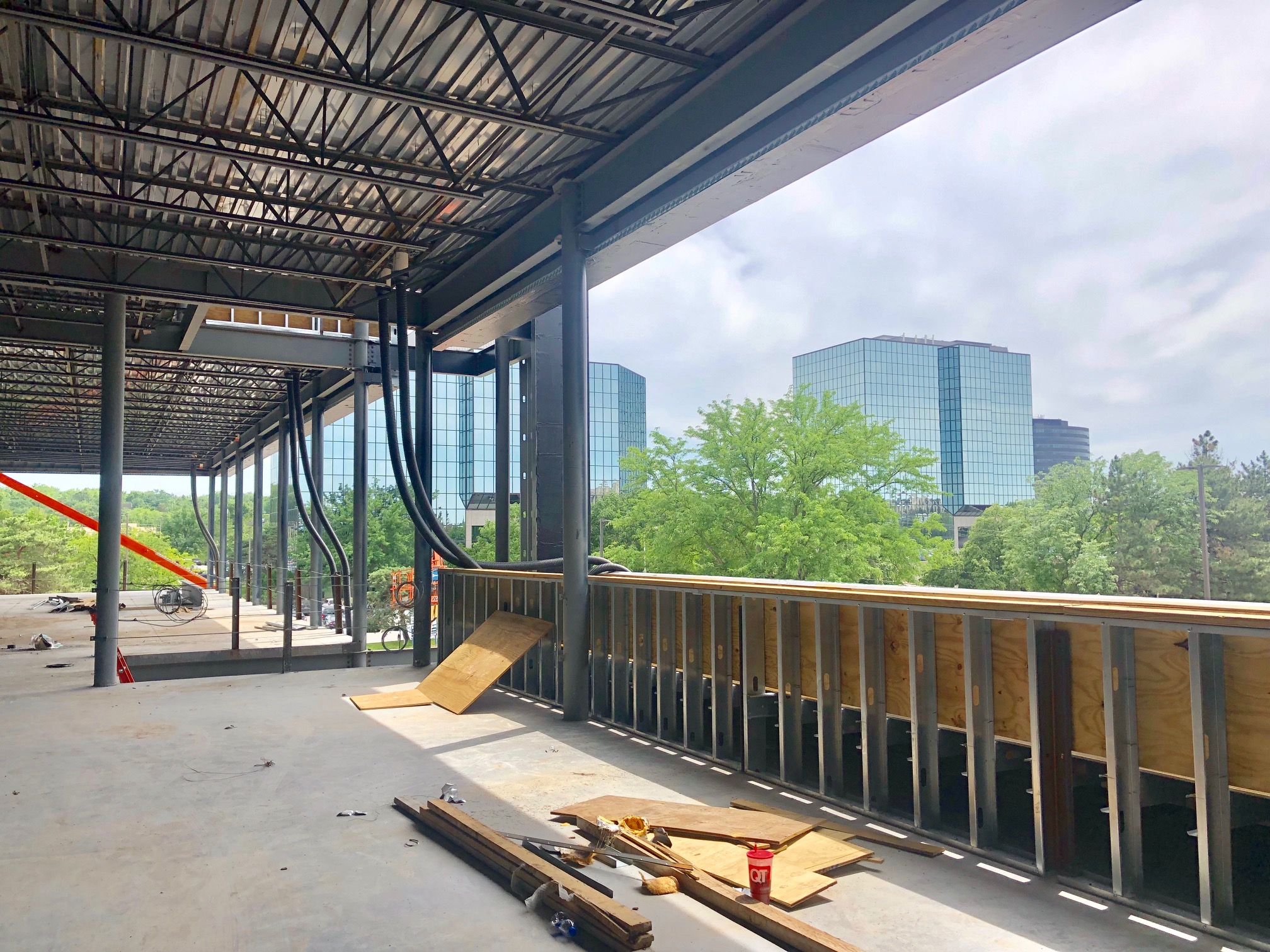 Update 5/24/2019
Walls and glass going in and the building is looking more complete every day. Stay tuned in the coming weeks for big announcements as the building takes shape!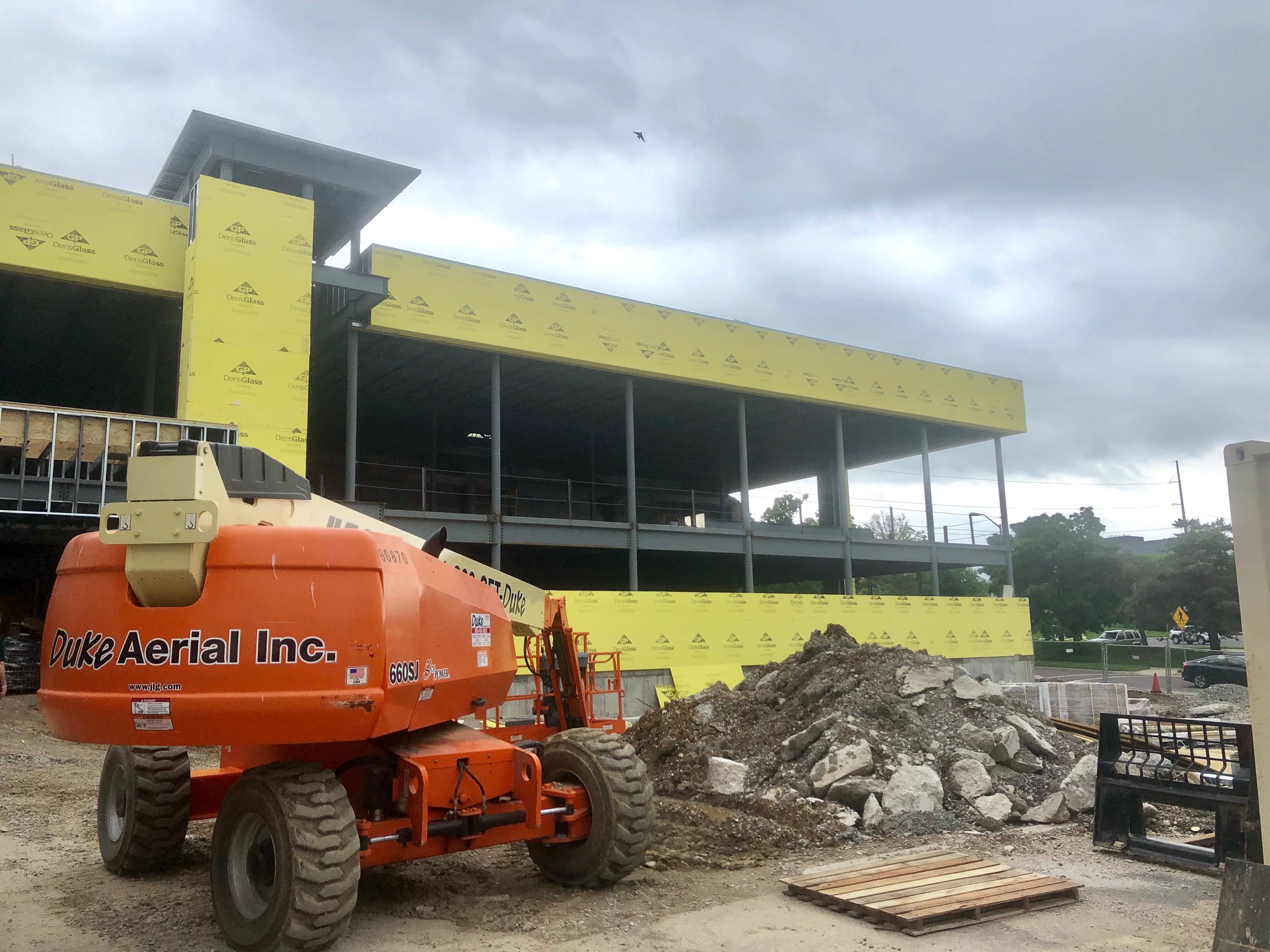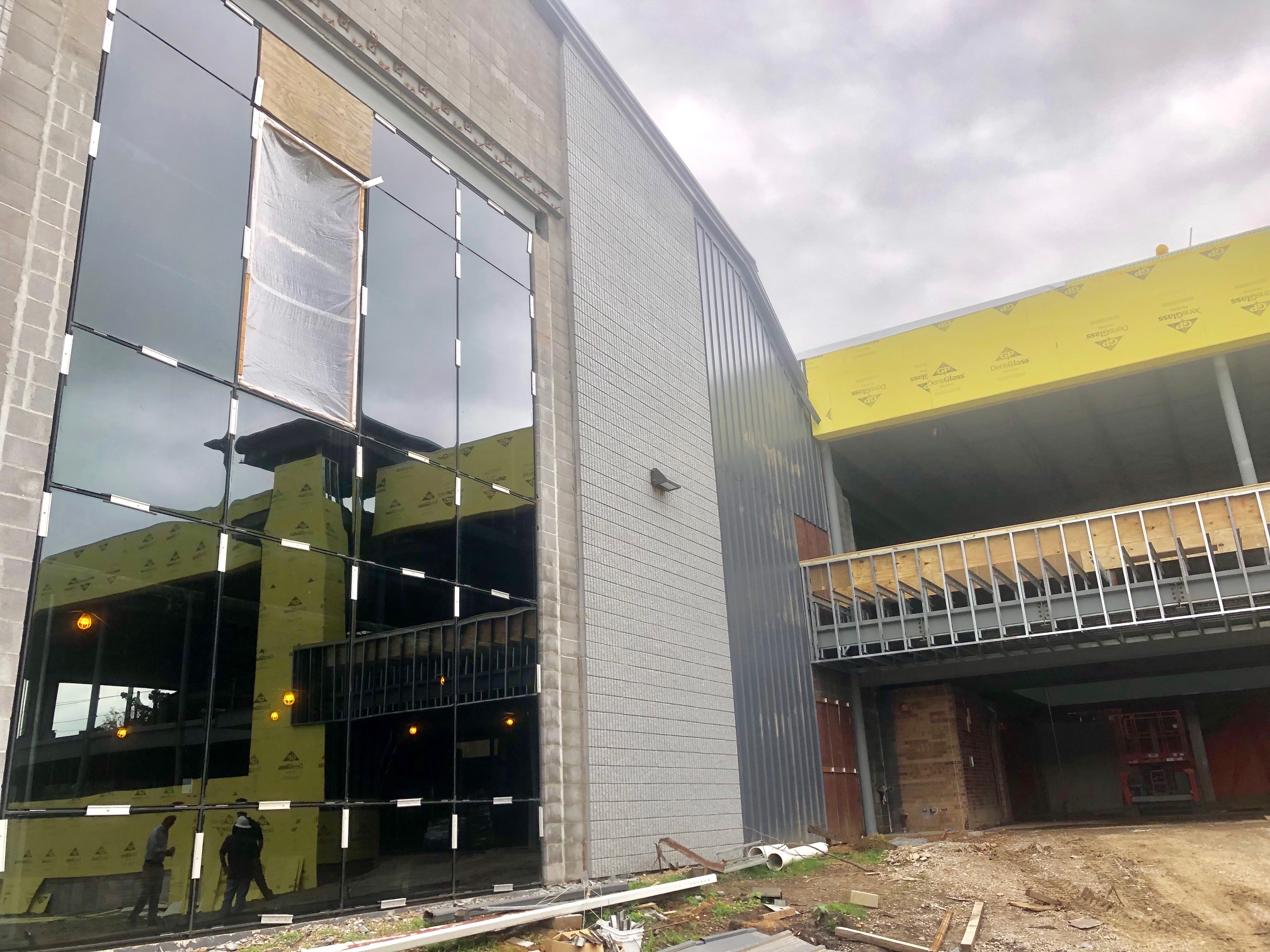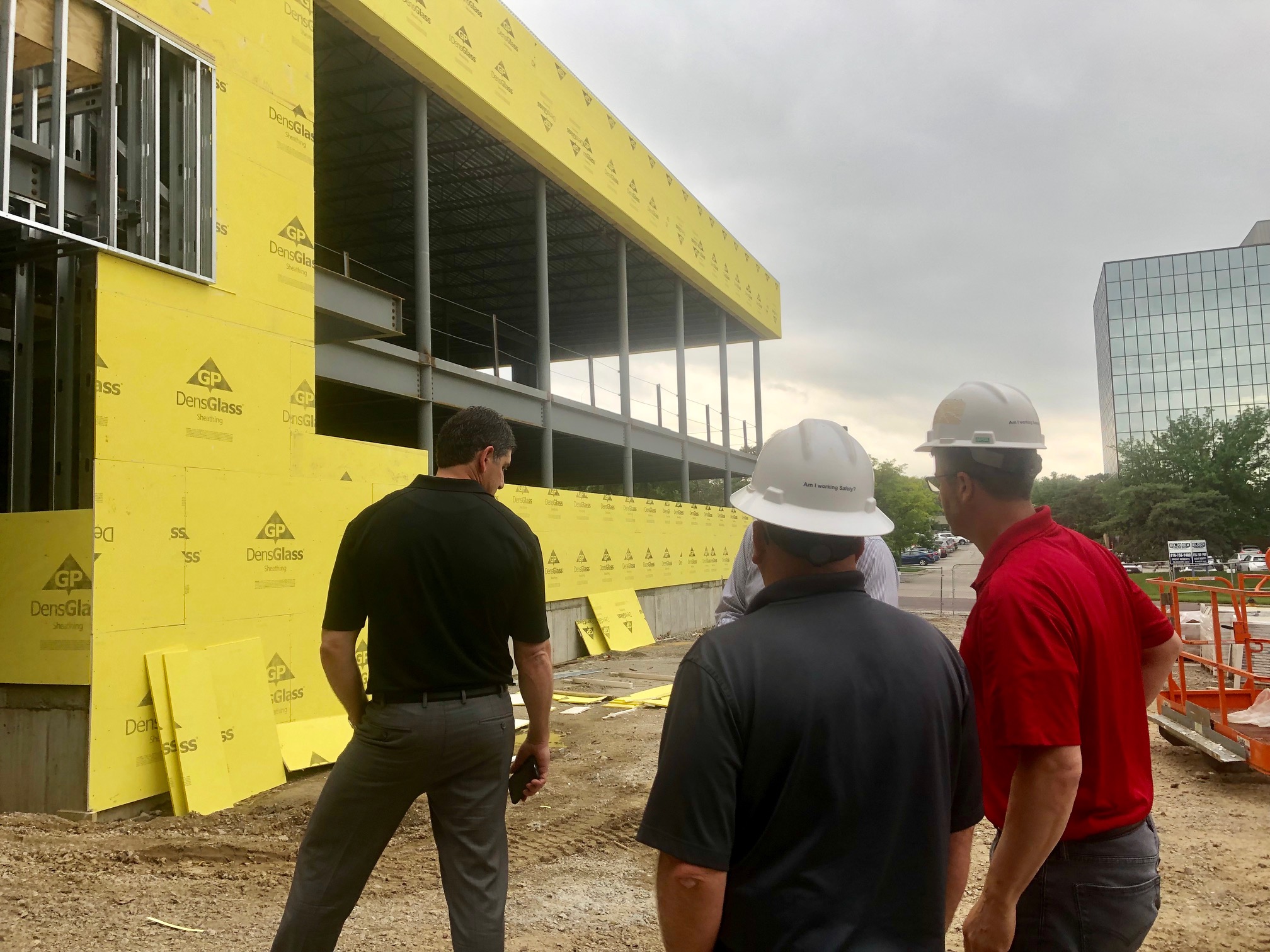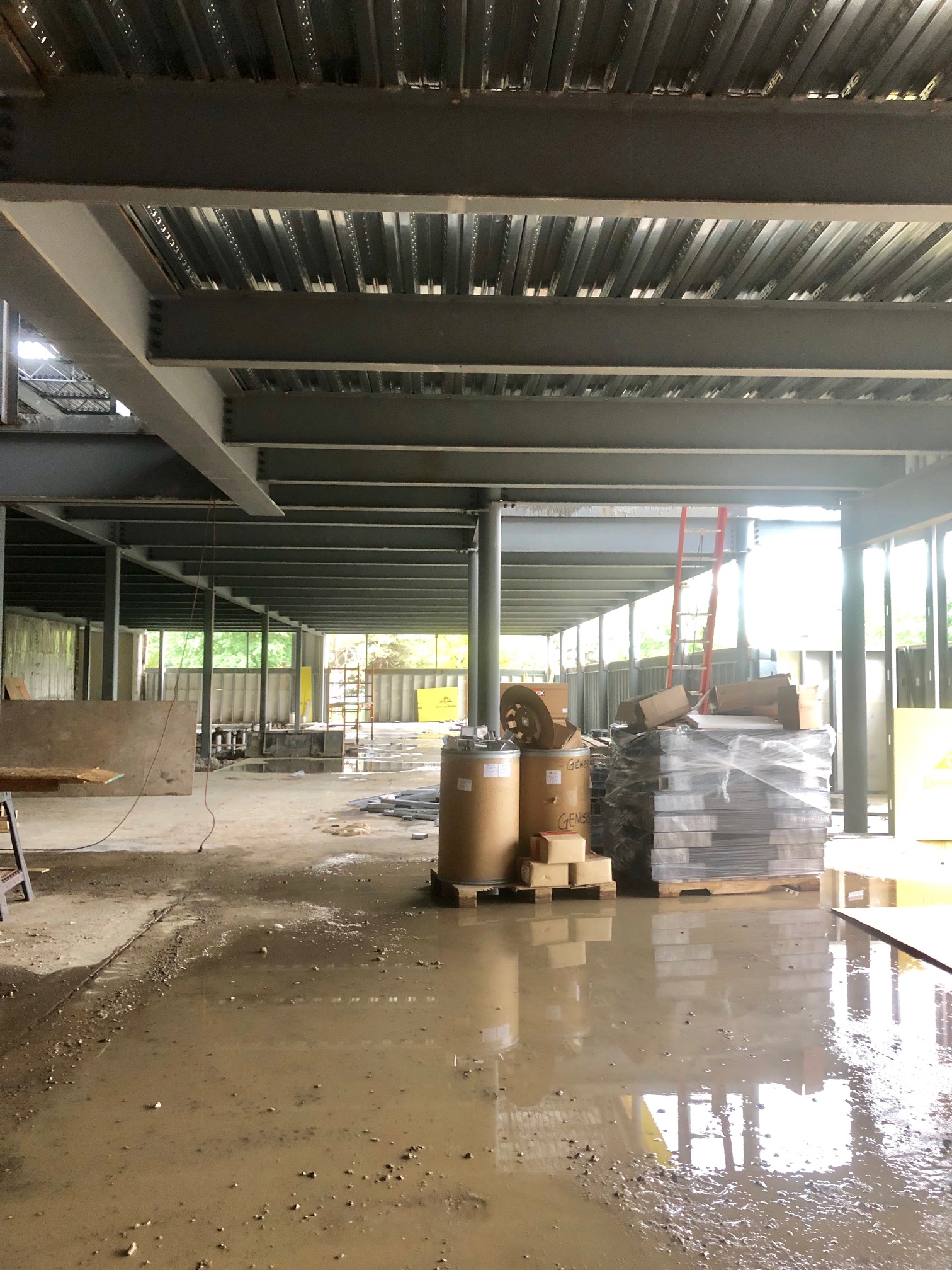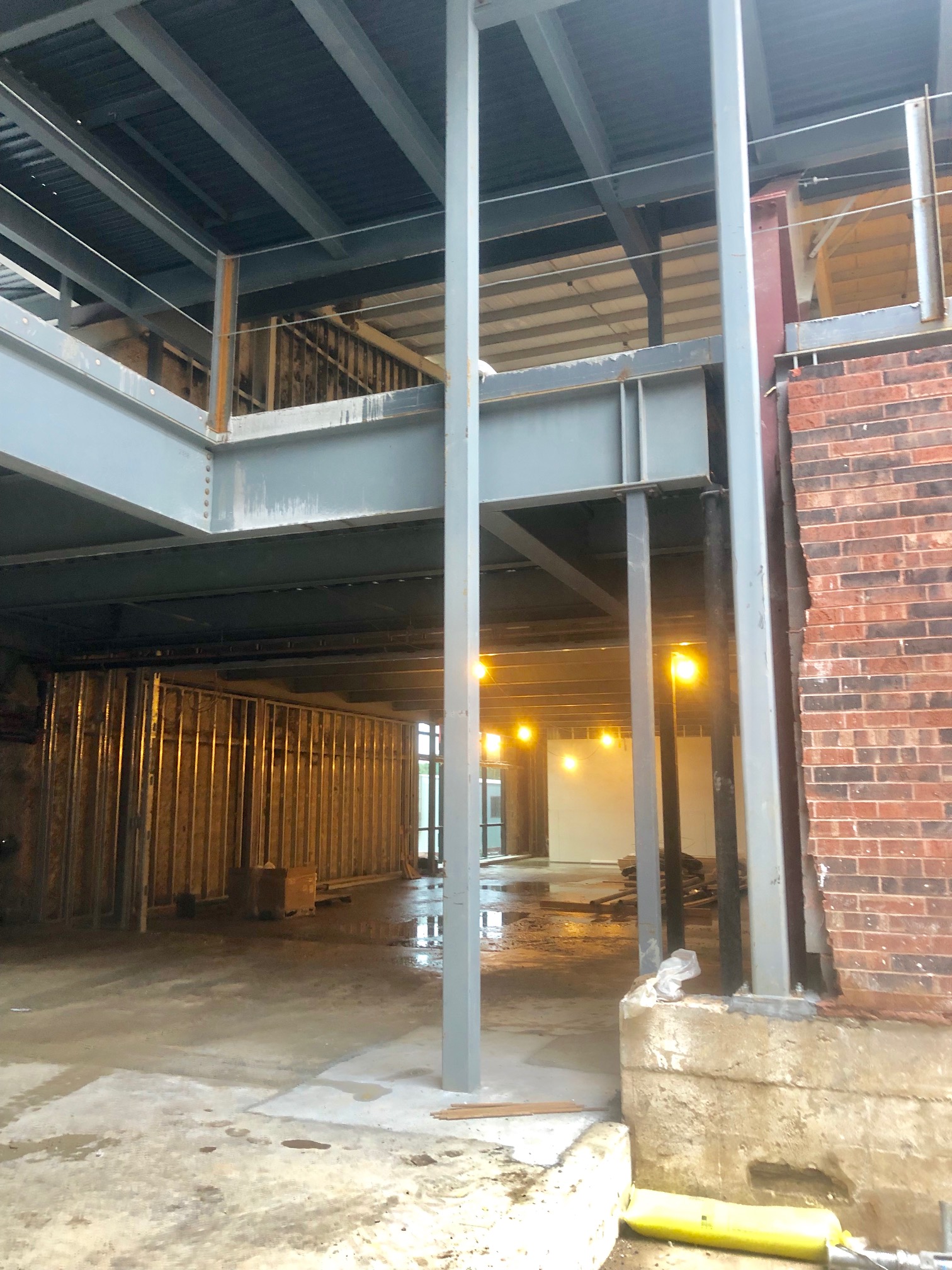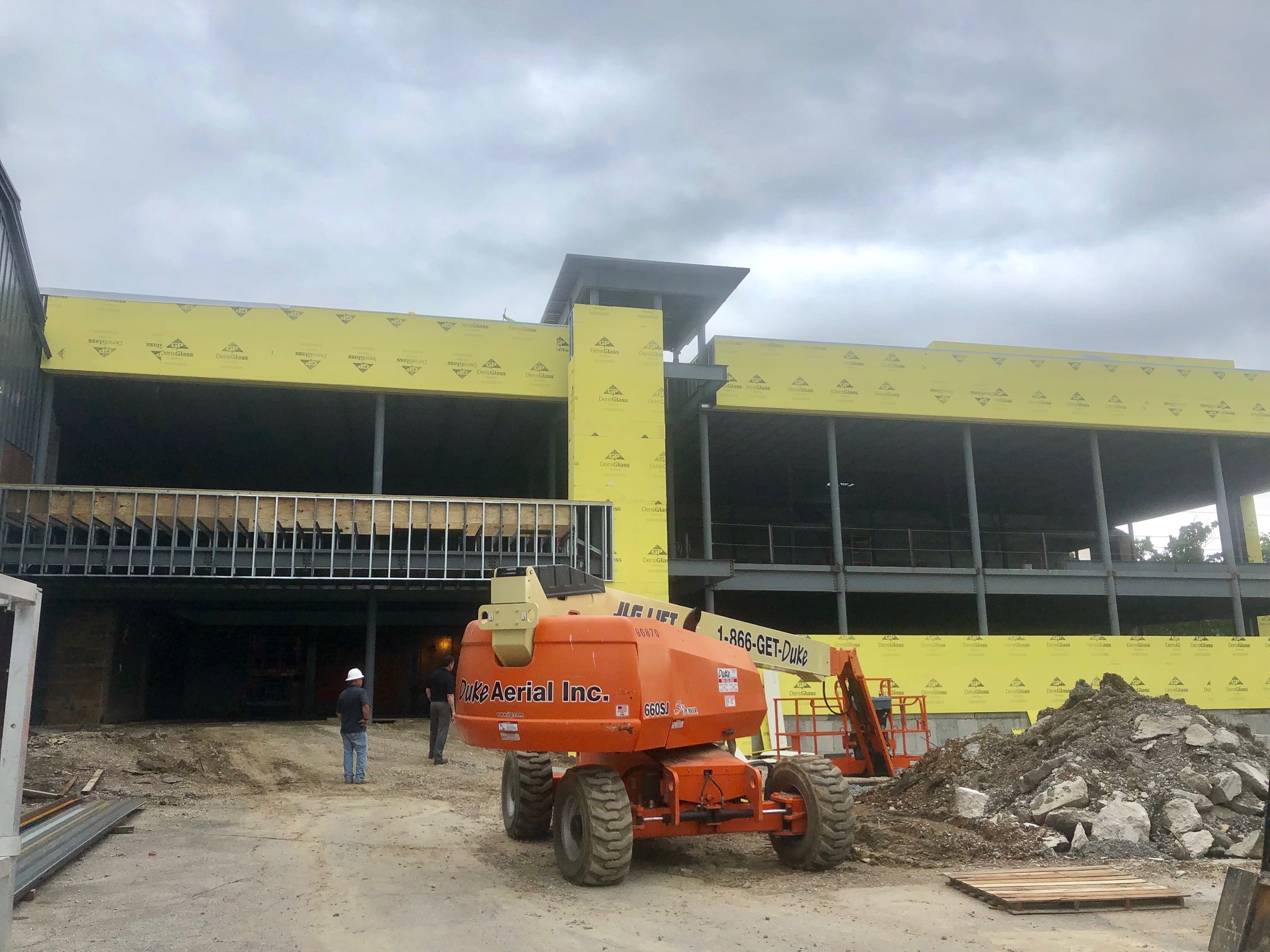 Update 4/29/2019
Floors and ceilings. Walls won't be far behind!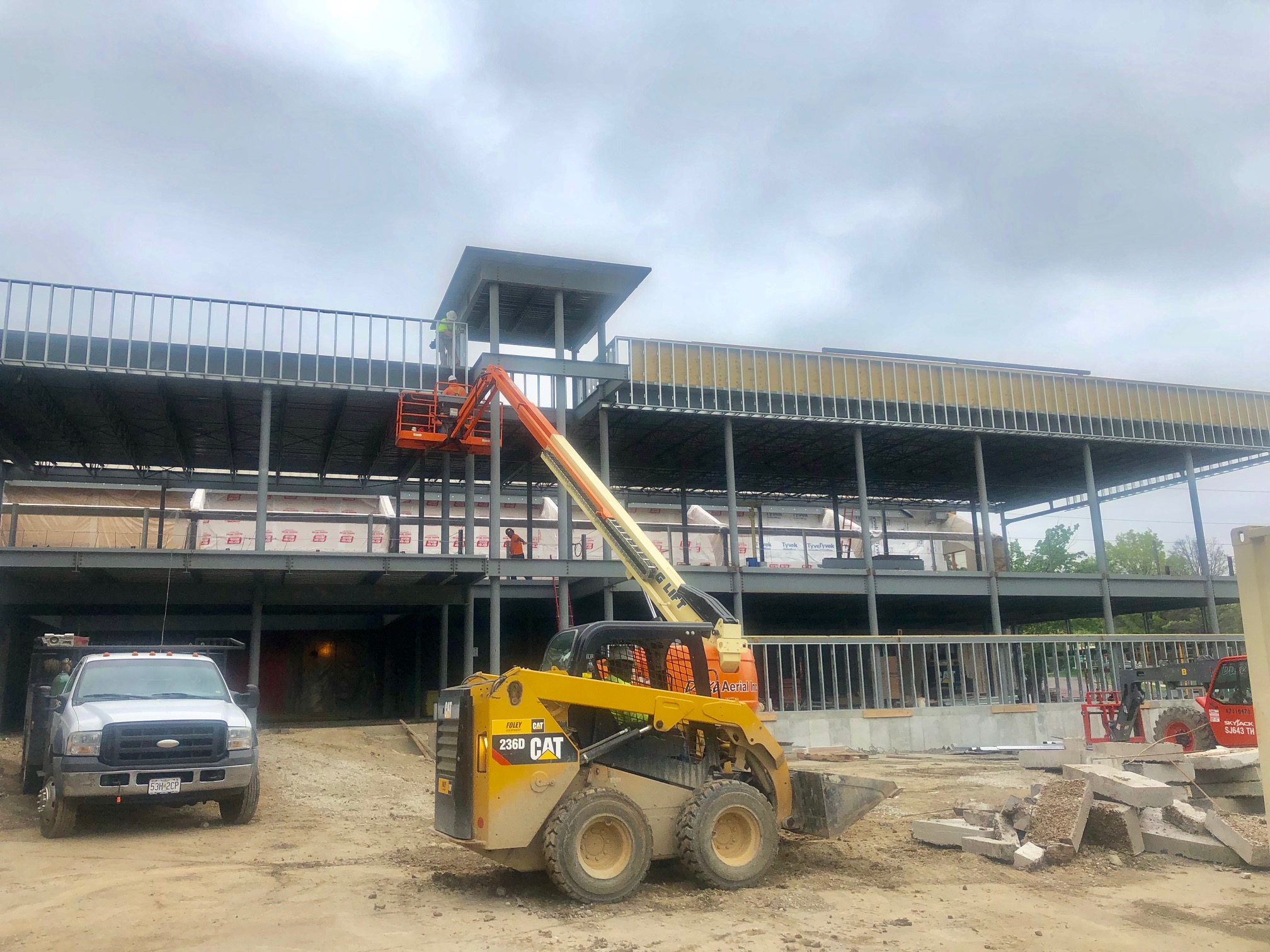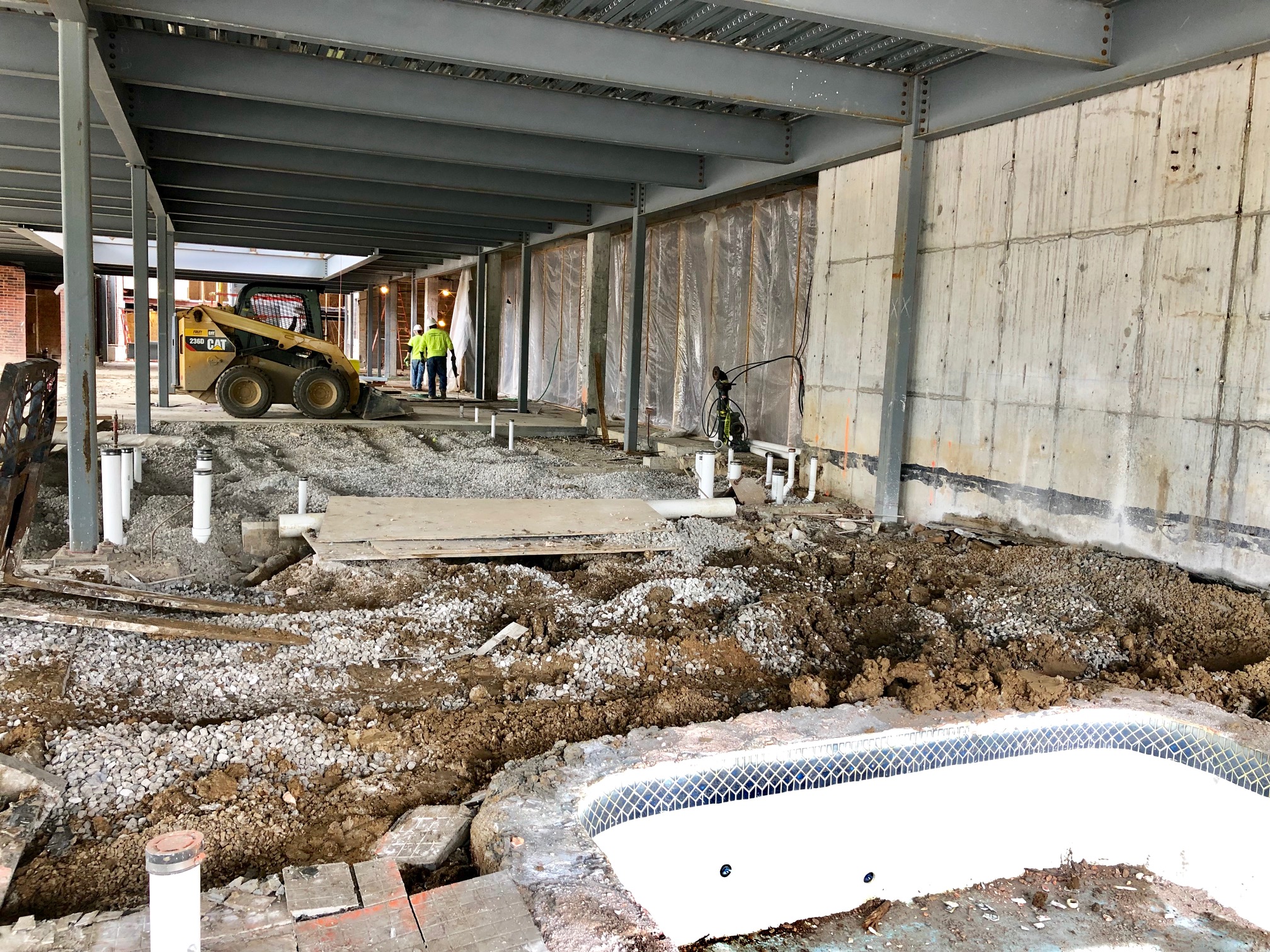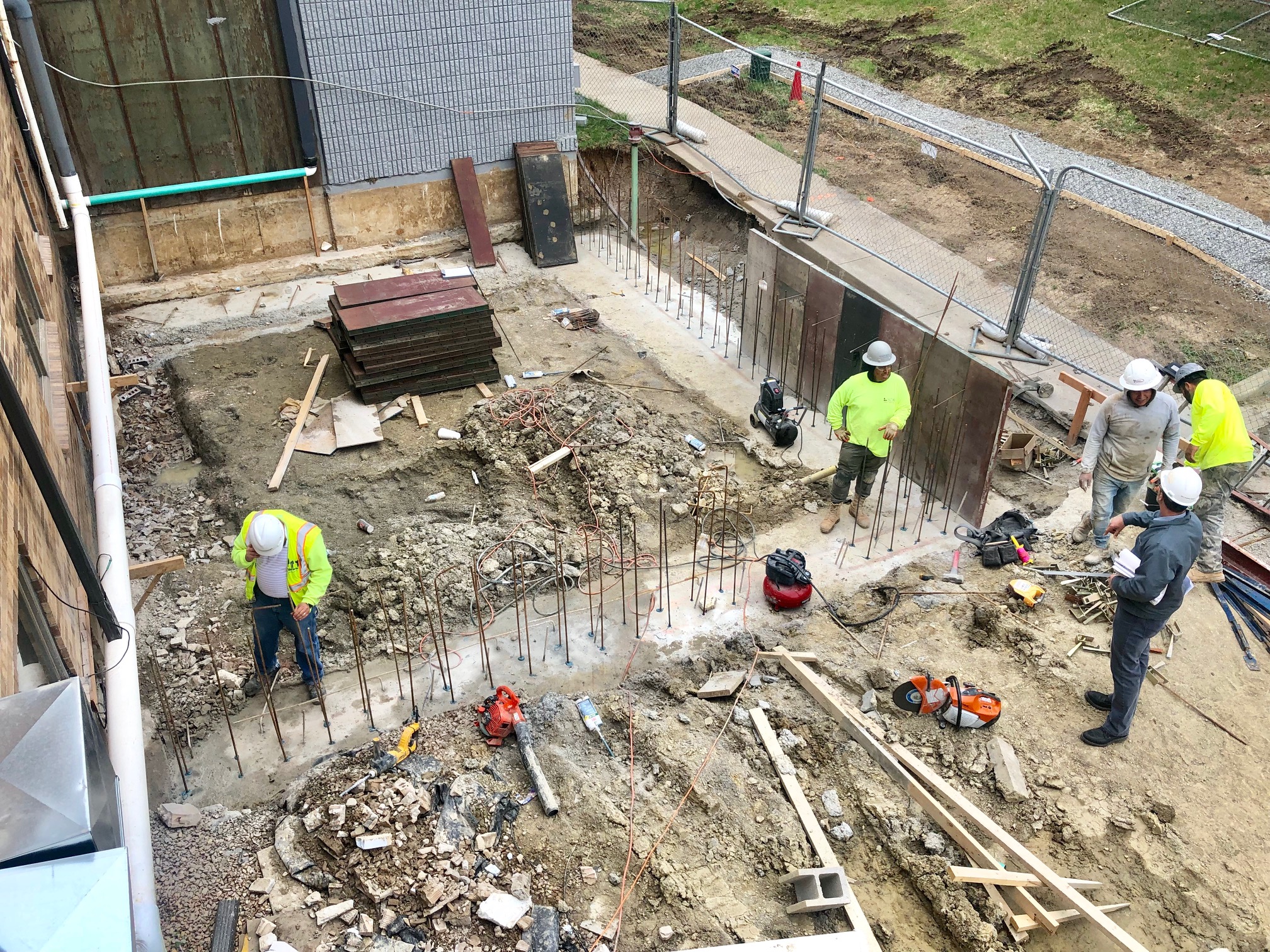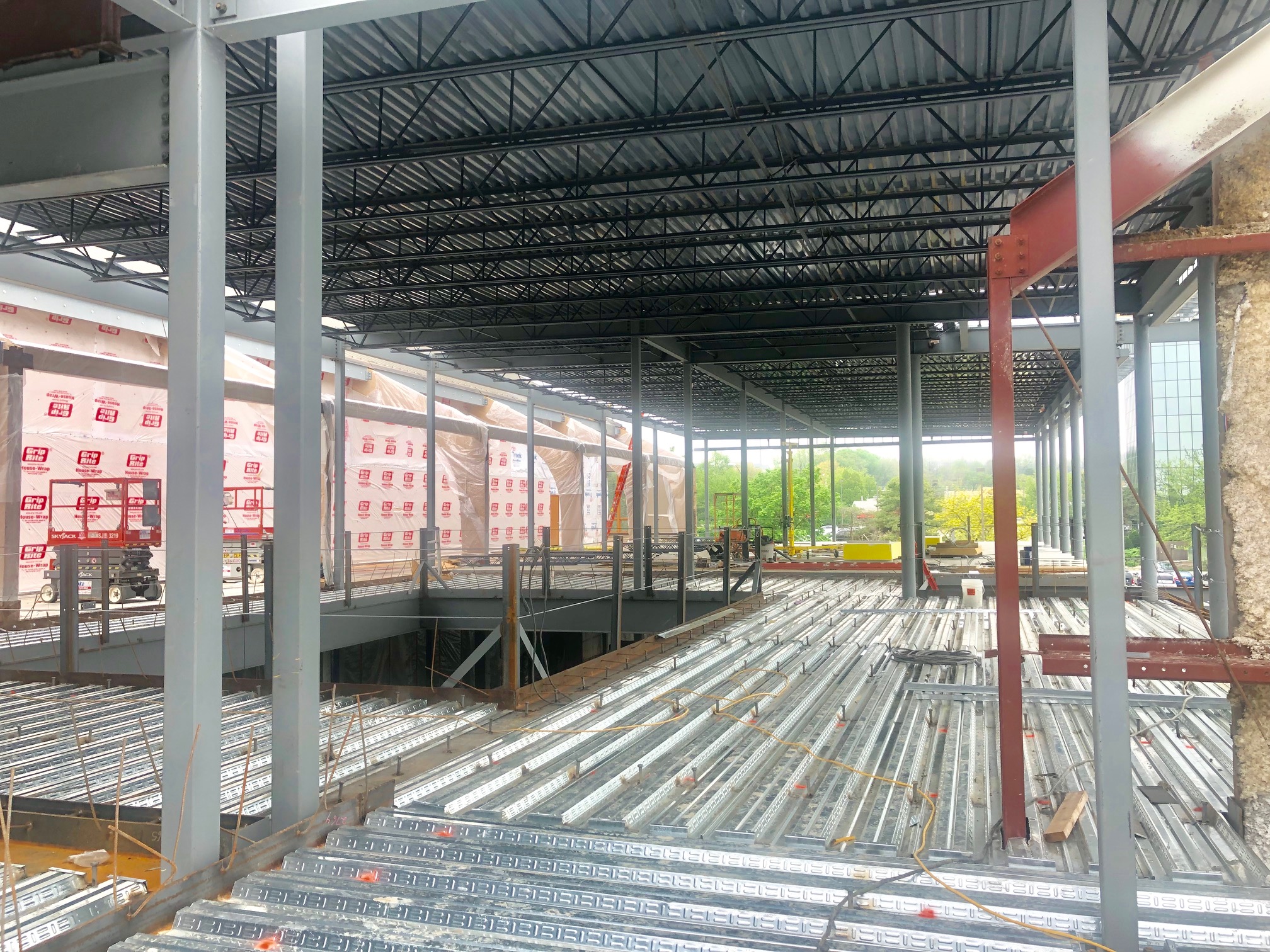 Update 4/19/2019
Another week, and even more progress. The luxury locker rooms and showers are taking shape, and the steel work is nearly complete. Get your countdown timers ready; this project is getting closer every day!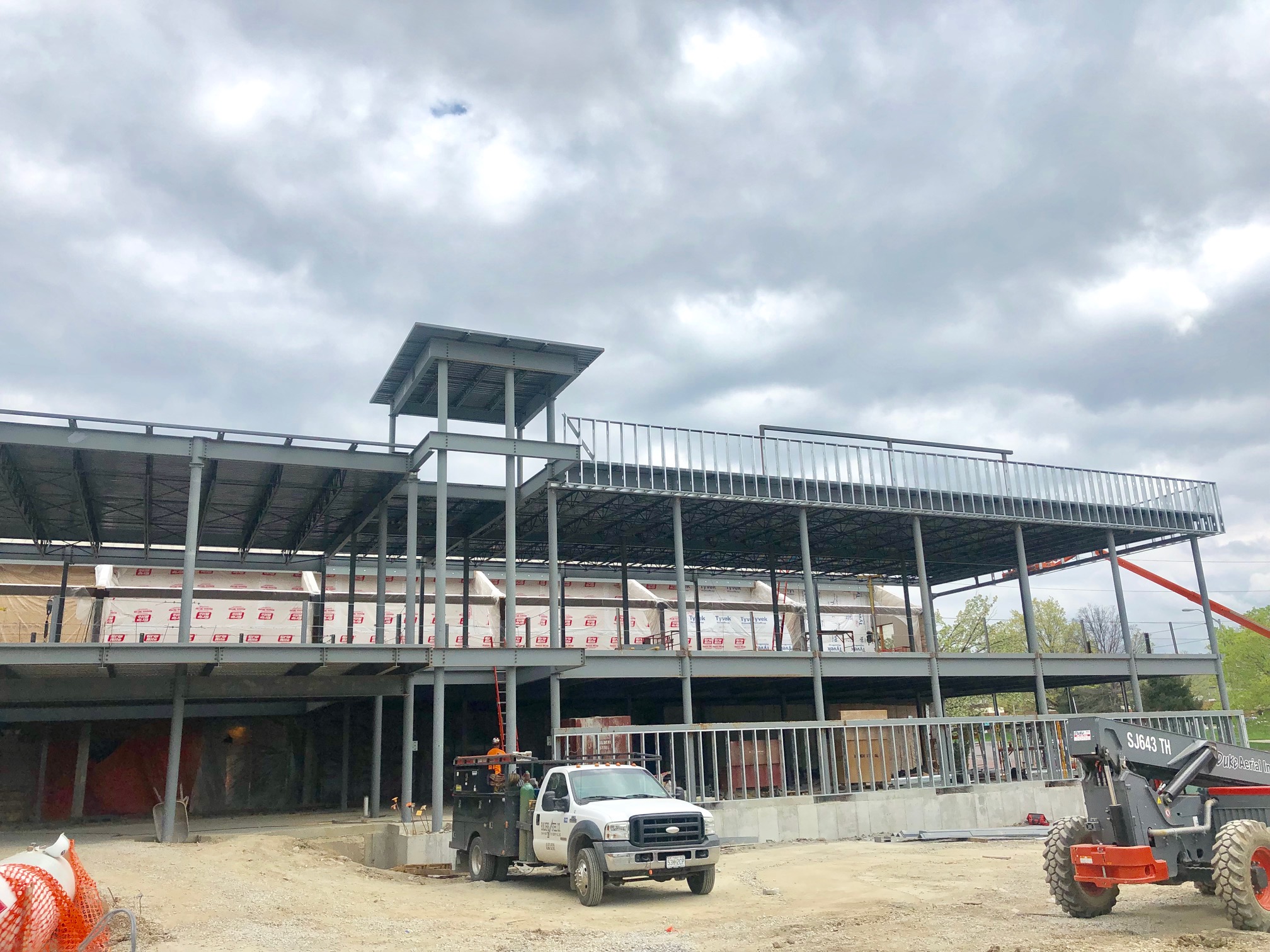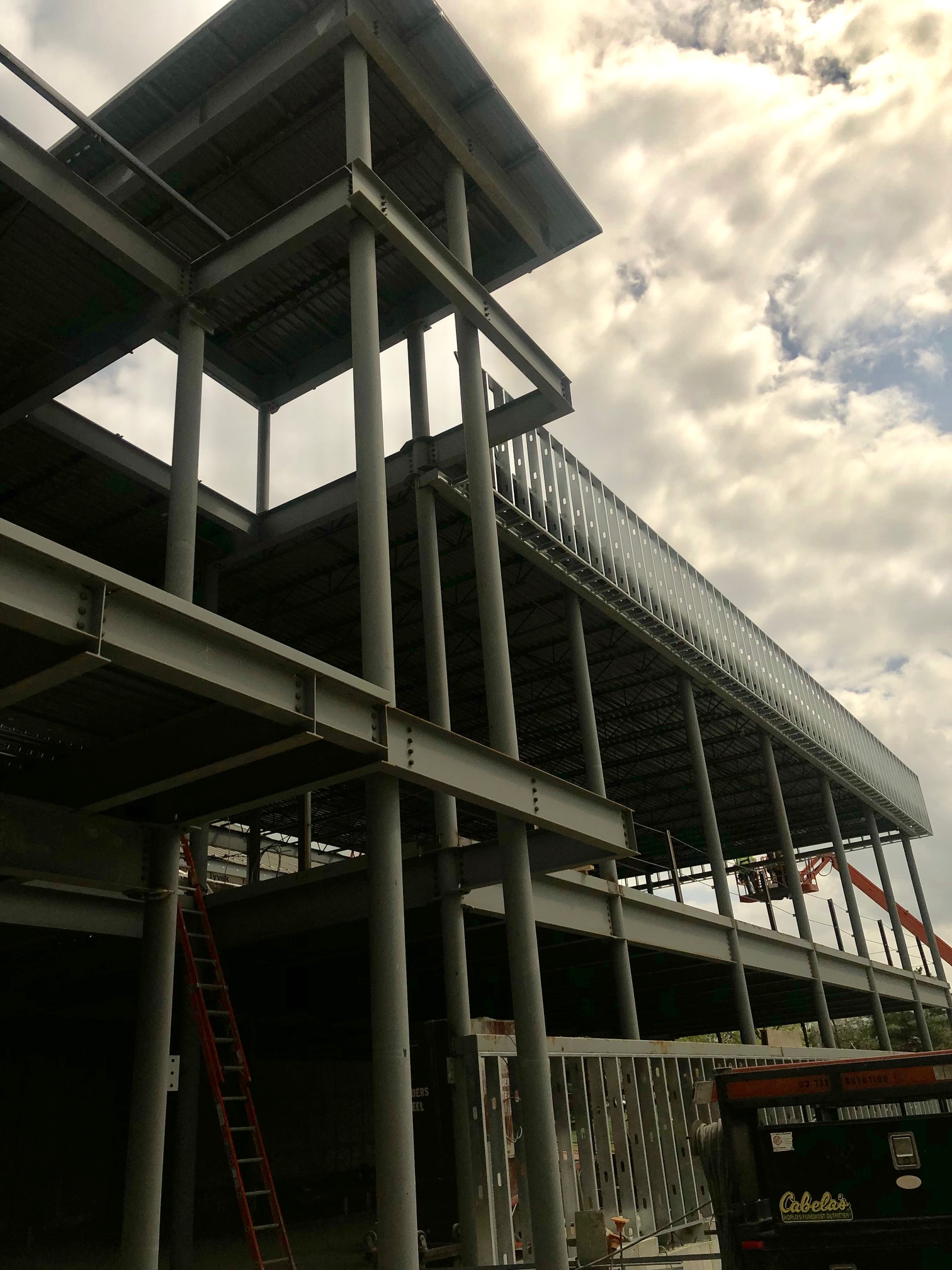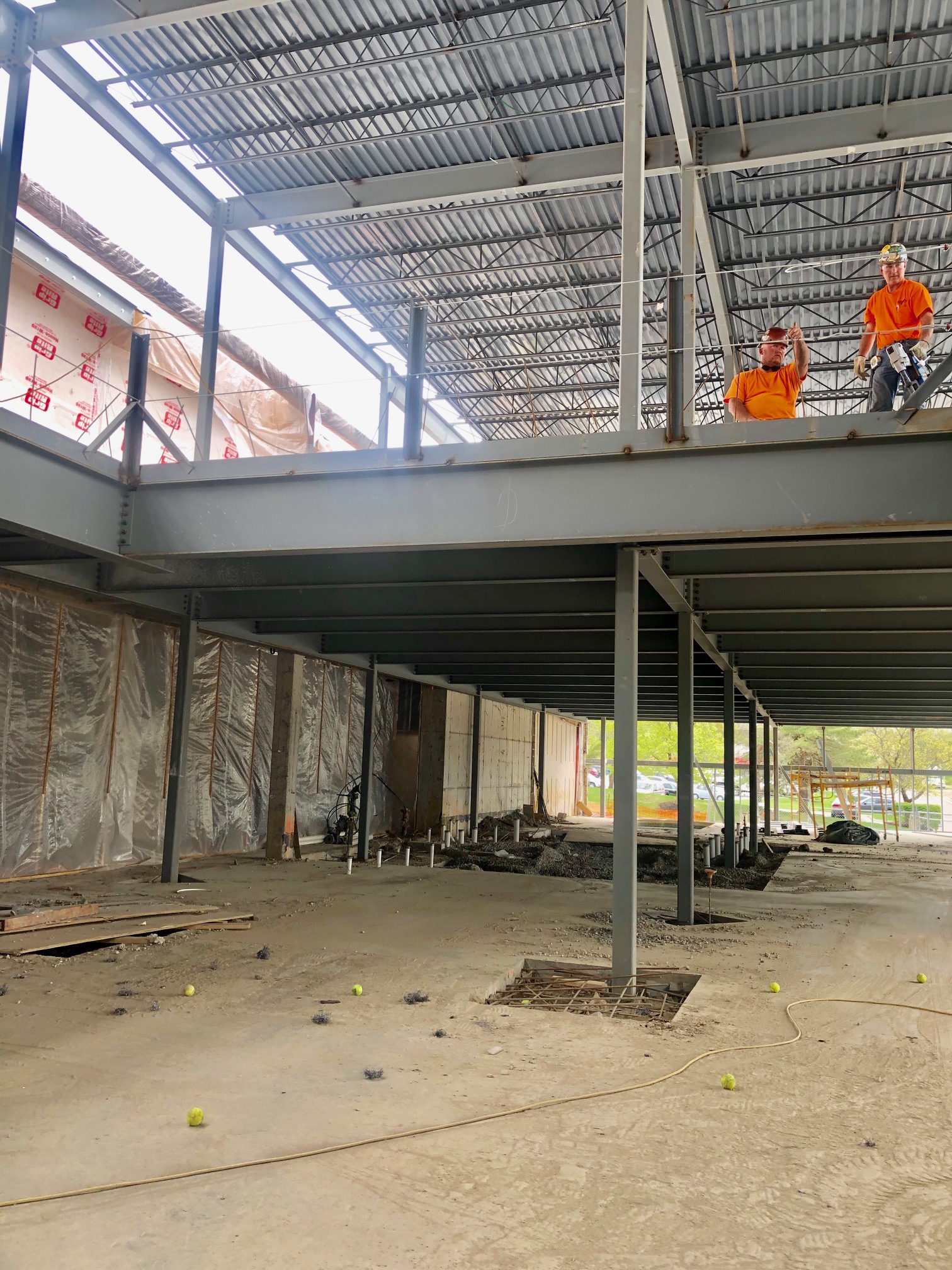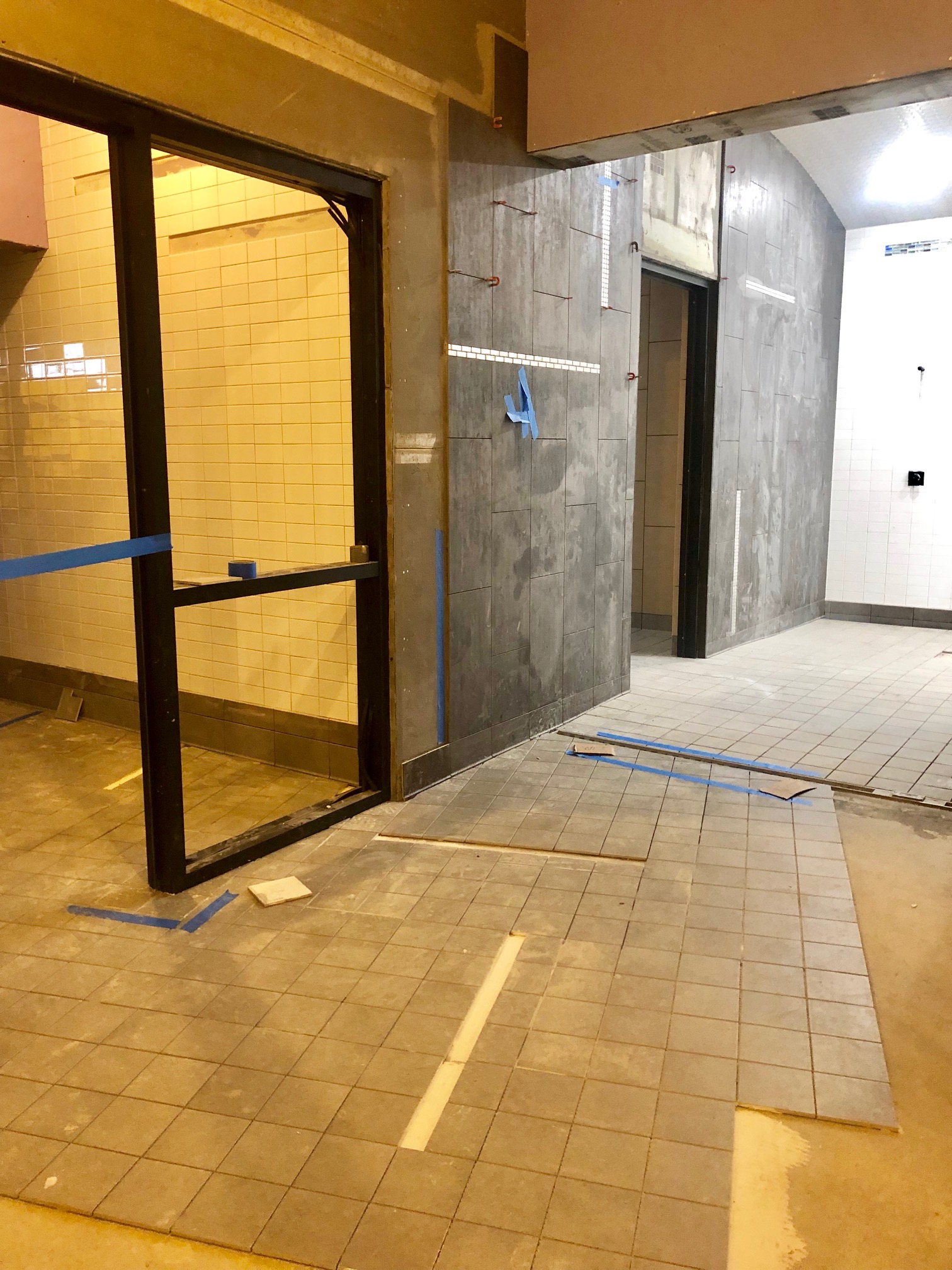 Update 4/4/2019
Overland Park is going to be so exciting we can't wait for you to get inside and use it! Construction is really moving as you can see the progression below over just a few hours. Windows are going and showers are coming along nicely.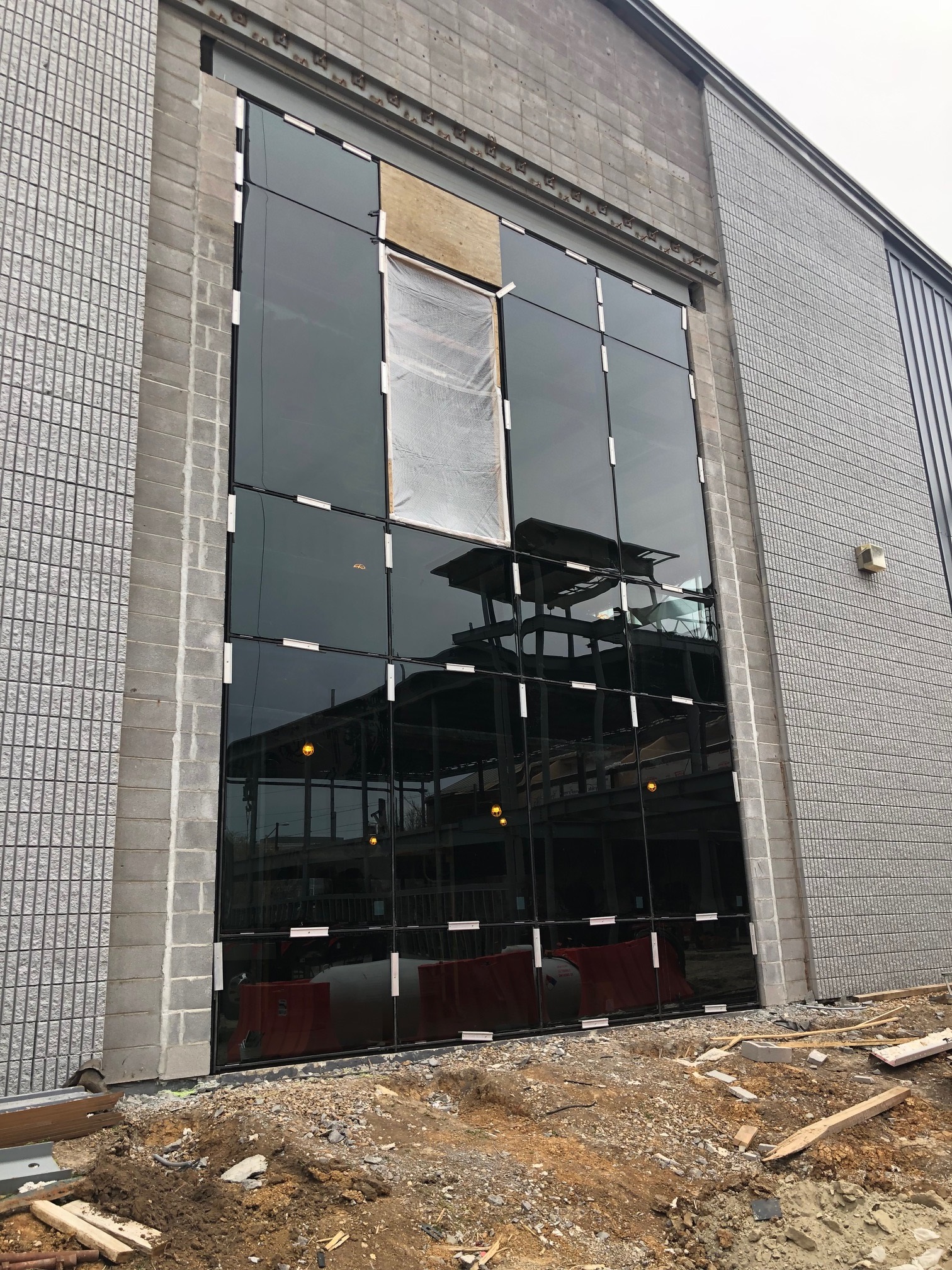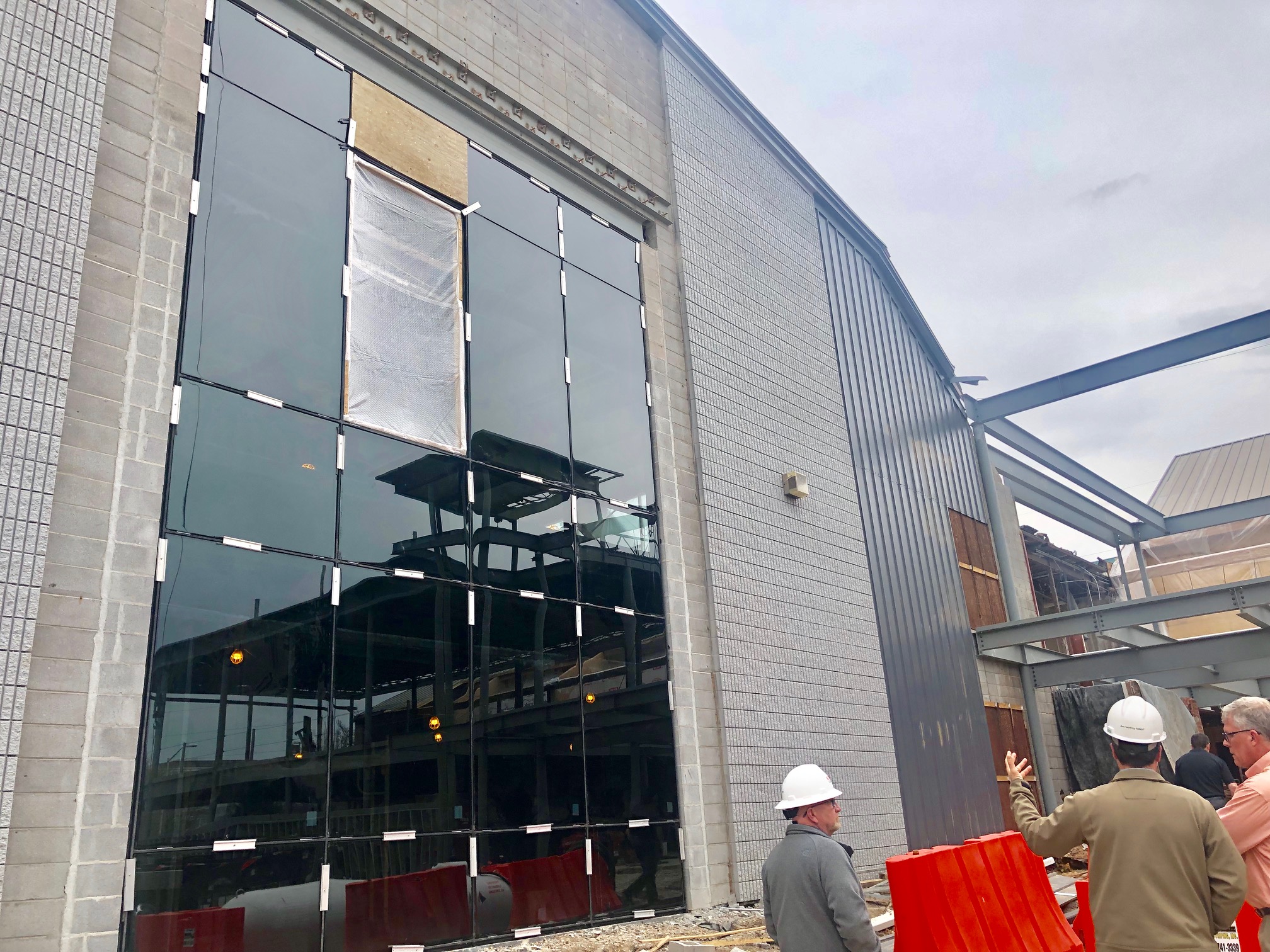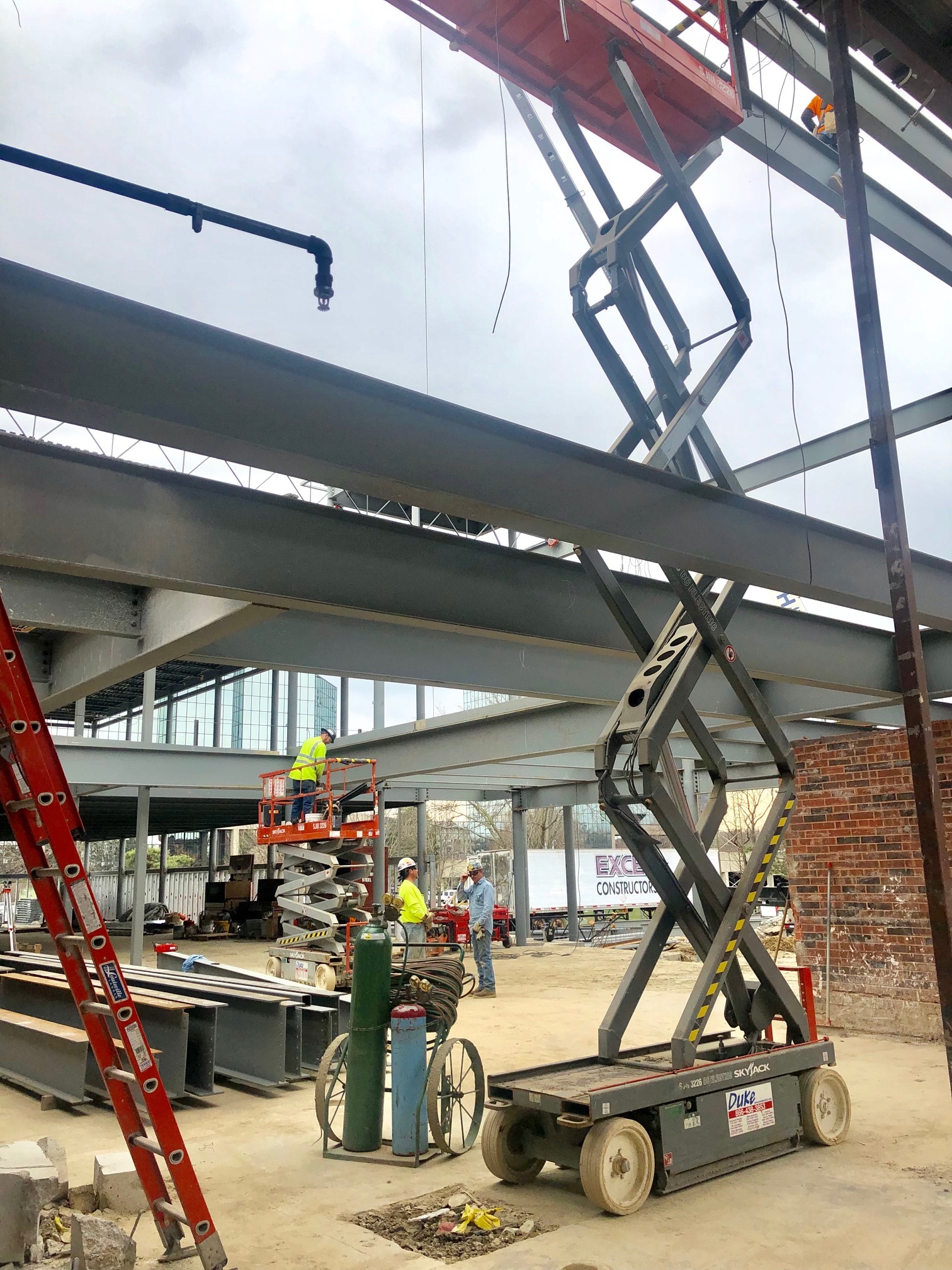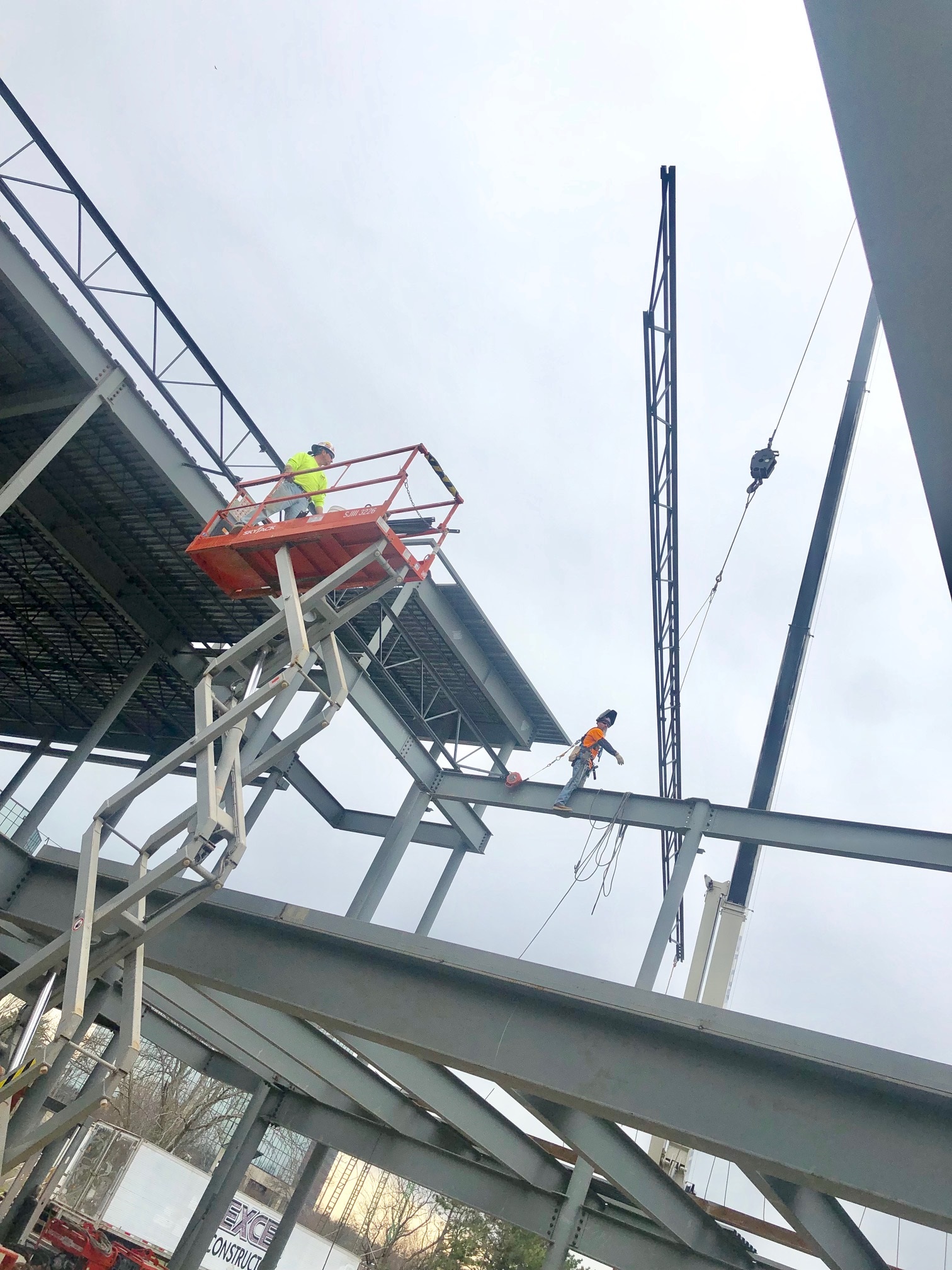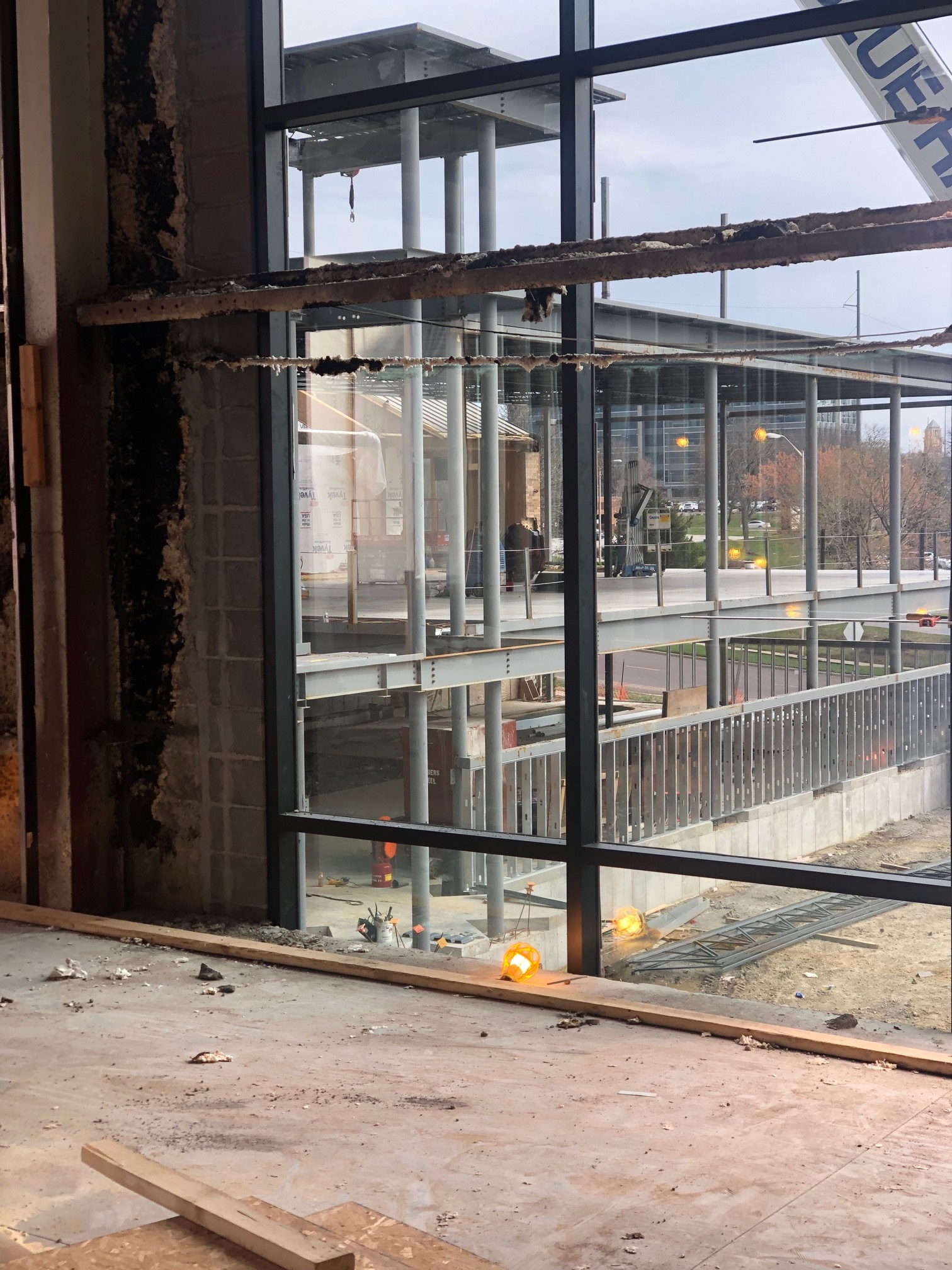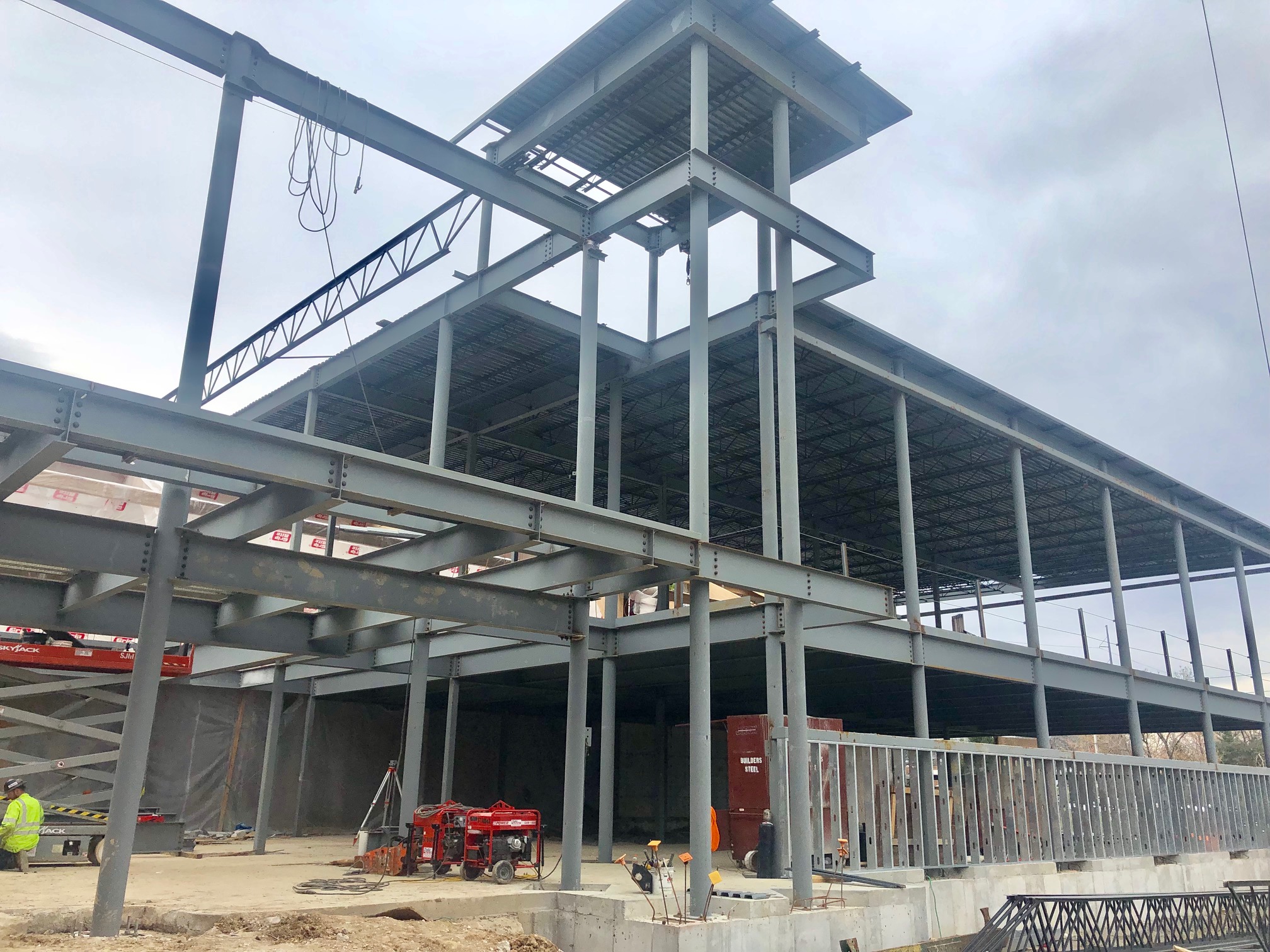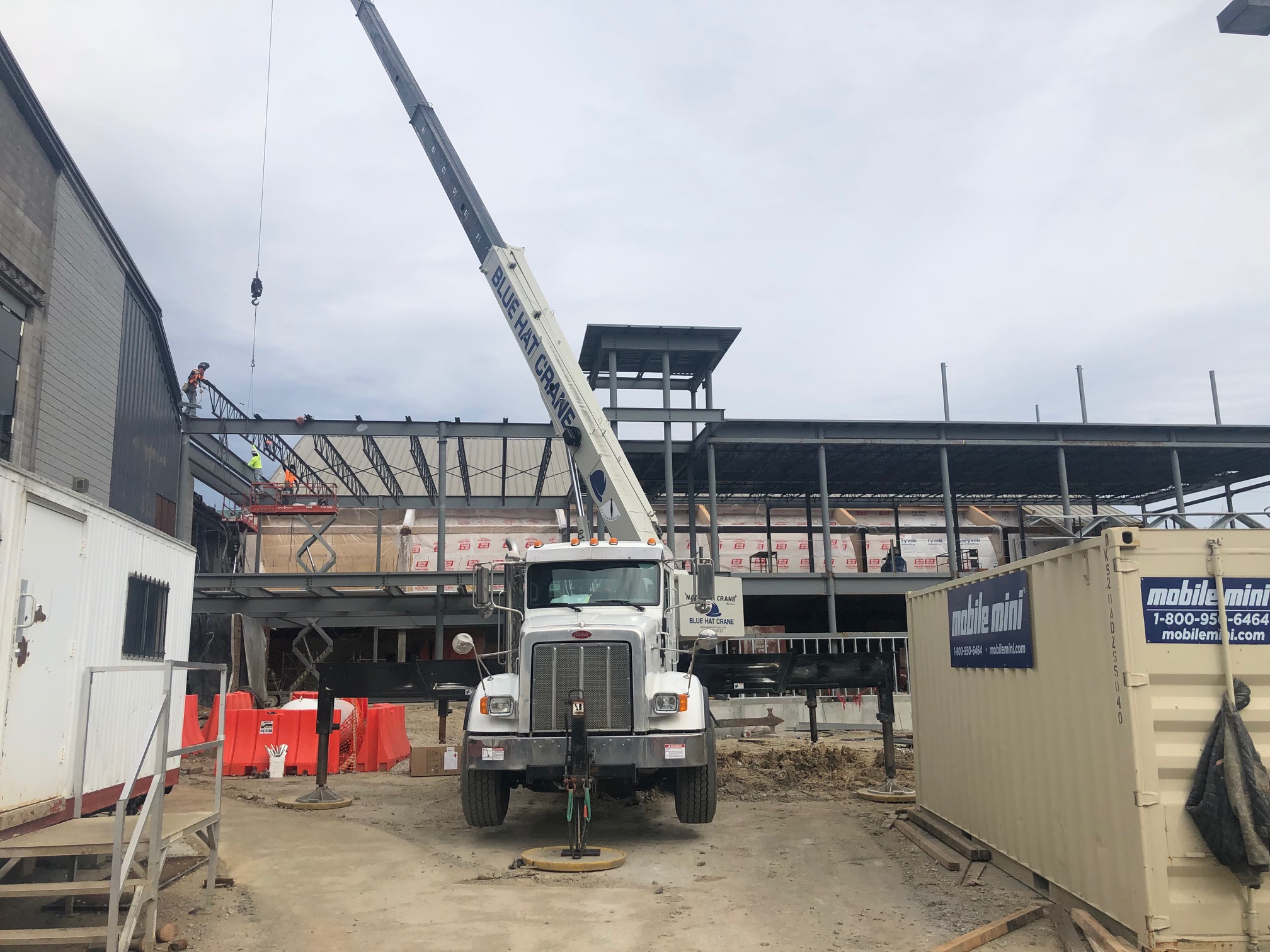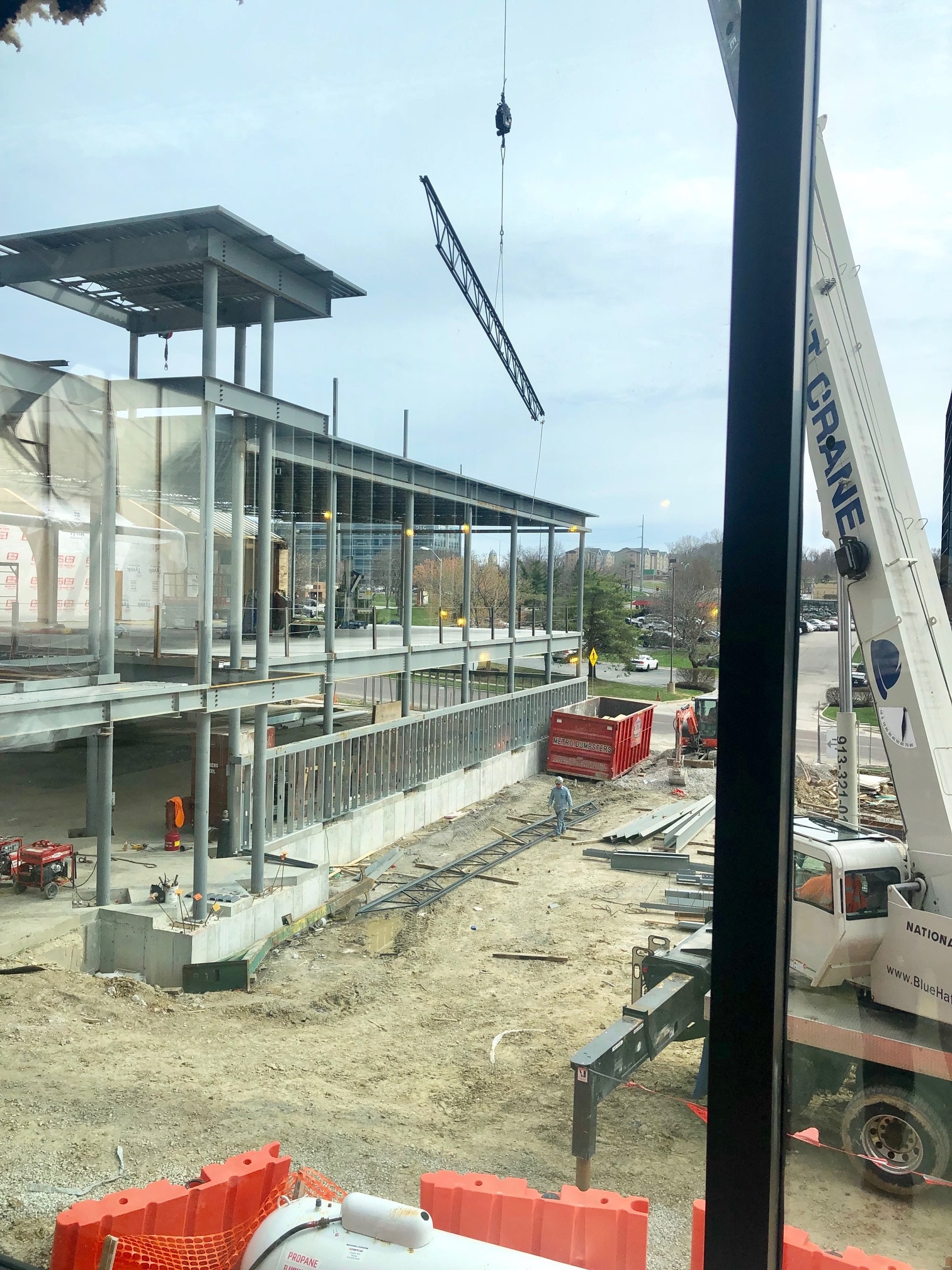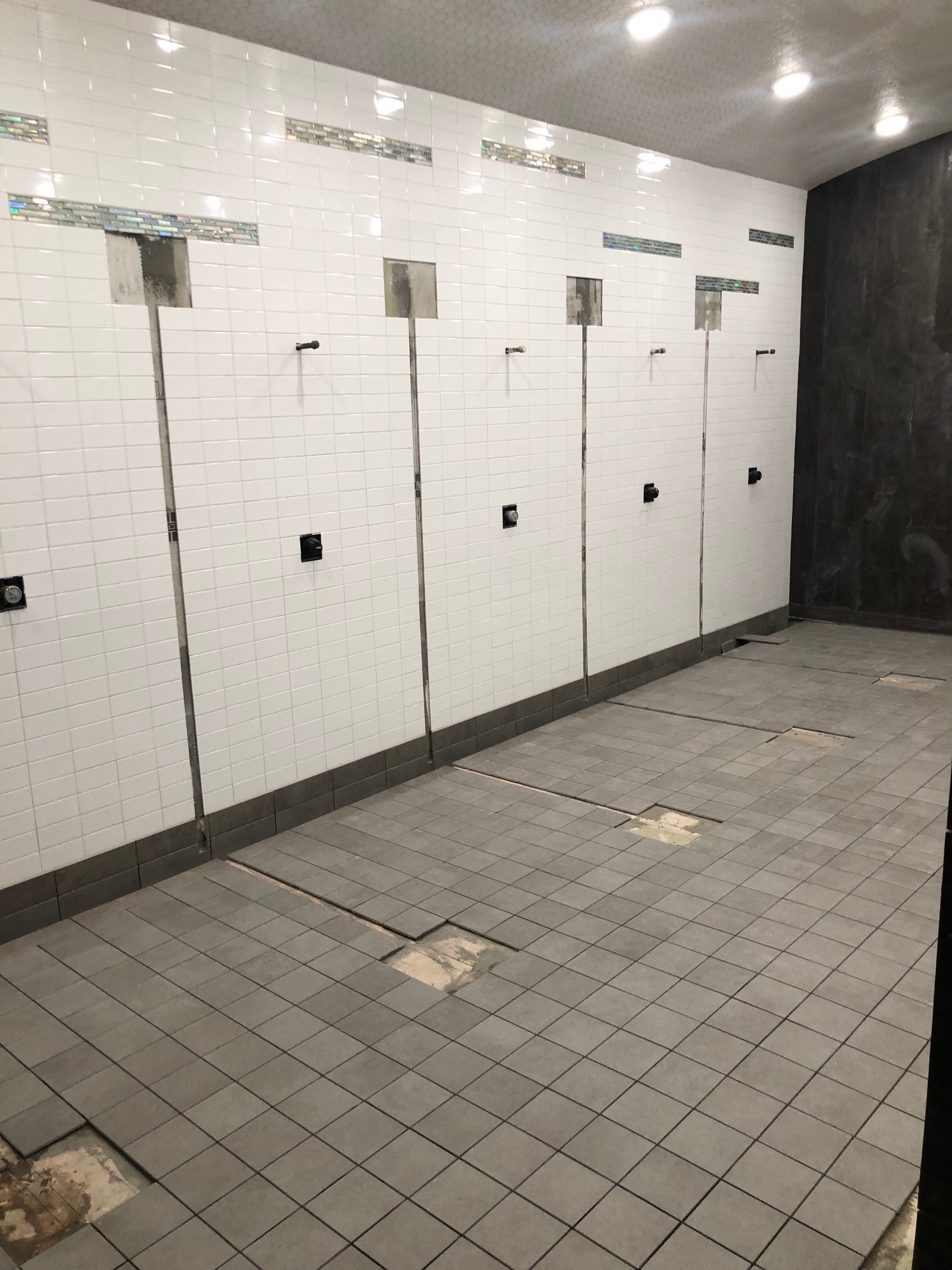 Update 3/29/2019
Another week of progress as the vision comes into focus. Can't wait for you to enjoy the results!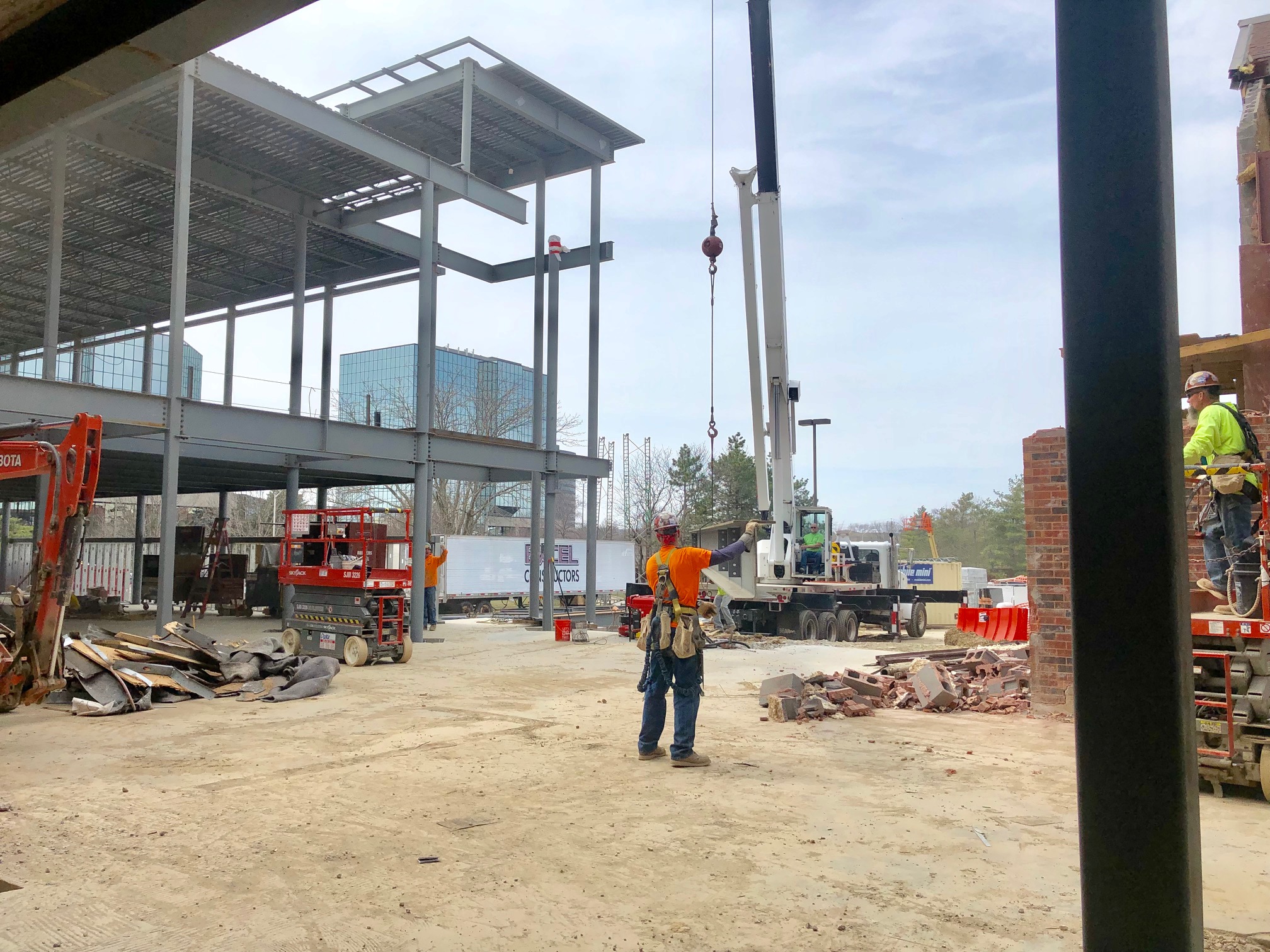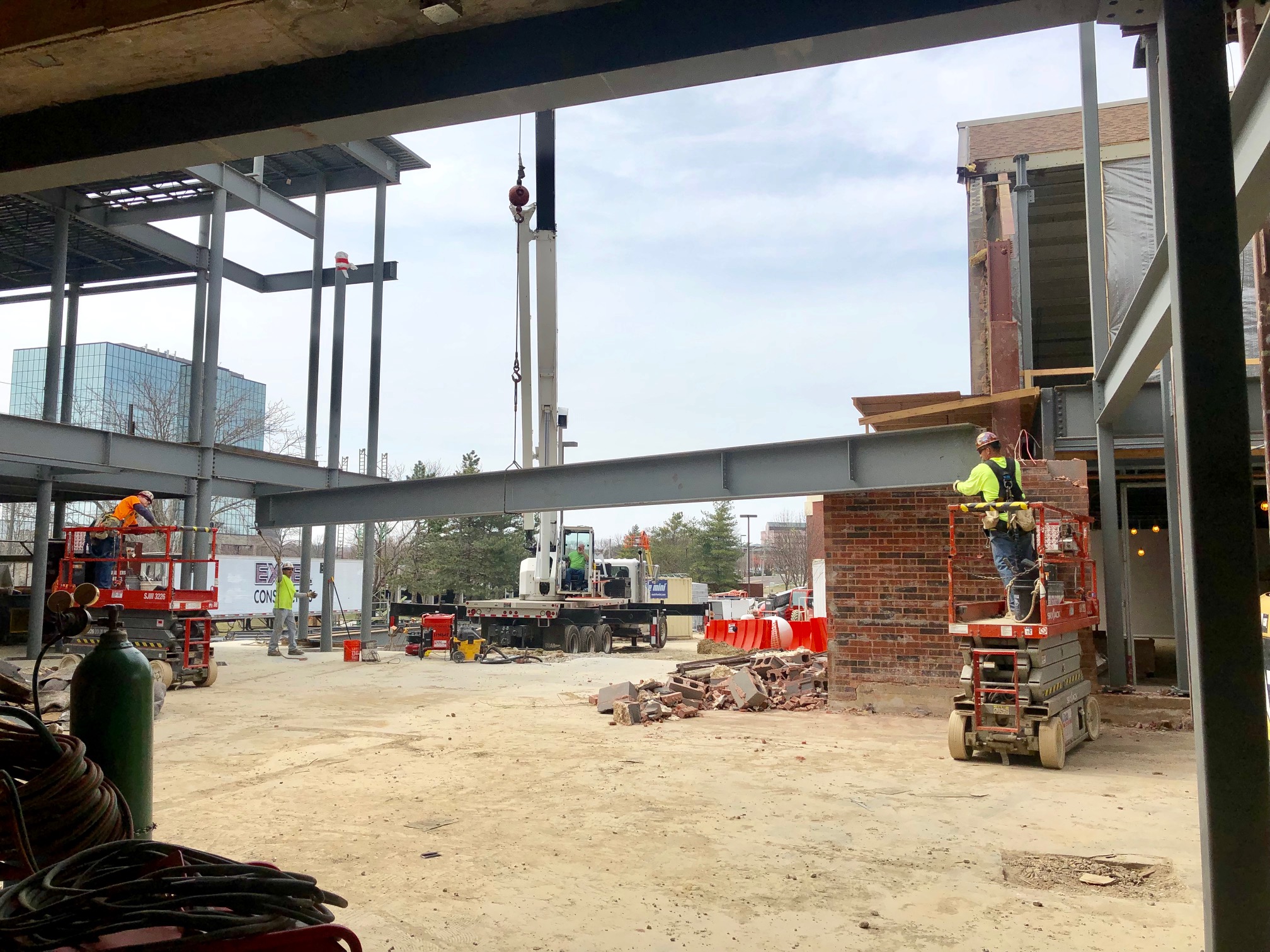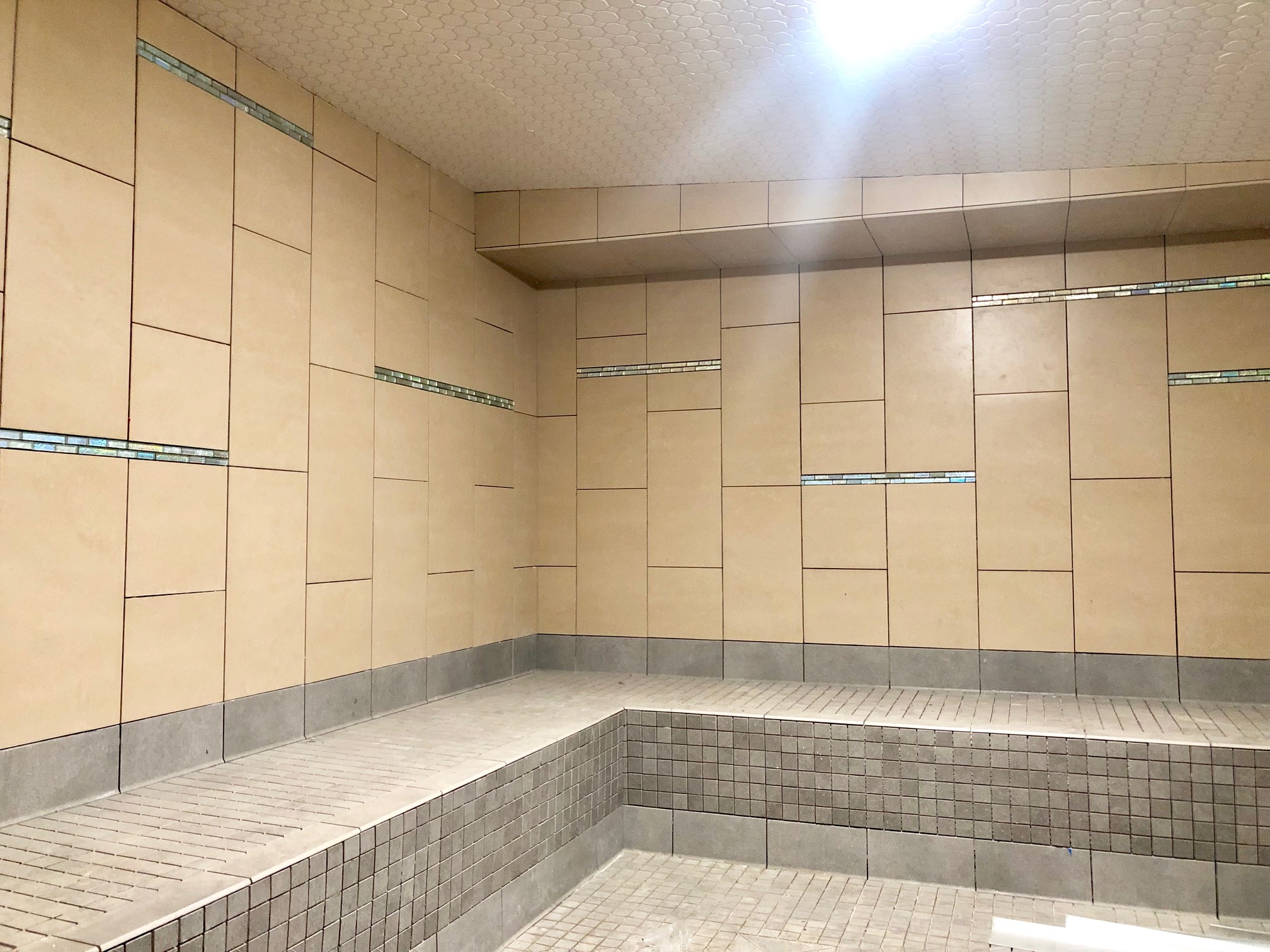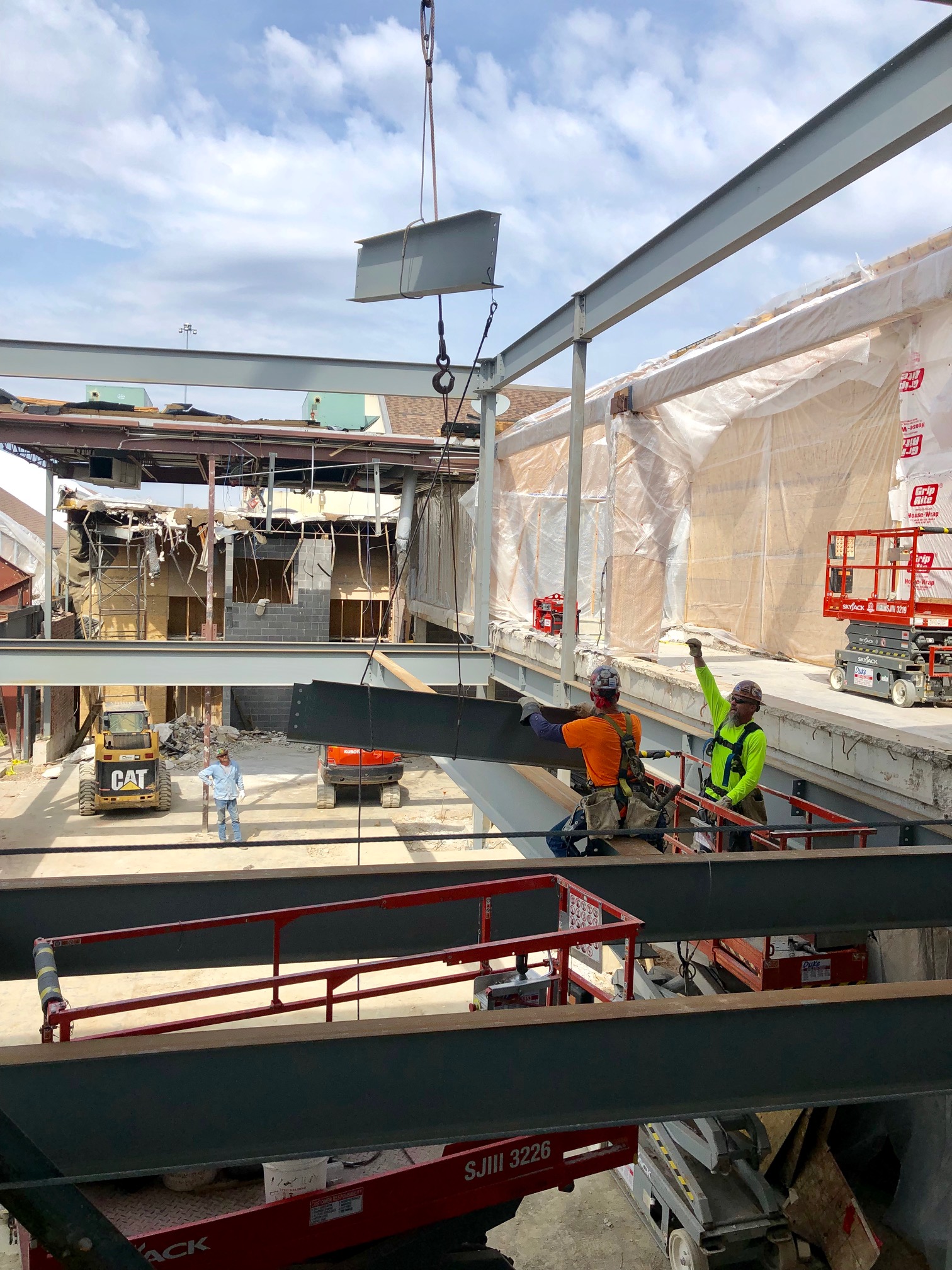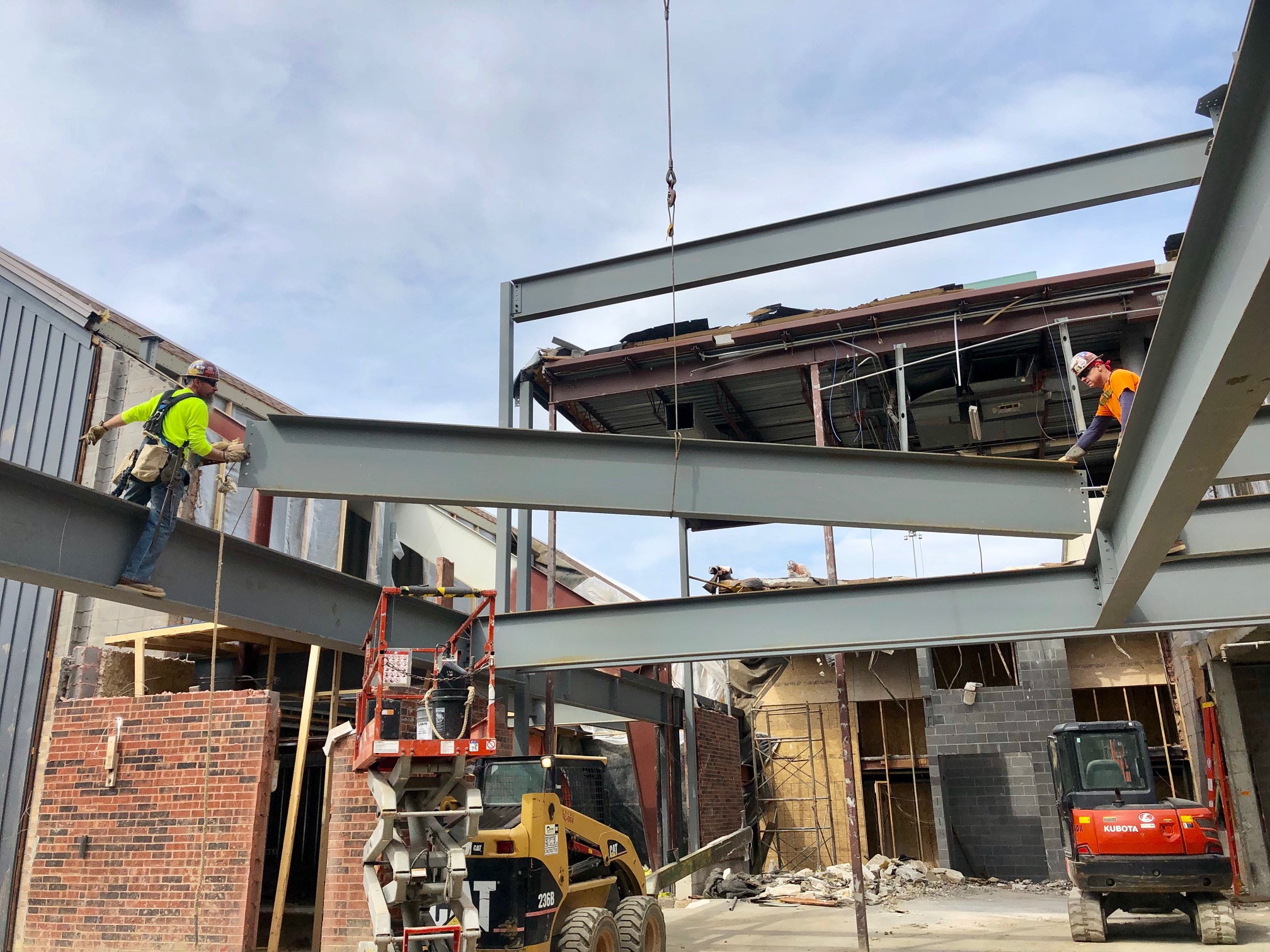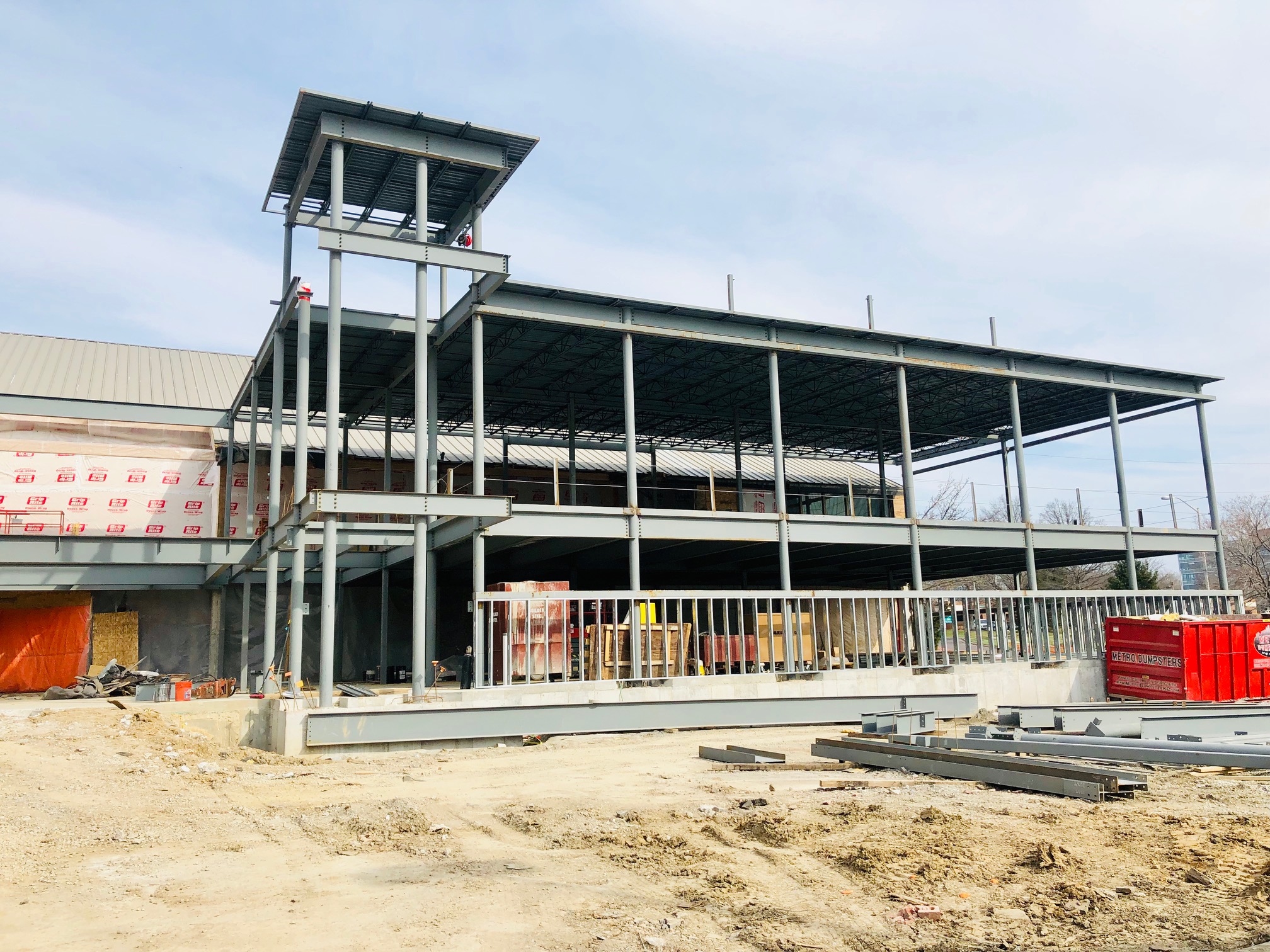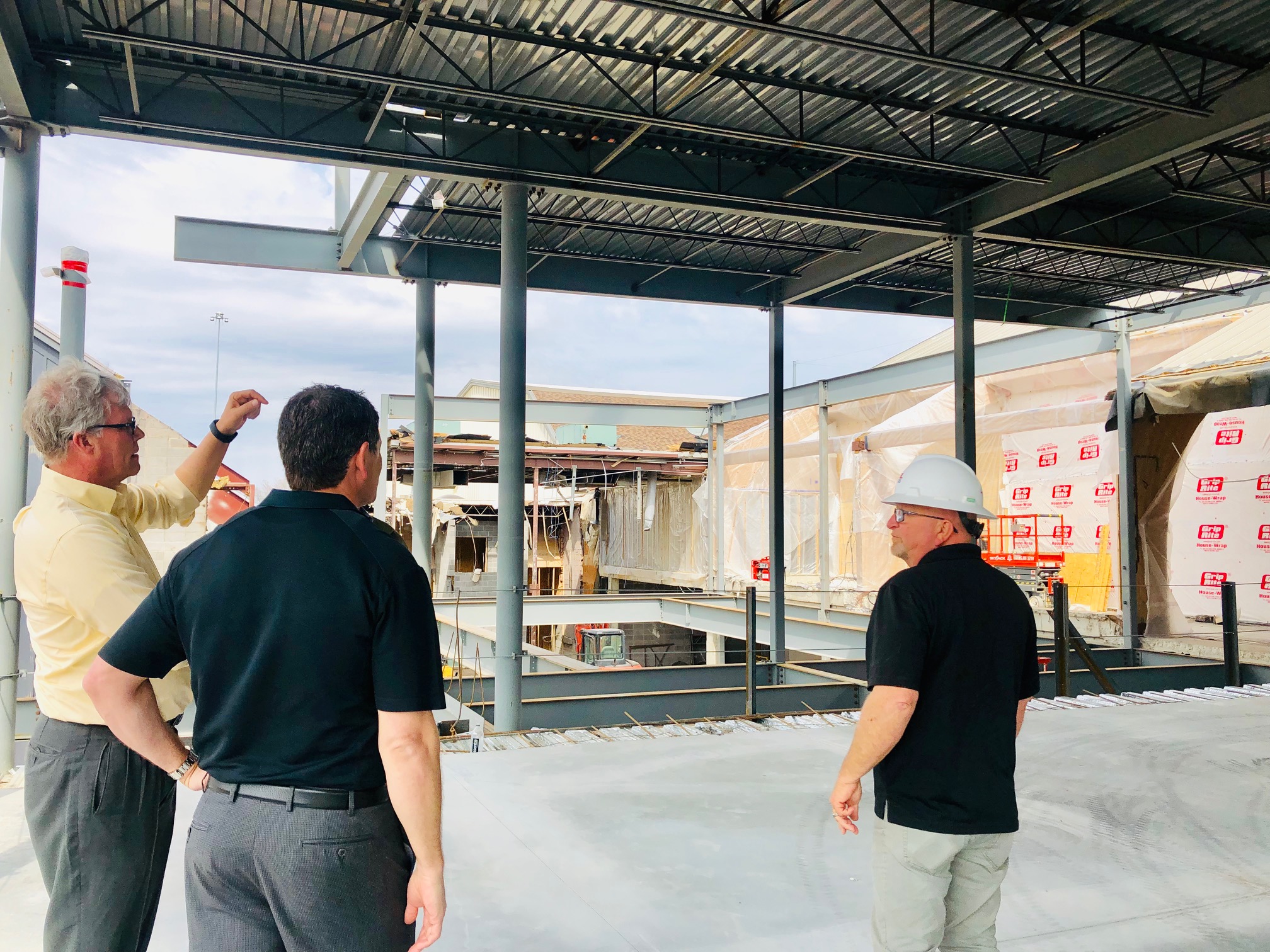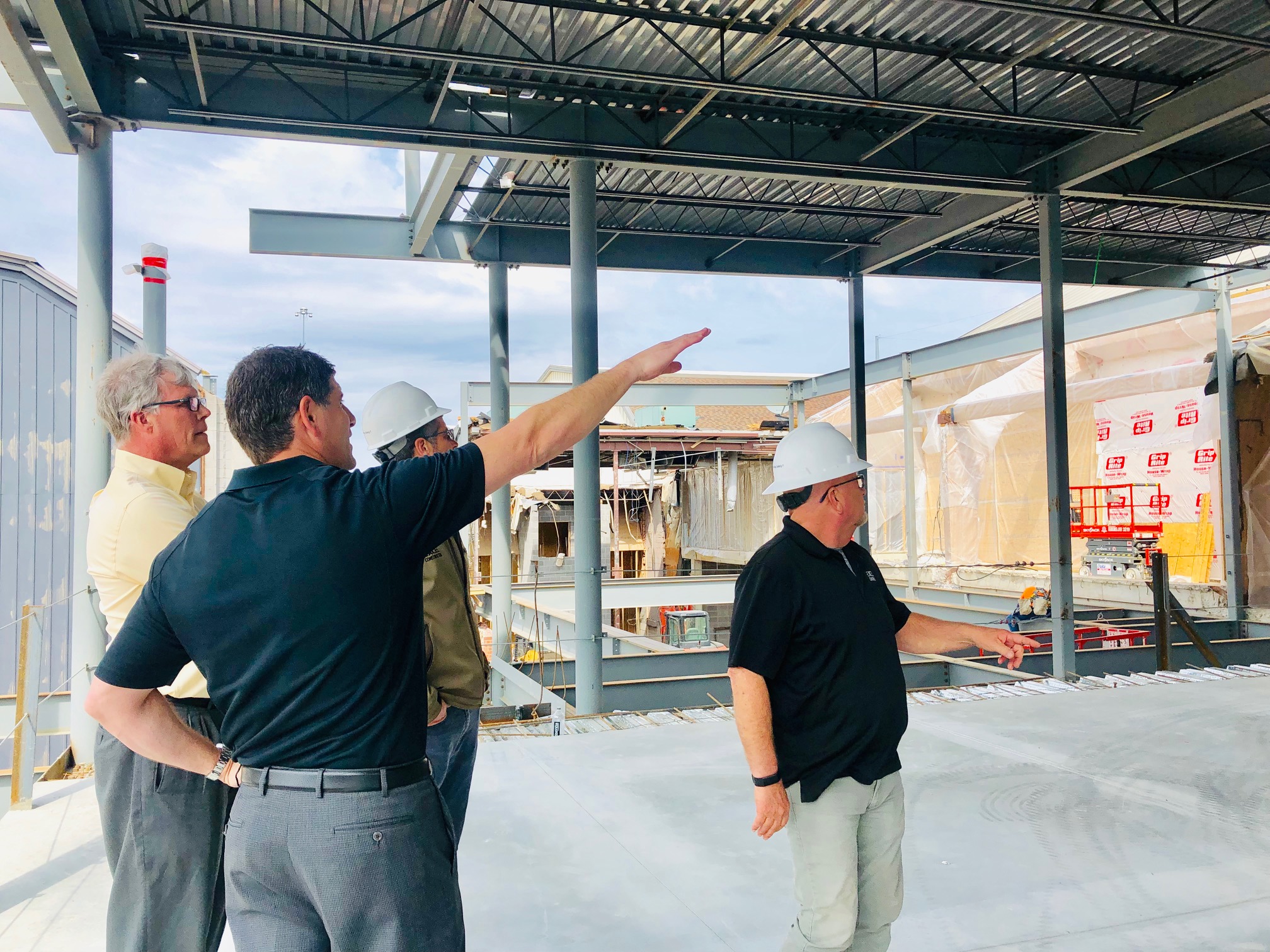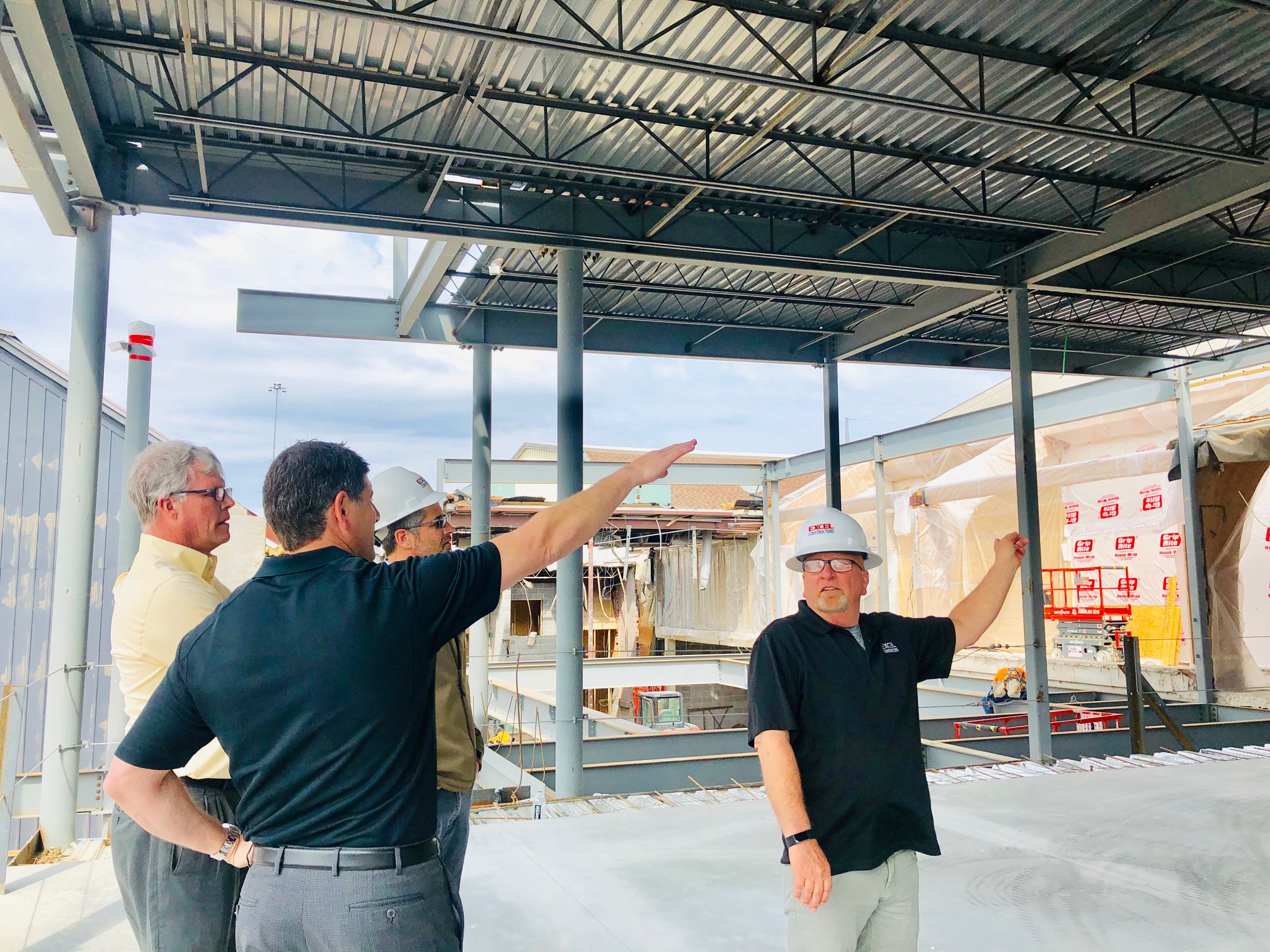 Update 3/20/2019
The building exterior is well underway, more steel work this week, and the updstairs and cardio deck has seen a lot of progress. Stay tuned for more updates soon!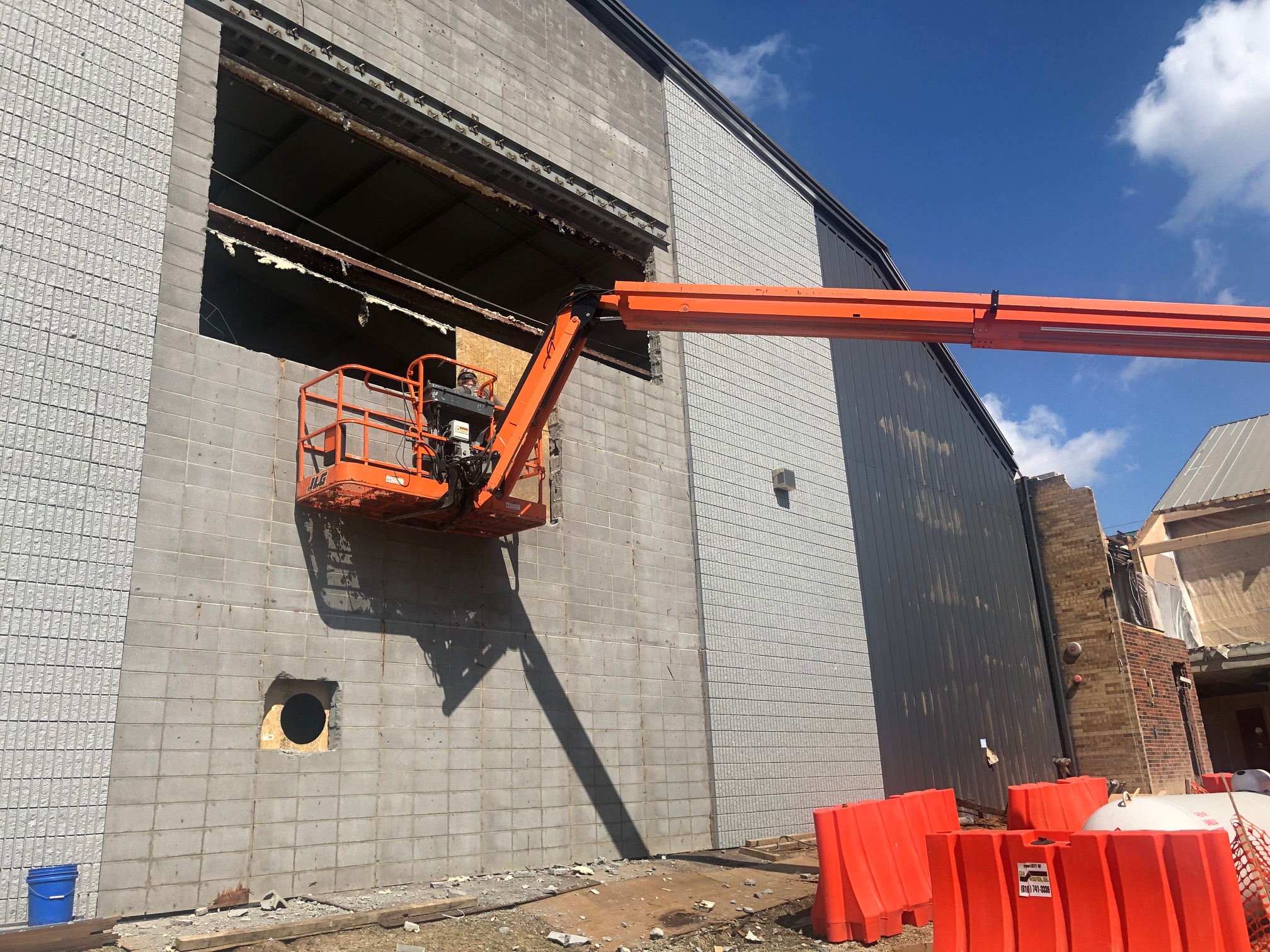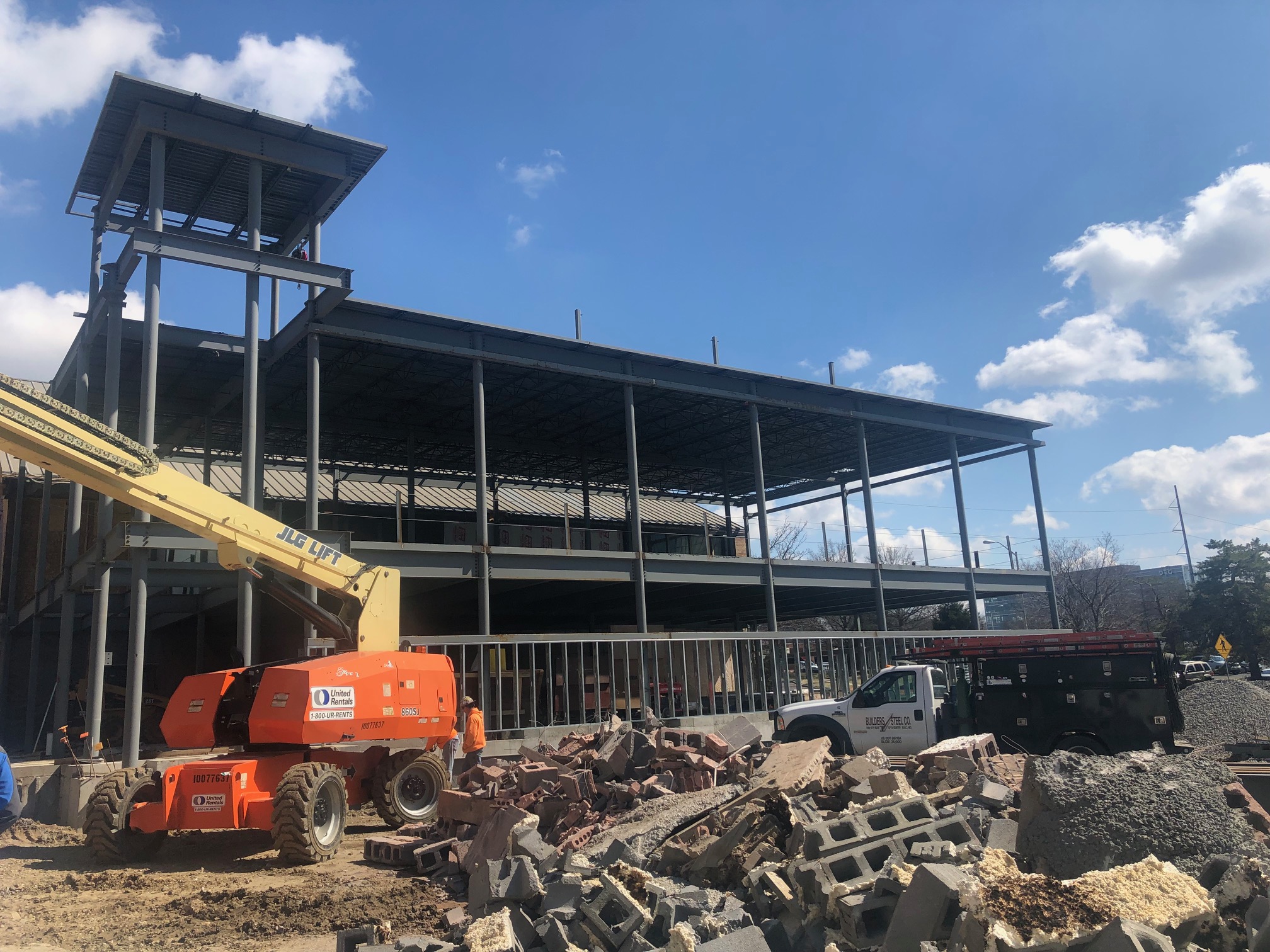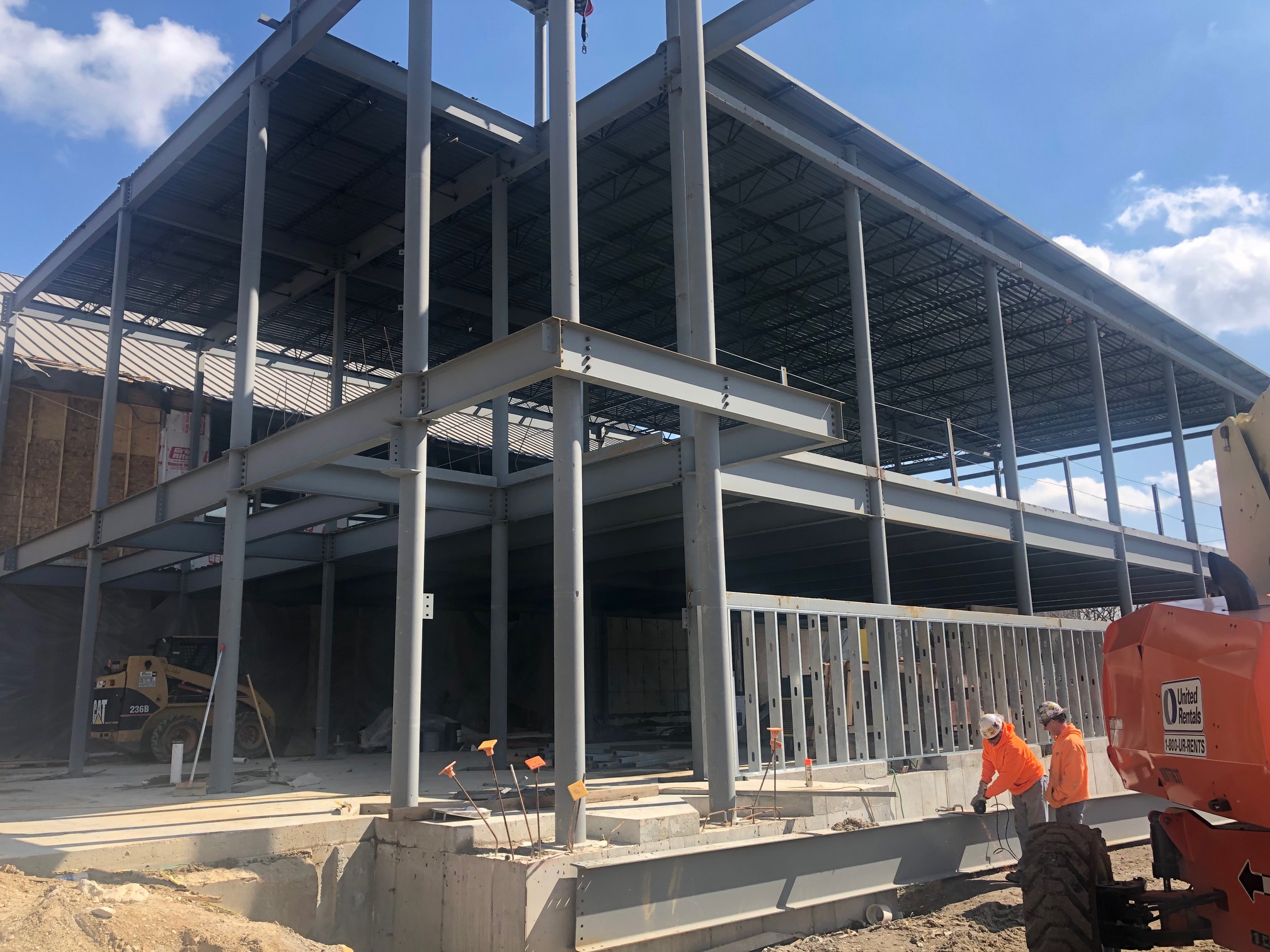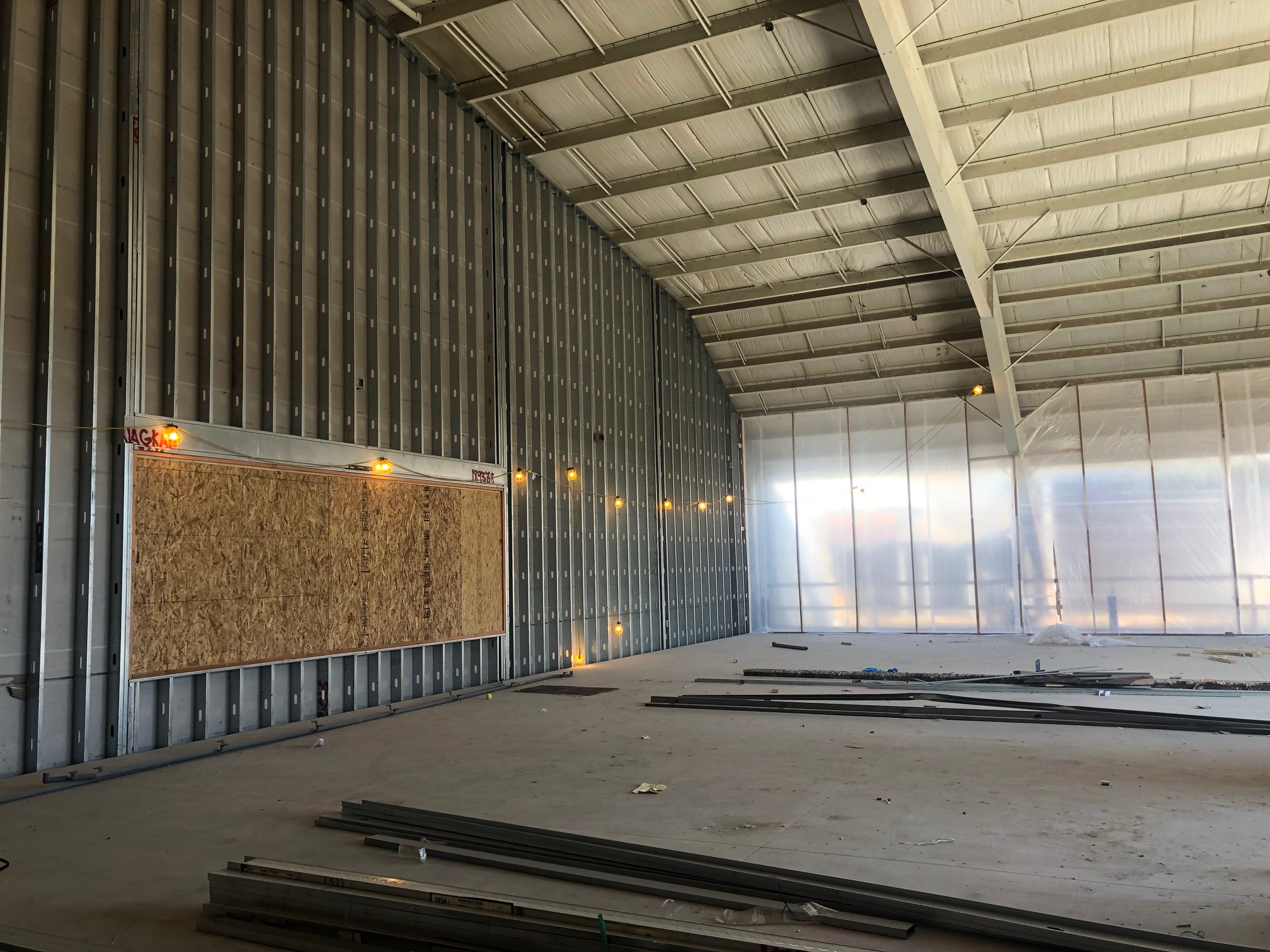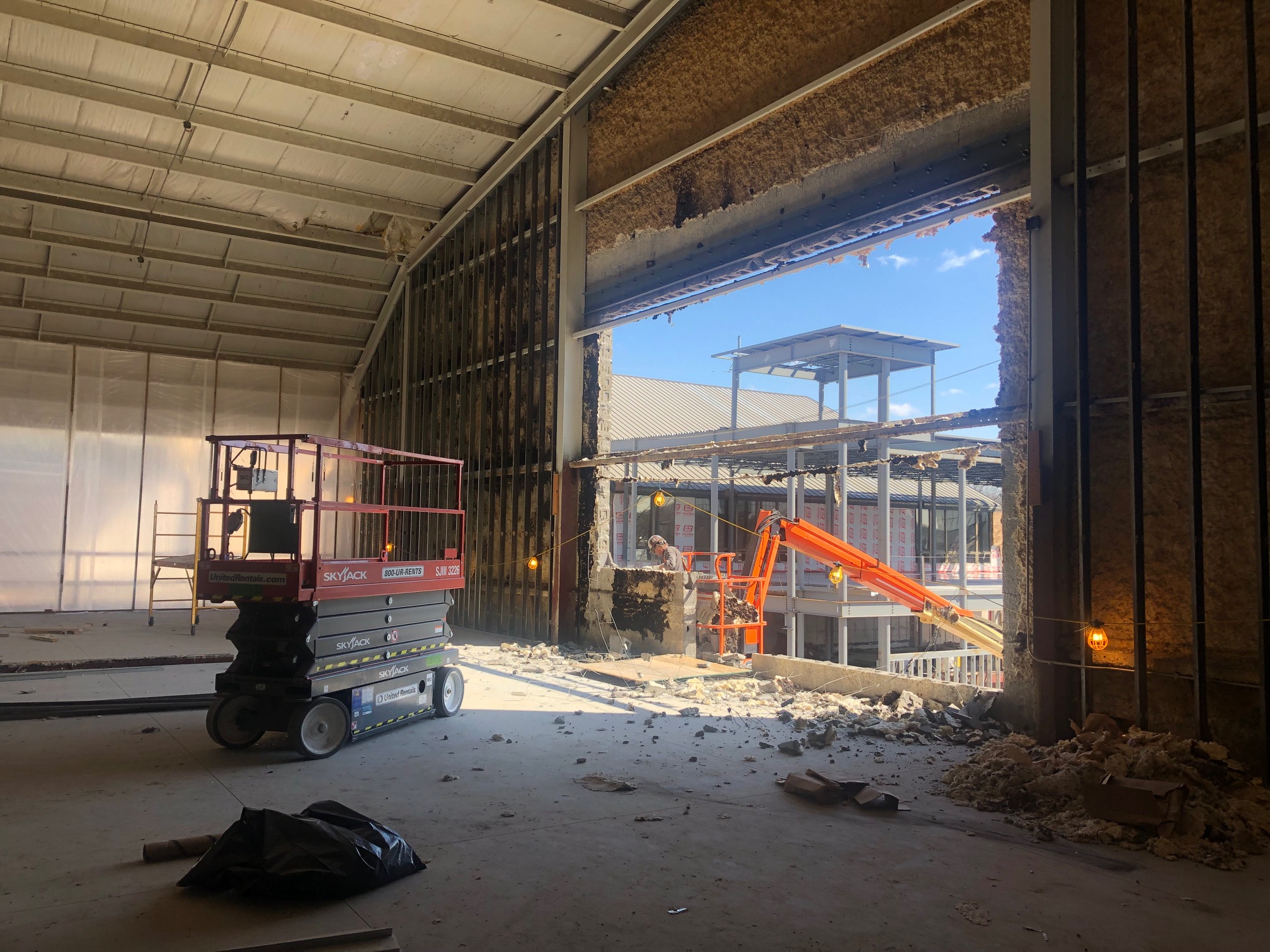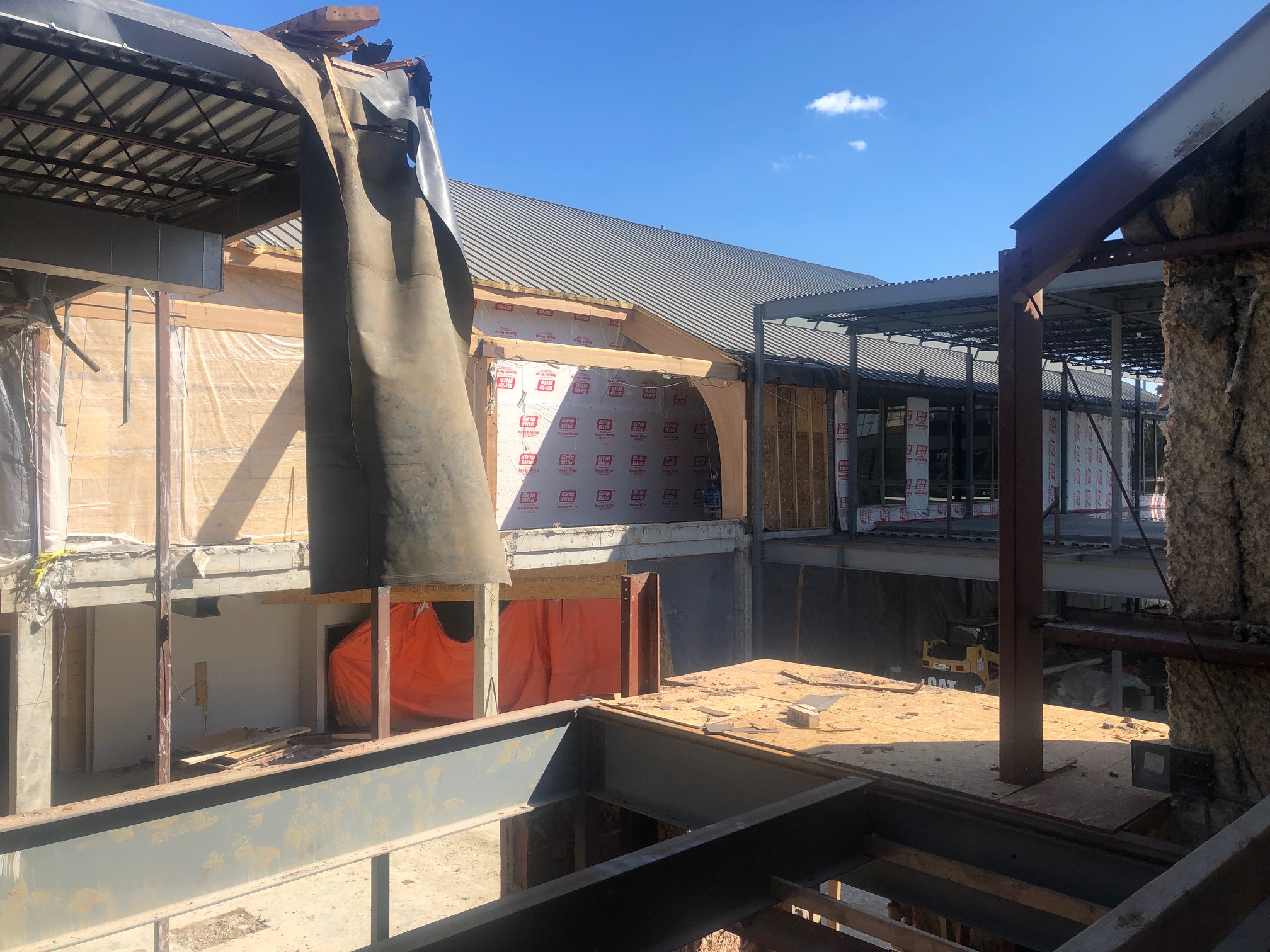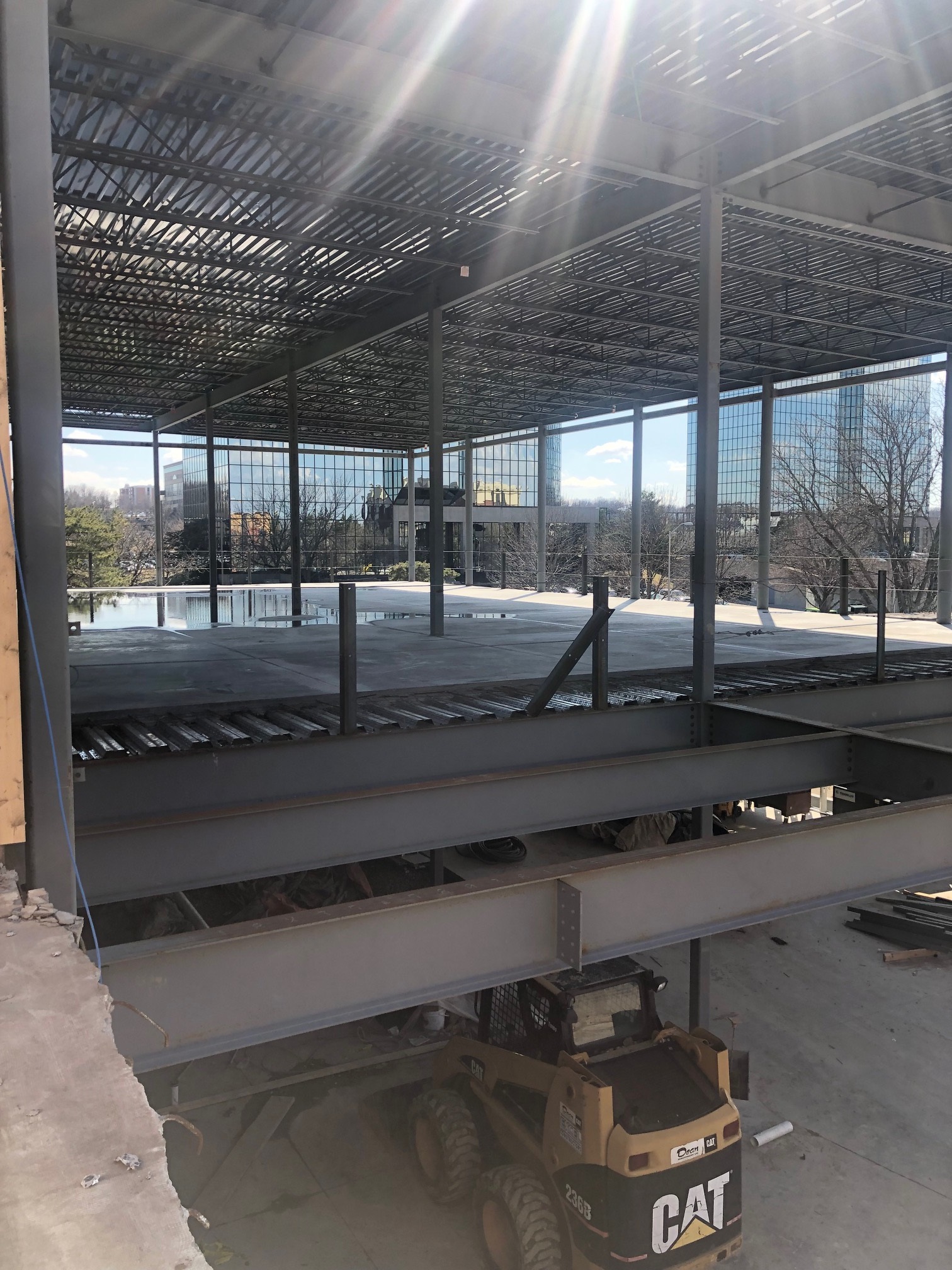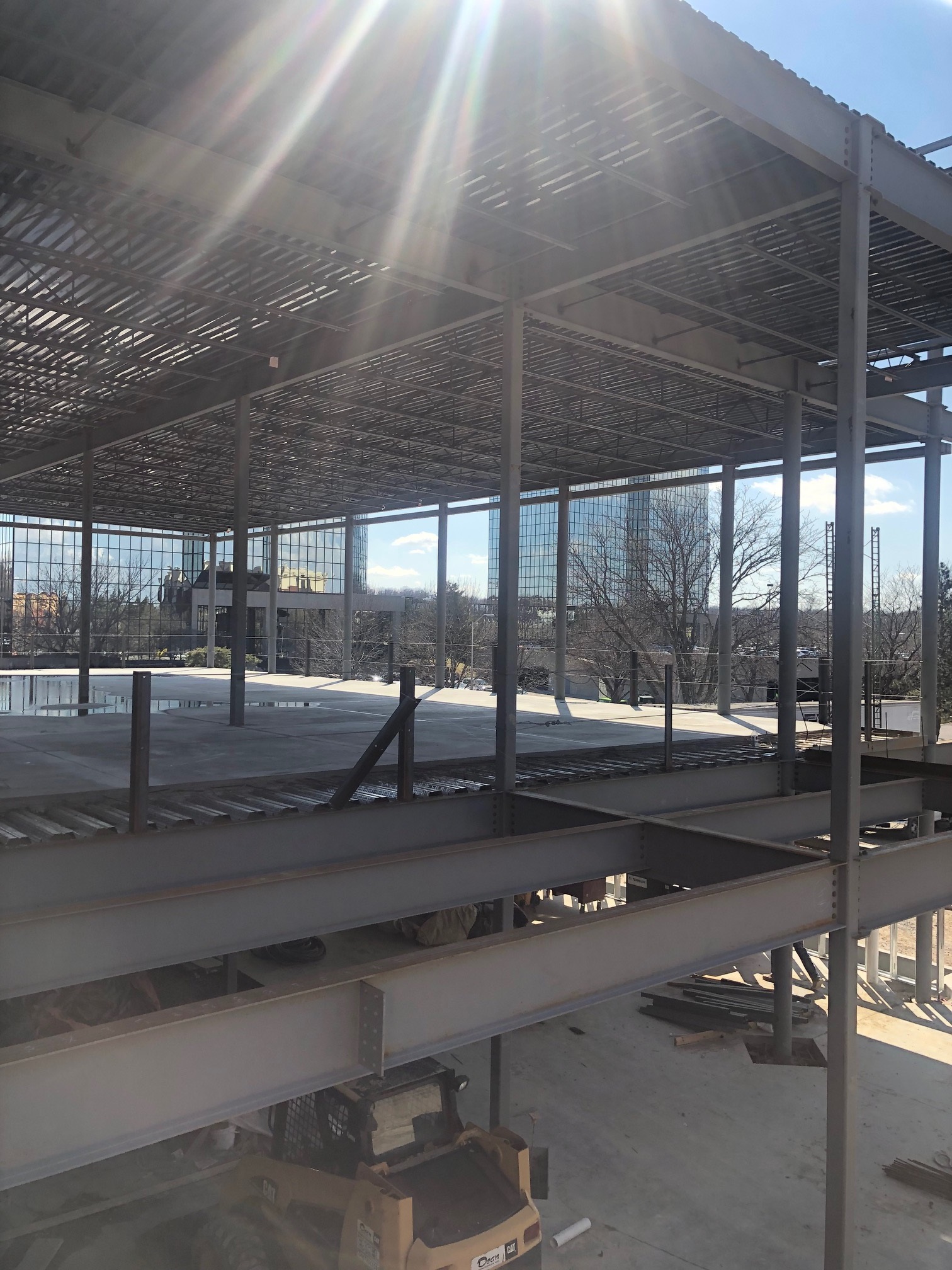 Update 3/12/2019
The new grand entrance has taken shape and you can now start to imagine what this massive expansion will look like. Crews are busy inside building what will become the newest, nicest health club in all of Kansas City. Stay tuned for more updates!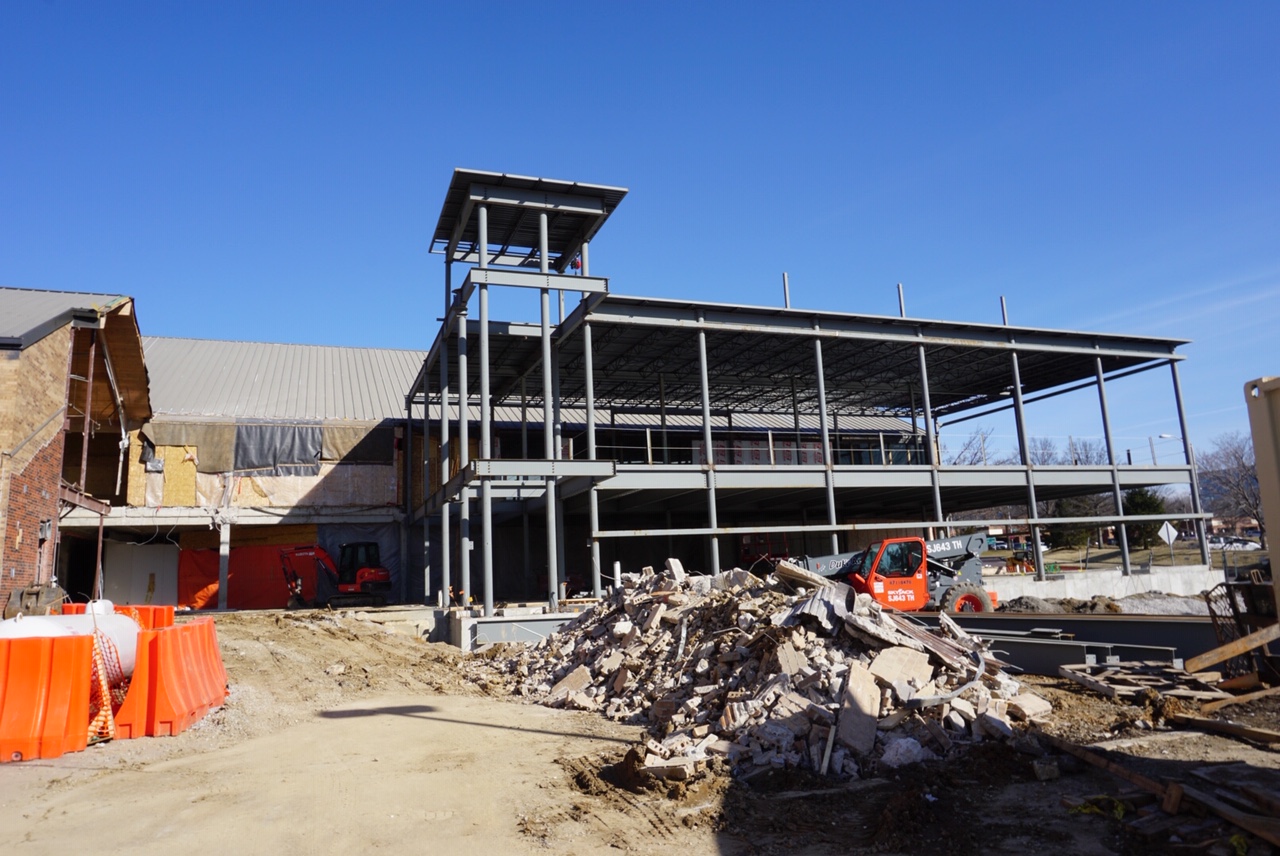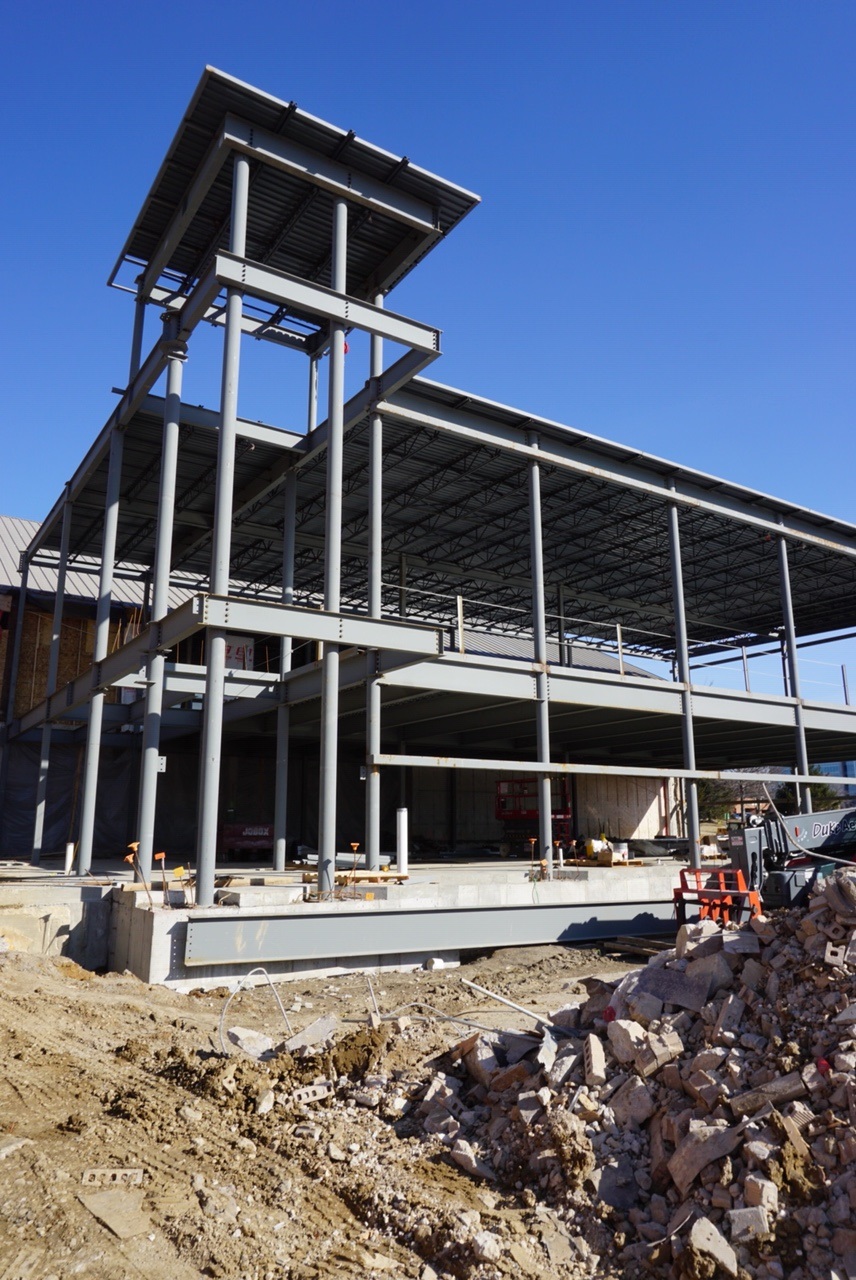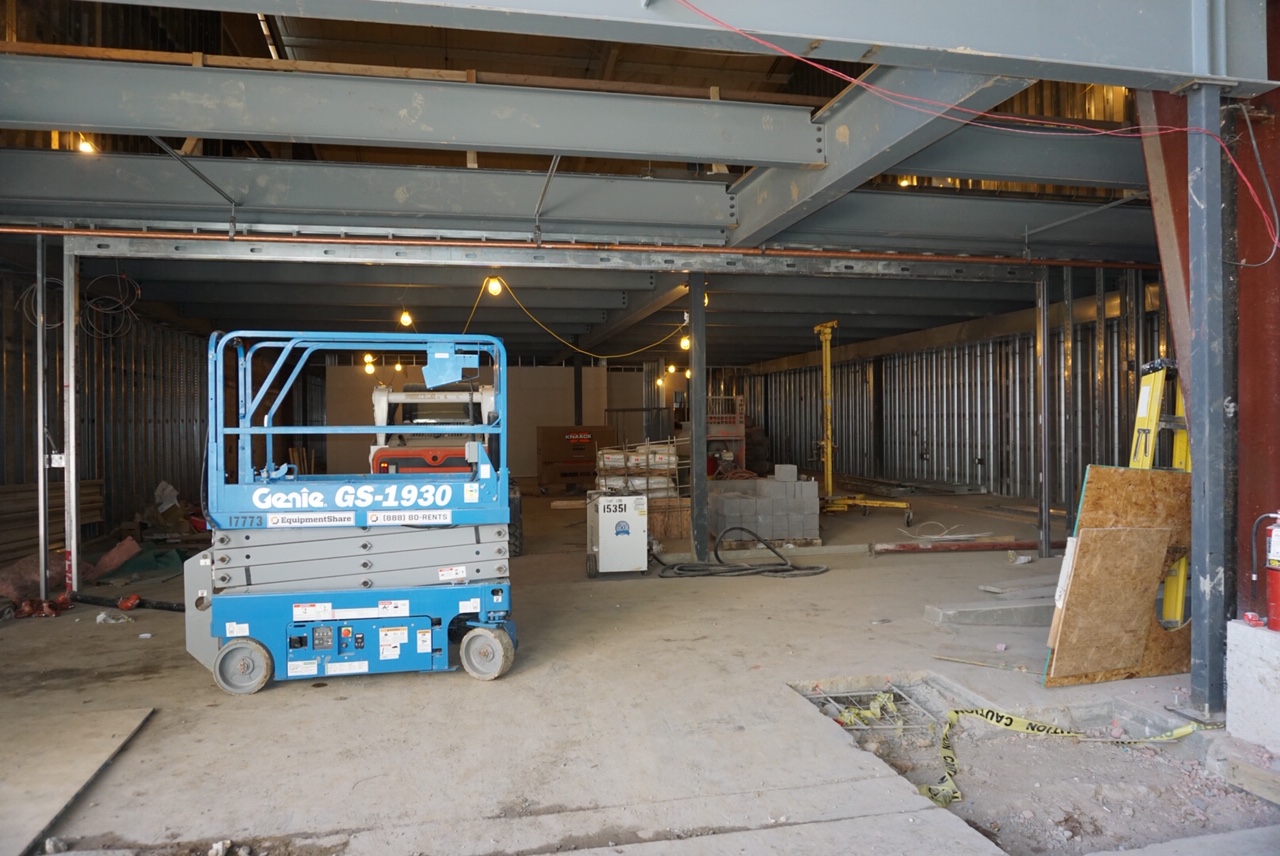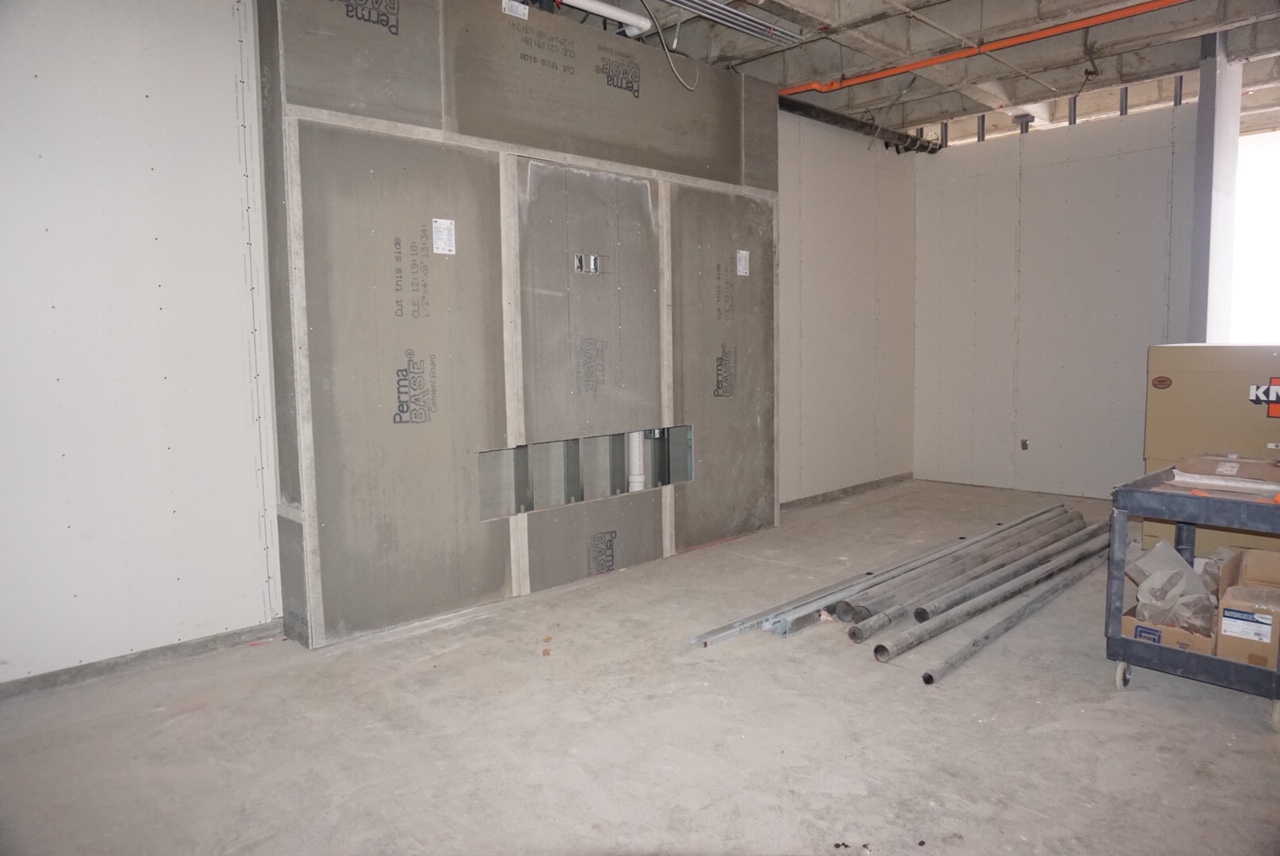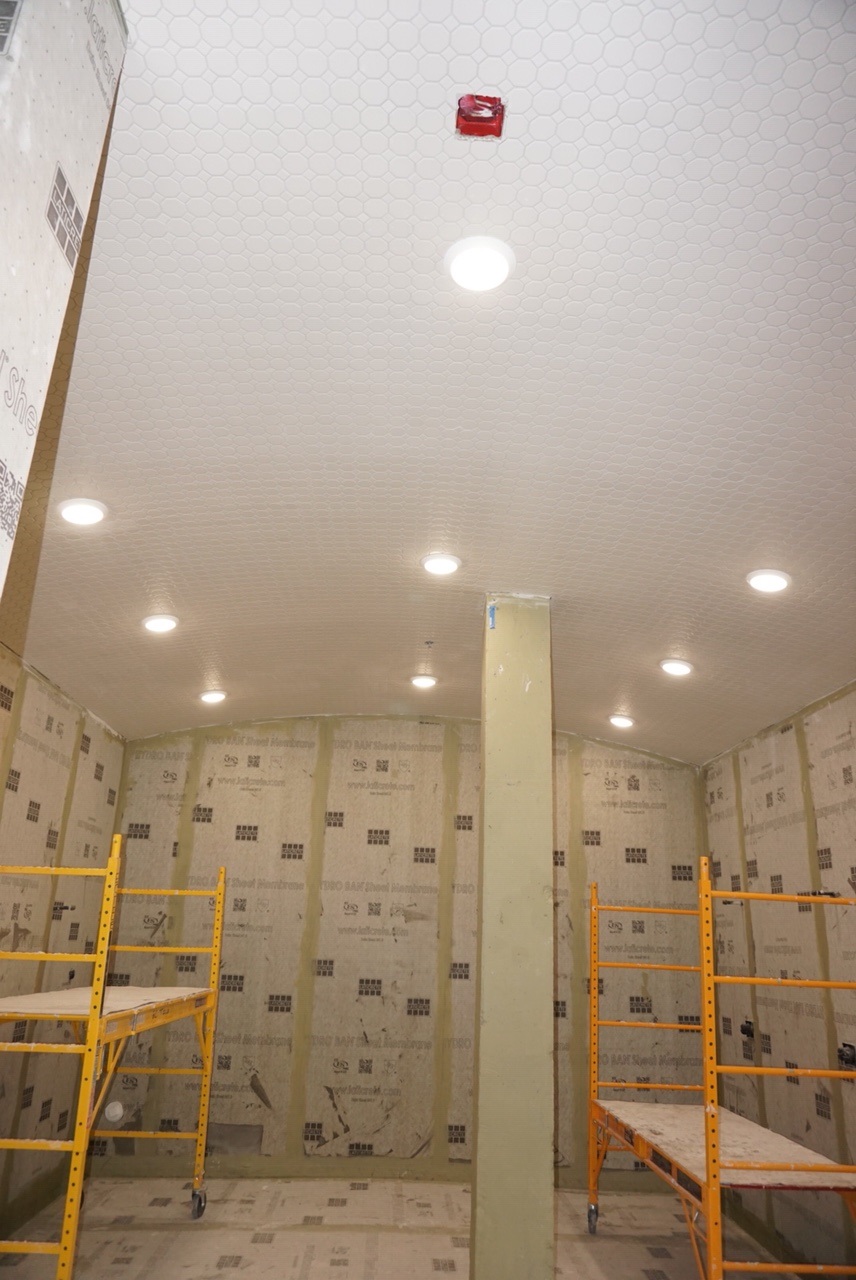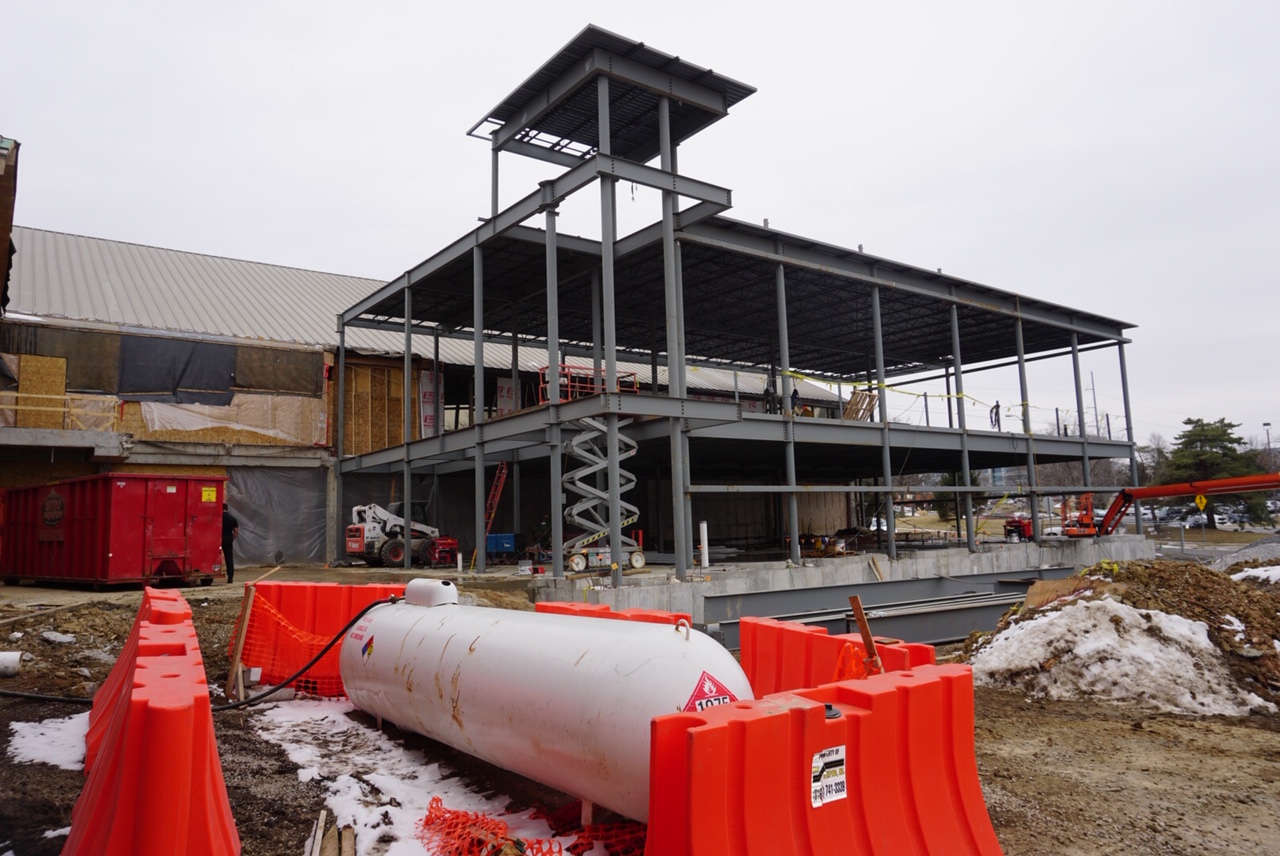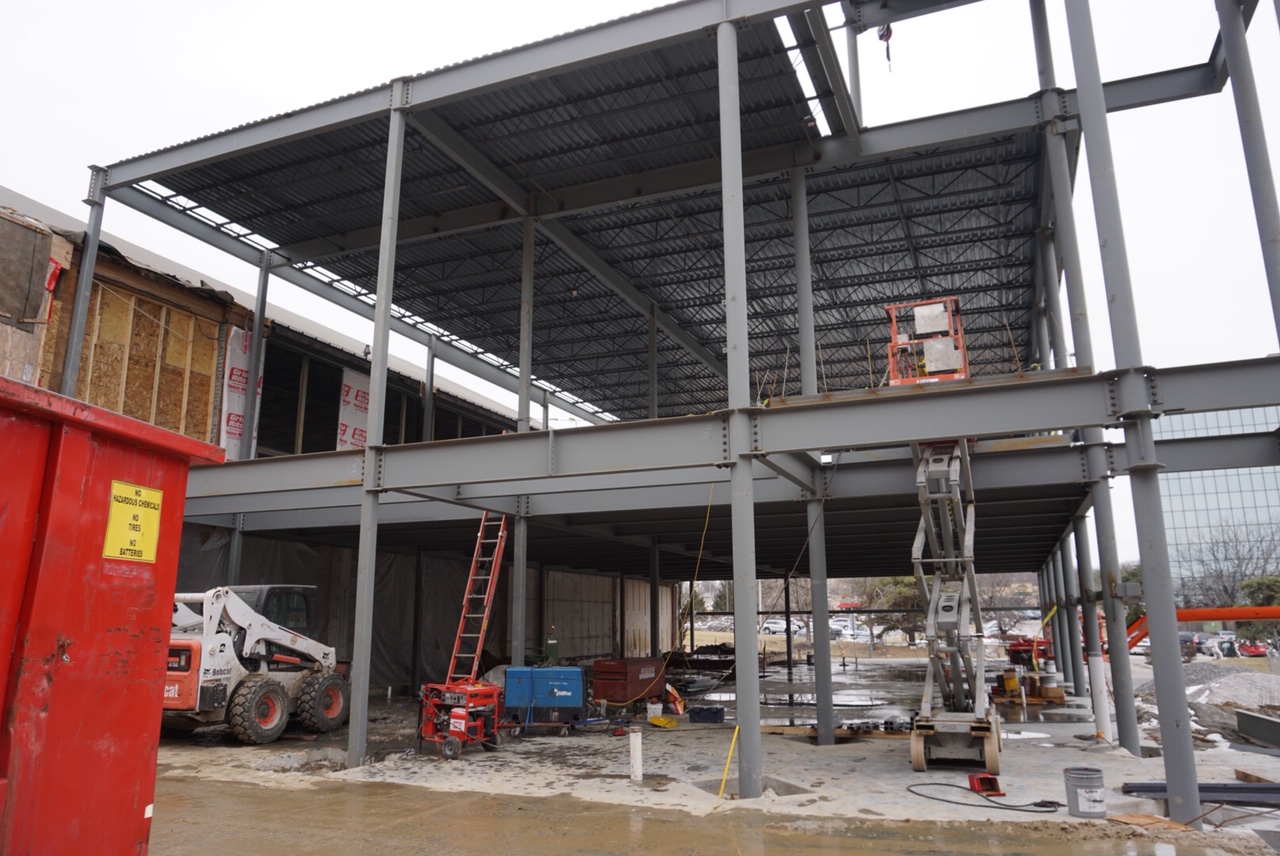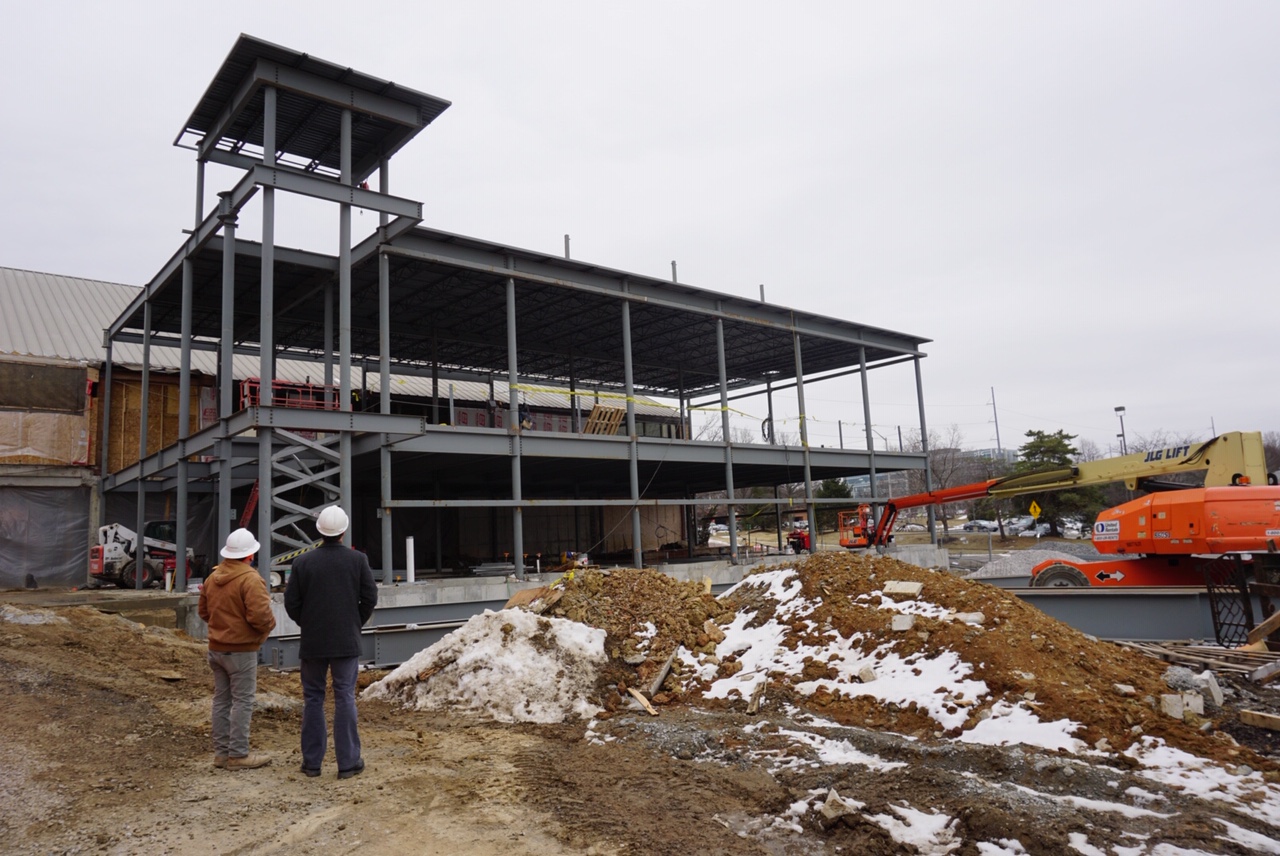 Update 2/21/2019
More steel is up. Construction workers are powering through this frightful weather to get the job done for you!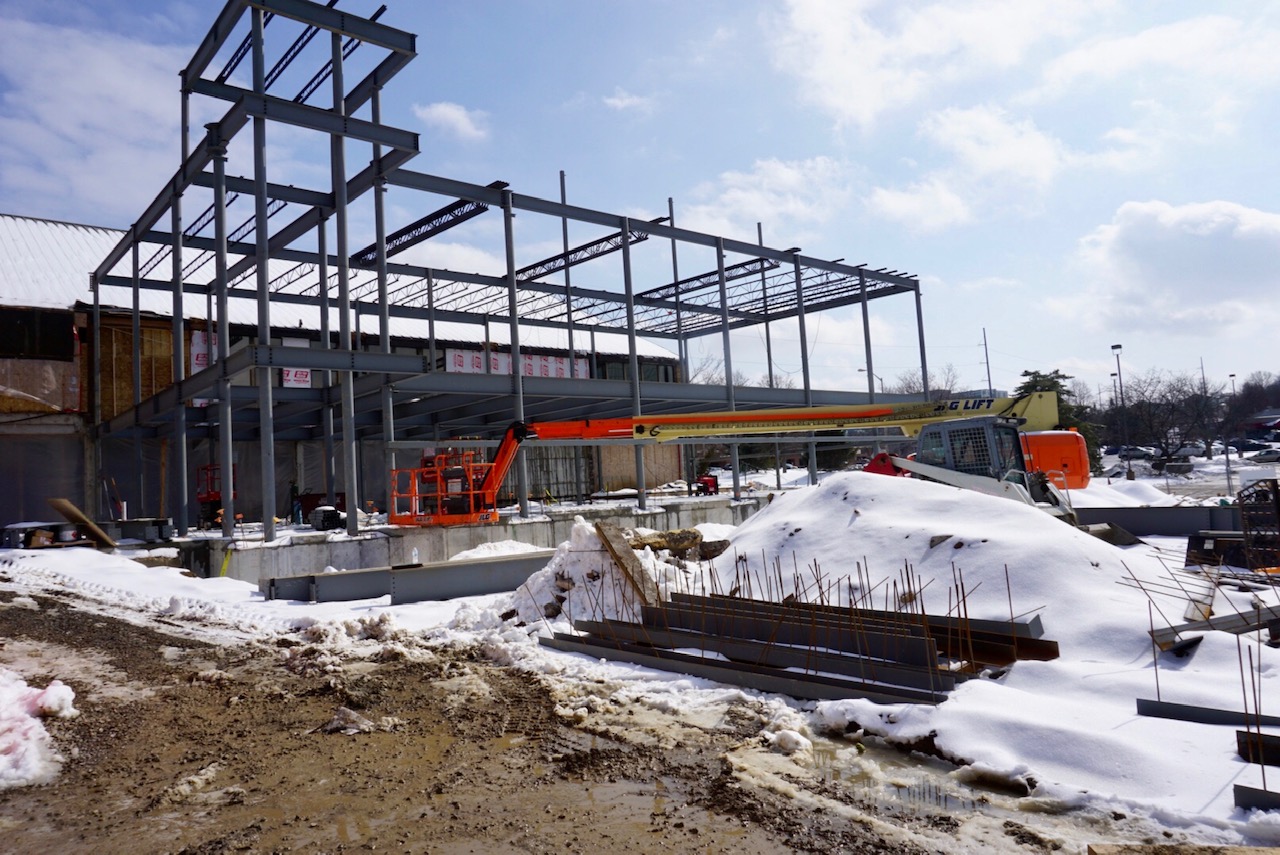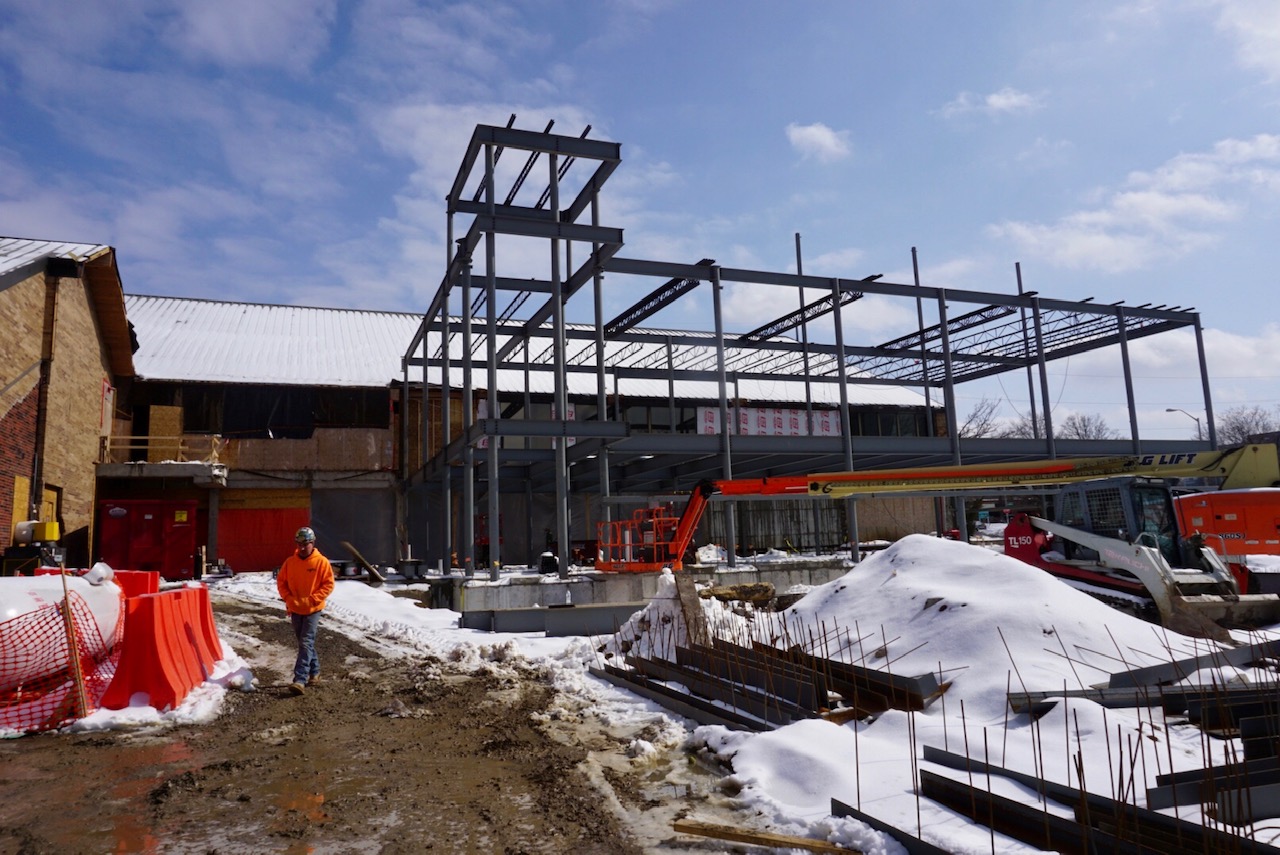 Update 2/15/2019
Steel is up! Get ready to see the building take shape and fitness in Overland Park to be transformed!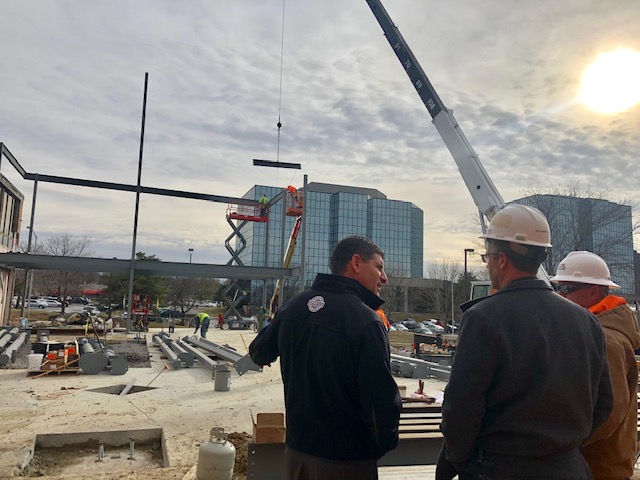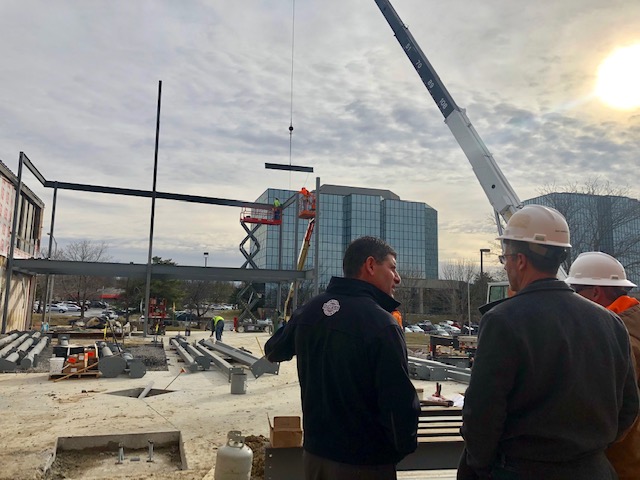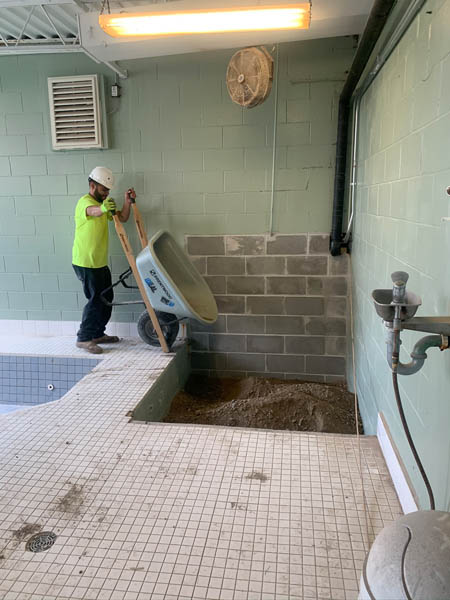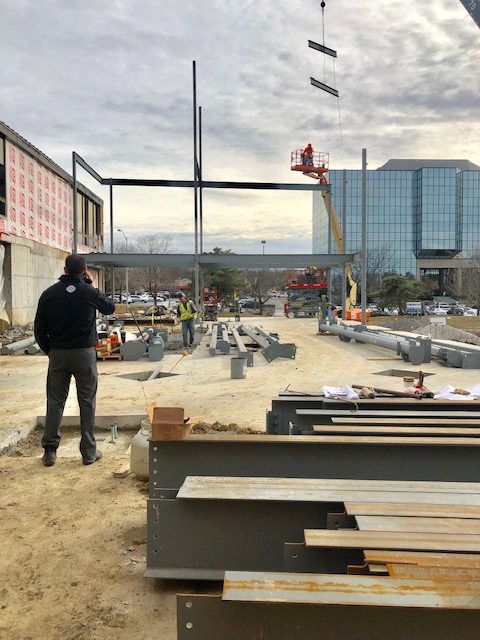 Update 2/7/2019
Some big transoformations happened this past month. The showers and steam rooms are taking shape and looking amazing. Framework is being put up in the main Group X room and the basketball court flooring is being poured. Check out the pictures below!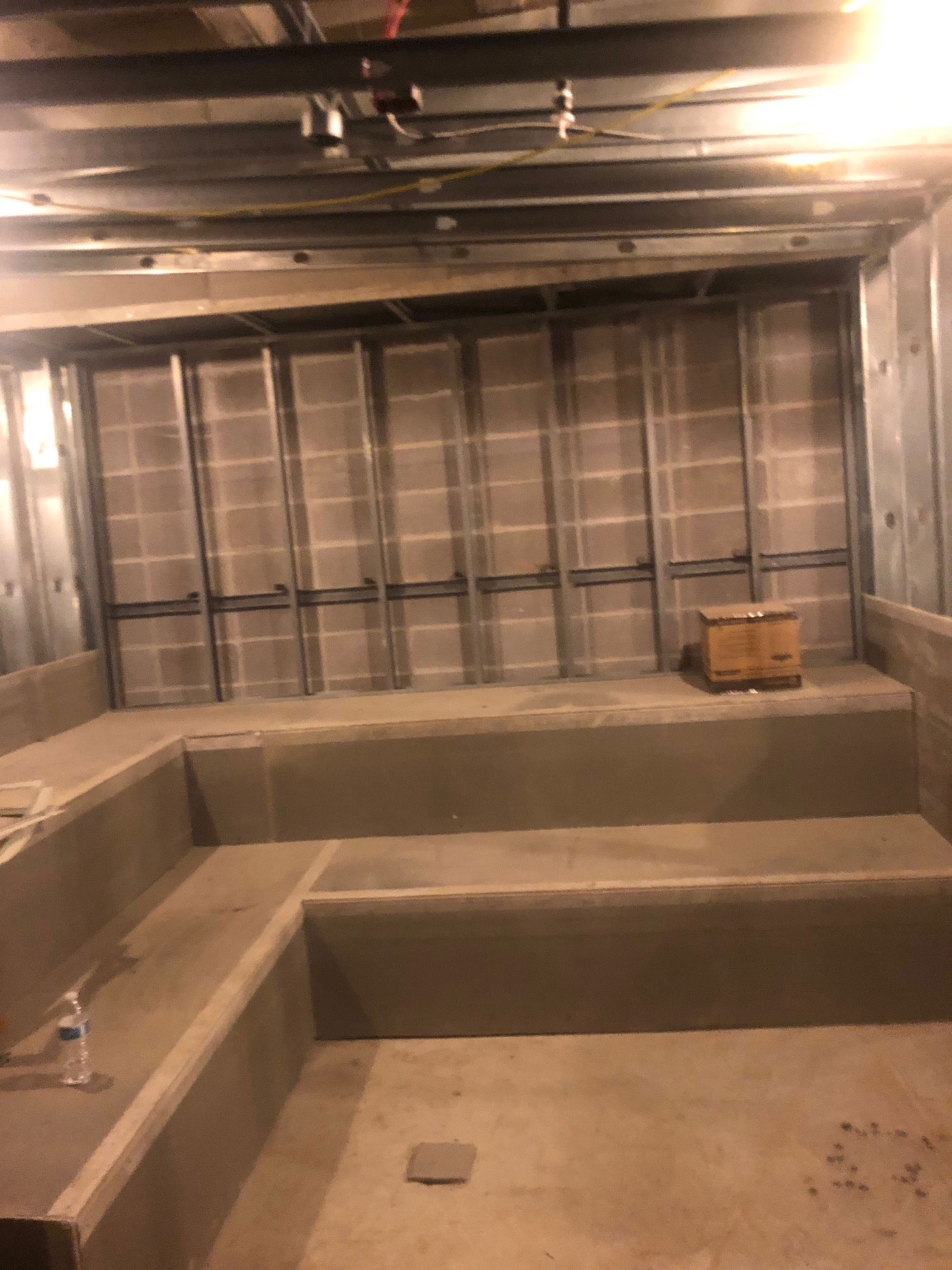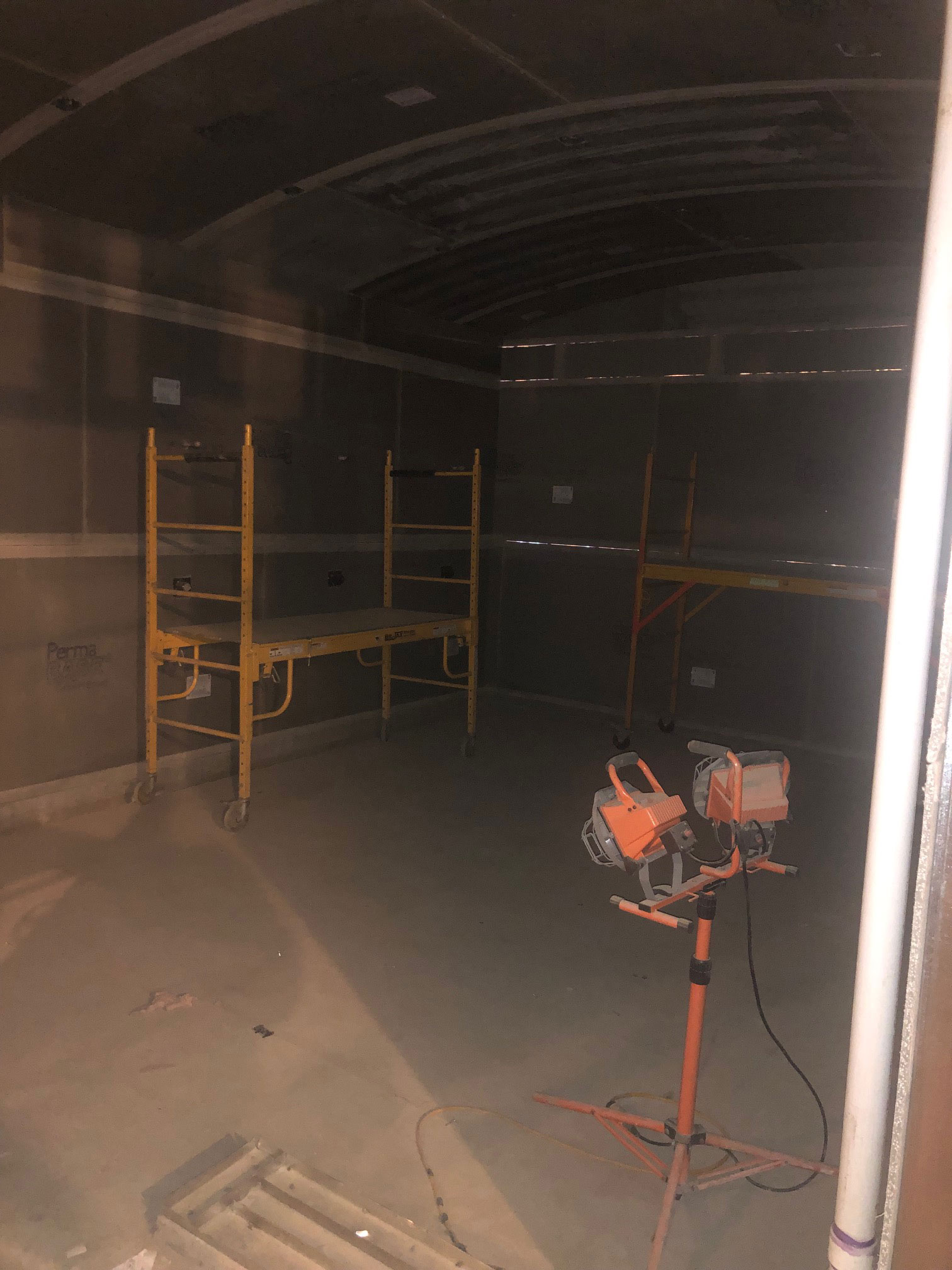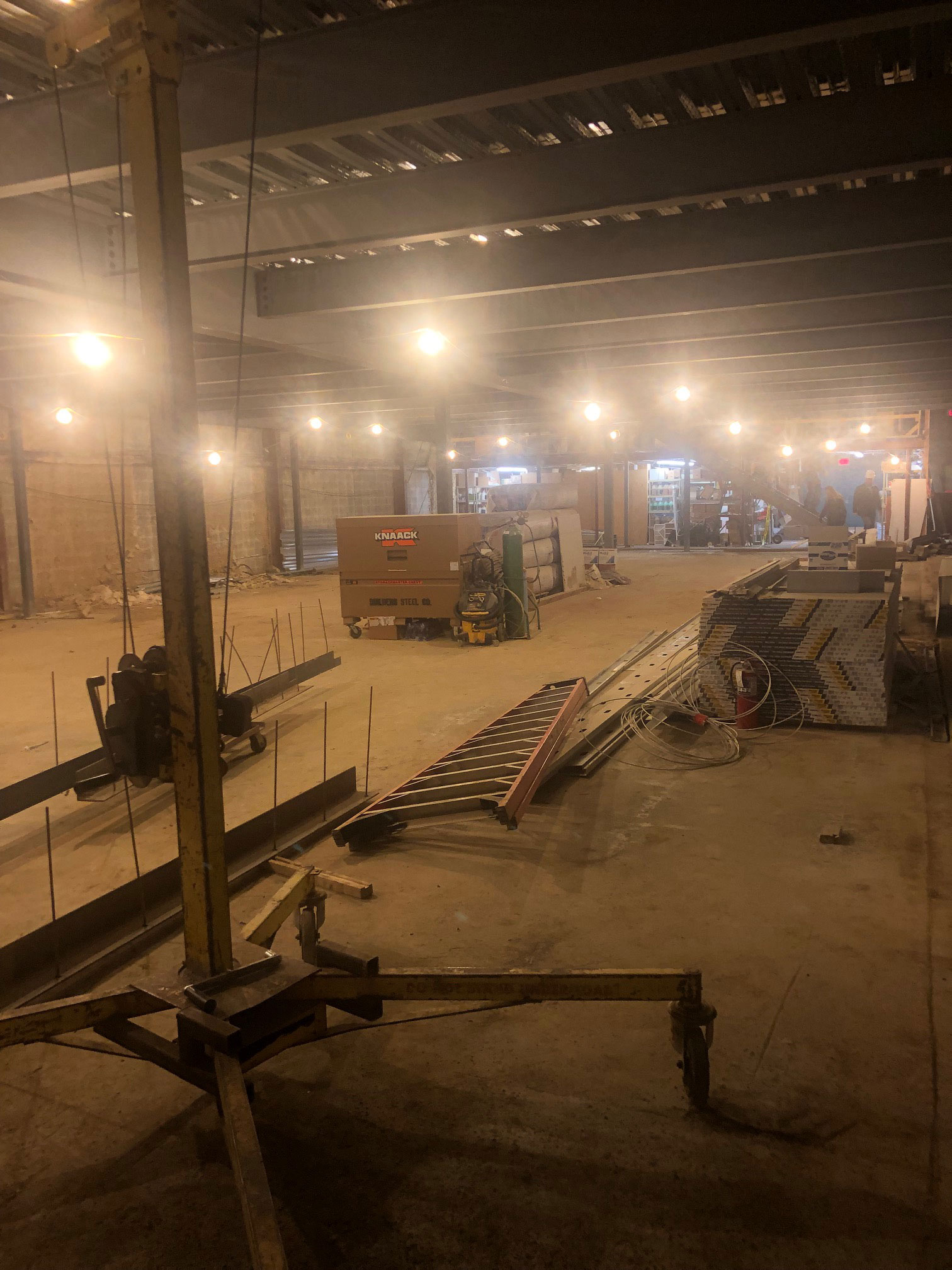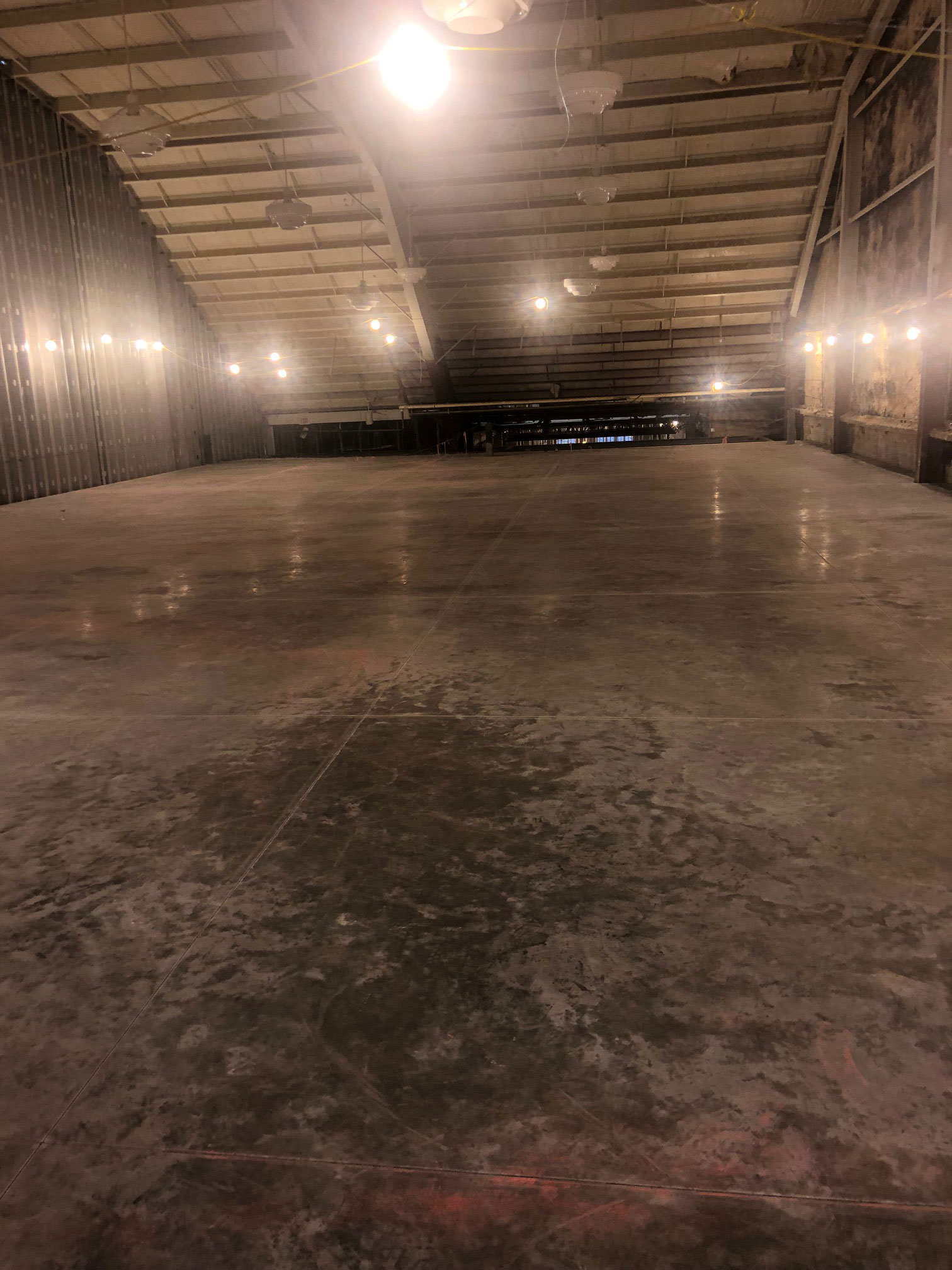 1/18/2019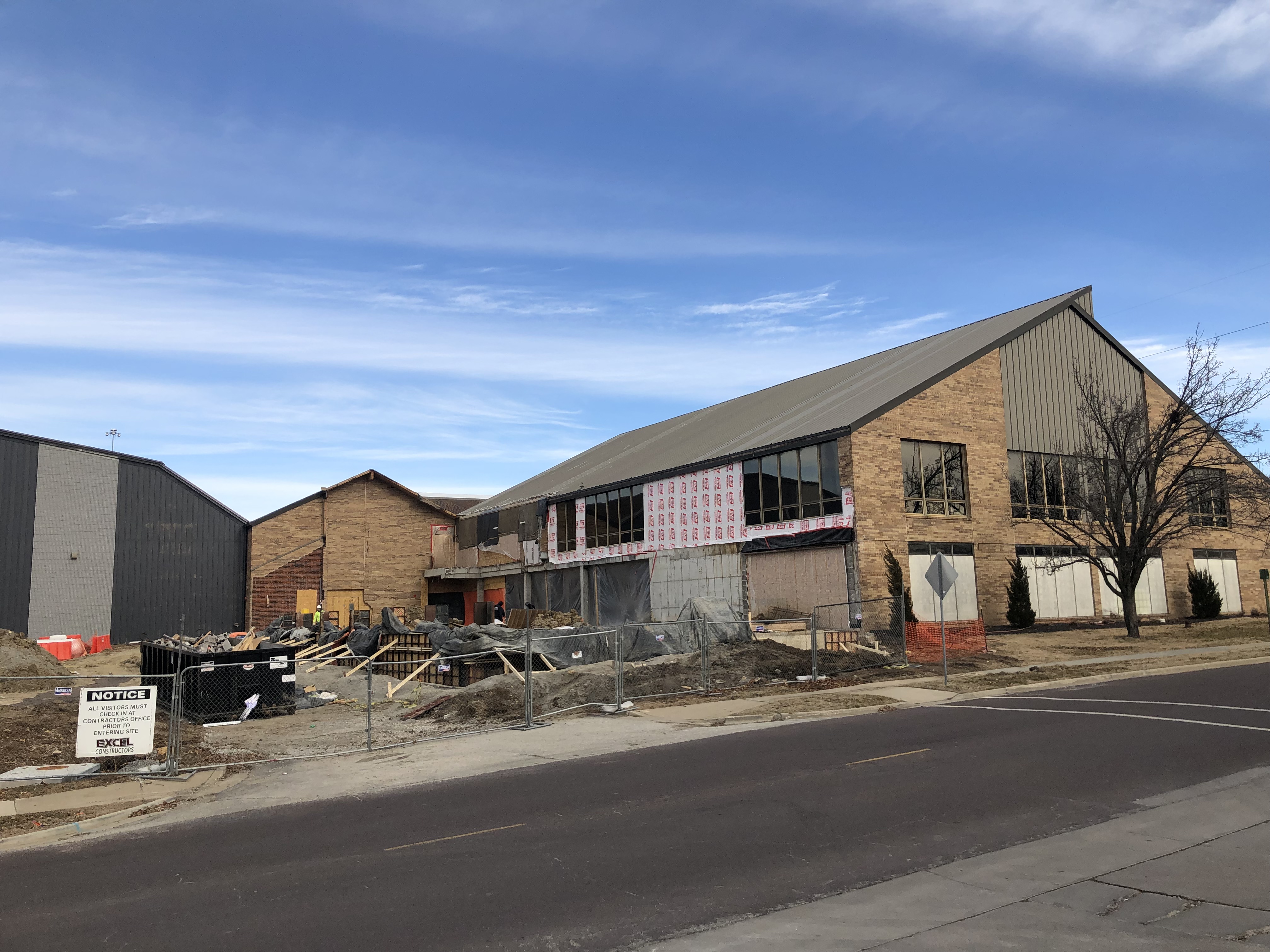 Flooring is 3/4 of the way in and cement is being poured to secure the foundation.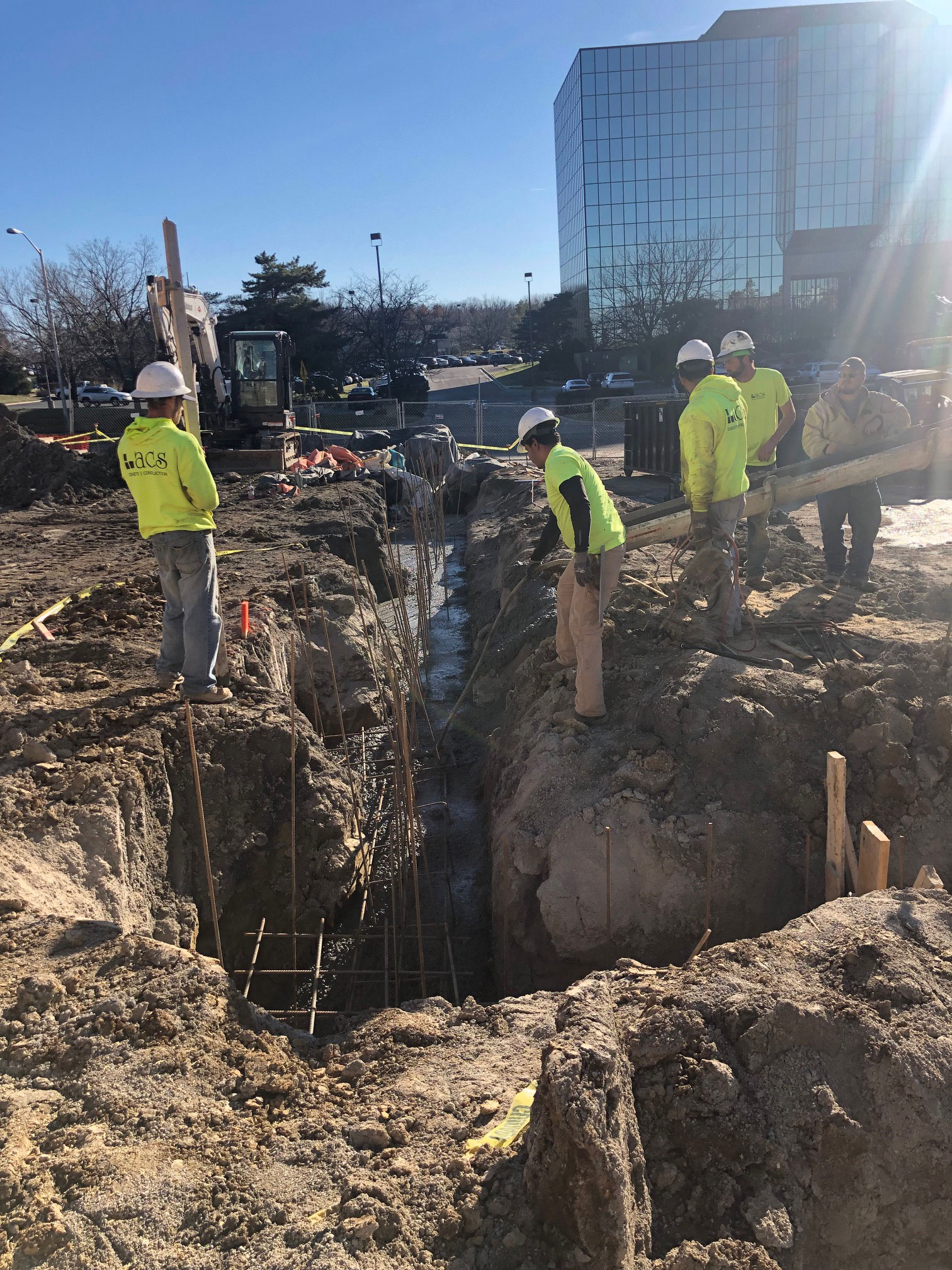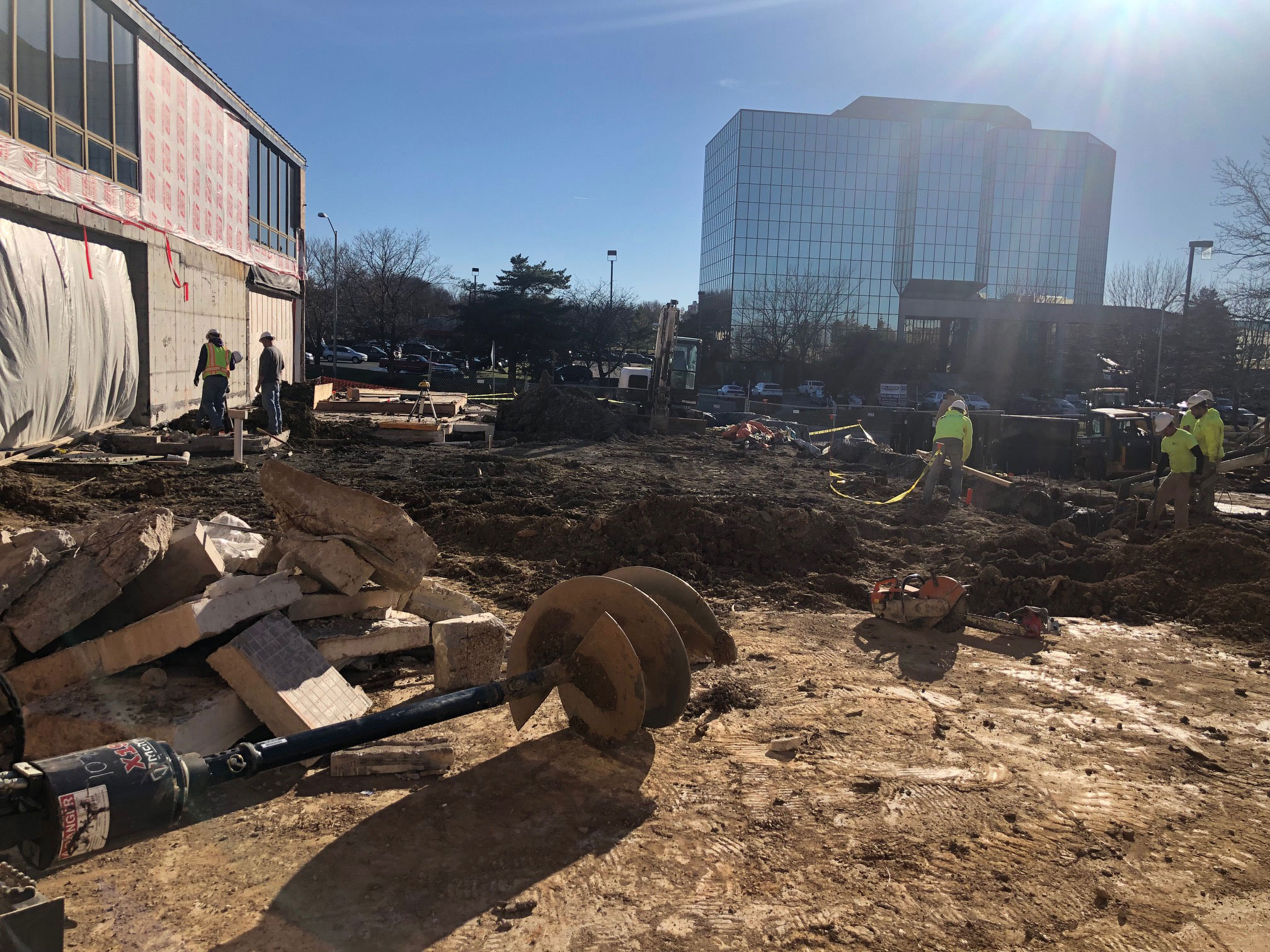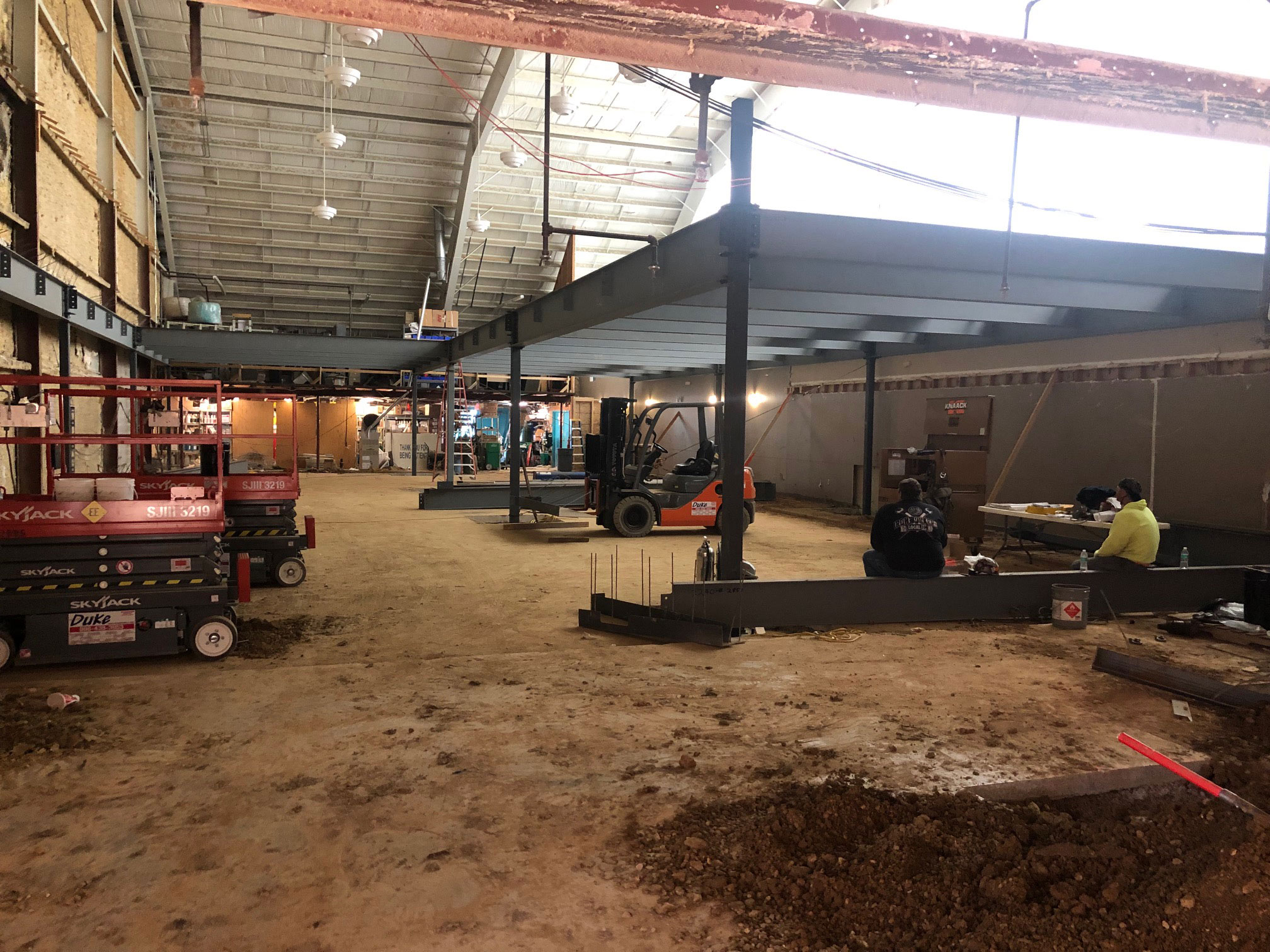 Lots of progress has been made over the last month. Framework in the interior has been installed. The exterior is being upgraded and renewed as well. Check out all of the photos below to see the building begin to take shape. Stay tuned for more updates!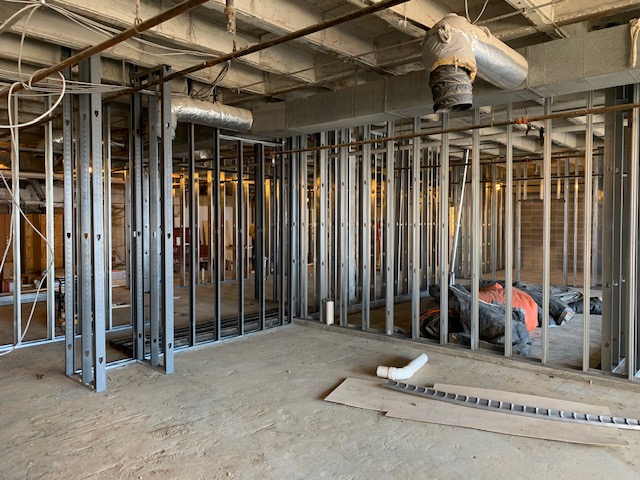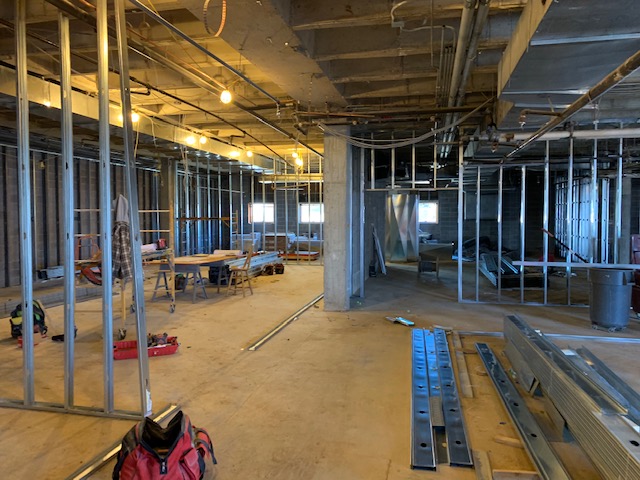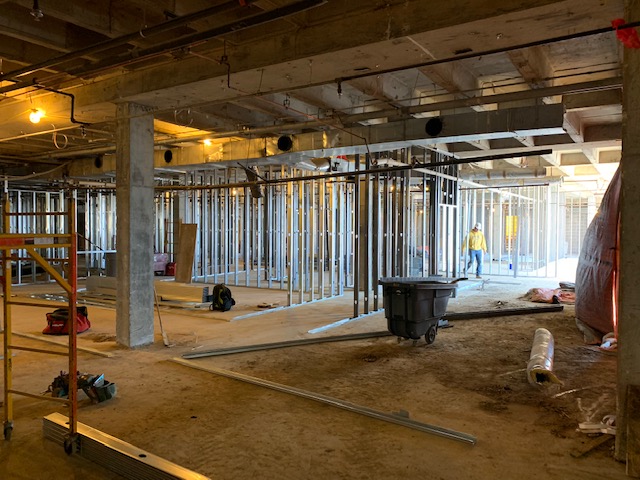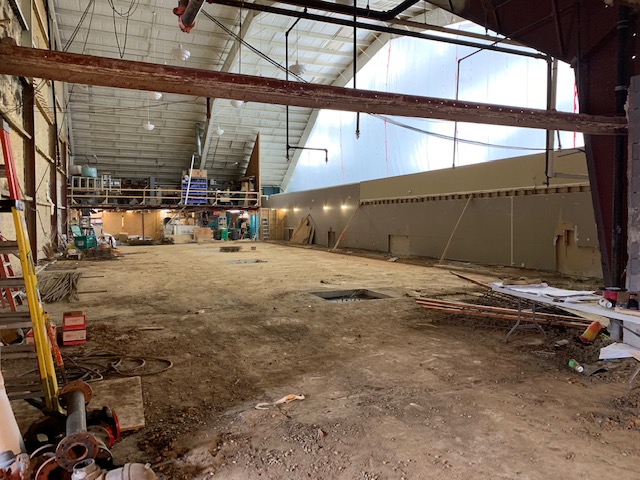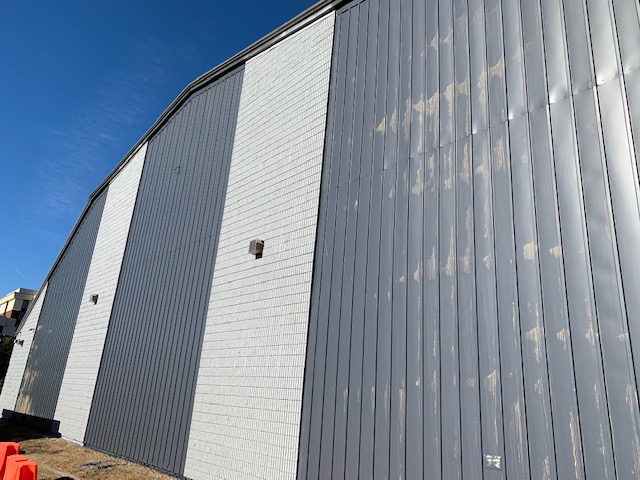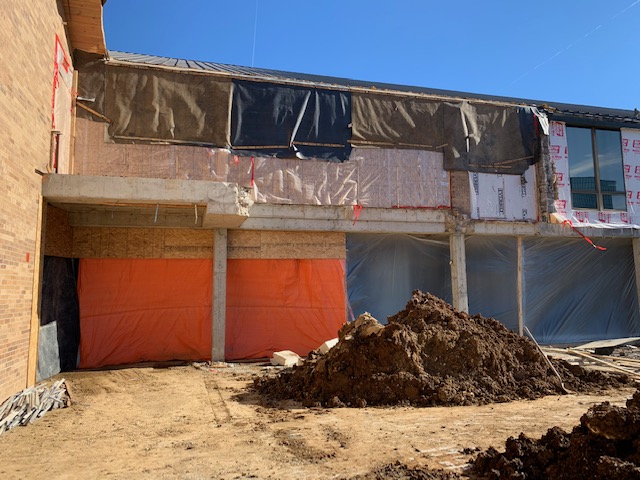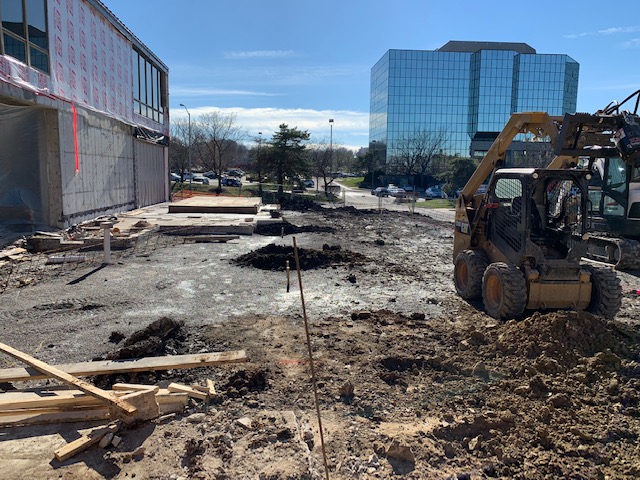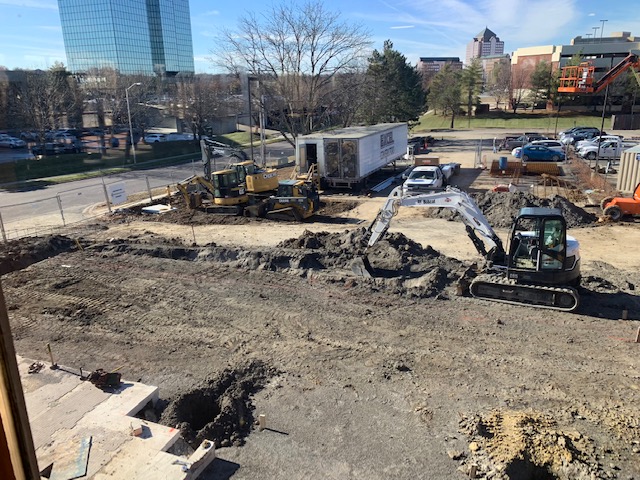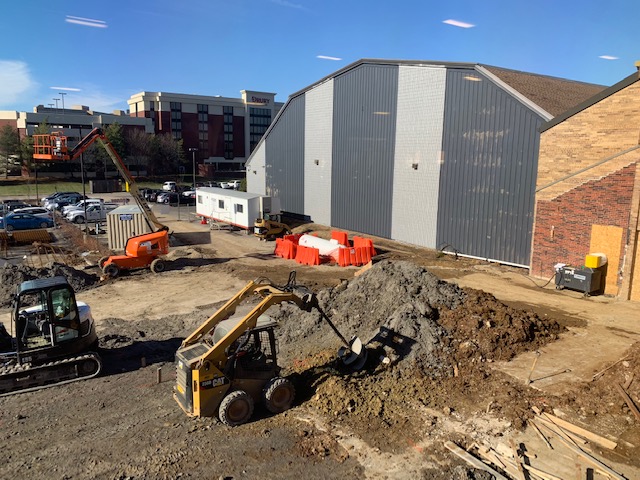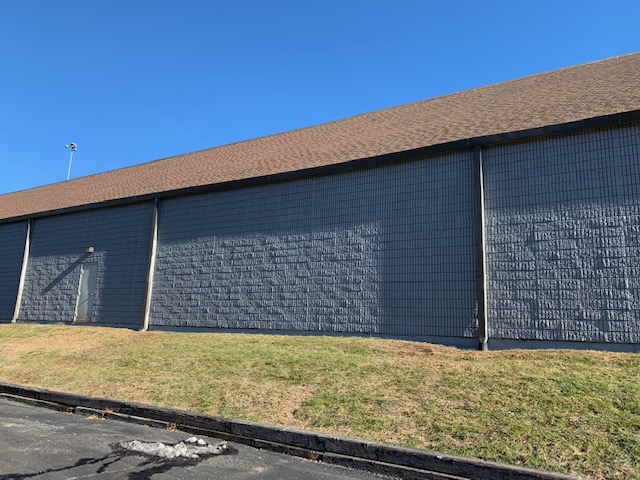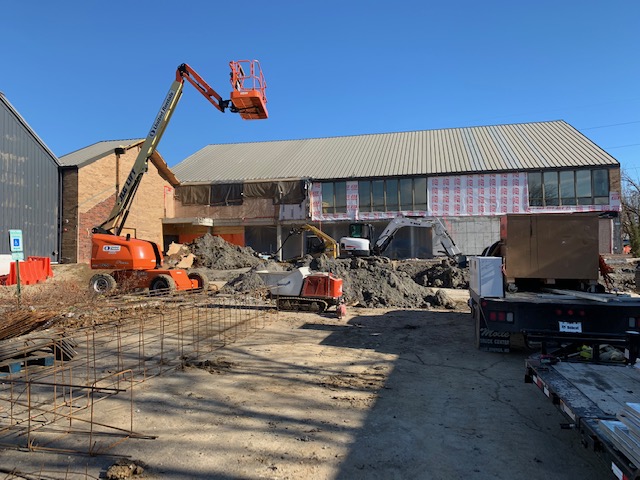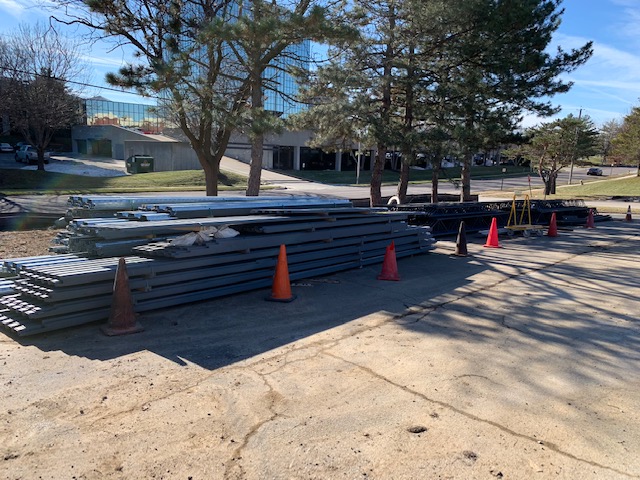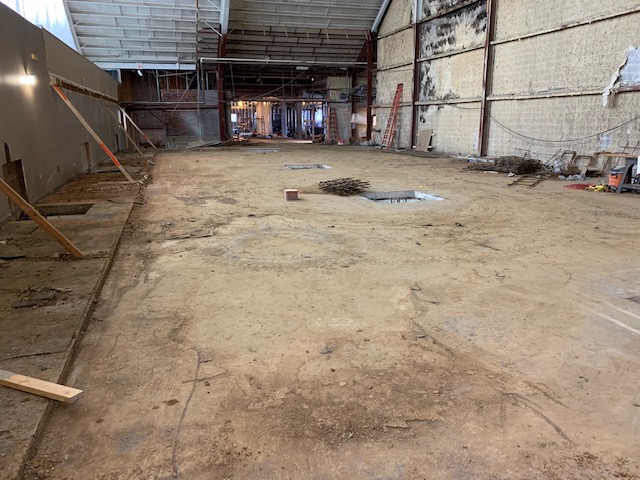 Workers continue to clear out debris from the old Front Entrance
The demolished debris is being cleard out getting ready for the next phase.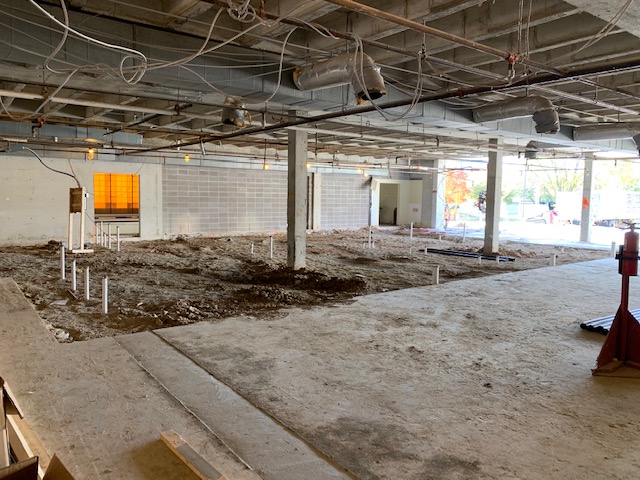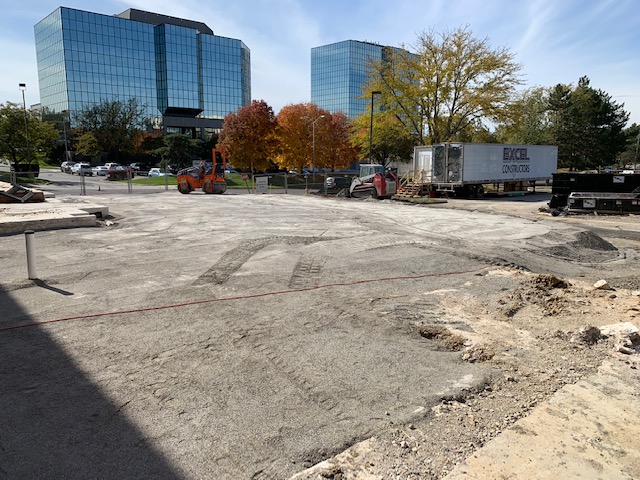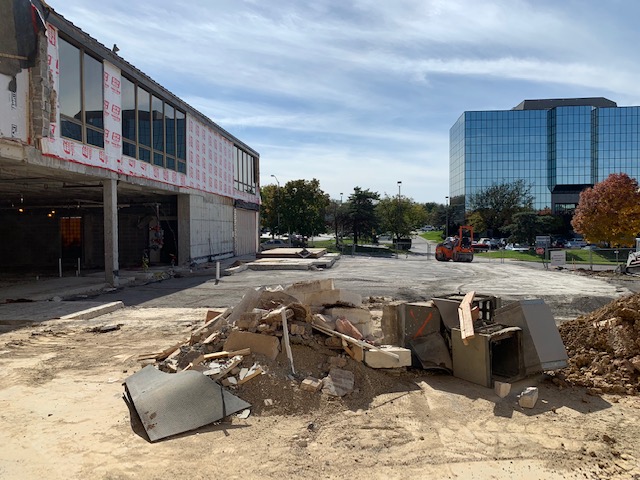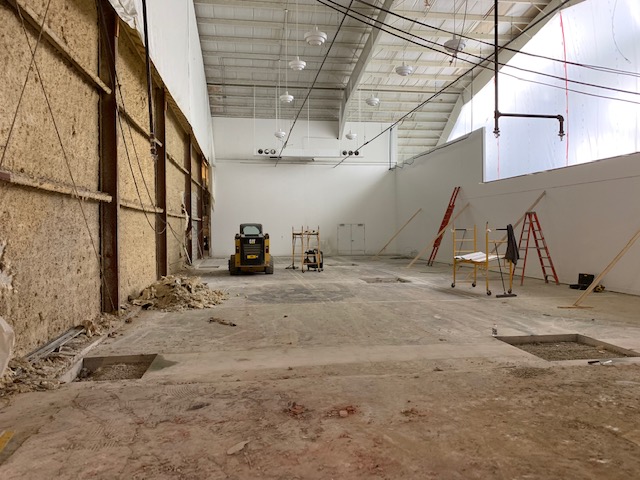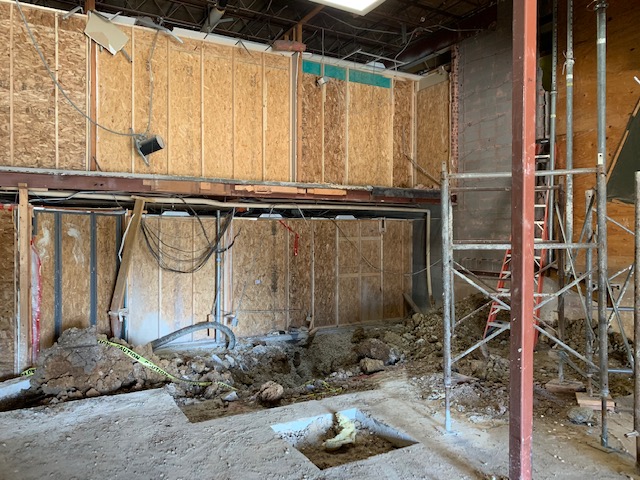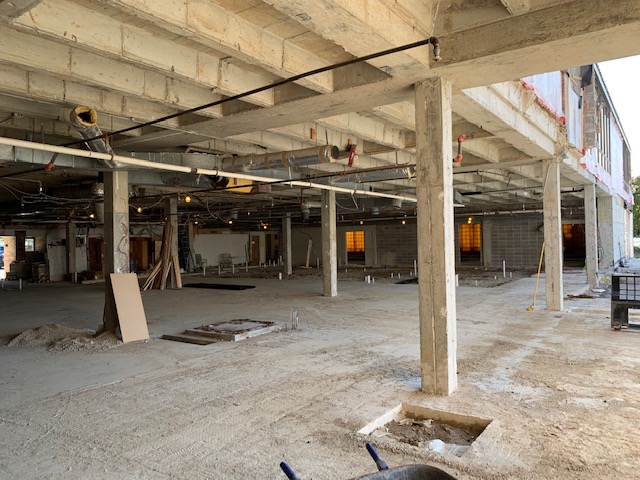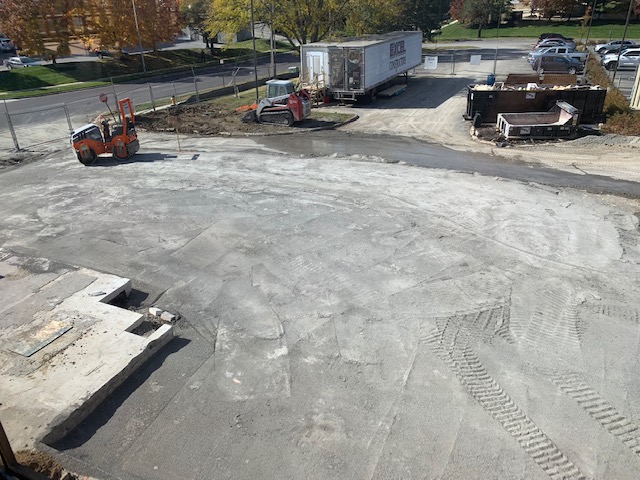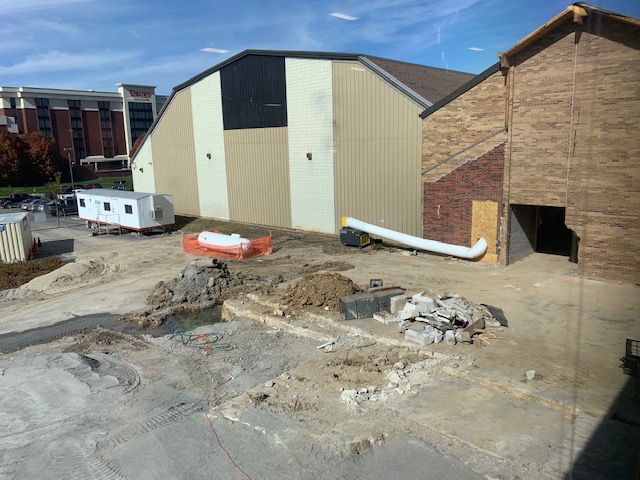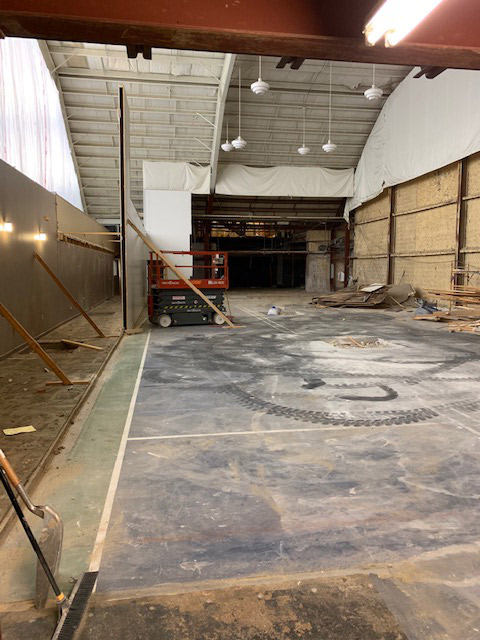 Clearing out debris from the old Front Entrance
The demolished debris has been cleared out and we're ready for the next phase.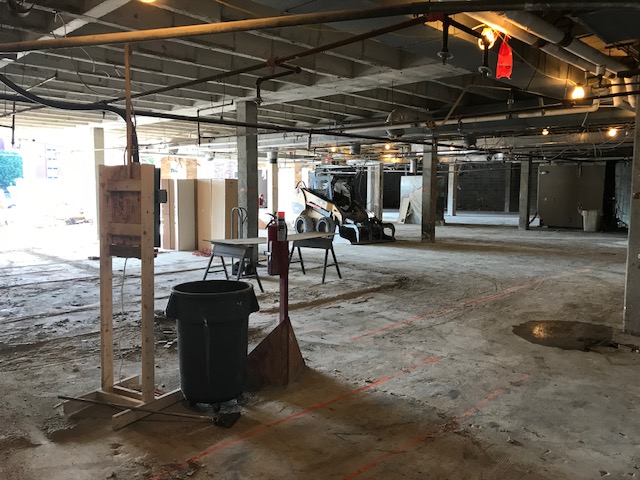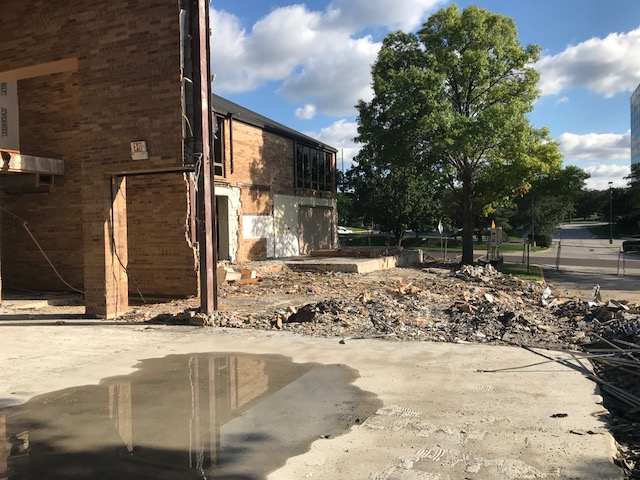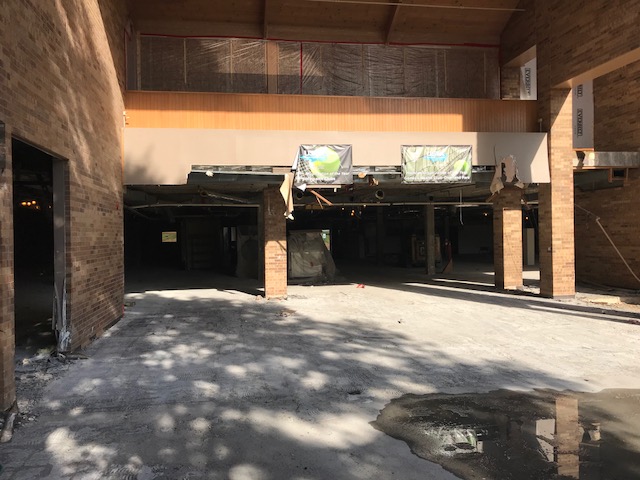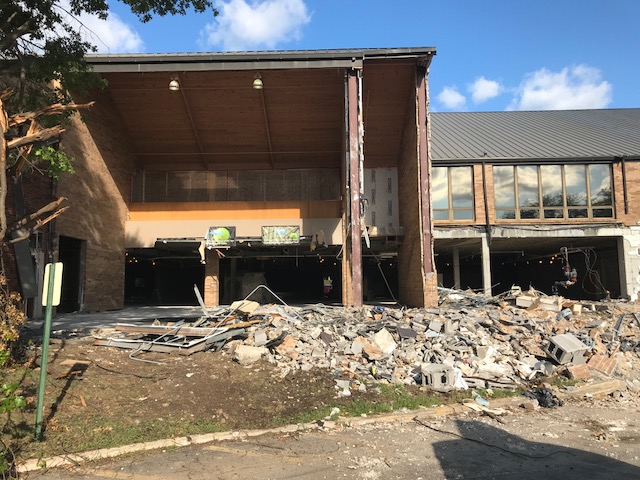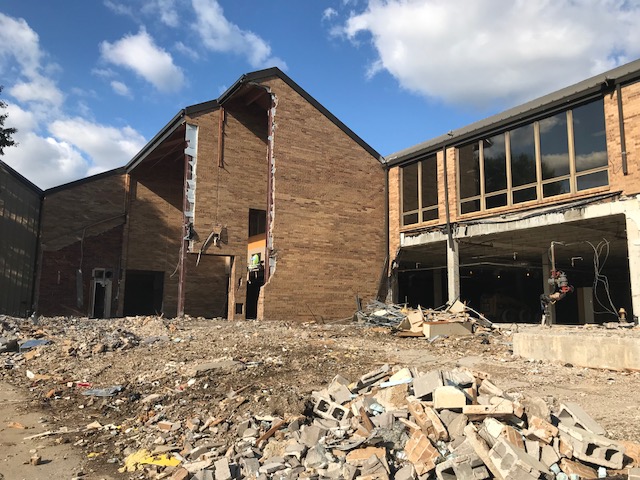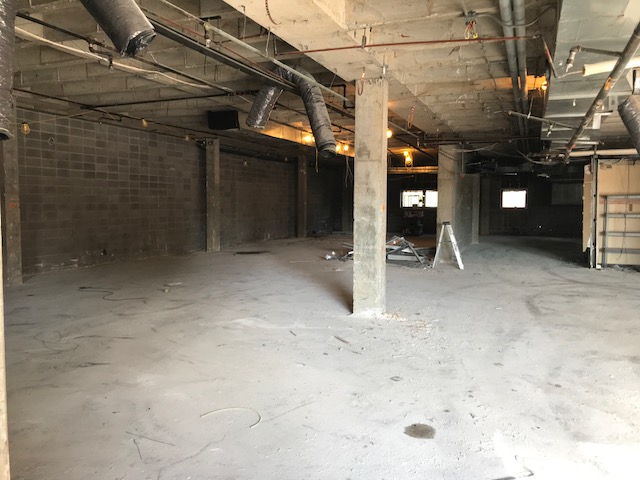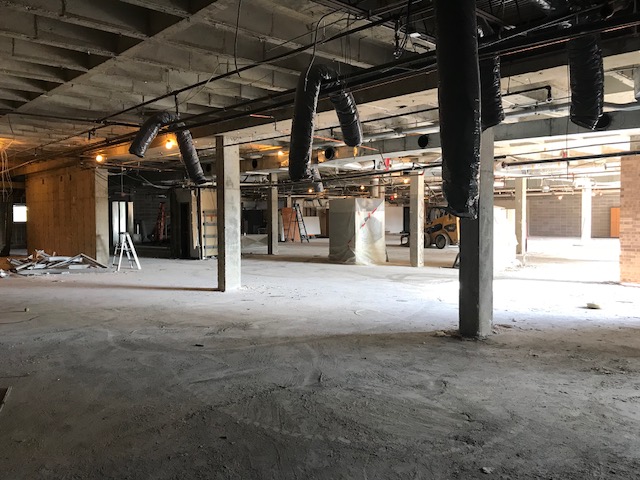 Demolition Continues on the old Front Entrance
See pictures below for a demolition explosion at Overland Park! Soon, the rubble will be cleared and a beautiful beacon of health and fitness will emerge from the dust. More updates soon.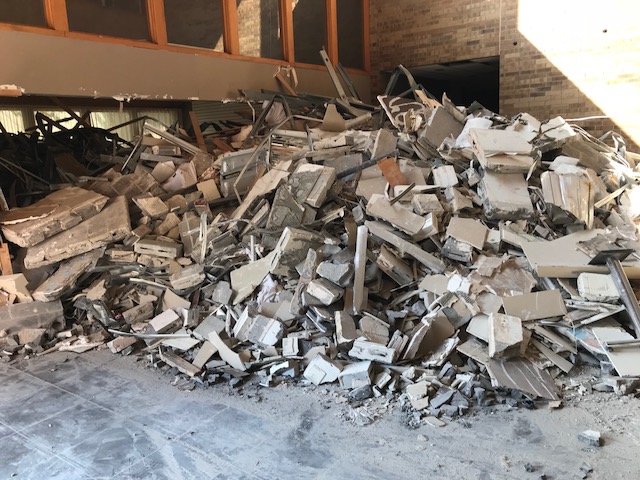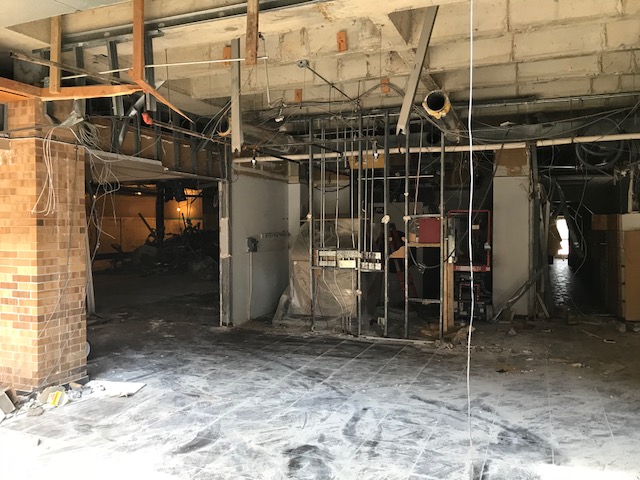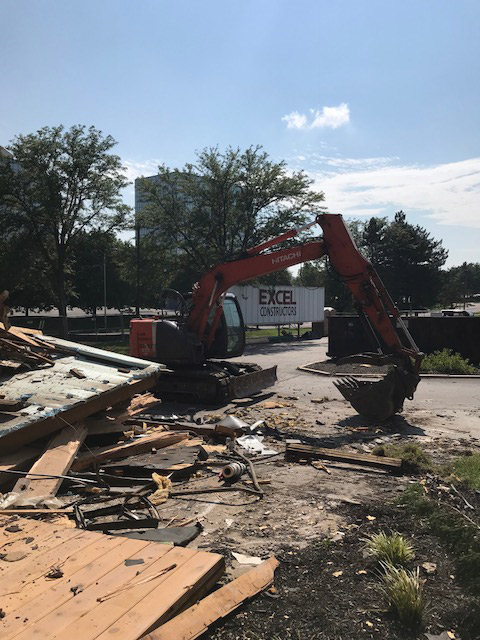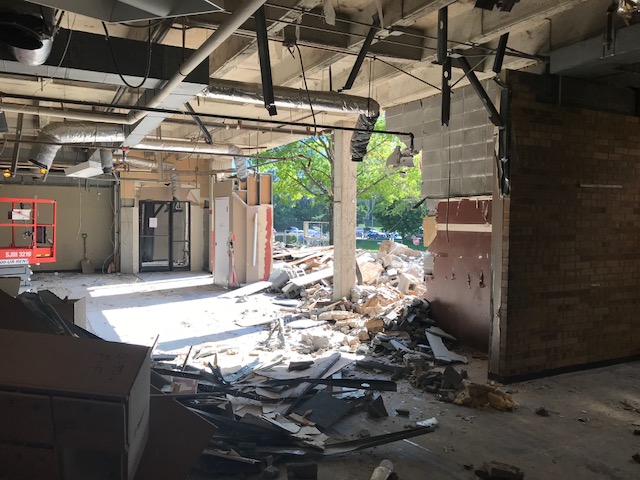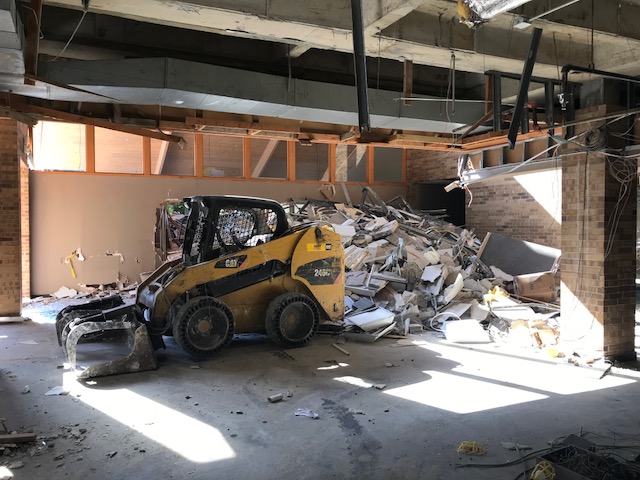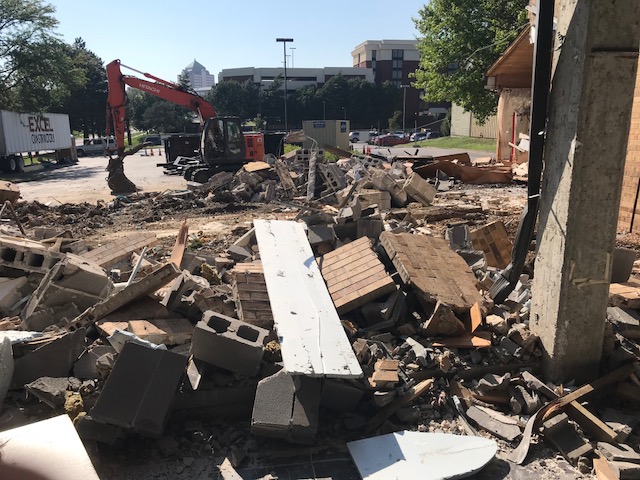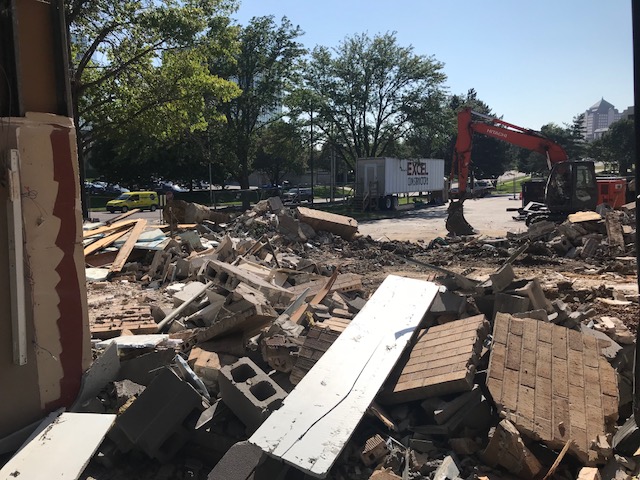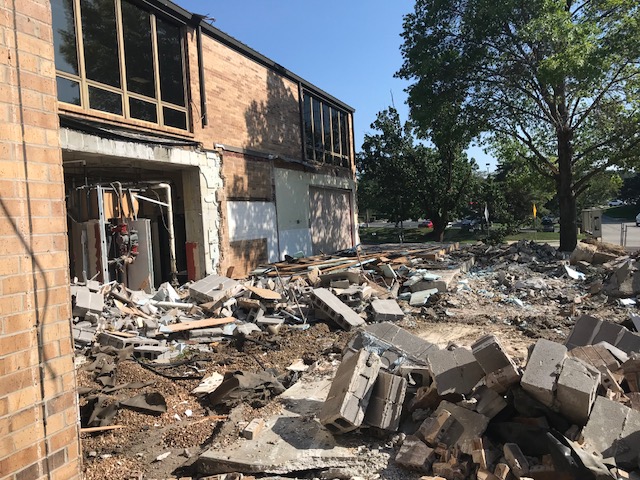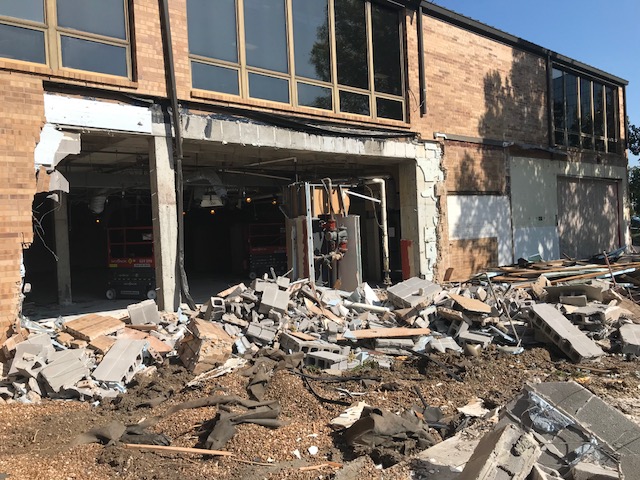 Demolition Begins on old Front Entrance
Demolition has begun in a major way at Overland Park. Things are moving; stay tuned for more updates!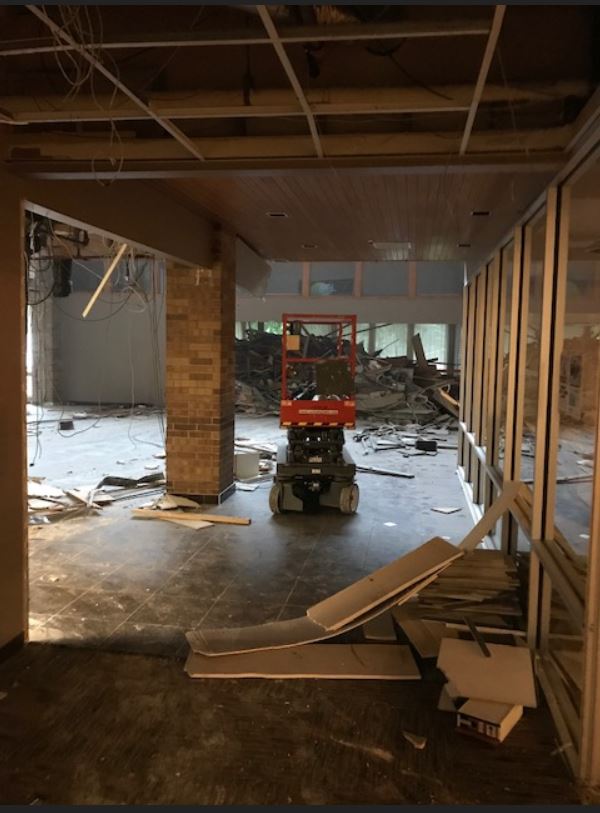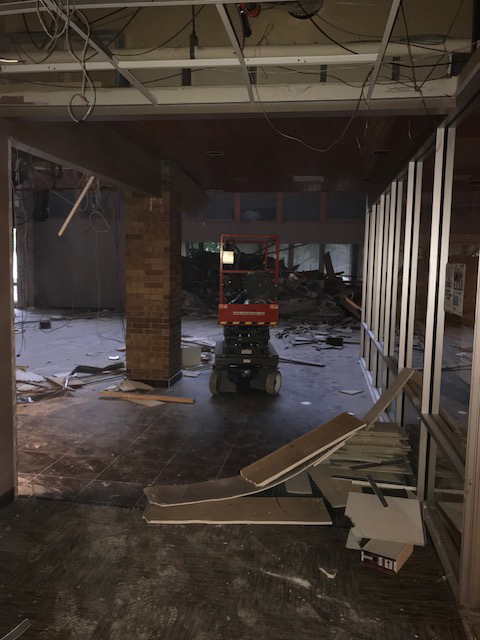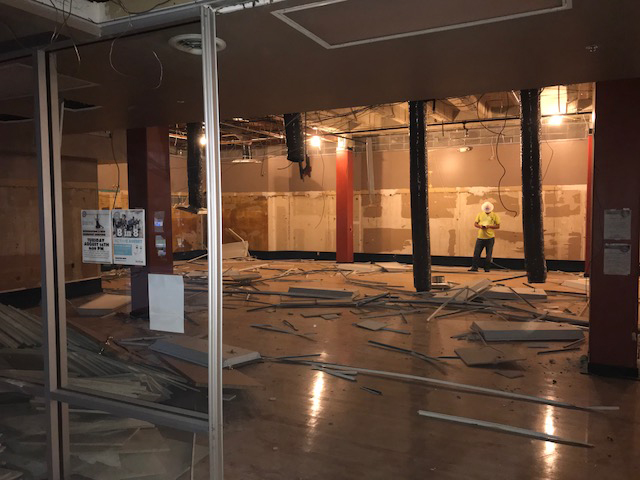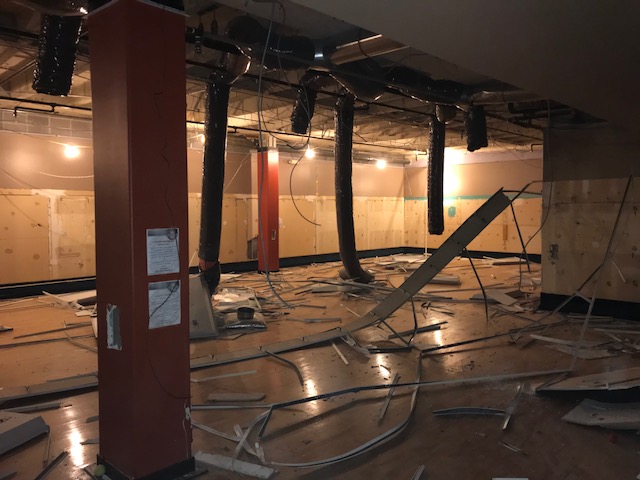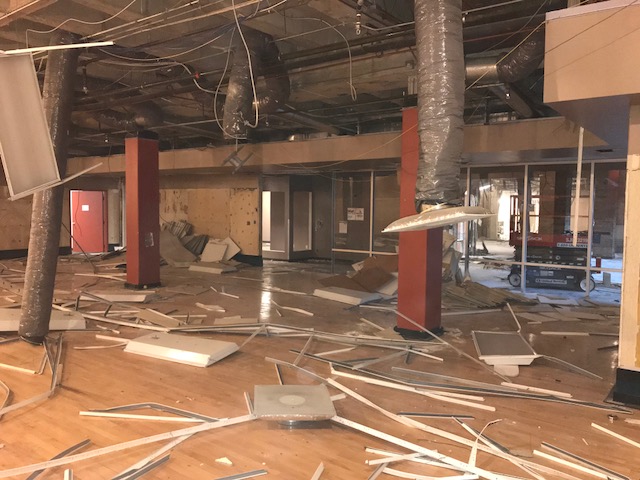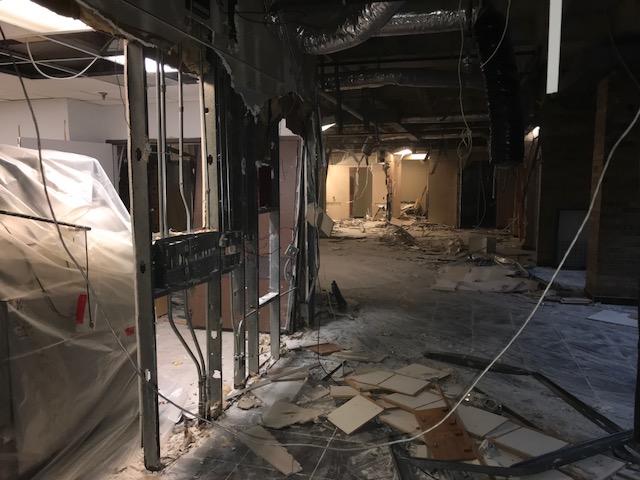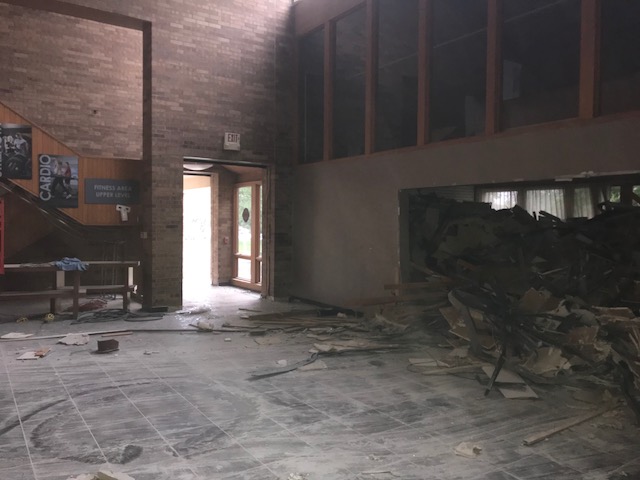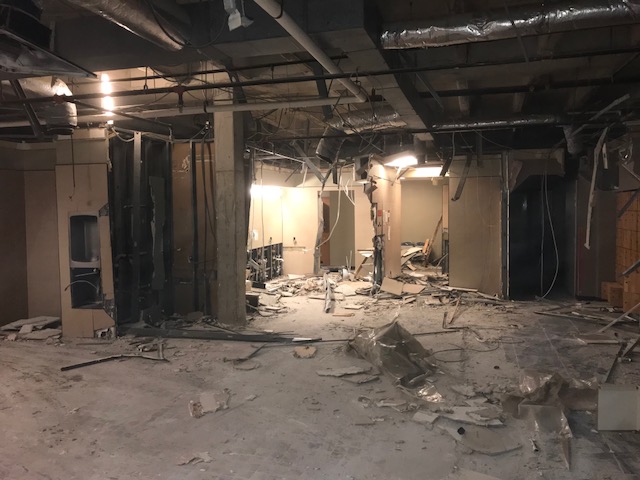 Important Announcement:
During construction, group exercise classes will move upstairs onto the turf area. Please check the class schedule for updates.
The pool will be closed until further notice. We invite you to use the pool at our nearby Metcalf Supersport location until construction is complete.
Kid's Club will be closed. Kid's Club access will be available at the Metcalf Supersport and all other Genesis Health Clubs locations until construction is complete.
We apologize for the inconvenience. We are working as quickly as possible to remodel Overland Park into the most luxurious health club in the greater Kansas City area.
Thank you,
Genesis Staff
Exciting news!
Construction has officially begun on a complete remodel of our Overland Park location!
Some updates have already started, and we will keep you posted on social media and through emails as construction progresses.
The week of 8/6-8/10, a new temporary entrance will be created on the west side of the building. The week of 8/13-8/20, the main entrance will be closed and the new west entrance will be used for the next several months. During this time, the locker rooms will be completely remodeled, so please use the tennis locker rooms until further notice.
COMING SOON TO OVERLAND PARK:
Expanded cardio and strength training
Luxury locker rooms
New flooring
New state-of-the-art equipment
New cycle studio
Upgraded finishes
Expanded footprint with additional square footage
Thank you for your patience; we are eager to share the final product with you. Fitness in Overland Park is about receive a major upgrade.
Site Photos: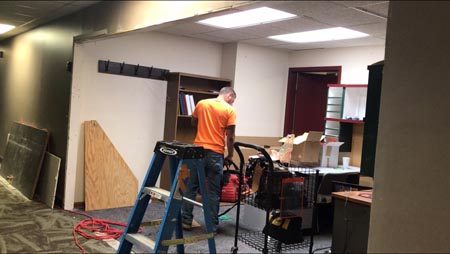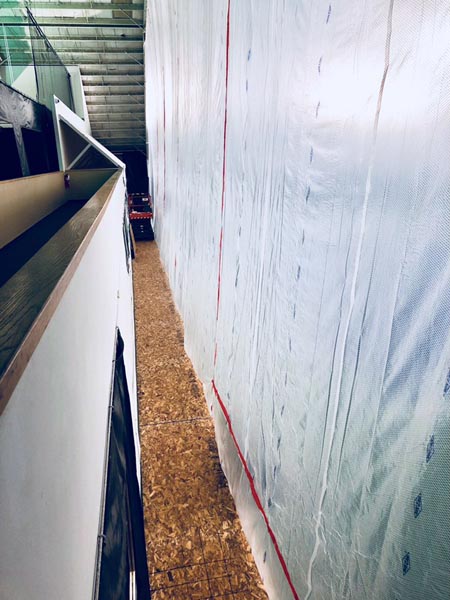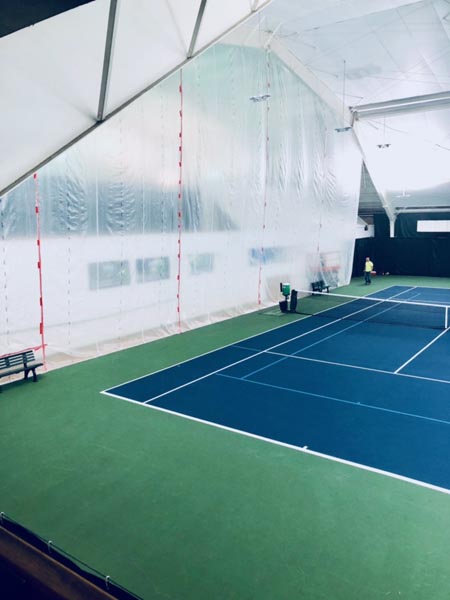 Previous: Manhattan Construction Update
Next: Miramont North Construction Update