Rock Road Tennis News - You Can Use
Submitted by Your National Tennis Director – Mike Woody, USPTA/PTR
January Tennis News
Get in the Game with PLAY TENNIS FAST!
Are you ready to get in the game? Are you ready to share the game with your friends, families and co-workers? After a very successful introduction last November with 100 new players, we are offering another opportunity for those that missed.

We are offering a Complimentary TRY tennis promotion February 1st - February 7th. Sign up for as many sessions as you would like. The format will be success driven and will be led by one of our certified tennis professionals. Tennis racquets and tennis balls will be provided. Wear comfortable clothes. This program is designed for adults and those 16 years of age and up. If you have never played, or used to play you are invited to learn or get restarted in the game. By the way, if you already play and you would like to attend with a friend who has never played, please come and you will get the program for free. This new way of teaching will amaze you on how fun and easy the game is.

February 8th - March 13th will start a Play Tennis Fast Learn Session. That's 5 – 1 hour tennis lessons and a free tennis racquet for ONLY $80 per person to play.

Play Tennis Fast is:
EASY - With PLAY TENNIS FAST you will be able to learn the game and develop your tennis skills in only 5 weeks!

FUN and SUCCESS – This fast playing program is specifically designed for you to achieve success in a short amount of time with lots of fun!

HEALTH and GREAT WORKOUT – You will be surprised how tennis is a total body workout and cardio activity!

All Adults are invited! Sign yourself up as soon as possible and invite your spouse, friend, and workout partner!

Contact Mike Woody at 316-634-6111 or woody@genesishealthclubs.com for more information or sign up at the tennis desk to reserve your spot!. Click here for the schedule.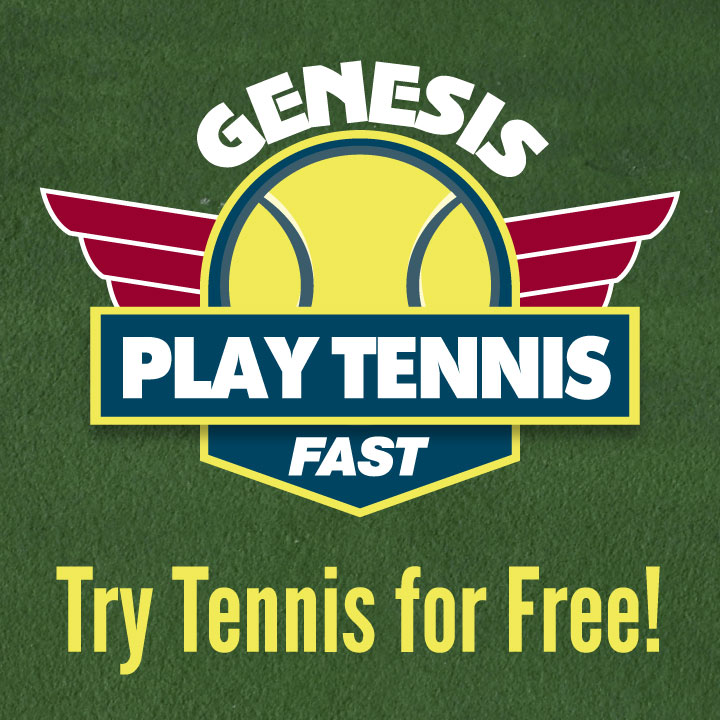 It's Mixer Time – Calling all Adult Players
You are invite to attend our Mixer this Saturday, January 30th, from 6:00pm-9:00pm! Your hosts, Zach and Woody, will provide the match line ups. Drinks and food provided. We will play for about 2 hours and then dine at Geo Meals. There will also be Wilson Demo Racquets for those of you who would like to take a brand new Wilson racquet out for a spin. All levels of adult players are welcome. Please sign up as soon as possible at the tennis desk or call for questions at 316-634-6111.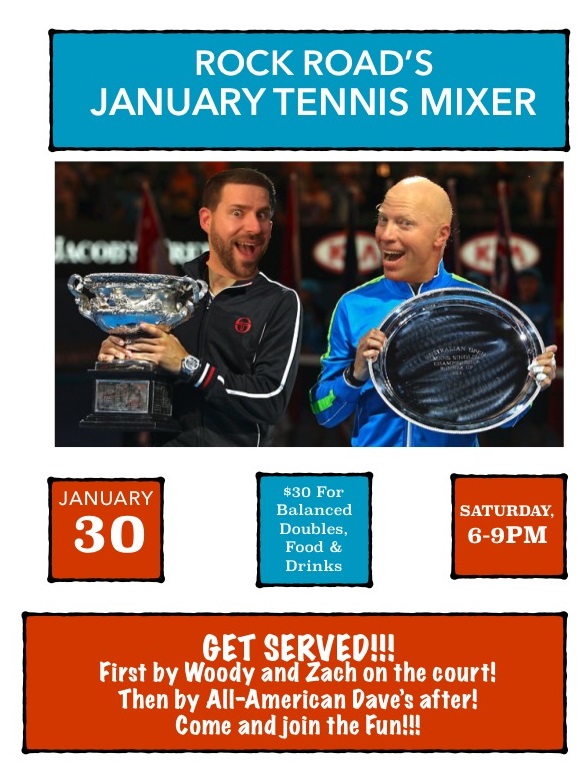 Wilson Demo Day and FREE Cardio Tennis – YOU ARE INVITED
Come out this Saturday from 2:00pm – 3:00pm or 5:00pm-6:00pm and try out a NEW Wilson Racquet. Jeff Bianco, Tennis Representative from Wilson, will be here to share the specs of these new sticks and make sure they fit your game. Saturday is part of our Fitness Free for All at Rock Road so come out and enjoy some FREE Cardio Tennis while you try these great racquets. For questions, contact Mike Woody at woody@genesishealthclubs.com.

Also, because it is a "Fitness Free for All", you are invited to Boot Camp, All American Training, Rock Wall, and much more! Go to our Facebook page for more info (that's right all FREE).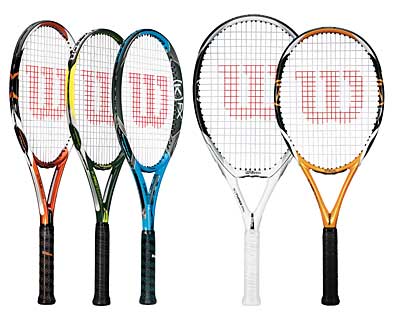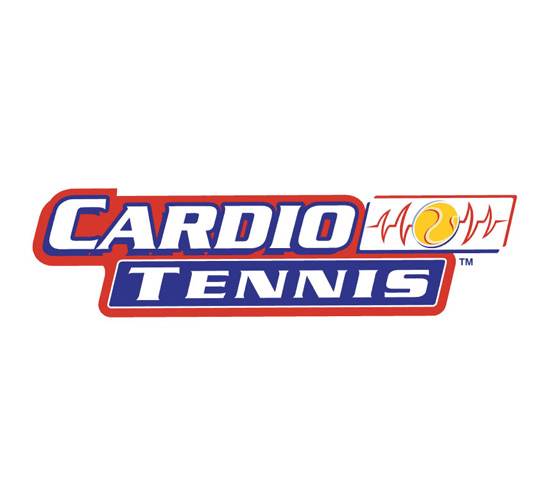 Welcome to the Club Felipe Batistella
Felipe, born in Brazil, comes to us from Northwood University, Midland, Mi., where he played varsity tennis for the nationally ranked Timberwolves. Felipe's goal is to better everyone's game that he works with. He wants everyone to feel like and winner. Felipe is available for ½ off private lessons for the month of February. You can reach Felipe at 989-259-9616 or felipebtennis@gmail.com.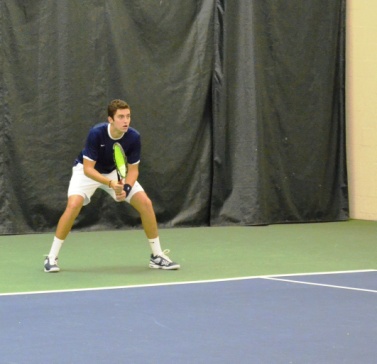 Mike Woody Recognized by Tennis Industry as Person of the Year
I am not one to toot my own horn, however, this is a recognition I share with my new tennis family at Genesis. I am very proud of all the accomplishments I have been a part of. I am very excited to be part of the exciting opportunities, changes, and expanded programs that we will be putting together. Click here for the nice article that shares this recognition.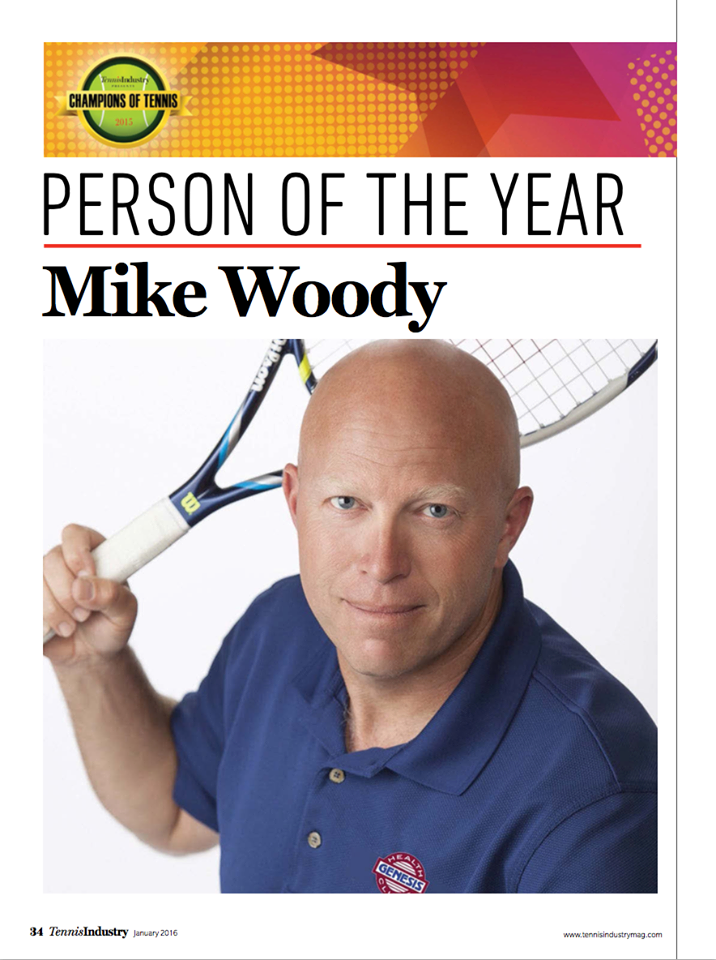 Wichita Shockers in the House! You're invited!
Genesis Health Clubs – Rock Road is the training and indoor match site for the WSU Men's Tennis Team. The Shockers are currently ranked #71 in the nation. You are invited to come out and watch these exciting players. Visit their website to see the list of players. You will enjoy the hard hitting and fight of this team. In addition they are a great bunch of athletes. Click here for their match schedule. Go Shockers!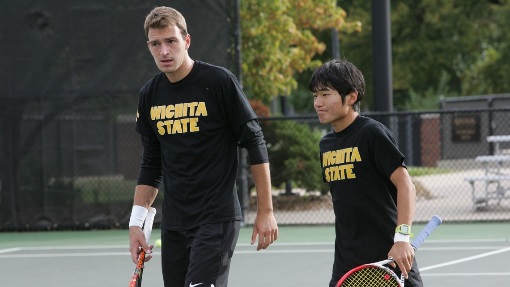 Donate Your Used Tennis Racquets
We are collecting used tennis racquets to donate to the Maureen Connolly Brinker Tennis Foundation. This great organization will be using the tennis racquets to provide opportunities for kids that can't afford equipment. There is a box set up by the tennis desk. Thank you for giving back to the game.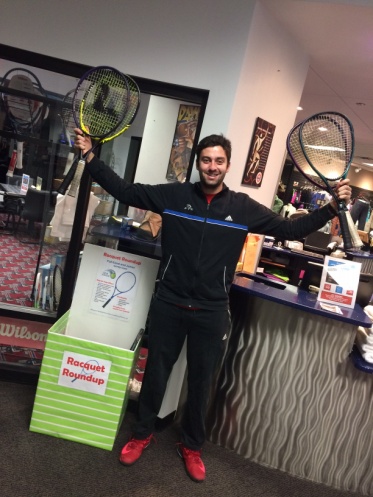 Wanna Free Tip for Your Game? Just Ask!
Our certified tennis coaches are available 24-7 (OK maybe not that available) to provide a tip that will improve your game. Just ask and who knows it might be the one tip that unlocks a new part of your game.



Tennis Ball Machine Workshop!
If you are interested in learning how to use this great training tool, now is your chance! We will be running two workshops on how to use the ball machine. The workshop is for one hour and will show you how to effectively train on the ball machine. Remember, our tennis ball machines are free after you reserve the court. All we ask is that you put away the equipment and use the carpet to collect the fuzz. The training dates are: February 4th, from 11:00am – 12:00pm and February 8th, from 12:00pm – 1:00pm. This workshop is complimentary to you. Please contact Mike Woody if you will be attending at woody@genesishealthclubs.com.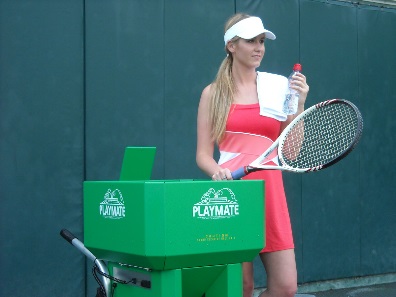 Tennis Tip of the Month:
You only have to win slightly over 51% of the points to win a match. In a match where the score is 6-4, 7-5. You most likely will have won about 52% of the points and your opponent lost 48%. What we mean here is that in an even match, you most likely will win by a small margin. The key to success is to manage your mistakes and don't beat yourself up when your opponent hits a good shot. Matches are won or lost by how well you manage your unforced error. For better match play, try to allow your opponent to beat themselves and try not to go for low percentage shots. Good luck and strive for fewer errors to win. By the way, you can actually win a tennis match with a lower winning percentage than your opponent, it doesn't happen often, but it does happen.



We Want to Hear from YOU!
Please give us feedback to better ourselves. A free one hour private lesson will be drawn from those that give us feedback. Please let us know what we can improve on. Your feedback is important to us. Let us know what we are doing well and what we can do to better with your tennis experience here at Genesis Health Clubs. Your comments will be confidential to our management team. You can simply respond to this email with your feedback and it will go straight to me.

Smashingly,

Mike Woody, USPTA /PTR
National Tennis Director
316-634-6111- Tennis Desk
316-634-3115 Direct Line to me.
woody@genesishealthclubs.com
December Tennis News
New Players Hit the Courts this Month!


Thank you to everyone that shared the game of tennis with their friends, family and co-workers. We had 99 adults who tried the game of tennis. We had 60 adults take us up on the offer of 5 lessons and a tennis racquet for $75. We are very excited to keep these adults in the game and having a blast. If you see some new players on the courts, please introduce yourself and give them a hand, they are new to our tennis family! We are going to continue with the "Grow the Game" program 3-4 times a year.





New Player Mixer!


Calling all new players and players up to 3.0 level for our first Play Tennis Fast Mixer. You are invited to attend Saturday, December 5th from 5-7pm. Drinks will be provided afterwards. Invite your friends, if you can get your serve in then you are invited.





Our Thank You for Playing Tennis at Rock Road


So how do we thank you for being a tennis player at Genesis Rock Road? How about free court time! That's right come out and play over the Thanksgiving weekend from November 26th through the 29th and you can play for free. Walk-ins welcome or call ahead to reserve your court! Did we mention there will be no guest fee? Bring your friends and family out on us! Thank you for being a valued tennis player.

Mix It Up and Work off that Turkey!


It's our third adult mixer of the year and you're invited! Come out and mix it up from 6:00pm – 9:00pm on Saturday, November 28th. Food and drinks will be provided afterwards. Sign up today at the Tennis Desk to reserve your spot!


10 and Under Program – Our Kids are Playing the Game!


Check it out! Our 10 and under tennis players have improved tremendously with our new engaging and interactive program! By using the right-sized equipment, tennis balls, courts and racquets, the kids are able to learn the proper way to play tennis. If you have a youngster who is under the age of 10, now is the time to get them in the game. The kids love this new format.





Be on the Lookout for Our RELAUNCH of Adult Programming


That's right; we will be re-launching some of our adult programs by putting a new twist on our oldies but goodies, and also coming out with some new classes as well such as; Adult Organized Practices, Cardio Tennis, and Stroke of the Week Clinics. Be on the lookout for more information after Thanksgiving. Everyone will get a chance to try one of these programs for free. Hope to see you on the court.






What's All The "Racquet"! Great deal on select Racquets!


"HELP ME! I have been sitting on this shelf too long! I want to be on the tennis court hitting aces, tweeners, and an occasional drop shot." Some of our racquets have been sitting on the shelves for too long! Take this chance to get a seasoned racquet for only $89.99. This is an amazing deal! We will even get it strung for you so you can get it out on the courts right away!




TRY It and You Will LOVE IT! Demos are in the House!

There will be more demos for you to try out before the holiday season. All you have to do is ask the Tennis Desk to take one of our new demo racquets for a spin. If you decide you like it, we can get it ordered for you and have it here in less than a week. We will even professionally string it for you. Try one today!



Sorry for the Fuzzzzzzzz!


Bummer- our court sweeper is in repair. We apologize if you have noticed more fuzz on the courts. We hope to get it fixed soon. Thank you for your patience.


Wanna TIP!


Our Pros are offering FREE tips, feedback, and support to your tennis game! Just ask a Pro, they are all willing to help you out. They are certified not certifiable; we want to help you with your game. It's amazing what one little tip can do for your game. So just ask it's FREE, but we won't turn away some fresh baked goods.


You Gotta Try It! G60 Boot Camp


Feeling like you need a little hop in your step, maybe more bounce on the tennis court, or you just need more strength and flexibility? We recommend our G60 Boot Camp. Mike Woody started working out in the Boot Camp and he is ready to take Nurudeen on in a tennis match. Word on the street is that Woody feels he can outlast Nurudeen in a 3 out of 5 set match. Check out the Boot Camp now, if you want to have the same results. John is a phenomenal motivator and will work you smart.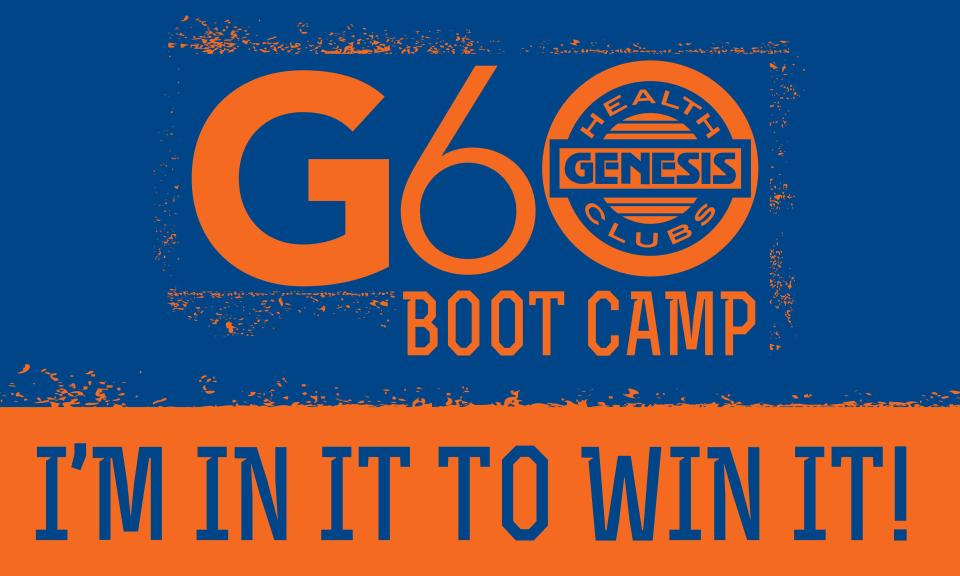 Woody's Tip of the Day – Your Grip Tension Can Make or Break You

Too tight of a grip tension is not good in tennis. In fact it is one of the top causes of tennis elbow and poor tennis shots. If you squeeze your racquet as tight as you can, it is called 5 tension. When you are barely holding on to the tennis racquet, it's called 0 tension. In order to get the perfect grip, you want to hold onto the tennis racquet with a 1-2 tension. Most people hold the racquet at a 4-5 tension which causes you to lose racquet speed and maneuverability. So next time you are out on the court, try hitting at a 1-2 tension and see what happens. You may lose some control because your racquet will move faster, however you will adapt and it will be easier on your arm and you will gain "feel" in your shots. Good luck and let us know how it works for you.



Speak Up!
Please let us know how we can help you on your tennis adventure here at Genesis Health Clubs – Rock Road. Your feedback, ideas, comments, and suggestions are welcome. Email me at woody@genesishealthclubs.com or call directly at (316) 634-6111.


Smashingly,

Mike Woody, USPTA /PTR
National Tennis Director
November Tennis News
Genesis Teams Compete at the Sectional and National Level
Men's Open Competes in Las Vegas
Our very own Tennis Professionals came in 2nd place in the Men's Open Competes in Las Vegas, NV. The guys gave a strong five match run at some heavy hitters from the East Coast; word on the street was the opposing team had an owner who paid some circuit Professionals to play. Our team of Professionals that played included: Harry Walsh – Captain, Devin Wakeford, Rodrigo Amaral, Thiago Spirito Santos, Simon Norman, Thiago Dos Santos, Victor Melo and Tony Tsymbalov.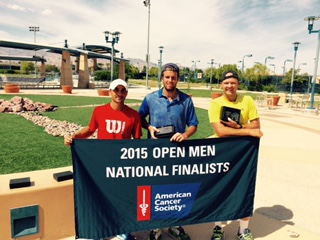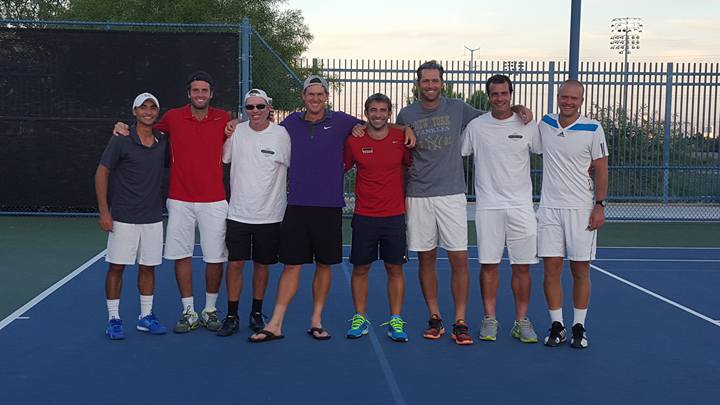 Men's 5.0+ Team Competed at Indian Wells
Our Men's 5.0+ team did an amazing job this past weekend at the USTA National Team Championships at Indian Wells. They finished #2 in their group! They are now #1 in Missouri Valley and #6 in the Nation! The team of Junior Brown consisted of: Matt Wright, Myron Pushyk, Branden Joost, Matt Conrad, and Rich Slivocka. Great job weekend warriors, you make Genesis proud!

Rock Road Team Makes it to Sectionals
Our Genesis Mixed 9.0 team competed hard in Springfield, Missouri at sectionals. The team captain, Laurie Mercer and co-captain, Zach Loomis, did a great job of leading their team this season to get them to sectionals! The other teammates were: Nurudeen Isa, Chris Heck, Myron Pushyk, Gabriela Balarin, Lea Squires, Melanie Joseph, Kris Hoeckel, Allison Kaster, Kathy Sweeney, Jeniffer Adams, Gil Trout, Darrin Rasmussen.
It's Time to MIX it up again!
Did you have a blast at our last tennis mixer? We hope so! Join us for another fun night Saturday, October 17th from 6:00pm – 9:00pm for a tennis mixer. Enjoy tennis play, munchies drinks, and of course lots of fun! We will provide a fun format of rotations that will introduce you to other players. Zach Loomis and Mike Woody will be your hosts. Sign up now at the Tennis Desk! For more information call Mike Woody at (316) 634-6111 or email at woody@genesishealthclubs.com. The cost is $25 per person, bring a friend or spouse. Non-tennis players are welcome! Hope to see you on the courts! Click here for mixer info.
10 and Under Tennis - Its So Easy Even a Kid Can Do It!
Your Genesis Health Club Tennis Pro Team is ready to relaunch our new 10 and Under tennis program starting on October 26, 2015. These classes are specifically organized for your kids' success! Each age group has a special court size, racquet, tennis ball size, and curriculum. Our team has undergone some intense training and will be implementing the USTA/Nationally recognized program. If your kid is already a part of the program, they are really going to like this new format. It is play-based that encourages teamwork, engagement, great learning on so many levels, and fun-tastic games that is sure to keep your kids in the game. Each age and level will have a Practice and Play component. Look for future communications about classes.
TGIF was an ACE!
Genesis wants to thank the over 175 people that came out to a great time of fun, activities, drinks prizes and the pro exhibition. What a great way to meet new friends, tease your Genesis Staff members, and just unwind. We will be planning more of these social events and they are just going to keep getting better and better. Be on the watch for the next one.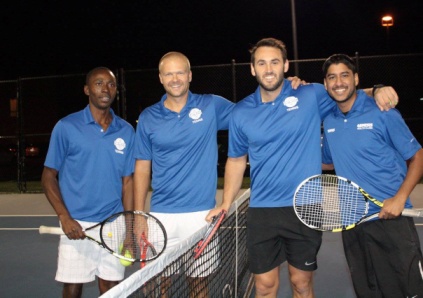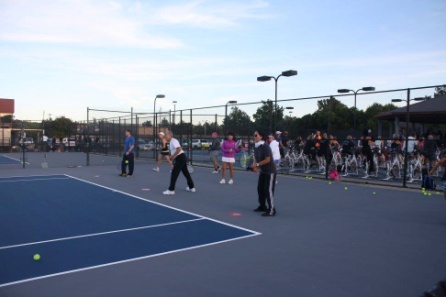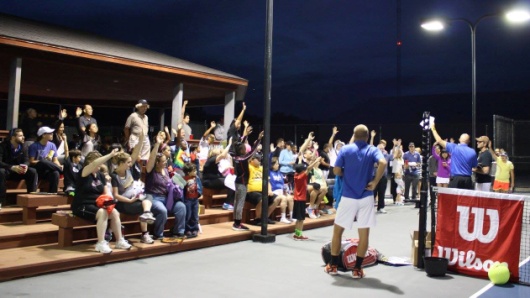 Trick or Treat! Still time to get some Candy!
It is our pleasure to introduce our newest certified tennis professional Candy Idoko from Nigeria. Candy is a former professional player who ranked in the top 1,000 in the world. In addition, he has coached for many years. If your game needs a tune-up, let Candy sweeten it up for you! For a limited time receive a private lesson with Candy for $40, originally $60. We are also offering a complimentary 30 minute lesson for those of you that want to test the waters before you commit to a lesson. You'll want to take advantage of these fantastic offers! This offer ends October 17th, one per membership, individual session only. You will enjoy Candy's style and the great tips he will give you to better your game. Contact Candy now at Cidoko@genesishealthclubs.com.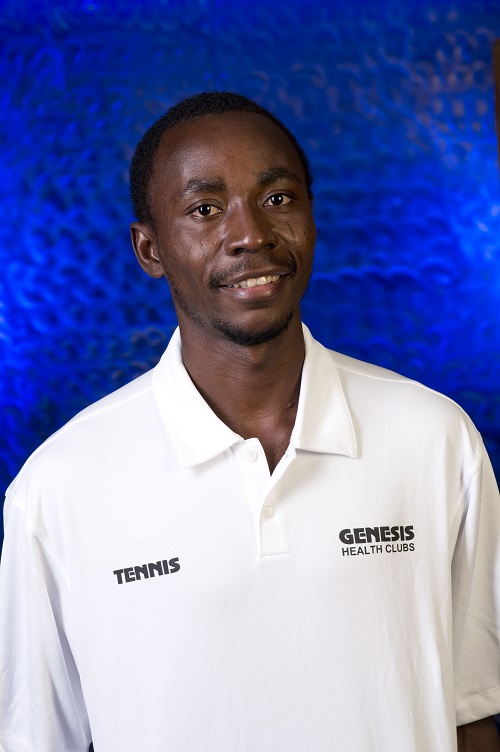 League Play is Easy! We Schedule & Book Courts, You Play!
If you are looking to have your tennis play set up for you with no hassles and no worries, we have league play that is just right for you! Just bring your game to Rock Road tennis courts and we will get you a tennis match. Our leagues consist of singles, doubles, men, and women of all different levels. Our goal is to provide you with matches that are set up weekly and scheduled in a fun and friendly atmosphere. If you are interested in playing please contact Zach Loomis at ZLoomis@genesishealthclubs.com or call the Tennis Desk at (316) 634-6111.

The Clothes Bar - Looking Good = Playing Good!
Check out the Lucy Get Going Pant for women. We dare you to try a pair on and not fall in love with them immediately. This slouchy, mid-rise style for the multi-sport/fitness minded woman on the go has too many features to share. You have to stop by and check them out! Colors come in black or fossil. Mention "Get Going!" to receive 20% off a pair of Get Going Pants.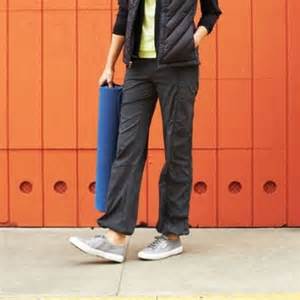 Genesis Donates to St. Katherine Drexel Catholic School Fund
Forty players from across Wichita participated in the "Aces for Academics" Doubles Tennis Tournament on October 4, 2014. Proceeds from the event will be used to purchase new library books for Holy Savior Catholic Academy, St. Joseph Catholic School, St. Margaret Mary Catholic School, and St. Patrick Catholic School. Tennis and fitness member, DeAnn White declared the event a success "It is exciting to see so many people participate in this wonderful event. The purchase of new library books is a wonderful gift and will spark children's interest in reading."

Thank you to Genesis tennis team Gabby Balarin, Candy Idoka, Nurudeen Isa, Simon Norman, Myron Pushyk, and Mike Woody for their support in making this event successful.
Get a GRIP?
If your grip looks like your dog used it as a chew toy, it's probably time to re-grip your racquet. When you re-grip your racquet you will find that it will feel so much better, your hand will slip less, and it will help your shot quality. So what are you waiting for? We have a good assortment of grips, ask one of the tennis professionals to help you select one.
Tony's Tennis Tips – "Hit and hold" like Roger Federer
Here is a tip on getting better directional control on your volleys. Too many players are trying to apply too much power on their volleys resulting in inconsistent delivery of the angle of the racquet face to the ball during impact. Changing the angle of racquet face by 6 degrees either direction will produce a directional dispersion of 6 feet, resulting in inconsistent direction on volleys.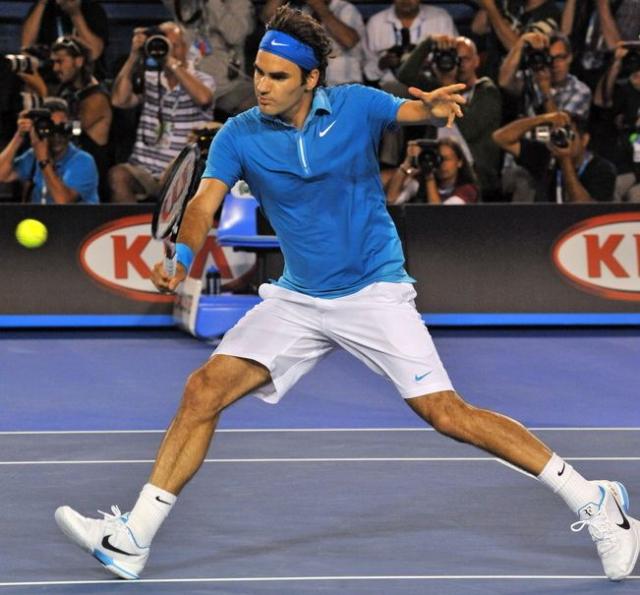 Next time you are at the net, try to "hit and hold". Have the face of your racquet pointing at the target during impact and keep the racquet in the same position until you count to 2 and then let go. The key here is to redirect the ball using opponent's/partner's pace and not apply more power to it. This little drill insures that the angle of your racquet during impact and through is going towards your target. Try this out and your volleys will improve.
Speak Up!
Please let us know how we can help you on your tennis adventure here at Genesis Health Clubs – Rock Road. Your feedback, ideas, comments, and suggestions are welcome. Email me at woody@genesishealthclubs.com or call directly at (316) 634-6111.


Smashingly,

Mike Woody, USPTA /PTR
National Tennis Director