Salina Personal Training
Genesis Salina personal trainers are licensed, skilled fitness professionals designing custom exercise plans for members to help them isolate and achieve their individual fitness targets.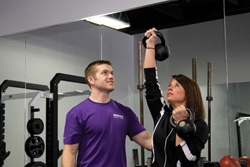 We help you shed unwanted pounds, boost your natural energy levels and enhance your overall flexibility, balance and speed with a fitness program arranged specifically for you.Our personal training gives you awesome results because our dedicated staff instructs and inspires you to make healthful choices that empower you to feel and look your best.
Through creating a customized a training schedule based on your requirements and delivering support the entire way, Salina Genesis clubs are able to offer more than just a great workout. We show you how to reduce stress, increase endurance and build a healthier body.
Mission
Our mission is to enable you to manage your own fitness. We'll focus on your unique fitness needs and give you the understanding and awareness to attain your healthy lifestyle objectives. Then we'll help you employ your strategy into your daily routine and reinvent your bad habits into healthy choices. The difference will amaze you!
Personal Training Commitment
Genesis trainers are committed to helping you get into the best shape of your life. Our Genesis Fitness Advisors and Certified Personal Trainers will do what it takes to give you the best training experience in Salina.
We teach you how to maximize your workouts, maintain your diet and examine your progress. Your training sessions each end with scheduling the following session so you'll have a clear roadmap on your path to fitness. Take advantage of our experience and commitment to service while you work on creating the new you.
Our Fitness Objective
Our singular objective here at Genesis is for you to be the healthiest you've ever been. For the best fitness results, contact your local Salina Genesis Health Club and ask to speak to a personal trainer about your fitness goals. We're the most advanced health club in Salina - offering the greatest commitment, experience and support.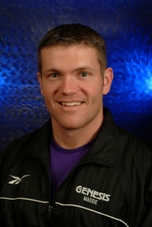 Yours in health,
Preston Petersen
CSCS, AHFS, FMS
Director of Personal Training Director
ppetersen@genesishealthclub.com
Salina Personal Trainer Location