Salina Tennis News - You Can Use
Submitted by Your Tennis Director – Thiago Santos

February Tennis News
Junior Academy Updates
Ready to Go!
Our High School and Middle School boys are ready and excited to start out their season on the right foot! They've worked extremely hard to get prepared and are ready to get out of the cage and do some damage!
Go get 'em, studs!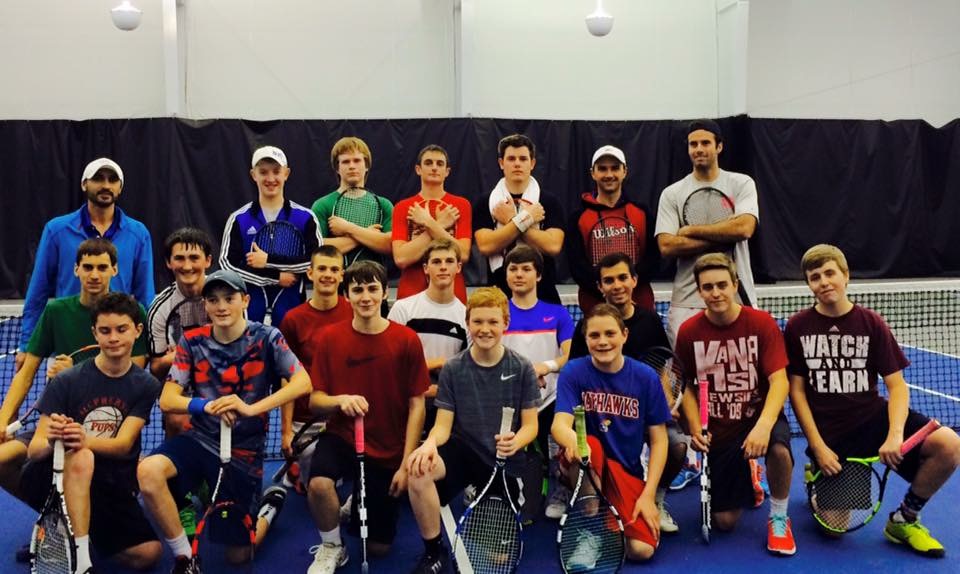 It's So Easy, A Kid Can Do It!
Do you want to get your little one involved in the game of tennis?
Genesis Tennis Professionals utilize a success-based and self-discovery method that makes it very easy for the kids to learn and have fun at the same time!
For more information about the 10 & Under Program email Thiago Santos at tsantos@genesishealthclubs.com.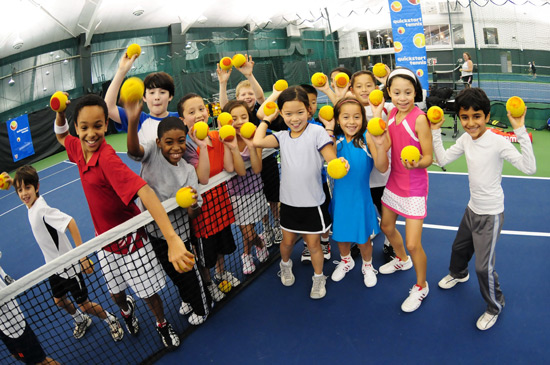 Tennis Updates
Play Tennis Fast
Our brand new tennis players have had a blast learning the sport of tennis! This past Play Tennis Fast session had over 40 new players participate. They had a blast learning the game at an accelerated rate!
Stay tuned for Play Tennis Fast 2. It will be coming up very soon!
Get In The Game!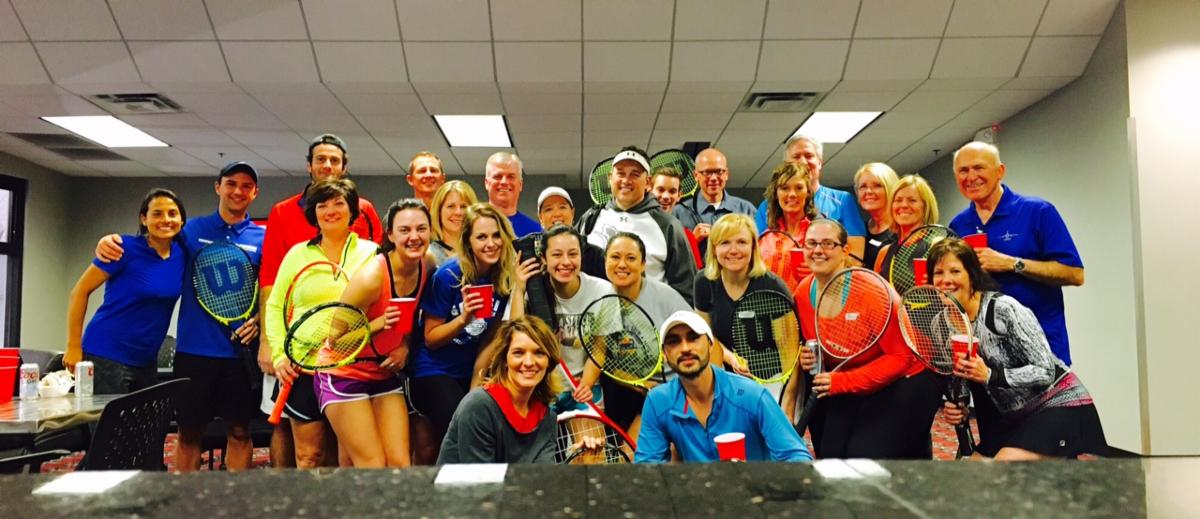 Salina Boys at the ATP Memphis Open
A group of our young tennis players had a road trip to Memphis, TN in February to watch some of the best players in the world battle hard on the tennis courts!
What a great experience for our boys, Jase, Connor, and Collin!
Perhaps we will fill up a bus next year and head over again!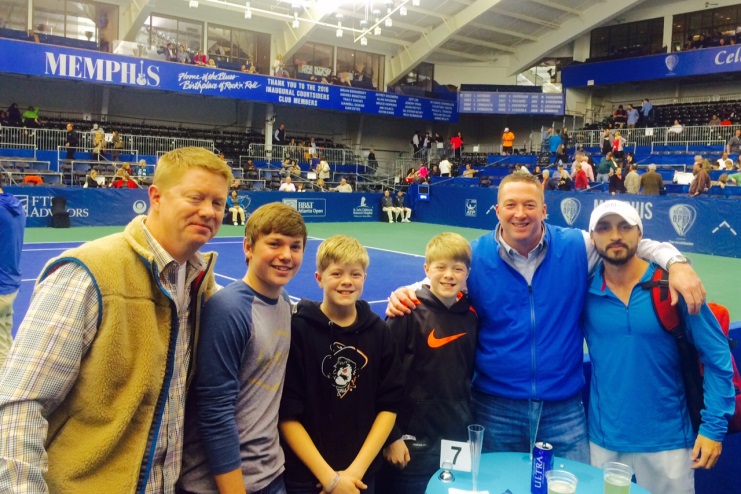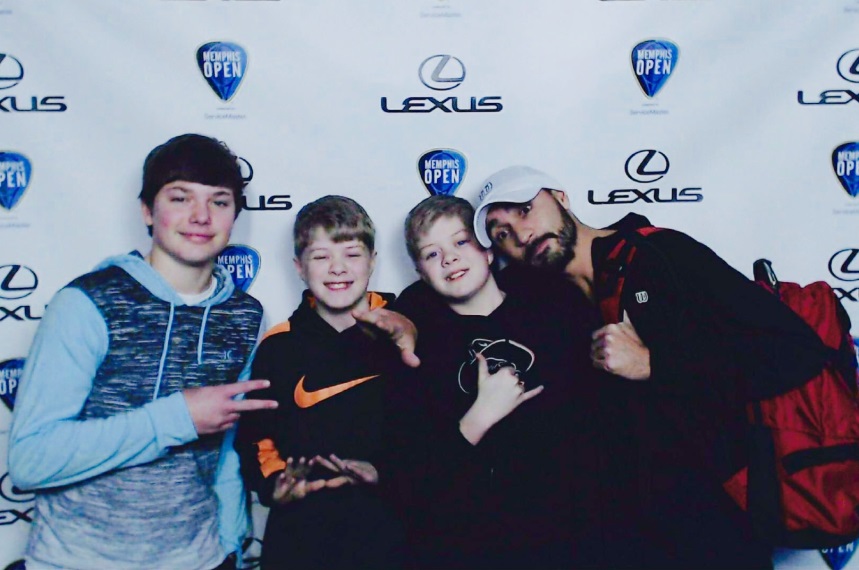 Genesis Coach Named as Lakewood Middle School Coach.
Our very own coach, Logan Palenske will be the Middle School Tennis Coach for Lakewood this year. Logan is looking forward to a great season!
"Ever since I picked up a racket for the first time in high school, tennis has been a tremendous passion of mine, and this is another amazing opportunity for me to help teach and grow this great game. I am extremely fortunate to have such a great group of kids and they have been nothing, but an absolute joy to coach; and despite this being the youngest team in the league I really believe this group has the ability and talent to accomplish some very special accolades by season's end." Coach Logan Palenske
What a great opportunity for Logan as well as for the kids to have a coach of his caliber around them!
Best of luck this season!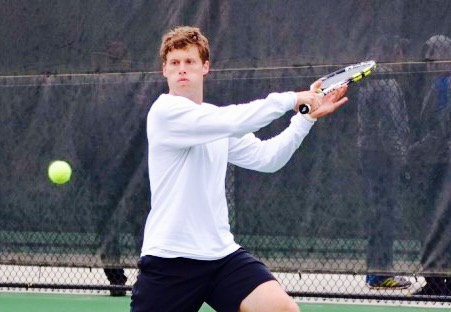 How to Perform OFF the Tennis Court as a Tennis Parent?
I often observe parents' conversations and comments on the side lines and hear from many of the kids I work with how much pressure they get from their parents when they are out on the court by himself/herself.
Being a tennis parent is not an easy job. It requires more than being loud on the side lines and shouting your kid's name between points, providing them some sort of coaching. As matter of fact, these actions are not very recommended if you are a tennis parent.
Do you want to know why?
Jorge Capestany, one of the most credited tennis coaches in the country explains why.
Here is the link of one of the most interesting and spot-on videos I have watched on this subject: YouTube Video
I strongly recommend every tennis parent to watch it! We want our kids to feel their best so they can do their best when they are on the courts!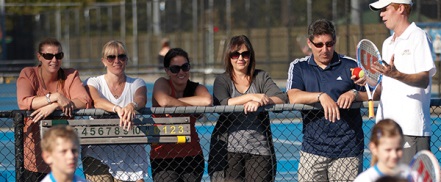 TGIF Cardio Tennis!

Our exceptional members and guests had an absolute great time during our TGIF Cardio Tennis! We had over 70 people joining our workout class and everyone got an A+ for effort and enthusiasm!
Do you feel like breaking your cardio exercise routine and getting in the game of Cardio Tennis? Let us know!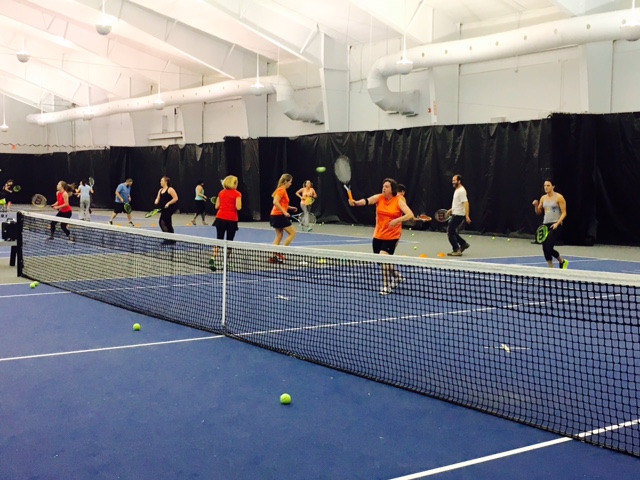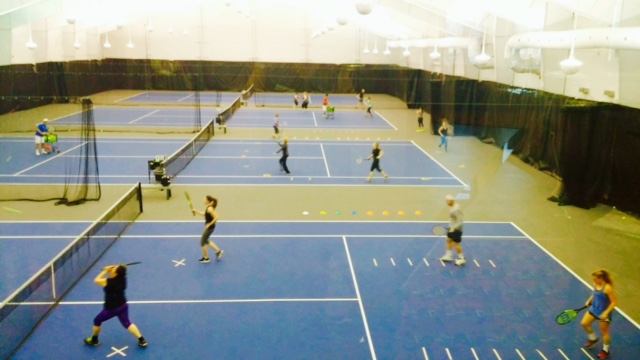 Rule of Thumb – Restringing Your Tennis Racquet
As a tennis player, you are recommended to restring your tennis racquet as many times a year as you play tennis in a week*. Basically, if you play tennis twice a week, you should restring your racquet twice a year. Although each player is a different situation, that is the general rule.
Here's why?
• Loss of control – overtime, your strings will lose tension and make it more difficult to control the ball in play;
• Difficult to generate spin – with the loss of tension, the ball will sit on your strings a fraction of a second longer, which will make it harder for you to generate the spin you wish;
• Lack of pop – with a freshly strung racquet, the strings will pop back in place after striking the ball. Once loose, the strings will not respond the same way after hitting the ball.

Do you have any other questions about restringing your racquet? Ask one of our tennis pros and we will give you our advice on it!
*note that more advanced players will break strings often, therefore this rule may not apply.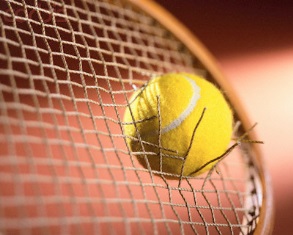 T. Lins' Tennis Tip of the Month:
With summer coming up soon, T Lins' tip of the month features 3 tips that will help you play tennis in the heat!
"First and most important is hydration. Remember that hydration generally begins about 2 to 3 days before a match. Drink a lot of fluids that have electrolytes and keep yourself hydrated before, during, and after the match.
The second tip would be paying attention to your attire. Making sure that you are wearing light coloured clothing will wick moisture away from the body more easily. That will definitely help your body keep you cool when you are playing out in the heat.
Lastly, be aware of the signs and symptoms of heat illness. Some of the symptoms would be fatigue, light headedness, and dizziness. In the event of any of these events, it's best to get to a cool environment, such as shade, and drink cold liquids until these symptoms subside."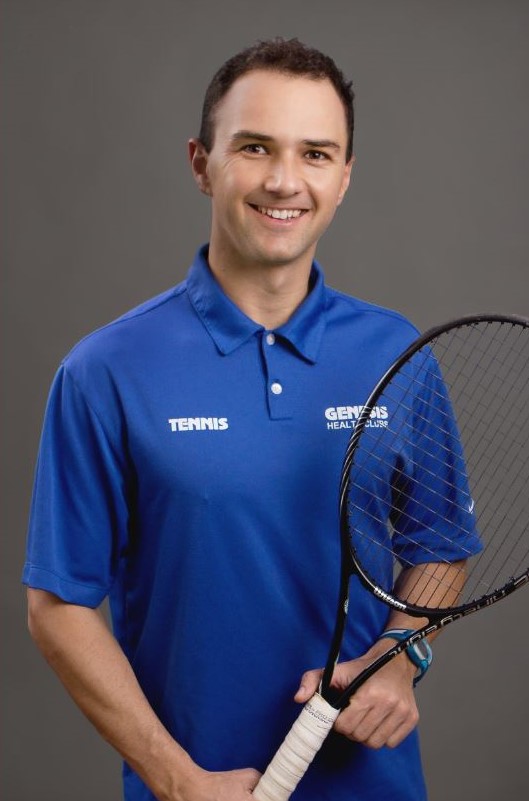 Any Comments?
Are you a current player at Genesis Salina? Do your kids play with us?
If you would like to leave us a comment with a recommendation, ideas, or complaint, please, email Thiago Santos at tsantos@genesishealthclubs.com and share your thoughts with us!

We can only get better if we know the areas we are lacking!
Quote of the Month:
"Doubt is only removed by action. If you are not working hard, then that's where doubt comes in…"
Conor McGregor, Irish UFC Fighter
January Tennis News
Junior Academy Updates
Getting Ready for the Season!
Boys High School – Our High School superstars are at full pace getting ready for the upcoming tennis season! Our boys have been working hard on a daily basis to shape up their game and be ready to go! Keep up the good work and let's have a successful season, boys!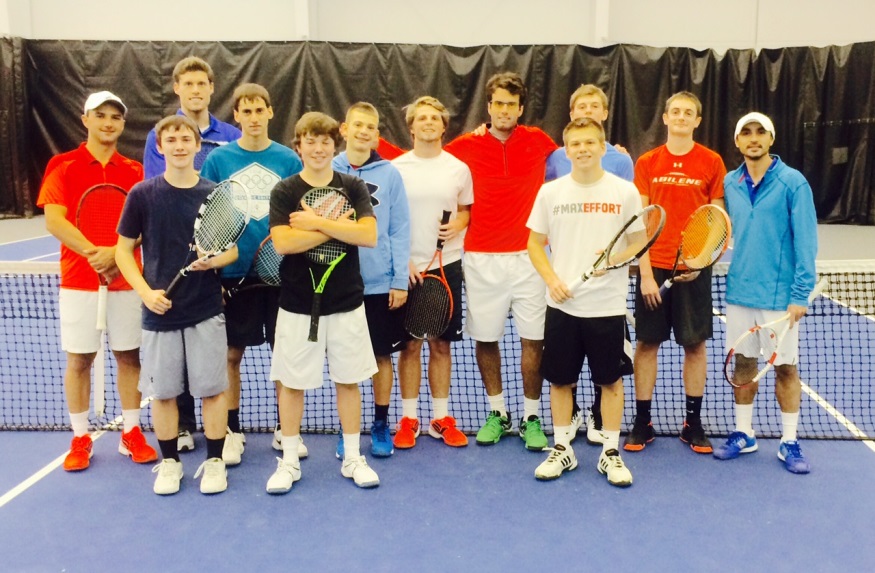 Way to go, Studs!
Our very own, Jacob Berven and Connor Phelps had an awesome run at the Crestview Winter Junior Championships in Wichita, KS. Jacob won the Boys' 18 Division, while Connor came up just short after losing a close battle in the Boys' 12 Final. Congratulations on your great effort boys!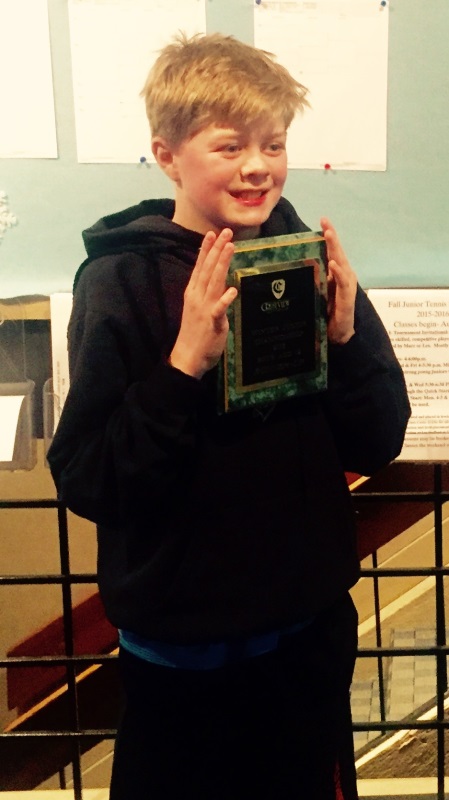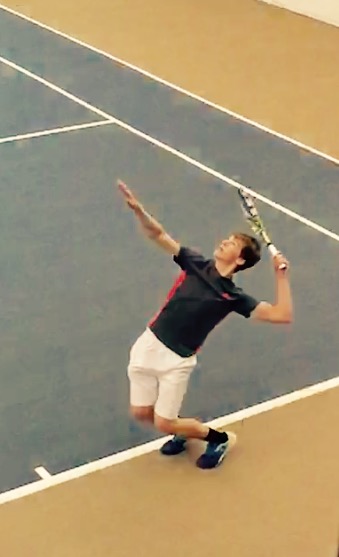 Get in the Game!
If you are looking to get your son/daughter started in our junior program, please email Thiago Santos at tsantos@genesishealthclubs.com or call the club at (785) 823-3330. We will schedule a free assessment lesson and develop a plan to fit your needs!



Tennis Updates
Another Thiago?!?!
We are extremely excited to welcome Thiago Lins to our tennis staff!

Thiago comes with a great playing experience being one of the top junior players in Brazil and being an All-Conference Player at Bethel University in Tennessee.

As a coach, Thiago is certified with the United Stated Professional Tennis Association (USPTA), Professional Tennis Registry (PTR), and International Tennis Federation (ITF). Thiago has worked as the assistant coach for Bethel University, TN, Tennis Director in Spartanburg, SC, and Junior Coordinator in Atlanta, GA.

"I am excited to join the Genesis Tennis staff and be a part of this top-notch team! I have heard nothing, but great things about Genesis tennis players and members as well as the Salina community. I look forward to meeting each and every one of the players and getting on board with the rest of the staff. I am ready to get on the court and help continue to grow the game of tennis in the community!" Thiago Lins

Welcome to the Genesis Salina team, Thiago!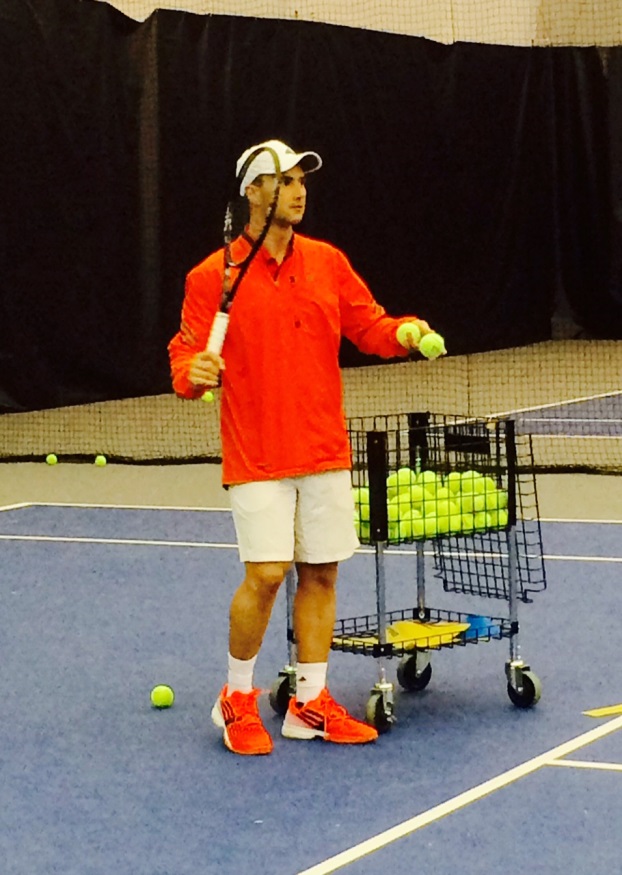 Orange-Crushers!
Our Salina 3.5 ladies team has been representing our club and town in a very impressive way! The team has been competing in the USTA Winter league and have done quite well!

Good luck for the rest of the season and keep up the great work, Orange Crushers!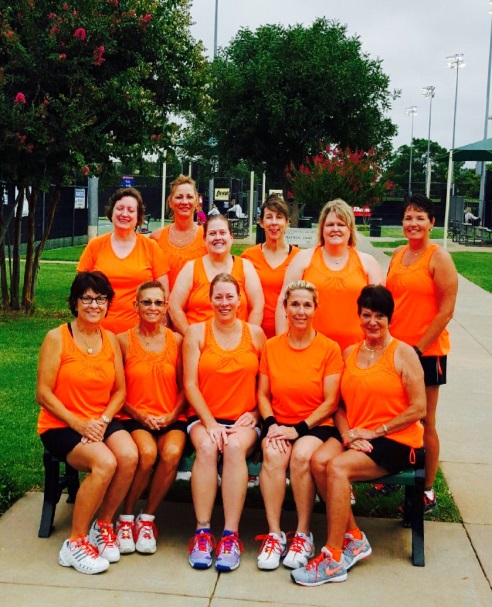 Thiago and Kiko Gave it Their All!
Our Pro's, Thiago Santos and Kiko Melo came up short in the $10,000 Lakeville Open Tournament in Lakeville, Minnesota this past December. Thiago and Kiko reached the doubles finals before losing in a close match. Way to go, Pros!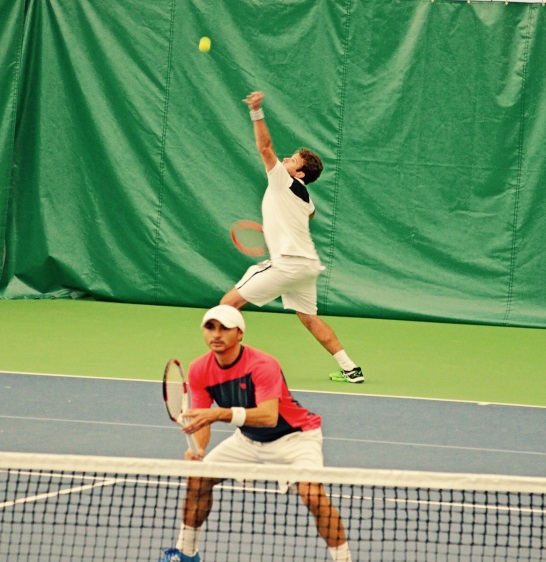 Genesis Pro Vs Cowley College

Sunday, January 24th | 1:00pm

For the third year in a row Genesis West Central will be hosting an exhibition match. This year we will be using pros from Salina, Rock Road and West Central as we take on Cowley College men's team. Thiago and Kiko will be representing Salina! This is always a fun event and great chance to see your pros in action. There will be 8 players per team with 4 doubles matches and 8 singles matches. We will use court number 3 as a viewing court while matches take place on courts 1,2,4,and 5. There will of course be free food and drinks for everyone and we encourage everyone to be very loud and interact with the players. We are also encouraging some role reversal! Pick your pro, go and sit by him and give him some coaching at the change of ends on how to win the match!

The match will get under way at 1pm. Please feel free to bring friends and family along, this event is open to members and non-members. We expect this to be a really fun event and we hope you will come out and support your pros as they take to the courts.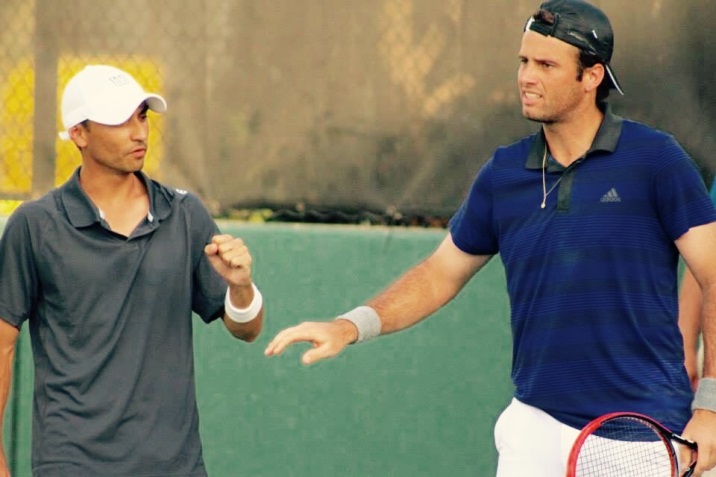 Get in the Game with PLAY TENNIS FAST!
Are you ready to get in the game?!

We are offering a Complimentary TRY tennis promotion February 1st - February 7th. Sign up for as many sessions as you would like. Bring a friend, spouse, or co-worker! The format will be success driven and will be led by one of our certified tennis professionals. Tennis racquets and tennis balls will be provided. Wear comfortable clothes. This program is designed for adults and those 16 years of age and up. If you have never played, or used to play you are invited to learn or get restarted in the game. By the way, if you already play and you would like to attend with a friend who has never played, please come. This new way of teaching will amaze you on how fun and easy the game is.

February 8th - March 13th will start a Play Tennis Fast Learn Session. Only $80 per person to play.

Play Tennis Fast is:
EASY - With PLAY TENNIS FAST you will be able to learn the game and develop your tennis skills in only 5 weeks!

FUN and SUCCESS – This fast playing program is specifically designed for you to achieve success in a short amount of time with lots of fun!

HEALTH and GREAT WORKOUT – You will be surprised how tennis is a total body workout and cardio activity!

Everyone is invited! Sign yourself up as soon as possible and invite your spouse, friend, and workout partner!

Contact Thiago Santos at 785-823-3330 or tsantos@genesishealthclubs.com to get registered!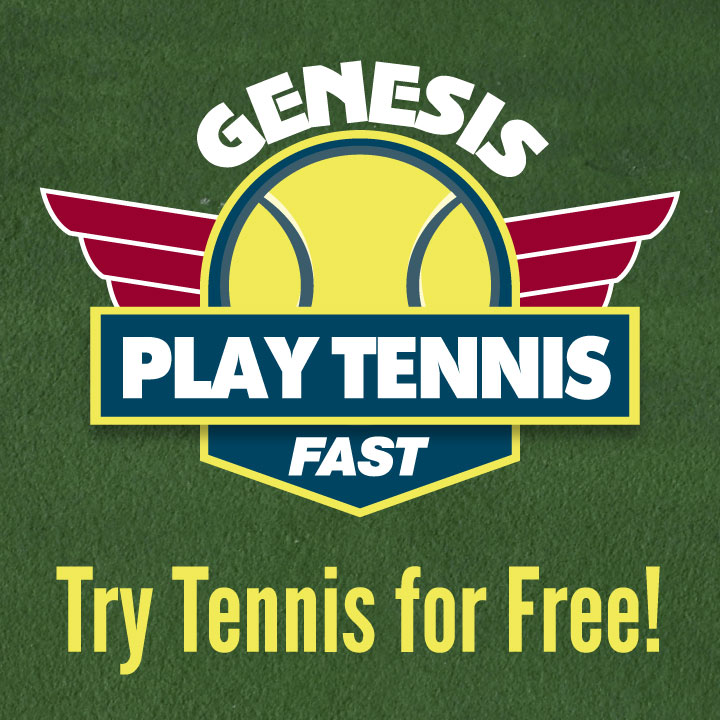 Kiko's Tennis Tip of the Month:
Breathing on the tennis court -- Have you ever caught yourself tense and breathing rapidly with shallow breaths in the middle of a match? Usually, that is the first sign from our body that we are becoming stressed.

My tip is really simple but extremely important: Deep breathing is the simplest and most basic method of relaxation. Take deep and slow breaths to reduce your heart rate. This will help your game not only physically, but also mentally.

Tennis players, listen to our fine Pro, Kiko!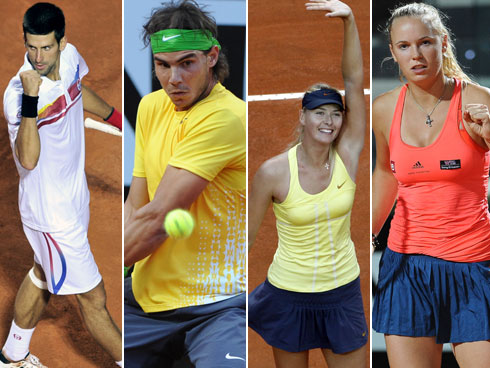 Quote of the Month:
"It's never too late to become what you might have been…"
George Elliot, British Author
December Tennis News
Junior Academy Updates
Successful Season and Already Back At It!
Girls High School - After a very successful high school season our girls are already back on the court looking to shape up their game for upcoming tournaments and looking forward to next season!

Our girls put in a lot of time preparing for the season and the hard work paid off! Genesis Salina had 13 girls qualifying to State tournament this year!

Congratulations to our Salina Central Players; Seniors: Syd Kossow, Jera Richardson, and Ashley Sankey; and Juniors: Caroline Holgerson, Brittany Blackim , and Paige Hieger. We also want to congratulate Quinn Munk, a Sophomore at Salina South; Katelyn Hageman, a Senior from Hesston; Emily Roets and Katie Bellah, Junior and Sophomore from Smoky Valley; Bretton Wolter and Savannah Noel, Junior and Sophomore from Osborne; and Taelyr Blehm Sophomore from Russell. You girls surely have made your coaches very proud!

We have started back up with our girls High School junior groups. Let us know if you are interested in getting your daughter started!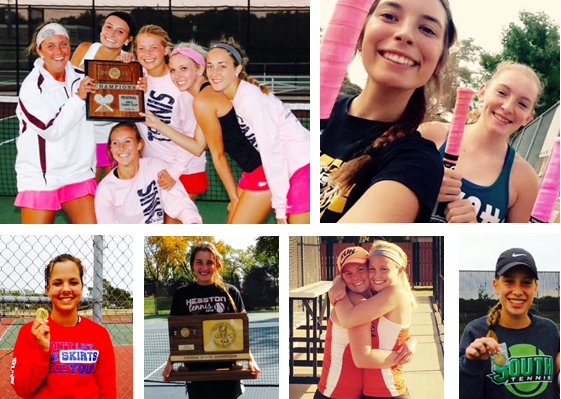 Easy to Learn, Easy to Play. Even a Kid Can Do It!
10 & Under Program – Are you looking to get your children started in healthy? Let us know and we will schedule a free assessment lesson to ensure your kid is placed in one of our 10 & under groups!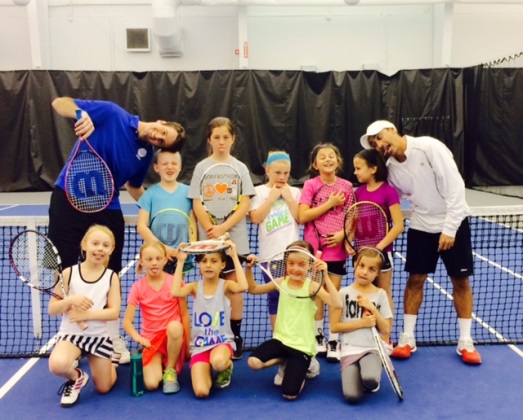 Get in the Game!
If you are looking to get your son/daughter started in our junior program, please email Thiago Santos at tsantos@genesishealthclubs.com or call the club at (785) 823-3330. We will schedule a free assessment lesson and develop a plan to fit your needs!



Tennis Updates


Role-Models. Good Sports Win!
Congratulations to our very own Salina players Connor Phelps – Boys 12's, Lily Perrin – Girls 12's, Jarrod Nowak – Boys 14's, and Zach Hampton – Boys 18's for receiving a Kansas District Tennis Association (KDTA) Sportsmanship Award! Keep up the hard work, you make Genesis proud!

Your coaches,
Thiago, Kiko, and Logan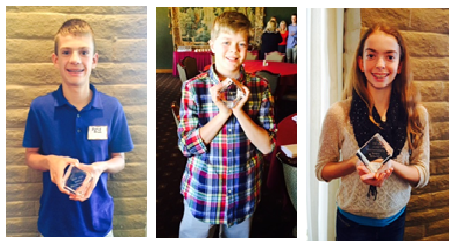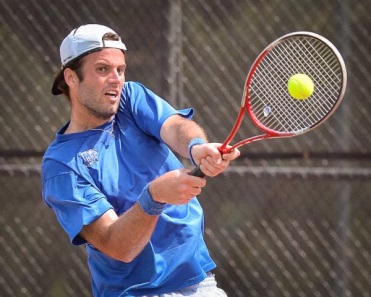 Drum-Role! Player of the Year!
Congratulations to our head pro Kiko Melo on receiving the KDTA Adult Player of the Year award! Way to go Kiko!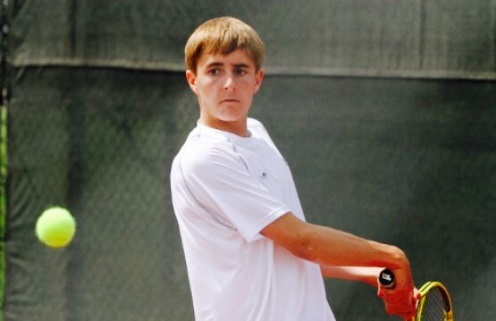 Champion!
Congratulations to Stratton Brown capturing the singles title as well as the second place in doubles at the USTA Closed Regional event in Oklahoma City in October. Well done, Stratty B.!

Your Coaches: Top 4 in the Nation!
Kiko Melo placed fourth in singles and third in doubles along with Thiago Santos at the United States Professional Tennis Association (USPTA) Hard Courts National Championship in Tyler, TX on November 6th-8th! We are so proud of all of our coaches for their outstanding work!




Thiago's Tennis Tip of the Month:


Footwork -- Tennis and footwork are directly related when playing the sport. Each ball you hit will be different from the next one. Making sure you are prepared for the next ball coming will increase your chances of striking a solid shot. During the point, try to imagine there is a bubble wrap tied to your heels and your goal is not to let the bubbles pop. Keep your heels off the ground and your reaction time will increase considerably. Heels off the ground, players!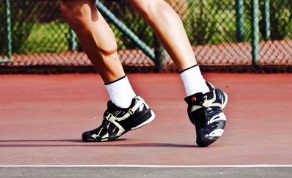 Quote of the Month:


"When it comes to effort, determination, and commitment; there is no mid-term. You either do it the right way, or don't do it at all."
Ayrton Senna, Former Brazilian Formula-1 Pilot.