Personal Training
The Best Personal Trainers in Orlando!
Our certified Personal Trainers here at the Orlando Sportsplex Genesis are all highly-trained fitness experts. Each trainer is here to assist you in exceeding your health and fitness goals and expectations. Whether you are looking for weight loss, high-intensity interval training, strength and conditioning training for sports, muscle activation techniques, or looking for guidance coming back from an injury or illness, we have the perfect trainer for YOU.
We have various services and options to help you get results, including group classes, small group training, individual programs, and everything in-between. Our certified trainers are here to provide you with motivation and guidance every step of the way.
Our Training team will evaluate, prescribe and develop an overall plan based on your specific needs and goals. You will then be set up with one of our trainers specializing in the same field or area you want to focus on, so you are the perfect person to help you reach your goals and have fun doing it.
You will love our training staff, and they genuinely care about their clients and make sure they help get you accurate results, whatever that means for YOU and your goals.
Give us a call or send an email and schedule your complimentary personalized fitness assessment today. We are here to help you every step of the way!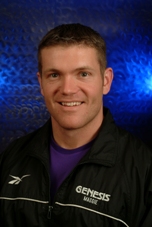 Yours in health,
Preston Petersen
CSCS, AHFS, FMS
Director of Personal Training
ppetersen@genesishealthclub.com

Whether your goals are weight loss, athletic performance, improving your health, or looking and feeling better, we can customize a program just for you. Our trainers will work with you at a safe and comfortable pace, with your specific needs and goals in mind.
Personal Training is practical for all ages and fitness levels. A professional trainer can help motivate you and instruct you and help you identify strengths and weaknesses within your body that you might overlook on your own. We can help you improve strength, flexibility, stamina, stress level, and many other vital factors that will help you feel better every day.
Get a FREE fitness assessment here! Or learn more about our training process.