Personal Training
South Suburban Personal Training | Genesis Health Clubs
Genesis Health Clubs is Des Moines' leader in Personal Training. Genesis Health Clubs' Training is all about improving the quality of your life. Look and feel better than ever. Increase your energy. Reduce stress. Lose weight. Slow the aging process. Whatever goals you have in mind, your Genesis Personal Trainer will help you make it happen.
Our Trainers are 100% committed to helping you achieve far better results – 3 times faster than on your own! Caring and friendly, our Trainers provide support and guidance to help everyone reach their life and fitness goals – regardless of shape, size, gender, age, ability, or special needs. All Genesis Trainers are certified through Apex Nutrition and other Nationally recognized organizations.
Working with a Personal Trainer in Des Moines makes the process of getting fit more accessible, safer, and a lot more fun!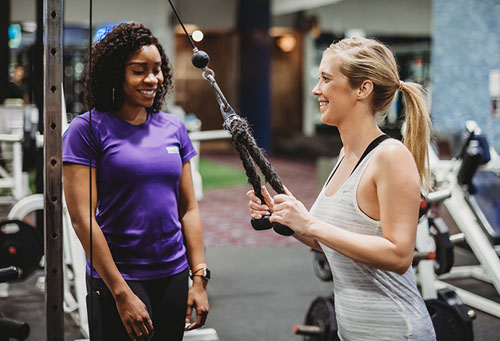 Why should you workout with a Personal Trainer at Genesis?
Our Des Moines Personal Training packages and payment options make it affordable for any budget, so you can reach your health and fitness goals without breaking the bank.
Motivation
A personal trainer provides unparalleled motivation. They assist you with your limitations, stimulate a feeling of accomplishment, and help you achieve your individual fitness goals.
Results
Studies have shown that people who work with a Personal Trainer will achieve up to 80% better results three times faster than their own. Every session is unique to you and is built around your specific fitness goals.
Safety
Our Trainers in Des Moines and Cedar Rapids ensure that you exercise safely to prevent injury. A trainer will modify your workouts to avoid or even alleviate health issues based on your initial health assessment.
Accountability
A Personal Trainer makes it easier for you to exercise consistently and helps you stay committed to your program.