Outdoor Pool
A summer pool membership at Genesis offers you and your family the finest in outdoor recreation at an affordable price!

The pool is open from Memorial Day weekend through Labor Day weekend.

Hours: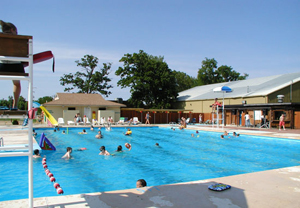 Open Daily: 1 pm - 8 pm
Lap Swimming:
Monday - Thursday: 9:00 AM - 10:45 AM
Daily: 1:00 PM - 8:00 PM

Guest fee:
$5 with a member, $10 without a member. Must sign a guest waiver at the front desk.

In addition to the 25 yard heated pool with lap lane, other amenities include:
Bath House with showers and clothing storage
Basketball Court
Wading pool for children 6 and under
Snack and Check-In Hut
Genesis' Pool offers programs in all skill levels. Our classes follow the Water Safety Instruction guidelines laid out by the American Red Cross. All instructors are certified.
Pool & Shelter House Rental Options
Pool Party dates must be confirmed before the deposit is paid or any agreements are signed. Deposit must be paid in full 7 days before the reserved date and the rental and pricing agreement must be signed and turned in.

Call 266-9999 (pool) for rental pricing agreement and additional information or questions.
Rates apply for 3 hour blocks of time.
Friday, Saturday, & Sunday evening parties can begin at 7:30 or 8 pm.
Additional hours are $50 an hour.
For parties with over 300 people in attendance, it's an additional $50 per additional 100 people.
Beer/Liquor MUST BE PROVIDED by Genesis as well as the bartender. The bartender is $30. Pricing on beer/liquor varies.
Days
Member

Rates



Non-Member Rates
Monday -Thursday
$195
$255
Friday - Saturday
$275
$375
Sunday
$225
$305
Saturday/Sunday (9-11am)
$125
$185
Monday -Thursday during pool hours
$125
$195
Friday-Sunday during pool hours
$150
$220

Renting Shelter House Only

Member Rates

Non-Member Rates

Any Day
$100
$175
Additonal Hours: $25/Hour