Genesis Health Clubs Doubles Footprint in Oklahoma
Wednesday, September 30 2020 11:17 AM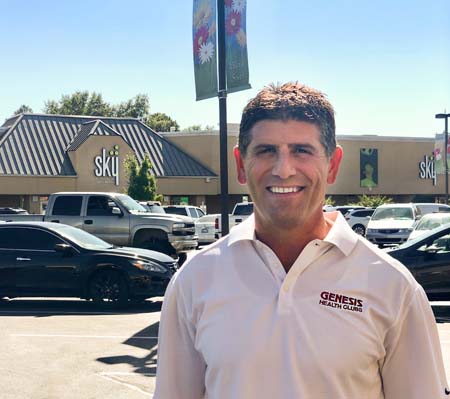 Genesis Health Clubs announces the acquisition of both Sky Fitness and Wellbeing locations in Oklahoma. The move solidifies the company's investment in Tulsa, now with four total health clubs and the Tulsa Oilers hockey team, plus more to come.
(Tulsa, OK) –Genesis Health Clubs today announced the acquisition of both locations of Sky Fitness and Wellbeing in Tulsa, Oklahoma. The new locations will now be known as Genesis Health Clubs – South Tulsa and Genesis Health Clubs - Midtown Tulsa, respectively.
Rodney Steven II, Genesis Health Clubs President, and Owner expressed excitement over the expansion in Tulsa. "We first came to Tulsa over four years ago when we acquired our Woodland Hills and Broken Arrow locations. Usually, when we go into a city the size of Tulsa, we go big, but the opportunity just wasn't there yet. We acquired the Tulsa Oilers professional hockey team, and we had two health clubs, but that was it. This opportunity will help us really bring the Genesis brand to Tulsa so people can see what we're all about."
Steven continued, "I've admired Sky for a long time; they're great facilities, and they have a strong personal training program. It's the premier brand in Tulsa, which is a perfect complement to our premier brand. It also gives us a nice footprint across Tulsa and enables our members to have extra choices. This is the first time that Sky members will have access to full basketball courts, swimming pools, saunas, hot tubs, and steam rooms. It's nice to be able to bring those sorts of amenities to them with no increase in prices."
Sky Fitness and Wellness President Jay Wagnon also struck a positive tone regarding the purchase. "After 14 years of improving the health and wellbeing of Tulsans, we've decided to pass the torch on to another excellent fitness operator. It's important for us that our team and members remain in good hands, and we're confident that Genesis will provide that."
This isn't the only recent acquisition for Genesis. In July, it acquired all seven locations of The Athletic Clubs across three states and it recently took over a YMCA in Des Moines, Iowa. Asked about growing in the age of a global pandemic, Steven reflected on the situation. "Of course, it does create some challenges, but it also creates opportunities. We came into all of this determined to come out stronger on the other side, and we've been able to grow, where others haven't been so lucky. A lot of the strategic decisions we've made over the years have helped us weather the storm, and we've been in a unique situation to seize some opportunities that have come along as a result."
Could that mean more expansion in Tulsa? "Definitely. This is a huge step in the right direction for us in Tulsa, but I still think we'll end up with several more clubs here. Most of our big markets have a big tennis center that acts as an anchor and acts as the center of our fitness community. I can't wait to bring that to Tulsa. Hopefully sooner, rather than later."
About Genesis Health Clubs
Genesis Health Clubs now has 56 locations across six states: Colorado, Kansas, Nebraska, Missouri, Oklahoma, and recently Iowa, making it the largest health club and tennis organization in the Midwest and one of the top 5 largest tennis organizations in the United States.
Genesis believes in innovating, educating, and helping people look, and feel better than they ever have before. By providing the most well-rounded gym experience in its 56 clubs, Genesis delivers premium amenities, a variety of classes, and world-class training to its members. Genesis Health Clubs will continue to grow, change, innovate, add new services and locations to give their members what they need to achieve their goals.
Helpful links:
https://www.genesishealthclubs.com/
https://www.genesishealthclubs.com/locations
https://www.genesishealthclubs.com/employees/rodney-steven-ii.html
https://www.genesishealthclubs.com/locations/south-tulsa.html
https://www.genesishealthclubs.com/locations/midtown-tulsa.html
Previous: A Second Chance at Genesis Health Clubs
Next: Batman Finds Her Gordon