Personal Training
Certified Personal Trainers in Emporia | Genesis Health Clubs
The Genesis' Personal Training Department will provide enthusiastically, unique, individualized exercise programs. Our department values high-quality training adhering to best practices by industry researchers that will, from time to time, transcend traditional machine and free-weight environments. We listen and adapt programs as needed based upon members' current capacity and fitness goals.

The Genesis' certified Trainers are experienced fitness specialists who design customized training programs for our members to help them succeed in attaining their unique fitness goals. We help you shed pounds, increase your energy levels and improve your overall speed, flexibility, and balance with a fitness regimen explicitly planned for your individual needs.

Genesis personal training provides you with the results you're looking for with our committed staff of trainers who teach and encourage you to make healthy decisions that enable you to look and feel your best.

By customizing a workout design based on you and your individual needs and providing assistance throughout the process, our club offers more than just a great workout. We'll show you how to decrease stress, boost endurance and develop a new, healthier body.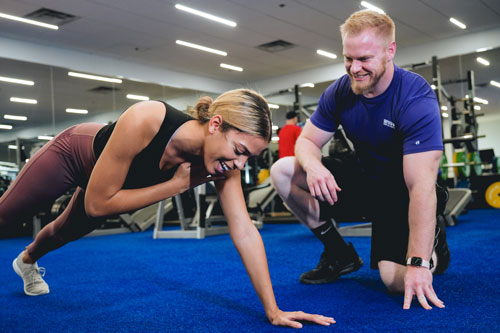 Client Testimonies of Genesis Emporia Trainers
"I've always been the athletic type. Now at the age of 22, I have lived with knee pain for more than two years, happening without any injury or problem. I had constant, daily pain and could no longer run, hardly walk any distance greater than a couple of blocks, go up or downstairs very well, or play the sports I loved. I sought medical help, received eight weeks of physical therapy, had MRI, X-rays, blood tests, and medication. No one found the actual problem, nor could they make the pain cease.

I joined the Genesis Health Club of Emporia because I wanted to build muscle, specifically around my knees. I hoped that building up the muscle around the knees and joints would help support them and reduce the pain. Initially, I had no intentions of seeing a trainer. I just wanted to lift weights and build up my leg muscles. However, seeing a trainer was the best decision I made.

I'm pretty sure that Basil is a miracle worker. He is very proficient and diligent in his work. He was able to pinpoint each workout that would be the most beneficial to my situation without hindering my knees further. I liked that I could have input about my workouts and that he listened to my opinions. It is reassuring to have a trainer who had a vested interest in my situation, significantly when no one else could help me. Though my focus was on my knees, he went out of his way to give me other workouts to build muscle for my upper body as well.

Having follow-up sessions was a big part of this process because I quickly progressed. Each month we were able to increase the difficulty of my workout to keep making progress on my knees. In less than three months, Basil was able to help me become virtually pain-free. I no longer have constant, daily knee pain. After all the help I received before coming to Genesis, I never thought my progress would happen so quickly. I still cannot run a long distance, but I'm not finished working yet. My goals will continue to change as I improve.

To those who are skeptical about joining a health club, just do it, even if it is for a little while. You have nothing to lose when you decide to live a healthier life. The staff members at Emporia Genesis Health Clubs are approachable and make it easy to find a package and program that works best for you."
- Lashae Castel
"I have been working with Travis since November 2014. The experience of having him as my trainer has been exceptional. Before Travis, I had two trainers in another city. Although they gave me a good basis for weightlifting, I did not realize how much I did not know until working with Travis. He taught me techniques that no one else had ever taken the time to teach me from day one. He pays close attention to form, and little changes have helped me become stronger. I've made many gains and feel very good about my workouts. He pushes me and knows what I need to continue to get stronger. He is personable, knowledgeable, and an absolute delight to have as a trainer."
- Kristen Kuhlman, Ed.D.
Our Personal Training Coordinator Basil Kessler writes articles for the Emporia Gazette!
Click on the red tabs below to read Basil's articles about the incredible Personal Training Department at Genesis Health Clubs.