Personal Training
The Best Personal Trainers in Salina, Kansas!
Genesis Health Clubs are proud to offer our members the best personal training. Our personal trainers will provide you with a constantly evolving and proven path for reaching your health and fitness goals.

Regardless of your primary motivation to begin an exercise program, our trainers will help you achieve your fitness goals. Your body will feel better, perform better, and look better. We guarantee results, empowering you to get the most out of your fitness program.
Many of our members choose to perform a series of personal training sessions for maximum results. During this series, the trainer educates, motivates, and empowers the member to take the next step in changing their life and reaching their goals. Each club offers a variety of personal trainers with different skill-sets to ensure every member will be delivered the best programming and inspiration. You'll get more than just a great exercise program. Our personal trainers will help you improve your body composition, strength, endurance, flexibility, stress level, and many other key factors to help you look better and feel better every day.
If you are ready to take the next step in reaching your fitness goals, schedule a session with one of our personal trainers. Contact information for all Genesis Personal Training Coordinators is available on the links to the right. If you have any questions or concerns regarding personal training, contact me, and I will make every effort to assist you.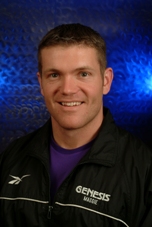 Yours in health,
Preston Petersen
CSCS, AHFS, FMS
Vice President of Personal Training
ppetersen@genesishealthclub.com
Our Mission
Take charge of your health—team up with Genesis Health Clubs. We will listen to your needs, give you that extra motivation, and work with you every step of the way. Our certified, highly trained staff is here for you. We will develop a lifestyle that will change your life forever. Together, we can do it!
Our Commitment
To uphold our mission and be with you "every step of the way." Genesis Fitness Advisors and Certified Personal Trainers work together to give you the best exercise experience in the Midwest. Our trainers will end each training appointment by scheduling another appointment. You will receive guidance on your fitness program throughout your entire membership at Genesis Health Clubs.
The Objective
To get you in the best shape of your life! Our members want results, and our staff is here to deliver! No other health club in the Midwest offers this type of service to its members! This service is included with your membership.