Personal Training
Certified Personal Trainers in Springfield, MO!
Genesis personal training can give you outstanding results because of the talent and dedication of our training staff – each with their own set of specialties and skills – who teach and motivate you to make the healthy choices that will have you looking and feeling your best. We specialize in weight loss, corrective exercise, strength and conditioning, contest preparation, diet coaching, and just everyday functional training. We have male and female trainers to match every personality.

Our goal is for you to meet your goal! We don't let excuses get in the way of them either. Your customized plan, based on your needs, will enable you to discover and attain your unique fitness goals, and we will be there encouraging and helping you the entire time. We not only help you lose weight but also help you increase your daily energy and boost your overall balance, flexibility, and speed with a fitness regimen specially designed for your needs.

We will push you through each roadblock and plateau you hit. Hard work, discipline, and commitment are the keys to being successful. If you give us those, we will guide you to build a lifetime of healthy living. At your Springfield Genesis clubs, you're able to get more than just a great workout. Focusing on your specific requirements and giving you the knowledge and insight to make healthy choices, we'll help you implement your new healthy approach to life into your day-to-day and modify your unhealthy behaviors into healthful actions.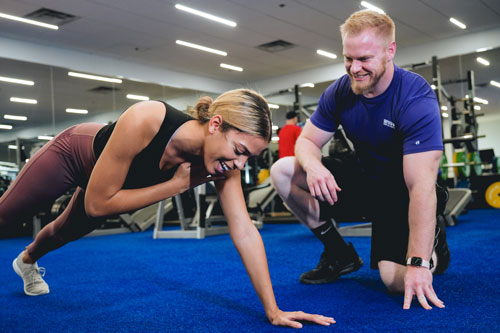 Personal Testimony of Springfield South Genesis Personal Training
"I served as an elementary principal in the Springfield School District for 21 years before my retirement in 2007 at the age of 50. When I transferred to Bowerman Elementary in 1995, I weighed 180 pounds. As with many individuals in leadership and management positions, my life was consumed by work. Long hours and a lot of stress were givens in my occupation. "Too tired" was an excuse not to exercise, and I often dealt with stress by eating… and not always the most nutritious foods. The weight gain didn't happen overnight; it crept up a few pounds with each passing year. When I reached 200 pounds, I thought I needed to do something about this, but I wasn't ready to make any lifestyle changes. I watched my weight climb; 205, 210, 215… and eventually topped out at 225 pounds. Something had to give, and I preferred it not be my heart. I thought about exercising, but I could not let go of the same old excuses; not enough time and too tired! I managed to shed a few pounds by cutting out soda, switching from sugar to Splenda, and being more conscious of what I was eating. While this stopped my upward weight trend, it wasn't enough to reverse it significantly.
In 2006, a local fitness center donated a three-month family membership to Bowerman Elementary for an auction to raise money for the Parent-Teacher Association (PTA). I'm sure I didn't understand what the certificate was for when I bid on it; I frequently raised bids on items being auctioned to increase our PTA's profits. Sometimes I got stuck with things I wasn't interested in, but it was for a good cause. Anyway, I was the high bidder on this item and received a three-month membership to the fitness center.
I decided to wait until school was out in June to redeem the certificate for one apparent reason – I had more time to commit. I planned to retire at the end of the next school year and thought, "I'd like to retire at the weight I was when I arrived at Bowerman in 1995; 180 pounds." I had my goal. I started going to the fitness center 4-5 times a week doing the only thing I knew to do; cardio. I generally tried to do my workout in the morning. After spending approximately 45 minutes on a cardio machine, I would go home whipped, as in the rest of the day! After several weeks, things were not much better, and I decided this would be more complex than I had thought! I needed help.
I signed up for a complimentary session with a personal trainer to seek advice. He explained the importance of resistance training to a weight loss program. I knew absolutely nothing about resistance training; I had never lifted weights in my life. I went home to research the Internet for more information. Sure enough, the research was detailed; I learned resistance training is an essential component for weight loss programs and overall health and fitness in general. I signed up for a personal trainer. I remember telling him, "I don't know anything about lifting weights, I'm not out to prove anything, and I don't want to get hurt." When I told him I didn't know anything, I meant "I don't know anything!" I had to learn the importance of warming up, the names of the exercises and how to do them, the terms and functions of the equipment, the difference between sets and reps, why you rest between sets… and the list goes on. I was self-conscious, too. For some exercises he had me do, I thought, "You've got to be kidding, you want me to do this in front of all these people?" Had anyone told me, in the beginning, I would be lifting free weights on my own, I would have said they were crazy, but working with a trainer gave me the confidence overtime to do just that. I trained one day a week and followed up with prescribed workouts independently for 3-4 days. With the combination of resistance training and cardio, I began to see results. I also became a full-fledged member of the fitness center.
When school started up again, I'll admit it was tough. Sometimes I would drag myself to the fitness center late in the evening after putting in 10-12 hours at school. I remember pulling onto the parking lot on several occasions, thinking, "I'm too tired to do this," but I always felt better after my workouts. I stuck with my commitment of getting in 4-5 activities each week and reached my goal weight of 180 pounds on President's Day (February 2007), a few months before my retirement.
Through the years, I have worked with only two personal trainers, and I learned so much from each of them. At one point, my wife asked me if I could workout independently without a trainer. The simple answer was yes, but my trainer is my motivator, and I'm still learning with his help. One of the most challenging tasks for me was recording my daily workouts, but I finally got the hang of it. I have a notebook (now several inches thick) of my activities dating back to December 2007. This is not only a valuable record of past exercises and workout routines; it is an accurate charting of the progress I've made through the years. The progress has been incredible, and I credit my trainers for their help.
I appreciate Genesis Health Clubs' commitment to providing personal training opportunities for its members. This is my seventh year to train with Drew Couch; he is my motivation! I still keep the same schedule; train one day a week and follow up for 3-4 days independently. I'll admit it is easier to maintain a workout schedule without a full-time job. Still, with Drew's help, I have successfully made a lifestyle change that has positively impacted my life. I have learned so much that I can no longer say I know anything about resistance training; however, there is always more to learn. My primary goals are unchanged; I want to keep my weight around 180 pounds, I'm not out to prove anything, and I still don't want to get hurt. My weight fluctuates slightly around my goal weight, but I'm maintaining. I am healthier and in the best physical condition of my adult life. Who could have known a three-month fitness center membership donated to Bowerman Elementary would be the catalyst for changing my life!"
- Wes Zongker