Personal Training
The Best Topeka Personal Trainers
Genesis' Personal Training Staff are certified instructors who are able to design tailored fitness plans that help you determine and accomplish your individual training objectives. They are very personable and give you spectacular results! Our unique abilities and commitment of our expert staff bring their own set of special skills to your training. We are not only teachers and coaches, but we generally care about you, your fitness and well-being!

Our certified Personal Trainers work to create a new and better you by helping you drop unwanted pounds, boost your energy level and improve your balance, speed and flexibility with a fitness program individually created for you. They educate and encourage you to make healthful decisions that keep you looking and feeling your best.

Your custom plan devised by our trainers based on your personal requirements will help you get into great shape, and we are there supporting you the entire way. We give you more than just a great workout. Our trainers help you eliminate stress, bolster stamina and create a healthy, new you. "I've never seen trainers so passionate about renewing their clients simply due to the fact that they love the companionship!" explains our Personal Training Coordinator at North, Laurie Arellano.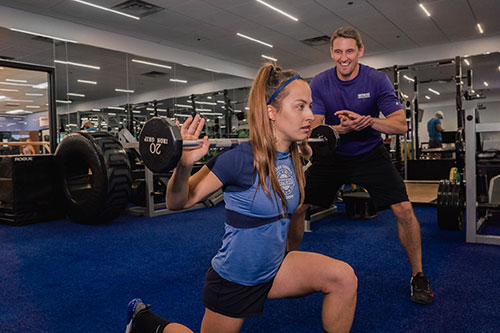 Personal Testimonies of Genesis Personal Training
"I've worked with Corey Walker for almost a year now as a client. Corey has not only been my personal trainer but he has also become my life coach. I cannot say enough good things about him as a personal trainer and an overall person. He truly gets to know his clients, sets realistic goals with them and plans to obtain the goal as well. I have never felt alone in my weight loss plan since I've been with Corey. There are many times that I have wanted to give up, but Corey's motivation and drive would not let me do so. Corey's knowledge, organization and workout programs are remarkable. I do not believe I have ever done the same workout twice. Corey makes working out fun and half enjoyable, even though I hate working out. :) Corey is very caring and attentive to what each client needs, what their limits are and how far he can push them. He encourages and motivates me to do better, and yet he knows how much I am capable of. Since January 2015 I have currently recommitted with my goals of weight loss and to date I have lost about 40lbs. I plan on being a lifetime client of Corey's. I know with his help I can reach any goal that I set my mind to."
-Lacie Mayes
"Jennifer has been my trainer for several months now. She has taught me numerous workout strategies. She not only makes me feel comfortable, but she encourages and empowers me to feel better about myself. She has helped me improve my nutrition so that I can improve my overall health and self-image. If it weren't for her I would have given up by now. She dedicated herself to welfare of her clients. She is very professional throughout our training sessions. I now look forward to my workouts. She has shown me how to make exercise fun and successful. I give Jennifer the credit behind my fitness goals progress. I recommend her to all my family and friends. Thank you Jennifer!!
-Raylene Wallace
"Since the middle of January, 2015, I joined Genesis Health Clubs, enrolled in Boot Camps and began training with Corey Dunn. When joining the club, Corey Walker was my initial contact. I found him to be professional and insightful. After completing the questionnaire and talking about my goals, he referred me to Corey Dunn.

When I met Corey Dunn for the first time, rapport was quickly established as my anxiety about going back to a gym was significantly reduced. At sixty years of age, being 20 pounds overweight and out of shape, that was a huge hurdle! Since I began I have experienced a couple workout setbacks due to respiratory infections. Corey Dunn has consistently kept me on track without losing stamina. His professionalism and knowledge have been excellent!

On days I workout independently, both Corey Dunn and Corey Walker provide encouragement, taking time to check the weights and form. The staff at Genesis has made returning to the gym something I look forward to, not a task on a to-do list. Through boot camp I have met others of all ages whom I look forward to seeing. When I first heard the terminology of a "gym family" I admit I found it humorous and attributed the term to someone seeking a trendy catch word. My experience has proven differently as many of us check on each other.

Corey Dunn has made the experience fun and worthwhile as he continues to motivate me to meet new goals. My husband has noticed my enthusiasm toward going to the gym, recently starting training with Corey Dunn himself.

Genesis Health Clubs has made a difference in how I view returning to the gym after being absent a couple of years. Thanks to Corey Dunn, my commitment is strong. Thanks to other staff members and the great atmosphere, it won't be difficult to keep the commitment."
-Carolyn W. Westgate
"I have been going to Genesis since, I think, November. My goal was to lose 10-15lbs. I was set up with Laurie, my personal trainer. Laurie has been working with me twice a week and taught me the importance of having a consistent workout routine so that I need to be aware of what kind of foods I eat. With Laurie's help, I have lost approximately 10lbs and feel so much healthier and stronger. I would recommend Genesis and Laurie in a heartbeat to anyone wanting to make some healthy changes to their life."
-Joyce Rakestraw
For more information on personal training, please call us at (785) 506-8928 or fill out the form below for a free Personal Training Assessment.