Personal Training
The Best Trainers in Topeka, Kansas!
More and more people of all ages and fitness levels are choosing personal training because it offers a practical and affordable means of getting fit and staying healthy.
By incorporating a fitness program into your life, improvements may be seen in body composition, muscular strength and endurance, flexibility, blood pressure, and cholesterol levels.
Whether you are a novice or veteran exerciser, a trainer can assist you in setting and meeting goals.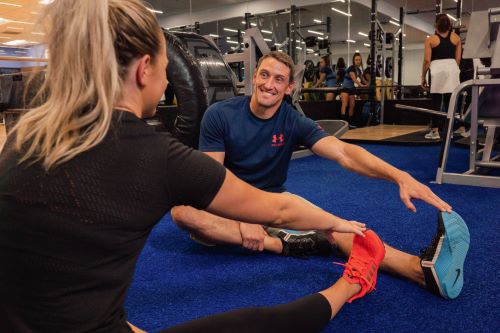 Training programs can be designed for sports-specific activities such as tennis, golf, basketball, softball, volleyball, biking (mountain and/or road), dance, martial arts, etc.

Our trainers have the expertise to:
Assess your level of fitness through testing and evaluation.
Design a fun and challenging workout program that is safe and effective.
Instruct you in the correct exercise technique while providing education and encouragement.
Respond to your questions.
Improve your tennis game by increasing your level of fitness.
Increase cardiovascular endurance, flexibility, muscle strength, and endurance.
Discuss nutritional needs, if desired, and the importance of keeping a food journal.
Affordable training packages are available. Ask about our personal training program options and rates.

For more information on personal training, fill out the form on this page for a free Personal Training Assessment.