Goddard Construction Update
Friday, July 15 2022 11:30 AM
Update 7-15-2022
Noticed anything different about our Goddard facility? If you've driven past on Highway 54, chances are you might have seen a big change - in the form of a huge Genesis sign on the building!
That's right, we are extremely excited to finally have signage on the Goddard health club. It's one more big step forward in our journey towards completion, a journey that is nearing its end! The pictures below will show you what it looks like, as well as how we transport and install the sign. We can't wait for you to see this location in person!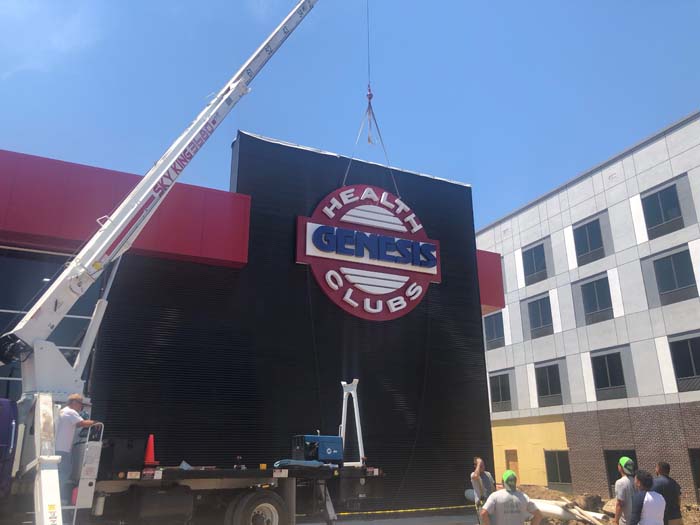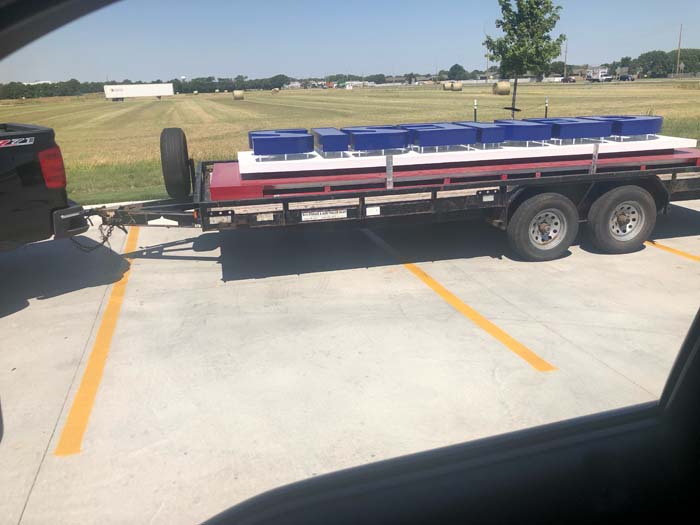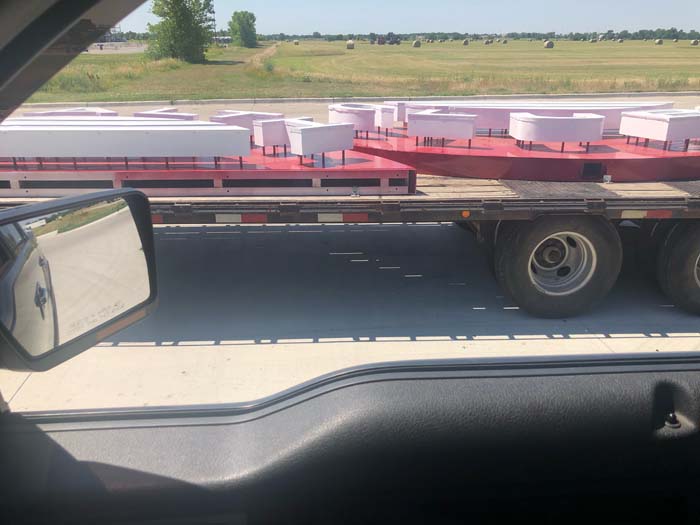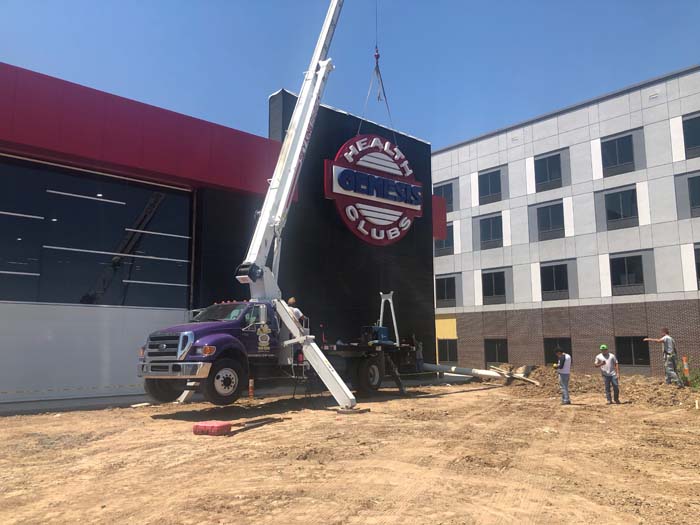 Update 6-30-2022
Another month, another exciting update to our upcoming Goddard location, that will feature not just a new Genesis Health Club location, but also our Blast Off Bay waterpark, a natatorium, preschool, and a Hampton Inn! Read on for details about our new developments.
Health Club
Progress is flying by on our new Goddard location, and it will be ready to open soon! We've laid down turf and have moved in our cardio deck, as well as weight training equipment for all your fitness needs. Our spacious men's and women's locker rooms are nearing completion, along with our front desk and lobby, featuring a ton of natural lighting. A few days ago, members of Genesis staff worked together to move in equipment. This team effort was hard work, but much progress was made and it got all of us even more excited for the final product, which we will be sharing with you before you know it. We're preparing to serve the Goddard and West Wichita area, and doing our best to make it top tier for all of our existing and future members!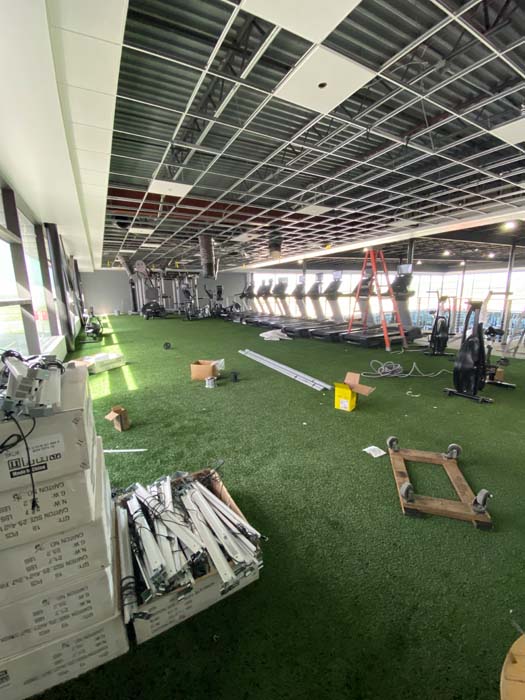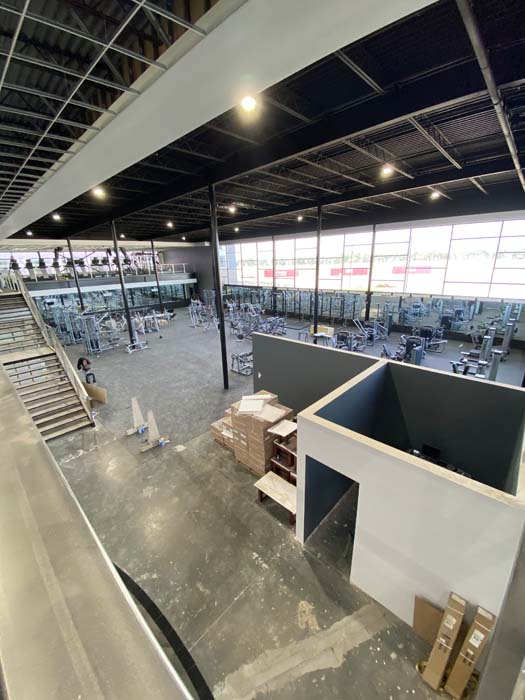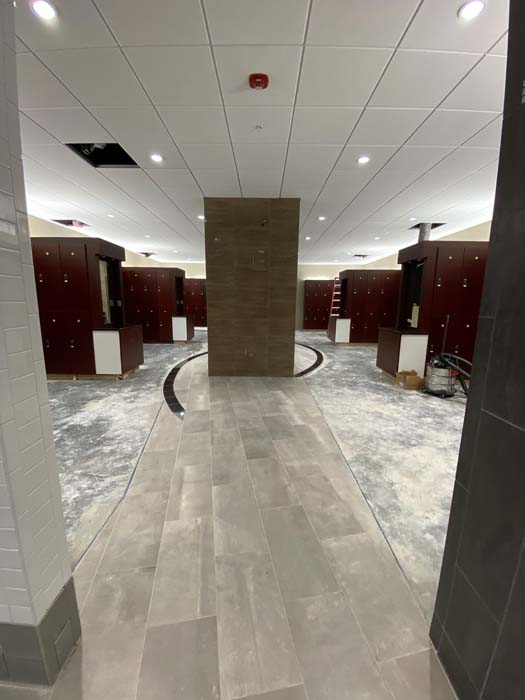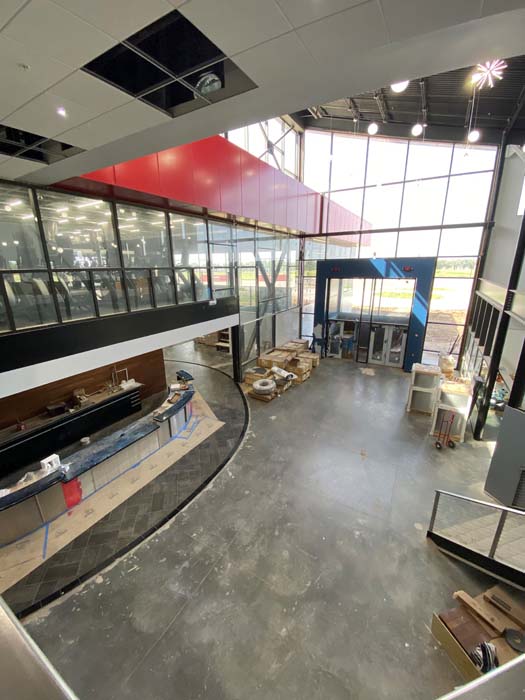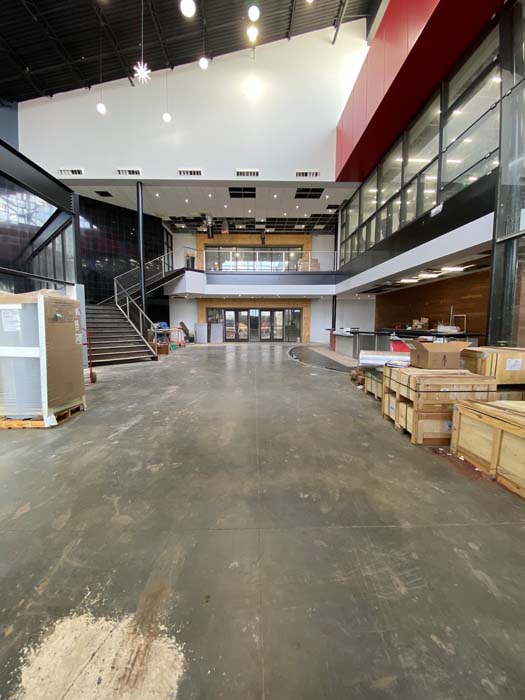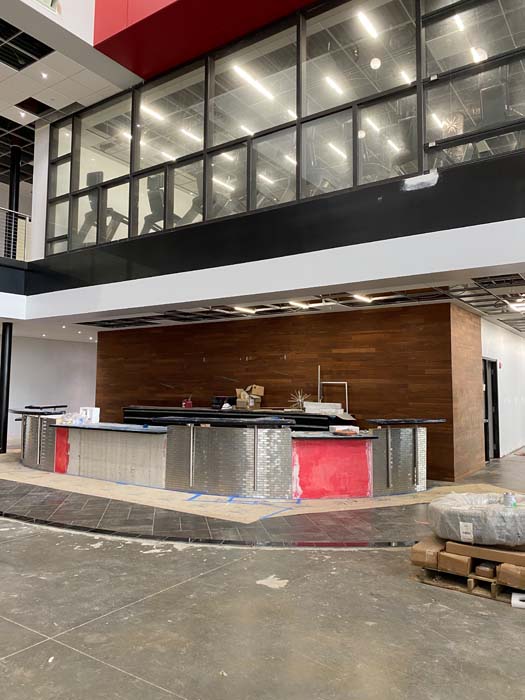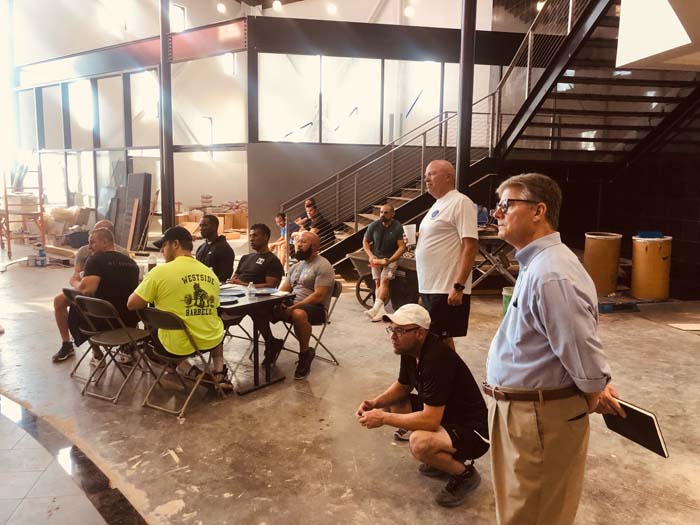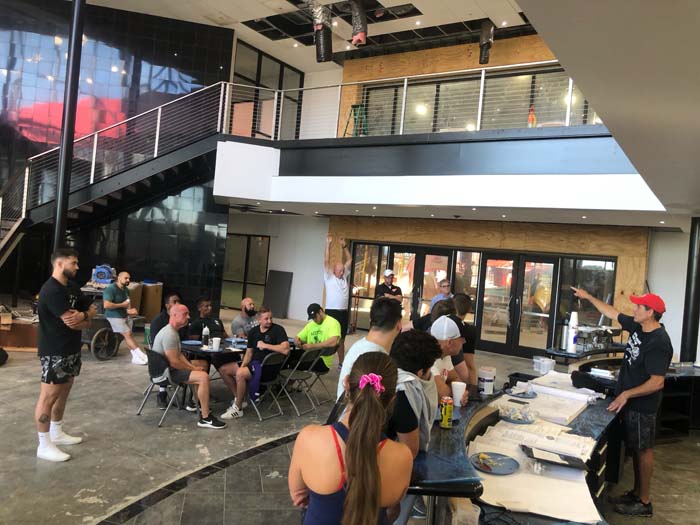 Blast Off Bay Waterpark
Our new waterpark, Blast Off Bay, has made great progress as well. Tiling has been laid on our swim-up bar for the grown-ups, and for the kids, our play structures are completed. Blast Off Bay is filled with a lot of things to explore and enjoy, including some big water slides for all ages! This water park is going to be so much fun to visit, and with continuous progress like this, it will be ready to welcome you and your family soon!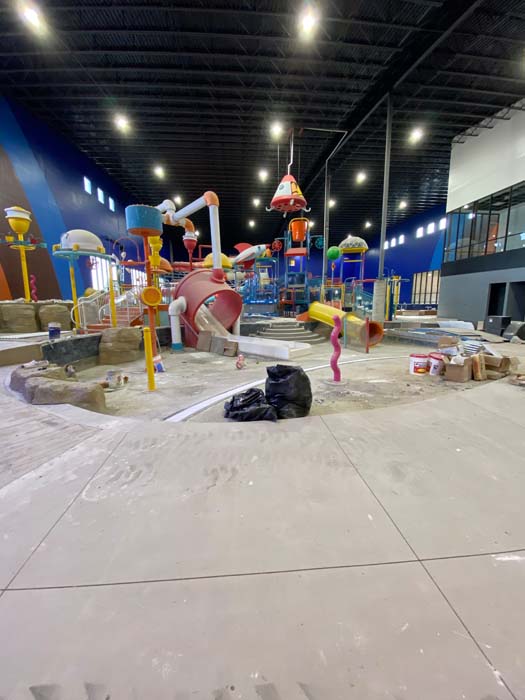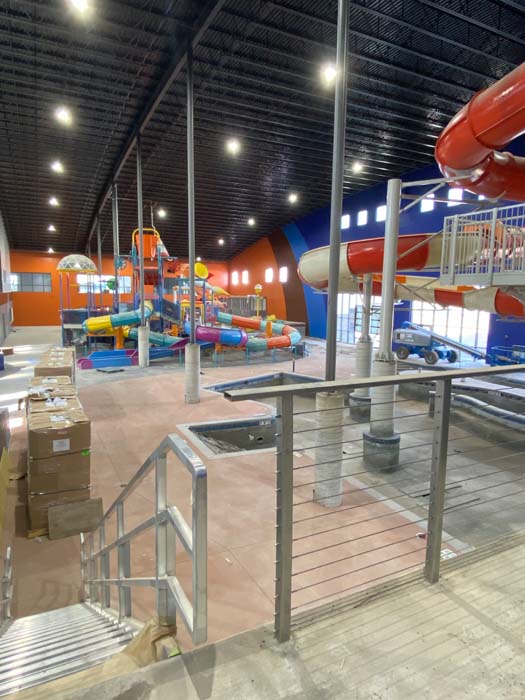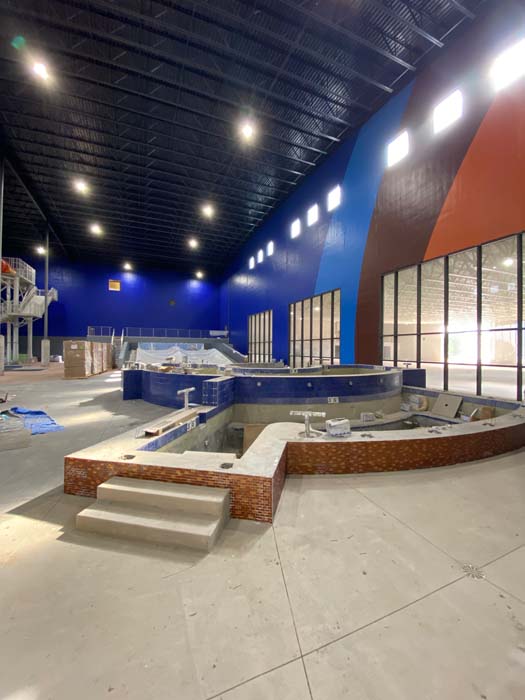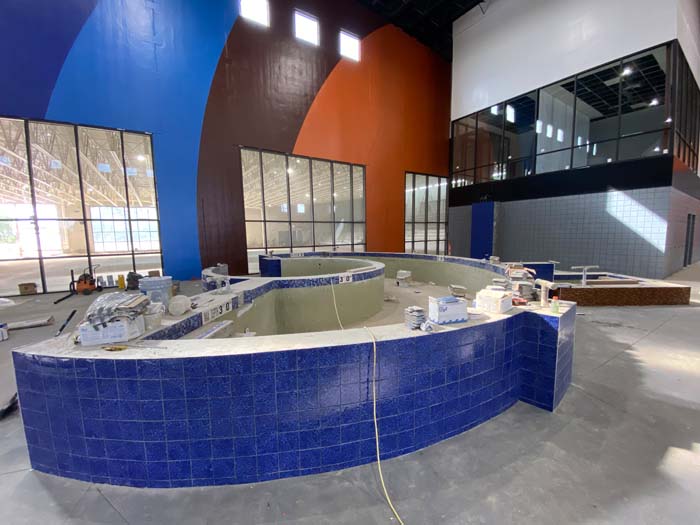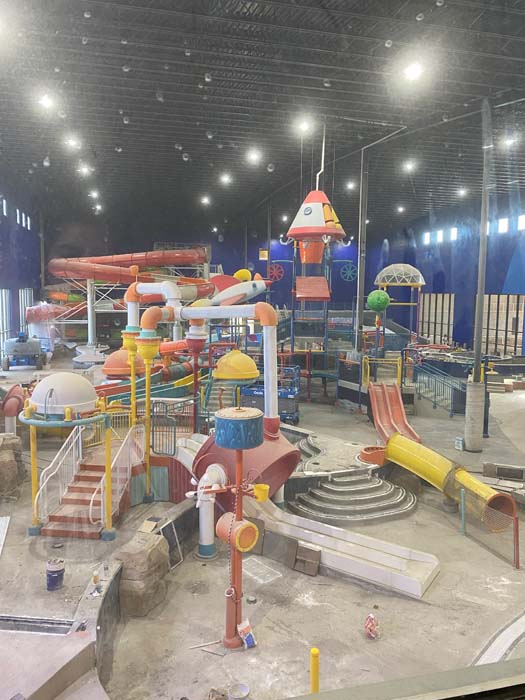 Hampton Inn Hotel
The Hampton Inn that is being built nearby is constructing walls and staircases. You can see rooms and hallways starting to come together, as well as the general layout. From the outside of the building, it's easy to tell that a lot of progress has been made. Although there is still work to be done, it's encouraging to see this hotel start to take shape! We can't wait to welcome you here for ultimate relaxation.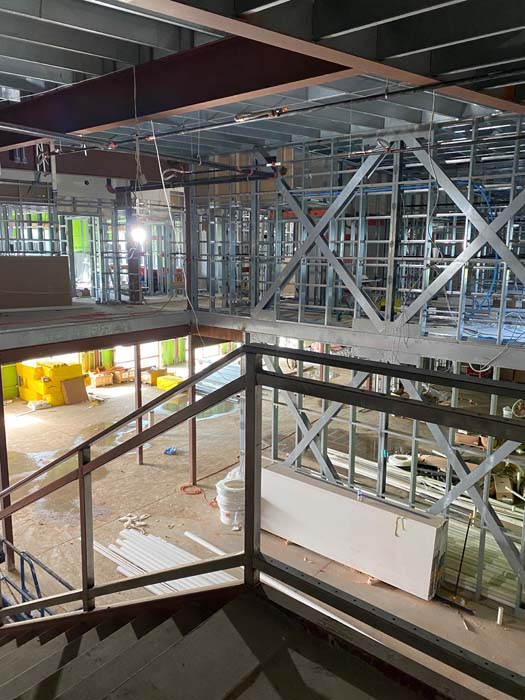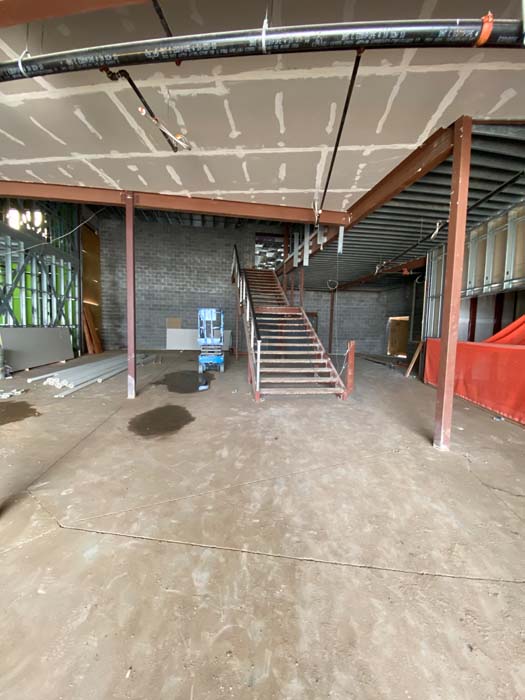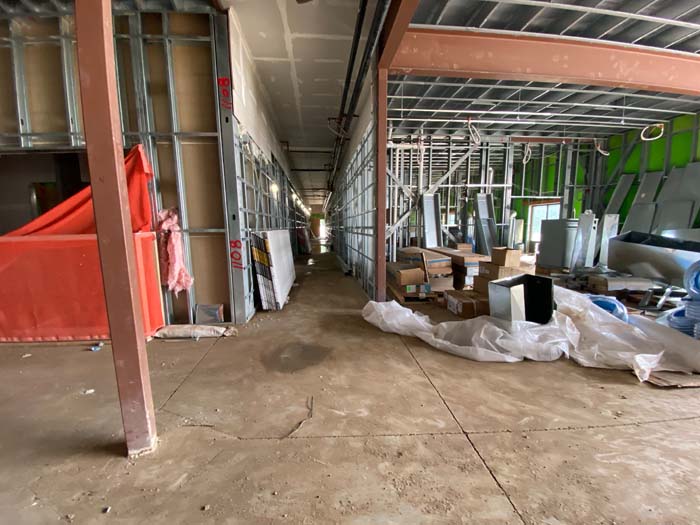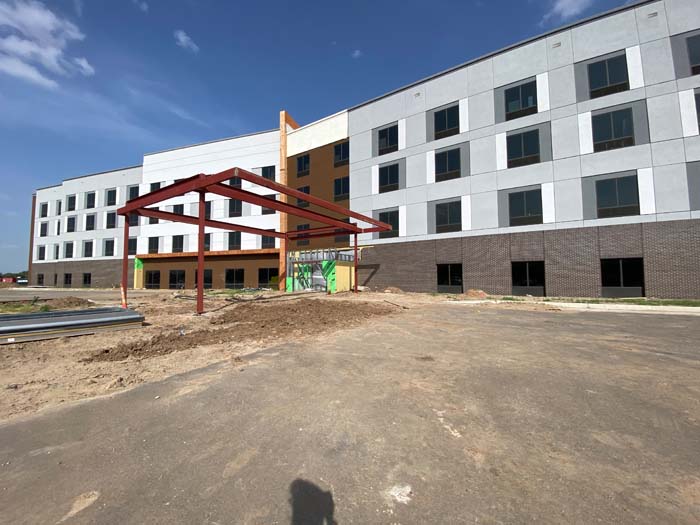 Natatorium
Our natatorium is coming along swimmingly! You can see that the pool structure is done and ready for tiling. Bleachers have been installed with a safety railing. There is plenty of seating for any kind of swim event - we hope you're ready to come and cheer! It also features big windows to let in natural light. We can't wait to see the pool filled and the bleachers full of people!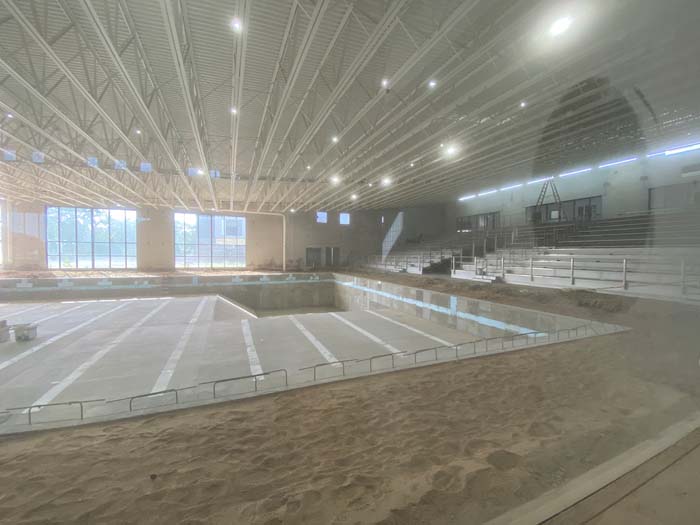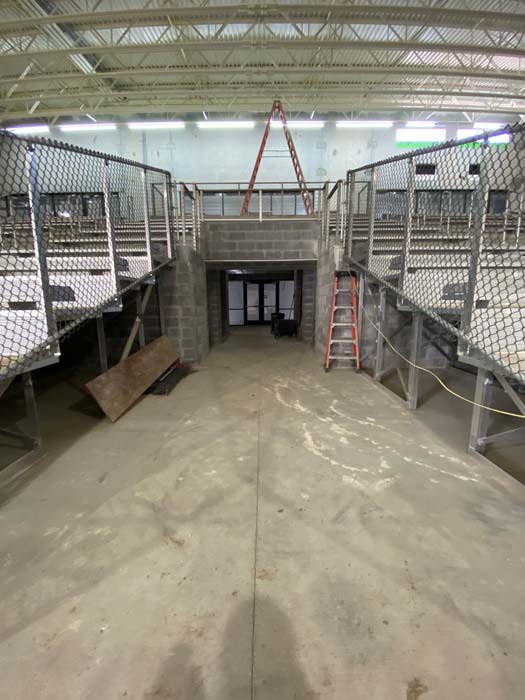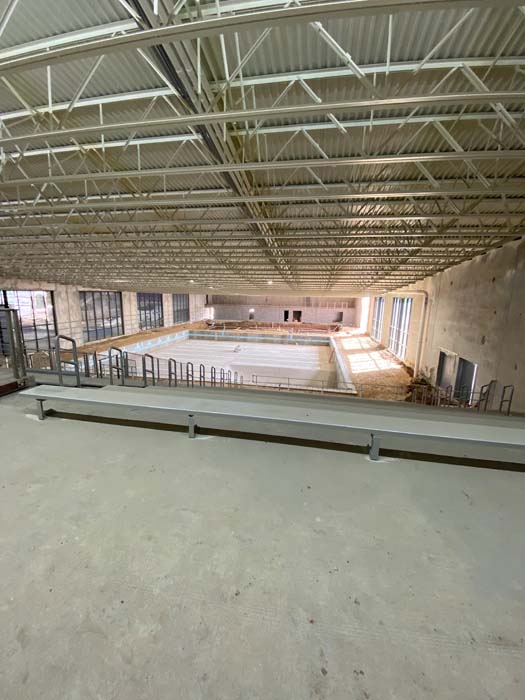 Pre-School
Our preschool is all done structurally! We have flooring and ceilings installed. The cubbies are ready to store backpacks, lunch boxes, and coats for your children. We're still working on bathrooms, as well as finishing up the hallway, but we are working hard. Soon, we'll be ready to serve the needs of your children. We can't wait to meet them!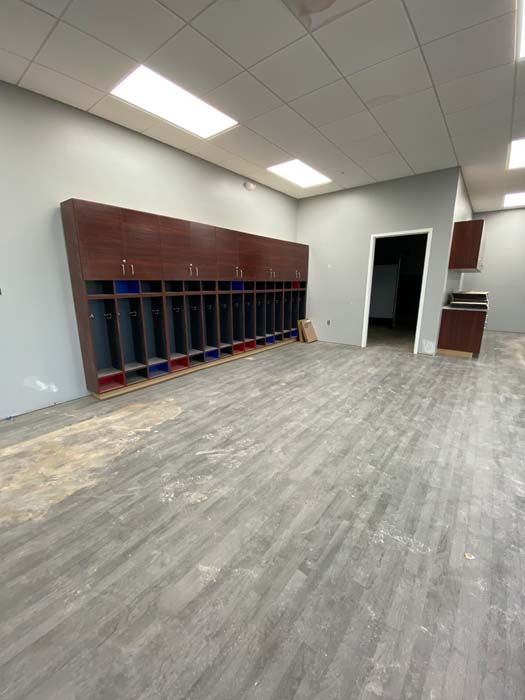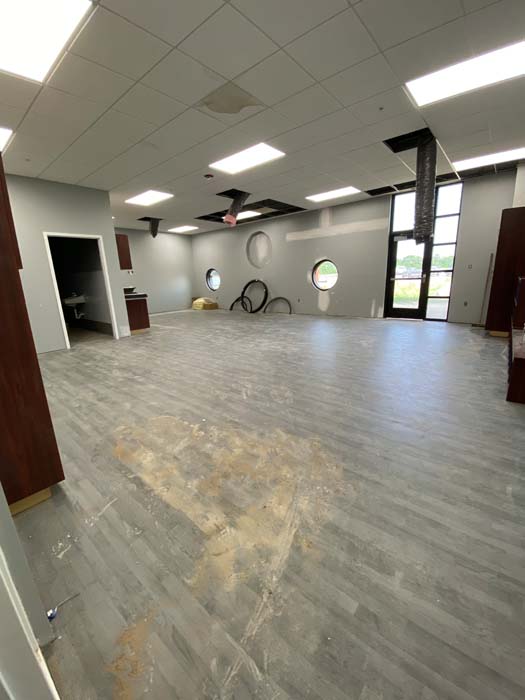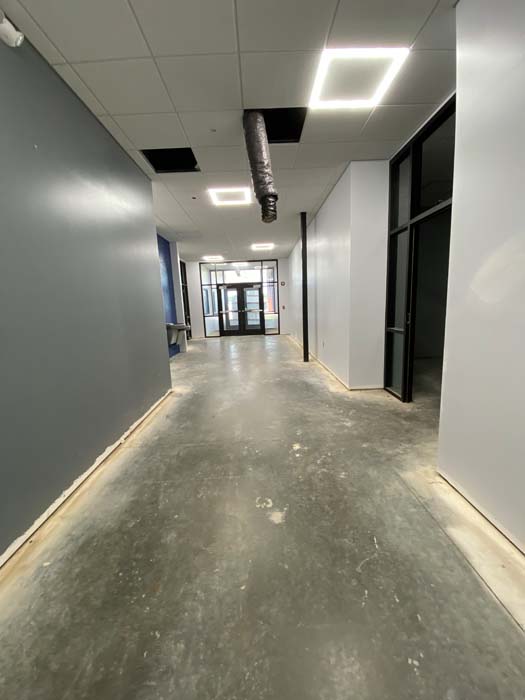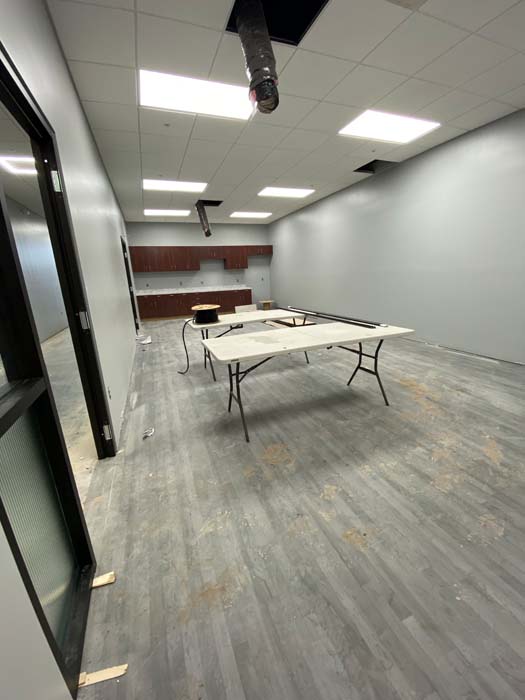 Exterior Buildings and Softball Fields
Below, you can see our softball fields taking shape, as well as the structure that has been built for our outdoor softball building. They will be ready for some thrilling games soon! You can also see the exterior of our waterpark, including two of the water slides that extend out of the building. Also shown is the structure of the attached Hampton Inn, and the front of our health club. We look forward to the day in the near future when those doors open and we can welcome you into the facility we've built for you!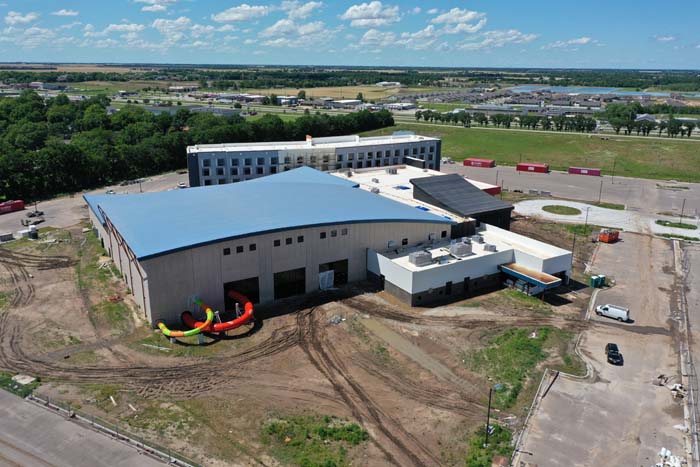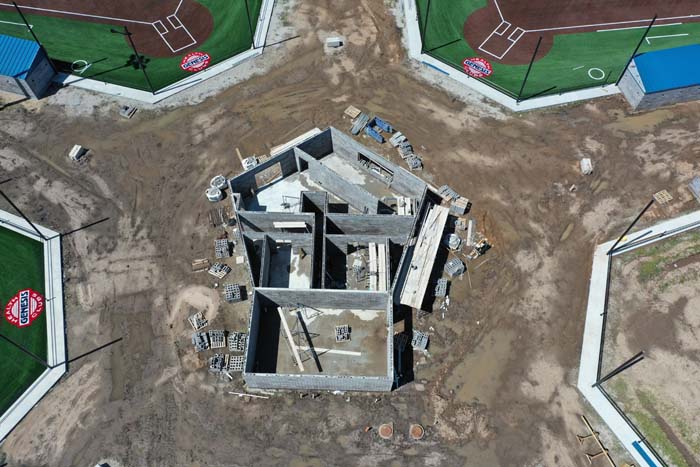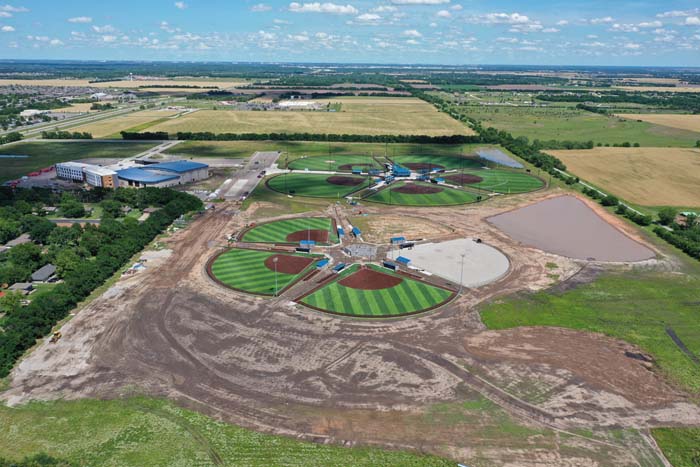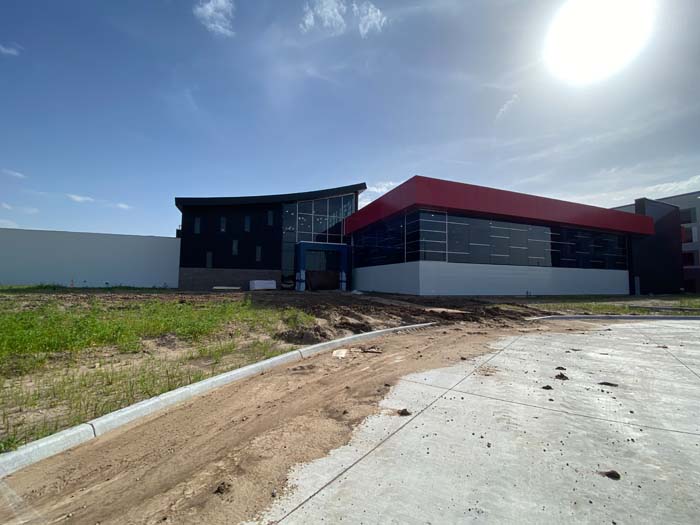 Update 6-2-2022
We've made a LOT of progress since our last update in February! Our fitness club is almost ready to open, and our waterpark is well on its way to completion. The fitness club has features you know and love - an expansive cardio deck, the best weight-training equipment, and stunning group exercise studios. We're already moving in equipment. We'll even have windows overlooking the indoor waterpark! Speaking of that, we've put up a bunch more decorations and have been working on slide construction in the waterpark, as well as our swim-up bar and surfing machine! There's nothing like this facility around, and we're so excited to introduce you to it soon. You're going to be amazed!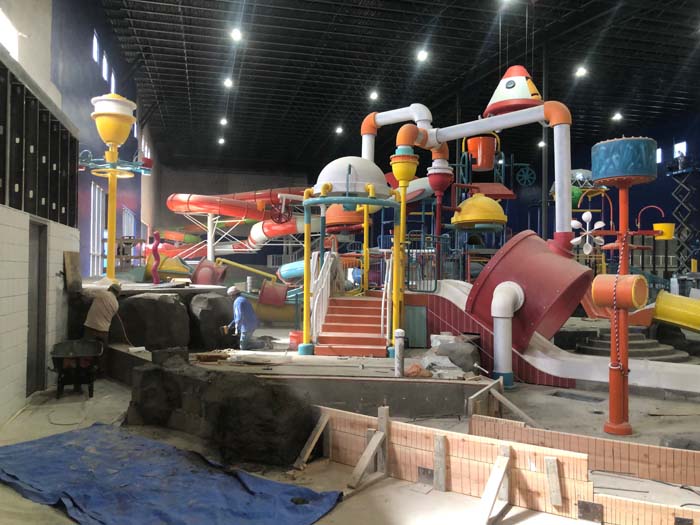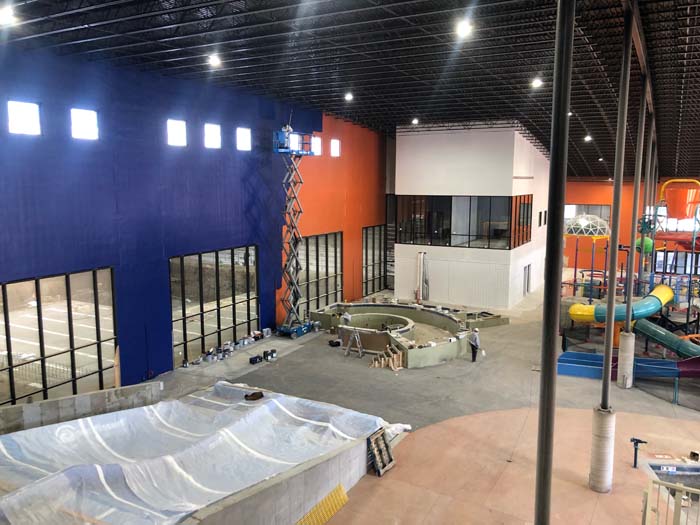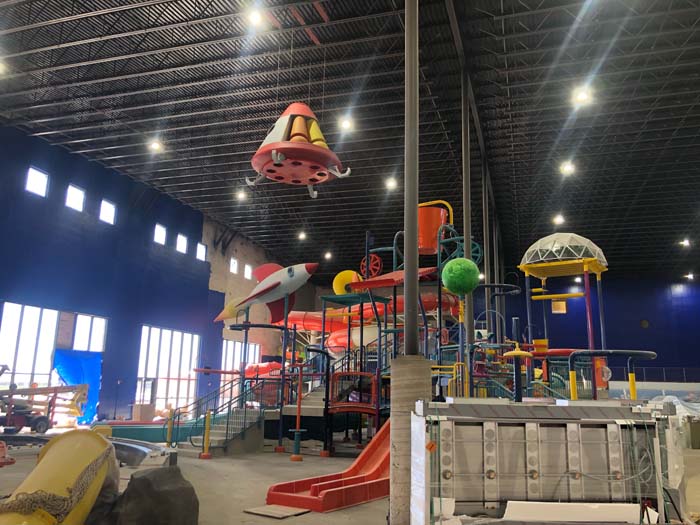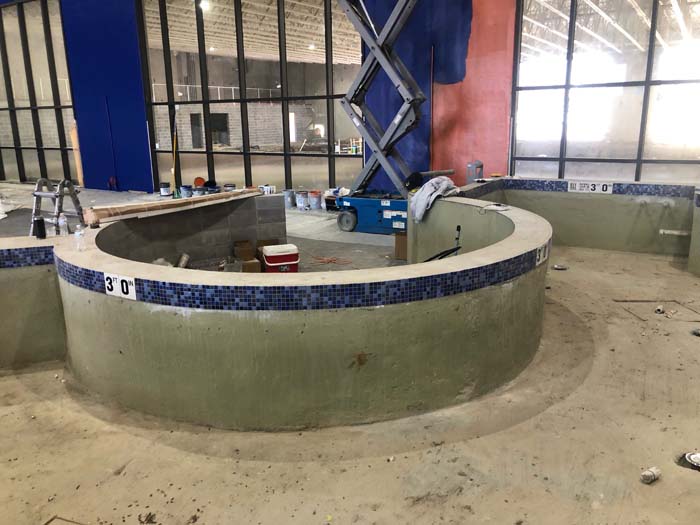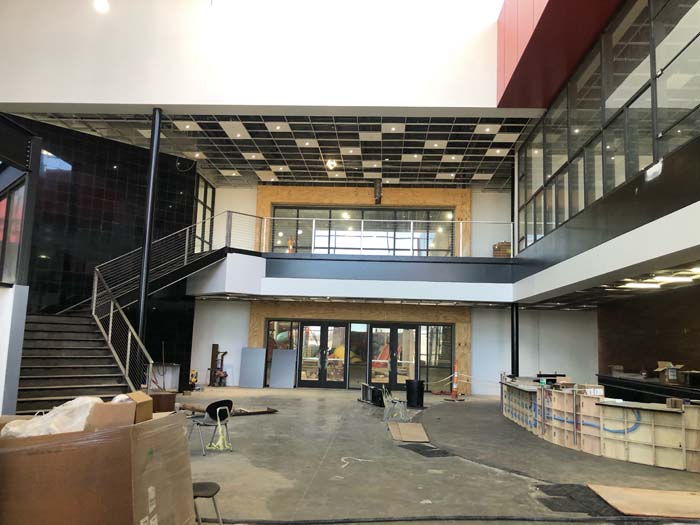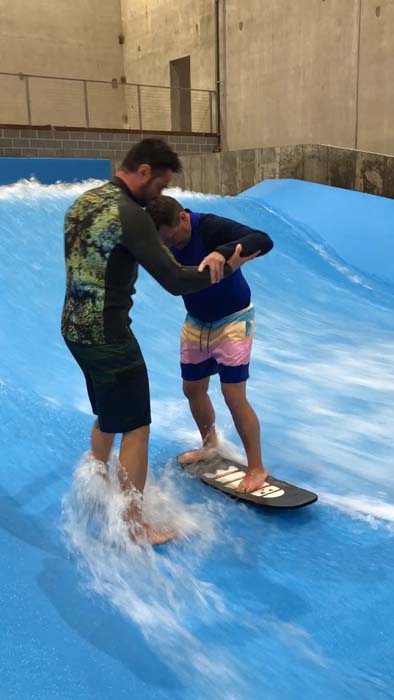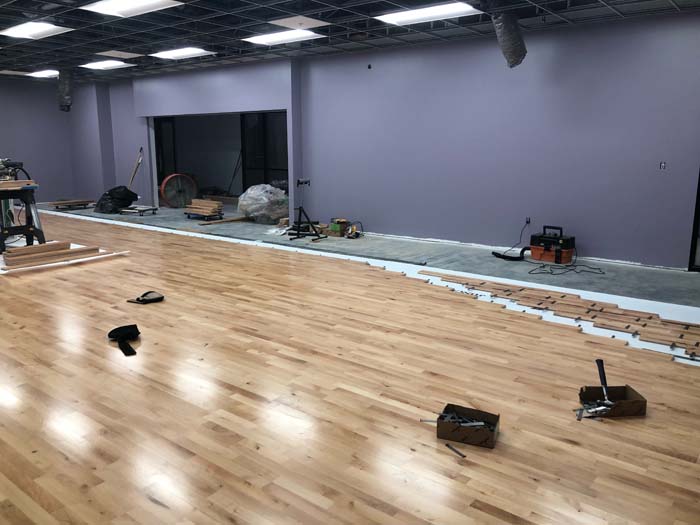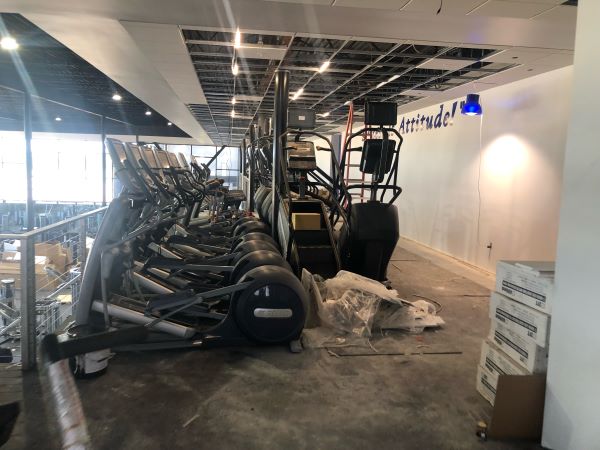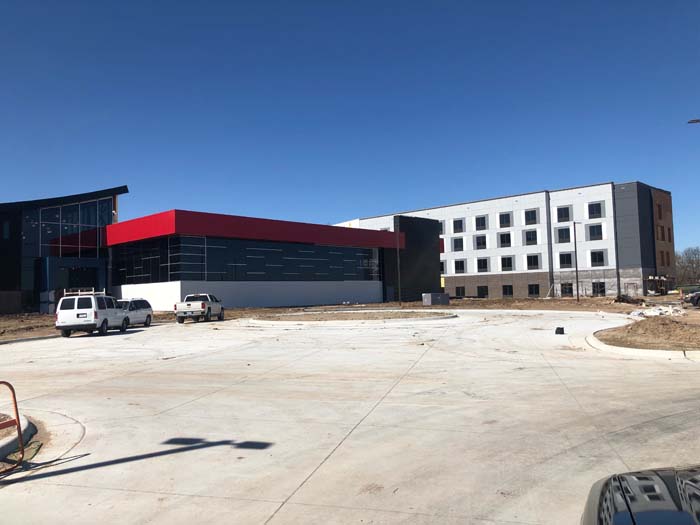 Update 2-16-2022
It's been a minute since we've brought you updates on our exciting Goddard project... Just means there's more to share! Lucky you! Our hotel walls are up, the rooms are being built, the front desk of our fitness club is well underway, there are new slides in our waterpark, and the seating is set in place for the aquatics area. Get ready for the most epic gym, hotel, restaurant, waterpark, and sports facility in the state! The new Goddard location of Genesis Health Clubs is sure to stun, keeping members and friends coming back.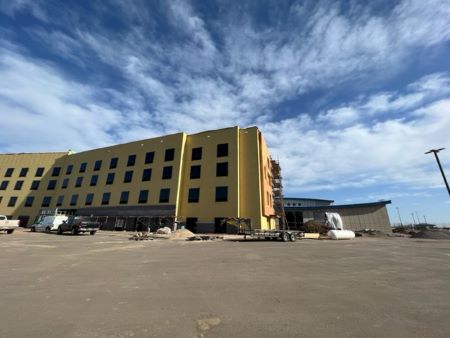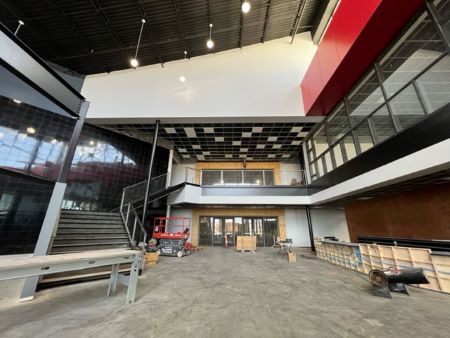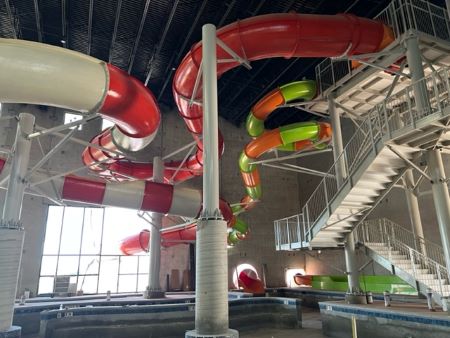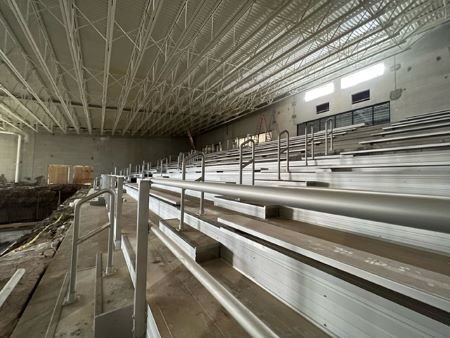 Update 6-10-2021
Got some drone-view, eye-candy photos for our members! Check out how far we've come in our multimillion-dollar Goddard construction project! Can't wait for opening day? Neither can we! Check back for more exciting details on Goddard, coming soon.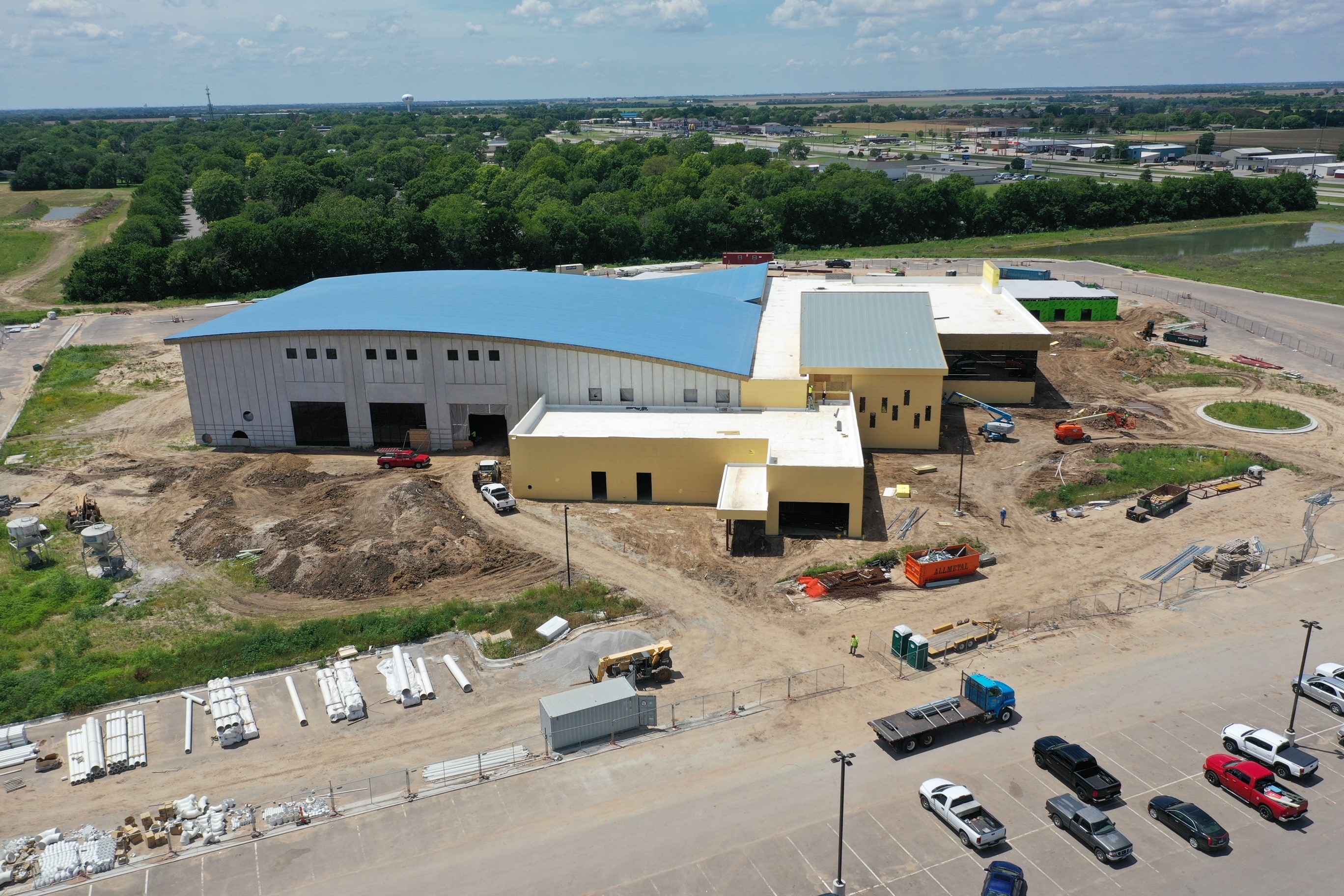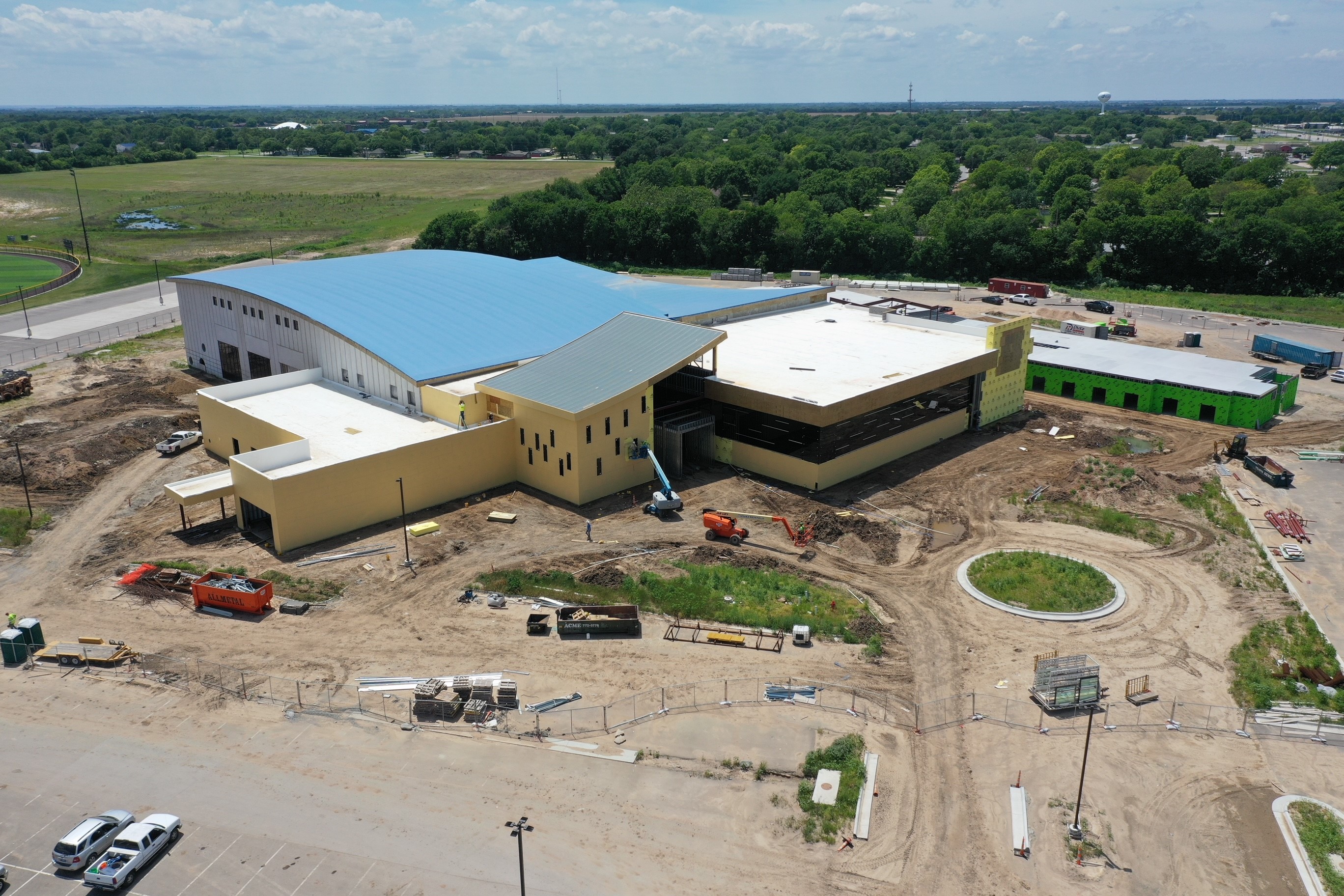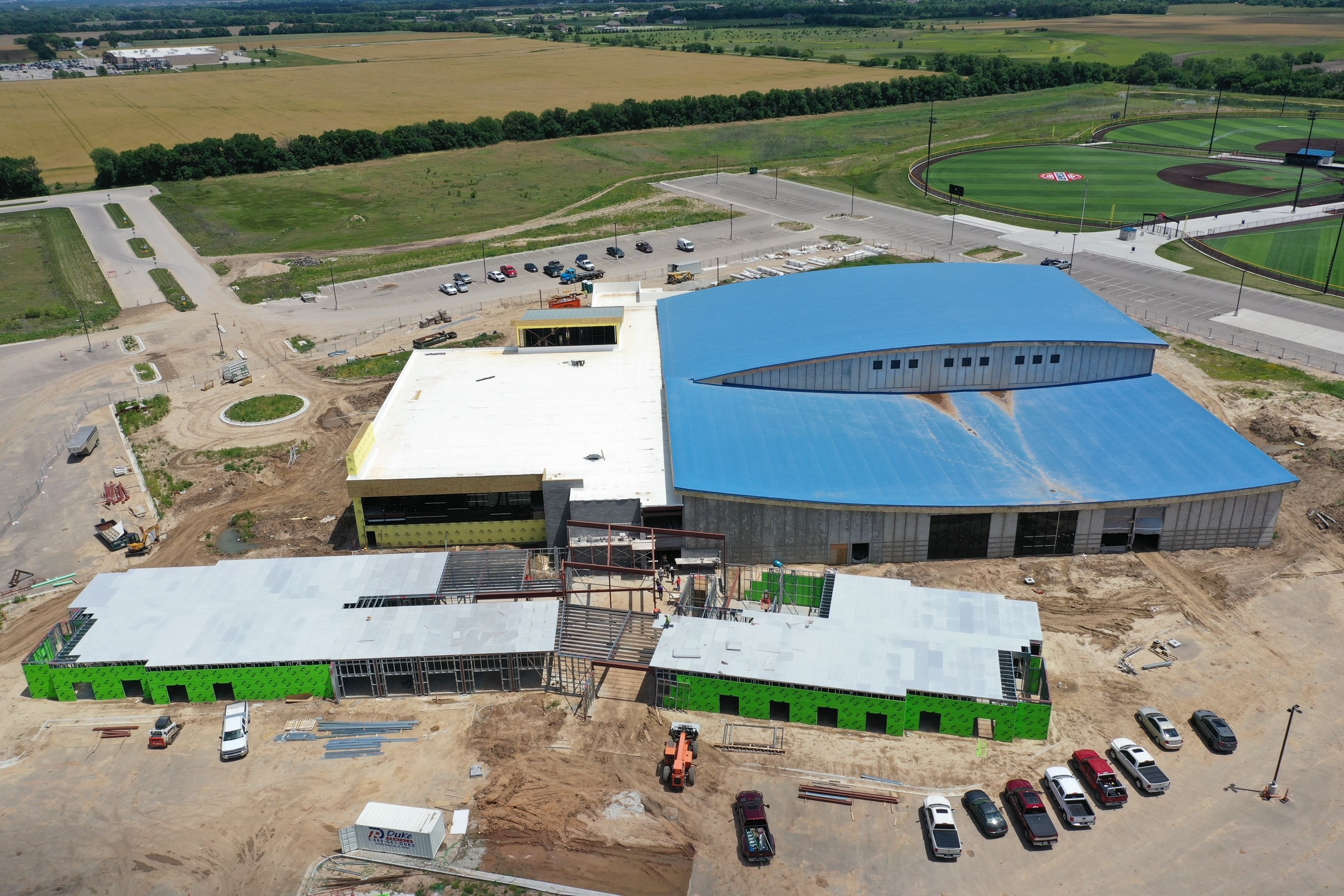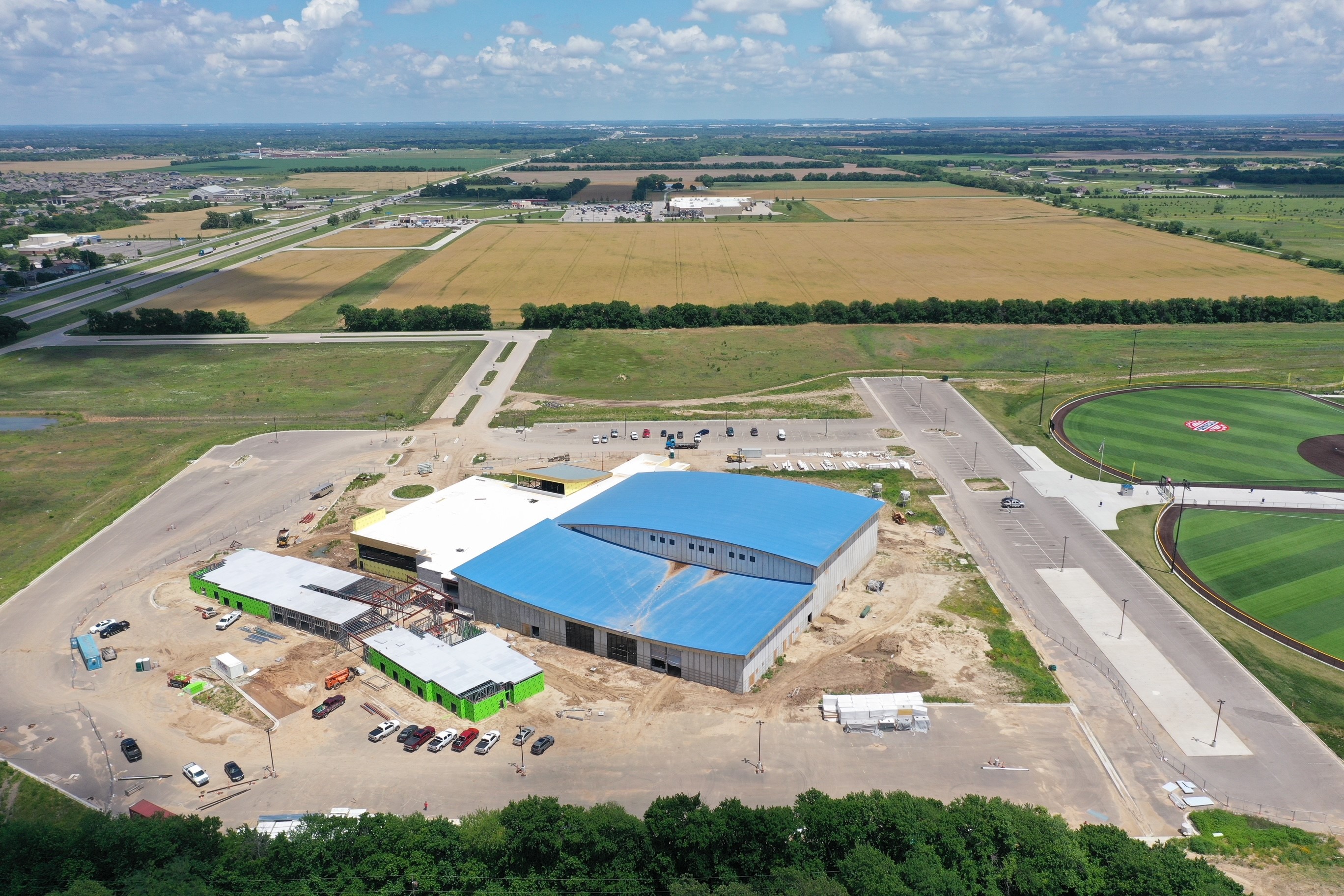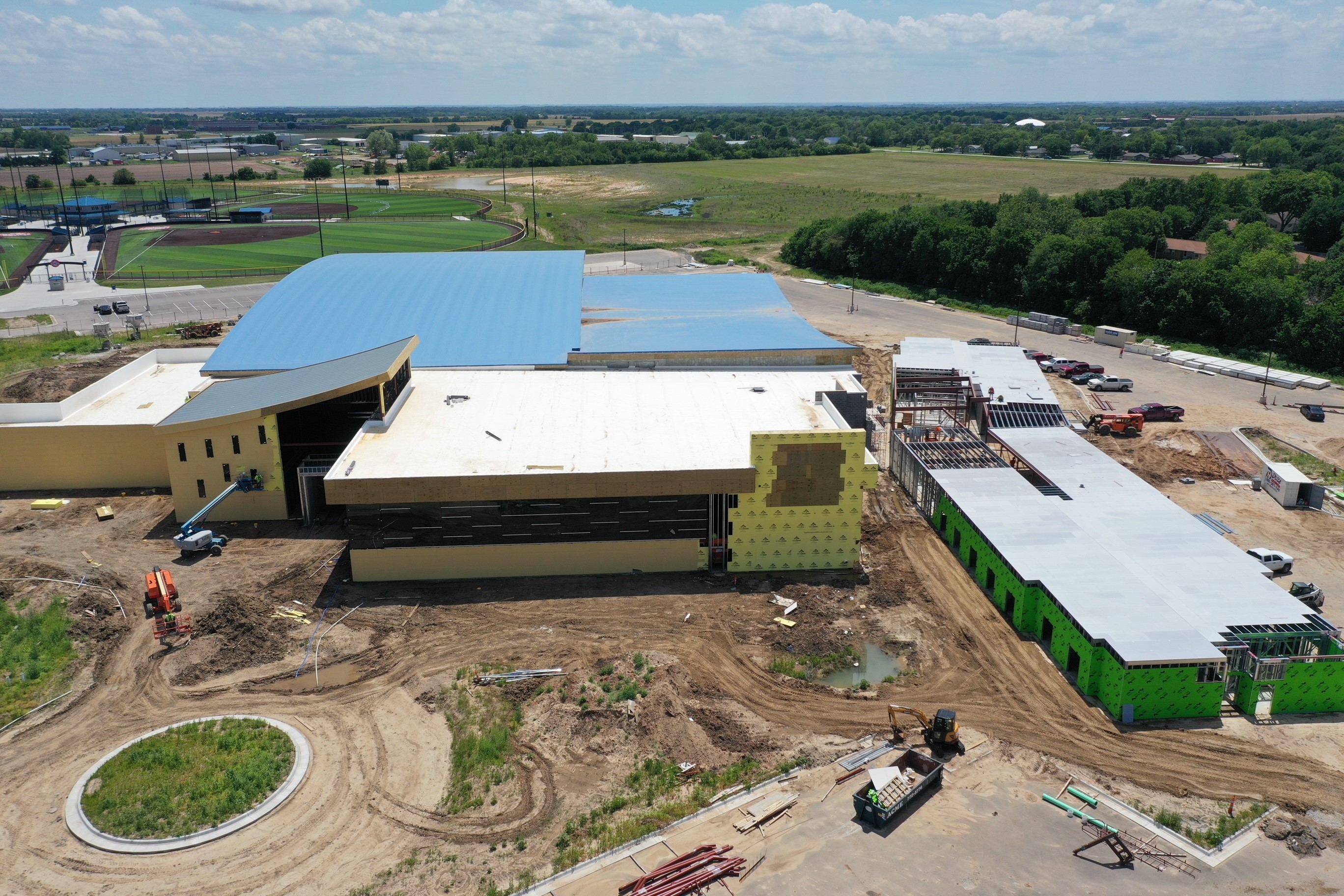 Update 5-19-2021
The hotel's first floor has been framed and enclosed, with more levels coming soon! How cool is that?
Meanwhile, construction continues to speed along on the water park; look for more updates coming soon! It won't be long until you can play and stay in Goddard!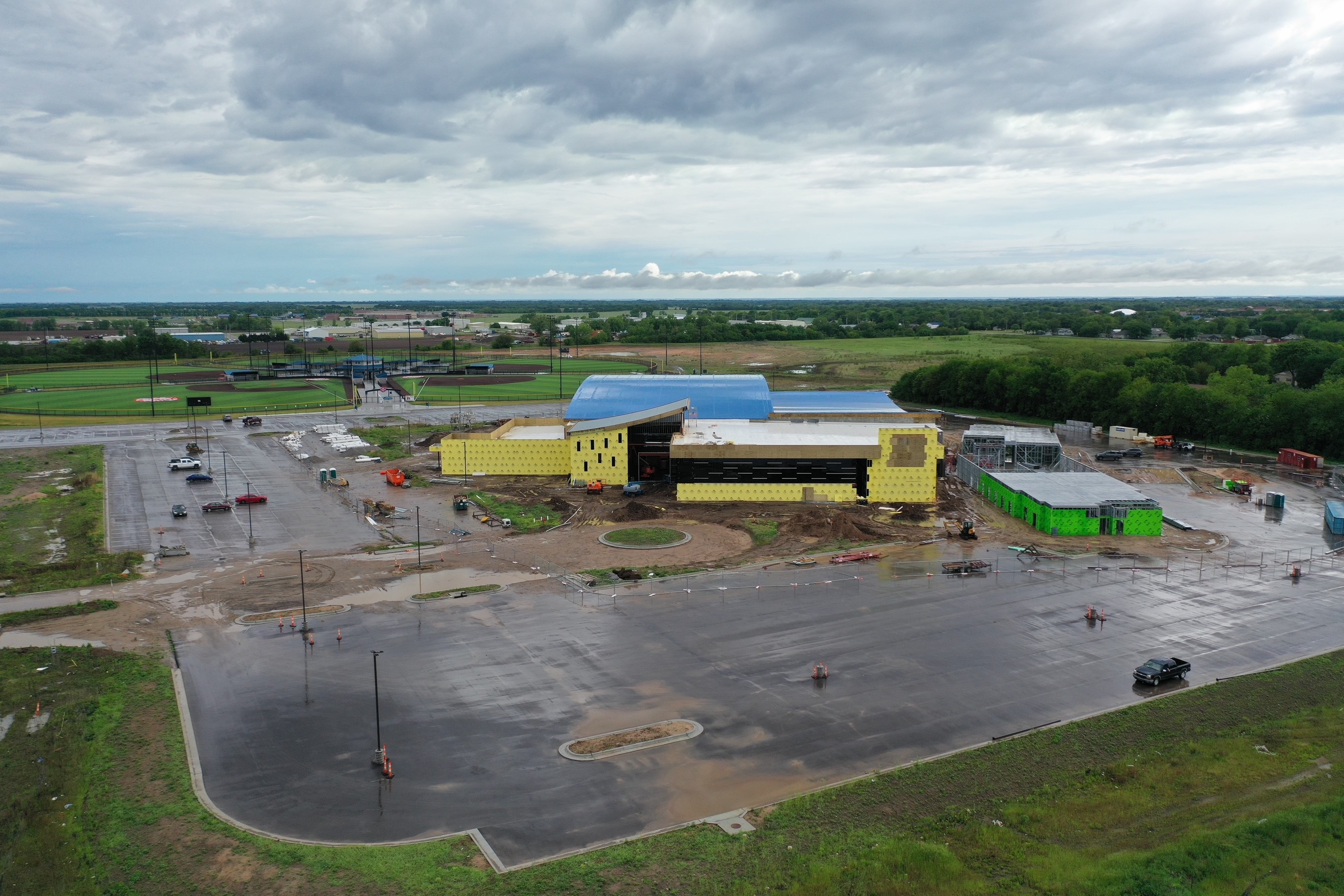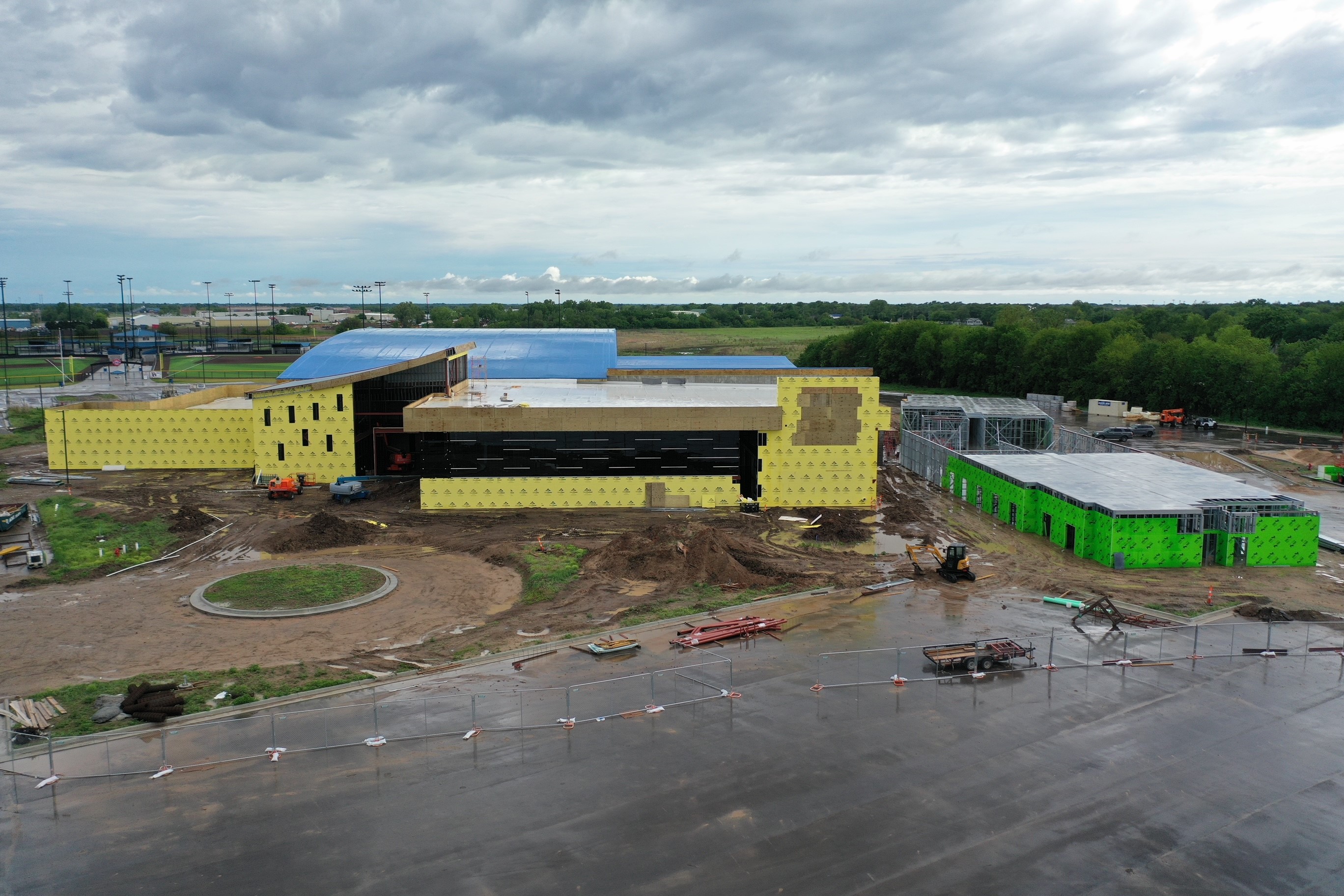 Update 4-12-2021
The hotel of our new Genesis Goddard location is being framed up! Excited? We are too! Stay tuned for more awesome updates coming soon!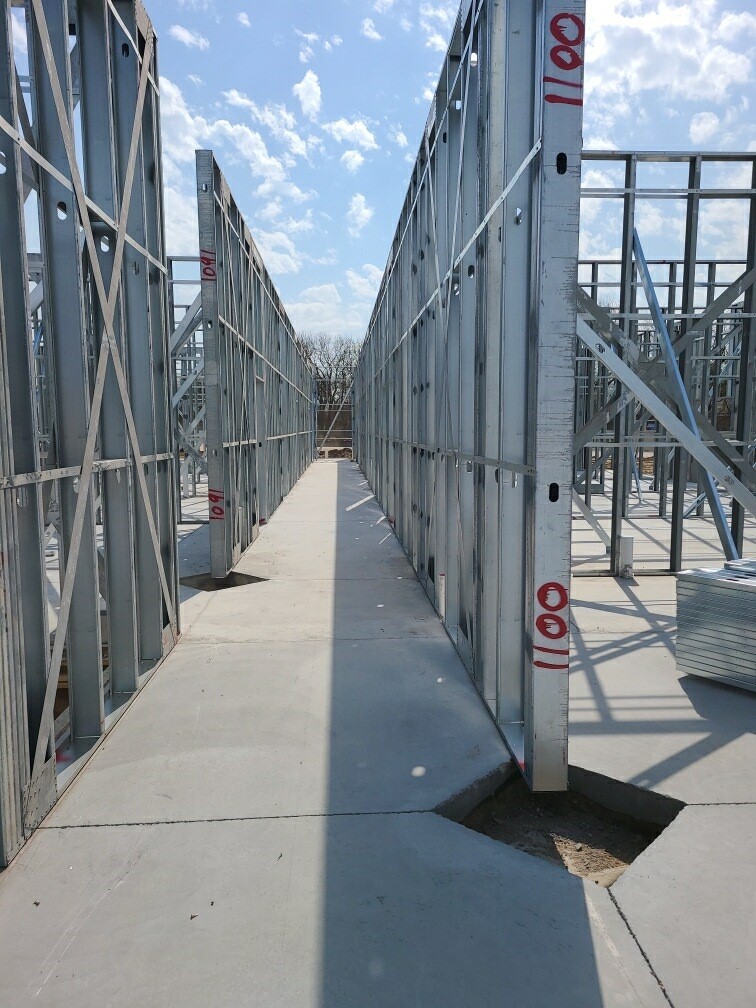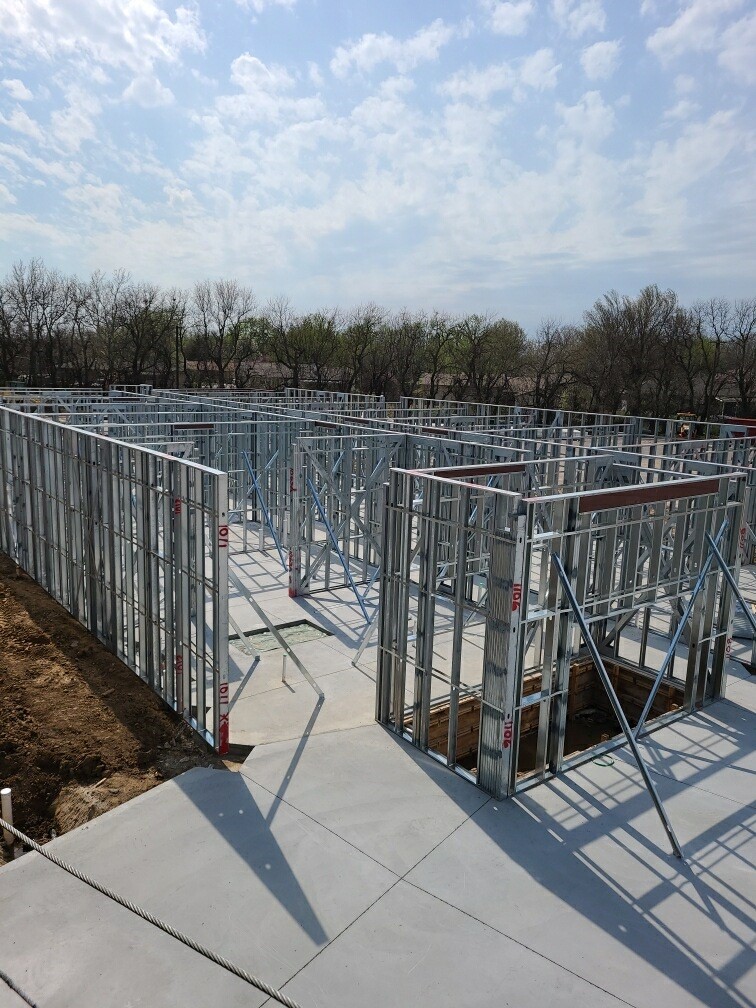 Update 4-7-2021
Things are really coming along at our highly-anticipated Goddard location! Ceilings, flooring, exterior, and interior!
We can't wait to show you the finished product. Check back soon! We'll have more exciting details for you!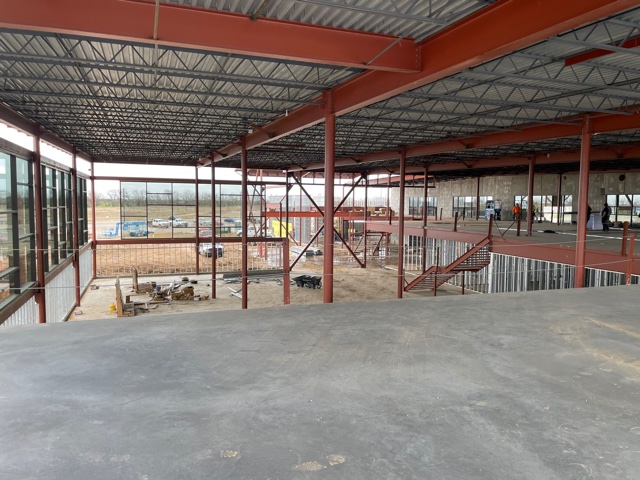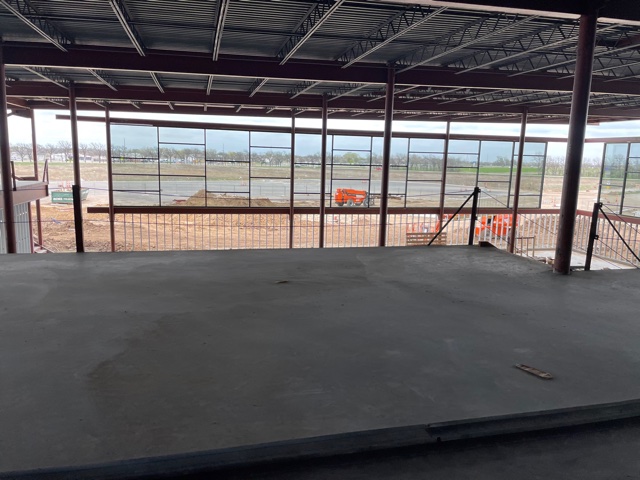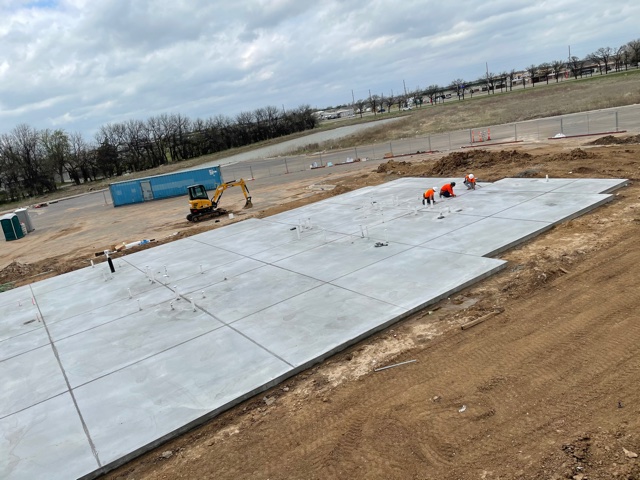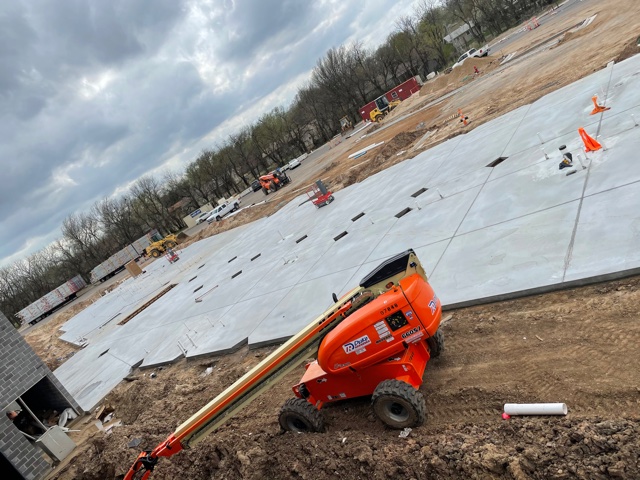 Update 2-19-2021
It's freezing outside, but we're still working to bring you the best gym experience in town! Get excited and stay tuned Kansas. More details coming soon!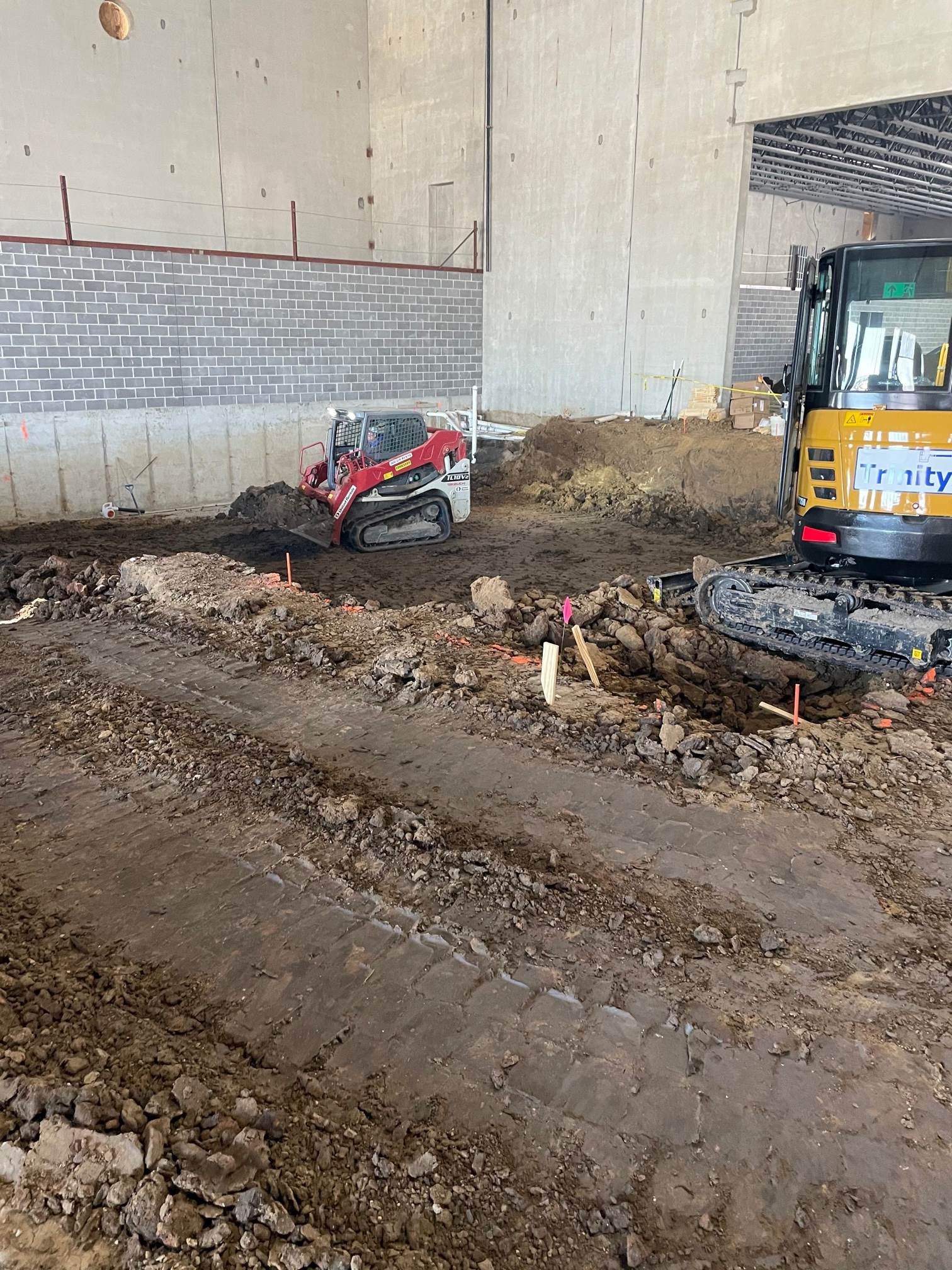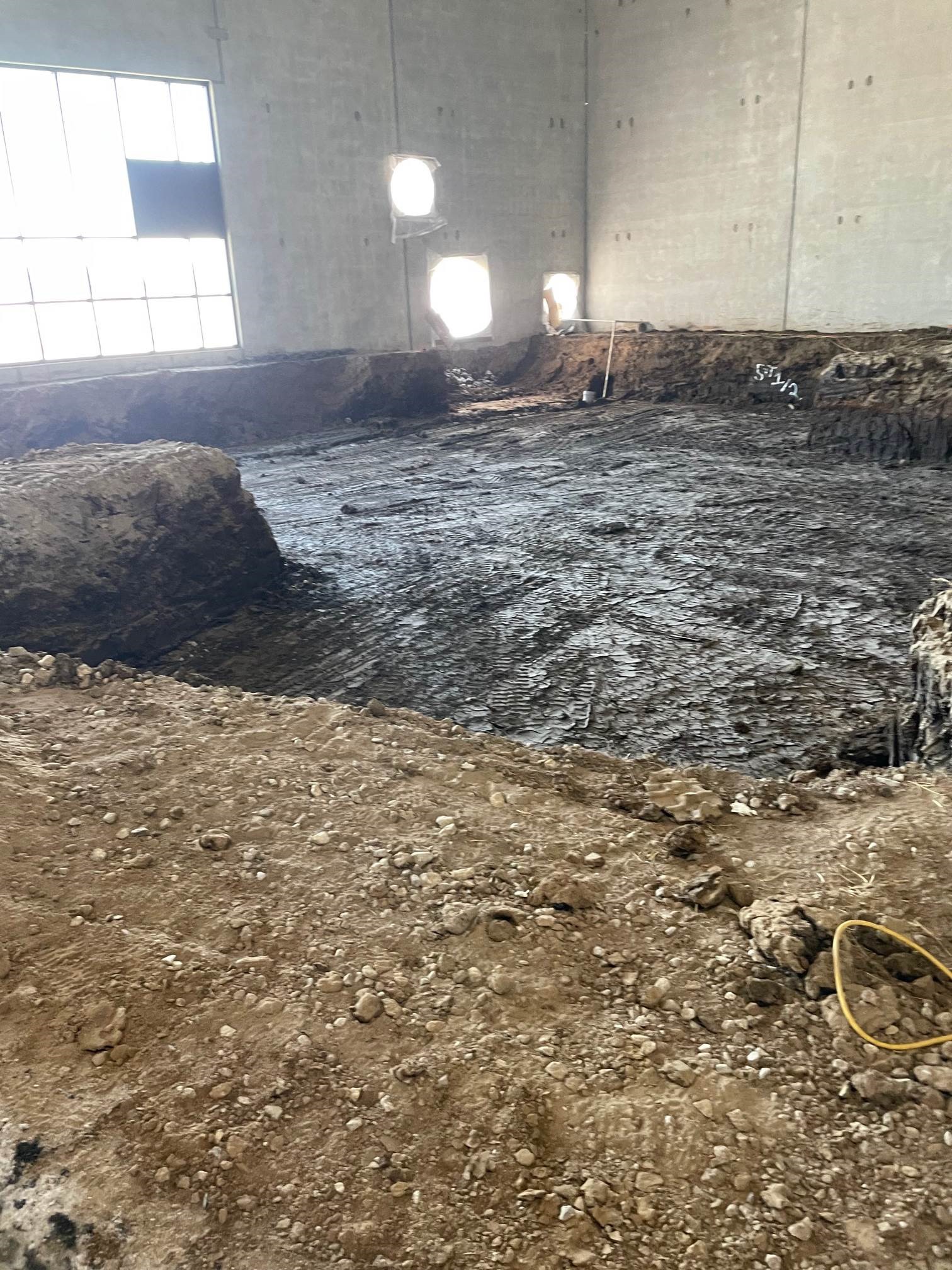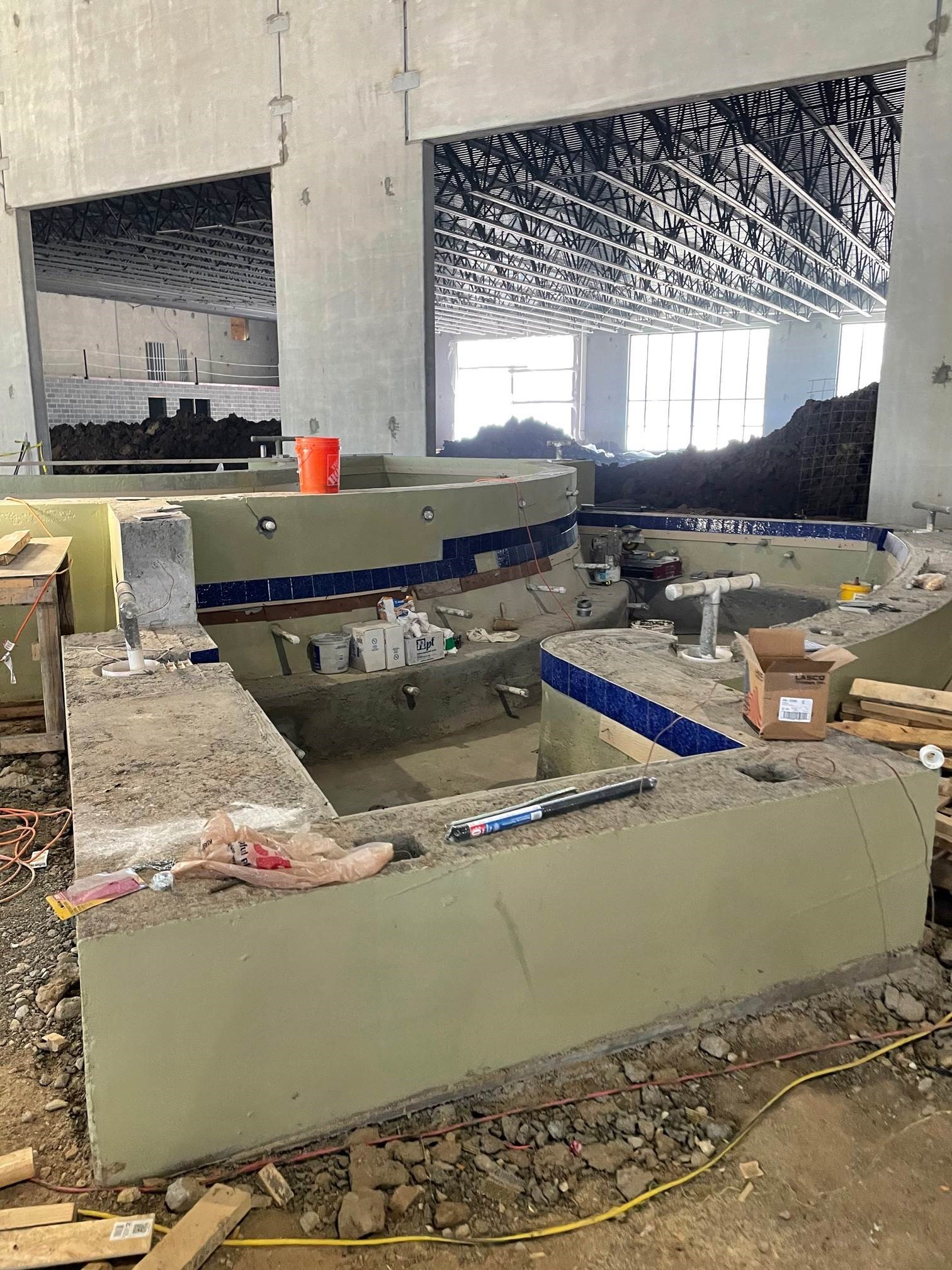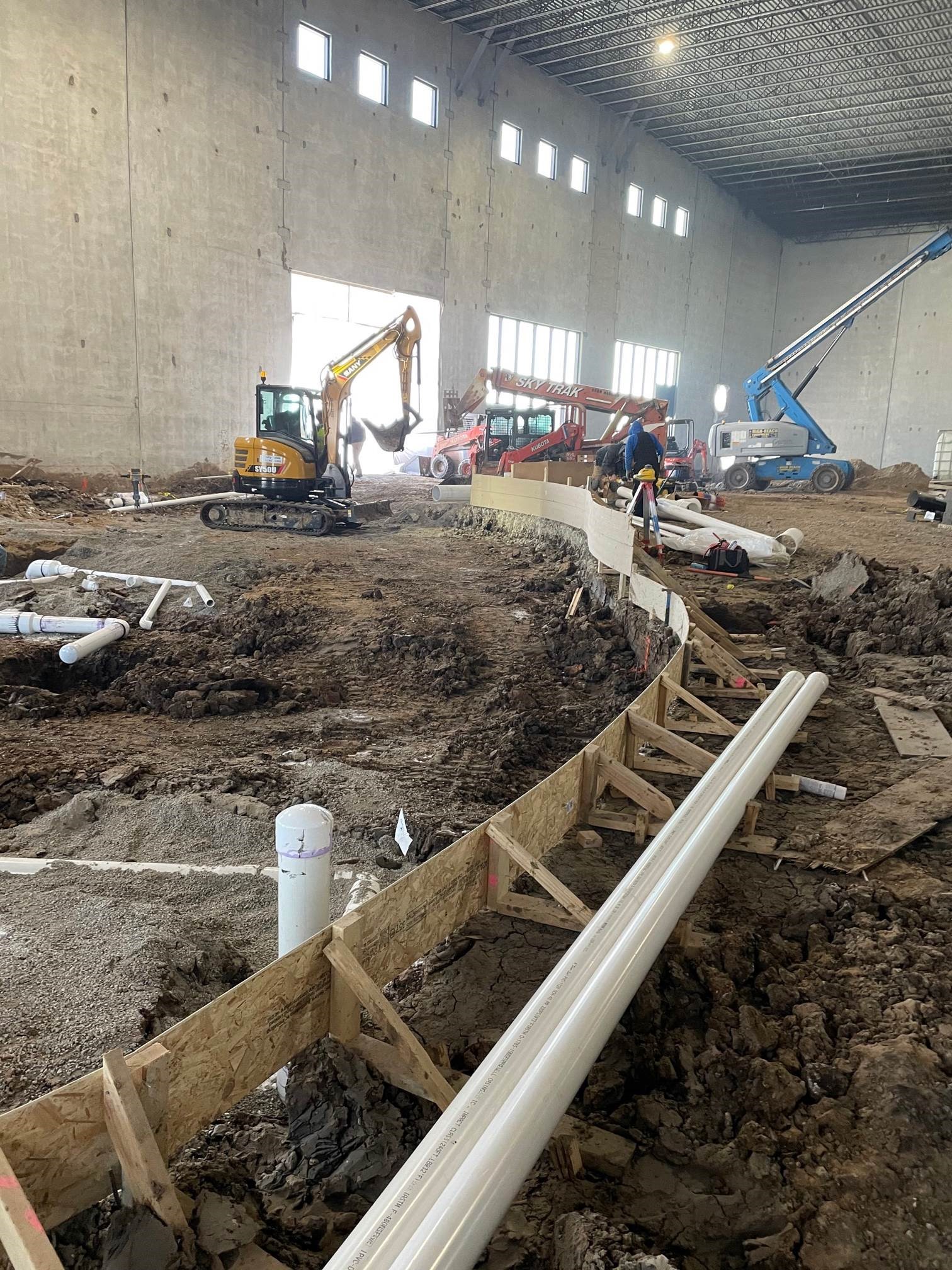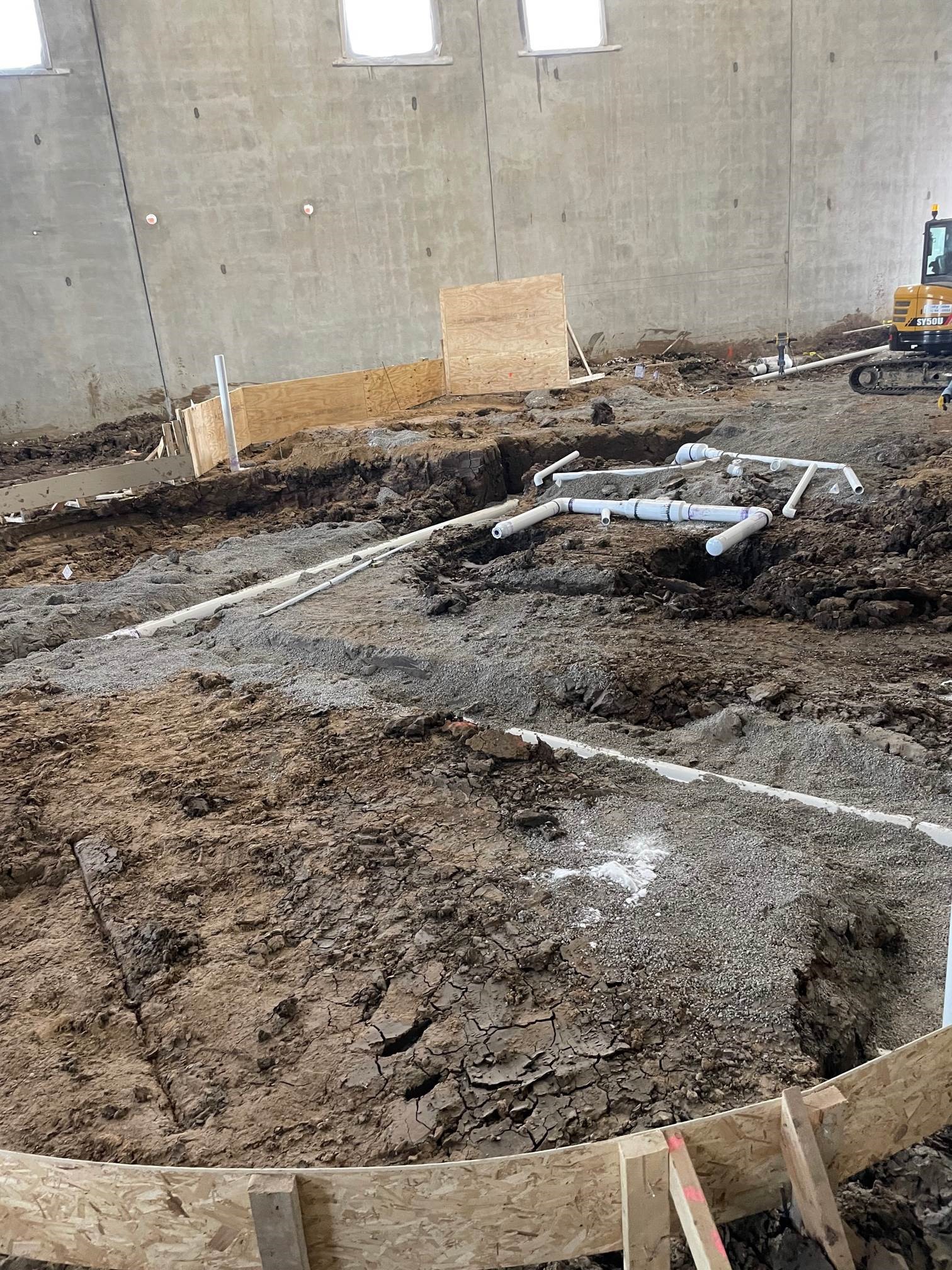 Update 1-19-2021
The flooring has started for the new hotel at our Goddard hotel and waterpark! You read that right, the HOTEL at our new location has officially broken ground! Ready to stay and play in the biggest indoor waterpark for at least 3 hours in any direction? Check back soon, as we'll have more exciting details waiting for you.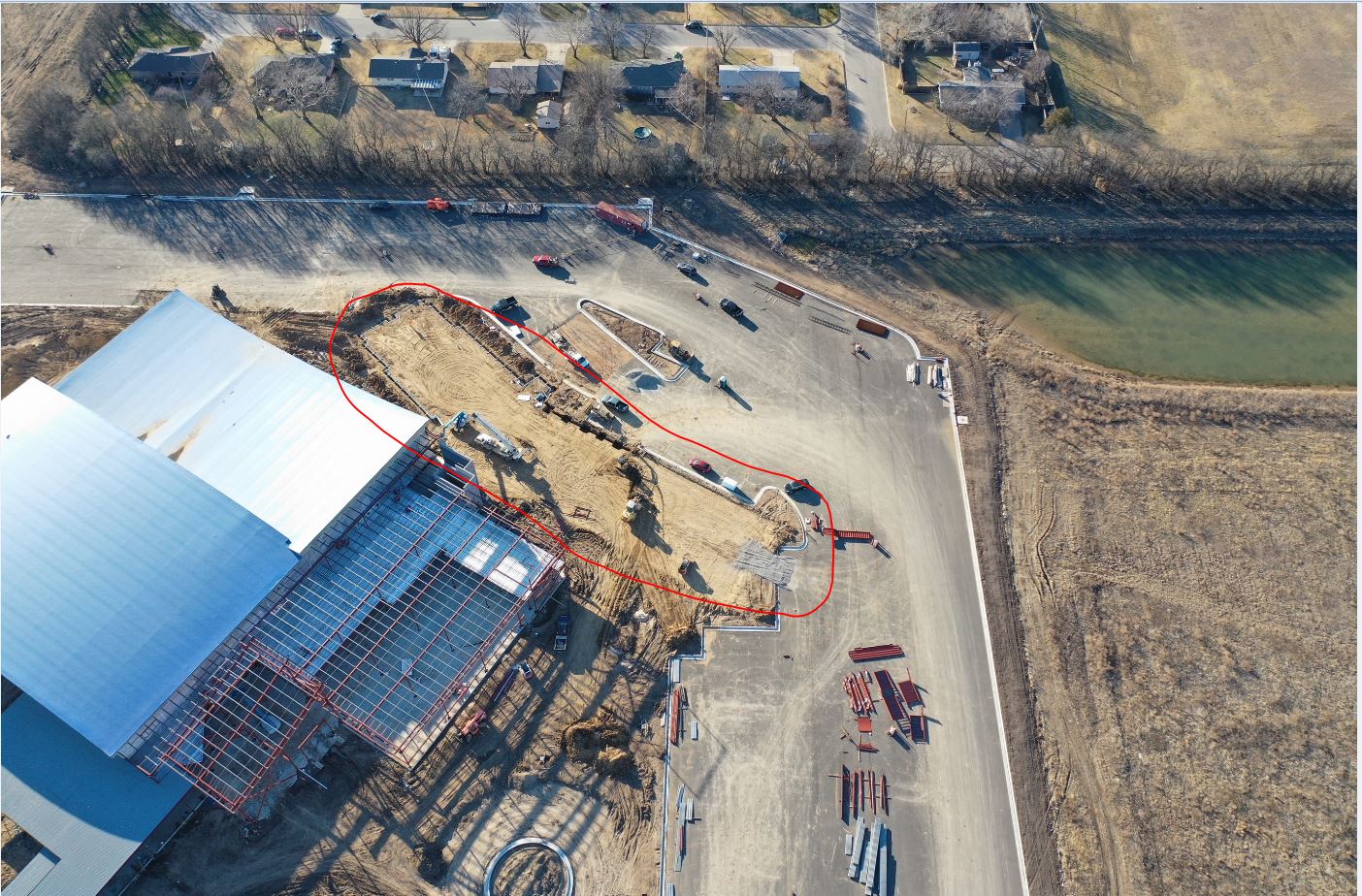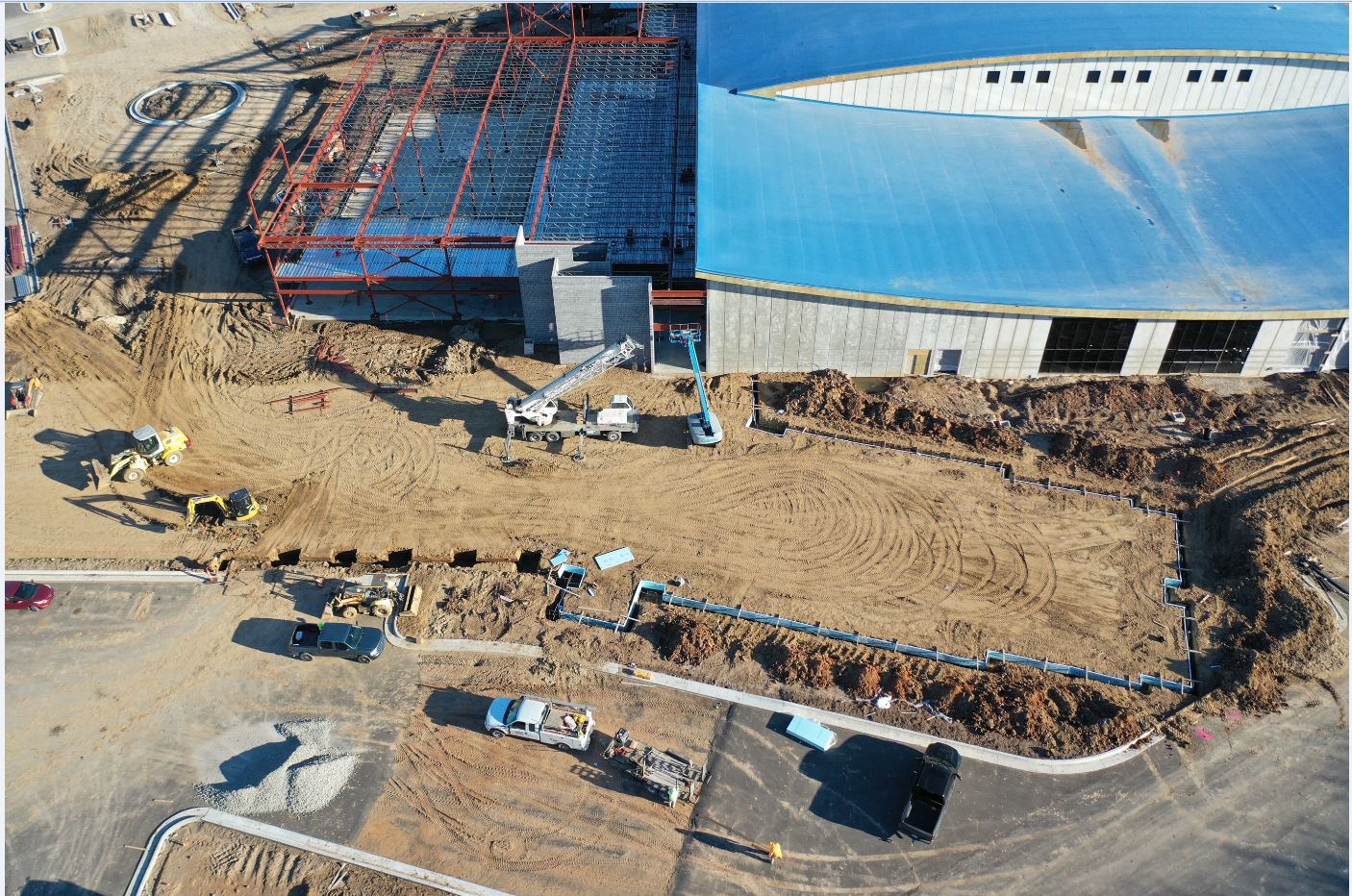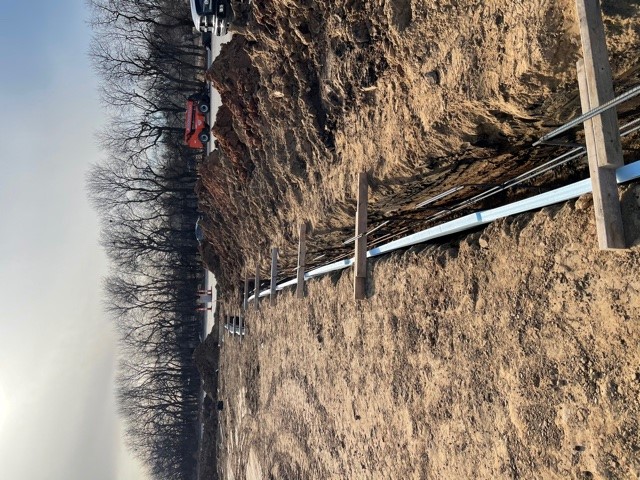 Update 1-05-2021
New Year, a new construction update! The roof is going on and lots of plumbing has been installed at our new Genesis Health Clubs location and waterpark in Goddard, Kansas! Ready for beautiful, spacious, and luxurious locker rooms? We sure are!
As construction continues, major hype for the new location continues to build as well! We can't wait to show you around. More construction updates coming soon.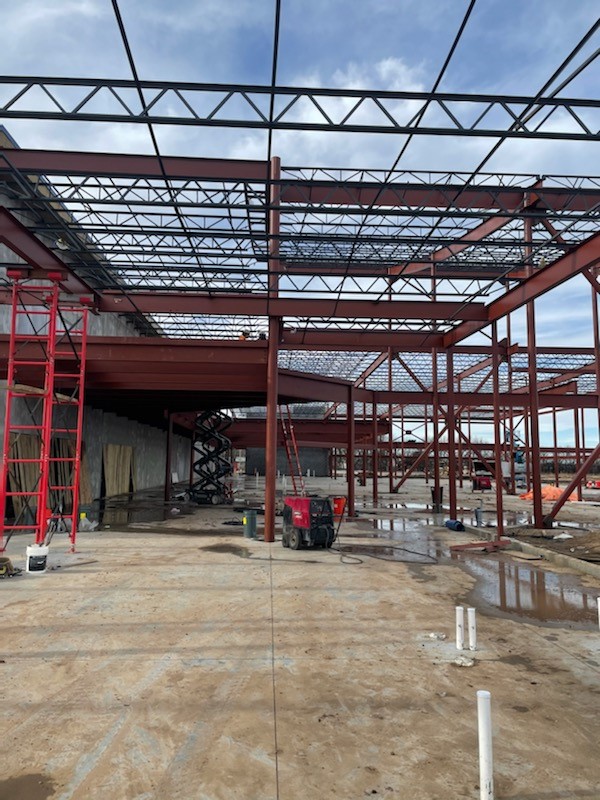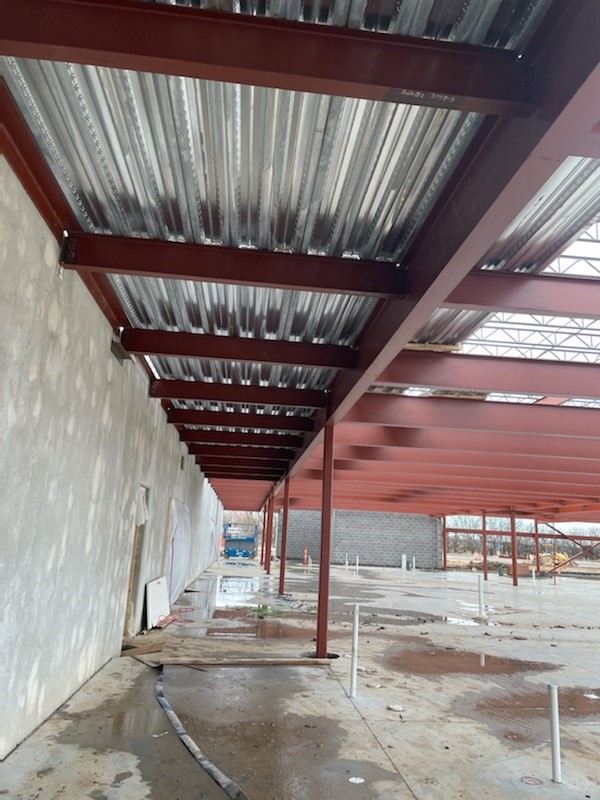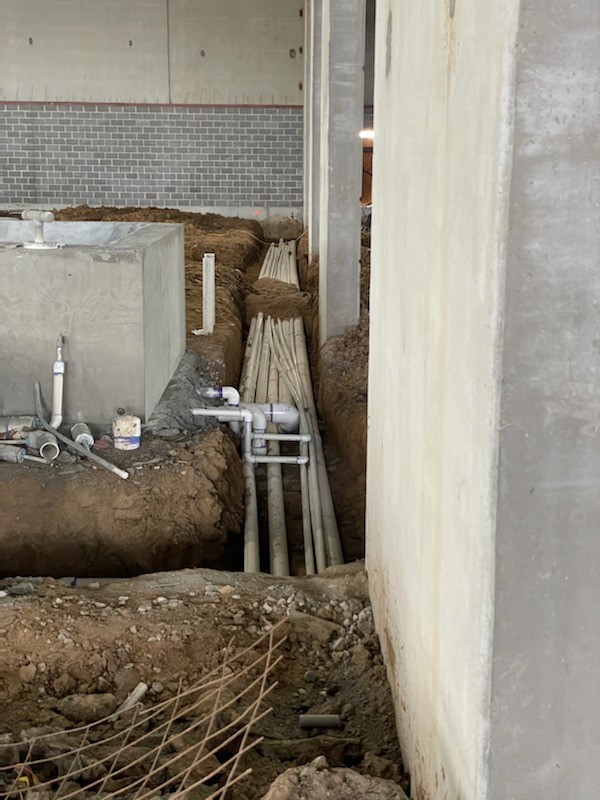 Update 12-14-2020
Your first look at the Genesis Goddard swim-up bar is below! The swim-up bar is just one of the many fun and unique features being built for the Midwest's largest Waterpark and Natatorium. This week's sneak peek also features steel framing going up for the brand new Genesis Health Clubs location... We're one step closer to completing this highly-anticipated, multi-million dollar construction project!
Stay tuned for more announcements coming soon on other awesome waterpark features, including the official name and theme!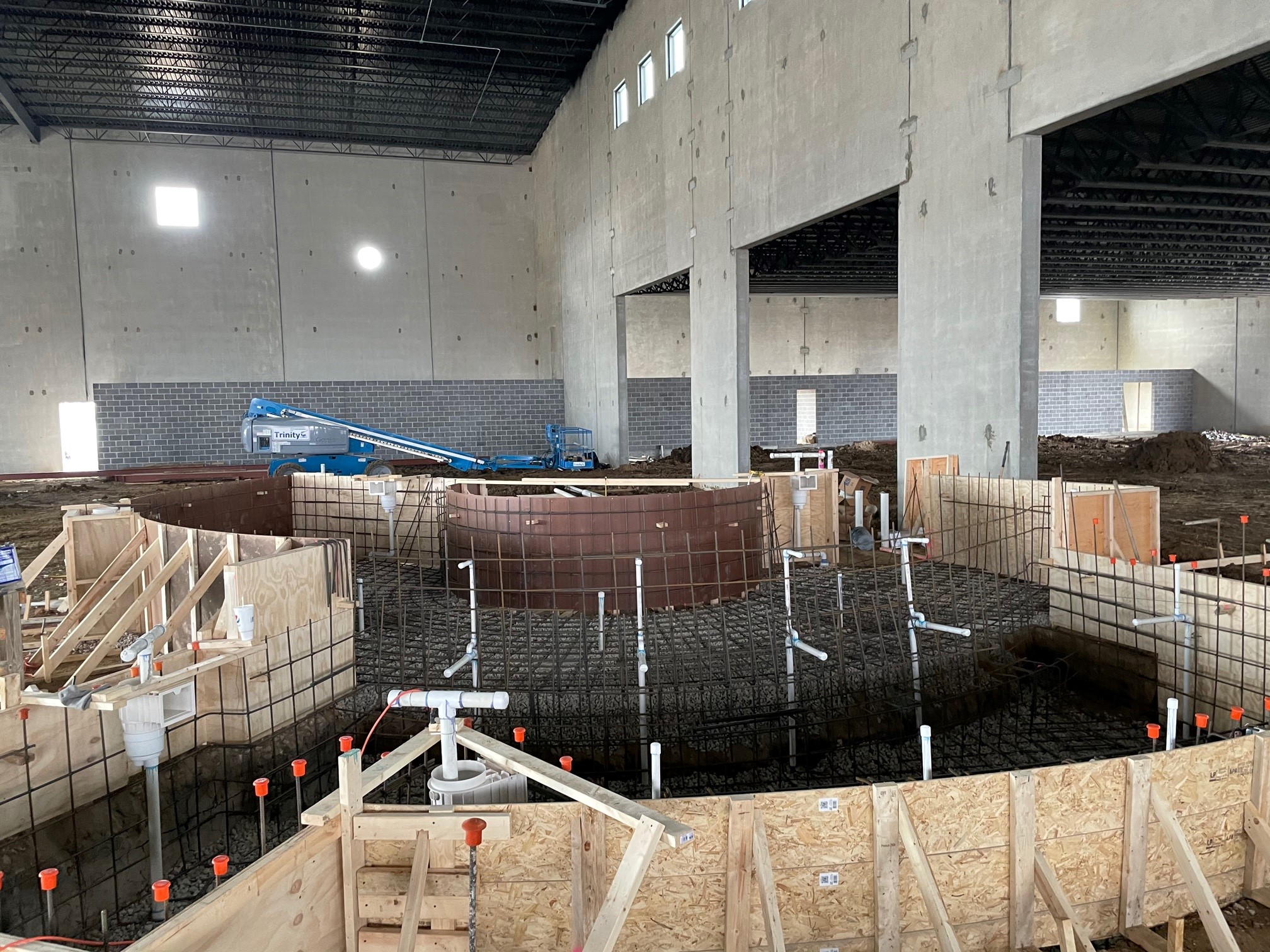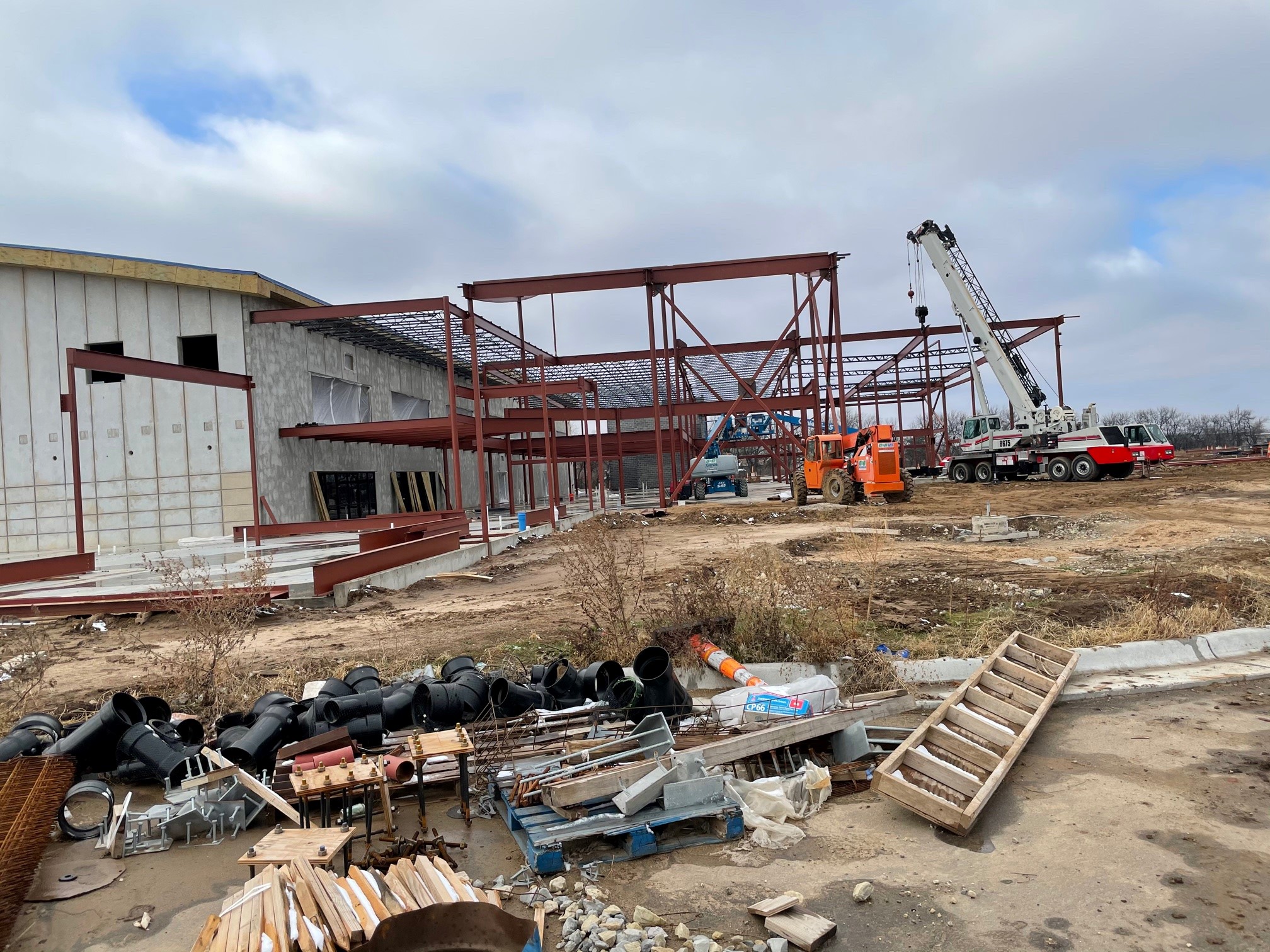 Update 12-3-2020
Steel for Genesis Health Clubs Goddard is being erected NOW! Just look at how this building is really taking off and moving right along. The pool for the largest Waterpark and Natatorium in the entire Midwest is being dug inside... How exciting is that? We can't wait to show the finished product to our new members! More updates coming soon. Stay tuned!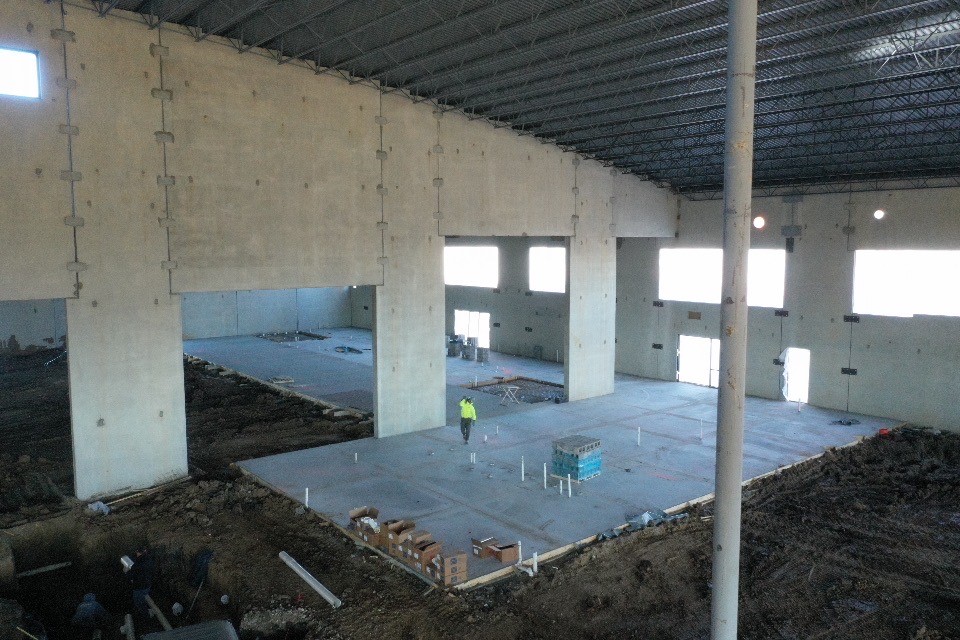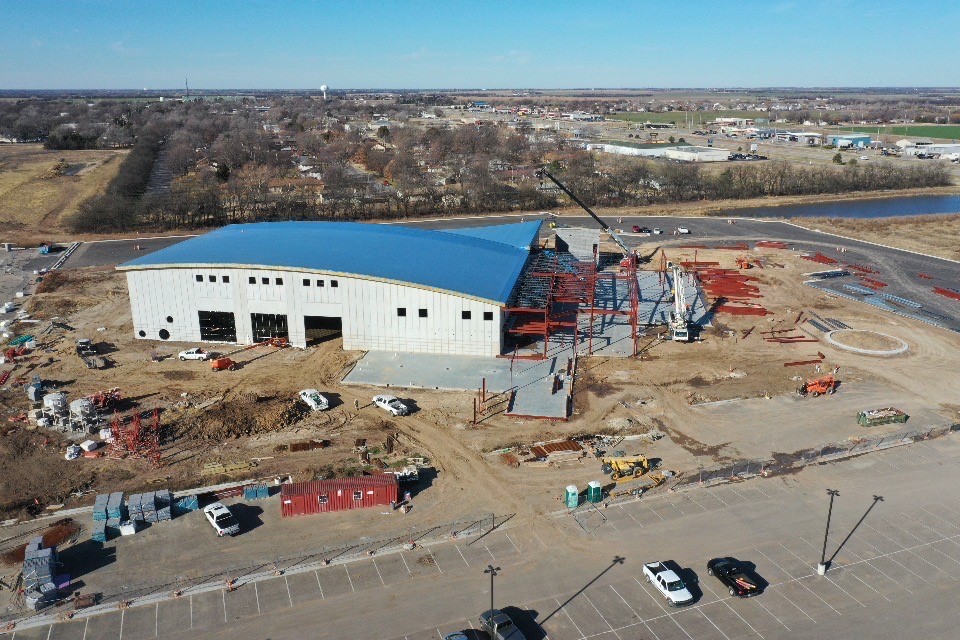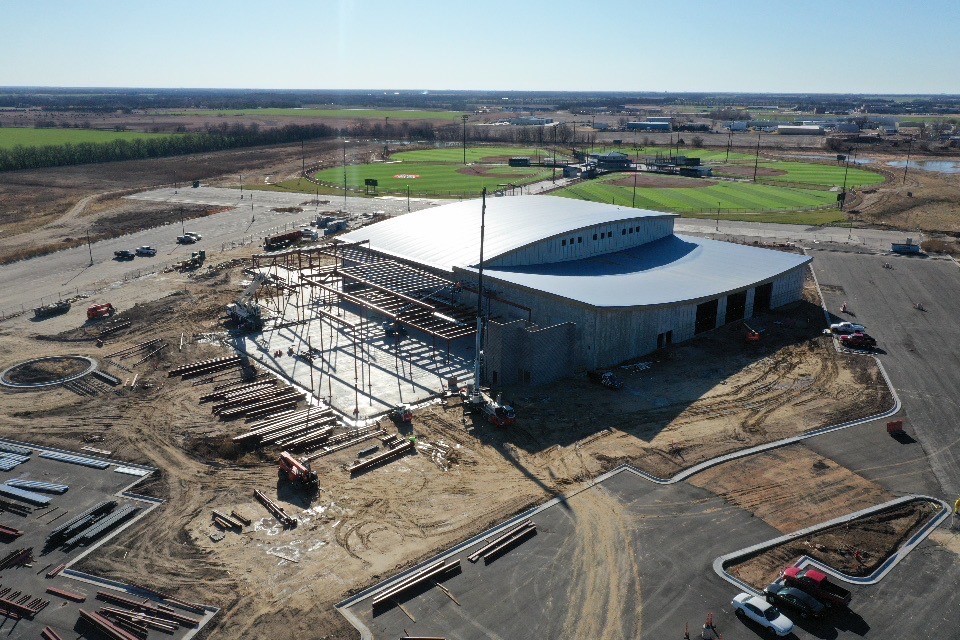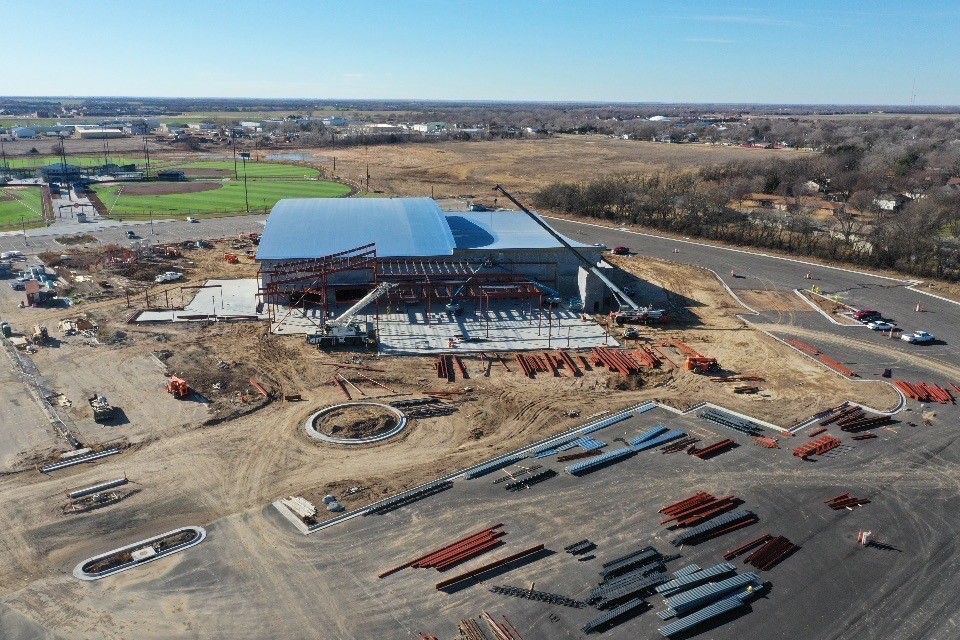 Update 11-24-2020
This just in! Our new Goddard location is coming along bit by amazing bit! The concrete inside has been poured and more steel is going up on the outside. We are so excited to welcome new members to the newest addition of the Genesis Health Clubs family. Genesis Goddard will be the largest, most luxurious club in town. Are you ready?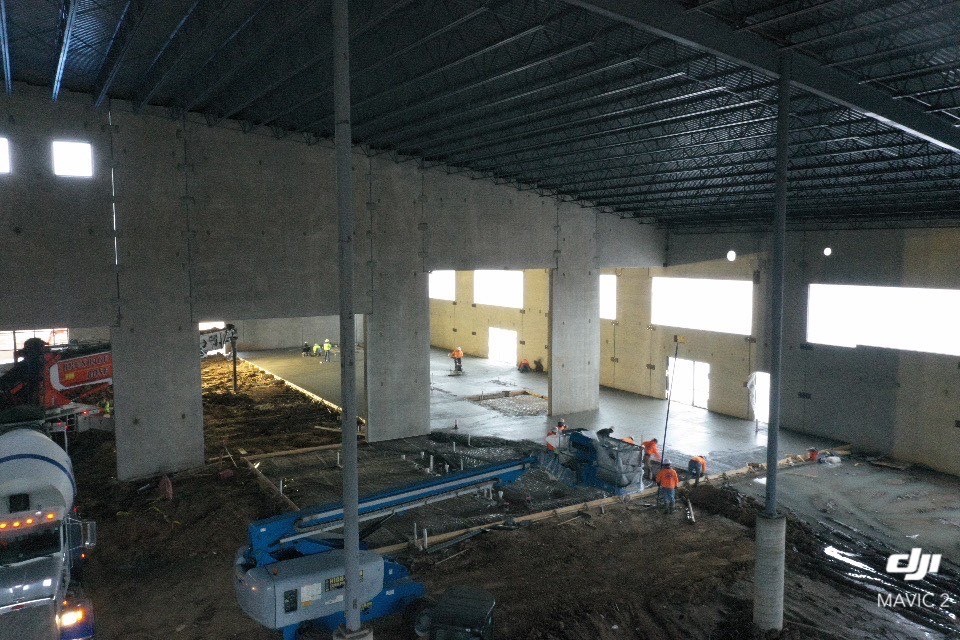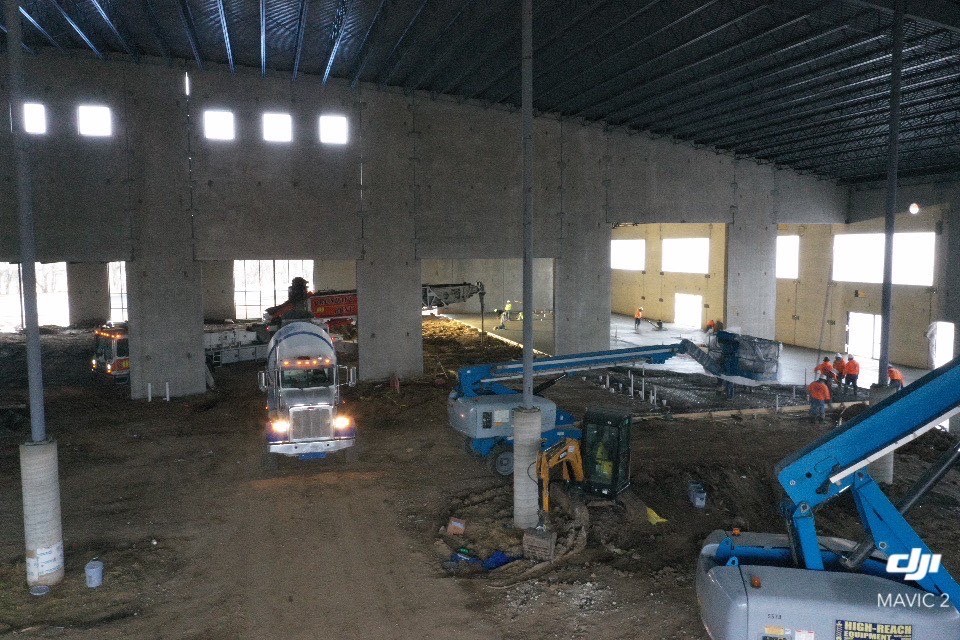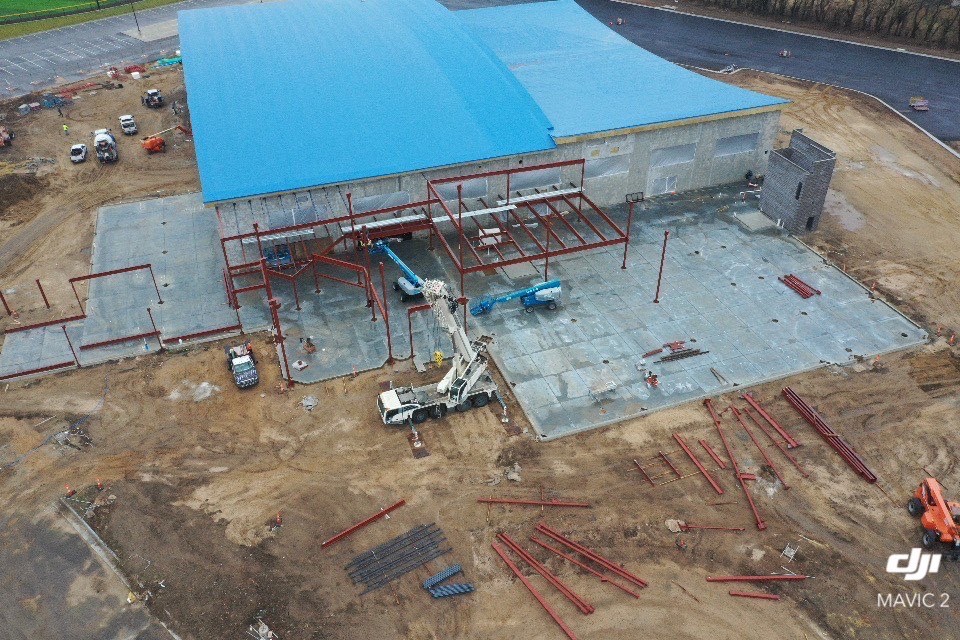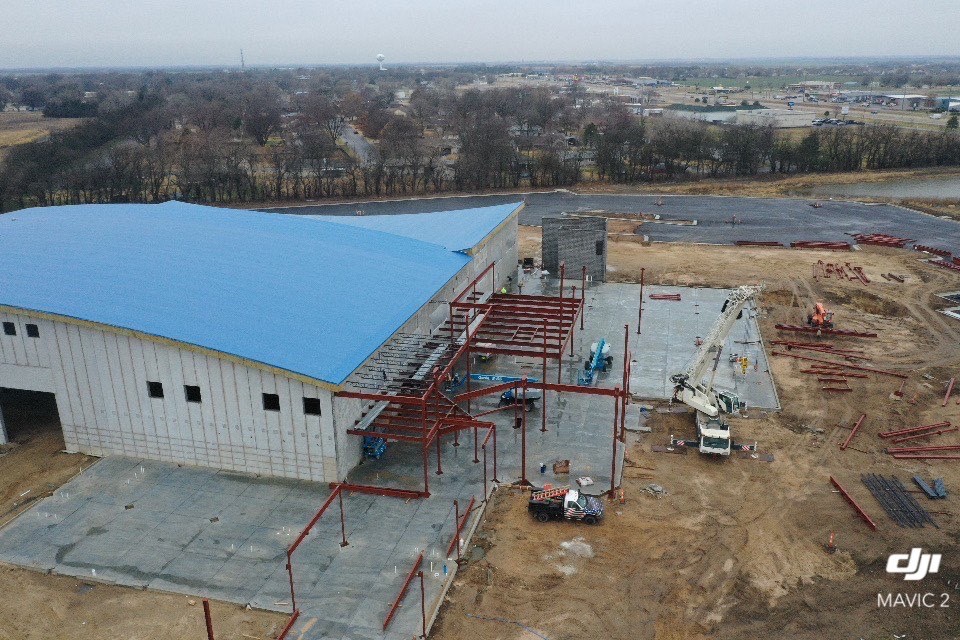 Update 9-29-2020
The pavement is down. We repeat: the pavement is fully DOWN! Just another step closer to construction completion. Who knew one could be so excited to see all that asphalt? Can't wait for the grand opening of Genesis Health Clubs Goddard? We are right there with you! Stay tuned for more updates coming soon!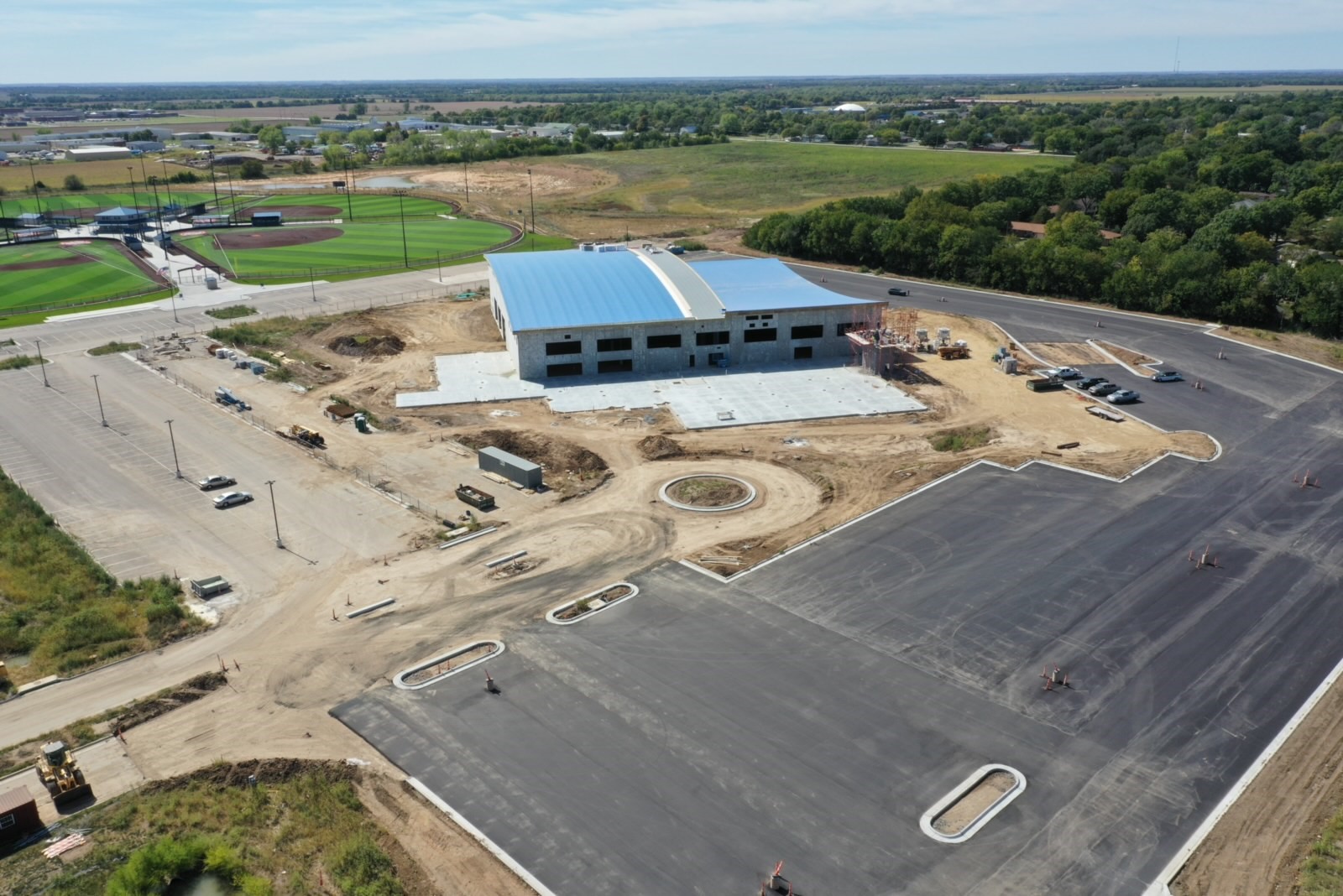 Update 9-22-2020
Yep! That roof and asphalt are looking pretty good, wouldn't you agree? Tons of parking spots will be available for our newcomers and new members! Lots of parking means no missed group exercise class time, trying to find a decent spot. The roof looks solid. Things sure are coming together here at Genesis Health Clubs Goddard. Ready for more? We are too!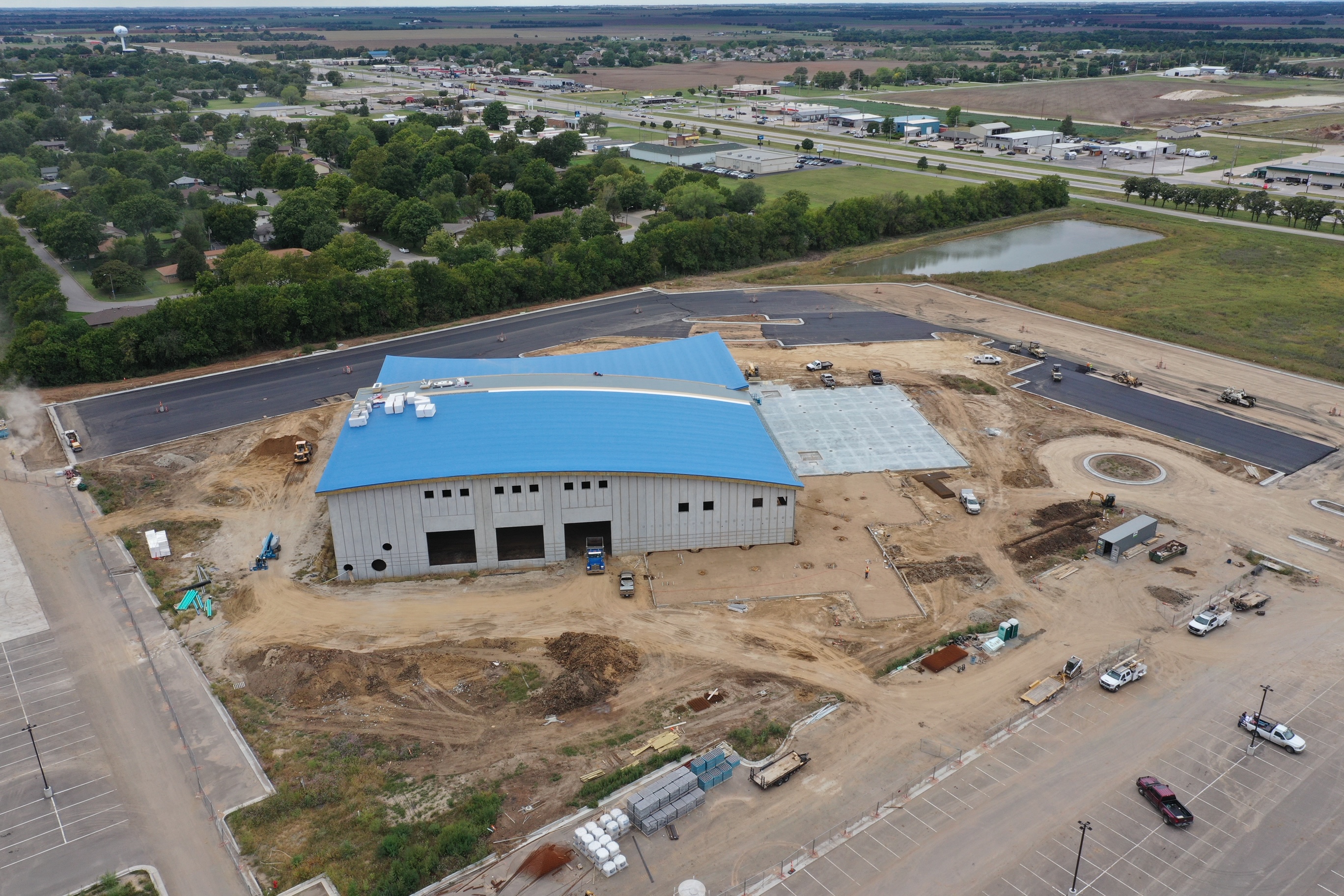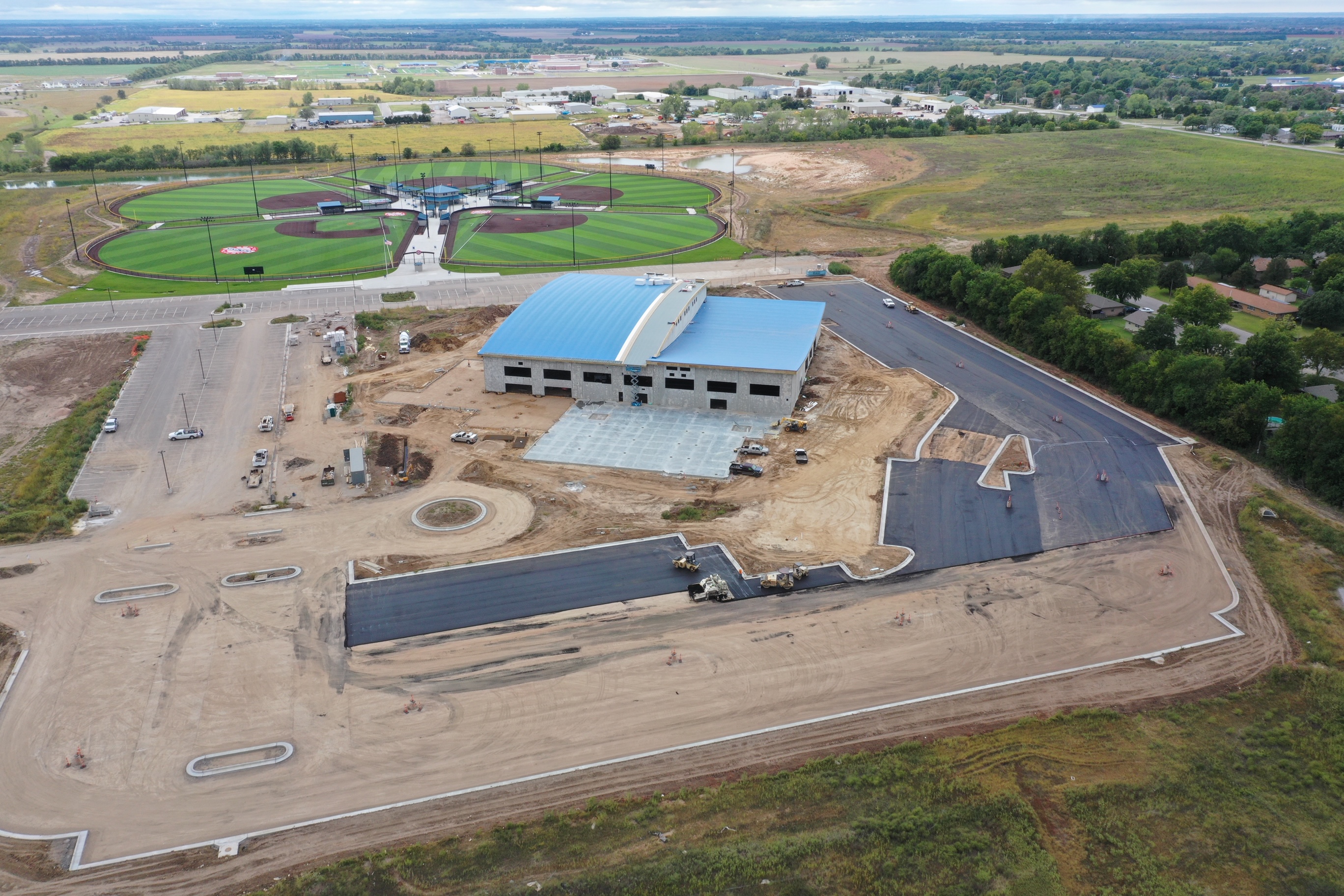 Update 9-14-2020
A blue roof is now on the aquatics part of our Genesis Health Clubs Goddard location! Ready for the best aquatics, the best gym experience in town? We are too! Stay tuned to this page as we bring more exciting updates on this brand new club!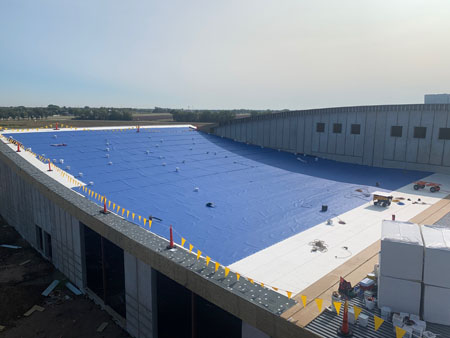 Update 9-8-2020
New things are POURING in Goddard! The first health club pad is being poured and roof materials are being installed. In addition, the curb for the parking lot is in for the hotel and club. Tick...tock...more exciting things to come! Check back soon!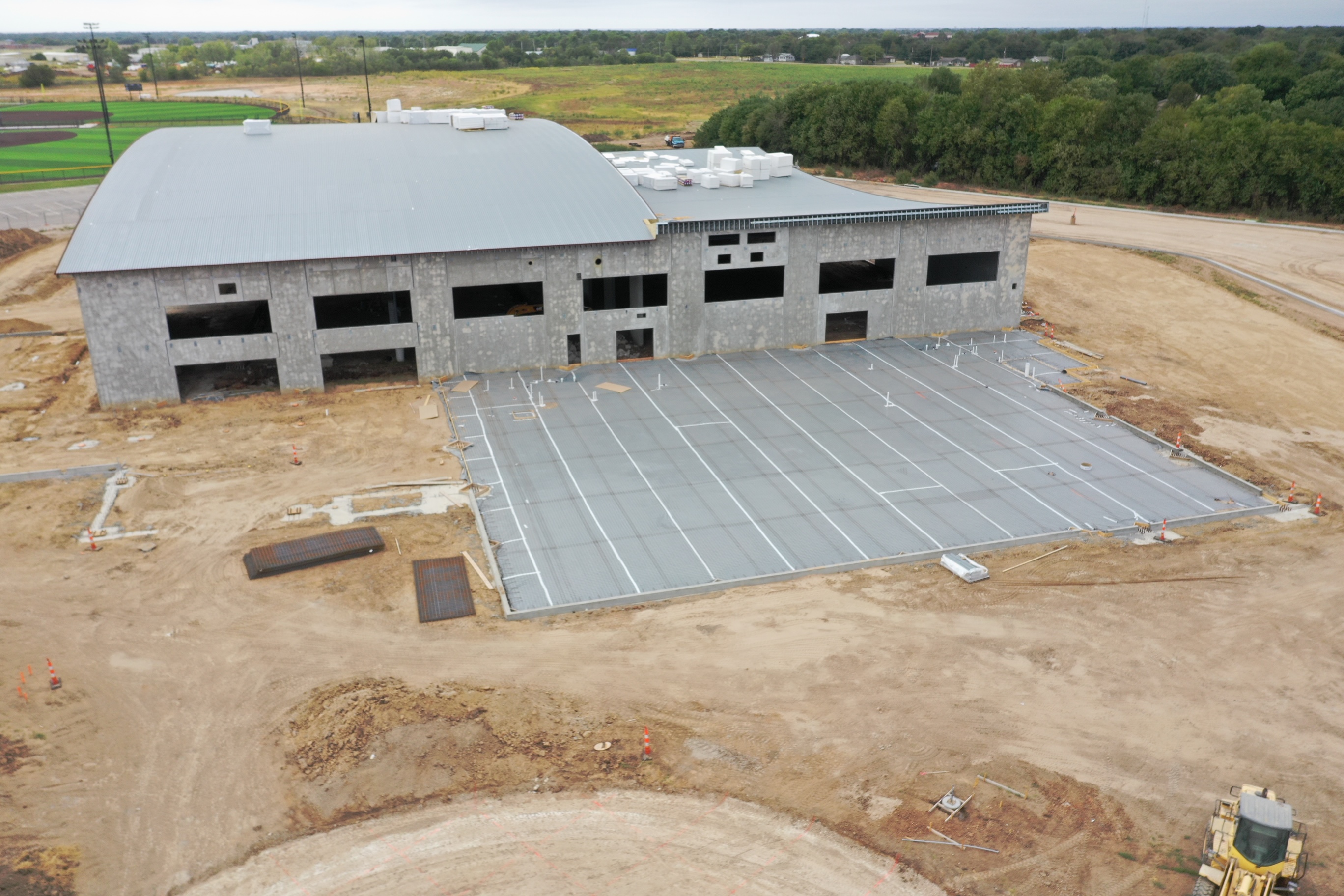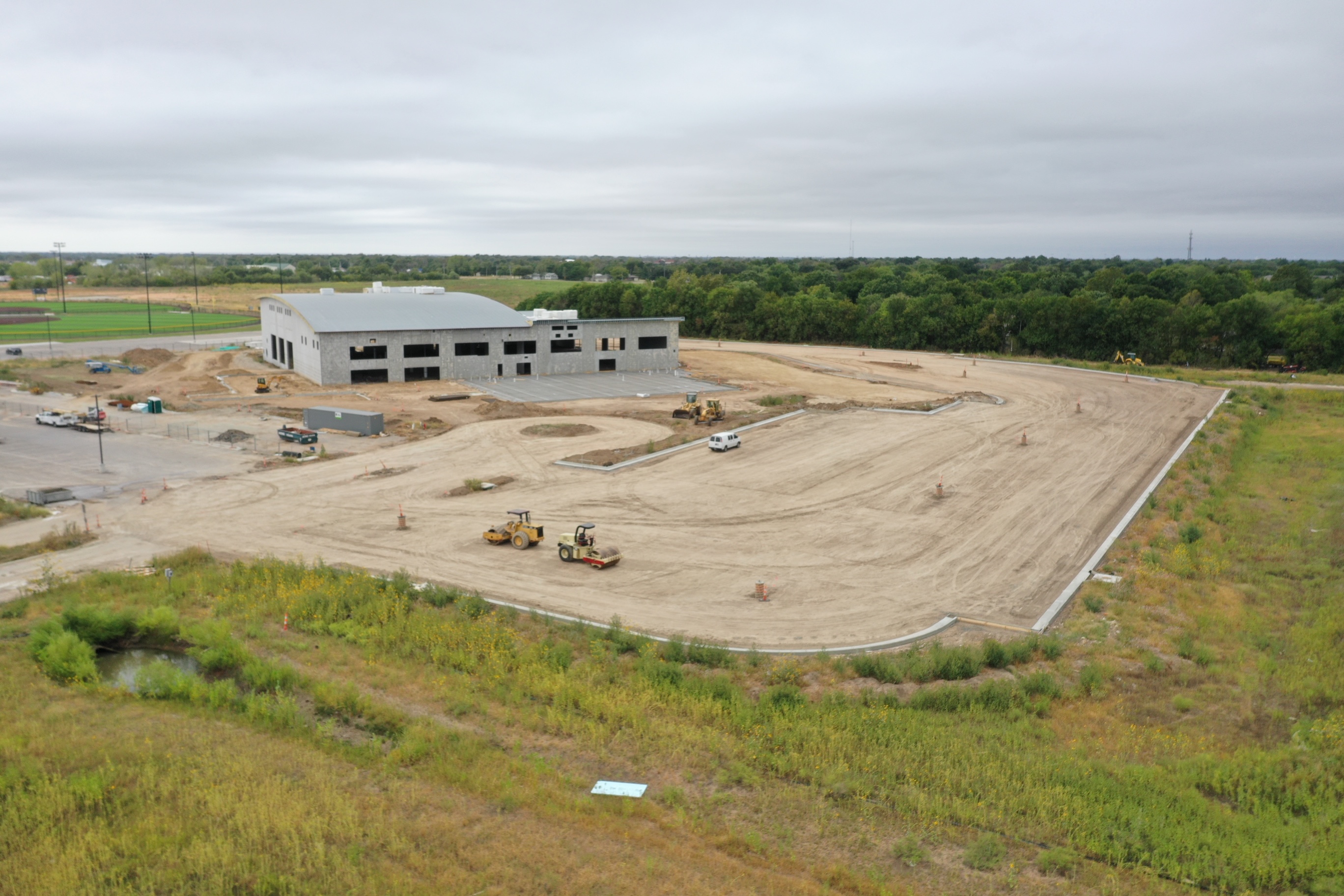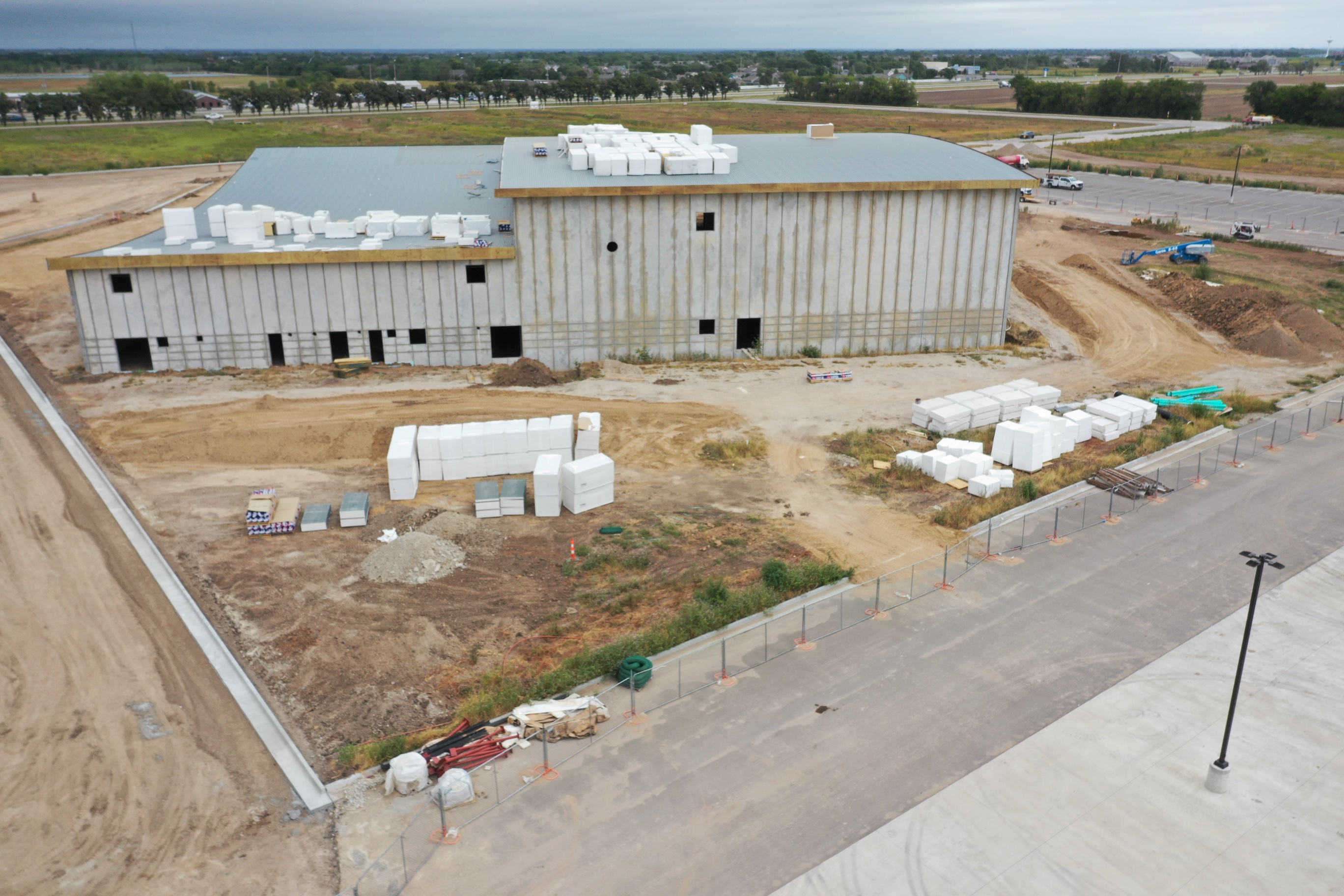 Update 8-25-2020
The roof is fully on! Plus, the footings are in and the shape of the health club is fully visible. Look for steel in the air soon! We are so excited and amazed by how quickly these things come together. Ready for some fun? Check back soon, as we bring you more updates.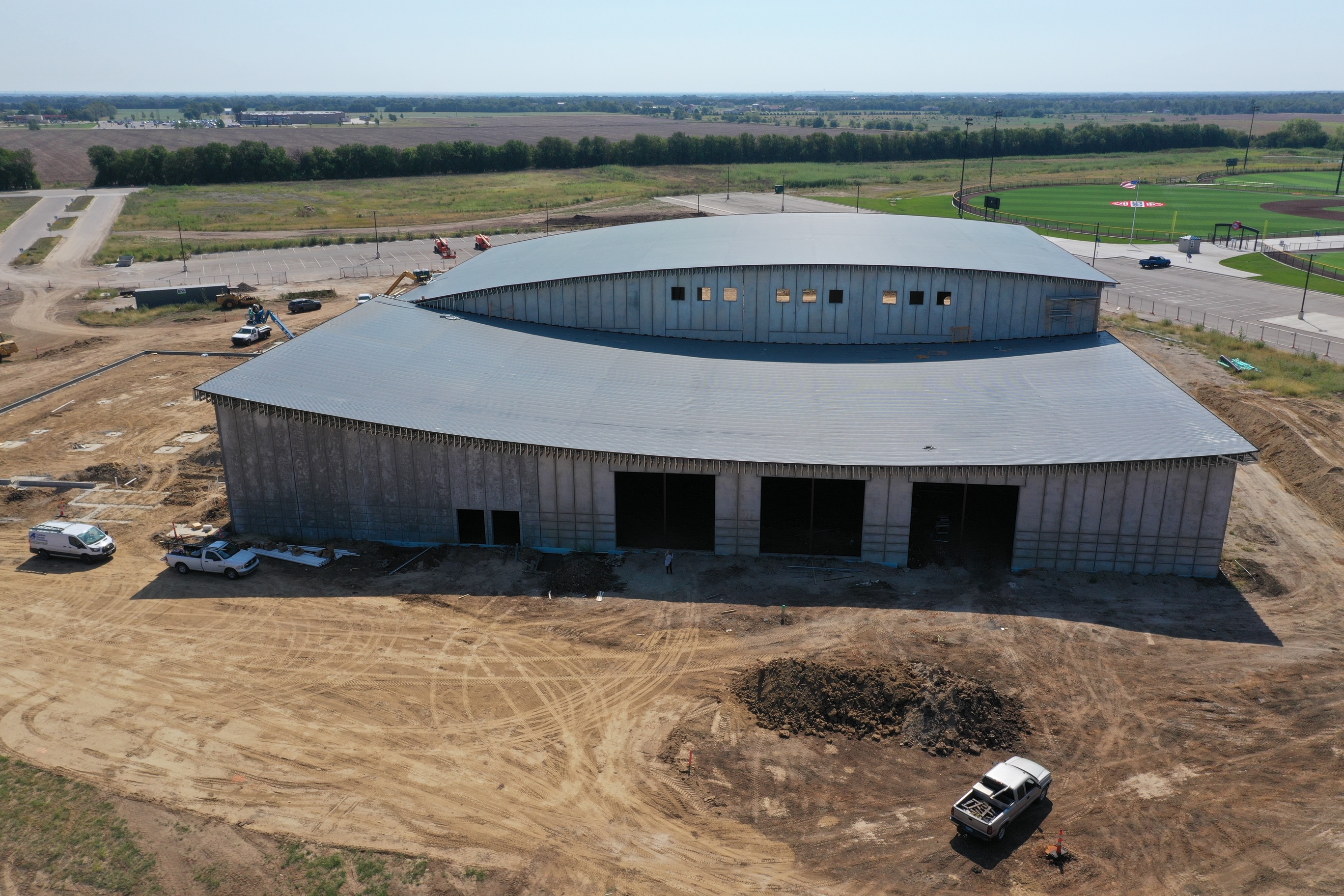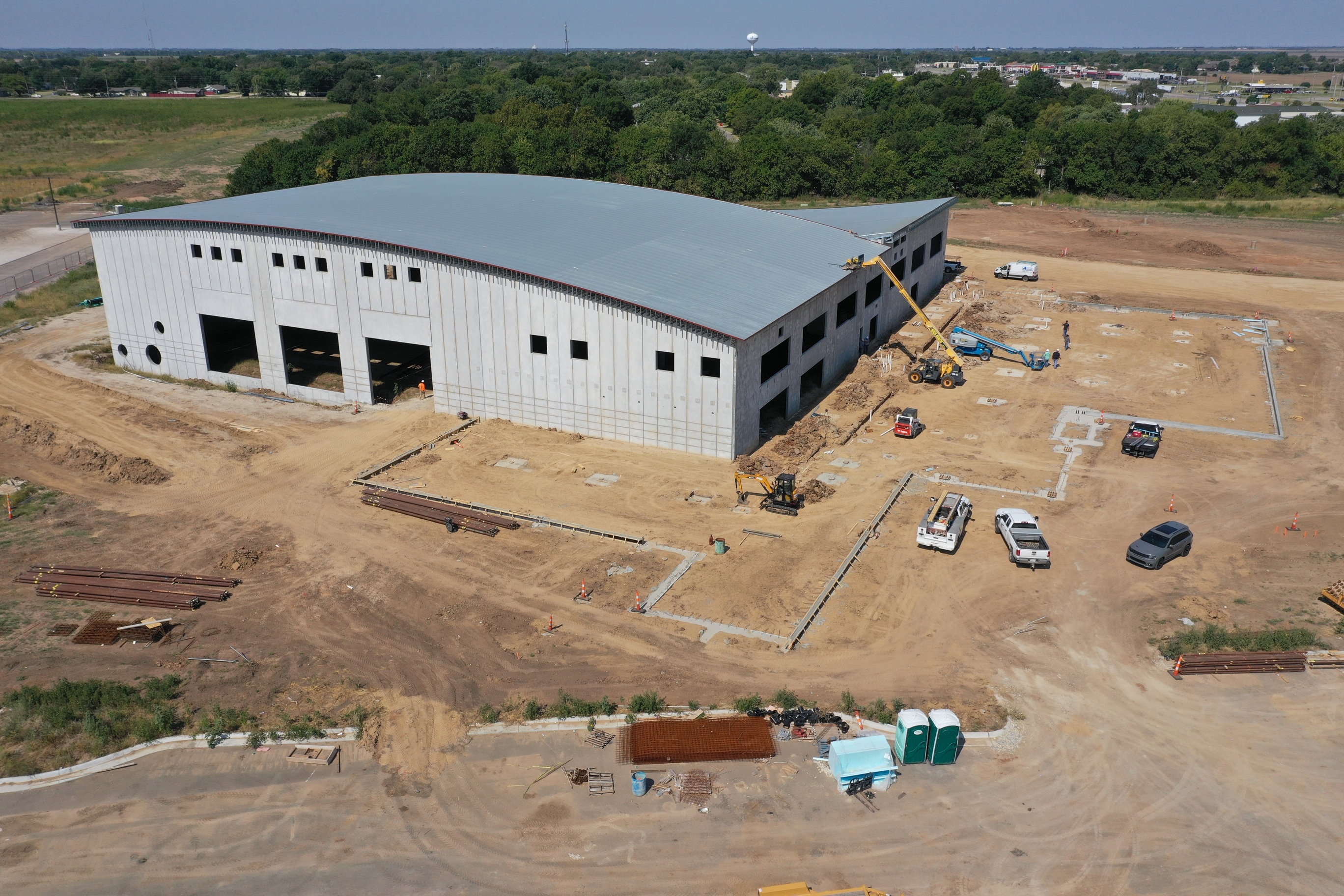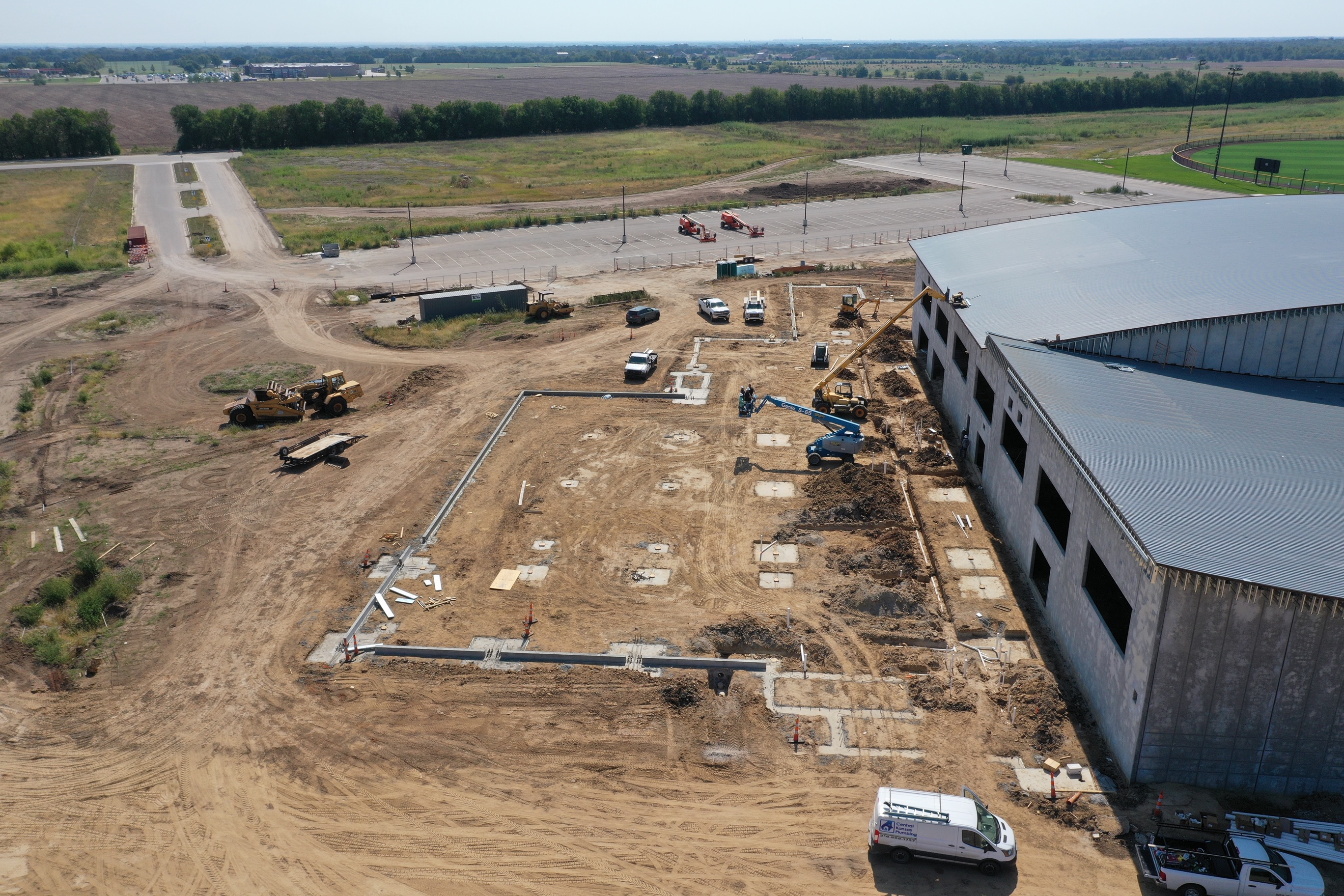 Update 8-14-2020
The roof continues to go on and the footings have been poured for the health club in front. Soon steel will be in the air and the new Genesis location will begin to take shape!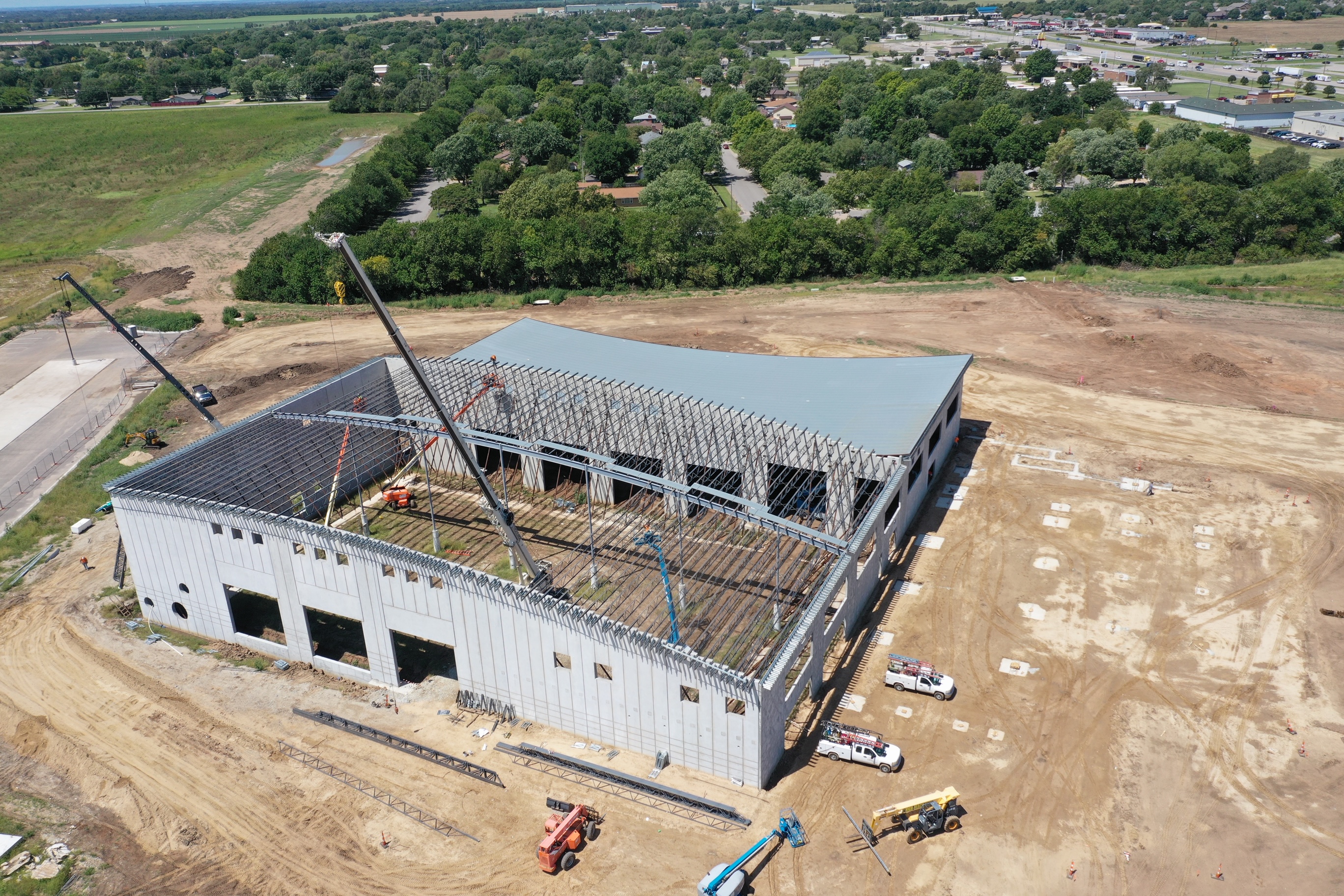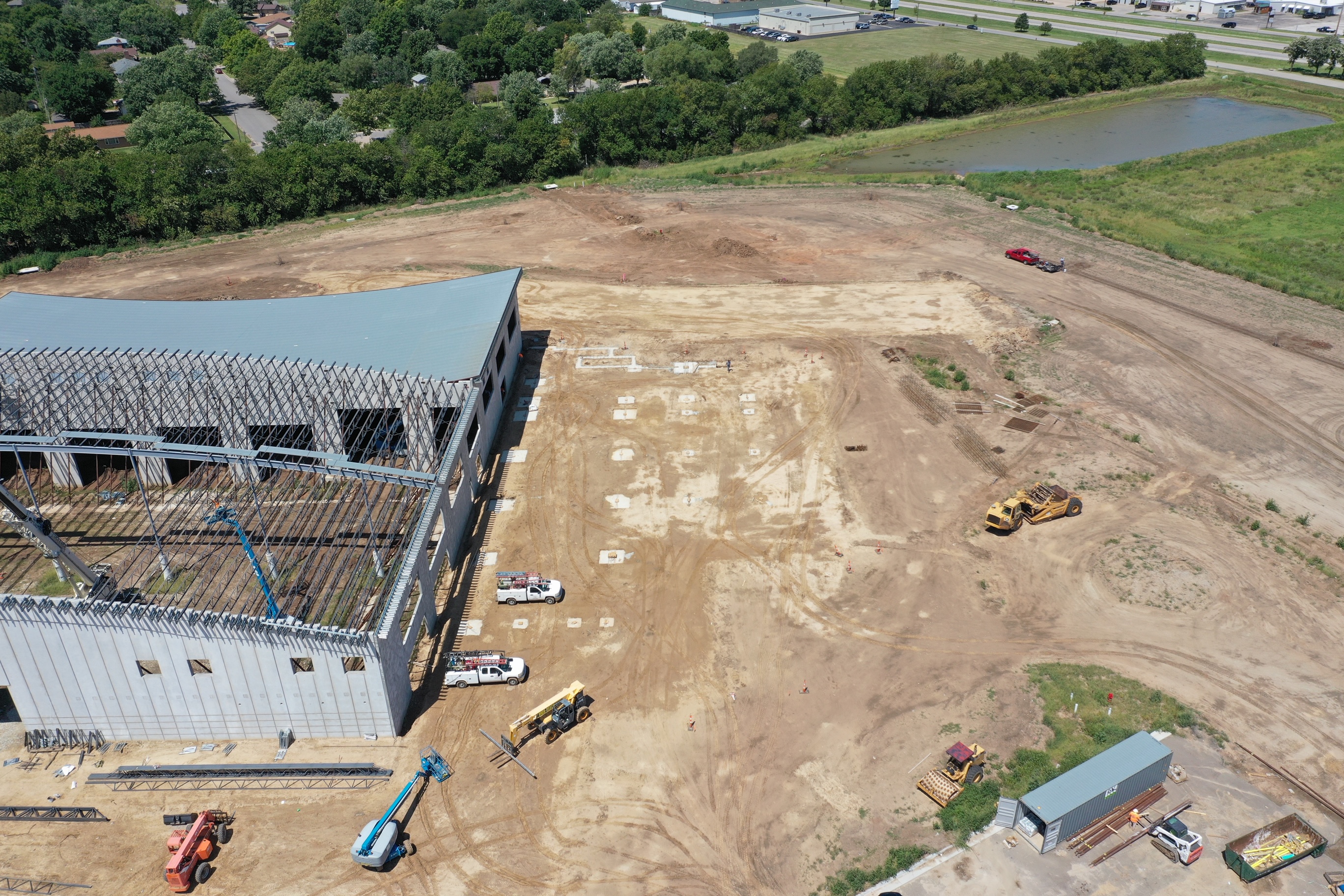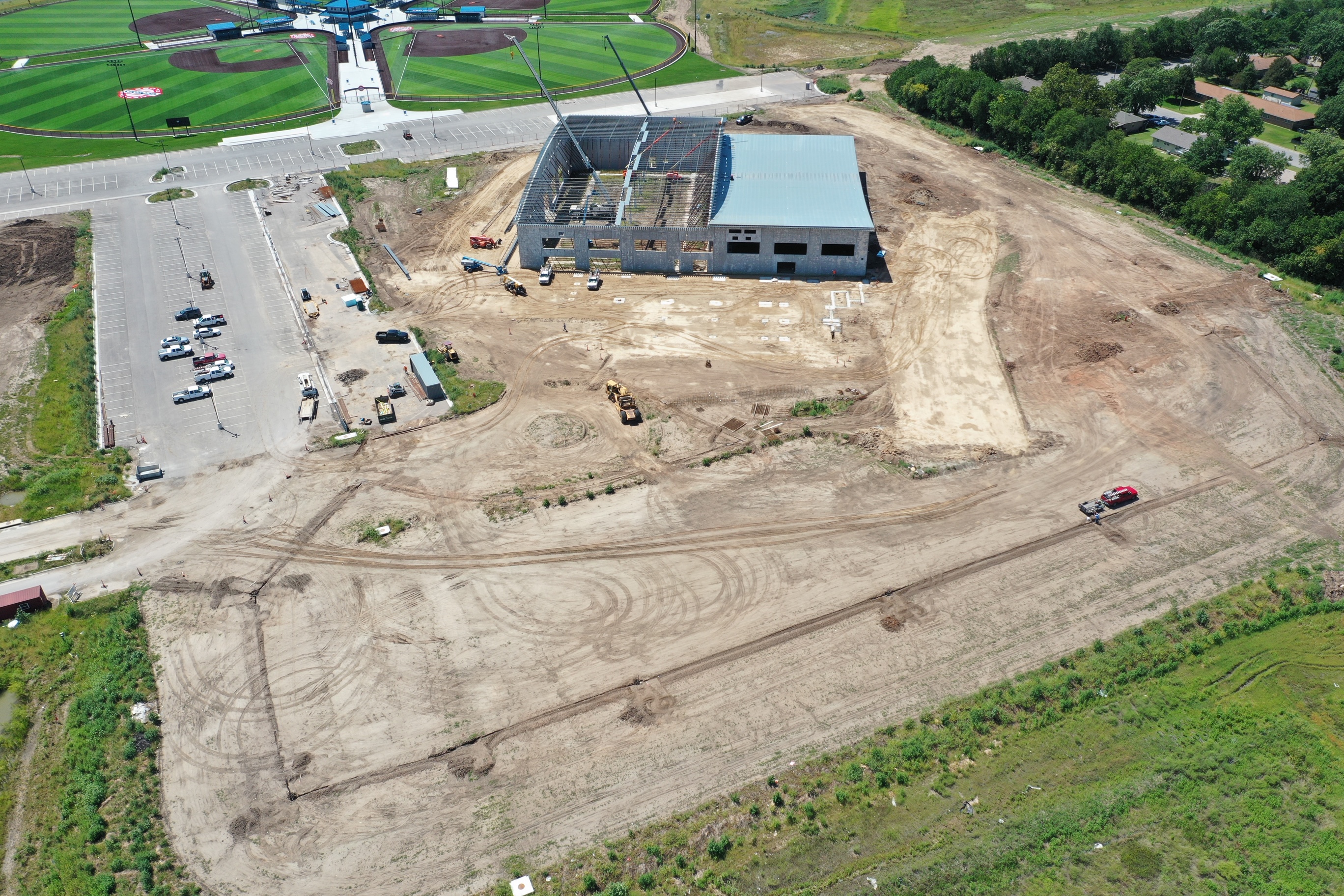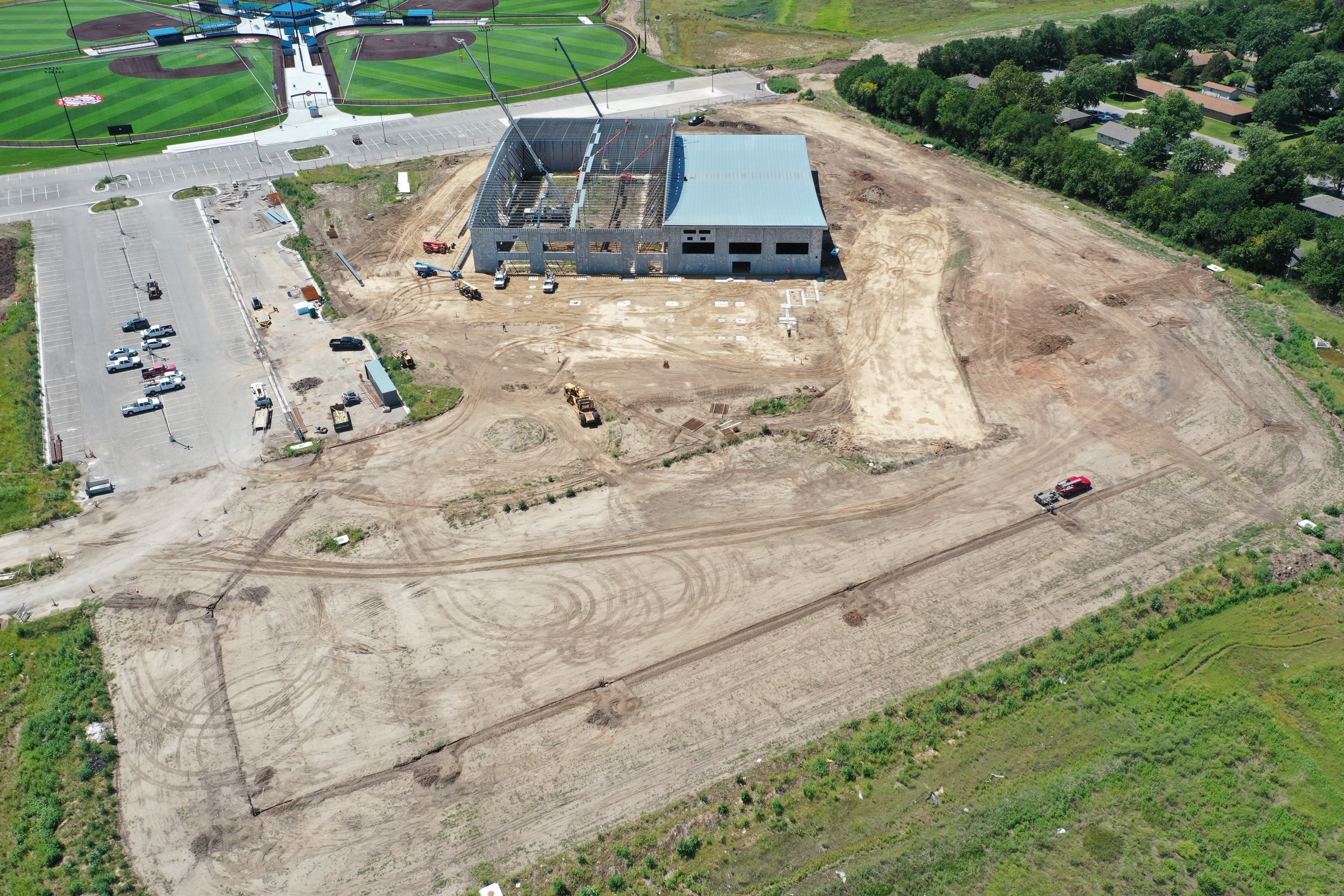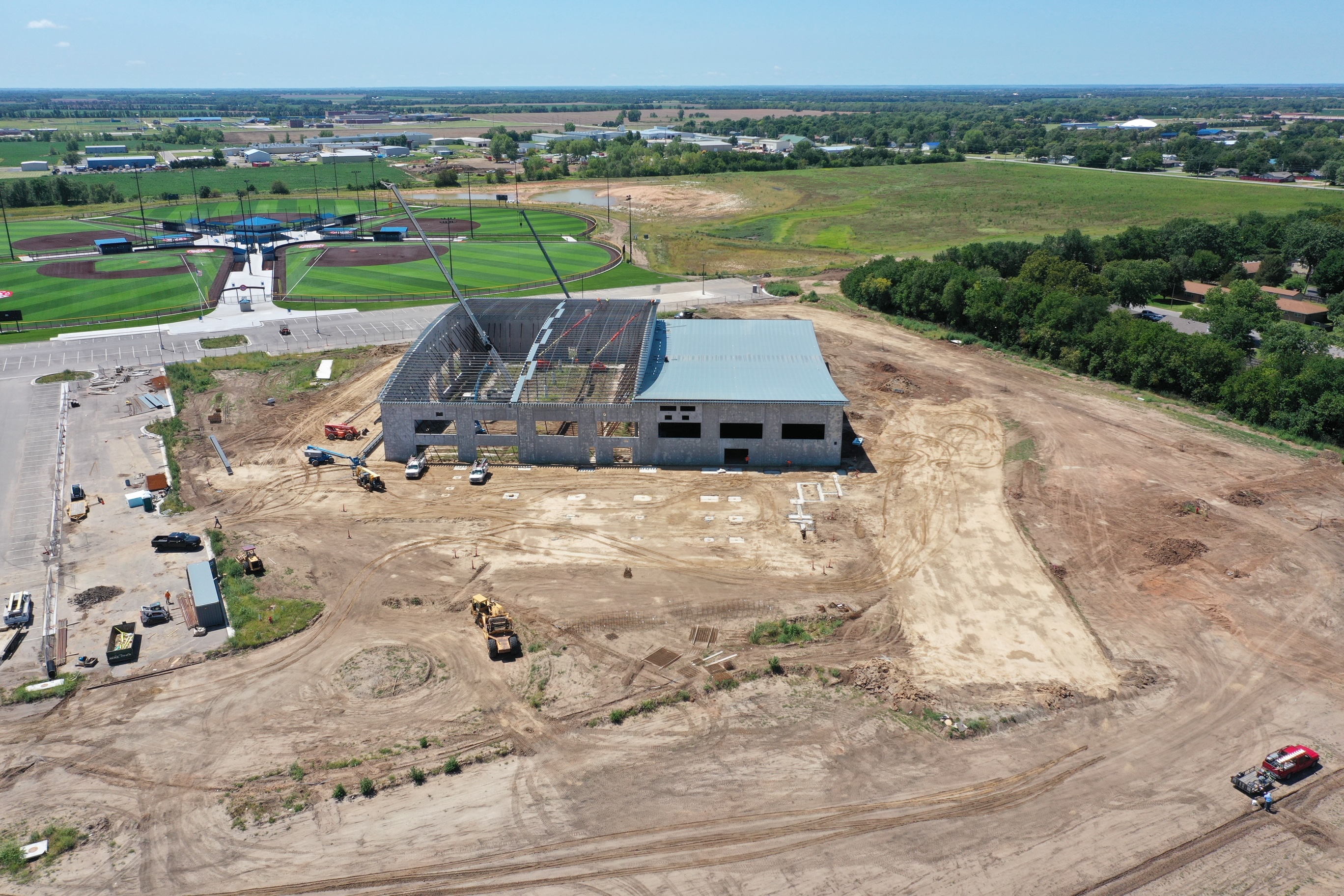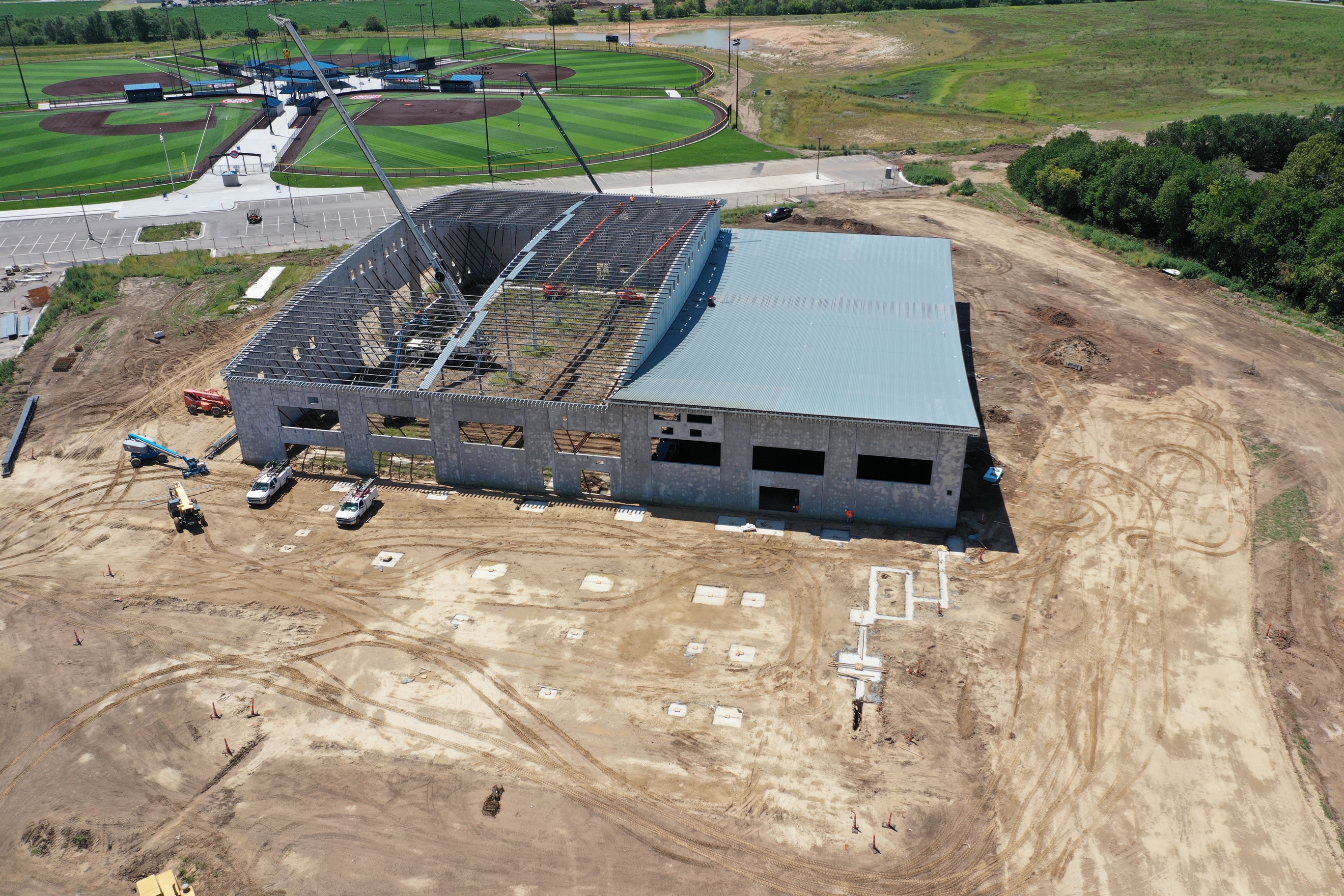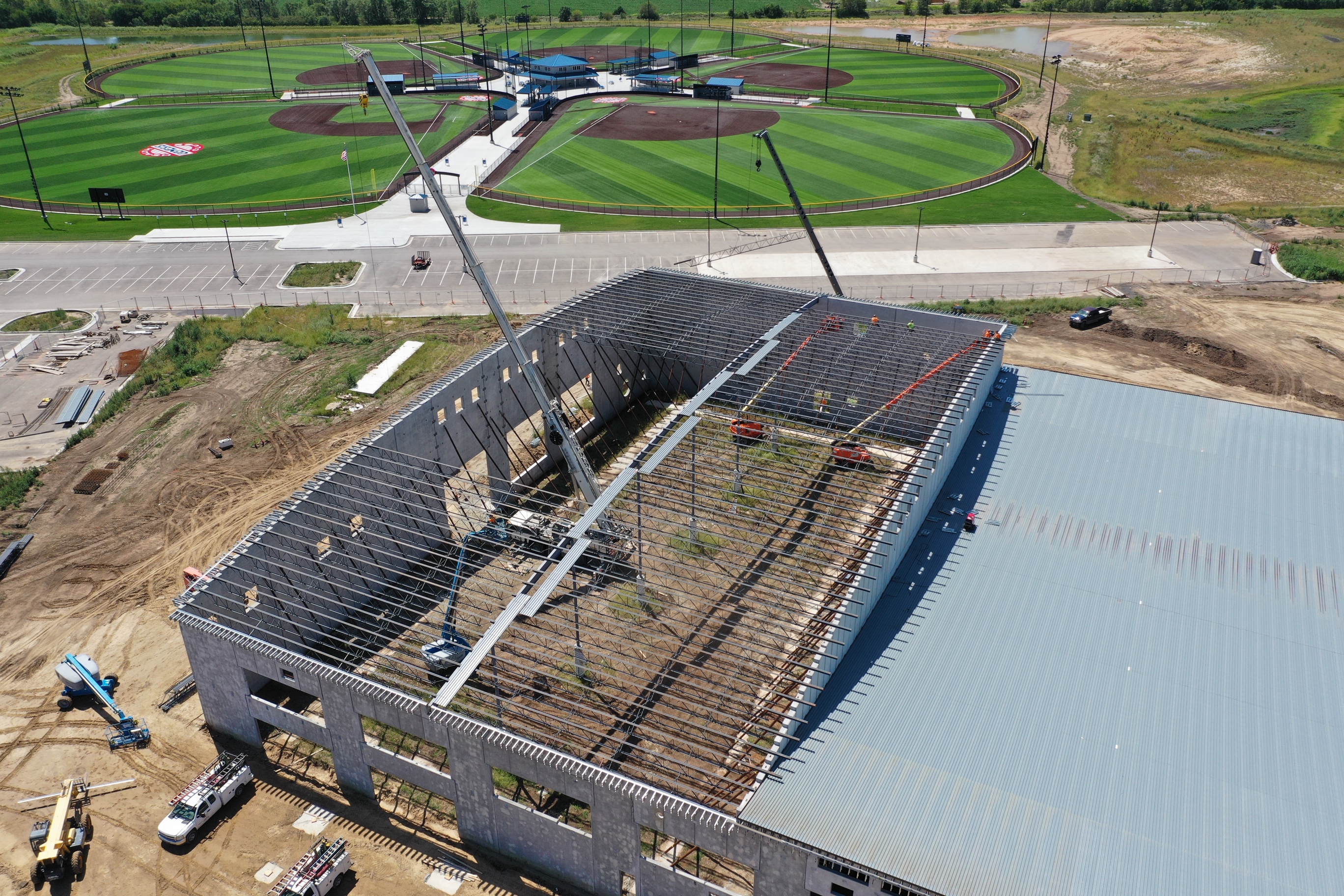 Update 5-6-2020
The walls are completely up and ceiling joists are going in! Soon we'll begin to dig seven different pools for the waterpark and natatorium. Get ready for some serious fun!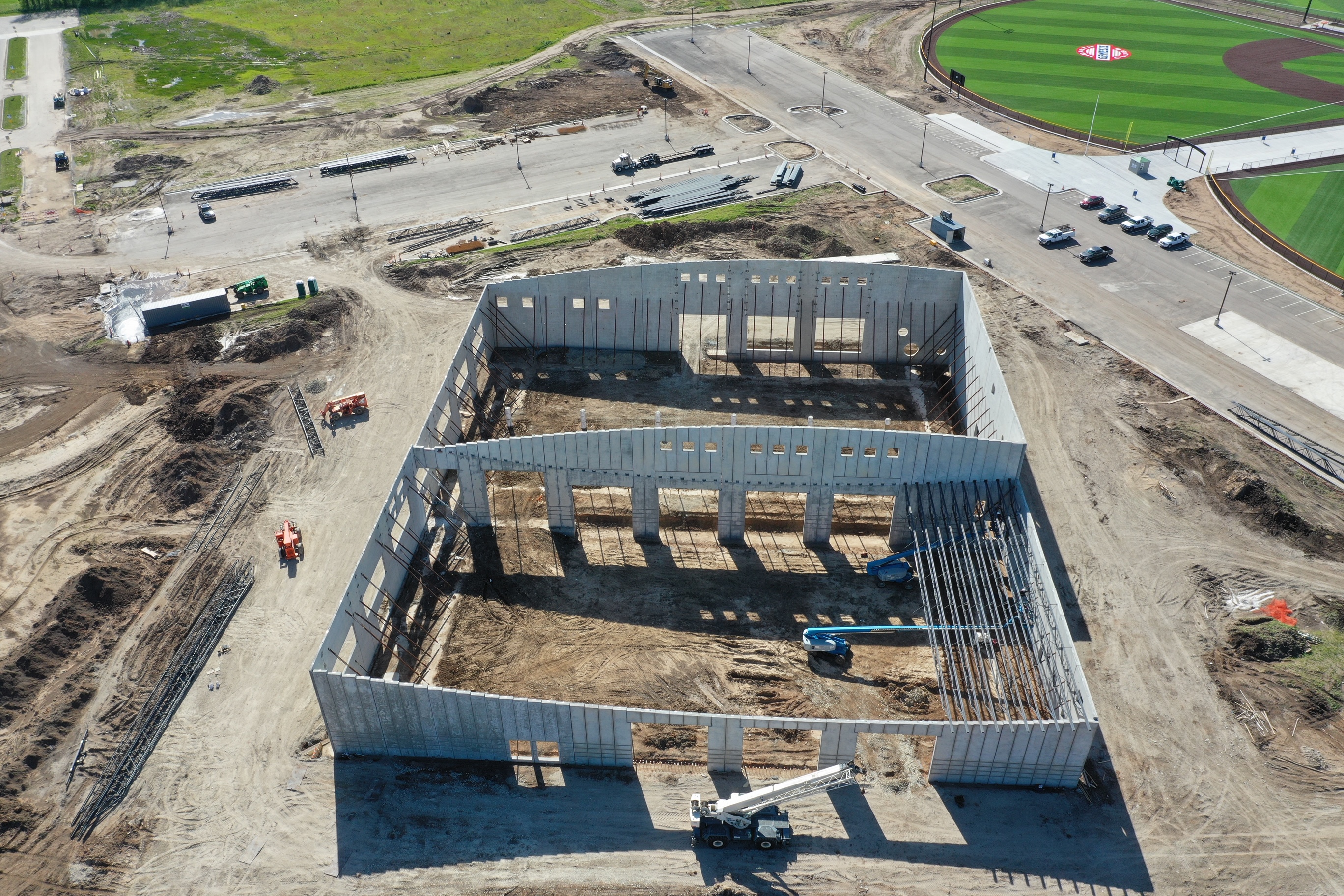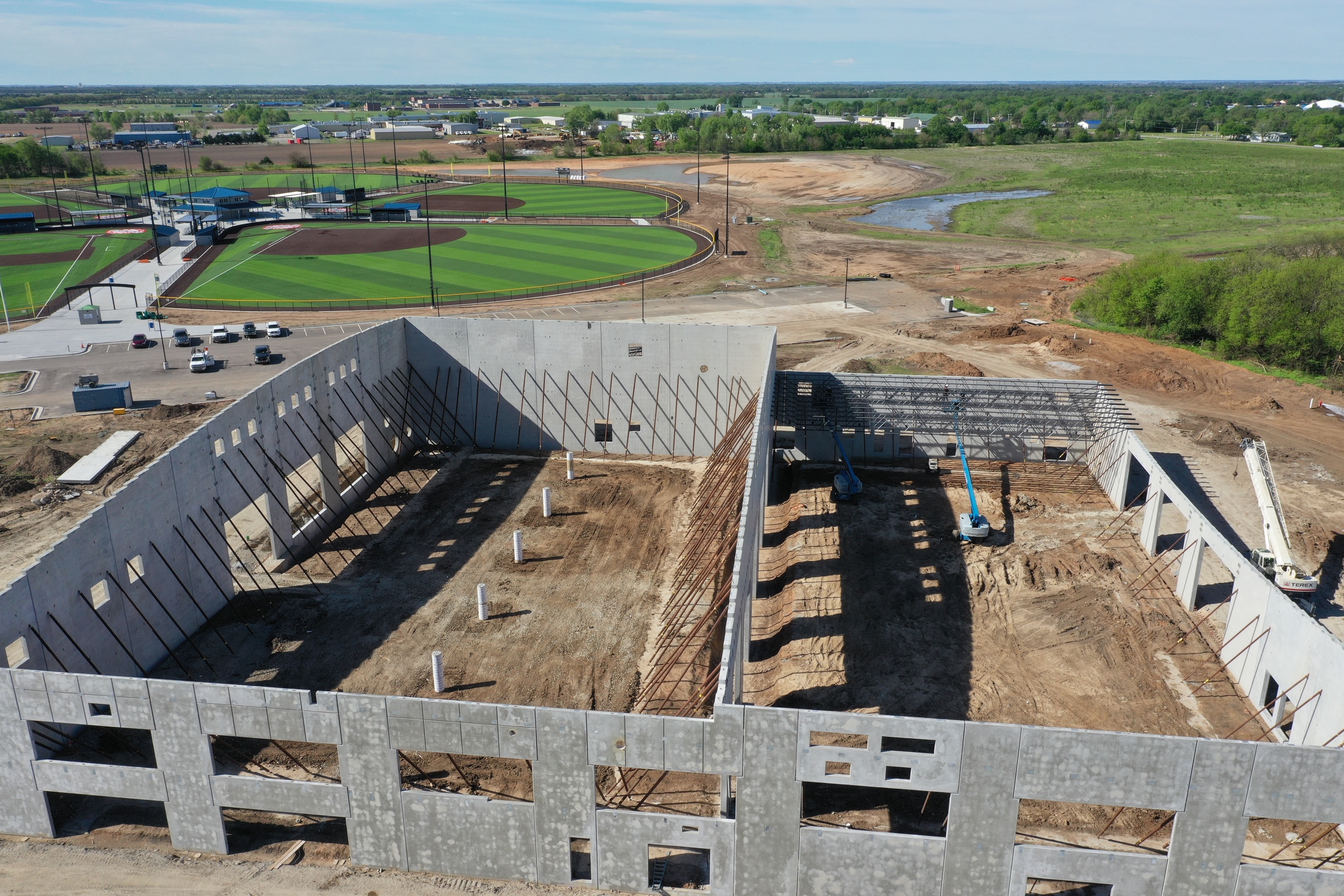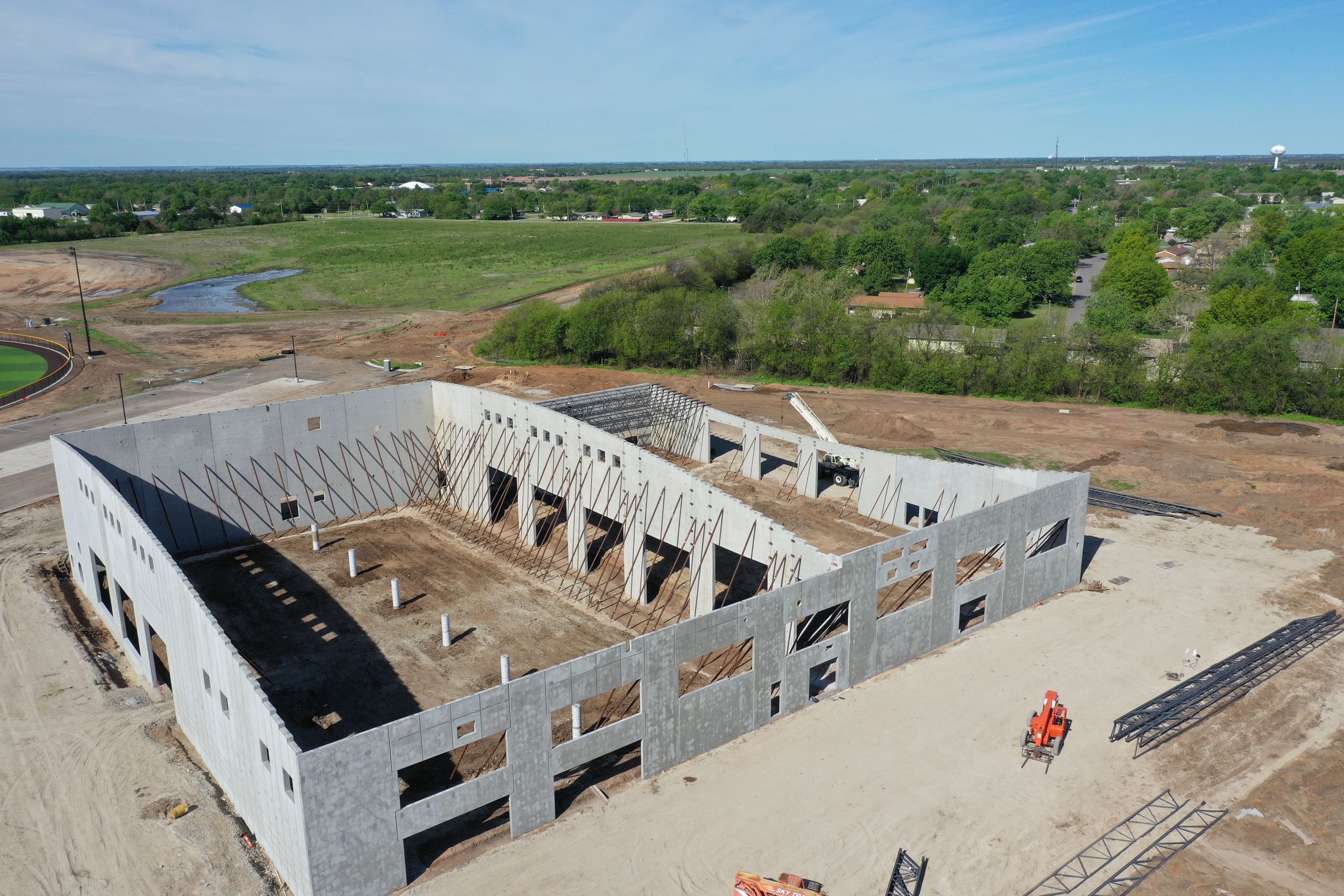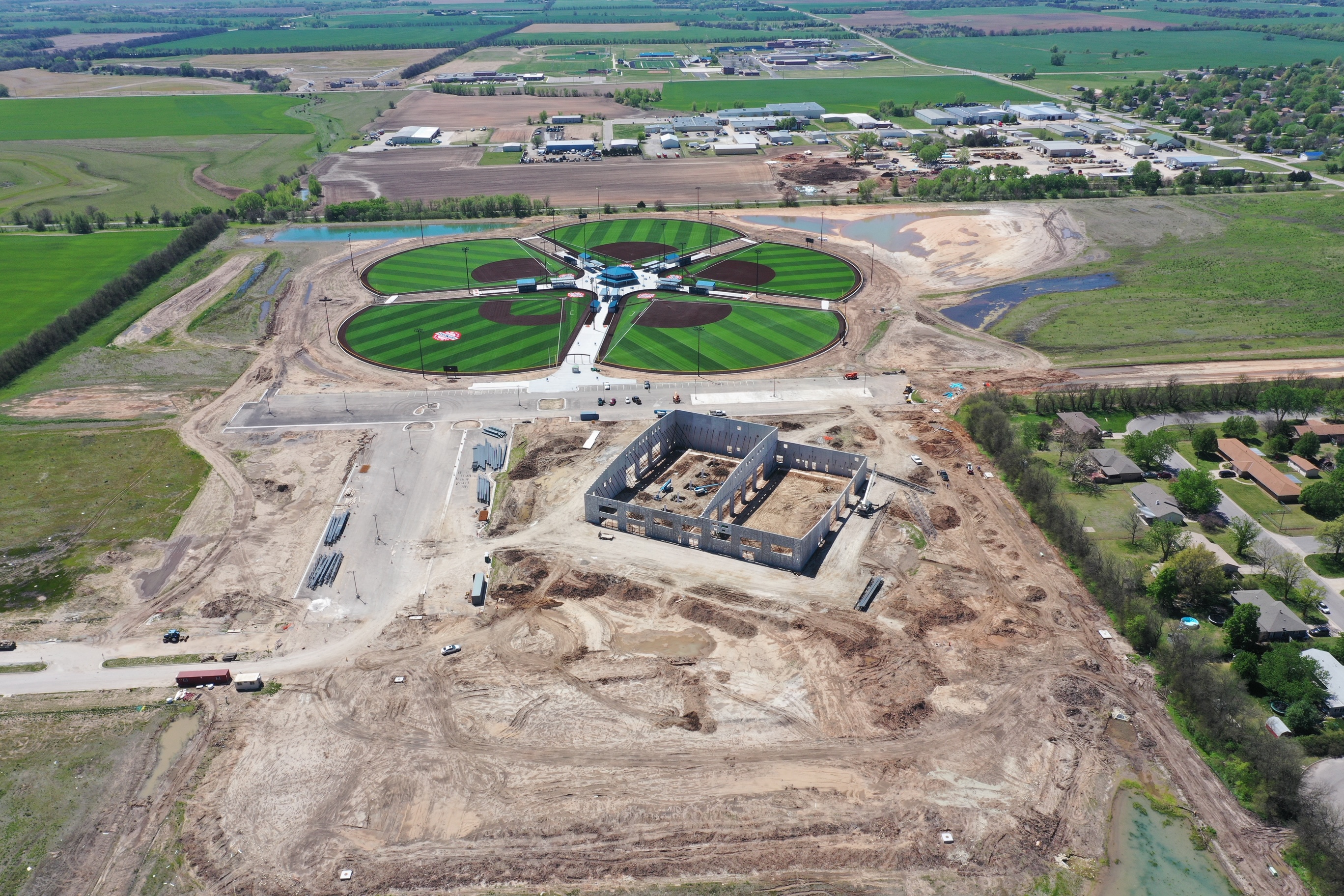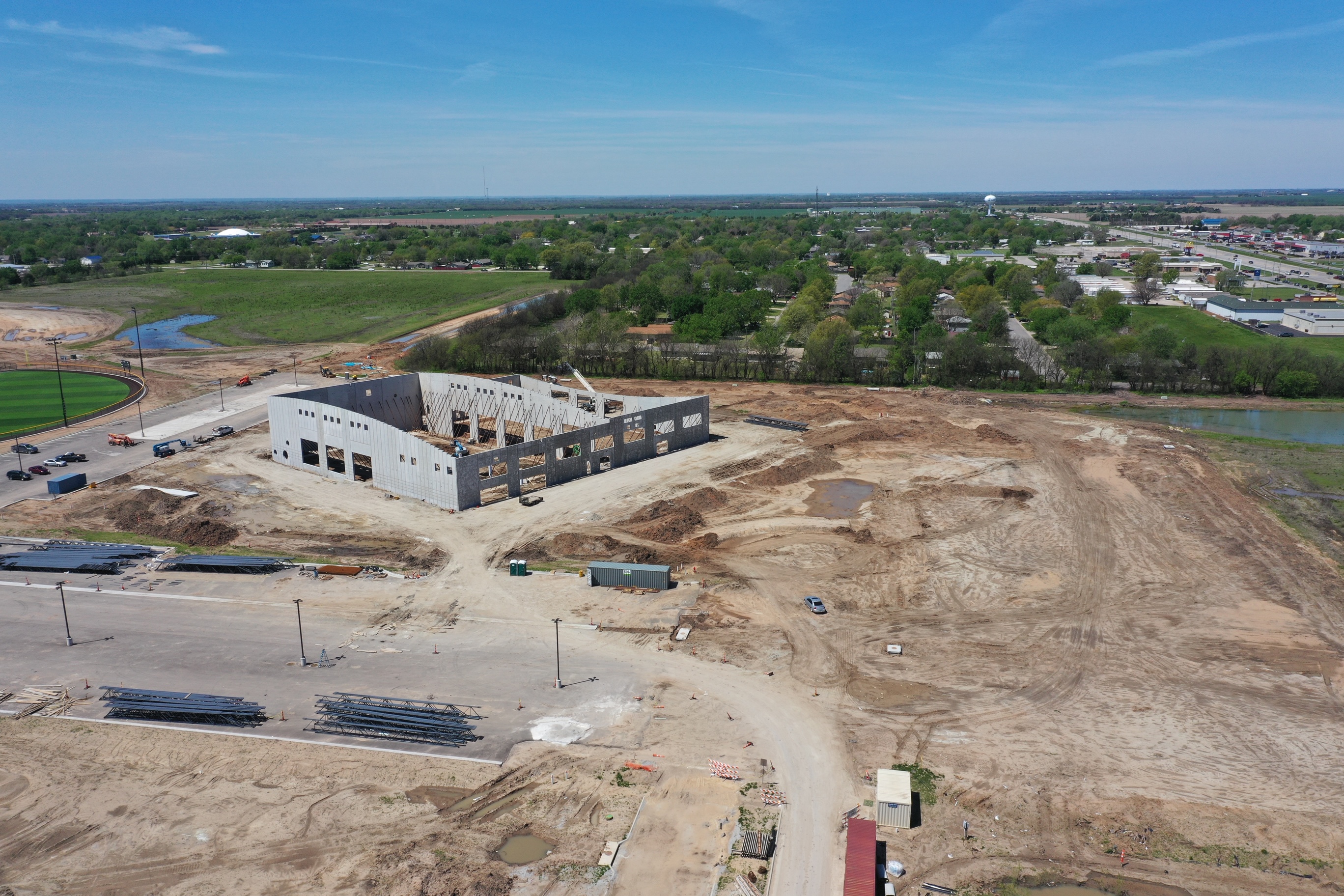 Update 3-26-2020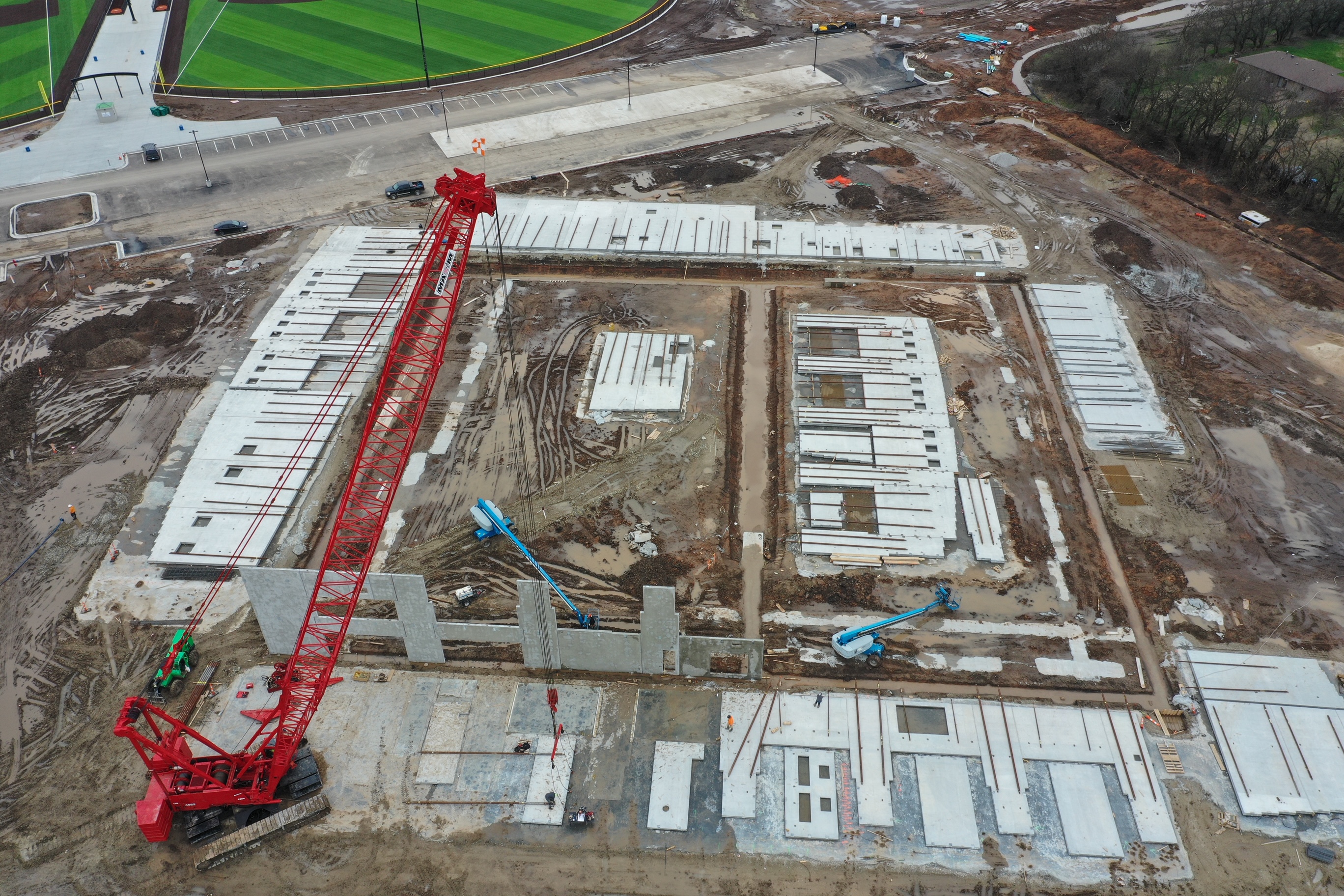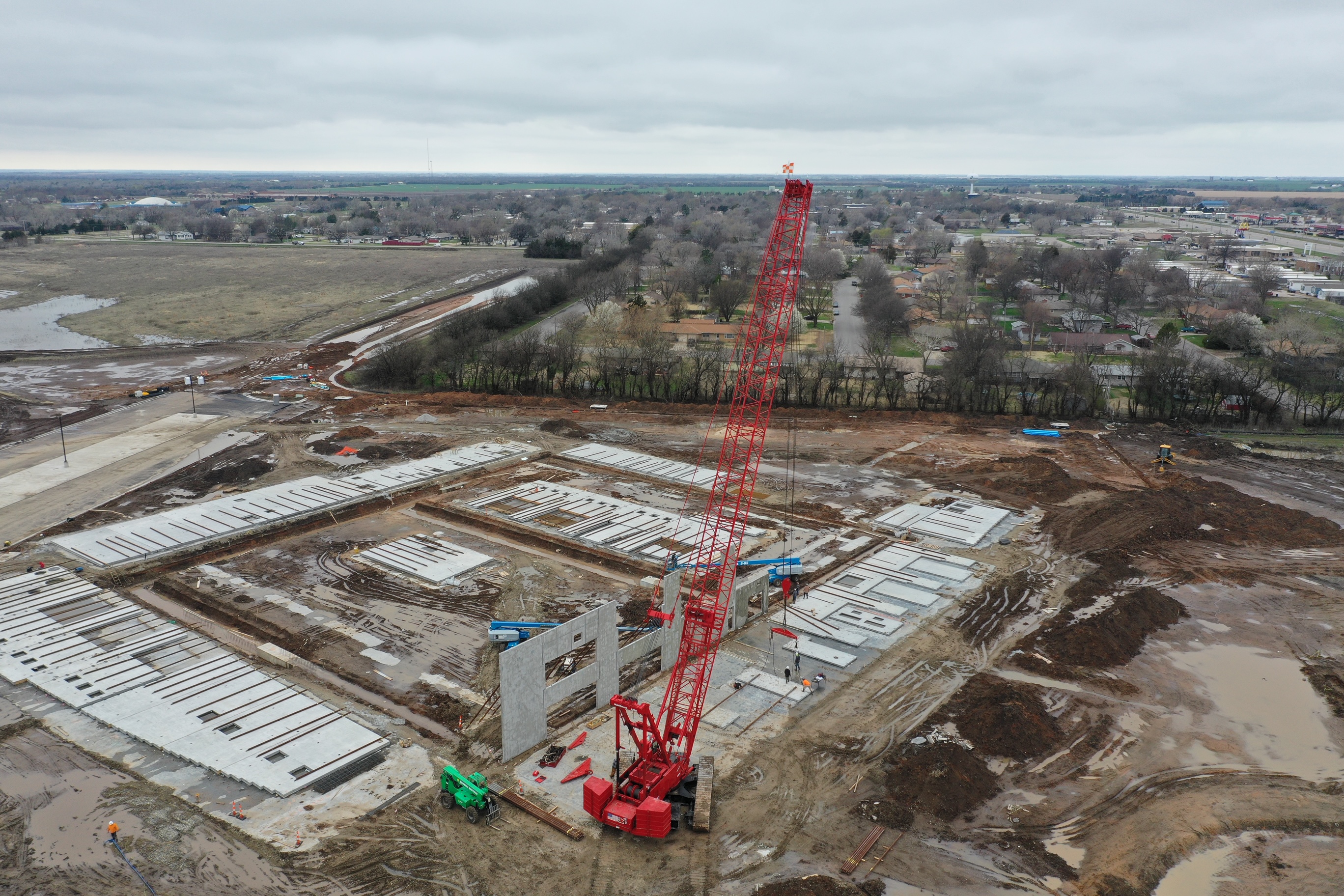 Update 1/29/2020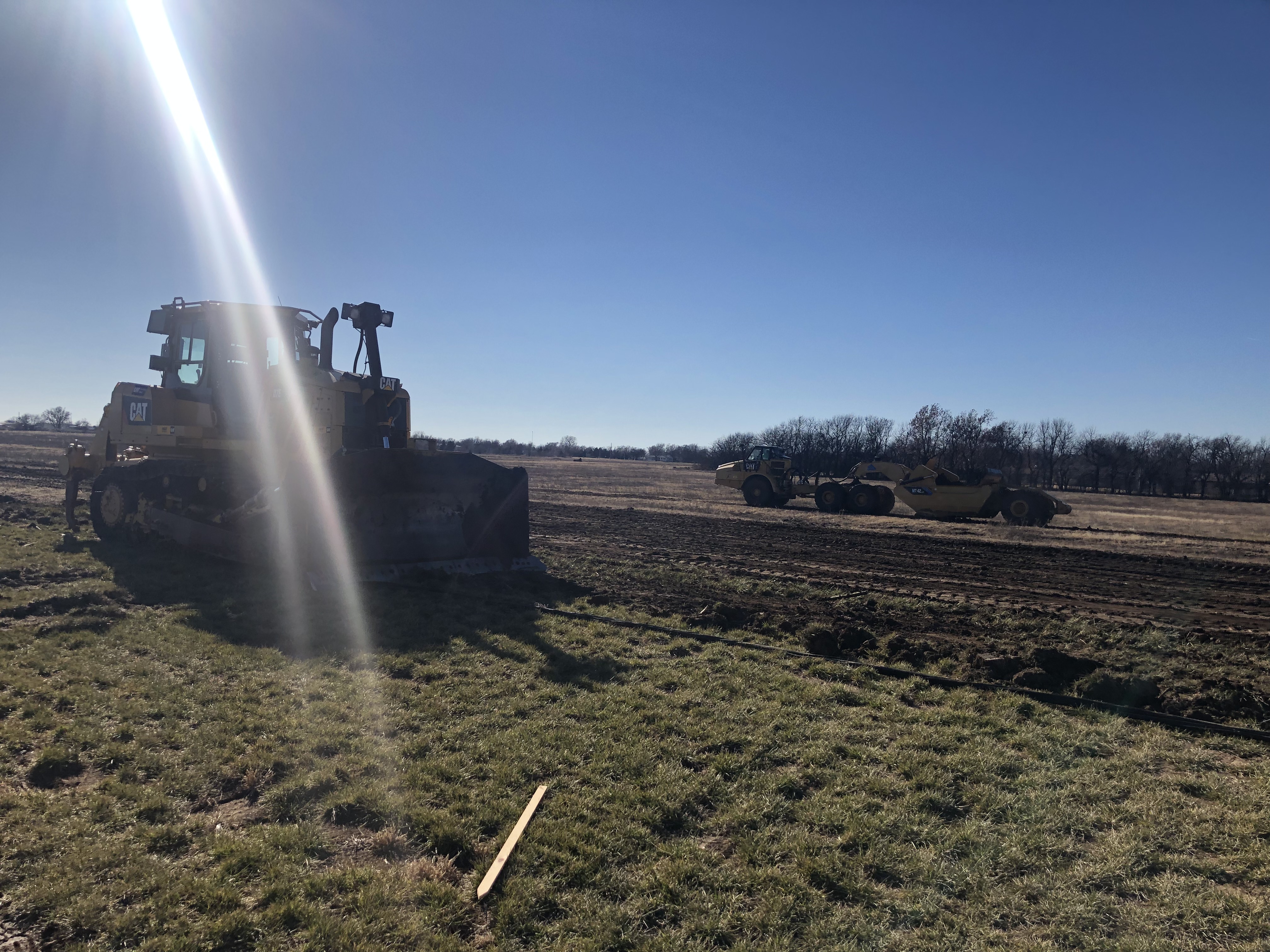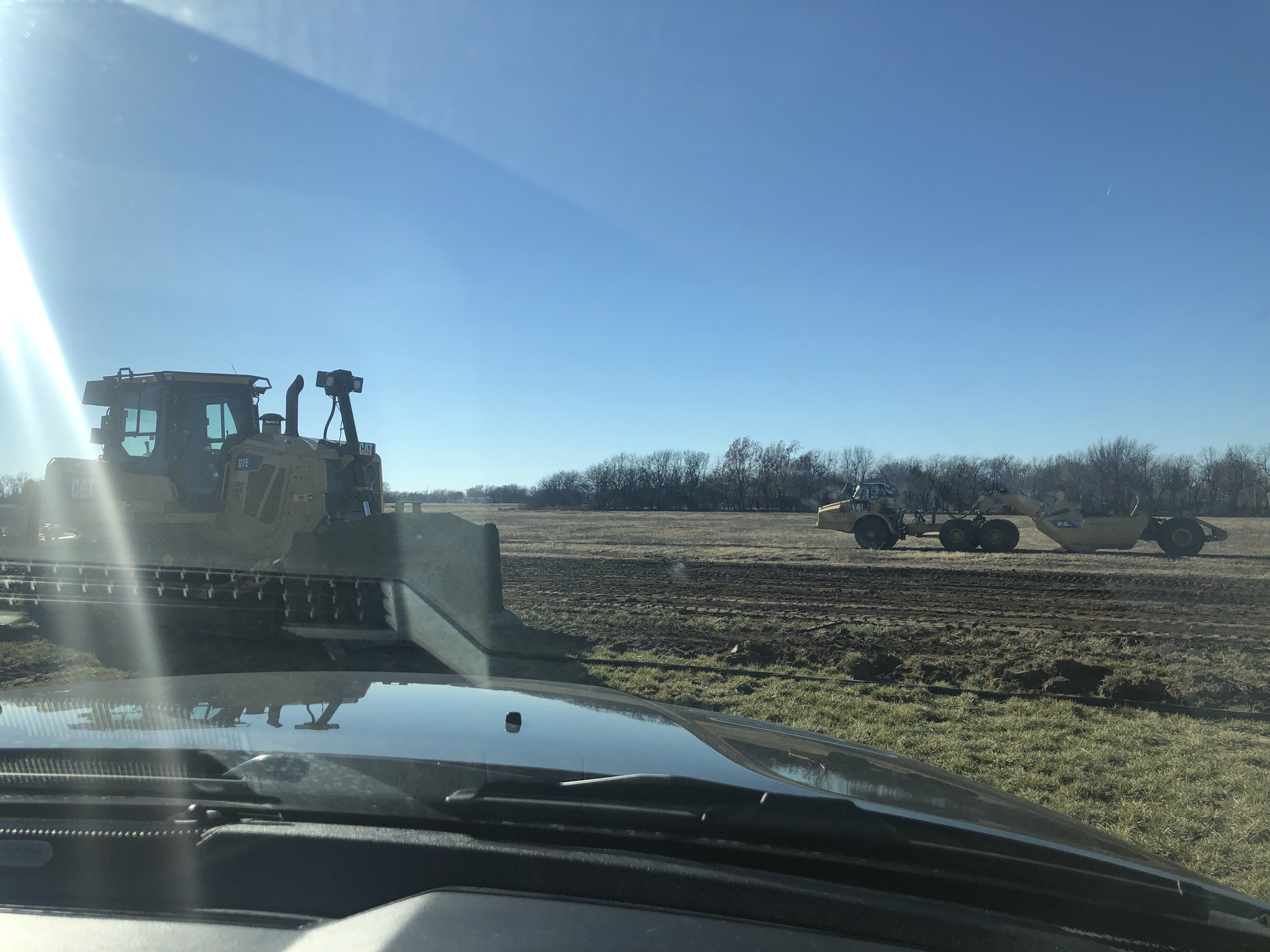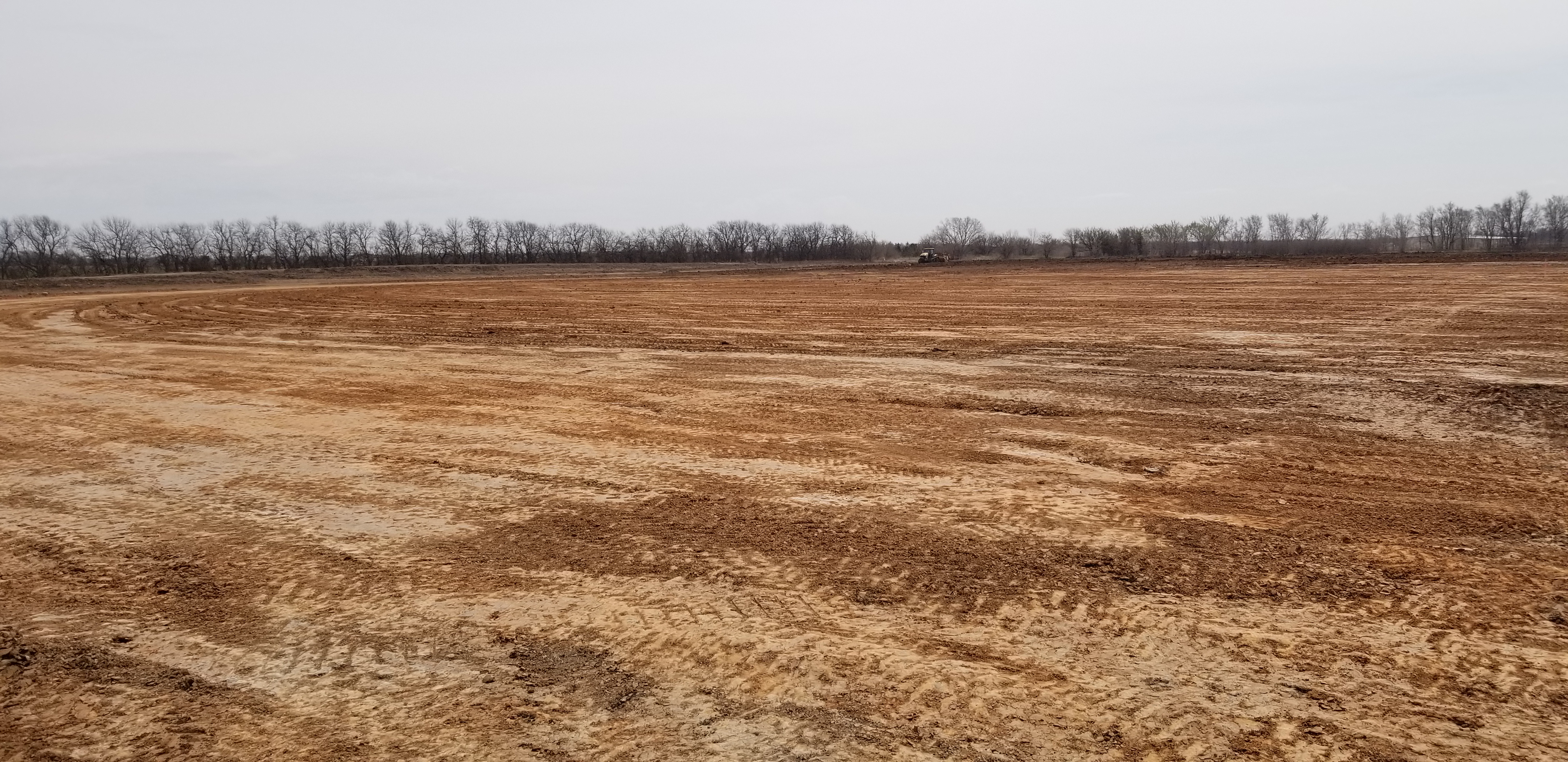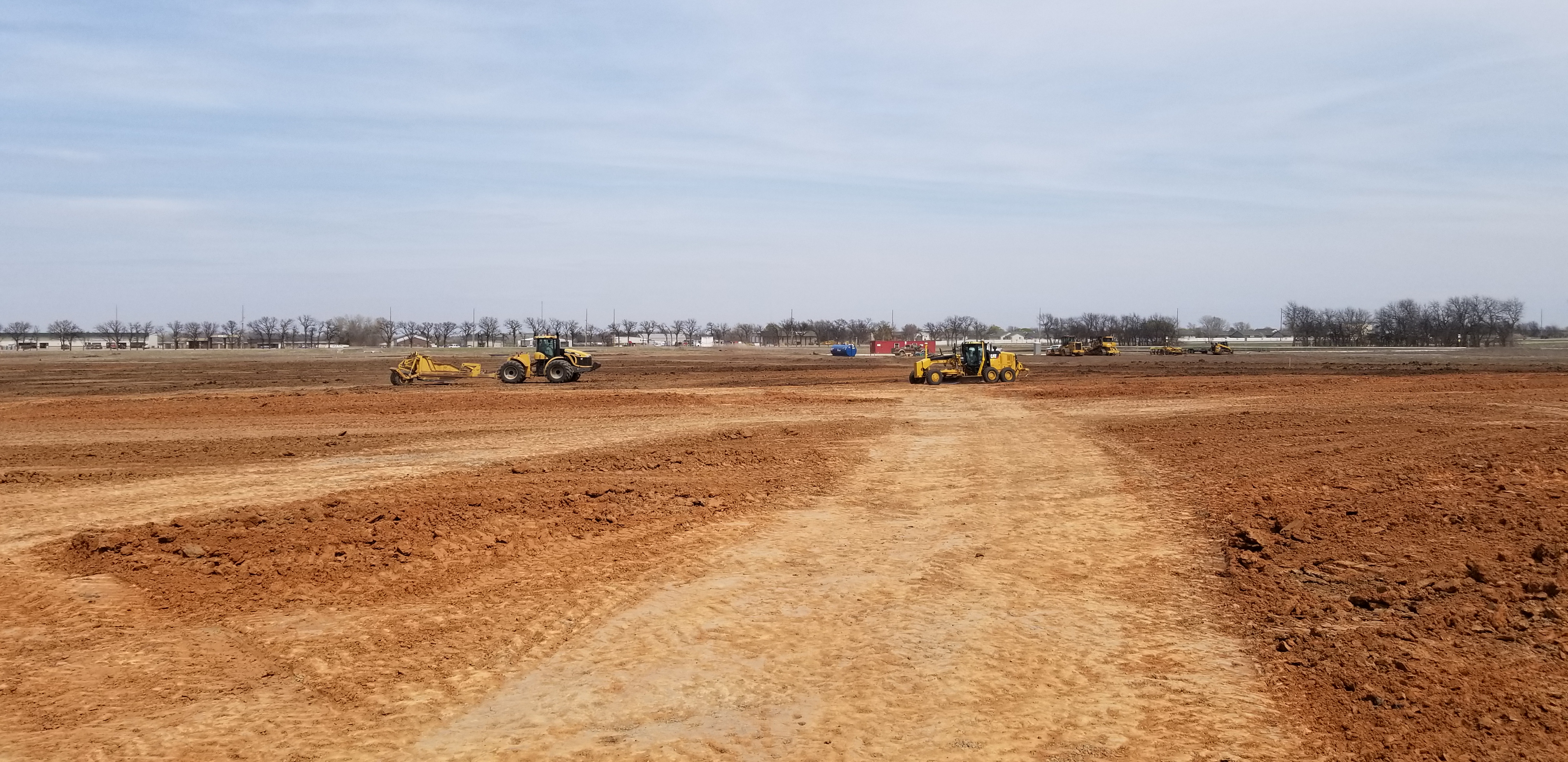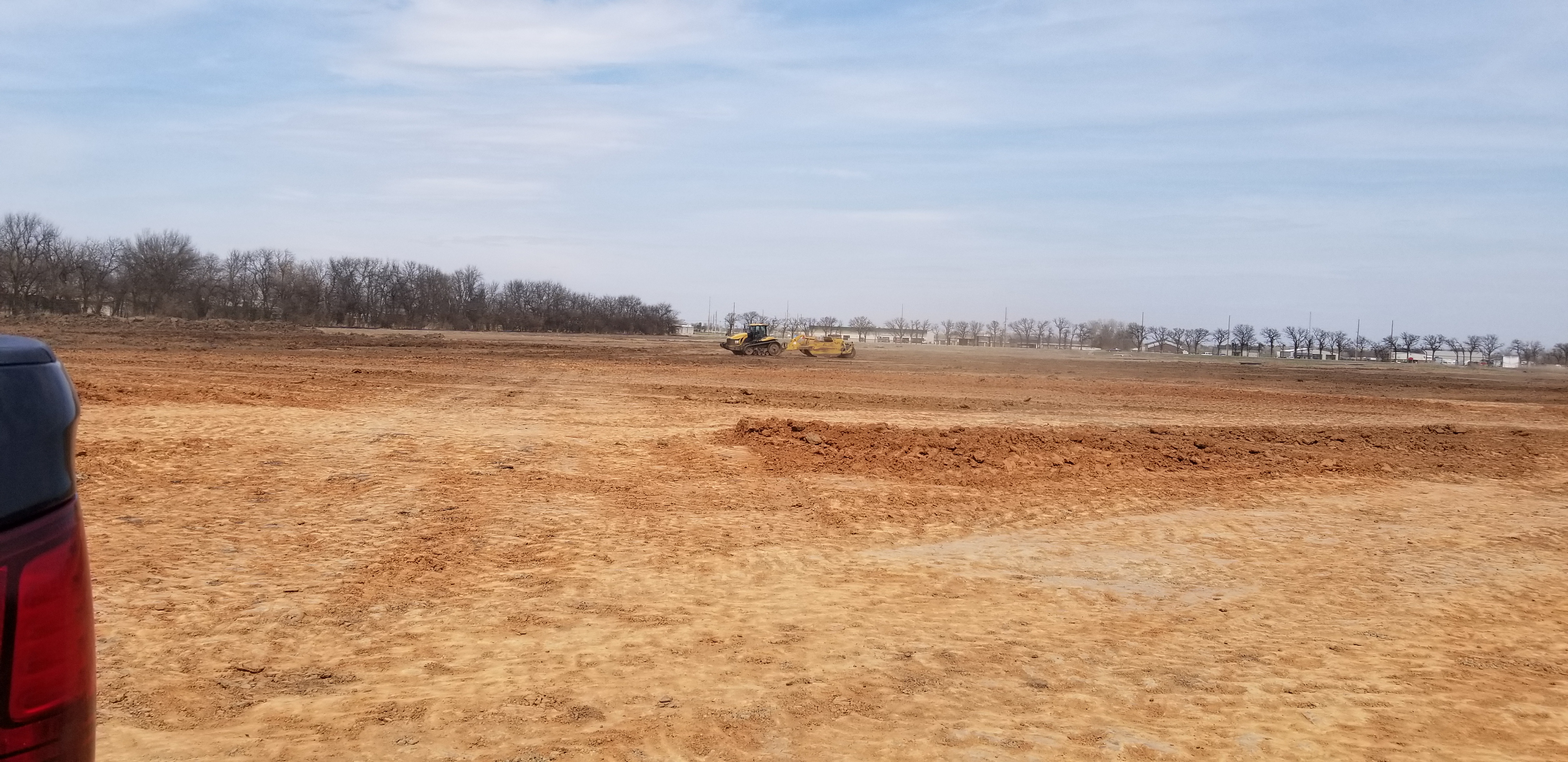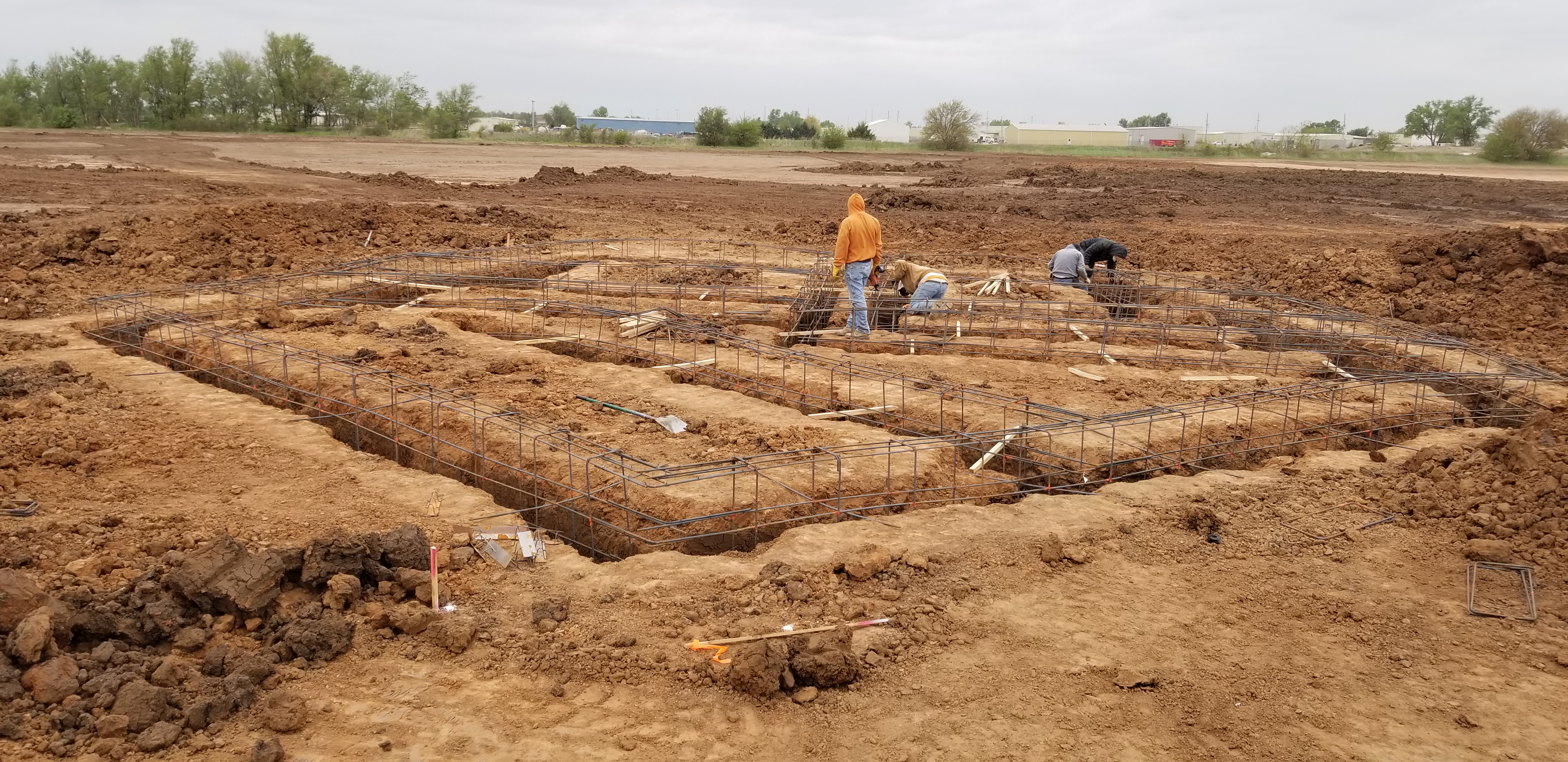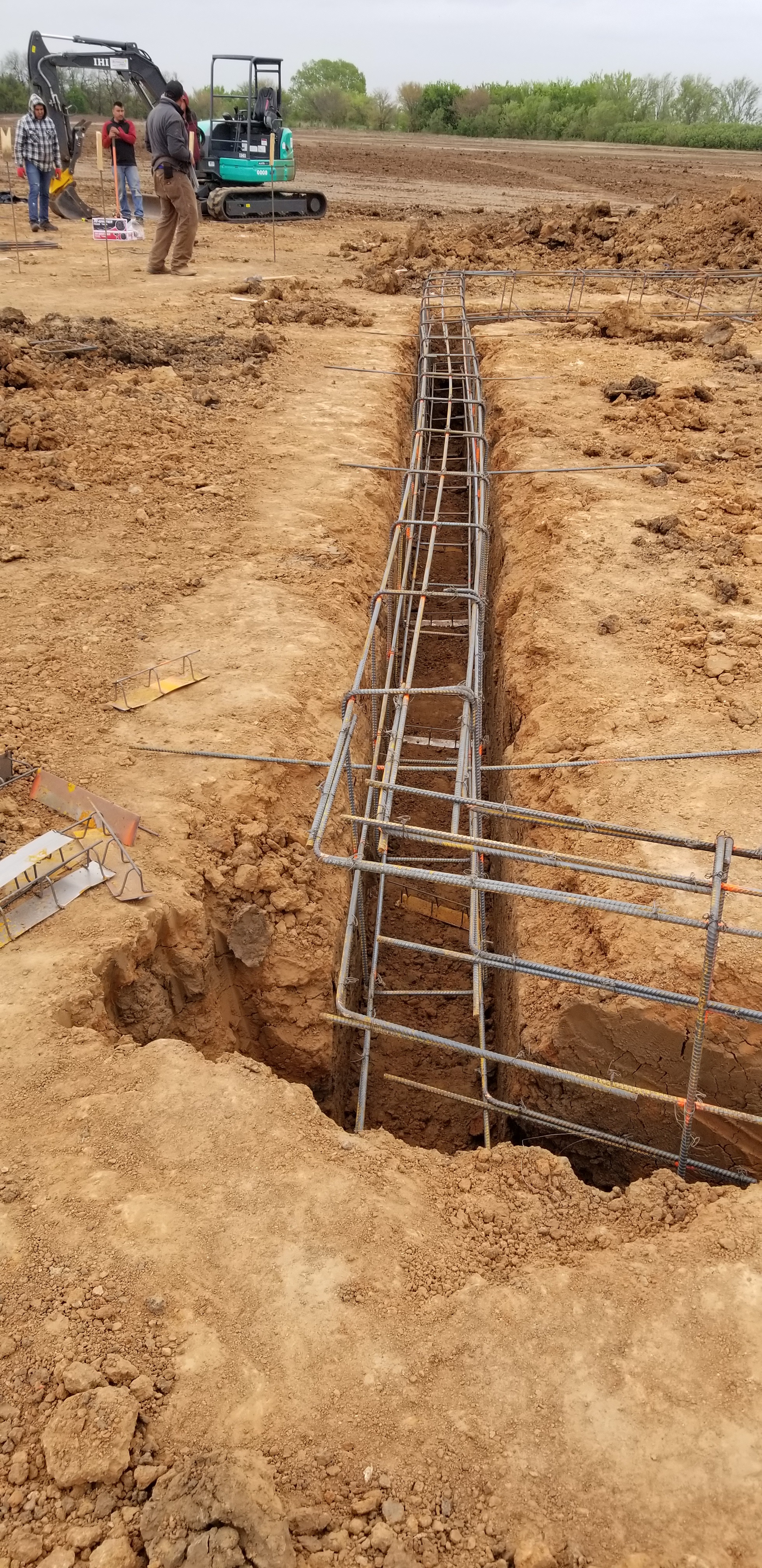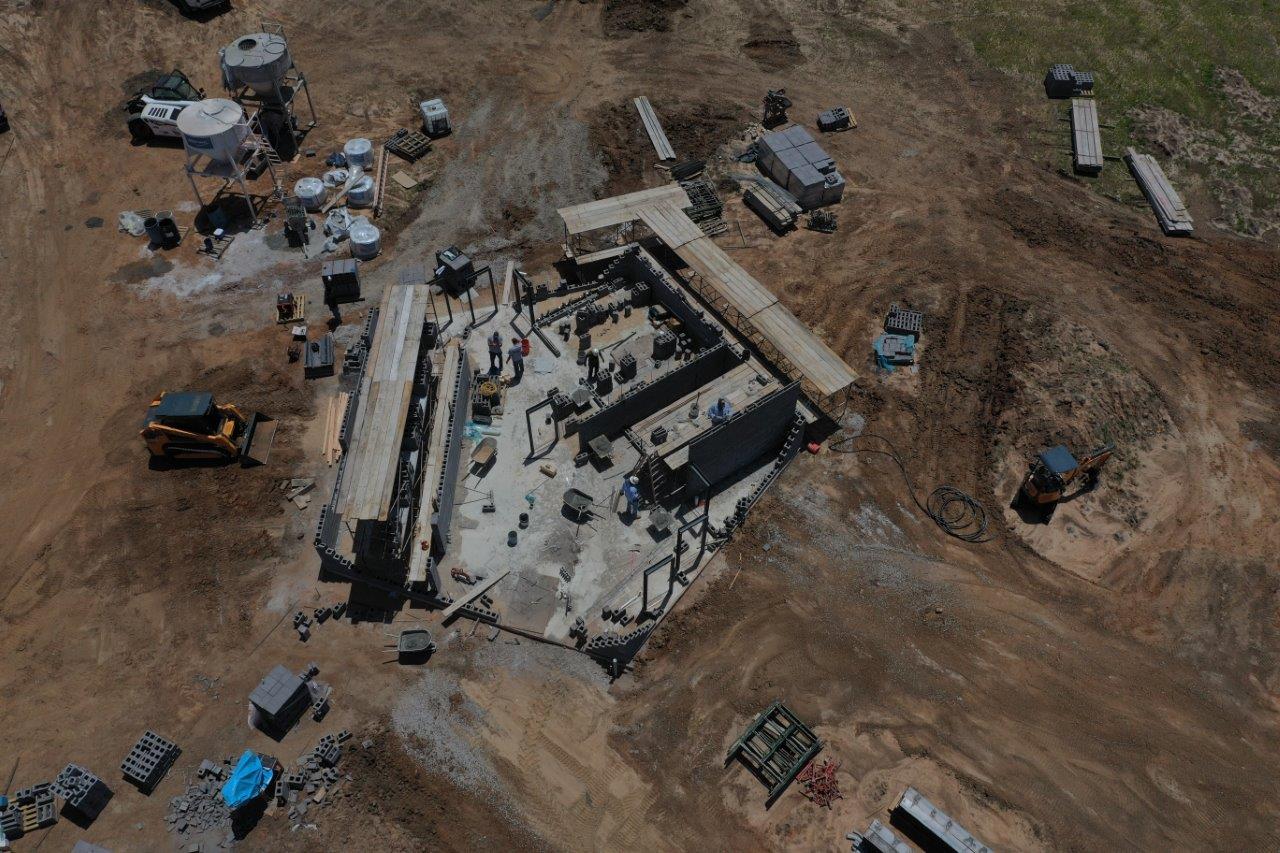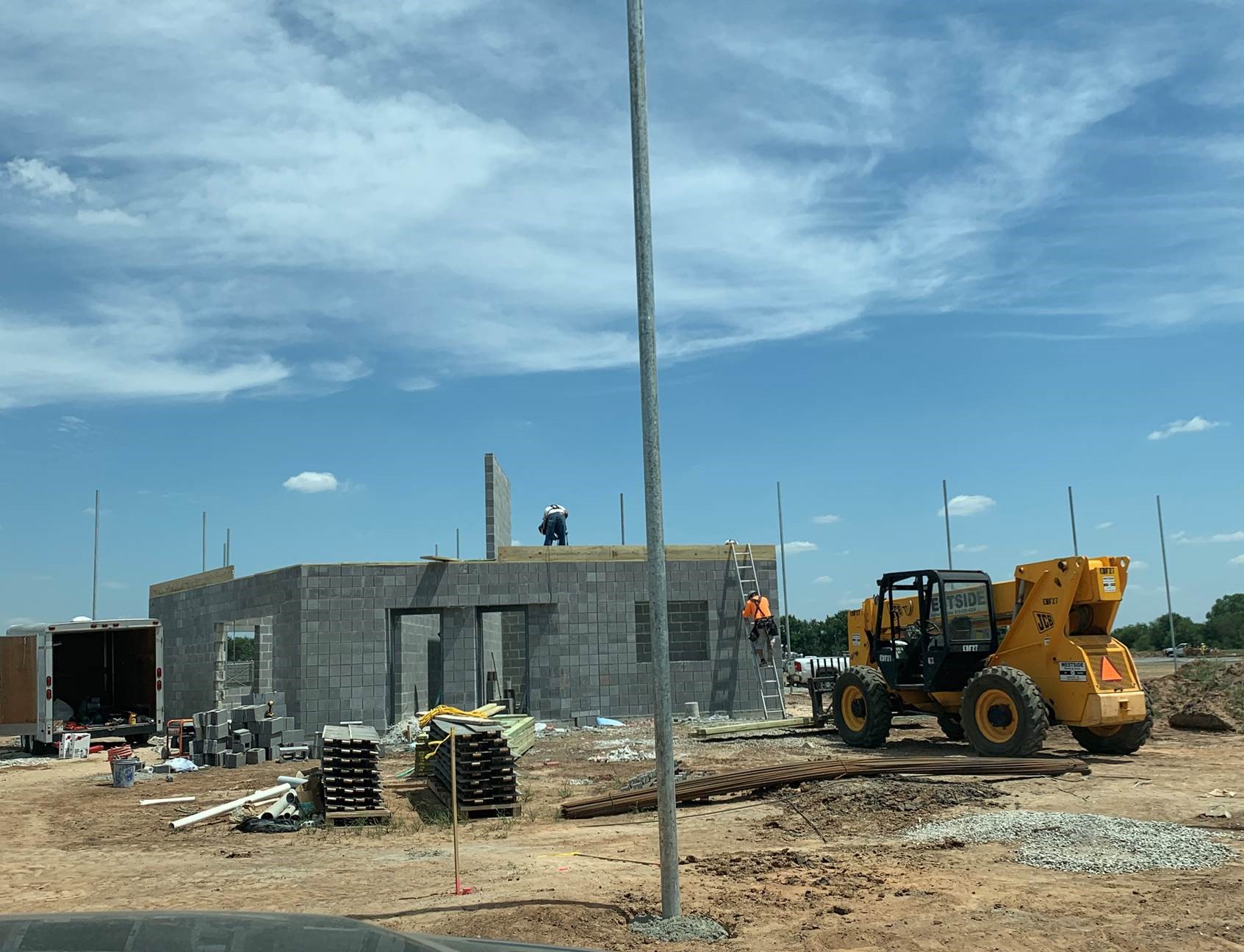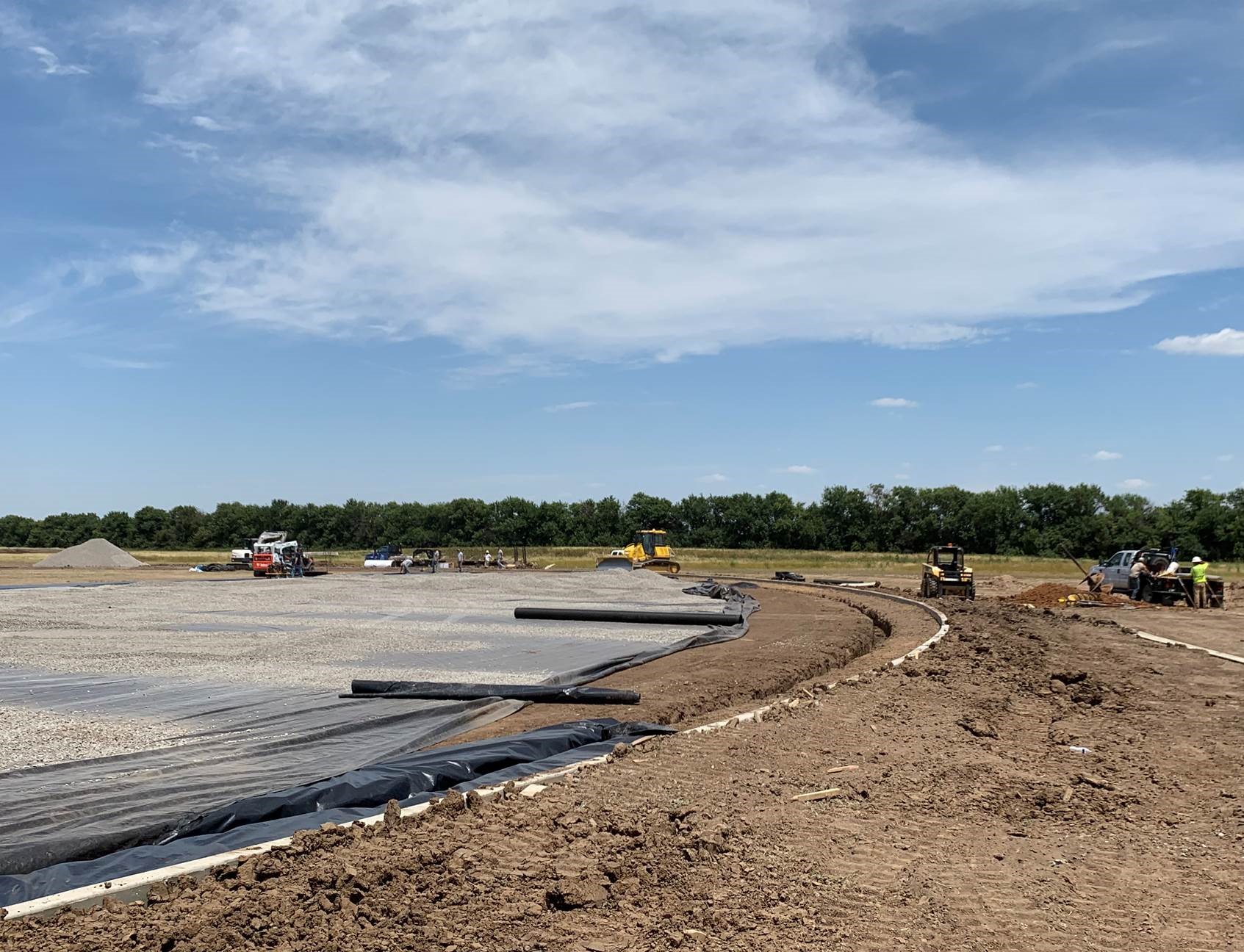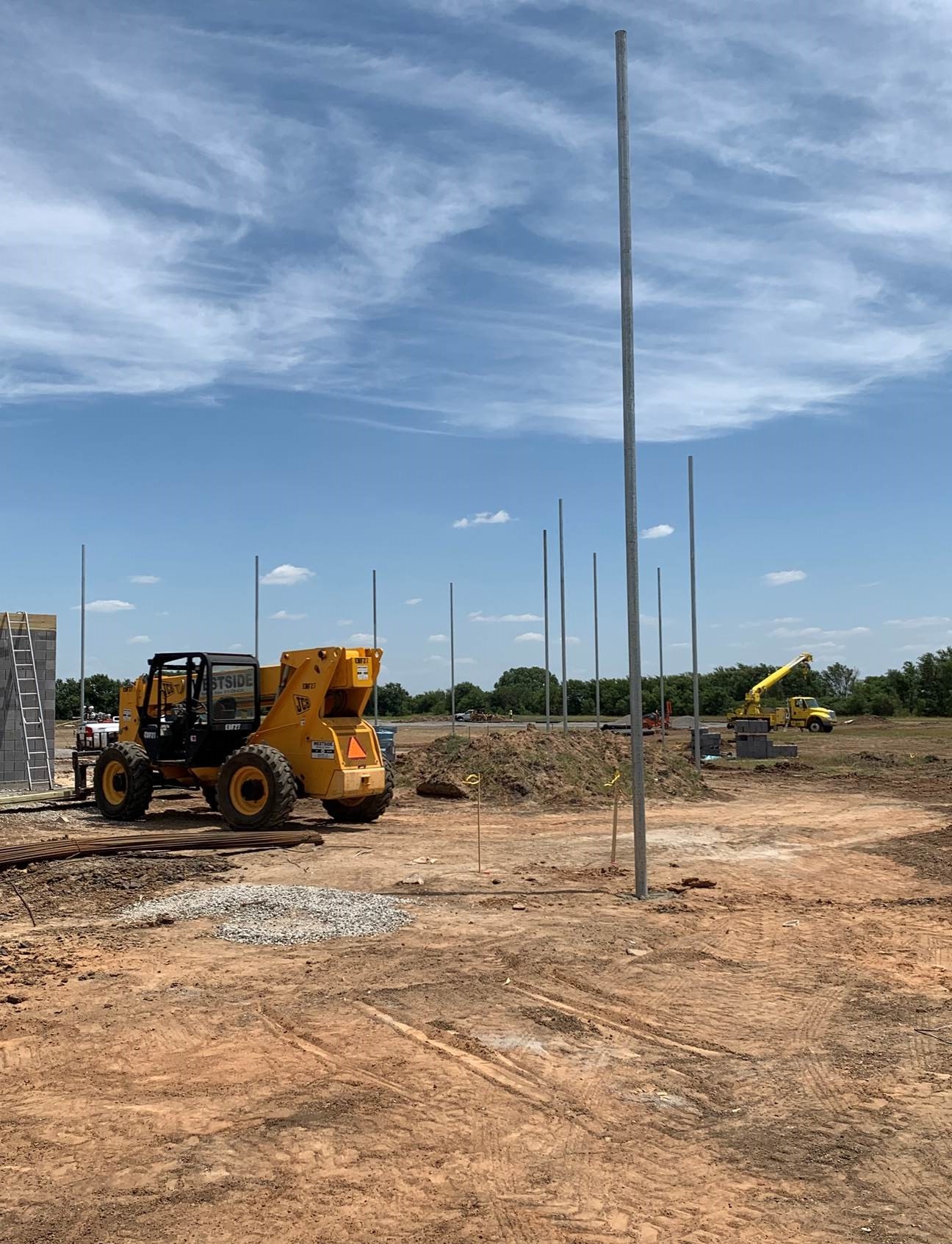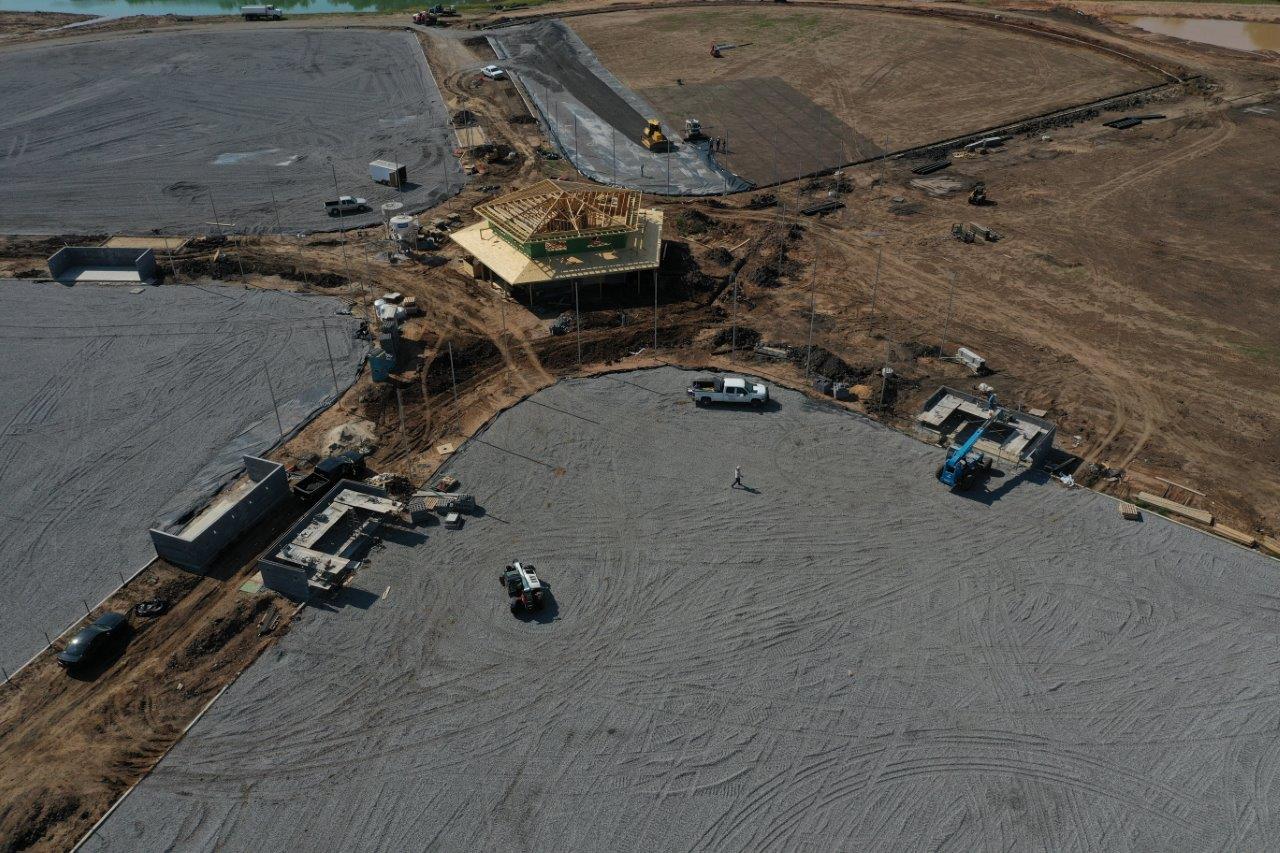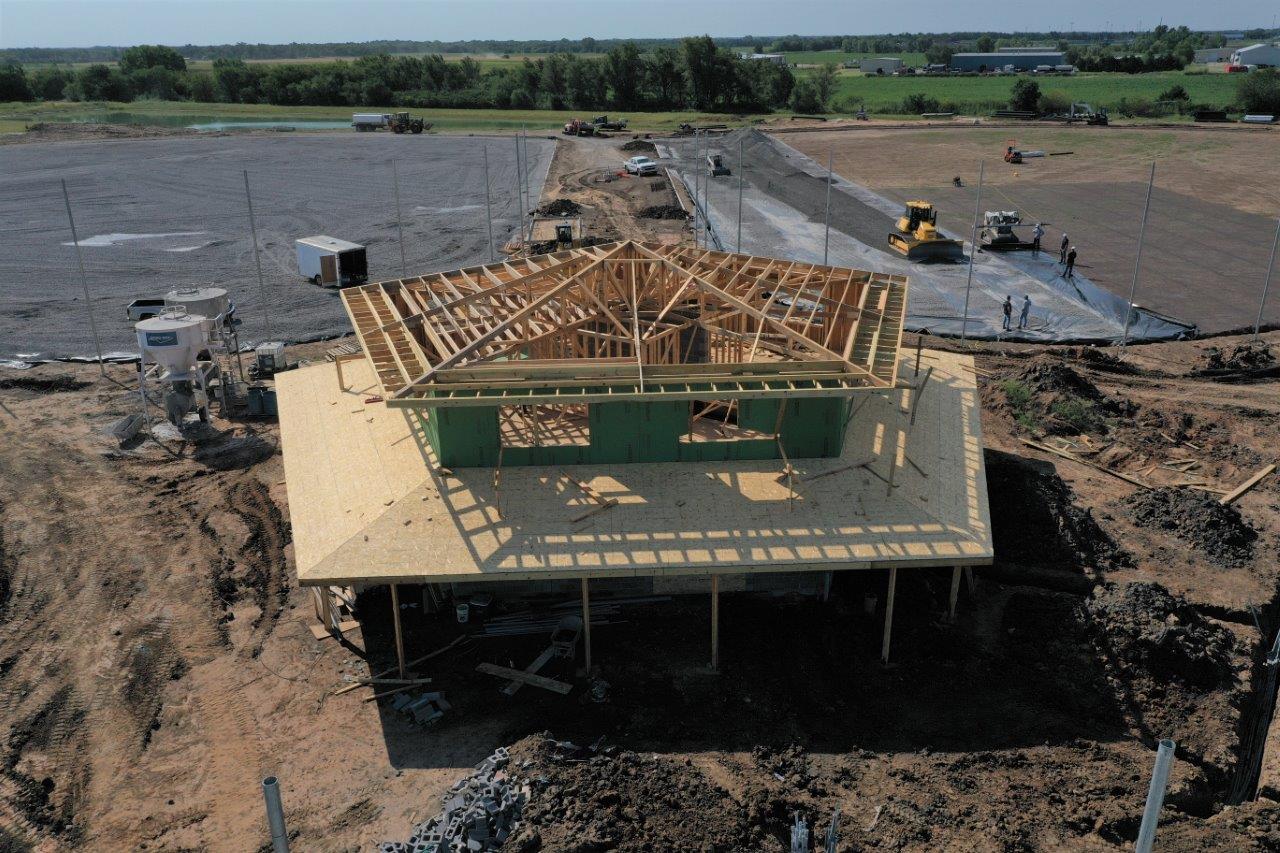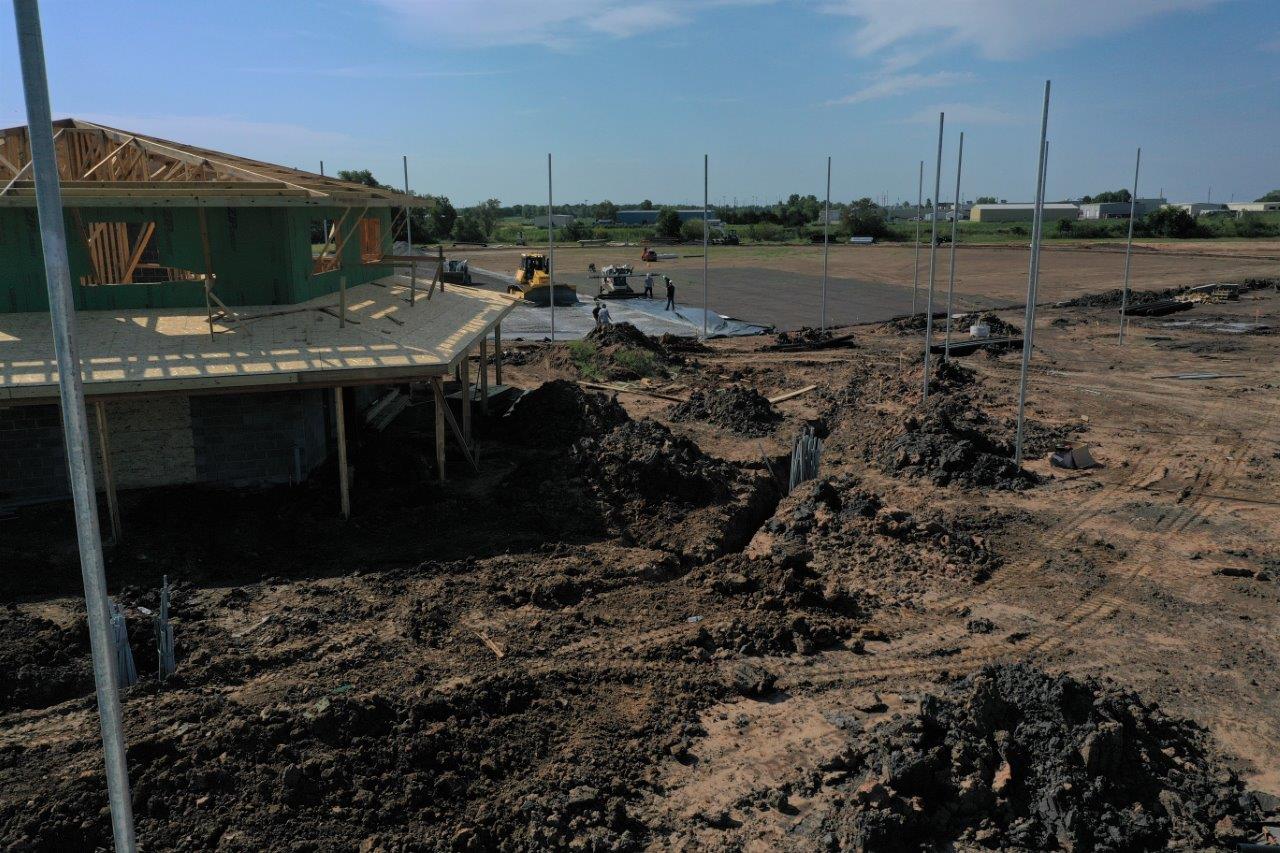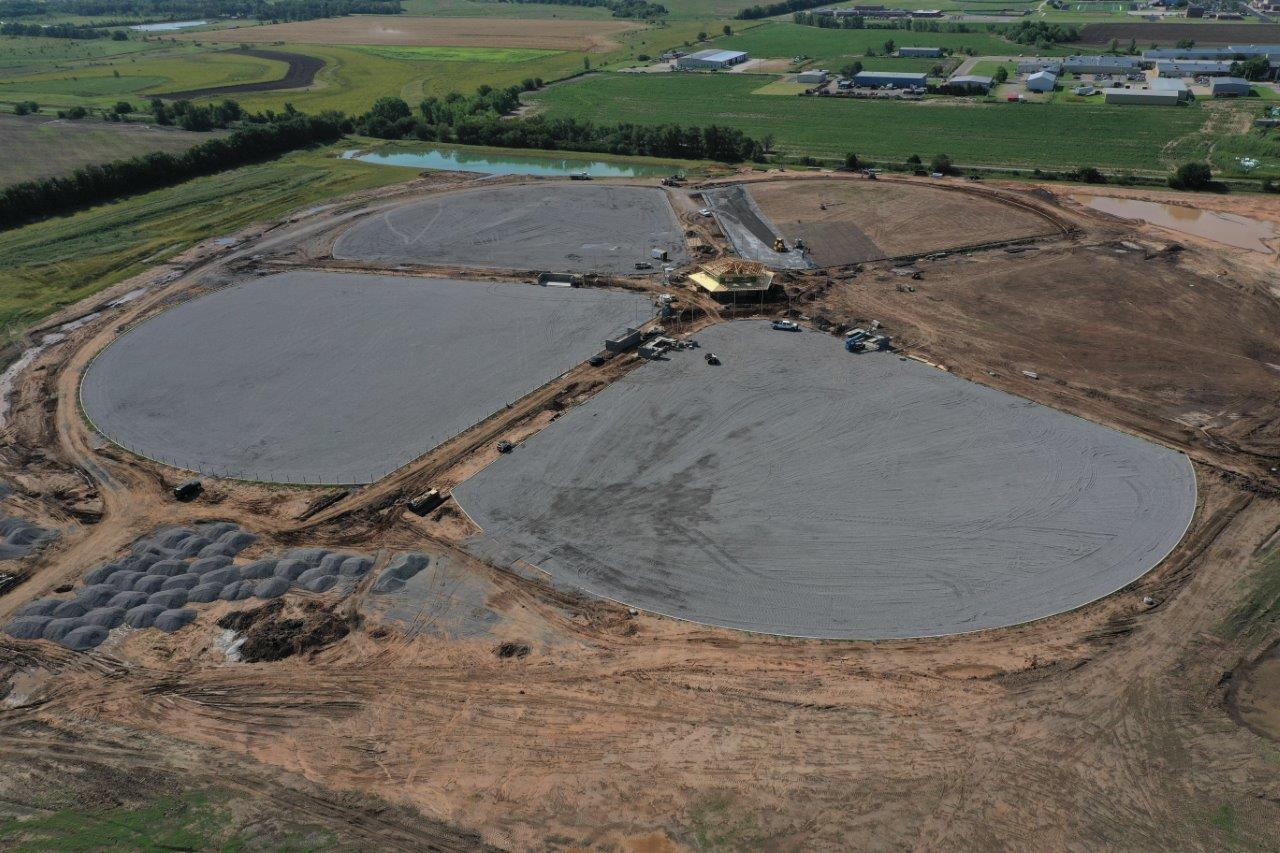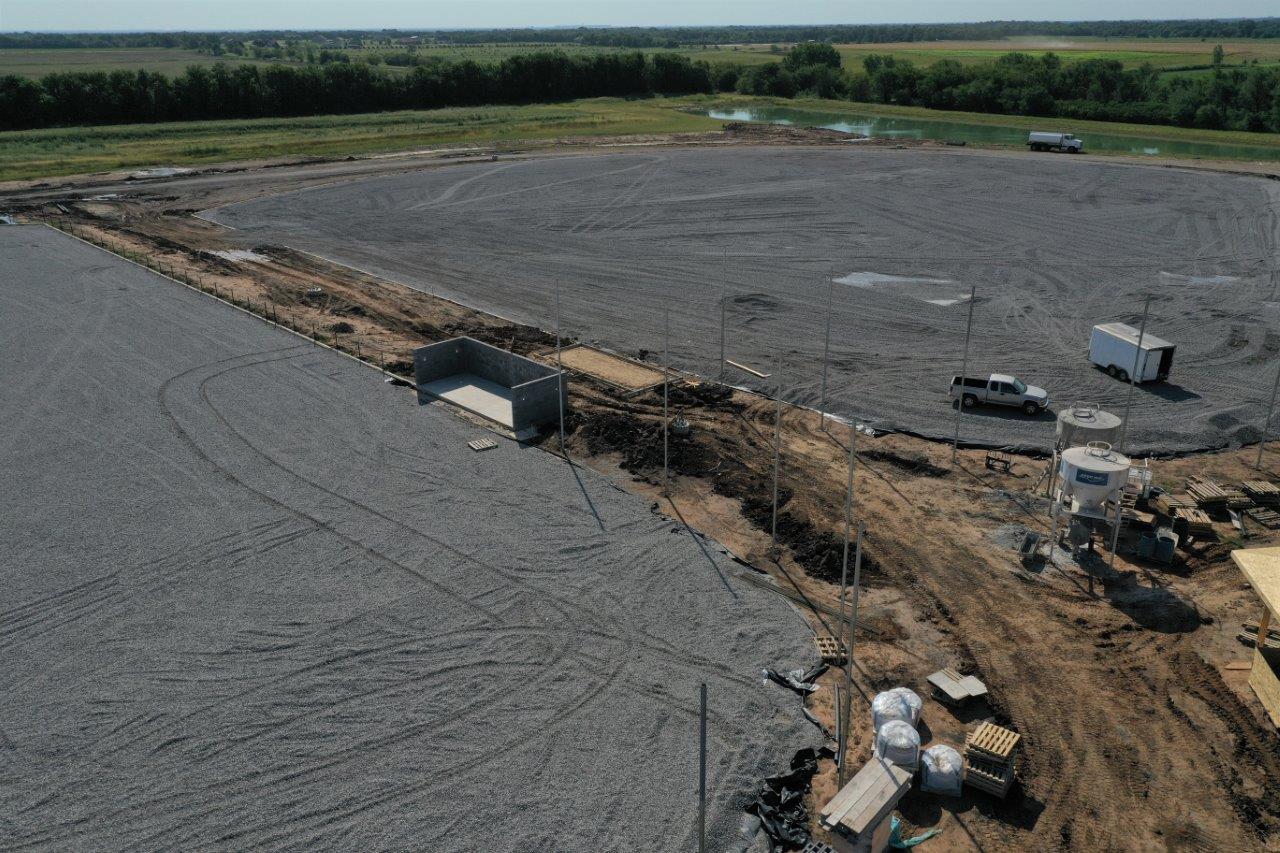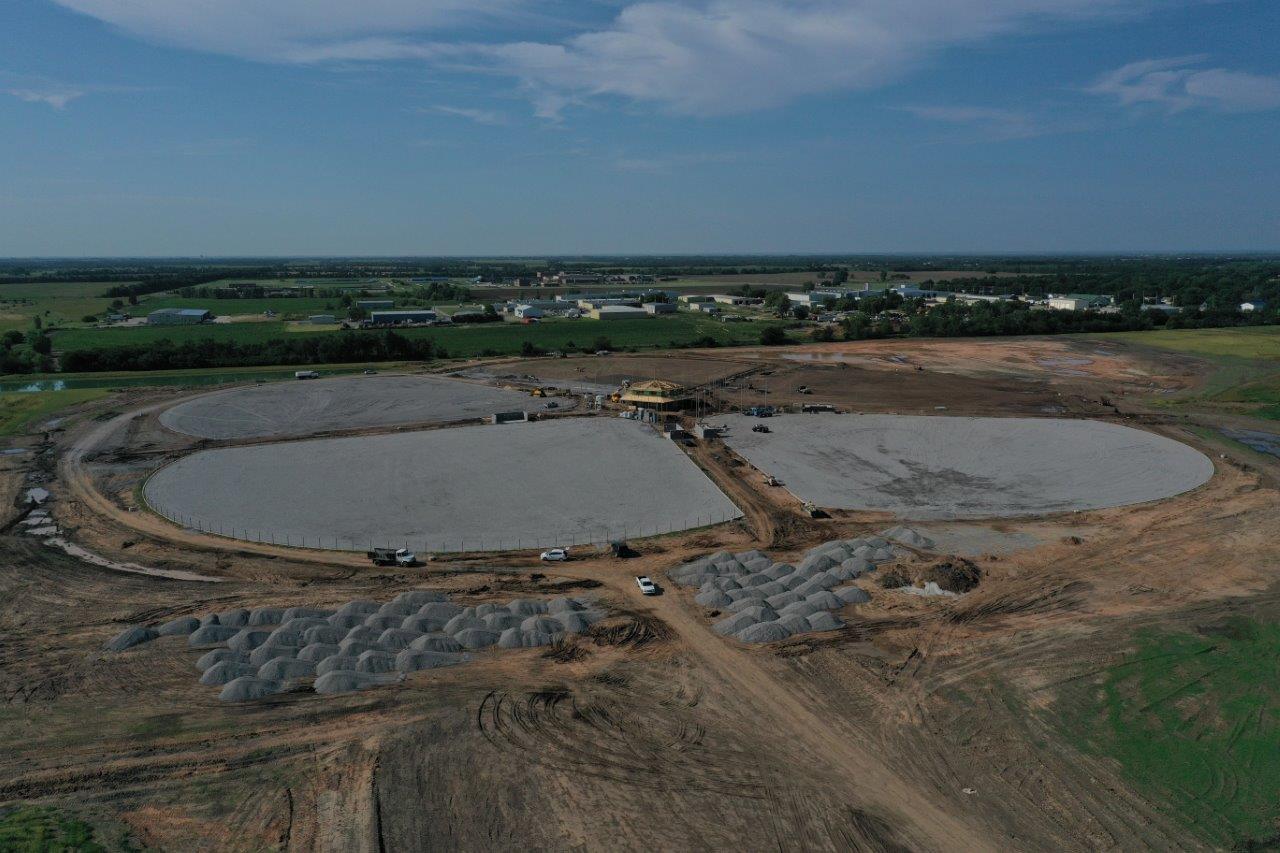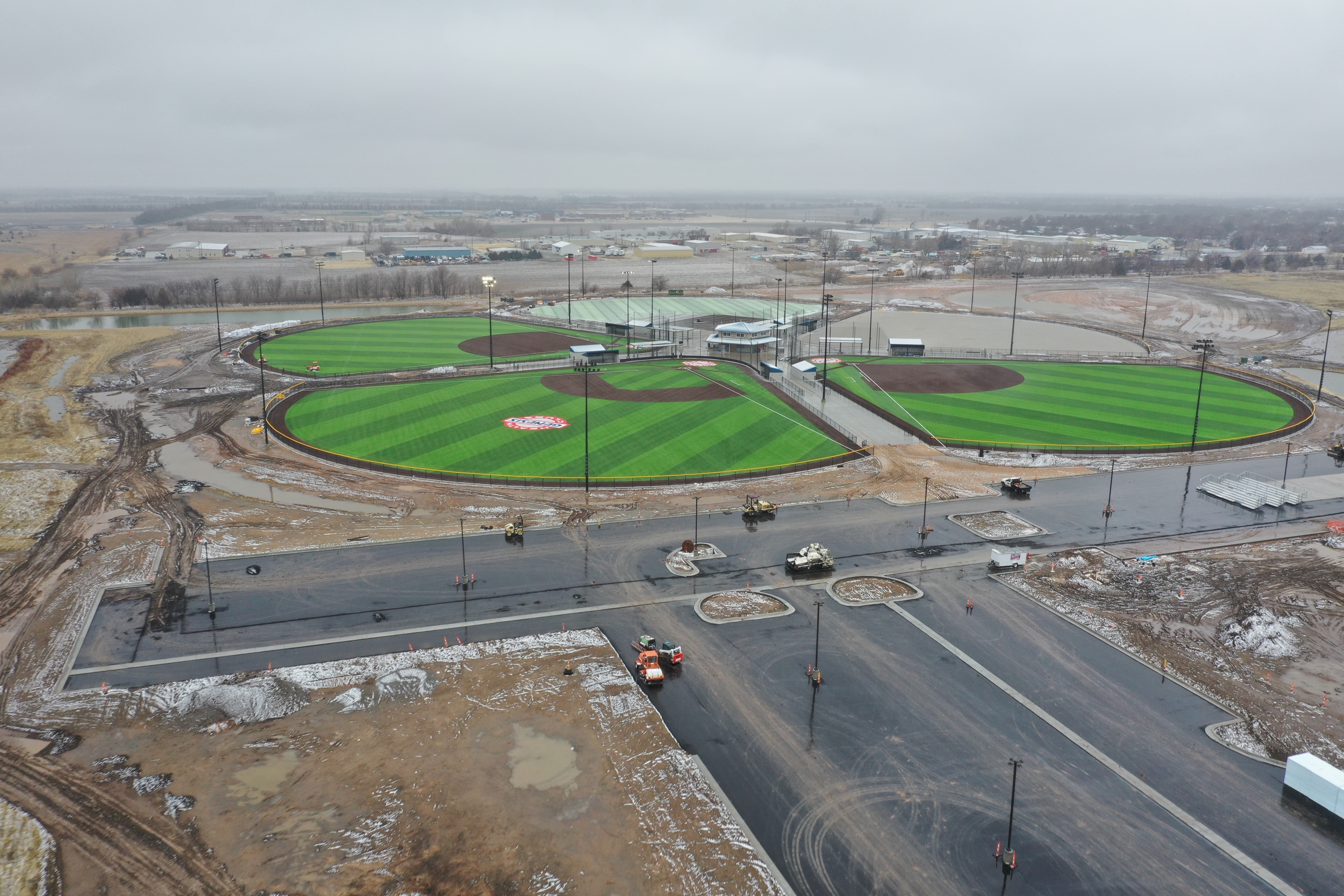 Previous: 84th & Q Street Construction
Next: Lincoln Racquet Club Construction