Leavenworth Aquatics
Leavenworth offers year around swim lessons!  See below for pricing.  The 25 meter lap pool is always set at a nice 88 degrees.  We offer many Group Fitness Aquatics classes; see the Group Fitness schedule for class times.  Members are always welcome to swim laps at any time there is a lane available, first come first serve. 
Pool Hours:
Monday-Thursday: 5:00am - 10:30pm
Friday:  5:00am - 8:30pm
Satudary: 7:00am - 6:30pm
Sunday:  8:00am - 6:30pm
 
Family Swim Time:
Thrusday: 6:30pm - 8:30pm
Friday:  6:00pm - 8:30pm
Saturday and Sunday: 2:30 - 6:30pm
Our mission:
Provide specialized training tailored to help each individual find their success in the water
Equip swimmers with the ability to react in an aquatic emergency, to not only sustain their own life, but to also aid those in need
Bring Fun on the deck and into the water
Private Swimming Lessons
Genesis offers private swimming lessons year round in their heated pools, taught by highly trained instructors. The programming of these lessons is set to align with your schedule, so contact Linda Gutierrez, Aquatics Coordinator, to arrange for a complimentary lesson.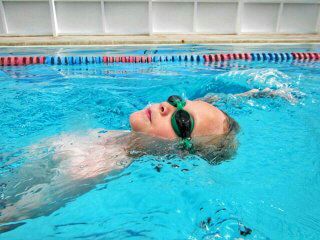 Group Swimming Lessons: 
Our group swimming lesson program was created to help each young swimmer find their success in the water. We serve ages 6months- 13years, and we aim to have all of our swimmers safe and self sufficient in the pool. The current group lesson schedule is below:
Wednesday:4:00-4:30PM Beginner, 4:30-5:00PM Intermediate, 5:00-5:30PM Parent/Child
Saturday:9:00-9:30AM Parent/Child, 9:30-10:00AM Intermediate, 10:00-10:30AM Beginner 10:30-11:00AM Advanced
Water Exercise:
Our water exercise classes are offered 5 days a week. We offer 3 different classes, see below for class descriptions and times:
Aqua FitLife:Work on flexibility, range of motion and light cardio endurance. This is an Arthrition Foundation Aquatic Program, taught by certified instructors and will be safe and effective for your joints.
Tuesday / Thursday12:15-1:00PM
    
Power Splash:This advanced water workout class features a more intense cardio work out thanour other aquatics classes. Strength training is emphasized with the use of resistance equipment, such as paddles and bands.
Monday/Wednesday/Friday9:30-10:30AM; Monday/Tuesday/Thursday 4:30-5:30PM
    
Water Worx:This no-impact class is excellent for members with feet and/or knee issues.  Exercises focus on strengthening core muscles, stomach and abdominals. Participants can use flotation noodles or belts for buoyancy.
Tuesday8:30-9:30AM
Water Exercise Instructors:
Linda Garlinger
Genesis Water Exercise instructor since 2014
Degrees and Certifications:
Water Aerobics Instructor ASFA
Group Fitness Instructor AFAA
Group Ride Instructor MOSSA
Pilates Mat I& II
Exercise Philosophy:To provide individuals and groups the opportunity to participate in healthy, safe and fun exercises to improve their strength, flexibility, and quality of life.
Amy Weaver
Genesis Water Exercise instructor since 2010
Degrees and Certifications:
Washburn University Physical Education Degree
PIYO Strength Beachbody certification
Exercise Philosophy:I love to motivate people. I have found that at any age we can all find enjoyment, pleasure and wonderful friendships through exercise. The best gift I can give back to the community is to encourage and guide all walks of life to keep their mind, body and soul balanced.
100-Mile Swim Club:

Do you have what it takes to swim 100 miles? The Aquatics Program at Genesis challenges each and every member to the swim of a century. Log your miles, and swim at your own pace, the Aquatic department will celebrate the milestones overcome. Each member that completes the feat will receive a 100-mile swim club tee-shirt, along with the admiration for enduring such a long swim. Contact Linda Gutierrez 281-455-4883 to get signed up today!