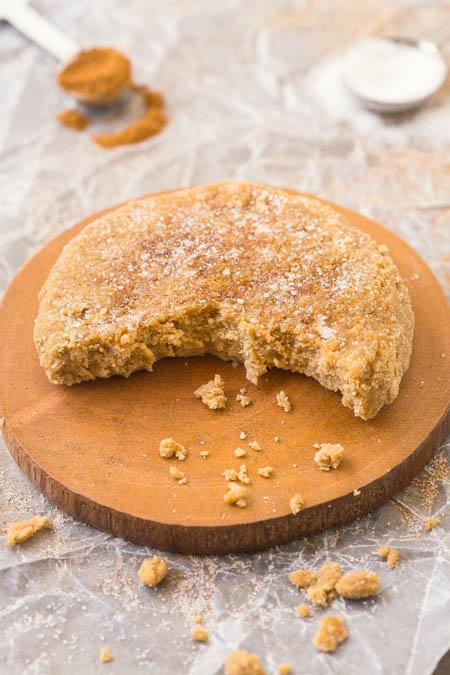 Ingredients
1 scoop vanilla protein powder
3 T coconut flour sifted
1 T granulated sweetener of choice
Pinch sea salt
2 T cashew butter can sub for any nut butter, but cashew is best
1 T pure maple syrup*
pinch vanilla extract
1-2 T dairy free milk of choice**
1/2 tsp cinnamon
1/2 tsp granulated sweetener of choice
Instructions
Preheat the oven to 350 degrees. Line a cookie sheet or baking tray with grease proof paper and set aside.
In a small mixing bowl, combine your coconut flour with your protein powder, granulated sweetener and sea salt and mix until there are no clumps.
In a small microwave safe bowl or stovetop, melt your nut butter with maple syrup until combined, adding in the vanilla extract at the end. Pour the wet mixture in with the dry mixture and mix until a crumbly texture remains. Using a tablespoon at a time, add dairy free milk until a thick batter is formed.
Form the batter into a ball and transfer to the lined cookie sheet. Press firmly and spread out into a cookie shape. Sprinkle with cinnamon and granulated sweetener of choice and bake for 8-12 minutes- 8 minutes for extra soft and chewy or 12 or so for a firmer cookie.
Remove from oven and allow to cool completely.
Notes
* You can omit the maple syrup or sub for brown rice or agave. If you do omit, you may need a dash more dairy free milk.** Depending on the brand of coconut flour and protein powder you use, you may need more- Adjust accordingly.
Recipe from https://thebigmansworld.com/healthy-grain-free-cinnamon-bun-protein-cookies/
Want More Delicious AND Healthy Recipes from Genesis Health Clubs?