Perfect for a healthy breakfast or day time snack!
Delicious Banana Crumb Muffins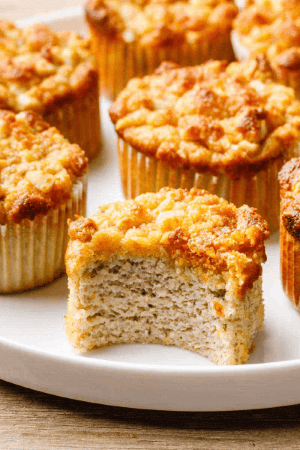 Ingredients:
2 cups almond flour
2 tsp baking powder
½ tsp salt
4 medium ripe bananas, chopped
4 eggs
2 tbsp melted coconut oil
2 tsp pure vanilla extract
Crumb Topping:
¼ cup almond flour
2 tbsp unsweetened finely shredded coconut
1 tbsp honey
1 tbsp coconut oil, softened
1 tbsp almonds, chopped
Directions:
1. Preheat oven to 350ºF. Line a 12-cup muffin tin with paper cup liners.
2. Whisk and combine almond flour, salt and baking powder in a bowl.
3. Using a food processor, process your ripe bananas until smooth. Pulse in the melted coconut oil and vanilla extract next. Add your eggs and pulse until combined. The last ingredient to add is your almond flour. Once all is mixed well, scoop the batter into your muffin cups. Set aside.
4. It's time to make the crumb topping! Combine your almond flour, chopped almonds and unsweetened shredded coconut in a bowl. Add your honey and softened coconut oil next, and mix with a fork until large clumps are formed. Sprinkle your crumb topping over your batter in every cup.
5. Bake for 25-30 minutes or until a toothpick inserted into one of your muffin centers comes out clean. Once done, remove from the oven and let it cool.
Recipe and image found at https://paleogrubs.com/banana-nut-muffins-recipe
Want More Delicious AND Healthy Recipes from Genesis Health Clubs?