The chill of winter is upon us and crockpot cooking is one of the easiest solutions to creating a meal that will warm both your heart and belly. It's time to cozy up by the fire with this hearty, healthy crockpot meal together at home!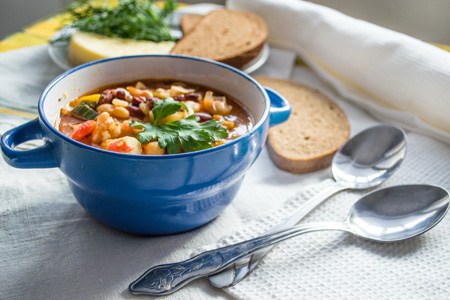 Medicinal Veggie Chili
1) Combine the following ingredients in a crockpot:
8 cups homemade vegetable stock (see recipe below)
1 large sweet potato, large dice
5 celery sticks, large dice
2 turnips, large dice (ANDI score of 337)
3 medium-sized carrots, large dice (ANDI score of 336)
2 cans of red kidney beans, drained (ANDI score of 100)
2 cans of black-eyed peas, drained (ANDI score of 82)
2 tablespoons fresh parsley, minced
2 teaspoons fresh thyme, minced
½ teaspoon turmeric
½ teaspoon cumin
½ teaspoon kelp
½ teaspoon dulse
¼ teaspoon ground cayenne
2) In a large skillet, water sauté 2 medium white onions, diced, with 6 garlic cloves, diced. Add to crockpot.
3) In the same skillet, brown ½ lb ground grass-fed bison. Add to crockpot.
4) Cook in crockpot on low for a least 5 hours.
5) Serve with sauerkraut on top and kale on the side!
Vegetable Stock
Adapted from Annemarie Colbin's recipe in "The Whole Food Guide to Strong Bones."
10 cups water
2 medium white onions, chopped
4 carrots, chopped
3 celery stalks, chopped
1 leek, chopped
1 3-inch piece of kombu
4 cloves garlic, peeled
Parsley stems from 1 bunch parsley (no leaves), about ½ cup
2 bay leaves
½ teaspoon dried thyme
½ teaspoon white peppercorns
½ teaspoon black peppercorns
1) Add all of the ingredients to a stockpot.
2) Bring to a simmer, then lower the heat to maintain a gentle simmer.
3) Cook for about 1 hour with the lid ajar.
4) Strain stock through a fine-mesh sieve, pressing the solids with a wooden spoon to extract as much liquid as possible.
Want More Delicious AND Healthy Recipes from Genesis Health Clubs?