Recipe adapted from The Yummy Life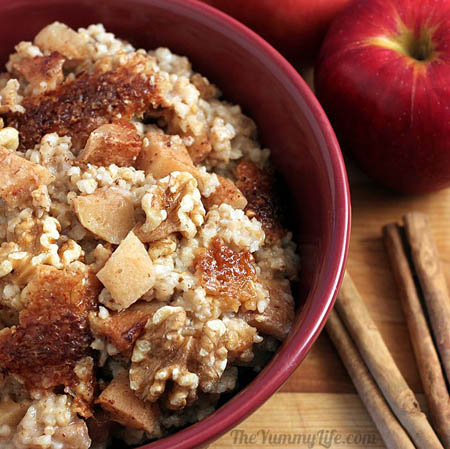 Slow Cooker Cinnamon Apple Oatmeal
Makes 7 (3/4 cup) servings
Ingredients:
2 apples, peeled, cored, cut into 1/2-inch pieces (2-1/2 to 3 cups chopped)
1-1/2 cups fat-free milk (or substitute non-diary alternative like almond milk)
1-1/2 cups water
1 cup uncooked steel-cut oats
2 tablespoons brown sugar (or substitute maple syrup or other desired sweetener)
1-1/2 tablespoons butter, cut into 5-6 pieces (optional)
1/2 teaspoon cinnamon
1 tablespoon ground flax seed
1/4 teaspoon salt
Optional garnishes: chopped nuts, raisins, maple syrup, additional milk or butter
Directions:
Coat inside of 3-1/2 quart (or larger) slow cooker with cooking spray. Add all ingredients (except optional toppings) to a slow cooker. Cook on low for 6 or 7 hours, checking them for desired consistency.
Spoon oatmeal into bowls; add optional toppings, if desired. Store leftovers in the refrigerator. Freezes well.
Pro Tips:
To reheat single servings: Put 1-cup cooked oatmeal in a microwave-proof bowl. Add 1/3 cup fat-free milk. Microwave on high for 1 minute; stir. Continue cooking for another minute, or until hot.
The recipe can be doubled in a six-quart or larger slow cooker. Increase cooking time 1 hour.
Nutritional Info per 3/4 cup serving: 149 calories, 3.6g fat, 27.3g carbs, 3.9g fiber, 4.9g protein
Want More Delicious AND Healthy Recipes from Genesis Health Clubs?