With the weather turning colder and the nights getting longer, it is natural to start craving some more filling, comforting foods like traditional beef chili, beef stews, and baked lasagnas. Keeping nutrition in mind sometimes gets left behind, with dishes carrying a high sodium, saturated fat, and cheese content. Sweet potatoes offer that filling and comforting sensation with a whole lot of flavor and sweetness, while packing in a huge punch of vitamins, minerals and fiber.
This Sweet Potato Black Bean Chili provides an excellent source of fiber and potassium- two properties proven to lower blood cholesterol and blood pressure, while dishing up NO cholesterol or saturated fat, and low calorie count. Serve with whole-grain corn bread.
Sweet Potato Black Bean Chili
6 servings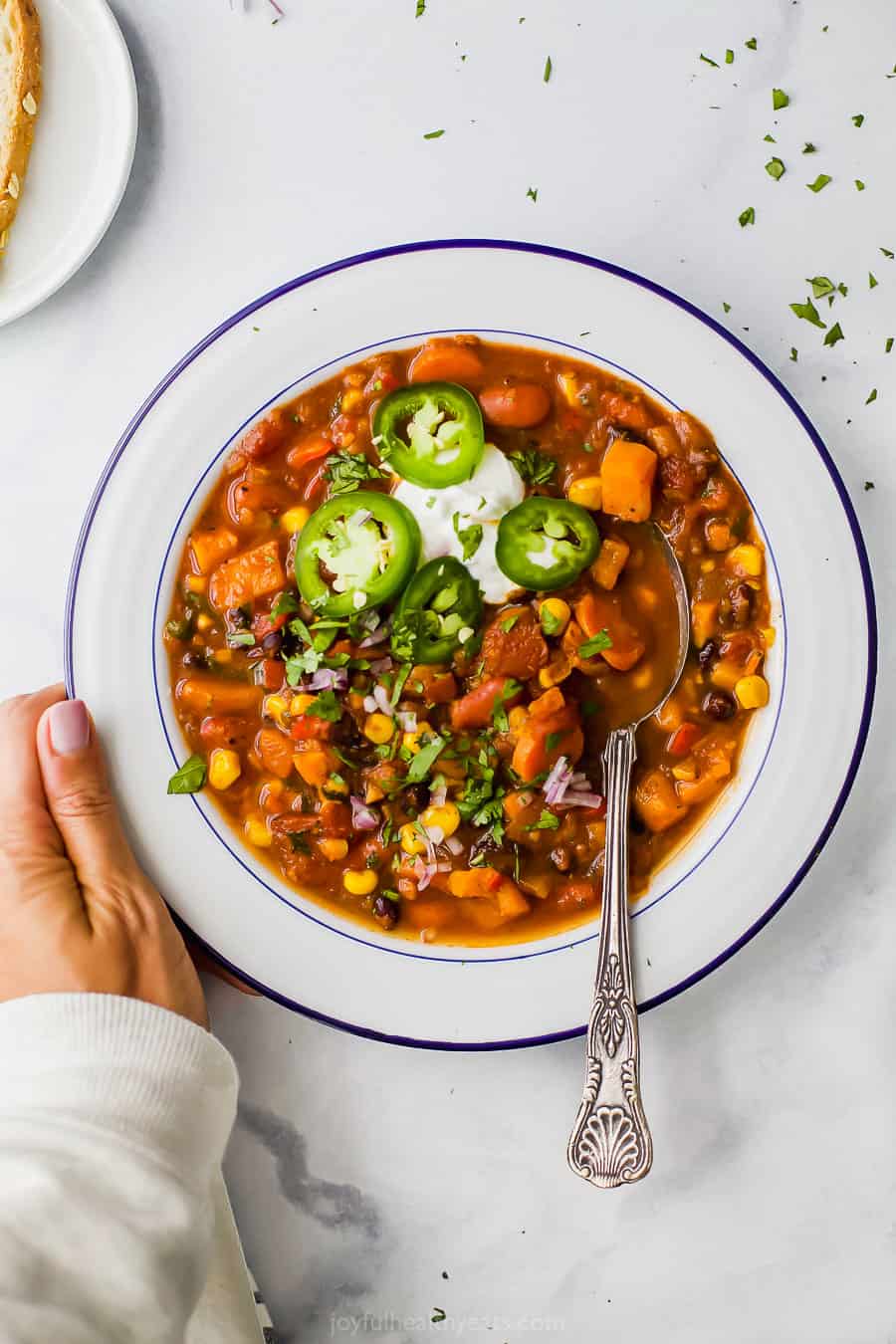 Ingredients:
2 medium or large sweet potatoes
2 tablespoons extra-virgin olive oil
1 cup chopped onion
2 to 3 garlic cloves
1 medium red bell pepper, diced
1 32-ounce can black beans, drained and rinsed
1 28-ounce can diced tomatoes
1 or 2 jalapenos, fresh red chilies, or cayenne pepper to taste
2 teaspoons ground cumin
½ teaspoon dried oregano
Directions:
Bake or microwave the sweet potatoes on high until just firm, about 3 to 4 minutes per potato in the microwave. When cooled, peel and cut into about ¾ inch cubes. Set aside.
Heat the oil in a large soup pot. Add the onion and garlic and sauté over medium heat until golden. Add the bell pepper, beans, tomatoes, jalapenos/chilies, cumin and oregano. Bring to a simmer and then cover for 15 minutes. Add the sweet potatoes and continue to simmer until the vegetables are tender, about 10-15 minutes.
Season lightly with salt.
If time allows, let the chili sit off heat for 1-2 hours, and then heat through as needed.
Optional:
½ teaspoon cinnamon
Adding cooked cubes of skinless, boneless chicken breast or ground turkey breast would up the protein count while keeping fat content to a minimum
If you like sour cream with your chili, try using plain, low or nonfat greek yogurt instead. With the same tangy flavor and thickness as sour cream, greek yogurt offers high protein and much less fat.
Nutritional information:
- Calories: 202
- Total Fat: 5 grams
- Protein: 8 g
- Fiber: 8.5 grams
- Carbohydrates: 33 grams
- Cholesterol: 0 grams
- Sodium: 222 mg
Recipe adapted from The Vegetarian Family Cookbook.
Want More Delicious AND Healthy Recipes from Genesis Health Clubs?