Personal Training
Olathe Ridgeview PERSONAL TRAINING
Our Olathe Ridgeview personal trainers are certified, experienced fitness experts. They are all about helping their clients meet the fitness goals they have set for themselves. For us, it starts by empowering people to succeed with personal training programs customized for them. Whatever your goals, maybe, we'll fine-tune a special fitness plan just for you. Let's reach those goals!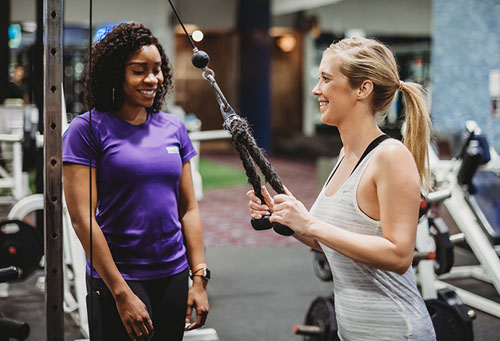 Our personal training program helps you get pumped about looking and feeling your best. We'll design a plan based on your specific needs and support throughout your fitness journey.
It all starts with a series of personal training sessions from our tenacious team of trainers - each with different talents and personalities, so you have the best opportunity for results. At Genesis Olathe Ridgeview, you will get more than an excellent workout. We'll take a deep dive to improve everyday body factors like stress levels, endurance, and body composition.
Our Trainer's Mission
Our trainers want to help you be in control of your health. We will always listen to your needs and struggles and give you the motivation to reach every fitness goal you have. Our certified, highly-trained staff help you live a lifestyle that will last forever. We're ready to team up with you and make it happen!
Our Commitment
To uphold our mission and be with you every step, push and jump along the way. Our Fitness Advisors at Genesis and Certified Personal Trainers work as a team to deliver you the best exercise experience in the Kansas City area. You are an essential piece to the puzzle and what makes our trainers enjoy coming to work each and every day! Our trainers end each training appointment by scheduling the next appointment, guiding you on your fitness program throughout your entire membership at Genesis Health Clubs.
Our Fitness Objective
To get you in the best shape of your life! Our members want results, and our staff is here to make them a reality! Genesis Health Clubs wants every member to succeed in their quest to reach personal fitness goals. No matter your fitness goals, we can design a safe, effective program that will fit into your busy schedule. Don't wait. Give us a call and let us help you feel and look your best.