Personal Training
The Best Personal Training in Kansas!
Genesis Health Clubs are proud to offer our members the best personal training. Our trainers will provide you with a constantly evolving and proven path for reaching your health and fitness goals.

Regardless of your primary motivation to begin an exercise program, our trainers will help you achieve your fitness goals. Your body will feel better, perform better, and look better. We guarantee results, empowering you to get the most out of your fitness program.
Many of our members chose to perform a series of personal training sessions for maximum results. During this series, the trainer educates, motivates, and empowers the member to take the next step in changing their life and reaching their goals. Each club offers a variety of personal trainers with different skill-sets to ensure every member will be delivered the best programming and inspiration. You'll get more than just a great exercise program. Our trainers will help you improve your body composition, strength, endurance, flexibility, stress level, and other vital factors to help you look better and feel better every day.
If you are ready to take the next step in reaching your fitness goals, schedule a session with one of our trainers. Contact information for all Genesis Personal Training Coordinators is available on the links to the right. If you have any questions or concerns regarding personal training, contact me, and I will make every effort to assist you.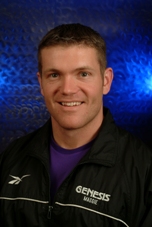 Yours in health,
Preston Petersen
CSCS, AHFS, FMS
Vive President of Personal Training
ppetersen@genesishealthclub.com
Personal Training Testimonials
I was preparing to have Total Knee Replacement surgery in a few months. I was 60 years old, overweight, extremely out of shape, and dealing with various health issues. I needed a Personal Trainer to help me get in the best shape I could manage in the few months before my surgery.
My experience with Anna Simoneau has been incredible. She places a high value on the correct form with each exercise. Through consistent and positive feedback and encouragement, she motivates me to push past my perceived limits to get results.
If you are thinking about training with a professional, I highly recommend Anna Simoneau. My physician, the physical therapist at the hospital, as well as the physical therapist I worked with after leaving the hospital, said, "Whatever you've been doing, keep it up!!!" I am confident that working with Anna speeded my recovery and got results that would be difficult to achieve in any other way.
– Robin Snyder
Since starting with Anna as my trainer in October, I have gone from using a walker to walking WITHOUT a cane. She has done so much to keep me improving each week. I also love the people there. Everyone is so encouraging.

– Judy Graham-Edson
My decision to join Genesis and hire a personal trainer has been fabulous! Taylor has been so supportive and been a significant driving force to get me on the right track to 1, feeling better, and 2, starting to lose weight! I so appreciate his positive and energetic attitude each day I'm in the gym!! Thank you so much!!!
– Kim Dexter
My reason for joining Genesis and having a trainer was to get healthy, stronger, and toned. I was out of shape, overweight, and had no strength. I highly recommend Eric Anders for anyone with the same goals. I am 59 years old and was nervous about working with a trainer. Eric made me feel very comfortable yet pushed me enough without discouraging me. He also educated me on nutrition & how to eat, so I don't ever have to be hungry. Now I feel better about myself, have received compliments from my husband and friends on how much better I look, and have gone down a size in clothing. I would highly recommend Eric to anyone, especially if you are scared or nervous about getting started to be healthy & in shape!
– Sara Pfannenstiel