Pilates
Welcome to the Pilates Studio at Genesis Health Clubs West Central. Pilates can change your body and your life, and we look forward to helping you on that journey. Whether your goal is conditioning, increased flexibility and balance, injury prevention, or to simply look and feel your best, we have a Pilates program to help you achieve it.
Pilates Studio Classes
Genesis West Central offers "drop-in" group classes throughout the week, including Pilates matwork. Our Group Centergy class incorporates Yoga and Pilates movements to build long, strong muscles, center your energy, and reduce stress. These open classes are included with Genesis membership. Check the current GroupX class schedule for times and descriptions.
We also offer equipment training and Group Reformer classes by appointment. These classes of four students are done on the Pilates Reformer—a spring loaded machine which provides a total body workout. These Pilates classes are available for a separate package fee. To join or schedule a class, contact Pilates Director Kelli Harsh at Kharsh@genesishealthclubs.com or (316) 634-3120.
Private and Semi-Private Pilates Training
Private Pilates training is for men and women of all ages, fitness levels and abilities. The sessions revolve around your individual needs and goals, and are scheduled at a time most convenient for you. Your trainer will teach Pilates exercises and Pilates principles at your own pace, as opposed to a classroom pace.
Pilates Training Levels & Rates
Pilates training rates are based on the level of the trainer. Apprentice, Level I, Level II and Level III trainers are available. Contact Pilates Director Kelli Harsh at Kharsh@genesishealthclubs.com or (316) 634-3120 for fee information and to sign up for training.
Get a Free Pilates Session
We want you to feel comfortable with and be knowledgeable about the program, our studio and what Pilates training is all about. The best way to do that is to experience it, so we'll give you a complimentary session. To reserve your free session, contact Kelli Harsh to set up an appointment.
UNLIMITED GROUP REFORMER
Group of four
Prerequisites: Injury free individual that has completed one Pilates assessment, one Pilates private session and six Intro to Reformer classes or 24 private sessions.
All new students begin with the Intro to Reformer classes. You will learn how to use and set up your reformer as well as the basic exercises done in a reformer class. It is suggested that new students attend six of the Intro to Reformer classes prior to moving into our regular Reformer classes.
The Reformer classes are for the experienced student which is familiar with the Reformer and the basic exercises done on the Reformer as well as able to work independently on the Reformer. The UNLIMITED GROUP REFORMER program takes students to the next level by increasing the number of exercises done in a class as well as the level and complexity of some exercises. Additional props and equipment is also introduced.
The types of classes offered at each Genesis location varies. Please check the specific location for UGR class schedule.
COST MONTHLY EFT: $139
UNLIMITED GROUP REFORMER POLICIES
Members of this program must sign up in advance to reserve a spot in class. Drop-ins are allowed if space is available. Members sign up in the Pilates Studio and are able to sign up for classes one week in advance.
CLASS CANCELLATION POLICY
It is appreciated that cancellations are made 24 hours in advance so that other members have the opportunity to sign-up in open spots.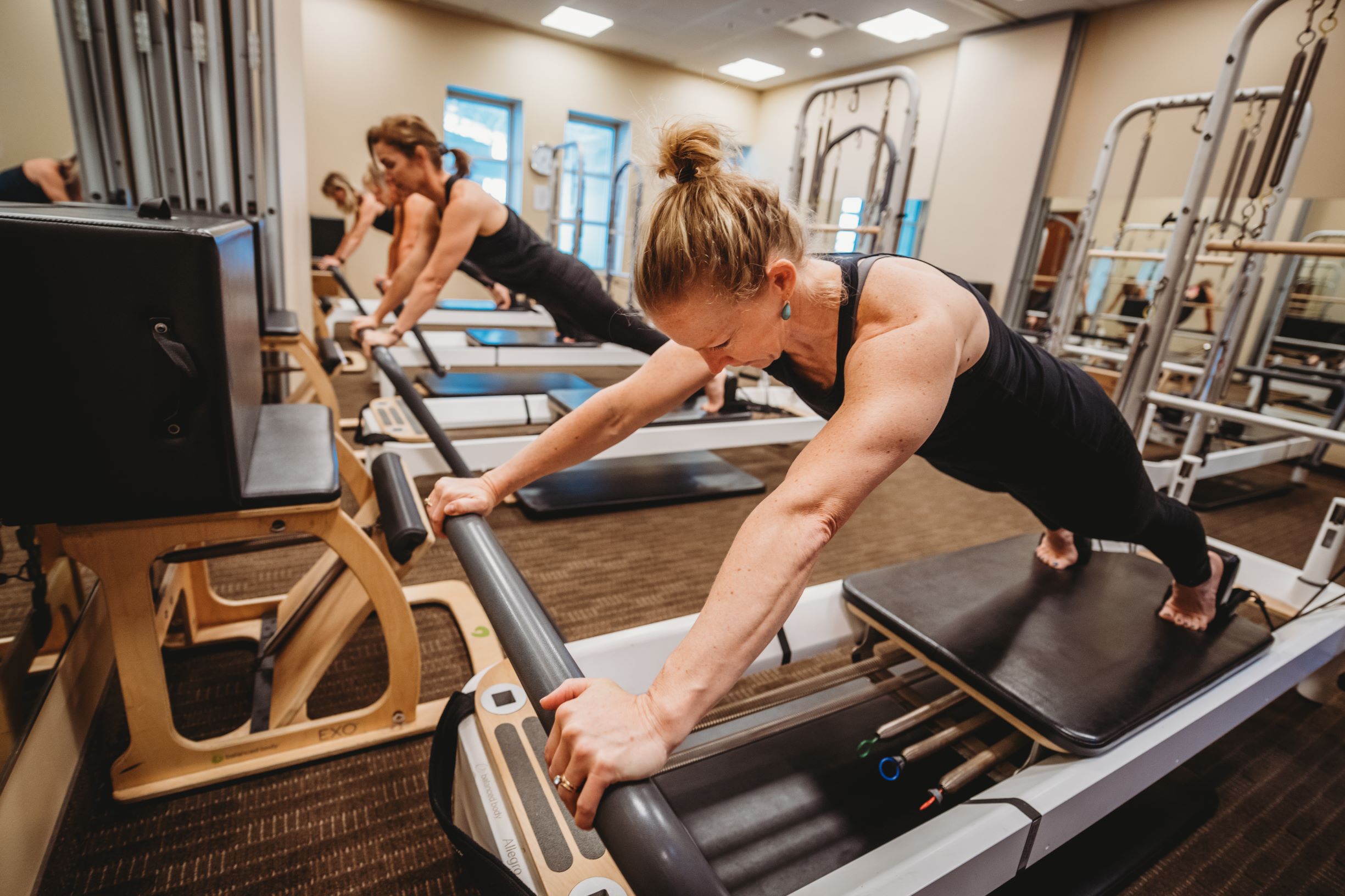 Class Times
Monday

Tuesday

Wednesday

Thursday

Friday

Saturday

9:00AM
Reformer

10:15AM
Intro to Reformer

11:30AM
Reformer

11:30AM
Reformer

1:00PM
Intro to Reformer
Health Benefits of Pilates
Pilates conditioning promotes physical harmony and balance for people of all ages and physical conditions while providing an energizing workout. Regardless of your current level of fitness, Pilates exercise can be your primary mode of body conditioning or injury prevention.
Benefits of Pilates:
Improves strength, flexibility and balance
Enhances mobility, agility and stamina
Tones and builds long, lean muscles without bulk
Challenges deep abdominal muscles to support the core
Creates a stronger, more flexible spine
Increases joint range of motion
Restores postural alignment
Improves circulation
Engages the mind and enhances body awareness
Can offer relief from back pain and joint stress
Complements sports training and develops functional fitness for daily life activity
Conditions efficient patterns of movement making the body less prone to injury
Corrects over-training of muscle groups which can lead to stress and injury
Promotes recovery from strain or injury
Improves the way your body looks and feels
Allow our trainers to visit with you about the wonderful benefits of Pilates and how Pilates exercise will help you!