Jake McCabe

Vice President of Marketing

Department: Corporate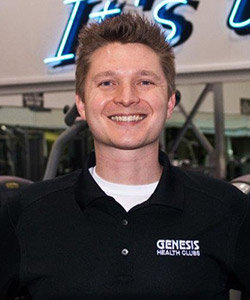 Jake McCabe
Vice President of Marketing – Genesis Health Clubs
CREDENTIALS
Bachelor of Arts | Marketing | Emporia State University | Cum Laude Graduate
Quantitative Research Principles Certification | Marketing Research Association
Peggy Scott Award | Two-Time Winner
Broadcast and Media Professionals of Wichita | Past President
Circle of Excellence Winner | Sinclair Broadcast Group
Executive of the Year 2018 | Genesis Health Clubs
Jake McCabe has long shared two passions: fitness and marketing. He graduated Cum Laude with a BA in Marketing from Emporia State University in 2004 and began a twelve-year career in traditional and digital marketing, sales, and management with Sinclair Broadcast Group. He served as President of Broadcast and Media Professionals of Wichita where he was also a two-time Peggy Scott Award winner and was awarded the Sinclair Circle of Excellence Award.
In 2015, Jake earned a certification in Quantitative Research Principles through the Marketing Research Association.
In late 2017, he accepted a position as the Vice President of Marketing with Genesis Health Clubs, where he is currently responsible for running all marketing campaigns and activities for 50 health clubs in six states for a rapidly growing company. His background in in marketing, strategy, and research brings a unique perspective to the Executive Team, on which he serves. In 2018, he was awarded Genesis Health Clubs – Executive of the Year.
Working at Genesis Health Clubs has enabled Jake to bring his love of marketing together with his love of fitness. In his spare time, he likes to run, ride bicycles with his wife and three kids, swim, hike, and travel with adventure in mind. He is an avid hiker, having summited over 25 peaks, including over a dozen Colorado fourteeners.