Tennis Lessons and Programs for all Ages and Skill Levels
Genesis offers indoor and outdoor tennis courts at the Rock Road, Miramont South, Lincoln Racquet Club, KC Racquet Club, Clayview, and Topeka SW locations, and indoor courts at Manhattan, West Central, Overland Park, Westroads, Salina, Hickman Road, and St. Joseph locations. We also offer outdoor courts at our Orlando Sportsplex location.
Genesis tennis memberships are designed to measure your playing level and then give you access to various programs, including beginner clinics, stroke clinics, league play, private instruction, junior tennis, and special events. We have a variety of programs and lessons for players of all ages and skill levels.
Genesis Health Clubs has long been an acknowledged leader in the development of tennis players. As part of a new membership with Genesis, you are entitled to receive a 30-minute complimentary hit with one of our tennis professionals. This hit is designed to measure your playing level. Once your tennis level is determined, you will have a variety of programs in which to participate, including:
Beginner Clinics
Stroke Clinics/High Tech Clinics
League Play (Men's, Women's and Mixed)
Private Instruction
Special Events (Socials, Parties)
Additional benefits to involvement with our tennis programs include:
Introduction to pro staff members
Introduction to other members with similar playing levels
Qualified staff members will explain all programs in detail
Want Tennis News You Can Use?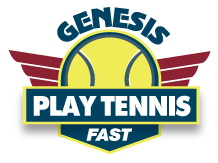 Do you want to learn the sport of tennis in no time at all?