G-Perks Rewards
The more you burn - the more you earn!
Members of Genesis Health Clubs get access to G-Perks Rewards, the fitness industry's most exciting loyalty, and reward program.
Members can register by clicking the Register button above. Watch your email for confirmation with directions on setting up your password, viewing your points, and redeeming your points. Please be sure that you use the same email address for your G-Perks account that you have on your membership file!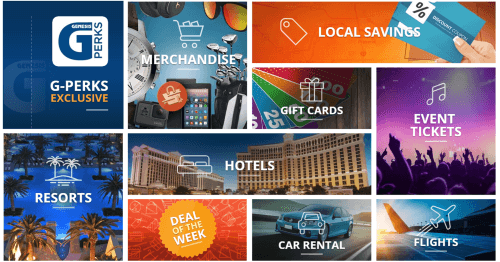 Earn
G-Perk members earn points for their activities in the club, from checking in and attending events to booking personal training sessions and much more.
Redeem
Redeem G-Perk points for savings on top hotels and name-brand merchandise, plus exclusive and special offers.
Instant Deals
Get instant deals on events, attractions, movie tickets, and more.
Gift on Purchase
Take advantage of special benefits when purchasing gift cards, renting cars, or booking airline flights through our members-only website.
Referrals
Earn huge rewards when referring a family member or friend who joins the club, such as a $500 resort vacation savings certificate.

Real Member Feedback
Members have saved thousands of dollars on vacations, sunglasses, golf clubs, electronics, and much more. Check out some of the positive feedback below!

"I am already going to the gym, so why not get some extra benefits for free!!"
"G-Perks saved me $138 compared to Expedia."
"G-Perks is AWESOME!"
"The program saved me $48.30 compared to Amazon. What I like about the program is I already go to the gym, so this is just icing on the cake."
"G-Perks clearly has the best deals. Thanks for a great program!"
"Makes me want to go to the gym more often."
How do I earn points?
You can earn points by just using your membership! The following is a breakdown of how points can be earned. This list is subject to change and grow! Watch your club's front desk, news, and Facebook to check out promotions for additional earning opportunities, double point days, and more!
+1pt Check-In to Club With Your Membership Card
+20pts Celebrating Your Birthday
+10pts 10 Workouts in Month Bonus
+5pts Connect to Twitter to earn points
+5pts Personal Training / Tennis / Pilates Session
+2pts Attend a Group Exercise class (must save spot in member portal first)
+1pt Tweet
+250pts Refer a Friend
New Member Additional Point Opportunities:

+50pts Join Reward Program
+50pts Complimentary Tennis Hit
+50pts Complimentary Pilates Session
+25pts Complete Complimentary Personal Training or PFA Session
+50pts Complete first Group Fitness Class (must register in member portal)


GPERKS REFERRAL PROCESS
To receive points for your referrals in GPerks, you must refer them through Perkville on your account BEFORE they become new members. The process to receive the 250 point bonus is:
You refer a friend by submitting their email address
Your friend receives a complimentary 10-day pass from you
Your friend can either redeem their pass online or just come in to use
When they join, their email and information is put into our system
The first time they earn points (check in to the club), you automatically receive the points to your account.
For more information, contact the G-Perks support team:
Customer Support Phone #: 877.207.7091
Custom Support E-mail: Customersupport@myrewardstore.com
*Points have no cash value. G-Perks reward program is subject to change, cancellation, substitution, or replacement at any time.