Mike Racine

Vice President of Facility Operations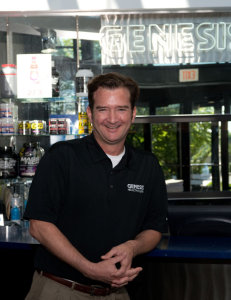 Mike Racine began his career with Genesis Health Clubs in 1995 as a General Manager, a title he held for just over ten years managing both West 13th and East Central locations. He built strong and successful sales teams and managed the front desk, nursery and maintenance staff as well.
In 2006 when Genesis expanded outside of the Wichita market, Mike oversaw the expansions first in Hutchinson and later the Salina location. He held dual roles as both General Manager for each club and Director of Operations for the entire company during that time. He coordinated the pre-sales, temporary location operations and grand openings for both facilities. As Genesis has expanded and acquired new clubs, Mike has played a key role in each acquisition. He has helped each facility transition into the Genesis brand and works with all departments to implement Genesis systems and structure.
Mike has been in a corporate role for the past several years and is the Vice President of Facility Operations for all twenty-one Genesis Health Clubs. He manages the day-to-day facility needs and also oversees the front desk and maintenance departments in each market.
With over 20 years of commitment and experience, Mike has helped Genesis develop successful systems and procedures used in day-to-day operations in each of the twenty-one locations.
CREDENTIALS
Bachelor's Degree – Wichita State University
Club Manager – West 13th (3 years)
Club Manager – East Central (4 years)
Club Manager/Operations Manager – Hutchinson (3 Years)
Club Manager/Operations Manager – Salina (2 Years)
Director of Operations – (10+ years)