Preston Petersen

VP of Personal Training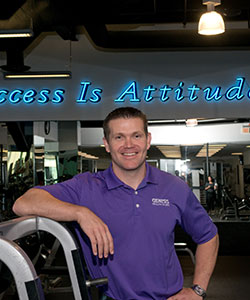 CREDENTIALS
• B.S. Health Management – Friends University
• B.S. Physical Education and Health – Friends University
• National Strength & Conditioning Ass. – Certified Strength & Conditioning Specialist
• American Council on Exercise – Clinical Exercise Specialist
• National Council for Certified Personal Trainers – Certified Personal Trainer
• Functional Movement Systems – Functional Movement Screening Certified
• TRX – Group Instruction Certified
• Subject Matter Expert – American Council on Exercise
Preston began his career with Genesis Health Clubs in 2003 at the Wichita Rock Road
facility and quickly became the most productive trainer in the company, setting personal
training session and sales records each of the next five years. By 2009, Preston had
amassed over 20,000 personal training sessions. During June of that year, he was
awarded his first Personal Training Coordinator position at the Wichita East Central
location.
During Preston's first year at the helm of East Central, revenues grew over 500%,
leading to his next position with the company, Personal Training Coordinator at the
Rock Road location. Under Preston's leadership, the Rock Road personal training
department grew over 60% and surpassed $1M in sales in 2013, a record for that
facility. In March of 2010 Preston was promoted to Director of Personal Training. In this
role he manages and oversees the PT departments in every Genesis location.
In late 2010 he introduced two new methods that would change the landscape of
personal training at Genesis Health Clubs; financed personal training sessions and
fitness consulting by Personal Training Coordinators. Throughout his tennure as
Director, Genesis Personal Training has grown over 475% in total revenues and over
125% in same-store revenue. Preston has also developed the Genesis assessment
process, trainer education program, and the fitness leadership platform.
Of the 21 Personal Training Coordinators at Genesis, 19 began their careers as trainers
and were sought out and mentored by him, creating a very cohesive leadership team
throughout the department. In October of 2014, Preston was instrumental in bringing
nutritional supplementation to Genesis and currently each club offers nutritional
products and services to its members, servicing over 2,000 members every month with
those products.
Today over 200,000 personal training sessions are performed each year at Genesis
Health Clubs. That number continues to rise each year through the diligence of the
Results Based Training model and the new member engagement protocol implemented
in 2011. Preston currently oversees, in addition Personal Training: Pilates, Massage
Therapy, Group Training and All-American Training, Aquatic Programs, G60 Boot
Camp, and Climbing Wall.
PHILOSOPHY
"I am a results-based personal trainer with an integrated approach to exercise execution
and behavior change. My training systems use multi-joint, multi-planar movements
incorporated with corrective exercise techniques, keeping my clients feeling better,
looking better, and performing better."