Goddard Construction Update
Wednesday, May 31 2023 2:27 PM
May 2023 Hotel Construction Progress
Exciting construction progress is happening at the Hampton Inn!
May was a busy and productive month, bringing the hotel closer to completion. The lobby is taking shape beautifully with a stunning faux grass wall, adding a touch of contrast. Rooms and central areas are receiving finishing touches, including carefully selected artwork of Wichita's local historic landmarks.
Stay tuned for the opening day announcement, promising a remarkable staycation adventure with Blast Off Bay Waterpark connected and recurring sporting events at the Genesis Sports Complex. Prepare for an unforgettable experience at the Goddard Hampton Inn, opening soon!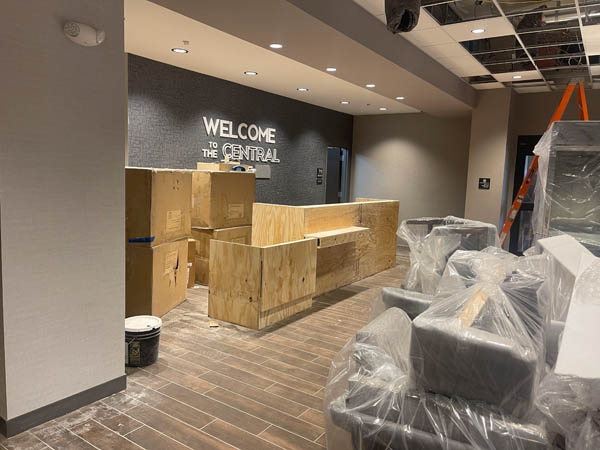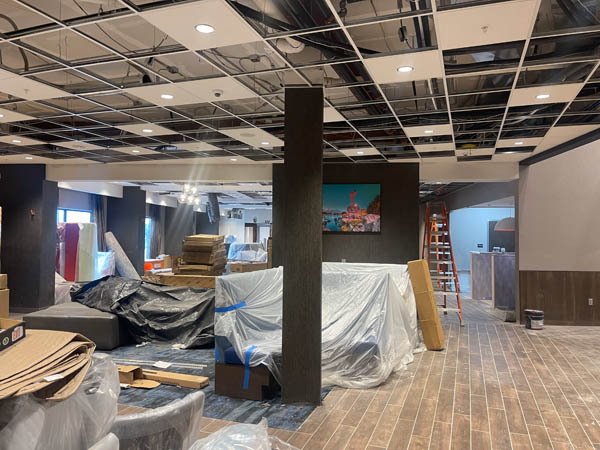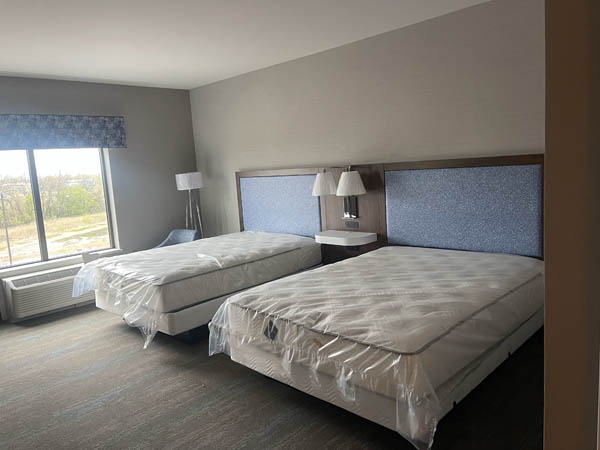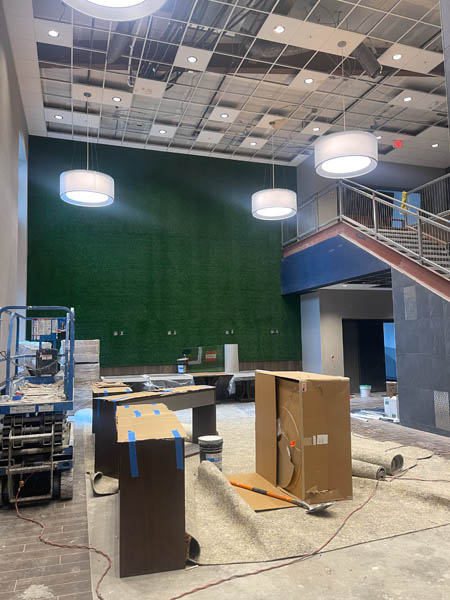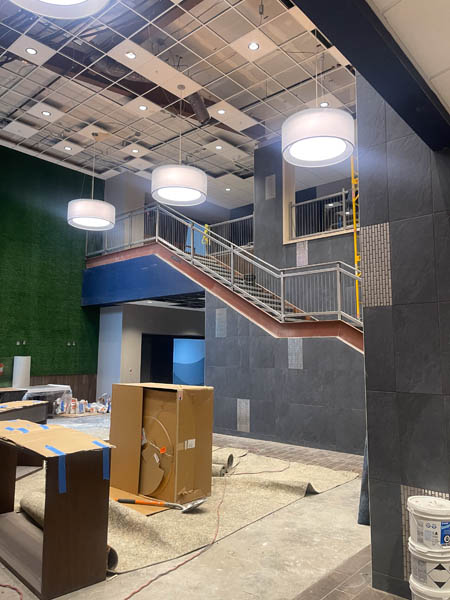 Update 3-13-23
Great news - Blast Off Bay is now officially open! We've already had our soft opening and people of all ages have been having an absolute blast. But hold onto your hats, because the Grand Opening is still on the horizon - stay tuned for more announcements!
In the meantime, check out the photos below to see just how much fun visitors of ALL ages have been having. Don't miss out on the action - grab your tickets now and come join in on the fun. And if you're a Genesis member, you get a whopping 50% off general admission - score!
In other news, we're hard at work on the attached Hampton Inn, which will be the perfect place to stay for anyone visiting the area. Whether you're in town for a sporting event, a vacation at Blast Off Bay, or just visiting friends and family, we've got you covered.
The rooms are coming together, and we are in the process of getting furniture and appliances installed. Carpet has been laid in the rooms, the offices, and the storage rooms. Plus, we've added some sleek tile in the bar and other areas of the lobby. It's going to be an ultra-comfortable place to spend the night, and we can't wait to welcome you soon!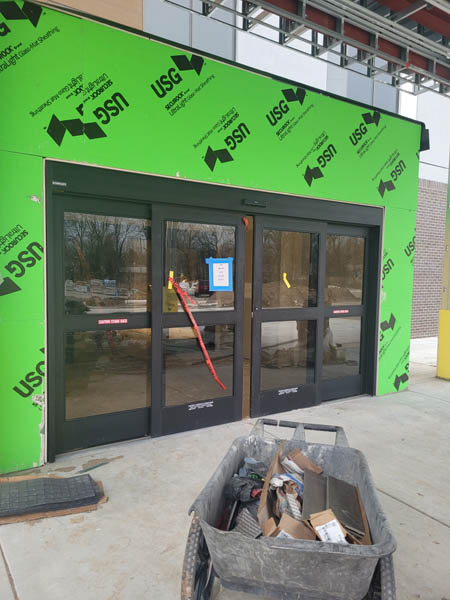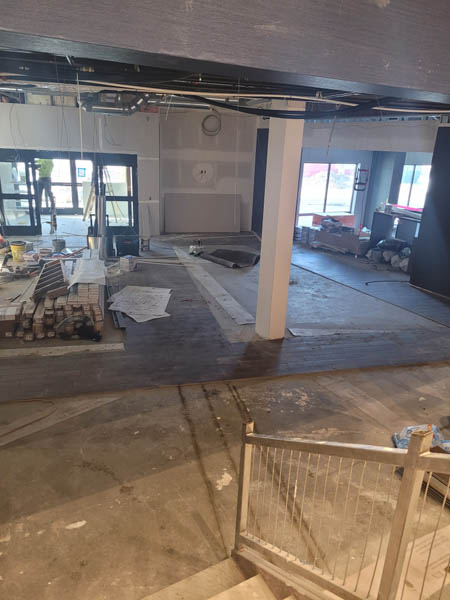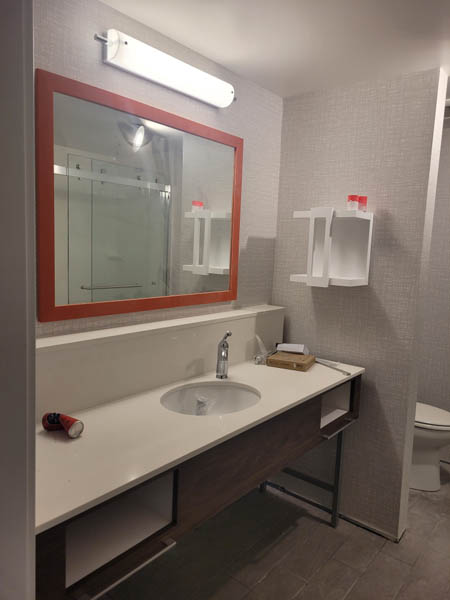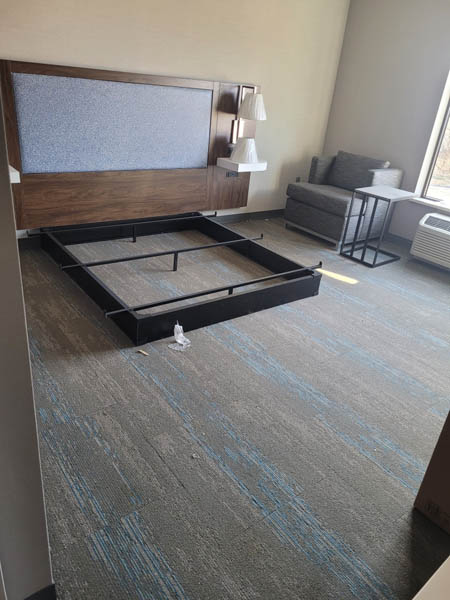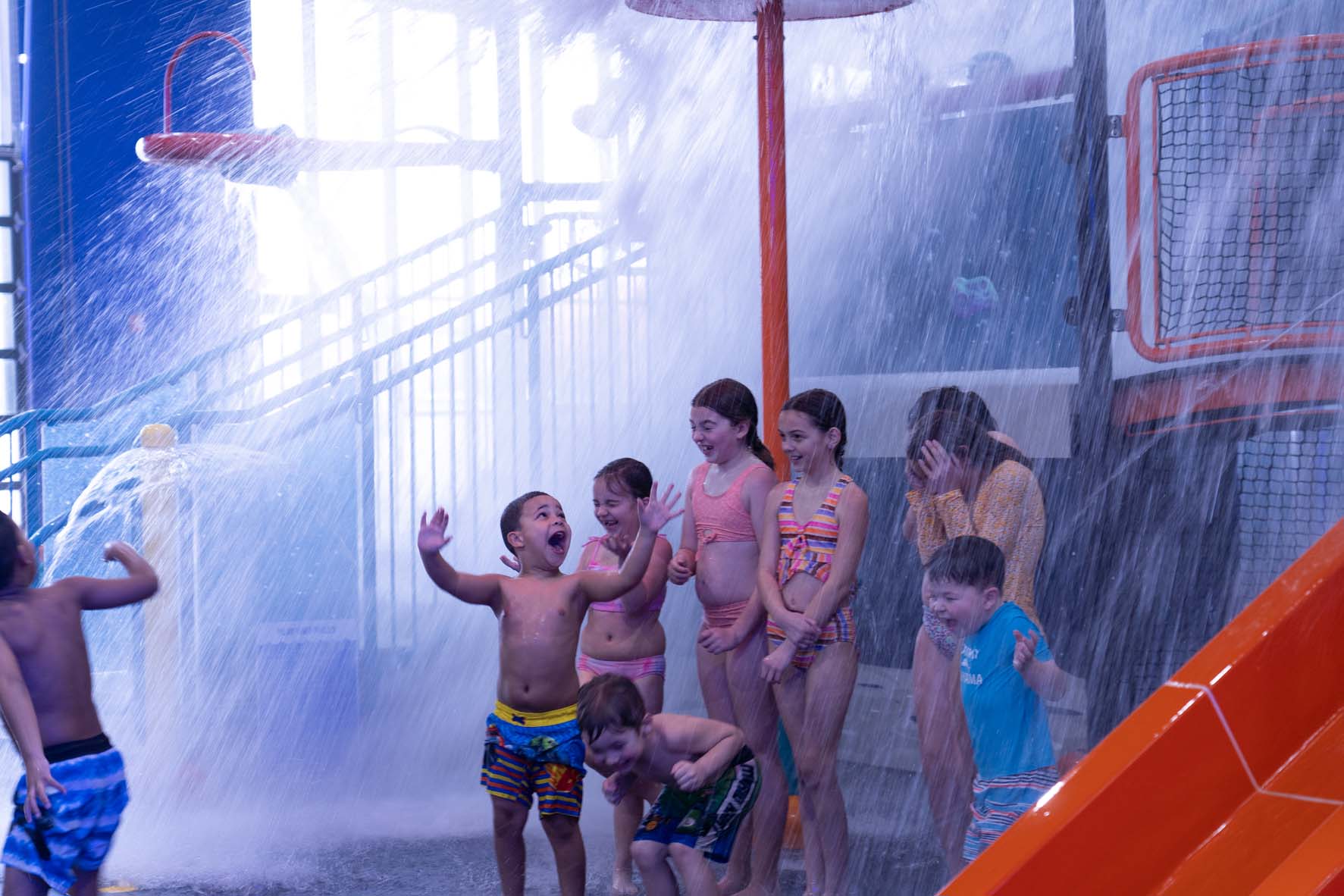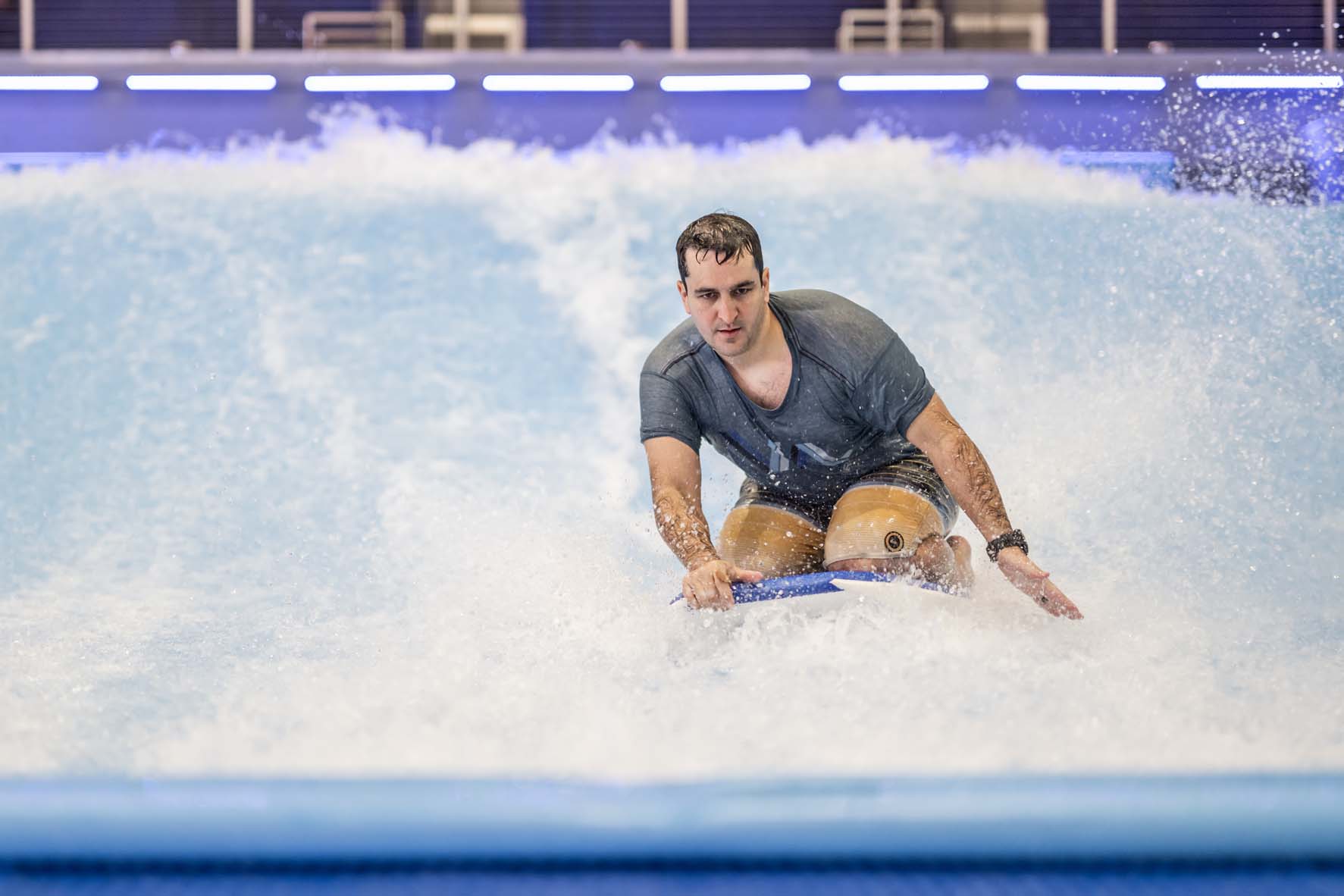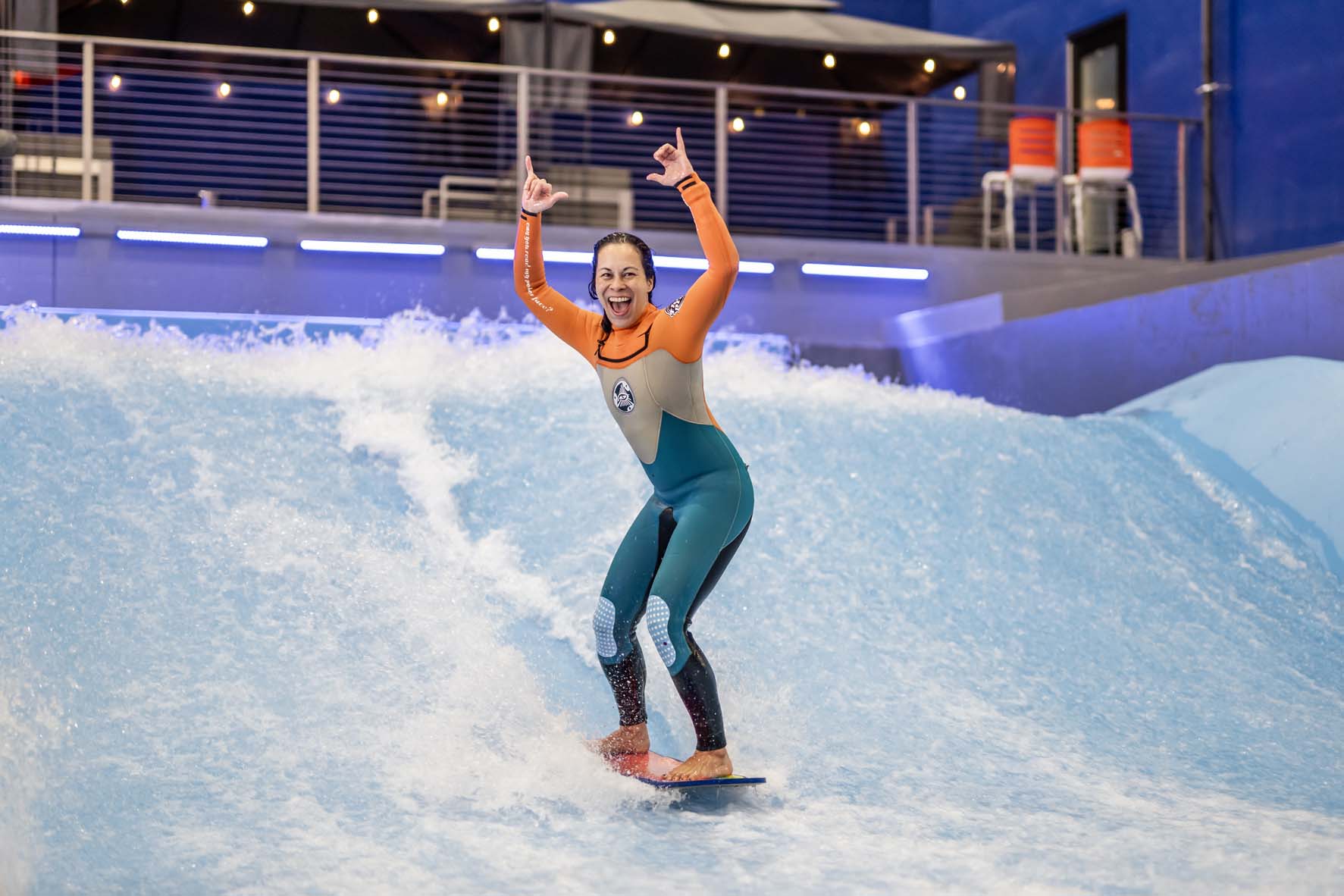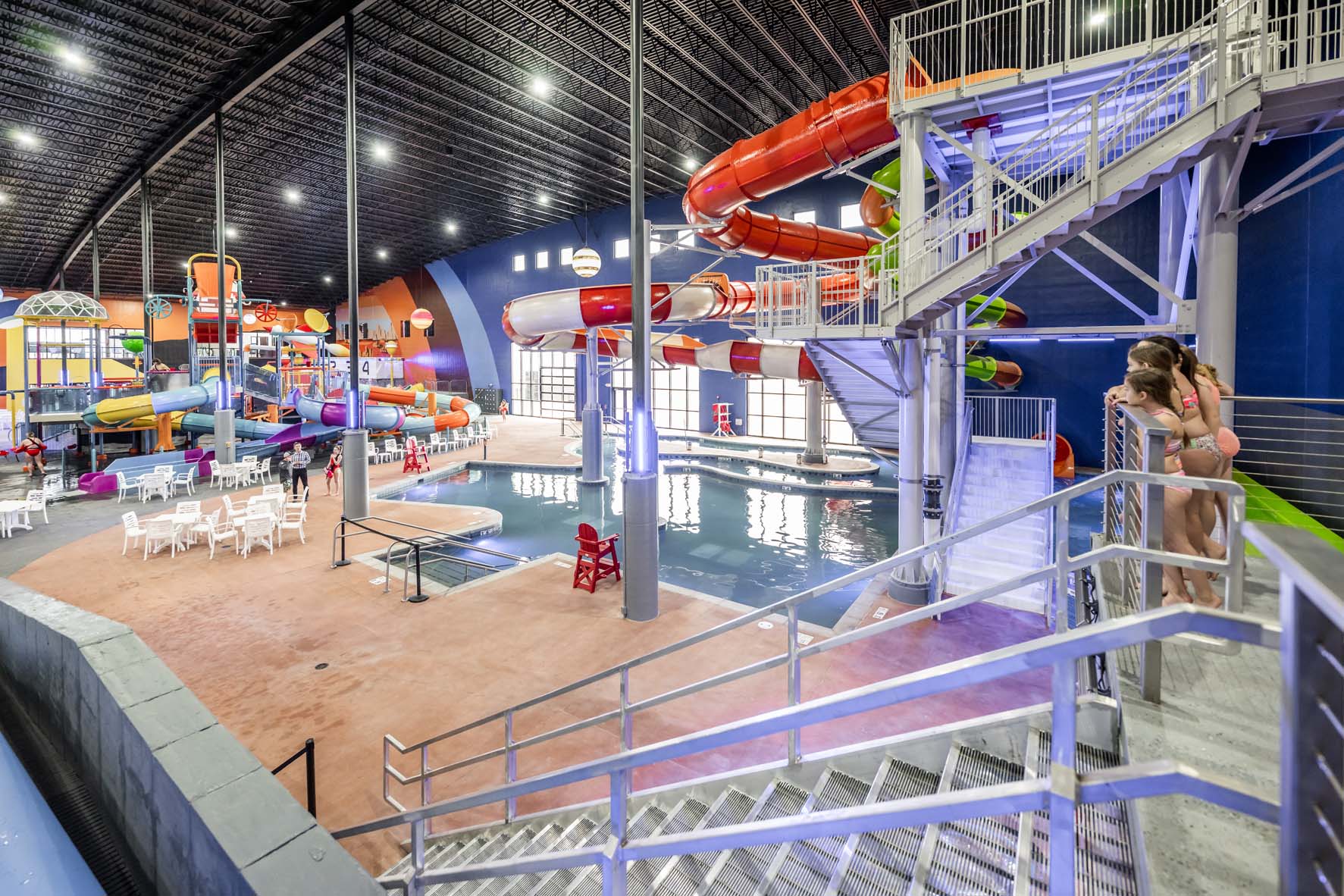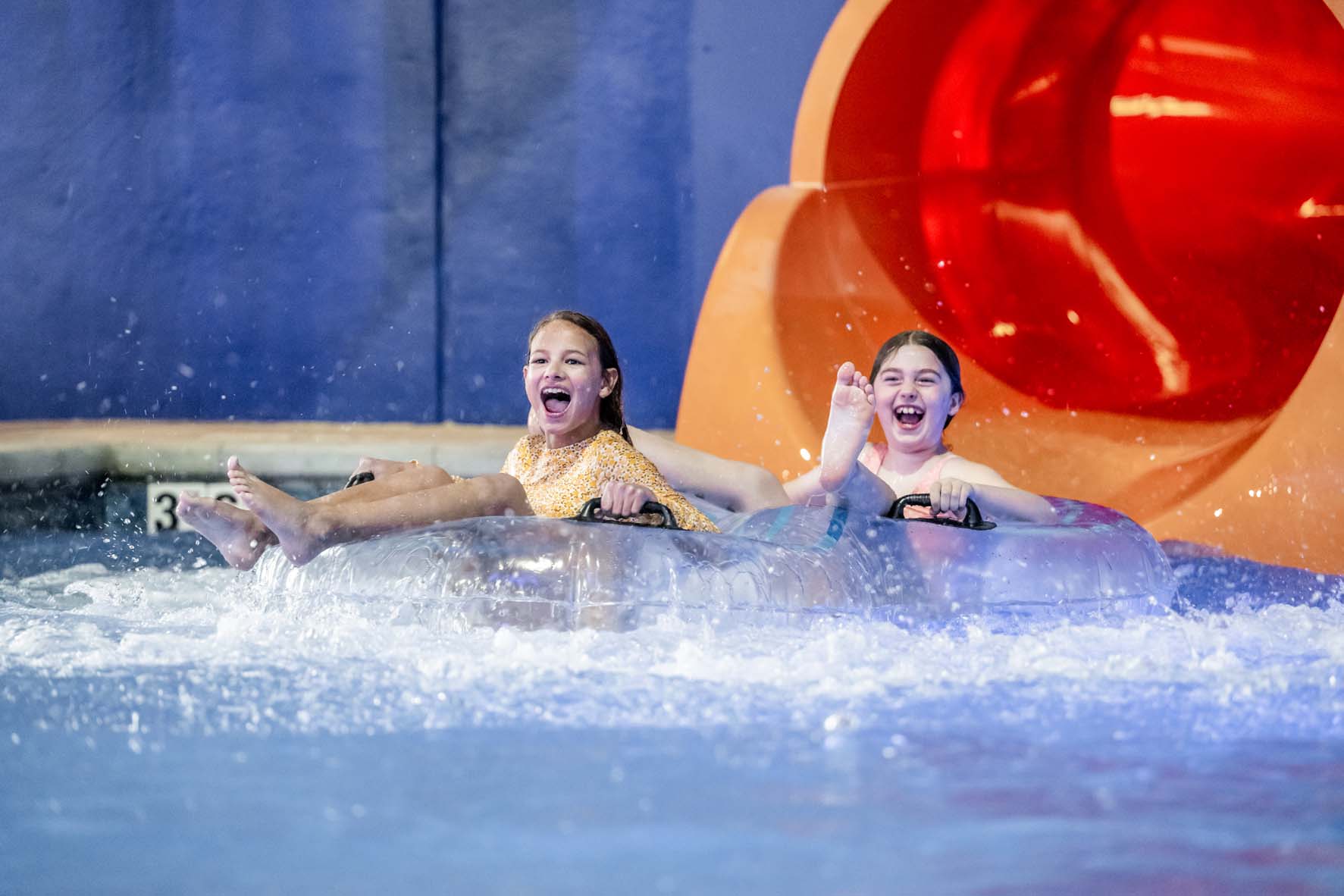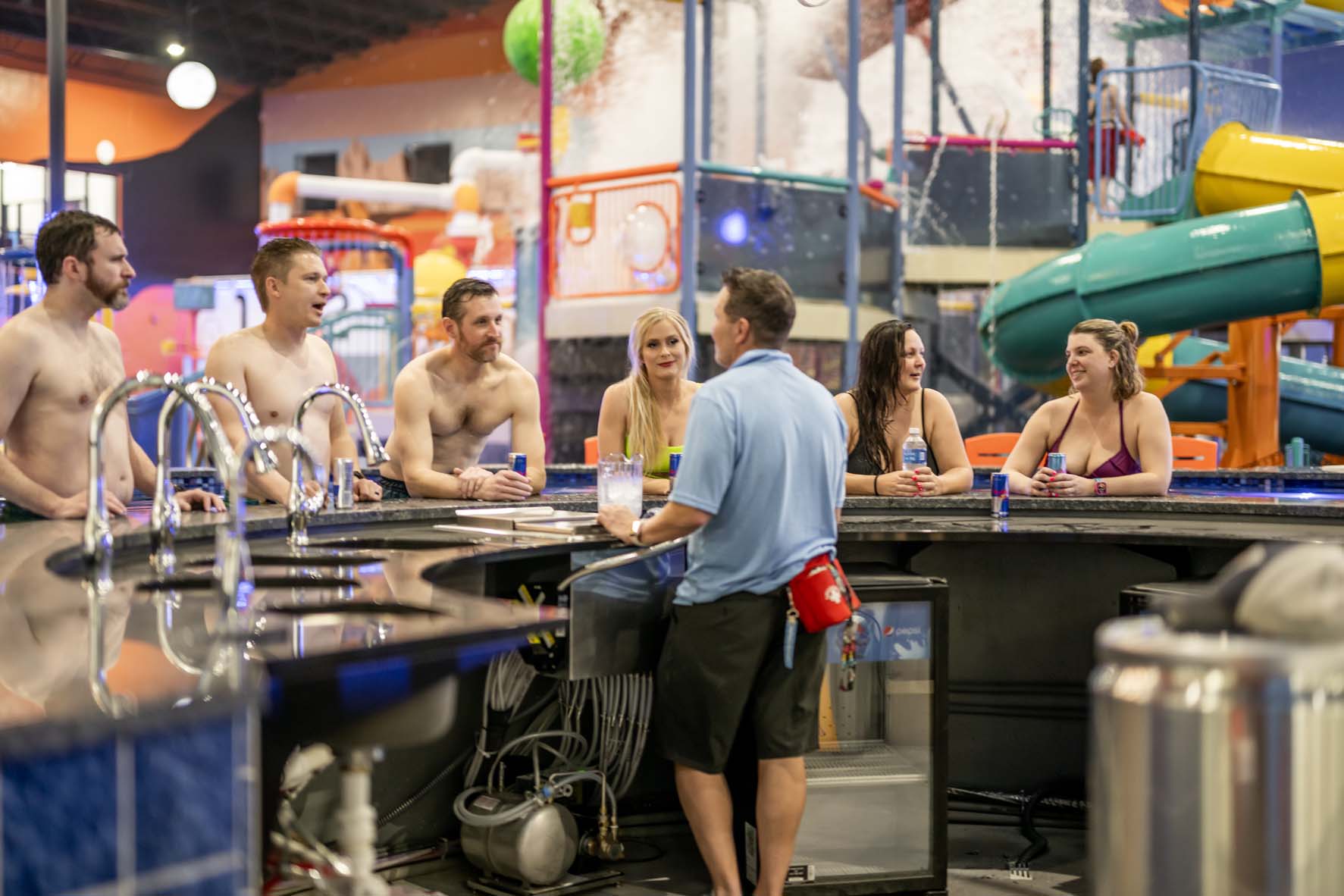 Update 1-30-23
Another month, another exciting update for our Goddard location!
We had our grand opening for our health club, and it was a huge success! Not only that, our steam room and kids club is now open. Our arcade is open now as well - swing by if you're in the area to play some super fun games. You don't have to be a member to play!
Construction-wise, we are adding lighting fixtures around Blast Off Bay as we prepare for an opening near spring break. The water features are running, our concessions stand is nearing completion, and the slides are ready to go! We've also hung up the exterior Blast Off Bay signage. The swim-up bar casework is being built, and we are installing the finishes for the attached hotel.
Our lap pool deck has been poured as well and will be ready to welcome swimmers soon! Outside of the main building, our softball fields and bathrooms, as well as concessions, are almost finished. Lastly, we are leveling out the dirt to begin construction on our sports bar. We're excited to get started on this addition to the project!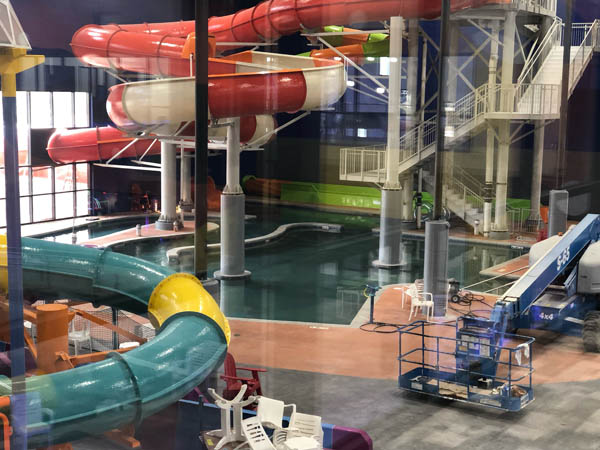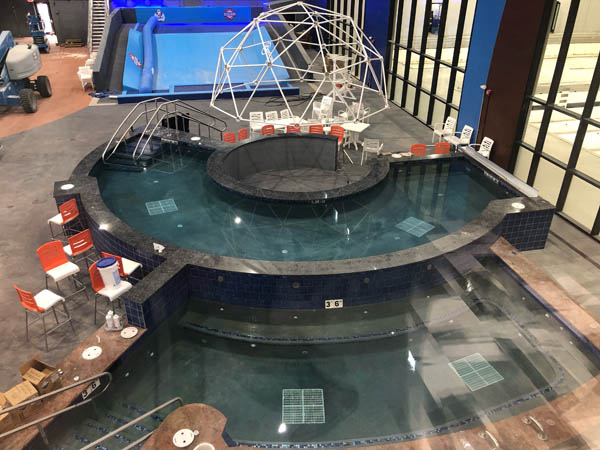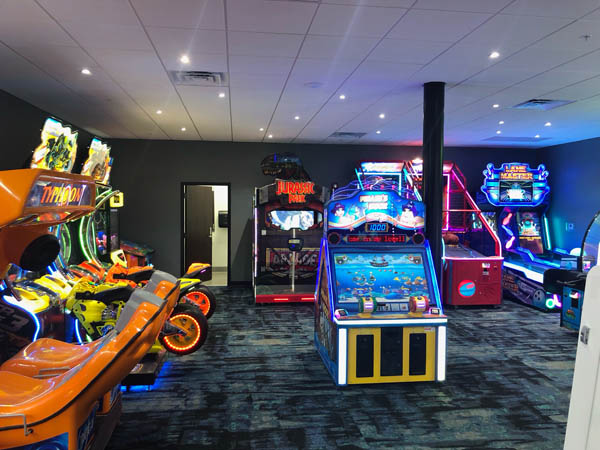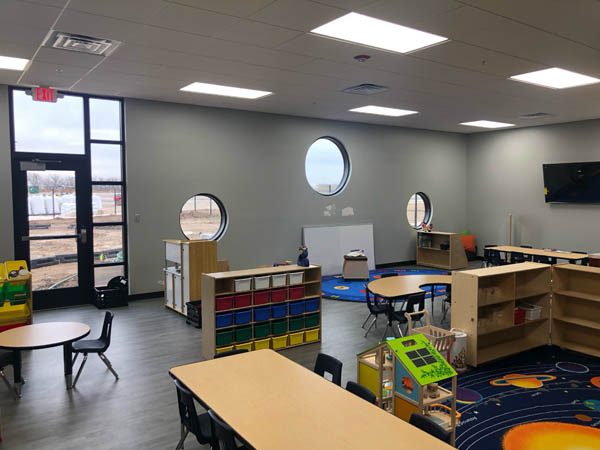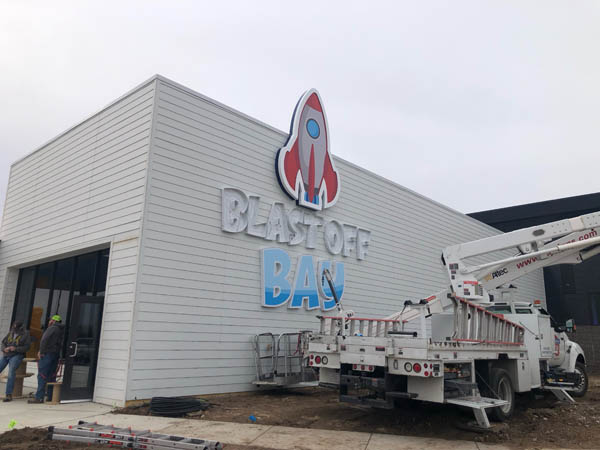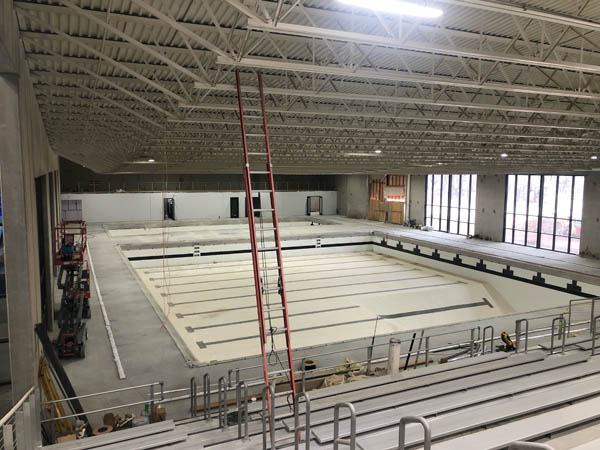 Update 12-2-2022
As 2022 is nearing its end, so is the construction at Blast Off Bay indoor waterpark and our Goddard Genesis location!
Over the past few months, we have opened the health club side of this facility, and you don't want to miss it - all new strength training equipment, free weights, an expansive cardio deck, and beautiful group exercise rooms! You can stop by at any time for a free tour to see all that our Goddard location has to offer.
Meanwhile, we've been working hard on getting Blast Off Bay ready to open. As you can see in the pictures below, we've set up the entire structure of the park and are now working on a few final details within. Our surf machine is even up and running! This is going to be a super fun and unique addition to the waterpark, as well as a unique addition to Goddard and all of Wichita! Even our gift shop is almost ready.
The natatorium is still steadily moving along. You can see work being done on the ceiling, and progress can be seen in the pool itself - lines have been painted and tile installed.
We can't wait until the entire facility is open. We are positive that this will be a place for creating lifelong memories!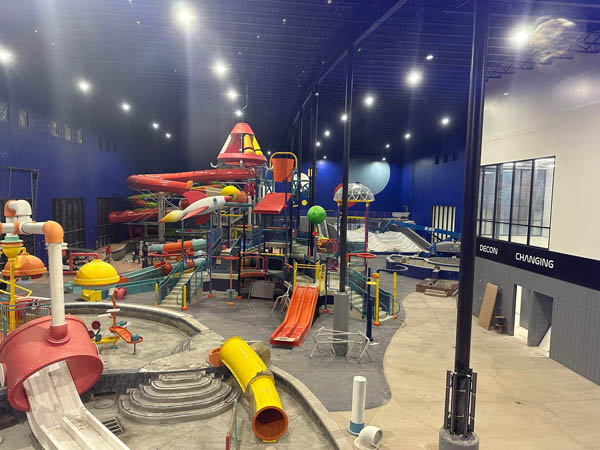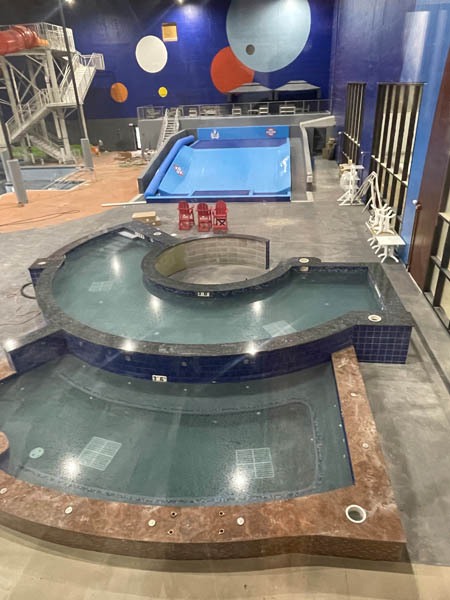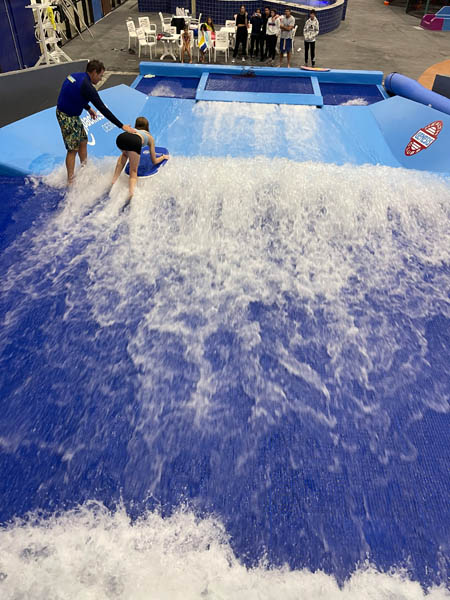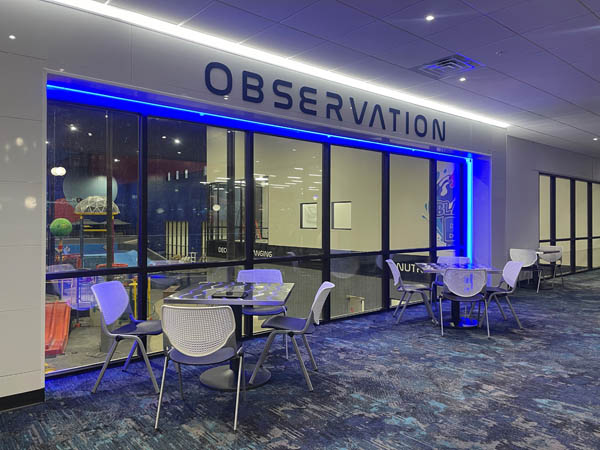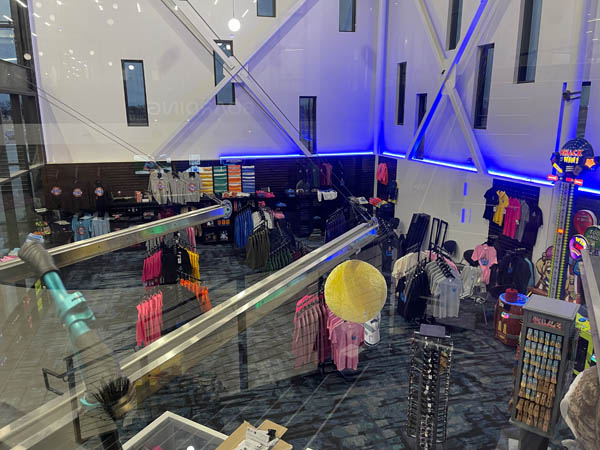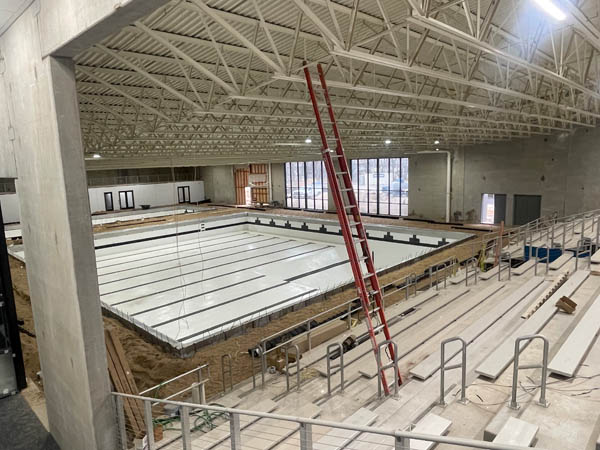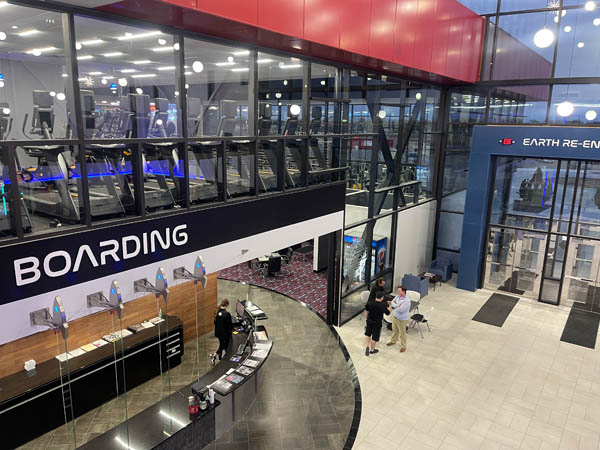 Update 7-15-2022
Noticed anything different about our Goddard facility? If you've driven past on Highway 54, chances are you might have seen a big change - in the form of a huge Genesis sign on the building!
That's right, we are extremely excited to finally have signage on the Goddard health club. It's one more big step forward in our journey towards completion, a journey that is nearing its end! The pictures below will show you what it looks like, as well as how we transport and install the sign. We can't wait for you to see this location in person!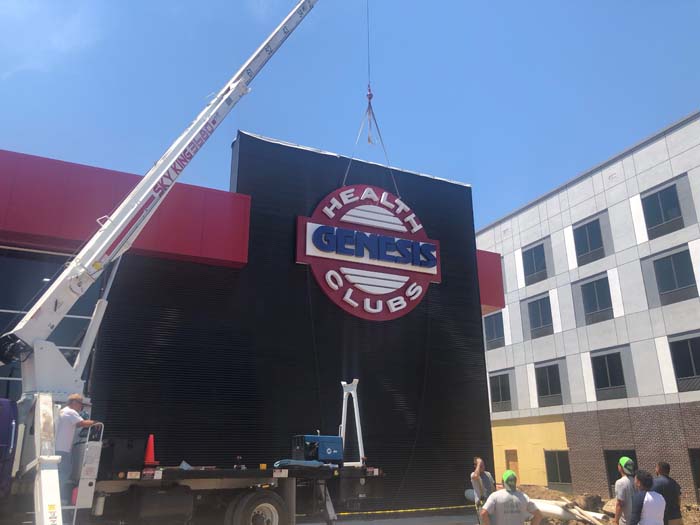 Update 6-30-2022
Another month, another exciting update to our upcoming Goddard location, that will feature not just a new Genesis Health Club location, but also our Blast Off Bay waterpark, a natatorium, preschool, and a Hampton Inn! Read on for details about our new developments.
Health Club
Progress is flying by on our new Goddard location, and it will be ready to open soon! We've laid down turf and have moved in our cardio deck, as well as weight training equipment for all your fitness needs. Our spacious men's and women's locker rooms are nearing completion, along with our front desk and lobby, featuring a ton of natural lighting. A few days ago, members of Genesis staff worked together to move in equipment. This team effort was hard work, but much progress was made and it got all of us even more excited for the final product, which we will be sharing with you before you know it. We're preparing to serve the Goddard and West Wichita area, and doing our best to make it top tier for all of our existing and future members!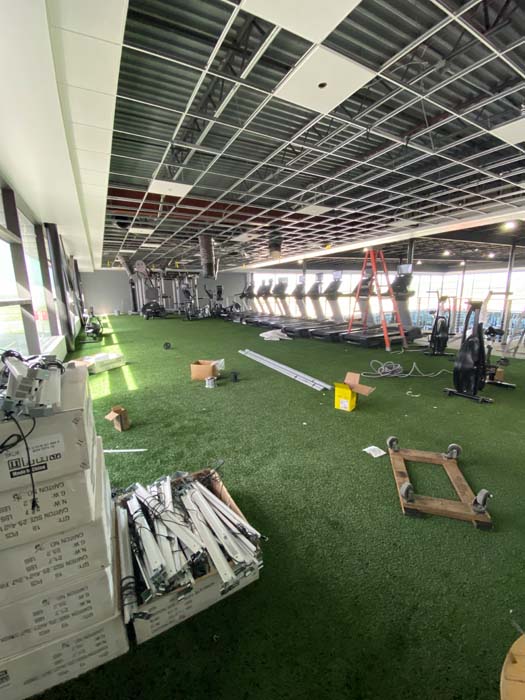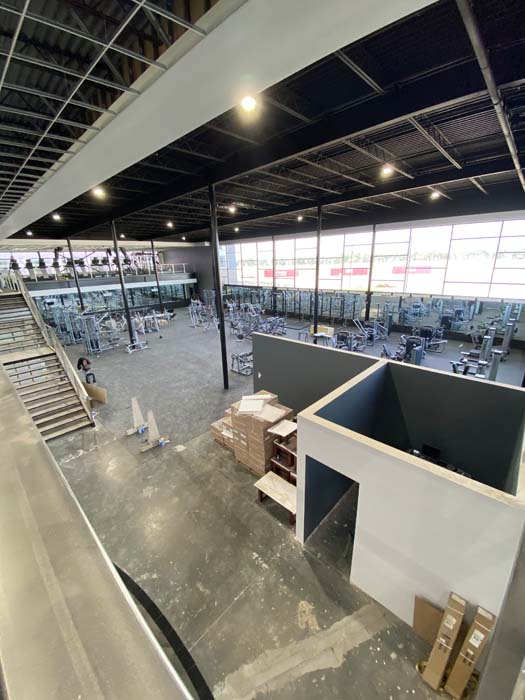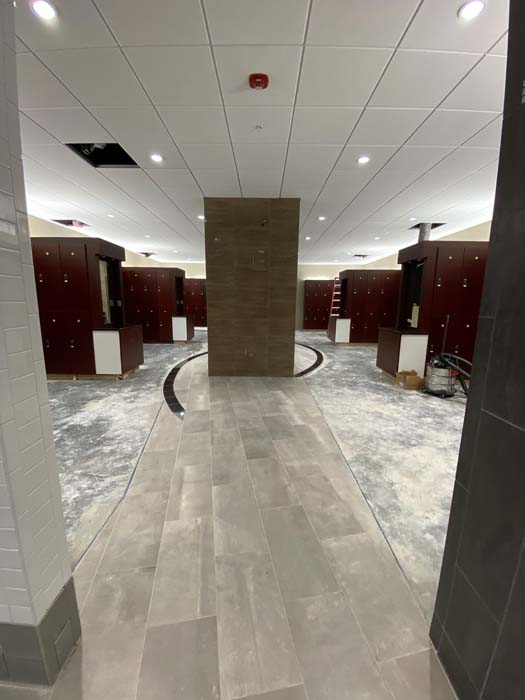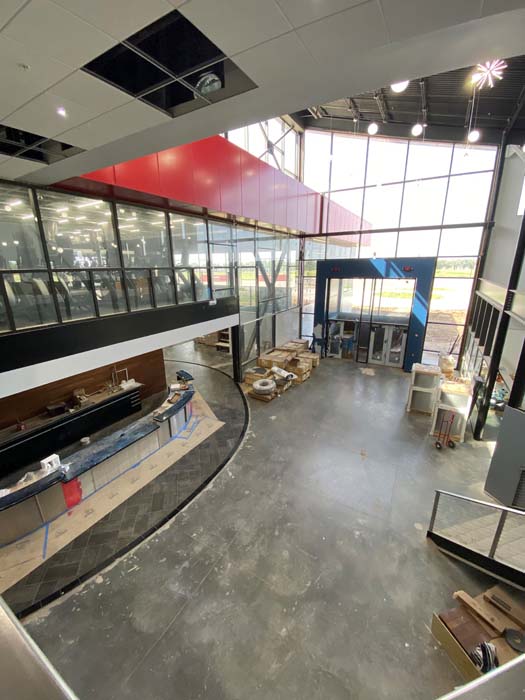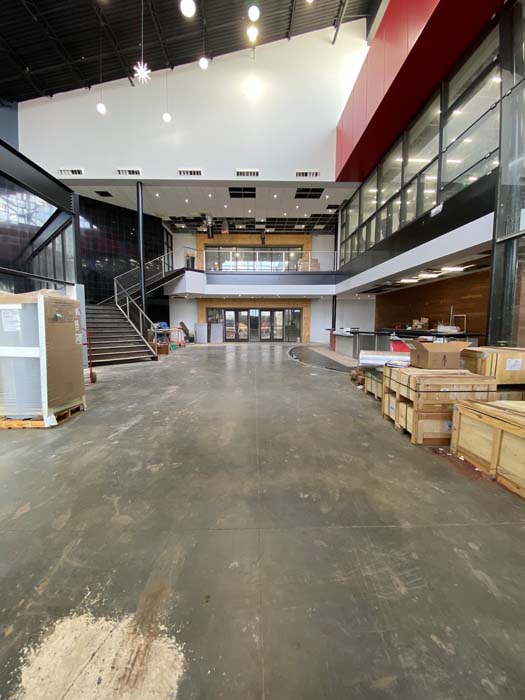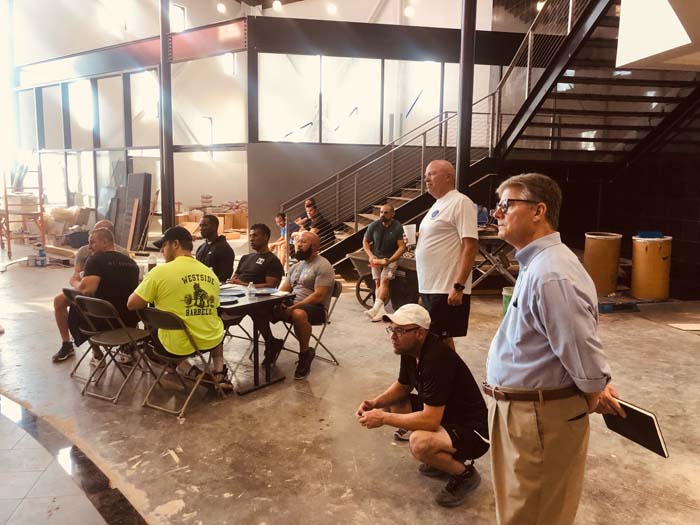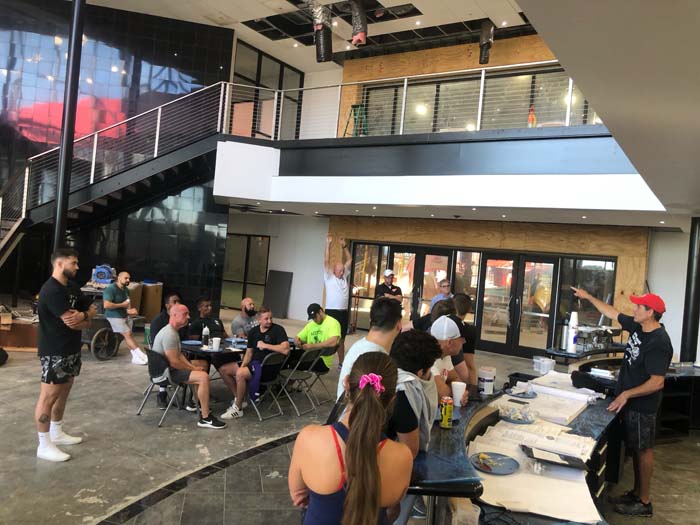 Blast Off Bay Waterpark
Our new waterpark, Blast Off Bay, has made great progress as well. Tiling has been laid on our swim-up bar for the grown-ups, and for the kids, our play structures are completed. Blast Off Bay is filled with a lot of things to explore and enjoy, including some big water slides for all ages! This water park is going to be so much fun to visit, and with continuous progress like this, it will be ready to welcome you and your family soon!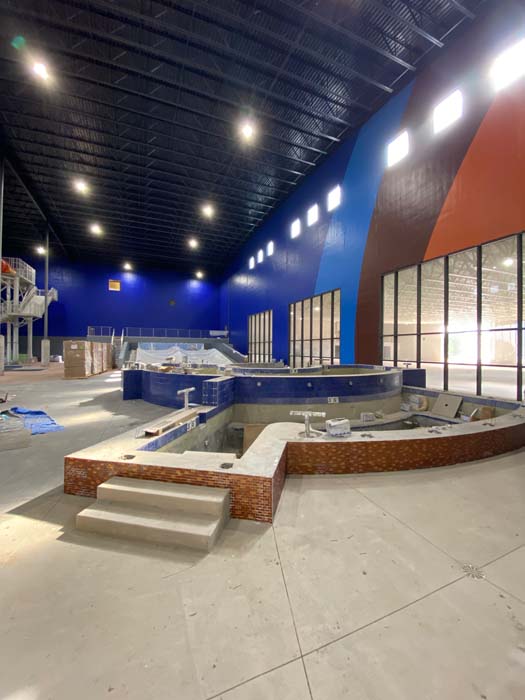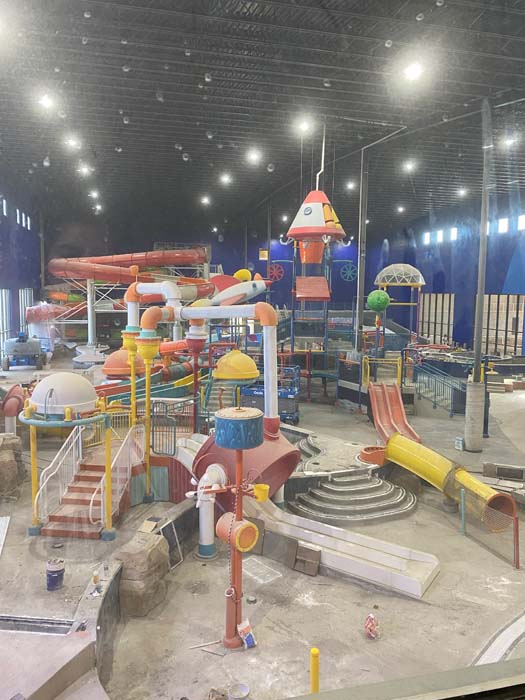 Hampton Inn Hotel
The Hampton Inn that is being built nearby is constructing walls and staircases. You can see rooms and hallways starting to come together, as well as the general layout. From the outside of the building, it's easy to tell that a lot of progress has been made. Although there is still work to be done, it's encouraging to see this hotel start to take shape! We can't wait to welcome you here for ultimate relaxation.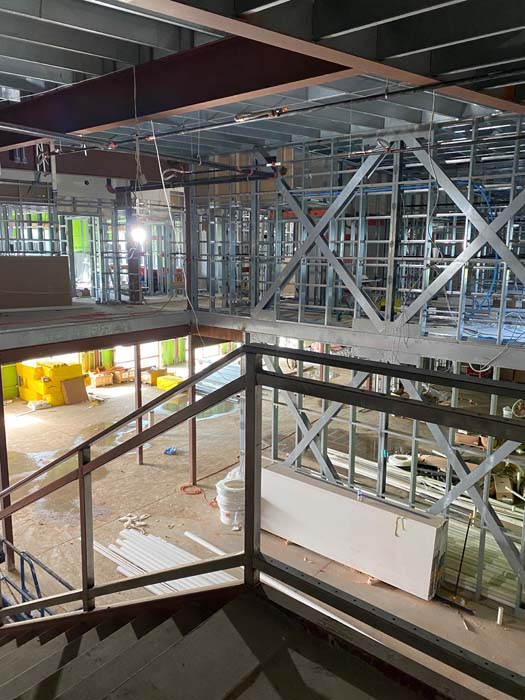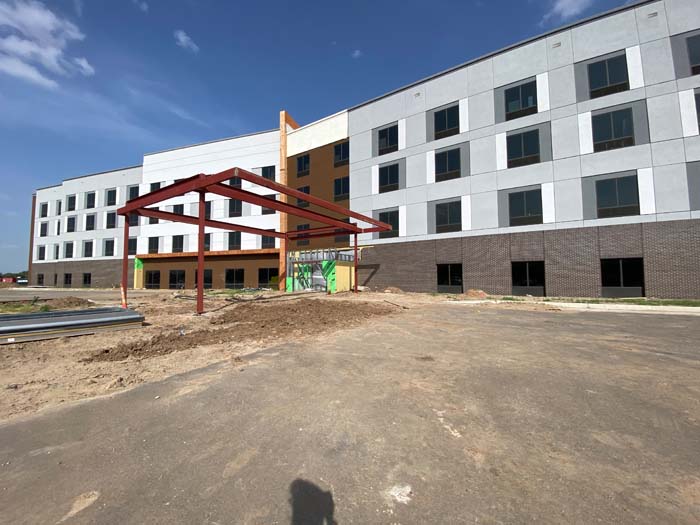 Natatorium
Our natatorium is coming along swimmingly! You can see that the pool structure is done and ready for tiling. Bleachers have been installed with a safety railing. There is plenty of seating for any kind of swim event - we hope you're ready to come and cheer! It also features big windows to let in natural light. We can't wait to see the pool filled and the bleachers full of people!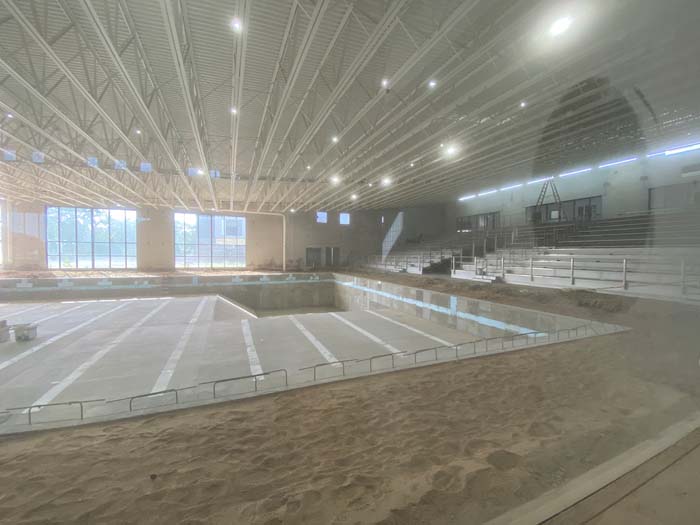 Pre-School
Our preschool is all done structurally! We have flooring and ceilings installed. The cubbies are ready to store backpacks, lunch boxes, and coats for your children. We're still working on bathrooms, as well as finishing up the hallway, but we are working hard. Soon, we'll be ready to serve the needs of your children. We can't wait to meet them!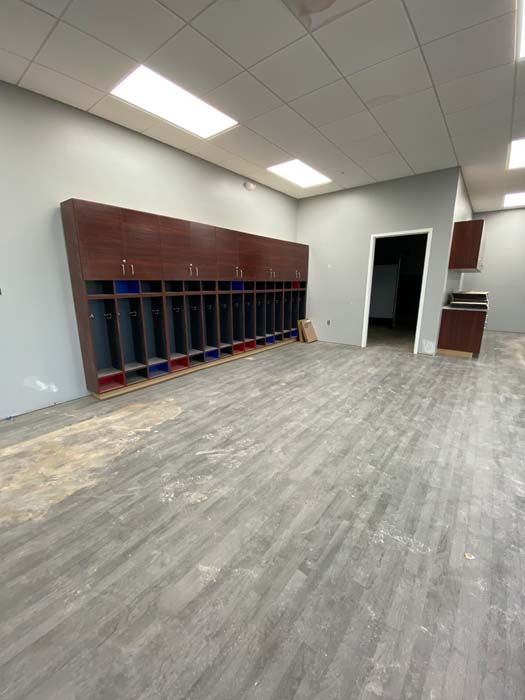 Exterior Buildings and Softball Fields
Below, you can see our softball fields taking shape, as well as the structure that has been built for our outdoor softball building. They will be ready for some thrilling games soon! You can also see the exterior of our waterpark, including two of the water slides that extend out of the building. We look forward to the day in the near future when those doors open and we can welcome you into the facility we've built for you!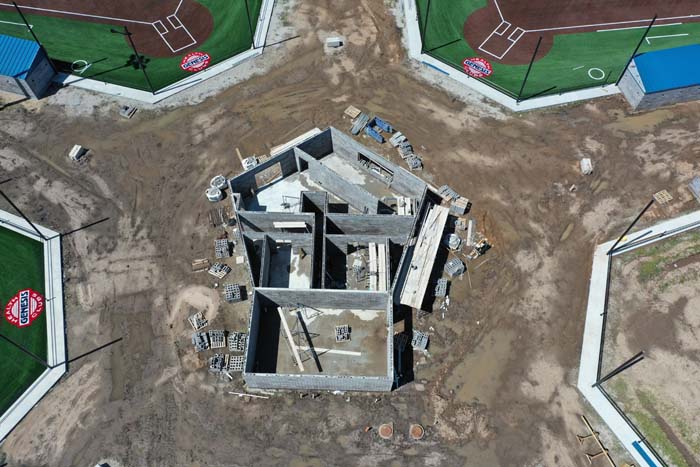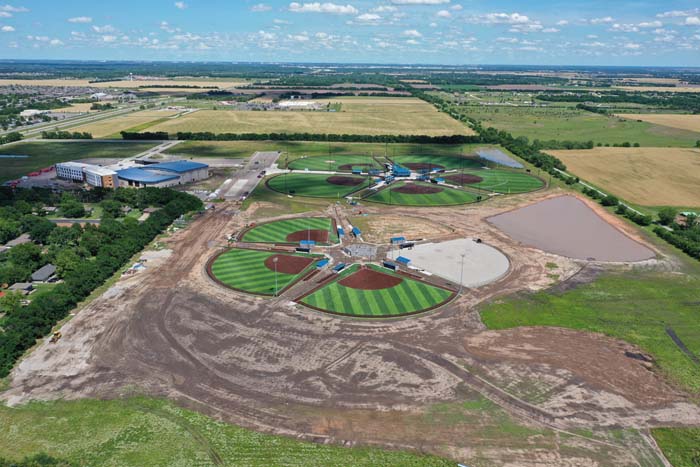 Update 6-2-2022
We've made a LOT of progress since our last update in February! Our fitness club is almost ready to open, and our waterpark is well on its way to completion. The fitness club has features you know and love - an expansive cardio deck, the best weight-training equipment, and stunning group exercise studios. We're already moving in equipment. We'll even have windows overlooking the indoor waterpark! Speaking of that, we've put up a bunch more decorations and have been working on slide construction in the waterpark, as well as our swim-up bar and surfing machine! There's nothing like this facility around, and we're so excited to introduce you to it soon. You're going to be amazed!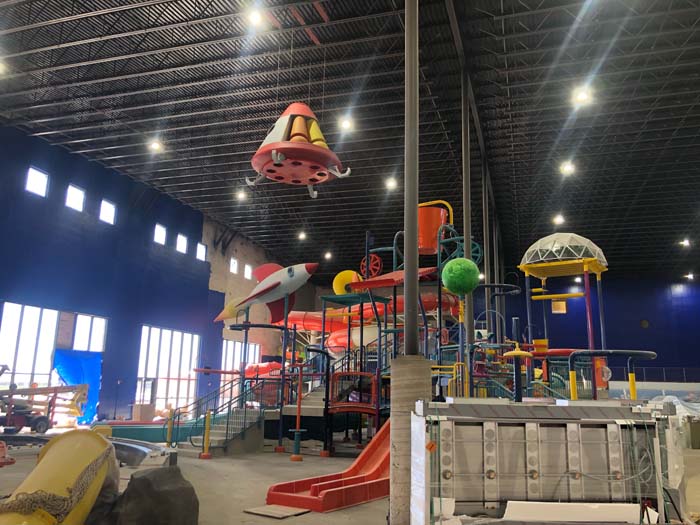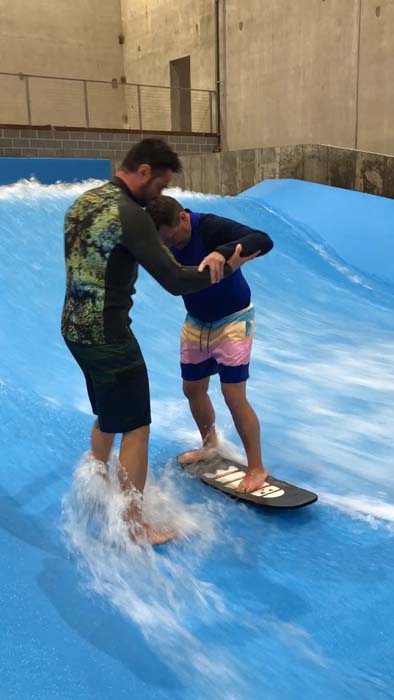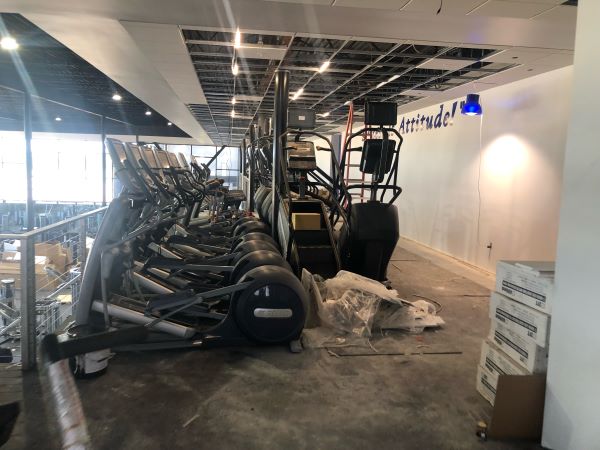 Update 2-16-2022
It's been a minute since we've brought you updates on our exciting Goddard project... Just means there's more to share! Lucky you! Our hotel walls are up, the rooms are being built, the front desk of our fitness club is well underway, there are new slides in our waterpark, and the seating is set in place for the aquatics area. Get ready for the most epic gym, hotel, restaurant, waterpark, and sports facility in the state! The new Goddard location of Genesis Health Clubs is sure to stun, keeping members and friends coming back.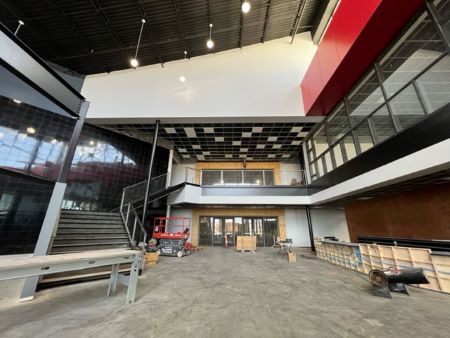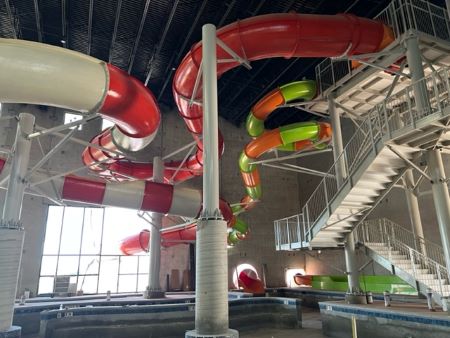 Update 6-10-2021
Got some drone-view, eye-candy photos for our members! Check out how far we've come in our multimillion-dollar Goddard construction project! Can't wait for opening day? Neither can we! Check back for more exciting details on Goddard, coming soon.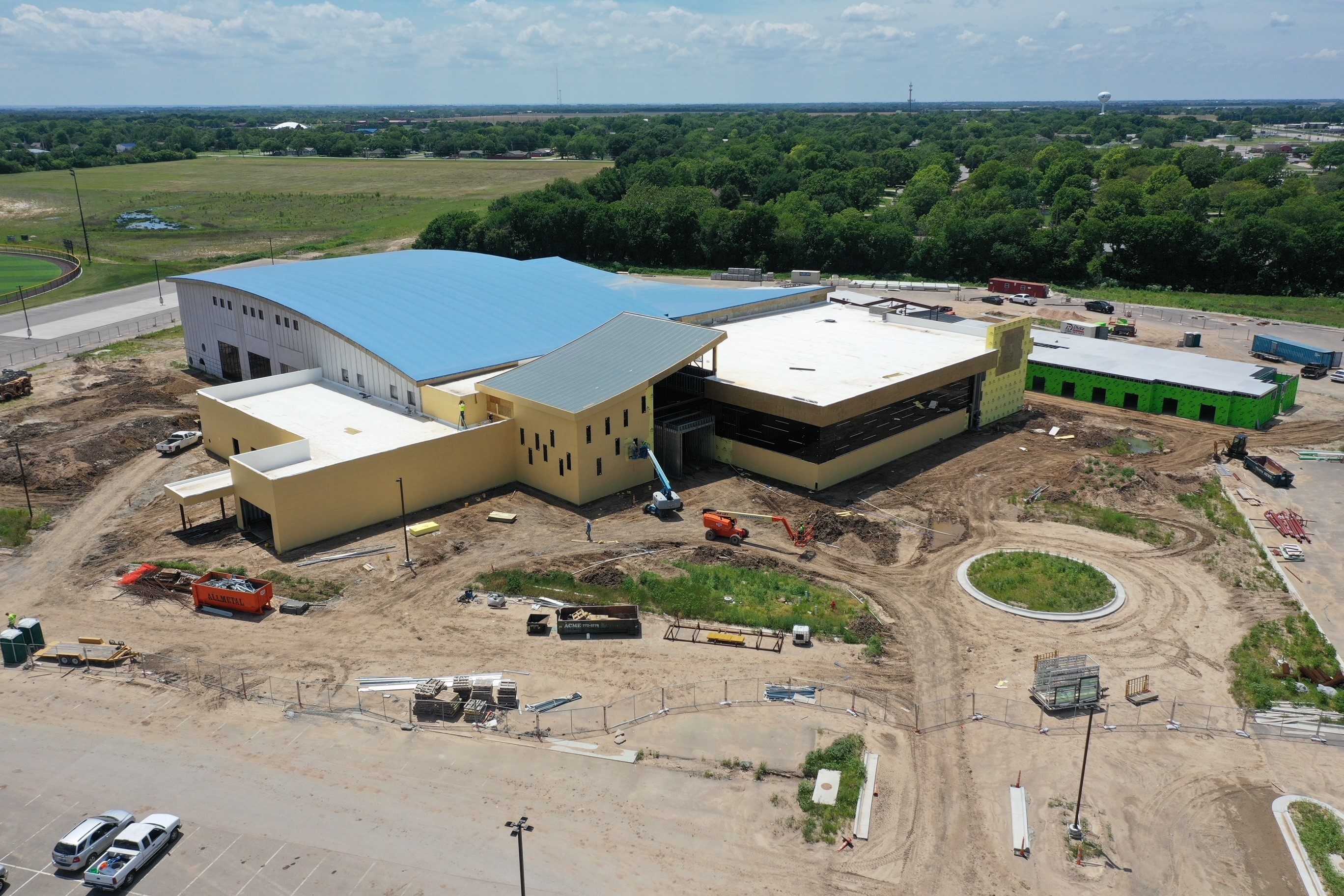 Update 4-12-2021
The hotel of our new Genesis Goddard location is being framed up! Excited? We are too! Stay tuned for more awesome updates coming soon!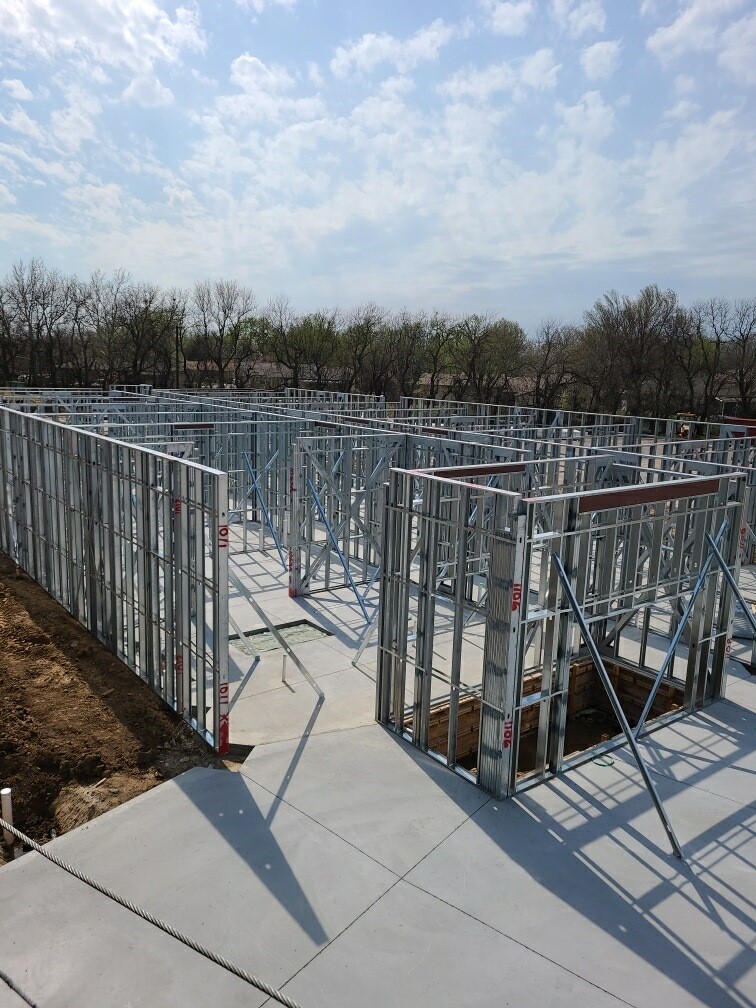 Update 4-7-2021
Things are really coming along at our highly-anticipated Goddard location! Ceilings, flooring, exterior, and interior!
We can't wait to show you the finished product. Check back soon! We'll have more exciting details for you!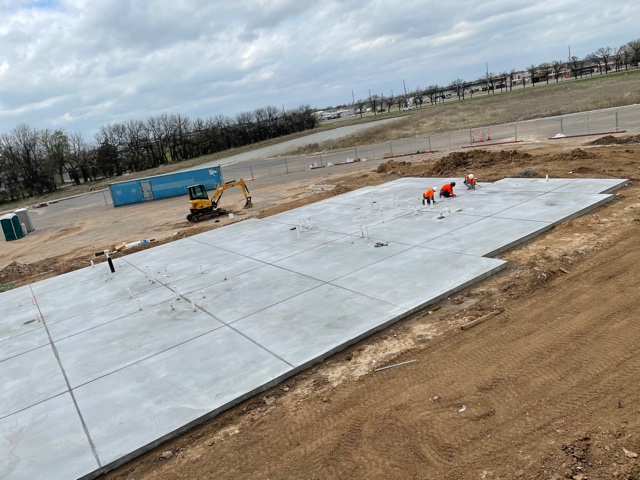 Update 1-19-2021
The flooring has started for the new hotel at our Goddard hotel and waterpark! You read that right, the HOTEL at our new location has officially broken ground! Ready to stay and play in the biggest indoor waterpark for at least 3 hours in any direction? Check back soon, as we'll have more exciting details waiting for you.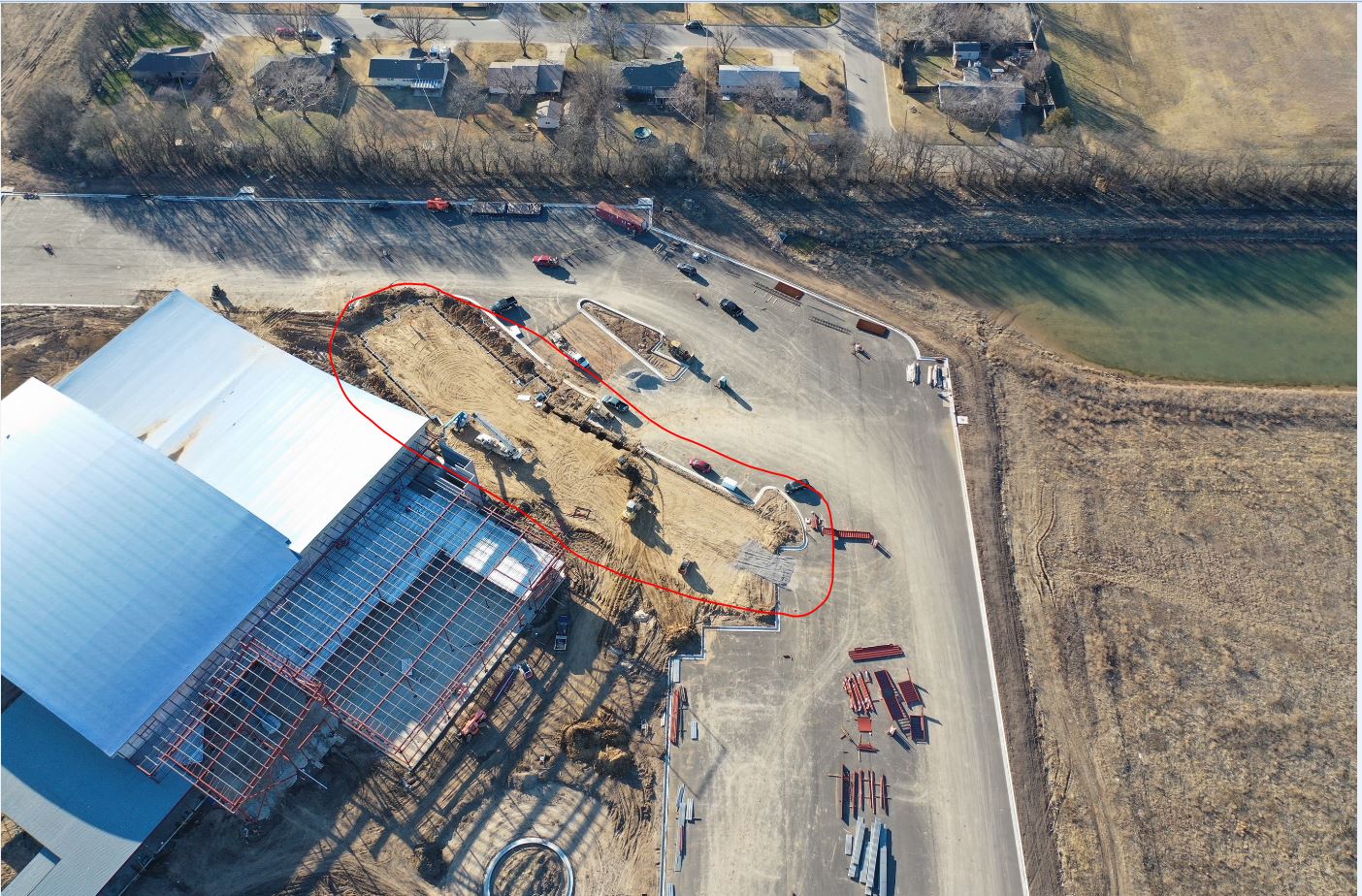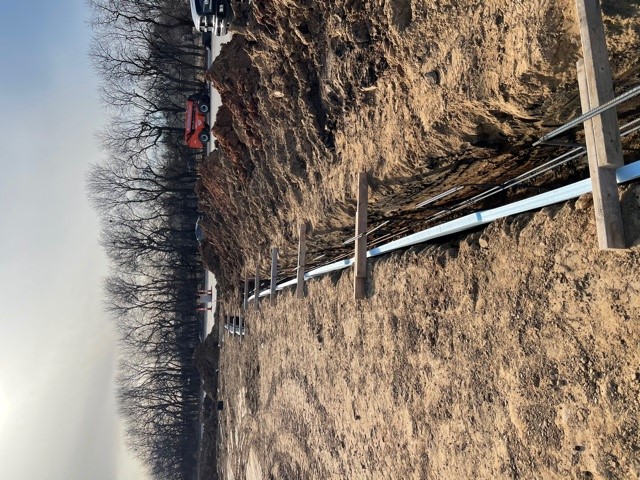 Previous: Lincoln Racquet Club Construction
Next: Rock Road Construction Update